ovember 14 - 20, 2021: Issue 518

George Dimitri Repin

May 6th, 1928 - October 22nd 2021
Dr George Dimitri Repin AM
6/5/1928 - 22/10/2021
Late of Clareville
Dearly beloved husband of Pamela (dec). Loved father and father-in-law of Ivan, Jane, Nicholas and Kerry, Cath and Jeremy. Adored Grandpa to Alexandra, Georgia, William, Libby, Max, Nick and Camilla. Great-Grandpa to Finn and Stella.
On Tuesday 9th November, 2021 family and friends gathered at Mona Vale to celebrate the life of George Dimitri Repin.
As regular Readers would know, George kindly shared his 'Reflections' from 2011 until 2018 in this news service, his last effort was 'Repins In Ladies in Black' when that film was released. This movie of 1950's Australia featured part of the Repin legacy to this country, remarked upon by actress Julia Ormond as the one place in this country you could get a decent cup of coffee in a nation still awash in cups of weak tea.
Throughout 2019 we reran his great contributions not only because people wanted them run again, but because we were aware he was dealing with a health issue and wanted to give him a boost each time a new one was rerun. The link to his page has still not been taken out of the Issue Notice sent out each Sunday to the many lists of Subscribers. We loved him, love him still.
People from all over the world wrote to Pittwater Online News praising his articles; a gentleman from Japan recalled that he too had taken The Matson Line and loved seeing the Keepsake menus, another in the Netherlands loved his Keukenhof 1954, to see the tulips as they were then, while, closer to home, local indigenous peoples wanted to get in touch with George about his report on Aboriginal Art on Bigge Island as they had not seen the materials he presented, had a request in 2014 from the Art Gallery of NSW for the use of his New Guinea materials when they had an exhibition on Plumes and Pearshells, based on his 2012 The Goroka Show 1958 article. In fact, at times, it felt like this was 'George Repins' Online News!'; and it was good to be a buffer, when required, between those who sought him out and the man himself. There is definitely a Repin fan club in Australia that will not cease as long as we all have within us a need to look towards those who did great things from humble beginnings without much ado nor need for fanfare.
George, being George, would disclaim his efforts even when you explained how he not only connected with an older audience who cherished reliving these times, but also with our younger readership, who are hungry to see what came before them. He didn't ever want the 'AM' listed after his name when his next article ran - descried 'all that rubbish!'. He chose his subjects to be timely in some instances, Anzac Day, Flowers in Springtime. When Dr Catherine Hamlin passed away, George's report on his friend, 'Making A difference in Ethiopia', ran again, he could also speak, from personal experience, about Dr Zhisui Li, Chairman Mao's personal physician from 1954 to Mao's death in 1976 - in fact he opened the whole world for many of us, and reached hundreds of thousands of people all over Australia and the world, and does still.
Although we loved them all, could not wait for that next one to come in, it is those where he shared insights into his own culture and family that are cherished most - the Russian Fairy Tale Plates, insights into street photographers, the Russian Ballet and places and people you knew he had frequented or known as a young man. When it was time to give him his space and quietness, the last one loaded into his page was Nicholas Himona, which features his relatives, and was another small private nodding to the Author from the editor.
George would privately share insights into his family-based subjects - a wonderful privilege. All these great photographs were taken by him - all these wonderful experiences had been lived by him.
A self effacing gentle man who liked to 'get on with it', George was also generous in his help to establish this community noticeboard, introducing the editor to Sir Keith Jones, a former president of the Australian Medical Association (1973- 1976), who was definitely worth the long uphill trek to the RSL Veteran's Village in Narrabeen in the Winter of 2011, just to meet him, to hear his voice, at Georges' urging of 'you go see him Alison, he's expecting you!'.
Georges' article in the Medical Journal of Australia, (197 (3): 186. || doi: 10.5694/mja12.11000, published online: 6 August 2012) after Sir Keith passed away, underlines his insistence on accuracy and not wasting words. He had remarked on several publications or biographies of his own family, especially his father Ivan, including old articles the editor would dig out of newspapers to show him; 'well that's wrong' and 'they haven't got it right, and I've told them but they still haven't corrected it'. However, he loved it when the editor would track down photos he hadn't seen before to support his stories, or find snippets that gave him a laugh.
George Dimitri Repin was more than a great friend to this community though - he was also a great friend to the whole of Australia.
The following Tributes, given at his Service, provide insights into his works and love for his family.
We thank those who spoke for the privilege of sharing these with his many friends here and overseas, and, as always, and as George encouraged us to, 'put it on the record for the records'.
George Dimitri Repin AM
A Life Of Service
By Anne Riches
9 November 2021
'Dr Repin wants to see you.'
For years, those words filled me with a jolt of alarm.
In the papers I had prepared, had I got the facts wrong? Had I missed an important detail? Could I have been more concise?
Many of you know only too well what I am talking about: George's life philosophy, perhaps obsession, was: get your facts right. And don't waste words.
So, I am trepidatious today as I attempt to share with you something of the remarkable life of service of Dr George Dimitri Repin AM. I only hope that George, and all of you, will forgive any errors or omissions.
I will say something about George's contribution to medicine and the medical profession. Nick will speak about George the family man, and his life post retirement – which puts a whole other interpretation on what retirement means.
It was in 1984, at my interview for the role of Assistant Secretary General for Legal and Constitutional Affairs for the Australian Medical Association, the AMA, that I first met Dr George Repin, the Secretary General of the AMA, a position he held from 1973 until his retirement in 1987.
That was almost 40 years ago, and although, even in June this year, George was adamant that he would not support my application nor any woman's attempt to join the Australia Club, he nonetheless appointed me at a time when appointing women to senior roles was far from common, and certainly raised some eyebrows amongst the male dominated Federal Council of the AMA.
Disarmingly polite, impeccably dressed, enigmatic, succinct and precise, little did I know that I was meeting a man who would become my mentor, my friend and, improbably, a marriage facilitator.
Nor did I know that I was meeting a man who headed the AMA through the most tempestuous decade and a half of Australian medico-politics.
George entered the field of medical administration in 1970 twenty years later than he intended. During his medical studies, the death of his father necessitated him putting medicine on hold to revive his family's business. In a taste of what was to come, during the 20-year interruption to his medical career, George not only saved and developed Repin's coffee shops, but also immersed himself in the hospitality industry and community, taking on roles including President of the Catering Trades Organisation of NSW, Council member of the Employers Federation of NSW, and Member of various committees formed under the Industrial Arbitration Act.
In fact, I am aware of 7 organisations prior to the AMA days of which George was either President or held some other senior leadership role. It was typical of George that he became an active participant in the industry and in the community, way beyond his direct commercial interest.
His appetite for work, his intellect, his resourcefulness, and his seemingly unstoppable commitment to throw himself headlong into service, continued when he joined the AMA in 1970 as the Deputy Medical Secretary of the NSW Branch. In 1973 George became Secretary General.
At that time, in the early 1970's, particularly during the Whitlam era, Government policies on the funding of medical services were dominating politics. Governments were agonising over the increasing costs of health care. The medical profession itself was in the throes of change. It was deeply divided, specialities were proliferating, faction-fighting intensifying, and a growing number of doctors were settling for the security of a weekly pay packet.
But George was passionate in his commitment to a private medical profession and strongly opposed governmental control of medical practice by whatever means.
Having been by George's side during a vast array of meetings with Officials and others, I can attest that he was always, and no doubt frustratingly for the other side, tough and unyielding yet controlled and polite. His expertise as advocate, negotiator and tactician was the envy of his adversaries.
Indeed, let me quote the concluding remarks of the then Chairman of the Public Accounts Committee, left-wing Senator George Georges after having had George as a witness in a marathon committee meeting that went for a day and a night. The Senator, having failed to best George exclaimed: 'I hope they pay you well because you damn well earn it'.
George's stabilising influence on the profession during the turbulent years following the introduction of Medibank, resulted in the growth of the AMA from very modest beginnings into an efficient, highly professional, and technically sophisticated organisation. He equipped it to deal effectively and responsibly on behalf of the profession, in the increasingly complex world of health care delivery.
In my view, neither his predecessors nor his successors have surpassed the contribution that George made to the AMA.
Under George's leadership and oversight, the medical profession went through extraordinary change and everything that George did, enhanced the standing and the stature of the profession.
Yet, with his ferocious appetite for work unabated, his exceptional analytical intelligence, and his ability for leading and organising, George again took on more.
In addition to representing the AMA at organisations such as the Australian Council of Professions, the Australian Postgraduate Federation of Medicine, and many others, George continued his broader commitment to the community he served. He was President, Director, or Advisor to yet another 7 organisations.
In 1987 George was awarded the Gold Medal of the AMA, its highest honour in recognition of 17 years of exceptional service.
His contribution to medicine and the medical profession cannot be overstated. Not just in Australia but globally. He made a major contribution fostering and developing the participation of the AMA in international medical activities and in bilateral arrangements with several international Medical Associations.
He regularly participated in meetings of the World Medical Association and the Confederation of Medical Associations in Asia and Oceania.
Indeed in 1987, George received the Award of Merit from that Confederation for: 'twelve years of dedicated service to the Confederation as Chairman and member of various committees'.
Australia recognised George's contribution to this country in the 2006 Queens Birthday Honours when he was awarded Member of the Order of Australia "for service to medicine, particularly through the Australian Medical Association, to the development of post-graduate education, and to medico-legal and professional organisations."
George Repin, an eclectic and unusual sort of doctor, and during the period of his leadership, the AMA was an unusual sort of organisation. It was so unusual and indeed, this feels counter-intuitive, that in 1984, Jim Bacon, former Tasmanian Premier, a Maoist and then State Secretary of the Builders Labourers Federation observed: "there are only 2 real unions in Australia, the BLF, and the AMA."
When Mark and I mentioned this to George many years later, his response was simply a dead panned: hmmmm!
A few years ago, I asked George to reflect on his career. A simple request I thought but for George it meant digging into his voluminous files, including re-reading the more than 100 letters he received when he retired from the AMA.
He told me: 'Reading this stuff has shown me that I was probably too reasonable and easy to get along with! In reading it, I also risked getting a swelled head.'
I don't think I ever saw George manifest 'a swelled head'. Yet if there was someone who could have paraded his accolades, George could have, as hundreds of others attested. But that was simply not George's style.
In a reflective piece on George's retirement from the AMA, journalist Shaun McIlraith used the headline: 'A fine mind and a disarming reasonableness'.
It was a view held universally. In 1986, as a member of the Cotton Task Force into the Restructuring of the AMA, I travelled throughout Australia talking to members of the bureaucracy, politicians, doctors, nurses, medical administrators, specialists, AMA State and Territory Councillors, and many others impacted by the AMA. I consistently heard the same thing: whatever their interest or point of view, medical, political or community - George was held in the highest regard for his contribution to the provision of medical services in Australia.
As former Senator, the Honourable Peter Baume said on George's retirement from the AMA: "He has done a magnificent job as a servant of the Medical association, a superb job for the Medical profession in general and a superb job for this Nation.
In George's own words:
"I don't think I'm the sort of person who really feels a mission in life to help other people. But at the same time, once embarked on it, I do have a very strong feeling of what medicine is about – that doctors are there to serve the community with their knowledge and skills, and not that the community is there for the convenience of doctors."
No wonder that part of the citation for the AMA Gold medal reads:
"In a career frequently involved with public disputation, often bitter, and charged with emotion, George Repin never departed from the guiding principle that the doctor's prime role is to serve community rather than self."
George, you have been and will always be a profound influence in my life. Working with you was an extraordinary learning experience for me. I am so grateful that, as you subsequently told me, you went on the facts and employed the best person for the job, me. It was my entrée not only into a huge new world of professional associations, government, politics, advocacy, commerce and industry but into a world of learning how to be professional, influential, fair and get the facts right.
You also employed a young man from South Australia, Mark Paterson, sight unseen but on the facts of his suitability and potential for the role of Industrial Officer. And in so doing, you added marriage facilitator to your extraordinary list of achievements. Mark and I have been happily married for 32 years.
One day, telling me about his career, George said: 'my problem has always been to try to do a job and then to move on to something else, not expecting or waiting for applause.'
Well Dr Repin, you absolutely did your job and now, you certainly have moved on. But this time, you cannot do it without the deep gratitude, respect, admiration, acknowledgment and heartfelt thanks from me, your family, your friends, your colleagues, your former adversaries, the many organisations you led and served, and from an entire Nation for your life of service.
This time you have no choice but to experience a wholehearted round of applause…
A Private Family Man
by Nicholas Repin
Before I begin; Thank you Anne for your wonderful words.
This is not an easy task, there can be so many views of a person, especially of some one who has lived so long and had so much engagement in the world. His connectedness to so many people is hard to dispute.
He grew up in a migrant family, his mother was from the Greek community in Crimea, and his father was Russian. They had met at the university in St. Petersburg and escaped the Russian Revolution through Vladivostok and China, arriving in Sydney in the late 1920's. Dad was born here in 1928 and his two sisters were born overseas on their travels. His father was a Mining Engineer who worked at the Balmain Coal Mines and when things fell apart there during the Depression his father moved into driving taxis, and working with his brother Peter in developing a bus route from the city to Bondi. Life was very precarious during those days, with the family living in multiple Bondi houses. Then the bus route was nationalised and this gave them a real start and dads' father and his brother started the Repins' Restaurants chain, providing affordable meals and food for office workers during the 1930's. This restaurant chain was a significant employer of the Russian and Baltic states migrant community and did well.
Dad's parents were able to send him as a scholarship boy to Scots College and his father drummed into him the need for education. I think being a scholarship boy attending Scots College gave him a different view on education as well.
Looking back, his teenage years were likely to have been very difficult. His father had begun living a separate life away from the family. Nevertheless the extended family and friends continued and there were a lot of colourful characters, and the scenes that developed at the house at Christmas and Orthodox Easter were alike those feasts scenes some of you may have seen in the film Ladies in Black.
These occasions continued into the 1960's when we were lucky enough, as kids, to be part of them. I suspect nothing much had changed during that 30 years except everyone was growing older and more eccentric. We would have a post-feast lounge room full of snoozing uncles in armchairs – a common sight.
Dad made his way, with excellence, at school. He was Dux in 1945 and then moved into studying medicine, where he made many lifelong friends, and we are blessed to have several of them with us today.
Then, catastrophe – in 1949, when he was 21 years old the rug was pulled out from under him when his father died. There was suddenly a family business to run and a lot of people who depended on it. His uncle Peter needed help to run this. So he was able to complete university but then had to give it all up and help in the family business. I have never heard how much pressure was applied or whether he did it voluntarily, but I never once heard him complain about it.
This event I think is probably the key to the George we know.
He started his new life in the business about which he knew nothing and of course, being dad, he didn't do it by half; apart from undertaking a management role he also did a chefs' course, just so he knew what he was running. He helped found a catering organisation or two and later became an advocate to government for the catering trades.
When we came along he was several years into the catering career and we would subsequently witness his transition back into medicine in the 1960's. He had a one year absence studying in the U.K. which was very hard for us and mum at the time, but then he was back into Sydney, immersed in school and the study of Tropical Medicine.
Anne has spoken of his career path from then on but I think it's worth mentioning his unique detour into the catering trade. Managing and negotiating clearly set him up with the skills and character he'd need for a return to medicine. The ability to break up fights between Eastern European chefs in back alleys was the ideal basic skill set for a career in medical politics.
Despite being so busy, he was always available to us when the chips were down. He worked hard and spent as much time with us as he could – by every measure, we had a great childhood. Even better, as a restaurant proprietor, he was a fantastic father for kids – we could visit the restaurants and be let loose on waffles and ice-cream sodas, have fond memories of driving around in the back of the fleet of Repins' beat-up vehicles, and even better, bouncing around in the back of Combis that smelt of coffee.
The AMA, sadly, had less fringe benefits for us.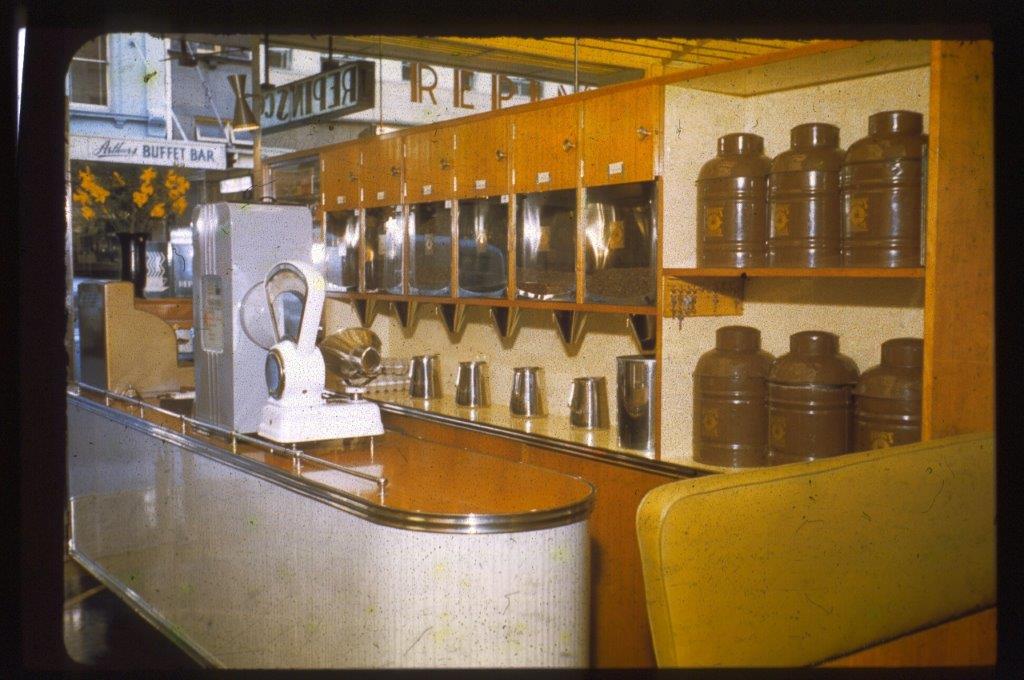 Counter at Repin's 175 Pitt Street. Set up for retailing coffee in shop between Martin Place and King Street.
Away from work – did you know he played the piano? There was always a piano in the house until his hearing began to fail. Somehow he could trundle out Christmas Carols without practice for us. His also brought an accordion home once, and was able to play it, although he strongly denied that ever happened – I guess he had a certain reputation to uphold.
He was a keen gardener and on many many occasions was mistaken by our friends as the hired hardener when they encountered him outside in his filthy clothes.
He was cross-cultural way before it was fashionable. He used to take us to Dixon street to eat Asian food with chopsticks way before this was popular, and strangely, everyone in Dixson street seemed to know him.
We remember many happy parties with mum and dad's friends; noise, late nights, family, cocktails and fancy cigarettes and wonderful leftovers.
He loved his boat and picnicking on Pittwater with family and friends, although occasionally he was called 'Captain Bligh' by mum (I just don't understand that) [laughter].
He loved to cook and took over the home cooking when he retired; clearly he'd learnt something in that chefs' course.
He never sought out animals, but he loved them; it was his soft, unknown, denied side, and his dog photo from his childhood still sits on his desk.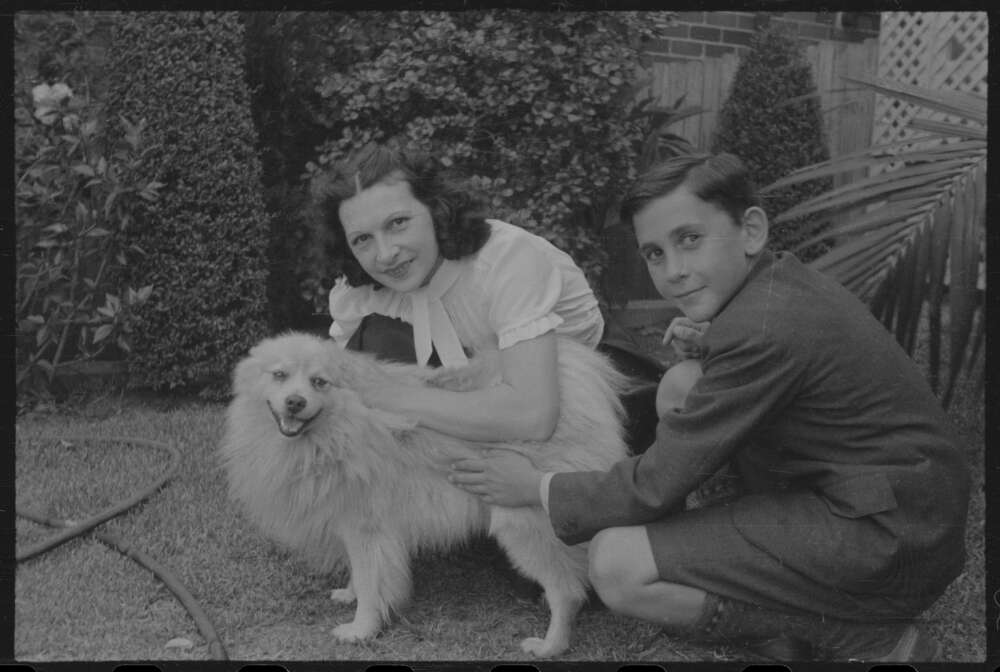 Photo by Ivan Dmitrievich Repin. (1940). Vera Nemtchinova [i.e. Nemchinova] and George Repin with Sharick, the Repin family dog, Bellevue Hill, New South Wales, 1940 Retrieved from http://nla.gov.au/nla.obj-148321791
He didn't do sport, games, camping or reading fiction – he was always all about people and relationships.
He loved overseas travel in particular. He and mum learned Japanese and then took off hiking in Japan in the early 1980's. They continued to travel annually for as long as they could, occasionally with their friends, and always with good stories to tell after they returned home.
As kids we all travelled to those places via his slide and home movies collection. I think all four of us still know those sets of slides by memory, we saw them so many times. This was probably a legacy from his father, whose hobby was photography.
He would bring home educational movies; we all knew about mycosis and how to build an atom bomb, and other essential life skills like these. He allowed Ivan my brother to have a home workshop to pursue his love for electronics, which would become the basis for Ivans' career and also the occasional life-threatening incident to either of his sisters and myself.
One of his hobbies was writing, mainly post-retirement, when he commenced writing articles in 2011 for Pittwater Online News. By my count there are over 180 articles dad wrote for his 'George Repins' Reflections' as one of the Features Columnists.
Here he ran an incredible variety of idiosyncratic subjects he had a personal experience of. He was sharing his stories; which is what this community news service has as one of its core functions; peoples stories told in their own voices. However, Dad's page was a permanent and popular feature, read by hundreds of thousands of people across the Pittwater community, Australia and worldwide and attracted many emails and letters for more information and just more of 'George Repins' Reflections' during the years these ran. These are all still available and still attract queries from his readership.
Interestingly, he never inserted himself into any of those stories; he would talk about friends, relatives and experiences but not mention that this person was his great uncle or that his grandmother was in the picture shown.
After retirement from the AMA he became a consultant to the Cultural Pathologists or other Businesses, advised post-graduates from his old university, was a member of Rotary for many years, he joined Probus, the local Liberal party and the Australia Club and various other activities like that.
He also threw himself into the local Bushcare but took great pains to point out 'I am not a Greenie'.
On many occasions during his retirement I would pinch myself about how lucky I was to be able to visit and enjoy his company. The quality of his companionship and of course, the quality of the people he entertained, added so much to my own life.
Then mum died, which broke his heart.
Organising his estate kept him going for a while; just part of his sense of duty I think. He had some great moments and knew great-grandchildren.
He came to the point where he began organising his own funeral arrangements. He was telling my sister Jane that he had checked out the venue and menu, and was organising who should be told and invited. Her response was; 'and have you set the date?'
[laughter].
Well, that stopped him in his tracks and, as far as we know, he did not pursue that project.
We live in fear now that there's a hidden file somewhere that's going to come to light about this; but – too late, we're here today celebrating him. Fingers crossed that what we have done is consistent with 'the plan'.
I imagine him shaking his head, smiling that semi-tolerant smile of his because we've mucked up the details somewhere, but in truth, I think he would pleased to see you all here.
He loved and was fond of you all in many different ways.
He liked a party – and certainly would like it if you could all join us at Pittwater RSL afterwards to raise a glass.
In closing, I'd just like to thank my sisters and my brother-in-law for helping bring all this together.
Thank you all.
Grandpa
By Alexandra Ralph(granddaughter)
George Dimitri Repin was clearly a great many things to a great deal of people, but to me, Georgia, William, Libby and Max, he was Grandpa, Grumpy Gramps, he of the crazy eyebrows, who would take equal delight in hearing about academic triumphs, feeding us home-cooked meals, chocolate chip cookies and freshly squeezed orange juice. He was complex and multifaceted. We were always on our best behaviour around him, expected to sit up straight at the table, use the right cutlery, and SPEAK UP.
He expected the very best of us and took great delight in our accomplishments, yet there were so many other sides to him. It would turn out that I would become an Environmental Scientist. It was Grandpa who first told me, when I was quite young, as he pointed out choking infestations of Morning Glory along the Wakehurst Parkway, about the threat posed to our beautiful native bushland by the encroaching weeds and pollution. His love of culture and the arts was distilled into us through early exposure to videos of the Russian Ballet, which I remember him patiently explaining to me in great detail, and through our shared love of the Art Gallery.
He drove me to Canberra and back in a single day on more than one occasion, wouldn't let me drive, to see the Russian Ballet Costume exhibition, the Rupert Bunny exhibition, to which he had loaned his own Rupert Bunny work of art.
Each of the grandchildren were mystified and intrigued by the collection of artefacts, fossils, travel souvenirs and sculptures around the house and garden. Each had a story, if we asked. Each was so different from the next, and some, like the collection of African masks, were particularly scary for small children attempting to go to sleep when staying the night there.
Grandpa was an excellent cook and a keen gardener. I clearly remember feeding the fish in his Japanese garden at Bellevue Hill; that was an honour bestowed only upon the most well-behaved of grandchildren and an extra special treat.
From giving me a taste for pickled herrings, marinated mushrooms, cured salmon, and his eternal love, fresh oysters and prawns, to sending me clippings so I could recreate his excellent balsamic roasted vegetables when I became a vegetarian at age 18, Grandpa's pride in his heritage and efforts to keep traditions alive, made every Christmas and Orthodox Easter a special occasion. It is one I am determined to recreate for my own family in some small way each year. So many of my memories of Grandpa will be forever linked to food.
In the years since Yaya passed our relationship developed into something more adult, we spoke more deeply. He shared his views with me on what happened after death. During one quiet conversation in the month after Yaya died he told me he believed there was no afterlife, that we returned to the universe to become part of all things once more. Perhaps he was actually a Buddhist.
With that meaning in mind I chose this Reading which I would like to share with you today, and I think it's something he would have liked.
It's called 'Ask a Physicist to Speak at Your Funeral' by Aaron Freeman.
'You want a physicist to speak at your funeral. You want the physicist to talk to your grieving family about the conservation of energy, so they will understand that your energy has not died. You want the physicist to remind your sobbing mother about the first law of thermodynamics; that no energy gets created in the universe, and none is destroyed. You want all those you leave behind to know that all your energy, every vibration, every bit of heat, every wave of every particle that was their beloved grandpa remains with them in this world. You want the physicist to tell your weeping friends that amid energies of the cosmos, you gave as good as you got.

And at one point you'd hope that the physicist would step down from the pulpit and walk to your broken-hearted family there in the pew and tell them that all the photons that ever bounced off your face, all the particles whose paths were interrupted by your smile, by the touch of your hair, millions of trillions of particles, have raced off like children, their ways forever changed by you. All the photons that bounced from you were gathered in the particle detectors that are their eyes, that those photons created within him constellations of electromagnetically charged neurons whose energy will go on forever.

And the physicist will remind the congregation of how much of all our energy is given off as heat. There may be a few fanning themselves with their programs as he says it. And he will tell them that the warmth that flowed through you in life is still here, still part of all that we are, even as we who mourn continue the heat of our own lives.

And you'll want the physicist to explain to them, that scientists have measured precisely the conservation of energy and found it accurate, verifiable and consistent across space and time. You can hope your family will examine the evidence and satisfy themselves that the science is sound and that they'll be comforted to know your energy's still around. According to the law of the conservation of energy, not a bit of you is gone; you're just less orderly.
Australian Medical Association Gold Medal – George Repin
Published in the Medical Journal of Australia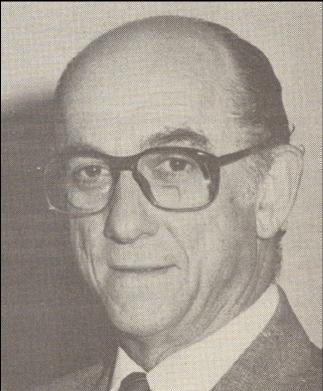 The former Secretary General, Dr. George Dimitri Repin, was awarded the Associations Gold Medal, its highest honour, in recognition of 17 years of devoted and exceptional service to the Association. The Medal was presented at a dinner in his honour in Sydney following his retirement in February.
The citation for the award said that Dr. Repin graduated in medicine from the University of Sydney in 1952 after a brilliant school and undergraduate career. Due to family circumstances he left medicine while a resident at Royal Prince Alfred Hospital to engage in commerce, a field in which he was active for more than twelve years.
It was an unusual but productive prelude to a career of exceptional distinction in the service of his profession.
While in business Dr. Repin gained valuable management, political and industrial relations experience, being active on the councils of three industrial and trade organisations. Of one, the Catering Trades Organisation of New South Wales, he was the foundation President. He was also a member of the Apprenticeship Council and a number of conciliation committees for his industry.
His welcome return to medicine came in 1967 when he gained the Diploma in public Health at the University of Sydney. Two years later he was awarded the Diploma in Industrial Health of the Royal Colleges of Physicians and Surgeons of England after studying at the London School of Hygiene and Tropical Medicine. Subsequently he returned to teach at the School of Public Health and Tropical Medicine in Sydney.
However, this was a brief interlude, and in 1970 he joined the Secretariat of the New South Wales Branch of the Australian Medical Association.
In 1972 he became Deputy Secretary General of the Australian Medical Association and was Secretary General from June 15. 1973. until his retirement on February 21,1987.
Along the way he became a Fellow of the Australian Institute of Management, a Fellow of the Royal Australian College of Medical Administrators and a Fellow of the Australian Medical Association.
George Repin brought to the role of Secretary General an exceptional analytical intelligence, and a ferocious appetite for work. Tough and unyielding when necessary, yet always controlled and polite, he became a highly respected and formidable advocate for the medical profession. George Repin's expertise as an advocate, negotiator and tactician was the envy of his adversaries.
He was confronted with his first major challenge within a few weeks of taking office – the Ludeke Medical Fees Tribunal. Throughout the 45 hearing days from July to December 1973 he displayed extraordinary tenacity, stamina and devotion in ensuring that the best possible case was presented at all times to an enquiry that represented a watershed in medical politics.
The same outstanding qualities were brought to bear on behalf of the profession throughout the next thirteen turbulent years of Medibank and Medicare interspersed with five different health schemes of the Coalition Government.
He also effected a successful long-term strategy of building from very modest beginnings an efficient, highly professional and technically sophisticated organisation equipped to deal effectively and responsibly on behalf of the profession with the increasingly complex world of health care delivery. Thanks to his leadership and management skills the Association is now widely respected as a leader among national representative bodies. His absolute loyalty to his presidents, his Federal Council and his staff engendered a trust that helped him to achieve this goal.
He also made a major contribution through fostering and developing the participation of the Australian Medical Association in international medical affairs. Starting by re-establishing close communication with the New Zealand Ueaicat Association, which has led to annual exchange visits between senior officers of the two Associations, he extended his efforts to establishing and maintaining close ties with the American Medical Association, as well as adding to the long existing relationship with the British Medical Association.
As Secretary General he arranged visits to Australia of delegations of senior officers and officials of the American Medical Association and his close association with senior officers of that Association and his attendance at their meetings have been of inestimable value to the Australian Medical Association.
Dr George Dimitri Repin AM
MBBS '52 GradDipPHlth '68
"My older sister Stella graduated in medicine in 1941, and was a good role model," George says. "Her commitment to working in the hospital system during the Second World War while male doctors were in the services inspired me."
George completed his medical studies with honours, despite some major obstacles.
"In my fourth year I was treated for a potentially life-threatening illness and my father died some months later," he says.
After completing his degree, George left medicine for 16 years, during which time he worked to rehabilitate the family business and prepare it for a successful sale. Given his experiences, George says he would also be interested in studying law.
George advises today's students to embark on a significant area of study and carry it through to conclusion.
"Never leave anything unfinished," he says.
George hopes that humanity will learn from its mistakes and not repeat them.
He hopes to maintain the ability and capacity to enjoy cultural activities such as music, art and the theatre.
George writes a fortnightly article titled "Reflections" for the Pittwater Online News and speaks at meetings of the University of the Third Age (U3A) and other community groups on topics of interest. From an early age, he found photography a satisfying hobby.
His fondest memory of the University: the people who became his friends, and establishing lifelong friendships.
From Golden Yearbook University of Sydney: Stories from graduates of the 1930s to the 1960s, published 2016.
________________________________________________
Around 2014 George asked the Pittwater Online editor to set up and load/set a website for him to place clippings he wanted to keep or make available. THE REPIN Mixture: A Fine Mind and a Disarming Reasonableness By Sean McIlraith is available on this HERE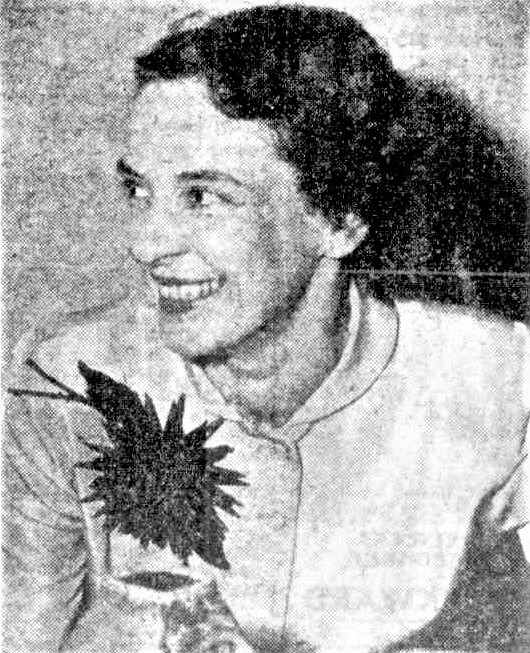 Physiotherapist PAMELA McVICAR smiled happily when she dined at Prunier's last night with fiance Dr. George Repin. Their marriage will take place on April 6 at St. Philip's, Church Hill. Dancing and dining last night (1954, March 25). The Sun (Sydney, NSW : 1910 - 1954), p. 48 (LATE FINAL EXTRA). Retrieved from http://nla.gov.au/nla.news-article229415581

R.P.A. STAFF GUESTS AT WEDDING
Two former members of the staff of Royal Prince Alfred Hospital, physiotherapist Miss Pamela McVicar and Dr. George Repin, were married at St. Philip's Church, Church Hill, last night.
Members of the hospital staff were among the guests. The bride is the youngest daughter of Mr. and Mrs. D. S. McVicar, of Willoughby, and the bridegroom the only son of the late Mr. I. Repin and Mrs. A. M. Repin, of Bellevue Hill.
Mrs. Owen Basil-Jones and Miss Pat Mitchell attended the bride. Dr. Bruce Dawson (Newcastle) was best man, and Mr. Graeme Fair (Melbourne) was groomsman.
A reception was held at the Pickwick Club. R.P.A. STAFF GUESTS AT WEDDING (1954, April 7). The Sydney Morning Herald (NSW : 1842 - 1954), p. 13. Retrieved from http://nla.gov.au/nla.news-article18418949
George Repins' Reflections
The Nineteen Thirties Remembering Rowe Street The Sydney Push Saturday Night at the Movies Shooting Through Like A Bondi Tram A Stop On The Road To Canberra City Department Stores - Gone and Mostly Forgotten An Australian Icon - thanks to Billy Hughes Crossing The Pacific in the 1930s Hill End The Paragon at Katoomba Seafood In Sydney How Far From Sydney? Cockatoo Island Over The Years The Seagull at the Melbourne Festival in 1991 Busby's Bore The Trocadero In Sydney Cahill's restaurants Medical Pioneers in Australian Wine Making Pedal Power and the Royal Flying Doctor Service Pambula and the Charles Darwin Connection Gloucester and the Barrington Tops A Millenium Apart Have You Stopped to Look? Gulgong Il Porcellino Olympia Durham Hall Sargent's Tea Rooms Pie Shops and Street Photographers The Ballet Russes and Their Friends in Australia Hotels at Bondi Alma Ata Conference - 1978 Keukenhof - 1954 The Lands Department Building and Yellowblock Sandstone The Goroka Show - 1958 A Gem On The Quay Staffa The Matson Line and Keepsake Menus Kokeshi Dolls The Coal Mine At Balmain The Hyde Park Barracks The Changing Faces Of Sydney From Pounds and Pence to Dollars and Cents Nell Tritton and Alexander Kerensky Making A Difference In Ethiopia William Balmain J C Bendrodt and Princes Restaurant Azzalin Orlando Romano and Romano's Restaurant Waldheim Alcohol in Restaurants Before 1955 King Island Kelp The Mercury Theatre Around Angkor - 1963 Angkor Wat 1963 Costumes From the Ballets Russe Clifton at Kirribilli Chairman Mao's Personal Physician The Toby Tavern The MoKa at Kings Cross The Oceaographic Museum in Monaco The Island of Elba Russian Fairy Tale Plates Meteora Souda Bay War Cemetery Barrow, Alaska Cloisonné Tripitaka Koreana Minshuku The Third Man Photographs and Memories Not A Chagall! Did You Listen? Did You Ask? Napier (Ahuriri, Maori) New Zealand Borobudur Ggantija Temples Plumes and Pearlshells Murano University of Padua Ancient Puebloe Peoples - The Anasazi Pula The Gondolas of Venice Cinque Terre Visiting the Iban David The Living Desert Bryce Canyon National Park Aphrodisias The Divine Comedy Caodaism Sapa and local Hill People A Few Children Cappadocia Symi Jean-Marie Tjibaou Cultural Centre Aboriginal Rock Art on Bigge Island ANZAC Cove (Ari Burnu) 25 April, 1997 Hotere Garden Oputae Children of the Trobriand Islands Page Park Market - Rabaul Rabual Kotor, Montenegro Galleries of Photographs I Lascaux Galleries of Photographs II The Cathedral of St. James – Šibenik, Croatia Ivan Meštrović - Sculptor Delphi Gallery of Photographs III The Handicrafts of Chiang Mai Raft Point San Simeon - "Hearst Castle" Floriade - The Netherlands - 1982 Russian New Year Mycenae "Flightseeing" Out Of Anchorage Alaska The White Pass and Yukon Route Totem Poles Tivkin Cemetery Krka National Park - Croatia Tavistock Square and the BMA Orthodox Easter Wieliczka Salt Mine A Walk on Santorini Indonesian Snapshots Ephesus - The Library of Celsus Ephesus - Some Places Of Interest Waimea Canyon and the Kalalau Valley United Nations Headquarters 1958 A Miscellany of Flower Images Gardens Bath St. David's In Wales Zion National Park Nicholas Himona - Artist Kraków Lilianfels Collonges-La-Rouge Gingerbread Houses Cape Sounion Delos Wroclaw Colonial Williamsburg Gruyères Strasbourg Coventry Cathedral The Roman Theatre at Aspendos Turkish Carpets The Duomo of Orvieto Rovinj The City Walls of Dubrovnik Monaco - Snapshots Bonifacio, Corsica Autumn in New England USA The Great Ocean Road Pompeii Didyma Lawrence Hargrave 1850-1915 The Corinth Canal Malta Snapshots of Amsterdam Café Central - Vienna The Forbidden City - Beijing, China A Ride on the Jungfrau Railway - 1954 Snapshots in the Highlands of Scotland 1954 Must See Sights in Paris - 1954 Corfu Reflections On the Nineteen Thirties The Gold Souk in Dubai Stromboli Ha Long Bay - Vietnam Lake Argyle The Bungle Bungle Range Langgi Inlet, W.A. White Cliffs, NSW - 1990 Sturt National Park - May, 1990 A Few Statues and Water Spouts The Dodecanese Archipelago Rhodes Lindos The Church on Spilled Blood - 2005 Monument to the Heroic Defenders of Leningrad Repin's In "Ladies In Black" Signs of the Times at Sydney Museum: Repin Inns