April 1 - 7, 2012: Issue 52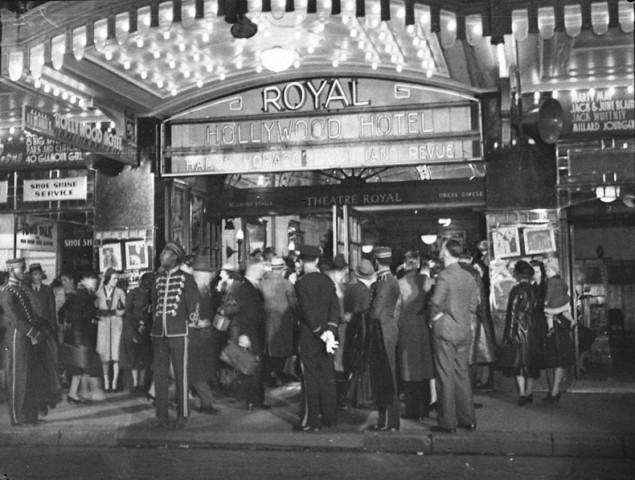 Opening night, "Hollywood Hotel Revue" (taken for Fuller's Theatres Ltd. Theatre Royal) 1939.Home and Away - 18059, No.hood_18059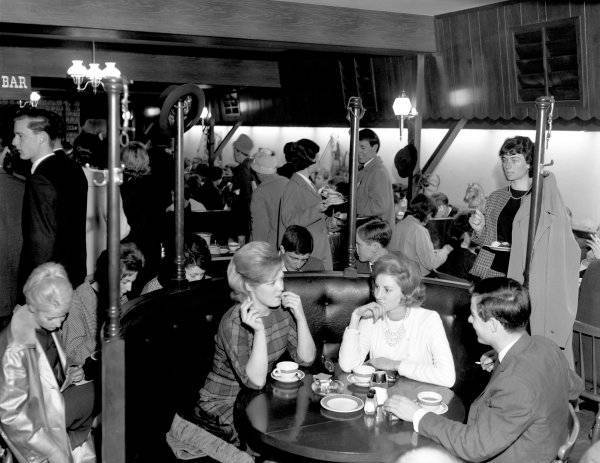 Two unidentified women and an unidentified man seated in a booth at Cahill's Restaurant, Sydney, 1963 / Ern McQuillan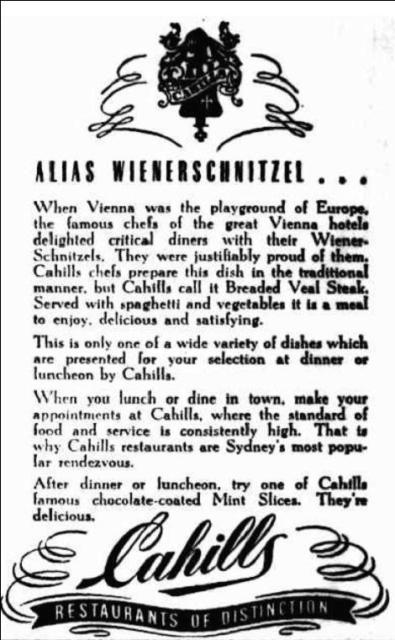 Sydney Morning Herald Advertisement for Cahill's Restaurants, Saturday 11th of May, 1946.
CAHILL'S RESTAURANTS
by George Repin
The Cahill's restaurants in the inner city area of Sydney were well known not only to those seeking a well presented, although not too expensive, lunch or a pre-theatre dinner served in pleasant surroundings but also to generations of children for whom being taken to Cahill's for afternoon tea was a "treat". They also provided a popular meeting place for the ladies.
The main restaurant, on two levels next to the old Theatre Royal opposite Usher's Hotel in Castlereagh Street (between Martin Place and King Street – both buildings now gone), was warm and inviting, with timber furniture and wall panelling, and the golden glow of carefully planned lighting. An attractive display of chocolates and other Cahill's products in the shop-window helped to entice customers from the street. Other locations included "The Tudor", decorated in a style consistent with its name, in a Martin Place basement and a ground floor shop in George Street near Market Street
The chain, a feature of the city from the thirties through to well into the sixties, was operated by a brother and sister, Reg and Theresa Cahill. Reg tended to work behind the scenes. He is said to have been the first restaurant operator in Sydney to recognise the potential of Coca-Cola, which he imported in the early thirties. He established a factory in the South Sydney area where hand-dipped chocolates sold under the Company's name were produced. Sauces, bakery products and other items for use in the restaurants and for over-the-counter sales were made in the factory. Cahill's Caramel Sauce, lavishly poured over the "ice cream cakes" which were so popular with school children taken by doting parents to Cahill's, was an outstandingly successful product. It was bought for use by other restaurants and cafes.
An associated company, Cahill's Theatre Services Pty Ltd, managed by Jim Mason, employed the "lolly boys" who raced into movie theatres at interval to sell chocolates from trays, and ice creams from insulated boxes, suspended by leather straps across their shoulders.
Theresa doing her regular rounds of the shops, was instantly recognisable walking with determination along the city pavements, a slim figure always dressed in dark colours, "sensible shoes" and a hat. She was dedicated to the maintenance of the quality of food and presentation in the restaurants, enjoying in her task the assistance of a delightful Canadian gentleman, Fred Mara.
A Swiss, who had started as a young man in the kitchens, Max Sturzen was the General Manager in the later years. It was his recognition of changes in the Sydney scene, particularly the growing interest in wine among young people, which led to Cahill's opening a number of small bistros where office workers, mainly women, could meet after work in pleasant surroundings, instead of in pubs. Cahill's opened a number of such businesses in quick succession – in King Street, in Park Street and at Circular Quay.
The death of Reg Cahill, Max Sturzen's return to Europe as a sick man where he died at a very early age and the dramatic increases in rentals for space of the type and size required by restaurants like Cahill's contributed to their disappearance from the Sydney scene.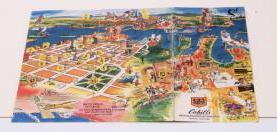 Pamphlet, advertising, 'Cahills Restaurants and Taverns', Australia, 1974Image No: 91/1172 Read more: http://www.powerhousemuseum.com/collection/database/?irn=111737#ixzz1oqFcoKMU
Copyright George Repin 2012. All Rights Reserved.