February 5 - 11 2023: Issue 570

Sunday Cartoons
Sunday cartoons returns this year. This week: Dennis The Menace - Dangerous Detour
A serious Backyard waterslide: + Manly Water Chute
Spotted last weeked - looks like GREAT fun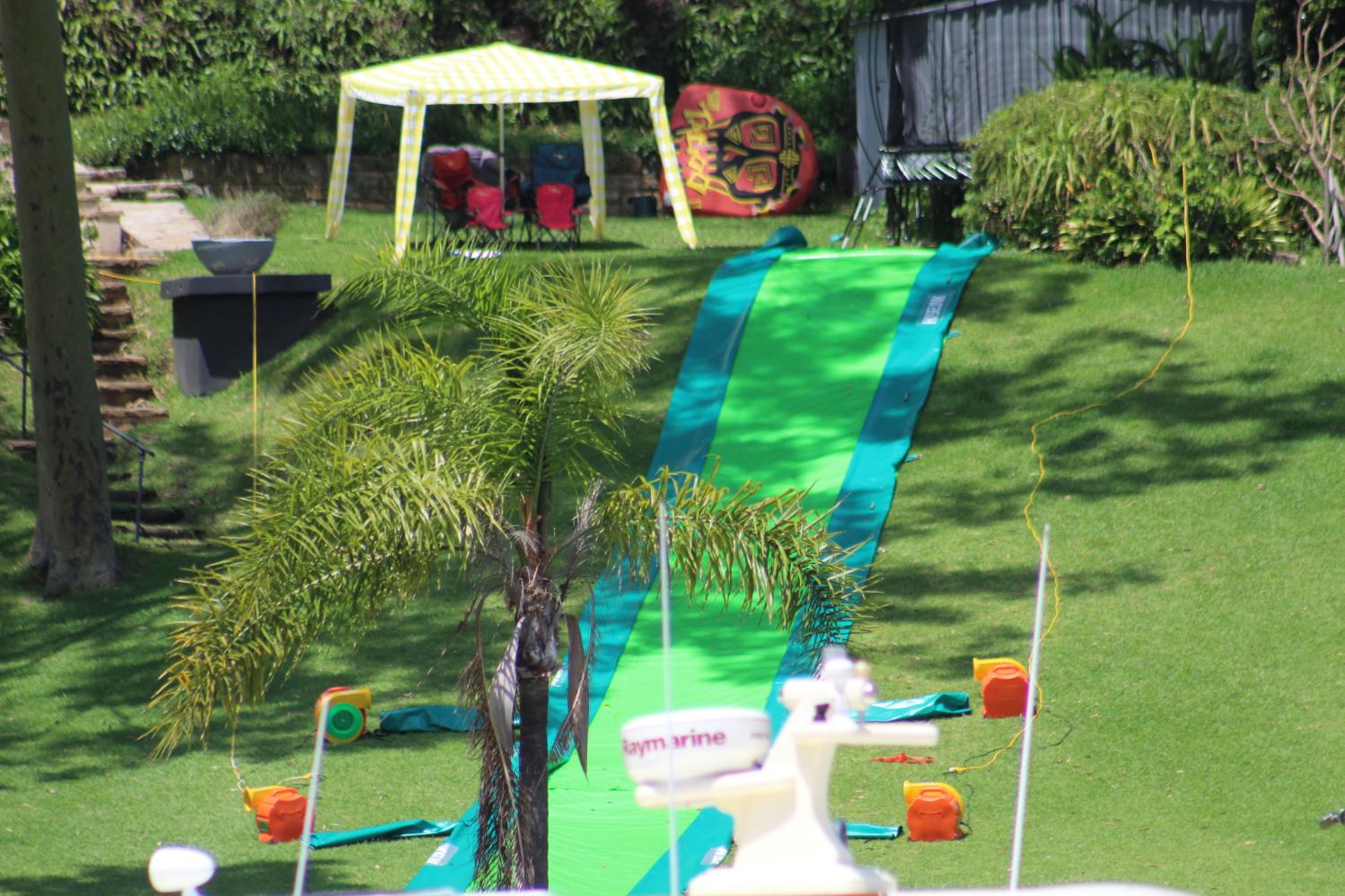 Did you know there once was a BIG water slide at Manly called the 'Water Chute'?
Situated in Manly at the corner of South Steyne and Ashburner Street (an area known as Steyne Court), the Manly Chute was established in 1903 by a syndicate called the Manly Chute and Amusements Company. The site had previously operated for some three years as a place of amusement known as The Maze, before being purchased sometime around September 1903. Included in the sale was a building that had operated as a refreshment room. The new company was incorporated on November 6th 1903, and shortly afterwards, General Manager, Archibald Baird, struck a deal with previous refreshment room operator, Henry Bardolph, to buy his business.
After securing the rights to the refreshment room, demolition of the maze began. The company then set about erecting the water slides that were to be the park's main attraction. The Manly Chute's official opening, timed to coincide with the school holidays, took place on December 14th in the presence of Sir John See, members of the New South Wales Ministry and the Mayor of Manly. The first entertainment was presented by a military band under the conductorship of Mr L. De Groen. The Sydney Morning Herald indicates that the park was open at night, with illumination provided by "fairy and other lamps."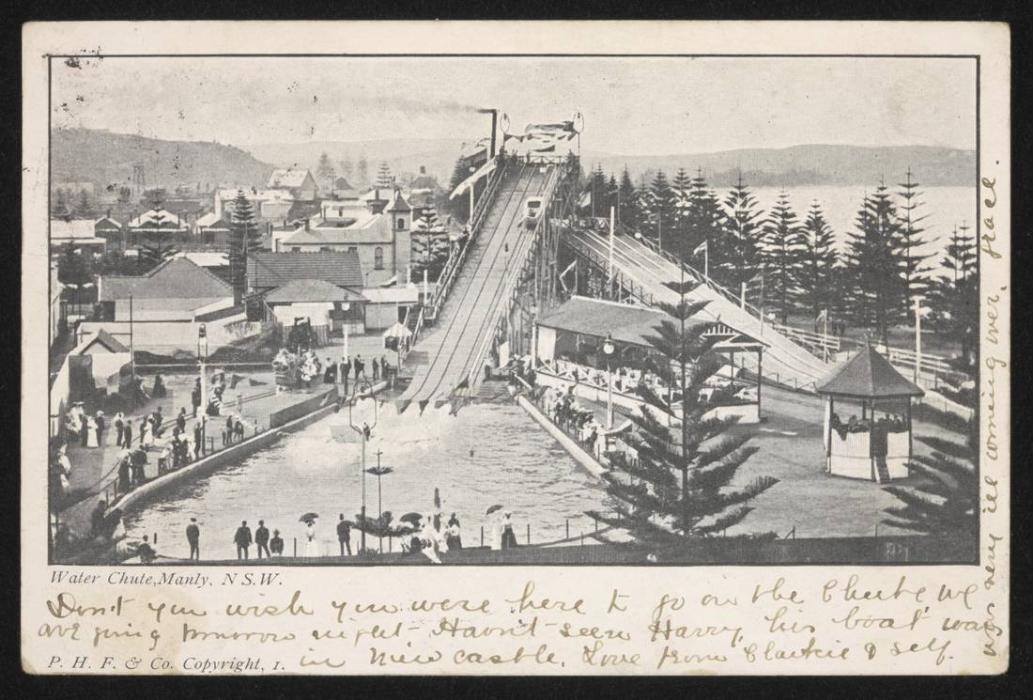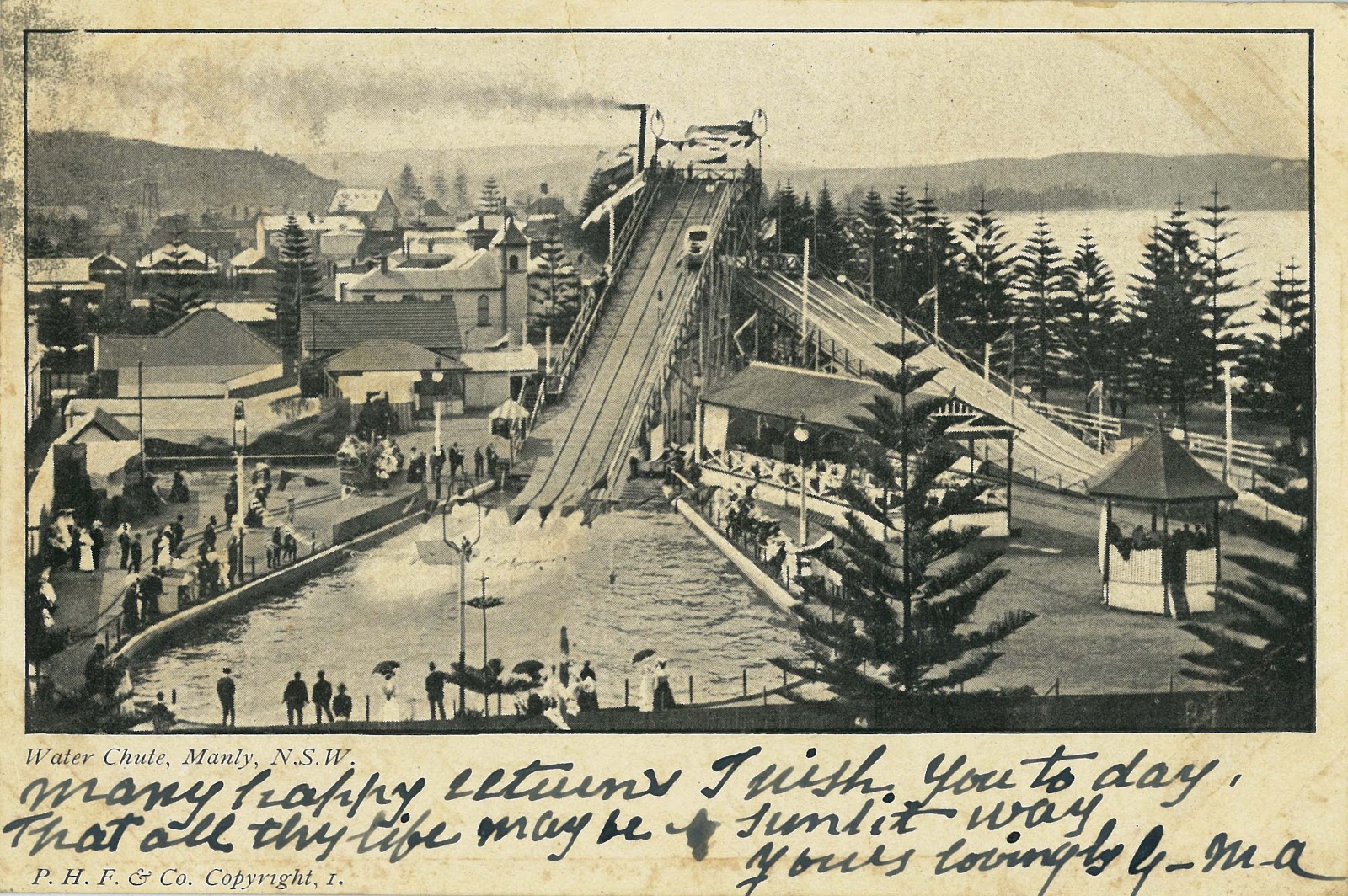 THE MANLY CHUTE.
The Manly Water Chute and Amusements Company have issued an attractive guidebook profusely illustrated, setting forth the numerous attractions at the company's grounds at Manly. The chute, toboggan. Bijou Theatre, and the fiery dragon are all depicted, and the letterpress is well and smartly written. Trippers to Manly (the Brighton of Australia) who have not yet experienced the sensation of " chuting" on reading the brochure, will no doubt be tempted to " take the plunge." The little book is a credit alike to its author, printer, and all concerned. THE MANLY CHUTE. (1904, May 7). Watchman (Sydney, NSW : 1902 - 1926), p. 3. Retrieved from http://nla.gov.au/nla.news-article111920950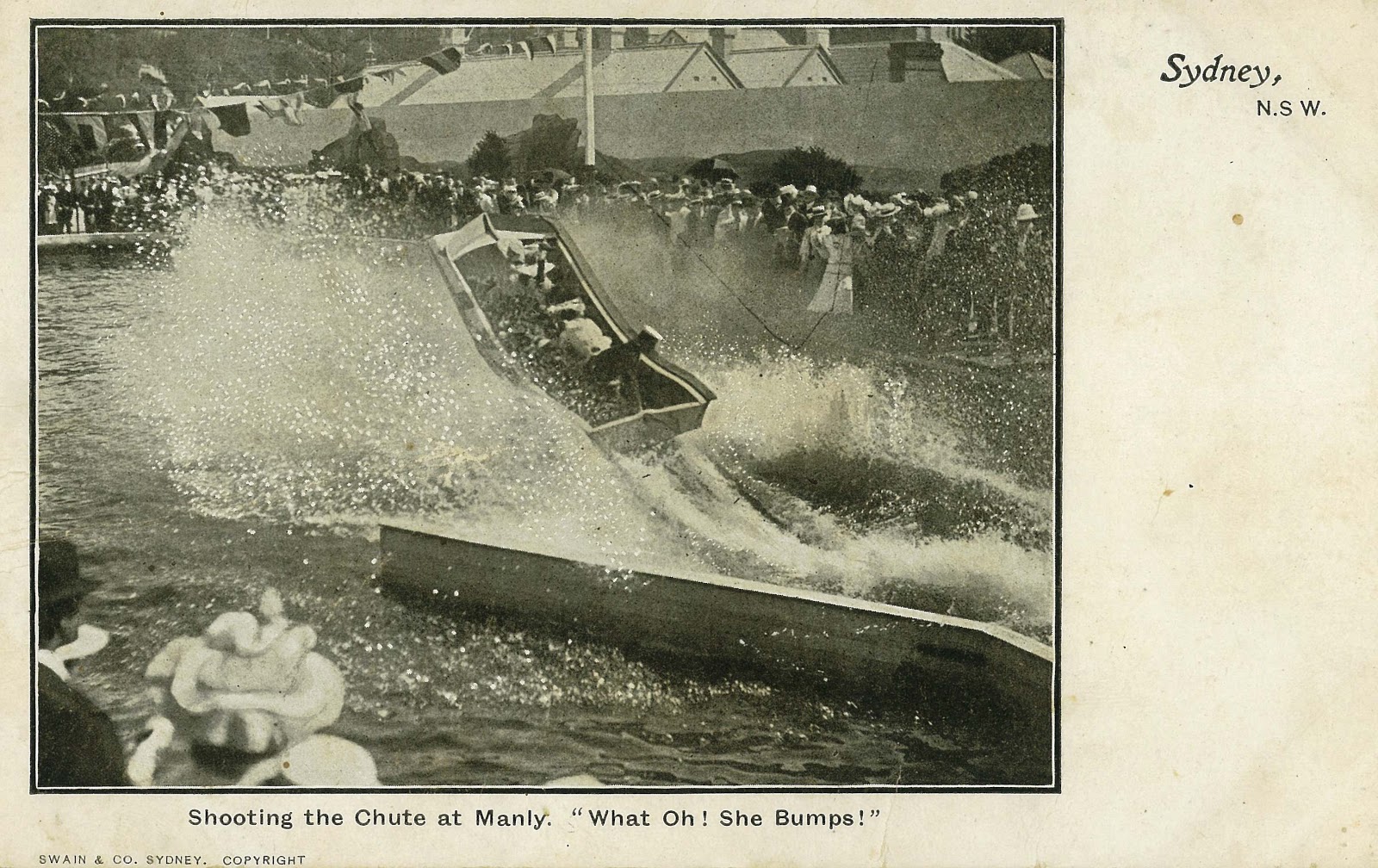 Water Chute, Manly, N.S.W. , postcards courtesy National Museum of Australia, Image No.: 1986.0117.0258 - from an old Postcard, and Manly Library History collection.
The Manly Shute operated during the warmer months of each year - approximately October to April. While the feature attractions were a Canadian water chute and a Toboggan ride, the management also provided other entertainments, including variety concerts and film exhibitions. The park was leased to music director/manager Lewis De Groen from October 1905 to April 1906. It remained open until the end of June that year, however, and then closed permanently. The site was sold in November 1906, around the same time that the Manly Chute and Amusements Company went into liquidation.
Manly's fascination with fun and water had not ceased though.
In 1981 Manly Waterworks opened and now named Manly Surf'n'Slide, although most people still call it Manly Waterworks and it's still opne on Saturdays and Sundays. Interestingly this site was, apparently, used in the movie BMX Bandits starring Nicole Kidman during which an escape is staged in one of the waterslides.
Moth Eggs
It's that time of year when all the insects that have been busy feeding and flitting during Summer are laying eggs. This one was flapping about in our bathroom, and we though 'oh, pretty.'.
When we went back in a few hours later we noticed it had laid some eggs on the outside of the shower screen. Pretty colour: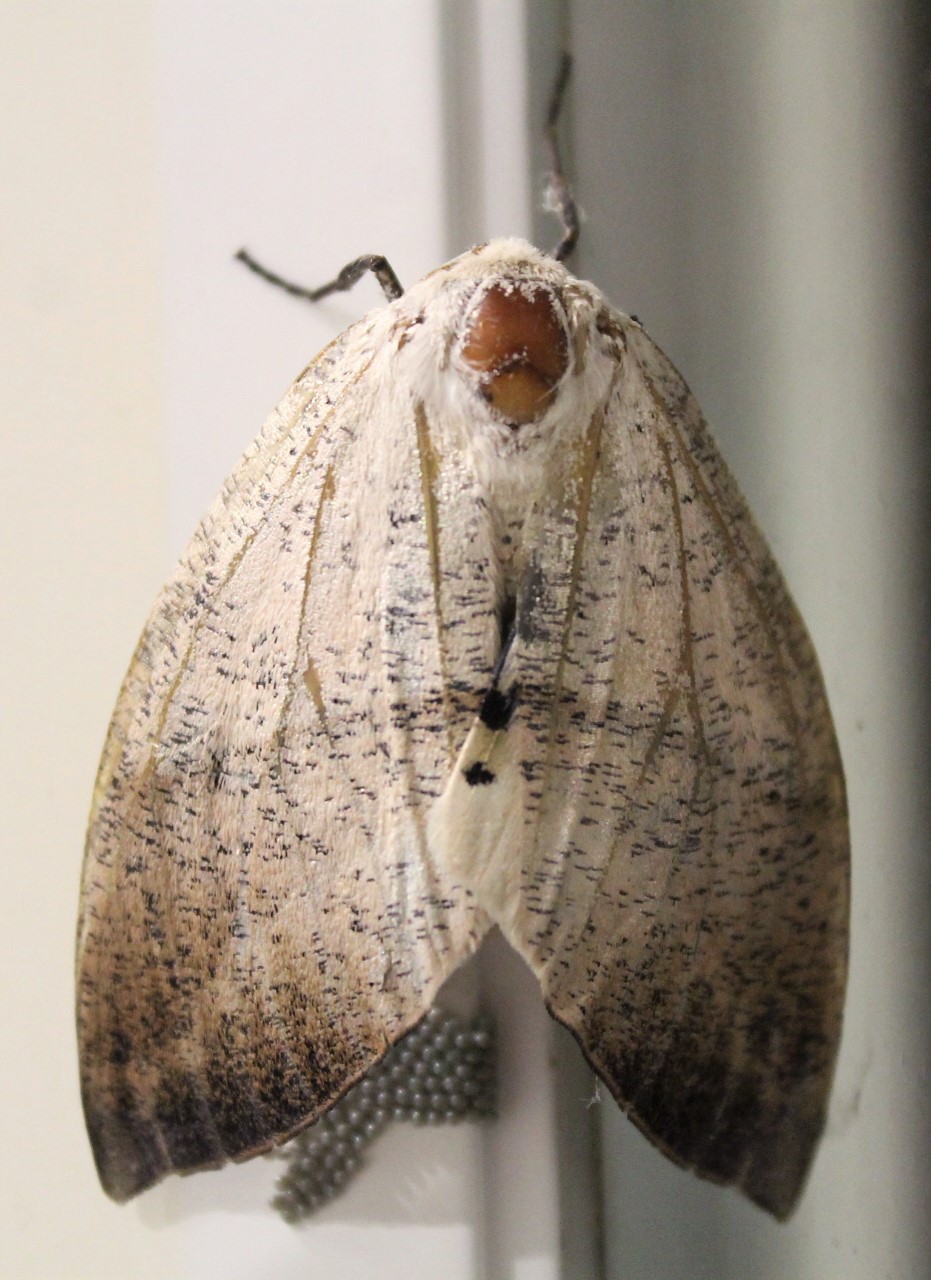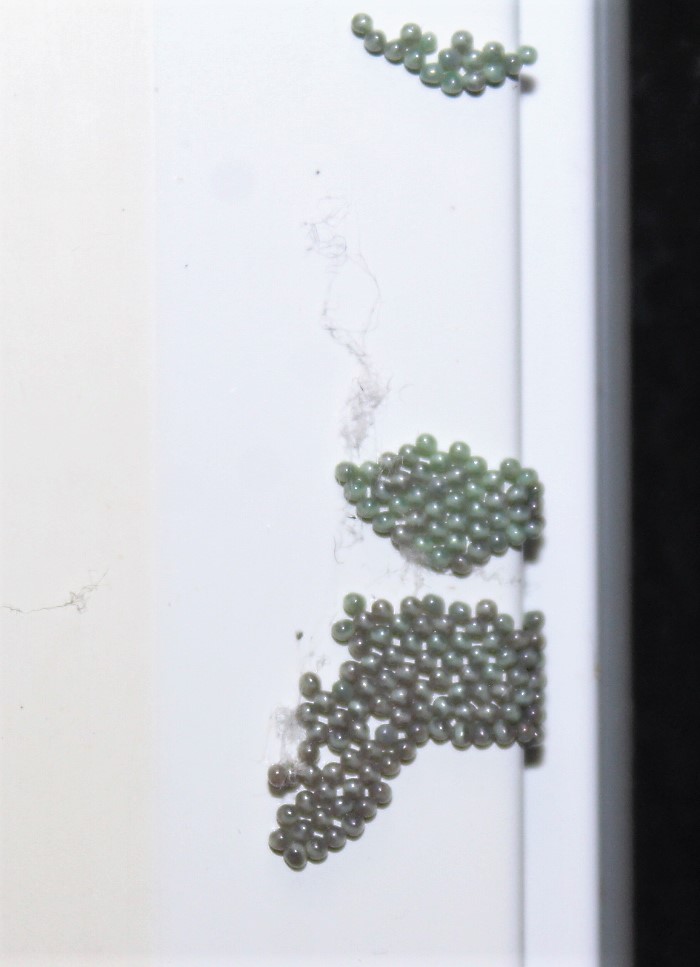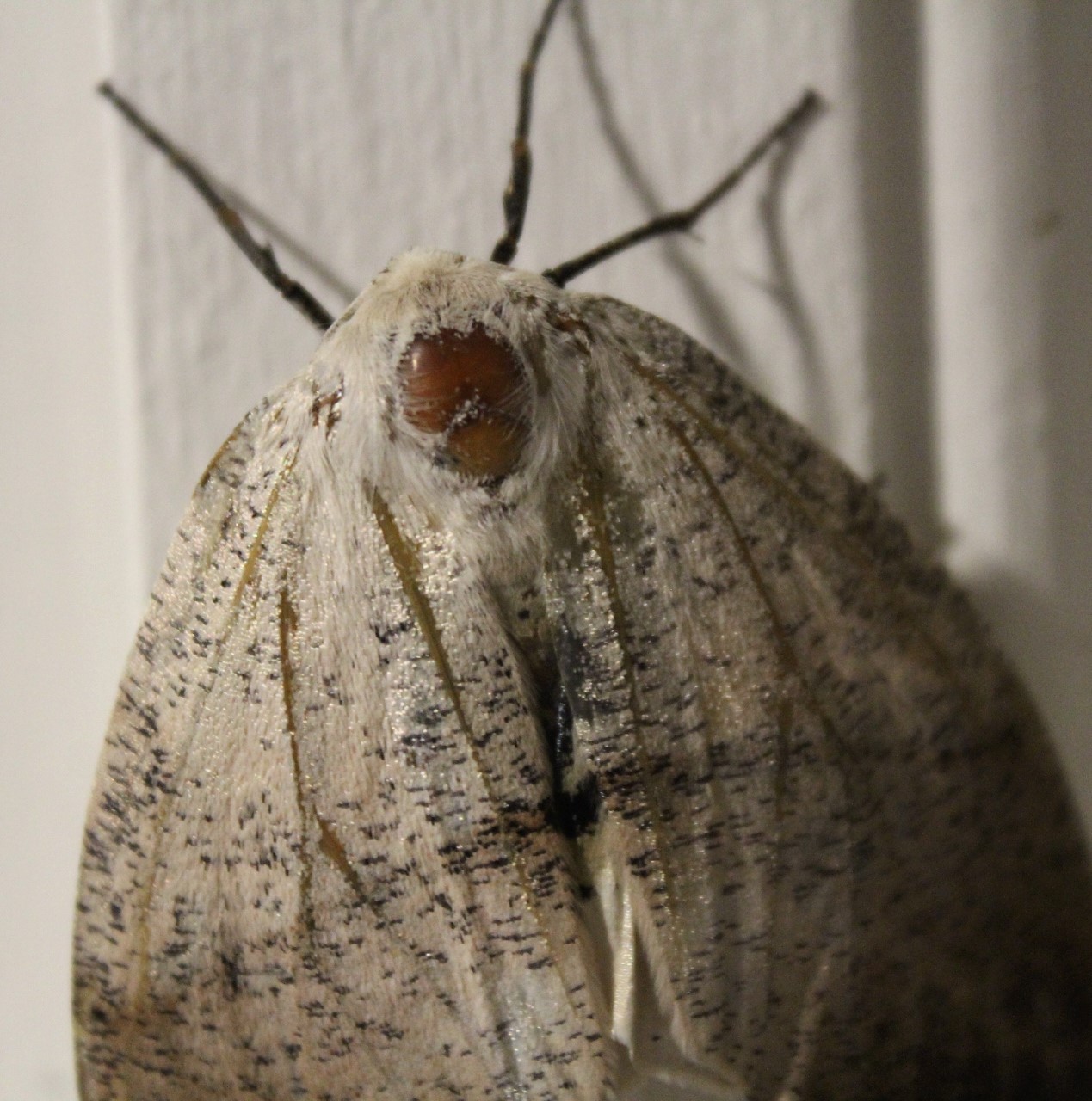 This one is Gastrophora henricaria, described by A. Guenée, in 1857, also called a 'Beautiful Leaf Moth' or 'Fallen-bark Looper'.
The Caterpillars of this species are brown, with a pair of protuberances on abdominal segment three. The first three pairs of prolegs are vestigial, and there are dark triangular ventral marks under those segments. Intermediate instars have a dark chevron on the back of each segment, and an orange dorsal patch on the fourth segment.
The Larvae feed on eucalypts and Brush Box.
The male adult moths have fawn forewings, each with a dark brown transverse line, and a prominent dark brown dot near the base of the hind margin.
The female adult moths have fawn forewings, each with a broad slightly darker trapezoidal transverse band, and a faint dark brown dot near the base of the hind margin.
In its resting position, the underside of each hindwing covers the undersides of the forewings, and is pale brown with a large slightly darker patch, and a submarginal arc of black dots. The underside of each forewing is displayed when the moth is disturbed, and is a startling yellow to orange with a large black patch containing a bluish-purple blotch, connected by an orange triangle to the base.
This is quite a large moth - Body length to 35 mm, wingspan to 80 mm.

As you can see, this mum has a bald spot. Moths and butterflies constantly accumulate damage on their wings and bodies over time, and they're especially prone to loosing the delicate scales that coat their exoskeleton (which is usually visible as a 'bald spot' on the top part of a moth's thorax when it's been bumping around a light for a few hours). You can even get a sense of a moth's age by seeing how worn and tattered its wings are; newly emerged individuals are usually pristine, while older ones have frayed wings and patches of missing scales.
The species is found over much of the south-eastern quarter of Australia. Information courtesy and from: http://lepidoptera.butterflyhouse.com.au/chro/henricaria.html - This page also has more great photos.
This photo of a male shows you how they look if they haven't been bumping around too much and thos glorious colours underneath: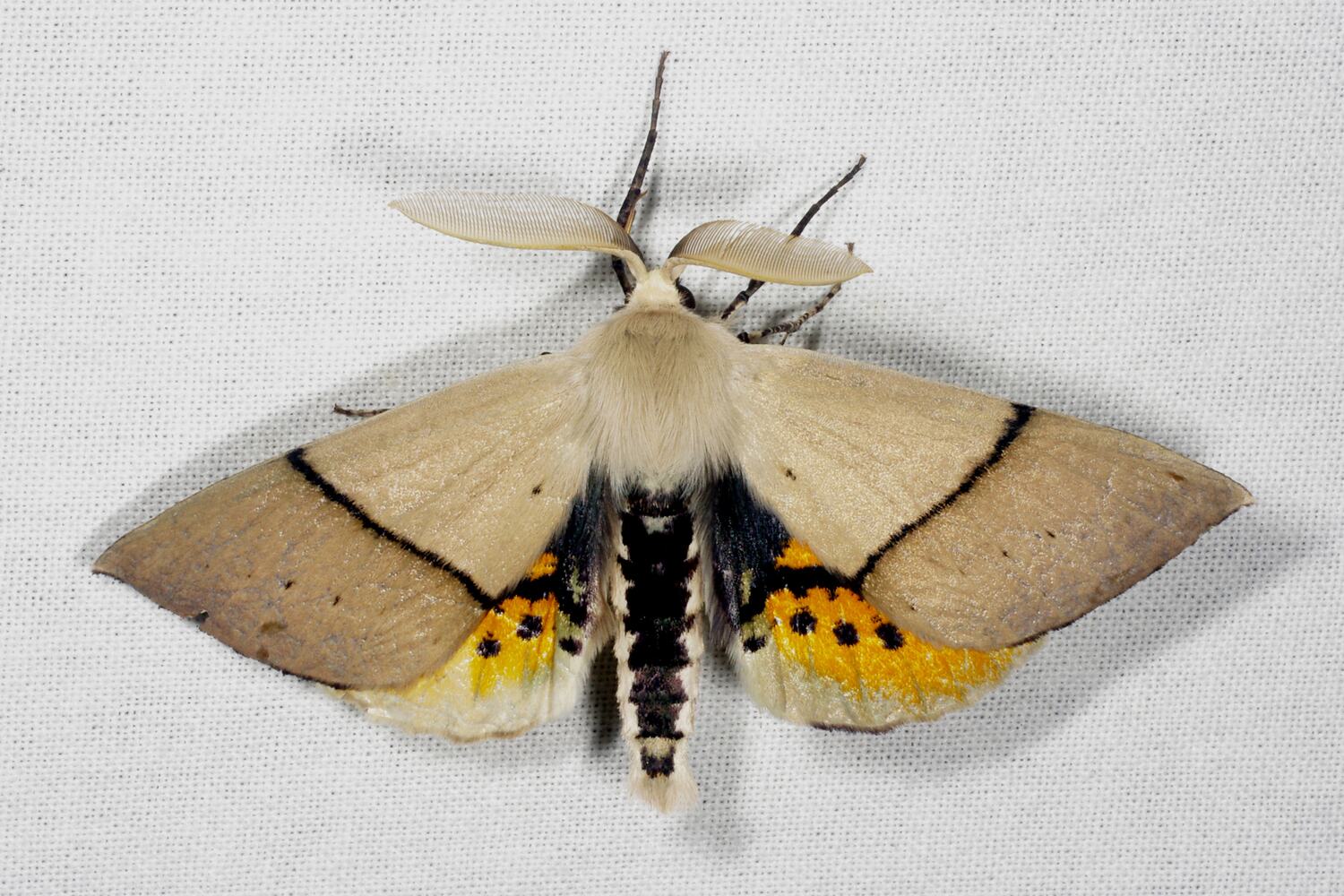 Gastrophora henricaria, moth, male. Great Otway National Park, Victoria. Photographer: Frank Pierce. Source: Museums Victoria. Copyright Museums Victoria / CC BY (Licensed as Attribution 4.0 International)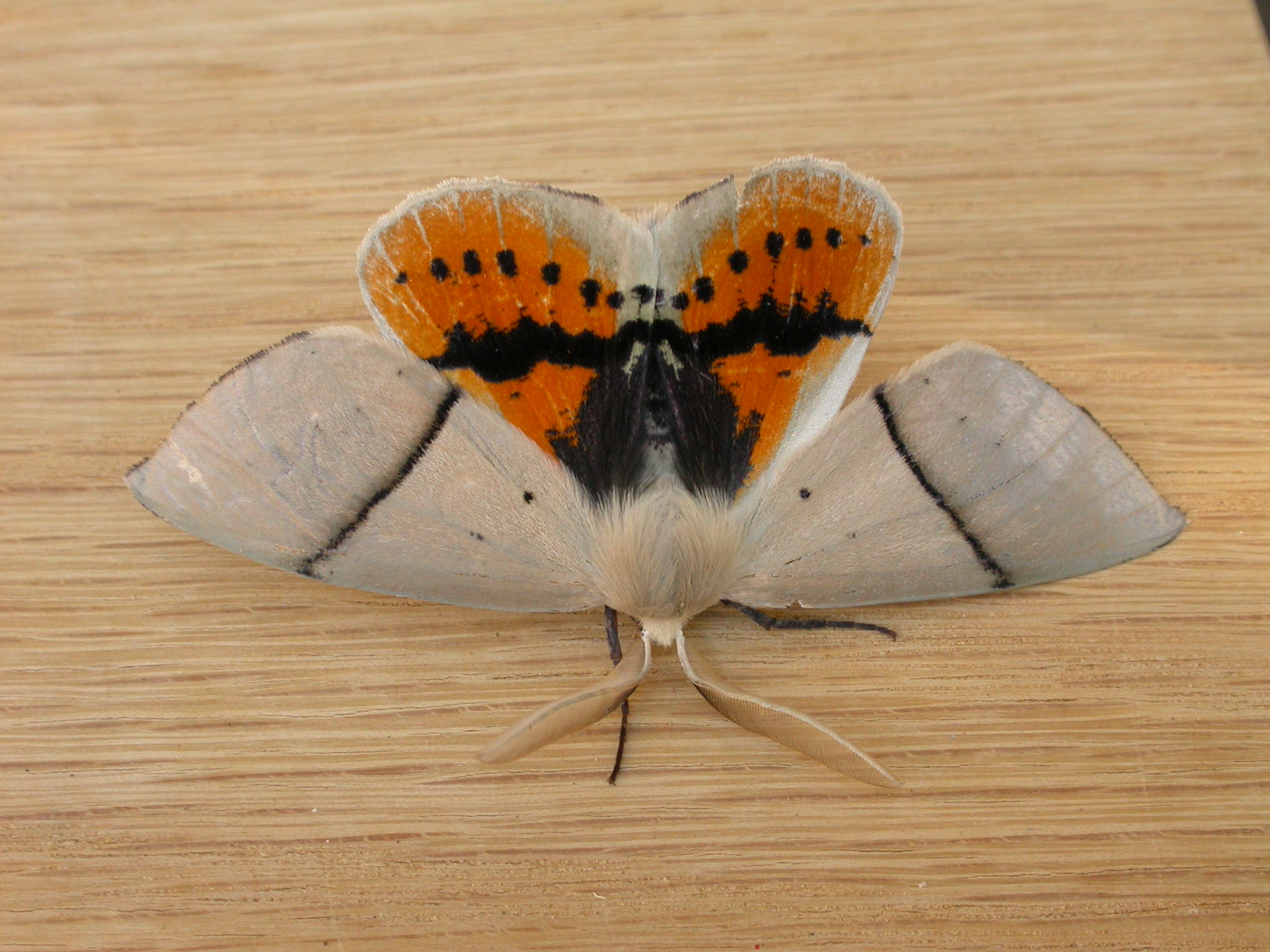 Gastrophora henricaria Guenée, 1857, to MV light, Aranda, ACT, 30 November/1 December 2008. Photo: Donald Hobern via Flickr

How long do eggs take to hatch?
The eggs for this moth are usually laid on eucalyptus leaves.
The female lays the eggs individually and she can lay as many as 220 eggs over a 2 week period. The eggs usually hatch after 4 - 8 days but can take as long as 3 weeks. The hatching larvae begin feeding and spinning immediately. They produce two lengthy tubes that run onto or into the infested material. The larvae can molt over 40 times and the larval stage can take between 1 - 24 months. The larval period can vary greatly because of the ability of the larvae to undergo diapause (phase of dormancy). This period of dormancy usually lasts between 8 - 24 months. Pupating larvae spin a quiver like pupal case which is thicker than the feeding tubes and closed at both ends. Pupation usually lasts between 2 - 6 weeks and the hatching adults normally live between 2 - 4 weeks.
Australia has around 22 000 species of moths. Around half of these have been scientifically named. This one has a lovely soft coat - imagine if there was a cloth made like this that you could wear.

The moths hatching out in the bathroom reminds us of a few years back around this time of year, when we had a huntsman mumma deposit her eggs in the bathroom. Soon we had tiny tiny spiders everywhere - but they went outswide when we opened the window - off into the Great Outdoors to continue the yearly cycles of insects and spiders and all those other tiny living things we share the world with.
Belrose Gets A New Mountain Bike Track
On January 30 2023 Council announced the opening of another mountain bike trail at Belrose. Wyatt Ave Bike Park in is a purpose-built facility for youngsters and new riders to safely practice and learn skills before progressing to more challenging trails like Bare Creek and Manly Dam.
Northern Beaches Mayor Michael Regan said Council's own Landscape Construction Team worked with Trail Care to deliver a high-quality result and ensure the best outcome for the riding community.
"Riders of all ages will be super pumped to have a site they can call their own to practice their skills before they even consider going to the much more advanced Bare Creek and Manly Dam tracks.
"The site's loop trail includes a beginner loop and mini flow loop; climb and descent, technical features, and gravity zone features, as well as bike launching area, a viewing platform, and so many environmentally conscious elements including 1050 new trees planted.
"This project would not have been possible without the instrumental work of local mountain biking advocacy and consultancy group Trail Care who helped design the park based on feedback from local skills coaches and parents of local riders to gain a clear understanding of what the community needed." Mayor Regan said.
Trail Care's Matt Ward is thrilled Council is supporting and investing in this growing sport.
"The new park provides awesome opportunities for kids and new riders to progress. Perhaps they've never ridden a bike on dirt before; here they can build confidence on corners, rock rolls, drops, and jumps. It's the ideal stepping stone towards other Council facilities like Bare Creek and Manly Dam.
"Working in collaboration with Council on this project has led to great outcomes, bringing together amazing landscaping work with local trail design knowledge. The end result is one of the best-looking skills parks I've seen." Matt Ward said.
"We're also so grateful to the local member for Davidson, Jonathan O'Dea, for securing use of the site and advocating for this project. He has been instrumental since its inception, and it will be one of the many projects which will become his legacy." Mayor Regan said.
Member for Davidson, The Hon, Jonathan O'Dea said he's delighted to see all the hard work on the project has paid off.
"I was pleased to negotiate for the State Government to dedicate the land for community recreation on the basis that Northern Beaches Council took responsibility for planning and developing a new facility.
"Wyatt Ave Bike Park is designed for younger and less experienced riders and provides a safe introduction to an exciting and energetic sport. It is a wonderful complement to the neighbouring Bear Creek Bike Park" Mr O'Dea said.
In addition to 1050 new plants, 950 tonnes of excavated construction material from local construction sites formed the trail subbase, as well as 120 cubic metres of recycled mulch.
Council encourages all riders at any of the bike parks to wear appropriate safety gear.
Karen Pye is going to the Australian Antarctica's Davis Station in 2023

'A Bad Case of Stripes' read by Sean Astin

The Wiggles: The Story of the Frog

Published The Wiggles
summer reading 2022-2023 - Rescue Princesses: The Rainbow Opal
by Paula Harrison, Allen and Unwin, 2014
The Rescue Princesses are no ordinary princesses. If there's an animal in danger they'll be there, ready to stage a daring rescue with their ninja skills and magic jewels and nothing, except the occasional dress-fitting or curtseying lesson, will get in their way.

Princess Summer is so proud of her amazing kingdom of Mirrania. She can't wait for her friends, Maya, Lottie and Rosalind to visit. They'll love the little koala cub who lives in the bush. He's adorable!
But when the cub becomes ill, the Rescue Princesses must find a cure, even if it means going into the bush in the middle of the night. They just hope the magical Rainbow Opal can keep them safe.The Rescue Princesses are no ordinary princesses. If there's an animal in danger they'll be there, ready to stage a daring rescue with their ninja skills and magic jewels and nothing, except the occasional dress-fitting or curtseying lesson, will get in their way.
Archive of millions of Historical Children's Books All Digitised: Free to download or Read Online
Enter the 1: Baldwin Library of Historical Children's Literature here, where you can browse several categories, search for subjects, authors, titles, etc, see full-screen, zoomable images of book covers, download XML versions, and read all of the 2: over 6,000 books in the collection with comfortable reader views.
Find 3: more classics in the collection, 800 Free eBooks for iPad, Kindle & Other Devices.