October 2 - 15, 2022: Issue 557

sunday comics and cartoons
One of the reasons we first started reading the Sunday paper was to get the children's section and read the cartoons. In keeping with that a cartoon or animation will run each Sunday on your page. Some of these you will need to read and others you can watch. This Issue it's some of those The Land Before Time episodes
Spring school holidays 2022
We hope you all have a wonderful school holidays break. We will run another Issue next Sunday, October2nd, and then have No Issue on Sunday October 9th so we can spend some time with our own youngsters in the week leading up to that Sunday. Have a great break!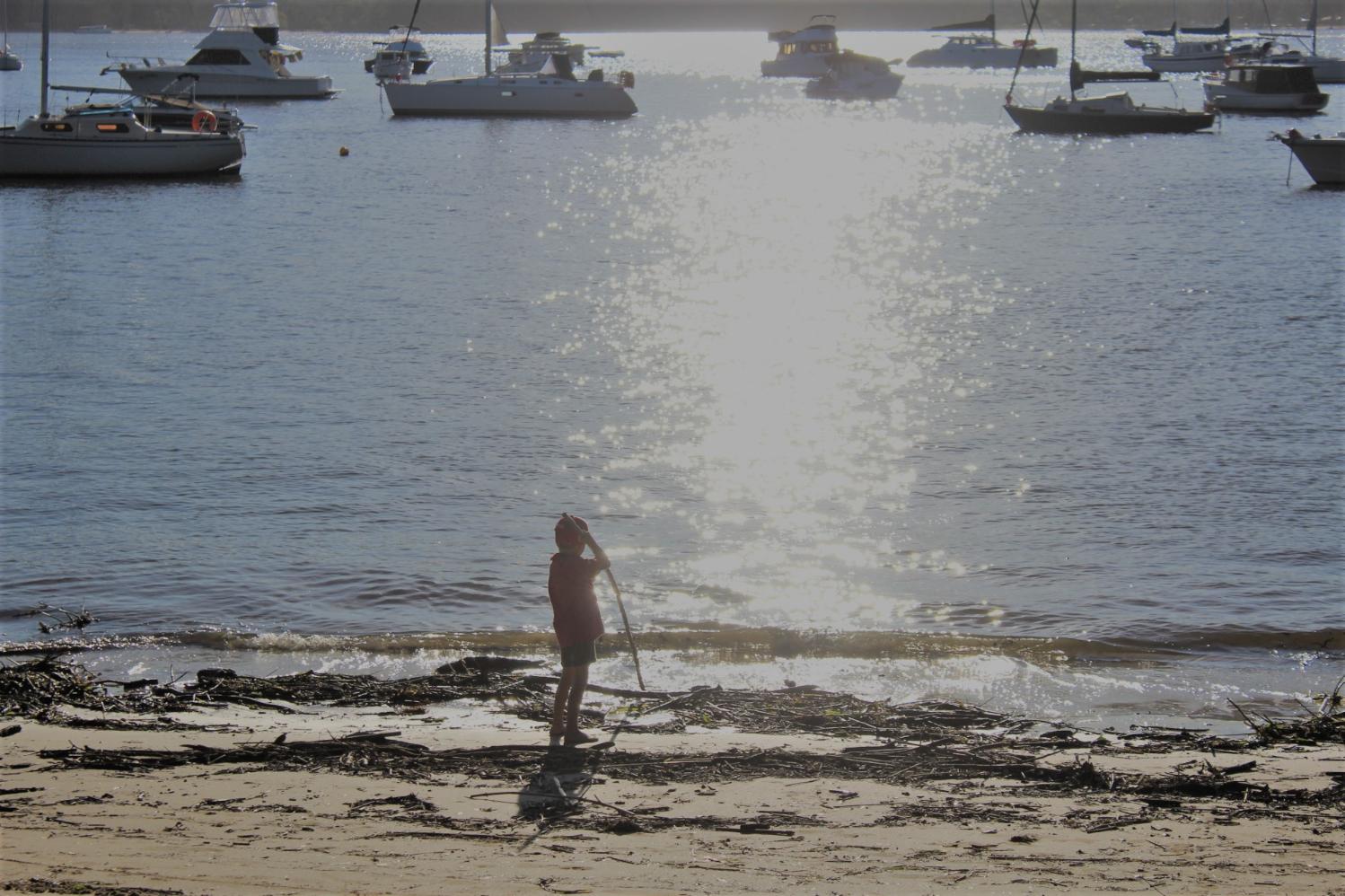 National Bird Week + Aussie Bird Count 2022
National Bird Week 2022 will take place between Monday 17 October and Sunday 23 October
. The celebration of National Bird Week has its origins back in the early 1900s when 28 October was first designated by BirdLife Australia's predecessor, the Royal Australasian Ornithologists Union, as the first 'Bird Day'. BirdLife Australia organises and promotes Bird Week with the goal of inspiring Australians to take action and get involved in bird conservation efforts.
BirdLife Australia brings you the Aussie Bird Count, one of Australia's biggest citizen science events! Celebrate National Bird Week by taking part in the Aussie Bird Count — you will be joining thousands of people from across the country who will be heading out into their backyards, local parks or favourite outdoor spaces to take part.
To get involved all you need is 20 minutes, your favourite outdoor space (this can be your yard, local park, beach, or anywhere you can see birds), and some keen eyesight. And it doesn't matter if you're a novice or an expert — we will be there to help you out. Simply record the birds you know and look up those you don't on our 'Aussie Bird Count' app or our website. You'll instantly see live statistics and information on how many people are taking part near you and the number of birds and species counted in your neighbourhood and the whole of Australia. Not only will you get to know your feathered neighbours, but you'll be contributing to a vital pool of information from across the nation that will help us see how Australian birds are faring.
So get your friends and family together during National Bird Week, head into the great outdoors and start counting.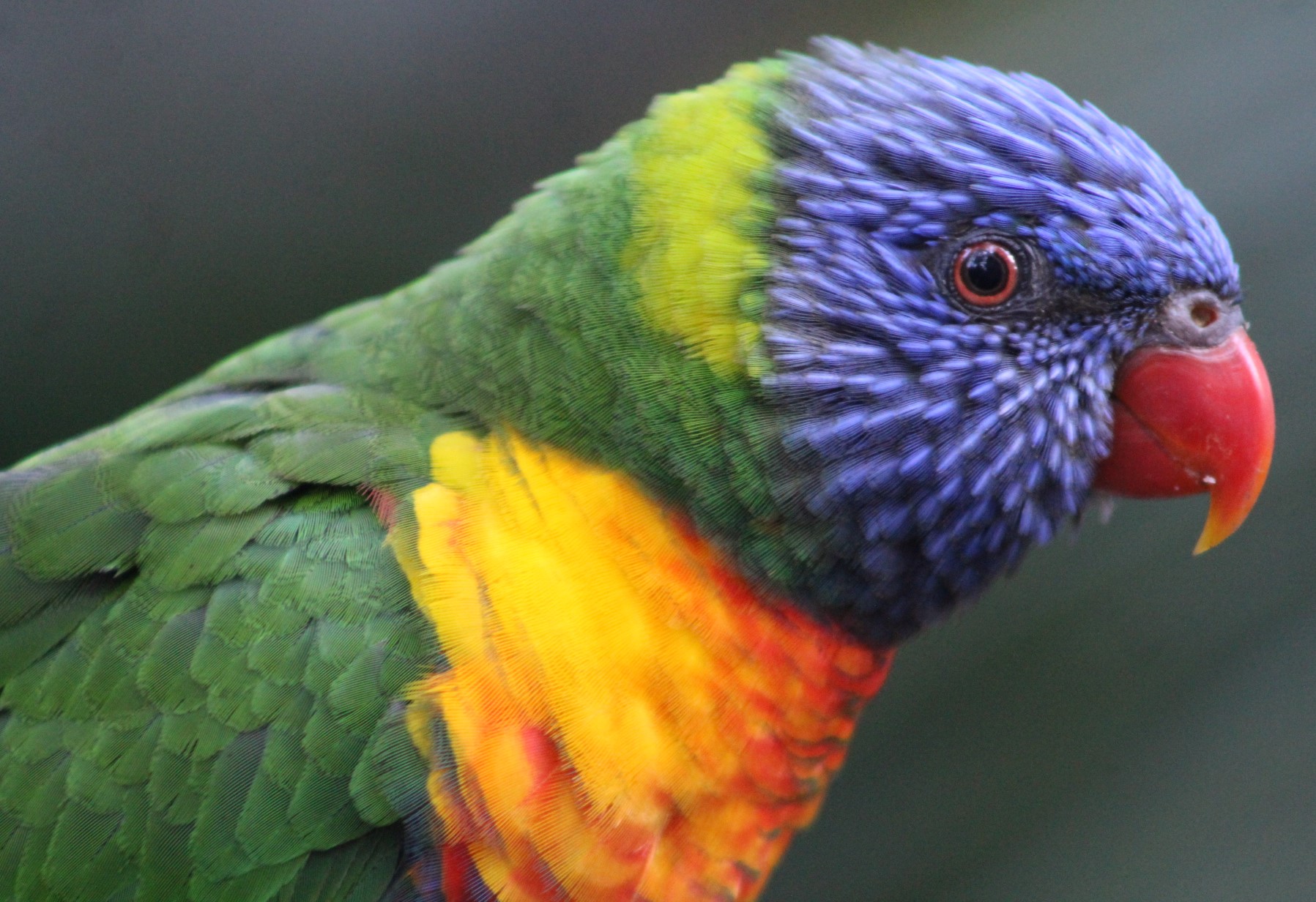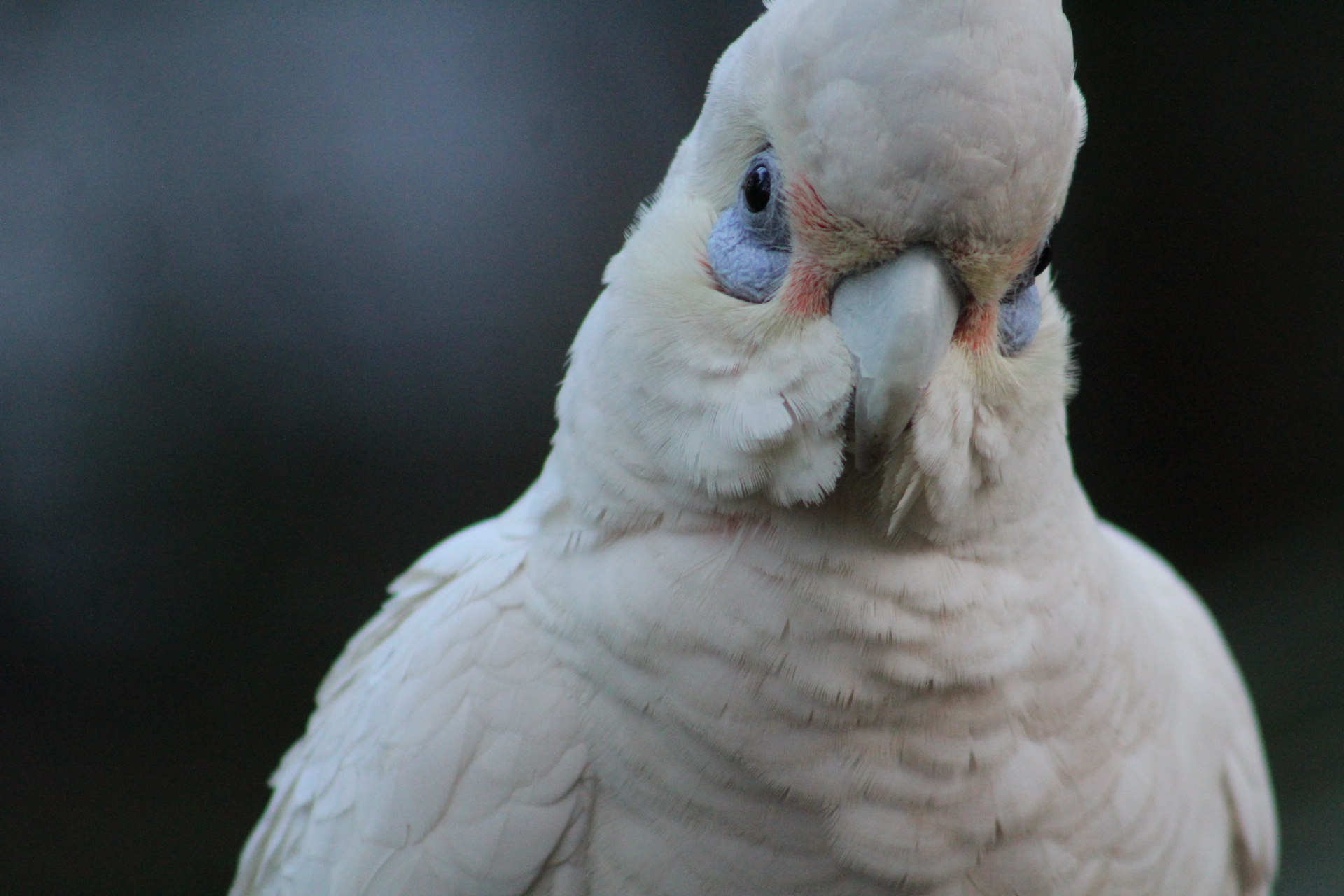 Photos: Rainbow Lorikeet and Little Corella in Pittwater on September 29, 2022. Photos taken by A J Guesdon.
A Steam Train Passes
Made by Film Australia 1974. Directed by David Haythornthwaite. Generally regarded as Australia's finest railway film and winner of many awards the world over, A Steam Train Passes is a nostalgic, imaginative essay on one of the majestic C38 class steam locomotives. This fine locomotive has been restored at the Newcastle State Dockyard. The film follows the 3801 on a journey through country New South Wales as it seemingly moves back in time with each stop at a railway station.
Peter Rabbit - The Great Pumpkin Theft
Ho ho ho ... pencil in this date
The popular Christmas card competition has been expanded to more primary school students.
'All I want for Christmas' is the theme of this year's competition for students to design a Christmas card for the Minister for Education and Early Learning, Sarah Mitchell, and senior department executives.
The annual competition is now open to students from Kindergarten to Year 6.
The winning artist will have their artwork featured on the Minister's 2022 Christmas card and receive a book pack and 20 copies of the card. The runners up will feature on cards for the Department of Education Secretary, Georgina Harrisson, and Deputy Secretaries – School Performance, Murat Dizdar and Leanne Nixon.
The competition has previously been open only to Kindergarten students. Last year's winning image from Hayley Shepard from Surveyors Creek Public School in Glenmore Park featured a dream of waking up to a puppy in Santa's stocking.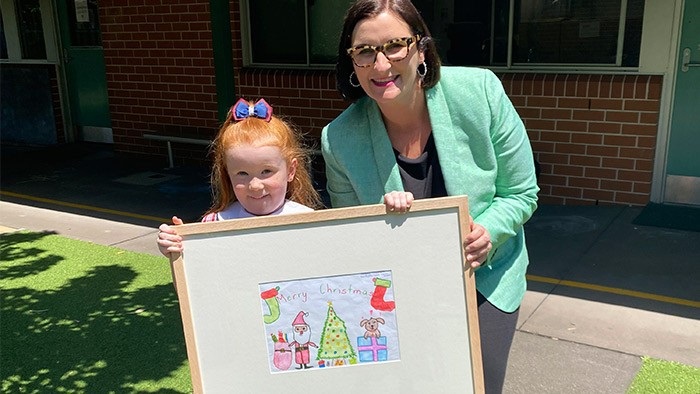 Doggone it: Hayley Shepherd and Education Minister Sarah Mitchell hold Hayley's winning design.

How to enter
Schools can submit artwork entries on behalf of students by email to mcc@det.nsw.edu.au by 5pm on 17 October 2022. Please name saved artwork files in the format of schoolname-firstname-lastname.png, such as Christmas-PS-Santa-Claus.png.
Artworks can be created in any medium but should be no larger than 21cm x 30cm (A4). The artworks may be in portrait or landscape format.
The winning artists will be notified by 29 October 2022.
ALKOO OF PALM BEACH.
When first I saw Alkoo, she was a pretty, young mother koala with a soft, grey furry coat, a white front, and ears fringed with feathery fur. She opened her bright eyes so wide when she gazed about the bush that she looked as if she was always surprised, though really she was not, for she knew every opossum and every cockatoo and parrot that lived in the gum forest near Palm Beach.
Alkoo's coat was so silky, her eyes were so bright, her large nose so handsome that the koala colony thought Antony very lucky to have won her for his wife. But Alkoo did not agree with her friends. She thought she was the lucky one to have so kind and goo d-looking a husband, and when her little son, Bunyarra, was born, she was so proud that she hardly knew what to do.
The days and weeks passed quietly by, and Bunyarra grew steadily till he was big enough and strong enough to climb out of his mother's pouch and look about. It is hard to say whether Alkoo or Antony was the prouder of him. They both doted on him, and he would have become thoroughly spoiled had not Alkoo been a really good mother and punished him when he was disobedient or cheeky.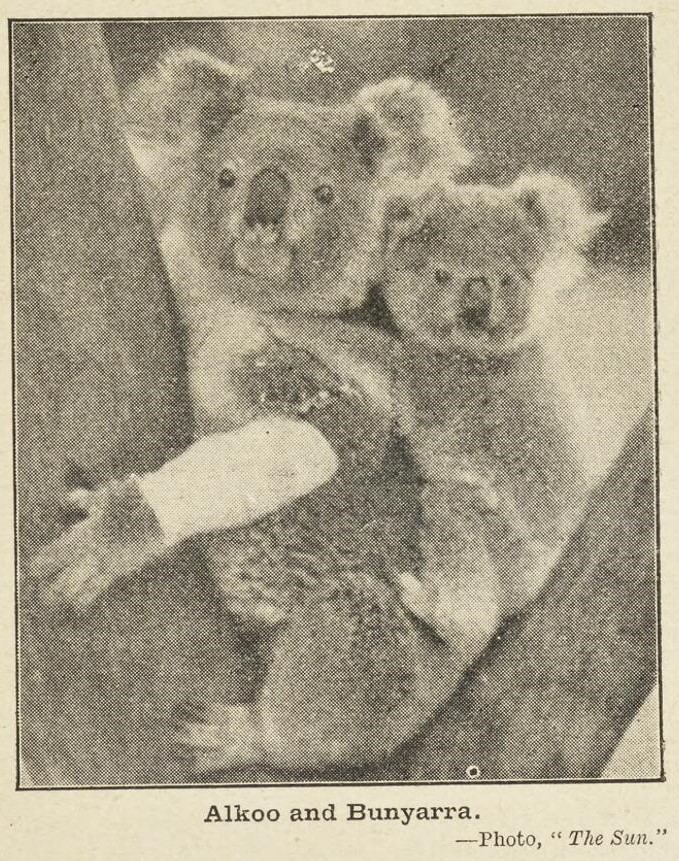 Alkoo and Bunyarra. —Photo, " The Sun."
If it had not been for Bunyarra's curiosity, trouble would not have fallen on Alkoo. One Saturday afternoon he set off on his own when his parents were both fast asleep, for it was a hot afternoon towards the end of the summer.
Bunyarra trotted and hopped as fast as he could, and soon reached the edge of the concrete motor-road. There he sat in the shade of a little gum-tree and watched. He was so small and so much in the shade that no one noticed him. He loved watching the cars. What a lot he would have to tell everyone when he got home !
He was just feeling a little hungry, and thinking that he had better start for home, when he heard a soft grunt, and turned to see his mother. She did not say much, but was clearly very frightened about him and very cross. Bunyarra was beginning to explain how clever he was, and to tell Alkoo all about the cars, when a dog barked quite near them, and before Bunyarra had time to run away, a large, rough-coated dog sprang upon his mother, barking furiously.
Bunyarra ran away, and climbed a little tree. He could not quite see all that happened to his mother. At first he hardly dared to look. He knew that the dog had hurt her, for it had her down on the ground, and rolled her over, and then she screamed with pain.
Bunyarra was dreadfully upset. He sobbed and cried, but no one paid any attention to him. A boy and a girl came running up to his mother. They called off the dog and the boy picked up Alkoo. One of her arms hung limp, and one of her ears was bleeding. The boy carried her to a car, and a man drove him and the girl and Alkoo away.
Alkoo's broken arm hurt her badly, so did her torn ear, but much worse to bear than the pain was her anxiety about Bunyarra. Was he still by the road ? Had he gone home to his father ? Could he find his way home ?
Alkoo was so terribly worried about Bunyarra that she hardly noticed what was happening to herself, nor did she care. The car was travelling fast, and after what seemed a long time it stopped.
"I'll carry her in," the big strong man told his son.
Alkoo knew, both from his voice and his touch, that he was a kind man. If only she could tell him about Bunyarra.
She was left alone in a big, bare room for what seemed a long time. Then the man came back and brought another man with him, who sat down and took Alkoo on his lap and felt her all over. He set her arm in a splint and bathed her ear. Alkoo began to cry like a baby.
The doctor stroked her and soothed her.
''Why, she must have had a baby in her pouch not many weeks ago ! It's her baby she's crying about, not the pain. I thought that wasn't a pain cry. I'm afraid that baby will be killed, but we can't go and look for it to-night."
Although it was late, Alkoo was taken that night by the doctor to Koala Park. There she was put into the hospital, and made comfortable in a large enclosure where boughs of green formed a little arbour.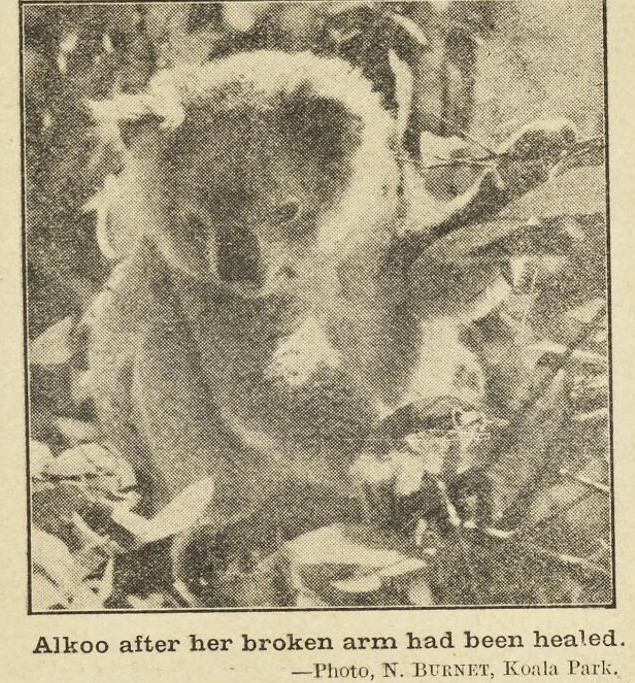 Alkoo after her broken arm had been heated. —Photo, N. BURNET, Koala Park.
The Secretary of the Koala Club, Mr. Edwards, had a telephone call late the next afternoon. Two children had found a baby koala at Palm Beach, sitting in a tree by the roadside, crying as if its heart would break. A dog was at the bottom of the tree barking at the poor little thing.
The children had carried Bunyarra home, but their parents did not want them to have him for a pet, for they knew how difficult it would be to get the right leaves for him.
Mr. Edwards, who will do anything to save a koala from pain or unhappiness, and who had heard all about Alkoo, thought that the koala the children had rescued must be Alkoo's baby. So he went off in his car, and found the house at Palm Beach where the children lived.
The children had gone to bed, but he was greeted by their mother. They had put Bunyarra in the tool shed for the night, but he had lolloped round and round, crying all the time. Mr. Edwards was taken to the boy's bedroom, and there he saw a curly-headed boy with a little koala snuggled up against him, both sound asleep.
Mr . Edwards hated disturbing them, but he had motored a long way to fetch Bunyarra. The boy did not wake when Bunyarra was lifted gently from his bed, nor did Bunyarra till he was in the car, lying rolled up in a shawl on the seat. Then he began to cry his hardest, and he kept on crying until Mr. Edwards reached his home. He could not take him out to Koala Park that night. It was too late, so he put him in the washhouse, and arranged sticks so that he had a nice fork in which to sleep.
Bunyarra refused to use the perch provided for him, and sat in a corner and cried very loudly. This woke Mr. Edwards's little boy, who came running downstairs to see what was the matter.
" I can make him stop crying," he said at once. "Let me take him to bed." He carried him upstairs and took him into bed with him, and there Bunyarra snuggled down against him and slept till the morning.
The next afternoon Bunyarra was taken out to Koala Park. Alkoo did not know how to express her joy when her baby was brought to her. The doctor was afraid Bunyarra would hurt his mother's broken arm, but Alkoo would not be satisfied till she had smelled him all over, and combed out his coat as well as she could manage.
Then the Director of the Park took Bunyarra away, for he saw that he was going to be too much for Alkoo.
Now Bunyarra needed a mother to keep him in order by day and to cuddle him at night, and there was a very kind old granny, who badly needed a baby to look after.
The Director of the Park, Mr. Burnet, had had to punish old Booraby for stealing babies from their mothers. She had been shut up in the sun room for two days, and now he was glad to be able to give her Bunyarra to look after.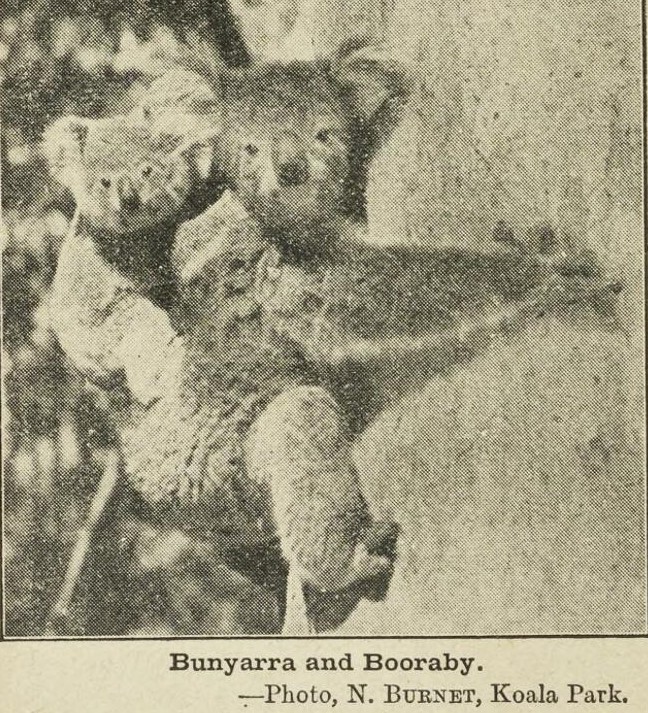 Bunyarra and Booraby. —Photo, N. BURNET, Koala Park.
She was so delighted and proud that she fetched all the best leaves for Bunyarra, and chose the best forks in the trees for sleeping. She had had four babies of her own, so she knew just how to cuddle Bunyarra.
But Bunyarra's time with Granny Booraby was to end sooner than had been expected. As Bunyarra grew bigger and heavier his strong claws gripped Booraby's fur too hard and pulled out great pieces, for, at seventeen, a koala's fur is not nearly so close and strong as when she is young.
So a change of foster mothers had to be made, and Lallewoon, a young mother who had just brought up a baby, was chosen to look after Bunyarra. She had a splendid fur coat into which Bunyarra could put his claws and grip as hard as he liked without pulling out any tufts. Bunyarra was happy with Lallewoon, and was very popular at Koala Park, for he was the only young koala just then, and his adventures made visitors anxious to see him.
—From "Little Teddy Bear," by LYDIA S. ELIOT. Price, 5/9. (Collins).
This book is recommended for school libraries. New South Wales. Department of Education. (). The school magazine of literature for our boys and girls September 1st, 1940, pages 115-118 Retrieved from http://nla.gov.au/nla.obj-774926280
Bilal: A New Breed Of Hero
Full Family Animated Adventure Movie from Family Central - Rated: PG
A boy with a dream of becoming a warrior is abducted - taken to a land far from home. Thrown into a world where greed and injustice rule all, he finds the courage to raise his voice and make a change.
The Secret Garden (2020)
Rated: PG
Rosie Revere Engineer

Published by Toadstools and Fairy Dust
Gingerbread Man & Pinocchio - Fairy Tales For Kids

Children's Book Reading with Tsehay: 'Something in Common' - The Wiggles

Published The Wiggles
Book of the month: october 2022 - My easy to read fairytales
Published 1996
Archive of millions of Historical Children's Books All Digitised: Free to download or Read Online
Enter the 1: Baldwin Library of Historical Children's Literature here, where you can browse several categories, search for subjects, authors, titles, etc, see full-screen, zoomable images of book covers, download XML versions, and read all of the 2: over 6,000 books in the collection with comfortable reader views.
Find 3: more classics in the collection, 800 Free eBooks for iPad, Kindle & Other Devices.