January 14 - 20, 2018: Issue 343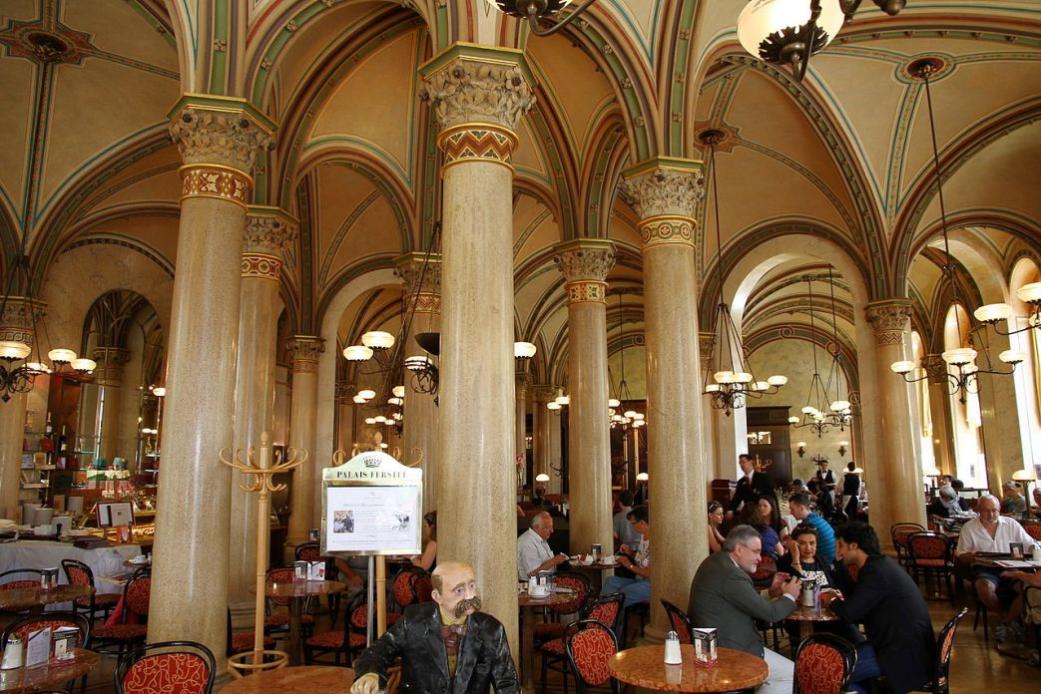 Cafe Central in Vienna interior near entrance with statue of Peter Altenberg. Photo courtesy Clayton Tang.
CAFÉ CENTRAL – VIENNA
Seeing people in the city of Sydney hurrying to work grasping in one hand a disposable cup of coffee, bought on their way - or observing the many coffee shops of various types and sizes tucked into every available space in the central business district of the city it is hard to imagine that the growth of a "coffee culture" in Australia is really only quite recent.
When Ivan Repin in 1930 opened his first small shop, which was the genesis of a chain of Coffee Inns in Sydney, he served a good cup of coffee and charged for it. This was virtually unprecedented. The public expected tea or coffee at the end of a meal, without charge. The coffee then generally available was atrocious – stale, over-brewed, or prepared with coffee essence or, worse still, from coffee and chicory essence.
Despite the economic depression of the 1930s the business was a success and attracted a growing clientele of dedicated coffee drinkers. Ivan Repin popularised coffee as a beverage in its own right – not just as an adjunct to a meal - raising consumer awareness of the pleasures of a good cup of coffee.
When Australia opened its doors to refugees from Central Europe, escaping from the looming threat of Nazism, many of them in Sydney went to Repin's because, they said, the coffee was like the coffee they enjoyed "back home" in Europe.
Coffee Houses have a long history in Europe.
Legend has it that Georg Franz Kolschitzky, (born around 1640 in Galicia), who acted as a scout in the defence of Vienna in the early 1680s when the Ottoman Turks were stopped at the gates of Vienna, invested part of his reward opening Vienna's first coffee house. However, it was an Armenian merchant Johannes Diodato who, equipped with a license from the Imperial Court to trade with the Turks, who brought coffee to Vienna in 1685. By this time other Western European cities already had coffee houses – Venice in 1645, London in 1652, Hamburg and Marseille in 1671 and Paris in 1672.
Café Central is one of a number of outstanding coffee houses. It was opened in 1876 by the Pach brothers. It became a meeting place for intellectual discussions on the great issues of the day, where poets and thinkers could meet, or to play cards or billiards in a magnificent setting. They could enjoy the culinary classics for which Vienna became world famous.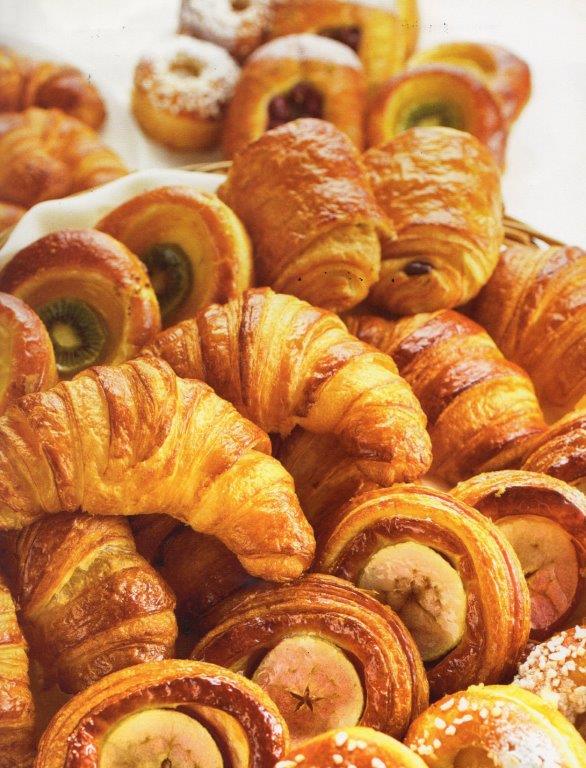 A selection of pastries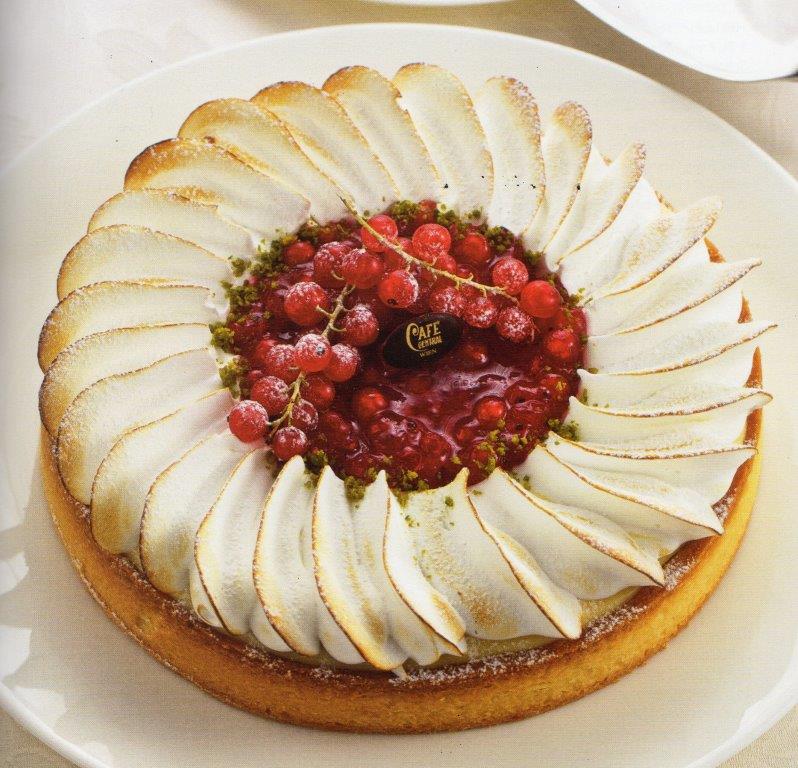 Currant Meringue Flan

For almost seventy years Café Central remained a symbol of Viennese coffee-house culture and to quote Alfred Polgar "An asylum for those who want to kill time without being killed by it" and "a refuge for people whose misanthropy is just as strong as their craving for people to be alone but need company to do so."
However, at the height of World War II, in 1943 Café Central shut its doors and remained closed until, in the early 1980s, a new owner began its careful restoration. Now as one of Vienna's oldest coffee houses it presents Viennese coffee culture and cuisine at the highest level with modern interpretations of the great classic dishes.
Coffee is presented in many forms – ranging from "purist" black coffee and "Turkish" coffee, to compositions that include ingredients such as liqueurs, spirits, cream and various toppings.
The patisserie produces an amazing variety of breads, pastries, gateaux, flans, strudels and sweet dumplings. (A few illustrations from a book calledCafé Central – ISBN 978-3-200-02411-3 – of examples of product from the patisserie accompany this article.)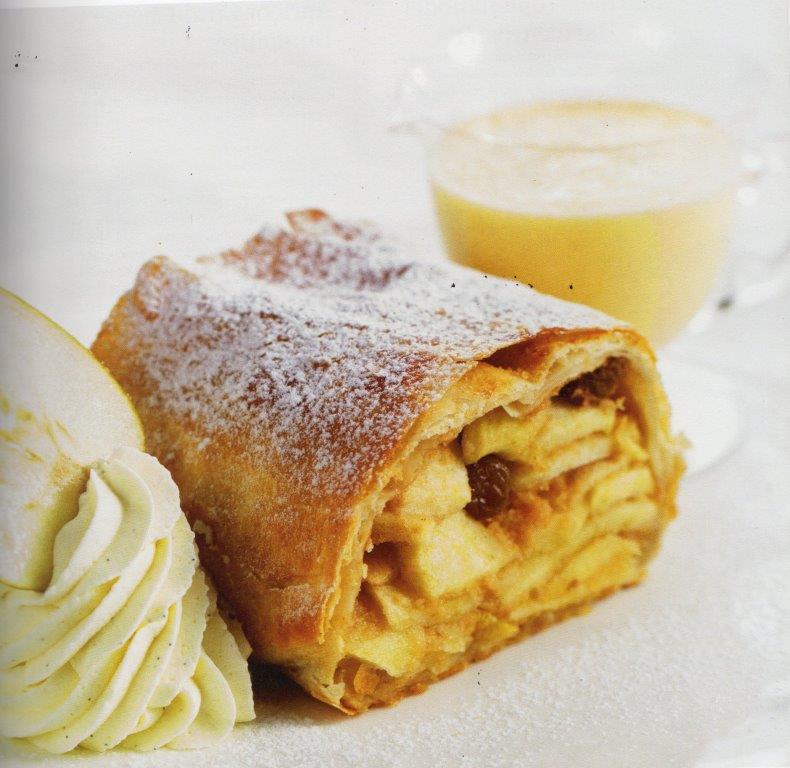 Apple Strudel
Apricot Curd-Cheese Dumplings
Café Central,
Palais Ferstel in Herrengasse, Vienna. Photo courtesy Florian Prischl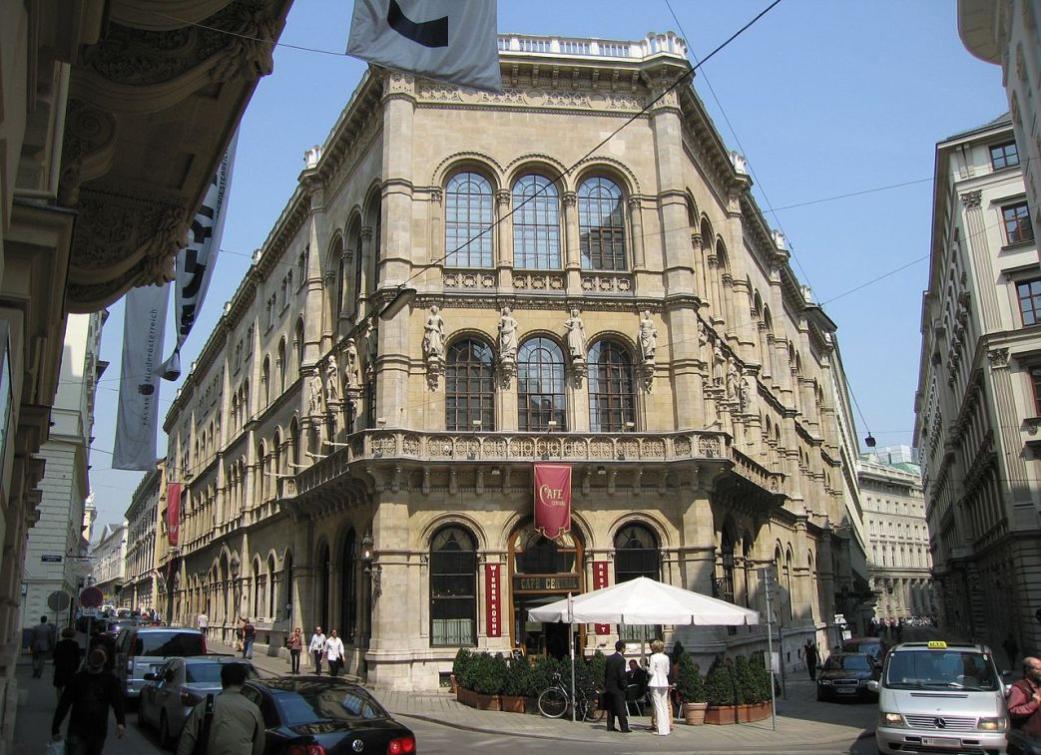 Previous Reflections by George Repin
Copyright George Repin 2018. All Rights Reserved.