October 28 - November 3, 2012: Issue 82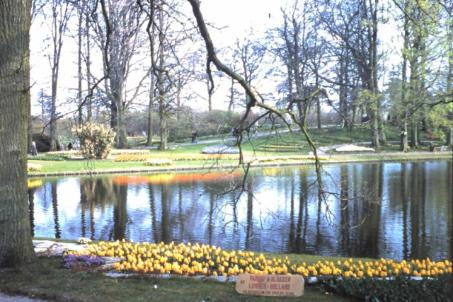 Lake in Keukenhof gardens.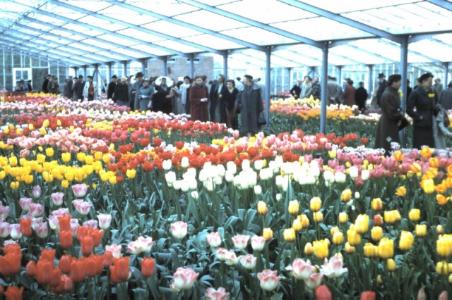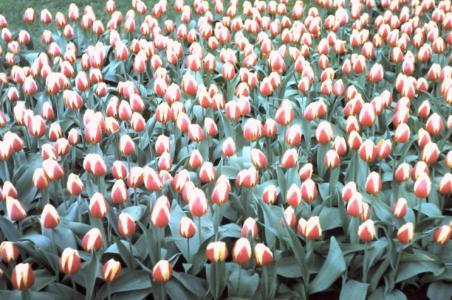 Unusual "radish-like" tulips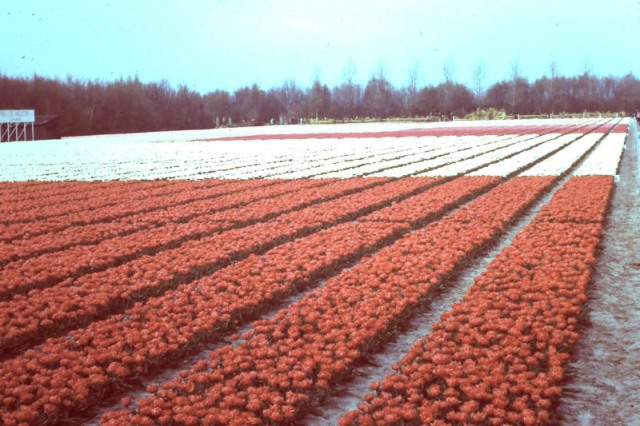 Field of red and white tulips.
Copyright George Repin, 2012. All Rights Reserved.
KEUKENHOF – 1954
By George Repin

With Floriade, the floral display which draws large numbers of visitors to Canberra during September and October each year closing on 14 October, my thoughts turned to an unexpected exposure in 1954 to the magnificent floral display at Keukenhof in Holland.
In those days few Australians travelled to Europe by air – travel by sea was the norm. Long before mass tourism by air developed, flight schedules were sparse and making connections often involved long waits at airports between planes.
So, when faced with a long wait for a flight at Schiphol Airport in Amsterdam my wife and I happily accepted a suggestion from a member of the KLM ground staff that we join a coach for a visit to Keukenhof, now the world's largest flower garden. It proved to be a wise decision.
Keukenhof is in the small town of Lisse in South Holland - south of Haarlem and south-west of Amsterdam.
It is on what was a 15th Century hunting ground which later became the source of herbs for a castle on the site – hence the name Keukenhof which means "kitchen garden". It passed through the hands of many owners over the years, particularly rich merchants.
In 1949 the then mayor of Lisse established the garden with the idea of it being a flower exhibition where growers from all over the Netherlands could display their hybrids for the benefit of the Dutch export industry which is one of the world's largest exporters of flowers.
Keukenhof covers 32 hectares, with 15 Kms of footpaths and over 2500 trees of different varieties. Approximately seven million flower bulbs are planted annually. Tulips, hyacinths, daffodils and other spring bulbs are on display. It is one of the most popular attractions in the Netherlands and has attracted more than 44 million visitors in the last 60 years. It is a photographer's paradise.
Keukenhof is open only for a short time in the Northern Spring each year and will next be open from March 21 to May 20, 2013. However, the grounds of the castle are open all year round.
Pictures from Kodachrome 35mm. slides by George Repin.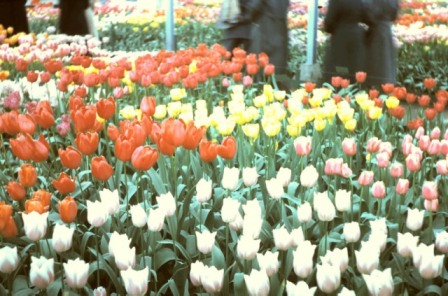 Close-up of flowers in the greenhouse.