June 1 - 7, 2014: Issue 165
NAPIER (Ahuriri, Maori) NEW ZEALAND
by George Repin
With the intense publicity given to the devastation caused by the earthquakes which affected Christchurch on 4 September 2010 and 22 February, 2011 it is easy to forget that earthquakes are a not infrequent occurrence in New Zealand and that over the years other towns have been extensively damaged.
Napier on the east coast of the North Island of New Zealand, situated on the shores of Hawke's Bay, was a modest but attractive seaport of just over 16,000 people when, on 3 February, 1931 an earthquake with a magnitude of 7.8 on the Richter Scale, lasting two and a half minutes, flattened most of the central part of the town and caused 256 deaths in Napier and surrounding areas including Hastings. It was the deadliest natural disaster ever suffered by New Zealand. (In comparison the death toll of the February 2011 Christchurch earthquake was 186). Over 100 fires broke out, burned for 30 hours, and completed the destruction of the heart of the town. With the water mains ruptured fire brigades were unable to save many buildings.
The earthquake changed the local landscape dramatically. The most significant change was the uplifting of about 40 square Kilometres of sea bed to become dry land. The Hawkes Bay Airport is built on part of the former Ahuriri Lagoon which was in this area and was raised 2.7 metres.
The rebuilding of Napier took place in the early nineteen thirties when the Art Deco style was in full vogue. Art Deco had become popular following the Paris Expo of 1925. It featured decorative sunbursts, lightning bolts, zigzags and stars and lavish pastel colours. The local population adopted the dramatic form which conveyed the excitement of the Jazz Age as a counter to the prevailing mood of the economic Depression. Although a few art deco buildings were subsequently replaced by more contemporary structures the community soon realised that the city was unique and architecturally important, so that from the beginning of the 1990s active steps were taken to protect and restore the art deco buildings. As a result Napier is strikingly different from any other city and, together with Miami Beach Florida, is considered to be one of the best preserved Art Deco towns in the world. Its architecture is a major tourist attraction, bringing in art deco enthusiasts from around the world. Photographs of some of the city's buildings accompany this article.
Napier now is an attractive tourist town. Marine Parade is a highlight – a tree-lined boulevard with fountains, gardens, minigolf and spas - while the city is also home to art galleries, antique shops, and studios of potters, wood workers and other craftsmen. The Deco Centre is in a 1922 fire station, rebuilt in the new style.
The total population of The Twin Cities, Napier and nearby Hastings, is now about 125,300 people.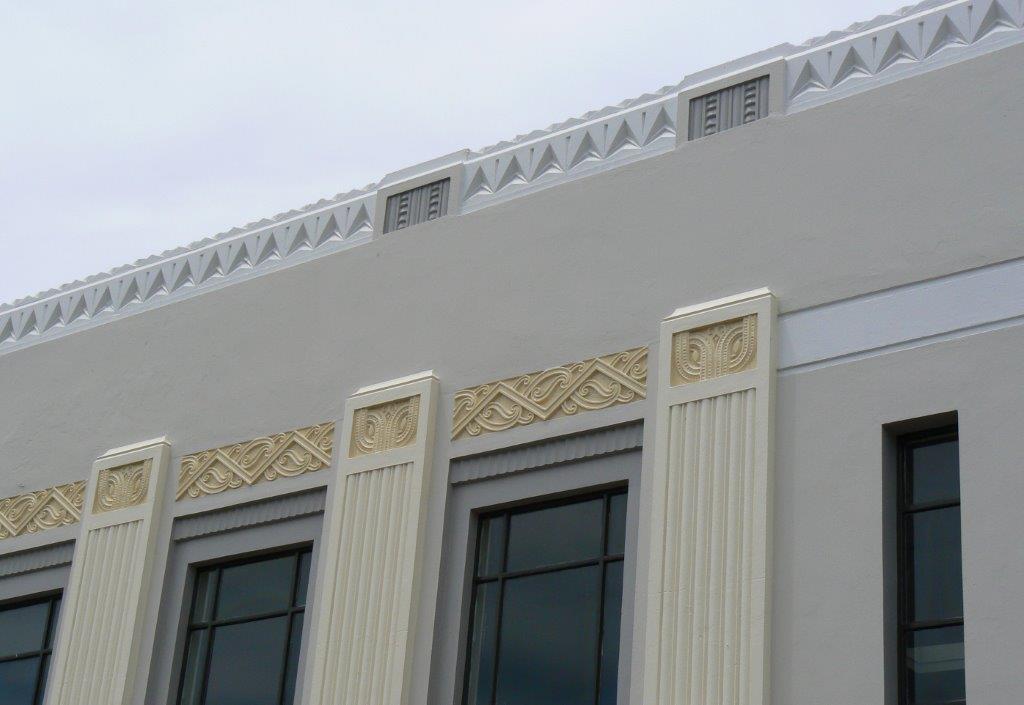 Façade of a bank building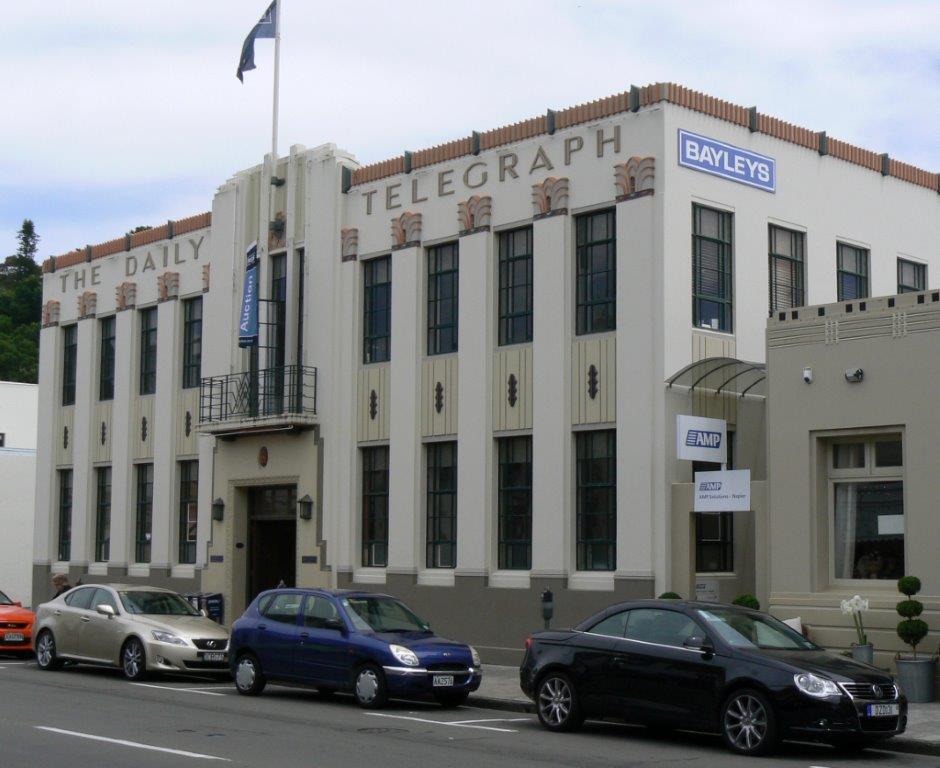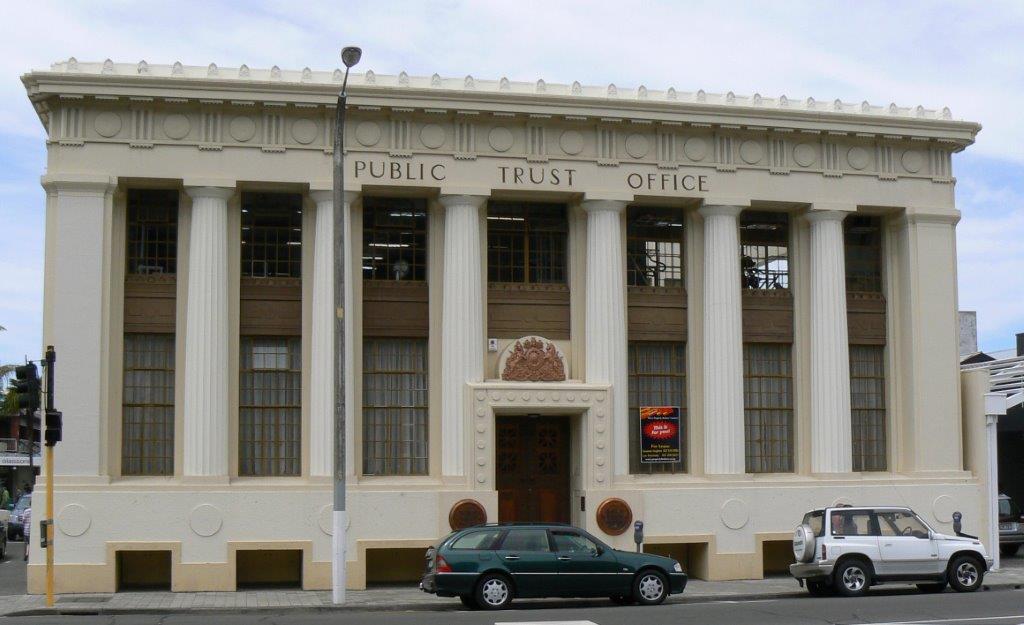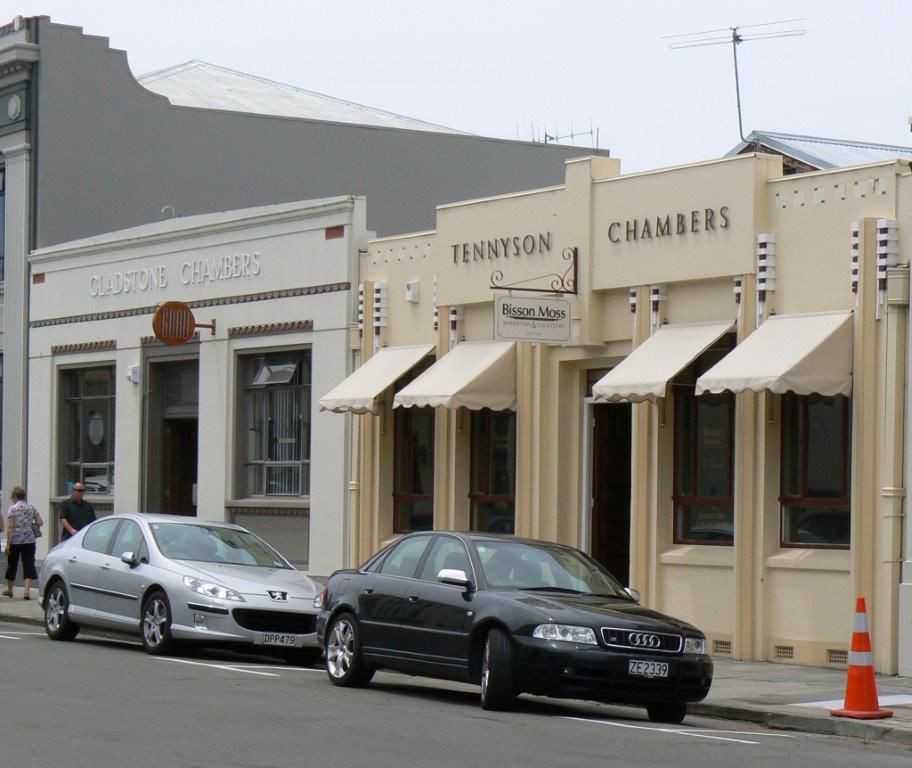 Small shops housing legal chambers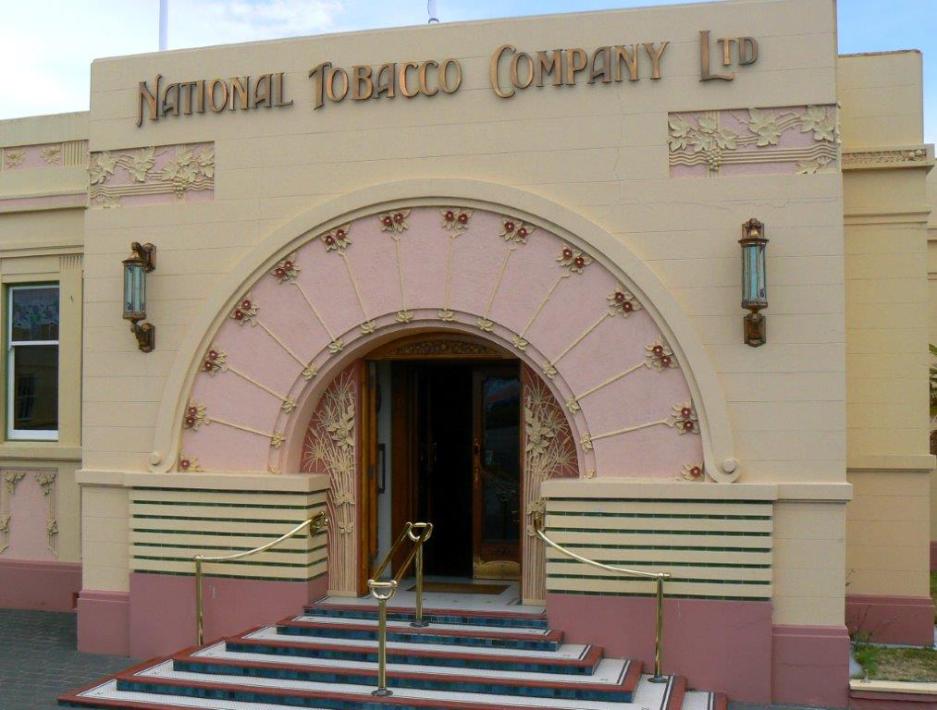 National Tobacco Company Limited
Copyright George Repin 2014. All Rights Reserved.