May 4 - 10, 2014: Issue 161
NOT A CHAGALL!!
by George Repin
Marc Chagall, a Russian Jewish artist, was born at Liozna near Vitebsk (in what is today Belarus) on 24 June, 1887 (Julian calendar). Some of his early paintings today sell for around £500,000 while major works bring prices in the millions. He is remembered not only for his distinctive painting style, as an influential modernist painter, but also for outstanding works in other artistic media including book illustrations, stained glass, stage sets, ceramics and tapestries.
In 1992 a no-nonsense Yorkshire businessman, Martin Lang, bought a watercolour painting of a reclining nude, believing it to be a Chagall dating from around 1909 to 1910 for £100,000 ($187,000), which he displayed in his home.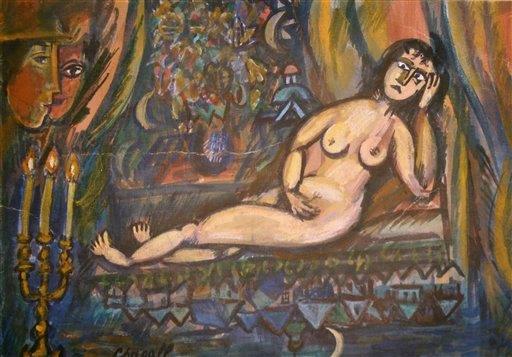 At the urging of his son he sent the painting to Paris for authentication. Apparently he was not aware of the French law sometimes referred to as "the moral law of the artist". French law is possibly the world's strictest when it comes to protecting the works of painters and sculptors. The destruction of counterfeit paintings is not only legal but expected.
The painting was sent to the Chagall Committee which is run by the artist's grandchildren to protect his legacy. They ruled it was a forgery (apparently after scientific analysis indicated that some of the pigments dated from the 1930s) and that it should be destroyed under the French law.
Apparently French committees judging the authenticity of art works generally ask the owners to acknowledge in writing that they understand that their artwork could be destroyed if declared a forgery. There is some doubt whether this was made clear to Mr
Lang. Following the decision of the committee he asked the committee to agree to the painting being marked as a forgery and returned to him. His request was refused and he appealed. At the time of writing the matter remained unresolved.
In Text: Photograph of his painting provided to the media by Martin Lang
_________________________________________________________________________________
Chagall worked in Russia (1906-1910), France (1910-1914), Russia and Soviet Belarus (1914-1922), France (1923-1941), USA (1941-1948) and finally in France (1948-1985) where he died but he never forgot and was greatly influenced by the memories of the town where he was born, which in 1887 had a population of 66,000, half of whom were Jewish. At the start of World War II the population of Vitebsk was 240,000 but only 118 survived the German occupation.
The art critic Robert Hughes referred to Chagall as the quintessential Jewish artist of the twentieth century.
Outstanding works of Chagall include stained glass windows in the cathedrals of Reims and Metz, stained glass windows for the United Nations building in New York and the painting of the new ceiling of the Paris Opera (Palais Garnier) in 1963-1964 which took the 77 year old artist a year to complete. The final canvas was 2,400 square feet and required 400 pounds weight of paint. It was in five sections glued to polyester panels which were hoisted up to the 70 foot high ceiling.
Chagall spent his final years and died in Saint-Paul-de-Vence a charming commune of the Alpes-Maritimes department in south-eastern France. It is one of the oldest medieval towns on the French Riviera and is known for modern and contemporary art museums and galleries.
Chagall's last work was a commission for the Rehabilitation Institute of Chicago involving a maquette painting and a tapestry. The painting had been completed. Yavett
Cauquil Pierce, who was weaving the tapestry under Chagall's supervision, was at his home discussing and matching the final colours from the painting to the tapestry. She left at 4pm. He died that evening.
Photographs of Saint-Paul-de-Vence by George Repin in 2011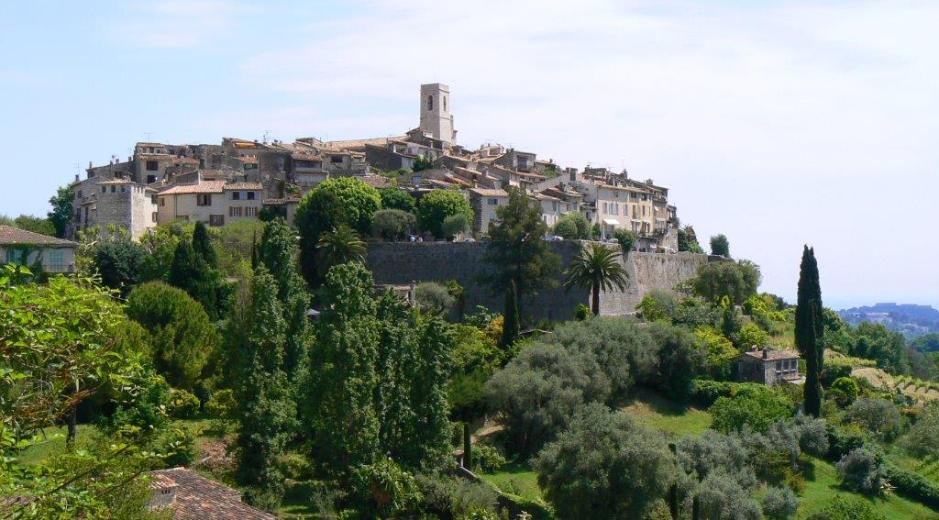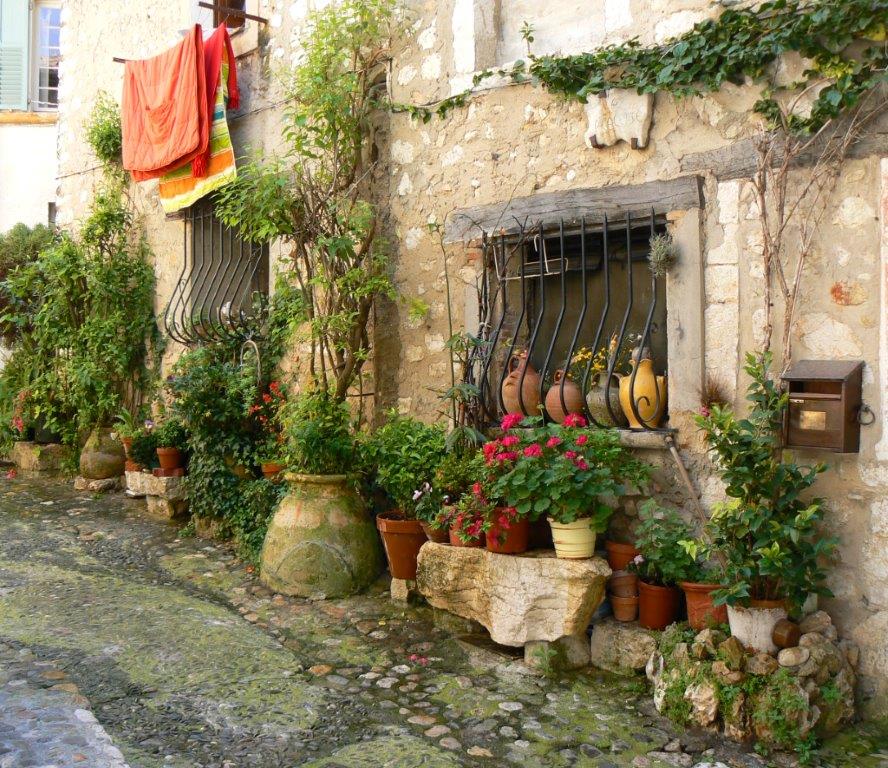 A lane in Saint-Paul-de-Vence.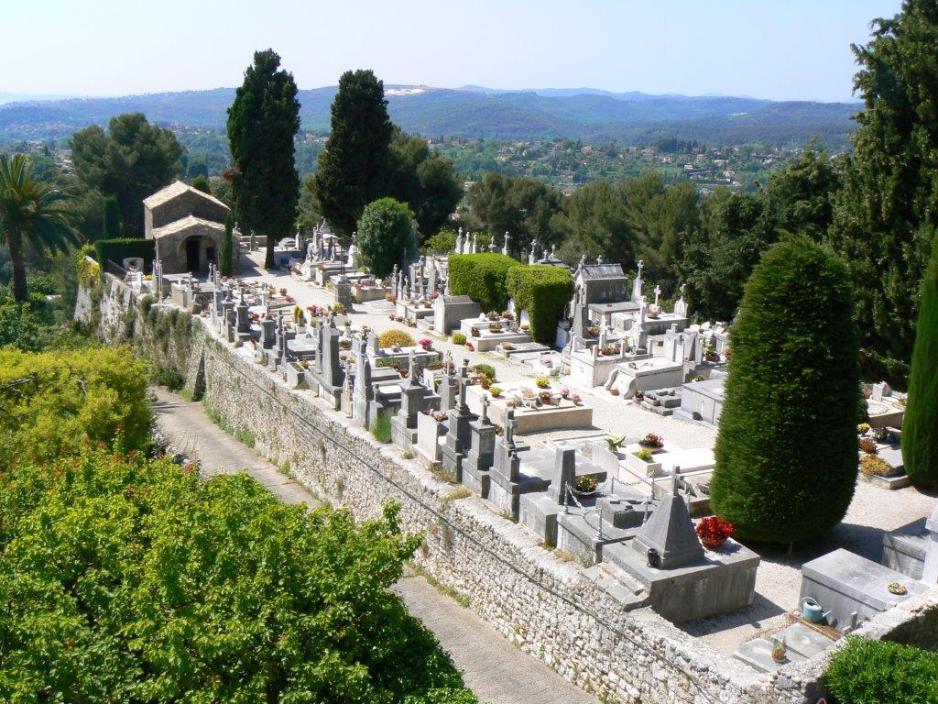 The cemetery at Saint-Paul-de-Vence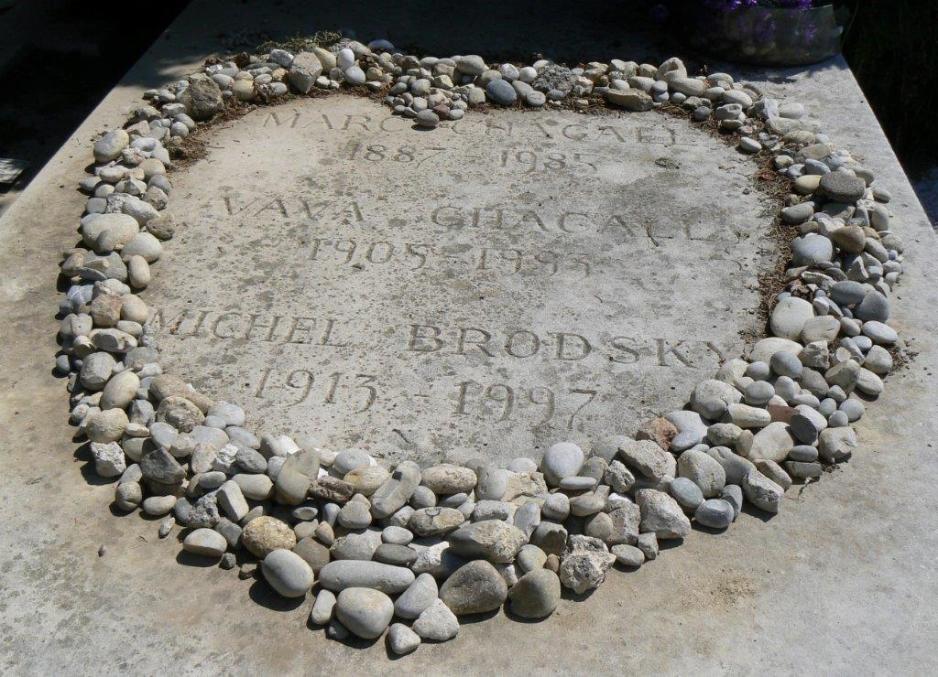 The grave of March Chagall, his second wife Vava (nee Valentina Brodsky) and her brother, Michel Brodsky.
All Photos by George Repin. Copyright George Repin 2014. All Rights Reserved.