December 29, 2013 - January 4, 2014: Issue 143
RUSSIAN FAIRY TALE PLATES
by George Repin
The artist Boris Zvorykin was one of the most important exponents of the old Russian style of ornamental illustration, a skill which was recognised and later applied to the production of outstanding works on hard porcelain.
Born in 1872 he lived through the Russian revolution but finally emigrated to Paris in 1920 where he died in 1942 during the German occupation.
In 1980 Heinrich Porzellan a subsidiary of Villeroy & Boch started the production of a series of twelve plates with scenes of Russian Fairy Tales, devoting three plates to each of four fairy tales. The original designs, created by Zvorykin soon after his arrival in Paris, are now in the Metropolitan Museum in New York.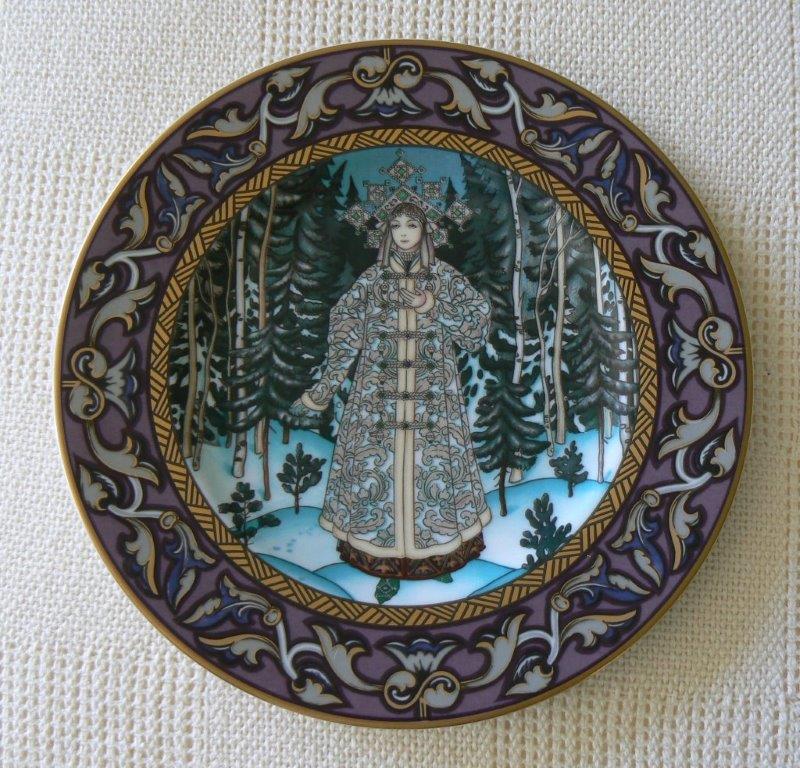 The Snow Maiden.
Zvorykin using a typical gouache technique - a type of paint consisting of pigment suspended in water - devised a method to give brilliant intensity to colours. This proved to be a problem when transferring his pastel shades to china to produce effects faithful to the original designs. Only by using gold was it possible to bring out the red and lilac shades after firing. The temperature of firing was about 1500F. Only one of the twenty eight different ceramic colours could be applied each day before firing – a delicate procedure requiring care, precision and time. Each plate was 21cm in diameter.
Finally each scene was offset with an ornamental rim on the plate, executed in high carat gold.
The Russian Fairy Tales depicted are:
The Snow Maiden Vassilissa the Fair The Firebird Maria Morevna
A limited edition of 27,500 sets of the plates was produced for worldwide distribution and a book about the series entitled The Firebird and Other Russian Fairy Tales was published by The Viking Press, New York.
Villery & Boch also produced other items, including a series of four small wall plaques, based on Zvorykin's designs.
Photographs are of items in my collection.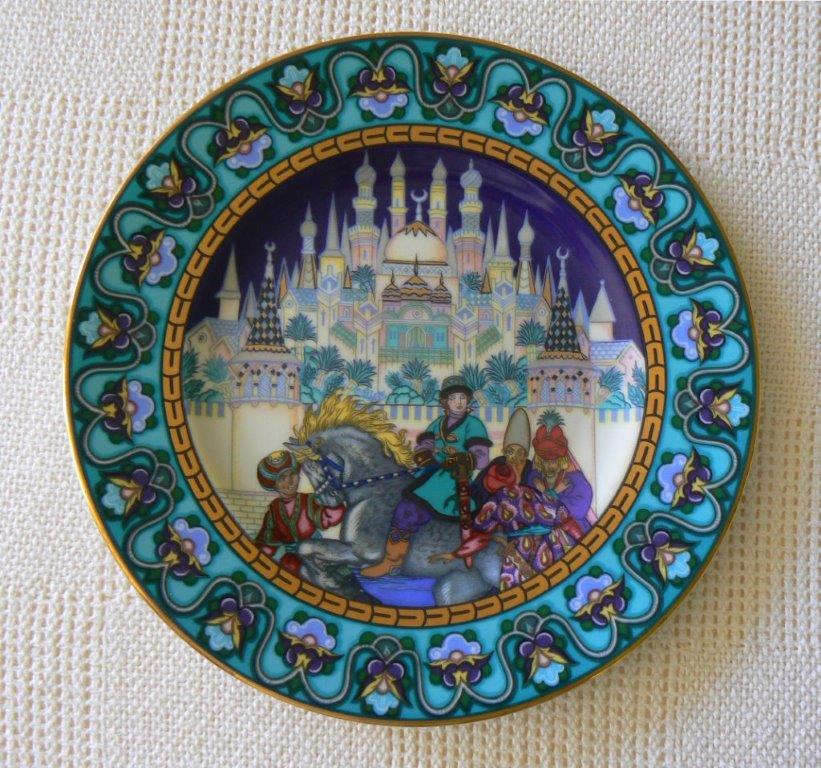 In Search of the Firebird.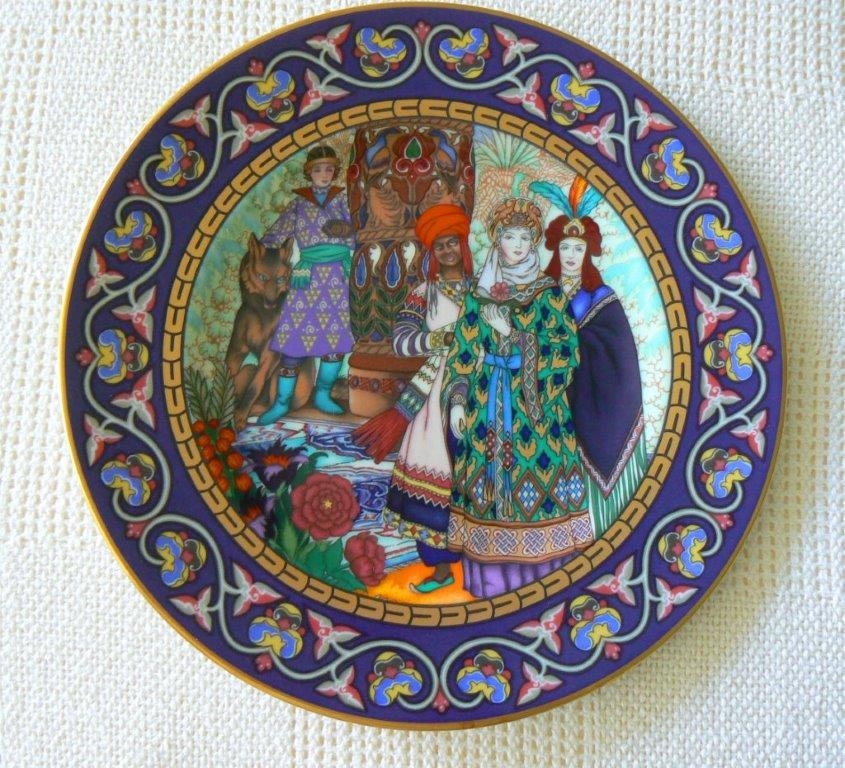 The Wedding of Tsarevna Elena the Fair.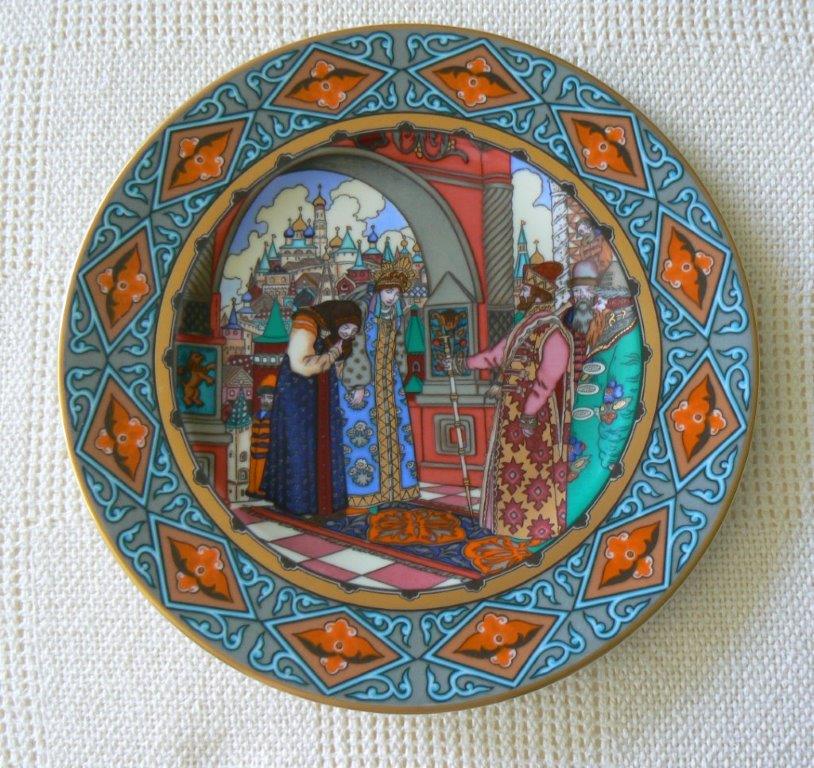 Maria Marevna and Tsarevich Ivan.

A Complete Set of the Plates.
Copyright George Repin 2013. All Rights Reserved.