December 13, 2020 - January 16, 2021: Issue 478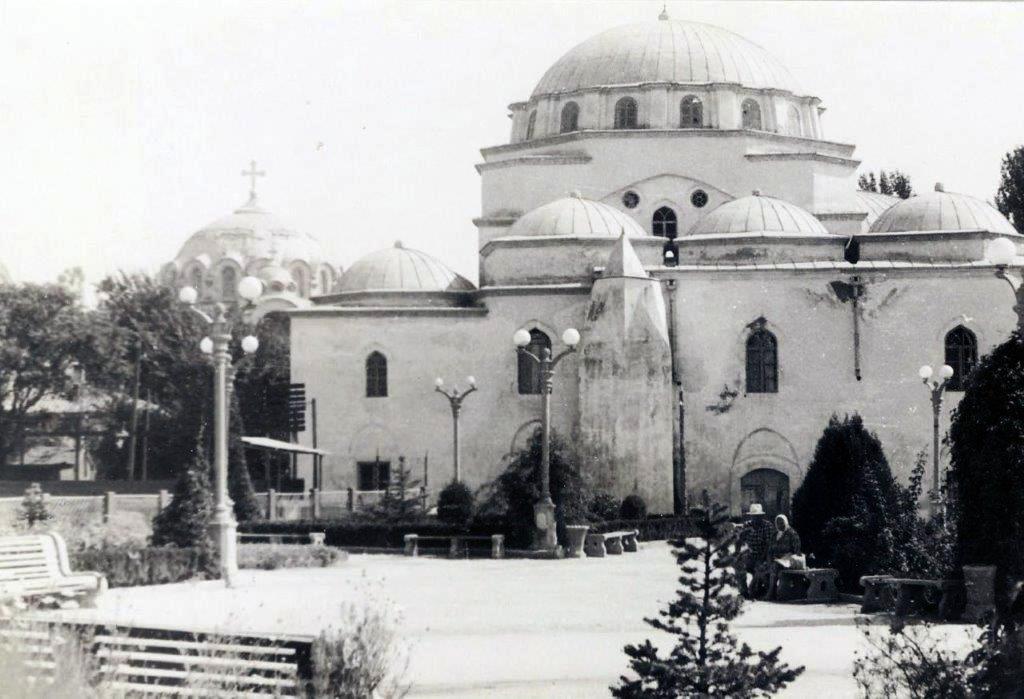 Evpatoria. Mosque with Greek Orthodox Church in distance. Early 20th Century.
NICHOLAS HIMONA – Artist
Nicholai Petrovich Himona was born in Evpatoria Crimea, into a Greek community, part of the Greek diaspora around the Black Sea. The Crimean Peninsula at that time was part of Russia. Although assimilated into the Russian way of life the Greeks tended to maintain their culture and spoke Greek in their homes, and Russian in the community. Himona's date of birth is uncertain – being some time in 1865 or 1866.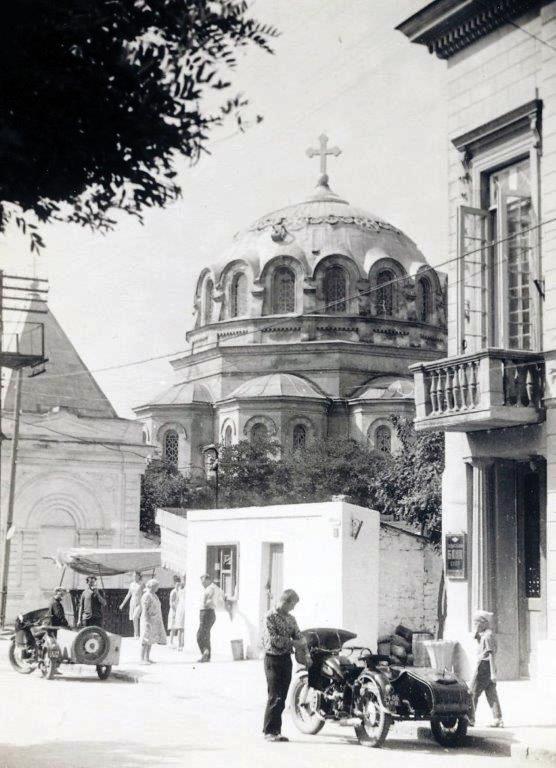 Evpatoria street scene with Greek Orthodox Church. Early 20th Century.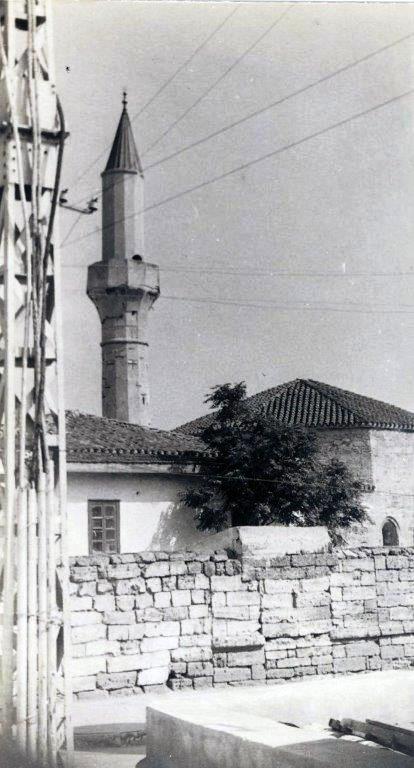 Evpatoria street scene with minaret. Early 20th Century.

As he worked in Russia and in Greece his name appears both in Kyrillic and Greek script, so that the transliteration into English script varies in different sources where the following variations appear, inter alia: Cheimonas, Cheimon, Chimonas and Khimona.
He is one of the few Greek artists listed in the BENEZIT – Dictionary of Artists, published in Paris in 2006, Editions Gründ. (His entry is in Volume 3Bulow to Cossin). See note below.
Himona was primarily a painter of landscapes – and is kno
wn for his harmonious compositions and knowledgeable and delicate rendering of light. He studied with Arkhip Ivanovich KUINDZHI at the Academy of Fine Arts in St. Petersburg (Imperatorskaya Academia) from 1890 to 1894 and later taught there (1896 to 1918) and exhibited his landscapes. After a visis to Greece in 1920 he took part in numerous collective exhibitions in Paris, Munich, London and the USA.
Some of his paintings are in the Dimotiki Pinakothiki and the Ethniki Pinakothiki in Athens, the Dimotiki Pinakothiki in Rhodes, the Gosudarstvenny Russkij Muzee in St. Petersburg and in the Treyakovskaya Gallereia in Moscow.
He died on Skyros, a Greek island in the Aegean Sea, in 1929.
In the early 20th Century the Ottoman influence, which had been strong in Crimea for a long time, was still apparent in the architecture and the presence of mosques in Evpatoria.
Himona had a close relationship with the Hrisonopoulo family because his sister Maria had married Michael Hrisonopoulo. He painted his niece their daughter, Alexandra Hrisonopoulo, as a young girl.
Himona's niece, Alexandra Hrisonopoulo as a young girl.

No photographs of Himona for inclusion in this article could be located other than two annotated photographs held by the Hrisonopoulo family in which there is a glimpse of the man. Photographs of some of his paintings accompany this article.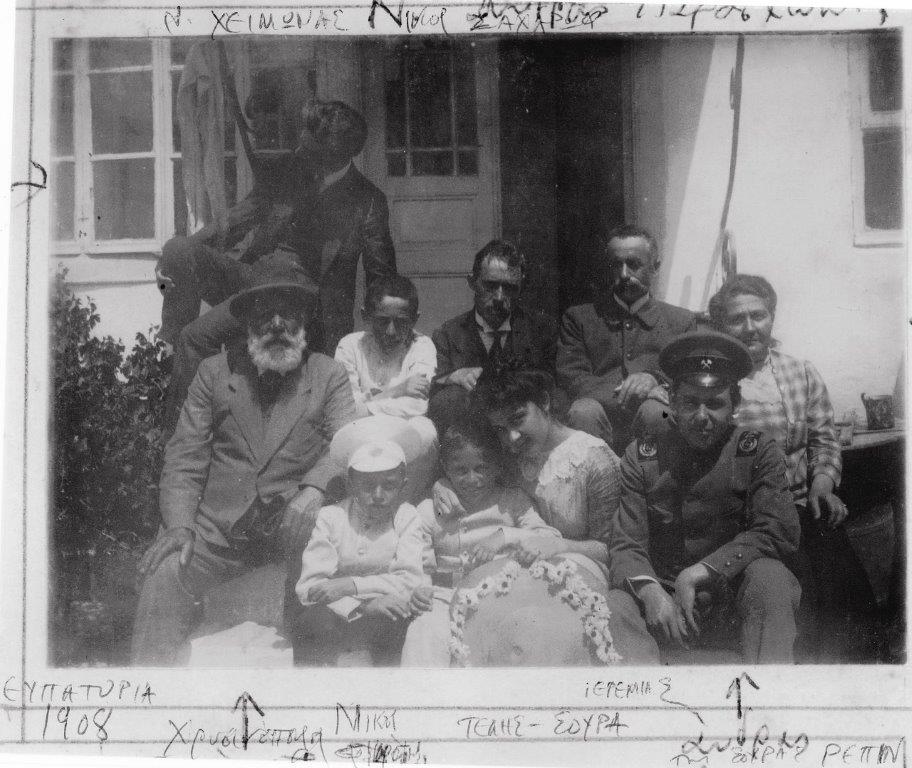 Hrisonopoulo group. Maria, Himona's sister, on Right. His niece Alexandra (aged 16) in the front. The shadowy figure in the back is Himona. 1908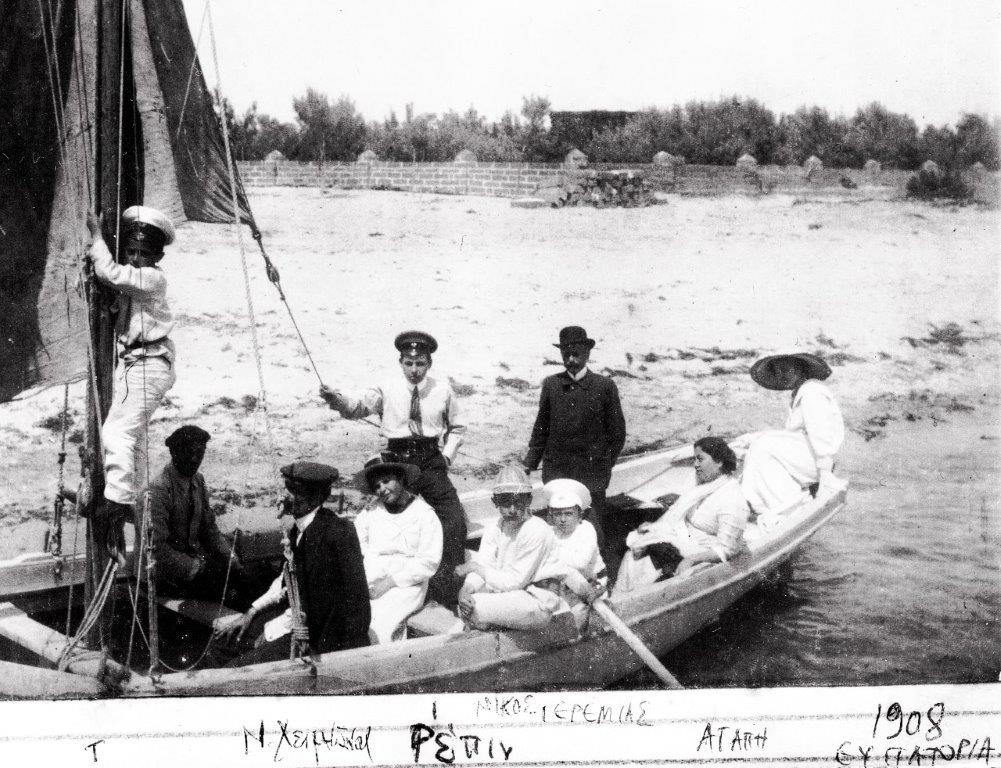 Boating near Evpatoria. The man with black cap on port side is Himona. 1908
A NOTE ON THE BENEZIT DICTIONARY OF ARTISTS
The Benezit Dictionary of Artists is an extensive publication of bibliographical information on painters, sculptors, designers and engravers created primarily for art museums, auction houses, historians and dealers.
Originally put together by Emmanuel Benezit (1854-1920) and a team of collaborators, the Dictionary was published in the French language by Editions Gründ in Paris in three volumes between 1911 and 1923. Subsequent editions followed in 1948 to 1955 (8 volumes), 1976 (10 volumes) and 1999 (14 volumes). An English edition was published for the first time in 2006. Both editions contain over 20,000 pages. The English edition has a greater coverage of English and American artists than does the French edition. The publication was acquired by the Oxford University Press in 2010. The price of the 1999 French edition is £1,932.50 and of the English Edition £2,030.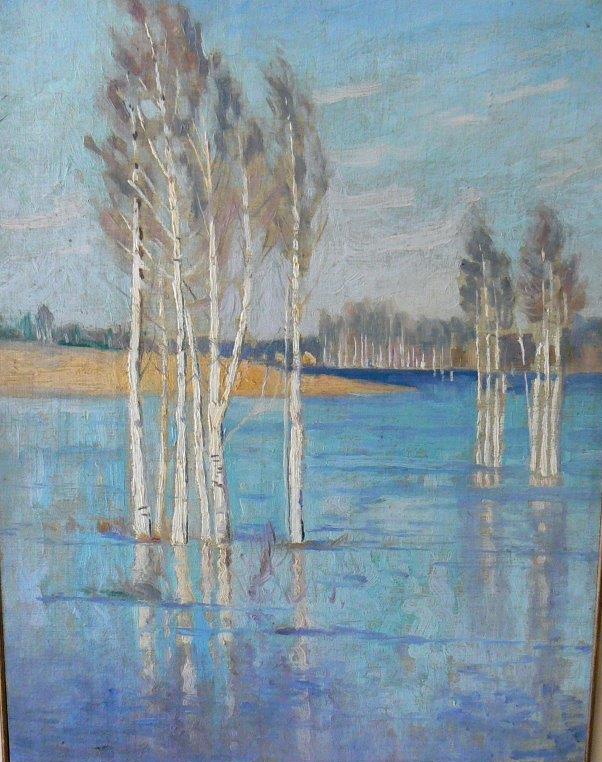 Lake with trees - Nicholai Petrovich Himona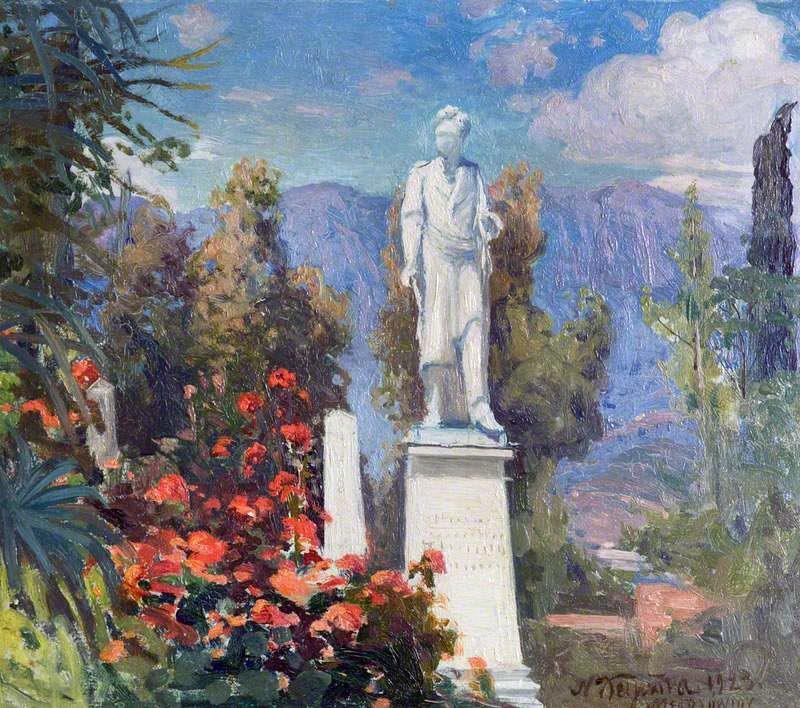 Statue of Lord Byron at Misssolongha, Greece. Painted 1923 - Nicholai Petrovich Himona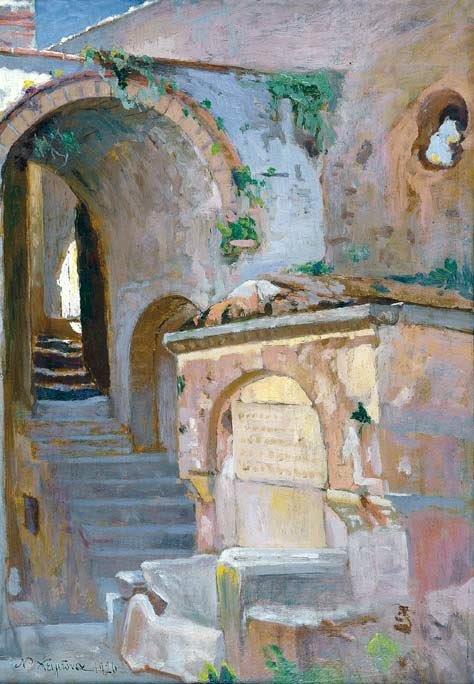 Building interior - Nicholai Petrovich Himona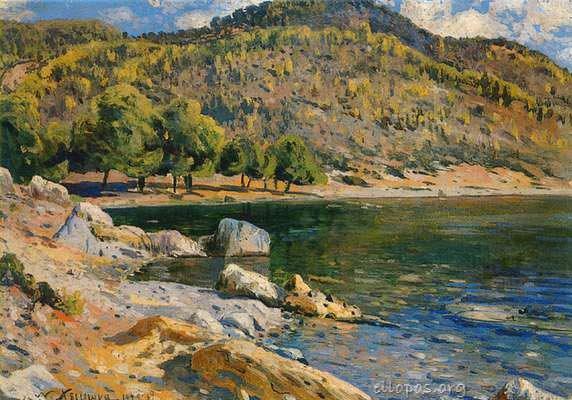 Landscape - Nicholai Petrovich Himona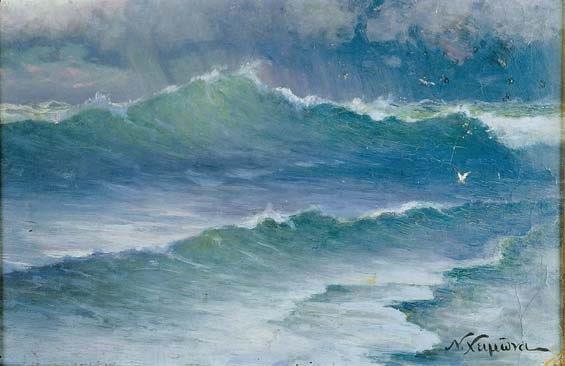 Seascape - Nicholai Petrovich Himona
Previous Reflections by George Repin
The Nineteen Thirties Remembering Rowe Street The Sydney Push Saturday Night at the Movies Shooting Through Like A Bondi Tram A Stop On The Road To Canberra City Department Stores - Gone and Mostly Forgotten An Australian Icon - thanks to Billy Hughes Crossing The Pacific in the 1930s Hill End The Paragon at Katoomba Seafood In Sydney How Far From Sydney? Cockatoo Island Over The Years The Seagull at the Melbourne Festival in 1991 Busby's Bore The Trocadero In Sydney Cahill's restaurants Medical Pioneers in Australian Wine Making Pedal Power and the Royal Flying Doctor Service Pambula and the Charles Darwin Connection Gloucester and the Barrington Tops A Millenium Apart Have You Stopped to Look? Gulgong Il Porcellino Olympia Durham Hall Sargent's Tea Rooms Pie Shops and Street Photographers The Ballet Russes and Their Friends in Australia Hotels at Bondi Alma Ata Conference - 1978 Keukenhof - 1954 The Lands Department Building and Yellowblock Sandstone The Goroka Show - 1958 A Gem On The Quay Staffa The Matson Line and Keepsake Menus Kokeshi Dolls The Coal Mine At Balmain The Hyde Park Barracks The Changing Faces Of Sydney From Pounds and Pence to Dollars and Cents Nell Tritton and Alexander Kerensky Making A Difference In Ethiopia William Balmain J C Bendrodt and Princes Restaurant Azzalin Orlando Romano and Romano's Restaurant Waldheim Alcohol in Restaurants Before 1955 King Island Kelp The Mercury Theatre Around Angkor - 1963 Angkor Wat 1963 Costumes From the Ballets Russe Clifton at Kirribilli Chairman Mao's Personal Physician The Toby Tavern The MoKa at Kings Cross The Oceaographic Museum in Monaco The Island of Elba Russian Fairy Tale Plates Meteora Souda Bay War Cemetery Barrow, Alaska Cloisonné Tripitaka Koreana Minshuku The Third Man Photographs and Memories Not A Chagall! Did You Listen? Did You Ask? Napier (Ahuriri, Maori) New Zealand Borobudur Ggantija Temples Plumes and Pearlshells Murano University of Padua Ancient Puebloe Peoples - The Anasazi Pula The Gondolas of Venice Cinque Terre Visiting the Iban David The Living Desert Bryce Canyon National Park Aphrodisias The Divine Comedy Caodaism Sapa and local Hill People A Few Children Cappadocia Symi Jean-Marie Tjibaou Cultural Centre Aboriginal Rock Art on Bigge Island ANZAC Cove (Ari Burnu) 25 April, 1997 Hotere Garden Oputae Children of the Trobriand Islands Page Park Market - Rabaul Rabual Kotor, Montenegro Galleries of Photographs I Lascaux Galleries of Photographs II The Cathedral of St. James – Šibenik, Croatia Ivan Meštrović - Sculptor Delphi Gallery of Photographs III The Handicrafts of Chiang Mai Raft Point San Simeon - "Hearst Castle" Floriade - The Netherlands - 1982 Russian New Year Mycenae "Flightseeing" Out Of Anchorage Alaska The White Pass and Yukon Route Totem Poles Tivkin Cemetery Krka National Park - Croatia Tavistock Square and the BMA Orthodox Easter Wieliczka Salt Mine A Walk on Santorini Indonesian Snapshots Ephesus - The Library of Celsus Ephesus - Some Places Of Interest Waimea Canyon and the Kalalau Valley United Nations Headquarters 1958 A Miscellany of Flower Images Gardens Bath St. David's In Wales Zion National Park Nicholas Himona - Artist Kraków Lilianfels Collonges-La-Rouge Gingerbread Houses Cape Sounion Delos Wroclaw Colonial Williamsburg Gruyères Strasbourg Coventry Cathedral The Roman Theatre at Aspendos Turkish Carpets The Duomo of Orvieto Rovinj The City Walls of Dubrovnik Monaco - Snapshots Bonifacio, Corsica Autumn in New England USA The Great Ocean Road Pompeii Didyma Lawrence Hargrave 1850-1915 The Corinth Canal Malta Snapshots of Amsterdam Café Central - Vienna The Forbidden City - Beijing, China A Ride on the Jungfrau Railway - 1954 Snapshots in the Highlands of Scotland 1954 Must See Sights in Paris - 1954 Corfu Reflections On the Nineteen Thirties The Gold Souk in Dubai Stromboli Ha Long Bay - Vietnam Lake Argyle The Bungle Bungle Range Langgi Inlet, W.A. White Cliffs, NSW - 1990 Sturt National Park - May, 1990 A Few Statues and Water Spouts The Dodecanese Archipelago Rhodes Lindos The Church on Spilled Blood - 2005 Monument to the Heroic Defenders of Leningrad Repin's In "Ladies In Black" Signs of the Times at Sydney Museum: Repin Inns
Copyright George Repin 2019. All Rights Reserved.