May 15 - 21 2016: Issue 263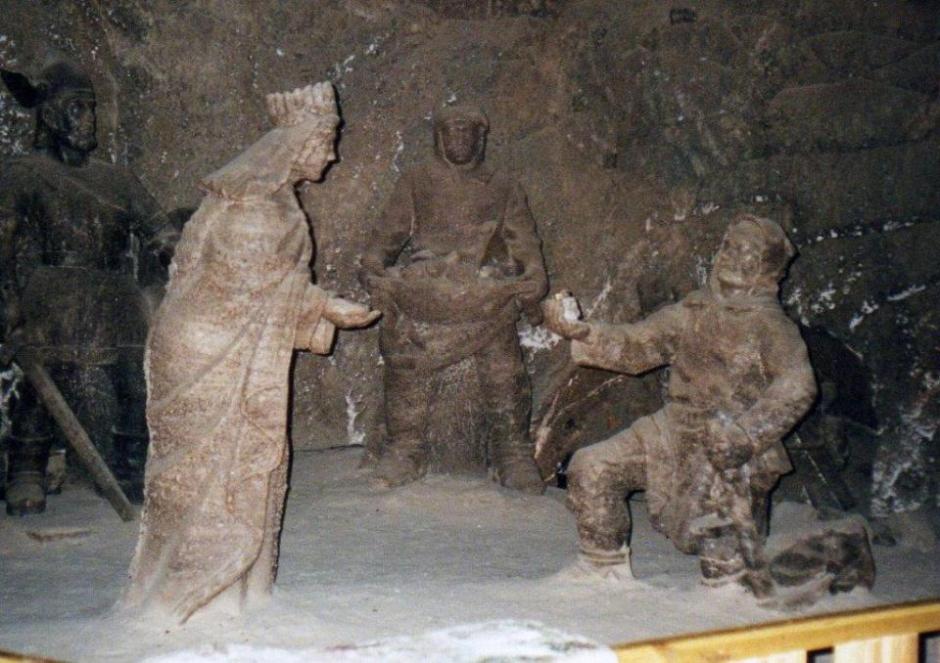 Salt sculpture - Offering a Tribute
WIELICZKA SALT MINE
By George Repin
The town of Wieliczka (vyeh-leech-kah) located about 15 Kms. southeast of Kraców in Southern Poland is famous for its deep salt mine which, in 1978, was included in the UNESCO list of World Heritage sites. The town was founded by a local Duke in the 12th Century to mine the salt.
Opened in the 13th Century the mine produced table salt continuously until 2007, although commercial mining was discontinued in 1996 because of low salt prices and some flooding in the mine. It was one of the world's oldest salt mines when production was discontinued.
A labyrinth of 300 Kms of tunnels is distributed over nine levels, the deepest being 327 metres below the surface. Everything has been carved, in salt, by hand. Twenty two chambers connected by galleries, at a depth of 64 m. to 135 m. are open to the public by guided tour.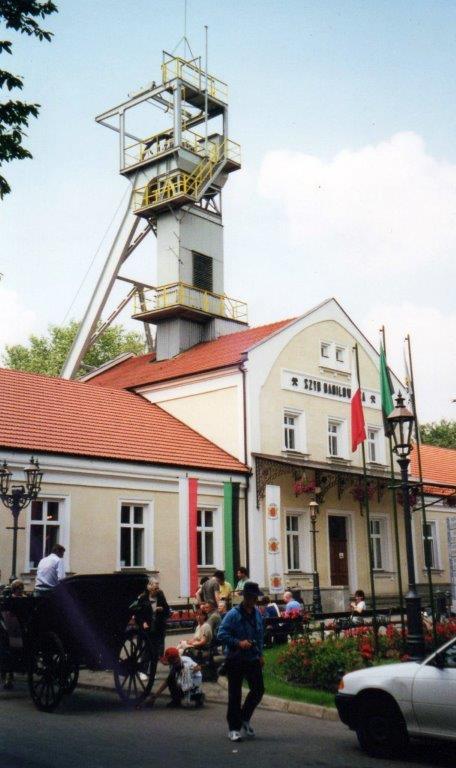 Main mine building with lift tower
There are four salt-hewn chapels, statues, bas reliefs and monuments all cut out and decorated by miners over the years. An outstanding showpiece is the ornamented Chapel of St. Kinga (Kaplica Św Kingi) measuring 54 m. by 18 m. and 12 m. high. 20,000 tonnes of rock salt were removed in its construction. Every element in the chapel, including altars, wall carvings and even chandeliers, is of salt.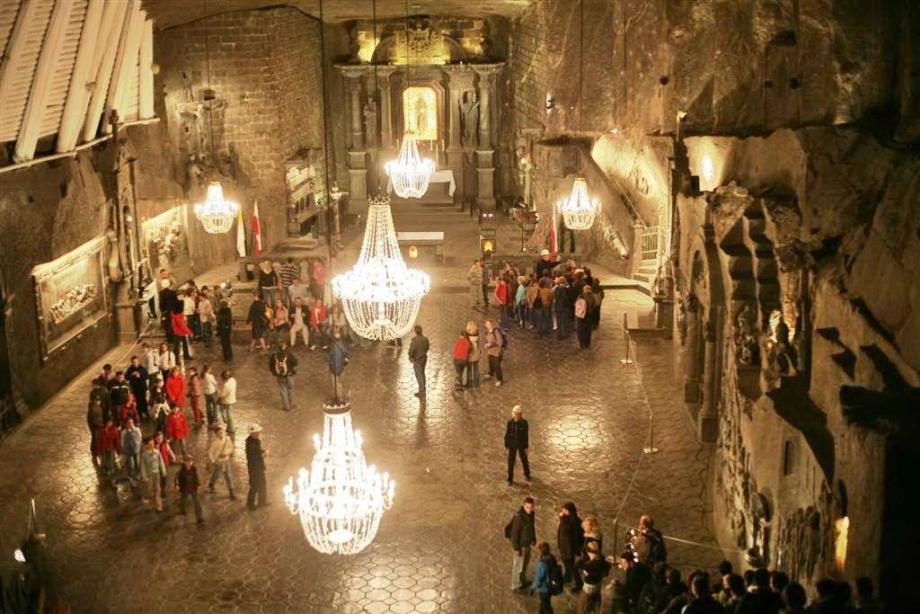 The Chapel of St. Kinga - photograph from Wikipedia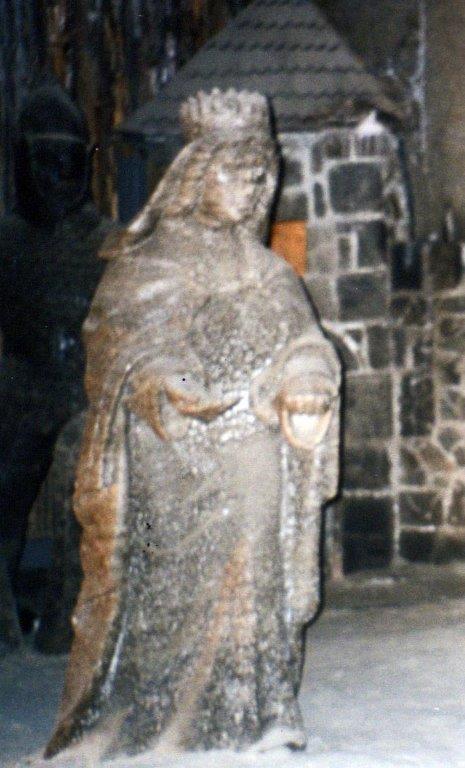 Salt sculpture - Standing Woman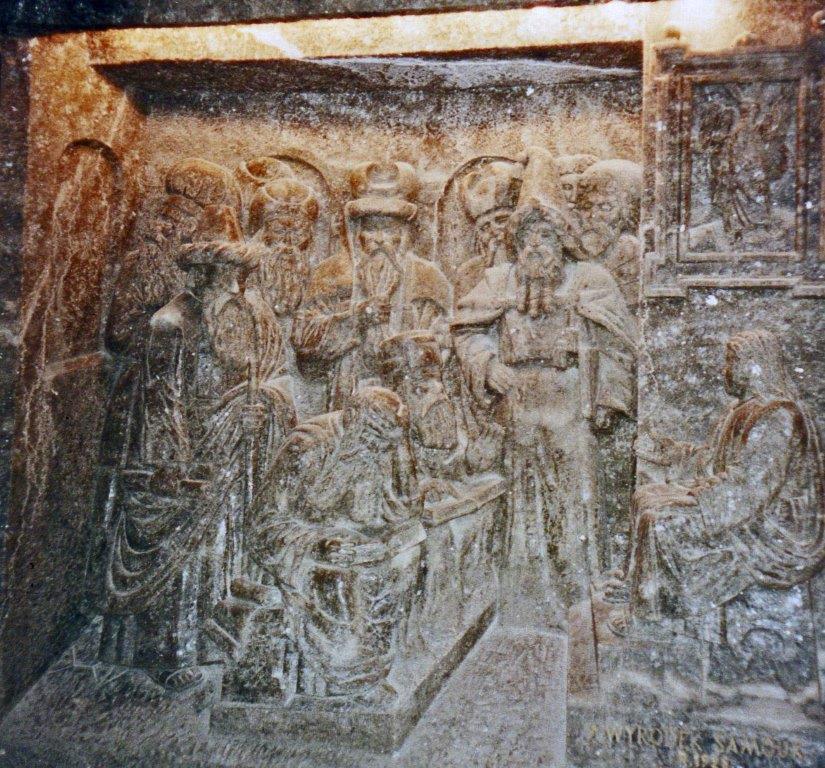 Salt sculpture - Bas relief of oriental figures in Chapel of St. Kinga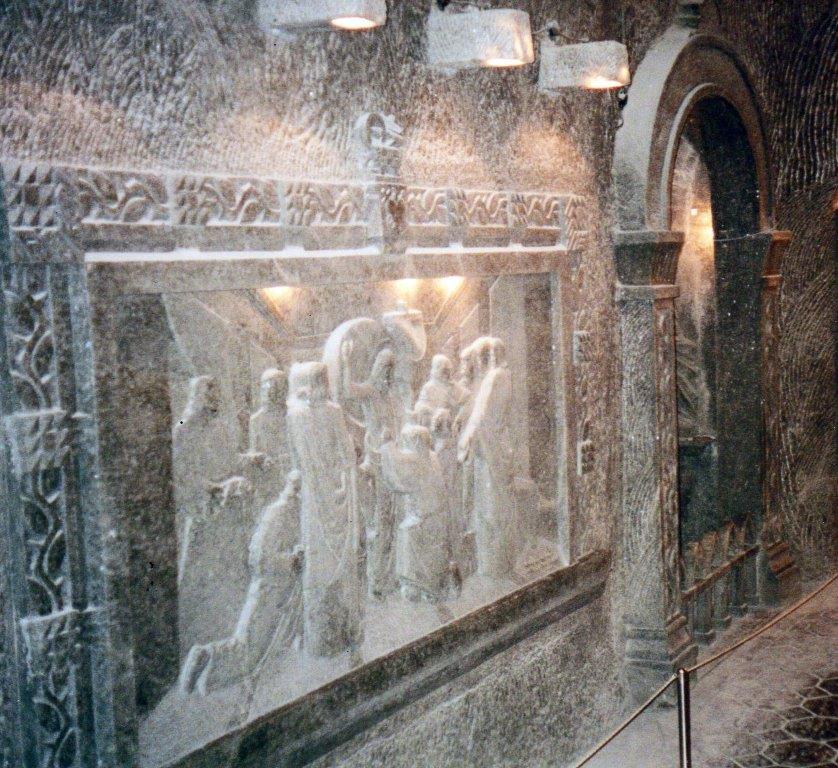 Salt sculpture - Wall decoration in Chapel of St. Kinga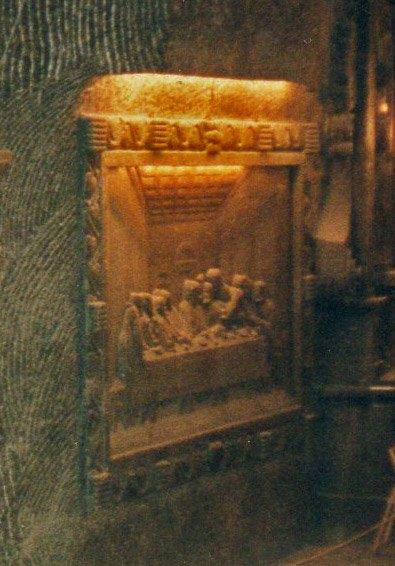 Salt sculpture - Illuminated panel in Chapel of St. Kinga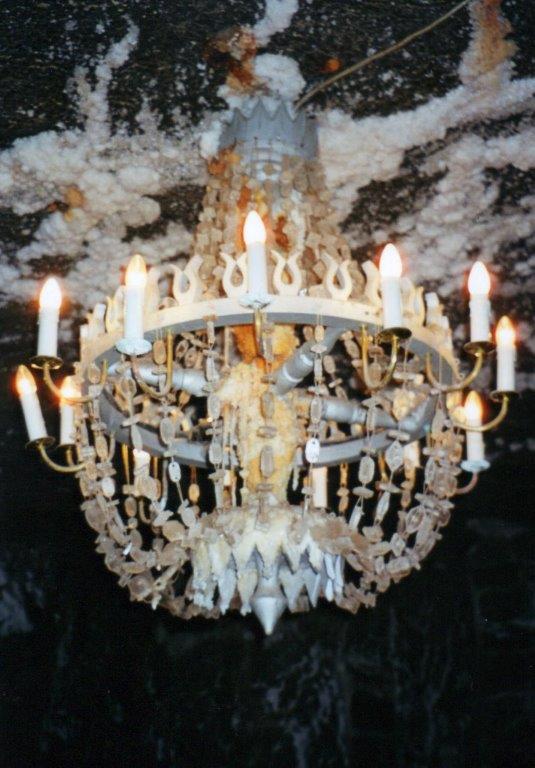 Chandelier -all decorative features carved from salt
The Wieliczka mine is sometimes referred to as The Underground Salt Cathedral of Poland.
Visitors enter the mine by a wooden staircase of 378 steps to the 64 m. (210 ft.) level where a 3 Kilometre (1.9 mile) tour of the mine's corridors, chapels, statues and an underground lake starts – going down to the 135 m. (443 ft.) level. The tour takes in less than 2% of the mine's passages. At the end of the tour an elevator takes the visitor to the surface,
Salt in the mine is not white and crystalline, as might be expected, but various shades of grey resembling unpolished granite. The deposit was formed in the Miocene Epoch, 13.6 million years ago.
The head office of the mine's board from medieval times until 1945 was in the Castle in Wieliczka – the so-called The House Within the Saltworks – now the location of the Kraków Saltworks Museum.
Photographs, other than of the Chapel of St. Kinga, were taken by George Repin in 2000.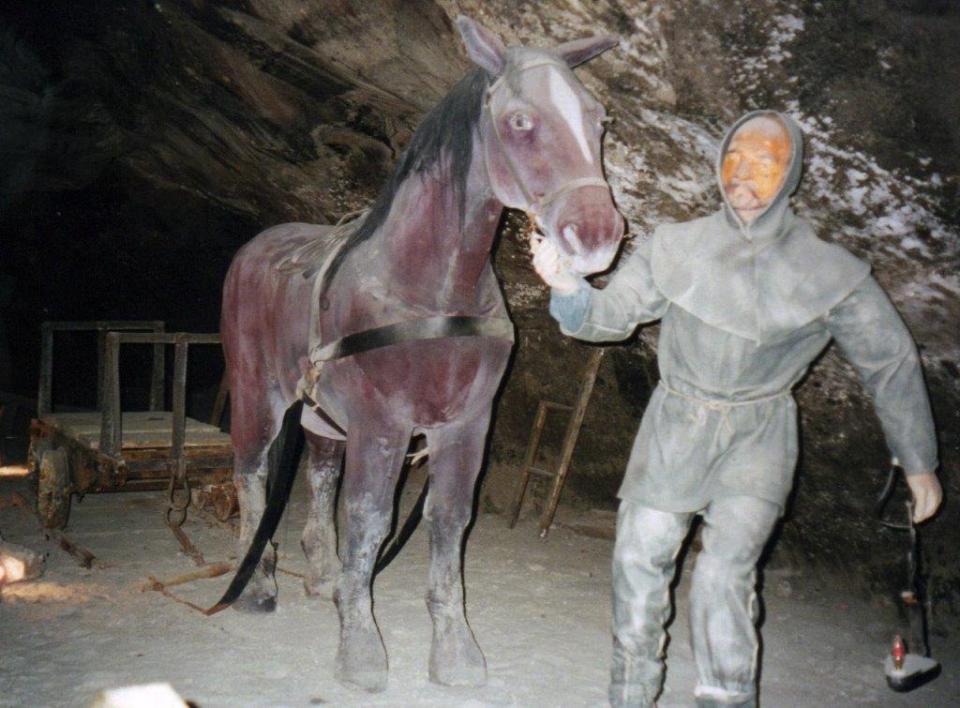 Salt sculpture - Man with Horse and Cart
Previous Reflections by George Repin
Copyright George Repin 2016. All Rights Reserved.