November 27 - December 3, 2022: Issue 564

Nitrous oxide – not a laughing matter
While it's a drug that's widely considered as 'safe', nitrous oxide can cause serious harm.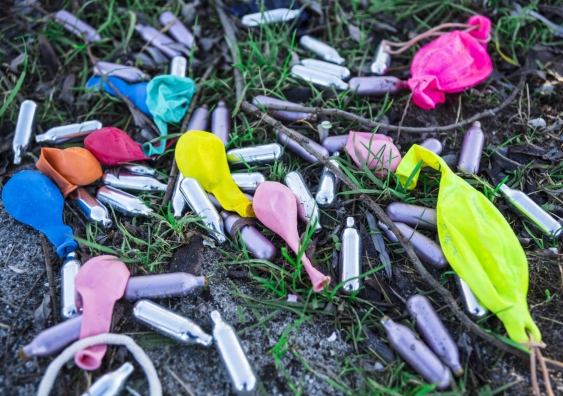 Medical professionals are calling for tighter restrictions on the sale of nitrous oxide gas cartridges, colloquially known as 'nangs', due to potentially serious harm for users including lasting neurological damage. Nitrous oxide or 'laughing gas' is normally used by dentists and medical professionals to provide sedation and pain relief to patients undergoing minor procedures. It's also a food additive, used to aerate whipped cream, and sold in gas cartridges online and in convenience stores.
An increasing number of Australians are also using nitrous oxide recreationally, inhaling the gas to produce a fleeting feeling of euphoria and excitement. Many people who use the drug consider it to be relatively harmless, but according to experts from the
National Drug and Alcohol Research Centre (NDARC)
at UNSW Sydney, this is far from the case.
'Nangs' are increasingly popular
Among people who regularly use ecstasy and/or other illicit stimulants, surveyed by NDARC as part of the
Ecstasy and Related Drugs Reporting System (EDRS)
, nitrous oxide use has jumped in recent years. From 2003 to 2015, approximately one-quarter of the group reported nitrous oxide use in the past six months. This proportion doubled to 50 per cent in 2018 and has remained at a similar level since. The frequency and quantity of nitrous oxide use among these participants has remained relatively low and stable over time.
So why are 'nangs' being used more often?
"It's always tricky to say why a particular drug might be increasing in use or popularity. But it potentially could be related to perceptions of safety," said Dr Rachel Sutherland from NDARC, who is Deputy Program Lead of Drug Trends.
"It's also quite easily available – you can purchase it very easily at convenience stores or online. And it's pretty cheap."
Acute dangers and long-term neurological effects
With increased use of nitrous oxide among some groups, there have been increased reports of harm. For example, in a
recent study
of 60 emergency departments across New South Wales, presentations related to nitrous oxide use have increased from less than 10 in 2012 to more than 60 in 2018.
According to Professor Shane Darke from NDARC, recreational nitrous oxide use has the potential for harmful effects in the short and longer term.
"If you're in a medical situation and you're being given nitrous oxide… it's mixed with oxygen. These people aren't doing that. What they're doing is covering their faces and inhaling pure gas," Professor Darke said.
"Now the problem with that is there's no oxygen. You run the risk of asphyxia."
While using nitrous oxide, people are also at risk of entering a delirious state, according to Professor Darke. "They can be a risk to themselves and others. There have been spontaneous suicides and accidents."
Emergency physicians have also started noticing people presenting with jerking and odd movements after using nitrous oxide. That's not just an unsteady gait due to intoxication – rather, a sign of significant nerve damage.
"[Nitrous oxide] interferes with the absorption of Vitamin B12. This leads to neurological damage and eventually in severe cases, spinal degeneration," Professor Darke said. "In an acute case you might be able to reverse that with infusions of B12. But in chronic cases it's irreversible."
It's important to note people with neurological symptoms have been heavy users of nitrous oxide, inhaling the gas every day for months and consuming hundreds of canisters at a time. More research is needed to understand the effects of light to moderate use, which may still carry risk of nerve damage.
Current harm reduction efforts may not be enough
"With any kind of regulatory intervention, it's really important that it's accompanied by harm reduction and education campaigns," Dr Sutherland said. "We don't know if people who are using nitrous oxide, particularly at a high level or frequency, are aware of the associated neurological risks. Raising awareness of these risks and encouraging people to seek help early if they experience symptoms, such as persistent tingling and numbness, after nitrous oxide use is critical."
Image: People who use nitrous oxide recreationally may inhale the gas directly or through an object like a balloon. Photo: iStock.

UNSW solar innovator, world-leading oceanographer and molecular tech entrepreneurs awarded Prime Minister's Prizes for Science
November 21, 2022
It's the first time UNSW academics have been honoured with the Prime Minister's Prize for Science, the Prime Minister's Prize for Innovation and the Prize for New Innovators in the same year.
Trevor McDougall's ground-breaking research has transformed the field of oceanography, while Brett Hallam is credited with making one of the most important improvements to photovoltaic technology in the last 10 years. Photo: Prime Minister's Prizes for Science
UNSW Sydney Scientia Professor Trevor McDougall has been named the winner of The Prime Minister's Prize for Science and Associate Professor Brett Hallam has received the Prize for New Innovators at the 2022 Prime Minister's Prizes for Science.
Adjunct Professor Alison Todd and Adjunct Senior Lecturer Dr Elisa Mokany were also named joint winners of the Prime Minister's Prize for Innovation, with UNSW academics winning three of the five awards – including the top two – in the Science Prizes category.
The prizes are Australia's most prestigious awards for outstanding achievements in scientific research, research-based innovation and excellence in science teaching. They recognise those who have made a significant contribution to the nation's scientific and commercialisation capabilities, science teaching, and the country's social and economic well-being.
UNSW Vice-Chancellor and President Professor Attila Brungs congratulated Prof. McDougall and A/Prof. Hallam on their achievement.
"The impact of both academics' work towards our fight against climate change cannot be overstated," he said.
"Professor McDougall's discoveries have greatly improved the understanding of the role of the ocean in the planet's climate system, allowing us to have greater confidence in climate change projections.
"Associate Professor Hallam's research meanwhile has helped engineer the next generation of Australian-made solar energy technology. His work has had – and continues to have – a significant impact on the global energy sector."
Prof. Brungs said Professor Todd and Dr Mokany's success in establishing an Australian biotechnology company which is revolutionising personalised medicine is exceptional.
"Not only is SpeeDx's meeting critical needs in Australia's public health and through their commercialisation enabling a step change in applications of genetic insights to treatments, Professor Todd and Dr Mokany are also fantastic role models for women in science and technology. I extend my warmest congratulations to them on receiving one of the top prizes in this scheme," he said.
Scientia Professor Trevor McDougall AC
Prof. McDougall from UNSW Science was awarded the Prime Minister's Prize for Science, with $250,000 in prize money, for the significant advancement of knowledge through science and research.
He is recognised as the world's authority on ocean thermodynamics and a leading expert in the field of ocean mixing. His work focuses on discovering what role the ocean plays in regulating climate and he is responsible for greatly improving the ways that oceanographic observations and model output data are analysed and interpreted.
"It is an amazing honour to be recognised in this way," Prof. McDougall said. "Such an award would not be possible without the brilliant work of many early career researchers with whom I've had the privilege of working and the incredibly supportive atmosphere at UNSW.
"I feel this award also shines a light on all the researchers who work so hard to understand and warn about the implications of our addiction to fossil fuels on the evolving climate and weather of our planet."
Prof. McDougall's impact on the field of oceanography has been transformative. His theoretical work has frequently overturned century-held assumptions of how the ocean works. Similarly, his work on the thermodynamics of seawater has led to new temperature and salinity variables that have been adopted as the international standard in marine science.
The ocean is an integral part of the climate system, Prof. McDougall said.
"For example, 92 per cent of the extra heat that the planet has received with global warming is in the ocean. The ocean is the thermal flywheel of the climate system," he said.
"The ways in which the ocean absorbs heat and moves it from place to place depend on how much mixing occurs in the ocean, and this mixing occurs at very small scales that cannot be modelled directly. This means that our knowledge of these processes must be directly input into ocean models. I've worked on understanding how the ocean mixes, and this knowledge has informed how ocean models are constructed."
Prof. McDougall's day-to-day motivation comes from discovering new things about the ocean and having these ideas accepted by the ocean research community.
"It can be exhilarating to know that something you have found is a brand-new idea, and then you have to test the idea on your colleagues before you can allow yourself to think that it might be an important idea," he said.
Associate Professor Brett Hallam
A/Prof. Hallam from UNSW Engineering received the Prize for New Innovators. The prize, which includes $50,000 in award money, recognises an early achievement towards commercialisation of scientific research with substantial economic, social and environmental benefits.
A/Prof. Hallam is recognised as a global leader in the field of hydrogen passivation in solar cells. His discoveries and patented technologies have dramatically improved solar cell performance and boosted Australia's renewable energy economy.
"It's a really big honour to receive this award, particularly for the topic I was working on with the (inventor of solar cell technologies), the late Professor Stuart Wenham," A/Prof. Hallam said.
"My team developed a technology to improve the performance of industrial solar panels, make them more reliable, and cheaper. In particular, we found a way to stop a form of ironic degradation when solar panels are installed in the field."
A/Prof. Hallam's discoveries have improved the performance of solar cells by 10 per cent, a significant increase in the field. In 2021, technologies A/Prof. Hallam founded provided benefits to Australian consumers of approximately $500 million and $17 billion globally. These figures are rapidly increasing as the industry continues to expand.
A/Prof. Hallam said he loves working to solve problems.
"I grew up in country Victoria and my dad's a plumber. When I was growing up, I spent time installing solar hot water systems with him and I was always fascinated about how they could turn sunlight into electricity."
"I hope my work can help inspire other researchers as they continue to grow and fall in love with science," he said.
"My goal now is to help address some of the biggest problems as we continue to deploy renewable energy technologies like solar at scale. This is important as the solar industry continues to expand by a factor of 10 over the next decade."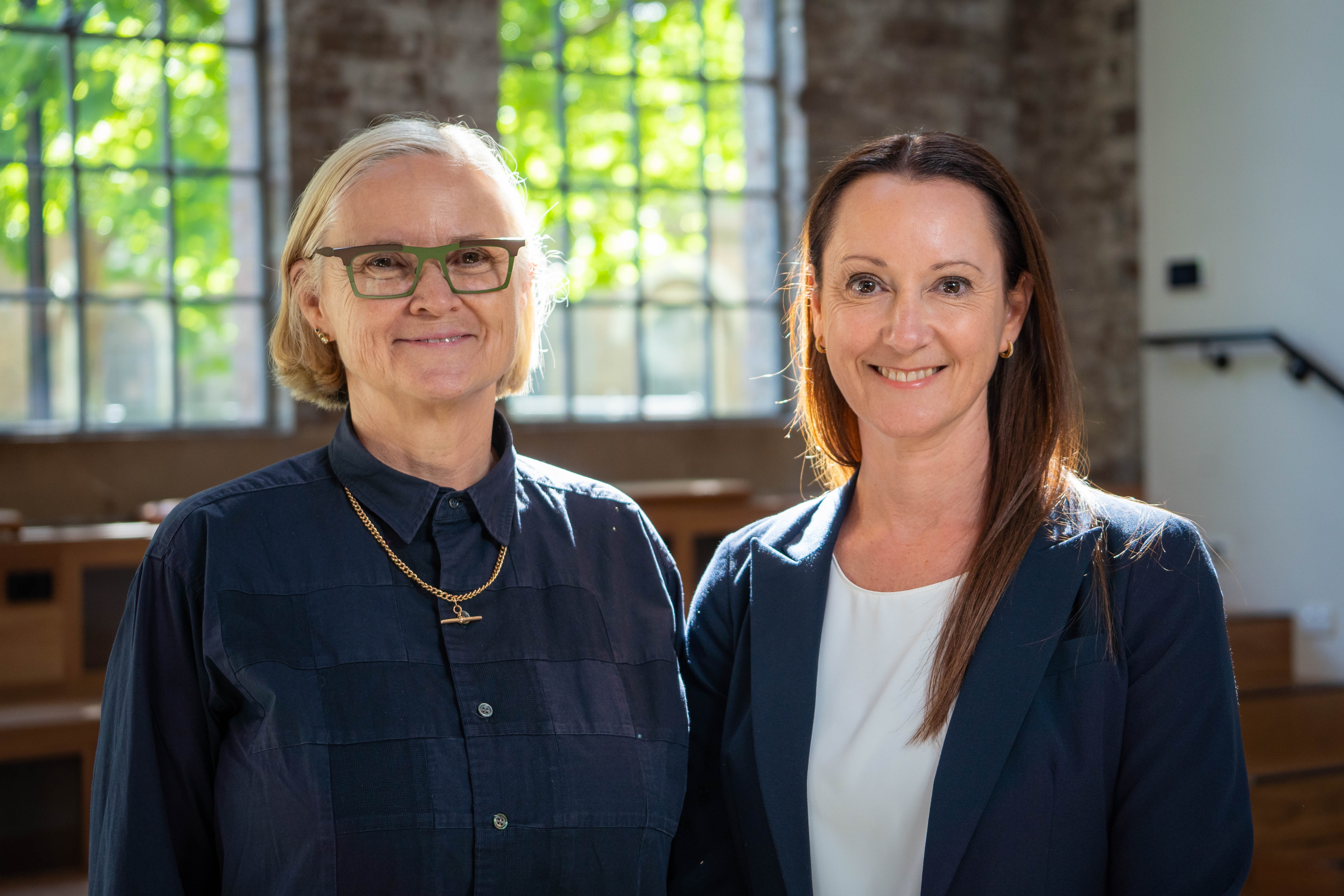 Alison Todd and Elisa Mokany were recognised for improving personalised clinical diagnosis and treatments. Photo: PM Prizes for Science
Adjunct Professor Alison Todd and Adjunct Senior Lecturer Dr Elisa Mokany
Prof. Todd and Dr Mokany from UNSW Science were joint winners of the Prime Minister's Prize for Innovation, which recognised their outstanding contribution to public health through the invention of highly advanced molecular diagnostic tests, which are now distributed worldwide through their company SpeeDx.
SpeeDx tackles two major problems of modern medicine – cancer and antibiotic resistance. The company's molecular technology has revolutionised opportunities for personalised clinical diagnosis and improved treatments for a range of infectious diseases and cancers. Their faster, more accurate and cost-effective solutions analyse and interpret genetic information, empowering clinicians to make more informed treatment decisions.
Prof. Todd said the pair were extremely honoured and humbled to receive the Prime Minister's Prize for Innovation.
"This award represents acknowledgement for 30 years of collaboration with like-minded thought leaders who also believed that the secret to selecting the optimal therapy for individual patients was hidden within the DNA of genomes of the cancer cells," she said.
"Thirty years ago, people didn't believe that it would be possible to take a simple blood test and use genetic information to determine appropriate therapy and monitor how their disease was tracking."
Prof. Todd and Dr Mokany are recognised as trailblazers for women in science and technology as co-founders of a female-founded Australian biotechnology company. Their commercialisation efforts have also helped establish Australia as a global leader in molecular diagnostics, while giving Australian scientists the opportunity to work with large multinational healthcare companies.
Children as young as 10 are repeat self-harming: study
November 21, 2022
The risk of repeat self-harm in young people is highest in the first month after an initial self-harm hospital presentation.
Suicidal behaviour is evident in children, with some as young as 10 presenting to hospitals and emergency departments following a self-harm episode – some on multiple occasions.
Research has found 6055 adolescents aged 10–14 attended an emergency department in New South Wales for self-harm over a five-year period – 2276 of them for a repeat incidence.
In the study, published in the
Journal of Affective Disorders
, researchers from the
Black Dog Institute
and
UNSW Medicine & Health
analysed over 81,000 hospital-presenting self-harm episodes among 48,547 individuals aged 10-29 years identified during 2014-2019 in New South Wales. They found approximately one-quarter had engaged in self-harm more than once. Repeat self-harm was most likely to occur in the year following the initial episode – specifically in the first month.
"Anecdotally, we've been finding that teachers are overhearing self-harm and suicide being discussed in the playground from the primary school years," says Dr Michelle Tye, senior author of the study who is from the Black Dog Institute and UNSW Medicine & Health. "This study supports that children and adolescents are a high-risk group for self-harm and repeat self-harm."
The research, which was funded by the Paul Ramsay Foundation, also found the risk of repeat self-harm was highest among children and adolescents who had their index (first) episode between ages 10-19, and for more severe presentations requiring admission to hospital. According to the findings, those with two or more self-harm presentations had a higher risk of dying from suicide.
"Adolescence is a stressful period of change, but young people today face unprecedented uncertainty – the COVID-19 pandemic, climate anxiety and economic stress colliding," Dr Tye says. "It's likely they're not coping with distress well and turning to self-harm as a way of coping."
Lead author of the study Dr Jiahui Qian, from the Black Dog Institute and UNSW Medicine & Health, says self-harm behaviours among adolescents may be even more widespread than reported.
"We only looked at self-harm presentations to an emergency department. But there will be many more young people in the community who self-harm but don't go to a hospital and so aren't represented in this study," Dr Qian says.
The study found males aged 15-29 who were admitted to hospital following a self-harm episode had a higher risk of engaging in self-harm again and subsequent suicide death compared to females. The higher risk of suicide death in males has also been observed in previous studies.
"We observed a higher risk of repeat self-harm and suicide death in males, but overall self-harm presentations are much more prevalent in females," Dr Qian says.
Dr Tye says it could be that males escalate the lethality of their means of self-harm more than females, but that's a question future research may be able to help explain.
Developing youth-specific self-harm interventions
While the complete prevention of self-harm may not be realistic, we can hope to reduce the extent of it, particularly for young people. Youth-specific early intervention is critical to prevent future self-harm episodes for adolescents.
"Self-harm is fundamentally a maladaptive coping behaviour, so we need to find ways to stop young people from getting to the point of engaging in suicidal behaviour and shift them to adaptive coping behaviours," Dr Tye says.
The researchers say more evidence-based programs in schools would help expose large cohorts of young people to adaptive coping strategies, raise awareness of the warning signs of suicide and non-suicidal self-harm, and educate young people about how to seek help.
"We need better (and more) suicide prevention-focused programs in schools to empower young people to recognise the warning signs, and improve their capacity to seek out and get the right support," Dr Tye says.
There is also a need to improve clinical assessment in frontline health services. For many, the experience of presenting to an emergency department can be varied, and clinical support and post-discharge care isn't always adequate, Dr Tye says.
Routine psychosocial assessments and follow-ups with patients may help reduce the risk of repeat self-harm and suicide death over the long term. But the heightened risk in the first month following a self-harm episode also indicates a need for more immediate patient support.
"Ideally, all young people should have access to ongoing support through coordinated aftercare approaches, particularly in those first few weeks after their presentation to hospital, to protect against repeat self-harm," Dr Tye says.
Dr Qian says developing new insights into how to respond effectively to self-harm will help suicide prevention efforts. There is an increasingly critical need to learn from children and adolescents who are presenting for self-harm to hospital to help researchers better understand intervention opportunities, guide service provision and improve clinical management.
"Because we're better able to identify young people who self-harm from hospital records, rather than in the community, we have an opportunity to engage with them to help us understand how we can develop better preventative strategies and find new opportunities for intervention," Dr Qian says.
In an emergency call triple zero – 000.
For help and support, call:
• Parent Line NSW 1300 130 052
• Beyond Blue 1300 224 636
• NSW Mental Health Line 1800 011 511
• Lifeline Australia 13 11 14
• Kids Helpline 1800 551 800
Shocking question: Can we store the energy from lightning?
November 22, 2022
Every second of the day, Mother Nature puts on a spectacular show with an average of around 100 lightning bolts striking the Earth's surface.
That is an amazing 8.6 million strikes every single day, with each strike discharging up to one billion Joules of electrostatically stored energy, enough energy to boil the water in 3000 kitchen kettles.
If engineers have succeeded in harnessing the power of the sun, can they capture one of nature's other huge sources of energy?
Director of UNSW Digital Grid Futures Institute, Professor John Fletcher from the UNSW School Electrical Engineering and Telecommunications, says while it may seem possible in theory, using the energy produced by lightning is not as easy as it sounds.
"The challenge of capturing energy from lightning is that while there may be a billion joules of energy, it's mainly being used up in the lightning strike itself," he says.
"The bright light and the loud thunder that humans observe is most of the energy being used up – so in some respects, it's a little too late by the time it hits the ground.
"Plus, while lightning can strike the same place twice, we can't possibly predict where it is going to hit. It's a stab in the dark – literally."
Let's break down what a lightning strike is
To understand why it's not feasible, Prof. Fletcher says we need to understand how lightning is formed.
The conditions that create lightning are primarily caused by the movement of warm air and water molecules as they rise very quickly. That movement strips electrons away and results in thunderclouds that are charged.
"In a thundercloud, the air currents start at a lower altitude, around one kilometre above ground, and can rise to about 10 kilometres above ground – similar to the altitude of a passenger aircraft during cruise," he says.
"The large volume of movement of air creates an area that has a high charge level, generating a huge energy difference between charged particles in the cloud and us here on Earth. The voltage, around hundreds of mega volts, between the two becomes so big that it breaks down the air and this process forms lightning strikes.
"The flash that we see is the flow of charge between the cloud and Earth, and it happens in a tiny fraction of a second – blink and you could miss it.
"So yes, you could technically capture that energy from somewhere on the ground, but it may be only a small fraction of the actual energy."
So, it's not a bright idea?
The bulk of the energy is captured high up inside the cloud itself. However, attempting to capture that energy just isn't cost-effective once you factor in other expenses such as storage and converting it into power that the grid or other types of loads will accept, says Prof. Fletcher.
"In theory, you would need to direct the lighting strike to a piece of equipment that could capture the energy from the lightning strike," he says.
"This is a relatively simple process which could involve sticking a good conductor, such as a copper rod, high in the air.
"However, we need to remember that the utilisation of the equipment will be very poor as lighting strikes only last for 10s of microseconds, which means there isn't much else happening during the other times.
"You need an apparatus that can capture a billion joules in say 100th of a second, but then deliver that energy over a longer term. For example, if we were lucky enough to have a strike every minute, then the instantaneous power capability of the capture system would be 100 gigawatts.
"The average power output from the device would be much lower, about 16 megawatts. That is a huge power conversion factor.
"And even if you had the right equipment set up, there's no guarantee that lightning will hit it every second anyway."
Sticking to what we know
When compared to other natural energy sources, lightning is definitely not as viable to harvest. Prof. Fletcher says solar and wind power are king when it comes to providing reliable, clean energy.
"Compare 10 microseconds of lighting to a solar panel which, if positioned correctly and in the right weather conditions, can reap the sun's energy for 10 hours a day," he says.
"And wind power has the potential to perform even better because it's also windy at night, so it's not as time-dependent. Then there's nuclear and hydroelectric generation, heat pumps and solar thermal that are reliable sources of electrical and thermal energy."
"So economically it doesn't make much sense to try to capture lightning."
Solid salamander: Prehistoric amphibian was as heavy as a pygmy hippo
November 21, 2022
The last of the temnospondyls -- amphibians that look more like crocodiles -- became extinct during the Cretaceous period, about 120 million years ago, after thriving on Earth for more than 200 million years.
Now a team of scientists led by Lachlan Hart, a palaeontologist and PhD candidate in the School of Biological, Earth & Environmental Sciences at UNSW Sydney, has assessed various methods of estimating the weight of these unique extinct animals. The team's study is published in Palaeontology.
"Estimating mass in extinct animals presents a challenge, because we can't just weigh them like we could with a living thing," said Mr Hart. "We only have the fossils to tell us what an animal looked like, so we often need to look at living animals to get an idea about soft tissues, such as fat and skin."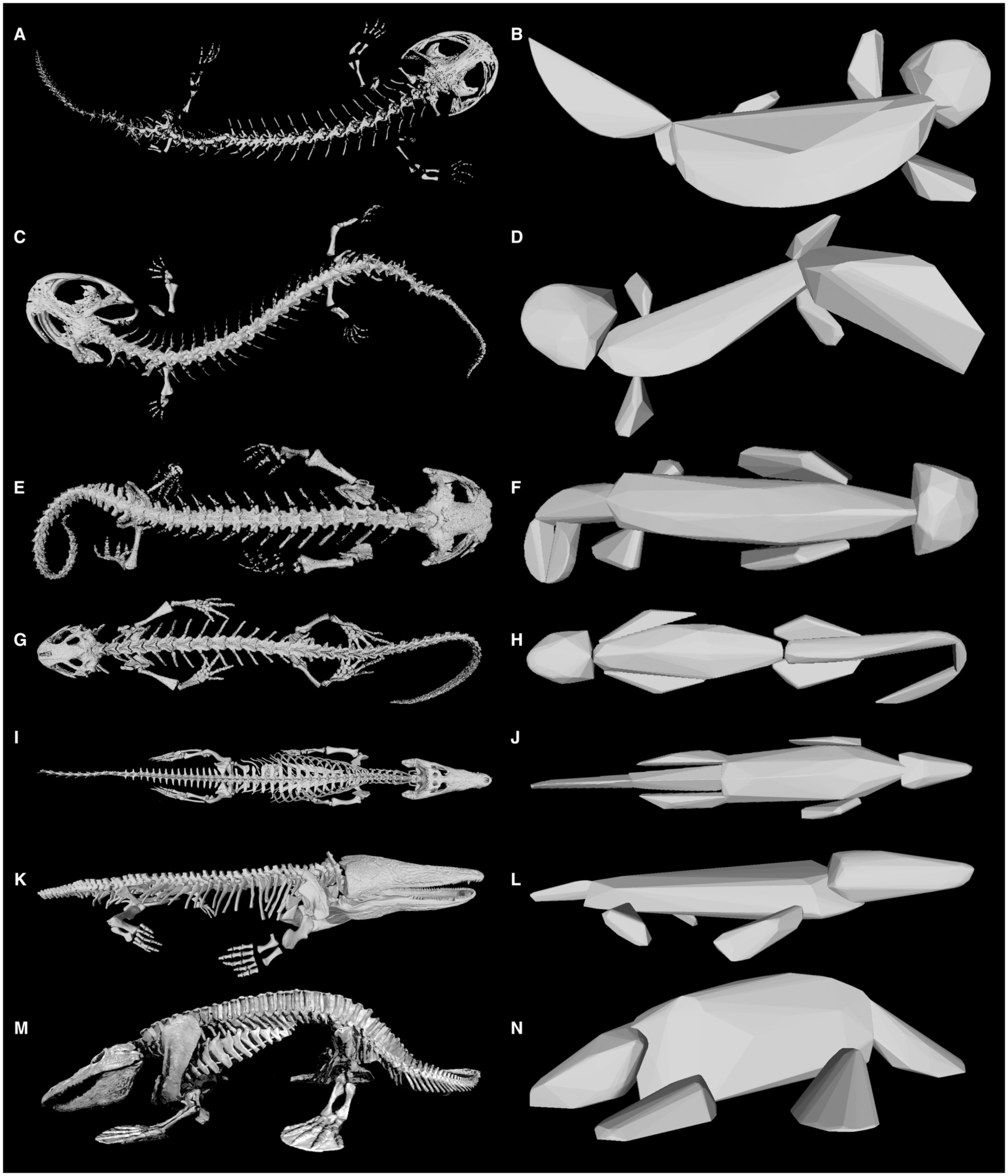 3D models of the animals featured in the study. Image by Lachlan Hart

Temnospondyls as case studies
Mr Hart said temnospondyls were "very strange animals."
"Some grew to enormous sizes, six or seven metres long. They went through a larval (tadpole) stage just like living amphibians. Some had very broad and round heads -- such as Australia's Koolasuchus, recently named as the Victorian State Fossil Emblem -- and others, like the temnospondyls we used in this study, had heads that were more croc-like."
The 1.8 metre-long Eryops megacephalus lived during the Permian period in what is now the USA, while the slightly longer Paracyclotosaurus davidi is known from the Triassic of Australia. The more aquatically inclined Paracyclotosaurus was the heftier of the two, tipping the scales at roughly 260 kilograms, where Eryops was a more modest 160 kilograms.
"The size of an animal is important for many aspects of their life," said Mr Hart. "It impacts what they feed on, how they move and even how they handle cold temperatures. So naturally, palaeontologists are interested in calculating the body mass of extinct creatures so we can learn more about how they lived.
"There have been several studies on body mass estimation in other groups of extinct animals, such as dinosaurs, but not extensively on temnospondyls.
"They survived two of Earth's Big Five mass extinction events which makes them a very interesting case study on how animals adapted following these global catastrophes," Mr Hart said.
Because temnospondyls have no direct living relatives, the team of scientists had to assemble a selection of five modern 'analogues' (such as the Chinese Giant Salamander and the Saltwater Crocodile) to test a total of 19 different body mass estimation techniques to determine their suitability for use in temnospondyls.
"We found several methods which gave us consistently accurate body mass estimations in our five living animals, which included using mathematical equations and 3-dimensional digital models of the animals," said Dr Nicolas Campione from the University of New England, Armidale, an authority on body mass estimation who was also involved in the study. "We hypothesised that as these methods are accurate for animals which lived and looked like temnospondyls, they would also be appropriate for use with temnospondyls."
Dr Matthew McCurry, Senior Lecturer in Earth Science at UNSW, and co-author on the study said, "This work has shown there are multiple methods for estimating mass in temnospondyls.
"We don't need the whole skeleton to do this, as some methods involve using the width of the skull or the circumference of the legs. The work will be useful for palaeontologists because many fossils we find are only of one or two parts of the skeleton."
Lachlan J. Hart, Nicolás E. Campione, Matthew R. McCurry.
On the estimation of body mass in temnospondyls: a case study using the large‐bodied Eryops and Paracyclotosaurus.
Palaeontology, 2022; 65 (6) DOI:
10.1111/pala.12629
Exercise can reduce severity of breast cancer treatment side effects
November 21, 2022
Breast cancer is the most common form of the disease among women; in Australia, one in eight women will be diagnosed with breast cancer by the age of 85.
Radiotherapy has emerged as an important component of breast cancer treatment but can lead to cancer-related fatigue and negatively impact patients' health-related quality of life including their emotional, physical and social wellbeing.
However, latest research by Edith Cowan University (ECU) has revealed exercise may make radiotherapy more tolerable for patients.
ECU's Exercise Medicine Research Institute included 89 women in the study, with 43 completing a home-based 12-week program, consisting of a weekly exercise regime of one to two resistance training sessions and an accumulated 30-40 minutes of aerobic exercise.
The remaining patients were a control group who did not participate in the exercise program.
Researchers found patients who exercised recovered from cancer-related fatigue quicker during and after radiotherapy compared to the control group and saw a significant increase in health-related quality of life post radiotherapy.
No adverse effects from the exercise were reported.
Study supervisor Professor Rob Newton said this showed home-based resistance and aerobic exercise during radiotherapy is safe, feasible and effective in accelerating recovery from cancer-related fatigue and improving health-related quality of life.
"A home-based protocol might be preferable for patients, as it is low-cost, does not require travel or in-person supervision and can be performed at a time and location of the patient's choosing," he said.
"These benefits may provide substantial comfort to patients."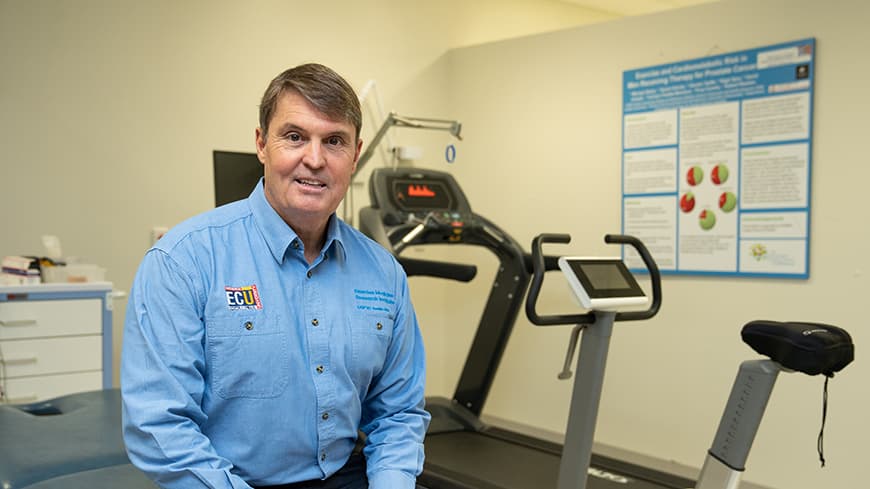 Professor Rob Newton. Photo: ECU

Important changes
Australia's current national guidelines for cancer patients recommend moderately intense aerobic exercise for 30 minutes per day, five days a week, or vigorously intense aerobic exercise for 20 minutes a day for three days a week.
They also call for 8-10 strength-training exercises with 8-12 repetitions per exercise, for two-to-three days per week.
However, study lead Dr Georgios Mavropalias said benefits were still observed with less exercise.
"The amount of exercise was aimed to increase progressively, with the ultimate target of participants meeting the national guideline for recommended exercise levels," he said.
"However, the exercise programs were relative to the participants' fitness capacity, and we found even much smaller dosages of exercise than those recommended in the national guidelines can have significant effects on cancer-related fatigue and health-related quality of living during and after radiotherapy."
The study also found once participants began an exercise program, most stuck with it.
The exercise group reported significant improvements in mild, moderate and vigorous physical activity up to 12 months after the supervised exercise program finished.
"The exercise program in this study seems to have induced changes in the participants' behaviour around physical activity," Dr Mavropalias said.
"Thus, apart from the direct beneficial effects on reduction in cancer-related fatigue and improving health-related quality of life during radiotherapy, home-based exercise protocols might result in changes in the physical activity of participants that persist well after the end of the program."
'The effects of home-based exercise therapy for breast cancer-related fatigue induced by radical radiotherapy' was published in Breast Cancer.
Georgios Mavropalias, Prue Cormie, Carolyn J. Peddle-McIntyre, Daniel A. Galvão, Dennis R. Taaffe, Christelle Schofield, Sharon Ray, Yvonne Zissiadis, Robert U. Newton.
The effects of home-based exercise therapy for breast cancer-related fatigue induced by radical radiotherapy.
Breast Cancer, 2022; DOI:
10.1007/s12282-022-01408-3
Sea level rise to dramatically speed up erosion of rock coastlines by 2100
Rock coasts, which make up over half the world's coastlines, could retreat more rapidly in the future due to accelerating sea level rise.
This is according to new Imperial College London research that modelled likely future cliff retreat rates of two rock coasts in the UK. The forecasts are based on predictions of sea level rise for various greenhouse gas emissions and climate change scenarios.
The study found that rock coasts, traditionally thought of as stable compared to sandy coasts and soft cliffs, are likely to retreat at a rate not seen for 3,000-5,000 years.
At the UK study sites in Yorkshire and Devon, this will cause rock coast cliffs to retreat by at least 10-22 metres inland. The rate of erosion is likely between three and seven times today's rate and potentially up to tenfold.
Senior author Dr Dylan Rood, of Imperial's Department of Earth Science said: "Coastal erosion is one of the greatest financial risks to society of any natural hazard. Some rock cliffs are already crumbling, and within the next century, rock coast erosion rates could increase tenfold. Even rock coasts that have been stable in the last hundred years will likely respond to sea level rise by 2030."
Globally, coasts are home to hundreds of millions of people and hundreds of billions of dollars of infrastructure like homes, businesses, nuclear power stations, transport links, and agriculture.
The researchers are calling on policymakers, planners, and insurers to take action to classify rock coasts as high-risk areas in future planning for climate change response, as well as to limit climate change through achieving Net Zero as an immediate priority.
Dr Rood added: "Rock coast erosion is irreversible: now is the time to limit future sea level rise before it's too late. Humanity can directly control the fate of our coastlines by reducing greenhouse gas emissions -- the future of our coasts is in our hands."
The research is published in Nature Communications.
A rocky road
The new study is the first to validate models of the expected erosion of hard rock coasts from sea level rise using observational data over prehistoric timescales. Previous studies have mostly focused on theoretical models of soft, sandy coasts. The new results suggest that as sea levels continue to rise, the rate of rock coastal erosion will also accelerate.
To study the future rate of erosion, the researchers looked at past and present cliff retreat rates on the coastlines near Scalby in Yorkshire and Bideford in Devon, finding that by 2100 they will likely retreat by 13-22m and 10-14m, respectively.
They collected rock samples and analysed them for rare isotopes called cosmogenic radionuclides (CRNs) that build up in rocks exposed to cosmic rays. Concentrations of CRNs in rock reveal how quickly, and for how long, the rock has been exposed, reflecting the rate of erosion and retreat.
They combined these data with observed coastal topography to calibrate a model that tracks the evolution of these rock coasts over time, before comparing them with rates of past sea level change dating back 8000 years. They found that the rate of coastal erosion on these two sites has closely matched the rate of sea level rise.
The researchers say this is clear evidence of a causal relationship between cliff retreat and sea level from which future forecasts can be made, and that rock coasts are more sensitive to sea level rise than previously thought. The findings, they say, could be applied to rock coasts worldwide because the rock type is common globally, and similar hard rock coasts are likely to respond in a similar way to sea level rise.
Lead author Dr Jennifer Shadrick, who conducted the work in Imperial's Department of Earth Science and Engineering as a member of the NERC Science & Solutions for a Changing Planet Doctoral Training Partnership, and now works in the marine and coastal risk management team at JBA Consulting, said: "Sea level rise is accelerating, and our results confirm that rock coast retreat will accelerate in line with this. It isn't a matter of if, but when.
"The more positive news is that, now that we have a better idea of magnitudes and timescales, we can adapt accordingly. The more data we have on the effects of climate change on sea level rise and coastal erosion, the more we can prepare by championing urgent policies that protect coasts and their communities."
Sea level rise
As the climate warms, sea levels are forecast to rise one metre by 2100 unless greenhouse gas emissions are reduced.
This study is the first to confirm with observational data that the rate of past coastal erosion followed the rate of sea level rise over prehistoric timescales. The researchers say this erosion was driven by waves, which will likely get larger and more forceful as future sea level rises, and more land is given over to the sea.
While this study looked at the effects of sea level rise, it did not account for the effects of stronger storms, which some studies forecast will happen more frequently due to climate change. Next, the researchers will adapt their model to also forecast the rate of cliff retreat for softer rock coasts, such as chalk.
Dr Rood said: "Our study did not account for the effect of increased storms, which may become stronger and more frequent in the future as the climate changes, on wave-driven cliff erosion. However, increased storms would only speed up the cliff retreat even more than our forecasts. This is another angle to the climate crisis we will account for in future studies to give a more complete picture of likely rates of rock coast erosion. We are also looking to improve our models for softer rock coasts where erosion other than by waves is more important."
Dr Shadrick said: "The findings are a stark warning that we must better adapt to coastal retreat or face the loss of the people, homes, and infrastructure that call coastal areas home."
Study co-author Dr Martin Hurst at the University of Glasgow said: "The implication is that rock coasts are more sensitive to sea level rise than previously thought. We need to pay more attention to how our rock coasts continue to erode as sea levels rise.
"Heightened erosion risks at our coasts will continue throughout this century. Even if we achieve Net Zero tomorrow, a substantive amount of sea level rise is already baked in as our climate, glaciers and oceans continue to respond to the emissions that have already taken place."
This study was funded by the Natural Environmental Research Council (NERC), the British Geological Survey (BGS), and the Australian Nuclear Science and Technology Organisation (ANSTO).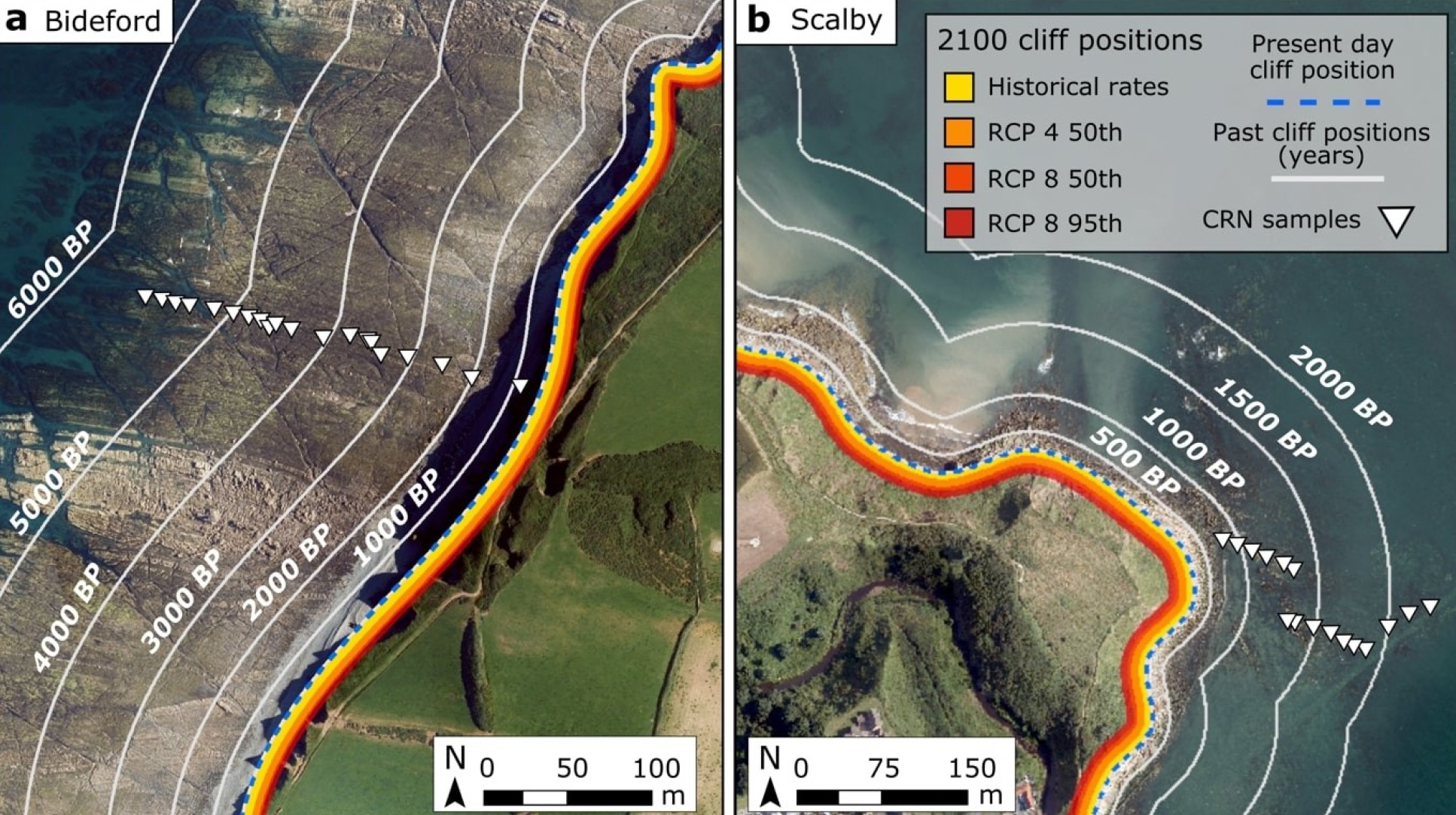 Past, present and forecast future cliff positions by 2100 at Bideford (a) and Scalby (b). RCP 8 (red lines) represents current trajectory of greenhouse gas emissions.

Jennifer R. Shadrick, Dylan H. Rood, Martin D. Hurst, Matthew D. Piggott, Bethany G. Hebditch, Alexander J. Seal, Klaus M. Wilcken.
Sea-level rise will likely accelerate rock coast cliff retreat rates.
Nature Communications, 2022; 13 (1) DOI:
10.1038/s41467-022-34386-3
Disclaimer: These articles are not intended to provide medical advice, diagnosis or treatment. Views expressed here do not necessarily reflect those of Pittwater Online News or its staff.