May 28 - June 3 2023: Issue 585

Skin patch shows promise for toddlers with peanut allergy
May 23, 2023
A global phase 3 clinical trial that included Ann & Robert H. Lurie Children's Hospital of Chicago found that a year-long immunotherapy through a skin patch safely desensitized toddlers with peanut allergy, lowering the risk of a severe allergic reaction from accidental exposure. Results of this randomized, double-blind, placebo-controlled trial for children 1-3 years of age, funded by DBV Technologies, were published in the New England Journal of Medicine.
"We were excited to contribute to this landmark study that carries so much promise for our young patients with peanut allergy," said co-author Melanie Makhija, MD, who was the Principal Investigator of the study at Lurie Children's and is an Associate Professor of Paediatrics at Northwestern University Feinberg School of Medicine. "Children who originally reacted to a small fraction of a peanut were able to tolerate the equivalent of one to four peanuts after completing the treatment course. This means that these children will be well protected from accidental exposure to peanuts. Importantly, we found that the peanut patch was safe, with very low chances of a severe allergic reaction. This is terrific news for families of kids with peanut allergies."
Peanut allergy affects approximately 2 percent of children in the United States, Canada and other westernized countries, and it commonly persists into adulthood. Life-threatening allergic reactions can be triggered by unintentional exposure to minute quantities, including through products manufactured on shared equipment as peanuts. Currently, there are no approved treatments for peanut-allergic children younger than 4 years of age.
Since 2012, the clinical trials program for food allergies at Lurie Children's has enrolled patients on numerous studies of novel treatments, including the oral immunotherapy for peanuts that has been approved by the Food and Drug Administration (FDA). Ongoing trials are available for all age groups, from infancy to young adulthood. The program is led by Principal Investigators Elizabeth Lippner, MD, and Abigail Lang, MD, MSCI.
Research at Ann & Robert H. Lurie Children's Hospital of Chicago is conducted through Stanley Manne Children's Research Institute. The Manne Research Institute is focused on improving child health, transforming paediatric medicine and ensuring healthier futures through the relentless pursuit of knowledge. Lurie Children's is a non-profit organisation committed to providing access to exceptional care for every child.
Matthew Greenhawt, Sayantani B. Sindher, Julie Wang, Michael O'Sullivan, George du Toit, Edwin H. Kim, Deborah Albright, Sara Anvari, Nicolette Arends, Peter D. Arkwright, Philippe Bégin, Katharina Blumchen, Thierry Bourrier, Terri Brown-Whitehorn, Heather Cassell, Edmond S. Chan, Christina E. Ciaccio, Antoine Deschildre, Amandine Divaret-Chauveau, Stacy L. Dorris, Morna J. Dorsey, Thomas Eiwegger, Michel Erlewyn-Lajeunesse, David M. Fleischer, Lara S. Ford, Maria Garcia-Lloret, Lisa Giovannini-Chami, Jonathan O. Hourihane, Nicola Jay, Stacie M. Jones, Leigh Ann Kerns, Kirsten M. Kloepfer, Stephanie Leonard, Guillaume Lezmi, Jay A. Lieberman, Jeanne Lomas, Melanie Makhija, Christopher Parrish, Jane Peake, Kirsten P. Perrett, Daniel Petroni, Wolfgang Pfützner, Jacqueline A. Pongracic, Patrick Quinn, Rachel G. Robison, Georgiana Sanders, Lynda Schneider, Hemant P. Sharma, Juan Trujillo, Paul J. Turner, Katherine Tuttle, Julia E. Upton, Pooja Varshney, Brian P. Vickery, Christian Vogelberg, Brynn Wainstein, Robert A. Wood, Katharine J. Bee, Dianne E. Campbell, Todd D. Green, Rihab Rouissi, Aurélie Peillon, Henry T. Bahnson, Timothée Bois, Hugh A. Sampson, A. Wesley Burks.
Phase 3 Trial of Epicutaneous Immunotherapy in Toddlers with Peanut Allergy.
New England Journal of Medicine, 2023; 388 (19): 1755 DOI:
10.1056/NEJMoa2212895
In 2050 over 800 million people globally estimated to be living with back pain
May 23, 2023
Analysis of over 30 years of data has shown the number of cases of low back pain is growing, with modelling suggesting by 2050, 843 million people will be affected by the condition largely due to population increases and ageing of populations.
The continued lack of a consistent approach on back pain treatment, and limited treatment options have researchers concerned that this will lead to a healthcare crisis, as low back pain is the leading cause of disability in the world.
In Australia, there will be a nearly 50 percent increase in cases by 2050. The landscape of back pain cases is set to shift, with the biggest increases in back pain cases to be in Asia and Africa.
The findings are published in Lancet Rheumatology today, and is the new Global Burden of Disease (GBD) 2021 study.
"Our analysis paints a picture of growing low back pain cases globally, putting enormous pressure on our healthcare system. We need to establish a national, consistent approach to managing low back pain that is informed by research," says lead author, Professor Manuela Ferreira from Sydney Musculoskeletal Health, an initiative of the University of Sydney, Sydney Local Health District and Northern Sydney Local Health District.
"Currently, how we have been responding to back pain has been reactive. Australia is a global leader in back pain research; we can be proactive and lead by example on back pain prevention," said Professor Ferreira who is based at Sydney's Kolling Institute.
The study reveals several milestones in back pain cases. Since 2017, the number of low back pain cases has ticked over to more than half a billion people.
In 2020, there were approximately 619 million cases of back pain.
At least one third of the disability burden associated with backpain was attributable to occupational factors, smoking and being overweight.
A widespread misconception is that low back pain mostly affects adults of working age. But researchers say this study has confirmed that low back pain is more common among older people. Low back pain cases were also higher among females compared to males.
This is the most comprehensive and up-to-date available data that includes for the first time global projections and the contribution of GBD risk factors to low back pain. The work was made possible by the joint efforts of The University of Sydney, the Institute for Health Metrics and Evaluation (IHME) at the University of Washington's School of Medicine, IHME's international collaborators, and the Global Alliance for Musculoskeletal Health.
"We also know that most available data come from high-income countries, making it sometimes hard to interpret these results for low to mid-income countries. We urgently need more population-based back pain and musculoskeletal data from countries of low to mid-income," said senior author Professor Lyn March from Sydney Musculoskeletal Health and the Kolling Institute.
The study analysed GBD data from 1990 to 2020 from over 204 countries and territories to map the landscape of back pain cases over time. The GBD is the most comprehensive picture of mortality and disability across countries, time, age, and
It is also the first study to be used for modelling the future prevalence of back pain cases.
"Health systems need to respond to this enormous and rising burden of low back pain that is affecting people globally. Much more needs to be done to prevent low back pain and ensure timely access to care, as there are effective ways of helping people in pain" said Prof Anthony Woolf, co-chair of the Global Alliance for Musculoskeletal Health which is calling for priority to be given to addressing the growing burden of musculoskeletal conditions.
"Ministries of health cannot continue ignoring the high prevalence of musculoskeletal conditions including low back pain. These conditions have important social and economic consequences, especially considering the cost of care. Now is the time to learn about effective strategies to address the high burden and to act" said Dr Alarcos Cieza, Unit Head, World Health Organization, Headquarters, Geneva.
National guidelines will form basis of back pain prevention
In 2018, experts (independent to this study) voiced their concerns in The Lancet and gave recommendations, especially regarding exercise and education, about the need for a change in global policy on the best way to prevent and manage low back pain to stop the rise of inappropriate treatments.
However, since then, there has been little change. Common treatments recommended for low back pain have been found to have unknown effectiveness or to be ineffective -- this includes some surgeries and opioids.
Professor Ferreira says there is a lack of consistency in how health professionals manage back pain cases and how the healthcare system needs to adapt.
"It may come as a surprise to some that current clinical guidelines for back pain treatment and management do not provide specific recommendations for older people."
"Older people have more complex medical histories and are more likely to be prescribed strong medication, including opioids for back pain management, compared to younger adults. But this is not ideal and can have a negative impact on their function and quality of life, especially as these analgesics may interfere with their other existing medications. This is just one example of why we need to update clinical guidelines to support our health professionals."
Co-author Dr Katie de Luca, from CQUniversity, said if the right action is not taken, low back pain can become a precursor to chronic health conditions such as diabetes, cardiovascular disease and mental health conditions, invasive medical procedures, and significant disability.
"Low back pain continues to be the greatest cause of disability burden worldwide. There are substantial socio-economic consequences of this condition, and the physical and personal impact directly threatens healthy ageing."
Manuela L Ferreira, Katie de Luca, Lydia M Haile, Jaimie D Steinmetz, Garland T Culbreth, Marita Cross, Jacek A Kopec, Paulo H Ferreira, Fiona M Blyth, Rachelle Buchbinder, Jan Hartvigsen, Ai-Min Wu, Saeid Safiri, Anthony D Woolf, Gary S Collins, Kanyin Liane Ong, Stein Emil Vollset, Amanda E Smith, Jessica A Cruz, Kai Glenn Fukutaki, Semagn Mekonnen Abate, Mitra Abbasifard, Mohsen Abbasi-Kangevari, Zeinab Abbasi-Kangevari, Ahmed Abdelalim, Aidin Abedi, Hassan Abidi, Qorinah Estiningtyas Sakilah Adnani, Ali Ahmadi, Rufus Olusola Akinyemi, Abayneh Tadesse Alamer, Adugnaw Zeleke Alem, Yousef Alimohamadi, Mansour Abdullah Alshehri, Mohammed Mansour Alshehri, Hosam Alzahrani, Saeed Amini, Sohrab Amiri, Hubert Amu, Catalina Liliana Andrei, Tudorel Andrei, Benny Antony, Jalal Arabloo, Judie Arulappan, Ashokan Arumugam, Tahira Ashraf, Seyyed Shamsadin Athari, Nefsu Awoke, Sina Azadnajafabad, Till Winfried Bärnighausen, Lope H Barrero, Amadou Barrow, Akbar Barzegar, Lindsay M Bearne, Isabela M Bensenor, Alemshet Yirga Berhie, Bharti Bhandari Bhandari, Vijayalakshmi S Bhojaraja, Ali Bijani, Belay Boda Abule Bodicha, Srinivasa Rao Bolla, Javier Brazo-Sayavera, Andrew M Briggs, Chao Cao, Periklis Charalampous, Vijay Kumar Chattu, Flavia M Cicuttini, Benjamin Clarsen, Sarah Cuschieri, Omid Dadras, Xiaochen Dai, Lalit Dandona, Rakhi Dandona, Azizallah Dehghan, Takele Gezahegn G Demie, Edgar Denova-Gutiérrez, Syed Masudur Rahman Dewan, Samath Dhamminda Dharmaratne, Mandira Lamichhane Dhimal, Meghnath Dhimal, Daniel Diaz, Mojtaba Didehdar, Lankamo Ena Digesa, Mengistie Diress, Hoa Thi Do, Linh Phuong Doan, Michael Ekholuenetale, Muhammed Elhadi, Sharareh Eskandarieh, Shahriar Faghani, Jawad Fares, Ali Fatehizadeh, Getahun Fetensa, Irina Filip, Florian Fischer, Richard Charles Franklin, Balasankar Ganesan, Belete Negese Belete Gemeda, Motuma Erena Getachew, Ahmad Ghashghaee, Tiffany K Gill, Mahaveer Golechha, Pouya Goleij, Bhawna Gupta, Nima Hafezi-Nejad, Arvin Haj-Mirzaian, Pawan Kumar Hamal, Asif Hanif, Netanja I Harlianto, Hamidreza Hasani, Simon I Hay, Jeffrey J Hebert, Golnaz Heidari, Mohammad Heidari, Reza Heidari-Soureshjani, Mbuzeleni Mbuzeleni Hlongwa, Mohammad-Salar Hosseini, Alexander Kevin Hsiao, Ivo Iavicoli, Segun Emmanuel Ibitoye, Irena M Ilic, Milena D Ilic, Sheikh Mohammed Shariful Islam, Manthan Dilipkumar Janodia, Ravi Prakash Jha, Har Ashish Jindal, Jost B Jonas, Gebisa Guyasa Kabito, Himal Kandel, Rimple Jeet Kaur, Vikash Ranjan Keshri, Yousef Saleh Khader, Ejaz Ahmad Khan, Md Jobair Khan, Moien AB Khan, Hamid Reza Khayat Kashani, Jagdish Khubchandani, Yun Jin Kim, Adnan Kisa, Jitka Klugarová, Ali-Asghar Kolahi, Hamid Reza Koohestani, Ai Koyanagi, G Anil Kumar, Narinder Kumar, Tea Lallukka, Savita Lasrado, Wei-Chen Lee, Yo Han Lee, Ata Mahmoodpoor, Jeadran N Malagón-Rojas, Mohammad-Reza Malekpour, Reza Malekzadeh, Narges Malih, Man Mohan Mehndiratta, Entezar Mehrabi Nasab, Ritesh G Menezes, Alexios-Fotios A Mentis, Mohamed Kamal Mesregah, Ted R Miller, Mohammad Mirza-Aghazadeh-Attari, Maryam Mobarakabadi, Yousef Mohammad, Esmaeil Mohammadi, Shafiu Mohammed, Ali H Mokdad, Sara Momtazmanesh, Lorenzo Monasta, Mohammad Ali Moni, Ebrahim Mostafavi, Christopher J L Murray, Tapas Sadasivan Nair, Javad Nazari, Seyed Aria Nejadghaderi, Subas Neupane, Sandhya Neupane Kandel, Cuong Tat Nguyen, Ali Nowroozi, Hassan Okati-Aliabad, Emad Omer, Abderrahim Oulhaj, Mayowa O Owolabi, Songhomitra Panda-Jonas, Anamika Pandey, Eun-Kee Park, Shrikant Pawar, Paolo Pedersini, Jeevan Pereira, Mario F P Peres, Ionela-Roxana Petcu, Mohammadreza Pourahmadi, Amir Radfar, Shahram Rahimi-Dehgolan, Vafa Rahimi-Movaghar, Mosiur Rahman, Amir Masoud Rahmani, Nazanin Rajai, Chythra R Rao, Vahid Rashedi, Mohammad-Mahdi Rashidi, Zubair Ahmed Ratan, David Laith Rawaf, Salman Rawaf, Andre M N Renzaho, Negar Rezaei, Zahed Rezaei, Leonardo Roever, Guilherme de Andrade Ruela, Basema Saddik, Amirhossein Sahebkar, Sana Salehi, Francesco Sanmarchi, Sadaf G Sepanlou, Saeed Shahabi, Shayan Shahrokhi, Elaheh Shaker, MohammadBagher Shamsi, Mohammed Shannawaz, Saurab Sharma, Maryam Shaygan, Rahim Ali Sheikhi, Jeevan K Shetty, Rahman Shiri, Siddharudha Shivalli, Parnian Shobeiri, Migbar Mekonnen Sibhat, Ambrish Singh, Jasvinder A Singh, Helen Slater, Marco Solmi, Ranjani Somayaji, Ker-Kan Tan, Rekha Thapar, Seyed Abolfazl Tohidast, Sahel Valadan Tahbaz, Rohollah Valizadeh, Tommi Juhani Vasankari, Narayanaswamy Venketasubramanian, Vasily Vlassov, Bay Vo, Yuan-Pang Wang, Taweewat Wiangkham, Lalit Yadav, Ali Yadollahpour, Seyed Hossein Yahyazadeh Jabbari, Lin Yang, Fereshteh Yazdanpanah, Naohiro Yonemoto, Mustafa Z Younis, Iman Zare, Armin Zarrintan, Mohammad Zoladl, Theo Vos, Lyn M March.
Global, regional, and national burden of low back pain, 1990–2020, its attributable risk factors, and projections to 2050: a systematic analysis of the Global Burden of Disease Study 2021.
The Lancet Rheumatology, 2023; 5 (6): e316 DOI:
10.1016/S2665-9913(23)00098-X
Modular builds may help construction industry weather a perfect storm: UniSA
May 23, 2023
Rising material prices, labour shortages, interest rate hikes and rainy weather have created a perfect storm for the construction industry in the past 12 months, sending many builders to the wall.
Of all these factors, weather is the one that most people would cite as being beyond human control. However, a new study out of the UK and Australia suggests this may not be the case.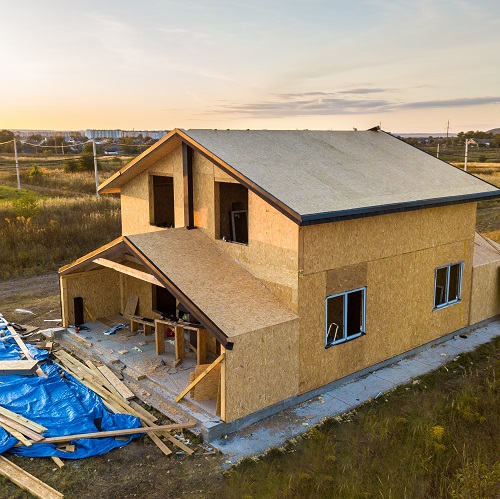 Engineers from Aston University, Birmingham, and the University of South Australia (UniSA) have calculated the potential cost savings for builders using modular production techniques where much of the construction happens offsite in controlled conditions.
Buildings are produced in modules in a factory, using the same materials and building codes, but completed in about half the time, with less waste and no building delays due to poor weather.
The researchers produced a cost model that estimated the impact of weather by season on each building activity, including portions of the build (such as bathroom pods) up to the entire structure.
The savings come in at approximately AUD$40,000 (£21,000) on a build worth $6.4 million (£3.4m). This 0.6% saving may initially seem minor but takes on significant meaning in the current climate where average construction profit margins are just 4.2%.
The findings are published in the International Journal of Sustainable Building Technology and Urban Development.
Co-author of the paper Dr Ki Pyung Kim, a senior lecturer in STEM at UniSA, says weather is often identified as one of the top causes for delays and subsequent cost increases in the building industry, affecting 45% of projects worldwide.
"By removing many of the onsite activities and replacing them with modules built offsite, builders can minimise construction delays caused by weather, thereby keeping the costs from blowing out," Dr Kim says.
Global warming is expected to push temperatures up worldwide, including in Australia, making working conditions more difficult on construction sites, the study authors point out.
"There are many pressures on the construction industry right now, including lack of skilled labour, reductions in profit margins, lack of sustainable materials and low productivity. The financial implications of weather are rarely considered except in extreme cases as the client normally bears the cost," Dr Kim says.
While modular construction techniques have several benefits -- including faster builds and a more controlled working environment which protects high-quality materials from the weather -- there are some drawbacks: a limited supply chain and lack of flexibility in both design and supply. The upfront costs of modular components are also expensive, but this needs to be weighed up against losses incurred by weather holdups.
"The global housing sector is dominated by traditional construction methods, but the industry is approaching a crisis point -- particularly in relation to a skills shortage -- that may force a change to modular and other offsite techniques," Dr Kim says.
"The Federal Government has set a target of delivering one million affordable homes over five years from 2024. To ensure this target is met, Infrastructure Australia has mandated modular construction for 80% of social housing projects by 2030."
Construction costs are typically between 43 and 46% of overall costs, which is why much of the existing research focuses on this area.
"When working in a factory environment there is a more protected and controlled atmosphere, and this will improve worker welfare, productivity and reduce health and safety costs, with fewer loss of workdays due to ill health and accident."
Dr Kim says that the potential cost saving will vary, depending on where the project is built, when the project is started and how long the build is.
David Roberts, Kenneth Park, Nii Ankrah and Ki Pyung Kim.
The effect on cost when utilising modular construction techniques - The impact of weather on labour productivity.
International Journal of Sustainable Building Technology and Urban Development, 2023 DOI:
10.22712/susb.20230007
What marsupials can teach us about brain development
May 23, 2023
University of Queensland research has revealed features of early human brain development are mimicked in the brains of marsupials.
Lead author Dr Rodrigo Suárez from UQ's Queensland Brain Institute and School of Biomedical Sciences, said the finding could lead to a better understanding of brain patterns linked to neurodevelopmental conditions like autism spectrum disorder (ASD).
"Marsupials are mammals born at extremely early stages -- the equivalent to mid-gestation in human terms," Dr Suárez said.
"Most marsupial brain development happens postnatally, inside the mothers' pouch.
"Because of this, we've been able to study patterns of neural activity in the Australian native fat-tailed dunnart and found they're similar to those in the human brain in utero."
The research used light indicators to record the electrical activity of neurons in marsupial joeys.
"We followed the onset and maturation of complex activity patterns, using advanced microscopy to read how the joey's developing brain cells first communicate," Dr Suárez said.
"There were distinct patterns from the outset indicating not only that neural activity begins before sensory experience, but that unique electrical features in newborn cells might be crucial for the healthy establishment of brain connections.
"Likewise, subtle defects in these patterns could lead to neurodevelopmental conditions like ASD."
Dr Suárez said it was well established that human babies respond to stimulation well before birth.
"But exactly when, where and how electrical activity begins in the developing brain has remained largely unknown," he said.
"This is mostly because only mammals have evolved a cerebral cortex -- the wrinkly surface of our brains that controls sensory motor and cognitive tasks -- and most experimental models can't survive at such early stages outside the uterus."
Dr Suárez said studying marsupials could help researchers go further back in brain evolution.
"These findings highlight early processes of brain development that arose millions of years ago, and are ongoing with little change, likely influencing the evolution and diversification of the cerebral cortex."
Rodrigo Suárez, Tobias Bluett, Michael H. McCullough, Lilach Avitan, Dylan A. Black, Annalisa Paolino, Laura R. Fenlon, Geoffrey J. Goodhill, Linda J. Richards.
Cortical activity emerges in region-specific patterns during early brain development
. Proceedings of the National Academy of Sciences, 2023; 120 (22) DOI:
10.1073/pnas.2208654120
Half of world's largest lakes losing water: Climate change, human consumption and sedimentation contributing to decline
More than 50 percent of the largest lakes in the world are losing water, according to a ground-breaking new assessment published in Science. The key culprits are not surprising: warming climate and unsustainable human consumption.
But lead author Fangfang Yao, a CIRES visiting fellow, now a climate fellow at University of Virginia, said the news is not entirely bleak. With this new method of tracking lake water storage trends and the reasons behind them, scientists can give water managers and communities insight into how to better protect critical sources of water and important regional ecosystems.
"This is the first comprehensive assessment of trends and drivers of global lake water storage variability based on an array of satellites and models," Yao said.
He was motivated to do the research by the environmental crises in some of Earth's largest water bodies, such as the drying of the Aral Sea between Kazakhstan and Uzbekistan.
So he and colleagues from the University of Colorado Boulder, Kansas State University, France, and Saudi Arabia created a technique to measure changes in water levels in nearly 2,000 of the world's biggest lakes and reservoirs, which represent 95 percent of the total lake water storage on Earth.
The team combined three decades of observations from an array of satellites with models to quantify and attribute trends in lake storage globally.
Globally, freshwater lakes and reservoirs store 87 percent of the planet's water, making them a valuable resource for both human and Earth ecosystems. Unlike rivers, lakes are not well monitored, yet they provide water for a large part of humanity -- even more than rivers.
But despite their value, long-term trends and changes to water levels have been largely unknown -- until now.
"We have pretty good information on iconic lakes like Caspian Sea, Aral Sea and Salton Sea, but if you want to say something on a global scale, you need reliable estimates of lake levels and volume," said Balaji Rajagopalan, a CIRES fellow, professor of engineering at CU Boulder, and co-author. "With this novel method …we are able to provide insights into global lake level changes with a broader perspective."
For the new paper, the team used 250,000 lake-area snapshots captured by satellites between 1992-2020 to survey the area of 1,972 of Earth's biggest lakes. They collected water levels from nine satellite altimeters and used long-term water levels to reduce any uncertainty. For lakes without a long-term level record, they used recent water measurements made by newer instruments on satellites. Combining recent level measurements with longer-term area measurements allowed scientists to reconstruct the volume of lakes dating back decades.
The results were staggering: 53 percent of lakes globally experienced a decline in water storage. The authors compare this loss with the magnitude of 17 Lake Meads, the largest reservoir in the United States.
To explain the trends in natural lakes, the team leveraged recent advancements in water use and climate modelling. Climate change and human water consumption dominated the global net decline in natural lake volume and water losses in about 100 large lakes, Yao said. "And many of the human and climate change footprints on lake water losses were previously unknown, such as the desiccations of Lake Good-e-Zareh in Afghanistan and Lake Mar Chiquita in Argentina."
Lakes in both dry and wet areas of the world are losing volume. The losses in humid tropical lakes and Arctic lakes indicate more widespread drying trends than previously understood.
Yao and his colleagues also assessed storage trends in reservoirs. They found that nearly two-thirds of Earth's large reservoirs experienced significant water losses.
"Sedimentation dominated the global storage decline in existing reservoirs," said Ben Livneh, also a co-author, CIRES fellow, and associate professor of engineering at CU Boulder. In long-established reservoirs -- those that filled before 1992 -- sedimentation was more important than droughts and heavy rainfall years.
While the majority of global lakes are shrinking, 24 percent saw significant increases in water storage. Growing lakes tend to be in underpopulated areas in the inner Tibetan Plateau and Northern Great Plains of North America and in areas with new reservoirs such as the Yangtze, Mekong, and Nile river basins.
The authors estimate roughly one-quarter of the world's population, 2 billion people, resides in the basin of a drying lake, indicating an urgent need to incorporate human consumption, climate change, and sedimentation impacts into sustainable water resources management.
And their research offers insight into possible solutions, Livneh said. "If human consumption is a large factor in lake water storage decline, then we can adapt and explore new policies to reduce large-scale declines."
This happened in one of the lakes the team studied, Lake Sevan in Armenia. Lake Sevan has seen an increase in water storage, in the last 20 years, which the authors linked to enforcement of conservation laws on water withdrawal since the early 2000s.
Fangfang Yao, Ben Livneh, Balaji Rajagopalan, Jida Wang, Jean-François Crétaux, Yoshihide Wada, Muriel Berge-Nguyen.
Satellites reveal widespread decline in global lake water storage.
Science, 2023; 380 (6646): 743 DOI:
10.1126/science.abo2812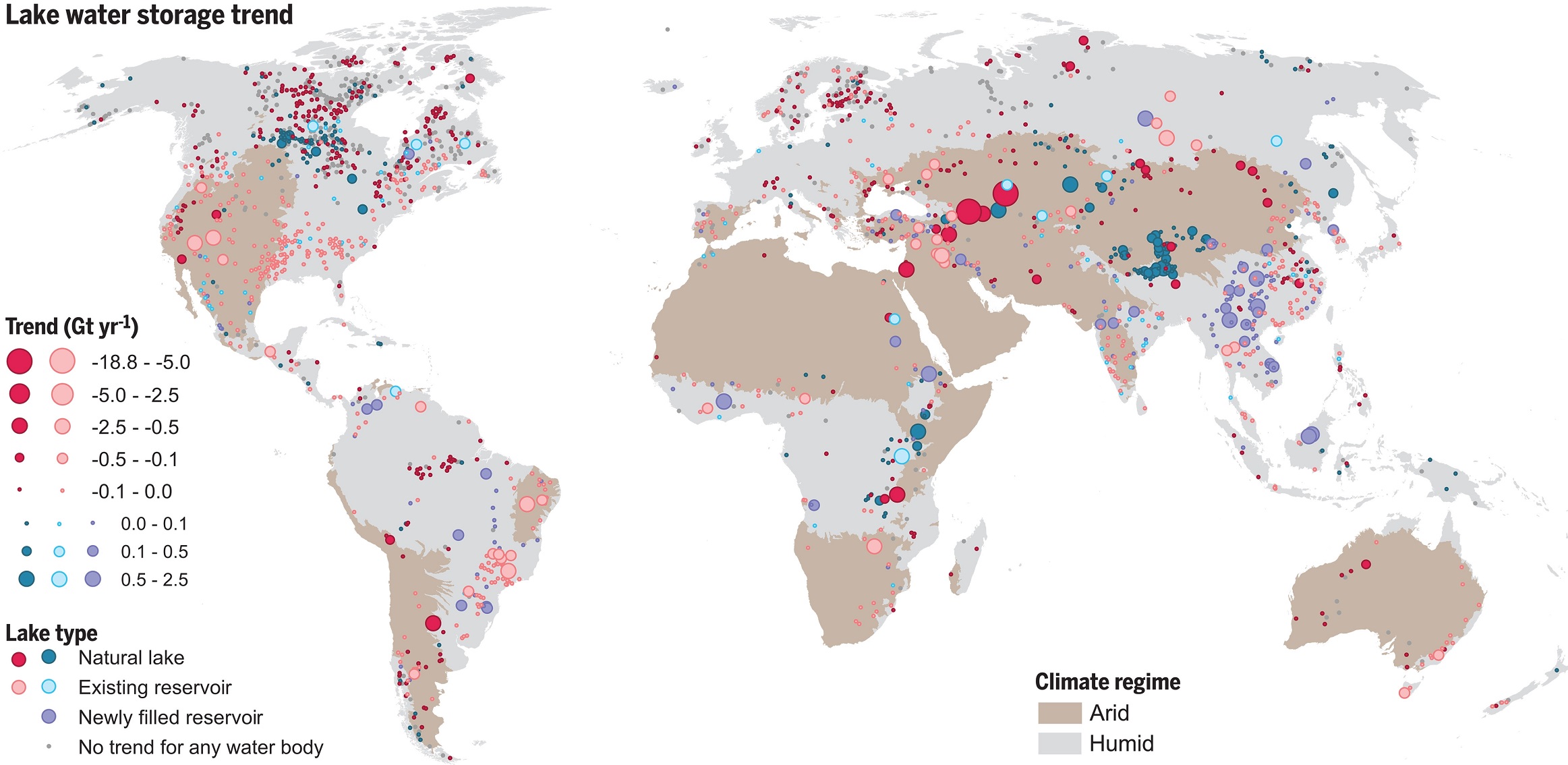 Fig. 1. Widespread storage decline in large global lakes from October 1992 to September 2020.
Lake water storage (LWS) trends for 1058 natural lakes (dark red and dark blue dots) and 922 reservoirs (light red and light blue dots). Recently filled reservoirs after 1992 are denoted as light purple dots. All coloured dots denote statistically significant trends (p < 0.1), whereas no significant trends are shown as grey dots. Classification of climate regimes between arid and humid regions was done using the aridity index [ratio of mean annual precipitation to mean annual potential evapotranspiration (materials and methods)].
New supply chain model to empower seabound hydrogen economy: UTS
May 22, 2023
A team of researchers has created a new supply chain model which could empower the international hydrogen renewable energy industry.
Hydrogen has been touted as the clean fuel of the future; it can be generated from water and produces zero carbon emissions. However, it is currently expensive to transport over long distances, and currently no infrastructure is in place to do so.
The new supply chain model, created by researchers in Australia, Singapore and Germany, successfully guides the development of international transport of hydrogen and its embodied energy.
The full report was recently published in the peer-reviewed journal, , Energy Conversion and Management.
Associate Professor Kaveh Khalilpour, from the University of Technology Sydney (UTS) and lead of the report, said supply chain design is critical for making hydrogen economic.
"We looked at the renewable hydrogen export from Australia to Singapore, Japan, and Germany. Surprisingly, the analysis revealed that it matters whether the goal is to export 'hydrogen the atom' or 'hydrogen the energy'. Each choice leads to a different supply chain system.
"Therefore, a thorough understanding of the whole system is necessary for correct decision making," said Associate Professor Khalilpour.
"The abundance of renewable energy resources in Australia, as well as its stable economy, means the country can attract investments in building these green value chains in our region and even as far away as Europe."
Hydrogen is expected to help diversify Australia's renewable energy resource beyond solar and wind power. This is seen as critical to the country's energy security, as well as necessary for climate change mitigation.
"Hydrogen is just an energy carrier, i.e. not a primary energy source, and thus only a means to an end for transporting renewable energy from one place to another.
"The key business question around the emerging hydrogen economy is whether commodities such as green hydrogen, methanol or ammonia can be exported profitably and competitively also over long distances and across the oceans, thus bringing green energy to other places in the world.
"If this is so, this will also have major international energy and climate policy implications," said Professor Reinhard Madlener, co-lead of the project, from RWTH Aachen University, Germany.
"Our model suggests that methanol shows great promise as a chemical carrier for exporting renewable energy from Australia at low costs," said Professor Iftekhar Karimi, from the National University of Singapore, and co-lead of the project.
Muhammad Aadil Rasool, Kaveh Khalilpour, Ahmad Rafiee, Iftekhar Karimi, Reinhard Madlener.
Evaluation of alternative power-to-chemical pathways for renewable energy exports
. Energy Conversion and Management, 2023; 287: 117010 DOI:
10.1016/j.enconman.2023.117010
Building trusted digital services:
the trustworthy digital society hub
May 2023
Former NSW Government Minister Victor Dominello has been appointed Director of a new initiative from UNSW Sydney and the University of Technology Sydney (UTS) ­– the Trustworthy Digital Society Hub – designed to lead research and insights in citizen-centred digital platforms.
UNSW and UTS developed the new Hub in close collaboration with Mr Dominello, aimed at supporting individuals, businesses and governments seeking to build a trustworthy digital society.
Mr Dominello says society has reached a point where we increasingly expect to be able to engage with services on-line 24/7 with ease, through digital platforms. He also says that while consumers have by and large accepted the benefits of the digital economy, they remain sceptical with how and by whom their data is used.
"We founded the Trustworthy Digital Society Hub to help create a world where individuals and communities can fully benefit from the opportunities of the digital age without sacrificing their privacy, security or fundamental rights," Mr Dominello says.
"The Hub will be a centre of innovation, bringing together researchers, technologists and policymakers to develop new digital technologies and practices that prioritise privacy, security and ethical considerations. It will serve as a trusted resource providing education, training and tools to help people understand the risks and benefits of digital technologies, and to make informed decisions about how to use them safely and responsibly."
It's clear the role of technology in our lives will continue to grow, and it's vitally important that people, government and business take a human-centred approach to developing the tools and capabilities to navigate the rapidly evolving tech landscape. -

Professor Andrew Parfitt,

UTS Vice-Chancellor and President
During his 14 years in the NSW Parliament, including serving as Minister for Digital and Minister for Customer Service, Mr Dominello oversaw a large part of the NSW government's digital transformation. He led a substantial evolution of Service NSW and its app, which saw the delivery of digital solutions such as QR check-ins and vaccine certificates during the COVID-19 pandemic.
Mr Dominello says consumer trust must be built into digital systems, and that is the premise for the new Hub.
"Trust is best built if information that's accessed on digital platforms remains owned by the consumer, regulated for the benefit of the consumer and is only held by third parties to serve the needs of the consumer.
"I am delighted to be working with UNSW and UTS on this important initiative, which will draw upon their deep pool of research, skills, technology and systems so we can develop effective models to test, refine and innovate for the benefit of our community."
UNSW Vice-Chancellor and President Professor Attila Brungs says he's excited Mr Dominello is joining as Director of the new Hub, with his proven track record in leading digital transformation in Australia.
"Victor was responsible for modernising the delivery of government services in NSW and has demonstrated in building NSW's online customer services how technology can transform people's lives for the better," Prof. Brungs says.
"UNSW looks forward to providing valuable guidance as part of this important collaboration, for individuals, government and industry and creating a true digital society."
UTS Vice-Chancellor and President Professor Andrew Parfitt says the Hub will leverage UTS's well established research capability and expertise in digital science, particularly in the areas of responsible use of technology and the ethics of artificial intelligence.
"UTS is excited to work alongside UNSW and Victor Dominello to help shape a society where people can benefit from the opportunities of a digital age in an equitable, inclusive and sustainable way.
"It's clear the role of technology in our lives will continue to grow, and it's vitally important that people, government and business take a human-centred approach to developing the tools and capabilities to navigate the rapidly evolving tech landscape."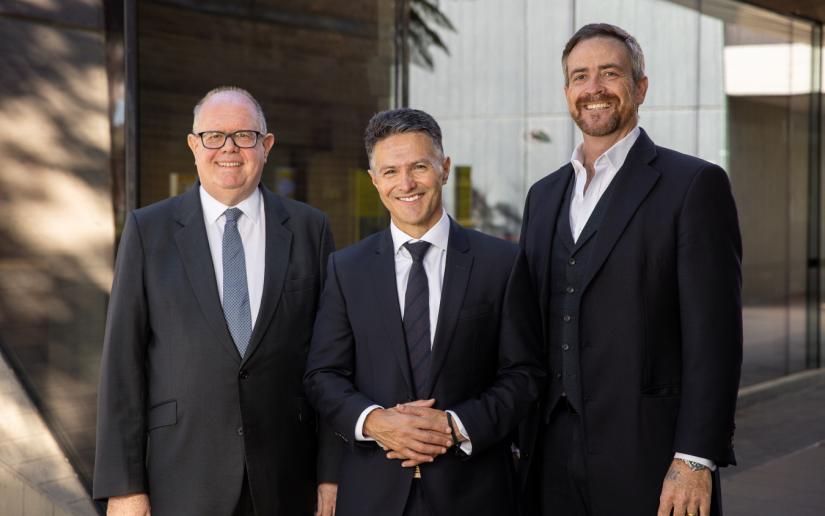 UTS Vice-Chancellor and President Professor Andrew Parfitt, Director of the UNSW-UTS Trustworthy Digital Society Hub Mr Victor Dominello, UNSW Vice-Chancellor and President Professor Attila Brungs. Photo by Maja Baska/UNSW

Flexing crystalline structures provide path to a solid energy future
May 23, 2023
A team of researchers at Duke University and their collaborators have uncovered the atomic mechanisms that make a class of compounds called argyrodites attractive candidates for both solid-state battery electrolytes and thermoelectric energy converters.
The discoveries -- and the machine learning approach used to make them -- could help usher in a new era of energy storage for applications such as household battery walls and fast-charging electric vehicles.
The results appeared online May 18 in the journal Nature Materials.
"This is a puzzle that has not been cracked before because of how big and complex each building block of the material is," said Olivier Delaire, associate professor of mechanical engineering and materials science at Duke. "We've teased out the mechanisms at the atomic level that are causing this entire class of materials to be a hot topic in the field of solid-state battery innovation."
As the world moves toward a future built on renewable energy, researchers must develop new technologies for storing and distributing energy to homes and electric vehicles. While the standard bearer to this point has been the lithium-ion battery containing liquid electrolytes, it is far from an ideal solution given its relatively low efficiency and the liquid electrolyte's affinity for occasionally catching fire and exploding.
These limitations stem primarily from the chemically reactive liquid electrolytes inside Li-ion batteries that allow lithium ions to move relatively unencumbered between electrodes. While great for moving electric charges, the liquid component makes them sensitive to high temperatures that can cause degradation and, eventually, a runaway thermal catastrophe.
Many public and private research labs are spending a lot of time and money to develop alternative solid-state batteries out of a variety of materials. If engineered correctly, this approach offers a much safer and more stable device with a higher energy density -- at least in theory.
While nobody has yet discovered a commercially viable approach to solid-state batteries, one of the leading contenders relies on a class of compounds called argyrodites, named after a silver containing mineral. These compounds are built from specific, stable crystalline frameworks made of two elements with a third free to move about the chemical structure. While some recipes such as silver, germanium and sulfur are naturally occurring, the general framework is flexible enough for researchers to create a wide array of combinations.
"Every electric vehicle manufacturer is trying to move to new solid-state battery designs, but none of them are disclosing which compositions they're betting on," Delaire said. "Winning that race would be a game changer because cars could charge faster, last longer and be safer all at once."
In the new paper, Delaire and his colleagues look at one promising candidate made of silver, tin and selenium (Ag8SnSe6). Using a combination of neutrons and x-rays, the researchers bounced these extremely fast-moving particles off atoms within samples of Ag8SnSe6 to reveal its molecular behavior in real-time. Team member Mayanak Gupta, a former postdoc in Delaire's lab who is now a researcher at the Bhabha Atomic Research Center in India, also developed a machine learning approach to make sense of the data and created a computational model to match the observations using first-principles quantum mechanical simulations.
The results showed that while the tin and selenium atoms created a relatively stable scaffolding, it was far from static. The crystalline structure constantly flexes to create windows and channels for the charged silver ions to move freely through the material. The system, Delaire said, is like the tin and selenium lattices remain solid while the silver is in an almost liquid-like state.
"It's sort of like the silver atoms are marbles rattling around about the bottom of a very shallow well, moving about like the crystalline scaffold isn't solid," Delaire said. "That duality of a material living between both a liquid and solid state is what I found most surprising."
The results and, perhaps more importantly, the approach combining advanced experimental spectroscopy with machine learning, should help researchers make faster progress toward replacing lithium-ion batteries in many crucial applications. According to Delaire, this study is just one of a suite of projects aimed at a variety of promising argyrodite compounds comprising different recipes. One combination that replaces the silver with lithium is of particular interest to the group, given its potential for EV batteries.
"Many of these materials offer very fast conduction for batteries while being good heat insulators for thermoelectric converters, so we're systematically looking at the entire family of compounds," Delaire said. "This study serves to benchmark our machine learning approach that has enabled tremendous advances in our ability to simulate these materials in only a couple of years. I believe this will allow us to quickly simulate new compounds virtually to find the best recipes these compounds have to offer."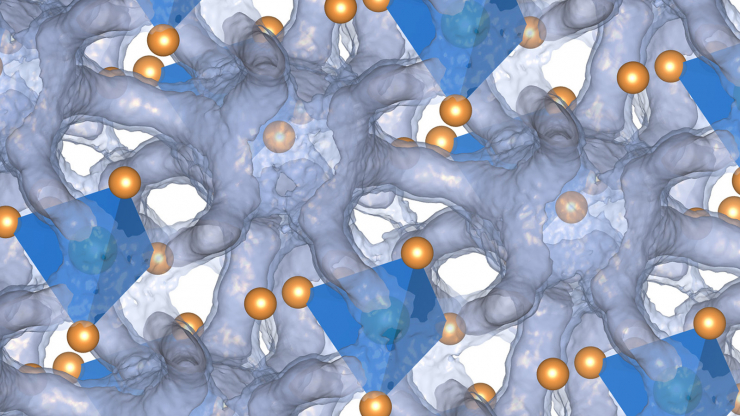 An illustration of the hybrid crystalline-liquid atomic structure in the superionic phase of Ag8SnSe6 — a material that shows great promise for allowing commercial solid-state batteries. The tube-like filaments show the liquid-like distribution of silver ions flowing through the crystalline scaffold of tin and selenium atoms (blue and orange).

This work was supported by the Guangdong Basic and Applied Basic Research Foundation (2021B1515140014), the National Natural Science Foundation of China (52101236, U1732154, T2125008, 52272006), the Institute of High Energy Physics, Chinese Academy of Science (E15154U110), the Open project of Key Laboratory of Artificial Structures and Quantum Control (2021-05), the U.S. National Science Foundation (DMR-2119273), the "Shuguang Program" from the Shanghai Education Development Foundation and Shanghai Municipal Education Commission, the Australia Research Council (DP210101436).
Qingyong Ren, Mayanak K. Gupta, Min Jin, Jingxuan Ding, Jiangtao Wu, Zhiwei Chen, Siqi Lin, Oscar Fabelo, Jose Alberto Rodríguez-Velamazán, Maiko Kofu, Kenji Nakajima, Marcell Wolf, Fengfeng Zhu, Jianli Wang, Zhenxiang Cheng, Guohua Wang, Xin Tong, Yanzhong Pei, Olivier Delaire, Jie Ma.
Extreme phonon anharmonicity underpins superionic diffusion and ultralow thermal conductivity in argyrodite Ag8SnSe6
. Nature Materials, 2023; DOI:
10.1038/s41563-023-01560-x
Oldest architectural plans detail mysterious desert mega structures
May 2023
An international team of researchers including the University of Freiburg identifies engravings in Jordan and Saudi Arabia as the oldest known scaled building plans in human history.
Although human constructions have modified natural spaces for millennia, few plans or maps predate the period of the literate civilizations of Mesopotamia and Ancient Egypt. Researchers from the French research organisation "Centre national de la recherche scientifique" (CNRS), together with Prof. Dr. Frank Preusser from the University of Freiburg, have now been able to identify engravings in Jordan and Saudi Arabia as the oldest known true-to-scale construction plans in human history.
The 8,000 to 9,000-year-old engravings depict so-called desert dragons -- kilometre long prehistoric megastructures used to trap animals. "Conclusions can be drawn from the findings about the people of the time. The ability to transfer a large space to a small, two-dimensional plan represents a milestone in intelligent behaviour," explains Preusser.
The results, which were published in mid-May in the scientific journal PLOS ONE, should help to understand how desert dragons were conceived and built.
Scale plans of desert dragons discovered in Jordan and Saudi Arabia
Both finds are representations of nearby desert dragons engraved with stone tools. First sighted from aircrafts in the 1920s, desert dragons, up to five kilometres long, consist of stone walls that converge in a complex bounded by pits. As archaeologists have been able to determine in recent years, they were used for large-scale trapping of wild animals.
In Jordan, there are eight desert dragons in the area of Jibal al-Khasabiyeh. There, the researchers found a depiction engraved in stone that measures 80 by 32 cm, its age is about 9,000 years. At Jebel az-Zilliyat in Saudi Arabia, two visible pairs of dragons are found three and a half kilometres apart. Here, too, a scaled engraving dating back about 8,000 years was discovered with a total length of 382 cm and a width of 235 cm.
Plans of large structures have so far only been attested by rough representations, in stark contrast to the precision of the engravings of al-Khashabiyeh and az-Zilliyat. The question of their exact use and how they were implemented, especially due to the difficulty of grasping the entire complex from the ground, remains for the time being the secret of the people by whom they were created.
Rémy Crassard, Wael Abu-Azizeh, Olivier Barge, Jacques Élie Brochier, Frank Preusser, Hamida Seba, Abd Errahmane Kiouche, Emmanuelle Régagnon, Juan Antonio Sánchez Priego, Thamer Almalki, Mohammad Tarawneh.
The oldest plans to scale of humanmade mega-structures
. PLOS ONE, 2023; 18 (5): e0277927 DOI:
10.1371/journal.pone.0277927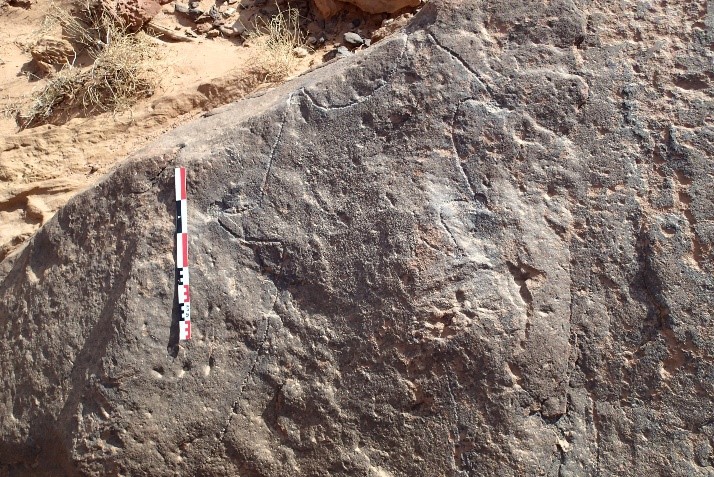 The dimensions of desert dragons only become apparent from the air: at Jebel az-Zilliyat in Saudi Arabia, the true-to-scale engraving depicts nearby desert dragons. Source: Oliver Barge, CNRS

Disclaimer: These articles are not intended to provide medical advice, diagnosis or treatment. Views expressed here do not necessarily reflect those of Pittwater Online News or its staff.