September 25 - October 1, 2022: Issue 556
Youth mental health improves despite COVID pressure
September 2022
The mental health and wellbeing of young Australians has dramatically improved, despite the ongoing COVID-19 pandemic, new analysis from The Australian National University (ANU) shows.
The findings come from the ANU Centre for Social Research and Methods' COVID Impact Monitoring survey, which has examined the effect of the pandemic on Australians for more than two years and across 12 waves of data collection.
According to the researchers, the latest survey of more than 3,500 people completed in August 2022 shows Australians aged 18 to 24 are feeling more positive about their lives and their future, and are experiencing less psychological distress.
"We found a large and significant turnaround in the number of young Australians who said their lives and wellbeing were improving, especially compared to Australians aged 45 to 64," study co-author Professor Nicholas Biddle said.
"More than two in three, 67.4 per cent, of young Australians said their life had improved in the last 12 months. This was also the age group with the largest improvement in life satisfaction since our April 2022 survey.
"We also found a five per cent decline in psychological distress among Australians aged 18 to 24. This was the age group reporting the biggest decline in psychological distress."
Professor Biddle said it was important to note that levels of psychological distress were still above pre-pandemic levels, but much lower than what they were in 2020 and when COVID took a hold in Australia.
Young Australians also continued to have the most elevated level of psychological distress of any age group compared to pre-COVID levels.
"However, overall this is really encouraging news," Professor Biddle said.
"Young people have been the people most dramatically impacted by the COVID-19 pandemic in Australia, especially when it comes to their economic security, future prospects and mental health and wellbeing.
"So it is heartening to see that the majority of young Australians say there are feeling much better than they were 12 months ago, even though they still face ongoing pandemic pressures."
The study found that across the board Australians thought their life and wellbeing was improving, with levels of life satisfaction steadily increasing since January 2022.
Levels of psychological distress among all Australians have also steadily declined between October 2021 and August 2022.
"In May 2020, roughly half of Australians thought their life was worse, 51.3 per cent, including 6.5 per cent who thought it was much worse," Professor Biddle said.
"By August 2022, only about one in five Australians thought that their life had become worse in the 12 months since August 2021, with only 3.9 per cent thinking that their life had got much worse.
"And in October 2021, 27.2 per cent of adult Australians reported feeling hopeless at least some of the time. By August 2022, this had declined to 22.3 per cent, a drop of about 981,000 Australia adults.
"That does not mean that Australia has returned to pre-pandemic levels of wellbeing and mental health. Life satisfaction was lower in August 2022 than it was in October 2019. There are also still more Australians who have high levels of psychological distress.
"However, wellbeing and mental health outcomes have improved over recent months as lockdown conditions have substantially eased, and despite high case numbers."
Address the logjam to end the cycle of horror stories: AMA
September 21, 2022
The AMA today renewed its call for reform of public hospital funding, following a week of harrowing media stories highlighting the plight Australians face from an under-funded and under-resourced hospital system.
AMA President Professor Steve Robson said the horror stories coming out of every state and territory were the result of increased pressure on hospitals and a funding agreement that is "failing the health system and Australians who rely on that system".
"Story after story is showing a system buckling under pressure. People are dying waiting to be seen which is unacceptable in a country that prides itself on having a world-class health system," Professor Robson said.
"NSW is facing record wait times for emergency departments and essential surgery, as ambulance ramping spikes, one in 10 people are leaving the emergency department without receiving care, and more than 18,700 people are overdue for surgery. This is no surprise, given reports of patients stuck in hospital beds for more than five years, waiting for disability or aged care services — beds that are needed to provide hospital care.
"In QLD, there are reports of patients dying as they wait for ambulances, with one suicidal patient waiting more than two hours for an ambulance and being found dead by paramedics, and another dying as the ambulance arrived nine hours after the call for help.
"How many more people need to die before we act?"
Professor Robson said the ACT also has beds taken up by patients who are waiting for disability or aged care services, and while the federal government's new plan will help address this, more is needed to address systemic hospital issues.
"As inflation — and therefore the cost of providing care — continues to increase, the dollars available to provide healthcare will decrease, which was highlighted in a report on Victoria's health budget over the weekend."
The states and territories agree the current funding model is inadequate and have joined the AMA's call for a permanent 50-50 funding split with the Commonwealth; with SA and TAS re-stating their position this week as they grapple with unprecedented demand and GP shortages.
"The previous federal government failed to act on an inadequate funding system, and decisive action is needed from the current government to address the issue," Professor Robson said.
"We appreciate the decision to extend pandemic-related funding arrangements for another three months, however the health minister's suggestion yesterday that the current funding agreement should run until 2025 isn't good enough. Our hospitals were in crisis before COVID-19. The horrific stories we are hearing are simply the result of inadequate funding arrangements."
The AMA's Clear the Hospital Logjam campaign is calling for 50-50 funding between the Commonwealth and states to improve hospital performance, expand capacity, and address avoidable admissions. It also calls for the 6.5 per cent cap on activity to be scrapped, to allow hospitals to meet community demand.
"Over the next few months, the AMA will be renewing our push for hospital reform through our campaign. We will be advocating for funding to address elective surgery and outpatient appointment wait times, the bed block created by having inadequate aged care and NDIS funding and proposing solutions to the current GP crisis.
"My hope is that we give hospitals what they need, and soon.
"Behind every horror story of an avoidable death is someone's loved one, and all Australians deserve better — it's time to act."
Did my computer say it best?
September 20, 2022
With autocorrect and auto-generated email responses, algorithms offer plenty of assistance to help people express themselves.
But new research from the University of Georgia shows people who rely on algorithms for assistance with language-related, creative tasks didn't improve their performance and were more likely to trust low-quality advice.
Aaron Schecter, an assistant professor in management information systems at the Terry College of Business, had his study "Human preferences toward algorithmic advice in a word association task" published this month in Scientific Reports. His co-authors are Nina Lauharatanahirun, a biobehavioural health assistant professor at Pennsylvania State University, and recent Terry College Ph.D. graduate and current Northeastern University assistant professor Eric Bogert.
The paper is the second in the team's investigation into individual trust in advice generated by algorithms. In an April 2021 paper, the team found people were more reliant on algorithmic advice in counting tasks than on advice purportedly given by other participants.
This study aimed to test if people deferred to a computer's advice when tackling more creative and language-dependent tasks. The team found participants were 92.3% more likely to use advice attributed to an algorithm than to take advice attributed to people.
"This task did not require the same type of thinking (as the counting task in the prior study) but in fact we saw the same biases," Schecter said. "They were still going to use the algorithm's answer and feel good about it, even though it's not helping them do any better."
Using an algorithm during word association
To see if people would rely more on computer-generated advice for language-related tasks, Schecter and his co-authors gave 154 online participants portions of the Remote Associates Test, a word association test used for six decades to rate a participant's creativity.
"It's not pure creativity, but word association is a fundamentally different kind of task than making a stock projection or counting objects in a photo because it involves linguistics and the ability to associate different ideas," he said. "We think of this as more subjective, even though there is a right answer to the questions."
During the test, participants were asked to come up with a word tying three sample words together. If, for example, the words were base, room and bowling, the answer would be ball.
Participants chose a word to answer the question and were offered a hint attributed to an algorithm or a hint attributed to a person and allowed to change their answers. The preference for algorithm-derived advice was strong despite the question's difficulty, the way the advice was worded, or the advice's quality.
Participants taking the algorithm's advice were also twice as confident in their answers as people who used the person's advice. Despite their confidence in their answers, they were 13% less likely than those who used human-based advice to choose correct answers.
"I'm not going say the advice was making people worse, but the fact they didn't do any better yet still felt better about their answers illustrates the problem," he said. "Their confidence went up, so they're likely to use algorithmic advice and feel good about it, but they won't necessarily be right.
Should you accept autocorrect when writing an email?
"If I have an autocomplete or autocorrect function on my email that I believe in, I might not be thinking about whether it's making me better. I'm just going to use it because I feel confident about doing it."
Schechter and colleagues call this tendency to accept computer-generated advice without an eye to its quality as automation bias. Understanding how and why human decision-makers defer to machine learning software to solve problems is an important part of understanding what could go wrong in modern workplaces and how to remedy it.
"Often when we're talking about whether we can allow algorithms to make decisions, having a person in the loop is given as the solution to preventing mistakes or bad outcomes," Schecter said. "But that can't be the solution if people are more likely than not to defer to what the algorithm advises."
Eric Bogert, Nina Lauharatanahirun, Aaron Schecter.
Human preferences toward algorithmic advice in a word association task
. Scientific Reports, 2022; 12 (1) DOI:
10.1038/s41598-022-18638-2
Genetic variants linked to congenital urinary tract obstruction in males
September 20, 2022
Genetic variation affecting developmental genes not previously linked to urethral development may contribute to a congenital condition that is the most common cause of kidney failure in young males, a new study suggests.
The discovery may help scientists better understand what causes a rare condition called posterior urethral valves (PUV), which affects 1 in 4,000 males and leads to blockages in the urethra and a build up of urine in the bladder which can then damage the kidneys. About one-third of individuals with this condition develop kidney failure before age 30. Affected individuals often undergo surgery to remove the blockages, but most continue to have urinary tract problems even after surgery. Therefore, new insights about the condition's cause are required to better understand how the urinary tract develops in health and disease and potentially inform new treatment approaches in the future.
"PUV does not follow a Mendelian pattern of inheritance, where each parent contributes one of two possible alleles for a trait, and scientists have not identified a single gene cause," explains lead author Dr Melanie Chan, who conducted the study as a Clinical Research Fellow at the UCL Department of Renal Medicine, London, UK. "This suggests that the genetic basis of this condition is more complex."
To identify the genetic causes, Chan and colleagues analysed the genomes of 132 unrelated males with PUV and 23,727 individuals without the condition who had been recruited to the UK's 100,000 Genomes Project. They included individuals with diverse genetic ancestry, including people of South Asian, African and European descent. They found two genetic variants associated with the risk of PUV. One was a common genetic variant located on chromosome 12q24.21 and the other was a rare genetic variant on chromosome 6p21.1. They confirmed the link between these two genetic differences and the disease in a separate group of individuals of European descent that included 395 males with PUV and 4,152 individuals without the condition.
The team then mapped the variation on 12q24.21 to a gene called TBX5, which contributes to turning other genes on or off. They also mapped the 6p21.1 variation to a gene called PTK7, which plays an essential role in cell development. When they looked at cells from developing human embryos, they found that the proteins encoded by the genes are active in the developing urinary tract. This discovery suggests that alterations in these proteins may interfere with normal urethra development.
Finally, they showed that structural changes in chromosomes, including flipped sections of DNA or other changes that alter the regulation of gene expression, were also linked to PUV.
"Our study is the first to identify rare and common genetic variation strongly associated with PUV, as well as structural variations in chromosomes that may contribute to the disease," says Dr Chan. "It provides new insights on what causes this poorly understood disorder."
The authors add that the small number of individuals included in this genetic analysis reduces its statistical power to detect very rare genetic variations linked with PUV. Additionally, they say more studies are needed to verify how exactly these genetic changes cause PUV.
But senior author Professor Daniel Gale, the St Peter's Chair of Nephrology at the UCL Department of Renal Medicine, says the study demonstrates the importance of including people with diverse genetic backgrounds in genome-wide studies of rare conditions. Too often, he noted, genetic studies may consist of only European populations, making them less likely to identify genetic variants that might be important in other groups.
"Increasing diversity in genetic studies is both scientifically and ethically beneficial," Professor Gale says. "It increases the power of studies to find and verify rare genetic variants and allows detection of genetic variants disproportionately affecting individuals with Asian, African, or other non-European ancestries. It also helps to ensure that people across the world benefit more equally from treatment advances driven by genetic discoveries."
Melanie Mai Yee Chan, Omid Sadeghi-Alavijeh, Filipa M Lopes, Alina C Hilger, Horia C Stanescu, Catalin D Voinescu, Glenda M Beaman, William G Newman, Marcin Zaniew, Stefanie Weber, Yee Mang Ho, John O Connolly, Dan Wood, Carlo Maj, Alexander Stuckey, Athanasios Kousathanas, Robert Kleta, Adrian S Woolf, Detlef Bockenhauer, Adam P Levine, Daniel P Gale. Diverse ancestry whole-genome sequencing association study identifies TBX5 and PTK7 as susceptibility genes for posterior urethral valves. eLife, 2022; 11 DOI: 10.7554/eLife.74777
Zebrafish to help in search for MS drugs
September 20, 2022
The zebrafish should be known to many aquarium enthusiasts mainly because of its striking pigmentation. However, the characteristic black-blue stripes, to which the animal owes its name, only form over time. Its eyelash-sized larvae, on the other hand, are still more or less transparent. Many developmental processes in their bodies can therefore be observed under the light microscope. For this reason, they now serve as a model organism for research groups around the globe.
"At the University of Bonn, for example, we are investigating how zebrafish repair defective nerve tissue," explains Prof. Dr. Benjamin Odermatt from the Institute of Anatomy at the University Hospital Bonn. "We are also interested in this because many genes involved in this process also exist in a similar form in humans." In principle, agents that boost these repair genes in fish could thus also work in humans. However, the differences between the genetic makeup of fish and humans are often significant. The larvae are therefore sometimes of limited use in the search for new drugs.
Fish gene replaced by human gene
"We therefore took a different approach," explains Prof. Dr. Evi Kostenis from the Institute of Pharmaceutical Biology at the University of Bonn. " For a human gene known to play a role in the repair of nerve cells we looked for its counterpart in zebrafish. Then we excised this counterpart in the fish and replaced it with the human version." The new genetic material took over the function of the original zebrafish gene. "If we now find a substance that boosts the repair processes in the fish with the human gene, there is a good chance that this will also be the case in humans," says the scientist, who is also a member of the Transdisciplinary Research Area "Life and Health" at the University of Bonn.
The researchers demonstrated that this replacement works in their pilot study on the so-called GPR17 receptor. In humans, its overactivation can lead to diseases such as multiple sclerosis (MS). Nerve cells communicate by means of electrical signals. Their extensions are surrounded by a kind of insulating layer, a lipid-like substance called myelin. It prevents short circuits and also significantly speeds up the transmission of stimuli. This protective sheath is produced by specialized cells named oligodendrocytes. These resemble a microscopic octopus: many long arms extend from their cell body, most of which consist of myelin. Like an insulating tape, these wrap themselves around the nerve cell processes during brain development. Normally, the protective layer lasts a lifetime.
Insulating tape dispenser remain in immature state
In multiple sclerosis, however, the body's own immune system destroys the myelin layer. This results in neurological disorders, for example in speech, vision or walking. But normally there is a supply of immature oligodendrocytes in the brain for repair work. When damage occurs, they mature and patch up the hole. In multiple sclerosis, this mechanism is disrupted -- many of the cellular insulating tape donor cells remain in their immature state. The GPR17 receptor seems to bear the main blame for this: if it is activated by a molecular signal, it slows down the maturation of the oligodendrocytes.
"Zebrafish also have a GPR17 receptor," explains Dr. Jesus Gomeza, who led the study with Kostenis and Odermatt. "And there it also regulates how many oligodendrocytes mature." The researchers now replaced part of the receptor gene with its human counterpart -- namely, the very structure responsible for receiving molecular signals. "We were able to show that this new mosaic gene functions normally in the fish larvae," says Gomeza. A molecule that inhibits the human GPR17 receptor in the test tube also cranked up the formation of mature oligodendrocytes in the modified fish.
In the search for new active ingredients, substances are first tested in cell cultures. Only individual, very promising candidates are then tested in mice or other animal models. But even if they work there, tests in humans still often end soberingly. "Humanized zebrafish larvae allow many substances to be screened quickly, and with a high chance of success, since the target genes originate from humans," explains Benjamin Odermatt. "From our point of view, this is a very promising avenue for drug development."
Felix Häberlein, Enrico Mingardo, Nicole Merten, Nina-Katharina Schulze Köhling, Philip Reinoß, Katharina Simon, Anna Japp, Bhuvaneswari Nagarajan, Ramona Schrage, Cecile Pegurier, Michel Gillard, Kelly R. Monk, Benjamin Odermatt, Evi Kostenis, Jesus Gomeza.
Humanized zebrafish as a tractable tool for in vivo evaluation of pro-myelinating drugs.
Cell Chemical Biology, 2022; DOI:
10.1016/j.chembiol.2022.08.007
Octopuses prefer certain arms when hunting and adjust tactics to prey
September 20, 2022
Famous for their eight arms, octopuses leverage all of their appendages to move, jet through the water and capture prey. But their movements can look awkward and seemingly unplanned at times, more closely resembling aliens than earthly creatures.
"Normally when you look at an octopus for a short while, nothing is repeatable. They squirm around… and just look weird in their exploratory movements," said Trevor Wardill, an assistant professor in the College of Biological Sciences who studies octopuses and other cephalopods.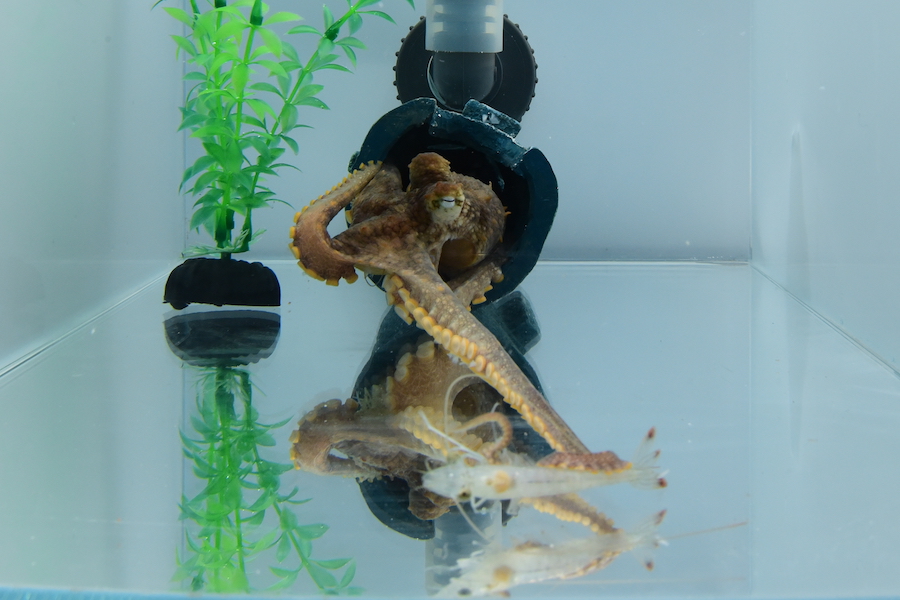 A California two-spot octopus hunts a shrimp in an experiment, striking with its second arm. Credit: Wardill Lab, University of Minnesota

For a new study in Current Biology, Wardill and colleagues investigated whether octopuses preferred certain arms over others when hunting, rather than using each arm equally. A better understanding of how they use their arms will aid efforts to develop next-generation highly manipulative soft robots.
The research team studied the California two-spot octopus, which live for about two years and grow to the size of tennis balls. Octopus arms are numbered on each side of its body, starting at the center. Researchers dropped different types of prey, including crabs and shrimp, into the tanks and recorded video as the octopuses, who were hiding in ornamental SpongeBob "dens" with one eye facing outward, lunged for the snack. Because crabs move slowly while shrimp can flick their tails to escape quickly, each type of prey potentially requires different hunting tactics.
The researchers found:
Octopuses used arms on the same side as the eye viewing the prey.
No matter what type of prey came by, each octopus attacked using the second arm from the middle.
When hunting crabs, octopuses pounced on the prey with a cat-like movement, leading with the second arm.
When hunting shrimp, the octopuses were more careful to avoid spooking the prey. They led with the second arm and after it made contact with the shrimp, they used neighbouring arms one and three to secure it.
Flavie Bidel, the lead author and a postdoctoral researcher in the lab, was shocked at how predictably octopuses began prey capture with the second arm. For creatures whose movement appears unpredictable, the hunting behaviour was actually exceedingly repeatable. One of the next steps is to study how neurons facilitate the arm movements.
"Octopuses are extremely strong. For them, to grasp and open a door is trivial, given their dexterity. If we can learn from octopuses, then we can apply that to making an underwater vehicle or soft robot application," said Wardill. Underwater vehicles inspired by octopuses could play a crucial role in deep ocean exploration.
Funding and support for this work was provided by the Office of Naval Research. The Wardill lab is based in the Ecology, Evolution and Behavior Department in CBS.
Flavie Bidel, Natalie C. Bennett, Trevor J. Wardill.
Octopus bimaculoides' arm recruitment and use during visually evoked prey capture.
Current Biology, 2022; DOI:
10.1016/j.cub.2022.08.080
World first achievement in diabetes research: WSU
September 20, 2022
Distinguished Professor David Simmons has become the first 'diabetes in pregnancy' researcher to receive three prestigious honours in the field: the Norbert Freinkel Award, Joseph Hoet Award and, most recently, the Jørgen Pederson Award Lecture.
Professor Simmons, from Western Sydney University's Translation Health Research Institute and Macarthur Clinical School, said that while it was a great honour to receive global recognition of his work, the accolades were simply a reflection of his passion for trying to curb the impact of diabetes on both pregnant women and the community more generally.
"I have seen first-hand the life-changing and devastating effects that poorly managed diabetes can have during pregnancy both for women and our youngest children. This condition demands the best of our research, resources and collaborations and I am honoured to be contributing to finding solutions to reduce the impact of this disease," said Professor Simmons.
"The impact of diabetes on our community, our 'diabetes epidemic', is equally devastating, yet there is hope. I have seen – during more than 30 years as an endocrinologist – community-based solutions work in programs throughout the world and will continue to promote the power of community in combatting this deadly disease."
For the prestigious Jørgen Pedersen Award, Professor Simmons presented a lecture at the annual meeting of the Diabetic Pregnancy Study Group (DPSG) in Madrid last week. The award is presented to someone chosen by the DPSG Board in recognition of outstanding contributions (including scientific publications and presentations) to the understanding and treatment of diabetes and pregnancy.
In 2020, Professor Simmons was the recipient of American Diabetes Association Norbert Freinkel Award, where he presented the Norbert Freinkel Award Lecture. The lecture is given in memory of Professor Norbert Freinkel to honour a researcher who has made outstanding contributions to the field of diabetes and pregnancy.
In addition to these two prestigious 'diabetes in pregnancy' awards, Professor Simmons is also the recipient of the Joseph Hoart Award, presented to a leading figure who highly contributes to the field of prevention of diabetes and its complications.
With over 350 peer review publications and research collaborations in Sweden, Europe, UK, USA, New Zealand, China and Australia, Professor Simmons is renowned for instilling in his teams a dedication to achieving results, working in collaboration and ensuring his research can be easily understood by the communities it impacts.
Professor Simmons is a Distinguished Professor of Medicine at the Western Sydney University Macarthur Clinical School, Head of the Campbelltown Hospital Endocrinology Department, Chair of the Campbelltown Hospital Clinical Council, Director of the Diabetes Obesity and Metabolism Translation Unit (DOMTRU) and Co-Director of the Diabetes Obesity and Metabolism Clinical Academic Group of the Sydney Partnership for Health, Education, Research and Enterprise (SPHERE).
Malaria spike linked to amphibian die-off
September 20, 2022
Dozens of species of frogs, salamanders and other amphibians quietly disappeared from parts of Latin America in the 1980s and 2000s, with little notice from humans, outside of a small group of ecologists. Yet the amphibian decline had direct health consequences for people, according to a study from the University of California, Davis.
The study, published in the journal Environmental Research Letters, links an amphibian die-off in Costa Rica and Panama with a spike in malaria cases in the region. At the spike's peak, up to 1 person per 1,000 annually contracted malaria that normally would not have had the amphibian die-off not occurred, the study found.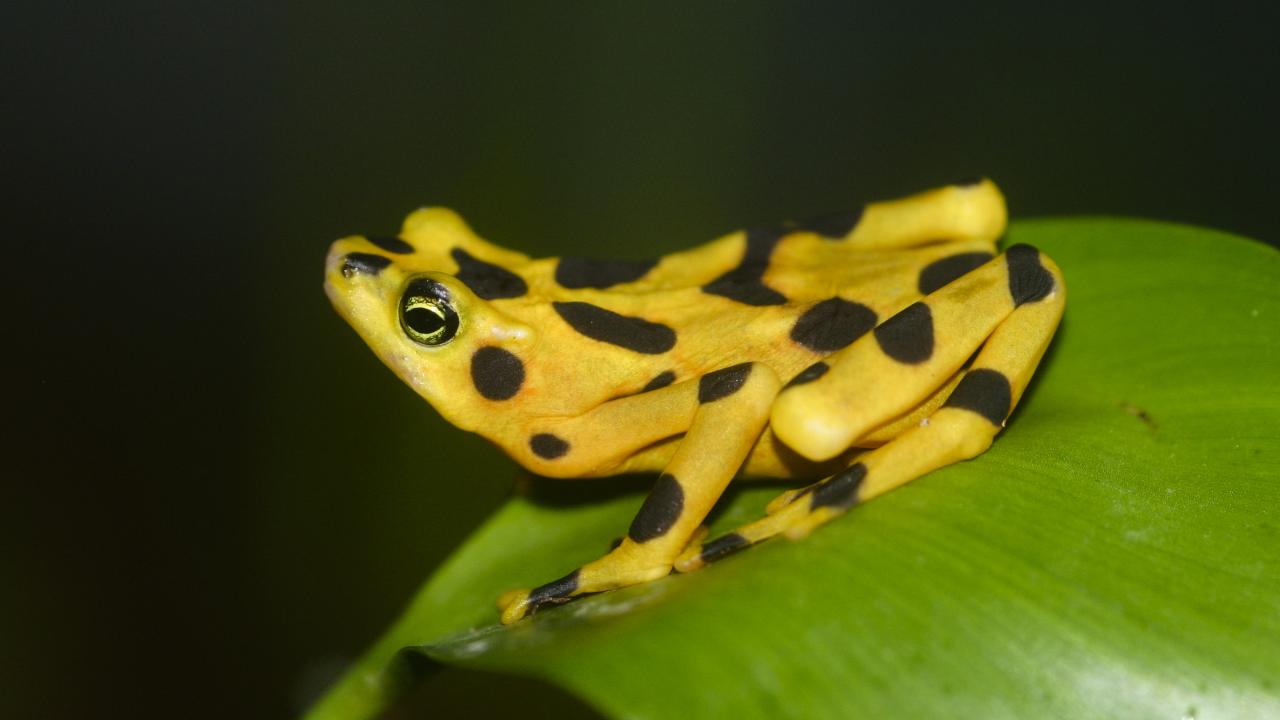 The Panamanian golden frog is endemic to Panama and is among the species whose populations collapsed following the deadly fungal pathogen "Bd." (Brian Gratwicke, Wikimedia Commons)
"Stable ecosystems underpin all sorts of aspects of human wellbeing, including regulating processes important for disease prevention and health," said lead author Michael Springborn, a professor in the UC Davis Department of Environmental Sciences and Policy. "If we allow massive ecosystem disruptions to happen, it can substantially impact human health in ways that are difficult to predict ahead of time and hard to control once they're underway."
A natural experiment
From the early 1980s to the mid-1990s, a deadly fungal pathogen called Batrachochytrium dendrobatidis, or "Bd," travelled across Costa Rica, devastating amphibian populations. This amphibian chytrid fungus continued its path eastward across Panama through the 2000s. Globally, the pathogen led to the extinction of at least 90 amphibian species, and to the decline of at least 500 additional species.
Shortly after the mass die-off of amphibians in Costa Rica and Panama, both countries experienced a spike in malaria cases.
Some frogs, salamanders and other amphibians eat hundreds of mosquito eggs each day. Mosquitoes are a vector for malaria. Scientists wondered, could the crash in amphibians have influenced the rise in malaria cases?
To find out, the researchers combined their knowledge of amphibian ecology, newly digitized public health record data, and data analysis methods developed by economists to leverage this natural experiment.
"We've known for a while that complex interactions exist between ecosystems and human health, but measuring these interactions is still incredibly hard," said co-author Joakim Weill, a Ph.D. candidate at UC Davis when the study was conducted. "We got there by merging tools and data that don't usually go together. I didn't know what herpetologists studied before collaborating with one!"
The results show a clear connection between the time and location of the spread of the fungal pathogen and the time and location of increases in malaria cases. The scientists note that while they cannot fully rule out another confounding factor, they found no evidence of other variables that could both drive malaria and follow the same pattern of die-offs.
Tree cover loss was also associated with an increase in malaria cases, but not nearly to the same extent as the loss of amphibians. Typical levels of tree canopy loss increase annual malaria cases by up to 0.12 cases per 1,000 people, compared to 1 in 1,000 for the amphibian die-off.
Trade threats
Researchers were motivated to conduct the study by concerns about the future spread of similar diseases through international wildlife trade. For instance, Batrachochytrieum salamandrivorans, or "Bsal," similarly threatens to invade ecosystems through global trade markets.
Springborn said measures that could help prevent the spread of pathogens to wildlife include updating trade regulations to better target species that host such diseases as our knowledge of threats evolve.
"The costs of putting those protective measures in place are immediate and evident, but the long-term benefits of avoiding ecosystem disruptions like this one are harder to assess but potentially massive, as this paper shows," Springborn said.
Additional co-authors include Karen Lips of University of Maryland, Roberto Ibáñez of Smithsonian Tropical Research Institute in Panamá, and Aniruddha Ghosh of UC Davis and the Alliance of Biodiversity International and CIAT in Kenya.
The study was funded by the National Science Foundation and the UC Davis institute of the Environment.
Michael R Springborn, Joakim A Weill, Karen R Lips, Roberto Ibáñez, Aniruddha Ghosh.
Amphibian collapses increased malaria incidence in Central America
. Environmental Research Letters, 2022; 17 (10): 104012 DOI:
10.1088/1748-9326/ac8e1d
UNSW: T cells use force to destroy cancer cells
September 15, 2022
As a part of our immune defences, cytotoxic T cells -- or killer T cells -- seek out and destroy cells that are infected or cancerous. This process is essential for the body's defence against diseases.
These specialised immune cells are armed with lytic granules containing two key components for immune attack: perforin (proteins that punch holes in the target cells) and granzymes (which gain access via these holes and ultimately kill disease-causing cells).
T cells snuggle up to targeted diseased cells and form an intimate junction between the two, called the 'cytotoxic immunological synapse'.
A research team at UNSW Sydney's EMBL Australia Node in Single Molecule Science in the School of Biomedical Sciences has found that mechanical forces generated by T cells influence how effectively perforin can punch through tumour cell membranes. In a paper published today in Developmental Cell, they describe the cell interactions and the integration of forces at both the front and rear of the cell.
The researchers detected physical forces within T cells that propel lytic granules toward the immunological synapse where their payloads are released. These forces also enable T cells to grab onto regions of the cancer cell membrane where the membranes of both immune and target cells are pulled and manipulated.
"It was very exciting to discover that, in addition to its mechanical tension and biochemical configuration, the shape of the target cell membrane plays an important role in T cell mediated cancer cell killing," said Dr Daryan Kempe at UNSW Medicine & Health who co-led the research.
By stretching and bending the membranes of tumour cells in a certain direction, T cells made it easier for perforin to punch through, but only if the membranes were bent in the right direction.
Bias towards outwardly curved cell membranes
Using human melanoma cell lines, the researchers demonstrated that perforin preferentially perforated outwardly curved tumour cell membranes, rather than inwardly curved ones. The authors think that this bias ensures that the killer payload is deliver to its intended recipient, and could also be another level of protection for the T cells from their own assault.
"As the granules arrive, their contents will be emptied at this region of the membrane that is very highly curved. That there was a bias between positively curved and negatively curved membranes was completely unexpected," said EMBL Australia Group Leader, Associate Professor Maté Biro at UNSW Medicine & Health, who was senior author and team leader.
Measuring the mechanical properties of cells
A/Prof. Maté Biro said that most of the experiments relied on delicate biophysical assays with cancer cell lines, and T cells isolated from healthy blood donors and mice. They used high precision microfluidic pumps, computer-controlled micromanipulators and micropipettes in which the pressure could be controlled independently.
"This technique really allows us to tease apart the whole integrated process because it is such a controlled method. One micropipette picks up a T cell and another picks up a tumour cell, and we bring them into contact on a microscope.
"We image the entire cytotoxic process. At the same time, because we control and know the exact pressure inside each of the micropipettes, we can also measure the mechanical properties of the cells as they are interacting and engaging in the process," said A/Prof. Biro.
This study adds to the understanding of fundamental mechanisms involved in how T cells destroy disease-causing or compromised cells in our bodies. Knowing that mechanical forces are also at play when pore-formers, like perforin, punch through target cells could also help researchers investigating how these proteins work at the molecular level.
Matt A. Govendir, Daryan Kempe, Setareh Sianati, James Cremasco, Jessica K. Mazalo, Feyza Colakoglu, Matteo Golo, Kate Poole, Maté Biro.
T cell cytoskeletal forces shape synapse topography for targeted lysis via membrane curvature bias of perforin.
Developmental Cell, 2022; DOI:
10.1016/j.devcel.2022.08.012
Disclaimer: These articles are not intended to provide medical advice, diagnosis or treatment. Views expressed here do not necessarily reflect those of Pittwater Online News or its staff.