August 7 - 13, 2022: Issue 549
LNG exporters must divert gas to the domestic market to avoid shortfalls: ACCC
August 1, 2022
The ACCC's July 2022 Interim gas report, released today, forecasts the east coast of Australia could face a shortfall of 56 PJ in 2023. At the same time last year, our Gas Inquiry interim report found 2022 could face a 2PJ shortfall.
"Our latest gas report finds that the outlook for the east coast gas market has significantly worsened. To protect energy security on the east coast we are recommending the Resources Minister initiate the first step of the Australian Domestic Gas Security Mechanism (ADGSM)," ACCC Chair Gina Cass-Gottlieb said.
"We are also strongly encouraging LNG exporters to immediately increase their supply into the market."
Much of the gas produced in Australia's east coast is produced by companies that are also LNG exporters.
The ACCC's report raises concerns about the high level of market concentration, noting that LNG exporters and associates had influence over almost 90 per cent of the proven and probable (2P) reserves in the east coast in 2021 through direct interests, joint ventures and exclusivity arrangements.
The east coast of Australia is forecast to produce 1981 petajoules (PJ) of gas in 2023 of which 1299 PJ, or 65.6 per cent, is forecast to be exported overseas under long term contacts. LNG exporters are also expected to produce a further 167 PJ over what they require to meet their contractual commitments.
This excess gas is not contractually committed and could be supplied into either the domestic market or the international LNG market.
"Increasingly, LNG exporters have diverted most of their excess gas to overseas spot markets, with as much as 70 per cent of the excess volume going overseas in recent years," Ms Cass-Gottlieb said.
"If LNG exporters were to provide all of their excess gas to overseas markets, the east coast gas market would be facing a supply shortfall 56 PJ."
LNG exporters have been net withdrawers of gas from the domestic market since 2021, purchasing more gas from domestic producers than they supply to domestic customers, which has worsened the gas shortfall. The volume of gas withdrawn by LNG producers is increasing and is estimated to reach 57.6 PJ of gas from the domestic market in 2023 (see Chart 2).
Chart 1: Forecast east coast supply-demand balance in 2022/23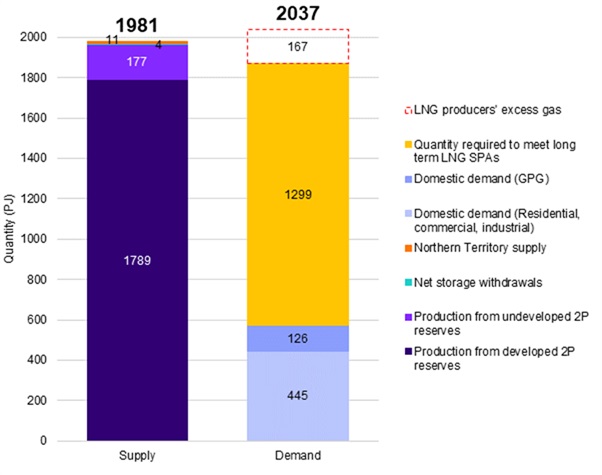 Source: ACCC analysis of data obtained from gas producers as at May 2022 and of the domestic demand forecast (Progressive Change scenario) from AEMO's March 2022 GSOO. Note: Totals may not add up due to rounding.
Chart 2: LNG exporters' net contributions to the east coast gas market
Source: ACCC analysis of data obtained from LNG exporters as at May 2022.
The report highlights concerns that some LNG exporters are not engaging with the domestic market in the spirit of a Heads of Agreement signed in early 2021, which commits LNG exporters to offer uncontracted gas to the domestic market first on internationally competitive market terms before it is exported.
A well-functioning Heads of Agreement with LNG exporters could ensure that LNG exporters make gas broadly and transparently available to all domestic users (including commercial and industrial users and gas-powered generators and retailers) at demonstrably competitive prices, in volumes and for periods suitable to buyers' needs, and with sufficient notice.
The Government has committed to renegotiating the Heads of Agreement.
"Under the Heads of Agreement, exporters can offer excess gas to domestic market participants through an expression of interest process. We are concerned that domestic gas users don't always have reasonable notice of these offers, and that LNG exporters do not make counter-offers to bids, which could indicate they are not seriously engaging in the domestic market," Ms Cass-Gottlieb said.
"We welcome the announcement by the Minister for Resources that Australian Government has decided to review and renegotiate the ADGSM and the Heads of Agreement with LNG exporters," Ms Cass-Gottlieb said. "Both mechanisms are critical to ensuring adequate supply to the domestic market in 2023 and future years."
Concerns about upstream competition and the timeliness of supply
The ACCC has examined upstream competition and timeliness of supply and found that this market is highly concentrated and dominated by the three LNG exporters and their associates.
The LNG exporters influence supply through numerous joint ventures and exclusivity agreements.
"With the high degree of concentration in this part of the market, we have observed that joint ventures, joint marketing and exclusivity arrangements are contributing to the lack of effective upstream competition in the east coast," Ms Cass-Gottlieb said.
"They may also increase the risk of coordinated conduct and increase the market power of the LNG exporters. This is particularly concerning given the current supply conditions and the reliance on the LNG exporters to meet domestic supply."
Notes
The report emphasises that the ACCC's net contribution calculation is based solely on the LNG exporters' supply into the domestic market under gas supply agreements, and withdrawals from the domestic market under purchases from third parties.
Our approach does not consider whether these purchases from third parties are 'third party export compatible gas' as defined in the ADGSM and as the question of determining if gas in 'third party export compatible gas' is a matter for the Minister for Resources under the ADGSM Guidelines, the ACCC has not collected information from parties that would help determine this question.
Background
On 19 April 2017, the Australian Government directed the ACCC to conduct an inquiry into the supply of and demand for wholesale gas in Australia and publish regular information on the supply and pricing of gas for three years. On 25 July 2019, this inquiry was extended until December 2025.
The ACCC is required to submit interim reports at least six-monthly and provide information to the market as appropriate, with a final report by 30 December 2025.
On 21 January 2021, the Australian Government announced a new Heads of Agreement had been signed which commits LNG exporters to offer uncontracted gas to the domestic market first on internationally competitive market terms before it is exported. The new Heads of Agreement was entered into in late December 2020 and operates over 2021–23.
On 30 November 2021, gas suppliers and gas users agreed to a voluntary industry Code of Conduct for the negotiation and development of Gas Supply Agreements. The code was due to commence on 1 June 2022 but has been delayed.
On 7 February 2022, the ACCC received a direction from the then Assistant Treasurer to examine Incitec Pivot's gas tender process for its Gibson Island plant. We have reported on this using producers' responses to compulsory information notices, in addition to information voluntarily provided by Incitec Pivot.
On 6 June 2022, the Treasurer wrote to the ACCC conveying his concern about the significant increases in wholesale electricity and gas prices and setting out his expectation that the ACCC will ensure the factors influencing prices in the market are made transparent, making any appropriate policy recommendations and investigate concerns about anti-competitive and false and misleading conduct in electricity and gas markets.
New study provides greater insight into Australians living with younger onset dementia
Younger onset dementia has a devastating impact on the lives of people diagnosed and their families, with many developing complex care needs as their illness progresses. In a new study of 5,400 people with younger onset dementia by the Australian Institute of Health and Welfare (AIHW), over half (58%) required permanent residential aged care, with 25% of these people aged under 65 at the time of entry to care.
The report, Younger onset dementia: new insights using linked data, uses linked data to build a detailed picture of people with younger onset dementia, their interactions with health and support services and pathways to using residential aged care services.
This report is timely in the context of increasing numbers of people being diagnosed with younger onset dementia as well as commitments from the Australian Government to minimise the number of younger people living in permanent residential aged care.
'Younger onset dementia refers to dementia that begins before the age of 65. Although dementia is considered to be an older person's disease, the number of Australians living with younger onset dementia is set to increase from 28,000 in 2021 to 39,000 by 2050,' said AIHW spokesperson Dr. Fleur de Crespigny (PhD).
'The experiences and needs of Australians living with younger onset dementia (and their carers) are often different from those of older people. People with younger onset dementia often retain good physical health, which can affect the suitability of dementia services that are targeted at older people,' Dr. de Crespigny said.
Rather than looking at all people with younger onset dementia, this study focused on 5,400 people who were at a relatively early stage of dementia – as identified by the dispensing of drugs used to treat Alzheimer's disease – and followed them over time from a similar starting point.
In the absence of age-appropriate options, people with younger onset dementia may need to enter residential aged care. The report reveals more than half (58%) of people with younger onset dementia lived in permanent residential aged care during the study period from 2011–2017. Of these, one-quarter (25%) were aged under 65 when they first entered care.
The report has also been able to identify those with younger onset dementia using respite residential aged care, which can give people with dementia and their carers a break.
'Residential respite care was used by a third (34%) of people with younger onset dementia who went on to enter permanent residential aged care. Other research shows 45% of people of all ages access respite care before they enter permanent care, suggesting that people with younger onset dementia may be under-using these services,' Dr. de Crespigny said.
Entry to permanent residential aged care is often accompanied by a change in health service and medicine use, for those with younger onset dementia.
The dispensing of antipsychotic drugs increased from 44% to 63% of people in the first 6 months after entry to permanent residential aged care. The dispensing of antidepressants also increased from 56% to 62% of people.
Dr. de Crespigny noted the importance of providing accessible dementia services for Australians from culturally and linguistically diverse (CALD) backgrounds. Understanding the language background of people with dementia is particularly important, as people often use their first language more predominantly as their dementia progresses.
'In 2016, one-quarter (26%) of people with younger onset dementia spoke a language other than English at home and 1 in 10 (9%) spoke English not well or not at all (compared with 22% and 4.4% of Australians of a similar age),' Dr. de Crespigny said.
People who develop dementia while still working may face a sudden or early retirement.
'In 2016, people with younger onset dementia were 6 times less likely to be employed than all Australians of the same age (7.4% compared with 46%, ages 60-64),' Dr. de Crespigny said.
The report found a high proportion of people with younger onset dementia received Centrelink income support.
'By the 4th year of the study, 71% of people living with younger onset dementia received a Centrelink payment, primarily the Disability Support Pension (36%) and Age Pension (29%),' Dr. de Crespigny said.
'Given most dementia research focuses on older people, there is a need for better evidence to inform policy and service responses to support younger people with dementia.
'Today's study used linked data from the National Integrated Health Services Information Analysis Asset (NIHSI-AA) and the Multi-Agency Data Integration Project (MADIP).
'The use of linked data in today's report highlights its importance in providing a more complete picture of dementia in Australia. We will be undertaking further work to provide updated information on dementia in Australia and its impact on Australia's health and aged care system,' Dr. de Crespigny said.
The Australian Government has committed to minimising the need for younger people to live in aged care facilities (including younger people with dementia). Progress towards the targets in the Younger People in Residential Aged Care (YPIRAC) Strategy 2020–25 is being tracked through the
Younger people in residential aged care dashboard
on the AIHW's GEN aged care data website, also released today.
The Government is also undertaking significant work to reduce the use of restrictive practices. This includes implementing the recommendations of the Aged Care Clinical Advisory Committee to reduce the use of chemical restraints (such as antipsychotic medications) in aged care settings.
First global map of cargo ship pollution reveals effects of fuel regulations
August 2, 2022
A new study in Science Advances led by UMBC's Tianle Yuan used satellite data from 2003 -- 2020 to determine the effect of fuel regulations on pollution from cargo ships. The research team's data revealed significant changes in sulfur pollution after regulations went into effect in 2015 and 2020. Their extensive data set can also contribute to answering a bigger question: How do pollutants and other particles interact with clouds to affect global temperatures overall?
Tiny particles in the atmosphere, which are called aerosols and include pollution, can harm human health, but they also often have a cooling effect on the planet because of the way they interact with clouds. However, estimates of the extent of that effect range by a factor of 10 -- not very precise for something so important.
"How much cooling the aerosols cause is a big unknown right now, and that's where ship tracks come in," says Yuan, an associate research scientist at the Goddard Earth Sciences Technology and Research (GESTAR) II Center.
Sea of data
When pollutant particles from ships enter clouds low in the atmosphere, they decrease the size of individual cloud droplets without changing the total volume of the cloud. That creates more droplet surface area, which reflects more energy entering Earth's atmosphere back to space and cools the planet.
Instruments on satellites can detect these differences in droplet size. And the air over the ocean is generally very clean, making the relatively narrow ship tracks that snake across the ocean easy to pick out. "Most of the original cloud is unpolluted, and then some of it is polluted by the ship, so that creates a contrast," Yuan explains.
While ship tracks can be relatively obvious in satellite data, you have to know where to look and have the time and resources to search. Before advances in computing power and machine learning, Yuan says, Ph.D. students could focus their entire thesis on identifying a group of ship tracks in satellite data.
"What we did is automate this process," Yuan says. His group "developed an algorithm to automatically find these ship tracks from the sea of data."
This huge advance allowed them to generate a comprehensive, global map of ship tracks over an extended period (18 years) for the first time. Next, they will share it with the world -- opening the door for anyone to dig into the data and make further discoveries.
Disappearing act
Even before pollution-limiting regulations were put into place, Yuan and his colleagues found that ship tracks didn't occur everywhere ships were traveling. Only areas with certain types of low cloud cover had ship tracks, which is useful for adjusting the role of clouds in climate models. They also found that after Europe, the U.S., and Canada instated Emission Control Areas (ECAs) along their coastlines in 2015, ship tracks nearly disappeared in those regions, demonstrating the efficacy of such regulations for reducing pollution in port cities.
However, shipping companies didn't necessarily reduce their pollution output across the board. Instead, they made changes to adapt to the new rules. Ports in northern Mexico (not part of the ECA system) saw increased activity, and pollution "hot spots" built up along the boundaries of the ECAs as ships altered their routes to spend as few miles as possible inside the restrictive zones.
In 2020, though, an international agreement set a much more restrictive standard for shipping fuel across the entirety of global oceans, rather than only near coastlines. After that, the only ship tracks the team's algorithm could detect were those in the cleanest clouds. In clouds with even mild background pollution, the presumed ship tracks blended right in.

A figure from the new study shows an image collected by NASA's MODIS satellite of the U.S. West Coast (left) overlaid with ship tracks detected by the research team's algorithm (right).
Climate conundrum
It seems obvious that reducing pollution from ships would produce a net benefit. However, because particles (such as shipping pollution) have a cooling effect when interacting with clouds, reducing them significantly could contribute to a problematic uptick in global temperatures, Yuan says.
That's another reason it's important to firm up the degree to which particulate pollution cools the planet. If the cooling effect of these pollutants and other particles is significant, humans will need to balance the need to prevent extensive warming with the need to reduce pollution where people and other species live -- which creates difficult choices.
"Ship pollution alone can create a substantial cooling effect," Yuan says, "because the atmosphere over the ocean is so clean." There is a physical limit to how small cloud droplets can get, so at a certain point, adding more pollution doesn't increase the clouds' cooling effect. But over the ocean, because the background is largely unpolluted, even a small amount of pollution from ships has an effect.
Ocean pollution is also an outsize driver of the cooling effect of aerosols, because low clouds, which are most conducive to creating ship tracks, are more common over water than on land. And, as Yuan reminds us, "the ocean covers two-thirds of the Earth's surface."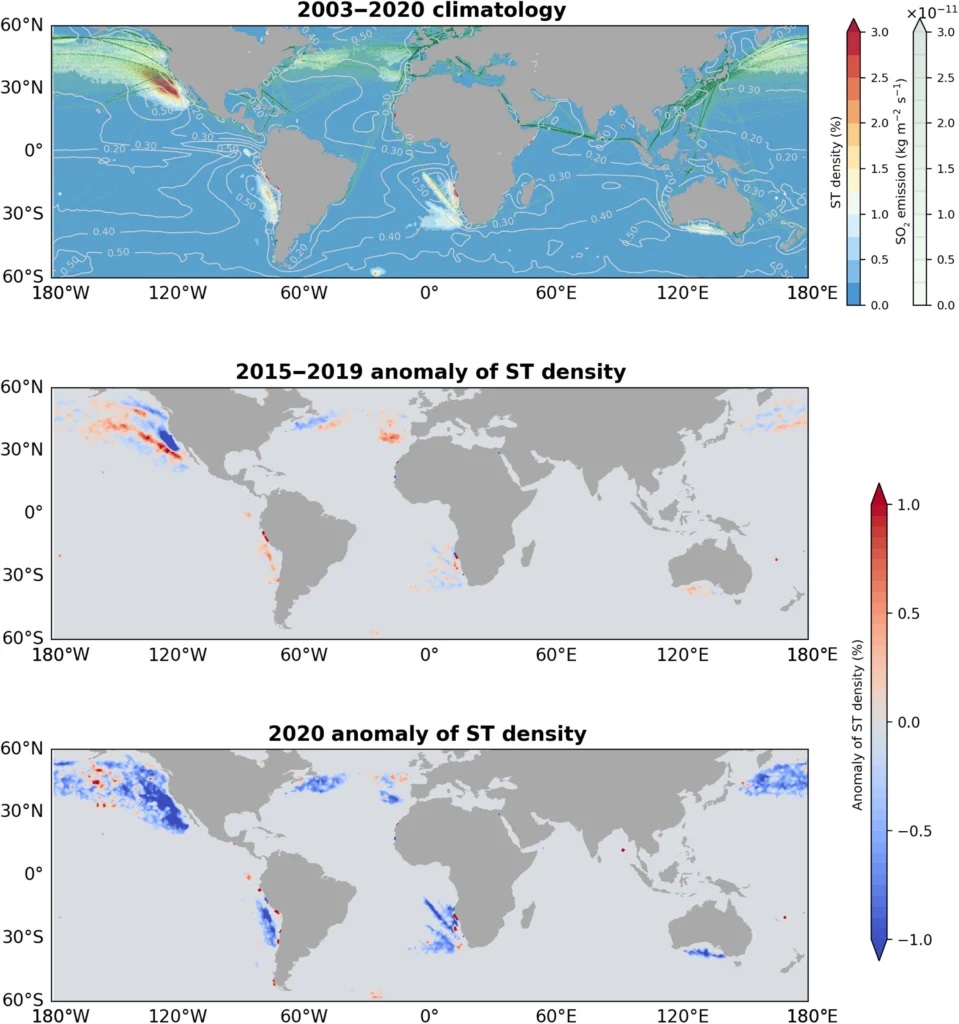 Another figure from the paper shows how regulations affected ship tracks. In the middle panel, blue areas show how ships were carefully avoiding the Emission Control Areas near the coasts. The red and orange areas show increased traffic just outside the ECA boundaries and at ports not affected by the regulations. In 2020 (bottom panel), blue areas indicate that ship tracks largely disappeared even in areas with high ship traffic.

The bigger picture
Moving forward, Yuan and his colleagues are helping address this conundrum by continuing their work to define more precisely the role clouds play in climate. "We can take advantage of the millions of ship track samples we have now to start to get hold of the overall aerosol-cloud interaction problem," Yuan says, "because ship tracks can be used as mini-labs."
By analysing data from a relatively simple and well-controlled system -- narrow ship tracks running through very clean clouds -- they can come to conclusions they can be confident about."
Other research teams can also use the team's data set and algorithm to come to their own conclusions, amplifying the potential public impact of this work. That spirit of collaboration will help scientists and communities determine how best to approach global challenges like pollution and temperature change.
Tianle Yuan, Hua Song, Robert Wood, Chenxi Wang, Lazaros Oreopoulos, Steven E. Platnick, Sophia von Hippel, Kerry Meyer, Siobhan Light, Eric Wilcox.
Global reduction in ship-tracks from sulfur regulations for shipping fuel.
Science Advances, 2022; 8 (29) DOI:
10.1126/sciadv.abn7988
Construction for new Tweed Valley Hospital reaches highest point
August 2, 2022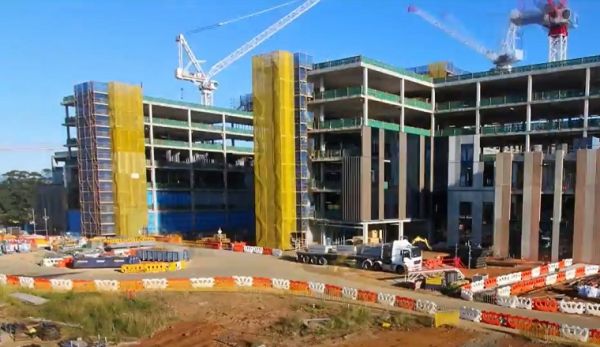 The new seven-storey $723.3 million Tweed Valley Hospital development has reached a major milestone, hitting its highest point of construction.
Deputy Premier and Minister for Regional NSW Paul Toole said the new hospital campus is the state's largest regional hospital project.
"This is about delivering world-class health facilities and services closer to home to transform healthcare for communities in the Tweed Valley region," Mr Toole said.
"Today's 'topping out' ceremony is a significant milestone for this incredible new health facility which will double capacity of the existing hospital to better meet the current and future healthcare needs of this community which has grown by 6,000 people since this project was first announced."
Minister for Regional Health Bronnie Taylor said the hospital will feature two new major services, including an interventional cardiology service and an integrated cancer care service with radiotherapy and PET-CT.
"These services will be a game-changer for the local community, providing treatment locally to ensure up to 5,000 people no longer have to travel outside of the region to access life-saving treatments," Mrs Taylor said.
"Once complete next year, the new hospital will boast almost 200 more beds and an extra 16 new Emergency Department treatment spaces."
Member for Tweed Geoff Provest said in addition to the world-class health facility, construction for the hospital has provided a boost to the local economy, supporting hundreds of jobs since work began.
"As the project moves into the internal fit-out stage, work is ramping up with around 400 people on-site each day," Mr Provest said.
"Importantly, many of the workers contributing to this project are from the local community."
The hospital has been designed in close collaboration with staff and the community and will include:
More than 400 overnight and day only beds to address future demand for health services
Expanded emergency department with 42 treatment spaces
Expanded outpatient services with more clinics
12 operating theatres, an increase of five from the existing Tweed Hospital
New interventional cardiology service
New radiotherapy service as part of integrated cancer care, including a PET-CT suite
Outdoor green spaces
Campus roads and car park.
With the hospital reaching its full structural height, construction teams will continue the internal fit-out of the building, services installation and the hospital's facade.
Construction of the new hospital is on track for completion in 2023.
A new $50 million multi-storey car park will also be delivered as part of the project, providing staff, patients and visitors with access to over 1,200 car park spaces at the new hospital campus when complete. Construction is underway and on-track to open in 2023.
The Tweed Valley Hospital development is part of the NSW Government's record $10.8 billion investment in health infrastructure over four years to 2024-25, with nearly a third of the spend in this financial year earmarked for regional and rural health facilities.
Since 2011, the government has delivered more than 170 hospitals and health facilities across NSW, with more than 110 currently underway – of those, more than 70 are in rural and regional areas.
Free training for NSW asylum seekers and refugees
Asylum seekers will be supported with more opportunities to get skilled and find jobs thanks to a new fee-free training program funded by the NSW Government.
The NSW Government has invested $11 million in the Asylum Seeker Employment Skills Support program, which will help upskill asylum seekers by offering English classes, driving lessons, computer literacy courses and even certificates in business.
Minister for Skills and Training Alister Henskens said the new program is a game-changer for asylum seekers struggling to gain employment.
"We know that refugees and asylum seekers want to be self-sufficient through work, but sometimes they are unable to because they don't have the skills or qualifications," Mr Henskens said.
"This new program will break down barriers and provide practical support to help asylum seekers get a job and secure a brighter future for them and their families."
The program joins the Refugee Employment Support Program, which has been extended to December 2023 thanks to an additional $6.3 million investment by the NSW Government.
Minister for Multiculturalism Mark Coure said both of these programs go to the very core of the NSW Government's desire to provide opportunities for everyone across the state to succeed.
"These programs are about investing in our state's greatest asset – its people. People come to NSW to create a better life and we want to help them make that a reality," Mr Coure said.
"This investment goes beyond helping refugees and asylum seekers – it supports local businesses and our economy as well.
"Once again, the NSW Government is stepping up and making sure no one is left behind, especially refugees and asylum seekers that want to build a brighter future here in our great state."
Consumers warned to be vigilant as imposter bond investment scams rise
August 3, 2022
Losses to imposter bond investment scams have nearly tripled in the first half of this year with consumers losing over $20 million to these sophisticated scams.
Imposter bond scams usually impersonate real financial companies or banks and claim to offer government/Treasury bonds or fixed term deposits.
People often fall victim to them after searching online for investment opportunities and completing enquiry forms via fake third-party comparison sites.
The latest Scamwatch data reveals there were 228 reports of imposter bond scams between January and June, compared with 82 reports in the first half of last year.
Losses suffered by Australian victims of imposter bond scams increased by 265 per cent in the first half of the year, compared to the same period last year. However, the true losses to these scams are likely to be much higher, as research shows that only around 13 per cent of scam victims report their losses to Scamwatch.
"We are seeing an alarming increase in imposter bond scams, so we are urging Australians to be very cautious when presented with investment opportunities," ACCC Deputy Chair Delia Rickard said.
"As interest rates rise, people looking to invest in bonds are falling victim to these scams after searching online for investment opportunities. This is often after they complete enquiry forms on fake third-party comparison websites."
"These comparison sites can appear very convincing, and people are providing their details under the impression that these are legitimate Australian sites comparing real financial services," Ms Rickard said.
"Convinced they are making a long-term, legitimate investment, it's common for victims to deposit larger sums upfront and not check their account for months before realising they were scammed."
More than half of those who reported losses to imposter bond scams were first contacted by phone, accounting for $11 million in losses.
"It's critical to independently verify the financial institution or bank issuing the bonds by calling the bank or financial service directly, using details you have sourced yourself - rather than using any phone numbers or links provided. If you seem to have been dealing with someone from the institution ask to speak to them." Ms Rickard said.
"Always have an accredited financial or legal advisor check any potential investment opportunity before you send any money or provide your credit card details and only ever invest as much as you can afford to lose."
"Bonds can be purchased via the ASX. If you are thinking about doing this, follow ASIC's safety advice," Ms Rickard said.
"Investment opportunities that promise a high return with little to no risk are likely to be a scam."
Victims of imposter bond scams are usually directed to transfer funds into a bank account, which are sometimes based in Australia.
"If you have reason to believe you have been scammed, contact your bank or financial institution as soon as possible as they may be able to find where the money went, block scam accounts and help others to avoid sending money to scammers," Ms Rickard said.
If you have given away personal information, as most victims have, then
also contact IDCARE
as soon as possible.
Equally, organisations that are aware they are regularly targeted by scammers impersonating them, have an important role to play in the prevention of scams.
"Organisations should actively monitor for, warn about and promptly seek the removal of websites impersonating their brand," Ms Rickard said.
Background
The ACCC shares investment scam reports with ASIC. The ACCC also shares scam reports with the financial sector through the Australian Financial Crimes Exchange and with platforms such as Facebook. Telephone numbers used by scammers to contact victims are also shared with telecommunications providers for potential blocking under the Reducing Scam Calls Code.
The ACCC is monitoring initiatives overseas and advocating for more scam prevention measures in the financial system, including the UK's requirements for Confirmation of Payee in the Authorised Push Payment Scams Contingent Reimbursement Model Code.
Before investing Australian investors can make these simple practical checks:
Women less likely to receive pre-hospital stroke care than men
August 1, 2022
Despite women with stroke being more likely than men to arrive at hospital by ambulance, their care is less likely to follow a smooth pathway of care along the way, researchers from The George Institute for Global Health and UNSW Medicine & Health have found. There was also an age effect, with ambulance staff more likely to miss a stroke diagnosis in women under the age of 70 years than they did in younger men.
In a population-based cohort study,
published today in the Medical Journal of Australia
, the researchers conducted an analysis of linked Admitted Patient Data Collection and NSW Ambulance data for people admitted to NSW hospitals with a diagnosis of stroke.
Lead author Dr Xia Wang, Research Fellow at The George Institute for Global Health, said women typically have worse functional outcomes after stroke and require more supportive care than men, so ensuring they receive best practice care is important.
"Our study suggests that better recognition of stroke symptoms in women by ambulance staff could ensure the right treatment is started as early as possible and give them the best opportunity for recovery," she said.
Stroke is Australia's third most common cause of death, with 55,000 people likely to suffer one each year. Treatment is changing thanks to developments in medical research in recent years. There are now more proven options leading to better outcomes for people who have experienced a stroke. But the success of these breakthroughs is often very time dependent, so identifying a stroke even before a patient has arrived at the hospital is critical.
Over 200,000 patients (51 per cent women) admitted to NSW hospitals between July 2005 and December 2018 and subsequently diagnosed as having a stroke were included in the study. About half the patients arrived at hospital by ambulance, with women more likely than men to present this way.
The researchers found that women under 70 years old who went on to be diagnosed as having a stroke were more likely than men to be assessed by ambulance staff as having migraine, anxiety, unconsciousness, high blood pressure, nausea or headache. And they were less likely than men to receive pre-hospital stroke care during their ambulance journey. Yet, there were no differences in the time between the emergency call and emergency department admission.
Senior Research Fellow and Academic Lead of the George Institute's Global Brain Health Initiative Dr Cheryl Carcel said that missing stroke diagnosis in women could be due to different symptoms, but there was possible implicit sex bias amongst healthcare providers.
"When stroke is not recognised early, delays can have serious consequences," she said.
"Procedures for in-ambulance stroke care ensure patients with stroke symptoms are brought to a high-level specialised facility quickly to receive life-saving treatment.
"While there aren't any studies looking at clinician sex bias in stroke, we have evidence from other countries where it is happening in coronary artery disease. Greater awareness among all health professionals about differences in symptom presentation between men and women could help address this bias," Dr Carcel said.
"In the case of stroke, this is particularly important for ambulance staff, so that women are identified early and treatment is commenced even before they reach the hospital."
Engineers develop new integration route for tiny transistors
August 3, 2022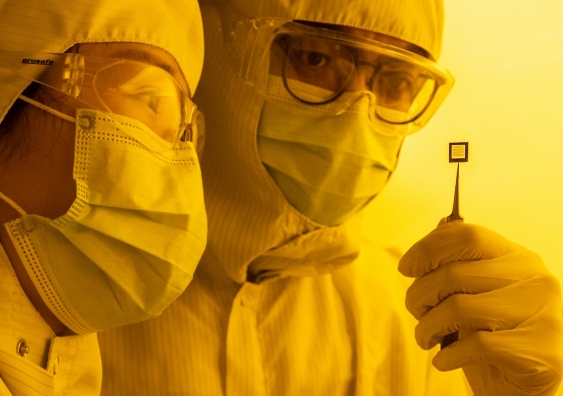 Researchers from the Materials and Manufacturing Futures Institute designed the material. Photo: Robert Largent.
Researchers from UNSW Sydney have developed a tiny, transparent and flexible material to be used as a novel dielectric (insulator) component in transistors. The new material would enable what conventional silicon semiconductor electronics cannot do – get any smaller without compromising their function.
The research, recently published in Nature, indicates the potential for large-scale production of a 2D field-effect transistor – a device used to control current in electronics. The new material could help overcome the challenges of nanoscale silicon semiconductor production for dependable capacitance (electrical charge stored) and efficient switching behaviour.
According to the researchers, this is one of the crucial bottlenecks to solve for the development of a new generation of futuristic electronic devices, from augmented reality, flexible displays and new wearables, as well as many yet-discovered applications.
"Not only does it pave a critical pathway to overcome the fundamental limit of the current silicon semiconductor industry in miniaturisation, but it also fills a gap in semiconductor applications due to silicon's opaque and rigid nature," says Professor Sean Li, UNSW Materials and Manufacturing Futures Institute (MMFI) Director and principal investigator on the research. "Simultaneously, the elastic and slim nature could enable the accomplishment of flexible and transparent 2D electronics."
Solving the semiconductor scaling issue
A transistor is a small semiconductive device used as a switch for electronic signals, and they are an essential component of integrated circuits. All electronics, from flashlights to hearing aids to laptops, are made possible by various arrangements and interactions of transistors with other components like resistors and capacitors.
As transistors have become smaller and more powerful over time, so too have electronics. Think your mobile phone – a compact hand-held computer with more processing power than the computers that sent the first astronauts to the moon.
But there's a scaling problem. Developing more powerful future electronics will require transistors with sub-nanometre thickness – a size conventional silicon semiconductors can't reach.
"As microelectronic miniaturisation occurs, the materials currently being used are pushed to their limits because of energy loss and dissipation as signals pass from one transistor to the next," says Prof. Li.
Microelectronic devices continue to diminish in size to achieve higher speeds. As this shrinkage occurs, design parameters are impacted in such a way that the materials currently being used are pushed to their limits because of energy loss and dissipation as signals pass from one transistor to the next. The current smallest transistors made of silicon-based semiconductors are 3 nanometres.
To get an idea of just how small these devices need to be – imagine one centimetre on a ruler and then count the 10 millimetres of that centimetre. Now, in one of those millimetres, count another one million tiny segments – each of those is one nanometre or nm.
"With such limits, there has been an enormous drive to radically innovate new materials and technologies to meet the insatiable demands of the global microelectronics market," says Prof. Li.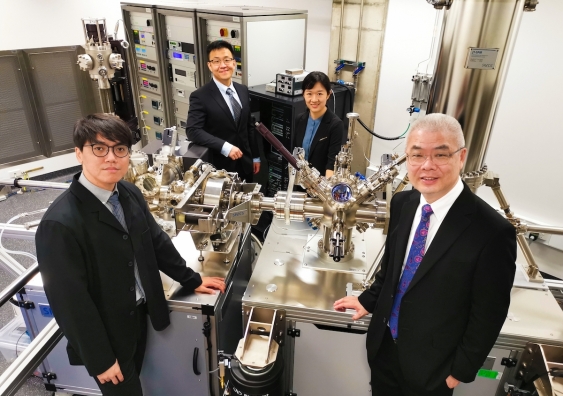 Dr Jing-Kai Huang, Dr Ji Zhang, Dr Junjie Shi and Professor Sean Li from the UNSW Materials and Manufacturing Futures Institute. Photo: Robert Largent.
Breaking the bottleneck for future electronics
For the research, MMFI engineers fabricated the transparent field-effect transistors using a freestanding single-crystal strontium titanate (STO) membrane as the gate dielectric. They discovered their new miniaturised devices matched the performance of current silicon-semiconductor field-effect transistors.
"The key innovation of this work is that we transformed conventional 3D bulk materials into a quasi-2D form without degrading its properties," says Dr Jing-Kai Huang, the paper's lead author. "This means it can be freely assembled, like LEGO blocks, with other materials to create high-performance transistors for a variety of emerging and undiscovered applications."
The MMFI academics drew on their diverse expertise to complete the work.
"Fabricating devices involves people from different fields. Through MMFI, we have established connections with academics who are experts in the 2D electric device fields as well as the semiconductor industry," says Dr Ji Zhang, a co-author of the paper.
"The first project was to fabricate the freestanding STO and to study its electrical properties. As the project progressed, it evolved into fabricating 2D transistors using freestanding STO. With the help from the platform established by MMFI, we were able to work together to finish the project."
The team is now working towards wafer-scale production. In other words, they hope to see whether the material can be used to build all the circuits for an entire computer on one chip.
"Extensive data sets were collected to support the performance of these 2D electronics, indicating the technology's promise for large-size wafer production and industrial adoption," says Dr Junjie Shi, another co-author of the paper.
"Achieving this will enable us to fabricate more complex circuits with a density closer to commercial products. This is the crucial step to make our technology reach people," says Dr Huang.
The researchers also say their development is a promising step toward a new era of electronics and local manufacturing resilience.
"From shifting geopolitics and the pandemic, we have seen more disruption in the global semiconductor supply chain, and we believe this is also an opportunity for Australia to join and strengthen this supply chain with our unique technology in the near future," Dr Huang says.
Currently, the technology is protected by two Australian provisional patent applications, with MMFI and UNSW looking to commercialise the intellectual property and bring it to market.
"We are currently fabricating logic circuits with the transistors," says Prof. Li. "At the same time, we are approaching several leading industries in the Asia-Pacific region to attract investment and establish a semiconductor manufacturing capability in NSW via industrialisation of this technology."
The lining of children's noses may provide protection from SARS-CoV-2 infection
August 1, 2022
SARS-CoV-2 causes a broad range of clinical symptoms, including potentially fatal acute respiratory distress syndrome (ARDS). A study published August 1 in the open access journal PLOS Biology by Kirsty Short at University of Queensland, Queensland, Australia, and colleagues suggests the nasal epithelium (the lining of the nose) of children inhibits infection and replication of the ancestral strain of the SARS-CoV-2 virus and the Delta variant, but not the Omicron variant.
Children have a lower COVID-19 infection rate and milder symptoms than adults. However, the factors driving this apparent paediatric resistance to COVID-19 infections are unknown. In order to better understand lower infection and replication of ancestral SARS-CoV-2 virus in children, researchers obtained samples of primary nasal epithelium cells (NEC) from twenty-three healthy children aged 2-11 and fifteen healthy adults aged 19-66 in Australia. They exposed the cells of adults and children to SARS-CoV-2 and then observed the infection kinetics and antiviral responses in children compared to adults.
The researchers found that ancestral SARS-CoV-2 replicated less efficiently and was associated with a heightened antiviral response in the nasal epithelial cells of children. This lower viral replication rate was also observed with the Delta variant, but not the more recent Omicron variant. The study had several limitations however, including a small sample size, so future clinical studies will be needed to validate these preliminary findings in a larger population and to determine the role of other factors, such as antibodies in protecting children from SARS-CoV-2 infection. Additionally, paediatric protection from emerging variants has yet to be quantified.
According to the authors, "We have provided the first experimental evidence that the paediatric nasal epithelium may play an important role in reducing the susceptibility of children to SARS-CoV-2. The data strongly suggest that the nasal epithelium of children is distinct and that it may afford children some level of protection from ancestral SARS-CoV-2."
Short adds, "We use nasal epithelial cells from children and adults to show that the ancestral SARS-CoV-2 and Delta, but not Omicron, replicate less efficiently in pediatric nasal epithelial cells."
Yanshan Zhu, Keng Yih Chew, Melanie Wu, Anjana C. Karawita, Georgina McCallum, Lauren E. Steele, Ayaho Yamamoto, Larisa I. Labzin, Tejasri Yarlagadda, Alexander A. Khromykh, Xiaohui Wang, Julian D. J. Sng, Claudia J. Stocks, Yao Xia, Tobias R. Kollmann, David Martino, Merja Joensuu, Frédéric A. Meunier, Giuseppe Balistreri, Helle Bielefeldt-Ohmann, Asha C. Bowen, Anthony Kicic, Peter D. Sly, Kirsten M. Spann, Kirsty R. Short.
Ancestral SARS-CoV-2, but not Omicron, replicates less efficiently in primary paediatric nasal epithelial cells.
PLOS Biology, 2022; 20 (8):
e3001728 DOI:
10.1371/journal.pbio.3001728
An effective new treatment for chronic back pain targets the nervous system
August 2, 2022
People challenged with chronic back pain have been given hope with a new treatment that focuses on retraining how the back and the brain communicate, a randomised controlled trial run by researchers at UNSW Sydney and Neuroscience Research Australia (NeuRA) and several other Australian and European universities has shown.
The study, funded by the Australian National Health and Medical Research Council (NHMRC), was described today in a paper published in the Journal of the American Medical Association. The study, carried out at NeuRA, divided 276 participants into two groups: one undertook a 12-week course of sensorimotor retraining and the other received a 12-week course of sham treatments designed to control for placebo effects, which are common in low back pain trials.
Professor James McAuley from UNSW's School of Health Sciences, and NeuRA said sensorimotor retraining alters how people think about their body in pain, how they process sensory information from their back and how they move their back during activities.
"What we observed in our trial was a clinically meaningful effect on pain intensity and a clinically meaningful effect on disability. People were happier, they reported their backs felt better and their quality of life was better. It also looks like these effects were sustained over the long term; twice as many people were completely recovered. Very few treatments for low back pain show long-term benefits, but participants in the trial reported improved quality of life one year later."
The new treatment challenges traditional treatments for chronic back pain, such as drugs and treatments that focus on the back such as spinal manipulation, injections, surgery and spinal cord stimulators, by viewing long-standing back pain as a modifiable problem of the nervous system rather than a disc, bone or muscle problem.
"If you compare the results to studies looking at opioid treatment versus placebo, the difference for that is less than one point out of 10 in pain intensity, it's only short term and there is little improvement in disability. We see similar results for studies comparing manual therapy to sham or exercise to sham," Prof. McAuley said.
"This is the first new treatment of its kind for back pain -- which has been the number one cause of the Global Disability Burden for the last 30 years -- that has been tested against placebo."
How it works
Prof. McAuley said the treatment is based on research that showed the nervous system of people suffering from chronic back pain behaves in a different way from people who have a recent injury to the lower back.
"People with back pain are often told their back is vulnerable and needs protecting. This changes how we filter and interpret information from our back and how we move our back. Over time, the back becomes less fit, and the way the back and brain communicate is disrupted in ways that seem to reinforce the notion that the back is vulnerable and needs protecting. The treatment we devised aims to break this self-sustaining cycle," he said.
Professor Lorimer Moseley AO, Bradley Distinguished Professor at the University of South Australia said, "This treatment, which includes specially designed education modules and methods and sensorimotor retraining, aims to correct the dysfunction we now know is involved in most chronic back pain and that's a disruption within the nervous system. The disruption results in two problems: a hypersensitive pain system and imprecise communication between the back and the brain."
The treatment aims to achieve three goals. The first is to align patient understanding with the latest scientific understanding about what causes chronic back pain. The second is to normalise the way the back and the brain communicate with each other, and thirdly, to gradually retrain the body and the brain back to a normal protection setting and a resumption of usual activities.
Professor Ben Wand of Notre Dame University, the clinical director on the trial, emphasised that by using a program of sensorimotor training, patients can see that their brain and back are not communicating well, but can also experience an improvement in this communication. He said, "We think this gives them confidence to pursue an approach to recovery that trains both the body and the brain."
Training the body and the brain
Traditional therapies concentrate on fixing something in your back, injecting a disc, loosening up the joints or strengthening the muscles. What makes sensorimotor retraining different, according to Prof. McAuley is that it looks at the whole system -- what people think about their back, how the back and brain communicate, how the back is moved, as well as the fitness of the back.
The study authors say that more research is needed to replicate these results and to test the treatment in different settings and populations. They also want to test their approach in other chronic pain states that show similar disruption within the nervous system. They are optimistic about rolling out a training package to bring this new treatment to clinics and have enlisted partner organisations to start that process.
Once the new treatment is available via trained physiotherapists, exercise physiologists and other clinicians -- Prof. McAuley hopes this to occur in the next six to nine months -- people with chronic back pain should be able to access it at a similar cost to other therapies offered by those practitioners.
Matthew K. Bagg, Benedict M. Wand, Aidan G. Cashin, Hopin Lee, Markus Hübscher, Tasha R. Stanton, Neil E. O'Connell, Edel T. O'Hagan, Rodrigo R. N. Rizzo, Michael A. Wewege, Martin Rabey, Stephen Goodall, Sopany Saing, Serigne N. Lo, Hannu Luomajoki, Robert D. Herbert, Chris G. Maher, G. Lorimer Moseley, James H. McAuley.
Effect of Graded Sensorimotor Retraining on Pain Intensity in Patients With Chronic Low Back Pain.
JAMA, 2022; 328 (5): 430 DOI:
10.1001/jama.2022.9930
Disclaimer: These articles are not intended to provide medical advice, diagnosis or treatment. Views expressed here do not necessarily reflect those of Pittwater Online News or its staff.