September 17 - October 7, 2023: Issue 599

NSW Health: Be on the look out for serious bacterial illnesses
September 13, 2023
NSW Health is advising the community to be aware of the signs and symptoms of rare but severe, invasive bacterial infections following recent increases in cases.
Dr Trevor Chan, Clinical Director, Emergency Care Institute at the Agency for Clinical Innovation said late winter and spring are usually peak times for meningococcal disease in NSW, while cases of invasive group A Streptococcus (iGAS) are steadily increasing.
"It's very important the community is aware of the risks of these infections. While meningococcal and iGAS are rare, both can be very serious and can cause death or permanent disability," Dr Chan said.
"So far, 28 cases of meningococcal disease have been reported in NSW this year. 544 cases of iGAS have been notified in NSW to the end of August this year.
"In the early stages, invasive bacterial infections can appear similar to more common viral illnesses. Occasionally they can occur at the same time, or follow a viral infection.
"Rapid intervention and treatment for invasive bacterial infections are available and can be lifesaving.
"We urge people to pay close attention to symptoms, trust their instincts, and seek urgent medical care if symptoms worsen or if they or the people they care for are getting worse.
"Bacterial infections, like meningococcal and iGAS can lead to sepsis, a life-threatening condition. Intervention and treatment for invasive bacterial infections are available and can be lifesaving," Dr Chan said.
A person with sepsis often reports feeling the sickest they have ever felt. Other indicators of serious illness include fever, a fast heart rate, difficulty breathing, cold hands and feet or a mottled look to the skin, difficulty waking or increased lethargy or confusion. The person looks unwell and may also have nausea, vomiting or diarrhoea, headache or muscle aches and pains.
Symptoms to look out for in young children that may indicate severe illness include irritability, difficulty waking, high-pitched crying, refusal to eat/feed, fewer or no wet nappies or decreased urination, cold or mottled limbs, and difficulty breathing. For more information see the Sydney Children's Hospital Network website – signs of serious illness in children.
People with meningococcal disease may experience severe headache, neck stiffness, dislike of bright lights, or unexplained joint or limb pain. A non-blanching rash of red-purple spots may also occur but often presents later in the illness. Do not wait for a rash to occur to seek urgent medical care.
People with iGAS may develop a red, warm, painful, and rapidly spreading skin infection which may have pus or ulceration. Children may present with a sunburn-like rash. The rash and skin changes are not always present so do not wait for a rash to seek care if the person is very unwell.
For more information on iGAS, meningococcal disease and sepsis see the NSW Health website.
If you are concerned about your or your child's health call your GP or healthdirect on 1800 022 222. If you or the person you care for is seriously unwell call 000 or go to your local Emergency Department.
Businesses urged to remove unfair contract terms ahead of law changes
The ACCC is encouraging businesses to review their standard form contracts and remove or amend any unfair contract terms before new penalties take effect.
From 9 November, changes to the Australian Consumer Law will prohibit businesses from proposing, using, or relying on unfair contract terms in standard form contracts with consumers and small businesses.
The changes will allow Courts to impose substantial penalties on businesses and individuals who include unfair terms in their standard form contracts. Currently, a Court can only declare specific terms of a contract unfair and therefore void.
"The changes to the unfair contract terms laws should motivate businesses to take steps to ensure their standard form contracts are fair, including by removing or amending concerning terms," ACCC Deputy Chair Mick Keogh said.
"There was previously little motivation for businesses to comply with the law, despite the ACCC's compliance and enforcement actions. We strongly urge businesses to review their contracts now to ensure they comply."
Standard form contracts provide a cost-effective way for many businesses to contract with significant volumes of consumer or small business customers. However, these contracts are largely imposed on a 'take it or leave it' basis and are usually drafted to the advantage of the party offering them.
"The test for whether a contract term is unfair has not changed. However, businesses now could potentially face substantial penalties for contravening the law. This will better protect consumers and small businesses who have limited bargaining power, expertise, and ability to negotiate or assess standard form contracts," Mr Keogh said.
"While some of the changes won't apply to contracts until they are renewed, or a new contract is entered into, businesses should be proactive in reviewing their standard form contracts now."
Tips for businesses to consider when reviewing their contracts:
Consider both points of view: if you think a term is necessary to protect your business's legitimate interest, consider the term from the other party's point of view.
Include counter-balancing terms: check that your contract has appropriate counter-balancing terms. For example, if you consider that your business reasonably needs the ability to unilaterally change the product or service being provided under the contract, does the contract also allow your customers to exit the contract without penalty when this occurs?
Avoid broad terms: don't have terms that are as broad as possible. Make sure terms are only as broad as reasonably necessary to protect your business's legitimate interests.
Meet your obligations under the Australian Consumer Law: don't have terms that seek to avoid your business's obligations under the Australian Consumer Law. For example, don't include terms that seek to limit your customers' consumer guarantees rights, or terms that seek to disclaim any representations your business may have made outside of the contract.
Be clear: Use clear and simple language in your contracts.
Be transparent: ensure key terms are clearly drawn to the attention of your customers during the sign-up process, and any renewal process.
The changes will also expand the coverage of the unfair contract term laws to apply to more small business contracts than before. The threshold for small business contracts will increase to apply to small business that employ fewer than 100 persons or have an annual turnover of less than $10 million.
Other key changes include the removal of the contract value threshold and clarifying other aspects of the laws, such as more clearly defining 'standard form contracts'.
Businesses can view information about changes to the unfair contract terms laws on the
ACCC's website
.
Background
The ACCC has been advocating for the introduction of penalties to unfair contract terms for many years. This includes in our submission to the Government review of the unfair contract terms protections in 2018, and in a submission to the regulation impact assessment process in 2020 about proposed enhancements to the unfair contract terms provisions.
Additionally, one of the key recommendations of the ACCC's 2020 Perishable Goods Inquiry was to introduce penalties for unfair contract terms, and this has also been a key recommendation throughout the ACCC's digital platform services inquiry.
Recent ACCC actions in relation to unfair contract terms include:
In 2023, suppliers in the fertiliser industry agreed to amend their contracts following an ACCC investigation into unfair contract terms.
In 2022, Fowler Homes Pty Ltd provided a court-enforceable undertaking to the ACCC, admitting that its standard home building contract contained unfair contract terms.
In 2022, the Federal Court declared that 38 contract terms used in contracts entered into by Fujifilm Business Innovation Australia or Fujifilm Leasing Australia (together, Fuji) with many thousands of small businesses were unfair, following court action by the ACCC.
Funeral service providers Parkside Funerals and Bowra & O'Dea each provided the ACCC with a court-enforceable undertaking, committing to remove potential unfair terms from their funeral services contracts, among other commitments.
Notes
The maximum financial penalties for businesses under the new unfair contract terms law are the greatest of:
$50,000,000;
three times the value of the "reasonably attributable" benefit obtained from the conduct, if the court can determine this; or
if a court cannot determine the benefit, 30 per cent of adjusted turnover during the breach period.
The maximum penalty for an individual is $2.5 million.
The changes will apply to:
Standard form contracts made or renewed on or after 9 November 2023.
A term of a contract that is varied or added on or after 9 November 2023.
However, where a term of a contract is varied or added on or after 9 November 2023, the changes relevant to deciding whether a contract is a standard form contract apply to the whole contract.
Fairer democratic elections to return for City of Sydney
The NSW Government announced on September 13 2023 it is ''returning democracy and fairness to the City of Sydney by removing rules that favour the votes of businesses over residents in local government elections''.
The City of Sydney Amendment Bill 2023 introduced by the Government seeks to reinstate the voting rules for non-residential electors that apply in all other LGAs across NSW.
In 2014, the City of Sydney Act 1988 was amended to give eligible businesses two votes in council elections, compared to one each for residents.
As a result, businesses that own, lease, or occupy rateable land in the City of Sydney can currently nominate two people to vote on their behalf in council elections.
The Government's new bill will remove this unfair weighting and bring balance back to the system.
The changes will also remove the automatic enrolment of non-residential electors, which does not exist anywhere else in the state, and currently applies regardless of whether these electors wish to vote in City of Sydney elections or not.
Eligible people will still be able to apply to become non-residential electors, however, only one person will be entitled to be enrolled on behalf of corporations or multiple owners, lessees or occupiers.
The 2014 amendment being reversed by this bill cost City of Sydney ratepayers $9.7 million to establish and approximately $1 million per year to maintain.
It also resulted in an increase in the number of fines issued by the NSW Electoral Commission.
Following the 2021 council elections, 18,501 failure to vote notices and fines were issued by the Electoral Commission to non-residential electors. This equates to 39 per cent of all non-residential electors for the area.
If passed, this bill will:
ensure the same rules that govern voting by non-residential electors in all other LGAs in NSW will apply to the City of Sydney
make the preparation of non-residential elector rolls much less onerous and costly and relieve the City of Sydney of a significant administrative burden
deliver cost savings for the City of Sydney that can be redirected towards services and infrastructure for the local community
Minister for Local Government, Ron Hoenig stated, "The current City of Sydney Act gives businesses two votes in local government elections in a deliberate decision orchestrated by the former government to suit its political agenda.
"The amendments were made by the Liberals in a brazen attempt to oust Sydney Lord Mayor Clover Moore from office and give the party an electoral advantage in controlling the Sydney Town Hall.
"As expected, the amendments have clearly missed their target with thousands of non-resident ratepayers being slugged with fines for not voting instead.
"For nearly a decade, City of Sydney ratepayers have also been forced to foot an annual bill of approximately $1 million to maintain the non-residential electoral roll.
"Nowhere else in this state do we see one group of voters favoured in this way. It erodes the democratic process and undermines the vital importance of giving residents and ratepayers a balanced voice in local council elections.
"The Labor Government is proud to return the balance to the City of Sydney democratic process, and plan to have the new laws passed and implemented for the September 2024 council elections."
Lord Mayor Clover Moore stated in response to the announcement:
''Today the NSW Government has introduced a Bill to reverse the undemocratic and targeted legislation that gave two votes to businesses in City of Sydney elections.
I welcome the Government's commitment to removing this unfair weighting and bringing democratic balance back to our local system.
I have always been supportive of measures that make it easier for businesses to vote – businesses contribute greatly to our city and deserve to have a say in its leadership.
But the Shooters and Fishers Bill, which became known as the "Get Clover Law" and was adopted by the Baird Government, eroded the democratic power of residents and placed an unworkable and costly burden on the City.
At the time the legislation was being considered, respected election analyst Antony Green described it as "inspired by malice, not public policy", saying "whoever's putting this up is trying to rort the result."
Those who supported the Bill in Parliament said they simply wanted to make it easier for business in the City to vote. However, the truth is that this legislation was not about business voting at all. It was about manipulating democracy.
Businesses already had greater rights to vote in the City than anywhere else in NSW, as they only needed to operate in the City for three months before they could enrol and vote while everywhere else in NSW businesses were required to operate for at least three years.
The legislation gave businesses two votes while leaving residents with just one, completely reversing one of the founding principles of Australia's democracy: one vote, one value.
It allowed people who have never even been to the City of Sydney the right to vote; subjected businesses to more red tape by requiring them to provide extensive and in some cases intrusive information; and meant that businesses were put at greater risk of hefty fines for not voting.
On top of that, the City of Sydney was directed to maintain a register and rolls of eligible non-residential voters rather than the independent NSW Electoral Commission. The Government forced the City to accept its flawed legislation, then told us we had to pay for it.
In the nine years since these changes were introduced no other LGA had its electoral regulations changed. Given the fact the changes weren't rolled out state-wide, it is hard to see this episode as anything other than a targeted attack on me and my team – a costly and unworkable experiment that has been deemed a failure.
Under independent leadership, Sydney has become one of the most desirable places in the world to live and work and the economic, residential growth and jobs growth statistics back that up.
Since 2004, the economy of City's local government area has grown by $64 billion or 82 per cent. It now exceeds pre-COVID levels at $141 billion a year – as of March 2023 – accounting for more than 22 per cent of the entire NSW economy.
Investing in central Sydney and supporting local businesses is essential to maintaining the economy's buoyancy and success.
Our support is both direct and indirect, because transforming the city into liveable, sustainable, vibrant place is not just great for people who live, work or visit here, it's great for businesses – making it easier to attract and retain clients, customers and staff in a globally competitive market.
I thank Local Government Minister Ron Hoenig MP for introducing legislation to repeal the changes – and I am hopeful the NSW Parliament will see sense and pass the repeal.''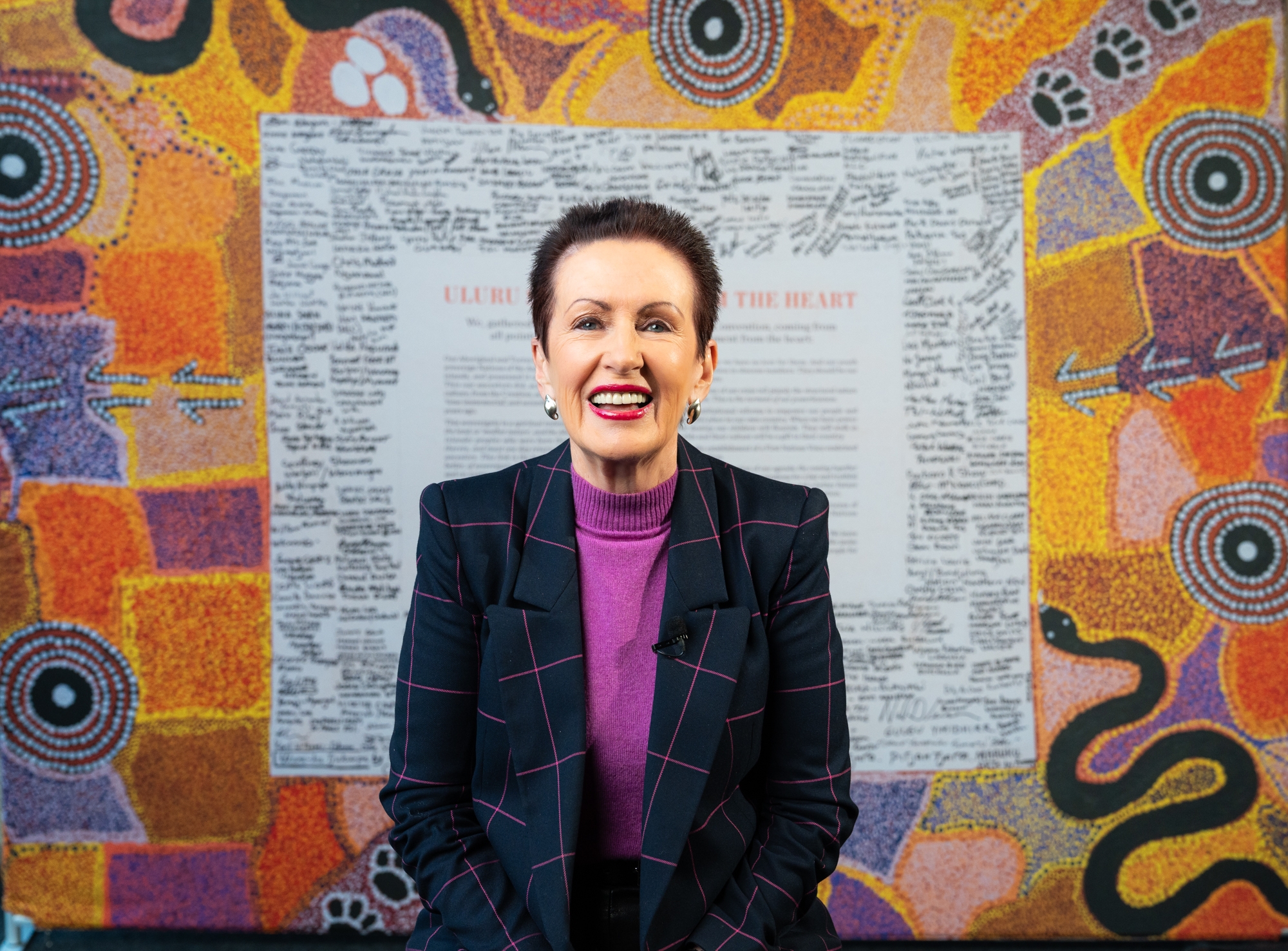 Lord Mayor Clover Moore, photo posted on Facebook September 12, 2023
1112 nurses and midwives made permanent by Minns Labor Government
On Thursday September 14 the Minns Labor Government stated it is delivering on its commitment to support essential health workers and their patients by saving the jobs of 1112 nurses and midwives in NSW hospitals.
The government announced it is investing an additional $572 million in the 2023–24 NSW Budget to make the 1112 nurses and midwives permanent. The $572 million will be spent over 3 financial years from 2024–25.
The decision delivers certainty to nurses, midwives and their families, along with local hospitals and patients, the Government stated
''The commitment will also ensure the continued delivery of healthcare services and support health outcomes for patients.
These hardworking nurses and midwives are already embedded in the public health system, working in metro and regional hospitals across NSW.''
More than 750,000 patients presented to emergency departments across NSW in the second quarter of 2023, with a record number (117,949) of life-threatening triage category 2 cases.
But data from the Bureau of Health Information reveals just over half (54%) of those triage category 2 patients started their treatment on time.
The nurses and midwives work across 15 local health districts (LHDs) along with the Children's Hospital Network.
This massive funding black hole included no funding allocated for:
138.2 nurses in the Hunter New England LHD
119.2 nurses in South Western Sydney LHD
109.1 nurses in Western Sydney LHD
104.4 nurses in South Eastern Sydney LHD
99.4 nurses in Sydney LHD
82 nurses in Northern Sydney LHD
61.4 nurses in Illawarra Shoalhaven LHD
57.1 nurses in Central Coast LHD
56.1 nurses in Western NSW LHD
51 nurses in Northern NSW LHD
50 nurses in Nepean Blue Mountains LHD
43.3 nurses in Mid North Coast LHD
41.6 nurses in Murrumbidgee LHD
41 nurses in Children's Hospital Network
26.6 nurses in Southern NSW LHD
6.5 nurses in Far West LHD.
Permanently funding these positions will help the Minns Labor Government implement its commitment to Safe Staffing Levels in NSW hospitals, starting with emergency departments.
Safe Staffing Levels are designed to improve health outcomes, reduce waiting times, take pressure off NSW hospitals and help retain experienced nurses and midwives in our health workforce.
The Minns Labor Government has also committed to hiring an additional 1200 nurses and midwives during its first term, beyond today's announcement, to implement this important reform in our hospitals.
NSW Premier Chris Minns said,
"We are doing what the previous state government failed to do – making these nurses and midwives permanent.
"The NSW health system is under immense pressure. We can't afford to lose hardworking nurses and midwives.
"Today, we are making good on our commitment to support our essential frontline health workers so they can continue to deliver the health services our communities need and deserve."
Health and Regional Health Minister Ryan Park said:
"I am as committed to investing in our frontline healthcare workers as I am about bricks and mortar infrastructure.
"The Minns Labor Government made a commitment to support our frontline nurses and midwives and recognise their enormous contribution to our health system by building the workforce and improving their pay and conditions.
"The implementation of Safe Staffing Levels will mean more nurses and midwives working in our hospitals and is a significant step forward in delivering on the Government's commitment to help rebuild essential services."
Healthy lifestyle can help prevent depression -- and new research may explain why
September 11, 2023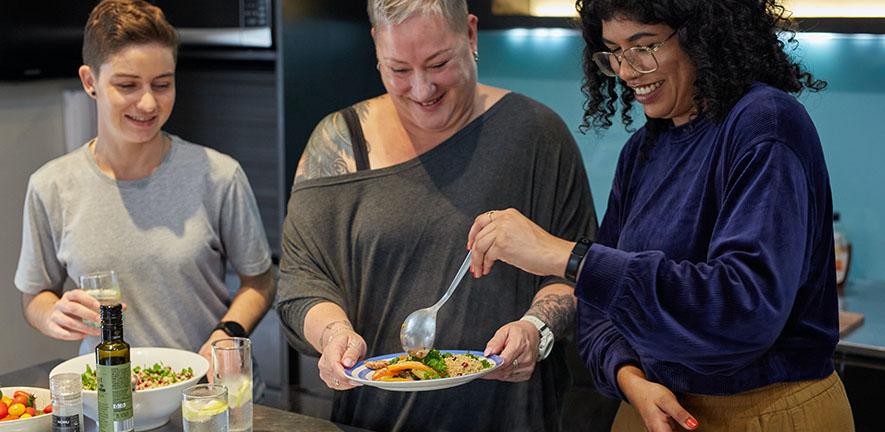 A healthy lifestyle that involves moderate alcohol consumption, a healthy diet, regular physical activity, healthy sleep and frequent social connection, while avoiding smoking and too much sedentary behaviour, reduces the risk of depression, new research has found.
In research published today in Nature Mental Health, an international team of researchers, including from the University of Cambridge and Fudan University, looked at a combination of factors including lifestyle factors, genetics, brain structure and our immune and metabolic systems to identify the underlying mechanisms that might explain this link.
According to the World Health Organization, around one in 20 adults experiences depression, and the condition poses a significant burden on public health worldwide. The factors that influence the onset of depression are complicated and include a mixture of biological and lifestyle factors.
To better understand the relationship between these factors and depression, the researchers turned to the UK Biobank, a biomedical database and research resource containing anonymised genetic, lifestyle and health information about its participants.
By examining data from almost 290,000 people -- of whom 13,000 had depression -- followed over a nine-year period, the team was able to identify seven healthy lifestyle factors linked with a lower risk of depression. These were:
moderate alcohol consumption
healthy diet
regular physical activity
healthy sleep
never smoking
low-to-moderate sedentary behaviour
frequent social connection
Of all of these factors, having a good night's sleep -- between seven and nine hours a night -- made the biggest difference, reducing the risk of depression, including single depressive episodes and treatment-resistant depression, by 22%.
Frequent social connection, which in general reduced the risk of depression by 18%, was the most protective against recurrent depressive disorder.
Moderate alcohol consumption decreased the risk of depression by 11%, healthy diet by 6%, regular physical activity by 14%, never smoking by 20%, and low-to-moderate sedentary behaviour by 13%.
Based on the number of healthy lifestyle factors an individual adhered to, they were assigned to one of three groups: unfavourable, intermediate, and favourable lifestyle. Individuals in the intermediate group were around 41% less likely to develop depression compared to those in the unfavourable lifestyle, while those in the favourable lifestyle group were 57% less likely.
The team then examined the DNA of the participants, assigning each a genetic risk score. This score was based on the number of genetic variants an individual carried that have a known link to risk of depression. Those with the lowest genetic risk score were 25% less likely to develop depression when compared to those with the highest score -- a much smaller impact than lifestyle.
In people at high, medium, and low genetic risk for depression, the team further found that a healthy lifestyle can cut the risk of depression. This research underlines the importance of living a healthy lifestyle for preventing depression, regardless of a person's genetic risk.
Professor Barbara Sahakian, from the Department of Psychiatry at the University of Cambridge, said: "Although our DNA -- the genetic hand we've been dealt -- can increase our risk of depression, we've shown that a healthy lifestyle is potentially more important.
"Some of these lifestyle factors are things we have a degree control over, so trying to find ways to improve them -- making sure we have a good night's sleep and getting out to see friends, for example -- could make a real difference to people's lives."
To understand why a healthy lifestyle might reduce the risk of depression, the team studied a number of other factors.
First off, they examined MRI brain scans from just under 33,000 participants and found a number of regions of the brain where a larger volume -- more neurons and connections -- was linked to a healthy lifestyle. These included the pallidum, thalamus, amygdala and hippocampus.
Next, the team looked for markers in the blood that indicated problems with the immune system or metabolism (how we process food and produce energy). Among those markers found to be linked to lifestyle were the C-reactive protein, a molecule produced in the body in response to stress, and triglycerides, one of the primary forms of fat that the body uses to store energy for later.
These links are supported by a number of previous studies. For example, exposure to stress in life can affect how well we are able to regulate blood sugar, which may lead to a deterioration of immune function and accelerate age-related damage to cells and molecules in the body. Poor physical activity and lack of sleep can damage the body's ability to respond to stress. Loneliness and lack of social support have been found to increase the risk of infection and increase markers of immune deficiency.
The team found that the pathway from lifestyle to immune and metabolic functions was the most significant. In other words, a poorer lifestyle impacts on our immune system and metabolism, which in turn increases our risk of depression.
Dr Christelle Langley, also from the Department of Psychiatry at the University of Cambridge, said: "We're used to thinking of a healthy lifestyle as being important to our physical health, but it's just as important for our mental health. It's good for our brain health and cognition, but also indirectly by promoting a healthier immune system and better metabolism."
Professor Jianfeng Feng, from Fudan University and Warwick University, added: "We know that depression can start as early as in adolescence or young adulthood, so educating young people on the importance of a healthy lifestyle and its impact on mental health should begin in schools."
This study was supported by grants from organisations including the National Natural Science Foundation of China and the Ministry of Science, China*.*A full list of funders can be found in the paper.
Yujie Zhao, Liu Yang, Barbara J. Sahakian, Christelle Langley, Wei Zhang, Kevin Kuo, Zeyu Li, Yihan Gan, Yuzhu Li, Yang Zhao, Jintai Yu, Jianfeng Feng, Wei Cheng.
The brain structure, immunometabolic and genetic mechanisms underlying the association between lifestyle and depression.
Nature Mental Health, 2023; DOI:
10.1038/s44220-023-00120-1
Water world? Methane, carbon dioxide in atmosphere of massive exoplanet
A new investigation with NASA's James Webb Space Telescope into K2-18 b, an exoplanet 8.6 times as massive as Earth, has revealed the presence of carbon-bearing molecules including methane and carbon dioxide. Webb's discovery adds to recent studies suggesting that K2-18 b could be a Hycean exoplanet, one which has the potential to possess a hydrogen-rich atmosphere and a water ocean-covered surface.
The first insight into the atmospheric properties of this habitable-zone exoplanet came from observations with NASA's Hubble Space Telescope, which prompted further studies that have since changed our understanding of the system.
K2-18 b orbits the cool dwarf star K2-18 in the habitable zone and lies 120 light-years from Earth in the constellation Leo. Exoplanets such as K2-18 b, which have sizes between those of Earth and Neptune, are unlike anything in our solar system. This lack of equivalent nearby planets means that these 'sub-Neptunes' are poorly understood, and the nature of their atmospheres is a matter of active debate among astronomers.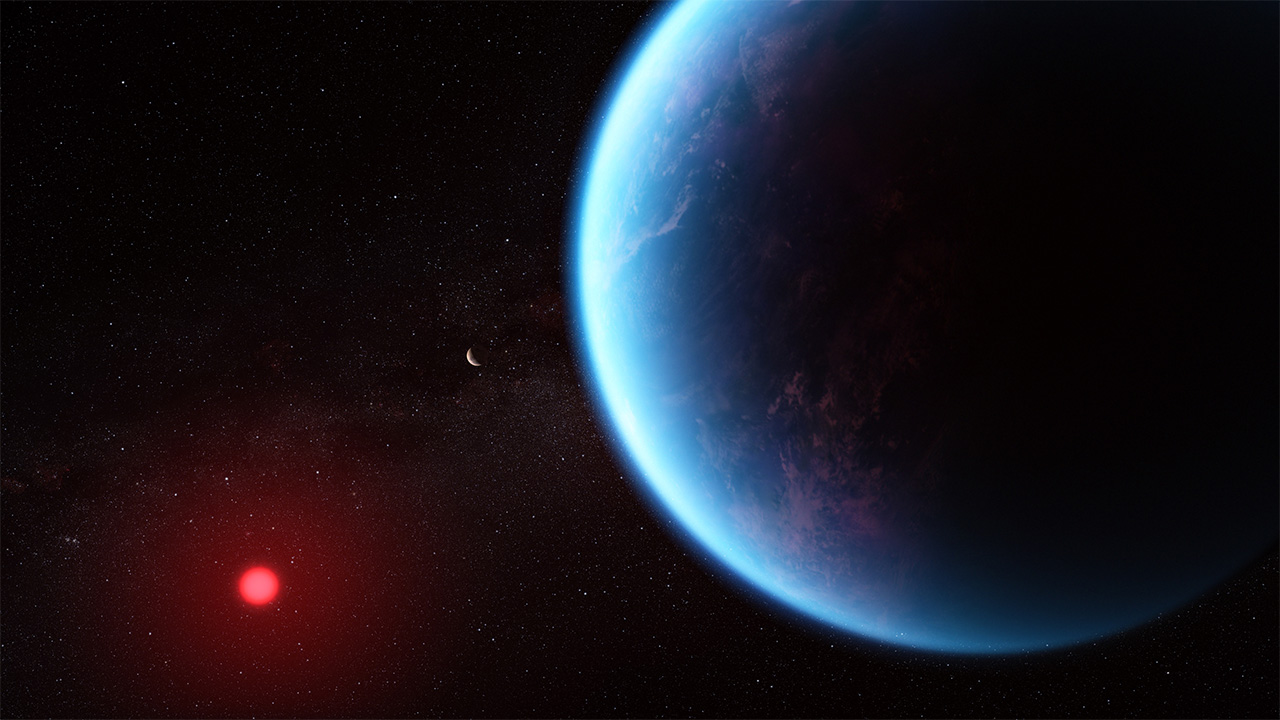 The suggestion that the sub-Neptune K2-18 b could be a Hycean exoplanet is intriguing, as some astronomers believe that these worlds are promising environments to search for evidence for life on exoplanets.
This artist's concept shows what exoplanet K2-18 b could look like based on science data. K2-18 b, an exoplanet 8.6 times as massive as Earth, orbits the cool dwarf star K2-18 in the habitable zone and lies 120 light-years from Earth. A new investigation with NASA's James Webb Space Telescope into K2-18 b has revealed the presence of carbon-bearing molecules including methane and carbon dioxide. The abundance of methane and carbon dioxide, and shortage of ammonia, support the hypothesis that there may be a water ocean underneath a hydrogen-rich atmosphere in K2-18 b. Credits: Illustration: NASA, CSA, ESA, J. Olmsted (STScI), Science: N. Madhusudhan (Cambridge University)
"Our findings underscore the importance of considering diverse habitable environments in the search for life elsewhere," explained Nikku Madhusudhan, an astronomer at the University of Cambridge and lead author of the paper announcing these results. "Traditionally, the search for life on exoplanets has focused primarily on smaller rocky planets, but the larger Hycean worlds are significantly more conducive to atmospheric observations."
The abundance of methane and carbon dioxide, and shortage of ammonia, support the hypothesis that there may be a water ocean underneath a hydrogen-rich atmosphere in K2-18 b. These initial Webb observations also provided a possible detection of a molecule called dimethyl sulphide (DMS). On Earth, this is only produced by life. The bulk of the DMS in Earth's atmosphere is emitted from phytoplankton in marine environments.
The inference of DMS is less robust and requires further validation. "Upcoming Webb observations should be able to confirm if DMS is indeed present in the atmosphere of K2-18 b at significant levels," explained Madhusudhan.
While K2-18 b lies in the habitable zone, and is now known to harbour carbon-bearing molecules, this does not necessarily mean that the planet can support life. The planet's large size -- with a radius 2.6 times the radius of Earth -- means that the planet's interior likely contains a large mantle of high-pressure ice, like Neptune, but with a thinner hydrogen-rich atmosphere and an ocean surface. Hycean worlds are predicted to have oceans of water. However, it is also possible that the ocean is too hot to be habitable or be liquid.
"Although this kind of planet does not exist in our solar system, sub-Neptunes are the most common type of planet known so far in the galaxy," explained team member Subhajit Sarkar of Cardiff University. "We have obtained the most detailed spectrum of a habitable-zone sub-Neptune to date, and this allowed us to work out the molecules that exist in its atmosphere."
Characterizing the atmospheres of exoplanets like K2-18 b -- meaning identifying their gases and physical conditions -- is a very active area in astronomy. However, these planets are outshone -- literally -- by the glare of their much larger parent stars, which makes exploring exoplanet atmospheres particularly challenging.
The team sidestepped this challenge by analysing light from K2-18 b's parent star as it passed through the exoplanet's atmosphere. K2-18 b is a transiting exoplanet, meaning that we can detect a drop in brightness as it passes across the face of its host star. This is how the exoplanet was first discovered in 2015 with NASA's K2 mission. This means that during transits a tiny fraction of starlight will pass through the exoplanet's atmosphere before reaching telescopes like Webb. The starlight's passage through the exoplanet atmosphere leaves traces that astronomers can piece together to determine the gases of the exoplanet's atmosphere.
"This result was only possible because of the extended wavelength range and unprecedented sensitivity of Webb, which enabled robust detection of spectral features with just two transits," said Madhusudhan. "For comparison, one transit observation with Webb provided comparable precision to eight observations with Hubble conducted over a few years and in a relatively narrow wavelength range."
"These results are the product of just two observations of K2-18 b, with many more on the way," explained team member Savvas Constantinou of the University of Cambridge. "This means our work here is but an early demonstration of what Webb can observe in habitable-zone exoplanets."
The team's results were accepted for publication in The Astrophysical Journal Letters.
The team now intends to conduct follow-up research with the telescope's MIRI (Mid-Infrared Instrument) spectrograph that they hope will further validate their findings and provide new insights into the environmental conditions on K2-18 b.
"Our ultimate goal is the identification of life on a habitable exoplanet, which would transform our understanding of our place in the universe," concluded Madhusudhan. "Our findings are a promising step towards a deeper understanding of Hycean worlds in this quest."
Nikku Madhusudhan, Subhajit Sarkar, Savvas Constantinou, Mans Holmberg, Anjali Piette, Andjulianne I. Moses.
Carbon-bearing Molecules in a Possible Hycean Atmosphere
. The Astrophysical Journal Letters
(accepted), 2023
New super-fast flood model has potentially life-saving benefits for australia
A new simulation model that can predict flooding during an ongoing disaster more quickly and accurately than currently possible has been developed by University of Melbourne researchers.
Published in Nature Water, researchers say the new model has major potential benefits for emergency responses, reducing flood forecasting time from hours and days to just seconds, and enabling flood behaviour to be accurately predicted quickly as an emergency unfolds.
University of Melbourne PHD student Niels Fraehr, alongside Professor Q. J. Wang, Dr Wenyan Wu and Professor Rory Nathan, from the Faculty of Engineering and Information Technology, developed the Low-Fidelity, Spatial Analysis and Gaussian Process Learning (LSG) model to predict the impacts of flooding.
The LSG model can produce predictions that are as accurate as our most advanced simulation models, but at speeds which are 1000 times faster.
Professor Nathan said the development had enormous potential as an emergency response tool.
"Currently, our most advanced flood models can accurately simulate flood behaviour, but they're very slow and can't be used during a flood event as it unfolds," said Professor Nathan, who has 40 years' experience in engineering and environmental hydrology." Professor Nathan said.
"This new model provides results a thousand times more quickly than previous models, enabling highly accurate modelling to be used in real-time during an emergency. Being able to access up-to-date modelling during a disaster could help emergency services and communities receive much more accurate information about flooding risks and respond accordingly. It's a game-changer."
When put to the test on two vastly different yet equally complex river systems in Australia, the LSG model was able to predict floods with a 99 per cent accuracy on the Chowilla floodplain in Southern Australia in 33 seconds, instead of 11 hours, and the Burnett River in Queensland in 27 seconds, instead of 36 hours, when compared to presently-used advanced models.
The speed of the new model also allows responders to account for the considerable unpredictability in weather forecasts. The limitations of current flood forecast models mean that simulations typically focus on the most likely scenario to predict flood.
By contrast, the LSG model developed by the researchers makes it possible to simulate how the uncertainty inherent in weather forecasts translates to on-the-ground flood impacts as a flood event progresses. The model uses mathematical transformations and a sophisticated machine learning approach to rapidly take advantage of enormous amounts of data whilst using commonly available computing systems.
Professor Nathan said the model, which is the product of two years of development work, had a range of potential benefits in Australia and globally.
"This new model also has potential benefits in helping us design more resilient infrastructure. Being able to simulate thousands of different flooding scenarios, instead of just a handful, will help design infrastructure that holds up to more unpredictable or extreme weather events," Professor Nathan said.
"As our climate becomes more extreme, it's models like these that will help us all be better prepared to weather the storm."
Niels Fraehr, Quan J. Wang, Wenyan Wu, Rory Nathan.
Supercharging hydrodynamic inundation models for instant flood insight
. Nature Water, 2023; DOI:
10.1038/s44221-023-00132-2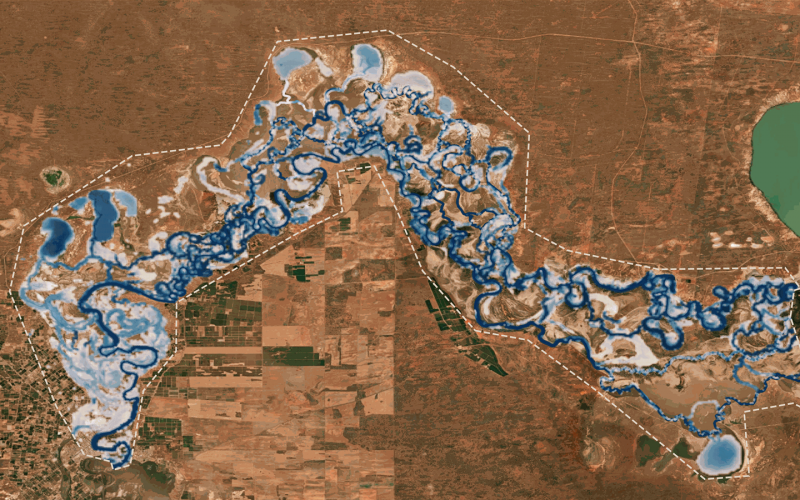 A new simplified hydrodynamic model provides a practical and effective solution to predict flooding quickly

Helicopter-based observations uncover warm ocean water flows toward Totten Ice Shelf in Southeast Antarctica
An international team of scientists has successfully conducted large-scale helicopter-based observations along the coast of East Antarctica and has identified pathways through which warm ocean water flows from the open ocean into ice shelf cavities for the first time.
During six days of observations, the team was able to retrieve temperature and other data at 67 sites covering the entire continental shelf region off the Totten Ice Shelf, the floating portion of the Totten Glacier. The study enabled the team to obtain an overall picture of warm ocean water flowing into the ice shelf cavity.
The Totten Glacier has attracted global attention because of the sheer scope of the environmental impacts if the glacier were to melt entirely: global sea levels could be raised by nearly four meters. It is thus necessary to observe the entire continental shelf region to understand the pathways and mechanisms of warm water mass inflow. However, such observations have been historically hindered by the region's intense sea ice and icebergs.
The team, including Assistant Professor Yoshihiro Nakayama and Associate Professor Shigeru Aoki of Hokkaido University's Institute of Low Temperature Science, conducted helicopter-based observations with cooperation by Japan's Maritime Self-Defense Force as part of the 61st Japanese Antarctic Research Expedition (JARE61).
Researchers took a CH-101 helicopter from the icebreaker Shirase to observation sites where they dropped two kinds of ocean observation sensors: AXCTD (Airborne eXpendable Conductivity, Temperature, and Depth) and AXBT (Airborne Bathy-Thermograph). The team was able to investigate underwater temperatures and salinity using data from the sensors.
The team found that broad ocean heat -- stretching across the 150-kilometer range between the longitudes of 116.5° east and 120.5° east -- was intruding toward the shelf. Seawater with a temperature of about 1 degree Celsius higher than the freezing temperature was observed between 50 and 100 meters above the seabed. This showed, for the first time, the overall picture of warm water mass flowing toward the Totten Ice Shelf.
This study also demonstrated the efficacy of using helicopters in conducting such research. They are cheaper and faster than operating an icebreaker, have superb maneuverability, and are not affected by sea ice conditions. The identified pathways can be observed in detail by icebreakers.
This study was conducted jointly by the Institute of Low Temperature Science; Hokkaido University, the Australian Antarctic Program Partnership at the University of Tasmania (Australia); Scripps Institution of Oceanography (U.S.A.); University of Texas at Austin (U.S.A.); the National Institute of Polar Research (Japan); Marine Works Japan Ltd. (Japan) and National Institute of Technology, Tomakomai College (Japan). The results of the study were published in the online edition of Geophysical Research Letters, a U.S. scientific journal on September 11, 2023.
Yoshihiro Nakayama, Pat Wongpan, Jamin S. Greenbaum, Kaihe Yamazaki, Tomohide Noguchi, Daisuke Simizu, Haruhiko Kashiwase, Donald D. Blankenship, Takeshi Tamura, Shigeru Aoki.
Helicopter‐Based Ocean Observations Capture Broad Ocean Heat Intrusions Toward the Totten Ice Shelf.
Geophysical Research Letters, 2023; 50 (17) DOI:
10.1029/2022GL097864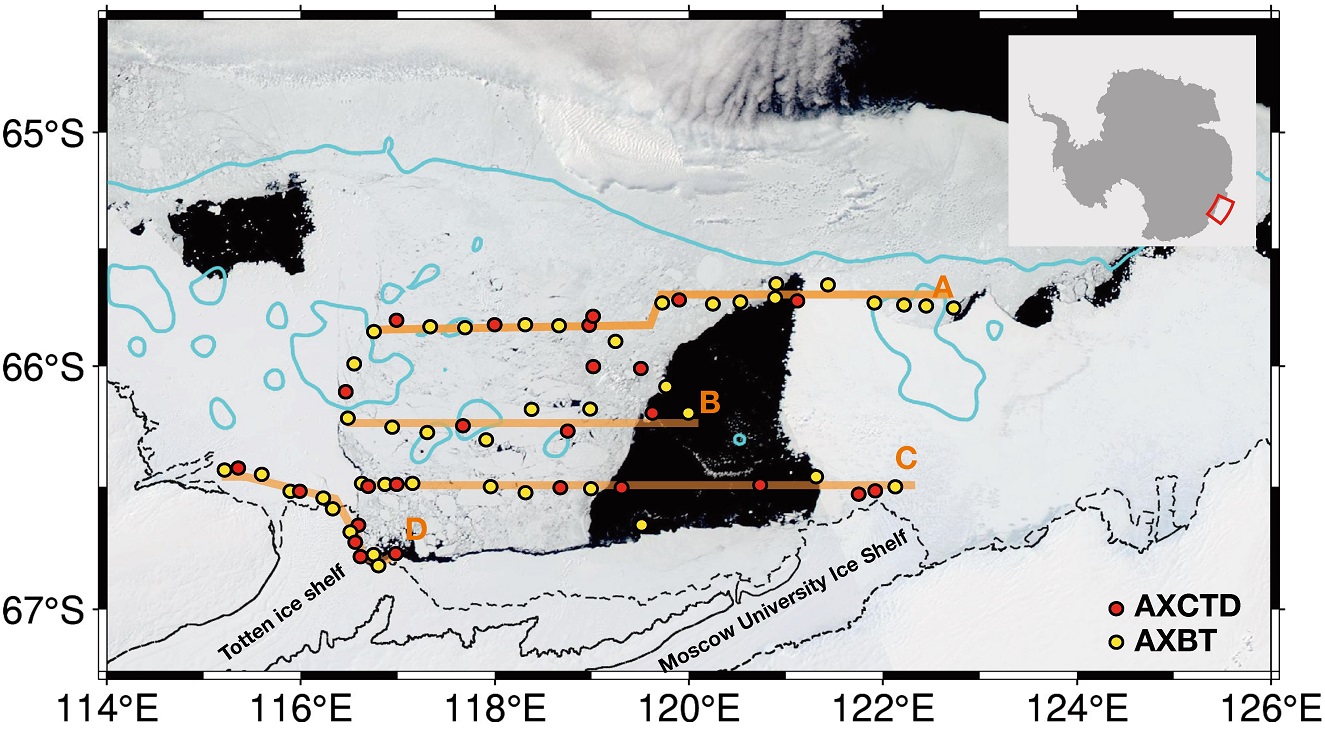 A satellite photo of the region surrounding the Totten Glacier, showing the Totten Ice Shelf and Moscow University Ice Shelf, with sampling paths (orange lines), sampling locations (yellow and red circles), and the 1000 m depth contour (cyan outlines). (Yoshihiro Nakayama, et al. Geophysical Research Letters. September 11, 2023)

Study reveals reductions in breast cancer screening uptake during COVID-19 pandemic
A review of COVID-19 studies globally has revealed reductions in breast cancer screening participation during 2020, with differences between geographic regions and healthcare settings.
The findings, published in eLife, suggest the need for continued monitoring of access to breast cancer screening and early diagnosis services, to help identify if prevention services may need strengthening to increase participation for disadvantaged groups.
Breast cancer is the most common cancer worldwide, with 2.3 million cases diagnosed and 685,000 deaths in 2020. Mammography-based screening programs allow for the early detection and treatment of breast cancer to help improve patient outcomes, but these programs were strained by the COVID-19 pandemic in 2020.
"Previous work on modelled evaluations of breast cancer screening, with a focus on tumour stages and mortality as patient outcomes, suggested that scenarios are likely to differ based on region and the organisation of screening services," says first author Reagan Lee, a medical student at the Usher Institute, University of Edinburgh, Scotland, UK. "For this study, we wanted to collate existing available data from different populations on breast screening participation levels before and after the first COVID-19 wave, when restrictions were put in place in nations with and without population-based screening programs." Reagan's mentor was senior author, Professor Jonine Figueroa, a molecular epidemiologist, Honorary Fellow at the University of Edinburgh's Usher Institute and Senior Investigator and Distinguished Scholar at the U.S. National Cancer Institute, part of the National Institutes of Health.
In different countries, screening models vary from opportunistic to population-based screening. Opportunistic screening is offered to individual patients during routine medical visits or consultations, and occurs more commonly in private healthcare settings. Settings for opportunistic screening can present different levels of organisation and coordination. For instance, it can be performed according to a documented screening policy, following a defined protocol, system of quality assurance, and so on. Population-based screening is a government program that invites all eligible individuals in defined groups to reach most of the population at higher risk of the disease, according to the national screening policy.
For their study, the team performed a rapid literature review to document and estimate the COVID-19 pandemic's global impact on breast cancer screening during the whole of 2020. They investigated two primary study outcomes: reported changes in screening volume and screening uptake. They searched Medline, the World Health Organization COVID-19 database and governmental databases. From 935 independent records, they identified 26 eligible studies from 13 countries. These countries had international movement controls in place during the pandemic, including internal movement controls, stay-at home requirements, public transport closures and other measures.
Analysing these studies, the team observed reported reductions in both screening volume and uptake rates among eight countries: Australia, Brazil, Canada, China, Italy, Mexico, the UK and US.
To investigate screening volume, they extracted summary data from 17 studies across these countries. The data came from 106,484,908 women before and after COVID-19 infection control measures were put in place. The team found that reductions in screening volume in five countries with national population-based screening ranged from 13% to 31% during 2020. Among two countries that consist of more opportunistic screening programs -- Mexico and Brazil -- this reduction ranged from 61% (Mexico) to 41% (Brazil).
Within the US, which has a mixture of insurance providers, there was a wide range of change in screening volumes. Population participation volumes varied from an increase of more than 18%, to a reduction of 39%, depending on the study and healthcare setting. The analysis suggests that this variable change may be in part influenced by participants' insurance status, depending for example on whether they are covered by a national public or private healthcare insurance.
For screening uptake, the team then analysed a total of nine studies that reported breast cancer screening participation levels, representing more than 46,257,402 people across five countries: Belgium, Brazil, New Zealand, the UK and US. They saw considerable variability in change during 2020, ranging from an increase in uptake of 2-8% in the UK to a reduction in uptake of 43.5% in Brazil. In the US, they identified consistent negative changes in screening uptake.
Many countries had physical distancing measures to reduce COVID-19 infection that likely had a role in the observed reduced overall screening volumes and uptake in 2020 -- both for nations with opportunistic and population-based screening programs. Reductions in screening capacity potentially another likely factor, with social distancing, staggered appointments and cleaning measures across some countries resulting in less time allocated to screening itself.
The authors add that there are certain limitations to this review. Most notably, almost all studies analysed had a high risk of bias due to insufficient statistical analysis and confounding factors. Another key limitation is the fact that COVID-19 is an evolving field with fast publication turnovers; more papers could have been published since the review started. There have been many improvements in capacity and uptake to breast screening programs that were not covered in this review. Despite this, the review could be built upon to identify more clearly the global impact of COVID-19 on breast cancer detection and subsequent care as more data become available including for other countries and areas not captured in this review.
The authors noted that "While participation uptake and volumes are not conclusive of patient outcomes themselves, our work suggests they are important metrics that require monitoring by health systems and key demographics. This could help inform future prevention and early diagnosis efforts, especially to encourage greater uptake among specific groups that have lower participation rates."
This study is an output of UNCOVER and the International Partnership for Resilience in Cancer Systems (I-PaRCS), Breast Cancer Working Group 2.
The study has been published and will be included in eLife's Special Issue on the impact of the COVID-19 pandemic on cancer prevention, control, care and survivorship.
Reagan Lee, Wei Xu, Marshall Dozier, Ruth McQuillan, Evropi Theodoratou, Jonine Figueroa.
A rapid review on the COVID-19's global impact on breast cancer screening participation rates and volumes from January-December 2020
. eLife, 2023; 12 DOI:
10.7554/eLife.85680
Disclaimer: These articles are not intended to provide medical advice, diagnosis or treatment. Views expressed here do not necessarily reflect those of Pittwater Online News or its staff.