August 5 - 11, 2018: Issue 370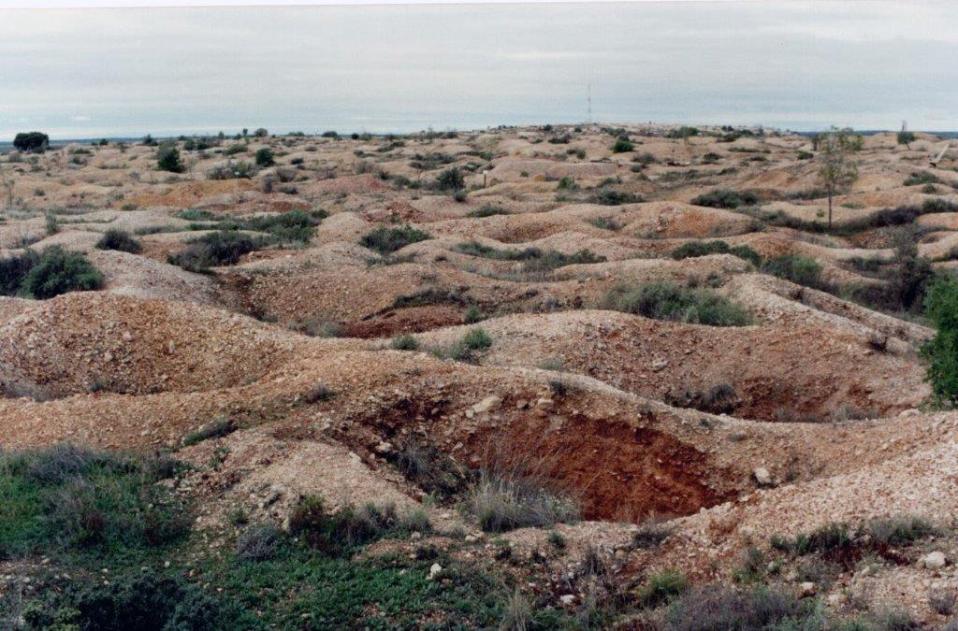 Opal field showing excavated spoil where shafts have been dug.
WHITE CLIFFS, NSW – 1990
By George Repin
White Cliffs is a small town in the Central Darling Shire of outback New South Wales about 255 Kms. northeast of Broken Hill and 93 Kms north of Wilcannia. Its population at the 2011 census was 103.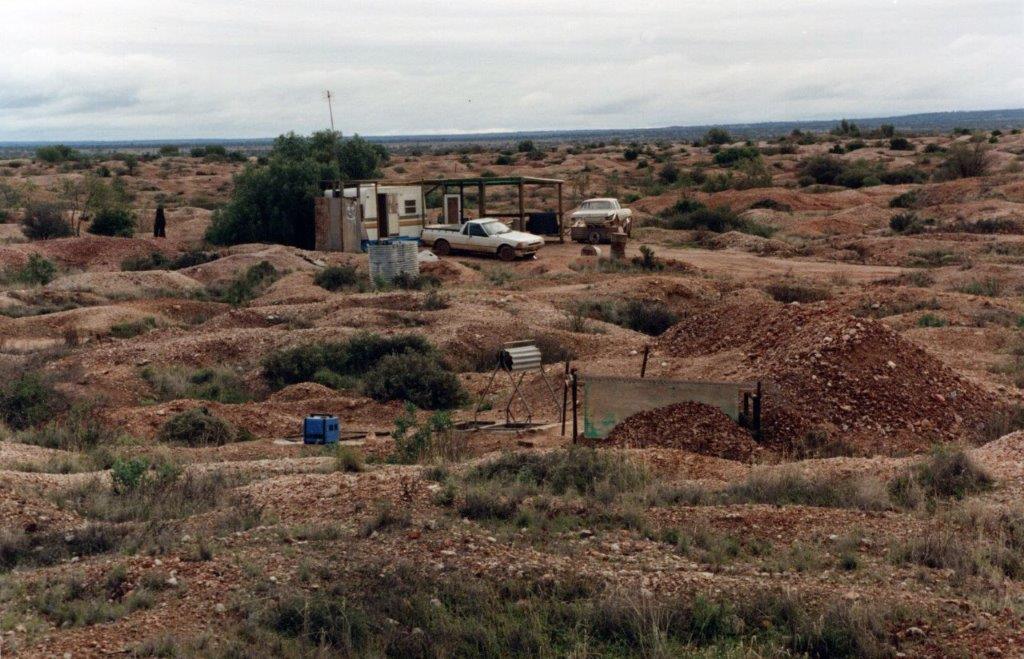 Opal field with prospector's shelter.

As Australia's first commercial opal field White Cliffs has a spectacular historical background – a contrast of great wealth and stark poverty – of lavish living and survival by handouts from friends.
The first opal was found by kangaroo shooters on Momba Station in 1889. When Tullie Wollaston, who had worked in the Surveyor-General's Department in Adelaide, saw samples of the opal, within two days he was on his way to White Cliffs to investigate the discovery. Within a year he had White Cliffs opals on markets in Britain, on the Continent and the USA. German gem manufacturers quickly recognised the outstanding quality and their demand turned White Cliffs into the world's first opal boom town.
Although the first mining lease was taken out in March 1990 severe drought held up mining until 1893. Then, after news of two rich "pockets" hit the headlines in July, the population quickly grew within six months from 30 to around 500. By 1899 there were over 4,000 people in the town. With the prospectors came buyers and traders, and a variety of businesses, including five hotels, opened up. Guest houses, restaurants and clubs were quickly established to serve the community.
The good times did not last. Recurring droughts peaked in 1902. Lack of water and supplies drove many away. Quality opal became scarce, prices were low and news of a new field at Wallangulla (now better known as Lightning Ridge) drew hopeful prospectors away.
Very few international buyers came after 1904 and by 1914 there were only 30 diggers in White Cliffs.
Conditions were very hard for unsuccessful prospectors, for the poor and for their families. Children were born and died young – often from infectious diseases. Poignant grave stones tell something of the heartbreak that some families suffered. It is hard to hold back tears when looking at the dates on the grave stone erected for their children by Joseph and Mary Barrett, a photograph of which is included in this article.
Charlotte Annie

Died September 11, 1900
Alexandra

Died September 17, 1900
Maud Alice

Born September 11, 1900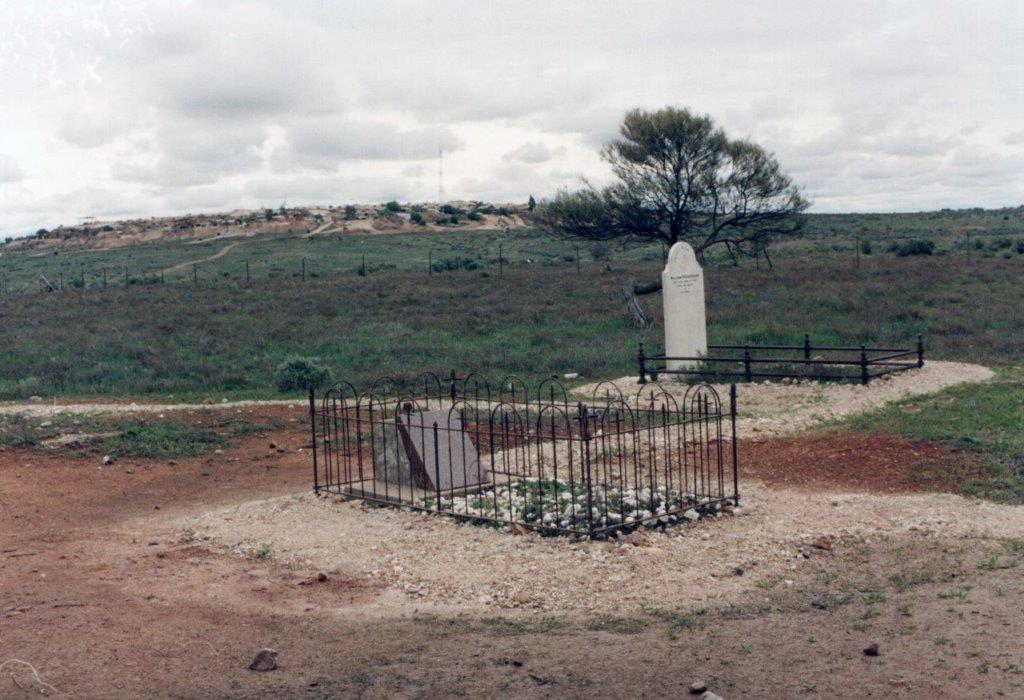 Lonely graves.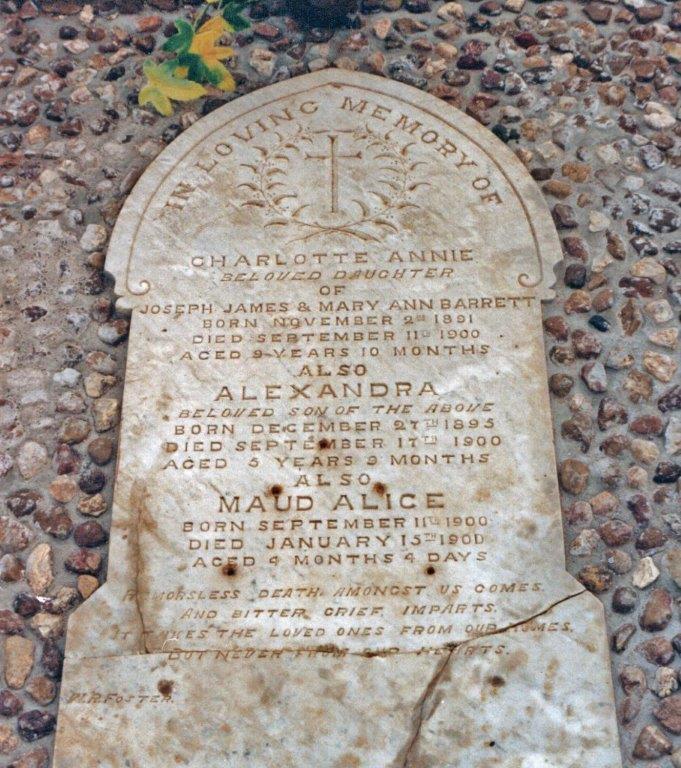 Headstone of the daughters of Joseph and Mary Barrett.
With average summer temperatures above 35C (96.5F) many residents live underground using mining equipment to dig extensive homes in the hillside to avoid the intense heat outside.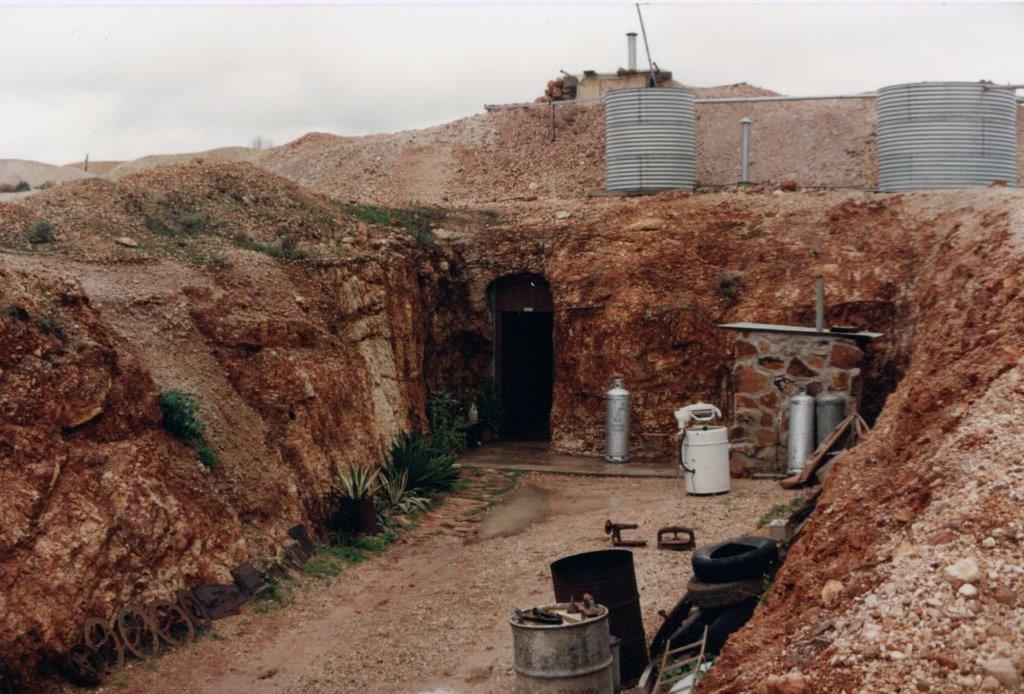 Entrance to an underground dwelling.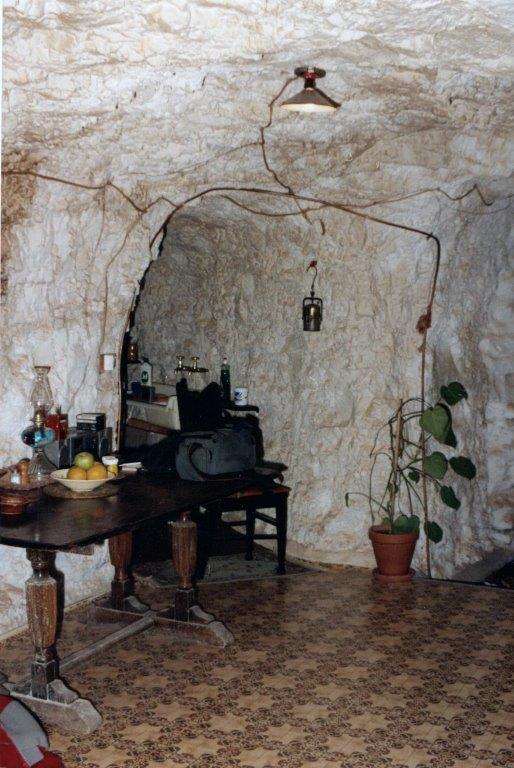 Living room underground.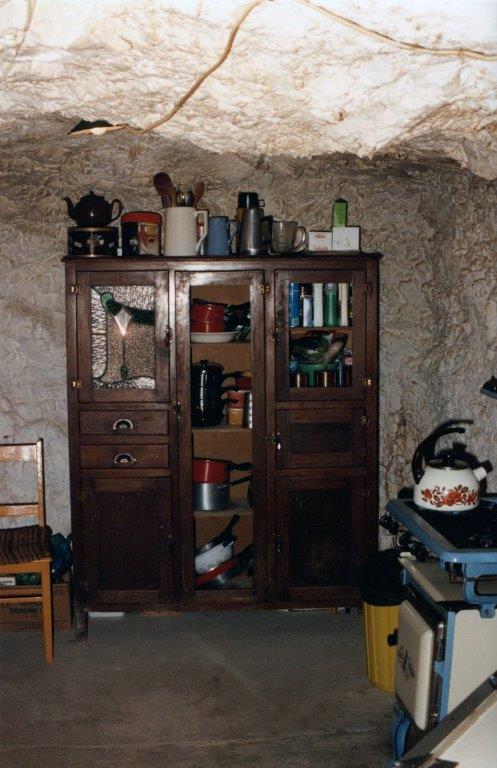 Kitchen area underground.
The White Cliffs Hotel, with some basic accommodation, services the town and surrounding areas, while a more upmarket underground motel is available for visitors to the town.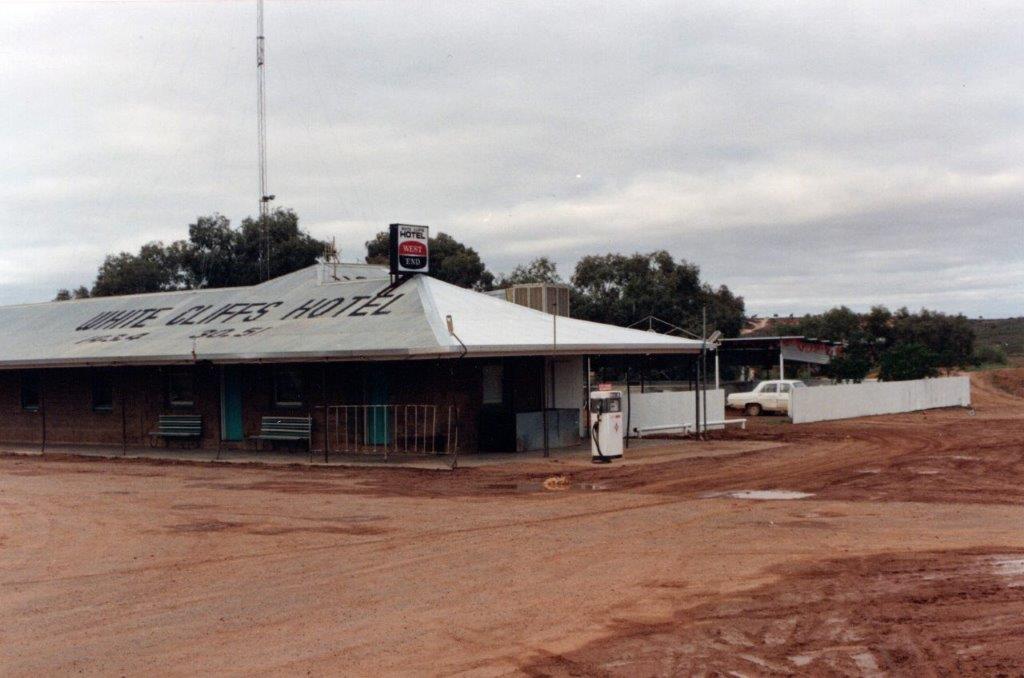 The White Cliffs Hotel.

In 1979 the NSW Government commissioned ANU to construct Australia's first experimental solar thermal power station. The power station was designed to provide up to 25 kW of electrical power to the White Cliffs township coming into operation on 30 November, 1983. The station consists of fourteen parabolic dish concentrating collectors, each five meters in diameter, mounted on sun-tracking pedestals set in concrete.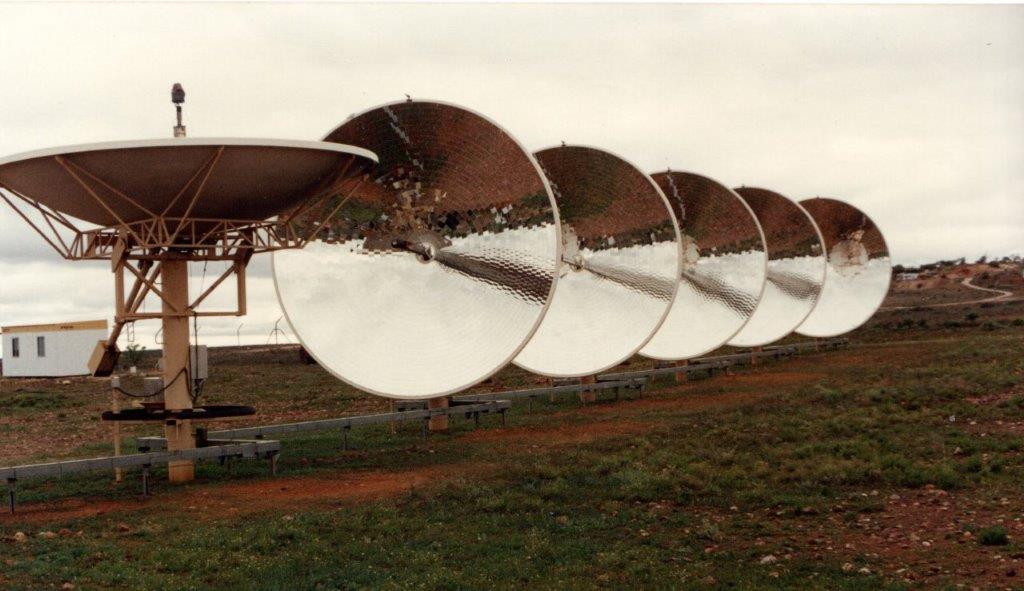 Parabolic dish concentrating collectors of the first experimental solar thermal power station.
White Cliffs today
There are now two underground motels – The White Cliffs Underground and PJ's Bed and Breakfast, as the town is becoming more dependent on tourism.
The White Cliffs Solar Power Station was upgraded in 1996 and now produces 45 kW using the same collector dishes but better technology.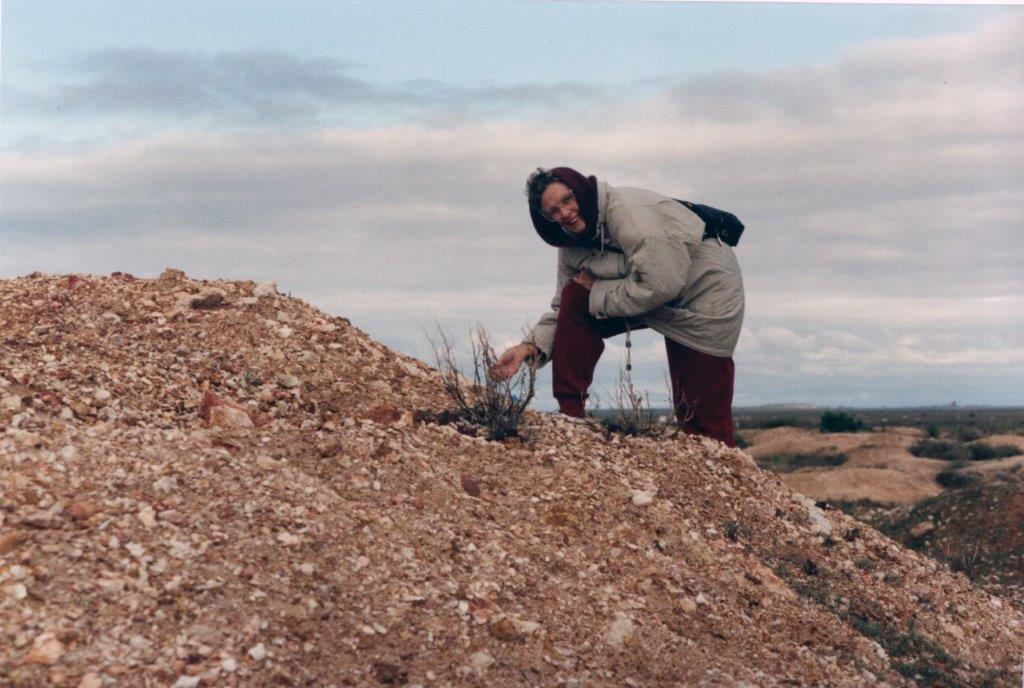 Fossicking for opal pieces.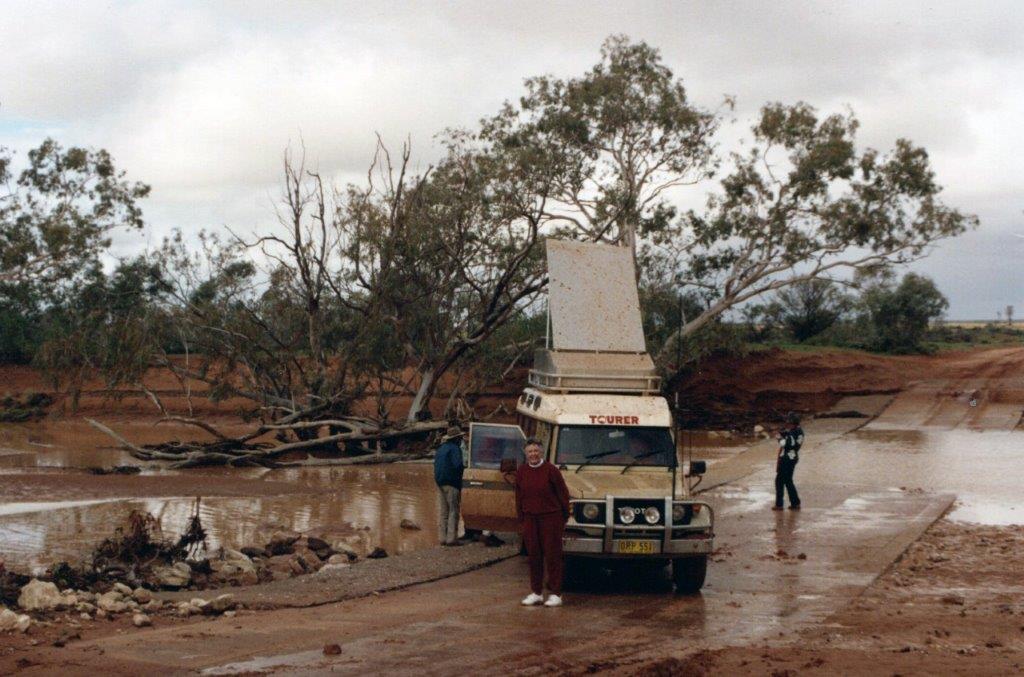 Getting out of White Cliffs during the "big wet" with the road virtually impassable.
(Photographs taken by George Repin in May, 1990)
Previous Reflections by George Repin
Copyright George Repin 2018. All Rights Reserved.