April 14 - 20, 2013: Issue 106
Making a Difference in Ethiopia
By George Repin
Dr Reg Hamlin, an obstetrician/gynaecologist, who had been the Medical Superintendent of the Women's Hospital, Crown Street, Sydney and his wife Dr Catherine Hamlin, also an obstetrician/gynaecologist, who had married in 1950, arrived in Addis Ababa in 1959 under a contract with the Ethiopian Government. The three year contract was to establish a greatly needed School of Midwifery at the Princess Tsehai Memorial Hospital but, after only ten midwives had been trained the Government withdrew funding and closed the school.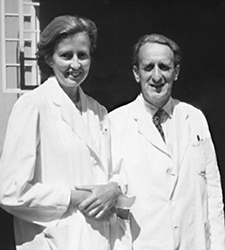 Doctors Reg and Catherine Hamlin in the early days at the Princess Tsehay Hospital

In the meantime the Hamlins had become acutely aware of the high incidence of obstetric fistulae among very young women in the country. Obstetric fistulae are extremely rare in countries with adequate obstetric/midwifery care (with access to episiotomy and Caesarean section). The Hamlins had never seen cases and it had been many years since operations for their repair had been performed in Australia. They set about learning the operative technique and in the first three years carried out about 300 operations.
There is no delicate way to describe an obstetric fistula. The following description is from an article by Nikki Barroclough in the Melbourne Age on December 1, 2008 following her visit to the Addis Ababa Fistula Hospital:
"….it's a hole which develops between a woman's vagina and her bladder, and sometimes between her vagina and her rectum, after days of obstructed labour without medical intervention, when the pressure of the baby's head against the mother's pelvis cuts off blood supply to delicate tissues. The mother usually gives birth to a dead baby, and if the resulting intense grief isn't enough to deal with, she'll find herself leaking urine, and sometimes faeces as well, through her vagina. The leaking is continuous and uncontrollable."
The women, because of their constant smell, tend to be abandoned by their husbands and they are often ostracised by their relatives who may build a small hut for them to live in, away from the rest of the family.
The Hamlins dedicated their lives to the repair of obstetric fistulae at first in the Memorial Hospital but ultimately, in 1974, in a purpose built facility – which is now the Addis Ababa Fistula Hospital. This is the only medical centre in the world dedicated exclusively to fistula repair.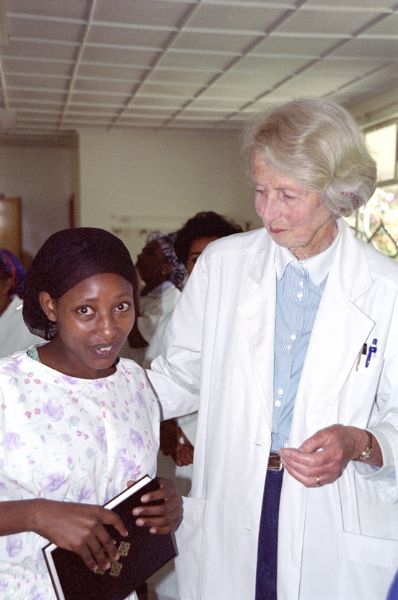 Dr. Catherine Hamlin with a young girl patient.
In a letter from Dr Catherine Hamlin in May 1983 she told me of her work:
"It is exciting and interesting and very worthwhile work – as our patients are all such young attractive women , who without this surgery would be doomed to a lonely life of misery! So our reward is seeing the change from this wretchedness to women once again with assurance and self respect – and able to marry again and have a living child! We get great joy therefore in our work! and also living in this really beautiful country – very like Australia in some of its country scenery – and in its many eucalyptic trees."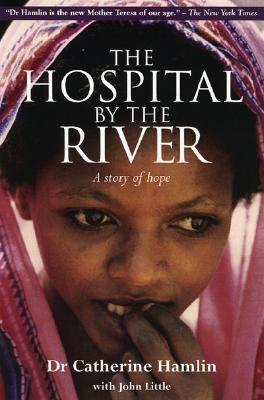 Reg Hamlin died in 2003. Catherine Hamlin stayed in Addis Ababa to continue the work she and her husband started. In an autobiography published in 2005 she wrote about their work and the hospital they established – weaving their story with the history of the hospital and of Ethiopia the country she adopted. The book is called The Hospital By the River.
Catherine Hamlin has received many awards recognising her work, including Companion of the Order of Australia (AC).
Copyright George Repin 2013. All Rights Reserved.
Addendum - Reflections:
Dr Catherine Hamlin AC - 2018 NSW Senior Australian Of The Year
Obstetrician Dr Catherine Hamlin AC, was nominated for her work in Africa providing care for fistula patients.
The 2018 NSW Senior Australian of the Year has devoted more than 50 years to giving women in Africa a second chance at life.
A surgical pioneer, Catherine and her late husband Dr Reginald Hamlin founded a network of six hospitals and a midwifery college in Ethiopia. The hospitals provide free fistula repair surgery to poor women suffering from horrendous and preventable childbirth injuries. The midwifery college trains midwives to prevent the injuries.
When Catherine arrived in Ethiopia in 1959, there were almost no resources for expectant mothers. Since then she and her team have treated more than 50,000 women, restoring their health and dignity. Catherine's organisation is a global centre of expertise in fistula repair and she trains surgeons from around the world. Through her foundation, Hamlin Fistula Ethiopia, Catherine is tackling a new fistula frontier, Uganda.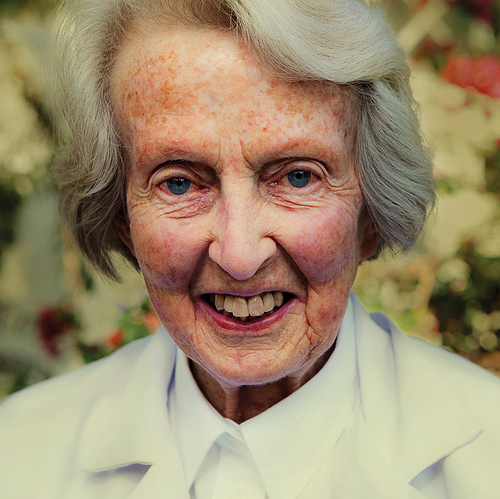 Now 94 years old, Catherine remains active in her day-to-day work at the hospital, healing women through surgery, rehabilitation and counselling, so they can be whole again.

Previous Reflections by George Repin