October 25 - 31, 2015: Issue 237
THE HANDICRAFTS OF CHIANG MAI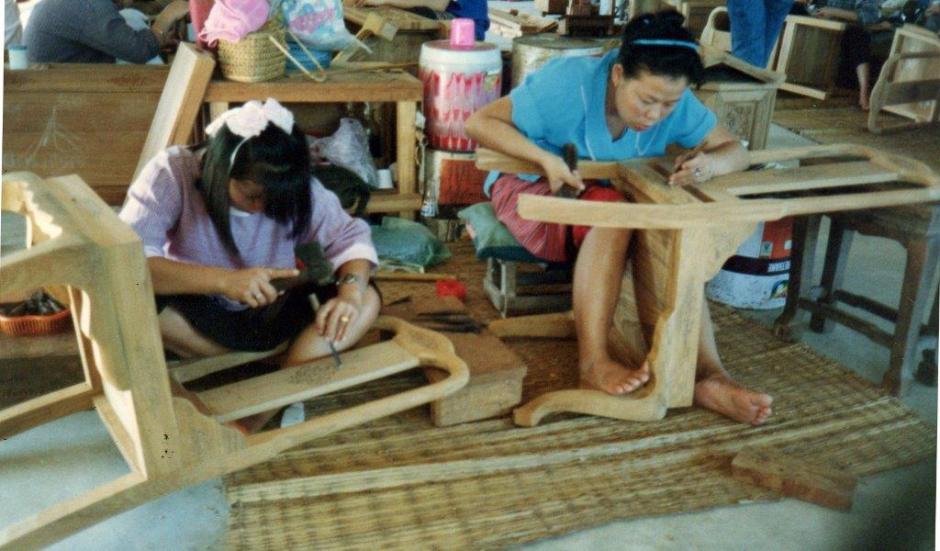 Carving designs into chairs
THE HANDICRAFTS OF CHIANG MAI
by George Repin
Chiang Mai, the second largest city of Thailand, is 710 Kms north of Bangkok in a valley 305 metres above sea level, making it a pleasant dry-season escape from the humidity of the capital.
Chiang Mai, often referred to as the Flower of the North offers historical temples, impressive mountain scenery, a wide array of handicrafts and is the gateway to areas inhabited by colourful minority populations sometimes referred to as "hill tribes".
In 1298 King Mangrai founded, in Chiang Mai, the capital of his Thai Kingdom. However, in less than a century, relations with Ayuthaya became strained and for 400 years its southern borders were unsafe. Although Ayuthaya was crushed in the 16th Century Chiang Mai's power began to wane and the Burmese invaded in the early 18th Century. They were defeated but the population had had enough and deserted the city. The city was re-established after 1796 when it came under the sway of Siam.
The city is famous for the wide variety of handicrafts which are produced in areas of the city specifically identified with individual crafts. The workshops welcome visitors and invite them to watch the items being produced. Needless to say most items are available, there and then, for purchase.
The umbrella-making area is east of the city. A cane stem is carefully cut and trimmed by a young man. Young girls cut bamboo strips which are then attached. Translucent paper, made locally from a special tree is meticulously pasted on and painted with two-toned brushes. The freshly dyed or painted umbrellas are left to dry in the sun.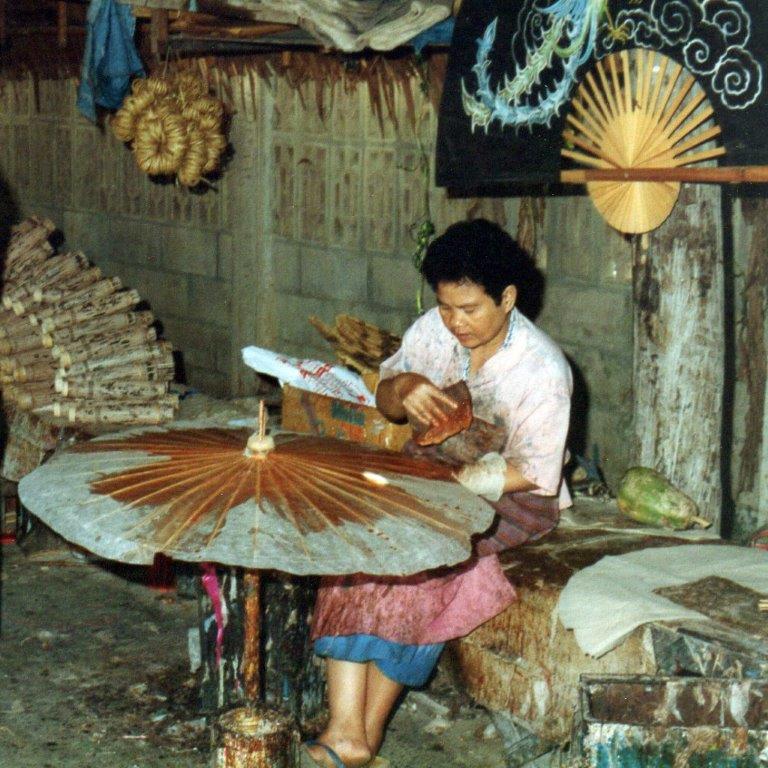 Making the frame of an umbrella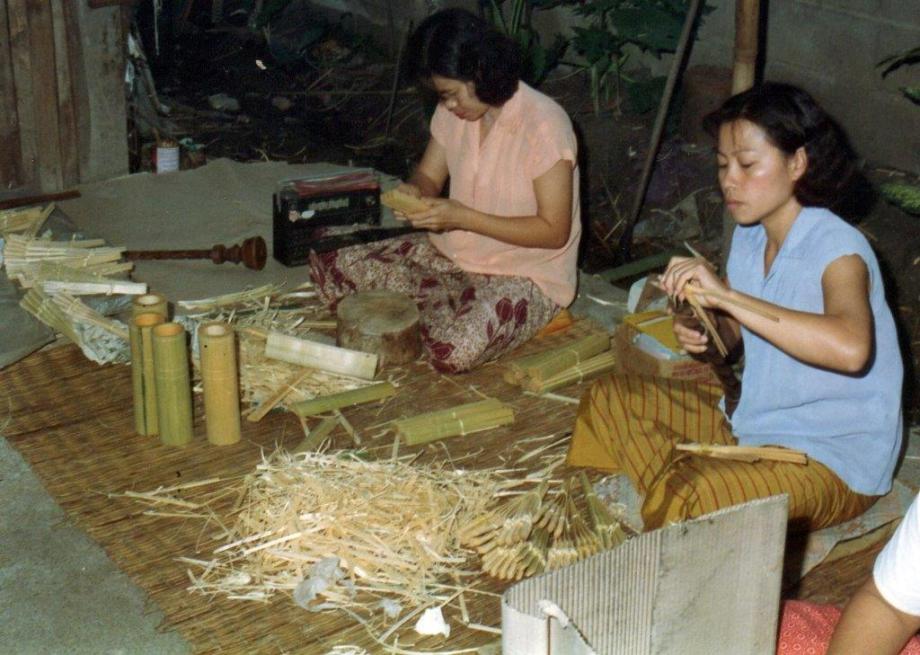 Girls cutting bamboo strips for umbrellas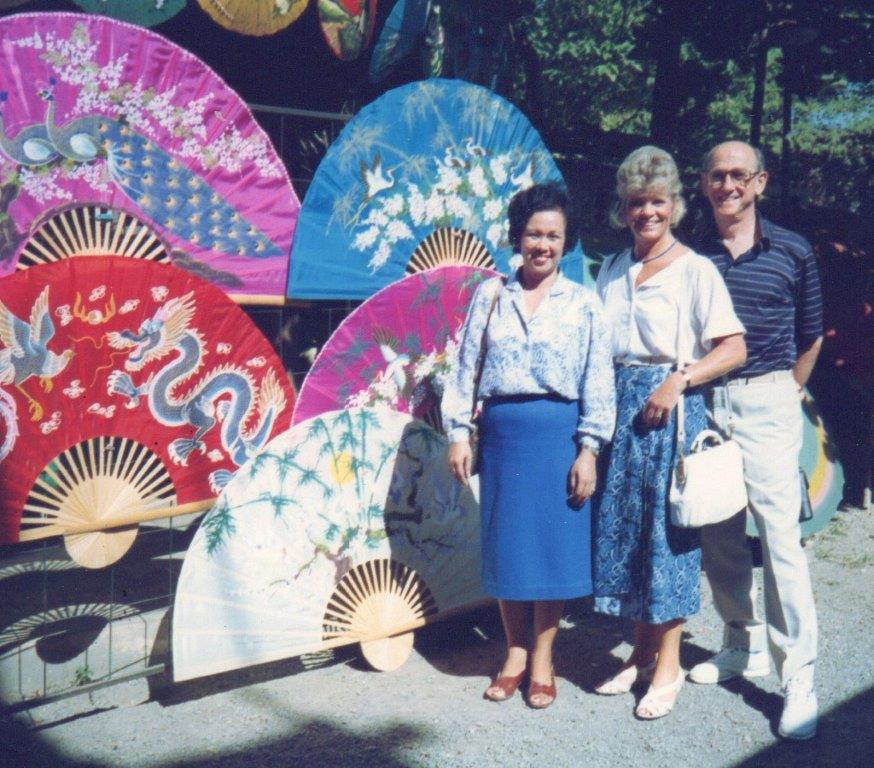 Painted umbrellas drying in the sun
In another area silk is extracted from silkworms. Breeding silkworms for the production of silk started in China at least 5000 years ago. Eggs take about 14 days to hatch and larvae emerge. After moulting four times they encase themselves in cocoons made of silk secreted by their salivary glands. The cocoons are then boiled to kill the silkworms. Each cocoon is made of a thread of raw silk from 300 to 900 metres in length. About 2000 to 3000 cocoons are needed to produce 1lb. (0.41 Kg.) of silk. The silk is spun into spools for weaving into the textile Thai silk.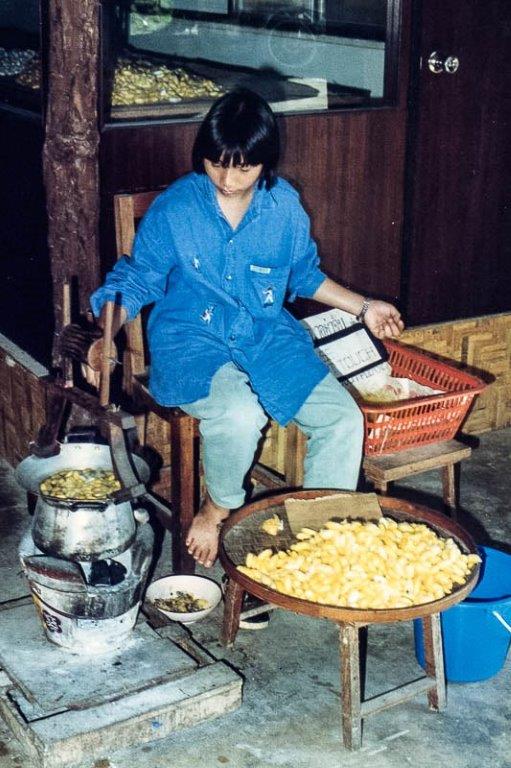 Boiling silkworm cocoons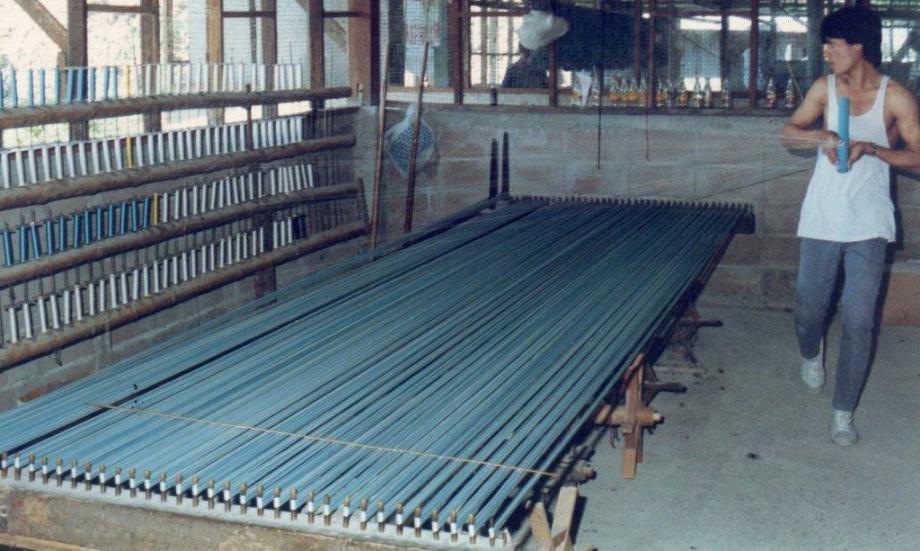 Spinning silk thread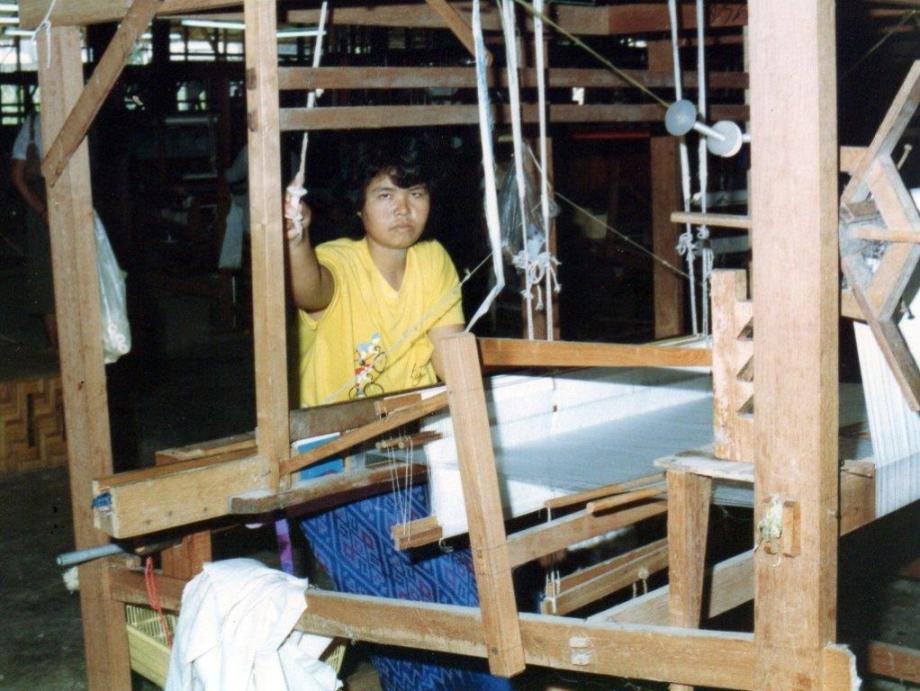 Weaving Thai Silk cloth
Near the south gate is the silversmith's street where silver objects and jewellery are crafted.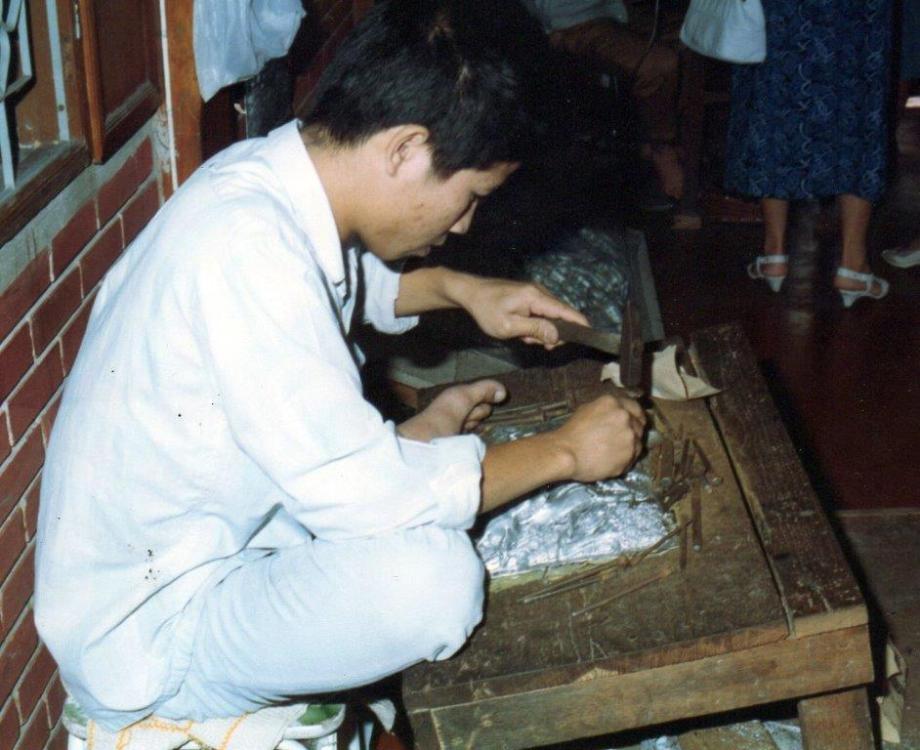 Silversmith at work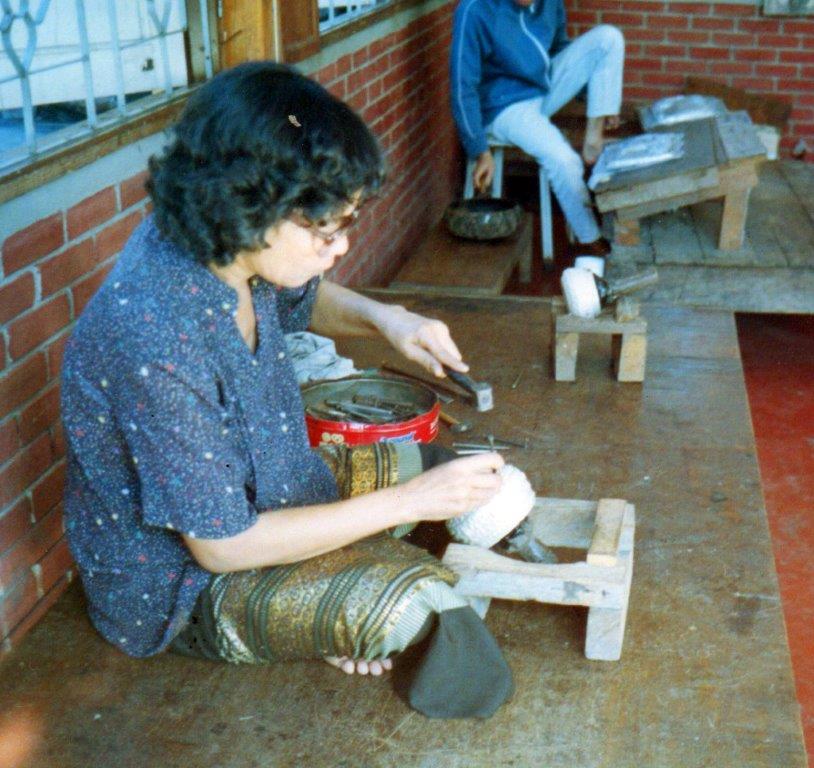 Woman imprinting the design into a silver bowl
Decorated teak furniture, decorative panels, salad bowls and trays are crafted on Rat Chiang Saen Street using well-seasoned teak. Items hawked in the street often are made of green teak which cracks within a few months.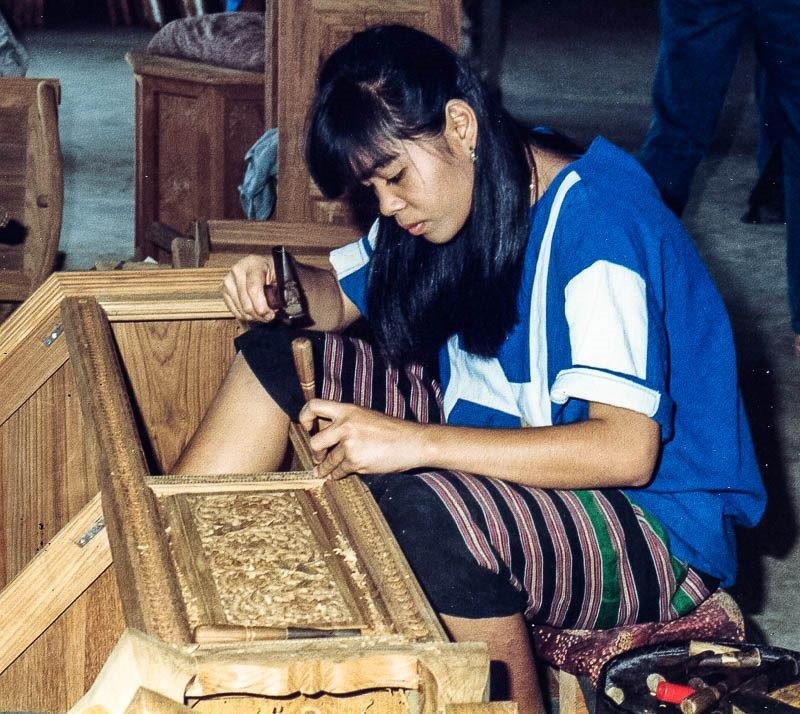 Girl carving a detailed design into an item of furniture
In other areas Thai Celadon and Thai Cotton is available.
A few hours around the various handicraft workshops in Chiang Mai is rewarding and time well spent.
Pictures taken by George Repin in 1987.
Previous Reflections by George Repin
Copyright George Repin 2015. All Rights Reserved.