October 8 - 14, 2017: Issue 332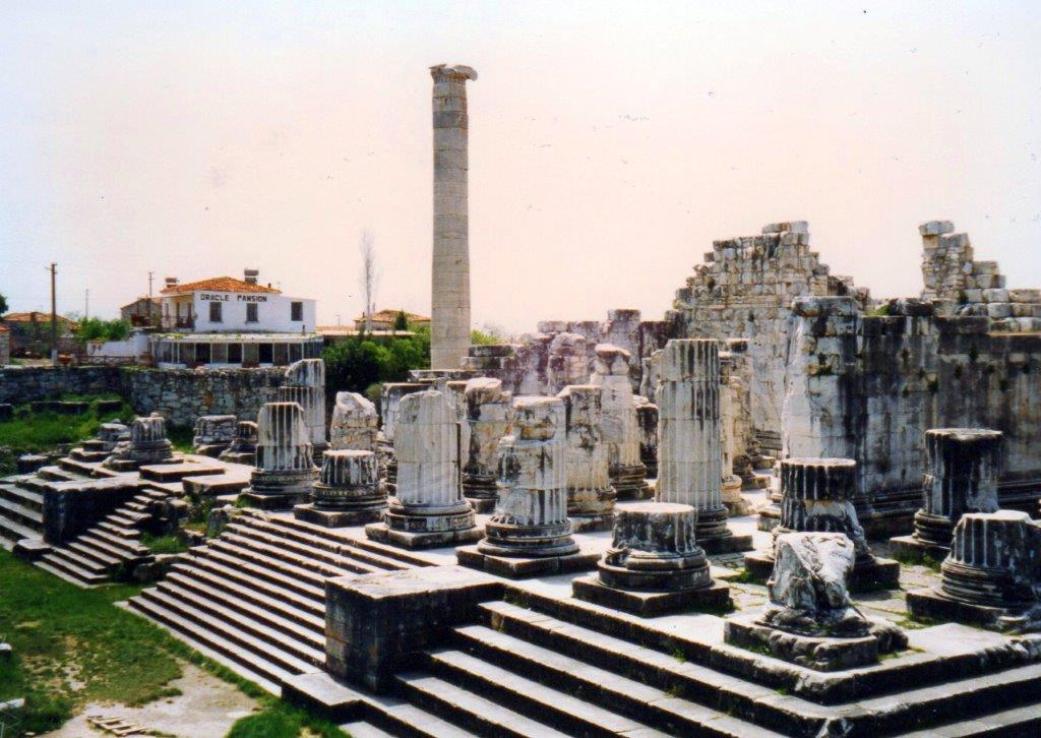 Overview of the temple site.
DIDYMA
Located on the coast of Ionia in Aydin Province of what is now modern Turkey Didyma was, after Delphi, the most renowned oracle of the Hellenic world. Mentioned in the Homeric Hymn to Apollo it was established before literacy. It was the largest and most significant sanctuary in the area of the great city of Miletus. It contained a temple and oracle of Apollo, the
Didymaion
.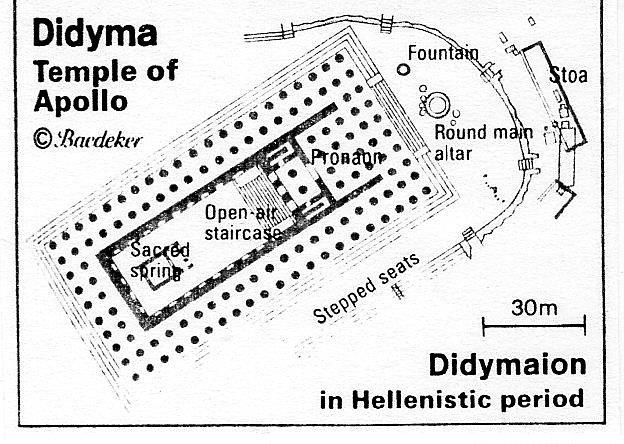 Plan of the Temple of Apollo.

Visitors to Didyma followed a Sacred Way, about 17Kms. in length, beside which were ritual waystations and statues of male and female figures dating back to the 6th Cent. BCE, some of which are now in the British Museum having been taken away in the 19th Cent. by a British archaeologist.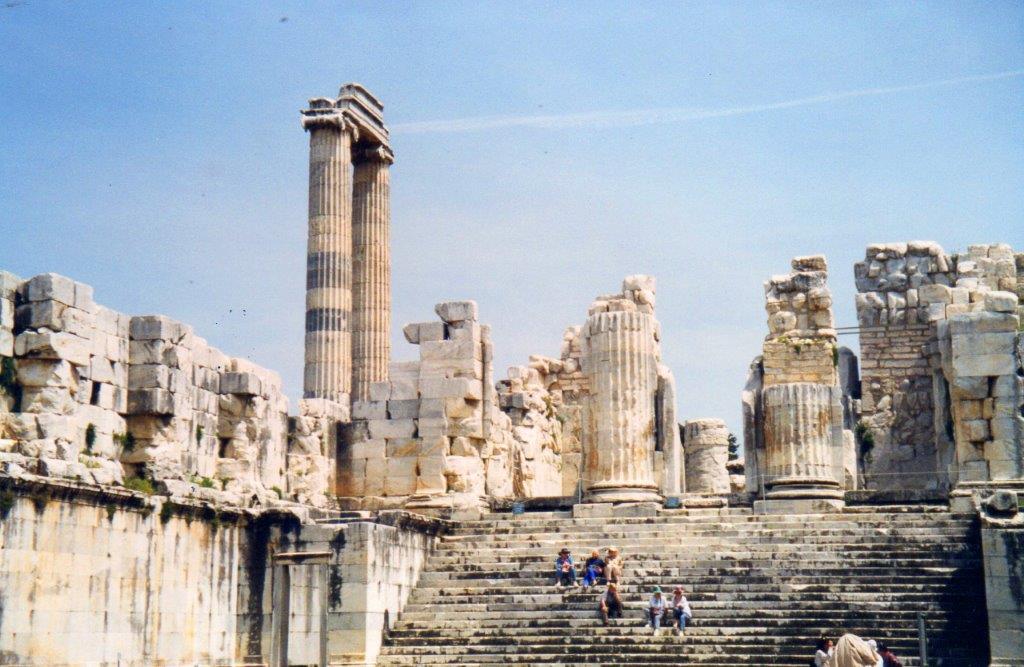 Entrance staircase. Note seated figures to recognise the scale.
The Branchidae family, who claimed descent from Branchos a youth beloved of Apollo, administered the sanctuary until the destruction of the Temple of Apollo by Darius' Persians in 493 BCE. Utterances by a priestess sitting above the sacred spring were interpreted by the Branchidae. With the destruction of the Temple the spring dried up and the oracle was silenced.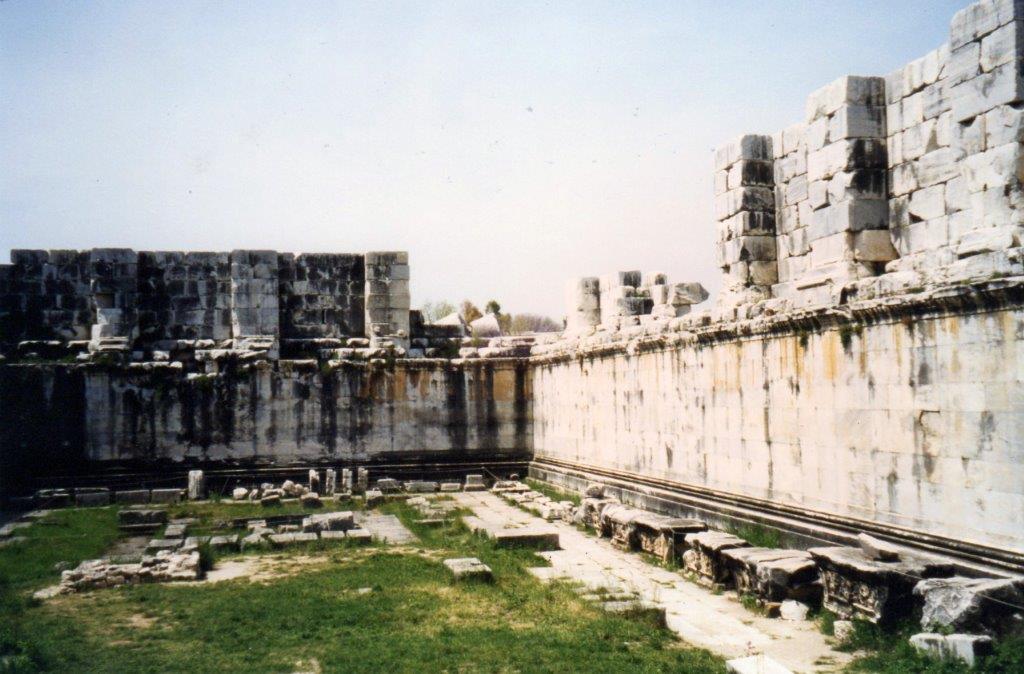 The adyton of the temple with the sacred spring at the far end.
Stone-carved Medusa heads.

Figure of a man to demonstrate the size of the stone-carved Medusa head.

Some restoration of the Temple started in 334 BCE. It was reported that the spring started to flow again after Alexandra the Great in that year passed through the area, reconsecrated the oracle and placed administration of the site in the hands of the city of Miletus. Reconstruction began in earnest in 300 BCE. It is known that three different contractors worked on the project but it was never completed.
Recent interpretation of inscriptions found on stones on the site have provided an insight into the costs involved in the reconstruction.
For example:
One column would require one mason working alone 20,000 hours to complete

The daily income of a stonemason was 2 drachmas (equivalent to approx. 8.6 grams of silver

Accordingly, the bare craftsmanship cost of one column would have been 20,000 workdays x 8.6 grams of silver = 172 kilograms (379 lbs of silver).
Massive columns.
Stone-carved bull's head.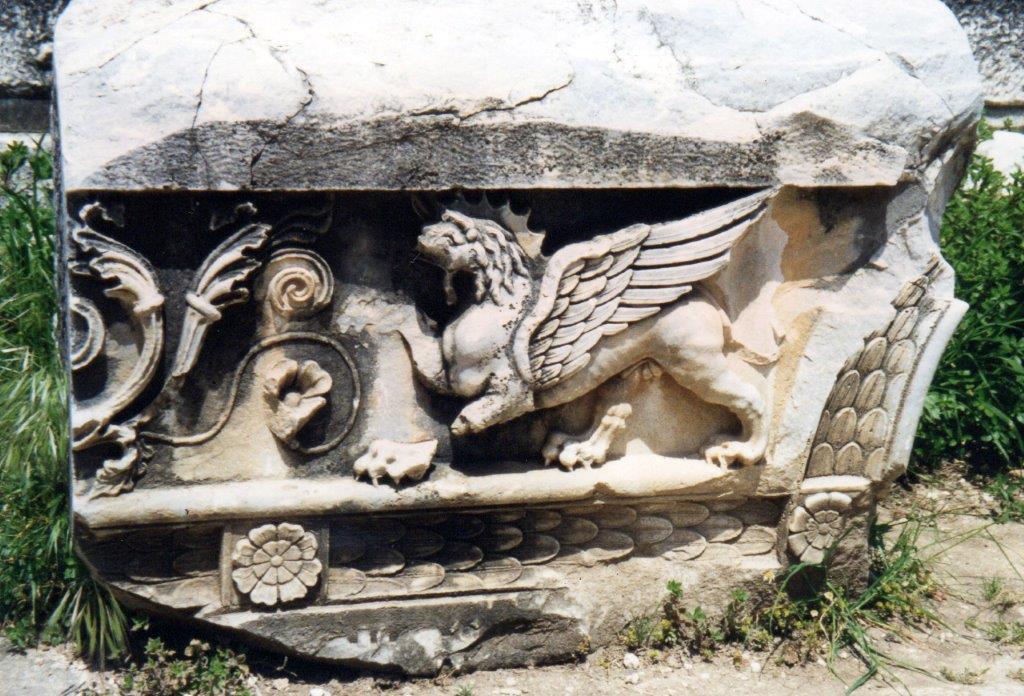 Part of a fallen decorative frieze.
(Photographs by George Repin in 1997)
Previous Reflections by George Repin
Copyright George Repin 2017. All Rights Reserved.