August 7 - 13, 2022: Issue 549

In Season: perfect pears - avocadoes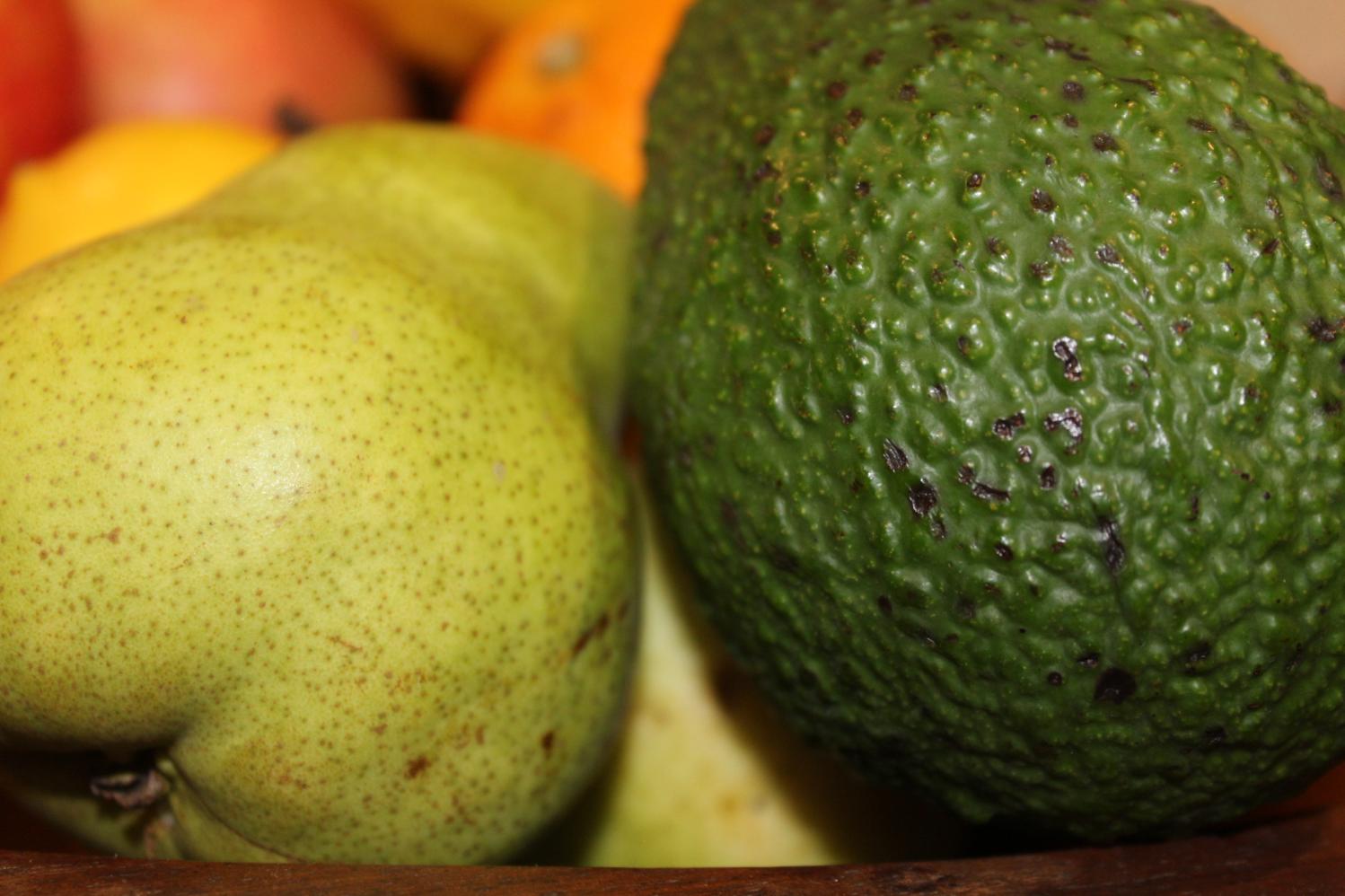 Although the best quality pears come into season in June and July you can still get some sweet dripping with juice varieties now, particularly the Packham Pear, a NSW developed variety. Loaded with Vitamin C, fibre and antioxidants, these are just what your body needs at this time of year.
Avocadoes are also in season in NSW, with prices reflecting the crop coming in. These are best enjoyed as guacamole, 'smashed' on toast with a few slices of tomato, as part of an omelette, or even chopped up and tossed through your favourite pasta dish at the last minute.
To go with these, or for desert, may we suggest:
Pear, Parmesan and Rocket salad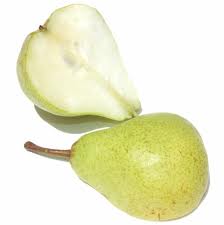 Ingredients
50g (1/2 bunch) rocket, trimmed
1/2 small green oakleaf lettuce, washed, dried
50g piece Parmesan, shaved
40g (1/3 cup) walnut pieces
2 tbs chopped fresh chives
1 (about 300g) ripe pear (like beurre bosc, packham or williams)
Dressing
2 tbs olive oil
1 tbs cider vinegar
Salt & ground black pepper, to taste
Dressing: place the olive oil and vinegar in a small bowl. Season with salt and pepper and whisk to combine.
Place the rocket, lettuce, Parmesan, walnuts and chives in a large bowl. Peel, quarter and core the pear. Slice each quarter into four. Add to the salad with the dressing and toss well. Serve immediately.
Warm sticky pear cake
Ingredients
150g (1 cup) dried pitted dates
250ml (1 cup) boiling water
1 tsp bicarbonate of soda
215g (1 cup) caster sugar
180g butter, at room temperature
1 egg
225g (1 1/2 cups) self-raising flour
1 tsp ground cinnamon
3 Packham pears, peeled, cored, cut into 2cm pieces
185ml (3/4 cup) pouring cream
200g (1 cup, firmly packed) brown sugar
Preheat oven to 180°C. Line a round 22cm (base measurement) cake pan with non-stick baking paper. Coarsely chop the dates and place in a heatproof bowl. Add the water and bicarbonate of soda. Set aside to cool. Use a fork to coarsely mash.
Use an electric beater to beat the caster sugar and 125g of the butter in a bowl until pale and creamy. Beat in the egg. Sift the flour and cinnamon over the egg mixture. Add the date mixture and pear. Use a large metal spoon to fold until well combined. Pour into the lined pan. Bake for 1 hour 10 minutes or until a skewer inserted into the centre comes out clean.
Place the cream, brown sugar and remaining butter in a small saucepan over medium heat. Cook, stirring, for 5 minutes or until well combined.
Slice the cake and drizzle over the warm toffee sauce to serve.
Packham's triumph – the Australian Pear
The Packham pear was developed by Charles Packham at his property "Clifton" at Garra, near Molong in the New South Wales central west in 1895.

A Paragon Pear. Molong - Monday.-Mr. Charles Packham, an enthusiastic orchardist at Garra, has achieved much success at recent shows with a new pear propagated by him, which last year the Agricultural Department recommends him to call "Packham Triumph." 'He recently forwarded more samples to the department, on which Mr. Allen, fruit expert, reports: "This is without exception the best pear I have ever seen, and is well named Packham's Triumph. It is a triumph in pear culture, the flavour being quite unique-a beautiful sugary flavour, yet sufficiently tart to prevent it becoming insipid-melting, juicy, and pleasantly perfumed." A Paragon Pear. (1901, May 18). Goulburn Evening Penny Post(NSW : 1881 - 1940), p. 6. Retrieved from http://nla.gov.au/nla.news-article98726178

THE PACKHAM TRIUMPH PEAR.
Mr. C. H. Packham, of Garra, near Molong, has received an order from Mr. Luther Burbank, of the United States, for some grafting wood of his famous Packham's Triumph pear, declared by Australian fruit experts to be the best variety known. Mr. Burbank has written that he is much interested in the pear in question. THE PACKHAM TRIUMPH PEAR. (1906, September 26). The Farmer and Settler (NSW : 1906 - 1957), p. 5. Retrieved from http://nla.gov.au/nla.news-article109686071
Historic Molong ORCHARD that gave to the WORLD a New and DELICIOUS PEAR
By James Fraser.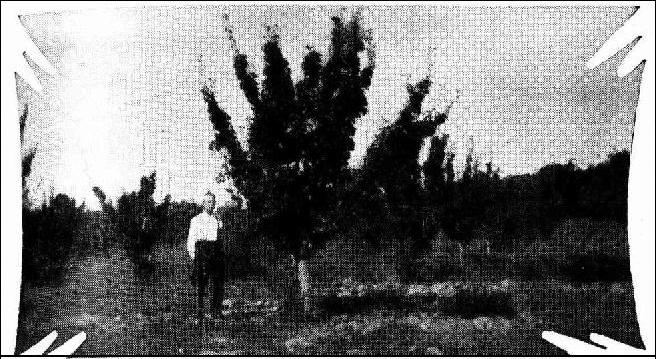 THE ORIGINAL PACKHAM'S TRIUMPH PEAR TREE, in the old orchard on Mr. S. W. Packham's property at Garra near Molong. It was here that the late Charles Henry Packham carried out his successful experiments in cross-pollination. Photo courtesy S. W. Packham.
THE orchards surrounding the little village of Garra, in the Molong district of central western New
South Wales, were the scene of extensive experiments in the hybridisation of fruits during the nineties of the last century. A large measure of success attended the efforts of at least one resident of that district—Mr. Charles Henry Packham, who had been specialising in the pollination and cross-pollination
of pears, but little did he think when he evolved what was later to be known as Packham's Triumph, that
his name would be perpetuated throughout the civilised world by the popularity of this delicious fruit.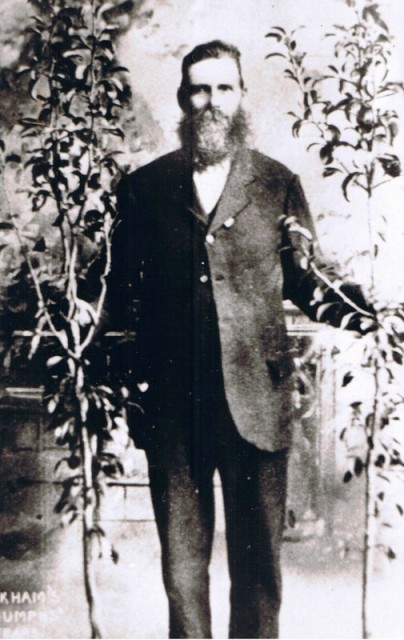 CHARLES HENRY PACKHAM, who died in 1909, at the age of 67 years, was born in the Parramatta district, his father being one of the pioneer settlers, and the subject of this article spent a life-long association with primary production, principally in the Molong district.

Eventually, he purchased "Clifton," Garra, where he at first conducted general farming operations. There was a small orchard on the property, in which he began to take a keen interest, and started experimenting along original lines; he was an intelligent experimentalist with an ideal, but his methods were not those which lead to great financial success-rather those of one who delights to give something new and better to his fellow man, without thought of reward.
IN 1895 came the great success of his work in this direction, following the pollination of the Eusdale St. Germain (sometimes called the Bell)pear with the Williams' Bon Chretien. From this pear (which contained from five to seven seeds) seedlings were planted out, until, at his death in 1909, there were 20,000 seedlings on his Garra property. The seedlings were planted out one foot apart in rows, with six feet between the rows. The idea was that every sixth tree in the row was to be the main tree; he would take buds from each tree for the main, and the rest of the work he would leave to nature to complete.
HIS enthusiasm for this work was so great that he was experimenting continuously along new lines in quest of something new.
On one occasion, he exhibited at the Sydney Royal Show a pear tree about three feet high, bearing fruit. This he obtained by selecting a short upright limb of a Bell pear tree, inserting the limb in a hole cut in a piece of timber, so that the board would fit snugly near the joint, grafting roots on the limb above the board, placing a metal container similar in shape to an inverted bucket, filled with soil, around the roots, and at an opportune time, cutting the limb off the main tree. This limb had, of course, been budded previously with Triumph.
From the first crop of Triumphs, samples were sent to Mr. W. J. Allan, fruit expert of the Department of Agriculture, who reported that it was the best pear he had ever tasted; in fact, he said, "they are unique."
Mr. Packham received many requests for trees, and these were propagated and disposed of to Government Experimental farms. Some were sent to Tasmania, and later placed on the market by nurserymen.
HIS enthusiasm did not abate, and shortly afterwards another pear, which bore the name of Packham's Late, was produced. The fruit of this is larger than that of the Triumph, and longer in shape, being also of a lighter green in colour. This, however, did not catch the public's fancy to the same ' extent as the Triumph, taking too long to ripen, and were mostly sold for cooking purposes. These two varieties are still regarded as among the best pears for cold storage purposes.
Unfortunately, there is no record of how the Packham's Late was originally produced. Still another variety was evolved in Packham's Autumn Nella, which is similar to the Winter Nella in flavour, but a little longer in shape and a midseason pear; this variety did not goon to the market, but in the old orchard there still remains a tree of Packham's Autumn Nella in full bearing. The only fertiliser used during the experiments was stable manure.
MR. S. W. PACKHAM, a son of our experimenter, still lives in the Molong district, where he is interested in fruit-growing. He is also interested in public affairs, and is an alderman of the Molong Municipality, president of the local Fruitgrowers' Association, and secretary of the Copper Hill Agricultural Bureau, while it is only natural that his opinions in matters appertaining to fruit-growing should be held in respect.
It is interesting to note that the orchard at Garra is practically all good sandy loam, with a westerly aspect, which Mr. Packham does not consider a disadvantage, and assertsthat he can grow anything in the nature of pome fruit and oranges and lemons on the high lands.
"We take no notice of the situation now," he says. "As. long as the soil and the climate are suitable, anything will grow well."
He is of the opinion that there is no set limit to the useful life of a pear tree, so long as it is healthy. He has had pear trees which were put in over fifty years ago, and they were growing vigorously and cropping heavily until about eight years ago, when the orchard was grubbed, as the trees were a nuisance owing to the prevalence of so many pests, and the trees were on good land that could be used to better advantage. He is now raising a quantity of Late and Triumph seedlings to graft or bud to form another orchard on this area.
THE original Triumph tree was destroyed about eighteen years ago. In fact, Mr. S. W. Packham, who was away from the district for about, five years, on his return did not agree with the raising of so many, seedlings, and later grubbed them all out, including the those in which- his father, met with greatest success in cross-pollinating and evolving the new strains and discoveries.
Official figures show that the Packham's Triumph is the second most popular pear among growers in this State, there being in 1928 a total of 123,000 Williams and 72,000 Packham's Triumph trees.
The Department of Agriculture, owing to complaints of bad setting of the fruit, particularly in tableland districts, conducted a five years' test, and arrived at the conclusion that the lack of cross-pollination was the main cause of the trouble. In this regard, Mr. Packham states that there has never been any cause for complaint so far as the Garra district is concerned. The officers of the Department report that that they were led to the conclusion from their extensive experiments, that Williams' prove an efficient pollinator for the Triumph, but that it commenced blossoming a little later.
Of the varieties tested, Josephine de Malines, Baronne de Mello and Beurre Superfine usually blossom at the same time as the Triumph, and from this viewpoint they were most satisfactory for interplanting than Williams, Josephine being the first choice, as it is the best commercial variety, but to ensure the most satisfactory pollination in a commercial orchards, it was suggested that there should be at least two pollinating varieties, and at least one hive of bees to each acre to ensure a maximum transference of pollen. Historic Molong ORCHARD that gave to the WORLD a New and DELICIOUS PEAR. (1933, September 1). The Land(Sydney, NSW : 1911 - 1954), p. 9. Retrieved from http://nla.gov.au/nla.news-article104243760
Recipe Ideas - Seasonal Fruits and Vegetables
Apricot - January Summer Fruits
Artichoke – The Flower Vegetable that Crops in Spring
Australian and Native Cherries (Summer Fruits) - the Duntroon Connection - Marrianne Collinson Campbell
Australian Families Encouraged To Tuck Into A Healthy and Sustainable Challenge

Autumn Feast of Fresh Fruits and Vegetables for a Healthy Body
Autumn Tonic Soup: keep the chills out as we head into Winter with this simple seasonal recipe
Cherry - Australian summer Fruit

Chick Pea Burgers with Homemade Hummus

Cook A Mother's Day Feast - Give Mum The Day Off
Easter Feast - modern and historic
Easter Feast 2022: Our Tried + Tested Triple Chocolate Pudding

Edible Weeds Eggs: Five Ways - Savoury
Full Fruit Bowl for Seasonal Health
Green Beans - Spring Vegetables
Healthful Cordials And Cleansing Tonics Hogmanay (New Year) Dinner - Australian Style Home Grown Food Program in Fruit and Veg Month by Jess Rosman
Honey, Honey: Inaugural World Bee Day - Honey Cake Recipes Around the World
How To Make Your Diet More Sustainable, Healthy Or Cheap – Without Giving Up Nutrients by Brad Ridoutt, Principal Research Scientist, CSIRO Agriculture

Kale: for Pure Energy Kale, Ricotta And Chicken Cannelloni
Make Your Own Treats For Christmas Gifts - Jaffa Rum Balls, White Christmas, Gingerbread People, Spicy Nut Mix, Strawberries Dipped in Christmas, Scottish Shortbread, Spanish Polverones, Melomakarona (Greek Christmas Honey Cookies), Kourabiedes (Greek Butter Biscuits), Italian Lemon Shortbread Squares (Shortbread con crema al limone)
Mandarins Spring Fruits Mandarins Winter Fruits
Mother's Day at Breakfast Menu for those who 'can't cook'

Mums Vegetable Soup with Macaroni
Nicoise Salad: An Autumn Salad
Old Australian Chocolates Back On The Market: The Cherry Ripe Song of MacRobertsons

Packham's Triumph Pears - The Australian Pear
Parsnip - Winter Vegetables Pear - Autumn Fruits
Plastic Packaging Problem From Just One Meal + Council Looks Into Coffee Cup Reboot Of 'Swap This For That'

Potato Gnocchi Pumpkin Pumpkin Season 2015
Sage - the 'saving' herb Remembrance Day 2012 Food
Salad Season: Whole Meals In A Bowl Ideas

Sensational Hot Scones For Cold Winter Mornings

Spring Salad Season Spring Strawberries Spring Salads
Summer Lilli Pillis Summer Passionfruit Summer Peaches, Quandongs (Wild Peach) - Marian Rowan Ellis Summer Peaches - From Wyong! Summer Plums - Greengages
Summer Raspberries Native Ones - Adam Forster
Summer Stone Fruit: The Peaches, Apricots, Nectarines, Plums of things

Ten Minute Spring Salads; Spring Fare
Whole Pumpkin Stuffed With Chorizo, Rice and Goat Cheese: Winter Food

Winter Crops Winter Vegetable Pies Zucchini Strawberries Cauliflower
Winter Warmers: Parsnips, Pumpkin Soup Variations, Chocolate Self Saucing Pudding, Avocado Season

Winter Warmers 2022: Leek and Potato Soup, Coq Au Vin + Apple, Date and Walnut Cake With Caramel Sauce

Pittwater Restaurants, Cafés and Bistros
Addiction Food - Sydney Wildlife Fundraiser
Beco at Mona Vale, Newport and Avalon: Winter 2020

Boathouse at Palm Beach: Simply Smashing Spring Lunches

Brunch At Dunes Kiosk - Palm Beach

Café By The Sea + Cellar By The Sea

Café Edelweiss and the German Butchery at Bassett Street: Mona Vale
Dine and Discover: Premier's Visit Highlights Support For Local Restaurants and Cafes: Dine & Discover NSW (& Pittwater) Commences Late January 2021
Dine & Discover In Pittwater: By Postcode - Suburb - March 2021

Duck Creek Macadamias - Orange Obsessions
Feed Me Too - Supplier Of Allergy Free Food & Services

Flannerys Organic & Wholefoods Market - Mona Vale
Home Grown Food Program in Fruit and Veg Month by Jess Rosman
Japanese Cuisine in Avalon: Four Options
Kindred Peanut Butter: Great Food For A Good Cause From A Local Producer

Laurie Bimson's Marinated Kangaroo Recipe
Lobster Nights at Club Palm Beach
Marina Café: Church Point - within The Quays Marina at Church Point

Mekong: Merchants of Taste - Vietnamese street food Avalon Beach

Mekong Merchant Restaurants In Mona Vale And Avalon Beach: Pho Specialists!

Modus Operandi Brewing Co., Brilliant Beers, Beautiful Burgers in Mona Vale

Oceana Traders - Seafood Merchants, Avalon Beach: For Fish & Chips Excellence

Palm Beach Fish and Chips Tops Scale at 10
Parkview Restaurant: Avalon Beach RSL Club
Permanora Honey - Tom's Pure Honey From Elanora Heights

Pittwater COVID- 19 Restrictions Responses: Take Away from Restaurants and Cafes and Grocers and Food Available From Local Outlets Local food suppliers and cafes and restaurants are currently adapting to social-distancing requirements and the closure of public spaces to large gatherings. Listed this week are those that have food you can order for take away or delivery and also those who supplied these outlets who also have food available to purchase.

Premier's Visit Highlights Support For Local Restaurants And Cafes: Dine & Discover NSW (Pittwater)

Prontos Creative Food - Palm Beach Pronto Creative Food Celebrates 30 Years - Palm Beach Success Story for Local Lady Pronto Creative Food: Something Sweet
Riva Bar and Kitchen - Avalon Beach Riva Bar And Kitchen Autumn Lunch May 2019

RMYC Function Food at Rotary Club of Pittwater 52nd Changeover Dinner
RMYC Ladies Lunch for July(2012); 'Boosting Your Brain and turning Your Stress Into Success' by Dr. Helena Popovic
Rozana Mediterranean Cuisine - Avalon Beach

Sa-Biang Thai Restaurant At Avalon Beach

Salt Cove at RMYC Broken Bay Sky Thai Avalon Sushi Ichiri Sydney Edible Garden Trail Opens Next Weekend: March 21-22, 2020 - The Local Trail At Newport, Mona Vale, Elanora + More
The 2 Catherines Café, Catherine Park, Scotland Island

The Two Catherines Café by Robyn Iredale

The Avalon On The Beach Restaurant and Kiosk Opens in Avalon Beach SLSC clubhouse
The Balcony Room at Palm Beach Golf Club
The Chick'n Shack Café at Careel Bay - For Lovers Of Old School Burgers and New School Ways

The Little Oak Tree Cafe at Careel Bay Shops
The Old Civic Café and Diner, Mona Vale


To list your business, have a Pittwater Online News Food page run, or place a logo on the Pittwater Online News Food page, please contact us with details of your requirements. Logos may be embedded to redirect to your own website. Full pages include an overview of menus as well as beautiful images to make the food sampled look its best. Pages are archived into Permanent pages past their week of Issue.
Permanent pages in Pittwater Online News average 800 thousand visits per annum past their week of Issue ensuring diners will continue to view your eatery as a potential venue for breakfast, lunch or dinner or as the place to hold their larger functions.
For Rates and Packages Contact us at: pittwateronlinenews@live.com.au