September 17 - October 7, 2023: Issue 599

spring strawberries: recipe ideas for this Vitamin c boost fruit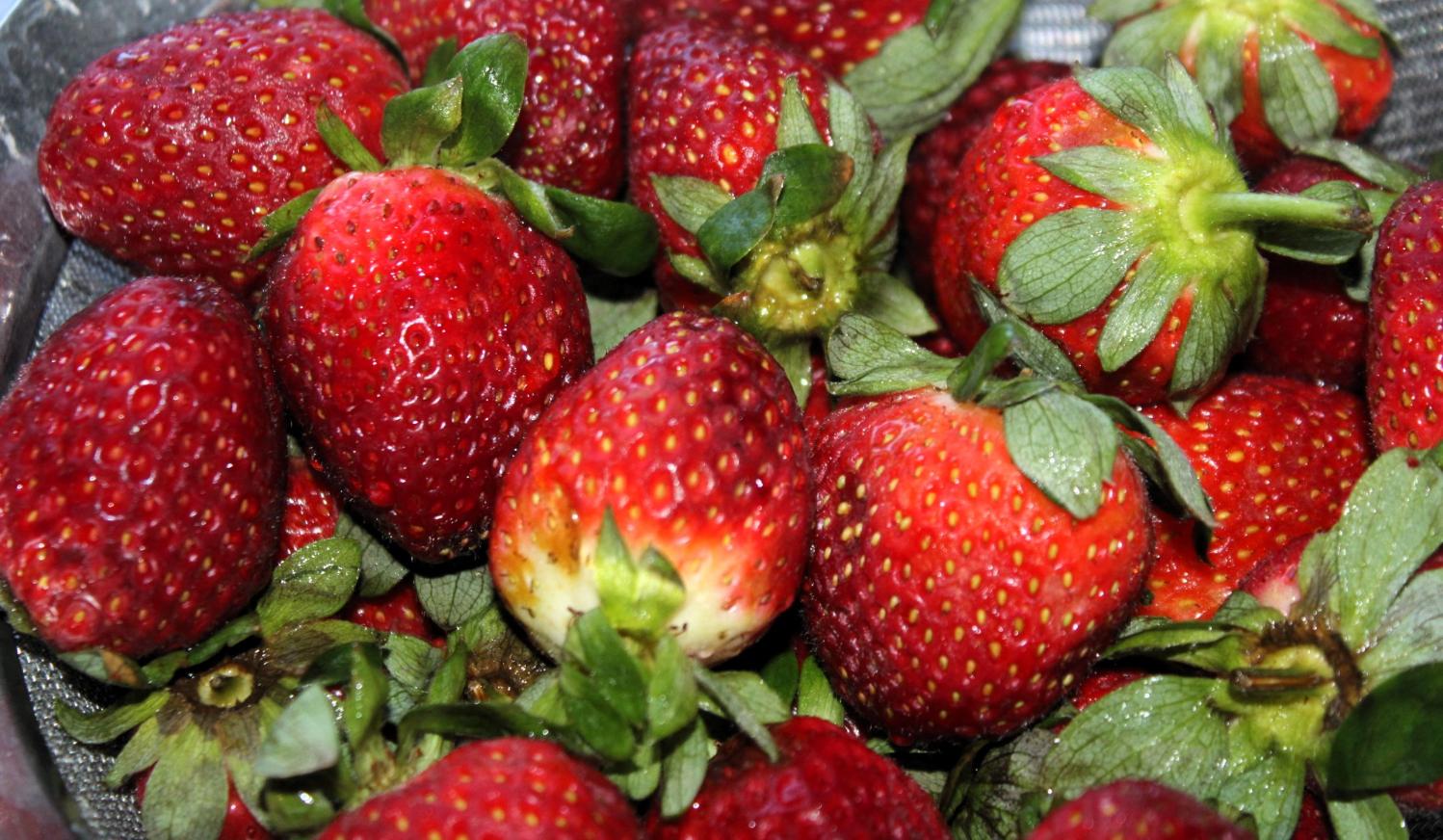 The first of the Spring strawberries have been coming into grocers during the past week, with a price tag that makes them affordable for many families.
One serving (100 g) of strawberries is an excellent source of vitamin C, a good source of manganese, and provides several other vitamins and dietary minerals in lesser amounts.
Eaten fresh or turned into a dessert, these glorious crimson treats will keep the season crossover sniffles at bay.
Dipped in chocolate…
Or in a soufflé…
Or just piled high on a dinner plate!
It is time to indulge your senses. A few recipe ideas run this Issue for your consideration.
Strawberry Mousse Pots
Serves 8
180g quality white cooking chocolate, chopped
1 cup thickened cream
500g strawberries, stalks removed
½ cup sifted pure icing sugar, plus 1 tablespoon extra for topping
¼ cup orange liqueur (Cointreau or Grand Marnier), plus 1 teaspoon extra for topping
2 teaspoons powdered gelatine
1 tablespoon water
8 ready-made chocolate dessert cups*
mint leaves, to garnish
Place chocolate and ¼ cup cream in a medium size heat proof bowl; place over simmering water, stirring occasionally, until smooth. Remove from heat. Reserve 250g strawberries for topping. Place remainder in a food processor along with icing sugar and liqueur; process until pureed. Gradually stir into chocolate mixture. Combine gelatine and water in a small glass jug or bowl. Fill sink about 2cm deep with boiling water; stand jug or bowl in sink and stir until gelatine dissolves. Stir into strawberry mixture. Refrigerate, stirring occasionally, for about 30 minutes or until just starting to thicken. Beat remaining cream until thick. Whisk ¼ of the cream into the strawberry mixture, then fold in remainder.
Place chocolate cups on a tray. Divide strawberry mixture between cups and refrigerate for about 3 hours or until set (once set, the pots can be stored in the fridge, loosely covered with clingwrap for up to 24 hours). Just before serving, slice reserved strawberries and place in a bowl. Add extra icing sugar and extra liqueur; stir gently. Set aside for about 3 minutes. Top mousse with strawberries and garnish with mint leaves.
Spinach and Strawberry Salad
Serves 8
2 bunches spinach, rinsed and torn into bite-size pieces
2 punnets of strawberries
½ cup roughly chopped walnuts
1/2 cup vegetable oil
1/4 cup white wine vinegar
1/4 cup white sugar
1/4 teaspoon paprika
2 tablespoons sesame seeds
1 tablespoon poppy seeds
In a large bowl, toss together the spinach, strawberries and walnuts. Then in a medium bowl, whisk together the oil, vinegar, sugar, paprika, sesame seeds, and poppy seeds. Pour over the spinach, strawberries and walnuts, and toss to coat.
Courtesy aussiestrawberries.com.au
Strawberry Soufflé
Serves 8
Nonstick vegetable oil spray
2 punnets of strawberries, hulled
7 tablespoons caster sugar
1 tablespoon cornflour
3/4 teaspoon grated orange peel
4 large egg whites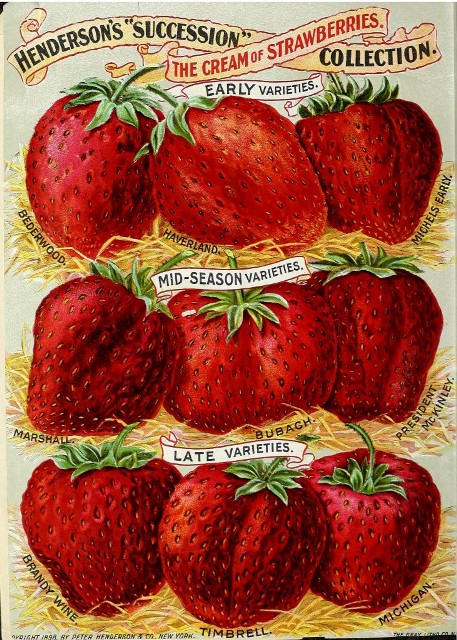 Preheat oven to 180°C. Spray 6-cup soufflé dish with vegetable oil spray and shake a little caster sugar around sides (this gives mixture something to climb on and stick to). Coarsely puree half of berries with 3 tablespoons sugar and cornflour in processor or by hand. Transfer to small saucepan and stir over medium heat until mixture boils and thickens, about 3 minutes. Whisk in peel. Allow to cool completely. Slice remaining berries. Transfer to medium bowl. Add 1 tablespoon sugar; toss to blend. Beat egg whites in a separate large bowl until soft peaks form. Gradually add 3 tablespoons sugar; and beat until stiff but not dry. Fold puree into whites in 3 additions. Transfer to prepared dish. Bake until soufflé is puffed and golden, about 18 minutes. Serve immediately with sliced berries and fresh cream. Bliss!
Strawberry Sponge finger slice
1 punnet (250g) fresh strawberries, hulled, thickly sliced
2 tablespoons caster sugar
185ml (3/4 cup) strawberry flavoured topping
1 250g container mascarpone
1 egg
80ml (1/3 cup) hot water
12 savoiardi sponge finger biscuits
Combine strawberries, 1 tablespoon each of the sugar and strawberry topping. Toss to combine. Set aside until required. Use an electric beater to beat mascarpone, egg and remaining sugar in bowl until firm peaks form.
Place water and 125ml (1/2 cup) of strawberry topping in saucepan over medium heat. Simmer, stirring, for 1-2 minutes or until heated through.
Line a 12 x 22cm loaf pan with plastic wrap, allowing plastic to overhang sides. Arrange 6 sponge fingers, in a single layer, over base of pan. Drizzle half the warm strawberry syrup evenly over biscuits and top with half the strawberry slices, pressing down firmly with back of a spoon. Use a spatula to spread half the mascarpone mixture over strawberries. Repeat with another layer of biscuits, warm strawberry syrup and mascarpone. Use the back of a spoon to press down firmly and smooth surface. Cover with plastic wrap and place in fridge for at least 10 minutes to chill.
Use plastic wrap to carefully lift slice out of pan onto a plate. Cut into slices and serve immediately drizzled with remaining syrup.
Strawberry and Basil tart
Adopted from recipe idea by Tom Kerridge
For the pastry (if pastry making isn't your keenest skill, purchase ready made shortcrust)
125g butter
200g plain flour, plus extra for dusting
60g caster sugar
1 egg yolk
400ml whole milk
70g caster sugar
½ a vanilla pod, seeds scraped
4 eggs
20g plain flour
20g cornflour
50ml double cream
400g strawberries
5 tbsp strawberry jam
small handful small basil leaves
Make the pastry by putting the butter and flour in a food processor and pulsing to a crumbly mixture. Tip in the sugar and egg yolk, and pulse to a dough. Wrap in cling film and chill in the fridge for at least 1 hr. Roll out the dough on a floured surface to the thickness of a £1 coin, then drape over a 12 x 35cm rectangular tart tin, press into the sides, and chill for 30 mins.
Heat oven to 180C. Line the pastry case with parchment and baking beans. Bake for 25 mins until the pastry is a light biscuit colour. Remove the beans and parchment; if needed, bake a little longer just to crisp up the base.
Bring the milk, sugar and vanilla to the boil. Whisk the eggs and flours together, then pour over the milk, whisking as you pour. Return the mix to the pan and cook until it becomes a thick custard. Pass it through a fine sieve and leave to cool.
Once cooled, whisk the cream until it holds its shape. Fold the cream and custard together.
When the tart case is cool, spread the custard over the base. Slice the strawberries and arrange them over the top. Bring the jam to the boil with a few tbsp water, simmer to a smooth glaze, then brush over the strawberries. Scatter over the basil leaves and serve.
Pastry for double-crust pie
Combine 2-1/2 cups all-purpose flour and 1/2 tsp. salt; cut in 1 cup cold butter until crumbly. Gradually add 1/3 to 2/3 cup ice water, tossing with a fork until dough holds together when pressed. Divide dough in half. Shape each into a disk; wrap in plastic wrap. Refrigerate 1 hour or overnight.
1/2 cup plus 1 tablespoon sugar, divided
1/4 cup all-purpose flour
1/2 teaspoon ground cinnamon
4 cups fresh strawberries, sliced
Pastry for double-crust pie (9 inches)
2 tablespoons of a light milk
Preheat oven to 180°. In a large bowl, mix 1/2 cup sugar, flour and cinnamon; add strawberries and toss to coat.
On a lightly floured surface, roll one half of pastry dough to a 1/8-in.-thick circle; transfer to a 9-in. pie plate. Trim pastry even with rim. Add filling.
Roll remaining dough to a 1/8-in.-thick circle. Place over filling. Trim, seal and flute edge. Cut slits in top. Brush with milk; sprinkle with remaining sugar.
Bake 35-40 minutes or until crust is golden brown and filling is bubbly. Cover edge loosely with foil during the last 20 minutes if needed to prevent overbrowning.
Cool on a wire rack 1 hour before serving.
The first garden strawberry was grown in Brittany, France during the late 18th century. Prior to this, wild strawberries and cultivated selections from wild strawberry species were the common source of the fruit.
The strawberry fruit was mentioned in ancient Roman literature in reference to its medicinal use. The French began taking the strawberry from the forest to their gardens for harvest in the 14th century. Charles V, France's king from 1364 to 1380, had 1,200 strawberry plants in his royal garden. In the early 15th century western European monks were using the wild strawberry in their illuminated manuscripts.
The strawberry is found in Italian, Flemish, and German art, and in English miniatures. The entire strawberry plant was used to treat depressive illnesses.
By the 16th century, references of cultivation of the strawberry became more common. People began using it for its supposed medicinal properties and botanists began naming the different species. In England the demand for regular strawberry farming had increased by the mid-16th century.
The combination of strawberries and cream was created by Thomas Wolsey in the court of King Henry VIII. Instructions for growing and harvesting strawberries showed up in writing in 1578. By the end of the 16th century three European species had been cited: F. vesca, F. moschata, and F. viridis. The garden strawberry was transplanted from the forests and then the plants would be propagated by cutting off the runners.
Two subspecies of F. vesca were identified: F. sylvestris alba and F. sylvestris semperflorens. The introduction of F. virginiana from Eastern North America to Europe in the 17th century is an important part of history because this species gave rise to the modern strawberry.
The new species gradually spread through the continent and did not become completely appreciated until the end of the 18th century. When a French excursion journeyed to Chile in 1712, it introduced the strawberry plant with female flowers that resulted in the common strawberry that we have today.
The strawberry is not, from a botanical point of view, a berry. Technically, it is an aggregate accessory fruit, meaning that the fleshy part is derived not from the plant's ovaries but from the receptacle that holds the ovaries. Each apparent "seed" (achene) on the outside of the fruit is actually one of the ovaries of the flower, with a seed inside it.
In text picture: Allen's descriptive catalogue of choice strawberry plants : grown and for sale by W. F. Allen, Jr. 1896
Recipe Ideas - Seasonal Fruits and Vegetables
Apricot - January Summer Fruits
Artichoke – The Flower Vegetable that Crops in Spring
Australian and Native Cherries (Summer Fruits) - the Duntroon Connection - Marrianne Collinson Campbell
Australian Families Encouraged To Tuck Into A Healthy and Sustainable Challenge

Autumn Feast of Fresh Fruits and Vegetables for a Healthy Body
Autumn Tonic Soup: keep the chills out as we head into Winter with this simple seasonal recipe
Cherry - Australian summer Fruit

Chick Pea Burgers with Homemade Hummus

Classic Trifles May Be For Sale At Country Womens Association Manly's Edible Exhibition: 100 Bakers To Celebrate 100 Years Of Our Local CWA On Saturday August 26th 2023

Cook A Mother's Day Feast - Give Mum The Day Off
Country Womens Association Manly's Edible Exhibition: 100 Bakers To Celebrate 100 Years Of Our Local CWA - The Cakes! by Selena Griffith

Dione Lucas: first female graduate of Le Cordon Bleu and first woman to give a cooking demonstration on Australian Television

Easter Feast Easter Feast - History of Food
Easter Feast 2022: Our Tried + Tested Triple Chocolate Pudding

Edible Weeds Eggs: Five Ways - Savoury
Full Fruit Bowl for Seasonal Health
Green Beans - Spring Vegetables
Healthful Cordials And Cleansing Tonics Hogmanay (New Year) Dinner - Australian Style Home Grown Food Program in Fruit and Veg Month by Jess Rosman
Honey, Honey: Inaugural World Bee Day - Honey Cake Recipes Around the World
How To Make Your Diet More Sustainable, Healthy Or Cheap – Without Giving Up Nutrients by Brad Ridoutt, Principal Research Scientist, CSIRO Agriculture

Kale: for Pure Energy Kale, Ricotta And Chicken Cannelloni
Make Your Own Treats For Christmas Gifts - Jaffa Rum Balls, White Christmas, Gingerbread People, Spicy Nut Mix, Strawberries Dipped in Christmas, Scottish Shortbread, Spanish Polverones, Melomakarona (Greek Christmas Honey Cookies), Kourabiedes (Greek Butter Biscuits), Italian Lemon Shortbread Squares (Shortbread con crema al limone)
Mandarins Spring Fruits Mandarins Winter Fruits
Manly CWA Edible Exhibition: 100 Cakes For 100 Years Of Manly CWA Invites You To Choose An Event From 1923 To 2023 + A Look At Some Aussie Classic Cakes, Commencing From 1923 With The Frog Cake

Mother's Day at Breakfast Menu for those who 'can't cook'

Mums Vegetable Soup with Macaroni
Nicoise Salad: An Autumn Salad
Old Australian Chocolates Back On The Market: The Cherry Ripe Song of MacRobertsons

Packham's Triumph Pears - The Australian Pear
Parsnip - Winter Vegetables Pear - Autumn Fruits
Plastic Packaging Problem From Just One Meal + Council Looks Into Coffee Cup Reboot Of 'Swap This For That'

Potato Gnocchi Pumpkin Pumpkin Season 2015
Sage - the 'saving' herb Remembrance Day 2012 Food
Salad Season: Whole Meals In A Bowl Ideas

Sensational Hot Scones For Cold Winter Mornings

Spring Salad Season Spring Strawberries Spring Salads Spring Strawberries: Recipe Ideas For This Vitamin C Boost Fruit
Summer Lilli Pillis Summer Passionfruit Summer Peaches, Quandongs (Wild Peach) - Marian Rowan Ellis Summer Peaches - From Wyong! Summer Plums - Greengages
Summer Raspberries Native Ones - Adam Forster
Summer Stone Fruit: The Peaches, Apricots, Nectarines, Plums of things

Summer Stone Fruit: The Peaches, Apricots, Nectarines, Plums + How To Make The Perfect Pavlova According To Chemistry Experts: The Ultimate Summertime Desert

Summer Cake Treat: Nectarine Or Peach Upside-Down Cake - Experiments In Baking 2023

Summer Vegetable: Beetroot Juice Significantly Increase in Force in Muscles

Ten Minute Spring Salads; Spring Fare
Weeds for Salads, Soups, Teas and Stews

Whole Pumpkin Stuffed With Chorizo, Rice and Goat Cheese: Winter Food

Winter Crops Winter Vegetable Pies Zucchini Strawberries Cauliflower
Winter Warmers: Parsnips, Pumpkin Soup Variations, Chocolate Self Saucing Pudding, Avocado Season

Winter Warmers 2022: Leek and Potato Soup, Coq Au Vin + Apple, Date and Walnut Cake With Caramel Sauce

Pittwater Restaurants, Cafés and Bistros
Addiction Food - Sydney Wildlife Fundraiser
Barrenjoey House Late Autumn Lunch 2023

Beco at Mona Vale, Newport and Avalon: Winter 2020

Boathouse at Palm Beach: Simply Smashing Spring Lunches

Brunch At Dunes Kiosk - Palm Beach

Café By The Sea + Cellar By The Sea

Café Edelweiss and the German Butchery at Bassett Street: Mona Vale
Coffee Brothers Café At Mona Vale: Celebrating A Decade Of Great Coffee and Yummy Food In 2022

Dine and Discover: Premier's Visit Highlights Support For Local Restaurants and Cafes: Dine & Discover NSW (& Pittwater) Commences Late January 2021
Dine & Discover In Pittwater: By Postcode - Suburb - March 2021

Duck Creek Macadamias - Orange Obsessions
Feed Me Too - Supplier Of Allergy Free Food & Services

Flannerys Organic & Wholefoods Market - Mona Vale
Home Grown Food Program in Fruit and Veg Month by Jess Rosman
Japanese Cuisine in Avalon: Four Options
Kindred Peanut Butter: Great Food For A Good Cause From A Local Producer

Laurie Bimson's Marinated Kangaroo Recipe
Lobster Nights at Club Palm Beach
Marina Café: Church Point - within The Quays Marina at Church Point

Mekong: Merchants of Taste - Vietnamese street food Avalon Beach

Mekong Merchant Restaurants In Mona Vale And Avalon Beach: Pho Specialists!

Modus Operandi Brewing Co., Brilliant Beers, Beautiful Burgers in Mona Vale

Oceana Traders - Seafood Merchants, Avalon Beach: For Fish & Chips Excellence

Palm Beach Fish and Chips Tops Scale at 10
Parkview Restaurant: Avalon Beach RSL Club
Permanora Honey - Tom's Pure Honey From Elanora Heights

Pittwater COVID- 19 Restrictions Responses: Take Away from Restaurants and Cafes and Grocers and Food Available From Local Outlets Local food suppliers and cafes and restaurants are currently adapting to social-distancing requirements and the closure of public spaces to large gatherings. Listed this week are those that have food you can order for take away or delivery and also those who supplied these outlets who also have food available to purchase.

Premier's Visit Highlights Support For Local Restaurants And Cafes: Dine & Discover NSW (Pittwater)

Prontos Creative Food - Palm Beach Pronto Creative Food Celebrates 30 Years - Palm Beach Success Story for Local Lady Pronto Creative Food: Something Sweet
Riva Bar and Kitchen - Avalon Beach Riva Bar And Kitchen Autumn Lunch May 2019

RMYC Function Food at Rotary Club of Pittwater 52nd Changeover Dinner
RMYC Ladies Lunch for July(2012); 'Boosting Your Brain and turning Your Stress Into Success' by Dr. Helena Popovic
Rozana Mediterranean Cuisine - Avalon Beach

Sa-Biang Thai Restaurant At Avalon Beach

Salt Cove at RMYC Broken Bay Sky Thai Avalon Sushi Ichiri Sydney Edible Garden Trail Opens Next Weekend: March 21-22, 2020 - The Local Trail At Newport, Mona Vale, Elanora + More
The 2 Catherines Café, Catherine Park, Scotland Island

The Two Catherines Café by Robyn Iredale

The Avalon On The Beach Restaurant and Kiosk Opens in Avalon Beach SLSC clubhouse
The Balcony Room at Palm Beach Golf Club
The Chick'n Shack Café at Careel Bay - For Lovers Of Old School Burgers and New School Ways

The Little Oak Tree Cafe at Careel Bay Shops
The Old Civic Café and Diner, Mona Vale


To list your business, have a Pittwater Online News Food page run, or place a logo on the Pittwater Online News Food page, please contact us with details of your requirements. Logos may be embedded to redirect to your own website. Full pages include an overview of menus as well as beautiful images to make the food sampled look its best. Pages are archived into Permanent pages past their week of Issue.
Permanent pages in Pittwater Online News average 800 thousand visits per annum past their week of Issue ensuring diners will continue to view your eatery as a potential venue for breakfast, lunch or dinner or as the place to hold their larger functions.
For Rates and Packages Contact us at: pittwateronlinenews@live.com.au