December 12, 2021 - January 22, 2022: Issue 522

christmas treats you made yourself - recipes from around the world+ an australian hogmanay (New years') menu
Sweet Treats For Christmas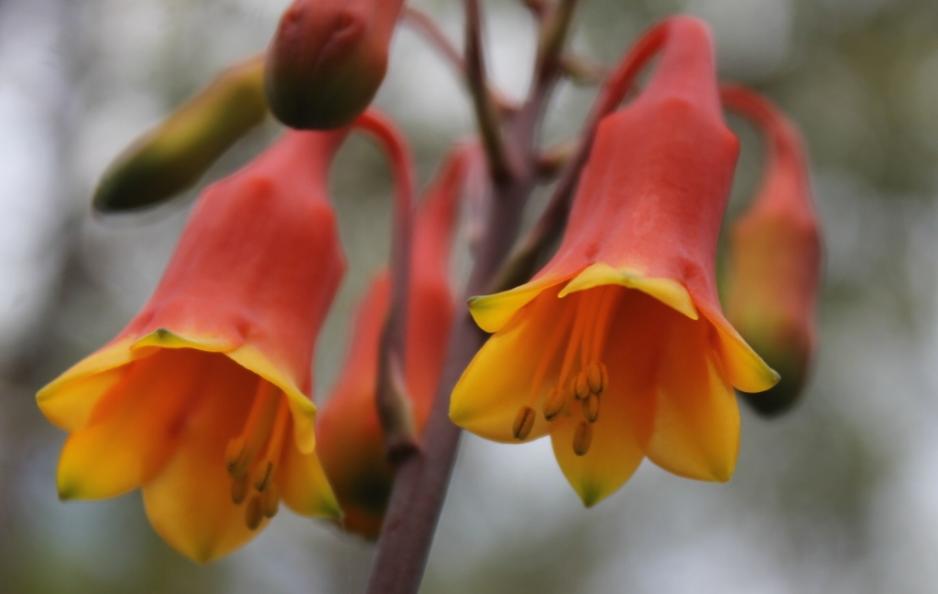 Make Your Own Treats For Christmas Gifts
Do you get better food at home than you can eat elsewhere?
Do you want to give something this Christmas that will be remembered and bring some sweetness – a gift worth giving?
Being around a butter churn, a milk separator or the jam pan while growing up, or being able to scale one fruit tree after another when apricots still grew to the size of a fist and were sweet and soft, or pick greengages, mulberries and strawberries that were small and sweet may spoil you for all that comes after, but it also sets you up to create foods for life no amount of money can secure.
If you want to give a gift people will be hoping you give ever after, try out some or all of these, wrap them in some coloured see-through paper decorated with a few ribbons, and give others a taste of how good life can be.
A few of these can be made with the littlies - nothing like getting children involved in their food making to encourage food eating. Although these are 'treats', there are a few here where you can tone down the sugar level to reduce that yippee element that manifests instantly when sugar is consumed by small adults, or make those with them where the only sugar comes from natural fruits.

Main ingredient: LOVE!

White Christmas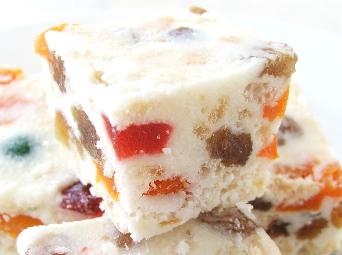 A mixture of raisins, glacé cherries, desiccated coconut, icing sugar, milk powder and rice bubbles, with coconut oil (such as the brand Copha) as the binding ingredient.

Ingredients
makes: 24
1 cup powdered milk
1 cup rice bubbles
1 cup icing sugar
1/2 cup desiccated coconut
1 cup mixed dried fruit
250g copha, melted and cooled off
2 teaspoons vanilla essence
Mix all the dry ingredients together, then add the melted copha and vanilla and mix in. Pour into a slice tin or baking tray lined with baking paper and press the mixture evenly into the tray. Chill in the refrigerator till set and firm, about 2 hours. Cut into squares to serve.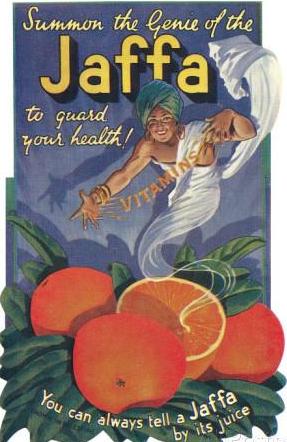 Jaffa Rum Balls
When rolling keep your hands cool and wet for a less sticky situation developing. Makes 20 Jaffa balls.
Ingredients
1 cup almond meal (or other ground nuts)
30 ml dark rum (a shot glass full)
6 tablespoons coconut oil
3 tablespoons cocoa powder
2 tablespoons brown rice malt syrup or maple syrup
½ cup sultanas or raisins
zest of 2 oranges
½ cup desiccated coconut (unsweetened)
extra cocoa and desiccated coconut for dusting

Place all ingredients in a food processor. Process into a thick, doughy mixture. It should be coming off the sides and sticking together.
Roll into small balls using your hands. Note that your hands will be oily from coconut oil inside which makes it very easy to roll the balls without the mixture sticking to your fingers. No need to wet your hands.
Dust the finished balls with some desiccated coconut and extra cocoa powder. Place on a plate and refrigerate, covered with cling wrap.
Store in an air-tight container in a cool place, refrigerate if possible, before serving. These will keep for a week if not a little longer, if they last that long.

Gingerbread People
Ingredients
Melted butter, to grease
125g butter, at room temperature
100g (1/2 cup, firmly packed) brown sugar
125ml (1/2 cup) golden syrup
1 egg, separated
375g (2 1/2 cups) plain flour
1 tablespoon ground ginger
1 teaspoon mixed spice
1 teaspoon bicarbonate of soda
Plain flour, to dust
150g (1 cup) pure icing sugar, sifted
8-10 drops red liquid food colouring
8-10 drops green liquid food colouring
Smarties, to decorate


Preheat oven to 180°C. Brush 2 baking trays with melted butter to lightly grease.
Cream the butter and sugar in a bowl until pale and creamy. Add the golden syrup and egg yolk and beat until combined. Stir in the flour, ginger, mixed spice and bicarbonate of soda. Turn onto a lightly floured surface and knead until smooth. Press dough into a disc. Cover with plastic wrap and place in the fridge for at least 30 minutes to rest.
Meanwhile, place egg white in a clean, dry bowl. Beat until soft peaks form. Gradually add icing sugar and beat until stiff peaks form. Divide icing among 3 bowls. Cover 1 bowl with plastic wrap and place in the fridge. Add red colouring to 1 bowl and stir until combined. Add green colouring to remaining bowl and stir until combined. Cover with plastic wrap and place in the fridge.
Place the dough between 2 sheets of baking paper and roll out until about 4mm thick. Use 9cm gingerbread boy and girl cutters to make shapes. Place on trays about 3cm apart. Repeat with any excess dough.
Bake in oven for 10 minutes or until brown. Remove from oven. Transfer to a rack to cool.
Place prepared icings in small plastic bags. Cut a small hole in a corner of each bag. Pipe icing over gingerbread men to decorate. Finish with Smarties. Picture: Die traditionelle Adventkirmes in Sanok - photo courtesy Silar.

Nut Mix
Something savoury for those who prefer a spiced up wholefood – simply bag or jar in attractive Christmas themed container and hand out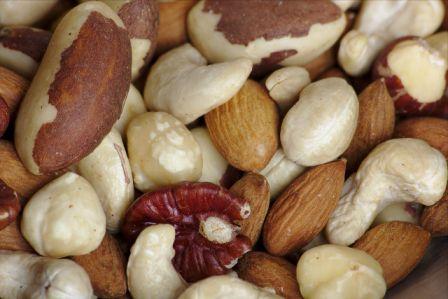 Ingredients

4 cups mixed unsalted nuts (such as cashews, macadamias, walnuts, pecans, or almonds)
1/2 tsp. ground coriander
1/2 tsp. ground cumin
2 Tbs. unsalted butter
2 Tbs. dark brown sugar
2 Tbs. chopped fresh rosemary
1/4 tsp. cayenne
1-1/2 tsp. salt
Position a rack in the center of the oven and heat the oven to 180C. Scatter the nuts on a rimmed baking sheet and bake, shaking the sheet a couple of times during baking, until the nuts are nicely toasted, 10 to 15 minutes.
Meanwhile, set a small heavy skillet over medium-high heat. Sprinkle in the coriander and cumin and toast until aromatic, about 30 seconds. Remove the pan from the heat and add the butter, brown sugar, rosemary, and cayenne. Return the skillet to low heat and stir until the butter melts and the sugar dissolves, 2 to 2-1/2 minutes. Keep warm.
Tip the nuts into a large warmed bowl, pour the warm spiced butter over the nuts, and add the salt. Stir until the nuts are well coated. Taste for seasoning and add more salt if necessary. Let the nuts cool completely. Will keep well in airtight containers.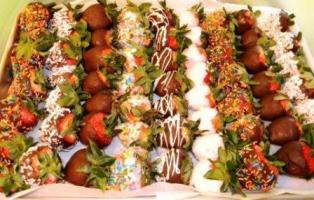 Strawberries Dipped in Christmas
We all love a great homemade Christmas Pudding but humidity levels in Sydney mean making these the prescribed 12 months ahead often leads to mildew developing on what is an expensive item. Add the Brandy Sauce, half a kilo of whipped cream and you may need a bit of a nap after lunch, a long nap.
An alternative is to serve up a beautiful fruit platter or some Christmas themed 'dipped' strawberries – you don't have to stick to dark or milk chocolate, try a white chocolate and do a trio mix. There's no need to drown the berry either, use some kitchen paper to create a piping bag and make lines across the berry surface. The more colour added the better they will look. A few of these with some sparkle frosting among a fruit platter adds a Christmas coloured view on a light alternative.

Biscuits Biscuits Biscuits!
How about the real thing? Some traditions from Scotland, Greece and Italy.
Scottish Shortbread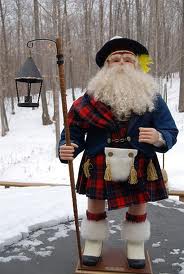 The first shortbread was made from remnants of bread dough (hence the 'bread' part in the name) and contained oatmeal and yeast and sprinkled with sugar. This was then baked slowly in a low oven and made something that could easily be carried around in the pocket during all those highland walks. Eventually the yeast was replaced with butter.
The butter-shortbread variety was expensive and most people only tasted it on special occasions such as weddings, Christmas, Hogmanay (New Year's Eve), Burn's Supper (a celebration in honor of the birth of Scotland's famous poet Robert 'Rabbie' Burns, January 25 each year) and other 'high days and holidays'.
Historically this tasty treat played a part in welcoming new brides in the Shetland and Orkney Isles to their marital homes. As the bride and groom crossed the threshold a decorated shortbread (called the 'Bride's Bonn) is broken over their heads. It is also still one of the foods offered to 'first-footers' (those going door to door on Hogmanay to welcome in the New Year).
Even the way Scottish shortbread is decorated is symbolic and traditional. The edges of the circular shortbreads are decorated by pinching with the thumb and forefinger, or making cut-marks with a knife, and it's believed that this is a nod towards the Scots early sun-worshipping days as these pinched edges symbolize the sun's rays. The center of the shortbread circles, and the length of the shortbread bars are pricked with a fork to complete the decorations.

Shortbread was first recorded as being made during much of the 12th century (the hard rusk or slow baked 'biscuit' version). The refinement of shortbread is credited to Mary, Queen of Scots in the 16th century, this version was baked, cut into triangular wedges, and flavoured with caraway seeds. Although Shortbread dates to medieval times in Scotland, the first printed recipe appeared in 1736, from a Scotswoman named Mrs McLintock.
There are three different 'styles' of Scottish shortbread: A large circle, which is divided into 'slices', called 'shortbread petticoat tails' perhaps because the design looks very similar to the pattern used to make the full petticoats worn at this time. A rectangle which has been cut into strips or bars: 'shortbread fingers', and individual small circular biscuits, called 'shortbread rounds'.

Ingredients
450g butter
225g castor sugar
450g sifted plain flour
225g rice flour
pinch of salt - if using unsalted butter

Set oven to 190C. Cover an ungreased baking sheet with grease-proof paper (wax paper).
Mix flour and rice flour, then add salt (if you're using unsalted butter), and sift these dry ingredients at least twice, preferably three times.
Cream butter and sugar together with a wooden spoon for best results. Add the sifted ingredients and mix together by hand until you have a soft dough. The shorter the time it takes to mix the ingredients, and the less 'handling' is involved, the shorter, crumblier and more delicate the texture of the shortbread will be. Do not knead it!
Form dough into a ball, and then decide what shape you want:
1 Press gently into a round cake pan. The dough should be just under 2cms thick. Or you can press the dough into a circle at same thickness thick and mark out 16 'slices' with a knife (don't cut all the way through) and put this on the prepared tray as above. These will be your 'Petticoat Tails'. Decorate by pinching the outer edges of the dough between thumb and forefinger, and then use a fork to prick the rest of the dough. 2 On a lightly floured surface, press (or use a rolling pin - sparingly!) dough out until it's about 1/2 inch thick, and rectangular in shape and mark into bars that are approx. 7cm x 3cm (these are called 'Shortbread Fingers'). Prick the top with a fork.
3 You can cut the dough into any shape you want, and holiday shortbread Santa, bells, snowmen, rounds etc.
Bake in oven pre-heated to 190C for 20 minutes, then reduce to 180C and continue to bake until shortbread is pale golden. This could be between 45 mins and 1 hour, depending on exactly how thick you've made the shortbread. Smaller 'Rounds' or specialty 'holiday' type shortbread cookies need less baking time. Usually somewhere around 20 minutes. The colour is the best indicator that the shortbread is 'done'. You're aiming for a lovely pale gold all over, if the edges start to look dark then you may be burning them, turn the oven down, it's too quick.
Allow to cool in pan, then remove to wire cooling rack. When thoroughly cooled these can be stored in an air-tight cookie tin or container.
Shortbread Cookie Recipe Variations: You can make all sorts of shortbread cookies using a basic Scottish shortbread recipe and then adding a variety of spices, dried fruit, nuts etc. A mix 2 tsp cinammon, 1/2 tsp ground ginger and 3/4 tsp allspice added to half to dry ingredients, then use the other half to sprinkle over shortbread before baking. Other variations are 1 tsp caraway seeds, 1 tsp almond essence, 4 tablespoons of finely chopped pecans, a cup of dried fruit eg. raisins, sultanas, cherries, dates, even chocolate chips.

Spanish Polverones
Polvorones are a shortbread cookie famous for their crumbly consistency. Traditionally made with flour, sugar, milk and nuts, they are also found in a variety of flavors (vanilla, cinnamon, lemon, etc.). They have a subtle, distinct melt-in-your-mouth texture, hence their Spanish name of "powdery cake". The best polvorones can be found in Spain's southern region of Andalusia. This is another recipe that hasn't changed for centuries.

2 1/4 cup vegetable shortening
1 1/8 cup sugar
2 cups powdered sugar
3 cups whole almonds (raw)
3 2/3 cups flour
1 tsp almond extract
1 tsp cinnamon
1 egg yolk (optional)
This crispy Spanish almond cookie recipe makes approximately 2 dozen cookies.
You can buy the raw almonds in the bulk section of your supermarket, since this recipe requires about 1 lb. of almonds. First, grind almonds in a food processor.
Make Dough & Refrigerate
Cut vegetable shortening into the granulated and powdered sugars in a large mixing bowl. Add the ground almonds, almond extract and cinnamon and mix.
Mix in flour one cup at a time. Mixture will seem dry or crumbly. You may want to use your hand to mix together the dough as you add the last cup of flour because the dough will be very crumbly. Mix ingredients well.
Some recipes call for an egg yolk, but it is optional: To add moisture and to bind the dough a bit, beat an egg yolk and mix it in to the dough.
Refrigerate the dough for at least two hours.
Form Cookies and Bake
Divide the dough into four portions. Using a portion of the dough at a time, roll or form a rope 1 – 1 ½ inches wide. Lay the rope on a cutting board and flatten the rope slightly. Slice the rope diagonally to make diamond-shaped cookies.
Bake at 350 degrees for 25-30 minutes on an ungreased biscuit sheet. Allow them to cool on the cookie sheet for 5-10 minutes. They are very crumbly! So, once they cool slightly, carefully remove them using a spatula.

Melomakarona (Greek Christmas Honey Cookies)
50-60 pieces – from a recipe by Eli K. Giannopoulos
The melomakarono (Greek: μελομακάρονο plural: μελομακάρονα, melomakarona) is an egg-shaped Greekdessert made mainly from flour, olive oil, and honey. Along with the kourabies it is a traditional dessert prepared primarily during the Christmas holiday season.
Typical ingredients of the melomakarono are flour or semolina, sugar, orange zest and/or fresh juice, cognac (or similar beverage), cinnamon and olive oil. During rolling they are often filled with ground walnuts. After baking they are immersed for a few seconds in hot syrup made of honey and sugar dissolved in water. Finally, they are decorated with ground, as well as bigger, pieces of walnut. Dark chocolate-covered melomakarona are also a more recent variation of the traditional recipe.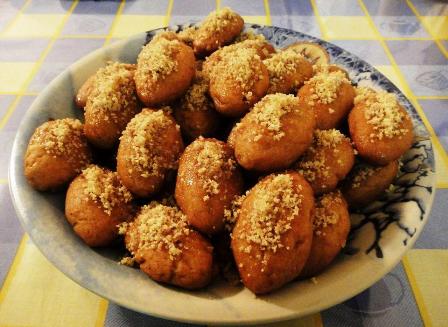 For the melomakarona
150g thin semolina
500g flour
1/2 tbsp baking powder
100g orange juice
3 tbsps cognac
100g sugar
1 flat tbsp powdered cinnamon
1/3 tsp nutmeg powder
1/3 tsp clove powder
1 tsp vanilla extract
1/2 tbsp baking soda
90g water
125g olive oil
125g vegetable oil
50g honey
zest of 1 orange
For the syrup
2 Cups water
1 kg sugar
150g glucose
1 cinnamon stick
some orange peel
2 cups honey
To garnish
200g chopped walnuts
powdered cinnamon (optional)
powdered clove (optional)

To prepare this melomakarona recipe start by making the syrup first. In a pot add all the ingredients for the syrup, except the honey and bring to the boil. Boil for 3-4 minutes, until the sugar has dissolved and set aside to cool down completely. When the syrup cools completely add the honey and stir.
Prepare the dough for the melomakarona. In a bowl add the semolina, flour and baking powder and blend with a whisk to combine.
In another large bowl add the orange juice, the cognac, the sugar and spices (nutmeg, cinnamon, clove, vanilla). At the end add the baking soda and whisk immediately the ingredients for 5-10 seconds, until the ingredients combine and the baking soda dissolves and starts to foam. Pour in the bowl the water, the oil, the orange zest and honey and whisk to combine.
Now it's time to combine the two mixtures. Add the mixed flour, semolina and baking powder (from step 1) in the bowl with the rest of the ingredients from step 2 and start kneading the dough for the melomakarona. Knead the dough for the melomakarona using your hands, until the ingredients combine and the dough is smooth and soft. When preparing a melomakarona recipe, it is very important not to overwork the dough. Knead lightly with your hands (like working with a meringue) until the flour has incorporated the mixture and the dough is really soft. Be careful not to add any more flour than this melomakarona recipe calls for, as this will make them tough.
Preheat the oven at 180C. Layer the bottom of 2 baking trays with parchment paper and start shaping the melomakarona. Pinch a portion of dough about the size of a walnut/ 50g (or bigger, if you prefer) and shape with your palms into a smooth oblong shape, like a small egg. Place on the baking tray, push lightly the top with a fork and make some holes on top (not all the way down). Continue with the rest of the dough.
Place the baking trays with the melomakarona in the oven and bake for approx. 20 minutes, until the melomakarona are lightly browned and cooked through.
When the melomakarona come out of the oven, place them in the cold syrup, flipping them with a slotted spoon to absorb the syrup for approx. 20 seconds, depending on how syrupy you like them. (When syrupying the melomakarona it's best do so in 2-3 batches). Remove the biscuits using a slotted spoon, place on a platter and sprinkle with chopped walnuts.
Store the melomakarona at room temperature in an airtight container. They will last for at least a month.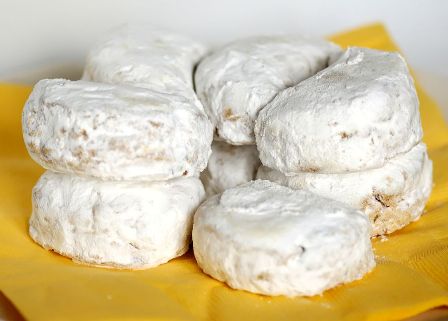 Kourabiedes (Greek Butter Biscuits)
Traditionally, almonds are added to this recipe either by placing one within each cookie (rolling the dough around the almond so it's inside the cookie), or using almond flour. As these have become an expensive item, we offer a recipe without these – you could still add them if you wish – either as whole or crushed ingredients and they definitely give these treats great extra crunch.
Ingredients
500 grams unsalted butter, room temperature
1 large egg
2 ½ teaspoons pure almond extract
8 tablespoons powdered sugar
⅛ teaspoon baking soda
5 to 5 ½ cups flour
Pinch of salt

Preheat oven to 350 degrees. Beat butter in the bottom of a stand mixer on a medium high speed for 20 minutes. Add egg and almond extract, mix until combined. Sift powdered sugar and baking soda together in a small bowl. Add to butter and egg. Beat another 10 minutes on a medium high speed. Sift five cups of flour and salt together in a large bowl. With the speed on low, add flour a little bit at a time until completely incorporated. If the dough is too sticky, add ½ cup more of flour.
To Form: Roll about 2 tablespoons of dough into crescents and place on a baking sheet lined with parchment paper or silt pad. There is no need to place cookies very far apart, as they do not spread much. Bake for 15-20 minutes until pale brown. Makes about 60 biscuits
Kourabiedes made by and picture courtesy of Jastrow
Italian Lemon Shortbread Squares (Shortbread con crema al limone)
These are simple, delicious and palate cleansing – perfect for humid Australian Christmas lunches
Ingredients
113 g butter at room temperature
25g sugar
140 g flour
1 pinch of salt
Ingredients for the cream
200 g sugar
2 eggs
80 ml of lemon juice (about two lemons)
25 g flour
Powdered sugar for garnish

Prepare your oven and baking dish – oven to 170C – butter a pan 24x16 cm in size and at least two inches/ 6-8cm deep.
The base:
Cream the butter with the sugar until it becomes light and fluffy, add the flour and salt.
Spread the mixture on baking paper, the dough is very soft help with the spatula.
Bake in preheated oven 170 ° C for about 20 minutes, let cool while preparing the cream.
Prepare the cream:
Whisk the eggs with the sugar, add the lemon juice and grated rind, then the flour and salt. Pour the cream on shortbread and bake for about 20 minutes.
Cool then cut into squares and sprinkle with powdered sugar.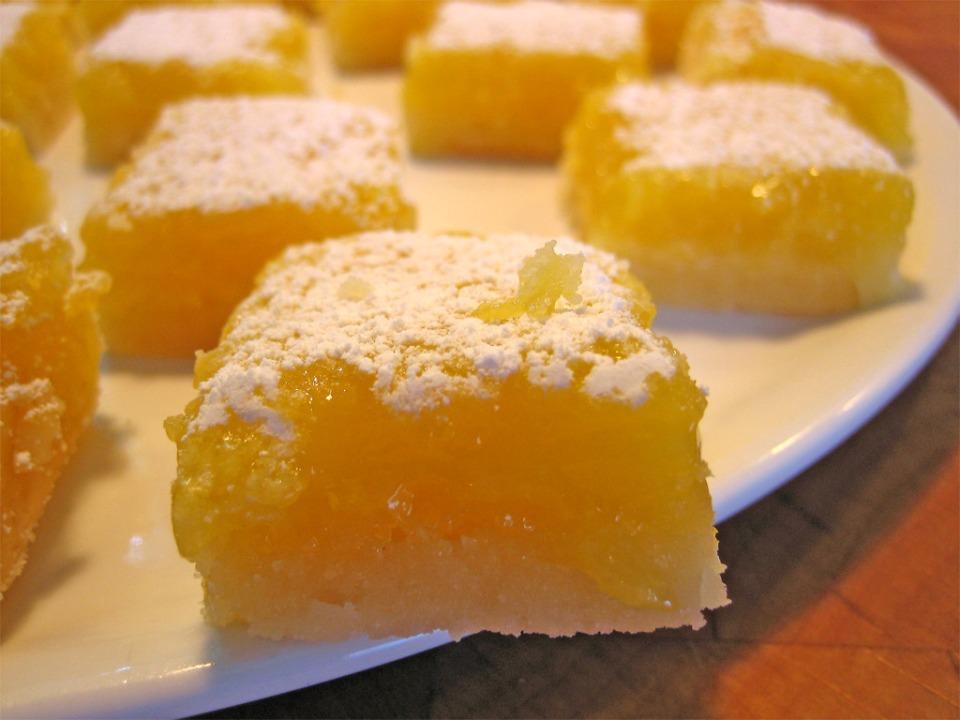 Shortbread con crema al limone by Fugzu
Hogmanay Dinner – Australian Style
Entrée
Melon and Prawn Salad
Ingredients
For the dressing
1 garlic clove
a handful of coriander stems or roots
1 tsp golden caster sugar
1 red chilli, deseeded, plus 1 tsp chopped to garnish
2cm/¾in piece of root ginger, peeled and roughly chopped
juice of 3 limes and 1½ oranges
For the salad
1 small watermelon, weighing about 1.8kg
24 large cooked and peeled tiger prawns
4 spring onions, finely sliced
2 trimmed stems of lemongrass, finely sliced
4cm/1½in root ginger, peeled, cut into fine matchsticks
zest of 1 lime
3 lime leaves, shredded (optional)
a handful each of coriander and mint leaves, chopped
100g roasted salted peanuts or cashews, to garnish
Three hours before serving: make the dressing. Put the garlic and coriander in a food processor with 1 tsp salt and the sugar, then pulse to a pulp. Add the chilli, ginger and citrus juices and pulse until smooth. Cover and chill. Two hours before serving: cut the watermelon into segments, remove the skin and seed the flesh. Cut into lozenges about 3cm wide. Mix the melon and prawns and add the spring onions, lemongrass, ginger, lime zest and lime leaves. Chill. To serve: toss the dressing and herbs into the salad and scatter with chilli and peanuts.
Main Course
Hogmanay Pie
Prepare to ceilidh (dance) with the homemade pie of your choice served with a selection of freshly steamed vegetables. Pescetarian en Croute - fillet of salmon baked in puff pastry topped with a Hollandaise Sauce or Spinach and Ricotta Vegetarian Crusty in a herb pastry tart accompanied by homemade salsa or Goats cheese roast pepper and tomato tart
For the Salmon En Croûte: Serves 2
Salmon en Croûte is typically made with homemade short-crust pastry (similar to puff pastry) but many home cooks use store-bought puff pastry instead.
Ingredients:
1/2 recipe yogurt dough, above (or use homemade shortcrust pastry or puff pastry or an all-butter store-bought puff pastry)
6 oz. wild salmon
2 large handfuls baby arugula (or spinach or watercress)
3/4 cup plain yogurt
2 Tb. mascarpone cheese (or organic cream cheese)
Sea salt and fresh ground pepper
1 egg, beaten with a fork- for egg wash
Preheat oven to 180ºC. Put the yogurt and mascarpone or cream cheese in a food processor or blender with the arugula and blend until you have a creamy green purée. Season with salt and pepper. Roll the dough out so you can wrap the salmon in it completely (approx. 2-3 mm thick). Put the salmon in the middle. Spoon some of the sauce onto the salmon. Fold the pastry over into a neat parcel (the seam will be at the top, so trim the edge neatly), making sure you don't have any thick lumps of pastry as these won't cook through properly. Trim off any excess, but make sure it is sealed or it may open up when cooking. Make 3 neat cuts in the pastry to allow steam to escape and make some decorations with the leftover pastry to disguise the seam if you like. Bake for 30 minutes or until the pastry is crisp and browned. To test whether the salmon is cooked, push a sharp knife through one of the cuts into the flesh, wait for 3 seconds then test it against the inside of your wrist; if it is hot, the salmon is cooked. Serve with more of the arugula puree as a sauce.
Dessert
Carmelised Nectarines or Peaches with Crannachan Meringue – serve with Ice Cream
Place the nectarines on a roasting tray, sprinkle half a teaspoon of soft brown sugar on each nectarine half and roast in a pre-heated oven (180 degrees) for 15 minutes until the nectarines are soft and the sugar has turned gold brown.
Cranachan is a traditional Scottish dessert. In modern times it is usually made from a mixture of whipped cream, whisky,honey (preferably heather honey), and fresh raspberries, with toasted oatmeal soaked overnight in a little whisky. Atholl brose is a drink using similar ingredients but does not contain raspberries. Earlier recipes used crowdie cheese rather than (or as well as) cream, and were sometimes called cream-crowdie. Other earlier recipes are more austere, omitting the whisky and treating the fruit as an optional extra.
One traditional recipe for cranachan is 85 g pinhead oatmeal, 280 ml double (or whipping) cream, and 2 tablespoons (35 ml) of whisky. The oatmeal should be toasted in a pan over a high heat then dust should be sifted out. The oatmeal is soaked in whisky overnight and then added to the whipped cream, with a little more whisky added to the mixture. Some raspberries are placed in the bottom of the serving glass before adding the cream mixture. An option is to break up some of the raspberries and gently blend into the mixture.
Picture by Saskia van de Nieuwenhof from Edinburgh, United Kingdom.
New Years – Hogmanay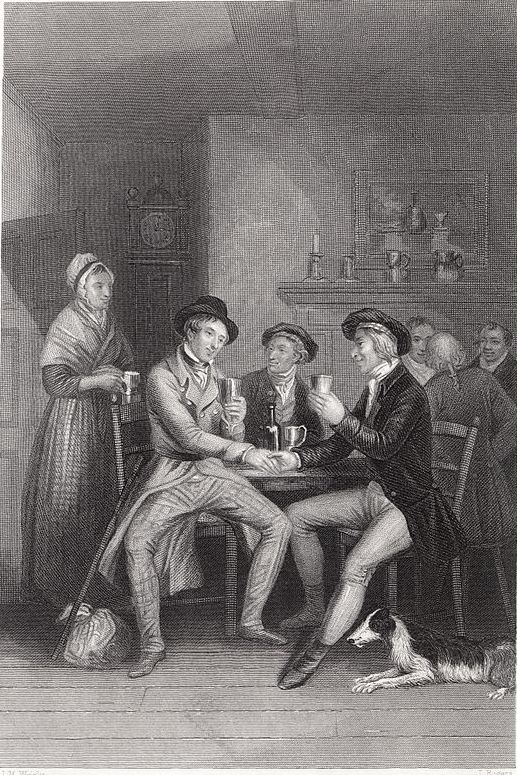 Hogmanay is the Scots word for the last day of the year and is synonymous with the celebration of the New Year(Gregorian calendar) in the Scottish manner. However, it is normally only the start of a celebration that lasts through the night until the morning of New Year's Day (1 January) or, in some cases, 2 January—a Scottish Bank Holiday. The etymology of the word is obscure. The three main theories derive it either from a French, Norse or a Goidelic (Insular Celtic) root. The word is first recorded in 1604 in the Elgin Records as hagmonay (delatit to haue been singand hagmonayis on Satirday) and again in 1692 in an entry of the Scotch Presbyterian Eloquence, "It is ordinary among some plebeians in the South of Scotland to go about from door to door upon New-years Eve, crying Hagmane".
Possible French etymologies
It may have been introduced to Middle Scots through the Auld Alliance. The most commonly cited explanation is a derivation from the Northern French dialect word hoguinané, or variants such as hoginane, hoginono and hoguinettes, those being derived from 16th century Old French aguillanneuf meaning either a gift given at New Year, a children's cry for such a gift, or New Year's Eve itself. This explanation is supported by a children's tradition, observed up to the 1960s in some parts of Scotland at least, of visiting houses in their locality on New Year's Eve and requesting and receiving small treats such as sweets or fruit. The second element would appear to be l'an neuf (the New Year), with some sources suggesting a druidical origin of the practice overall. Compare those to Norman hoguinané and the obsolete customs in Jersey of cryingma hodgîngnole, and in Guernsey of asking for an oguinane, for a New Year gift (see also La Guiannee). In Québec, "la guignolée" was a door-to-door collection for the poor.
Possible Goidelic etymologies
Fraser and Kelley report a Manx new-year song that begins with the line To-night is New Year's Night, Hogunnaa but did not record the full text in Manx. Other sources parse this as hog-un-naa and give the modern Manx form as Hob dy naa. Manx dictionaries though give Hop-tu-Naa, generally glossing it as "Hallowe'en", same as many of the more Manx-specific folklore collections. In this context it is also recorded that in the south of Scotland, for example Roxburghshire, there is no <m>, the word thus being Hunganay, which could suggest the <m> is intrusive. However, in spite of these recorded Manx forms, no satisfactory etymology has been proposed for Hop-tu-Naa within Goidelic. Another theory occasionally encountered is a derivation from the phrase thog mi an èigh/eugh I raised the cry, which, in pronunciation, resembles Hogmanay, as part of the rhymes traditionally recited at New Year but it is unclear if this is simply a case of folk etymology. Overall, Gaelic consistently refers to the New Year's Eve as Oidhche na Bliadhn(a) Ùir(e) "The Night of the New Year" and Oidhche Challainn"The Night of the Calends".
Possible Norse etymologies
Some authors reject both the French and Goidelic theories, and instead suggest that the ultimate source both for the Norman French, Scots, and Goidelic variants of this word have a common Norse root. It is suggested that the full forms;
Hoginanaye-Trollalay/Hogman aye, Troll a lay (with a Manx cognate Hop-tu-Naa, Trolla-laa)
Hogmanay, Trollolay, give us of your white bread and none of your gray
invoke the hill-men (Icelandic haugmenn, cf Anglo-Saxon hoghmen) or "elves" and banishes the trolls into the sea (Norse á læ "into the sea"). Repp furthermore makes a link between Trollalay/Trolla-laa and the rhyme recorded in Percy's Relics Trolle on away, trolle on awaye. Synge heave and howe rombelowe trolle on away, which he reads as a straightforward invocation of troll-banning.
There are many customs, both national and local, associated with Hogmanay. The most widespread national custom is the practice of first-footing, which starts immediately after midnight. This involves being the first person to cross the threshold of a friend or neighbour and often involves the giving of symbolic gifts such as salt (less common today), coal, shortbread, whisky, and black bun (a rich fruit cake) intended to bring different kinds of luck to the householder. Food and drink (as the gifts) are then given to the guests. This may go on throughout the early hours of the morning and well into the next day (although modern days see people visiting houses well into the middle of January). The first-foot is supposed to set the luck for the rest of the year. Traditionally, tall dark men are preferred as the first-foot.
Auld Lang Syne"
The Hogmanay custom of singing "Auld Lang Syne" has become common in many countries. "Auld Lang Syne" is a traditional poem reinterpreted by Robert Burns, which was later set to music. It is now common to sing this in a circle of linked arms that are crossed over one another as the clock strikes midnight for New Year's Day, though it is only intended that participants link arms at the beginning of the final verse, co-ordinating with the lines of the song that contain the lyrics to do so. Typically, it is only in Scotland this practice is carried out correctly.
John Masey Wright and John Rogers' c. 1841 illustration of Auld Lang Syne. Illustration to Robert Burns' poem Auld Lang Syne by J.M. Wright and Edward Scriven. Hogmanay. (2013, December 27). In Wikipedia, The Free Encyclopedia. Retrieved from http://en.wikipedia.org/w/index.php?title=Hogmanay&oldid=587987742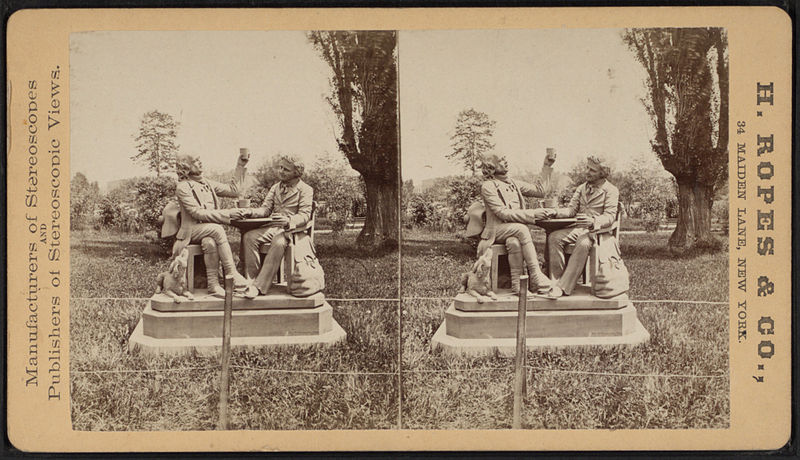 Auld Lang Syne
"Auld Lang Syne" is a Scots poem written by Robert Burns in 1788 and set to the tune of a traditional folk song (Roud # 6294). It is well known in many countries, especially in the English-speaking world, its traditional use being to celebrate the start of the New Year at the stroke of midnight. The song's Scots title may be translated into English literally as "old long since", or more idiomatically, "long long ago", "days gone by" or "old times". Consequently "Forauld lang syne", as it appears in the first line of the chorus, might be loosely translated as "for (the sake of) old times". The phrase "Auld Lang Syne" is also used in similar poems by Robert Ayton (1570–1638), Allan Ramsay (1686–1757), and James Watson (1711) as well as older folk songs predating Burns. Matthew Fitt uses the phrase "In the days of auld lang syne" as the equivalent of "Once upon a time..." in his retelling of fairy tales in the Scots language.
Burns' original Scots verse
Should auld acquaintance be forgot,
and never brought to mind ?
Should auld acquaintance be forgot,
and auld lang syne* ?
CHORUS:
For auld lang syne, my jo,
for auld lang syne,
we'll tak a cup o' kindness yet,
for auld lang syne.
And surely ye'll be your pint-stowp !
and surely I'll be mine !
And we'll tak a cup o' kindness yet,
for auld lang syne.
CHORUS
We twa hae run about the braes,
and pu'd the gowans fine ;
But we've wander'd mony a weary fit,
sin auld lang syne.
CHORUS
We twa hae paidl'd i' the burn,
frae morning sun till dine ;
But seas between us braid hae roar'd
sin auld lang syne.
CHORUS
And there's a hand, my trusty fiere !
and gie's a hand o' thine !
And we'll tak a right gude-willy waught,
for auld lang syne.
CHORUS
English translation
Should old acquaintance be forgot,
and never brought to mind ?
Should old acquaintance be forgot,
and old lang syne ?
CHORUS:
For auld lang syne, my dear,
for auld lang syne,
we'll take a cup of kindness yet,
for auld lang syne.
And surely you'll buy your pint cup !
and surely I'll buy mine !
And we'll take a cup o' kindness yet,
for auld lang syne.
CHORUS
We two have run about the slopes,
and picked the daisies fine ;
But we've wandered many a weary foot,
since auld lang syne.
CHORUS
We two have paddled in the stream,
from morning sun till dine† ;
But seas between us broad have roared
since auld lang syne.
CHORUS
And there's a hand my trusty friend !
And give me a hand o' thine !
And we'll take a right good-will draught,
for auld lang syne.
CHORUS
Auld Lang Syne. (2013, December 27). In Wikipedia, The Free Encyclopedia. Retrieved from http://en.wikipedia.org/w/index.php?title=Auld_Lang_Syne&oldid=587896303
Photo: Auld Lang Syne, Central Park - circa 1865 - 1898; Robert N. Dennis collection of stereoscopic views. / United States. / States / New York / New York City / Stereoscopic views of sculpture in Central Park, New York City.
Recipe Ideas - Seasonal Fruits and Vegetables
Apricot - January Summer Fruits
Artichoke – The Flower Vegetable that Crops in Spring
Australian and Native Cherries (Summer Fruits) - the Duntroon Connection - Marrianne Collinson Campbell
Australian Families Encouraged To Tuck Into A Healthy and Sustainable Challenge

Autumn Feast of Fresh Fruits and Vegetables for a Healthy Body
Autumn Tonic Soup: keep the chills out as we head into Winter with this simple seasonal recipe
Cherry - Australian summer Fruit

Chick Pea Burgers with Homemade Hummus

Cook A Mother's Day Feast - Give Mum The Day Off
Easter Feast - modern and historic
Edible Weeds Eggs: Five Ways - Savoury
Full Fruit Bowl for Seasonal Health
Green Beans - Spring Vegetables
Healthful Cordials And Cleansing Tonics Hogmanay (New Year) Dinner - Australian Style Home Grown Food Program in Fruit and Veg Month by Jess Rosman Honey, Honey: Inaugural World Bee Day - Honey Cake Recipes Around the World
Kale: for Pure Energy Kale, Ricotta And Chicken Cannelloni
Make Your Own Treats For Christmas Gifts - Jaffa Rum Balls, White Christmas, Gingerbread People, Spicy Nut Mix, Strawberries Dipped in Christmas, Scottish Shortbread, Spanish Polverones, Melomakarona (Greek Christmas Honey Cookies), Kourabiedes (Greek Butter Biscuits), Italian Lemon Shortbread Squares (Shortbread con crema al limone)
Mandarins Spring Fruits Mandarins Winter Fruits
Mother's Day at Breakfast Menu for those who 'can't cook'

Mums Vegetable Soup with Macaroni
Nicoise Salad: An Autumn Salad
Old Australian Chocolates Back On The Market: The Cherry Ripe Song of MacRobertsons

Packham's Triumph Pears - The Australian Pear
Parsnip - Winter Vegetables Pear - Autumn Fruits
Plastic Packaging Problem From Just One Meal + Council Looks Into Coffee Cup Reboot Of 'Swap This For That'

Potato Gnocchi Pumpkin Pumpkin Season 2015
Sage - the 'saving' herb Remembrance Day 2012 Food
Salad Season: Whole Meals In A Bowl Ideas

Sensational Hot Scones For Cold Winter Mornings

Spring Salad Season Spring Strawberries Spring Salads
Summer Lilli Pillis Summer Passionfruit Summer Peaches, Quandongs (Wild Peach) - Marian Rowan Ellis Summer Peaches - From Wyong! Summer Plums - Greengages
Summer Raspberries Native Ones - Adam Forster
Summer Stone Fruit: The Peaches, Apricots, Nectarines, Plums of things

Ten Minute Spring Salads; Spring Fare
Whole Pumpkin Stuffed With Chorizo, Rice and Goat Cheese: Winter Food

Winter Crops Winter Vegetable Pies Zucchini Strawberries Cauliflower
Winter Warmers: Parsnips, Pumpkin Soup Variations, Chocolate Self Saucing Pudding, Avocado Season

Pittwater Restaurants, Cafés and Bistros
Addiction Food - Sydney Wildlife Fundraiser
Beco at Mona Vale, Newport and Avalon: Winter 2020

Boathouse at Palm Beach: Simply Smashing Spring Lunches

Brunch At Dunes Kiosk - Palm Beach

Café By The Sea + Cellar By The Sea

Café Edelweiss and the German Butchery at Bassett Street: Mona Vale
Dine and Discover: Premier's Visit Highlights Support For Local Restaurants and Cafes: Dine & Discover NSW (& Pittwater) Commences Late January 2021
Dine & Discover In Pittwater: By Postcode - Suburb - March 2021

Duck Creek Macadamias - Orange Obsessions
Feed Me Too - Supplier Of Allergy Free Food & Services

Flannerys Organic & Wholefoods Market - Mona Vale
Home Grown Food Program in Fruit and Veg Month by Jess Rosman
Japanese Cuisine in Avalon: Four Options
Kindred Peanut Butter: Great Food For A Good Cause From A Local Producer

Laurie Bimson's Marinated Kangaroo Recipe
Lobster Nights at Club Palm Beach
Marina Café: Church Point - within The Quays Marina at Church Point

Mekong: Merchants of Taste - Vietnamese street food Avalon Beach

Mekong Merchant Restaurants In Mona Vale And Avalon Beach: Pho Specialists!

Modus Operandi Brewing Co., Brilliant Beers, Beautiful Burgers in Mona Vale

Oceana Traders - Seafood Merchants, Avalon Beach: For Fish & Chips Excellence

Palm Beach Fish and Chips Tops Scale at 10
Parkview Restaurant: Avalon Beach RSL Club
Permanora Honey - Tom's Pure Honey From Elanora Heights

Pittwater COVID- 19 Restrictions Responses: Take Away from Restaurants and Cafes and Grocers and Food Available From Local Outlets Local food suppliers and cafes and restaurants are currently adapting to social-distancing requirements and the closure of public spaces to large gatherings. Listed this week are those that have food you can order for take away or delivery and also those who supplied these outlets who also have food available to purchase.

Premier's Visit Highlights Support For Local Restaurants And Cafes: Dine & Discover NSW (Pittwater)

Prontos Creative Food - Palm Beach Pronto Creative Food Celebrates 30 Years - Palm Beach Success Story for Local Lady Pronto Creative Food: Something Sweet
Riva Bar and Kitchen - Avalon Beach Riva Bar And Kitchen Autumn Lunch May 2019

RMYC Function Food at Rotary Club of Pittwater 52nd Changeover Dinner
RMYC Ladies Lunch for July(2012); 'Boosting Your Brain and turning Your Stress Into Success' by Dr. Helena Popovic
Rozana Mediterranean Cuisine - Avalon Beach

Salt Cove at RMYC Broken Bay Sky Thai Avalon Sushi Ichiri Sydney Edible Garden Trail Opens Next Weekend: March 21-22, 2020 - The Local Trail At Newport, Mona Vale, Elanora + More
The 2 Catherines Café, Catherine Park, Scotland Island

The Avalon On The Beach Restaurant and Kiosk Opens in Avalon Beach SLSC clubhouse
The Balcony Room at Palm Beach Golf Club
The Chick'n Shack Café at Careel Bay - For Lovers Of Old School Burgers and New School Ways

The Little Oak Tree Cafe at Careel Bay Shops

To list your business, have a Pittwater Online News Food page run, or place a logo on the Pittwater Online News Food page, please contact us with details of your requirements. Logos may be embedded to redirect to your own website. Full pages include an overview of menus as well as beautiful images to make the food sampled look its best. Pages are archived into Permanent pages past their week of Issue.
Permanent pages in Pittwater Online News average 800 thousand visits per annum past their week of Issue ensuring diners will continue to view your eatery as a potential venue for breakfast, lunch or dinner or as the place to hold their larger functions.
For Rates and Packages Contact us at: pittwateronlinenews@live.com.au