May 26 - June 1, 2013: Issue 112
Azzalin Romano at the opening of Romano's Restaurant, image courtesy National Archives of Australia.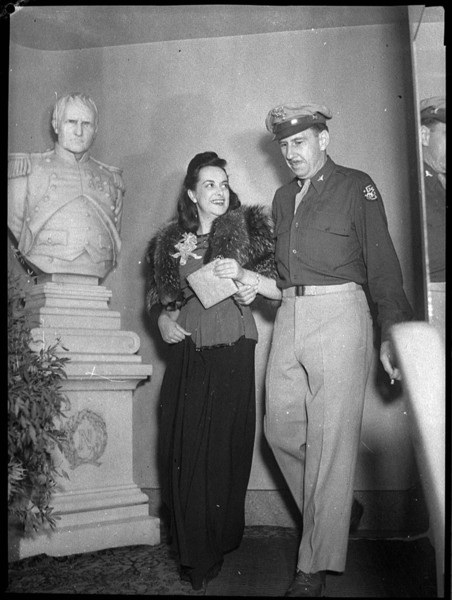 Guests entering past the bust of Napoleon 11/2/1946: possibly Captain Warren Cheney and Sydney actress Anne Bullen. See Broadway Lead For Sydney Amateur Actress. (1946, March 6). The Sydney Morning Herald (NSW : 1842 - 1954), p. 7. Retrieved from http://nla.gov.au/nla.news-article27917013 Image no: 25698r by Hood, courtesy State Library of NSW.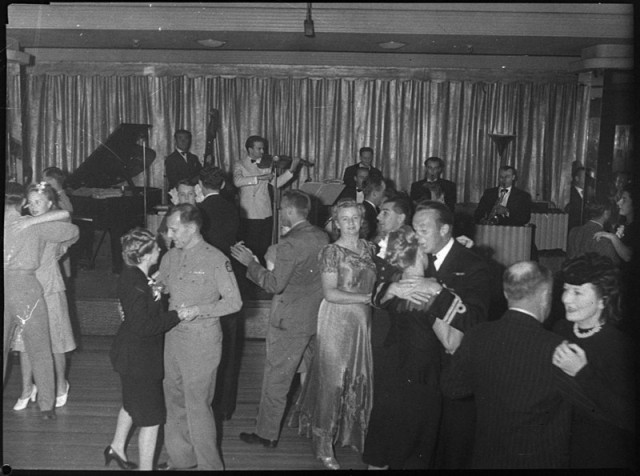 Dance floor, dance band with violinist in white – Karoly Szenassy (?). Image No: Hood 25693, 11/2/1946, Courtesy State Library of NSW.
Copyright George Repin 2013. All Rights Reserved.
AZZALIN ORLANDO ROMANO AND ROMANO'S RESTAURANT
by George Repin
A previous article on J C Bendrodt and Princes Restaurant, one of the only two elegant restaurants in Sydney in the immediate pre and post World War II period, observed that the men behind the success of these enterprises, Bendrodt and Romano, could not have been more different.
Romano was born at Padua in Italy in 1894 and baptised Romano Orlando, with the surname Azzalin. In his twenties, when head waiter at the Ritz Hotel in London, he adopted Romano as his surname because of his regard for that city's most renowned restaurant of the time.
He had a sound training in the hospitality industry in his teens starting at the Vienna Hotel in Bristol and then working in hotels and restaurants in Nice, Monte Carlo, Paris, Berlin and Madrid, returning to England in November, 1914. He worked his way up through various positions gaining valuable experience along the way.
He was persuaded to come to Australia in 1923 by Percy Stewart Dawson and ran the plush Ambassadors Restaurant in Pitt Street for four years before opening the first Romano's Restaurant in York Street. Because of its low cost structure the restaurant did well during the depression.
The great days of Romano's followed its opening in the basement of the newly built Prudential Insurance Building in Martin Place (fronting Castlereagh and Elizabeth Streets). The entrance to Romano's was in Castlereagh Street next to the now long gone Prince Edward Theatre.
The décor was elegant and sumptuous with subdued concealed lighting. Patrons walked past a bust of Napoleon as they entered and were greeted by a Maitre D'. Because Steak Diane, cooked at the table, often by the Maitre D', was a specialty of the house, there was a gentle residual aroma of garlic. It was a popular venue for lunch with its standards and cuisine attracting celebrities such as Maurice Chevalier and Vivien Leigh. A young handsome central European (probably Hungarian) Karoly Szenassy played the violin moving among the tables. At night it became a social rendezvous for the wealthy wearing evening dress - as a night club with a dance floor and orchestra.
It was an attractive location for business functions such as product launches. On the other hand it was not out of the reach of the less affluent to celebrate special occasions. A private dining room was popular for "bachelor" dinners, when these were more elegant affairs than many are today. Medical student groups at Sydney Hospital, as a gesture to thank their clinical tutors (who in those days taught students without any form of remuneration) at the end of an academic year often entertained them in the private dining room.
The restaurant was briefly in the news when the then Commissioner of Police, a regular client, arrested and charged a waiter working at Romano's, Antonio Agostini, with the murder of the Pyjama Girl an unidentified badly burned body of a young woman, clad only in silk pyjamas, found in a culvert near Albury in 1934. The body was kept in formalin at the University of Sydney Medical School until 1942. Agostini confessed to killing his wife, Linda, and was convicted of manslaughter but maintained that Linda was not the Pyjama Girl. Some believe that the girl in the culvert may have been Anna Philomena Morgan who disappeared at about the same time in 1934.
Like J C Bendrodt, Romano was involved in horse racing but only with limited success until he bought Bernborough which went on to win fifteen races before he sold him to Louis B Mayer the movie mogul of Metro Goldwyn Mayer fame.
Romano lived in Point Piper. He died on 6 November, 1972 survived by his wife, a daughter and a son who at one time was a student at the Scots College.
Bernborough, courtesy State Library of QLD.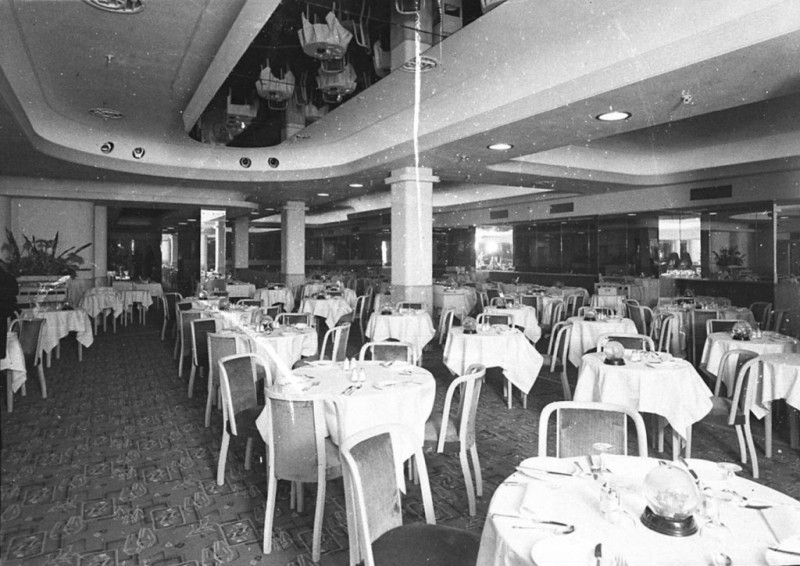 Interior Romano's restaurant 1961. Image No.: Hood 09896, courtesy State Library of NSW.