January 27 - February 2, 2019: Issue 391

SIGNS OF THE TIMES - SYDNEY MUSEUM CELEBRATES STREET PHOTOGRAPHERS & REPIN'S INNS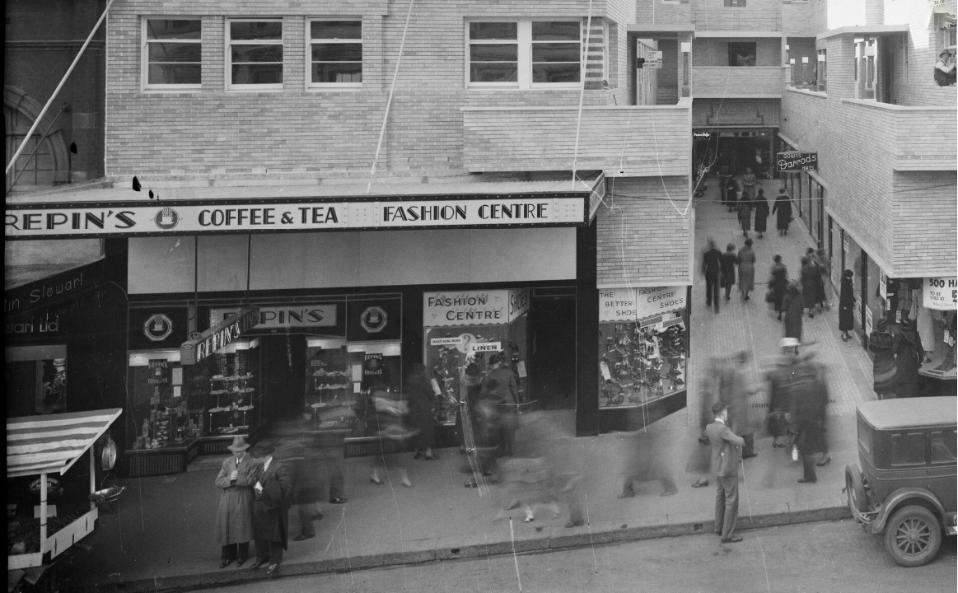 Back in 2012 George Repin shared an insight on
Sargeant's Team Rooms and Street Photographers
. Coincidentally the Sydney Museum is currently running an Exhibition called '
Street Photography of 1930s - 1950s
' until Sunday 21 July 2019.
From the 1930s to the late 1950s commercial street photographers swarmed Sydney's streets photographing everyday people in candid full-length portraits as they quickly passed by or stopped to pose.

In the background of many street photos are glimpses of Sydney's architecture, from still-recognisable locations to popular landmarks of the day. Many photos also show signs advertising businesses now long gone, including popular cafes like Repin's and Sargents.- Museum of Sydney
The sepia and black and white images of smartly dressed men and women striding the streets of a Sydney from yesteryear are a stark contrast to the portraiture images of the Ballet Russes taken by the gentleman for whom Repin's Inns were named, Ivan Dmitrievitch Repin.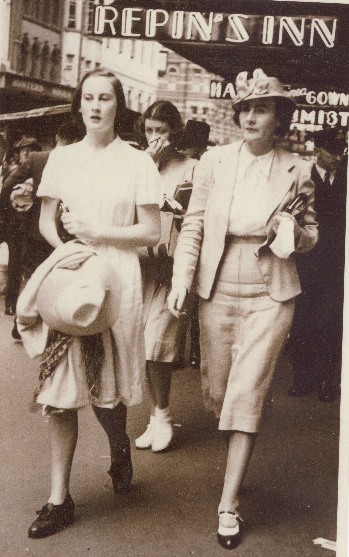 Repin's Inn under awning sign outside each shop. Street photographer's picture of a mother and daughter in Market Street, City
As Ivan's son George is having a respite from running his page at present, we'd like to sneak in a small insight into those 'Signs of the Times' the Sydney Museum's Street Photography exhibition allows us and where they may have appeared.
This 1937 (Australian Depression) article gives an overview of where you may have enjoyed that better coffee and a pretty amazing and fast roll-out of Repin's Coffee Inns, considering the Repin family landed in Australia in 1925:
LAND OF OPPORTUNITY
RUSSIAN WHO FOUND IT SO
HIS £12,000 NEW YEAR GIFT TO HIMSELF
WHEN Ivan Repin gave himself a New Year present worth thousands of pounds, he proved that Australia is still the land of opportunity for the man with an idea, and the will to carry it out.
Eleven years ago he came to Australia, broke.
To-day he owns the social rendezvous of Sydney's smart young things for morning, afternoon or after-the-show coffee and " eats ." in addition to the five coffee shops that have taught Sydney in the last six years to drink and appreciate real coffee.
Incidentally the romantic success of the house of Repin has proved again that individual effort spells success as opposed to Communism.
IVAN REPIN is a Russian. He came from a good family and after his education at the Mining Institute at St. Petersburg, he graduated as a mining engineer, and, in course of time, became the owner of a small silver and platinum mine at Novgorod, while his young brother, Peter, became a cadet at the Russian Military Academy.
Then the Revolution came. Always a strict constitutionalist, Ivan decided that as the Russian people had the new form of Government he would give it a trial. Although he lost his mine he worked under Communist conditions for some years, but found such to be no good to him.
Across Siberia
With his wife, children, and Peter, who, of course, had lost his prospects with the revolution, he made his way across Siberia in the winter of 1925, and came via Japan to Australia, where ho settled in Sydney. At first he started out in his own game, mining, but the only work he could get was as a miner at Balmain colliery.
With what little capital he had left he started a bus company, but, through no fault of his own, he lost control of the company, so he drove one of his own buses for a few months, but lost this job, too.
Meanwhile Peter had got a Job as a bus conductor, and it was not long before his fair hair, good looks, and intriguing accent had made him the most interesting feature of the Bondi-Bellevue Hill-Railway bus run.
Undismayed by his earlier failures, Ivan next bought a taxi-cab, and for three years he drove it round the city. These were not wasted years. He learnt from his fares that what Sydney needed was a place where decent coffee could be obtained under decent conditions and at a reasonable price. So he thought it out and saved his earnings until in 1930 he had enough money to open a little place in King Street opposite the Supreme Court. It was the first of the Repin shops, and there, with three assistants and his brother, Ivan worked from 9 a.m. until midnight, building up a business that in six years has become the biggest of its kind in the State.
It was not long before the first expansion occurred.
Dick Claplin, whose father at the time was Usher of the Black Rod, in the State Legislative Council, had returned from India and Ceylon where he had gained extensive experience in the tea and coffee trade, and, on his return to Australia, he had opened up a small shop next door to the old Tivoli Theatre. Because of his social connections, Dick's shop had become a rendezvous for the younger set. But seeking wider fields of activity, he decided to return to tea-tasting and blending, so he was willing to sell out. His shop, Repin's No. 2, still remained the haunt of the sweet young things who thought that the coffee at the "Blue Shop" was "too divine, my dear," while legal men from the Courts found Repin's No. 1 shop a handy place for a "refresher" between appearances.
So the business grew. Other shops were opened up — one in Market Street, one in Pitt Street. Another followed in Pitt Street, where the waitresses were dressed in Russian costume and a stringed trio provided music.
The remodelling of Wally Weekes' corner involved the pulling down of the original Repin shop, so he acquired another property at 138 King Street, and a second one at 130 King Street, which is now the head office.
Constant improvements and additions were made to each of the shops and, a few months ago, Ivan went on a world tour to study the latest methods of coffee roasting, blending, and preparation, and the most modern developments In the eating-house business.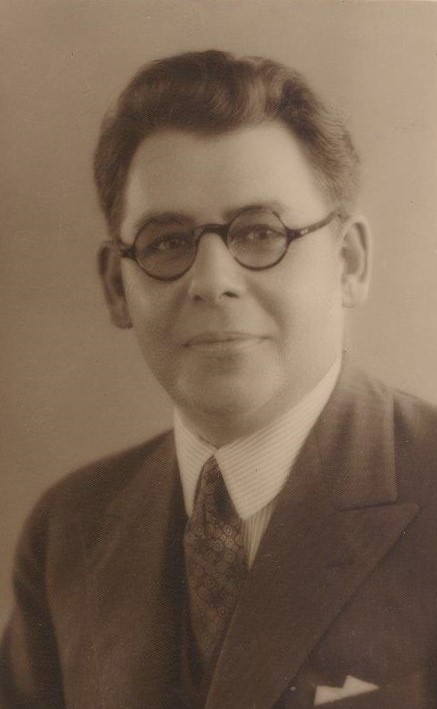 Ivan Repin - late 1930s. George Repin's photo
He signalised his return with the purchase of Quality Inn, the purchase price of which was in the vicinity of £12,000. Now he has a staff of about 150 with a weekly wages bill in the vicinity of £500, while his properties are worth many thousands of pounds.
Australia has brought success to Ivan Repin, and he and his family have all become naturalised citizens of the country. With the exception of half a dozen or so, all of his staff are Australians. The exceptions are Russians whom he knew in the old days and would have since fallen on evil times but for him.
Proudly he boasts, "Most of my coffee is Empire grown, from Kenya in Africa, Mysore in India, and Jamaica."
His coffee is something more than a mere drink to him. It is a necessity, and the making of It a rite. So says Repin.
THE LAND OF OPPORTUNITY (1937, January 2). Smith's Weekly (Sydney, NSW : 1919 - 1950), p. 7. Retrieved from http://nla.gov.au/nla.news-article235894997
'Quality Inn' subsequently became 'Repin's Quality Inn'. During the 1930's, just as the above article was being published, Repin's Inns were opened in George Street as well. The 'sweet young things' would be replaced in Repin Coffee Inns by members of what is called 'The Sydney Push' during the late 1940's and 1950's.
Some examples of those 'improvements' show Mr. Repin actively supported and promoted many a local Artist - not just those who word prove to be great wordsmiths as part of the Sydney Push: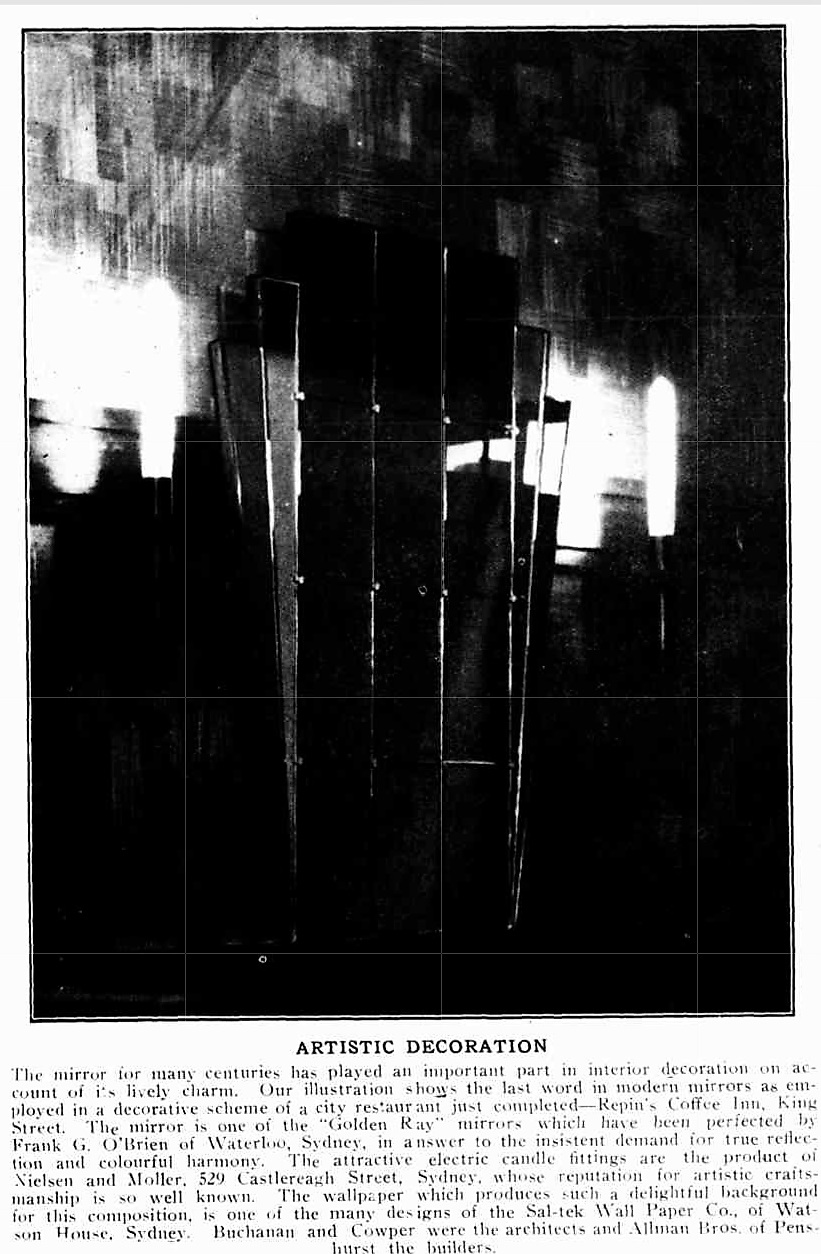 ARTISTIC DECORATION (1933, March 15). Construction and Real Estate Journal (Sydney, NSW : 1930 - 1938), p. 9. Retrieved from http://nla.gov.au/nla.news-article222910922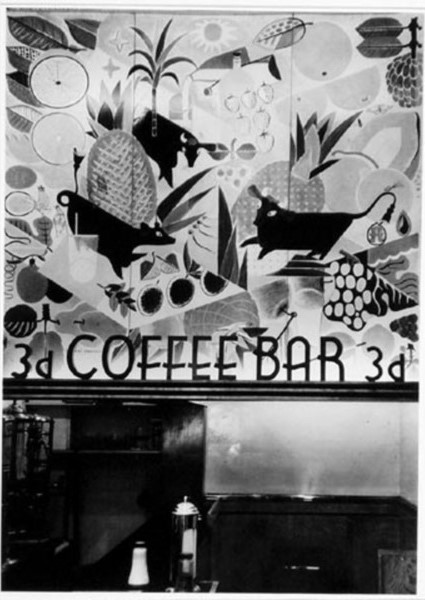 Mural in Repin's Coffee Bar by Australian Graphic Designer and Artist Douglas Annand, 1948 - photographer Max Dupain, courtesy Mitchell Library, State Library of New South Wales

The above gives an insight into why Repin's Coffee Inns were an institution among many in Sydney and are fondly remembered still, the most recent reference to them being in the 2018 Australian made film 'Ladies in Black'.
The Sydney Museum is a cool oasis in the weather we have at present and for lovers of architecture, culture, street photography, and Repin's Coffee Inns there is the added bonus of their current Street Photography Exhibition - definite 'do yourself a favour' material!
The Museum of Sydney is at the corner Phillip and Bridge Streets and openevery day from 10 am to 5pm. More details here.

To see a taste of the 'Repin Signs of those Times' the museum has on display, visit HERE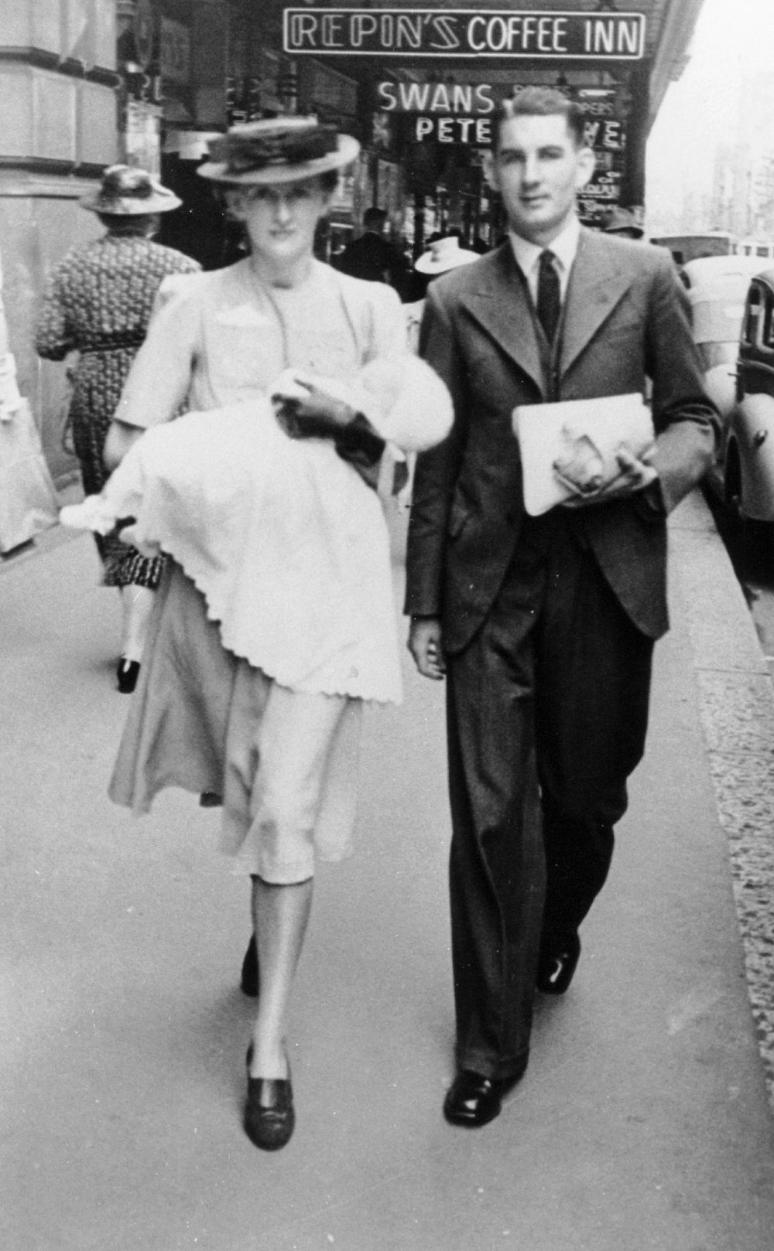 Thora nee (Smeal) nursing baby on vacation with husband Professor Gordon Greenwood, Sydney ca. 1941 - Courtesy State Library of QLD. This is a Repin's Coffee Inn in George street
Previous Reflections by George Repin
The Nineteen Thirties Remembering Rowe Street The Sydney Push Saturday Night at the Movies Shooting Through Like A Bondi Tram A Stop On The Road To Canberra City Department Stores - Gone and Mostly Forgotten An Australian Icon - thanks to Billy Hughes Crossing The Pacific in the 1930s Hill End The Paragon at Katoomba Seafood In Sydney How Far From Sydney? Cockatoo Island Over The Years The Seagull at the Melbourne Festival in 1991 Busby's Bore The Trocadero In Sydney Cahill's restaurants Medical Pioneers in Australian Wine Making Pedal Power and the Royal Flying Doctor Service Pambula and the Charles Darwin Connection Gloucester and the Barrington Tops A Millenium Apart Have You Stopped to Look? Gulgong Il Porcellino Olympia Durham Hall Sargent's Tea Rooms Pie Shops and Street Photographers The Ballet Russes and Their Friends in Australia Hotels at Bondi Alma Ata Conference - 1978 Keukenhof - 1954 The Lands Department Building and Yellowblock Sandstone The Goroka Show - 1958 A Gem On The Quay Staffa The Matson Line and Keepsake Menus Kokeshi Dolls The Coal Mine At Balmain The Hyde Park Barracks The Changing Faces Of Sydney From Pounds and Pence to Dollars and Cents Nell Tritton and Alexander Kerensky Making A Difference In Ethiopia William Balmain J C Bendrodt and Princes Restaurant Azzalin Orlando Romano and Romano's Restaurant Waldheim Alcohol in Restaurants Before 1955 King Island Kelp The Mercury Theatre Around Angkor - 1963 Angkor Wat 1963 Costumes From the Ballets Russe Clifton at Kirribilli Chairman Mao's Personal Physician The Toby Tavern The MoKa at Kings Cross The Oceaographic Museum in Monaco The Island of Elba Russian Fairy Tale Plates Meteora Souda Bay War Cemetery Barrow, Alaska Cloisonné Tripitaka Koreana Minshuku The Third Man Photographs and Memories Not A Chagall! Did You Listen? Did You Ask? Napier (Ahuriri, Maori) New Zealand Borobudur Ggantija Temples Plumes and Pearlshells Murano University of Padua Ancient Puebloe Peoples - The Anasazi Pula The Gondolas of Venice Cinque Terre Visiting the Iban David The Living Desert Bryce Canyon National Park Aphrodisias The Divine Comedy Caodaism Sapa and local Hill People A Few Children Cappadocia Symi Jean-Marie Tjibaou Cultural Centre Aboriginal Rock Art on Bigge Island ANZAC Cove (Ari Burnu) 25 April, 1997 Hotere Garden Oputae Children of the Trobriand Islands Page Park Market - Rabaul Rabual Kotor, Montenegro Galleries of Photographs I Lascaux Galleries of Photographs II The Cathedral of St. James – Šibenik, Croatia Ivan Meštrović - Sculptor Delphi Gallery of Photographs III The Handicrafts of Chiang Mai Raft Point San Simeon - "Hearst Castle" Floriade - The Netherlands - 1982 Russian New Year Mycenae "Flightseeing" Out Of Anchorage Alaska The White Pass and Yukon Route Totem Poles Tivkin Cemetery Krka National Park - Croatia Tavistock Square and the BMA Orthodox Easter Wieliczka Salt Mine A Walk on Santorini Indonesian Snapshots Ephesus - The Library of Celsus Ephesus - Some Places Of Interest Waimea Canyon and the Kalalau Valley United Nations Headquarters 1958 A Miscellany of Flower Images Gardens Bath St. David's In Wales Zion National Park Nicholas Himona - Artist Kraków Lilianfels Collonges-La-Rouge Gingerbread Houses Cape Sounion Delos Wroclaw Colonial Williamsburg Gruyères Strasbourg Coventry Cathedral The Roman Theatre at Aspendos Turkish Carpets The Duomo of Orvieto Rovinj The City Walls of Dubrovnik Monaco - Snapshots Bonifacio, Corsica Autumn in New England USA The Great Ocean Road Pompeii Didyma Lawrence Hargrave 1850-1915 The Corinth Canal Malta Snapshots of Amsterdam Café Central - Vienna The Forbidden City - Beijing, China A Ride on the Jungfrau Railway - 1954 Snapshots in the Highlands of Scotland 1954 Must See Sights in Paris - 1954 Corfu Reflections On the Nineteen Thirties The Gold Souk in Dubai Stromboli Ha Long Bay - Vietnam Lake Argyle The Bungle Bungle Range Langgi Inlet, W.A. White Cliffs, NSW - 1990 Sturt National Park - May, 1990 A Few Statues and Water Spouts The Dodecanese Archipelago Rhodes Lindos The Church on Spilled Blood - 2005 Monument to the Heroic Defenders of Leningrad Repin's In "Ladies In Black"
Copyright George Repin 2019. All Rights Reserved.