August 7 - 13, 2022: Issue 549

Our Youth page is for young people aged 13+ - if you are younger than this we have news for you in the Children's page. News items and articles run at the top of this page. Information, local resources, events and local organisations, sports groups etc. are at the base of this page. All Previous pages for you are listed in Past Features
Written in stone: a 240 million year old mass breeding event
Published by Pittwater Pathways, August 4, 2022
Paul Cronk's discovery of fossil trackways at Turimetta indicates a mass breeding event took place there about 240 million years ago. In this video scientists from the Australian Museum and Macquarie University are examining the fossils. Their discussion and reasoning makes a fascinating record of the scientific process in action.
Lachlan Hart is a vertebrate palaeontologist currently undertaking his PhD at the University of New South Wales and the Australian Museum. His research focuses on the evolution, systematics and palaeobiology of Mesozoic tetrapods, including temnospondyl amphibians, crocodyliformes and dinosaurs. Lachlan is particularly interested in exploring what can be learnt about extinct animals from studying their living descendants
Dr Patrick Smith is a taxonomist and biostratigrapher researching the Cambrian and Ordovician of Australia and New Zealand. He primarily has worked on fossil arthropods (trilobites and their close relatives). However, he's also occasionally worked on other fossil groups, including brachiopods, gastropods and echinoderms. Patrick is particularly interested in using fossils as key time markers to correlate sequences of rocks on a regional, national, and global scale.
Prof Glenn Brock, palaeobiologist, Macquarie University.
My research activities focus on elucidating the evolution, phylogeny, biodiversity, ecology and biostratigraphy of the earliest (stem group) bilaterian animals that arose during the Cambrian Explosion. My work focuses on studying exceptionally preserved macro- and microfossils from a variety of localities in Australasia and Antarctica. I am particularly interested in the phylogenetic, ecological and biostratigraphic significance of early Cambrian "Small Shelly Fossils" (SSF).
Dr Peter Mitchell OAM is one of Australia's most respected and experienced geomorphologists.
Be The Boss: I Want To Be A gardener
Those who have taken on a simple lawn-mowing run will know this is in-demand work that pays well and allows you autonomy. Once you undertake further studies you can also expand your self-employment to gardening and choose to do something more in the vast field that is suited to your interest - Horticulturalists and Landscape Gardeners or Greenkeeping are just a few of the associated career fields.
Gardeners plant, care for and maintain lawns, shrubs, trees and flowers. They look after the landscaping and structural elements of the garden and often design gardens or outdoor spaces.
Work is in private gardens at people's homes, at commercial locations or in public parks and gardens.
This career is suitable for people with an affinity for nature and working the land. Knowledge of plant species and the conditions required for each to thrive is important.
Day-to-day tasks:
prepare and maintain seed and garden beds
propagate and plant trees, bushes, hedges, flowers and bulbs
plant grass and lay turf
maintain grassed areas through weeding, trimming, fertilising, watering and mowing
prune trees and hedges
attend to landscaped and paved areas such walls, fences, gravel, pergolas, ponds, barbecues and garden furniture
examine trees to assess their condition and determine treatment
shape branches using chain or handsaws
spray plants and trees to control insects and disease.
Considerations: Physically demanding, Requires driving, Working outdoors.
Formal qualifications are not required, however vocational education and training (VET) courses in horticulture can improve employment prospects. Find a Diploma or Certificate in Horticulture
Architect and Landscape Architect
Architects and Landscape Architects design commercial, industrial, institutional, residential and recreational buildings and landscapes.
Day-to-day tasks:
obtaining advice from clients and management to determine type, style and size of planned buildings and alterations to existing buildings
providing information regarding designs, materials and estimated building times
preparing project documentation, including sketches and scale drawings, and integrating structural, mechanical and aesthetic elements in final designs
writing specifications and contract documents for use by builders and calling tenders on behalf of clients
consulting with Professionals and clients about external area designs, costs and construction
compiling and analysing site and community data about geographical and ecological features, landforms, soils, vegetation, site hydrology, visual characteristics and human-made structures, to formulate land use and development recommendations, and for preparing environmental impact statements
preparing reports, site plans, working drawings, specifications and cost estimates for land development, showing location and details of proposals, including ground modelling, structures, vegetation and access
inspecting construction work in progress to ensure compliance with plans, specifications and quality standards.
You usually need a bachelor degree in architectural design or landscape architecture to work as an Architect or Landscape Architect. It is also common to complete postgraduate studies. Find a Bachelor of Landscape Architectural Design
Greenkeeper
Greenkeepers establish and maintain fine turf, grassed areas and synthetic surfaces used for sporting events.
Day-to-day tasks;
preparing seedbeds for new turf
establishing and maintaining turf by watering, over sowing or over seeding, and repairing green damage
mowing, rolling and levelling turf
pegging and marking out lines and logos, installing nets, posts and stumps, and placing other sports equipment on playing areas
operating and maintaining hand and power driven equipment such as mowers, aerators, cultivators, corers and line marking equipment
constructing cricket wickets, tennis courts, and bowling, croquet and golf greens
replanting, repairing, aerating, fertilising and top dressing lawns
installing and maintaining synthetic surfaces
may maintain buildings, fences and surrounding gardens.
You can work as a Greenkeeper without formal qualifications, however, a certificate II, III or IV in sports turf management, horticulture or another related field may be useful. Take a Diploma of Golf Management. Take a Diploma of Sports Turf Management
Nurseryperson
Nurserypersons propagate and cultivate trees, shrubs, and ornamental and flowering plants in plant nurseries.
Day-to-day tasks;
preparing potting media and containers before planting
selecting seeds, bulbs and cuttings, and planting them in beds, lawn areas and tubs
budding and grafting vegetative material onto root stock
watering plants manually and controlling automatic watering operations
applying pesticides to control pests, diseases, weeds and nutritional and environmental plant disorders
keeping records of soil mixtures, plantings, treatments, losses and yields
selecting plants and packaging them for presentation and delivery
advising customers on plant care and appropriate plants for local conditions
may plan sales area layouts and visual merchandise presentation.
You can work as a Nurseryperson without formal qualifications, however, a certificate III or IV in retail nursery, production nursery, horticulture or agriculture may be useful.
Find a Certificate in Nursery Production or Retail
Gardener as a job information courtesy Australian Government Apprenticeships Guide (Your Career), Australian Open Colleges and The Good Universities Guide, Australia.
Also Available
Art competition to remember our ANZACS
June 24, 2022
Students across NSW are encouraged to get creative as the NSW Government together with RSL NSW launches an art competition to commemorate the 70th anniversary of the RSL and Schools Remember ANZAC Commemoration next year.
Minister for Education and Early Learning Sarah Mitchell is encouraging students to speak to their school and submit a design that will feature on the 2023 program and at an exhibition at the Anzac Memorial in Hyde Park.
"The NSW Government and the Department of Education has co-hosted this service with RSL NSW for 70 years, and we want to acknowledge this anniversary with a commemorative program to which the students in New South Wales can contribute," Ms Mitchell said.
"I invite any student across all three education sectors to participate and have the opportunity to be selected to have their artwork featured on the 2023 service program."
Minister for Transport and Veterans David Elliott said the annual commemoration at the Anzac Memorial in Hyde Park aims to educate and encourage younger Australians to learn about Australia's military history, whilst paying respect to the service and sacrifice of servicemen and servicewomen.
"This art competition is a great way for students in New South Wales to learn about our military history and design an artwork that reflects what it means to them. It could be about a family member who served in World War One, or a symbol of their service to our nation," Mr Elliott said.
"The annual RSL and Schools Remember ANZAC proceedings are incomparable, as they're delivered entirely by school students including the Master of Ceremonies, keynote address, readings, and musical accompaniment."
RSL NSW President Ray James said it was critical for the RSL to work with the Department of Education to ensure school students understood why Australians commemorated the service and sacrifice of those who have served in the Australian Defence Force.
"Commemorating significant moments in our military history is vital to Australia, as a people, a community, and a nation. RSL NSW takes this responsibility incredibly seriously as the custodians of the Anzac spirit. Future generations should never forget that the freedom they enjoy in Australia has been protected by the men and women who served in our armed and allied forces." Mr James said.
The RSL and Schools Remember ANZAC Commemoration was first held in 1953, co-hosted by RSL NSW and the Department of Education. Over the years the service has expanded to Catholic Schools NSW and the Association of Independent Schools NSW.
16 September 2022: Submissions close

Word Of The Week: virtue
Word of the Week returns in 2022 simply to throw some disruption in amongst the 'yeah-nah' mix.
noun
1. behaviour showing high moral standards. conformity to a standard of right: morality. :a particular moral excellence. 2. beneficial quality or power of a thing. 3. manly strength or courage: valor. 4. a commendable quality or trait: merit. 4. (in traditional Christian angelology) the seventh-highest order of the ninefold celestial hierarchy.. 5. Archaic: virginity or chastity, especially of a woman.
From Middle English: from Old French vertu, from Latin virtus 'valour, merit, moral perfection', from vir 'man'. The ancient Romans used the Latin word virtus (derived from vir, their word for man) to refer to all of the "excellent qualities of men, including physical strength, valorous conduct, and moral rectitude." The French words vertu and virtu came from this Latin root. In the 13th century, the word virtue was "borrowed into English".
virtue signalling: the action or practice of publicly expressing opinions or sentiments intended to demonstrate one's good character or the moral correctness of one's position on a particular issue. "Virtue signalling", according to the Cambridge Dictionary, is "an attempt to show other people that you are a good person, for example by expressing opinions that will be acceptable to them, especially on social media".
B. D. McClay wrote in The Hedgehog Review that signalling particularly flourished in online communities; It was unavoidable in digital interactions because they lacked the qualities of offline life, such as spontaneity. When one filled out a list of one's favourite books for Facebook(or other lists/or anything on other platforms), one was usually aware of what that list said about oneself.
The expression is often used to imply that the virtue being signalled is exaggerated or insincere in other forms; one example often cited as virtue signalling is "greenwashing" (a compound word modelled on "whitewash"), when a company deceptively claims that its products or policies are more environmentally friendly than, in fact, they actually are.
Platonic virtue - The four classic cardinal virtues are:
Prudence (φρόνησις, phrónēsis; Latin: prudentia; also Wisdom, Sophia, sapientia), the ability to discern the appropriate course of action to be taken in a given situation at the appropriate time.
Fortitude (ἀνδρεία, andreía; Latin: fortitudo): also termed courage, forbearance, strength, endurance, and the ability to confront fear, uncertainty, and intimidation.
Temperance (σωφροσύνη, sōphrosýnē; Latin: temperantia): also known as restraint, the practice of self-control, abstention, discretion, and moderation tempering the appetition. Plato considered Sōphrosynē, which may also be translated as sound-mindedness, to be the most important virtue.
Justice (δικαιοσύνη, dikaiosýnē; Latin: iustitia): also considered as fairness; the Greek word also having the meaning righteousness.
This enumeration is traced to Greek philosophy and was listed by Plato in addition to piety: ὁσιότης (hosiotēs), with the exception that wisdom replaced prudence as virtue. Some scholars consider either of the above four virtue combinations as mutually reducible and therefore not cardinal.
Other examples of this include the concept of merit in Asian traditions as well as De (Chinese), Buddhism's four brahmavihara ("Divine States") can be regarded as virtues in the European sense, as well as other examples across the globe in all societies and religions. For example, in Jainism, attainment of enlightenment is possible only if the seeker possesses certain virtues. All Jains are supposed to take up the five vows of ahimsa (non violence), satya (truthfulness), asteya (non stealing), aparigraha (non attachment) and brahmacharya (celibacy) before becoming a monk. Other virtues which are to be followed by both monks as well as laypersons include forgiveness, humility, self-restraint and straightforwardness.

Compare Virtual: The adjective virtual is used to describe something that exists in essence but not in actuality. 1. almost or nearly as described, but not completely or according to strict definition. 2. Computing; not physically existing as such but made by software to appear to do so.
The first records of the word virtual come from around 1400. It comes from the Medieval Latin virtuālis, meaning "effective" (in the sense of having the effect of something without the form or appearance of it).

Jesse McCartney - Beautiful Soul (September 14, 2014)
The Master's Apprentices - It's Because I Love You (March 1971)
Richard Clapton - Capricorn Dancer (1977)
Connecting with harmony: Emma Baylin - TEDxWarrington
Published July 30, 2022
NOTE FROM TED: This talk only represents the speaker's personal views and understanding of music and physiology. TEDx events are independently organized by volunteers. The guidelines we give TEDx organizers are described in more detail here: http://storage.ted.com/tedx/manuals/t...
How can music help us create connection? How can finding your voice help you find yourself? In this talk, Emma explores the impact of creative practices to help you reach your full potential and a harmony you never imagined possible.
Video production by Prism Studios, Warrington www.prism-studios.co.uk In 2013, Emma founded Shared Harmonies CIC, a not-for-profit organisation specialising in creative development services for companies and communities, with the aim of improving connection, confidence and wellbeing through inspirational singing.
Shared Harmonies helps organisations explore leadership, team work and wellbeing, guiding participants through an experiential journey, applying learning to their own practice and developing clear actions. All profits are reinvested to support health and wellbeing community programmes, including COPD, mental health, cancer, Parkinson's and dementia.
During the pandemic, Emma expanded Shared Harmonies by developing creative ways to reach more people that needed support, connecting hundreds through co-producing songs. They won awards and came runner-up in the Song for Yorkshire competition. Emma was awarded a Prime Minister's Point of Light Award for services to communities and was invited to become a Fellow of the Royal Society for the Arts. This talk was given at a TEDx event using the TED conference format but independently organized by a local community. Learn more at https://www.ted.com/tedx
book of the month: august 2022 - Kamilaroi, and other Australian languages by William Ridley(1819-1878)
Publication date: 1875, Publisher: Sydney, N.S.W., T. Richards, government printer
noun
1. a member of a group of Australian Aboriginal peoples of north-eastern New South Wales.
2. the language of the Kamilaroi.
adjective; relating to the Kamilaroi or their language.
The Gamilaraay or Kamilaroi language is a Pama–Nyungan language of the Wiradhuric subgroup found mostly in south-eastern Australia. It is the traditional language of the Gamilaraay (Kamilaroi), an Indigenous Australian people. It has been noted as endangered, but the number of speakers grew from 87 in the 2011 Australian Census to 105 in the 2016 Australian Census. Thousands of Australians identify as Gamilaraay, and the language is taught in some schools.
Wirray Wirray, Guyinbaraay, Yuwaalayaay, Waalaraay and Gawambaraay are dialects; Yuwaalaraay/Euahlayi is a closely related language.
The name Gamilaraay means 'gamil-having', with gamil being the word for 'no'. Other dialects and languages are similarly named after their respective words for 'no'. (Compare the division between langues d'oïl and langues d'oc in France, distinguished by their respective words for 'yes'.)
Spellings of the name, in the language itself, include Goomeroi; Kamilaroi; Gamilaraay and Gamilaroi.
According to Robert Fuller of the Department of Indigenous Studies at Macquarie University and his colleagues, the Gamilaraay and Euahlayi peoples are a cultural grouping of north and northwest New South Wales (NSW), and the Gamilaraay dialect groups are known as Gamilaraay and Yuwaalaraay, while the Euahlayi (Euayelai) have a similar but distinct language.
Southern Aboriginal guides led the surveyor John Howe to the upper Hunter River above present-day Singleton in 1819. They told him that the country there was "Coomery Roy [=Gamilaraay] and more further a great way", meaning to the north-west, over the Liverpool Ranges (see O'Rourke 1997: 29). This is probably the first record of the name.
A basic wordlist collected by Thomas Mitchell in February, 1832, is the earliest written record of Gamilaraay.
Presbyterian missionary William Ridley studied the language from 1852 to 1856.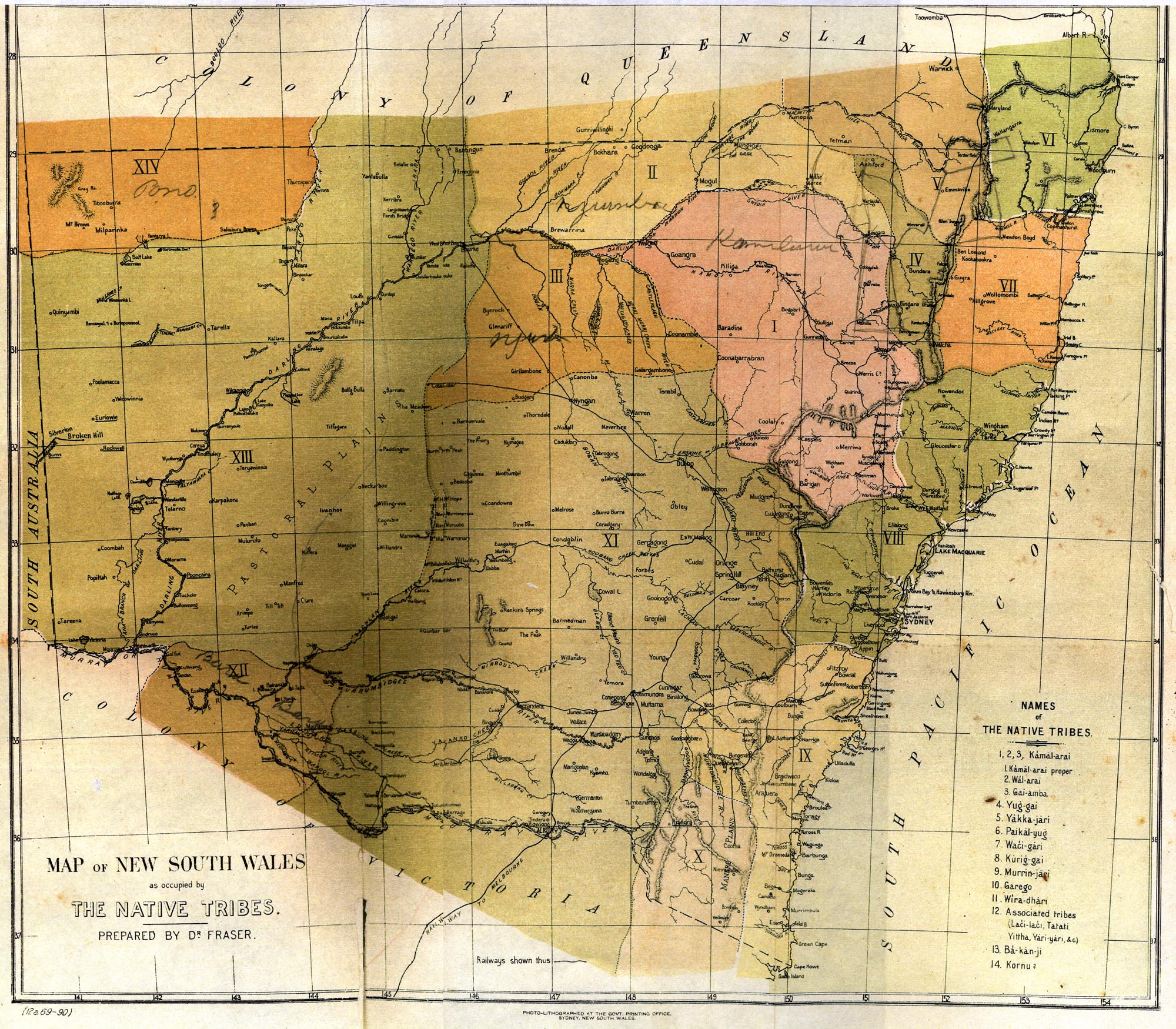 A map of the tribes of New South Wales, published in 1892. Gamilaraay is marked I.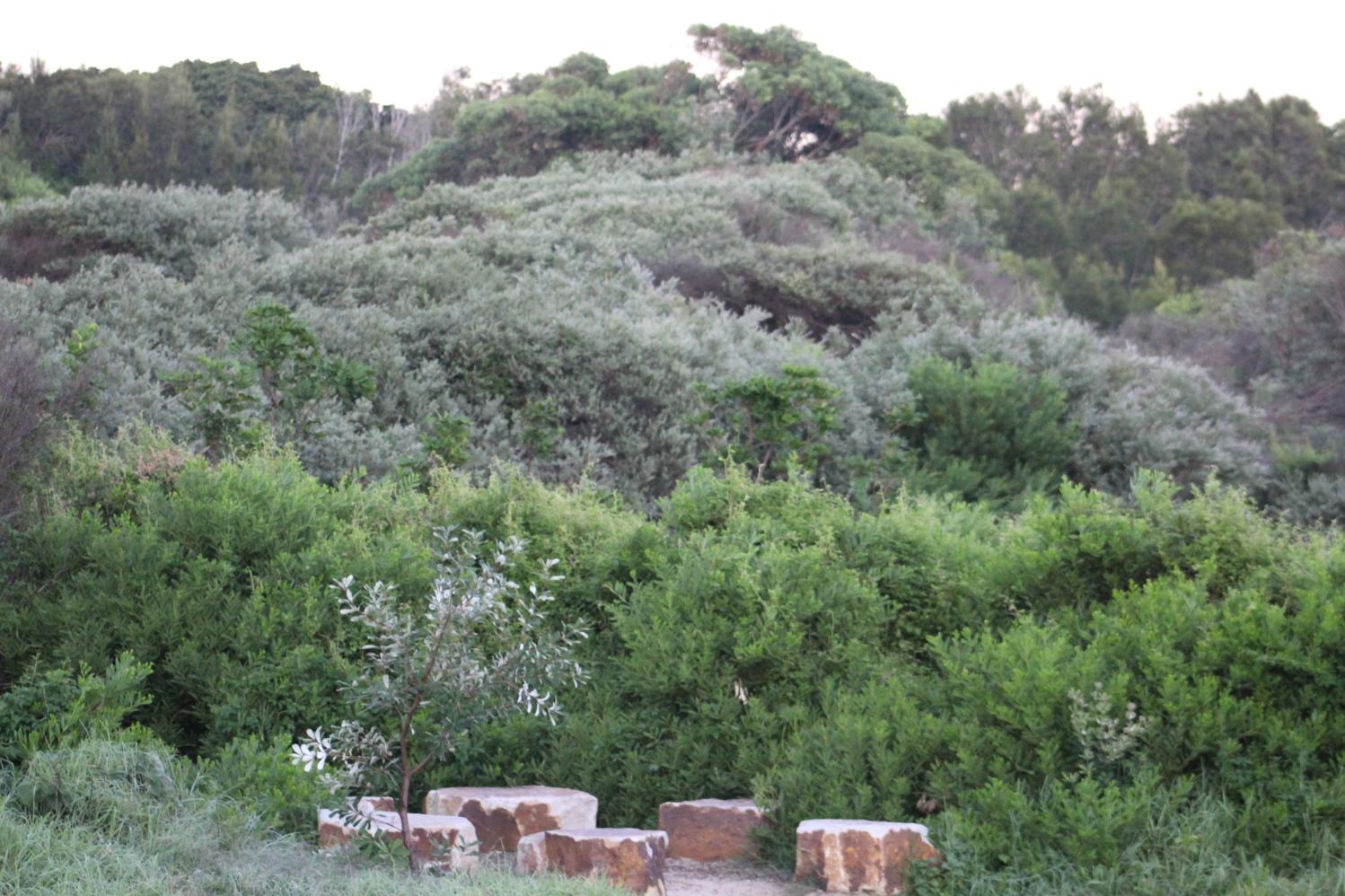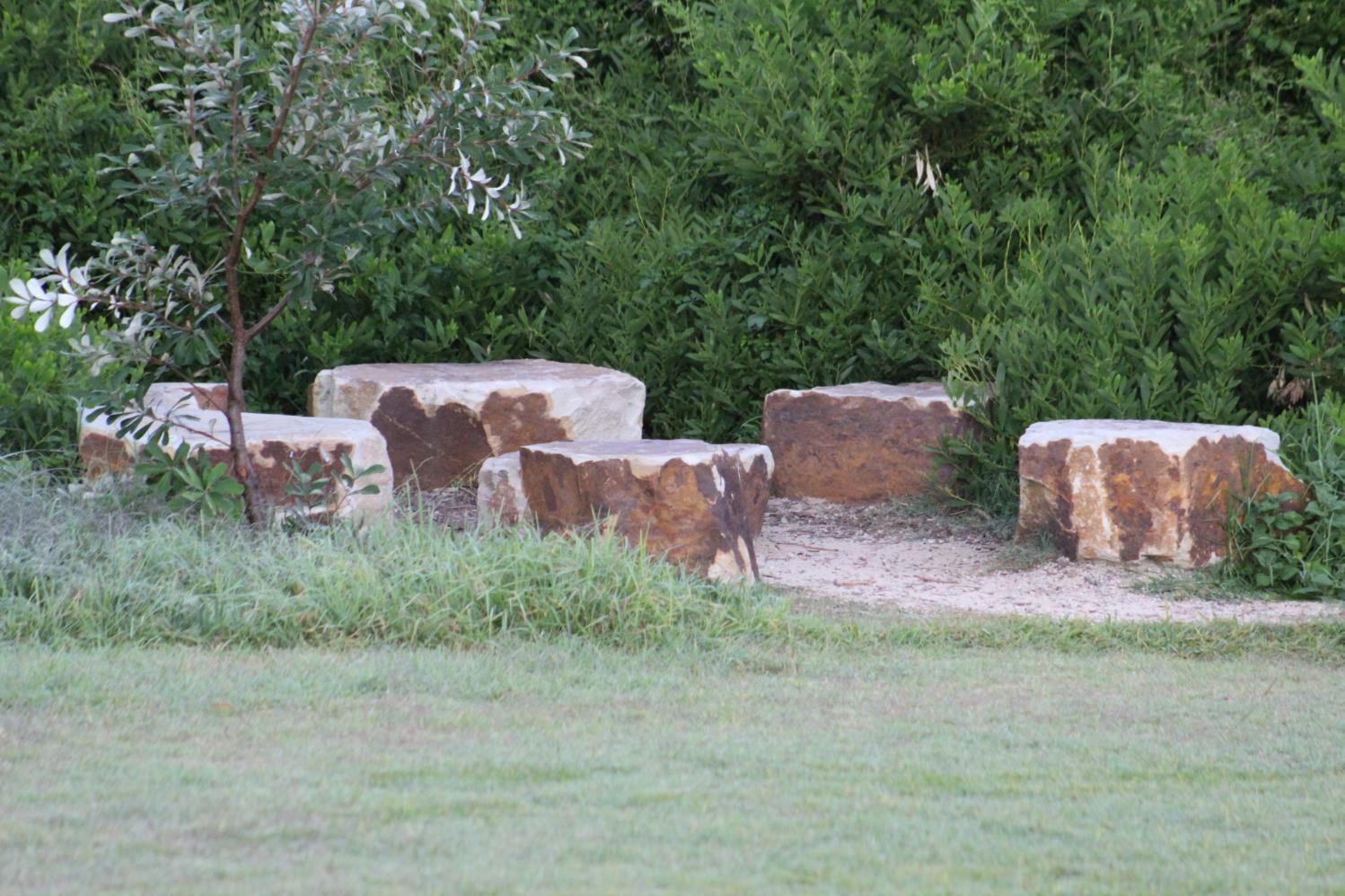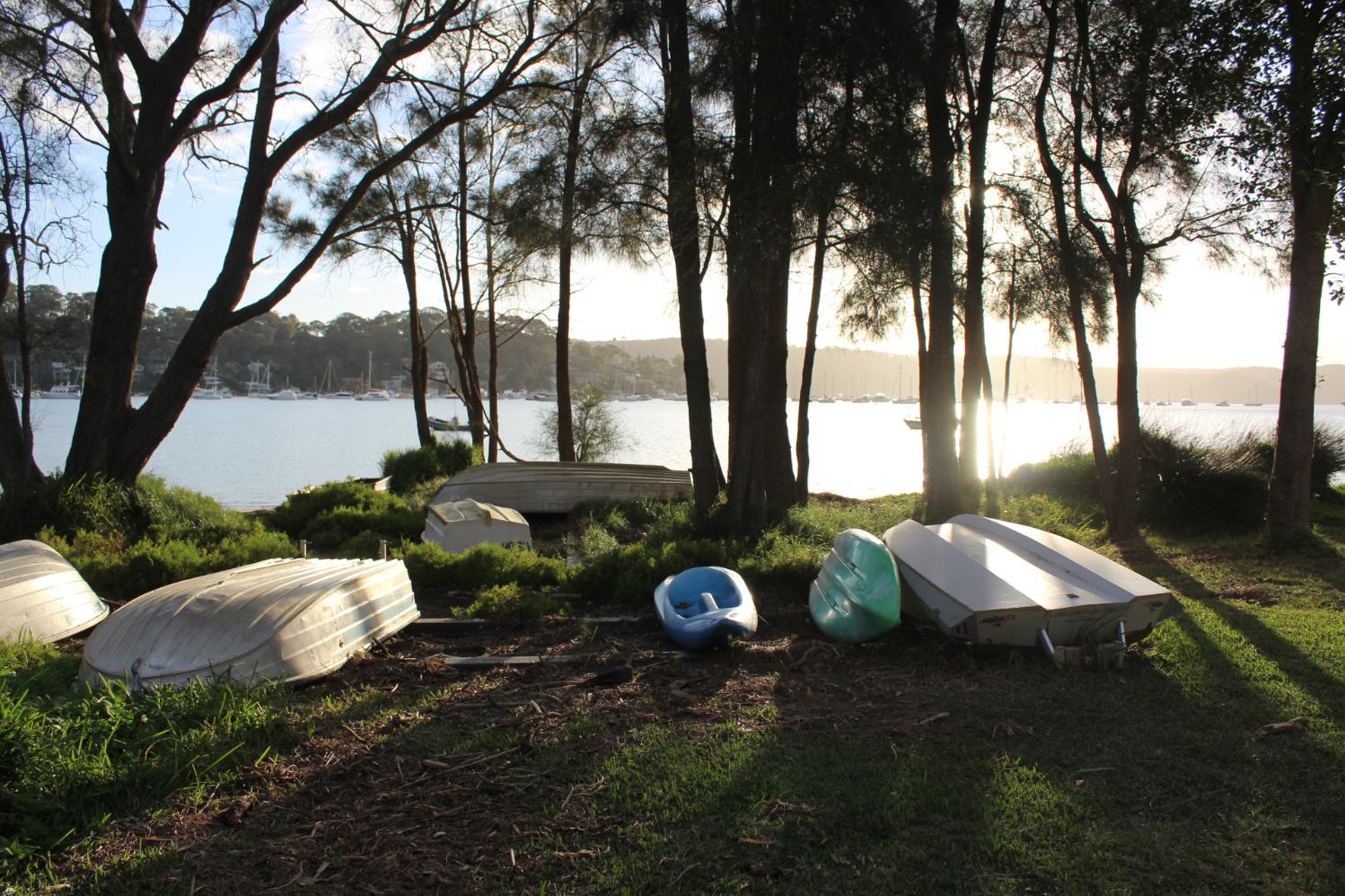 The world at your finger tips: Online
With current advice to stay at home and self-isolate, when you come in out of the garden, have had your fill of watching movies and want to explore something new, there's a whole world of books you can download, films you can watch and art galleries you can stroll through - all from at home and via the internet. This week a few suggestions of some of the resources available for you to explore and enjoy. For those who have a passion for Art - this month's Artist of the Month is the Online Australian Art Galleries and State Libraries where you can see great works of art from all over the world and here - both older works and contemporary works.
Also remember the Project Gutenberg Australia - link here- has heaps of great books, not just focused on Australian subjects but fiction works by popular authors as well. Well worth a look at.
Short Stories for Teenagers you can read for free online
StoryStar is an online resource where you can access and read short stories for teenagers.
About
Storystar is a totally FREE short stories site featuring some of the best short stories online, written by/for kids, teens, and adults of all ages around the world, where short story writers are the stars, and everyone is free to shine! Storystar is dedicated to providing a free place where everyone can share their stories. Stories can entertain us, enlighten us, and change us. Our lives are full of stories; stories of joy and sorrow, triumph and tragedy, success and failure. The stories of our lives matter. Share them. Sharing stories with each other can bring us closer together and help us get to know one another better. Please invite your friends and family to visit Storystar to read, rate and share all the short stories that have been published here, and to tell their stories too.
StoryStar headquarters are located on the central Oregon coast.
NFSA - National Film and Sound Archive of Australia
The doors may be temporarily closed but when it comes to the NFSA, we are always open online. We have content for Kids, Animal Lovers, Music fans, Film buffs & lots more.
You can explore what's available online at the NFSA, see more in the link below.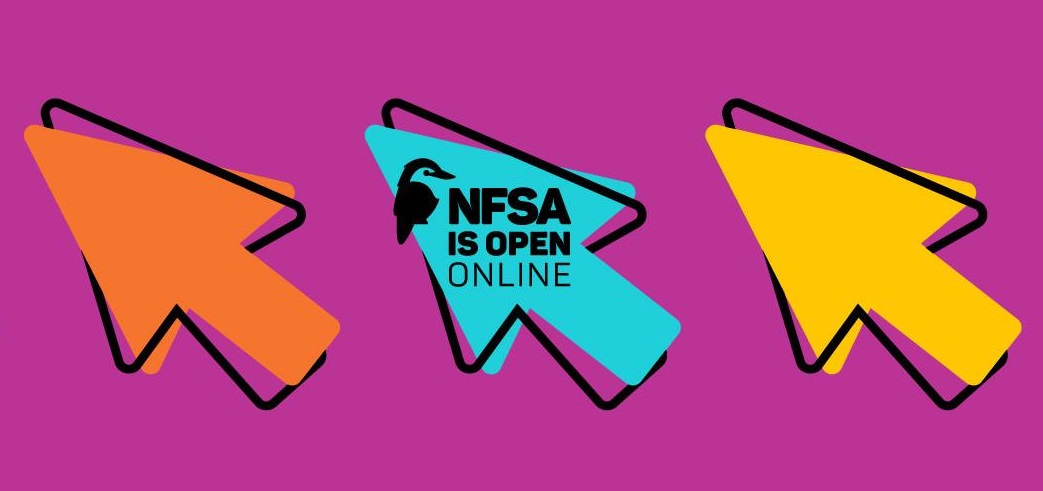 NLA Ebooks - Free To Download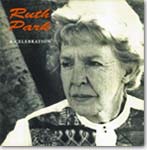 The National Library of Australia provides access to thousands of ebooks through its website, catalogue and eResources service. These include our own publications and digitised historical books from our collections as well as subscriptions to collections such as Chinese eResources, Early English Books Online and Ebsco ebooks.
Ebooks are books published in an electronic format. They can be read by using a personal computer or an ebook reader.
This guide will help you find and view different types of ebooks in the National Library collections.
Peruse the NLA's online ebooks,
ready to download - HERE
The Internet Archive and Digital Library
The Internet Archive is an American digital library with the stated mission of "universal access to all knowledge." It provides free public access to collections of digitised materials, including websites, software applications/games, music, movies, videos, moving images, and millions of public-domain books. There's lots of Australian materials amongst the millions of works on offer.
Visit: https://archive.org/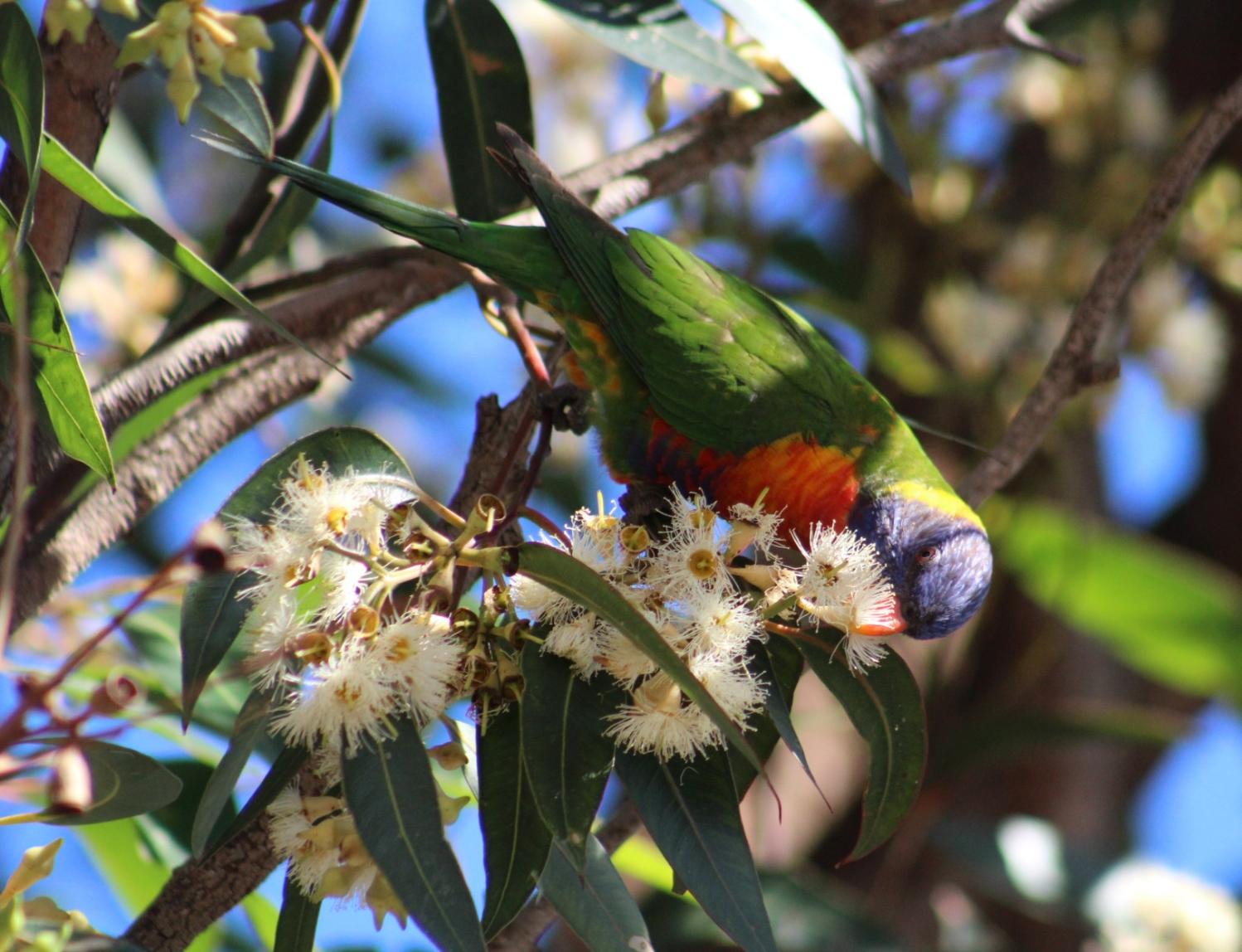 Avalon Youth Hub: More Meditation Spots
Due to popular demand our meditation evenings have EXPANDED. Two sessions will now be run every Wednesday evening at the Hub. Both sessions will be facilitated by Merryn at Soul Safaris.
6-7pm - 12 - 15 year olds welcome
7-8pm - 16 - 25 year olds welcome
No experience needed. Learn and develop your mindfulness and practice meditation in a group setting.
BIG THANKS The Burdekin Association for funding these sessions!
Green Team Beach Cleans
It has been estimated that we will have more plastic than fish in the ocean by 2050...These beach cleans are aimed at reducing the vast amounts of plastic from entering our oceans before they harm marine life.
Anyone and everyone is welcome! If you would like to come along, please bring a bucket, gloves and hat. Kids of all ages are also welcome!
We will meet in front of the surf club.
Hope to see you there!
The Green Team is a
Youth-run, volunteer-based environment initiative from Avalon, Sydney. Keeping our area green and clean.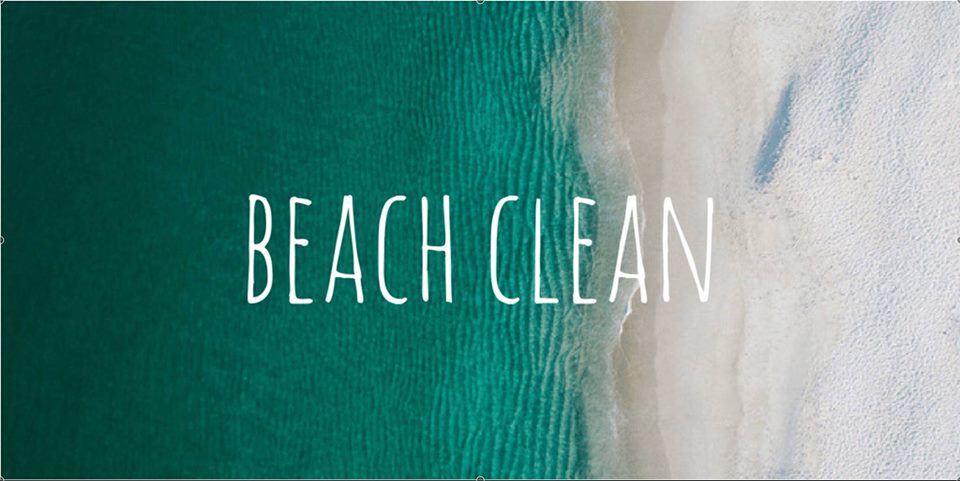 The Project Gutenberg Library of Australiana
Australian writers, works about Australia and works which may be of interest to Australians.This Australiana page boasts many ebooks by Australian writers, or books about Australia. There is a diverse range; from the journals of the land and sea explorers; to the early accounts of white settlement in Australia; to the fiction of 'Banjo' Paterson, Henry Lawson and many other Australian writers.
The list of titles form part of the huge collection of ebooks freely downloadable from Project Gutenberg Australia. Follow the links to read more about the authors and titles and to read and/or download the ebooks.
Profile: Ingleside Riders Group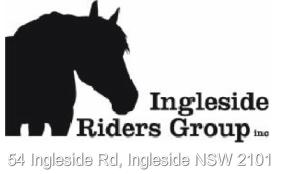 Ingleside Riders Group Inc. (IRG) is a not for profit incorporated association and is run solely by volunteers. It was formed in 2003 and provides a facility known as "Ingleside Equestrian Park" which is approximately 9 acres of land between Wattle St and McLean St, Ingleside. IRG has a licence agreement with the Minister of Education to use this land. This facility is very valuable as it is the only designated area solely for equestrian use in the Pittwater District.
IRG promotes equal rights and the respect of one another and our list of rules that all members must sign reflect this.
Cyberbullying
Research shows that one in five Australian children aged 8 to 17 has been the target of cyberbullying in the past year. The Office of the Children's eSafety Commissioner can help you make a complaint, find someone to talk to and provide advice and strategies for dealing with these issues.
Make a Complaint
The Enhancing Online Safety for Children Act 2015 gives the power to provide assistance in relation to serious cyberbullying material. That is, material that is directed at a particular child with the intention to seriously embarrass, harass, threaten or humiliate.
IMPORTANT INFORMATION
Before you make a complaint you need to have:
copies of the cyberbullying material to upload (eg screenshots or photos)

reported the material to the social media service (if possible) at least 48 hours ago

at hand as much information as possible about where the material is located

15-20 minutes to complete the form
Visit: esafety.gov.au/complaints-and-reporting/cyberbullying
Our mission
The Office of the Children's eSafety Commissioner is Australia's leader in online safety. The Office is committed to helping young people have safe, positive experiences online and encouraging behavioural change, where a generation of Australian children act responsibly online—just as they would offline.
We provide online safety education for Australian children and young people, a complaints service for young Australians who experience serious cyberbullying, and address illegal online content through the Online Content Scheme.
Our goal is to empower all Australians to explore the online world—safely.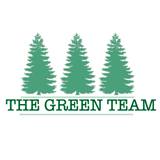 The Green Team
Profile
This Youth-run, volunteer-based environment initiative has been attracting high praise from the founders of Living Ocean as much as other local environment groups recently.
Creating Beach Cleans events, starting their own, sustainability days - 'action speaks louder than words' ethos is at the core of this group.
Sync Your Breathing with this - to help you Relax
Send In Your Stuff
Pittwater Online News is not only For and About you, it is also BY you.
We will not publish swearing or the gossip about others. BUT: If you have a poem, story or something you want to see addressed, let us know or send to:
pittwateronlinenews@live.com.au
All Are Welcome, All Belong!
Youth Source: Northern Sydney Region
A directory of services and resources relevant to young people and those who work, play and live alongside them.
The
YouthSource directory
has listings from the following types of service providers:
Aboriginal,
Accommodation,
Alcohol & Other Drugs,
Community Service,
Counselling,
Disability,
Education & Training,
Emergency Information,
Employment,
Financial,
Gambling,
General Health & Wellbeing,
Government Agency,
Hospital & GP,
Legal & Justice,
Library,
Mental Health,
Multicultural,
Nutrition & Eating Disorders,
Parenting,
Relationships,
Sexual Health,
University,
Youth Centre
Fined Out: Practical guide for people having problems with fines

Legal Aid NSW has just published an updated version of its 'Fined Out' booklet, produced in collaboration with Inner City Legal Centre and Redfern Legal Centre.
Fined Out is a practical guide to the NSW fines system. It provides information about how to deal with fines and contact information for services that can help people with their fines.
A fine is a financial penalty for breaking the law. The Fines Act 1996 (NSW) and Regulations sets out the rules about fines.
The 5th edition of 'Fined Out' includes information on the different types of fines and chapters on the various options to deal with fines at different stages of the fine lifecycle, including court options and pathways to seek a review, a 50% reduction, a write-off, plan, or a Work and Development Order (WDO).
The resource features links to self-help legal tools for people with NSW fines, traffic offence fines and court attendance notices (CANs) and also explains the role of Revenue NSW in administering and enforcing fines.
Other sections of the booklet include information specific to Aboriginal and Torres Strait Islander people, young people and driving offences, as well as a series of template letters to assist people to self-advocate.
Hard copies will soon be available to be ordered online through the Publications tab on the Legal Aid NSW website.
Hard copies will also be made available in all public and prison libraries throughout NSW.
Read the resource online, or download the PDF.
Apprenticeships and traineeships info
Are you going to leave school this year?
Looking for an apprenticeship or traineeship to get you started?
It lists the group training organisations (GTOs) that are currently registered in NSW under the Apprenticeship and Traineeship Act 2001. These GTOs have been audited by independent auditors and are compliant with the National Standards for Group Training Organisations.
There are also some great websites, like
1300apprentice
, which list what kind of apprenticeships and traineeships they can guide you to securing as well as listing work available right now.

Profile Bayview Yacht Racing
Association (BYRA)
1842 Pittwater Rd,

Bayview
BYRA has a passion for sharing the great waters of Pittwater and a love of sailing with everyone aged 8 to 80 or over!
headspace Brookvale
headspace Brookvale provides services to young people aged 12-25. If you are a young person looking for health advice, support and/or information,headspace Brookvale can help you with:
• Mental health • Physical/sexual health • Alcohol and other drug services • Education and employment services
If you ever feel that you are:
• Alone and confused • Down, depressed or anxious • Worried about your use of alcohol and/or other drugs • Not coping at home, school or work • Being bullied, hurt or harassed • Wanting to hurt yourself • Concerned about your sexual health • Struggling with housing or accommodation • Having relationship problems • Finding it hard to get a job
Or if you just need someone to talk to… headspace Brookvale can help! The best part is our service is free, confidential and youth friendly.
headspace Brookvale is open from Monday to Friday 9:00am-5:30pm so if you want to talk or make an appointment give us a call on (02) 9937 6500. If you're not feeling up to contacting us yourself, feel free to ask your family, friend, teacher, doctor or someone close to you to make a referral on your behalf.
When you first come to headspace Brookvale you will be greeted by one of our friendly staff. You will then talk with a member of our headspace Brookvale Youth Access Team. The headspace Brookvale Youth Access Team consists of three workers, who will work with you around whatever problems you are facing. Depending on what's happening for you, you may meet with your Youth Access Worker a number of times or you may be referred on to a more appropriate service provider.
A number of service providers are operating out of headspace Brookvale including Psychologists, Drug & Alcohol Workers, Sexual Health Workers, Employment Services and more! If we can't find a service operating withinheadspace Brookvale that best suits you, the Youth Access Team can also refer you to other services in the Sydney area.
eheadspace provides online and telephone support for young people aged 12-25. It is a confidential, free, secure space where you can chat, email or talk on the phone to qualified youth mental health professionals.
Click here to go to eheadspace
For urgent mental health assistance or if you are in a crisis please call the Northern Sydney 24 hour Mental Health Access Line on 1800 011 511
Need Help Right NOW??
kids help line: 1800 55 1800 - www.kidshelpline.com.au
lifeline australia - 13 11 14 - www.lifeline.org.au
headspace Brookvale is located at Level 2 Brookvale House, 1A Cross Street Brookvale NSW 2100 (Old Medical Centre at Warringah Mall). We are nearby Brookvale Westfield's bus stop on Pittwater road, and have plenty of parking under the building opposite Bunnings. More at: www.headspace.org.au/headspace-centres/headspace-brookvale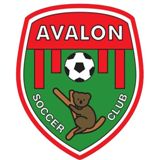 Profile:
Avalon Soccer Club
Avalon Soccer Club is an amateur club situated at the northern end of Sydney's Northern Beaches. As a club we pride ourselves on our friendly, family club environment. The club is comprised of over a thousand players aged from 5 to 70 who enjoy playing the beautiful game at a variety of levels and is entirely run by a group of dedicated volunteers.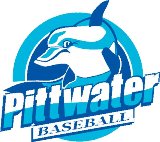 Profile:
Pittwater Baseball Club
Their Mission: Share a community spirit through the joy of our children engaging in baseball.
Year 13
Year13 is an online resource for post school options that specialises in providing information and services on Apprenticeships, Gap Year Programs, Job Vacancies, Studying, Money Advice, Internships and the fun of life after school. Partnering with leading companies across Australia Year13 helps facilitate positive choices for young Australians when finishing school.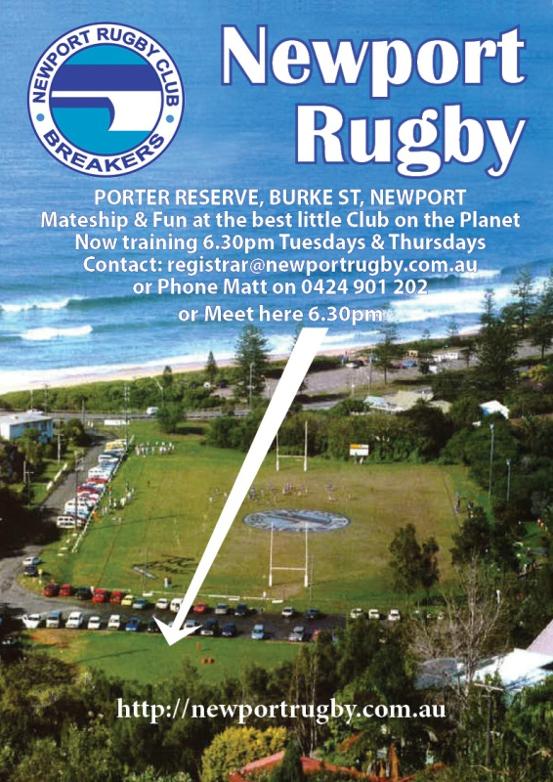 Driver Knowledge Test (DKT) Practice run Online
Did you know you can do a practice run of the DKT online on the RMS site? - check out the base of this page, and the rest on the webpage, it's loaded with information for you!
The DKT Practice test is designed to help you become familiar with the test, and decide if you're ready to attempt the test for real.
Experienced drivers can also take the practice test to check their knowledge of the road rules.
Unlike the real test, the practice DKT allows you to finish all 45 questions, regardless of how many you get wrong. At the end of the practice test, you'll be advised whether you passed or failed.
NCYLC is a community legal centre dedicated to providing advice to children and young people. NCYLC has developed a Cyber Project called Lawmail, which allows young people to easily access free legal advice from anywhere in Australia, at any time.
NCYLC was set up to ensure children's rights are not marginalised or ignored. NCYLC helps children across Australia with their problems, including abuse and neglect. The AGD, UNSW, KWM, Telstra and ASIC collaborate by providing financial, in-kind and/or pro bono volunteer resources to NCYLC to operate Lawmail and/or Lawstuff.
Kids Helpline
If you're aged 5-25 the Kids Helpline provides free and confidential online and phone counselling 24 hours a day, seven days a week on 1800 55 1800. You can chat with us about anything… What's going on at home, stuff with friends. Something at school or feeling sad, angry or worried. You don't have to tell us your name if you don't want to.
You can Webchat, email or phone. Always remember - Everyone deserves to be safe and happy. You're important and we are here to help you. Visit: https://kidshelpline.com.au/kids/