March 31 - April 6, 2013: Issue 104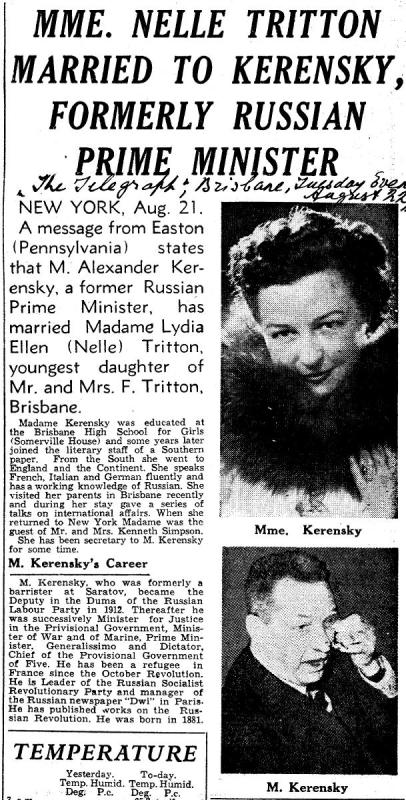 Telegraph newspaper clipping from August 22nd, 1939.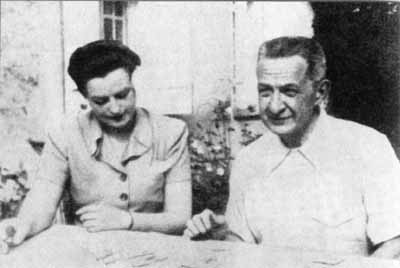 Copyright George Repin 2013. All Rights Reserved.
NELL TRITTON AND ALEXANDER KERENSKY
By George Repin
When the "February Revolution" broke out in Russia in 1917 and Tsar Nicholas II was deposed in March, Alexander Kerensky a lawyer, became a member of the Provisional Government. During the eight months life of that government he held three prominent portfolios – Justice, War and ultimately the Prime Ministership. As a young lawyer he had joined the Socialist-Revolutionary Party during the 1905 Revolution and frequently defended revolutionaries accused of political offenses. In 1912 he was elected to the fourth Duma and soon gained a reputation as an eloquent, dynamic politician of the moderate left.
By the beginning of 1917 as a liberal-socialist and an effective orator he was one of the most popular members of the Duma and had a large working-class following. While Kerensky and Lenin were both socialists and both were lawyers Lenin's socialism was "radical, impatient and obsessive" while Kerensky's was "moderate liberal". Kerensky instituted basic civil liberties such as freedom of speech, of the press, of assembly and religion; and equal rights for women. His moderate approach and wish to bring change about gradually – and his insistence on continuing Russia's involvement in the war against Germany - ultimately lead to his downfall.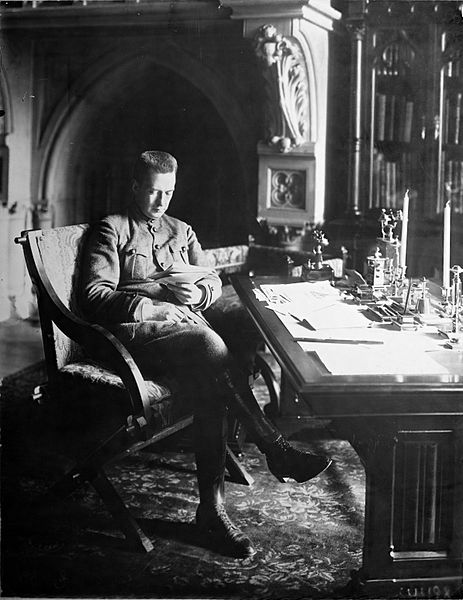 Alexander Kerensky, 1917
The Bolsheviks overthrew the Provisional Government in the "October Revolution" on 26 October, 1917 storming the Winter Palace, where the Cabinet met, arresting and imprisoning the Ministers. Kerensky escaped, going into hiding until May 1918 when he left Russia, for ever, for Western Europe. He devoted the rest of his life to writing books on the events of the Russian Revolution, editing émigré newspapers and lecturing.
Lydia Ellen ("Nell") Tritton was born in 1899 in East Brisbane. She obtained a traineeship on The Daily Mail a forerunner of The Courier Mail and in the early 1920s worked as a journalist. At the age of 26 she travelled to London, toured the continent and developed a reputation as an authority on international affairs. In Paris, she continued to work as a journalist and was introduced to a large community of expatriate Russians who had escaped from the revolution among whom she learned Russian.
In the 1930s, after a failed marriage, she went to work for Kerensky as a translator and driver, translating his books and pamphlets about Russian history. She enjoyed working for the charismatic Kerensky falling in love with him. Although he was still married they entered into a relationship. In March-June 1939 she returned to Brisbane where she lectured to various organisations on international politics. When Kerensky's divorce became absolute in June she joined him in the United States. They were married in Pennsylvania on 20 August and returned to Paris. Their return was short lived. With the imminent fall of France to the Germans they made a hazardous escape, first to the Spanish border where Kerensky was refused entry and then, through the south of France, by ship to England and ultimately the United States. They lived in a wooden farmhouse on the border between New York State and Connecticut on the income from Kerensky's lecture tours.
When Nell became terminally ill with chronic nephritis, the Kerenskys came to Brisbane in October 1945 where they lived until her death on 10 April, 1946. Kerensky returned to the United States where he died on 1 June, 1970.
In 2007, when Vladimir Putin was in Australia, John Howard surprised him by telling guests at a function at the Sydney Opera House that Kerensky, a former Prime Minister of Russia, had married an Australian and had lived in Brisbane when she became ill.
Note: There is an Entry in the Australian Dictionary of Biography, Volume 16 2002 - TRITTON, Lydia Ellen (1899-1946) by Judith Armstrong