April 29 - May 5, 2018: Issue 357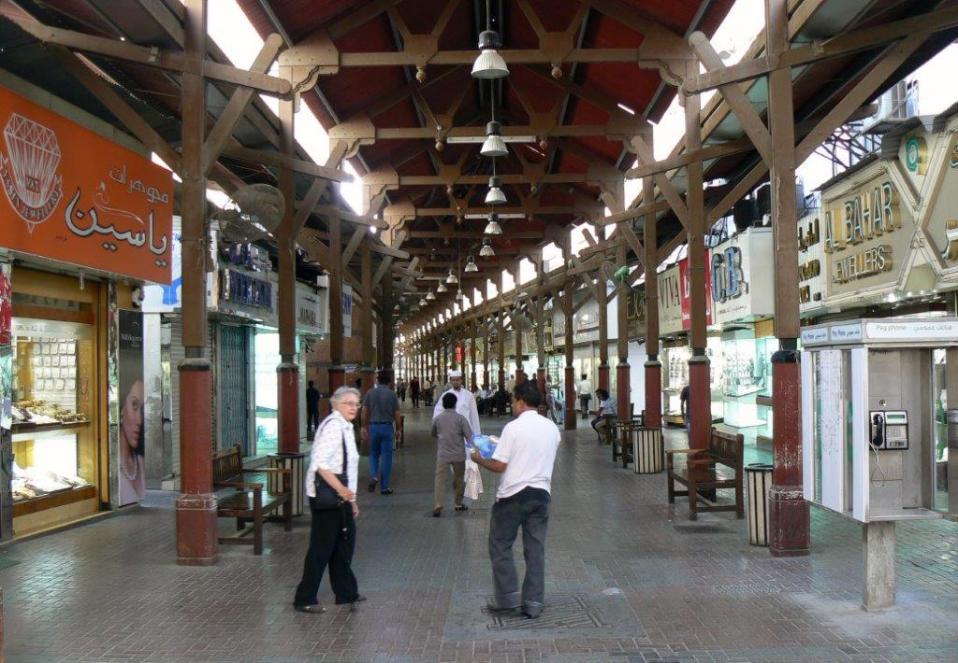 Interior of the souk with shops lining each side of the passageway.
THE GOLD SOUK IN DUBAI
A souk or souq (spelled in different ways and under different names in different countries – "bazaar" Persian) is a marketplace or commercial quarter in Western Asian, North African and some Horn of Africa countries.
Originally – as far back as the 6th Century BCE – they were open-air market sites outside cities where incoming caravans stopped and merchants displayed their goods for sale. Usually they were established at places where caravans stopped for rest and refreshment – "caravanserai".
At first all available goods we "lumped together" but, over time, as the market places became established they divided into specialized sections dealing in specific types of goods or produce, making it easier for buyers to compare quality and prices, and promoted competition.
From about the 10th Century CE the marketplaces shifted towards the centres of urban areas and at around this time they became covered. Today souks tend to be in a town's old quarter and some are important tourist attractions.
Shopping at a souk or bazaar is a standard part of daily life throughout the Middle East. Prices are commonly set by bargaining also known as "haggling") between buyers and sellers.
Souks in Dubai are interesting because, of the seven Emirates making up the United Arab Emirates, Dubai is the only one which has become wealthy through trading rather than oil. Although much retail activity takes place in Dubai's modern shopping malls the city's souks are still vibrant marketplaces.
Dubai's Gold Souk, the most famous and visited souk, houses in its wide passageways the shops of hundreds of tradesmen and artists trained in the craft of jewellery design. They offer a huge collection of jewellery made of gold, diamonds and other precious stones (and silver to a lesser extent). In the case of gold items prices are based on the current market price of gold (24K, 22K, 21K and 18K per gram in AED). The weight element of the price is not negotiable but the cost of workmanship is, so this is where price can be bargained.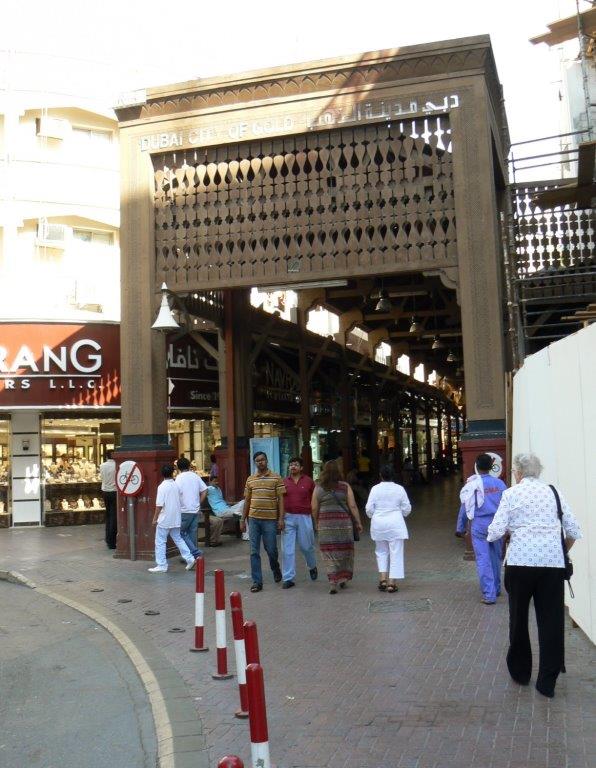 Entrance to the Gold Souk.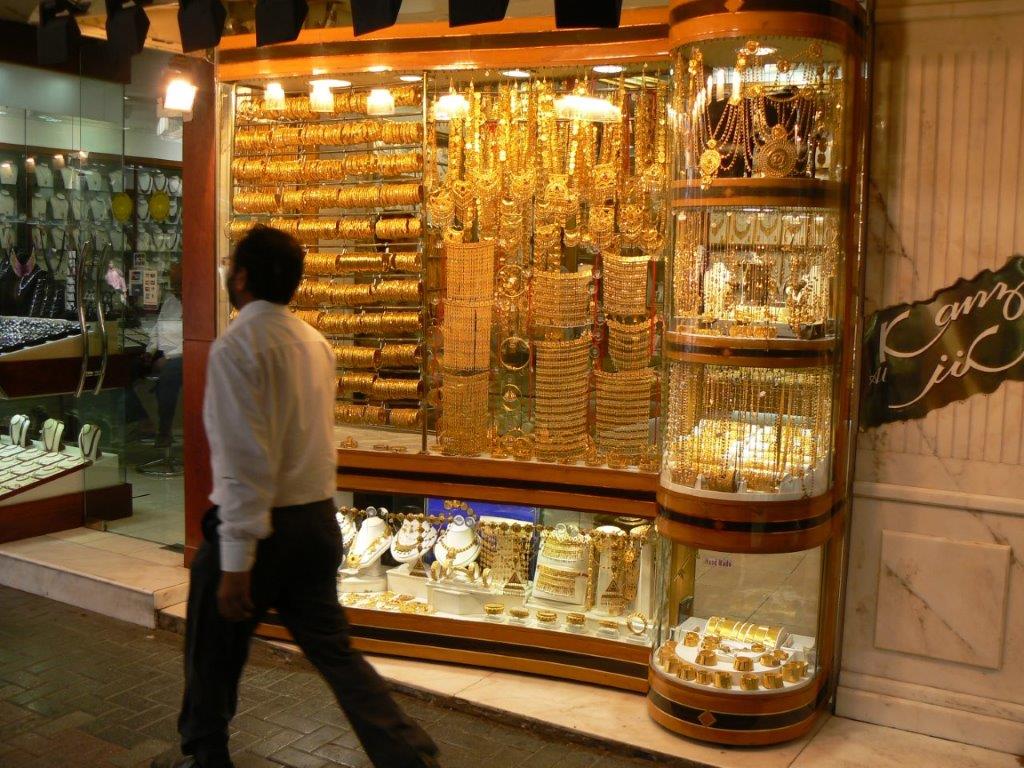 Gold items.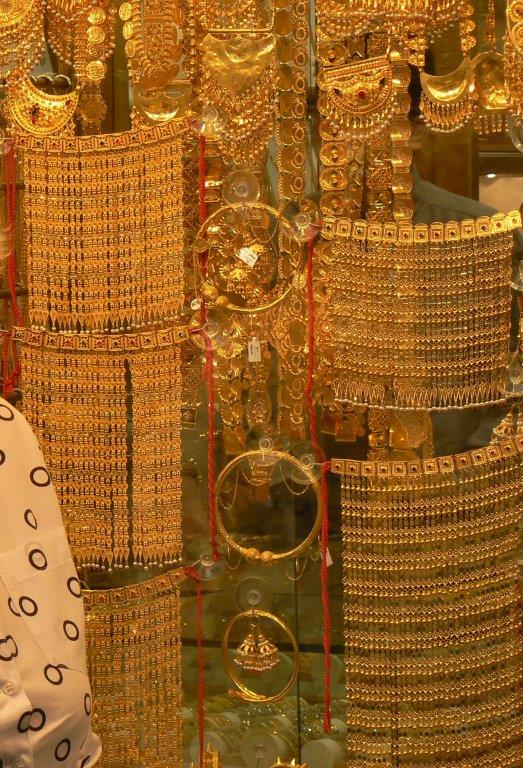 Gold necklaces.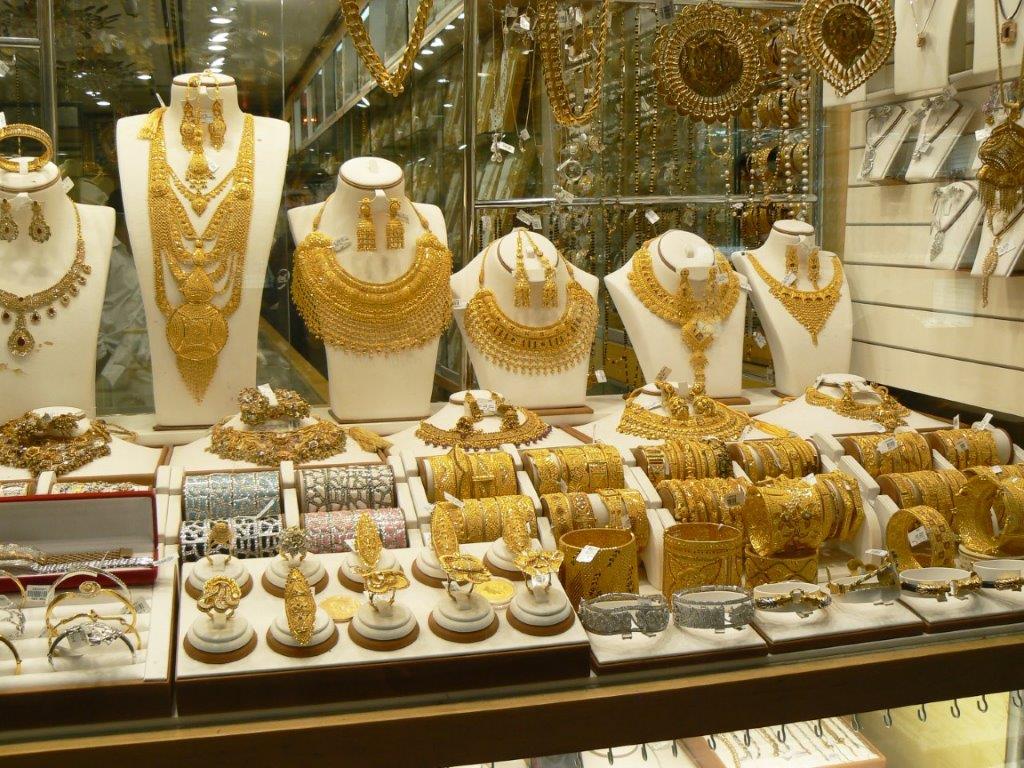 A variety of gold ornaments.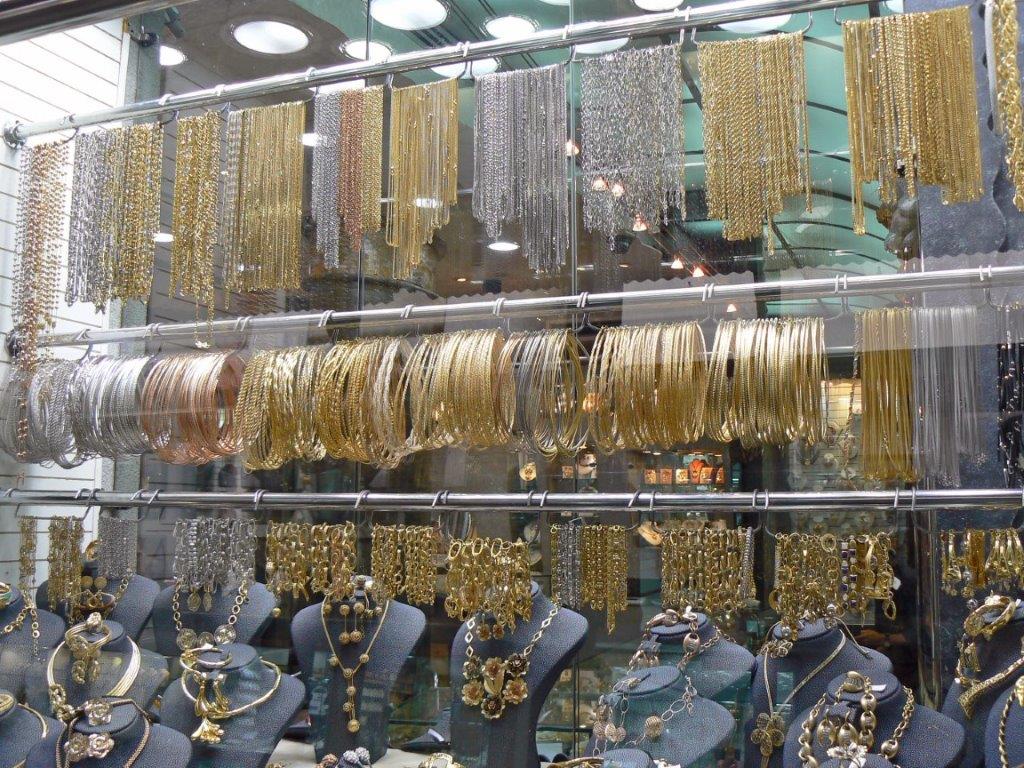 Gold and silver necklaces and bands.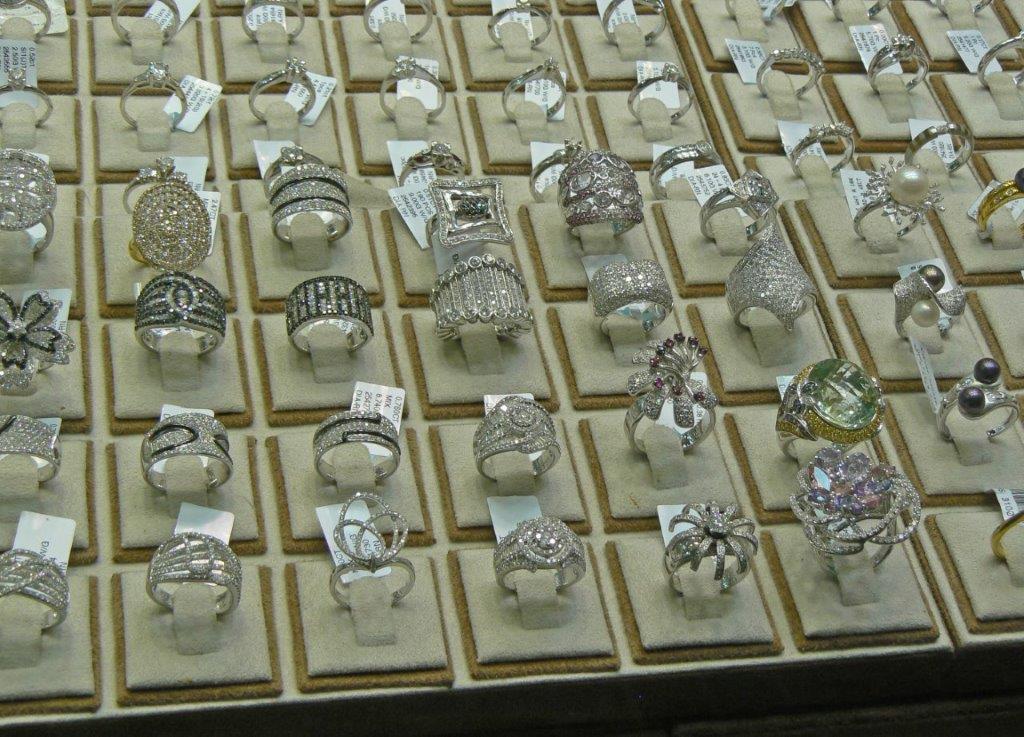 A variety of silver rings with diamonds and pearls.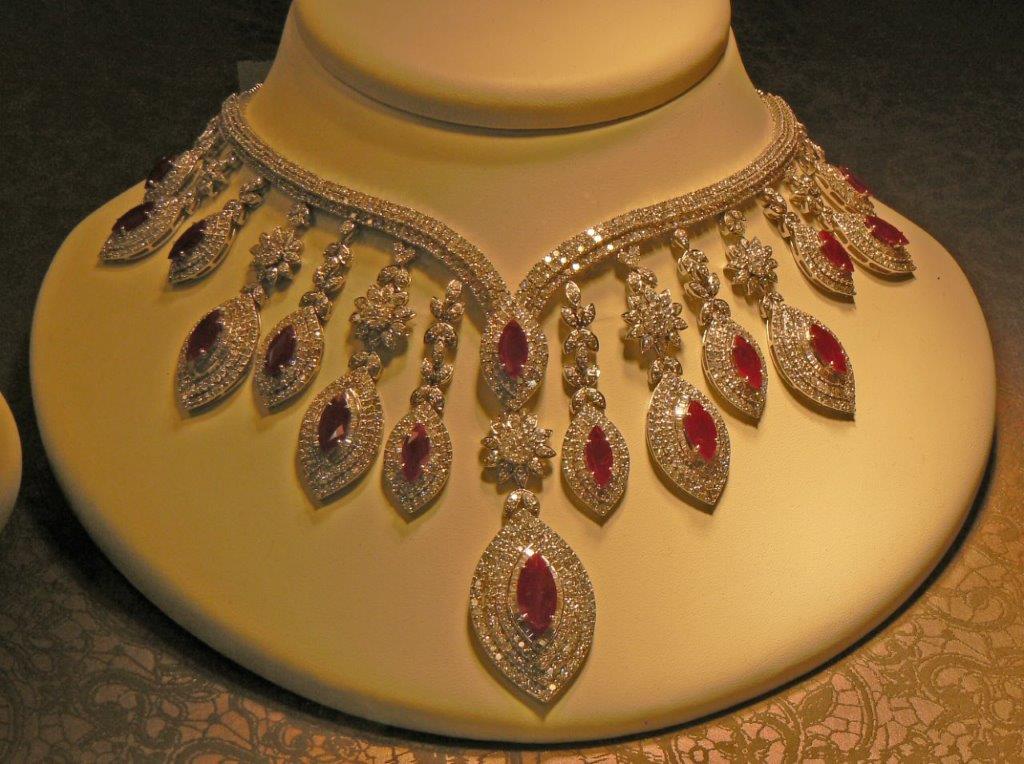 Jewelled necklace.
Photographs accompanying this article were taken in the Gold Souk in 2011.
The following are other specialised souks which may interest a visitor:
The Spice Souk whose trading floor offers colourful sacks of spices, herbs, rice, fruit, candied nuts, locally blended teas and high-quality saffron strands.
The Perfume Souk deals in everything scented, from pure perfume to essential oils, and the exotic traditional oud. Items can be bought in wholesale-sized flagons or more portable ornate vials.
The Textile Souk with a large array of shops offering rolls of fine silks, airy cottons, exotic palm frond weaves and dazzling fabrics for saris.
And, of course, the magnificent Dubai shopping malls have anything and everything that a dedicated shopper might hope for.
Previous Reflections by George Repin
Copyright George Repin 2018. All Rights Reserved.