October 16 - 22, 2016: Issue 285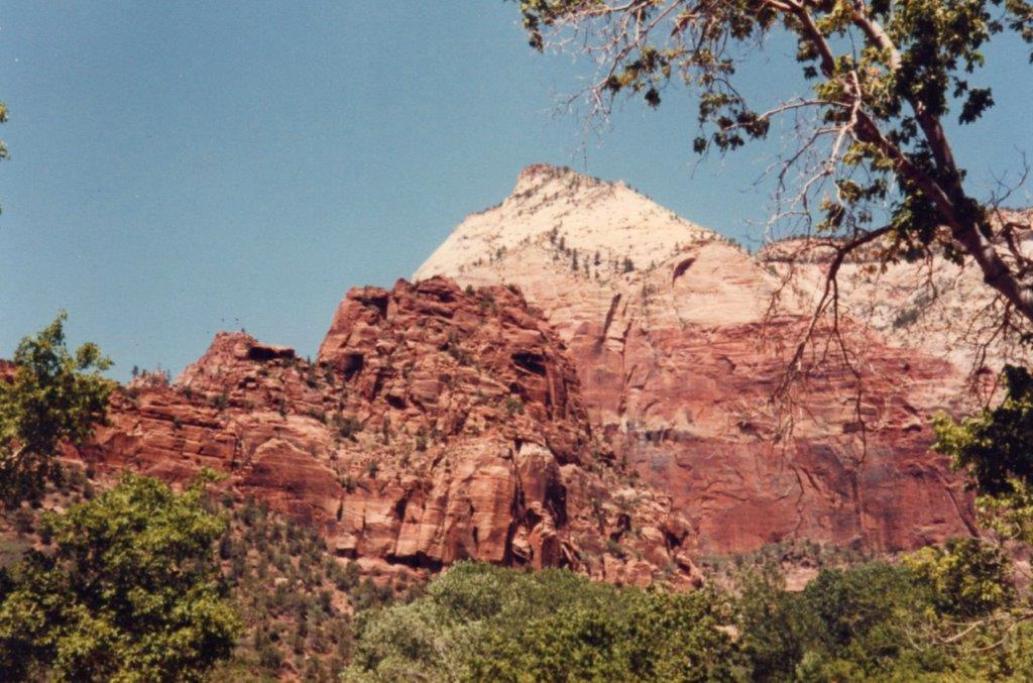 A sharp peak and a sandstone "temple" - features for which the park is famous.
ZION NATIONAL PARK
Although only 50 miles apart in south-western Utah, the Zion National Park and the Bryce Canyon National Park are very different, although both are located in the same harsh rugged land of barren rocks, high plateaus and souring cliffs. Bryce Canyon, in fact, is not a canyon in the strict sense of the word as it was not formed by erosion initiated from a central stream (the technical definition of a canyon) but by headward erosion. (Headward erosionoccurs when sheets of water flow over the edge of a rock formation.)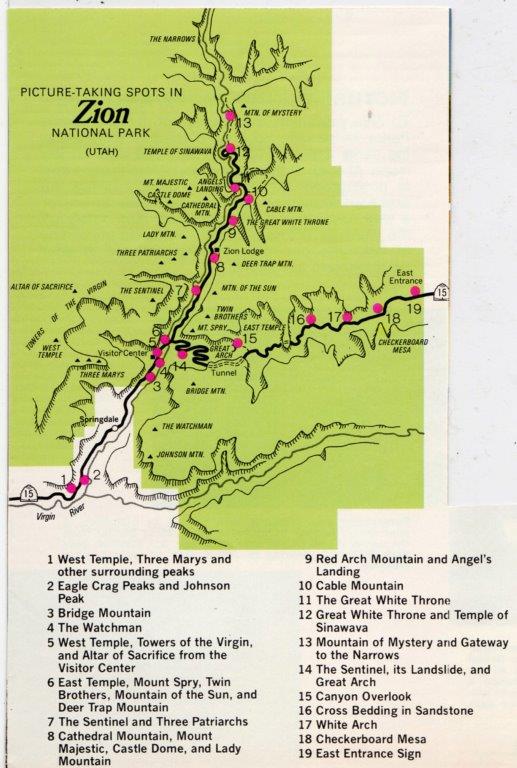 Map of Zion National Park showing "picture taking spots".

Unlike Bryce, in which the rock formations are delicate and cheerfully brilliant (see
REFLECTIONS
in Pittwater Online News, Issue 191 of November 30 - December 6, 2014) Zion is massive and can be awesomely sombre with a subtle splendour.
Although the main force causing erosion in both parks has been water the scenery in the parks is very different. In part this is because they have been carved out from layers of different types of rock that erode in different ways and, in part, because Zion is the canyon of a river that previously existed, and had established a course, before the land was uplifted by geological movement.
At Bryce the spectacularly coloured rocks are composed of layers of soft siltstone alternating with a slightly harder limestone. The siltstone, being soft erodes easily, while the limestone is sufficiently hard to weather into vertical planes. The differential erosion accounts for the fluting and free-standing walls of Bryce.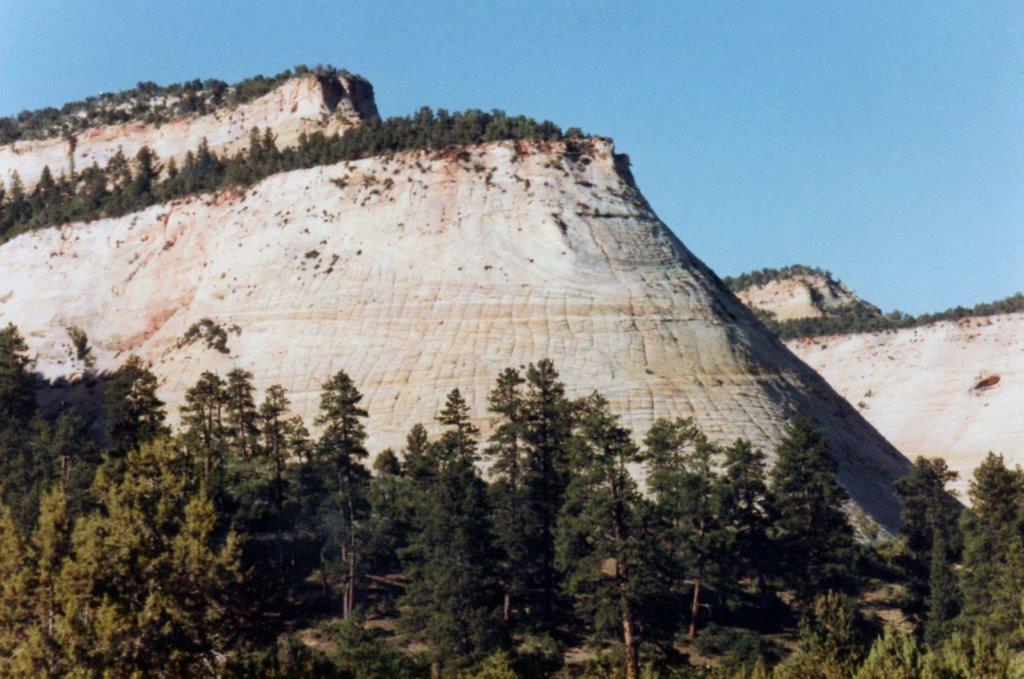 Checkerboard Mesa near the East Entrance (18).The distinctive checkerboard pattern is the result of weathering along horizontal and vertical planes of weakness in the sandstone.

At Zion the river eroded through sandstone that developed from the sand dunes of a desert which was drowned when the earth moved. This rock weathers at a consistent rate and, being fairly hard, creates sheer cliffs.
The Great White Throne (11) towers 2400 feet above the Virgin River. It is one of the majestic monoliths in Zion Canyon.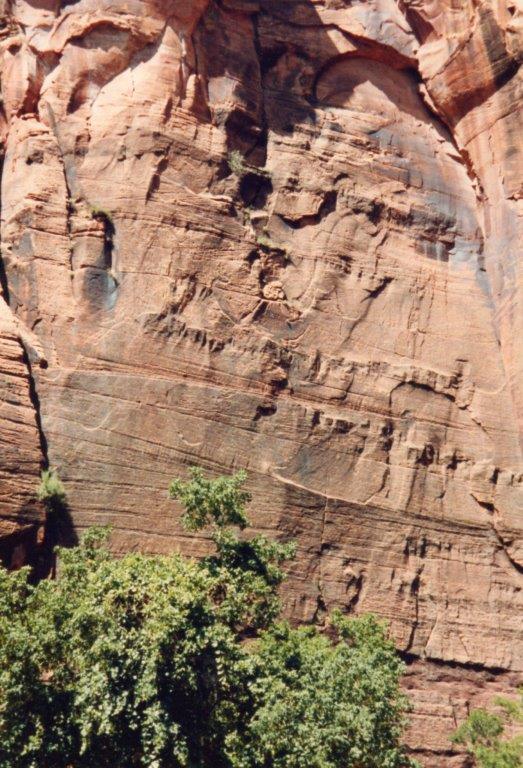 A sandstone cliff displaying clearly the stratification of the rock.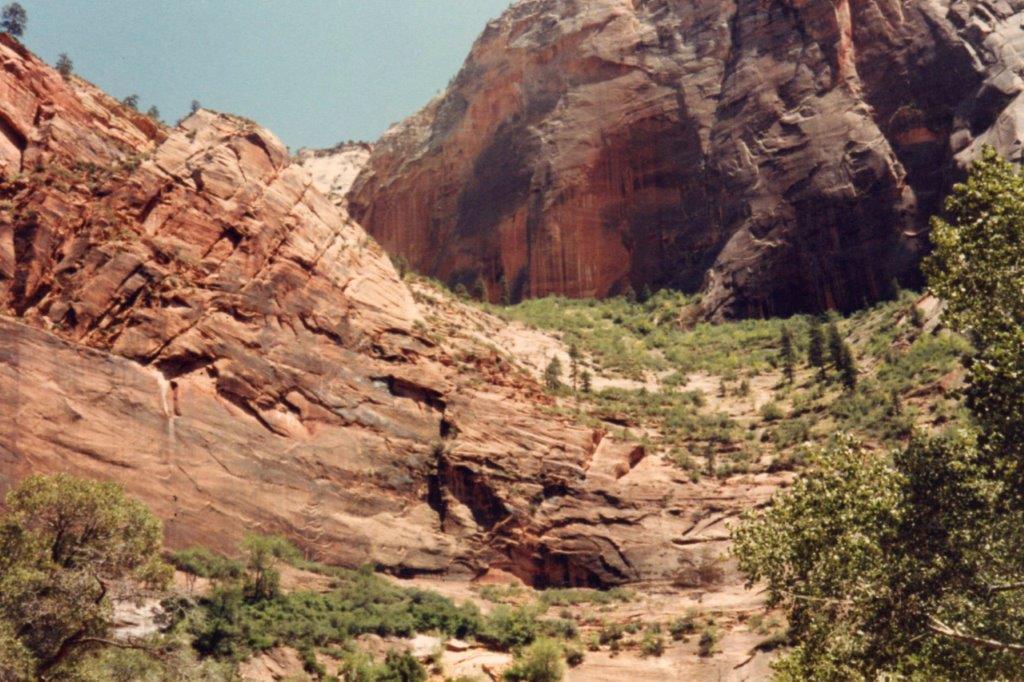 Cross-bedding in the sandstone.

Originally declared a National Monument in 1909 by President Taft the United States Congress in 1919 voted to create Zion National Park.
Small, but spectacular coloured flowers abound in both parks in the spring and summer - and chipmunks, ubiquitous in the national parks of the area, scurry about on the sandstone in the upper reaches of Zion.
Excellent roads provide ready access to the main points of interest – and to "picture taking spots" - throughout the park.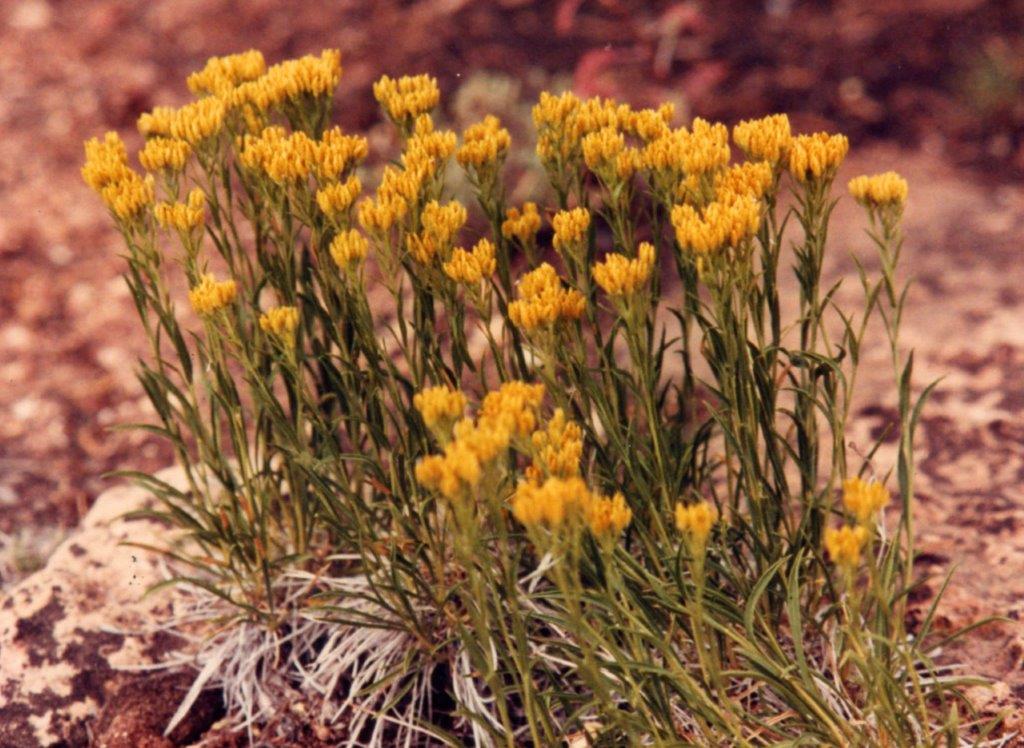 Canyon flowers.

Photographs by George Repin in 1982.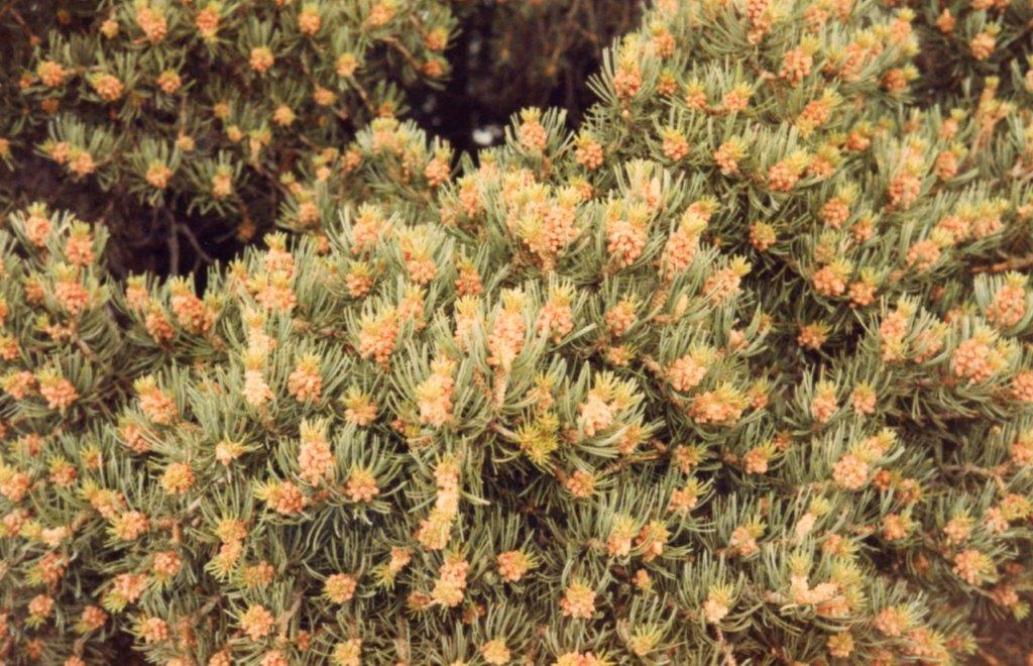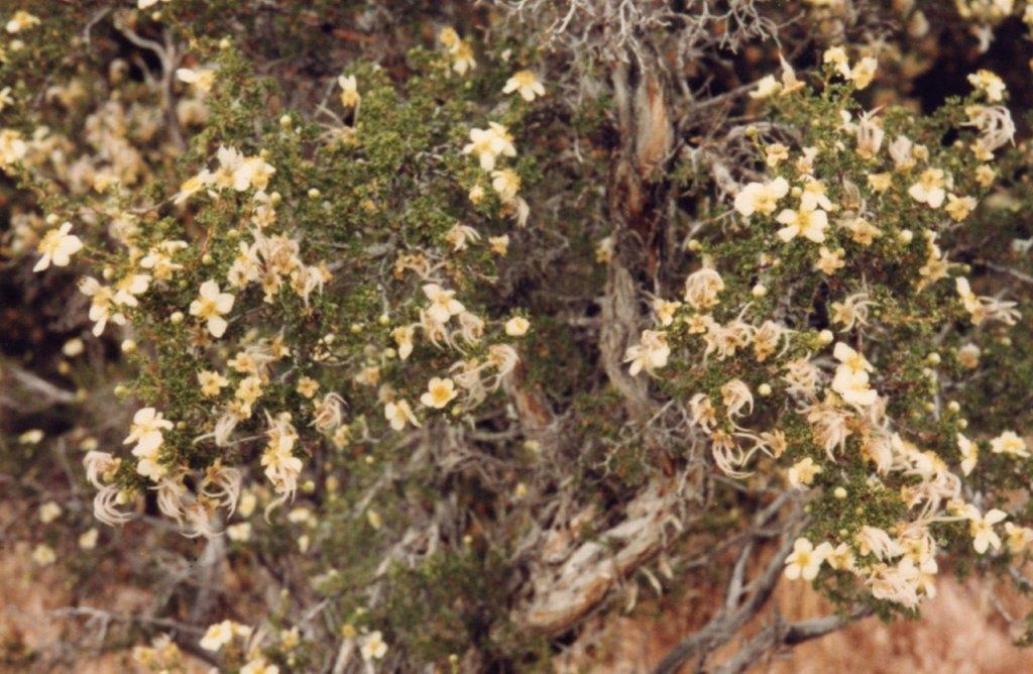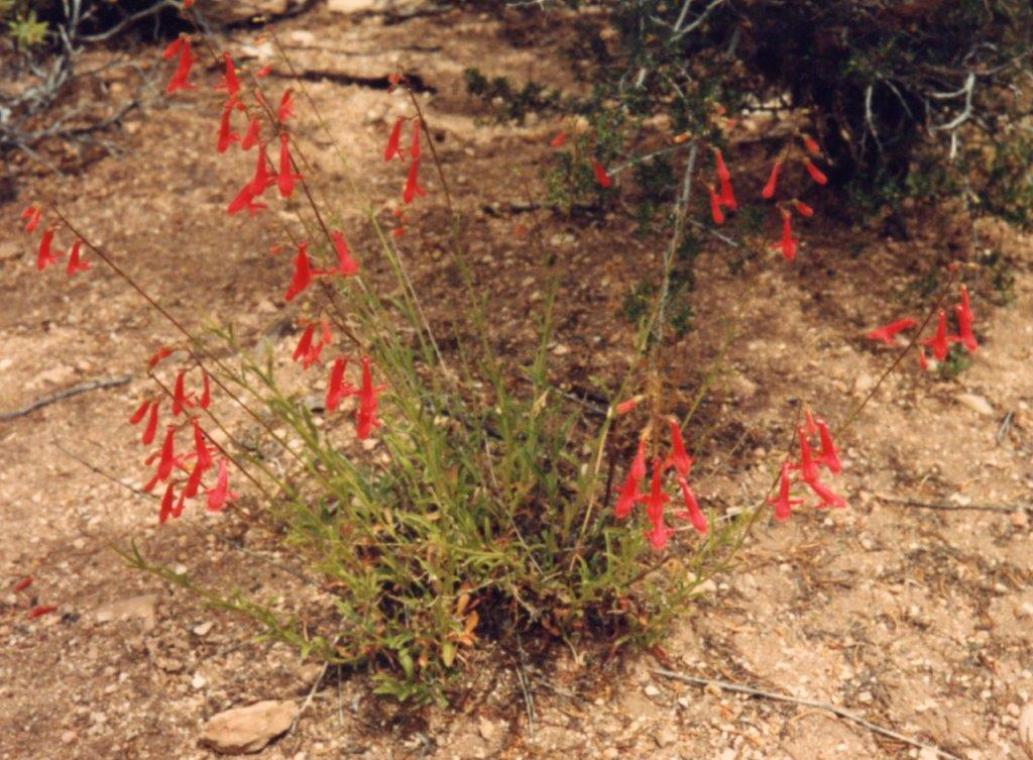 Previous Reflections by George Repin
Copyright George Repin 2016. All Rights Reserved.