October 29 - November 4, 2017: Issue 335

LAWRENCE HARGRAVE 1850-1915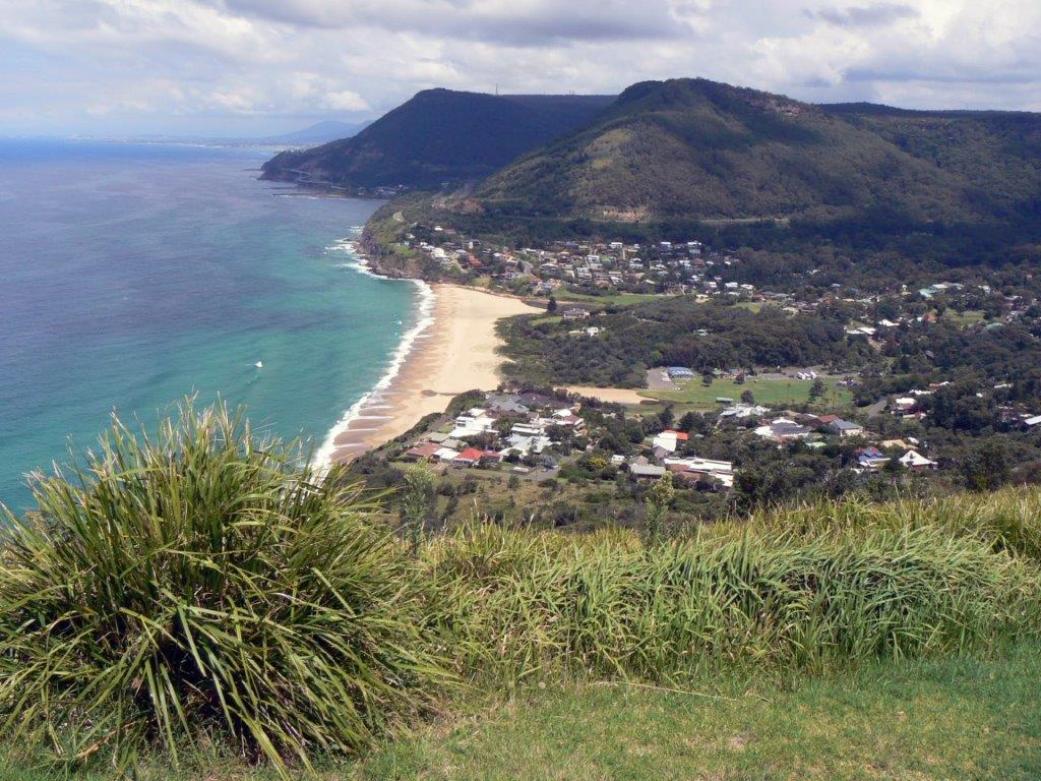 View down to Stanwell Park Beach.
LAWRENCE HARGRAVE 1850-1915
Near a road stop on Bald Hill overlooking Stanwell Park, on the road emerging from the Royal National Park heading south down the N.S.W. coast, is a memorial to Lawrence Hargrave an Australian explorer, inventor and aeronautical pioneer.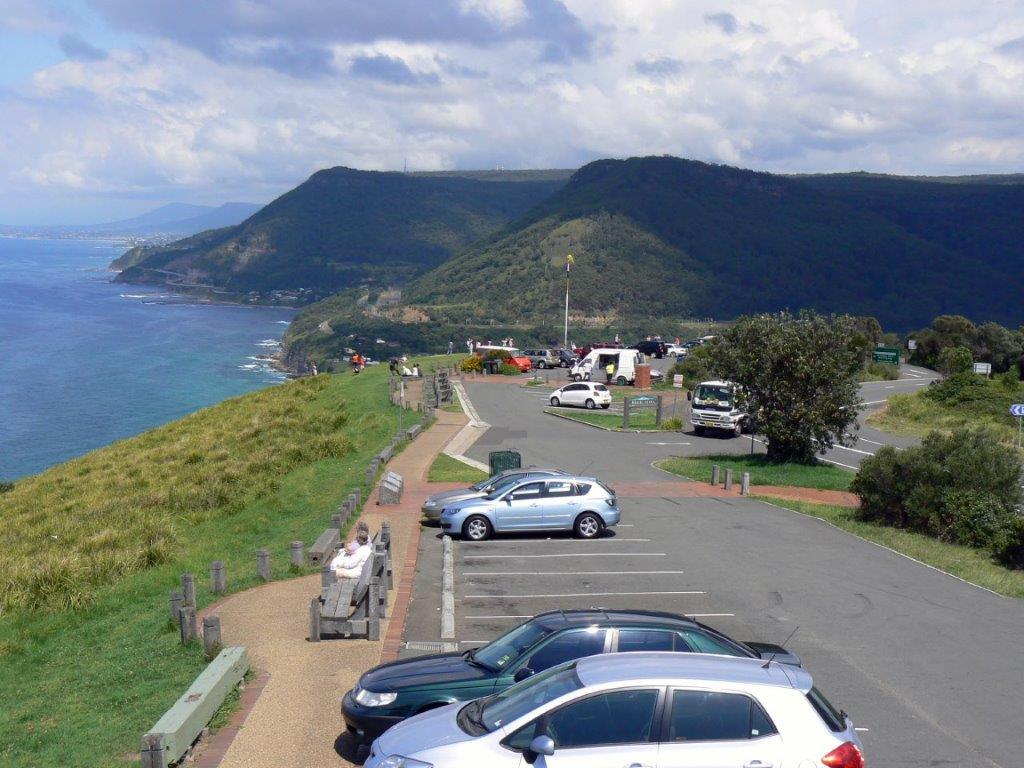 The parking area on Bald Hill overlooking Stanwell Park.

A detailed biography of Hargrave appears in Volume 9 (1983) of the Australian Dictionary of Biography. Some highlights of his career after arriving in Australia in 1865 at the age of fifteen include:
explorations in Papua where he took detailed notes and drawings of Papuan people, homes and technological devices which he found of considerable interest;

charting the Fly River and its tributary the Strickland;

as ship's engineer on several of the voyages to Papua his demonstrated, resourcefulness, mechanical skills and powers of observation;

joining the Royal Society of New South Wales in 1877;

five years as an assistant astronomical observer at the Sydney Observatory where he observed the transit of Mercury in 1881 and made observations of the Krakatoa explosion which led him to develop a theory linking it with the brilliant sunsets seen at the time.
Thanks to his father's prudent investments in land Hargrave was able to give up paid employment before he was thirty and from 1883 devoted himself full-time to his inventions.
His observation of waves and the motions of fish, snakes and birds interested him in flight and, in a long paper presented to the Royal Society in 1884, he theorised that the way forward was to
"follow in the footsteps of nature".
He chose to live and carry out his experiments into flight at Stanwell Park, a place which offers excellent wind and hang conditions. Today Stanwell Park is a recognised venue for hang gliding and paragliding.
Hargrave produced many inventions but never applied for a patent on any of them, being opposed to the concept of inventors keeping the results of their labours to themselves.
Three of his inventions were of particular significance:
The study of curved aerofoils, particularly designs with a thicker leading edge;

The box-kite, which greatly improved the lift to drag ratio of early gliders;

Work on the rotary engine, which powered many early aircraft up until about 1920.
Hargrave successfully lifted himself off the ground under a train of four of his box-kites at Stanwell Park Beach on 12 November, 1894. He rose 16 feet in a wind speed of 21 m.p.h.
Abbott Lawrence Rotch of the meteorological observatory at Harvard University, having read of Hargrave's achievement in Engineering, built a kite which, after modification, was adopted by the weather bureau of the United States, and the use of box-kites for meteorological observations became widespread. The principle was applied to gliders and in October 1906 Alberto Santos-Dumont used the box-kite principle in his aeroplane to make his first flight.
Hargrave's only son was killed at Gallipoli in May 1915. Hargrave himself died in July of that year from peritonitis after an operation for appendicitis.
An engraving of Lawrence Hargrave, together with drawings of some of his gliders, appeared on the reverse of the Australian $20 banknote from 1966 to 1994.
Lawrence Hargrave has been commemorated in a number of ways:
The Lawrence Hargrave Drive is a road stretching from the Old Princes Highway in Helensburgh to the bottom of the Bulli Pass in Thirroul;

The Lawrence Hargrave Professor of Aeronautical Engineering at Sydney University and the Hargrave-Andrew Engineering and Science Library at Monash University are named in his honour;

Qantas named its fifth Airbus A380 aircraft (registration VH-OQE) after Lawrence Hargrave;

A new technology building at his former school in Kirkby Lonsdale, England was named in his honour in 2017.
The Lawrence Hargrave Memorial on Bald Hill.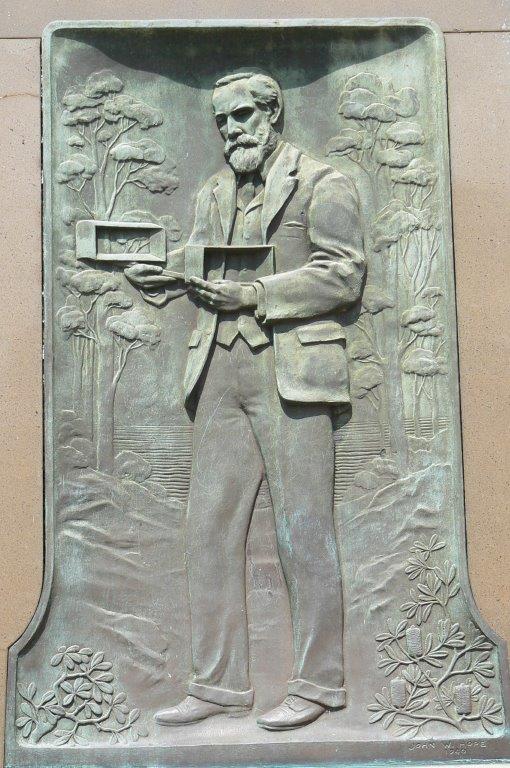 Close up image of Lawrence Hargrave.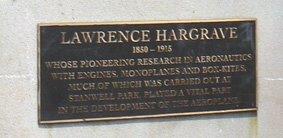 Citation at the base of the Lawrence Hargrave memorial.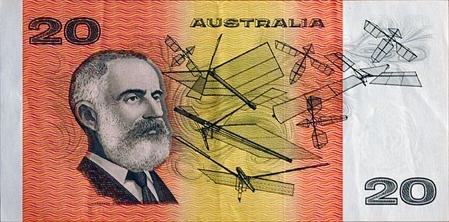 Reverse of the Australian $20 banknote from 1966 to 1994 which featured Lawrence Hargrave and some of his gliders.

Photographs by George Repin in March 2009.
Previous Reflections by George Repin
Copyright George Repin 2017. All Rights Reserved.