December 28, 2014 - January 3, 2015: Issue 195
THE DIVINE COMEDY
by George Repin
The epic poem, The Divine Comedy (Divina Commedia) written by Dante Alighieri, originally was titled just Commedia. Giovanni Boccaccio added Divina to the title. It is regarded the pre-eminent work of Italian literature and considered one of the greatest works of world literature.
Written between 1308 and Dante's death in 1321 it is composed of 14,233 lines divided into three canticas – Inferno (Hell), Purgatorio (Purgatory) and Paradiso (Paradise) – each consisting of 33 cantos (with an introductory canto to Inferno). Written in the first person it begins on the night before Good Friday in the year 1300 when Dante was 35 years of age – "halfway along life's path" - that is to say, half of the biblical life expectancy of "three score years and ten".
In the poem Dante is joined by the Roman poet Virgil and together they venture into the underworld of Inferno and Purgatorio. However, it is Dante's "ideal woman" Beatrice who guides him through Paradiso.
Dante was born in Florence but the exact date of his birth is not known.
Based on autobiographic allusions in the poem it has been concluded that he probably was born in 1265.
Dante was politically active and became embroiled in the Guelph-Ghibelline conflict and in the schism between the White and Black Guelphs.
In March 1302 he was in Rome when he was condemned to two years exile and ordered to pay a fine. He did not pay the fine, in part because he did not believe that he was guilty and in part because all of his assets in Florence had been seized by the Black Guelphs. Consequently he was condemned to perpetual exile and, if he returned to Florence without paying the fine, he could be burned at the stake. He never returned to Florence.
Although in 1313 an amnesty was granted to those in exile, including Dante, he was not prepared to do the required public penance and pay a heavy fine, preferring to remain in exile.
In 1318 he accepted an invitation to Ravenna where he finished writing Paradiso. He died in 1321, aged 56, and was buried in Ravenna.
Over time Florence made repeated requests for the return of his remains, which Ravenna refused. The custodians of his body were so concerned that the Florentines might attempt to seize his remains that, at one point, his bones were concealed in the wall of the monastery.
In 1829 a tomb for Dante was built in the Basilica of Santa Croce in Florence, near the tombs of such famous figures as Galileo, Machiavelli and Michelangelo. A quote from the fourth canto of Inferno – onorate l'altissimo poeta (Honor the most exalted poet) – is inscribed on the front of the tomb. The tomb remains empty to this day.
Apparently to demonstrate his association with Florence, the city where he was born, a full length statue of Dante was erected, and stands today, in front of the façade of Santa Croce.
However, it was not until June 2008 that the City Council of Florence passed a motion rescinding Dante's sentence.
The Italian sculptor, painter and engraver, Benedetto Robazza (b.1934), after living and working for many years in the USA, where he opened Benedetto's Gallery in New York, devoted several years of his life, on his return to Italy, to creating his masterpiece The Inferno. This large impressive work on 18 marble panels depicts the 34 Cantos of the journey of Dante and Virgil through the Inferno.
After being exhibited in a world preview at the Sala Brunelleschi, Instituto degli Innocenti in Florence in 1995 the work was not seen again until it was displayed on a walkway on the side of Santa Croce, where the accompanying photographs were taken.
Photographs by George Repin in 2014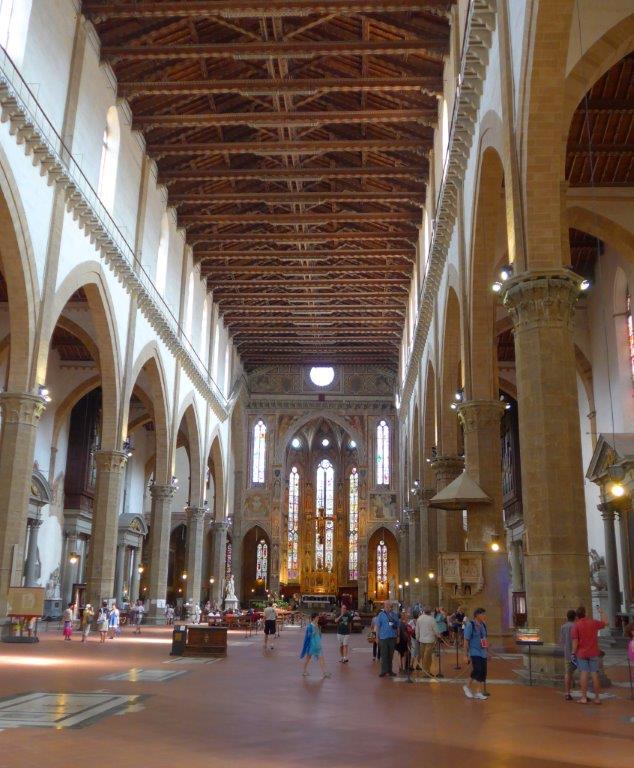 Above: Interior of Santa Croce. Tombs are on the Right.
Below: The empty tomb of Dante Alighieri.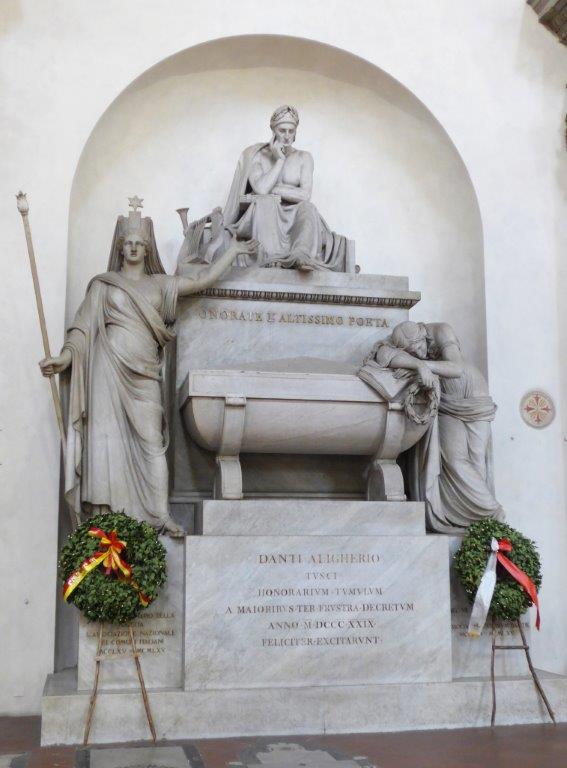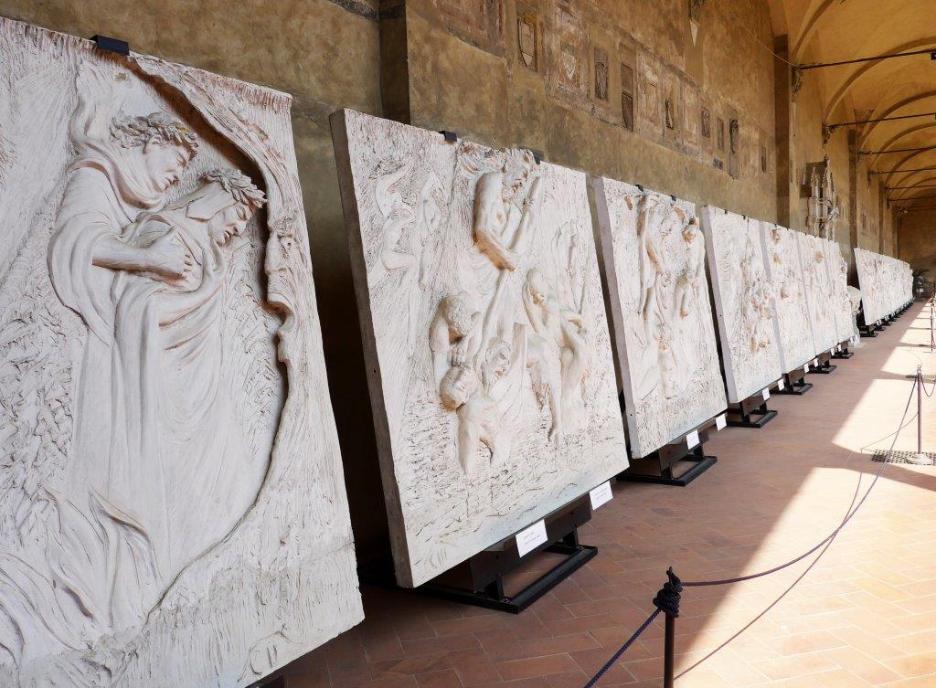 The marble sculptures displayed outside Santa Croce. (N.B. Figure of Dante with Virgil behind him)
Close up view of one of the marble sculptures.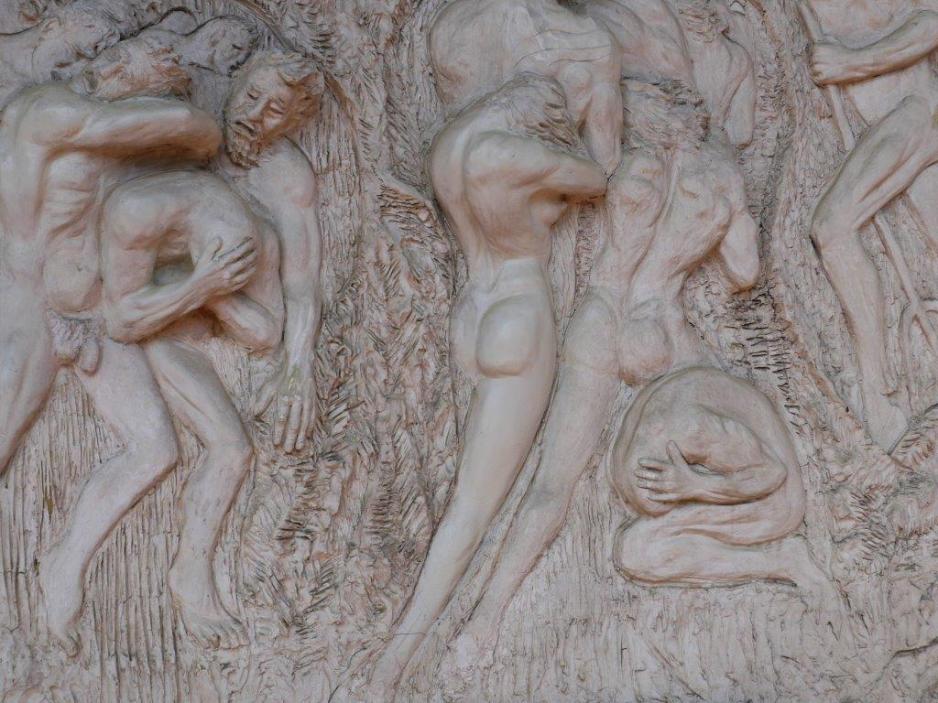 Close up view of one of the marble sculptures.
Previous Reflections by George Repin
Copyright George Repin 2014. All Rights Reserved.