October 30 - November 5, 2011: Issue 30
CITY DEPARTMENT STORES – GONE AND MOSTLY FORGOTTEN
by George Repin
With the long term viability of "bricks and mortar" department stores under question with changes in consumer behaviour and the growing popularity of buying on the internet, it is opportune to remember how the retail environment has changed over the years. .
Major department stores in Sydney reached the height of their development and influence in the 1920s and provided for the shopping needs of the Sydney population through the thirties and the immediate post-World War II years. Grace Brothers with two large buildings on Broadway – on either side of Bay Street – was in the west, Marcus Clarke was at Railway Square and the rest were scattered through the CBD, with David Jones in George Street on the corner of Barrack Street closest to the quay. "Going to town" to shop for most household requirements, other than what could be bought from the local butcher, grocer or greengrocer, was not only necessary but also was "an outing" – or as one writer said about that time, "shopping was a cultural event". The department stores responded, providing restaurants and in some cases, even art galleries.
Most of the long established businesses, household names in their heyday, have long since gone. Reasons for their disappearance were many and varied. People moved further out to the suburbs, industry decentralised, public transport was costly and, for those who could afford cars, parking was becoming impossible in the city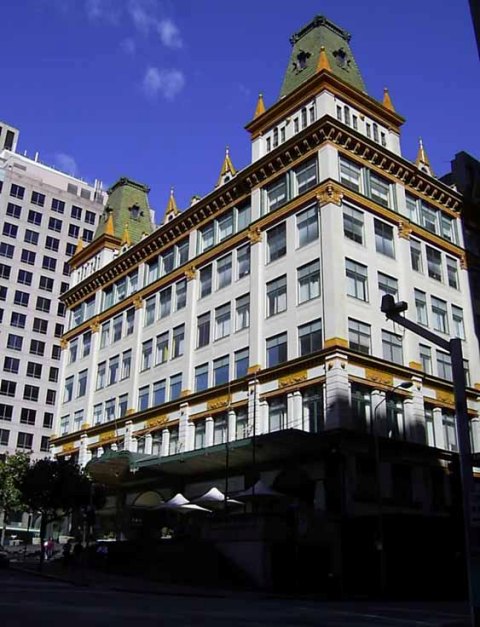 The biggest factor, however, was the appearance in the late 1950s of pre-planned shopping centres, usually with an "anchor" department store selling a limited range of goods, a supermarket and small specialty shops. Later, the coming of chains of "category killers" took more business away from the surviving department stores.
At the height of their popularity some department stores such as Grace Brothers and Anthony Horderns sold virtually everything a family might need. Anthony Horderns in its Palace Emporium, which occupied most of the block on Goulburn Street from Pitt Street to George Street (now the site of the World Square), sold furniture, household goods of all types, clothing, manchester and many other items including those required by country people. The Anthony Horderns catalogue was eagerly awaited in the bush and orders flowed in. For city dwellers a successful marketing attraction directed at families was a large area where birthday parties could be arranged for children. Specially devised entertainment was provided and parties at Anthony Horderns were very popular.
Grace Brothers saw what was coming, abandoned their intention to develop the Grace Building in York Street into a store and started to move out to the suburbs – Bondi Junction and Parramatta for a start. Anthony Horderns did not.
Some smaller department stores offered a more limited range of goods and were quite specialised, such as Beard Watson and Bebarfalds for furniture, McCathies for household goods and Peapes for men's wear and "regulation" uniforms for GPS students.
Stories of other businesses such as Mark Foys, Farmers, McDowells, Murdochs, Curzons and Waltons may be worth telling – perhaps some time in the future.
David Jones warrants special mention. It is Australia's oldest department store starting with a shop in George Street. Later, the main store fronting Elizabeth, Market and Castlereagh Streets was built on the site of the original Girls High School and the Men's store on the Castlereagh and Market Street corner followed. Shareholders lost virtually all of their investment in the early 1990s but the retail department store business continued and was relisted on the Stock Exchange at the end of 1995. Under new management, and going up-market, David Jones survived and was for a time very successful but recent trading results suggest that even this outstanding business is being challenged..
TOP: Mark Foys images from : http://www.sydneyarchitecture.com/cbd/cbd2-008.htm
This was one of the largest and grandest department stores in the City. The original 1909 three storey building designed by McCredie and Anderson grew to six stories over the years. Notice the distinctive white glazed bricks and yellow/orange terracotta trim announcing 'Hosiery', 'Shoes', 'Corsets' and so on. When trains were the most popular method of going to town the store thrived because of its proximity to the underground railway station. However, the extension of the trains further north left Mark Foys down the unfashionable end of town and the store was closed in 1983. It now houses legal courts and is officially called the Downing Centre.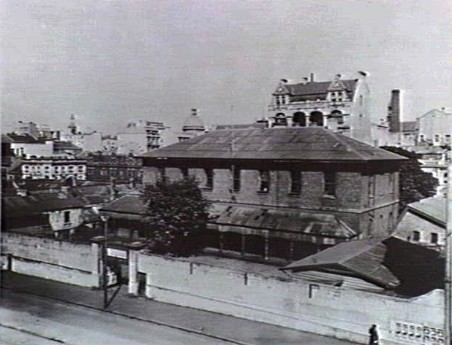 ABOVE: Sydney Boys' and Sydney Girls' High School Elizabeth Street 1892
1892 Sydney Boys' High School (Ground Floor) and Sydney Girls' High School (Upper Floor) on Elizabeth Street, Sydney - now David Jones Elizabeth Street store. Market Street is at left. Designed by Francis Greenway and built by convicts as the Sydney Public School, it was the St James Church of England Grammar School from 1829 to 1882. Both the Boys' and Girls' Sydney High Schools opened on this site in October 1883. Extremely overcrowded, the Boys' School moved to Mary Anne Street Ultimo in 1892 into buildings next to the Sydney Technical College, and remained there until the Boys moved to their current site at Moore Park in 1928 alongside the relocated Girls' School which moved to the adjacent site in 1921. The building at Elizabeth Street was demolished in 1924.
QVB dome in the background and Town Hall clocktower to the left. Picture: Courtesy State Library of NSW.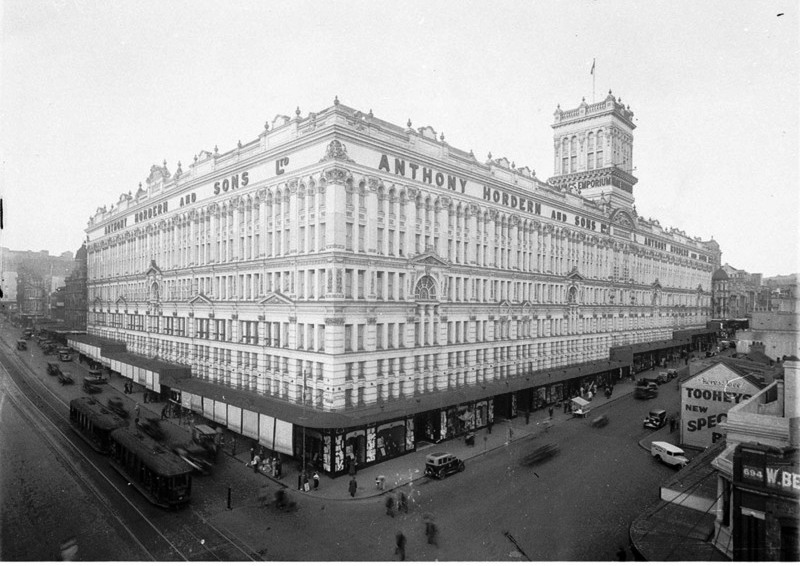 Above: Anthony Hordern's Palace Emporium (1939) Creator Hall & Co., Picture Number Home and Away - 34989, Courtesy State Library of NSW
Copyright George Repin, 2011.