AvPals Term 3 2022: Training at Newport
Avpals are proud to present our training schedule for term 3 at the Newport Community Centre. You can enrol online, make inquiries online, even pay online. Spaces are limited. We are complying with every aspect of Covid Care.
The timetable is below: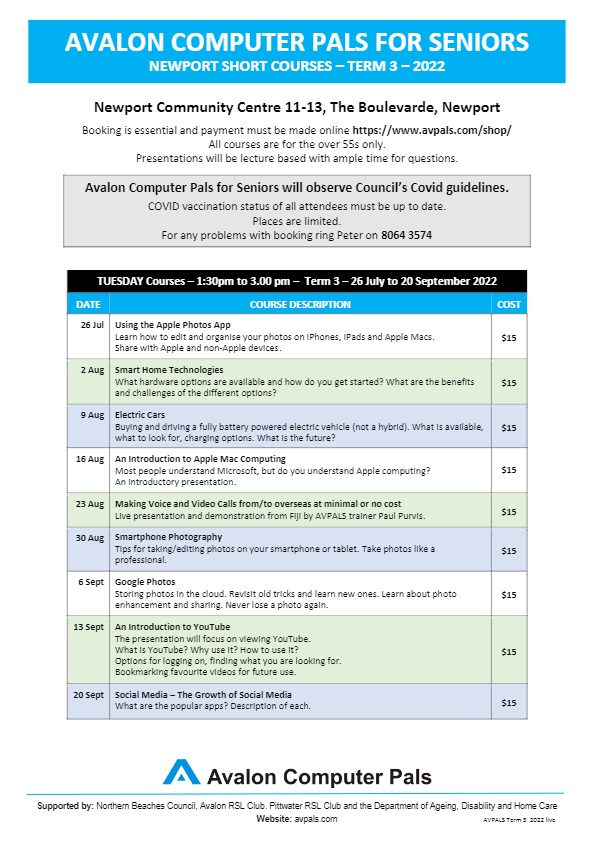 Large Triassic Amphibian Tracks At Northern Sydney Beach
Published June 24, 2022 by Pittwater Pathways
Paul Cronk cracked the jackpot with his latest fossil find. It will soon be subject to intense expert analysis - expect to hear more about it.
Paracyclotosaurus (meaning "Near Wheeled Lizard") is an extinct genus of temnospondyl amphibian, which would have appeared similar to today's salamander – but much larger, at up to 2.3 metres (7.5 ft) long. It lived in the Middle Triassic period, about 235 million years ago, and fossils have been found in Australia, India, and South Africa.
Although they could live on dry land, Paracyclotosaurus probably spent most of its time in water. They had flattened bodies and elongated heads, almost 60 centimetres (2 ft) long, that vaguely resembled those of modern crocodiles.
The type species P. davidi is only known from one complete specimen recovered from Australia. It was discovered by quarry miners in a brick pit in St. Peters in Sydney, New South Wales. The discovery, made in 1910, was from a large ironstone nodule within Ashfield Shale which contained the nearly complete skeleton. The reconstruction was finished in July 1914, and was initially determined to be closely related to Cyclotosaurus. The original bone of the P. davidi holotype specimen was in very bad condition, but after the bone was removed from the hard ironstone matrix, casts were made from the matrix mold, and a mould was made from those casts. Casts of the original bone show a fair amount of detail.

Paracyclotosaurus davidi - giant temnospondyl from Late Triassic of Australia. Image Creator: Dmitry Bogdanov

Paracyclotosaurus davidii
was named after Sir Edgeworth David, the man who arranged for the British Museum (Natural History) to acquire the specimen.
Centrelink payment changes from 1 July 2022
June 30, 2022
Due to indexation, many of the thresholds used to determine payment eligibility and rates will change. Find out how much in this National Seniors overview.
Means tested government payments have rules, which the government uses to determine whether you are eligible and how much you get.
From 1 July 2022, around one million pensioners will benefit from annual increases in the areas, limits, and deeming thresholds that are free from means testing.
This means there will be an increase to the amount of income or assets an Age Pension, Disability Support Pension, or Carer Payment recipient can earn or own before their payment is affected.
How are they changing?
Under the income test you will now be able to earn up to $190 per fortnight (instead of $180) from any income source without affecting your pension payment (not counting the Work Bonus of $300 per fortnight for employment income).
The threshold at which your pension stops under the income test will increase to $2,165.20 per fortnight ($56,295.20 per year) for a single pensioner on 1 July 2022. The income test threshold for couples will also increase to $3,313.60 per fortnight ($86,153.60 per year)
The assets test threshold used to determine when you lose the pension has increased by:
$9,500 for a single homeowner
$14,000 for a homeowning couple
$17,500 for a single non-homeowner
$22,000 for a non-homeowning couple.
Deeming rate thresholds used to determine your deemed income from your assets have also increased. Assets up to the threshold attract the lower deeming rate of 0.25% and any above the threshold is deemed to earn a higher 2.25%. From 1 July 2022, the deeming threshold for a single pensioner will be $56,400 (up from $53,600) and for a couples the threshold will be $93,600 (up from $89,000).
While these changes are incremental, they will result in real increases in pension payments. This is especially important given the ongoing rise in living costs.
Some retirees previously on the cusp of receiving a pension but not eligible, may now find they are eligible because of the threshold increases, especially if the value of their assets has declined during the recent falls in the stock market.
It's therefore important to check with Centrelink if your circumstances have changed to see if you are eligible for a pension payment and other concessions.
No time for complacency in battle with COVID-19
Read the opinion piece from Minister Butler on COVID-19
The Hon Mark Butler MP, Minister for Health and Aged Care
It's hard to believe that just over a year ago New South Wales was going into their devastating Delta lockdown.
This winter, life is pretty much back to normal; workers are going into work, kids are back at school, and parents and kids are shivering through weekend sport.
Without daily press conferences, it's easy to forget we're still in a global pandemic and that we face very real challenges this winter.
There are currently tens of thousands of new COVID-19 cases reported every day, and thousands of Australians in hospital with the disease. Hundreds of Australians are dying every week.
We also have the significant threat of influenza for the first time in years.
To get through winter, we need to increase third and fourth doses of COVID-19 vaccinations.
The health advice is clear: you are not fully protected against the Omicron variant unless you have at least a third dose of the vaccine.
New research from the National Centre for Immunisation Research and Surveillance has found a (third) booster vaccine dose provides 65 per cent greater protection against hospitalisation or death from the Omicron variant, compared to just two doses.
That is why you will see new advertisements from the Government over the next few weeks urging Australians to stay up to date with your vaccinations, especially boosters.
And we need to protect our children. Unlike COVID-19, young children are one of the at-risk groups for influenza.
Almost 60 per cent of people admitted to hospital with a condition associated with the flu have been children under the age of 16.
My message to parents is to protect their kids – particularly those under the age of five – through vaccination.
For people in at-risk population groups, free annual flu shots are available through the Australian Government's National Immunisation Program. This includes all children aged from six months to under five years, people aged 65 years and older, pregnant women and Aboriginal and Torres Strait Islander people from the age of six months.
While vaccination is the best possible defence for COVID-19, there are new oral treatments that can be taken at home which are very effective at preventing serious disease. Our research indicates that the vast bulk of the Australian population are still not aware of these treatments and uptake is low.
These oral antivirals must be taken as soon as possible—right after symptoms appear.
If you're aged over 65, or over 50 and an Aboriginal or Torres Strait Islander person or if you are immunocompromised, speak to your doctor about whether these new medications are right for you.
Develop a plan in the event you get COVID. If you get a positive test, ring your GP and seek a telehealth appointment immediately.
It's clear we still have a tough winter ahead of us. Hospitals and the health system are under very real pressure.
But we do have the tools to get through winter safely
With COVID-19 and the flu posing significant threats to the health of the Australian population this winter, the message is clear: get vaccinated.
To parents of young children not yet vaccinated against the flu, make an appointment – today.
If you or a loved one have not had a flu vaccine this year, make an appointment – today.
And if you're eligible for a COVID-19 vaccine booster and haven't had it, make a booking – today. It's safe to have both at the same time.
NSW Spectacles Program
The NSW Spectacles Program provides glasses and visual aids to eligible recipients who might be at risk of a preventable decline in their eye health.
If you're eligible, you can receive free of charge in any 2-year period:
one pair of single vision glasses, or
one pair of bifocal glasses.
Contact lenses, tinted lenses or low vision aids may be provided in certain circumstances.
You are eligible if you:
receive a full Centrelink pension/benefit
have no other income other than the Centrelink payments
have financial assets less than $500 (if single) or $1000 (if married/partnered or parent/guardian)
are a low-wage earner who earns less than:
the JobSeeker Payment if you're under 65, or
the aged pension if you're over 65.
People living in regional/remote areas and Aboriginal and Torres Strait Islander peoples may also qualify for the subsidy. At your appointment, your provider will use the program's online portal to check your eligibility using the information you've supplied.
Visit Vision Australia for more details on the program, your eligibility and how to apply, at:
Pensioner water rebate
If you receive a pension, you may qualify for a rebate on your water bill.
To be eligible, you'll need a:
Pensioner Concession Card from Centrelink or Department of Veterans' Affairs, or
gold Health Card (also known as a gold card) that shows:
war widow
war widower
extreme disablement adjustment (EDA)
totally and temporarily incapacitated (TTI)
totally and permanently incapacitated (TPI).
You'll also need to be the owner and occupier of one of the following:
single dwelling
dual occupancy
strata or company title unit
unit in a retirement village with a life term lease.
If you own the property with someone who isn't a pensioner, you may still get a rebate. This depends on your relationship with the other owner(s) and your eligibility.
Rebates are applied to each bill.
You can claim your pensioner rebate by selecting your water supplier from the following list:
WIND, BRASS AND PERCUSSION PLAYERS!!!!!
Northern Beaches Concert Band is looking for flute, clarinet, saxophone, tuba and trombone adult players. We cater for players from beginner to advanced and have a varied and exciting repertoire.
Come and join us during school term time at 7.30pm, Pittwater High School, Mona Street, Mona Vale.
Details 9970 7131 or 0414 560 263.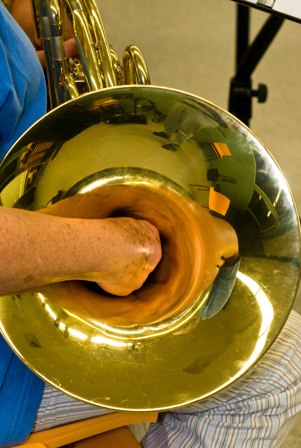 Concession car parking at NSW Health public hospitals
Patients and carers may be eligible for concession rates on parking at NSW Health public hospitals.
To be eligible you need to be:
requiring treatment over an extended period
attending hospital more than twice a week (including carers of long term patients who visit frequently).
ongoing cancer treatment
treatment more than twice weekly
daily dressing changes
cardiac rehabilitation or health promotion classes
Concessions are also available for holders of a:
Transport for NSW Mobility Parking Scheme permit
Pensioner Concession Card
Department of Veterans' Affairs Gold Card
Health Care Card.
Hospitals provide communication to patients, carers and visitors about the availability of concessional car parking rates, this includes:
clearly displaying and publicising concessional rates
streamlining the concession application process with designated points of access
validating concessional parking for the duration of a course of treatment.
For detailed information on eligibility and concession fees, visit NSW Health webpage:
Active and Healthy at any age
Staying physically active is the single most important thing you can do to stay fit and independent, as you get older. Age is no barrier, research shows that exercise, at any age, is worth the effort. If you are in any doubt about exercise, please talk to your doctor.
Join Healthy and Active for Life Online!
Healthy and Active for Life Online is a FREE 10-week healthy lifestyle program for adults aged 60 years* and over.
The program will help you learn how to make small, sustainable changes in your lifestyle to improve your health.
The program covers lots of topics including healthy eating and physical activity.
No prior knowledge or exercise experience is required!
*Aboriginal people aged 45+ years can register.
Healthy and Active for Life Online will help you to be active by:
Providing online exercise programs for you to complete in the comfort of your home
Providing you with an exercise manual and log to keep you on track
Helping you to create realistic goals and increase your fitness
MWP Care
We've been supporting the community for over 50 years!
Our Neighbour Aid staff and volunteers are able to provide crucial support to vulnerable elderly residents during the lockdown.
Help with going to the supermarket or shopping on your behalf from a list as well as transport to medical appointments. Please get in touch via our website for more information
MWP Care is a not-for-profit organisation that assists frail aged and younger people with disabilities and their carer's in the Manly, Warringah, Pittwater area to remain independent members of our community.
MWP Care provides support to people who cannot manage alone by providing a range of services. Many of Community Aid's activities are made possible by the generous work of our wonderful volunteers. Please contact us for more information.
Meals on Wheels
Meal preparation and delivery: Benevolent Society
Our food services include meal preparation, and delivery of hot, frozen or chilled meals as part of the Meals on Wheels NSW program. This service is currently provided in the Northern Beaches area of Sydney.
Assistance to prepare food at home is available as an activity to help stay active and independent.
To find out if you or someone you know is eligible for this service, call our friendly staff.
Call 1800 236 762
Also:
Pittwater; 6 Jackson Road, WARRIEWOOD, NSW 2102
Phone: 02 9457 3900
Manly & Warringah; Manly Seniors Centre, 275 Pittwater Road, MANLY, NSW 2095
Phone: 02 9976 1469
Tech Savvy Seniors
Tech Savvy Seniors provides free or low cost digital skills training on how to use computers, tablets and smartphones to keep in touch with family and friends, access essential services, conducting personal business and discover more about the things you are interested in.
Join the thousands of people over 60 who have already completed this fun, practical training and made new friends in the process.
With over 150 training locations across NSW as well as resources online it has never been easier to build your digital skills and confidence, with training available in a
range of languages
. To find out more about training sessions available near you, visit the
Tech Savvy Seniors website
to find your
local library
or community college provider.
For here:
Northern Beaches Council Library at Glen Street, Mona Vale, Warringah Mall 02 9976 1720
Northern Beaches Community College Inc at Narrabeen, Brookvale, Mosman (02) 9970 1000 enquiries@nbcc.nsw.edu.au
The Tech Savvy Seniors website also contains a great
range of 'self-teach' videos
and free digital literacy
training resources
available to make it easy to learn at your own pace to develop your digital skills from the comfort of your home.
Tech Savvy Seniors is a NSW Government initiative in partnership with Telstra.
council has a Home Library Service Available for Seniors
For those unable to visit the library because of age or disability, the Home Library Service maintains a vital connection with all that the library offers. Your Home Library Service Officer will help you select items for reading or listening. Volunteers or staff will then deliver and collect your library items on a regular basis.
Register for the Home Library Service
If you or the person you care for is unable to visit the library or carry library items home due to age, frailty or disability, please complete Council's
Home Library Service Application Form
or call us on 9942 2393.
A medical certificate or statement signed by a doctor may be required to assess eligibility.
What happens next?
After staff receive your completed application form, a Home Library Service Officer will contact you to arrange a time to meet and discuss the service details with you.
Staff or volunteers will then select your items according to your borrowing preferences and then deliver them to you. During this visit you can return any items that you have finished with.
Australian Government Dept. of Health: Hearing Devices for Seniors
Australian Government's Hearing Services Program (the program), offers the option of being fitted with a hearing device if a hearing assessment identifies you have a hearing loss and a hearing device may assist you.
You will be given a recommendation for a fully subsidised hearing device, and may also be offered the option of purchasing a partially subsidised hearing device. These devices have been approved by the Office of Hearing Services.
Learn Something New: Australia MOOCs And Free Online Courses
There is a full range of everything your heart, mind and body wants to learn more about, presented and conducted by Australia's best universities.
Aged Care Complaints Commissioner
Any person can make a complaint to the Commissioner, including care recipients, family members, friends, staff, volunteers, or professionals.
Complaints may relate to any aspect of services including care, choice of activities, discrimination, catering, communication or the physical environment. The 1800 550 552 helpline is staffed 9am to 5pm (AEDST) Monday to Friday.
Out of hours callers can leave a message, or contact the Commissioner at anytime through the Aged Care Complaints Commissioner website.
________________________________________
In 2014-15, there were 10,924 contacts to the Aged Care Complaints Scheme. 3,725 were assessed as a complaint, 3,812 'other' contacts includes non-compulsory notifications, own motion investigations and compliance referrals. There were also 3,387 out of scope contacts which were not related to an approved provider or an approved provider's responsibilities under the Aged Care Act.
Disclaimer: These articles are not intended to provide medical advice, diagnosis or treatment. Views expressed here do not necessarily reflect those of Pittwater Online News or its staff.