U3A: Hippies concert
This week the 3rd Age Rock Orchestra, led by Harvey Broadbent, took us back to the Hippie era in a memorable concert in which we all turned on, tuned in and dropped out.
Previously known as Guringai country, the land of the Garigal or Caregal people, the Northern Beaches area stretches from Palm Beach to Manly. It is home to Manly Sea Eagles, Garigal and Kuring-Gai Chase National Parks, enviable beaches and a relaxed, carefree lifestyle.
Our
2022 Semester 2 Course Book
is now available and we are looking forward to seeing you at some of our exciting courses. In addition to face to face and Zoom courses this semester we also have three outings which may interest you:
A day trip to Mount Wilson on 5 October (details on page 9);
Our annual picnic on 20 October, this year at Clontarf Reserve (details on page 10); and
Tunnels and Gunners Tour, with a guide from the Sydney Harbour Trust, on 3 November (details on page 10.
Bookings are required for each of these events so please hurry to join in.
3rd Age Rock Orchestra in Hippie mode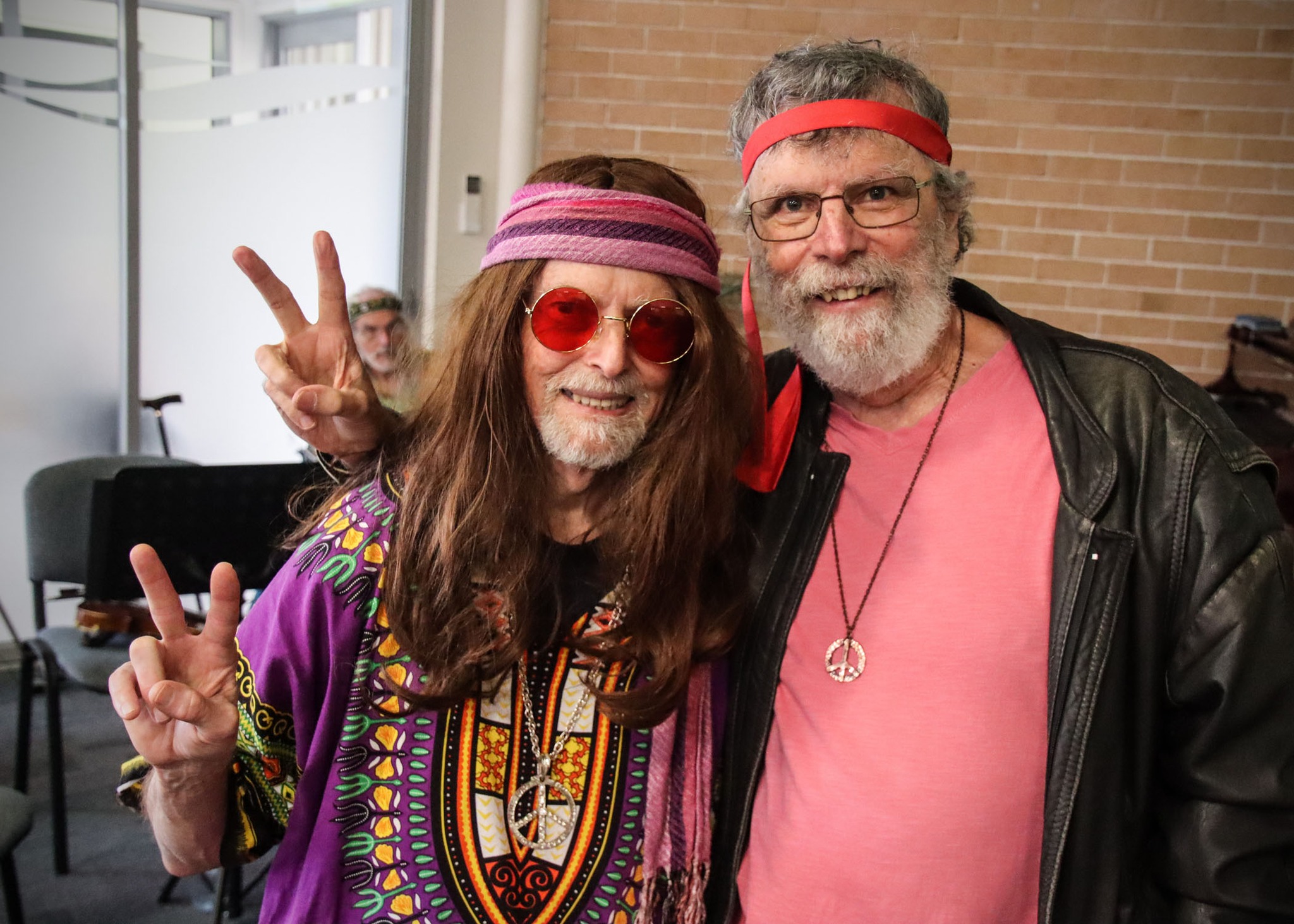 'In the groove'
Remembering Kokoda
September 23, 2022
By Warrant Officer Class 2 Max Bree
Several events have been organised to mark the 80th year since the Kokoda Track Campaign in Papua New Guinea during World War Two.
On one of them, after starting from opposite ends of the track, soldiers from 16th Battalion, Royal Western Australia Regiment (16RWAR) and 39th Operational Support Battalion (39OSB) came together for a dawn service at a site on Brigade Hill on September 6 to commemorate the 62 Australian soldiers killed in fighting there.
The sounds of insects and the occasional bird that could be heard during the ceremony were a far cry from those of gunfire, grenades and shouted orders that rang out across the battle site 80 years ago.
Over two days' fighting in September 1942, Japanese forces engaged the forward Australian elements at Mission Ridge, before flanking and sending an attack force up Brigade Hill.
Despite fierce resistance, the Japanese exploited gaps in the line and forced the Aussies off the high ground and into the jungle.
16RWAR is a successor unit to 2/16 Battalion, which fought in the battle, while 39OSB carries lineage of militia unit 39 Battalion, one of the first committed to fight in the Kokoda campaign.
Commanding Officer 16RWAR Lieutenant Colonel Leigh Partridge said the mud, mountains and vegetation would have made the area difficult to fight in.
"During this battle there were bayonet attacks, brutal close combat. There was encirclement, there were counter-attacks and then Australian elements broke contact and moved to the rear to establish subsequent defensive positions," he said.
Just before the battle, 39 Battalion – who'd been fighting without rest for weeks – were relieved by the 2/27 Battalion on nearby Mission Ridge.
They moved passed 2/14 and 2/16 Battalions on their way back.
"We are re-enacting what was a rear passage of lines with the 39th withdrawing from the north and the 2/16 Bn reinforcing from the south," Lt-Col Partridge said.
The Japanese flanking attack up Brigade Hill cut off the three infantry battalions from their HQ.
Counter-attacks from the 2/14 and 2/16 overran several Japanese positions but they were forced back by enemy reinforcements.
HQ troops later withdrew down the track, while the infantry battalions were forced down a steep jungle-covered mountain.
The 2/14 and 2/16 made it to HQ shortly after, but the 2/27 was stuck in the jungle for about two weeks, trying to reach retreating friendly forces.
Following the service, CO 39OSB Lieutenant Colonel David Ready paid tribute to the link between his unit and the Papuan people.
"The Papuan Infantry Battalion and the 39th were the first two units committed to battle. There's 80 years of shared fighting history," he said.
"A lot of people remember the Fuzzy Wuzzy Angels, not the fact that the Papuans fought as well.
"Without them, there's no way you could fight effectively in this environment."
New residential aged care quality indicators
September 21, 2022
The Federal Department of Health is introducing new quality indicators in residential aged care from 1 April 2023.
The National Aged Care Mandatory Quality Indicator Program (QI Program) currently requires residential aged care providers to report on crucial areas of care to support quality improvement and better health outcomes for older Australians.
The Federal Department of Health are expanding the QI Program from 1 April 2023 to include the following quality indicators:
Activities of daily living – Percentage of care recipients who experienced a decline in activities of daily living
Incontinence care – Percentage of care recipients who experienced incontinence associated dermatitis
Hospitalisation – Percentage of care recipients who had one or more emergency department presentations
Workforce – Percentage of staff turnover
Consumer experience – Percentage of care recipients who report 'good' or 'excellent' experience of the service
Quality of life – Percentage of care recipients who report 'good' or 'excellent' quality of life.
The additional quality indicators for residential aged care have been confirmed and the updated draft QI
Program Manual 3.0 – Part A
is available now.
Approved providers must:
start collecting new quality indicators in the April – June 2023 quarter
submit quality indicator data in the 1 – 21 July 2023 reporting period.
Introducing these new quality indicators by July 2023 aligns with recommendations of the Royal Commission into Aged Care Quality and Safety.
Updated Dementia in Australia report released
The Australian Institute of Health and Welfare (AIHW) released the updated Dementia in Australia report. The report provides the latest statistics on the impacts of dementia in Australia, including mortality, hospitalisations and population health impacts on people throughout Australia. This includes First Nations people, carers, and those living in regional, rural and remote locations.
Dementia continues to be a critical health challenge for Australia's ageing population, with an increase in both hospitalisations and deaths over the past decade.
In 2021, it was estimated that there were between 386,200 (AIHW estimate) and 472,000 Australians living with dementia (Dementia Australia 2020a). Based on AIHW estimates, this is equivalent to 15 people with dementia per 1,000 Australians, which increases to 83 people with dementia per 1,000 Australians aged 65 and over. Nearly two-thirds of Australians with dementia are women.
With an ageing and growing population, it is predicted that the number of Australians with dementia will more than double by 2058 – from 386,200 in 2021 to 849,300 in 2058 (533,800 women and 315,500 men).
In 2020, dementia was the second leading cause of death in Australia, accounting for 14,500 deaths (or 9.6% of all deaths). Dementia was the leading cause of death for women and the second leading cause for men, after coronary heart disease.

People with pre-existing chronic conditions, such as dementia, have a greater risk of developing severe illness from COVID-19. Fatal COVID-19 outbreaks have involved many people with dementia. Pre-existing chronic conditions were reported on death certificates for just under 5,400 deaths due to COVID-19, registered by 30 June 2022 in Australia. Of these deaths, 31% had dementia (including Alzheimer's disease) recorded (ABS 2022). COVID-19 was an associated cause of death for a further 234 deaths due to Dementia including Alzheimer's disease.
The indirect effects of COVID-19 on people with dementia – including reduced uptake of preventative healthcare services leading to delayed diagnoses, as well as spikes in mental illness, such as loneliness and depression – are not well understood but are thought to be substantial.
Although there is no cure for dementia, there are 4 medicines, subsidised through the Pharmaceutical Benefits Scheme and Repatriation Pharmaceutical Benefits Scheme, that may alleviate some of the symptoms of Alzheimer's disease.
In 2019–20, there were over 623,000 prescriptions dispensed for dementia-specific medications to just under 64,600 Australians with dementia aged 30 and over. There was a 43% increase in scripts dispensed for dementia-specific medications between 2012–13 and 2019–20.
People with dementia may experience changed behaviours, such as aggression, agitation and delusions, commonly known as behavioural and psychological symptoms of dementia. Non-pharmacological interventions are recommended to manage these symptoms, but antipsychotic medicines may be prescribed as a last resort.
In 2019–20, antipsychotic medications were dispensed to about one-fifth (21%) of the 64,600 people who had scripts dispensed for dementia-specific medication.
In 2020–21, there were more than 11.8 million hospitalisations in Australia (AIHW 2022). Of these, dementia was the main reason for admission for about 25,500 hospitalisations, which is equivalent to 2 out of every 1,000 hospitalisations.
For people with dementia, the average length of stay was almost 5 times as long as the average for all hospitalisations (13 days and 2.6 days, respectively). Of the hospitalisations due to dementia, 62% of patients were aged 75–89.
Aged care services are an important resource for both people with dementia and their carers. Services include those provided in the community for people living at home (home support and home care), and residential aged care services for those requiring permanent care or short-term respite stays.
Among people with dementia in Australia, 1 in 3 people live in cared accommodation. In 2019–20, there were over 244,000 people living in permanent residential aged care, and more than half (54% or about 132,000) of these people had dementia.
Australia's response to dementia requires economic investment across health, aged care and welfare sectors. It is estimated that almost $3.0 billion of health and aged care spending in 2018–19 was directly attributable to the diagnosis, treatment and care of people with dementia.
Residential aged care services accounted for the largest share of expenditure (56% or $1.7 billion), followed by community-based aged care services (20% or $596 million) and hospital services (13% or $383 million).
The level of care required for people with dementia depends upon individual circumstances, but likely increases as dementia progresses. Carers are often family members or friends of people with dementia who provide ongoing, informal assistance with daily activities.
The AIHW estimates that in 2021 there were between 134,900 and 337,200 informal primary carers of people with dementia. Among primary carers of people with dementia, 3 in 4 were female and 1 in 2 were caring for their partner with dementia.
Caring can be a rewarding role with 38% of primary carers of people with dementia reporting feeling closer to the care recipient.
Caring can also be physically, mentally, emotionally, and economically demanding. According to the Australian Bureau of Statistics (ABS) Survey of Disability, Ageing and Carers (SDAC) 2018, among carers of people with dementia:
1 in 2 provided an average of 60 or more hours of care per week.
3 in 4 reported 1 or more physical or emotional impacts of the role.
1 in 4 reported that they needed more respite care to support them.
1 in 2 experienced financial impacts since taking on the role.
First Nations people remain a priority focus. Indigenous Australians are at increased risk of:
developing dementia
experiencing higher dementia prevalence
a greater number of years lived with a disability when compared with non-Indigenous Australians.
The report has been produced as part of the work of the National Centre for Monitoring Dementia (NCMD) at the AIHW, established through $13 million funding from the Department of Health and Aged Care.
Men's Sheds grants and Movember improving men's health
The Australian Government is providing much needed funds to our men's sheds.
A total of $500,000 will be provided through the latest round of National Men's Sheds Programme (NSDP) funding.
Across Australia, 153 men's sheds will receive up to $10,000.
Funds will be used to buy computers, host health and wellbeing events, make shed improvements, or purchase tools to use in the shed.
Men's sheds seeking funding to purchase a defibrillator will also be able to apply at any time under a special category.
The Government is also providing $400,000 over the next 18 months to charity organisation Movember to conduct a targeted review of health professional education on male health issues.
Movember will lead a group of subject matter experts to identify gaps and improvement opportunities for the education of clinicians. This work will assist in removing barriers for men in accessing timely and appropriate health care.
This work will assist in remove barriers for men in accessing timely and appropriate health care.
Applications for the next round of NSDP open on Friday 19 August, with interested sheds encouraged to apply by Tuesday 27 September.
Health and Aged Care Minister Mark Butler said;
"Men's sheds across Australia create a place of belonging for over a thousand local communities.
"The Albanese Government is providing this funding to men's sheds so they can continue their important work.
"Movember is synonymous with highlighting men's health issues.
"The Movember review continues efforts to realise improved health outcomes for Australian males through the implementation of the National Men's Health Strategy 2020-2030."
NSW Spectacles Program
The NSW Spectacles Program provides glasses and visual aids to eligible recipients who might be at risk of a preventable decline in their eye health.
If you're eligible, you can receive free of charge in any 2-year period:
one pair of single vision glasses, or
one pair of bifocal glasses.
Contact lenses, tinted lenses or low vision aids may be provided in certain circumstances.
You are eligible if you:
receive a full Centrelink pension/benefit
have no other income other than the Centrelink payments
have financial assets less than $500 (if single) or $1000 (if married/partnered or parent/guardian)
are a low-wage earner who earns less than:
the JobSeeker Payment if you're under 65, or
the aged pension if you're over 65.
People living in regional/remote areas and Aboriginal and Torres Strait Islander peoples may also qualify for the subsidy. At your appointment, your provider will use the program's online portal to check your eligibility using the information you've supplied.
Visit Vision Australia for more details on the program, your eligibility and how to apply, at:
Pensioner water rebate
If you receive a pension, you may qualify for a rebate on your water bill.
To be eligible, you'll need a:
Pensioner Concession Card from Centrelink or Department of Veterans' Affairs, or
gold Health Card (also known as a gold card) that shows:
war widow
war widower
extreme disablement adjustment (EDA)
totally and temporarily incapacitated (TTI)
totally and permanently incapacitated (TPI).
You'll also need to be the owner and occupier of one of the following:
single dwelling
dual occupancy
strata or company title unit
unit in a retirement village with a life term lease.
If you own the property with someone who isn't a pensioner, you may still get a rebate. This depends on your relationship with the other owner(s) and your eligibility.
Rebates are applied to each bill.
You can claim your pensioner rebate by selecting your water supplier from the following list:
WIND, BRASS AND PERCUSSION PLAYERS!!!!!
Northern Beaches Concert Band is looking for flute, clarinet, saxophone, tuba and trombone adult players. We cater for players from beginner to advanced and have a varied and exciting repertoire.
Come and join us during school term time at 7.30pm, Pittwater High School, Mona Street, Mona Vale.
Details 9970 7131 or 0414 560 263.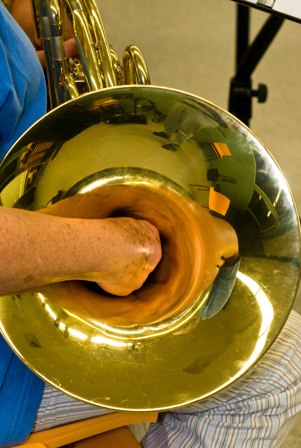 Concession car parking at NSW Health public hospitals
Patients and carers may be eligible for concession rates on parking at NSW Health public hospitals.
To be eligible you need to be:
requiring treatment over an extended period
attending hospital more than twice a week (including carers of long term patients who visit frequently).
ongoing cancer treatment
treatment more than twice weekly
daily dressing changes
cardiac rehabilitation or health promotion classes
Concessions are also available for holders of a:
Transport for NSW Mobility Parking Scheme permit
Pensioner Concession Card
Department of Veterans' Affairs Gold Card
Health Care Card.
Hospitals provide communication to patients, carers and visitors about the availability of concessional car parking rates, this includes:
clearly displaying and publicising concessional rates
streamlining the concession application process with designated points of access
validating concessional parking for the duration of a course of treatment.
For detailed information on eligibility and concession fees, visit NSW Health webpage:
Active and Healthy at any age
Staying physically active is the single most important thing you can do to stay fit and independent, as you get older. Age is no barrier, research shows that exercise, at any age, is worth the effort. If you are in any doubt about exercise, please talk to your doctor.
Join Healthy and Active for Life Online!
Healthy and Active for Life Online is a FREE 10-week healthy lifestyle program for adults aged 60 years* and over.
The program will help you learn how to make small, sustainable changes in your lifestyle to improve your health.
The program covers lots of topics including healthy eating and physical activity.
No prior knowledge or exercise experience is required!
*Aboriginal people aged 45+ years can register.
Healthy and Active for Life Online will help you to be active by:
Providing online exercise programs for you to complete in the comfort of your home
Providing you with an exercise manual and log to keep you on track
Helping you to create realistic goals and increase your fitness
MWP Care
We've been supporting the community for over 50 years!
Our Neighbour Aid staff and volunteers are able to provide crucial support to vulnerable elderly residents during the lockdown.
Help with going to the supermarket or shopping on your behalf from a list as well as transport to medical appointments. Please get in touch via our website for more information
MWP Care is a not-for-profit organisation that assists frail aged and younger people with disabilities and their carer's in the Manly, Warringah, Pittwater area to remain independent members of our community.
MWP Care provides support to people who cannot manage alone by providing a range of services. Many of Community Aid's activities are made possible by the generous work of our wonderful volunteers. Please contact us for more information.
Meals on Wheels
Meal preparation and delivery: Benevolent Society
Our food services include meal preparation, and delivery of hot, frozen or chilled meals as part of the Meals on Wheels NSW program. This service is currently provided in the Northern Beaches area of Sydney.
Assistance to prepare food at home is available as an activity to help stay active and independent.
To find out if you or someone you know is eligible for this service, call our friendly staff.
Call 1800 236 762
Also:
Pittwater; 6 Jackson Road, WARRIEWOOD, NSW 2102
Phone: 02 9457 3900
Manly & Warringah; Manly Seniors Centre, 275 Pittwater Road, MANLY, NSW 2095
Phone: 02 9976 1469
Tech Savvy Seniors
Tech Savvy Seniors provides free or low cost digital skills training on how to use computers, tablets and smartphones to keep in touch with family and friends, access essential services, conducting personal business and discover more about the things you are interested in.
Join the thousands of people over 60 who have already completed this fun, practical training and made new friends in the process.
With over 150 training locations across NSW as well as resources online it has never been easier to build your digital skills and confidence, with training available in a
range of languages
. To find out more about training sessions available near you, visit the
Tech Savvy Seniors website
to find your
local library
or community college provider.
For here:
Northern Beaches Council Library at Glen Street, Mona Vale, Warringah Mall 02 9976 1720
Northern Beaches Community College Inc at Narrabeen, Brookvale, Mosman (02) 9970 1000 enquiries@nbcc.nsw.edu.au
The Tech Savvy Seniors website also contains a great
range of 'self-teach' videos
and free digital literacy
training resources
available to make it easy to learn at your own pace to develop your digital skills from the comfort of your home.
Tech Savvy Seniors is a NSW Government initiative in partnership with Telstra.
council has a Home Library Service Available for Seniors
For those unable to visit the library because of age or disability, the Home Library Service maintains a vital connection with all that the library offers. Your Home Library Service Officer will help you select items for reading or listening. Volunteers or staff will then deliver and collect your library items on a regular basis.
Register for the Home Library Service
If you or the person you care for is unable to visit the library or carry library items home due to age, frailty or disability, please complete Council's
Home Library Service Application Form
or call us on 9942 2393.
A medical certificate or statement signed by a doctor may be required to assess eligibility.
What happens next?
After staff receive your completed application form, a Home Library Service Officer will contact you to arrange a time to meet and discuss the service details with you.
Staff or volunteers will then select your items according to your borrowing preferences and then deliver them to you. During this visit you can return any items that you have finished with.
Learn Something New: Australia MOOCs And Free Online Courses
There is a full range of everything your heart, mind and body wants to learn more about, presented and conducted by Australia's best universities.
Aged Care Complaints Commissioner
Any person can make a complaint to the Commissioner, including care recipients, family members, friends, staff, volunteers, or professionals.
Complaints may relate to any aspect of services including care, choice of activities, discrimination, catering, communication or the physical environment. The 1800 550 552 helpline is staffed 9am to 5pm (AEDST) Monday to Friday.
Out of hours callers can leave a message, or contact the Commissioner at anytime through the Aged Care Complaints Commissioner website.
________________________________________
In 2014-15, there were 10,924 contacts to the Aged Care Complaints Scheme. 3,725 were assessed as a complaint, 3,812 'other' contacts includes non-compulsory notifications, own motion investigations and compliance referrals. There were also 3,387 out of scope contacts which were not related to an approved provider or an approved provider's responsibilities under the Aged Care Act.
Apply for the $200 Seniors Energy Rebate
A new rebate for independent retirees who hold a Commonwealth Seniors Health Card to help with electricity costs.
The Seniors Energy Rebate is available for eligible independent retirees to help cover the cost of their electricity.
To be eligible you need to hold a Commonwealth Seniors Health Card (CSHC).
CSHCs are means-tested concession cards issued by Services Australia and the Department of Veterans' Affairs (DVA).
The Seniors Energy Rebate is $200 per household, per financial year.
If your application is successful, the rebate will be paid directly into your nominated bank or Credit Union account.
Note: Gas accounts are not eligible for the rebate.
What you need
your valid CSHC from Centrelink or the DVA
the most recent electricity bill for your current primary place of residence
your contact details
your bank or Credit Union account details
How to apply
Check you meet the eligibility requirements.
Select the 'Apply online' button.
Enter the required details.
Submit the application.
If you're unable to apply online, visit a service centre or call us on 13 77 88.
If your application is successful, you'll receive payment within 5 working days into your nominated bank/Credit Union account. Service NSW will contact you if there are problems issuing your payment.
Community Connect
Need help on where to go to find the community information and assistance you need?
At Community Connect Northern Beaches, our professional staff and trained volunteers are knowledgeable, friendly and approachable and we will be only too pleased to help you find the service you want. We provide information and support, as well as advocacy and referral to other non profit community services and government agencies.
If we can't help you we will get you someone who can. If you are newly arrived or do not have an English speaking background we can offer individual advice and support. Or Why not come to Specialist Community Support Workshops: Family Law, Power of Attorney plus Wills and Executors; Domestic Violence Support and Prevention; Positive Community Integration ; Crime Prevention; Or Our Free English Classes.
We also provide information on: Family Services: Child Care, Personal Support & Counselling; Health (Including Mental Health) ; Material and Practical Assistance ; Advocacy to access state and federal MP assistance; Accommodation and Tenancy (help with form filling); Legal and Financial Matters ; Consumer Affairs ; Multicultural Issues; Conservation and the Environment ; Employment and Education; Accessing Community Facilities -You are welcome to call in for: Brochures, booklets and fact sheets on a range of topics; Service Directories e.g. Council Guides and Migrant Directories; Publications e.g. The Senior newspaper and Nova.
Access to our community information data base, internet, email, fax and photocopying.(Please note there is a small charge for photocopying and use of the fax to cover the cost of paper, toner and fax call). We also offer: A Legal Referral Program - Monday 1pm to 2pm at our 30 Fisher Road, Dee Why office. Taxation Assistance for low income earners and pensioners from July to October.
What does it cost?: Our services are free, however we are always grateful for a small donation where possible. The program is supported by NSW Department of Family & Community Services (FACS). CONTACT US: Phone: 02 99317777.
Disclaimer: These articles are not intended to provide medical advice, diagnosis or treatment. Views expressed here do not necessarily reflect those of Pittwater Online News or its staff.