December 3 - 9, 2023: Issue 608

Mona Vale Road West Upgrade Has NOT Been Cancelled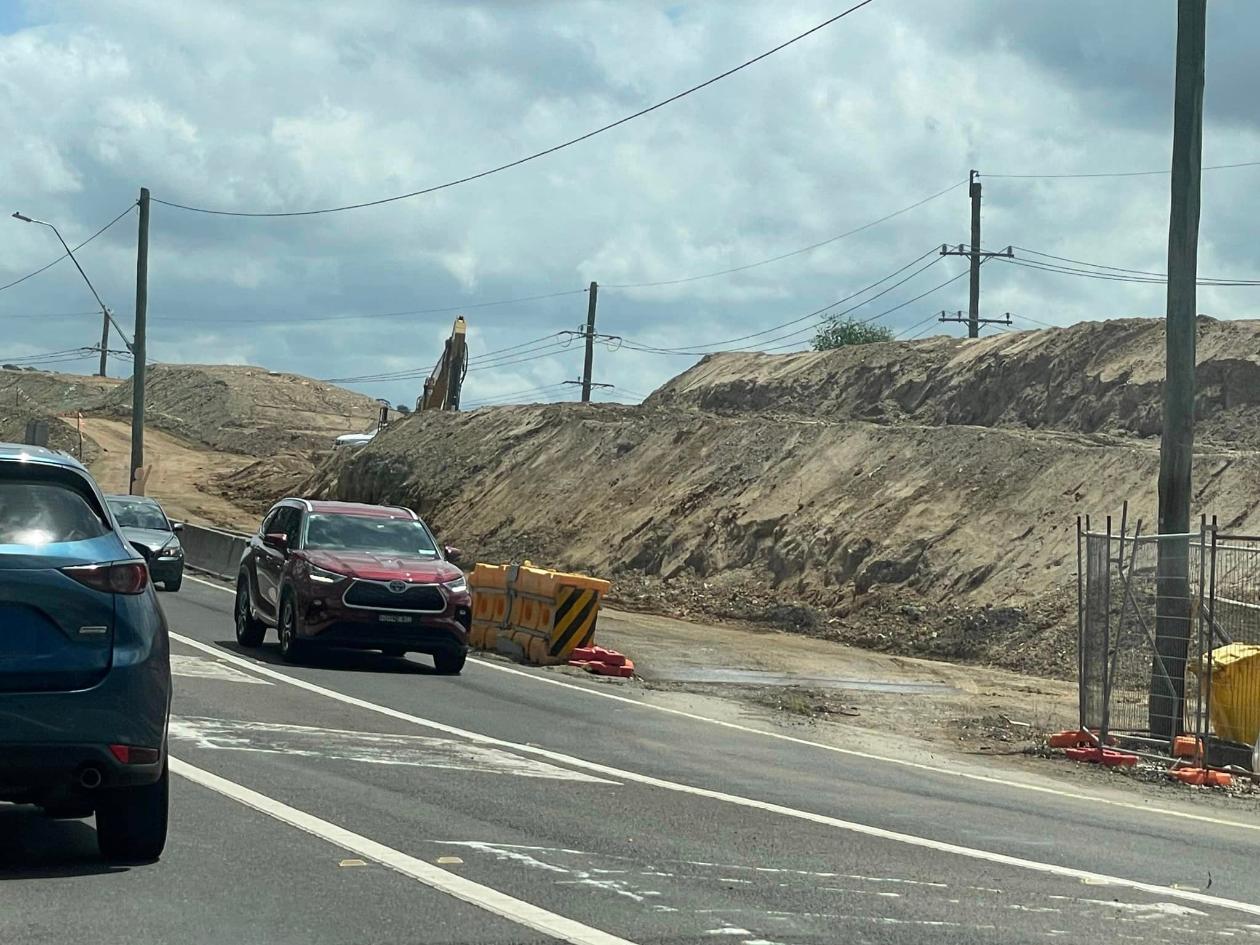 Mona Vale Road Wests' Dust Heaps in November 2023. Photo supplied
In early November 2023 households throughout Pittwater received a mailed form letter from Pittwater's MP stating the Mona Vale Road West upgrade has been cancelled and asking them to sign a petition :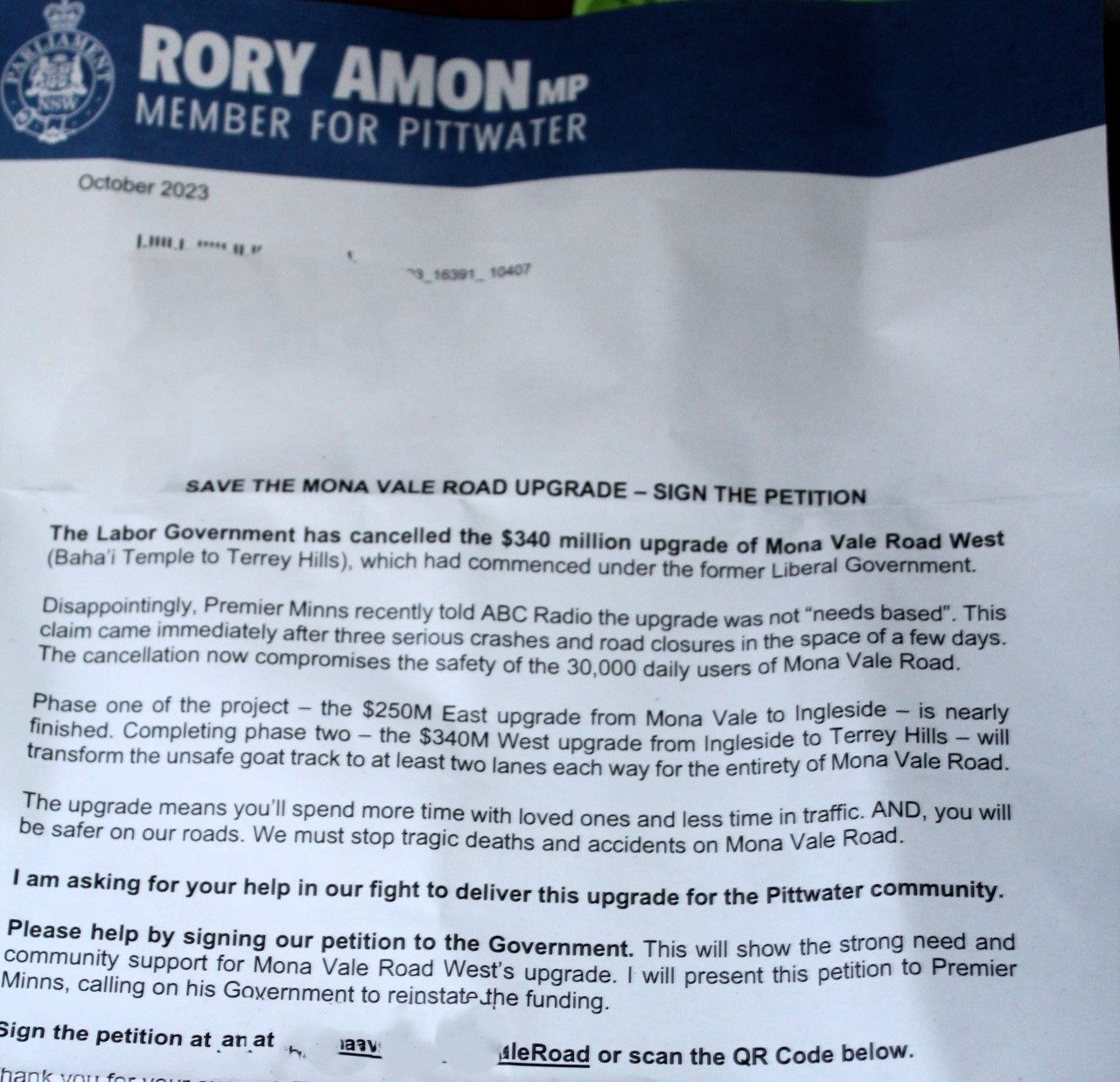 The letter states at its base, as required, that it was 'Authorised by Rory Amon MP using Parliamentary entitlements'.
State MPs for NSW are given a Communications Allowance. The Purpose of the Communications Allowance is an annual budget provided to Members to meet the costs associated with communicating with their constituents including: production and distribution of newsletters and brochures; printing of letterhead and flyers; audio posters and other e-publications; developing, hosting and maintaining a website and/or other social media; email distribution services; advertisements; and other forms of communications approved by Parliament.

The 2023-2024 Legislative Assembly Base Allocation is $20,850 - compared to the Legislative Council allocation of $5,315. The 2023-24 Communications Allowance Additional Allocation for Pittwater is $86,329 for number of electors: 56,058.
Members are encouraged to submit material they are proposing to print or produce using the Communications Allowance to the Department of Parliamentary Services for a pre-production assessment.

The letter had been preceded by an address given by Mr. Amon in the NSW Parliament stating the same on October 17, albeit to an almost empty chamber and given at 7.21 pm, and has been followed by a letter posted on social media by Mr. Amon addressed to NSW Premier Chris Minns, which opens with the same statement.
In late August 2023 The Hon. John Graham, NSW Minister for Roads, acknowledged a review of the MVR West upgrade and noted that the project's future would be determined by the findings. On September 19 2023 it was confirmed the project has been put on hold for 2 years, although $348,000.00 in funding for planning works for the Mona Vale Road West was allocated in the Labor Governments' 2023-2024 Budget papers.

In an October ABC Radio Sydney interview the NSW Premier Chris Minns stated funding that had previously been allocated to various projects had been redirected to fixing regional roads, still recovering from flooding.
The 'cancellation' phrase has now been repeated by a Liberal Councillor at the November 2023 Council Meeting.
Councillor Karina Page has also posted on social media that the project is cancelled and calling on her 78 followers to like her post 'that Northern Beaches Council flexes its muscle to support this project'.
Ms Page was slotted into the seat Mr. Amon occupied on the Northern Beaches Council following his resignation in May after securing the Pittwater MP seat by a margin of 1.6%.
Ms Page stood second on the Liberal ticket at the 2021 council elections and although the Liberal candidates as individuals did not secure a high vote, Ms Page's total being 100 votes, thousands voted solely for the Liberal party and secured a place for Pittwater 'ward' Liberals on council.
Voting for the same political party your whole life, regardless of their policies and conduct, has not been unusual in Australian politics. Many have parents and grandparents who were instrumental in forming these parties, some even have relatives who were the first State secretaries or became 'Young Liberals', and are now Old Liberals, and have 'heard about it' their whole lives. However, recent years have shown a drift away from dyed blue or dyed red voting practises of around 50% of local voters.
Following Pittwater Online's 'dust heaps of MVR West report' in mid-October, which included noting the 2023-2024 NSW Government Labor budget, tabled on September 19, provided $348,000.00 in funding for planning works for the Mona Vale Road West, and that former Pittwater MP Rob Stokes had announced in June 2022 $25 million was allocated to the MVR West upgrade, a query was sent to Transport for NSW as to what that 2022-2023 allocation had been spent on.
As Readers had emailed in their concerns, given the circulating 'cancelled' statements, that too was queried - true or not? Readers also wondered whether signing Mr. Amon's petition would mean they are then on a data base ever after, and would receive emails on other subjects as well.
The reply from a Transport for NSW Spokesperson was;
''Earlier this year, the NSW Government undertook an independent review of the state's infrastructure pipeline, tasked with identifying projects and programs that should no longer proceed, be delayed or have their scope altered. As a result of this review, the Mona Vale Road West project has been deferred for two years. Transport for NSW remains committed to the delivery of this project. ''
Transport for NSW also confirmed the $25 million budget allocation announced in June 2022 wasn't spent due to additional time required to undertake further planning investigations. The 2023-24 budget allocation of $348,000 was towards the continuation of the detailed design phase of the project.
On 8 September 2023, the NSW Government confirmed the decision to cancel the Beaches Link tunnel linking Sydney's northern beaches to the city's north.
The statement was accompanied with 'Transport will continue to carry out a road network review to assess what, if any, network improvements may be required in northern Sydney and other impacted areas to ensure a safe, efficient and reliable road network for motorists.' and since then the widening of the Wakehurst Parkway to the turn off into Morgan Road has been announced and is currently scheduled to commence at the end of 2024.
The 2 year delay of the MVR West upgrade project was announced at the same time.
No amount of post-truth politics*, post-factual politics or post-reality politics, in political culture, in which facts are considered irrelevant, erases those actual facts to at least 50% of residents, they have stated.

Readers queries sent in to Mr Amon's Office were:
Where has and when was it stated by the Labor Government that they have cancelled the MVR West upgrade?
Are those who sign this petition, or any other petition broadcast via letter or social media from the Office of Rory Amon, then added into a list and agreeing to receiving emails thereafter?
Where has the funding for sending this letter come from?
How much did it cost to send this letter to residents?
The reply to residents queries was sent as 'Background only':
In their 2022-23 Budget, the former Liberal Government allocated $340 million over the next four years to the delivery of the Mona Vale Road West upgrade. More than $24 million was spent in 2022-23 and previous years on planning and preparatory works.
Despite significant investment in previous years, and the Mona Vale Road East project nearing completion, in their first Budget in office the Labor Government cut the $340 million that was previously locked in for the project. Nowhere in the 2023-24 budget papers,

including over the next four years,

is any funding allocated to deliver the Mona Vale Road West project.
The petition demonstrates the strength of community support for the upgrade of Mona Vale Road West when Mr Amon advocates for the project on behalf of his constituents. Mr Amon promotes the petition through his social media, local print media and via email.
All elected representatives communicate with their constituents through a variety of avenues. State members of parliament are provided with a budget from the parliament to communicate with their constituents. Information regarding budgets and administrative requirements is publicly available.
So no reply as to whether signing the petition adds you into a data base. If you are getting emails thereafter that you didn't sign up for, simply unsubscribe - all forms of email mass communication are required to have a functioning unsubscribe element as part of what is sent and those sent from the Pittwater MP's Office certainly have these at their base. In Australia the law protects you from commercial emails and SMSs you did not agree to receive. The Australian Communications and Media Authority (ACMA) takes action where breaches have occurred.
However, aside from the obvious increase in development at Ingleside, Warriewood, Mona Vale, Bayview and Narrabeen the finished upgrade would facilitate, the aim of residents is to make this passageway safer for commuters. The Mona Vale road has been claiming lives and the scene of injuries since it was a dirt waggon track. The dust pile sculpting exercise, with its concrete barriers that have not only narrowed the passageway but eliminated any place to pull off out the way of an accident, and significantly reduced the safety of the stretch from Addison road to Kimbriki road.
Options to increase safety until the 2 year delay have elapsed and planning finalised, given the upcoming Summer season will see thousands more heading down Mona Vale road, are at the base of Mr. Amon's November letter calling for a safety audit. Even with the 'cancellation' statement still thrown in, action on safety measures being improved could decrease the potential for accidents leading to permanent injury or death.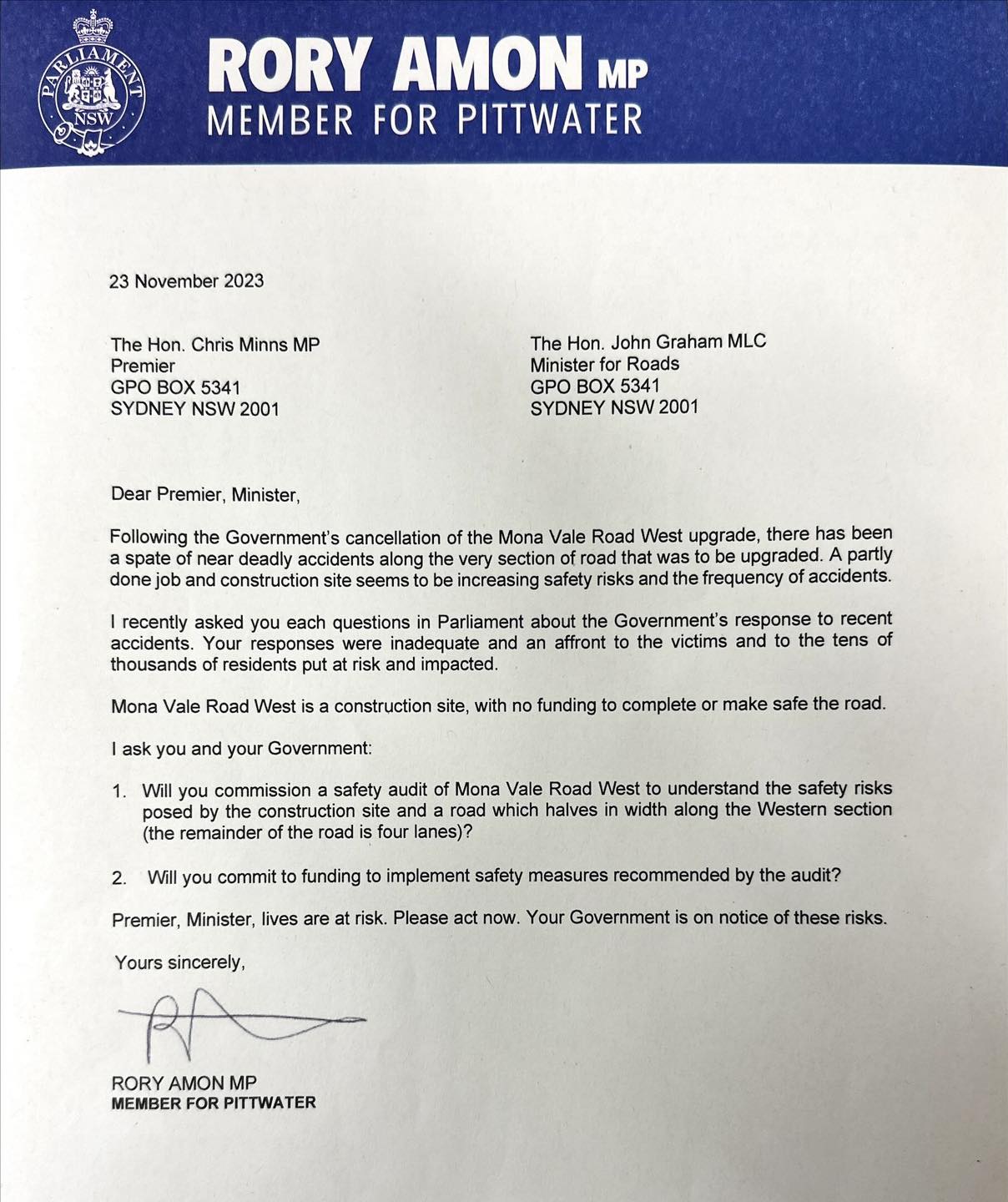 Residents are also concerned about the MVR West dust piles impact on the creeks of Pittwater, especially during rain events, along with how they have now blocked a previous wildlife corridor.
Further runoff that may impact Ingleside and Warriewood creeks has been identified in a March 2023 an Addendum review of environmental factors (PDF, 3.74 MB). Transport for NSW (Transport) proposes to modify the Mona Vale Road East Upgrade project by adjusting the approved project boundary to construct a vegetated mound which is proposed to replace an approved 1.5-metre high vertical concrete traffic barrier at Ingleside.
Wakehurst Parkway Upgrade: Please Speak Up For Local Wildlife In Your Feedback - Submissions Close December 6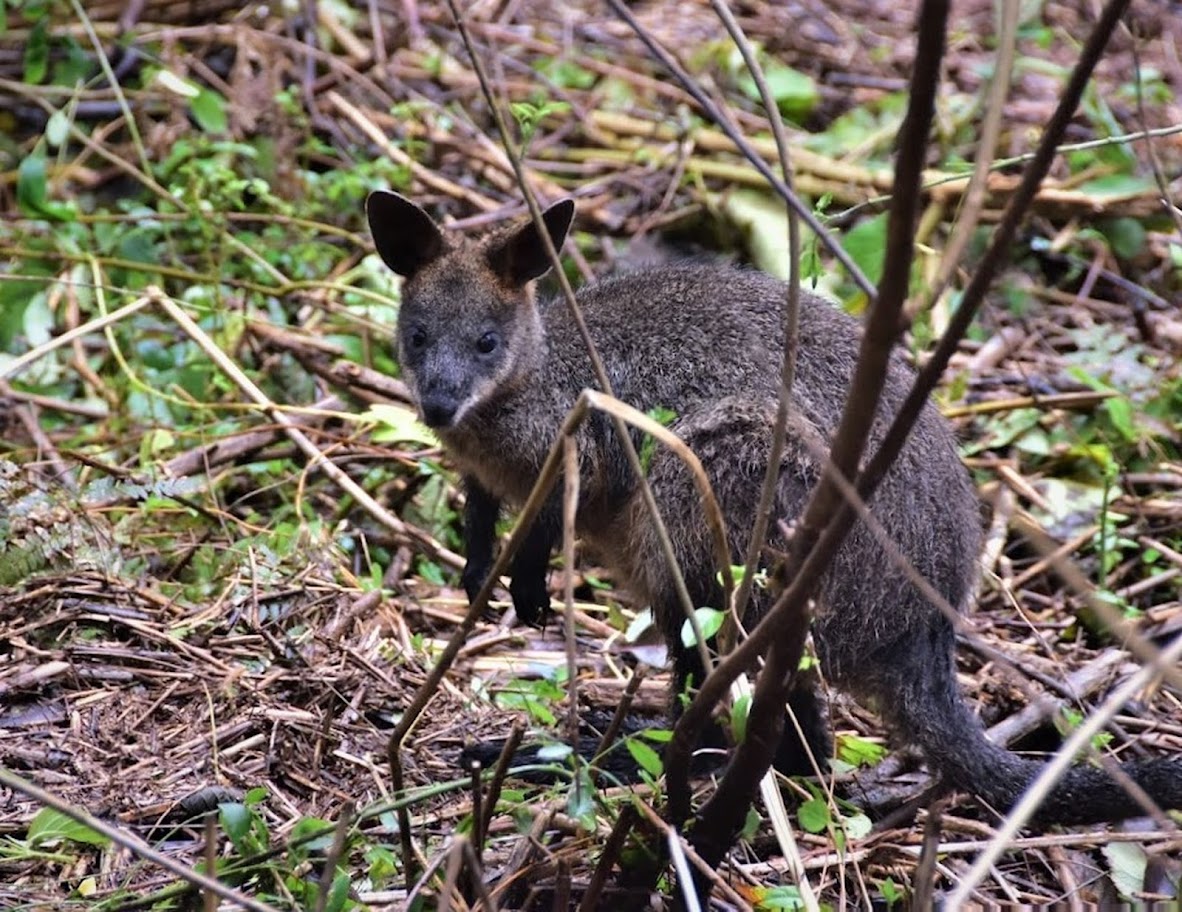 Photo: Young Wallaby in Warriewood by Kevin Murray, March 2022.
Transport for NSW is planning road improvements along Wakehurst Parkway between Frenchs Forest Road, Frenchs Forest and Pittwater Road, North Narrabeen. These include intersection upgrades and focus on improving safety and capacity for this key road link in Sydney's Northern Beaches.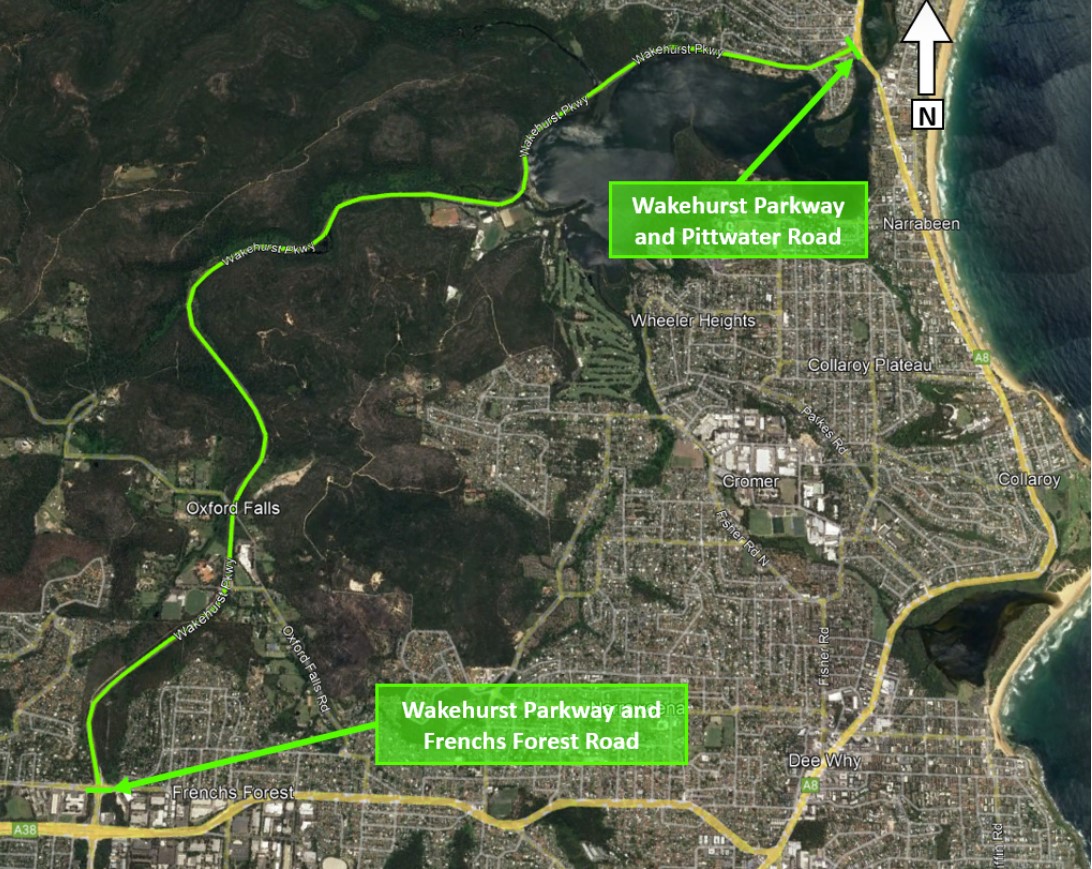 Diagram provided by Transport New South Wales
Background
Transport for NSW is planning improvements to sections of Wakehurst Parkway to reduce congestion and delays and improve safety.
The Wakehurst Parkway has a high incidence of wildlife roadkill especially wallabies and possums.
The road has a history of crashes. There is always the risk of a human fatality where a driver swerves to avoid an animal on the road.
The Parkway has been progressively fenced with animal mitigation fencing. Upgrades provide another opportunity to install more mitigation fencing and to improve underpasses so that animals can move through the area from Garigal National Park in the north to the south side of the Narrabeen Lagoon catchment.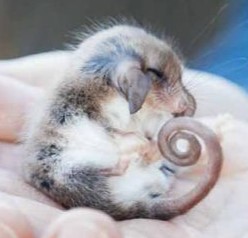 An Eastern pygmy possum.
Properly maintained, continuous wildlife exclusion fencing is essential to alleviate the risk of roadkill.
The fencing must be continuous.
Gates are required to allow access for maintenance and to allow animals to pass through the area in the event of bushfire.
Underpasses are crucial to allow animals to move through the area. Underpasses need to be designed so that animals can use them even in extended periods of wet weather.
National Coastal Safety Report 2023 Released: Surf Life Saving Australia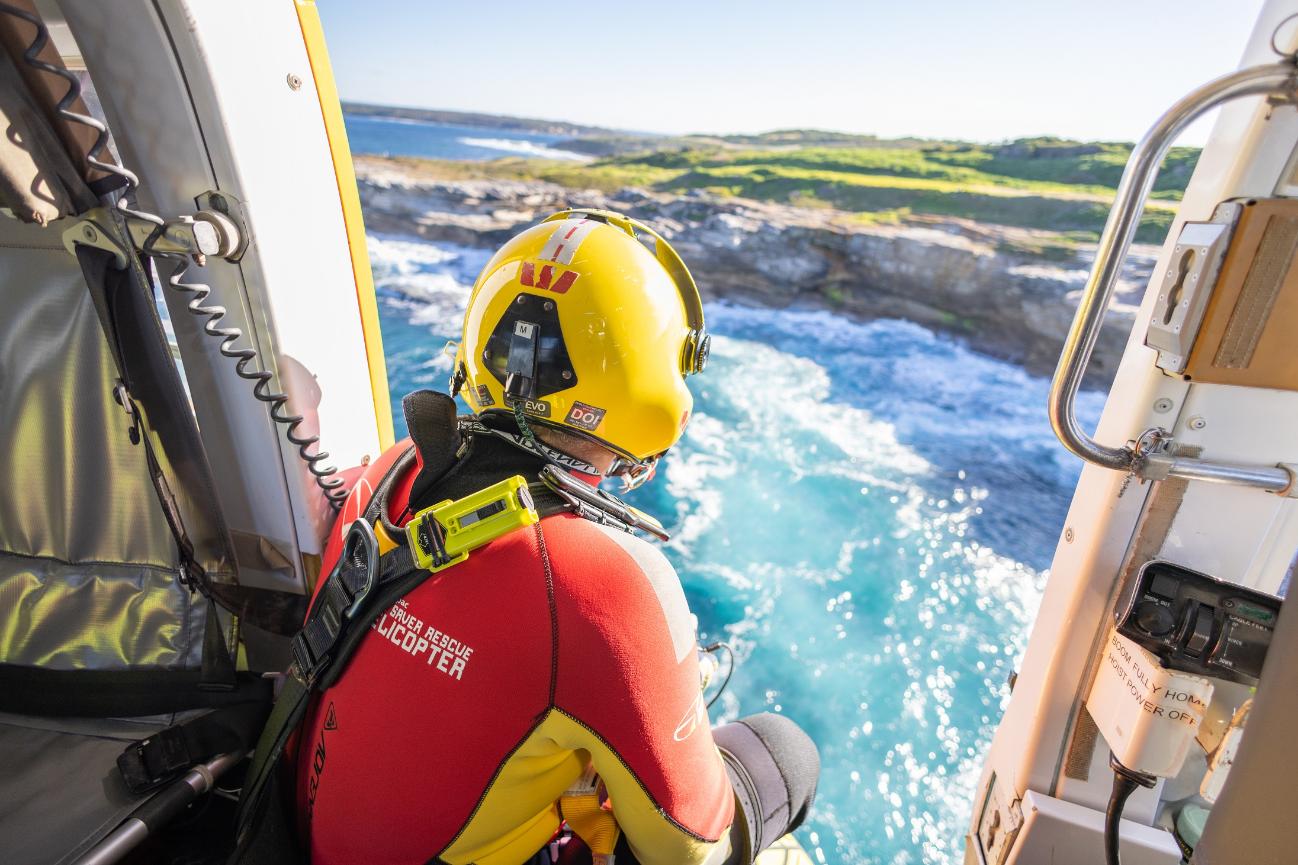 Ahead of National Water Safety Day, December 1, Surf Life Saving Australia (SLSA) released its National Coastal Safety Report which highlights the importance of making water safety a priority.
SLSA together with Royal Life Saving Society – Australia are urging all Australians to make water safety a priority this summer, with the predicted hot weather tipped to see beaches and all waterways bursting with visitors.
SLSA's National Coastal Safety Report has found that there were tragically 125 drowning deaths over the past 12 months, with surf lifesavers and lifeguards performing 9,297 rescues during the 2022-2023 season.
The SLSNSW 2023 NSW Coastal Safety Report, released the same day, records in 2022-23, lifesavers, lifeguards and support operations personnel responded to 753 emergency callouts, rescued more than 4,780 people and conducted 861,000 preventative actions.
With 85% of the population living within 50km of Australia's coastline, water safety officials are pleading with Aussies and visitors to the coast to not be complacent when visiting the beach.
The National Coastal Safety Report insights include:
Men continue to be over represented, accounting for 82% of all drowning deaths in the past 12 months.
50% of drowning deaths occurred to older adults (aged 55+ years)
66% of drowning deaths happened more than 1 kilometre from a patrolled beach
Alarmingly, 31% of drowning deaths were nearby residents to the drowning location
Rip currents were involved in 22% of this years coastal drowning deaths
4.5 million adults have been unintentionally caught in a rip current at some point in their life.
Surf Life Saving Australia CEO Adam Weir said: "Australians love visiting the coast and going to the beach. While most visits to the coast are filled with fun, excitement and wonderful memories, unfortunately for some they result in tragedy.
"The National Coastal Safety Report highlights 125 coastal drowning deaths in the past 12 months, and while it was a welcomed reduction from last year, it was still above the ten-year average, and if not for the interventions of our surf lifesavers and lifeguards, this drowning figure would have been much higher.
"Ahead of summer, we are urging all Australians to keep water safety top of mind when visiting our beaches, understand your limitations and swim between the red and yellow flags," he said.
Royal Life Saving CEO, Justin Scarr, said "Swimming at rivers and lakes can be extremely dangerous due to currents and debris. Men should make the right call, know their limits, wear lifejackets when boating, and always avoid alcohol around water.
"Tragically, young children can be extremely vulnerable to drowning in backyard pools and in dams. Royal Life Saving reminds parents to Keep Watch, actively supervise children around water, restrict children's access to water, and teach them water safety skills," he said.
The Federal Government has declared December 1 National Water Safety Day, an annual reminder to encourage Australians to make water safety a priority.
Minister for Sport The Hon. Anika Wells MP says,
"We are a nation that enjoys spending time in and around the water, particularly over summer. But the findings of the National Coastal Safety Report highlight the importance of water safety.
"National Water Safety Day provides an opportunity for us all to reflect on how we can keep ourselves and our loved ones safe over summer.
"This holiday season, I urge you to be vigilant, be safe and look out for each other around the water."
Surf Life Saving Australia and Royal Life Saving Society – Australia advise people to:
Always supervise children in, on and around water 
Learn swimming, water safety and lifesaving skills 
Wear a lifejacket when boating, rock fishing or paddling 
Swim at a patrolled beach between the red and yellow flags 
Avoid alcohol and drugs around water 
Check the conditions, including weather forecasts
2023 NSW Coastal Safety Report: SLS NSW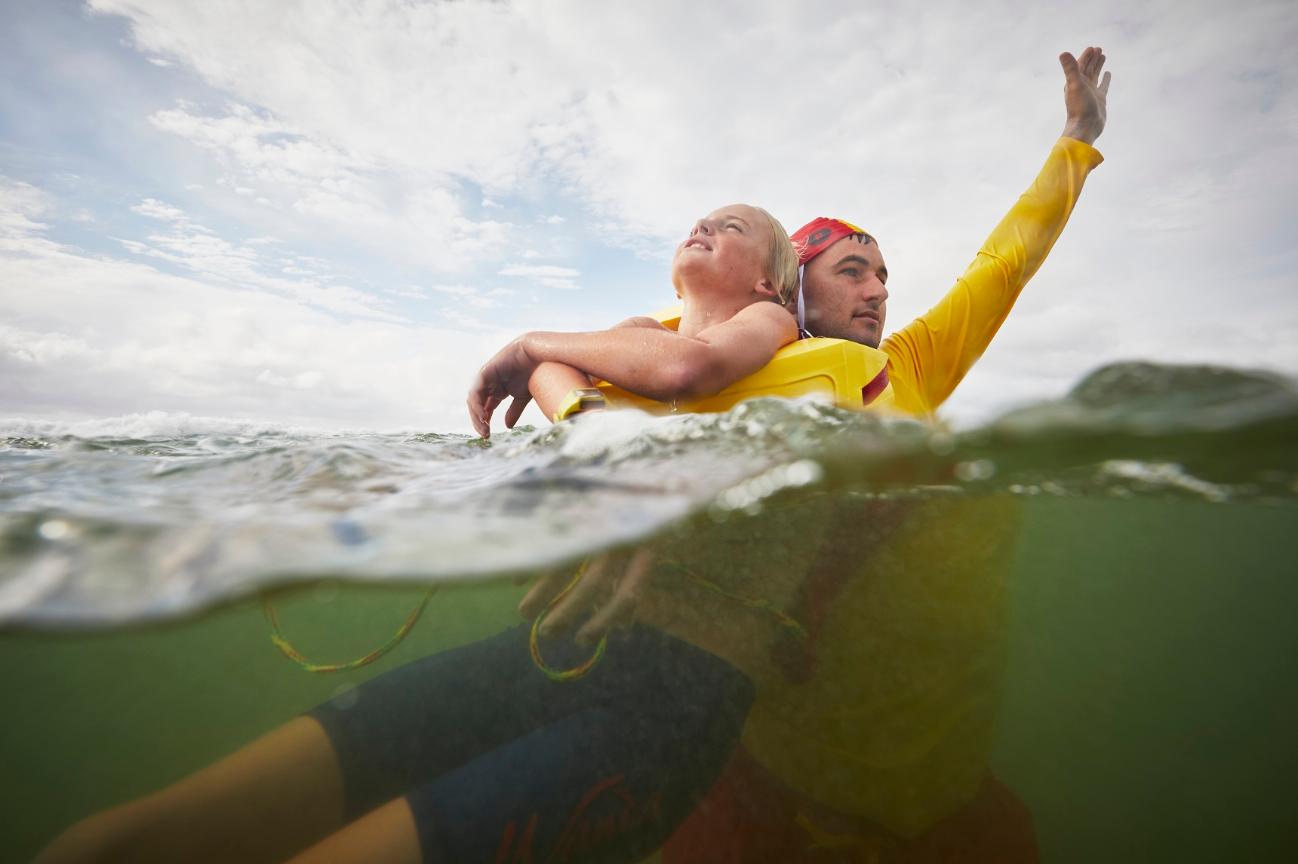 The 2023 NSW Coastal Safety Report has highlighted a stark increase in bystander rescue drownings along with the finding that more than half of coastal drownings are happening in regional and remote areas.
Friday 1 December is National Water Safety Day and Surf Life Saving NSW is urging people to take safety seriously this summer after 48 people lost their lives on NSW beaches and coastal waters last year - 6 of those tragedies occurred in the SLS Sydney Northern Beaches Branch area.
The 2023 Report, released November 29, the same day as the SLSA National Coastal Safety Report 2023, records the rise in attempted rescues by members of the public who end up drowning themselves (bystander rescues), a worrying trend that lifesavers don't want repeated this Summer.
A spate of these rescues occurred last Summer, including a tragic end to a family holiday for a father who drowned while trying to save his daughter from a rip current at an unpatrolled beach near Black Head on 3 January. Just two days earlier, an off-duty police officer died while rescuing his teenage son from a rip at a secluded beach near Narooma on the Far South Coast.
"It's absolutely natural to want to try to save someone from drowning, especially a loved one. But without the necessary skills or equipment, it can be a deadly decision," said SLSNSW President Peter Agnew.
"It's what makes swimming at an unpatrolled beach so dangerous."
Men made up 83% of all coastal drownings.
Rockfishing fatalities represent 13% of total deaths. Over the past year Surf Life Saving New South Wales has been undertaking a ground-breaking safety education program, Gone Fishing.
An initiative made possible with support from the NSW Government through the Department of Primary Industries, Gone Fishing is a practical program designed to better educate rock fishers on the safety measures and skills that can make the popular pastime a whole lot safer.
More in Issue 607 report: Surf Life Saving NSW's Gone Fishing Rock Fishing Project Report 2023 Released: Insights From The Dee Why Workshop
The NSW Coastal Safety Report also found that getting caught in a rip current remains the number one contributor to coastal drowning, with 27% occurring as a result.
Twelve people also drowned at coastal locations in National Parks, another worrying trend and a reminder of the dangers of unpatrolled beaches.
Emergency Services Minister Jihad Dib said the NSW Government is increasing funding to expand the rollout of Emergency Response Beacons at blackspot locations and new jetskis for volunteers to conduct patrols along remote stretches of coastline this summer.
"Australia has some of the most enviable beaches in the world and as the holidays approach we know that people will take advantage of a getaway to enjoy our coastline," said Minister Dib.
"People on holidays may find themselves in conditions that are unfamiliar or unsafe. Please swim at patrolled beaches and speak to Surf Life Saving volunteers to better understand local conditions as they can change quickly."
"Volunteers on our beaches and our emergency services are well equipped to respond.
By swimming safely and within your abilities we can make sure you enjoy a day at the beach without needing their help."
In 2022-23, lifesavers, lifeguards and support operations personnel responded to 753 emergency callouts, rescued more than 4,780 people and conducted 861,000 preventative actions.
2023 Australian Junior Surfing Titles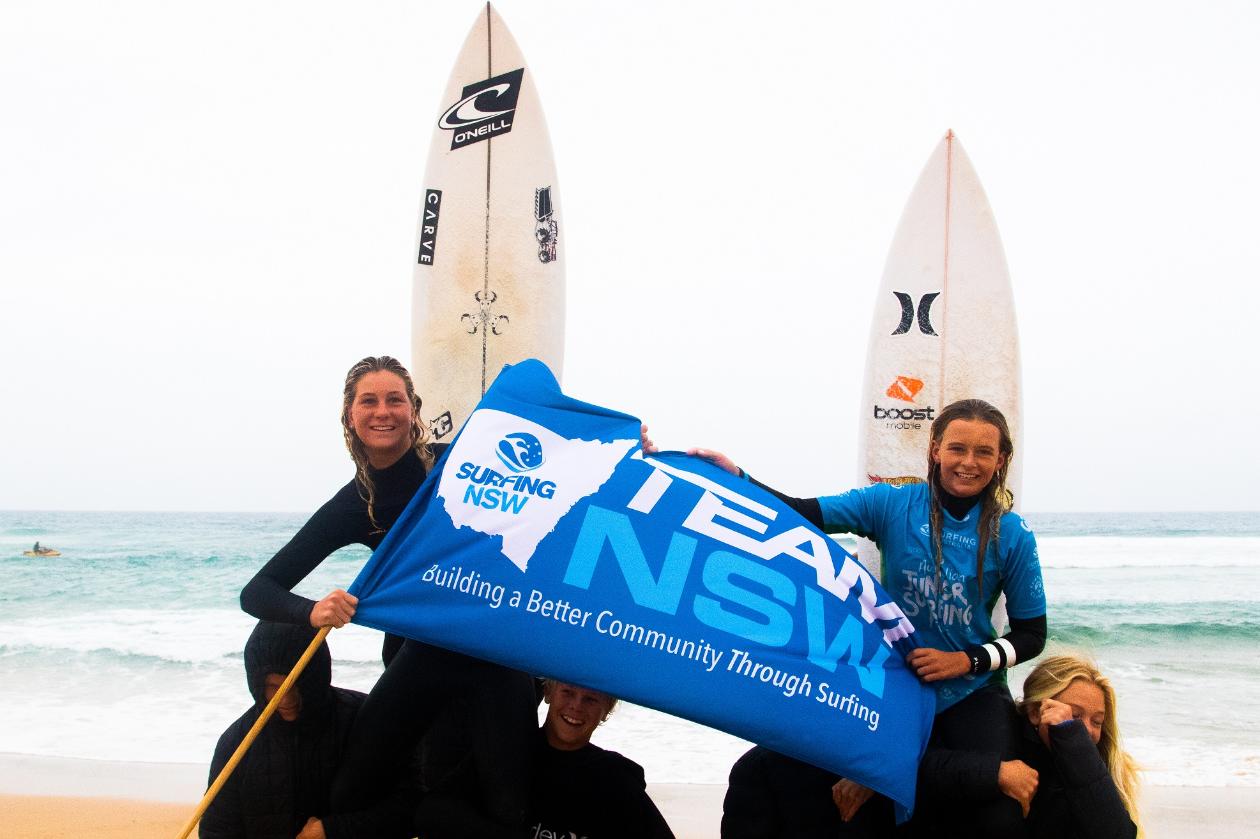 Ruby Trew and Grace Gosby from NSW have won the Under 16 Girls Allstars schools division. Photo: Noah Clifford / Surfing Australia
The Australian Junior Surfing Titles have been taking place at Phillip Island, Victoria running 25th November to Sunday 3rd December.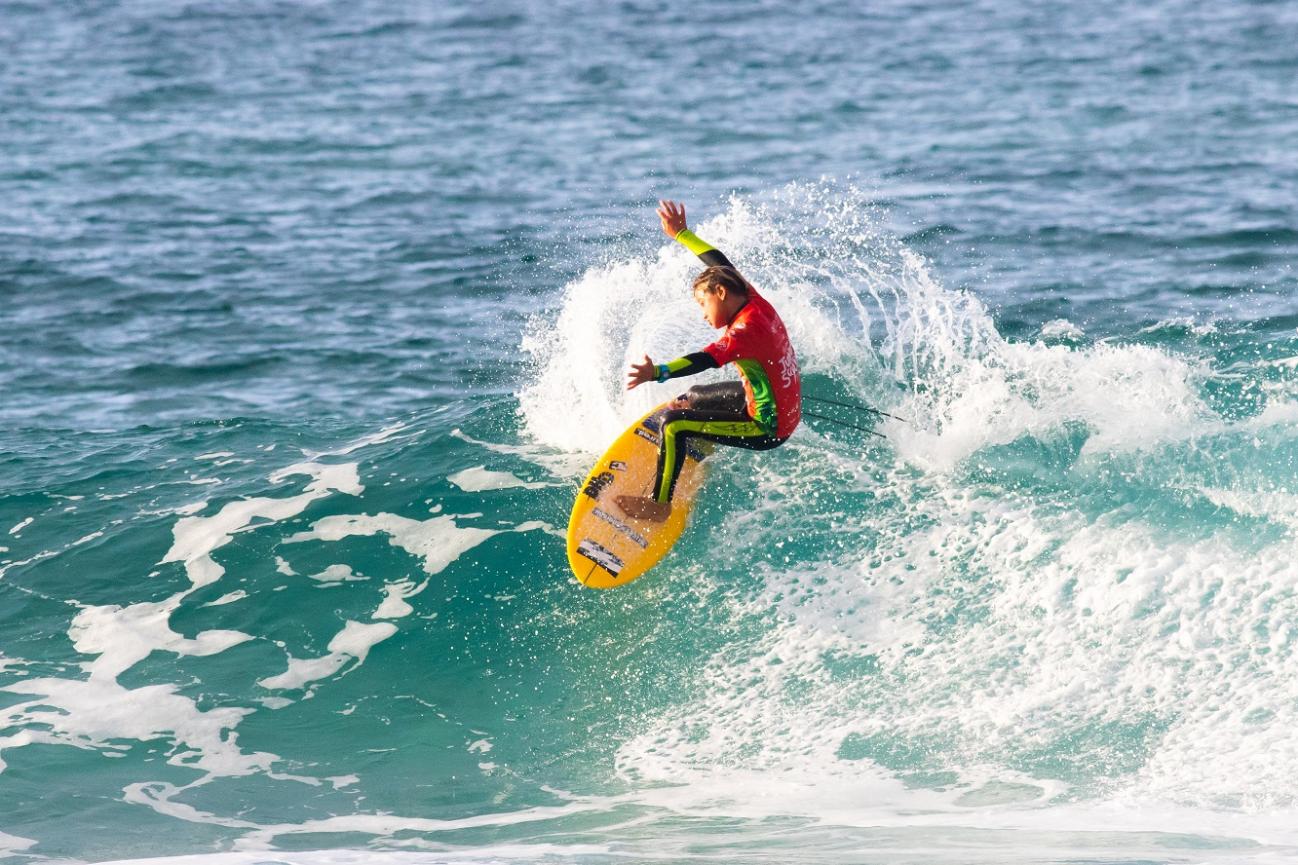 Locana Cullen has won his Division - Photo: Noah Clifford / Surfing Australia
Narrabeen Lagoon Sand Removal Completed Ahead Of Schedule: Berm At Entrance Removed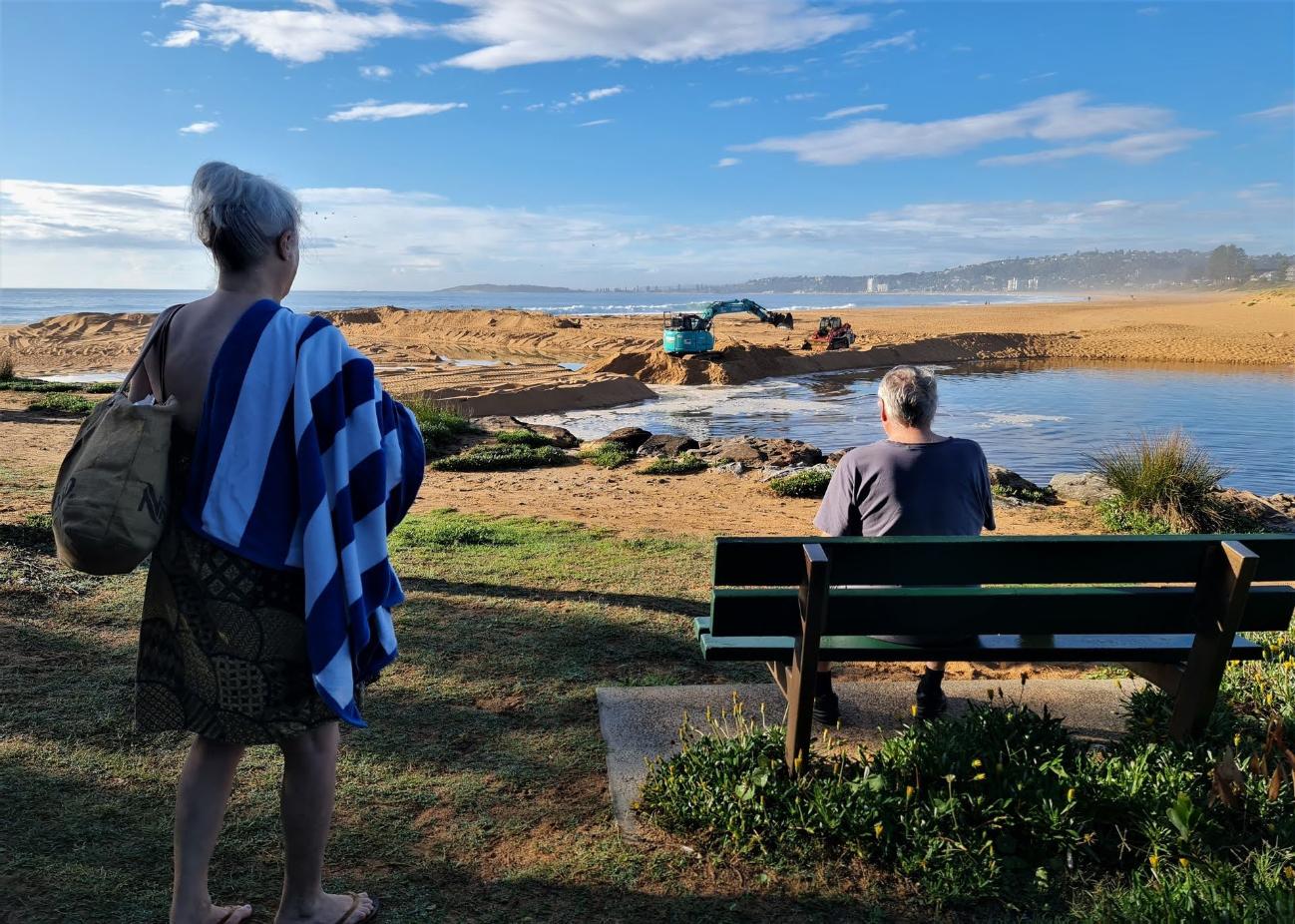 Narrabeen Lagoon entrance being opened again. Photo: Thursday November 30, 2023 by Joe Mills
Council announced on Tuesday, 28 November 2023 that the sand removal project at Narrabeen Lagoon has concluded two weeks ahead of schedule and well in time for the Summer break.
"Precisely 4388 truckloads of sand, equating to approximately 25,000 cubic metres or around 50,000 tonnes, were extracted from both the east and west of the Ocean Street bridge and transported to Collaroy/Narrabeen Beach, a fortnight ahead of schedule," says Mayor Heins.
"I'm pleased to say this work has been completed a fortnight ahead of schedule," says Mayor Heins.
Council contractors have packed down the site, and Council expected the Birdwood Park car park to be open for public use before the end of this week.
"Council teams are monitoring lagoon levels continuously and preparing to open the lagoon entrance this week should swell and forecasted rain improve the conditions for a successful lagoon opening.
"However as always, the timeline depends on the whims of Mother Nature.
"The love that locals and visitors have for Narrabeen Lagoon is not lost on us and we want everyone to be able to enjoy the beauty and recreational benefits of the lagoon this summer," she said.
"In the event the conditions are not ideal to open the lagoon this week, Council plans to open it at an alternate time ahead of the NSW school holidays.
The school holidays commence for private schools on December 7 or 14 and December 19 for NSW Public schools.
Highlighting the broader significance of managing the lagoon entrance, Mayor Heins affirmed that, "This strategic initiative plays a crucial role in reducing flood risk to the local community, nearby properties, and essential infrastructure.
For those seeking an in-depth understanding of how Council manages Narrabeen Lagoon are encouraged to watch the video explainer available on Council's website.
This project was partially funded under the NSW Government Floodplain Management Program.
Council announced on Tuesday, 12 September 2023 work to clear Narrabeen Lagoon entrance to reduce the risk of flooding to local homes and businesses.
''Council contractors will excavate more than 20,000 cubic metres (40,000 tonnes) of sand – equivalent to the weight of 100 jumbo jets – to the east and west of Ocean Street Bridge.'' it was stated
The sand was to be deposited at Collaroy-Narrabeen Beach between Goodwin and Stuart Streets.
The works have become more frequent in recent years, occurring on average every second year rather than the anticipated need to undertake sand clearing works every 3 to 4 years once projected by Council.
Council announced on Friday October 9 2021 they were getting works done to open the entrance of Narrabeen to let the water flow as ''there is rain forecast for every day this coming week''.

''Every 3-4 years we do a major excavation of sand from the entrance of the lagoon to help reduce flood risk and increase tidal flow. The excavator is moving in to start this work today.'' Council's statement said
Repairs to the abutments of Ocean Street Bridge were also to be done simultaneously to minimise disruption to the community.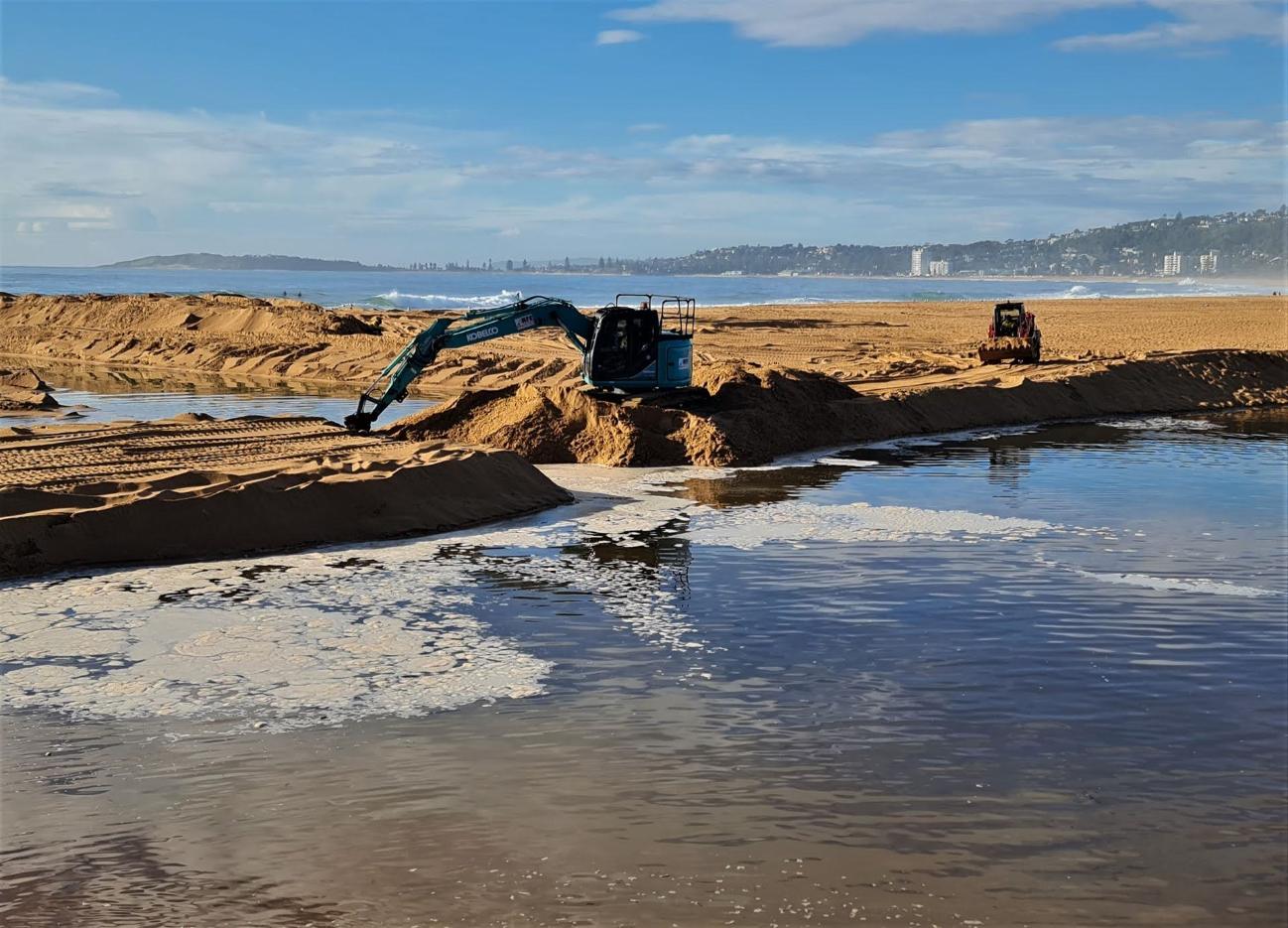 Narrabeen Lagoon entrance being opened again.
Photo: Thursday November 30, 2023 by Joe Mills
Christmas Wrap + New Year's Fireworks Options: 2023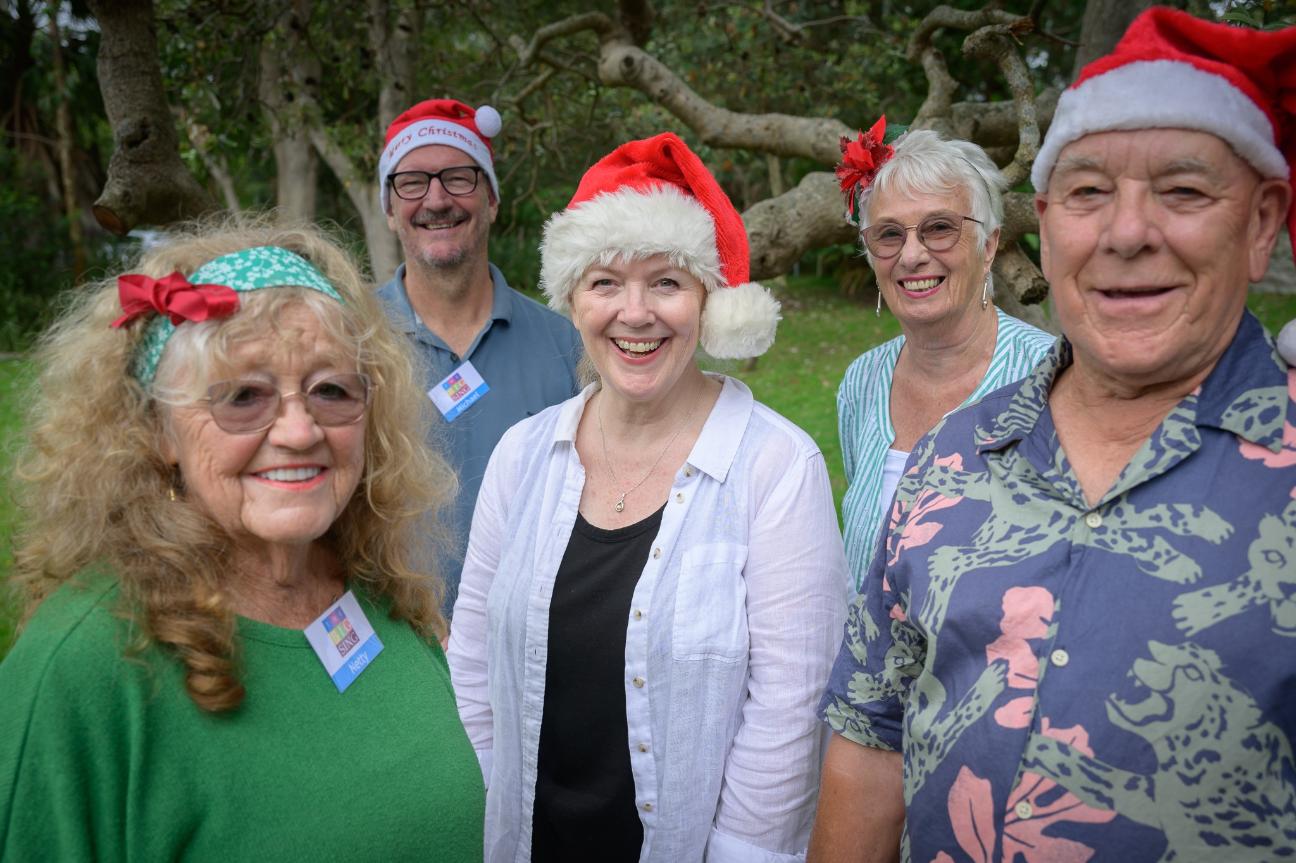 Big Sing members with Samantha Shaw at centre
Christmas Carols
BIG SING-ing Christmas Celebrations December 2023 dates
Saturday 9th December
Cambridge Markets at Winnererremy Bay Park (Flying Fox Park), Mona Vale at 11.30 am
Tuesday 12th December
Pittwater Palms Christmas Concert at 5 pm ( this one is not open to the public).
Friday 15th December
Avalon Late Night Shopping (outside LJ Hooker's) from 5.30 pm
Saturday 16th December
Warriewood Shopping Centre at 11 am
Tuesday 19th December
after class busking in Avalon approx. 12 noon (walking through Av singing and then landing in the new pedestrian area near Chill Bar)
Saturday 23rd December
Warriewood Shopping Centre 11 am
About The Big Sing
The Big Sing is for adults who can sing, can't sing, want to sing, have never sung but want to have a go, think they can sing, sing in the shower, love a laugh and a sing, young or old or middle aged and thrive on socialising! We Welcome You!
We meet every Tuesday in the Avalon Recreation Centre but currently in the Annexe which is at the far right corner of Dunbar Park from 9.45-11am. The cost is $15 per session
Our music ranges through older standards to modern soft rock and some big show numbers. Taking different parts (harmonies) is encouraged but the choice is yours. We want you to feel part of a happy team so participation by the teacher and singers is encouraged. It is shown that singing is good for your health.
Samantha Shaw (Sam) is the Musical Director of The Big Sing. About five years ago Sam felt the need to share her many musical skills and talents with the rest of the community and created the community singing group The Big Sing.
Sam is a local resident of Avalon with two young sons and arrived in Australia from the UK in 2008. An extensive profile of Sam and her many talents runs HERE
Find out more at: thebigsing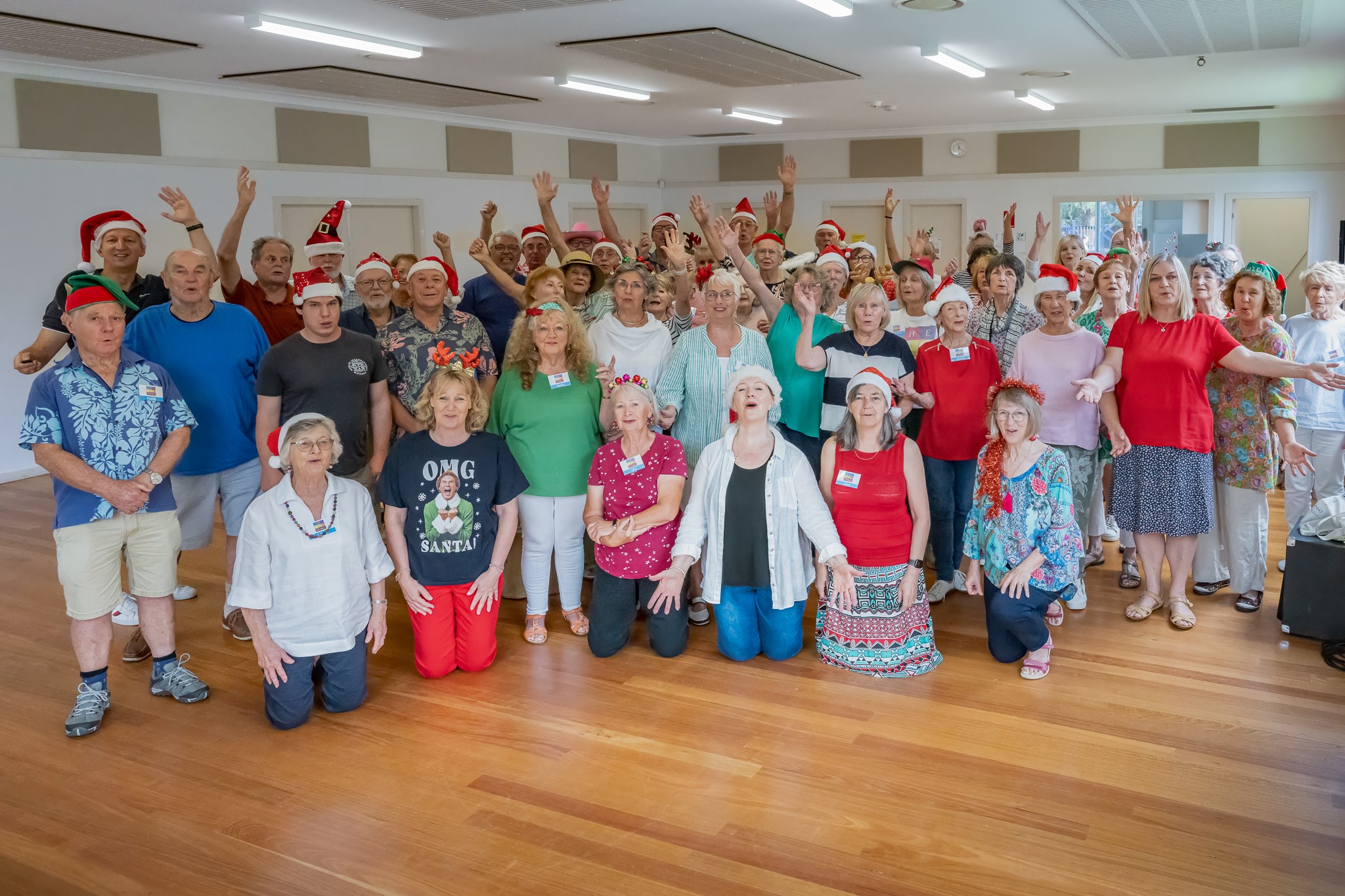 The Big Sing members practising for upcoming carolling
More Markets, Carols and New Years events HERE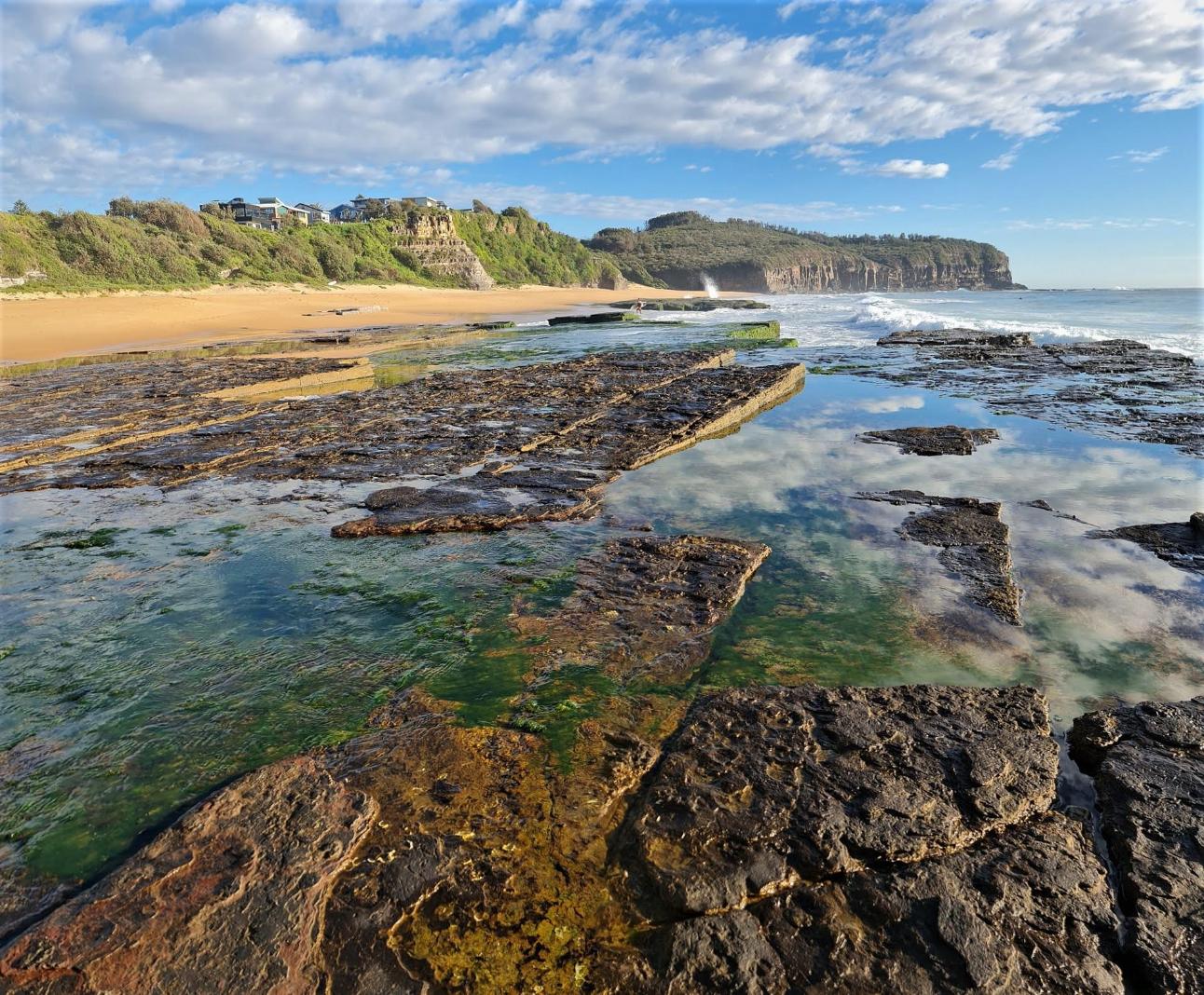 From Turimetta Moods: Late Spring Becomes Summer by Joe Mills - photo taken dewcember 1, 2023
Joe shares his final 'Turimetta Moods' for 2023 and has recorded the shift from late Spring to the first day of Summer as a result from North Narrabeen to Warriewood and surrounds.
Past Features Archives (pre 2014)
Pittwater Online News was selected for preservation by the State Library of New South Wales and National Library of Australia. This title is scheduled to be re-archived regularly.
Archived Issues (2014 on) may be accessed here: pandora.nla.gov.au/tep/143700
Past Issues are also listed on site on the Community News page, by month.

Search Pittwater Online Articles
Subscribe to receive Pittwater Online News Issue Notice