December 3 - 9, 2023: Issue 608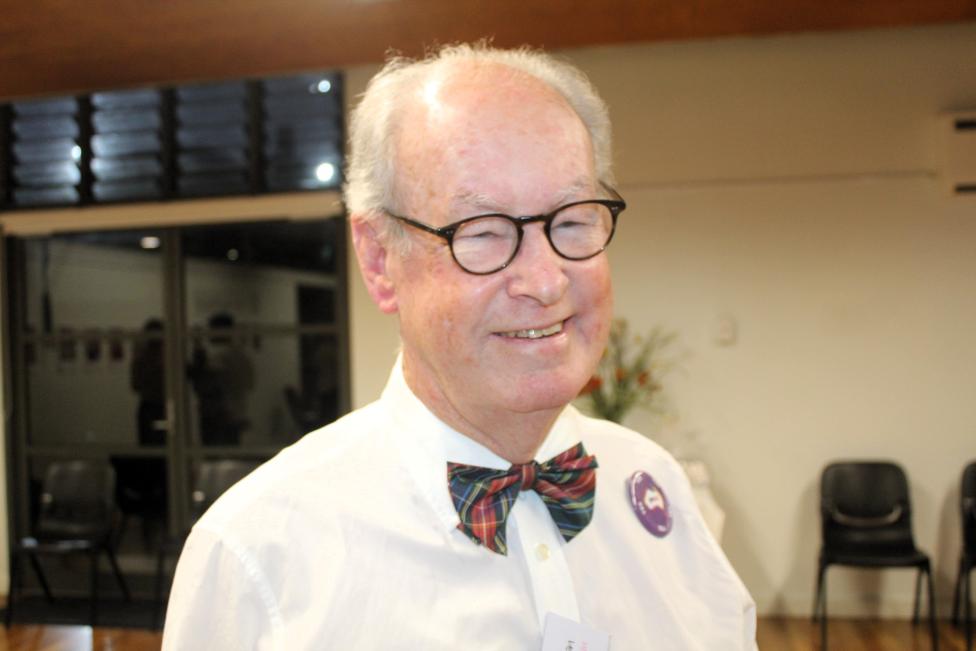 Craig Boaden has been re-elected President of the Avalon Preservation Association for the 2023 to 2024 term, his second year in this volunteer position.
APA is a not for profit volunteer community group incorporated under the NSW Associations Act, established over 50 years ago. The residents group organisation is committed to protecting your interests – to keeping guard over our natural and built environment throughout the Avalon area.
Membership of the association is open to all those residents and/or ratepayers of Avalon Beach and adjacent areas who support the aims and objectives of the Association.
APA's aims are
To preserve the natural beauty of the area through promoting proper planning of all future development
To express positively in appropriate quarters the point of view of the residents with regard to any proposed development, and to protect the residential amenity of the area
To work with and assist local government in any efforts to improve and beautify the locality and where appropriate to instigate such improvements.
Find out more and become a Member at: avalonpreservationassociation.org.au
It is the second Avalon Beach volunteer Mr. Boaden has been a part of, the Avalon Community Library, which celebrated its 40th year in 2023 being another. Visit: Avalon Community Library Celebrates 40th Anniversary
Craig is a founding member and was technical advisor to the ACL. His Address at the 40th anniversary celebrations lends insight into this community venture:

Craig Boaden: Speech at Avalon Community Library 40th anniversary Friday 29th September 2023
Mayor Heins, distinguished guests, Avalon Community Library volunteers, friends:

It's great to be here at the 40th anniversary of this wonderful community-led and maintained initiative. Before I start talking about the early days, could I just take a moment to thank first Warringah, then Pittwater and now Northern Beaches Council for their aid and assistance in getting ACL going, providing facilities and maintaining the physical fabric of the Library.

And how did it all come to happen? I'm going to briefly dwell on what to some will seem like ancient history.

I'll start with Councillor Frank Beckman. Frank was a Warringah Councillor from 1962 until 1991, and his Ward included Pittwater. He lived in Terrey Hills and I'm sure he had a role in the establishment of Terrey Hills Community Library. Frank played a major role in ACL's establishment too. He identified that the Baby Health Centre in Avalon had a surplus space, two small rooms, one more of a supplies cupboard. He let Avalon people know, including Brenda Kable. My own involvement began with a meeting of what was then the Avalon Preservation Trust, probably in 1982. That meeting was intended to see if we could get a group going to use the space to provide a community library service. Brenda volunteered to head up the group, so we were off! At that meeting I tentatively said that I was a professional librarian and if the group wanted it, I could offer technical advice to get the library going. I was immediately seconded to the group!

In our first venue the public area in front was tiny, about 4 metres by 3 at the most, so we started small. We had some seed money from Warringah Council and we fund-raised in Avalon. With that we bought shelving and stationery. Our original collection of books consisted entirely of donations, as we had no book budget then. My job was to design the policies and processes expected of a library, which are naturally invisible to most library users. But some questions needed to be asked and answered:
What were our aims?
Who was our audience?
How would we decide what books and magazines to accept and which to reject?
What processes and systems did we need to add a book into the collection, make it searchable for the public and lend books out and receive them back?
We needed answers to all of these things and more, and I drafted standard library policies to provide those answers. I was trained for this work and I thought it was great fun. I think the other members of the committee thought it was some sort of magic! This was just as personal computers were coming on the market, but we had zero funds for that fancy stuff.

So our processes were all manual. There was a card catalogue (remember them?) and date stampers and date due slips in the books. In fact ACL still stamps the date due today, unlike the Northern Beach Branch Libraries. Quite quickly a small team of librarians (including Gabrielle O'Grady, Penny Comans and others) volunteered to help with the cataloguing and classification of new books. After the creative days of policy development, I spent time at ACL on the less popular evening shift, while I assessed possible new books and catalogued the ones we had just acquired and selected. I played this role for the first 5 years, and by that time the collection had grown so that we needed more space.




At that point there was an established group of enthusiastic volunteers and ACL was a going concern. So I "retired" on the cusp of the move to bigger premises in Avalon Parade. Of course, ACL carried on delivering many of the services we still see today.

At first, the committee and our small group of volunteers weren't at all sure that ACL would be a success. However, as time passed and more Avalon people joined the Library and came in to use it, we grew more confident. And things have grown each year – our team of volunteers, our collection, our services and facilities. I believe that, today, ACL offers more than any other community library in the northern beaches. As ever, the team was and continues to be our major success factor. The enduring enthusiasm of our local volunteers, led firstly by Helen Clark and today by Jane Park, has led to ACL becoming a highly valued and used part of the community.

As a former librarian, I don't want finish up without saying a few words about the importance of libraries in general. Public libraries especially are an essential part of the democratic foundations of countries, including Australia. Most people see libraries more as useful utilities, something taken for granted, and a good source of recreational reading and homework help. However, they're much more than that. Public libraries are bulwarks of an educated and knowledgeable population, and they're fundamental for our informed way of life. While we're all now flooded with information, how do we know what sources to trust?

Libraries are part of the answer.

Whatever the faults of modern democracies, we, their citizens, are so much better off than many people in other countries who struggle to get the trustworthy information they need to make important decisions.

Avalon Community Library may seem a humble element in all that, but it's part of a grand tradition. And being community-led, our library is a shining example of how our democracy can work at the grass roots.

We should all be very proud of what we've created here in Avalon Beach.

Before finishing, I want to mention again an enduring connecting presence from the library's early days through most of its existence – and that is Helen Clark. Helen was a member of the original planning committee, and for many years was the ongoing library supervisor. I want to acknowledge Helen and the rest of the committee too, especially the late Brenda Kable, in getting ACL up and running.

With that, I wish Avalon Community Library, its volunteers and staff, all the best for another 40 successful years serving the people of Avalon Beach. Thank you.
This week, a small insight into the gentleman who has dedicated over four decades of his life to building and looking after his local community.
When and where were you born?
Baby boomer. Eastern Suburbs
Where did you grow up and what did you do for fun as a youngster?
Eastern Suburbs to age 12, then moved to a new house at Beacon Hill.
As a kid I enjoyed riding my scooter (with pump-up tyres!) around the streets with my mates. When I grew older I walked to Bondi Beach to surf.
What are the most marked changes between those places and the landscapes of then and how they are now?
Eastern Suburbs, medium density, mainly still houses when I was a kid, mainly blocks of apartments now, but streets seem greener these days.
Beacon Hill: green and still not 100% suburban. Although I enjoyed growing up in the Eastern Suburbs, I didn't know anyone on the northern beaches. We lived on Warringah Rd which in 1961 was one lane each way with a gravel verge and patchy footpaths. There was a blinking light hung above the intersection of Wakehurst Parkway and Warringah Rd instead of traffic signals. Some older people still refer to that intersection as the "blinking light".
What did you want to be when you grew up?
I had no idea, not for a long time.
What field did you go into and what education (and where) did you undertake to reach that role?
Changing schools in Year 7 from Vaucluse Boys High to The Forest High was traumatic.
What was your first job?
My first full time permanent job (which my father got for me) was as an insurance clerk in the CBD. The job was a bit stifling and "clerkish" but commuting to and working in the city was fun.
You attended Macquarie University 4 years after it first opened – what was Mac U like then?
Amazing! Macquarie was a pioneering uni in Australia back then. I matriculated for all the Sydney unis but chose Macquarie because it was less fusty and way more flexible. Back then Macquarie only offered Arts degrees, but there was a huge range of subjects you could do as long as you satisfied your academic adviser your proposed course of study was "coherent". For example, although I majored in Philosophy and Modern History, I took subjects like first year Psychology, Logic, Statistics, English Lit. etc. Many of us were training to become teachers, there was a shortage back then. I did a combined BA Dip Ed; it was 4 years full-time but you could do courses for the Dip Ed in any of the 4 years, as long as you had the pre-requisites (ie you couldn't do a 200-level course in a subject until you had done the 100-level course).
You were a member of the Macquarie Uni Surfing Club – where did members surf?
We didn't really surf as a group outside comps. I do remember surfing in a inter-uni comp held at North Avalon. We shared a cottage with the Rugby Club, so there were some great house parties!
After graduating from Mac.U with a BA Dip Ed you then attended UNSW to gain a Grad Dip Lib, Librarianship and Information Management. What career did you then go into?
I was training to be a history teacher and did two years prac teaching at Narrabeen Boys then Girls schools – they were separate campuses then. I became disillusioned about history teaching and my mum - who was a teacher librarian - suggested I consider that. To be a teacher librarian in high schools you had to have both teaching and library qualifications. I taught at Epping Boys High for 4 years and Chatswood High for 9.
The Australian Agency for International Development and Centre for Pacific Development and Training – what is this and what was your role?
I worked at AusAID from 1991 to the end of 1996. AusAID was Australia's foreign aid agency, part of the Dept of Foreign Affairs but independent. Tony Abbott closed it in 2013 when he was PM and merged it with DFAT. A great loss of skill and experience, as many knowledgeable AusAID staff moved out of public service. The AusAID Centre for Pacific Development and Training (ACPAC) was amazing and unique! It started life as The Australian School of Pacific Administration (ASOPA) just after WWII to train patrol officers and other civil servants in PNG. ASOPA's first Principal was the infamous Sir John Kerr. We had a fabulous campus in the middle of the military units on Middle Head - the views were unbeatable. We hosted public servants in from PNG, other Pacific countries and also countries like the Maldives etc and gave them 6-week intensive courses in things like public sector financial management, project management etc. There was another small team of aid experts based at ACPAC who acted as trouble-shooting experts in various areas in those same countries, so they were always travelling in and out. It was a fascinating place to work; I managed a team running the library, print shop, IT, etc. And I was invited to be a team member in a few fascinating short-term aid projects in southern Africa (we came together in Lesotho but there were 7 countries involved) and several South Pacific countries, eg Samoa, Fiji and the Solomon Islands.
You were a staff member for the Sydney Organising Committee for the Olympic Games (SOCOG), and Research and Information Manager for the 2000 Sydney Olympics, commencing with a role in late 1996 – how did that happen and what was involved in the tasks?
I was still at ACPAC and working on a project with a company which was also asked to shortlist people for a role with SOCOG. Somehow they knew I was an Olympic tragic and asked if I'd be interested in being considered. I certainly would! I got the job and became the leader of an expanding team in managing the Sydney Olympic library, records and research centre (which we dedicated as the Murray Rose Centre). This program had played an active role in briefing Bid team members when they met with International Olympic Committee members to convince them Sydney should host the Olympics. In late 1999, like many other SOCOG staff, I transferred to a "Games time" role, and ended up coordinating the distribution and return of the Olympic and Paralympic road fleet. We had a fleet of around 4,000 cars, minivans, trucks and small buses. And we could only not account for one at the end! Overall, those 4 years were incredible – but very full on.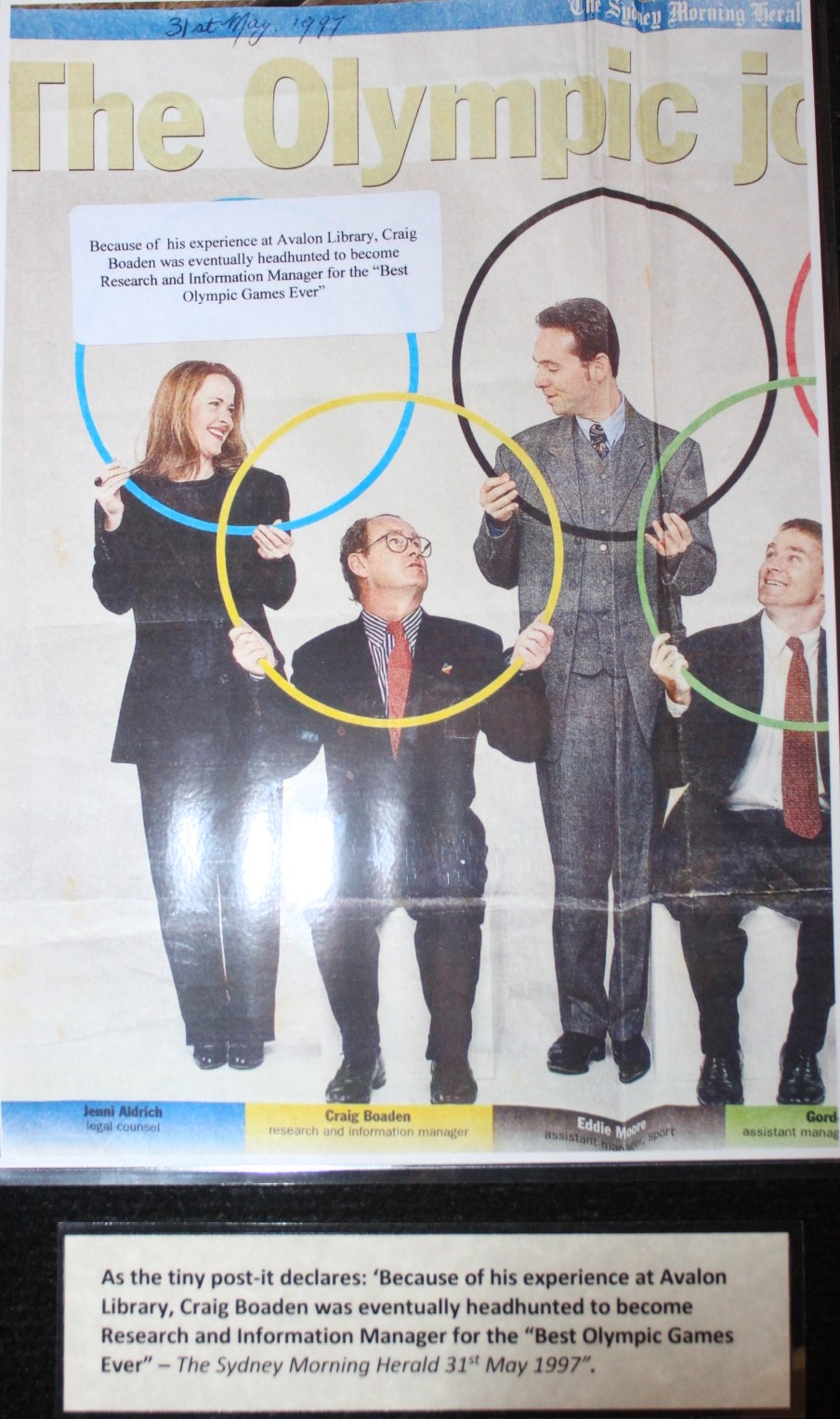 The Institute of Public Administration Australia (NSW Division) – what is this and what does it do?
IPAA is a non-partisan member association for people interested in improving the public service in Australia. It has divisions in each state and territory with hundreds of members, and it offers events like conferences and speakers and also a large training program for more junior public servants. I was the information and corporate communication manager of IPAA NSW until I retired at the end of 2014.
When did you move to Avalon Beach?

Sue and I bought a house in Palmgrove Rd in 1975 and moved to Trappers Way in 1985. We've been there ever since.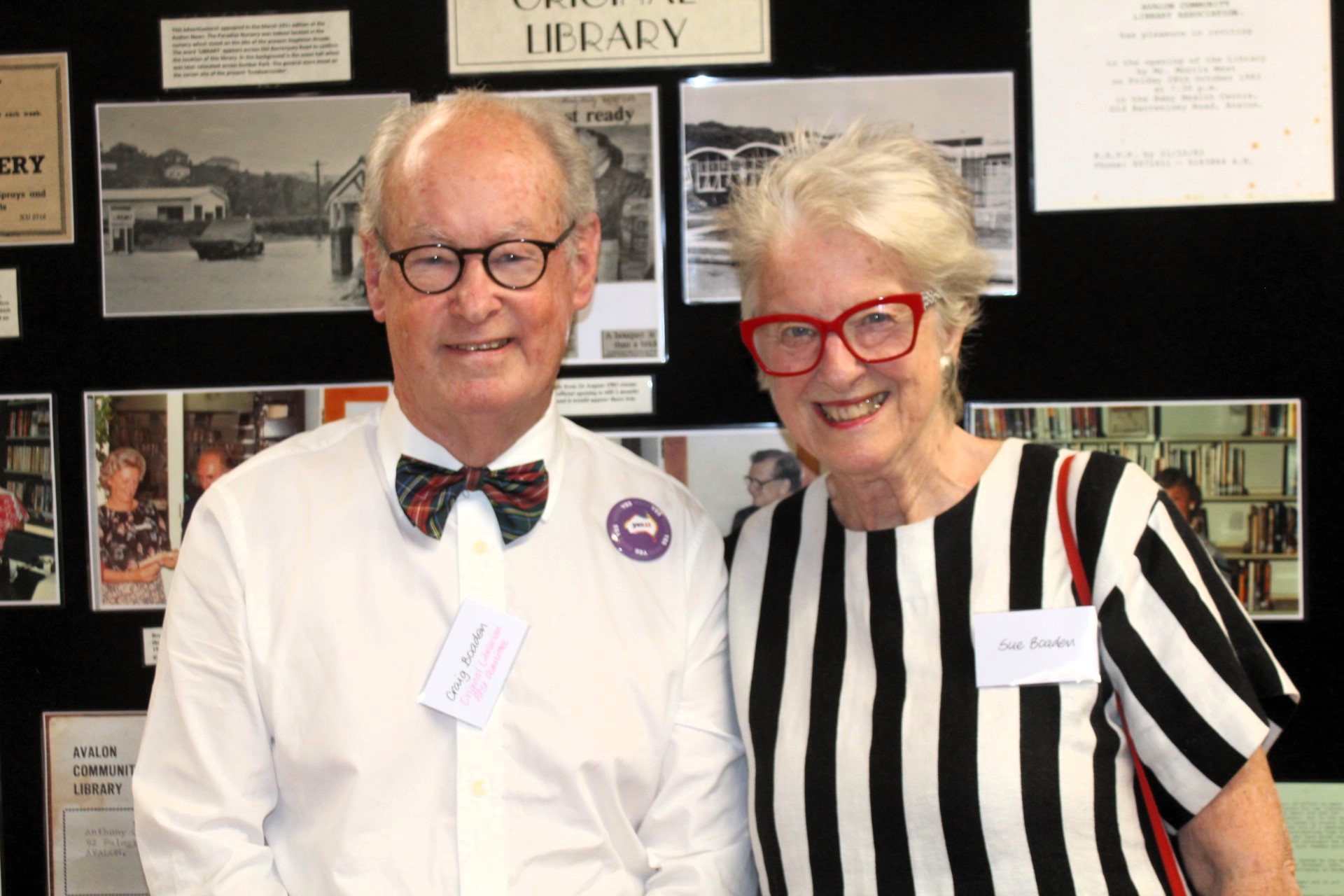 Craig and Sue Boaden
Avalon Community Library celebrates its 40th year in 2023 – how did you get involved in this project and what was your role?
I attended a meeting put on by Avalon Preservation Trust (as it then was) in I think 1982. The meeting was canvassing for a volunteer-run community library for Avalon. Brenda Kable was managing the committee and I tentatively put my hand up and said I was a professional librarian and could offer some advice if the committee needed it. They did and immediately seconded me onto the committee. I established the library standards and policies we would follow, and I was determined we would do things properly. Which we did and still do.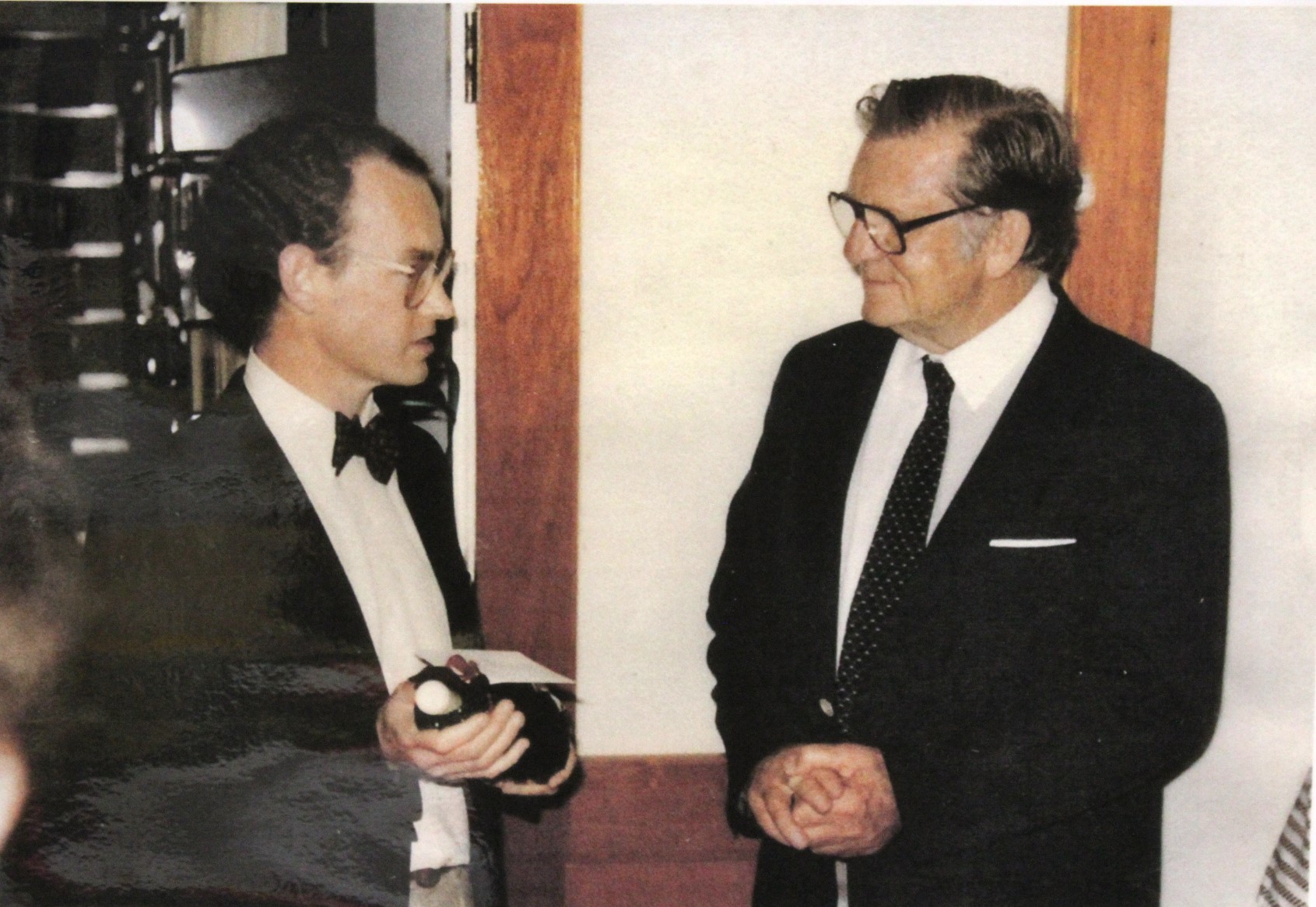 Craig Boaden, Technical advisor for ACL, presents author Morris West with a gift to express appreciation and thanks for opening the library.
You were the President of Pittwater Forever - a coalition of 18 residents' groups – that has changed its name to Pittwater Community Alliance – why did these groups form a joint group?
Pittwater Forever was a group of community associations opposed to the proposed council amalgamation (another of Mike Baird's brain spasms). When the amalgamation went ahead, we decided to change our role to representing members on Pittwater-wide issues, and we also changed our name to Pittwater Community Alliance. Some organisations decided not to re-join, but most stayed. PCA now has 14 community associations as members, from Palm Beach to Warriewood.
You are also the President of the Avalon Preservation Association, a not-for-profit volunteer community group incorporated under the NSW Associations Act, established over 50 years ago, which is committed to protecting residents interests and keeping guard over our natural and built environment throughout the Avalon area. Why is it important to have local residents associations in your view?
I've just completed my first year as President of APA. I think it's critical that local residents have an association they can turn to to garner community support in times of need, like a huge development being proposed next door, or the threat of losing the Council centre in Avalon. Some issues affect just the adjoining properties, some the whole street, and some the entire suburb. APA can help with each of those. We communicate and meet regularly with Council staff, and also with our state and Federal members.
Your service to community is well over four decades now, why have you given so much to our community for so long, why is it important?
I guess my parents had an impact with their attitudes. And I so often hear people ask "why don't THEY do something?" and I think "who is this mysterious THEY"? Eventually I discovered that THEY is US.
What are your favourite places in Pittwater and why are they?
Oh that's hard, there are so many. I'm a surfer and I've always lived near the water. It's had a huge impact on my life. So many of my favourite places are on the water, eg south Palm Beach, Off Rocks at North Avalon, Mona Vale beach etc. I'm lucky with where I live, I look out over Pittwater. I've travelled to a range of other countries and seen the conditions. Australia is far from perfect (I'm writing this just after the Voice referendum failed to get up), but we must be the luckiest people in the world. And what could be better than living in Pittwater?
What is your motto for life or a favourite phrase you try to live by?
I've been inspired by Sophie Scamps' journey to her current role. I think the phrase I like is "THEY is US", meaning, don't leave things to others to put their hand up, maybe they won't. You'll find all the APA committee members are like that.