October 24 - 30, 2021: Issue 515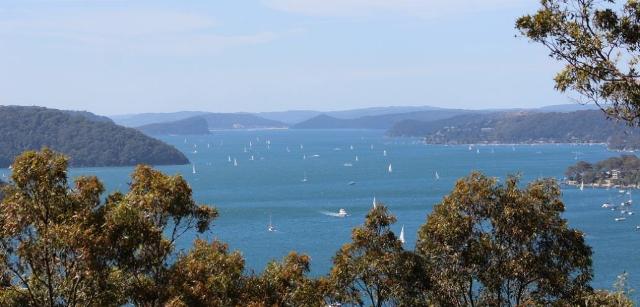 This Issue: full list in Contents page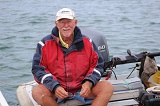 Profile of the Week
John 'Allships' Alldritt - The Barefoot Legend Of Pittwater
John Reginald Alldritt, February 2nd, 1946 - October 9, 2021, was the great-great grandson of Captain John Alldritt, 1796-1875. Captain John Alldritt married Anna Mabella Jemima (born Northey) in 1827.
In 2012 John said:
''I started out as an electrician – x-ray equipment, then became a commercial fisherman. This was 1963. I was born on the water – my parents had a holiday house at Coaster's Retreat – it was the family place we'd had since 1926. I lived over there for 42 years.''
On October 15th 2021 the Pittwater community said farewell to our mate John Alldritt who passed away on his boat 'Aspro' on the 9th of October, 2021.
Many stories were told about the 'Barefoot Legend of Pittwater'.
Thanks to the generosity of John's children Beck (Rebecca) and Christopher (Stuffer) these Tributes, Tall Tales and True Reckonings add more to the legend of John 'Allships' Alldritt and have been collected here, along with his own words, as a Tribute to a True Pittwater man.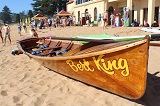 History
History Of The Modern Surfboat: Recognising The Surfboat Builders From 1950 To 2021
by Bert Hunt
This History of the Modern Surfboat has been compiled and written by Bert Hunt, Life Member Moruya Surf Club & Australian Surf Rowers League; our thanks to Bert and the ASRL for permission to re-run this October 2021 Feature.
The first weekend of racing will begin with SLS SNB's Super Saturday, on the 13th of November! Round 1 of the Surf Boats Premiership will be held at Freshwater Beach. Round 2 will be held at Newport Beach on November 20th.
This document has been extensively researched to the point of reasonable accuracy with a lot of input from Surfboat people from each State and many hours spent on web and other searches. Apologies in advance to any boat builder missed, or for any detail not completely correct, as this paper is a best attempt to create a running history of surfboat evolution.
The motivation for creating this document was to give due recognition to each and every surfboat builder across many decades. Our sport has always been totally indebted to these builders for their knowledge, passion and craftmanship in the continuing evolution of the iconic Australian Surfboat. To each of the builders, we the rowers and sweeps, say thank you.
Pittwater Offshore Newsletter: October 13
Click on Logo to access the latest PON:

To contact Roy: editor@scotlandisland.org.au
Scotland Island Newcomers' Welcome
Scotland Island Community Hall, Sunday 24 October, 11 - 12 noon
Residents who have just moved to the island are invited to a special information session, to be held in the Community Hall during the next island café. We'd love to meet you and give you the opportunity to get to know more residents.
If you are new to the island, we're shouting you coffee! Please register and get a coffee voucher at the hall and put your coffee order in early as there is always a queue.
There will be 'need to know' information available with key speakers on SIRA, fire, water, wharves and roads.
Some island businesses and service providers will be on hand to tell you what they have on offer. And we'll give you a heads up about various social and cultural groups.
Due to Covid restrictions we need you to sign in with the QR code and practice social distancing. Masks must be worn by persons over 12 years of age and everyone over 16 must be fully vaccinated (unless exempt).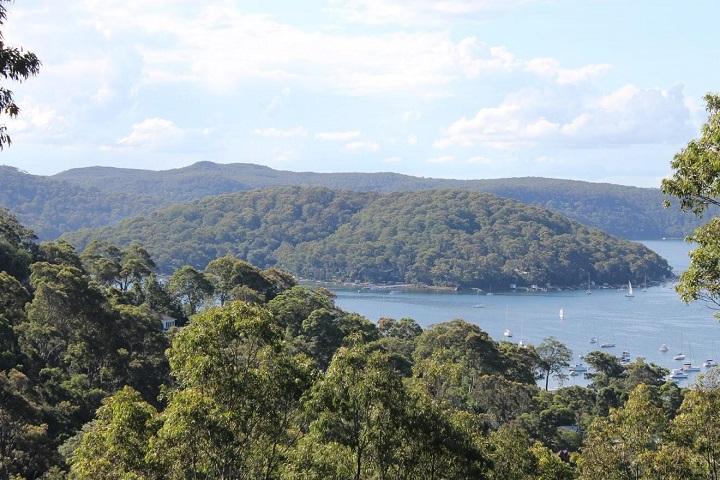 Remembrance Day Service 2021: Pittwater RSL Cenotaph
Pittwater RSL Sub-Branch Club can proceed with our annual Remembrance Day Service 2021, at the Club.
The Service will be held at the Lower Cenotaph on Thursday 11 November 2021. The Service will commence at 10:20am. Last Post at 11am.
The community is welcome to attend, but they have to provide proof of double vaccination, and check in with QR Code, masks and social distancing.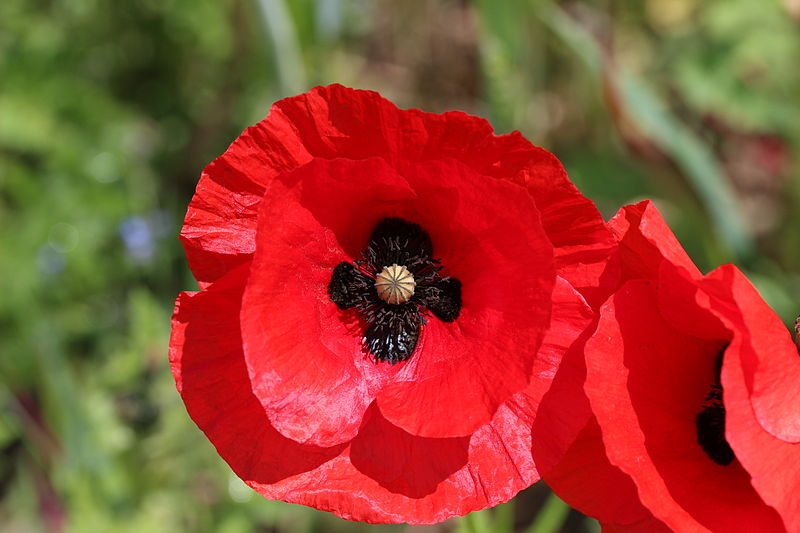 Avalon Woolworths store slated for refurbishments in 2022
Residents contacted Pittwater Online this week due to the change in how Woolworths is now displaying its hours of trade on the Woolworths's website store locator function, stating it is a Metro version of Woolworths.
Metro does cater for the top-up shop, with everyday essentials, but the emphasis is on fresh produce and a protein range that's heavily weighted to meal occasions.

The Woolworths webpage on Metro stores states:
We believe that everyone, in every community, should have good food within their reach. Whether around the corner from your workplace or next door to your home, Woolworths Metro makes sure that you've always got the option to walk by and pick up something fresh to eat for breakfast, lunch, dinner and those cheeky snacks in between.

Each one of our stores is tailored to the community it serves. When you're at work, you'll find quick lunch options to get you through the workday. And when it comes time for dinner, your neighbourhood store has easy, fresh and delicious options to help you out.

Screenshot of how the Avalon trading hours are listed
Pittwater Online News contacted Woolworths to clarify whether there are any planned changes for the supermarket servicing the population of Avalon, Bilgola, Clareville, Careel Bay, Whale Beach, Palm Beach, Coasters, Currawong and Mackerel.
''Our Avalon store continues to operate in the same way it has for many years.'' a spokesperson said
''We're looking into plans for a refurbishment at some stage next year.''
''We'll communicate with our customers in advance of any works taking place.''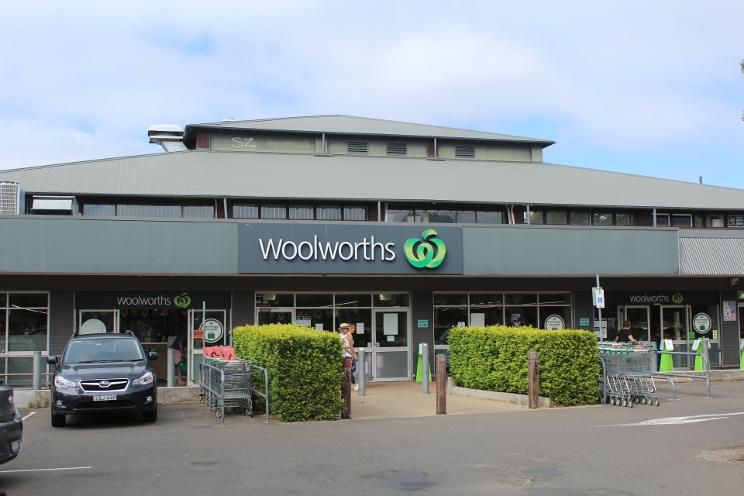 Non-urgent elective surgery to resume across Greater Sydney
October 20 2021
Non-urgent elective surgery will recommence at public and private facilities within Greater Sydney, including the Nepean Blue Mountains region, from Monday 25 October.
NSW Health Deputy Secretary Wayne Jones said the safe recommencement of non-urgent elective surgery is now possible after it was temporarily postponed to support the NSW health system's response to the recent Delta outbreak.
"Thanks to the extraordinarily high vaccination rates across the state and declining community transmission of COVID-19, patients can now have their non-urgent surgery," Mr Jones said.
"NSW Health will at the same time continue to ensure our integrated hospital system has the capacity to manage the ongoing COVID-19 response."
All emergency surgery and urgent elective surgery continued to be performed across the state since non-urgent surgery was postponed in public hospitals in Greater Sydney from 2 August and many private hospitals from 23 August.
Non-urgent elective day surgery, including IVF services, resumed on 5 October in NSW private hospitals for both public and private patients.
Overnight elective surgery will be capped at 75 per cent in both public and private facilities in the Greater Sydney area, including Nepean Blue Mountains.
Private facilities within this region can exceed this cap if they are providing surgery for public patients. There will be no restrictions on facilities in regional NSW providing overnight non-urgent elective surgery.
Generally, non-urgent elective surgery continued in regional and rural NSW, however temporary restrictions were put in place in response to local outbreaks, such as in Western NSW and Far West NSW.
Where necessary, local health districts may impose temporary restrictions in the event of an outbreak to ensure the community is kept safe and can access hospital care if required.
All local health districts' workforce surge plans remain in place to respond to the pandemic in the event that cases of community transmission are identified locally.
Mr Jones thanked the staff from many private hospitals across NSW who have assisted the NSW Government's response to the current COVID-19 outbreak.
"Staff from private hospitals have been providing care to public patients during the ongoing pandemic, including in the large-scale vaccination effort and supporting workforce demands in the NSW public health system," he said.
"We also acknowledge the critical importance of private hospitals in delivering timely and high-quality care for our communities and we thank them for their ongoing partnership in responding to the pandemic.
"These private hospitals have been conducting additional elective surgery on behalf of the public health system for patients who had their non-urgent elective surgery postponed in 2020, following a National Cabinet decision."
In 2020-21 the NSW Government provided an extra $458.5 million to fast-track elective surgeries which were delayed as a result of the Federal Government's response to the COVID-19 pandemic last year, and a further $80 million has been provided as part of the 2021-22 NSW Budget.
The NSW Government has committed more than $4 billion to the NSW health system to manage the impacts of the COVID-19 pandemic since March 2020.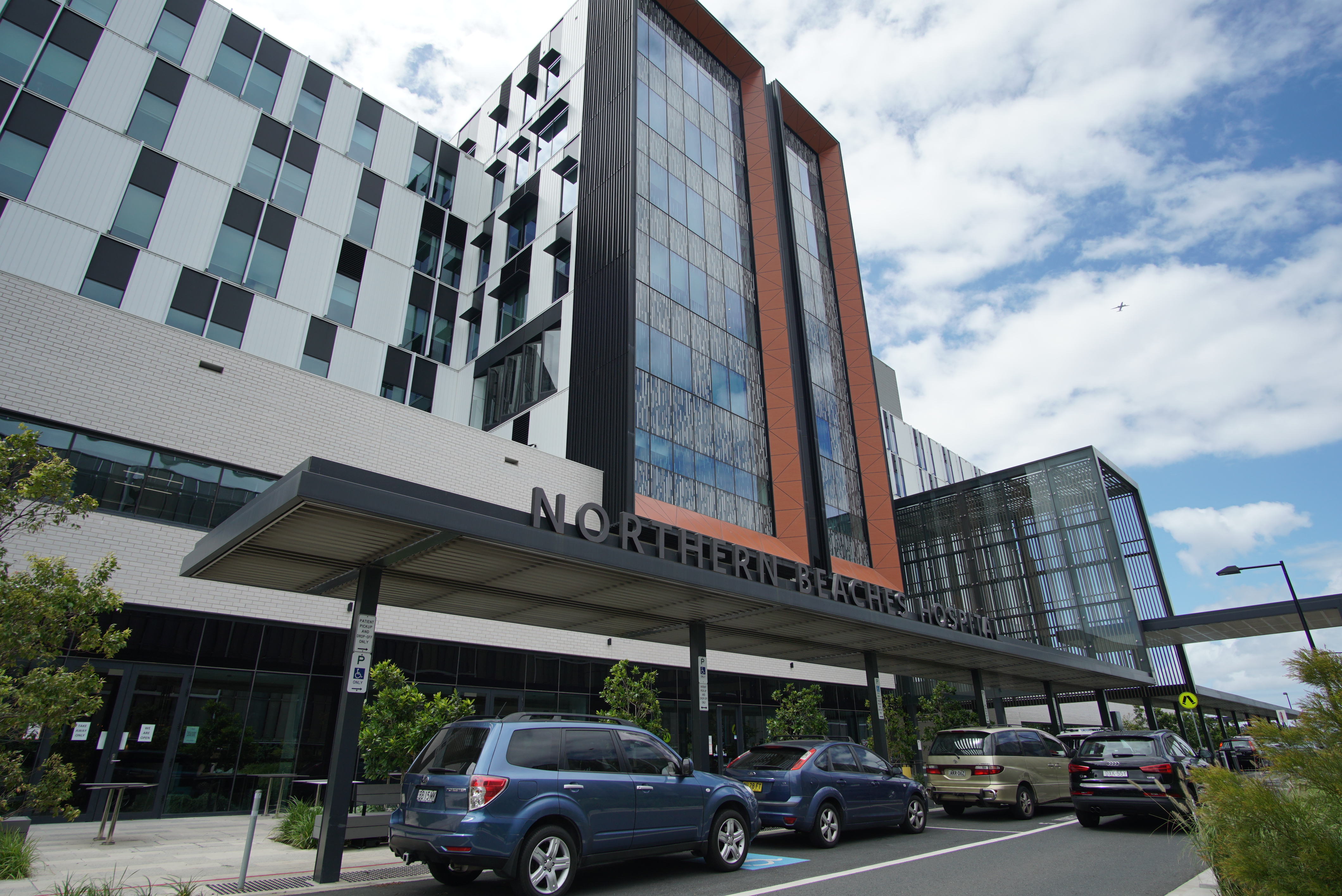 Reminder to register your short-term rental
Holiday home providers have been reminded to register if they want to rent out their properties once regional travel is permitted on November 1st.
Minister for Planning and Public Spaces Rob Stokes said new rules for short-term rental accommodation (STRA) providers also come into effect on November 1st, requiring holiday homeowners to register their property before it is rented.
"With restrictions easing and summer on the horizon, our regions are set to boom with holidaymakers, and many of them will be staying in short-term rental accommodation," Mr Stokes said.
"We already have more than 12,000 properties registered on the NSW Planning Portal, and we're encouraging everyone to sign up, so they don't miss out on the expected swell of visitors."
"The new rules provide minimum standards for a previously unregulated industry, ensuring safety for renters, certainty and amenity for neighbours, and additional revenue for homeowners.
"It's been a long time coming and we gave everyone an additional three months to get their properties up to scratch, to ensure they're safe and ready to welcome guests.
"Registration is straightforward and enables a sector worth $30 billion annually to operate and thrive under a clear set of standards."
All registered STRA homes have until March 1st next year to meet fire and safety requirements, such as clear evacuation diagrams, fire alarms, extinguishers, and emergency contacts. Everyone must also have a COVID-safe plan in place and adhere to NSW Fair Trading's Code of Conduct.
Disability Inclusion Action Plan (DIAP) 2022-2026
Council would like feedback on how they can make life easier for people living with disability on the Northern Beaches.
Council want to know how they can:
help you feel more included in the community
make it easier for you to get around on the Northern Beaches
make it easier for you to work or volunteer
improve the way we deliver services and communicate with you.
Whether you are a person living with disability, a person with caring responsibilities, a service provider or an interested community member, Council want to hear from you.
Everyone is welcome to do the community survey, however, some of the questions are more relevant to people with a lived experience of disability. Feel free to skip the questions that don't apply to you and share ideas for a more inclusive and accessible Northern Beaches.
Fun Fair to be Hosted by SLS SNB
Surf Life Saving Sydney Northern Beaches will be hosting a Fun Fair on Sunday the 12th of December at Pittwater Rugby Park. This will be a great day out for with something for every age – rides and games, Ninja obstacle course, a petting zoo, plenty of food and drink to enjoy, live music at the end of the day and numerous stalls full of goodies for your Christmas shopping.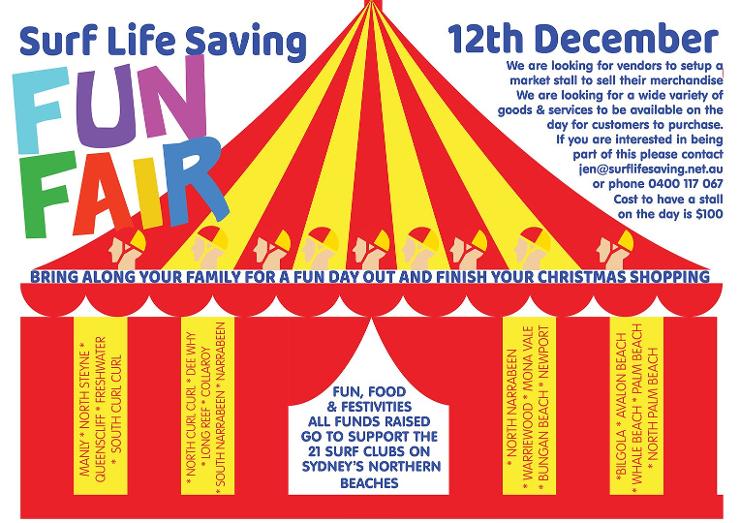 Katandra Bushland Sanctuary reopens
Katandra Bushland Sanctuary is now open each Sunday in October, 10-4pm. It's at Ingleside, off Lane Cove Rd. Entry by donation. Magnificent trees, bush tracks, peace and quiet on the escarpment above Mona Vale.
Covid health rules apply.
This is also a sanctuary for our wildlife - and thus a no dogs area - so leave roving Rover and frisky Fido at home.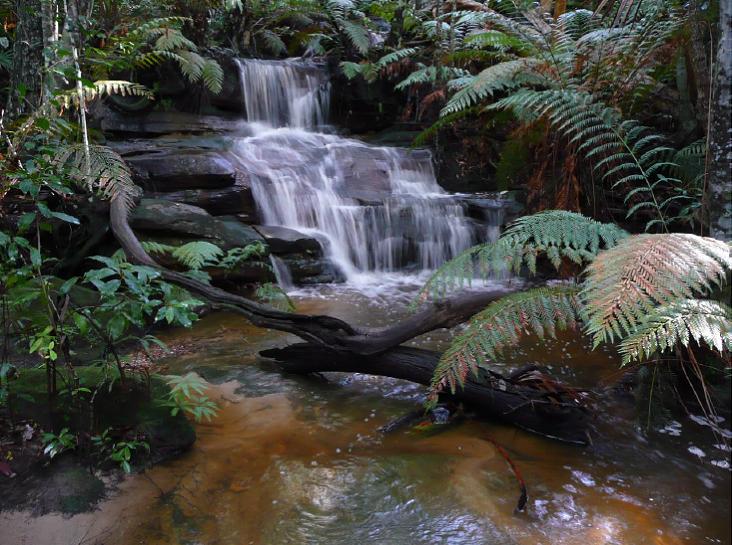 Newport Rugby AGM 2021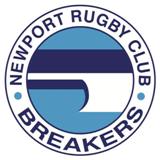 Notice is hereby given that the Annual General Meeting of Newport Rugby Club Inc. will be held at the Porter Reserve Club House, Burke Street, Newport on
Saturday, November 6, 2021 at 12:00pm
.
No Members, other than those who have paid their annual subscriptions and other monies due to the Club, shall be entitled to vote at the Annual General Meeting.
It would be great to have you all there. We will also be having drinks at 1pm with the playing, coaching and wider group so we can celebrate the "almost" year.
The AGM will be followed by End of Season Beers.
Jake Osborne.
President.
Tritag at Newport this Summer
This summer we are hosting Tuesday night and Thursday night competitions of Tritag. This is a minimal contact low risk attack based rugby union game that incorporates the skill set and fabric of tradition running rugby.
Watch the video here
.
Mens comp to be held on Thursday nights from November onwards at Porters
Avalon Preservation Association AGM 2021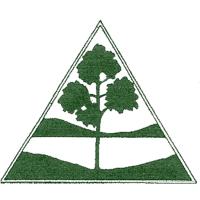 Speaker: Angus Gordon OAM
"Global warming, is it real?"
The 2021 Annual General Meeting for Avalon Preservation Association (APA) will be held from 7.00pm on Thursday 11 November 2021 at the Avalon Beach surf life saving club.
Our special guest speaker is Angus Gordon OAM. Angus will talk on the controversial and very timely topic "Global Warming, Is it Real?"
Angus was General Manager of Pittwater Council from 1996 to 2005. He has a Master's degree in Water and Coastal Engineering.
In 2018 Angus received the Medal of the Order of Australia for "service to environmental management and planning, and to the community".
Over the past 40 years he has undertaken projects in all states of Australia and in a number of overseas countries in coastal engineering, coastal zone management and flood management and engineering.
Angus has served as a UN expert and was tasked with the development of the NSW Coastal Protection Act.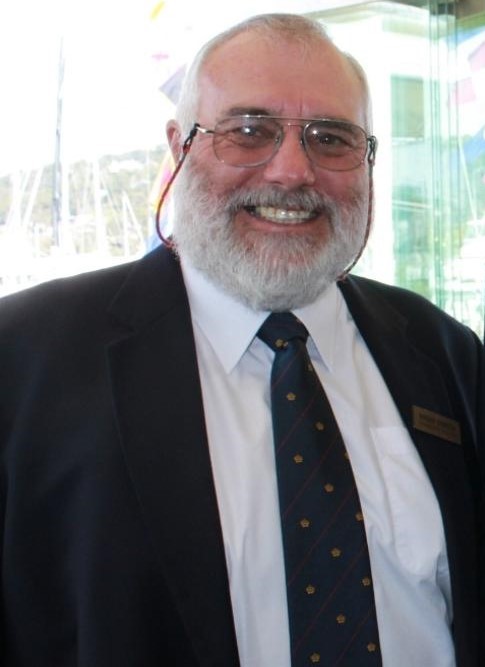 Angus Gordon OAM. AJG pic.
Due to the current health situation, APA will hold the AGM strictly in line with the NSW Public Health Orders in force at the time. This may restrict the number of members and guests able to attend and guests may need to check in with a QR code, wear facemasks and show that they have been fully vaccinated.
SIRA AGM 2021 and Barbecue
Sunday, 14 November
AGM: Scotland Island Fire Station, 10 - 12 noon
Barbecue: Catherine Park, 12 - 2 pm
Due to COVID restrictions, SIRAC (the SIRA Committee) decided to delay the Annual General Meeting by one month so that more people can attend. It will now be held on Sunday, November 14, 10 am to 12 pm. It is likely that attendance by Zoom will be available as an alternative to attendance in person.
After the AGM, you are invited to attend a gathering in the park (with appropriate social distancing) from 12 noon to 2 pm. Sausages (including vegetarian options), salads and rolls will be provided. BYO drinks, but the Two Catherines Café is also open that day, and will stay open until 1 pm.
Information about nominations for the 2022 committee will be sent out shortly via SIRA News and on social media. Start thinking about who you'd like to nominate! SIRA encourages all islanders – including newcomers – to become involved.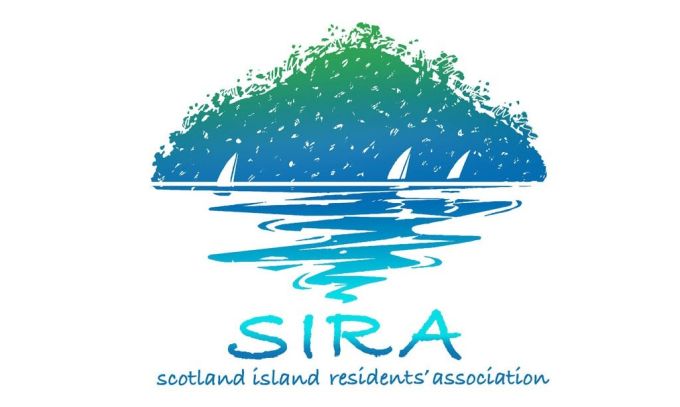 Warringah Rugby Club 2021 AGM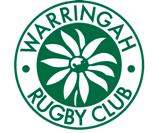 Notice is hereby given that the fifty seventh (57th) Annual General Meeting of the Warringah Rugby Club Limited will be held at Pittwater Rugby Club, 1472 Pittwater Road, Warriewood on
Sunday, 21 November 2021 at 9.00am.
Nominations of Office Bearers and other Directors must be in writing and be lodged with the Club General Manager at the club at least eight (8) days prior to the Annual General Meeting. Each nomination must bear the signatures of the nominee and two (2) financial members.
Agenda.
Proxies.
The following points should be noted with respect to proxies.
If you are entitled, in accordance with the Constitution of the Company, to attend and vote at a meeting of the Company, you are entitled to appoint a proxy to attend and vote in your place at the meeting.
A proxy does not have to be a member of the Company.
A proxy appointed by you will have the right to speak at the meeting but is not entitled to vote except on a poll unless the Constitution of the Company otherwise provides.
Your proxy will be able to demand or join in demanding a poll. You may specify the manner in which your proxy is to vote and where you do so, your proxy is entitled to vote on the resolution except as you specify.
The proxy form must be signed by you personally or by your attorney.
By Order of the Board
Phillip Parsons.
President.
School zones back in force: slow down
Transport for NSW is reminding everyone school zones will be back in force as the fourth school term starts across NSW.
"School zones are active on every NSW school day, no matter how many students are attending, so while most children won't start returning to schools until 18 October as the state begins to reopen, schools remain open for families that need it," said Tara McCarthy, Deputy Secretary for Safety, Environment and Regulation.
"Children are vulnerable and we need to ensure we do everything possible to keep them safe on the road network.
"Which is why I'm reminding all motorists to slow down to the reduced speed limit, typically 40km/h, when entering a school zone or when you see bus lights flashing.
"At the end of July, we saw the number of people caught speeding in school zones reach more than 150 per cent above the pre-lockdown average.
"However in August we have seen people begin to get the message and slow down with offences dropping by 25%."
"Between 2016 and 2020, two children were killed, 36 were seriously injured and another 75 were injured while walking in active school zones – we need everyone to work together to help keep our kids safe when they're on the way to or from school," Ms Mcarthy said
The NSW Government has made sure every school has at least one set of flashing lights, with additional sets also installed outside many schools with multiple busy entrances.
As well an extra $18.5 million has been invested to provide 300 new School Crossing Supervisors offering more protection for children and improved visibility of crossings for motorists.
Motorists who don't obey the rules are putting lives at risk and face heavy fines and demerit points. Higher fines and demerit points also apply to certain driving and parking offences committed within school zones.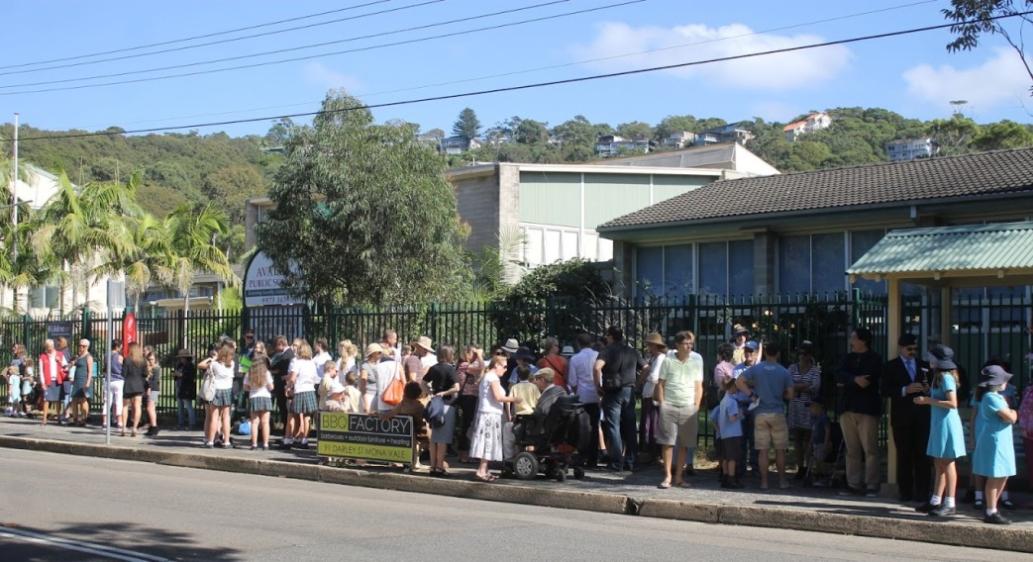 ORRCA's 'Seas the Day' 2022 Calendar now available
A huge thank you to all who entered ORRCA's first ever 'Seas the Day' Calendar Photographic Competition.
Every entry has helped raise awareness and funds for ORRCAs vital marine mammal rescues and research.
A special congratulations to our twelve winners who will feature in our ORRCA Calendar for 2022. A special mention to Ann Scarrett whose photo will feature on the front cover.
It is with much appreciation and thanks from the ORRCA team to our wonderful judge, Darren Dew for his generous support and tough decision making.
To everyone involved, you inspire others to care for our precious marine mammals. Thank you so much!
And the winners are:
Ales Zib-Poole – January Fur seal
Selina Guckenbiehl – February Orca x3
Elissa Chan – March Seal swimming
Sharyn Coffee – April diving Seal
Michelle Barry – May - Minke
Ann Skarratt – June Humpback breach
Maree Jackson – July Southern right whale mother and calf
Robert Smith – August Humpback mother and calf
Peter Wandmaker – September Dugong mother and calf
Jamen Percy – October Humpback
Bonita Holmes-Nuu – November Common Dolphin
Jodie Lowe – December Humpback breach
CONGRATULATIONS EVERYONE!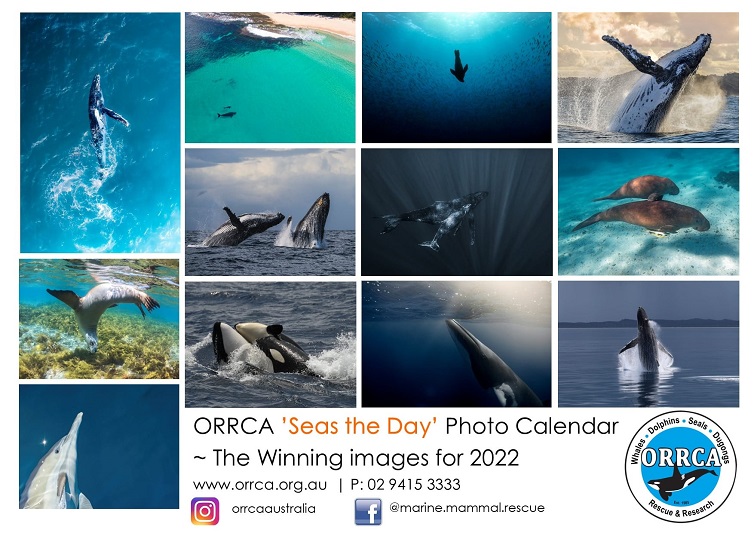 To order your copy of our 1st ORRCA 'Seas the Day' Calendar, please visit the ORRCA Events page of our website and follow the link: www.orrca.org.au/orrca-event
Monika's DoggieRescue's 2022 Calendar is out Now!
Monika's DoggieRescue's 2022 calendar has arrived! This is our biggest annual fundraiser and helps us continue to save the lives of dogs and cats on death row in NSW pounds. To date we have saved over 13,000 dogs and are home to around 100 dogs looking for their families. We rely on fundraising like our calendar to keep the doors open so please help us continue to save lives!
This year's calendar was photographed by our volunteer photographer Dave Pigeon from The Dog's Pyjamas. Dave has perfectly captured the different faces and emotions of our resident dogs, from Bowie looking hopefully to the future with a family of his own to sad Champ who isn't sure what to do with himself facing another year without a home of his own.
Winston stars on the cover he found his way to Monika's DoggieRescue from a Sydney pound and was discovered to be blind, his bandana reminds us all to be kind to those who have extract burdens to bear. Winston was lucky enough to be adopted just before the calendar arrived!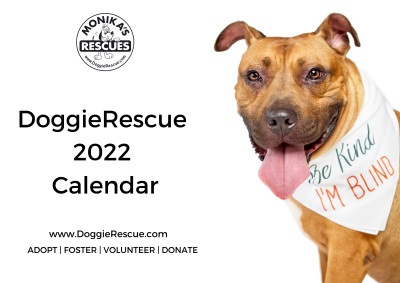 This year's calendar features 16 DoggieRescue dogs many of whom are still waiting at the shelter for their families to come.
At $20 the calendar is the perfect gift for dog loving friends and together we save more lives! Do something good for Christmas and give the gift of life.
About Monika's DoggieRescue
DoggieRescue is a Northern Beaches based no kill animal shelter, we've been in operation since 1998 with the primary objective of saving dogs and cats from death row in council pounds. We do not place a time limit on the lives of the animals we save and are often contacted about the more difficult animals in need.
You can grab your copy from the shelter or from our website by clicking here:
New seniors housing Development Proposals Lodged with council
Mona Vale - 7 and 8 Coronation Street, Seniors Development - DA2021/1841 - $ 4,632,564, lodged 8/10/2021
Frenchs Forest - 58 Forest Way - Demolition works and construction of a senior housing development, DA2021/1814 - $ 1,694,793, lodged 8/10/2021
Collaroy - 4 Alexander Street - Demolition works and construction of a seniors housing development, DA2021/1805 - $ 5,246,223, lodged 7/10/2021; The proposal has been referred to Heritage as the subject property adjoins a heritage item, ie: Collaroy Cinema
Collaroy - 18 Alexander Street - Demolition works and construction of a housing development comprising five (5) self-contained apartments including basement car parking pursuant to SEPP (Housing for Seniors or People with a Disability) 2004, DA2021/1766 - $ 2,069,059, lodged 5/10/2021
Proposed Keoride lease for building in front of Warriewood B-Line Car Park
In November 2017, Keolis Downer started operating the Keoride On Demand Transport service in our area as part a two year pilot program led by the NSW Government. Since then, Keoride has successfully connected over 500,000 customers from a pick up point close to their homes to three B-Line stops at Mona Vale, Warriewood, and Narrabeen.
The NSW Government has decided to make Keoride a permanent transport service to complement bus services from October 31st 2021.
To support this transport service for the area, Council are proposing to grant Keolis Downer a new five (5) year lease of the small building in front of the Warriewood B-Line Car Park on Pittwater Road and 12 car spaces within the Council portion of the car park.
The lease will enable Keolis Downer to run their on demand transport services and information centre from Warriewood, and securely store their vehicles on site.
The lease will be subject to the payment of a market lease fee.
In accordance with Section 47 of the Local Government Act 1993, Council are giving notice of their intention to lease the land formally known as Part Lot 1 DP 1250192 and Part Lot 2 in DP 1250192.
View the lease plan and provide feedback here by October 28:
Sydney Wildlife Recycled Bottles for Wildlife 2021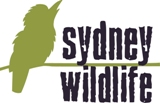 Sydney Wildlife Rescue is registered for return and earn in NSW. This time it is accessed by an App called My Tomra - which is the organisation that runs the recycling.
Once you have downloaded the
My Tomra App
. Just search "Our Wildlife" you will see Sydney Wildlife Rescue listed. You can set that as the payout.
So you just scan the bar code from the App at the recycling machine and the 10c will be donated to Sydney Wildlife Rescue. The machines can be located anywhere in NSW.
Please have a look it's a good way to support us to care for wildlife and do your bit to keep Australia Beautiful.
Pittwater Community Groups: