VALE Bill Hardman OAM
April 27th, 1945- January 12th 2023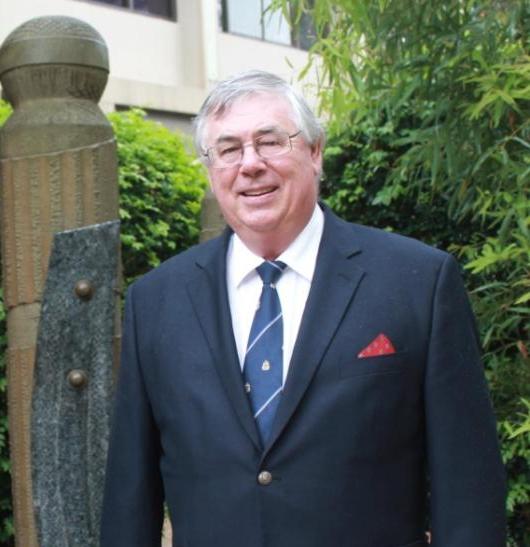 Bill Hardman OAM at Avalon Beach RSL in 2015: PON photo
Former President at Forestville RSL Club Ltd
A Service was held on January 25th to celebrate the life of William (Bill) Hardman.
An article which ran on March 21st 2022 in RSL NSW News provides a short overview of his Service to our community even after serving in our Defence Forces.
Mr. Hardman, along with Graham Sloper, was one of the residents behind the ANZAC Centenary held at Warriewood in 2016, served as Honorary Treasurer for the NSW State Branch of the RSL commencing in 2015.
He was awareded an OAM in the Queen's Birthday 2016 Honours List 'For service to veterans and their families'.

Bill was a Life Member at RSL NSW, also served as a Director until mid 2022 at Forestville RSL.
Outside of his roles in serving Veterans Bill was an Elected Councillor to
HCF Australia from 2011, was a former finance executive with senior management experience in major construction projects as a joint venture partner. Experienced President with a demonstrated history of working in the non-profit organization management industry. Skilled in Risk Management, Fundraising, Management Accounting, Financial Accounting, and Marketing Strategy. He was a strong business development professional with formal qualifications as a Fellow of the Institute of Public Accountants, a Fellow of the Institute of Financial Accountants, and a Diploma in Law through the Legal Profession Admission Board.
Our sincere Condolences to his wife Judy and family members.
A Hardman to stop
BY RSL NSW
Anyone familiar with the Returned and Services League knows that sub-Branches are its heart and members are its lifeblood.
Building on the common bond of military service, it's at this level that veterans band together to serve those who need it most among the veteran community.
An Award recently given at the Forestville RSL sub-Branch in Sydney's north provides insight into the calibre of leadership and demonstration of excellence that is replicated among the RSL NSW membership.
In February, Bill Hardman OAM was presented with a Certificate of Appreciation "for distinguished service and outstanding leadership to RSL NSW" by Forestville sub-Branch Patron and World War II veteran Don Kennedy OAM.
Bill, who is a Life Member of the League, was recognised for leadership at the sub-Branch, District and State level where he has been:
Committee Member, Secretary (2003-2004) and President (2004-17) of Forestville RSL sub-Branch
President (2008-2011 & 2014-2022) and Vice President (2011-2014) of Northern Beaches District Council
State Councillor of RSL NSW (2008-2011 & 2014-2016)
State Treasurer of RSL NSW (2016-2017)
Commenting on the Award, Forestville sub-Branch President Bob Lunnon said Bill has always had an unwavering focus on the welfare of veterans whether it be meeting their needs in terms of advocacy, pensions advice, assistance with welfare issues or other practical help.
A veteran of the Borneo and Malaya campaigns, Bill joined the League in 1978 and played an important role in developing the 2019 RSL NSW Constitution and introduction of Standard Operating Procedures.
In October 2020 Bill underwent an esophagectomy which continued to have an effect on his health. Bill accepted the Certificate of Appreciation with his wife Judy, a member of the RSL Auxiliary Forestville, who was presented with a Letter of Appreciation. At the District Council AGM on 15 March 2022, Bill announced his retirement from office.
Questions for Candidates in 2023 State Election
As residents are already sending in questions for Candidates, as per Pittwater Online News' usual practice during an election, we advise we are now officially open to receive these to add to the list.
All Candidates standing for the seat of Pittwater have advised they would like to be part of the coverage this election. The Profile of the Week for these will run Sunday March 19th 2023.
As Readers have requested we extend this beyond the boundaries of Pittwater this time around, we will also aim to run the same for voters in the seats of
Wakehurst, Manly and Davidson
as well as Candidates for the
Upper House
with local connections - they want you to hear from them too.
The Profile of the Week for these will also run Sunday March 19th 2023.
There may also be Notices/News from Candidates prior to this for both lower and upper house.
The questions from residents will be sent to out at the end of February to give those who want to be 'in' ample time to reply/respond. Please get what you want asked to us by February 28th, 2023.
Please email your queries to:
pittwateronlinenews@bigpond.com
- Heading: 'Q's for 2023 Election.' and nominate which electorate you will be voting in so we ensure we get the right q's to the right candidates.
Thank you very much.
Warriewood Updates
Courtesy Cr. Vincent De Luca OAM, Independent for the Northern Beaches
Warriewood Community Centre
The Tender for Warriewood Community Centre was released on 1 December 2022. The closing date for the tender is 2 March 2023.
The outcome of the tender evaluation will be reported to Council once the assessment is complete.
Creek line corridor maintenance
The Council has commissioned contractors to undertake bush regeneration works to improve the condition and habitat value of the major creeks in Warriewood Valley, including Fern Creek, Narrabeen Creek and Mullet Creek.
The works involve strategic weed management in the riparian corridors, revegetating and replanting, and responding to reactive work requests when necessary.
Council has allocated over $100,000 this financial year for these works.
Detention basin and flood mitigation
The Warriewood Valley Urban Land Release Water Management Specification (2001) was prepared to ensure that development within the valley was carried out in an ecologically sustainable manner, in terms of the water environment.
It provides guidance in preparing water management documentation and designs related to subdivision and developments (on a sector by sector basis) of the valley.
The detention basin was installed as part of the subdivision and development of an area known as Sector 8, in accordance with the Specification.
Its purpose is to store stormwater runoff and release it at rates no greater than the pre-development peak discharge. This ensures that peak flood flows downstream are not increased, thereby mitigating flood risk.
Lynne Czinner park update
The detailed design is complete for the bridge and Council expects construction to commence in March.
The undergrounding of power and the stormwater works in the park have been completed.
The detailed design for the park itself is nearing completion and Council expects to issue a tender for construction in March with a view to starting construction in winter this year.
Pending developments in the valley
There are no new DAs currently under assessment for subdivision or construction of multi-dwelling housing in Warriewood Valley.
On 22 July 2022, Council received a proponent-initiated Planning Proposal for 10 and 12 Boondah Road.
The land is currently zoned RU2 Rural Landscape under the Pittwater Local Environmental Plan 2014 (LEP).
The Planning Proposal seeks to amend the LEP to permit future residential development of up to 44 dwellings, comprising 40 three-storey townhouses and four dwellings in a manor house form to be used as affordable housing for a period of 10 years.
On 21 December 2022, the Northern Beaches Local Planning Panel (the Panel) considered the Planning Proposal. The Panel's recommendation to Council is to reject the Planning Proposal and not forward it to the Department of Planning & Environment for a Gateway Determination.
A report on this matter is scheduled to be reported to Council's meeting of 28 February 2023.
Future of the southern buffer
There are five privately owned properties within the Southern Buffer, all zoned RU2 Rural Landscape.
Landowners are able to pursue development outcomes on their land consistent with the land use table in the LEP.
In 2017, Council purchased 3 Boondah Road and has now delivered new hardcourts on this property.
Council plans to improve the existing Boondah Road playing fields to increase the available hours of use through the provision of lighting and improved drainage/turf.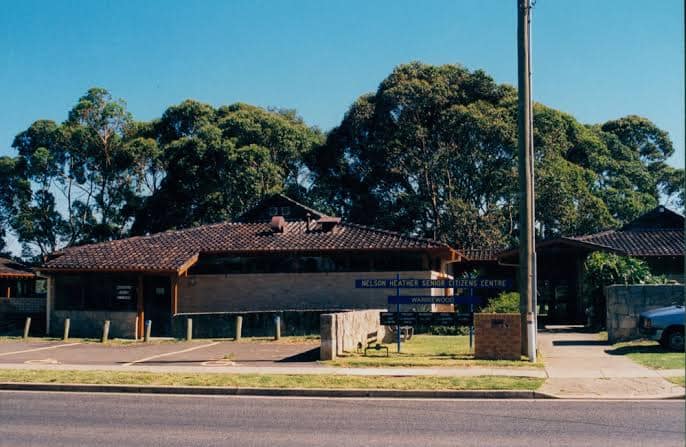 plastic ramp put in at south Avalon Beach
To provide access over steepening beach perimter and exposed rocks: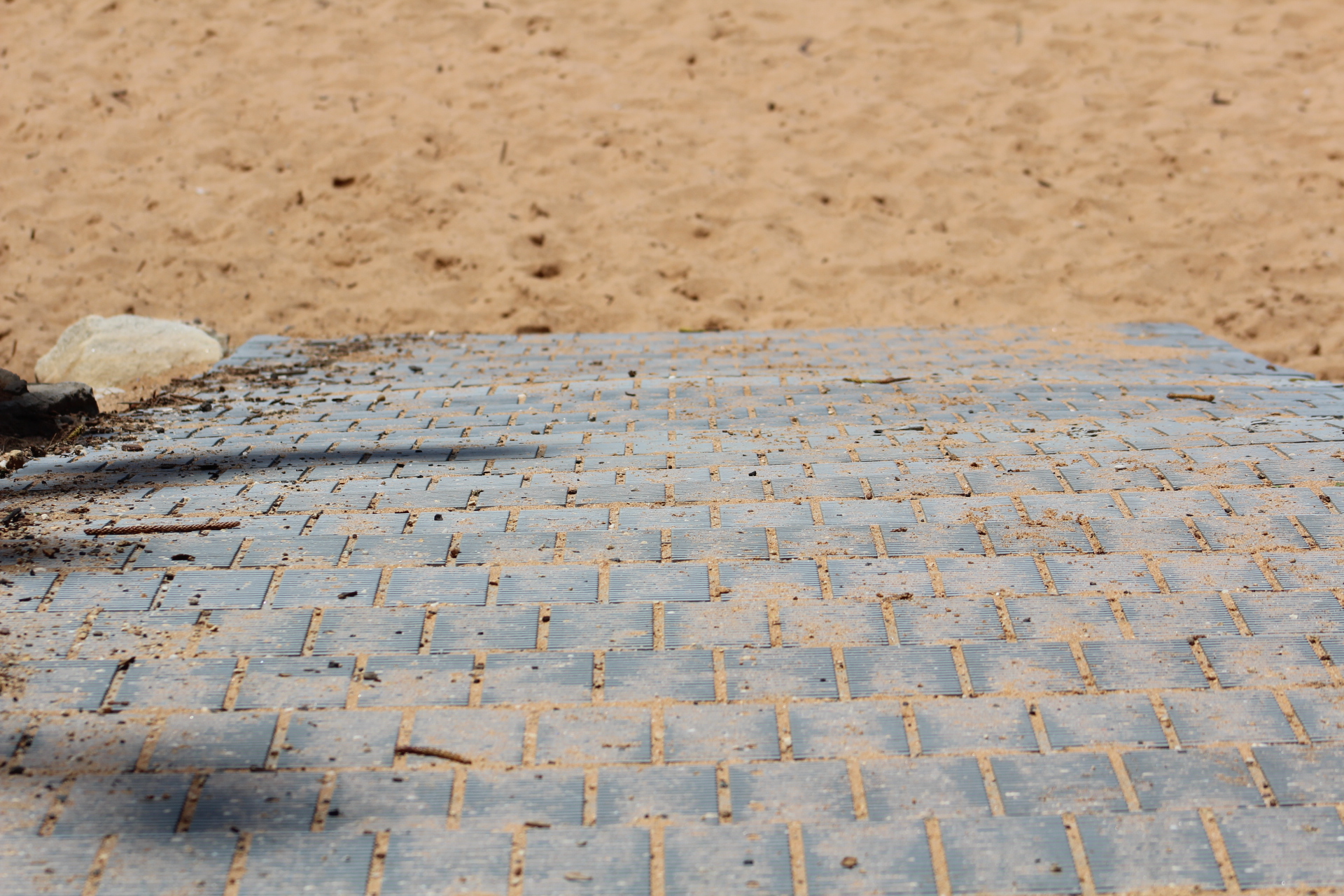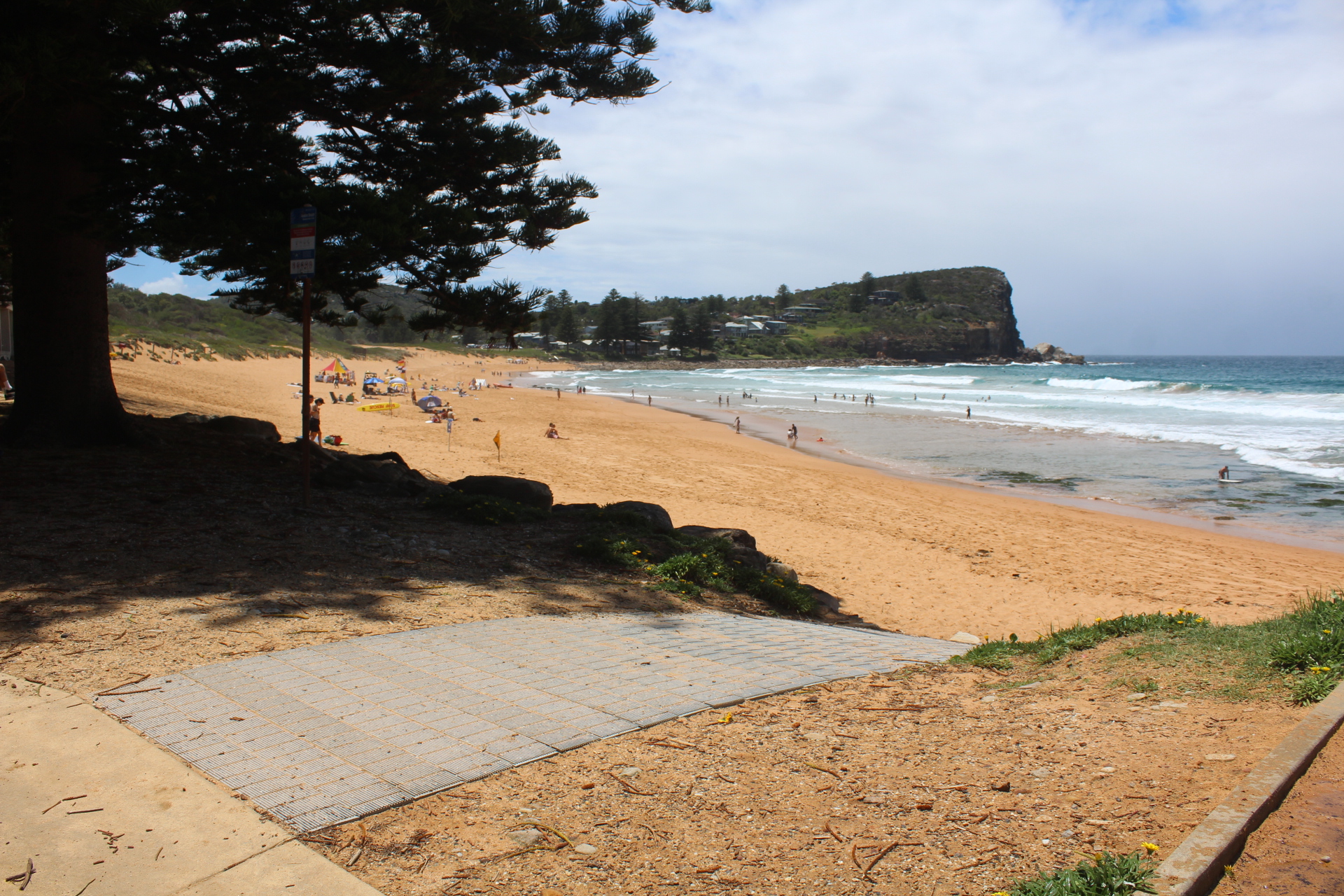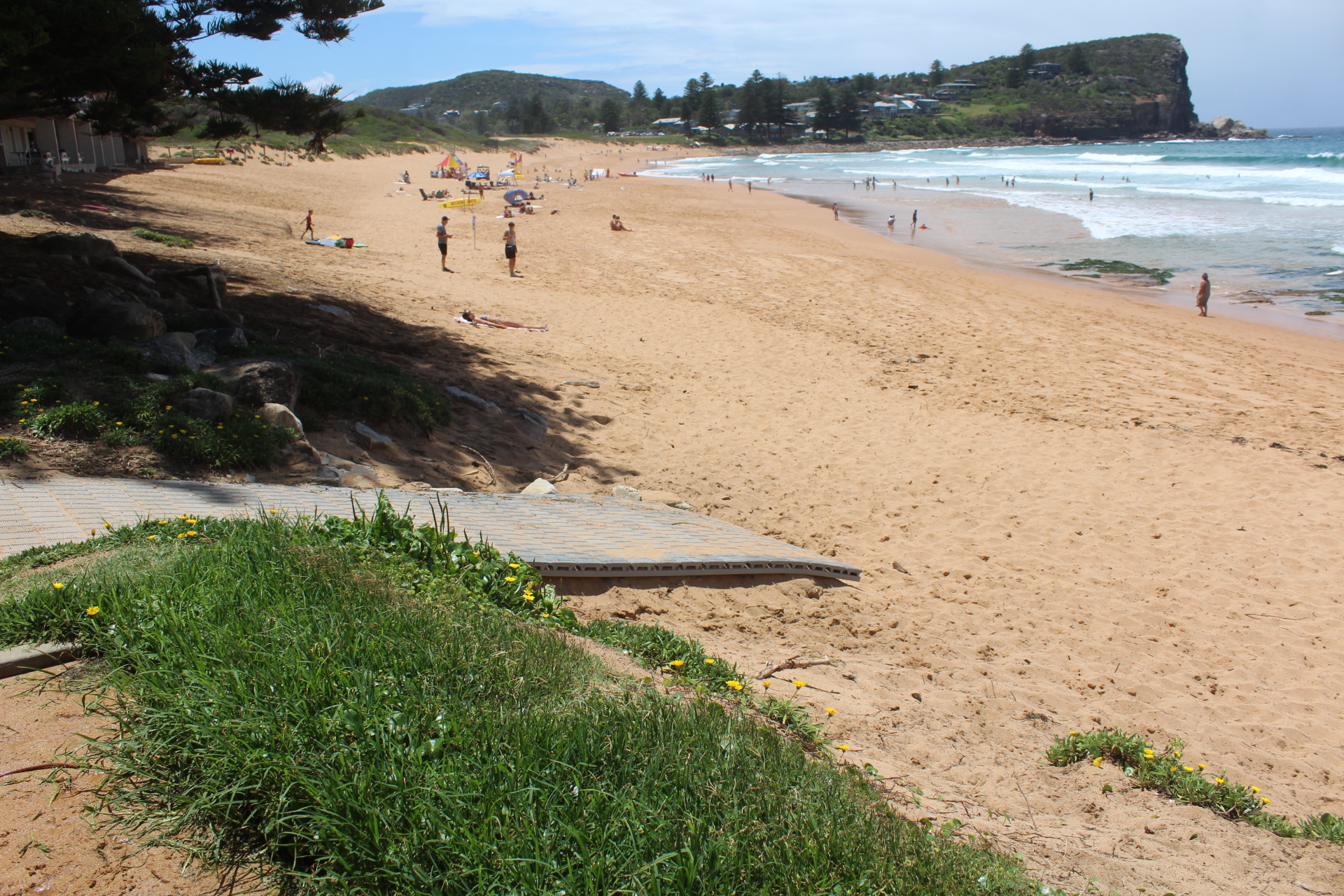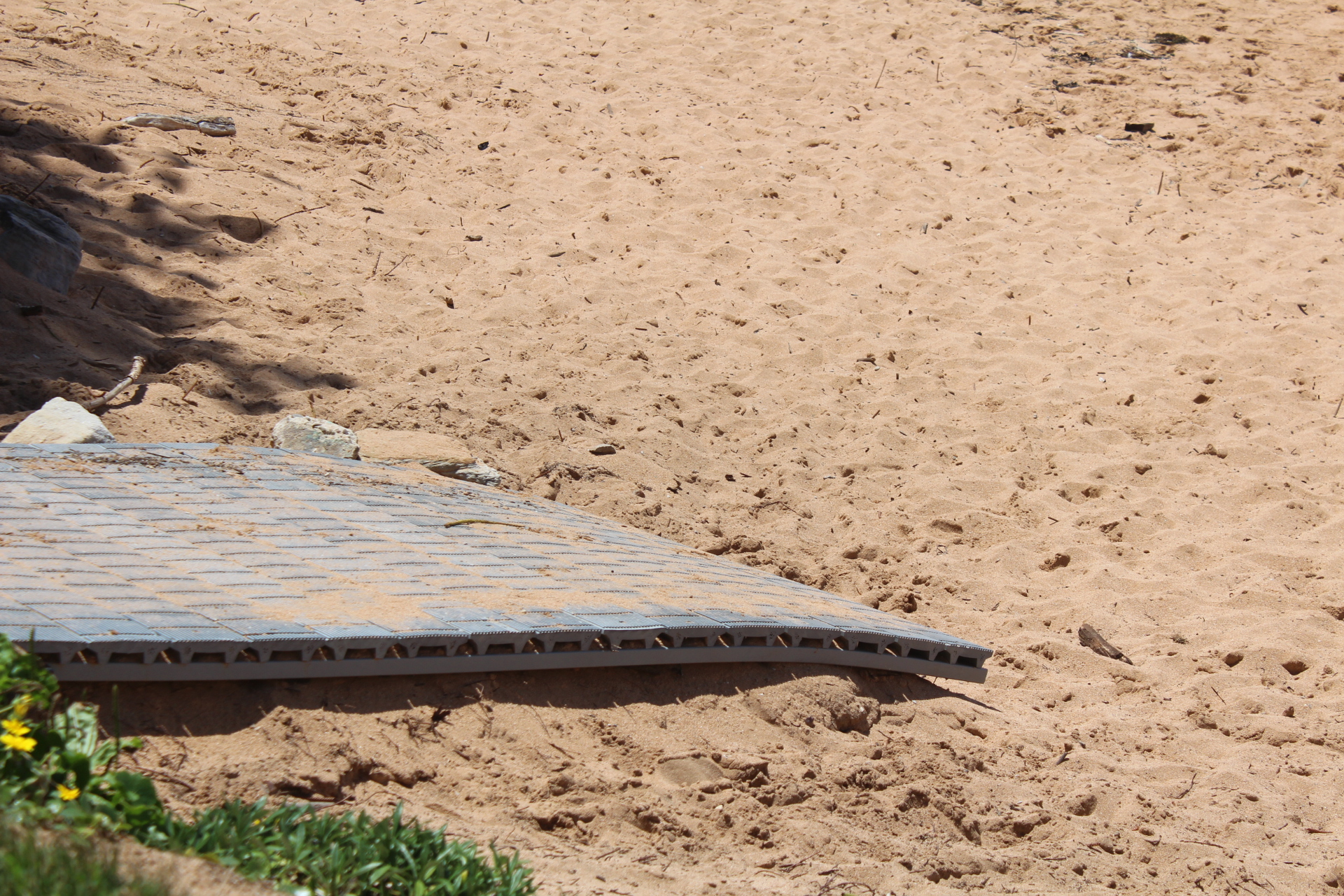 Road works at Bilgola until late February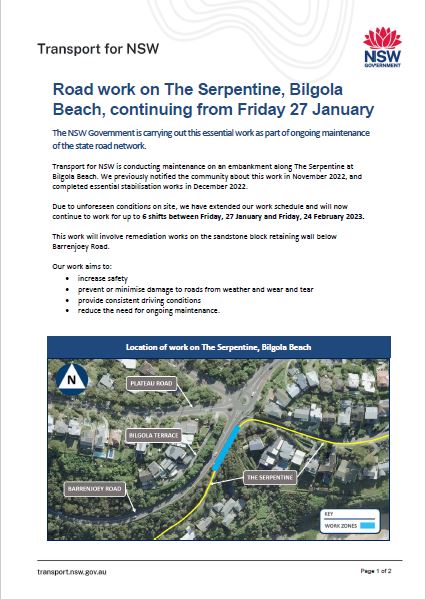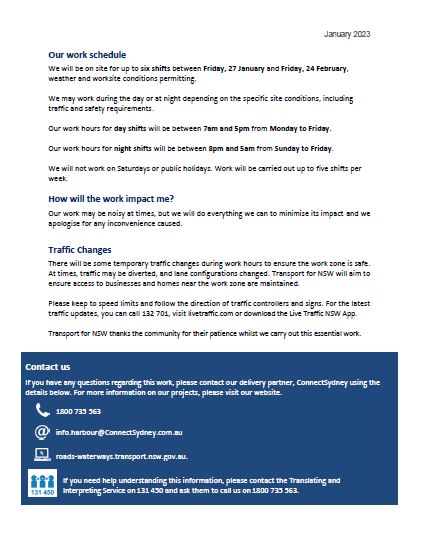 Council seeks community members for LGBTQIA+ working group
As Sydney prepares to host the world's largest LGBTQIA+ event, WorldPride, Council is commencing a long-term plan to make sustained and meaningful change.
Rather than simply joining in with WorldPride celebrations over a festive two-week period, Council is seeking expressions of interest to form a LGBTQIA+ working group to identify strategies to make the Northern Beaches increasingly safe, inclusive and welcoming for all.
Mayor Michael Regan said the new working group is an ideal way to make the Northern Beaches a safer and more inclusive place, by getting a diverse group from our community together to identify the most effective ways to create positive culture change over the longer term.
"We value lived experience, the voices of young people and people with strong connections to the local LGBTQIA+ community," Mayor Regan said.
"Northern Beaches Council is running a program of activities that celebrate and support Sydney WorldPride, because we believe that social sustainability can only be achieved when we make the Northern Beaches safe, inclusive and welcoming for all."
The LGBTQIA+ working group will comprise a diverse group of community members across Council's five wards (Pittwater, Narrabeen, Frenchs Forest, Curl Curl and Manly).
The group will include up to two community members per Council ward and up to three representatives from local community organisations that have strong connections to the local LGBTQIA+ community.
Expressions of interest open on Tuesday 31 January and close on Tuesday 28 February.
Manly Warringah Choir Seeking Singers
We are currently recruiting enthusiastic singers (all voices) to join the choir for our 2023 concerts.
We are a non-auditioned community choir, dedicated to the classical choral repertoire. We so appreciate the musical and social experience of being choir members and invite you to join.
Rehearsals commence on Thursday 2nd February, 2023
, with concerts planned for May, August and December at St Paul's Catholic College, Manly.
If you are interested, full details are available at:
HERE
Manly-Warringah Choir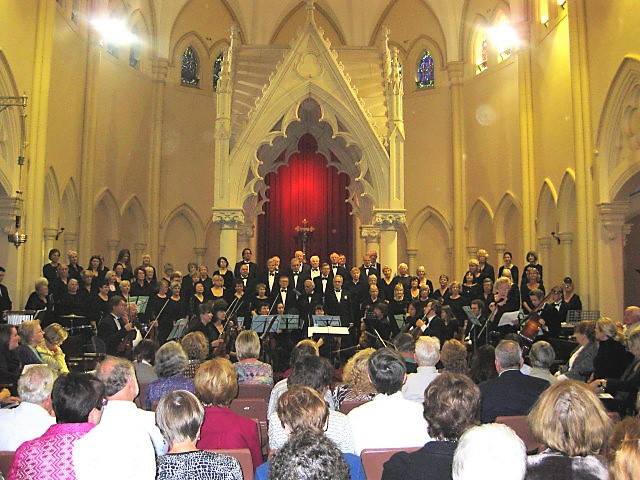 Rotary Upper Northern Beaches Art Show 2023: 24th-26th February
The Rotary Upper Northern Beaches Art Show is fast becoming a popular annual community event. Supported by Northern Beaches Council and other great partners including Johnson Brothers Mitre 10, it is a weekend to remember! It involves a range of stunning works across a wide variety of different price ranges, a Friday-night drinks and auction event, as well as art sales and exhibition all weekend.
Over many years, the club has assisted many local and international charities, strengthening mental wellbeing, health and communities.
The Art Show has become an important event in supporting these goals and this year, will directly support four charities:
Community Pantry Narrabeen - helping those in need for companionship and a good meal
Gotcha4Life - focused on building stronger mental health across the community
and, two worthy international causes Build Your Future Today (Cambodia) and Friends Of Soibada (Timor Leste), changing lives of tens of thousands of children, women, and men.
50% of art sale proceeds are donated to these worthy charities and all artists are in the running for a First Prize of $2,000 and Peoples' Choice Award of $500.
The public has an opportunity to take pleasure in art whilst helping charities do great work!
Art captures what our eyes and heart see in the world and hope to recall – a memory, an impression, or a created image that takes us elsewhere with its symmetry, the design, the materials used, the colours, a feast for the eyes. As well as the pure pleasure of art, studies have shown that engaging with the arts can actually improve stress, memory, and empathy. Visiting a gallery has been found to relieve people of mental exhaustion, the same way the outdoors can.
Rotary Upper Northern Beaches is a dynamic and growing club. Members can be involved in their own personal areas of interest, from volunteering at events (such as this art show), joining a committee to creating great meetings with guest speakers where members enjoy each other's company.
Event details:
24-26th February 2023. Mona Vale Memorial Hall. 1 Park Street, Mona Vale, 2103.
Opening Event and Art Auction: Friday 24th February 2023 from 6pm. Tickets $25. Includes supper, wine, beer and soft drink.
Exhibition and Art Sales: Saturday 25th Feb – 9am-4pm & Sunday 26th Feb- 9am-1pm. gold coin entry donation.
More information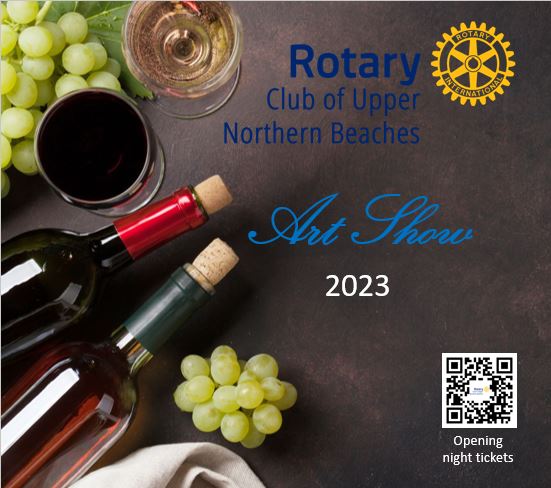 Preliminary roadmap for council demerger
Thursday, 2 February 2023
A preliminary roadmap for the demerger of Cootamundra-Gundagai Regional Council has been produced by the NSW Government, outlining a path forward for the process.
Deputy Secretary of the NSW Office of Local Government, Brett Whitworth said the roadmap provides a timeline for the implementation of the demerger.
"There is no recent precedent for de-amalgamating a council in NSW and this roadmap will inform the Government's approach," Mr Whitworth said.
"We understand the community and councillors would like a swift outcome, however the Government's focus is not only on demerging the existing council, but on ensuring the two new councils are set up for future success.
"This will be a very complex undertaking that must be managed in line with the Local Government Act and it's critical we take the time necessary to get it right."
Under the proposed roadmap, the legal path for demerging the council would be established after the March State Election, as legislative change would likely be required to facilitate the process.
A transition manager would also be introduced in the second quarter of 2023 to oversee the build of the new councils while the existing Cootamundra-Gundagai council continues its operations.
It's expected Cootamundra-Gundagai will cease operations in mid-2024, at which stage the new councils would commence, prior to the local government elections in September 2024.
"We know the community wants greater certainty about the demerger and we will continue to provide regular updates as they become available," Mr Whitworth said.
"I thank the staff and councillors for working with the Office of Local Government during the development of this roadmap, and the Cootamundra-Gundagai community for their continued patience as we undertake this important process."
Zonta NB's Pittwater International Women's Day Breakfast 2023 Speaker: Samantha Hollier-James - tickets now available
Wed 1st March 2023, 7:00 am - 9:00 am
Royal Prince Alfred Yacht Club, 16 Mitala St, Newport
Samantha co-founded Tour de Cure in May 2007.
Tour de Cure is one of Australia's most significant cancer research funds behind the Australian Government.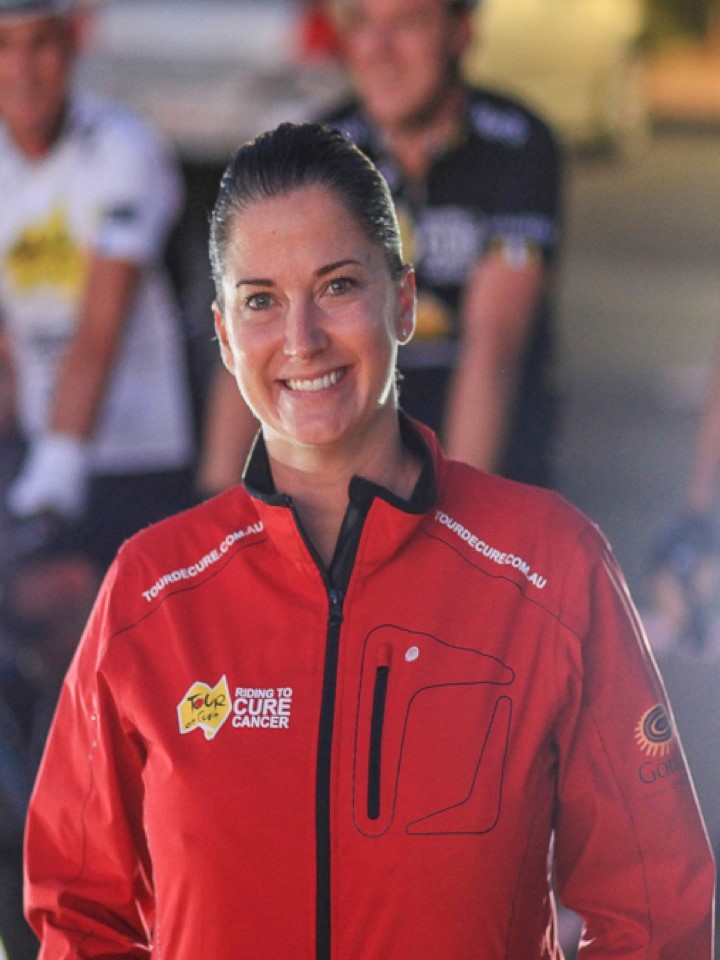 Since 2007 Tour de Cure has raised over $95 Million, which has funded 647 Australian Cancer Research, Support and Prevention Projects resulting in an incredible 96 major cancer breakthroughs. Tour de Cure has also engaged over 175,000 Australian school children with their "Be fit, Be healthy, Be happy" cancer awareness message.
Samantha's professional work in Media was recognised through winning the B&T Women in Media "People's Choice" Award in 2019. Samantha also works tirelessly to nurture and support young leaders as a volunteer mentor for the past decade. She is passionate about helping people achieve their goals, whatever they may be.
Join us to hear from Samantha and how we should;
"never doubt that a small group of thoughtful, committed people can change the world, indeed it is the only thing that ever has." -

Margaret Mead
Tickets available now at:
Why Zonta?
We believe in making the world a better place by empowering women.
We find joy in doing this in a supportive community of like-minded professionals from diverse countries and cultures.
Zonta stands for women's rights. We advocate for equality, education and an end to child marriage and gender-based violence.
Zonta expands opportunities for women and girls through our international education programs and service projects.
We shall not rest until women's rights are recognized as human rights.
Manly CWA Women's Day 2023
Manly Branch of the Country Women's Association of NSW is proud to be celebrating 100 years of serving the local community. Throughout this year we are celebrating in many ways and are welcoming the community to celebrate and learn with us.
On Saturday 11th March we are having our annual International Women's Day High Tea. We are pleased to have Selena Griffith as our speaker who will focus on #EmbraceEquity. Selena is the CEO of ENACTUS which encourages university students everywhere to use innovation and business skills to ensure that all people thrive in a sustainable world.
At the High Tea delicious home baked goods will be served and there will be a chance for guests to socialise with members of the CWA and students enrolled in ENACTUS.
Tickets are available on humanitix for $70 from: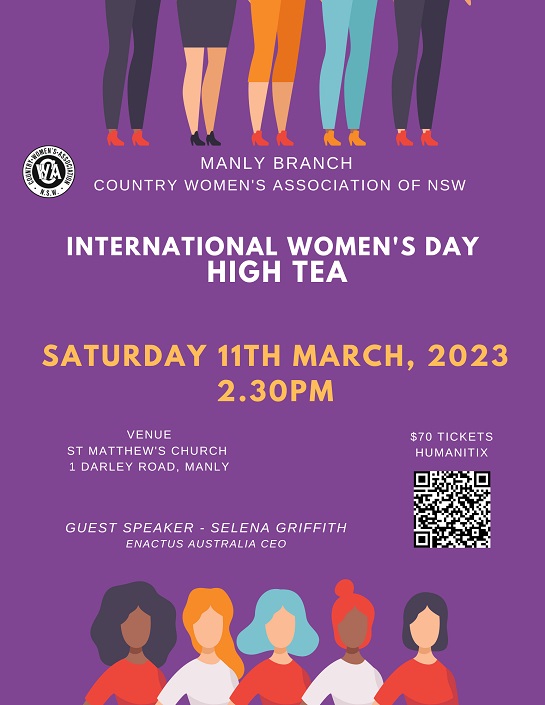 Mona Vale Residents Association
Mona Vale Residents Association is a community group encouraging involvement on important matters within the Mona Vale area.

Volunteers needed: meals on wheels
Meals on Wheels have lost a lot of volunteers in the last few months due to COVID regulations etc. so they are desperate for some new people on the roster.
The local service covers all the way from Manly Vale up to Palm Beach, so a run takes around 60-90mins.
You leave from and return to the warehouse in Bassett Street, Mona Vale.
You don't need to sign on to permanent shifts, even once a month would help them out greatly.
All drivers need an unrestricted license, must be fully vaccinated and will require a volunteer police check.
If you are able to assist please call Milly on 9457 3900 or email

Volunteers Needed: Red Cross Avalon Shop
Please talk to the people in the shop or telelphone if you can help out each week, for around 4 hours.
Address: Shop 4 & 5 / 48 Old Barrenjoey Road, Avalon 2107 NSW; Phone: 02 9918 0952

Mona Vale Hospital Auxiliary Stalls
The Mona Vale Hospital Auxiliary members are having a stall at Pittwater Place on the first Saturday of every month from 9am to 3pm selling knitting for babies and children, beanies, bedsocks and scarves for oldies, sewing items, craft and jams, raising funds for the rehabilitation and palliative care units.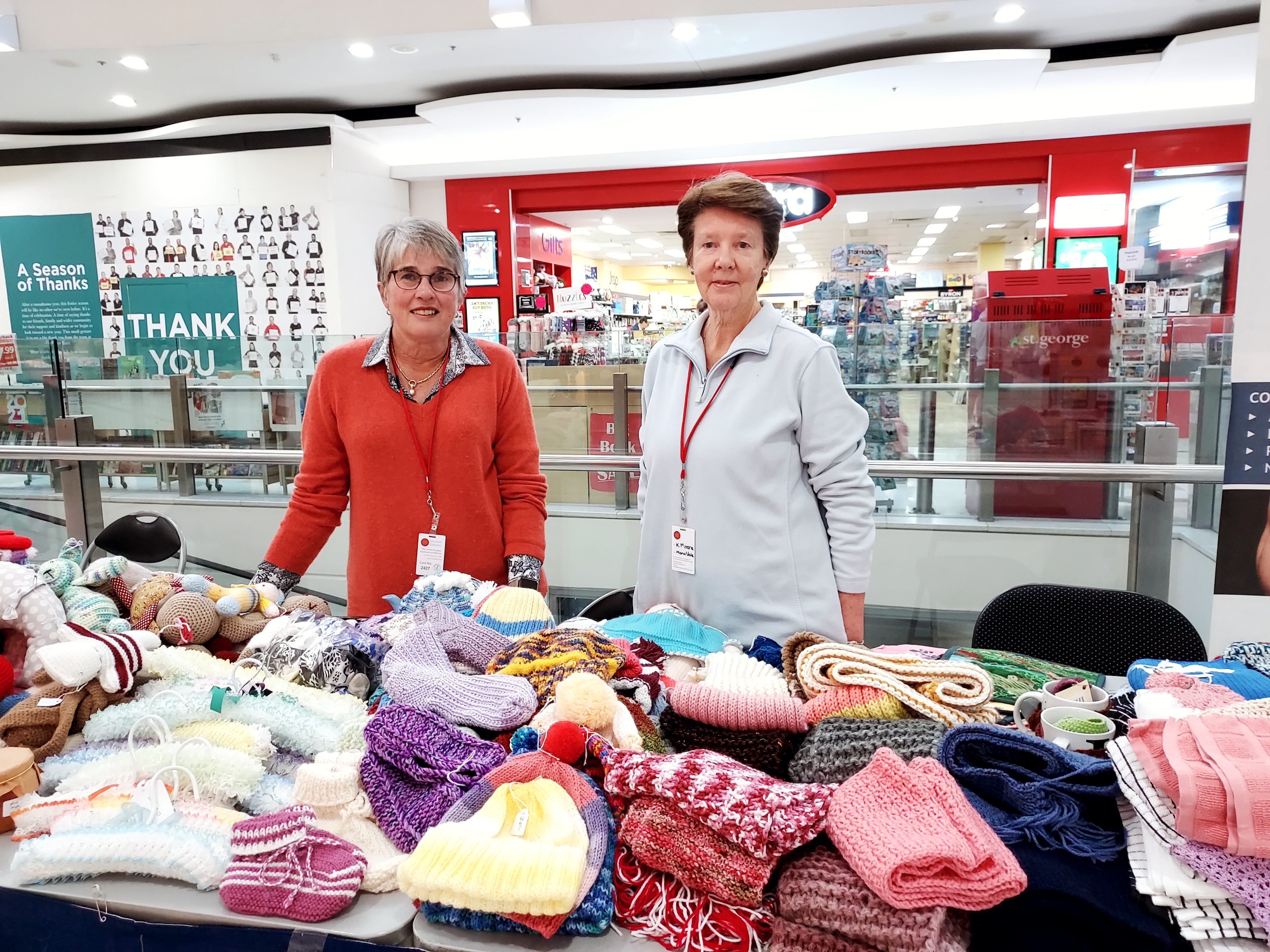 JP Public Register
You can find a Justice of the Peace (JP) using the online Public Register. You can search by postcode, name of a JP, day of availability, language spoken and JP registration number.
The register lists a JP's location, availability and telephone number. Please note that JPs are volunteers and may not be available at all times.
​
Click here to access the JP Public Register
NB: There are 3 J.P's working in Pittwater RSL Sub-Branch office, we work every Monday (10:30am to 15:30)except on public holidays:
Terry Jones J.P.
Robert (Bob) Wood J.P.
Deborah Hendy(Carter) J.P
Rotary Upper Northern Beaches: get involved in something positive
At Rotary Upper Northern Beaches, we are always welcoming new members. We find that new members bring new ideas, energy and opportunities.
There is something for everyone in Rotary and you can apply your skills for the betterment of our community. This can include anything from cooking a BBQ, to managing a fundraising project, to helping with marketing and social media. You can even get the opportunity to serve on our Board.
We have been quite active in the community over recent and coming weeks, including;
      - The Beach To Beach Fun Run (held on 28 August)
      - The Bobbo (Bobbin Head Cycle Classic, held last Sunday 18 September)
      - Our Annual Charity Golf Day (To be held this Thursday 29 September at Monash Country Club)
      - Cooking the BBQ at The Annual Australian Pipe Band Championships next weekend 1 & 2 October at Rat Park).
These are just a few examples of our fund raising and community activities.
If you are looking for a way to give back to the community, while meeting some great people and having some fun with it, please come and check us out. Our next meeting is this Wednesday 28 September at The Sands Hotel Narrabeen (6pm Dinner in the bistro for 7pm Rotary meeting upstairs).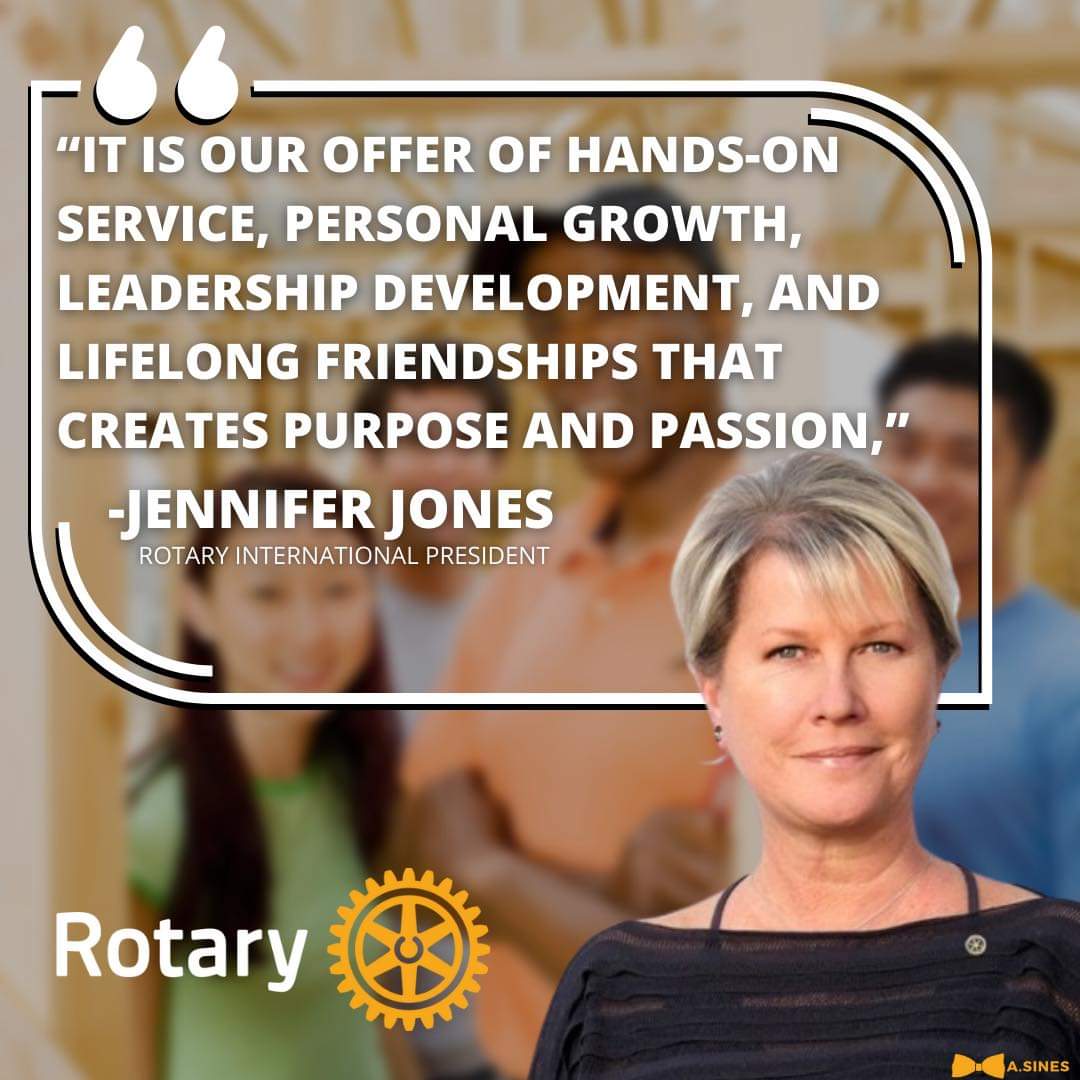 Please Slow Down: Wildlife Crossing
Phoebe the Swamp Wallaby weighed less than a kilogram when she was orphaned on the roadside after her mother was hit and killed by a vehicle. Fortunately, Phoebe was uninjured, taken to a local vet and raised and then released by Sydney Wildlife volunteer Jane.
While Phoebe was fortunate, other native birds and animals are not so lucky.
So, if you're returning home after your summer holiday (or just out and about on Australia Day), please slow down - particularly at dawn and dusk and in areas identified with wildlife crossing signs, for your safety and the welfare of our wildlife.
Please contact Sydney Wildlife Rescue on (02) 9413 4300 for advice if you hit a native animal or come across an injured one while driving. It is helpful if you can provide an accurate location or landmark to assist our rescuers who will pouch check marsupials for joeys, so little lives like Phoebe can be saved.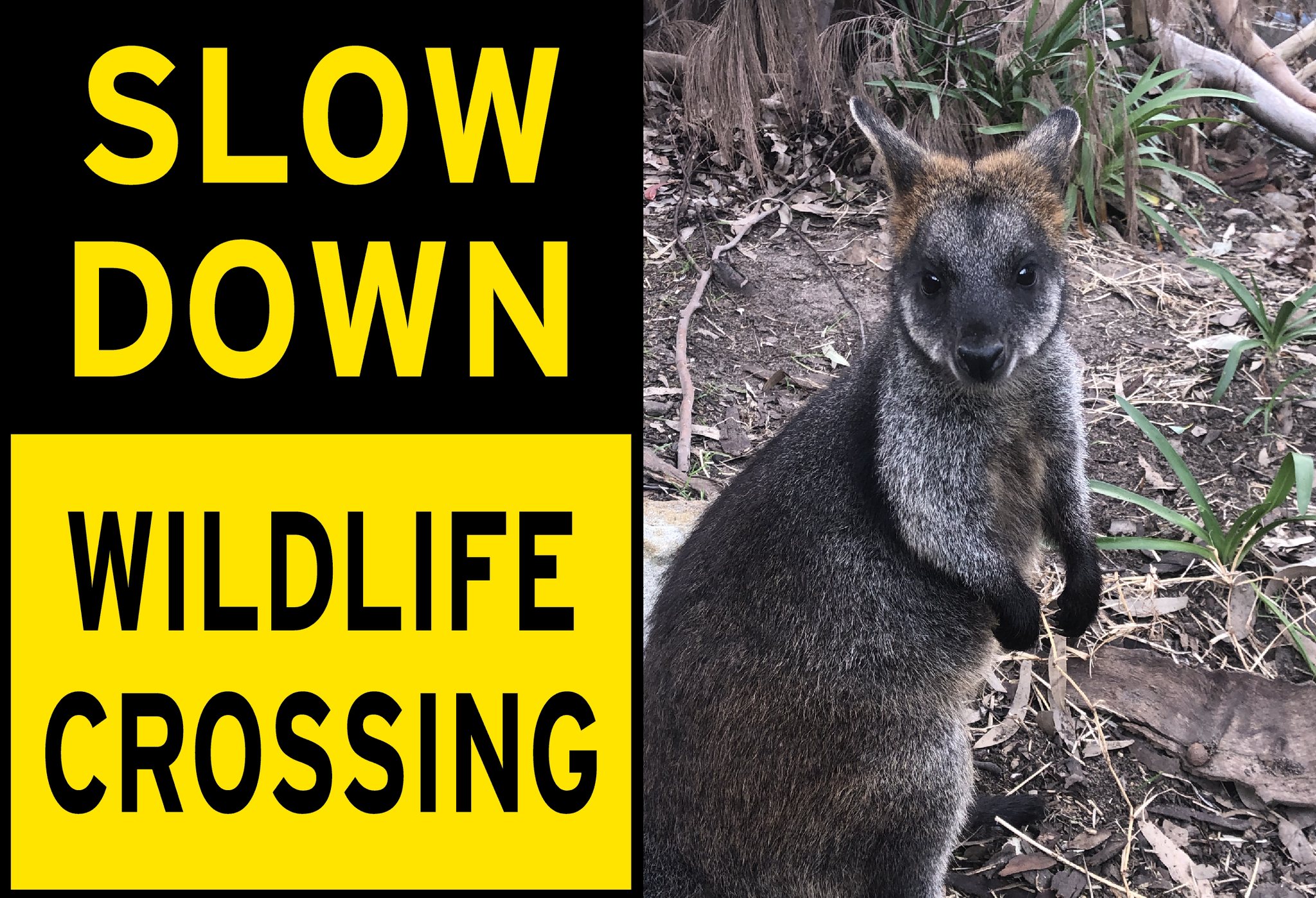 Photo: Phoebe the Swamp Wallaby by Jane
Notice by Sydney Wildlife Rescue