May 22 - 28, 2022: Issue 539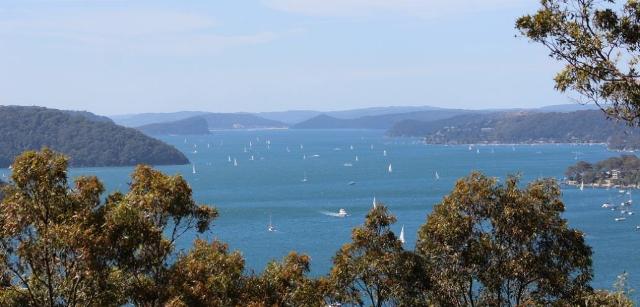 This Issue: full list in Contents page
Sophie Scamps Makes History: An Independent Elected To The Seat Of Mackellar – A Blue-Green Positive Future Dawns

Pictures An Autumn Mix: From The Bush To The Beaches To The Lagoon - What's Been Seen This Week - photos by Joanne Seve, Margaret Woods, Selena Griffith, Joe Mills, Michael Mannington OAM
Opening Round Of 2022 IRB Premiership

Aquatics: GWM Sydney Surf Pro At Manly 2022: The Challenger Series, The 2022 WSL Longboard Tour + Sydney Pro Junior Results
Park Bench Philosopher Four Key Climate Change Indicators Break Records In 2021: Four key climate change indicators – greenhouse gas concentrations, sea level rise, ocean heat and ocean acidification – set new records in 2021. This is yet another clear sign that human activities are causing planetary scale changes on land, in the ocean, and in the atmosphere, with harmful and long-lasting ramifications for sustainable development and ecosystems, according to the World Meteorological Organization (WMO)'s State of the Global Climate report. The report was released just ahead of the World Economic Forum 2022 Annual Meeting
Delivery Program 2022-2026 and Operational Plan & Budget 2022/2023 Draft Open For Feedback until May 29: Includes Adjustments From Quarterly Review December 2021; what's Listed for Pittwater

Have Your Say On Council's Draft Disability Inclusion Action Plan feedback closes May 29

Community Asked For Comment On Draft Strategy For Narrabeen Lagoon Management - feedback closes June 19th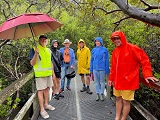 Profile of the Week
Careel Multi Layered Coastal Assessment (CMCA)
Living Ocean website: www.livingocean.org.au/cmca---careel-collaboration.html
On Facebook: www.facebook.com/groups/1534007546994771
The CMCA is a detailed study of the Careel marine environment, which is the most significant area of estuarine wetlands on the Northern Beaches.
Conducted over 12 months by the Careel Collaborative, the project will assess Careel on multiple layers: from the state of Pittwater's largest stand of mangroves and endangered seagrass beds to the levels of macro and micro plastics in the environment and the​ impact of Careel Creek and stormwater outflows.
A group of scientists will be focussing on each specific layer of study - Mangroves, Seagrass, Plastics micro and macro and more. This will set up a strict survey protocol and timeline to achieve knowledge of the creek and bay.
This is a citizen science project and your help is needed alongside our expert researchers. You can get involved in whichever specific area you like.
To volunteer, contact Living Ocean: please send us your details via email: info@livingocean.org.au or phone: 0410 374 333
There is also a Facebook group you can join to view updates and news: CMCA
WE have set a DATE FOR COMMUNITY BRIEF AT AVALON RECREATION CENTRE on 28 MAY 12.00. The Meeting will be held UPSTAIRS IN ACTIVITY ROOM 4
The FIRST SURVEY will be in EARLY JUNE.
Find out more this week!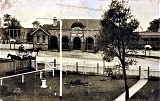 History
Narrabeen Hotel: Some History About The Licensees
The Narrabeen Hotel has been part of our community for well over 130 years and has changed from being a simple structure to a larger one with tea gardens and then a huge edifice. Its name has changed over the years too, from being an Inn to a Hotel to a Royal Hotel to the Royal Antler Hotel (replete with a stag's head added to the sign) and today is known as the Narrabeen Sands Hotel.
Charles William Prowse, a coach proprietor who provided local transport from the ferry wharf in Manly Cove was the first licensee of what was then called the 'Narrabeen Inn' in 1886:
A publican's license was granted to C. W. Prowse, for premises situated at Pittwater-road, Narrabeen. LICENSING COURTS. (1886, January 22). The Sydney Morning Herald (NSW : 1842 - 1954), p. 4. Retrieved from http://nla.gov.au/nla.news-article13609631
Mr. Prowse and his wife Margaret were also running The Pier Hotel at Manly Wharf from 1883 to 1886 and later had 'Prowse's Refreshment Rooms' on the west side of Manly Corso. A keen cyclist, he was part of the Manly Cycling Club and later the Ferndale cycling club of Manly, as well as being active in the community. His son, 'Ossy' Prowse was a well known champion cyclist of that time as well - a few notes from the pages of the past are under Extras.
Mr Prowse transferred the licence to Robert Norris in 1887, a Narrabeen local, although there were clearly others who also had been given a publican's licence in the vicinity:
Narrabeen Hotel, Pittwater-road, from Charles W. Prouse to Robert Morris ... LICENSING COURT. (1887, March 11). The Daily Telegraph (Sydney, NSW : 1883 - 1930), p. 3. Retrieved from http://nla.gov.au/nla.news-article236754960

Publicans' licenses
were also granted to
Henry Whiting, Freshwater Hotel Narrabeen, and Thomas Henry Purvis, Narrabeen Lake, Narrabeen
... LICENSING COURTS. (
1888, October 19
).
The Sydney Morning Herald
(NSW : 1842 - 1954), p. 4. Retrieved from http://nla.gov.au/nla.news-article13700225
This week a look into the changing licensees and building that is the Narrabeen Hotel.
Pittwater Offshore Newsletter: May 1, 2022
Click on Logo to access the latest PON:

To contact Roy: editor@scotlandisland.org.au
Mona Vale Surf Life Saving Club grand Opening Day: June 4
MVSLSC Grand Opening is on the 4th of June. Doors will be open to the community to walk through the building from 1pm and the bar opens at 3pm with Miffi Music playing live! Hope to see you there!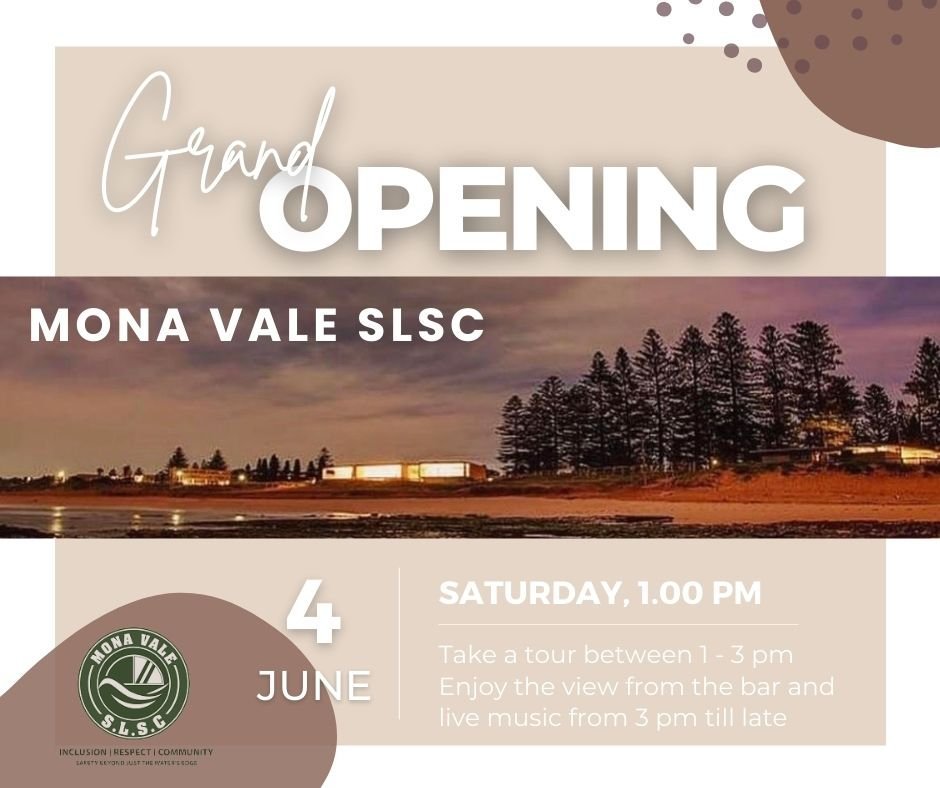 Barrenjoey High School's Biggest Morning Tea 2022
Wonderful community spirit on Wednesday May 18th as Barrenjoey High School staff celebrated Australia's Biggest Morning Tea, raising much needed funds for cancer research. Special thanks to Amber Waves Bakery in Avalon and BHS's wonderful SASS staff for organising this event.
1 in 2 Australians are diagnosed with cancer before the age of 85. The Cancer Council of Australia want to change that, and need your help.
Your morning tea will help raise vital funds to bring them closer to a cancer free future.
You can host at home with friends and family, at the local park with your community, or via online video chat with your colleagues.
However you choose to host, just know that every dollar you raise is going to make a real difference to the lives of people impacted by cancer.
May and June are Australia's Biggest Morning Tea months.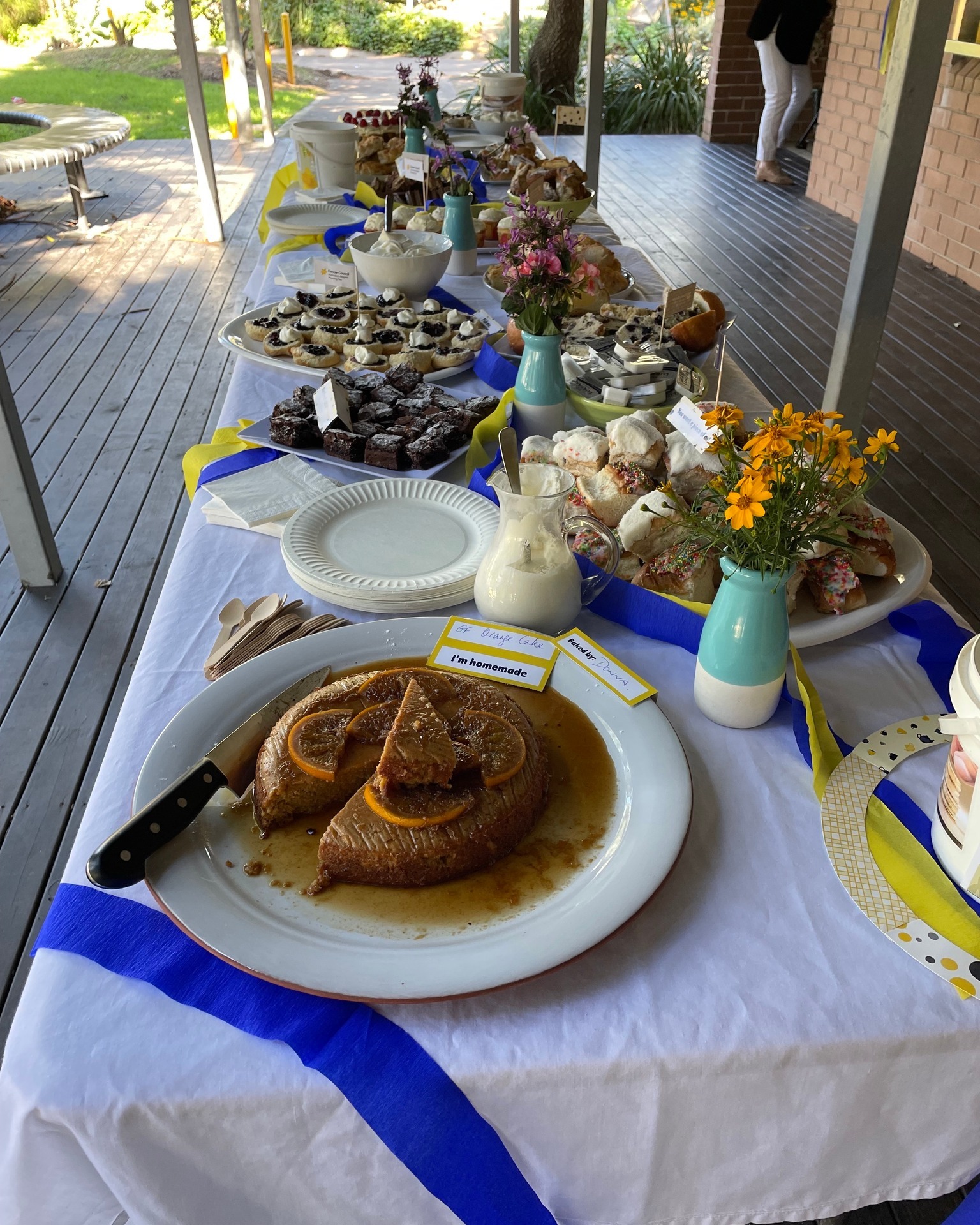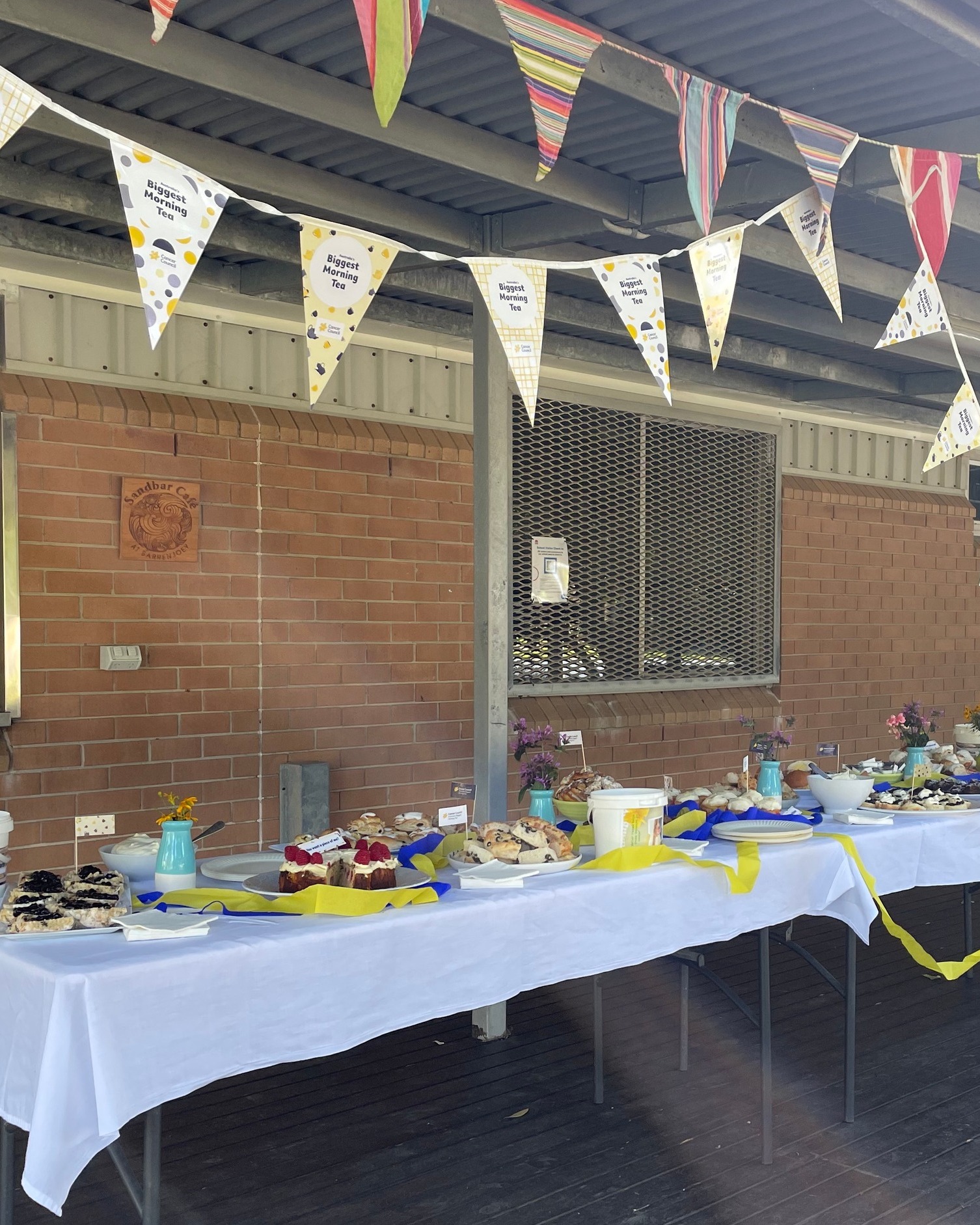 Photos: courtesy BHS staff
Community Building Partnership Grants are open
The NSW Government is investing in infrastructure projects that deliver positive social, environmental, and recreational outcomes, while also promoting community participation, inclusion and cohesion.
Since 2009, the Community Building Partnership (CBP) program has awarded more than $399 million to over 18,000 projects.
In 2022, there is a maximum of $400,000 to allocate in each electorate. Incorporated not-for-profit community organisations and local councils are eligible to apply for grants of between $5,000 and $150,000. The average grant awarded is around $20,000.
Projects with contributions from their own, or other sources, will be considered favourably. Local councils, including their section 355 committees, are required to provide matched funding to the CBP grants.
As total funding will be divided equally among the state electorates of NSW, applications will be assessed against other proposed projects within the same electorate.
Applications open on Monday 16 May 2022
Applications close Friday 10 June 2022 at 5pm AEST sharp
All projects must be completed by 31 March 2024
Residents warned of Barmah Forest Virus risk
Council is advising residents to take extra precautions against mosquitos after Barmah Forest Virus was detected in mosquitos trapped at Narrabeen Lagoon.
Council partners with NSW Health to trap mosquitoes at key locations on the Beaches, to monitor the numbers and types of mosquitoes present and determine if they are carrying viral infections. Traps are set at Warriewood Wetlands and Deep Creek near the Narrabeen Lagoon trail.
Higher than average rainfall due to La Niña has created the perfect conditions for mosquitos to multiply and have meant numbers are up on previous years.
Barmah Forest Virus is spread by the bite of infected female mosquitoes. Many people who are infected will not develop symptoms; however, some people may have flu-like symptoms that include fever, chills, headache, muscle pain, joint swelling, stiffness and pain, especially in the mornings. A rash may also develop or a feeling of tiredness or weakness.
Symptoms usually develop about 7-10 days after being bitten by an infected mosquito.
There is currently no vaccine against Barmah Forest Virus. However, you can protect yourself and your family from getting bitten by taking the following steps:
Always wear long, loose-fitting clothing to minimise skin exposure
Choose and apply a repellent that contains either Diethyl Toluamide (DEET), Picaridin or oil of lemon eucalyptus (OLE)
Be aware of peak mosquito times at dawn and dusk
Keep your yard free of standing water like containers, birdbaths, kids toys and pot plant trays where the mosquitos can breed.
The symptoms are:
Fever, chills, headache and muscle pain.
Joint swelling, stiffness and pain, especially in the mornings.
A rash, usually on the trunk or limbs. The rash usually lasts for 7 - 10 days.
A feeling of tiredness or weakness.
Symptoms usually develop about 7-10 days after being bitten by an infected mosquito. Many people with the infection do not develop any symptoms of the disease.
The majority of people with Barmah Forest virus infection recover completely in a few weeks. Others may experience symptoms such as joint pain and tiredness for many months.
As mosquitoes spread the infection to people, anyone bitten is at risk of infection if they are not immune. The virus is found in mosquitoes at different times of the year and the level of virus in mosquitoes varies from year to year. Warm, wet weather encourages mosquito breeding and increases the risk of infection. Most human cases occur during March and April when a higher proportion of mosquitoes carry the virus. Although coastal areas of northern NSW have the highest rates of infection, cases can also occur inland.
Information: NSW Health.
Major Milestone For Fee-Free Training In NSW
NSW is enjoying a fee-free training boom with more than 200,000 enrolments recorded under JobTrainer, a program helping people get skilled for in-demand jobs.
Premier Dominic Perrottet said the NSW Government's strong economic management means we can deliver programs such as JobTrainer to equip people with the skills they need to get their first job, a new job or a better job.
"The NSW Government is turbocharging the take-up of vocational education and training to create a strong pipeline of skilled and qualified workers, which is helping secure a brighter future for NSW families," Mr Perrottet said.
"Our record infrastructure program is creating enormous demand for jobs and our investment in fee-free training is helping meet that demand so we can continue to build what matters to make daily life better.
"The success of the JobTrainer program is helping strengthen our economy, which means more money for services, community amenity and less pressure on households."
Training under the program is fee-free and fully funded for eligible people wanting to upskill or reskill.
The NSW Government has expanded the eligibility criteria for the program to target more in-demand industries, including construction, manufacturing, transport, logistics, aged care, disability care, childcare and digital skills.
JobTrainer has also supported more than 5,000 women into construction-related courses through the
Built for Women initiative
.
Minister for Skills and Training Alister Henskens said the number of people commencing apprenticeships and traineeships in NSW has sky-rocketed since the launch of the program.
"JobTrainer is all about helping people get the skills they need for the job they want, while helping drive our economic recovery from the pandemic," Mr Henskens said.
"Whether you're a young person exploring your career or someone wanting to re-skill for an in-demand industry, JobTrainer can provide the fee-free training to help you kick-start your journey."
JobTrainer is a joint State and Federal funded program, which is injecting $637 million into the NSW skills and training market.
NSW Health seizes more than $1 million of illegal nicotine vapes
May 16, 2022
NSW Health has seized more than $1 million worth of illegal e-cigarettes and liquids containing nicotine since January 2022.
The seizures so far this year bring the total amount of illegal product seized since 1 July 2020 to more than $3 million.
NSW Chief Health Officer, Dr Kerry Chant, said retailers were being put on notice, if they are acting illegally, they will face the consequences.
"We are cracking down on the illegal sale of nicotine e-cigarettes and liquids and taking a zero-tolerance approach to those who sell them," Dr Chant said.
"NSW Health regularly conducts raids on retailers across the state to protect young people from these harmful devices. You will be caught, illegal items will be seized, and you could face prosecution, resulting in being fined or even jailed."
"The harmful impacts of vaping on young people cannot be underestimated. People think they are simply flavoured water but in reality, in many cases they are ingesting poisonous chemicals that can cause life threatening injuries."
Since 1 October 2021, products containing nicotine are only available for people over the age of 18 when prescribed by a medical practitioner for smoking cessation purposes. These products are only available from an Australian pharmacy or via importation into Australia with a valid prescription.
For all other retailers in NSW, the sale of e-cigarettes or e-liquids containing nicotine is illegal. This also includes online sales. The maximum penalty for illegally selling them is $1,650 per offence, six-months in prison or both, under the Poisons and Therapeutic Goods Act.
Retailers and individuals can also be prosecuted for selling e-cigarette products to minors, with maximum penalties:
For individuals, up to $11,000 for a first offence, and up to $55,000 for a second or subsequent offence;
For corporations, up to $55,000 for a first offence, and up to $110,000 for a second or subsequent offence.
NSW Health is committed to reducing the prevalence of e-cigarette and tobacco use, and in 2021-22 has invested $18.3 million towards tobacco and e-cigarette control.
Raids are being stepped up on the back of the 'Do you know what you're vaping?' information campaign which was launched in March 2022 by the NSW Government. The campaign raises awareness of the harmful chemicals found in vapes including those found in cleaning products, nail polish remover, weed killer and insecticide.
To accompany the information campaign which appeared on buses as well as online social channels, a vaping toolkit was launched. The toolkit comprises factsheets and other resources for young people aged 14 to 17 years, parents and carers, teachers and schools, to educate about the harms of vaping.

Would you like to help our wildlife?
The next Sydney Wildlife Rescue and Care Course starts on 4 June 2022, so you can learn how to rescue, rehabilitate and release our sick, injured and orphaned native birds and animals – just like these Pacific Black Ducklings which were saved by our volunteer Tracey.
The course involves two parts:
Part 1 is a self-paced online course over 3 weeks which should take about 12 hours to complete.
Part 2 is a practical hands-on, in person, instructional training session conducted over a half-day on a weekend.
We urgently need volunteers across the Sydney metropolitan area, so if you're wildlife-loving and would like to meet like-minded people to help our native birds and animals, please consider enrolling. More information is available on this link: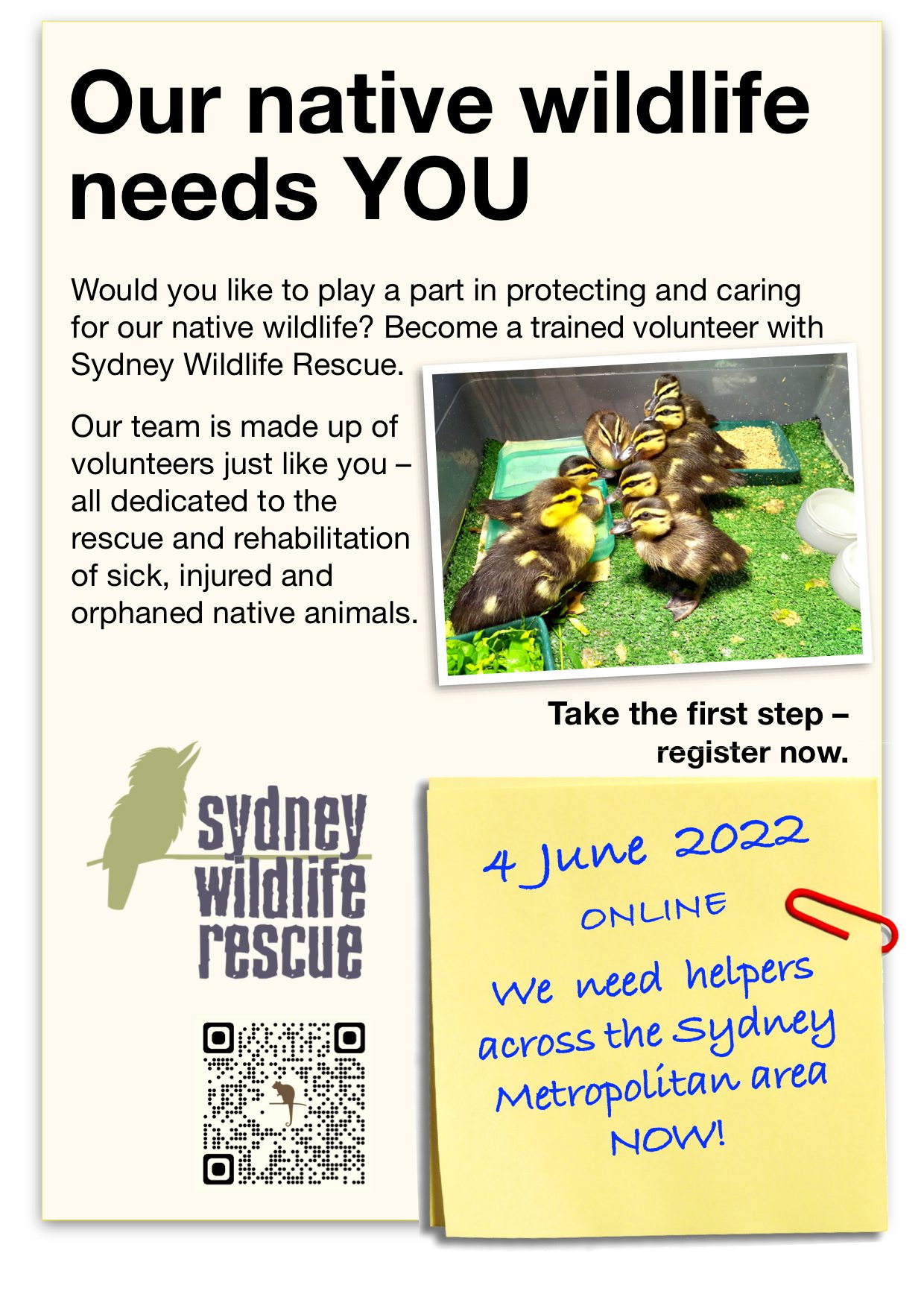 Sydney Street Parties Series: Manly + Dee Why - may 21 & 22
All-inclusive events are taking place across Sydney in May and June 2022, with something for everyone!
Have fun in the entertainment and party areas and play in the family fun zone. Enjoy roving artists, performers, local creatives, and DJs. Support local businesses and enjoy something delicious in the dining zones. Bring your family, kids, friends, neighbours and four-legged friends to join in the fun!
Dates and locations: Northern Beaches
21 May 2022 at Slip Road (off Sydney Road) at Fairlight Village, Fairlight from 10am to 6pm
22 May 2022 at The Strand (between Dee Why Parade to Oaks Avenue), Dee Why from 10am to 6pm
Changed traffic conditions will be in place with a westbound lane closure on Sydney Rd at Woods Pde and speed limit reduction to 40km/h through the area from 8am to 8pm.
Special event clearway parking restrictions will be in effect from 6am to 8pm on Hilltop Cres between Sydney Rd and Woods Pde (both sides) and Sydney Rd between Hilltop Cres and Woods Pde (western side).
Clearways are strict no-parking zones even for local residents and Mobility Scheme Permit holders. Check signs carefully as vehicles left in clearways will be towed and a fee applies.
The Strand will be closed between Oaks Ave and Dee Why Pde from 8am to 8pm. Special event clearway parking restrictions will be in effect from 6am to 8pm on The Strand between Oaks Ave and Dee Why Pde (western side). Clearways are strict no-parking zones even for local residents and Mobility Scheme Permit holders. Check signs carefully as vehicles left in clearways will be towed and a fee applies.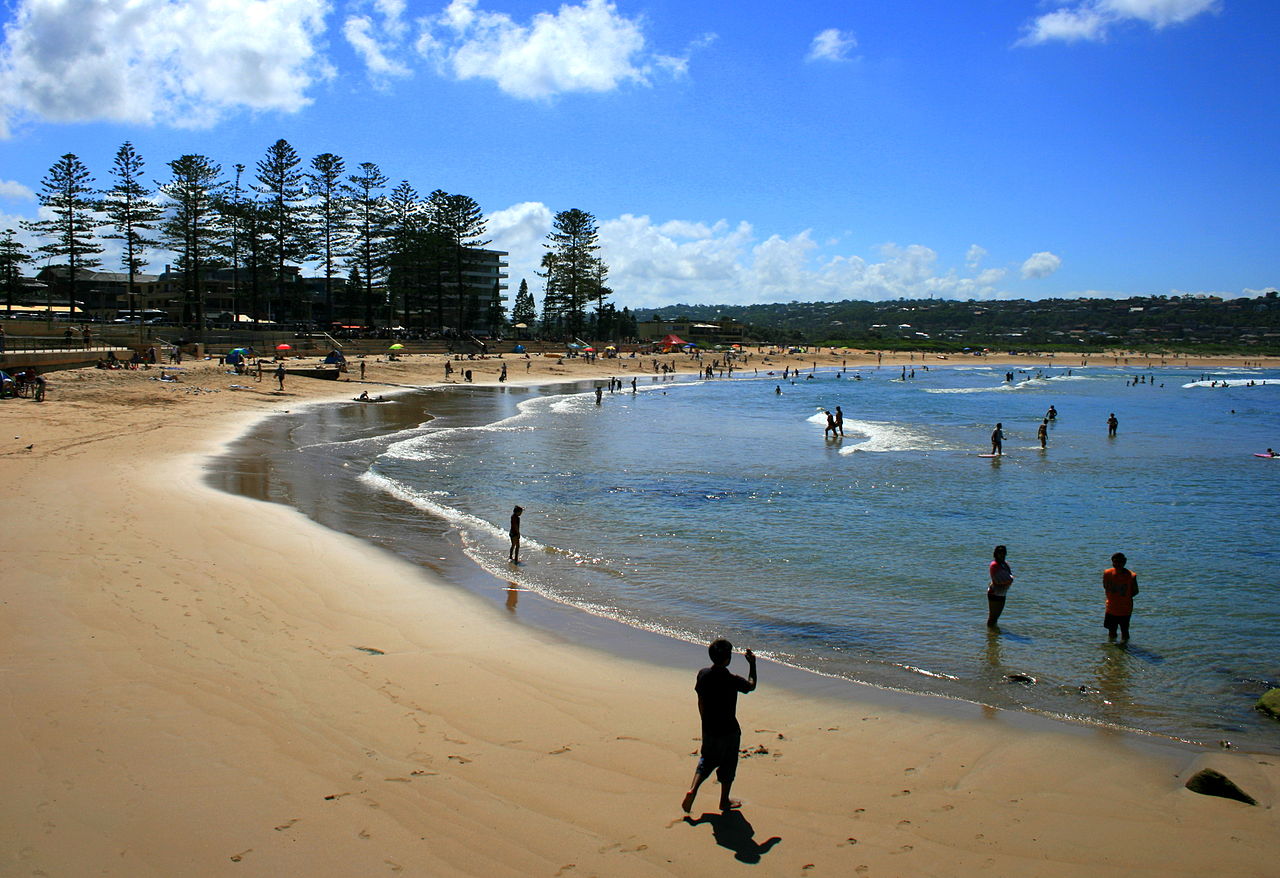 Council 'Have Your Say' listings
Morgan Road bridge replacement, Oxford Falls
Closes Thursday May 26, 2022
The bridge at Morgan Road and Oxford Falls Road West has been identified for replacement due to its age and condition.
Key features of the proposed new bridge includes a two way vehicle lane and a separate pedestrian and cycle bridge that will improve access and safety in the area.
The current 50km speed limit along Oxford Falls Road West and Morgan Road will be maintained along with the existing 3 tonne load limit.
View the concept plan and have your say at the comment form at above link.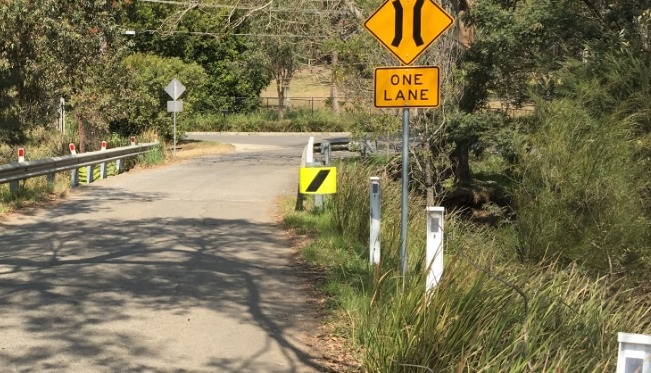 Draft Warriewood Valley Development Contributions Plan
Closes Sunday May 29
The Warriewood Valley Development Contributions Plan Amendment 16, Revision 3, 2018 (the 'Contributions Plan 2018') was adopted by Council on 28 August 2018.
The Contributions Plan 2018 applies to the Warriewood Valley Release Area and is the funding mechanism for local infrastructure required to meet the needs of the current and future residents within Warriewood Valley.
A regular review of the plan is undertaken to ensure compliance with relevant legislation and best practice principles for managing development contributions.
A recent review of the Contributions Plan 2018 has been undertaken and has resulted in changes proposed in the Draft Warriewood Valley Development Contributions Plan Amendment 16, Revision 4 2022 (the Draft Plan 2022).
The Draft Plan 2022 is now on public exhibition. Key changes to the plan are:
Extending the plan to 30 June 2031
Updating income and expenditure assumptions which underpin the plan
Inclusion of secondary dwellings
Revised open space strategy
Review of infrastructure items including updated infrastructure costings and land valuations including future phasing/prioritisation
Change to an administrative provision to remove the ability to make a delayed or periodic payment
Typographical amendments
A tracked changed document is available below to easily identify the proposed amendments.
Council invite you to read more and have your say by:
All submissions will be considered and any necessary changes will be made to the Draft Plan 2022 if required. The outcomes of the public exhibition and the updated plan will then be reported to Council for consideration.
If the Draft Plan 2022 is adopted by Council it will repeal and replace the existing Contributions Plan 2018.
Click +Follow at the top of the page to be kept up to date with the progress of this plan.
Water skiing at Manly Dam
Closes June 5
Council are seeking your views on a 12-month trial for reduced water skiing times at Manly Dam.
The request to consider reduced water skiing times came from Council's Manly Warringah War Memorial State Park Advisory Committee and is about providing:
More access to the entire lake at Manly Dam for other recreational activities such as swimming and paddling.
More time to enjoy Manly Dam when there are no motorised boats on the lake.
Ongoing access to the lake at Manly Dam for water skiing.
Details of the proposed water-skiing times are available
here
and in the frequently asked questions (FAQs).
Before Council consider a trial, they want to know about our community's views on this proposal. Feedback received will be assessed and then a report prepared for Council's consideration.
Have your say today by: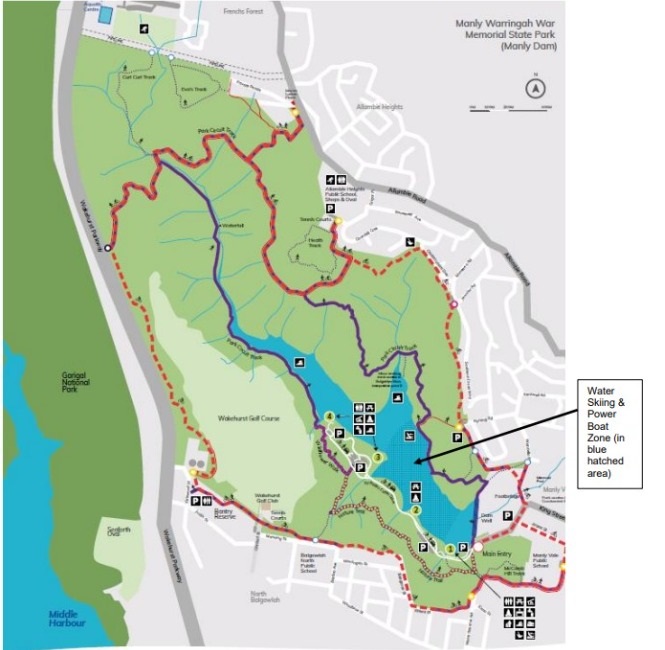 Delivery Program 2022-2026 and Operational Plan & Budget 2022/2023
Closes Sunday May 29
The delivery program sets out the work we will undertake over the next four years to address community priorities in our Community Strategic Plan (CSP). We are in the process of revising the CSP for the future. If you'd like to read more you can find the draft on exhibition from the tile at the bottom of this page.
The first year of the delivery program is the operational plan, including the 2022/23 budget. The operational plan details expected income and expenditure for all planned services and infrastructure as well as ongoing maintenance and depreciation commitments.
The draft Fees and Charges 2022/23 detail our proposed charges for services in 2022/23. Council have also revised their Pricing Policy which guides how they recover costs for services. Links to these documents are available
here
.
If you'd like to read the Delivery Program in full, you will find a PDF of the document at the button on the webpage linked to above.
Have your say today by:
Disability Inclusion Action Plan (DIAP) 2022-2026
Closes Sunday May 29
Council has developed a draft Disability Inclusion Action Plan (DIAP) 2022-2026.
The draft DIAP outlines what Council plans to do over the next four years to support people living with disability to feel included and be a part of community life.
Council wants to make sure you can do the things you want and get to the places you need to go.
Last year, you helped by sharing your experiences and telling us what is important to you.
Council now want you to read the draft DIAP and let them know if we got it right:
completing the submission form
emailing council@northernbeaches.nsw.gov.au
writing to us marked 'Disability Inclusion Action Plan (DIAP) 2022-2026' to Northern Beaches Council, PO Box 82 Manly NSW 1655.
Council also invite you to come chat at one of their community conversation sessions.
Register here
.
You can choose between two sessions:
- Online via Microsoft Teams on Wednesday 18 May 2022, 11 to 11.45am
- In person at the Dee Why Civic Centre on Thursday 19 May 2022, 6 to 6.45pm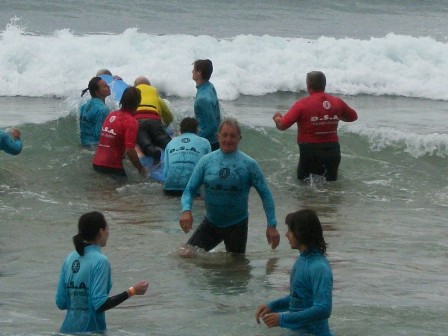 Community Strategic Plan 2040
Closes Sunday May 29
The Community Strategic Plan (CSP) is everyone's roadmap for the future of the Northern Beaches. It defines the community's vision and sets a direction for everything done together over the coming years to make the vision a reality.
The current CSP adopted in 2018 is under review. Council have looked at community feedback obtained between 2017 and 2021 and recently tested this with the exhibition of a discussion paper.
You can find a link to the full engagement report in the Engagement History section
on this page
. The report includes the outcomes of engagement on the discussion paper, what Council heard and how we've revised Community Strategic Plan 2040 (draft CSP 2040) from the feedback.
When you're ready have your say by:
emailing council@northernbeaches.nsw.gov.au
writing, marked 'Draft Community Strategic Plan 2040' to Northern Beaches Council, PO Box 82 Manly NSW 1655.
Draft Planning Agreement Policy
Closes Sunday May 29
Council are seeking your review and feedback on our draft Planning Agreement Policy 2022 (the Policy).
Planning Agreements are legal agreements between Council and other parties - developers and landowners. It is important that the community are aware of changes that Council make to the policies relating to these agreements.
The draft Policy guides how Council will consider a developer's offer to enter into agreements that may result in payment of monetary contributions, or transfer of land or infrastructure to Council for use as a public purpose. This Policy will, when adopted, replace the Northern Beaches Voluntary Planning Agreement Policy 2019.
More information about Planning Agreements, including a register of Planning Agreements executed with Council, can be found on Council's website
here
.
To accompany Council's Policy, the Guide for Developers 2022 (the Guide) has been prepared as an information guide for developers to use. This Guide replaces the Voluntary Planning Agreement Guideline 2019.
Documents on exhibition
Information document
We invite you to read more and have your say by:
All submissions will be considered and changes will be made to the draft policy if required. The outcomes of the public exhibition and the updated policy will then be reported to Council for consideration.
Click +Follow at the top of the page to be kept up to date with the progress of this plan.
Integrated Planning & Reporting Review 2022
Closes May 29
Council are committed to partnering with the community to protect and improve the area. Key to this is your involvement in the review of their integrated planning and reporting framework (IP&R) as this directs their actions.
The framework comprises the Community Strategic Plan (CSP), resourcing strategy, delivery program and operational plan. The CSP holds our community's aspiration and priorities for the future of the area. The delivery and operational plan details how Council will respond to these priorities over the next four years. The Resourcing Strategy is the finances, people and assets Council will apply to achieve the CSP.
The revised documents that form their IP&R are now available and they invite your feedback.
The page linked to above is your home base for broad information on the process. You can also navigate through to the detailed documents if you want to take your time with the content.
Have your say today by:
Pittwater Community Groups:

The purpose of www.westpittwater.com.au - is best defined by the vision of the West Pittwater Community Association.
To be a supportive community, encouraging and promoting civic pride, interest in community affairs and goodwill amongst residents.
To protect local fauna and flora and generally preserve West Pittwater and its environs.
To secure essential facilities including public wharves and reserves and to protect private and public property.
To speak with one voice and represent the interests of the Western Foreshore community when in discussion with Council and other relevant government bodies. The WPCA website provides a forum for the better realisation of these objectives. Visit: www.westpittwater.com.au
Robyn Edelle Friend: celebration of her life
July 3rd 1946 to May 14th, 2022
Wife of Brian (Friendly), Mother of Chris, Carl and Ryan (alias Kong, Fez and Jack). Mother-in-law of beautiful Karina and Tina and overly adoring grandmother of Eden, Billie, Clint, Taylor and Hope. Sister of John, Wendy, Vicki and Kerry (Dec.), daughter of Cecil and Lilly Taylor.
A Celebration of Robyn's life will be held
Friday May 27th at 12.01pm at Avalon Bowling Club – front lawn.
All are invited to Celebrate BUT must bring smiles and dancing shoes.
Please RSVP for catering purposes to chrisfriend3746@gmail.com
VALE Peter Geoffrey Akehurst 'Digger'
Much loved husband of Judy, father to daughters Nicole, Sally and Melinda and LOTS of grandchildren.
Digger was the Avalon Beach IRB team manager for decades and a Life Member of the surf club. Accountant to many in Avalon Beach for decades.
Passed away peacefully on May 18th, surrounded by his loved ones.
A Celebration of Peter's life will be held at Palm Beach RSL on Tuesday, May 31st at 11am.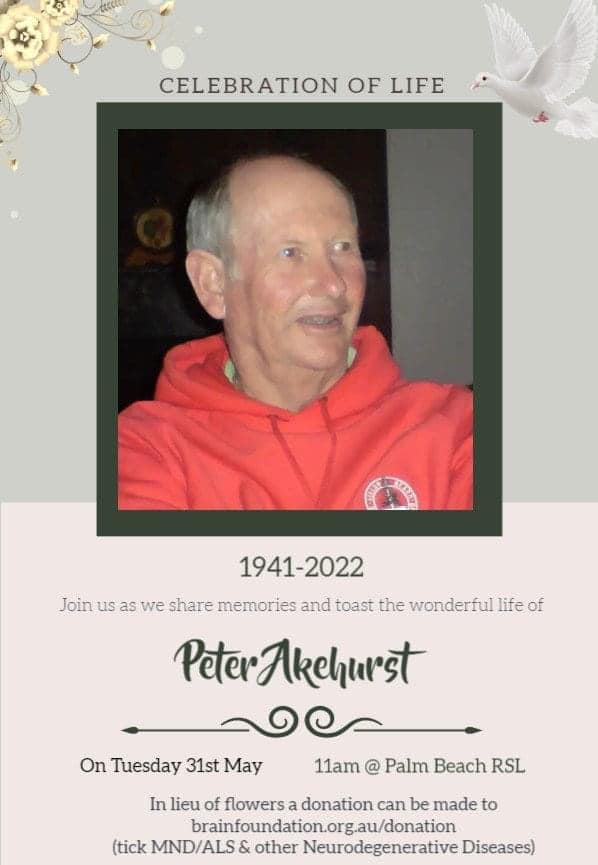 National Sorry Day:
Sunday 22th May 2022
Come and join us all welcome.
An opportunity for Aboriginal and non-Aboriginal people to come together and yarn, the way it should be.
Program for the Day
1.30pm Start:

Smoking Ceremony- Welcome to Country
One minute silence to remember the stolen generation.
Didgeridoo- playing Clap Sticks - outside hall - everybody to joins in.
2.00pm Every one invited in side hall to look at displays
Kids to start Painting their Boomerang's



Colouring in for the younger ones
You can Enjoying Weaving with Karleen Green – in the corner
See the Aboriginal Artefact display.
Learn about the Uluru Statement from the heart.
ASGMWP Book sale.
3.00pm: Guest speaker from Reconciliation NSW
3.30pm: And of course a free BBQ tea/ coffee and snacks.
4.00pm: We will have a show and tell what the kids have done, with their Boomerangs.
Bag of goodies for the kids
Then a reading from Aunty Nancy's Book of Poems
4.15pm: Local Aboriginal girls singing (NOT to be missed, Deadly)
5.00pm: Conclusion.
Aboriginal Support Group - Many Warringah Pittwater
Memorial Hall Mona Vale 1 Park St Mona Vale
Annual whale migration
The first sightings of whales off the NSW east coast have been recorded as the annual migration from Antarctica to warmer northern waters begins. Manly MP and
Minister for Environment James Griffin said the first of about 40,000 humpback whales have started their long swim towards tropical waters.
'The whale migration is one of the longest journeys of any animal species and we are so lucky to be able to witness it right on our doorstep,' Mr Griffin said.
'We have more than 880 national parks and reserves in New South Wales, many of which are on the coast and provide excellent viewing opportunities for these oceanic giants.
'After declining to an estimated few hundred whales in the early 1960s, the recovery of the humpback whale population is a great conservation success story and one we can all be proud of as we enjoy watching these majestic creatures make their way up the coast.'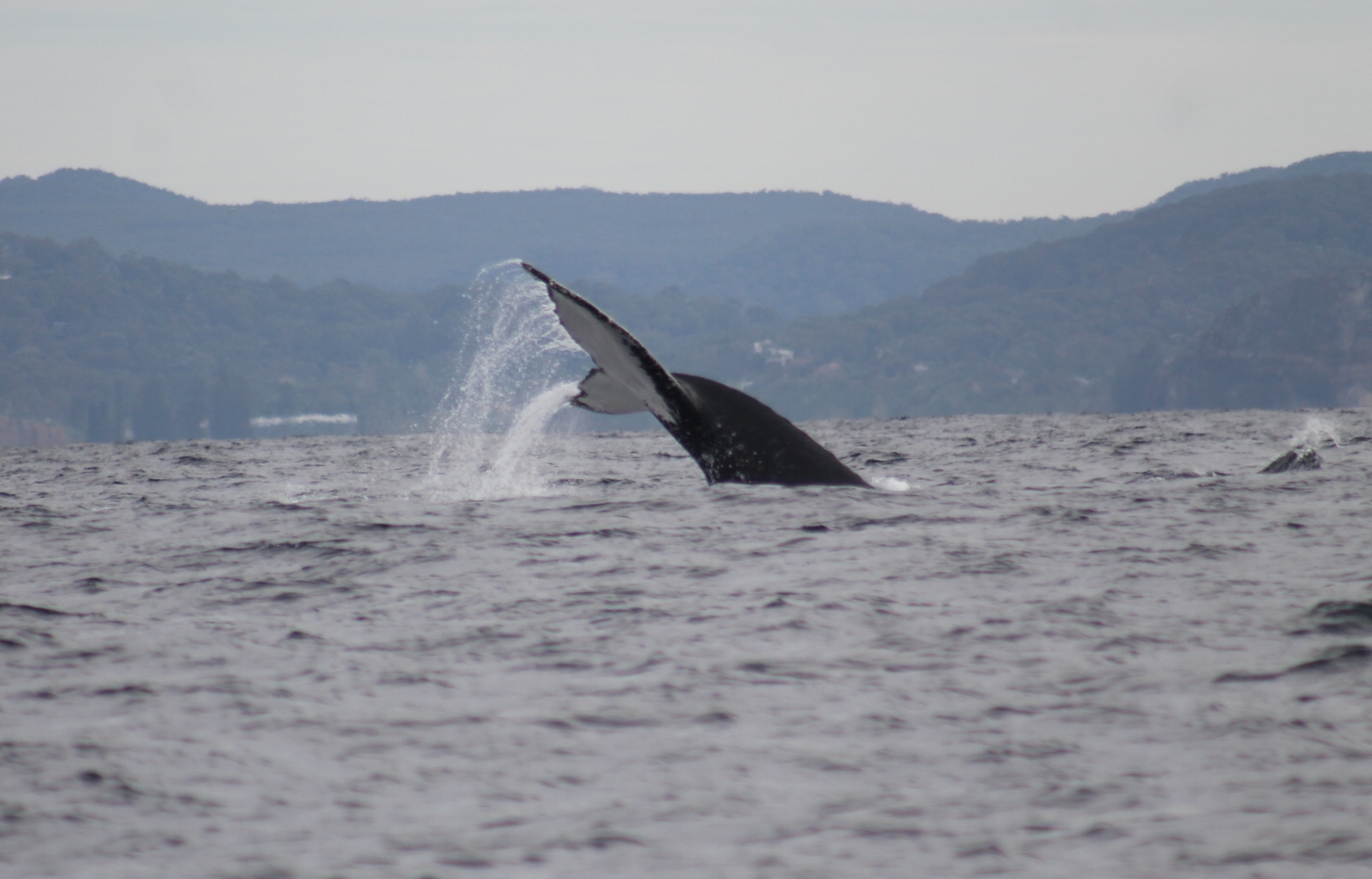 Whales cover about 10,000 kilometres during their annual round trip from Antarctic waters, at a migratory speed of about six kilometres per hour.
Most of the whales that travel past the NSW coast are humpback whales; however, other whale species include southern right whales, dwarf minke whales, tropical whales and even blue whales.
National Parks and Wildlife Service (NPWS) marine fauna expert Shona Lorigan said humpback whales are easily recognisable and their behaviours, like breaching and rolling, always put on a show for whale watchers.
'Later in the year, we'll be able to see theses whales heading south again, many with their newborn calves,' Ms Lorigan said.
Regulations require all vessels to remain at least 100 metres away from whales, aircraft can fly no closer than 300 metres, and drones must not be operated closer than 100 metres.
Whales in distress can be reported to the NSW NPWS on 13000 PARKS or ORRCA Whale and Dolphin Rescue's 24 hour hotline on (02) 9415 3333.
Photo: A J Guesdon
Avalon Craft Cottage: May 2022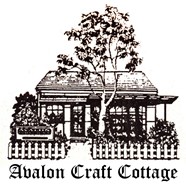 After a long time away, we are delighted to be coming back to St Ives Shopping Village for one week, commencing Monday, 23rd May through to Sunday, 29th May.
The stall will be downstairs opposite the Newsagency and will be open during normal business hours, closing at 4pm on Sunday.
We will have a wonderful variety of handcrafted gifts and homewares: Australian woodwork, potted succulent gardens, Australiana, screen printed items, baby and children's wear, silk scarves, flame worked glass figurines, patchwork quilts, jewellery and handknits for children, baby shawls, rugs scarves and beanies.
We look forward to seeing you there.
All the best,
Avalon Craft Cottage Members.
CABPRA Half Yearly
With Guest Speaker Elizabeth Farrelly.
May 31st at Avalon Sailing Club
Please come and join us at our mid year General Meeting for an update on happenings around our area . Including Avalon Place Plan and the new LEPs and DCPs that are coming through and hear the author of Killing Sydney, Elizabeth Farrelly present her "love-song / warning" as she lays down the gauntlet for the enrichment and protection of a greener, more affordable and sustainable city.
Bookoccino will be there with copies of Killing Sydney to purchase and we are sure Elizabeth will be delighted to sign one for you. 6.00pm at 31st of May, Avalon Sailing Club.
Also a friendly reminder to renew your membership.
Send a cheque to with the form below
CABPRA C/- 70 Hudson Parade Clareville. 2107
OR
Make a bank transfer to CABPRA
BSB 032 095
Account No 128192
Reference your surname and street name
MEMBERSHIP RENEWAL FORM
Name/s_____________________________________________________
Address ___________________________________________________
Email ______________________________________
Membership $20 per person
Total ________________________________________
Donation _____________________________________
Private Members Statement: Narrabeen Lakes Sailing Club
A great Tribute was given in the NSW Parliament this week by MP for Pittwater and Minister for Cities, and Minister for Active Transport, Rob Stokes.
Mr. Stokes said:
I congratulate and recognise the wonderful volunteers and members of Narrabeen Lakes Sailing Club. Since 1904 the club has provided a range of services to our community, including learn‑to‑sail programs and sailing racing. Anyone who is on the sparkling waters of Narrabeen Lagoon during the sailing season will see the sails of the Narrabeen Lakes Sailing Club aloft the lagoon. It was a wonderful privilege to attend the club's recent presentation evening and witness all of those people, particularly the young people, who have succeeded in learning so much more about the wonderful sport of sailing. Tragically, the clubhouse burned to the ground recently. It will be my privilege to support the club in its rebuilding efforts. In particular, I congratulate and thank Commodore Aymeric Cabuil and the wonderful Pamela Johnston for their amazing efforts in supporting the club.
Narrabeen Lakes Sailing Club says:
All the winners of a terrible and terrific 21/22 season! Our presentation evening on May 8th was filled of joy and laughter despite a few too many last minute Covid cancellations that deprived us from some of our beloved members. Thank you to Cr Ruth Robins and NSW minister Rob Stokes and Bevan MacKavanaugh for honouring us of their presence. Can't wait for 22/23!




Photo: courtesy Narrabeen Lakes Sailing Club
Telstra Scam - from email address 'took a napp'
If you received a similar looking email, do not click on any links, it's an attempt to gain personal banking account information in order to steal from you.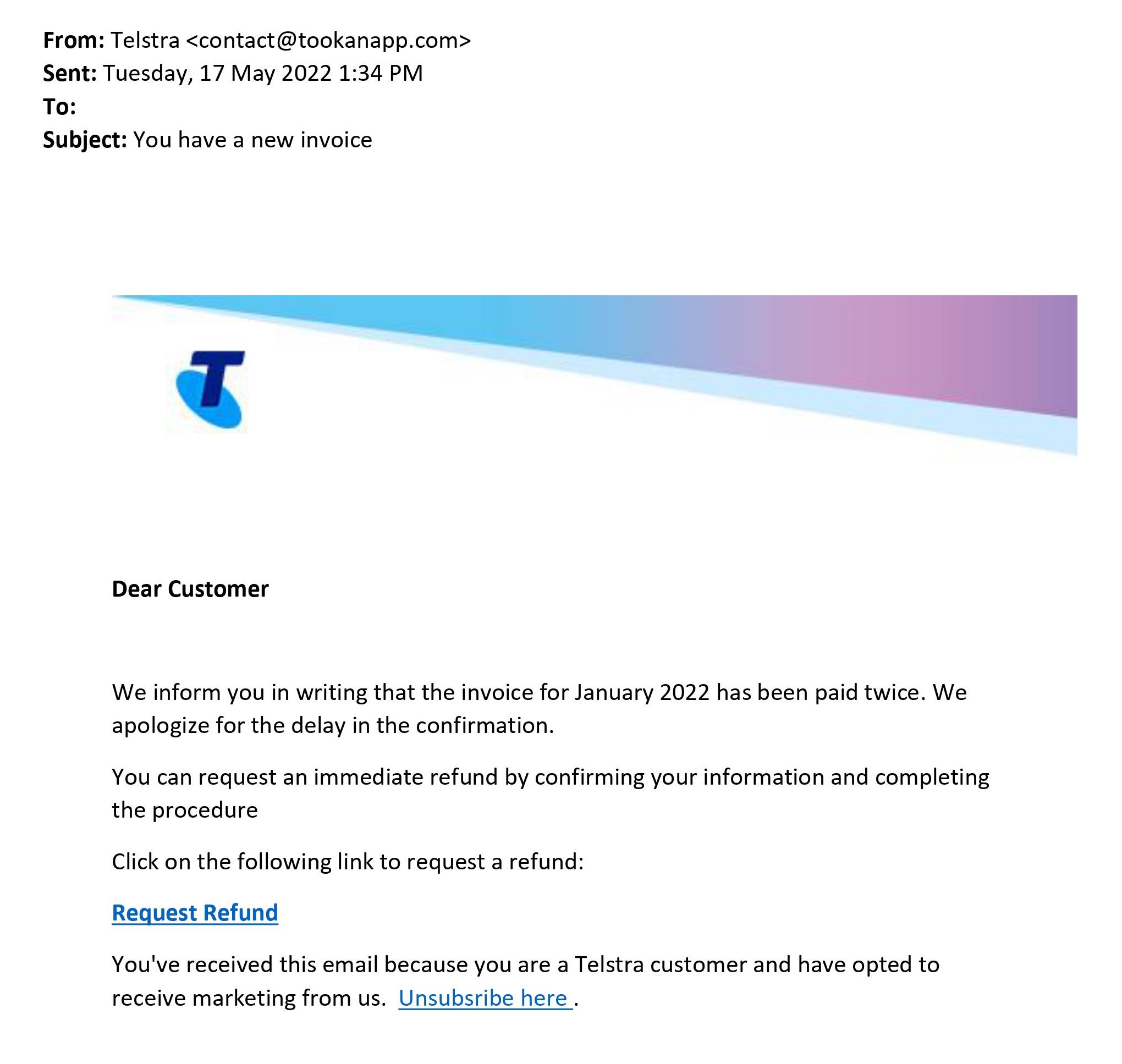 Report it to Telstra and
Scamwatch
and
right click on the email and nominate this as 'junk'.
That way the person/email address is blocked.
NB: never 'take a nap' around potential scammers - if you do not recognise the email address or they CANNOT SPELL, or it looks suspicious, nowadays, it probably is.
Australian Taxation Office: Scam alert
Scammers are telling people they can get a tax file number (TFN) for a fee.
But instead of giving you a TFN, they're taking off with your money and personal information.
Applying for a TFN (or ABN) is free and can be done online or by post. If you're applying through a tax agent, make sure they're registered with the Tax Practitioners Board.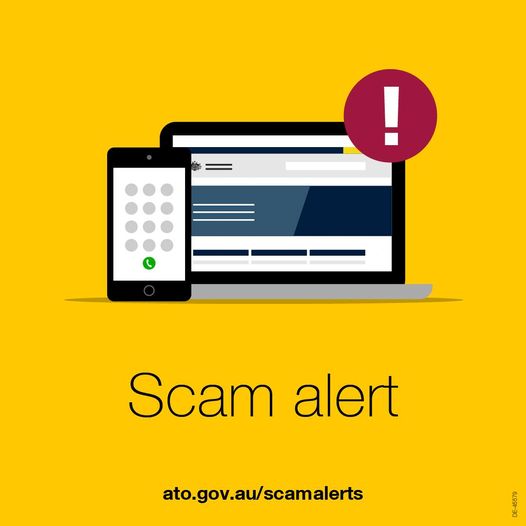 Narrabeen Tragic Tigers: Over 35's rugby team
Have you been coaching or watching your little tacker running around? Getting pumped watching Subbies or the big boys play?
Come and have a run with Narrabeen Tragic Tigers Over 35's rugby team!
Next game is after Subbies at Porters Reserve Newport Saturday 14/5 from 5 pm.
It's competitive rugby, played with modified rules to make sure you turn up to work on Monday.
Challenging, great team spirit, and maybe a beer or three after it.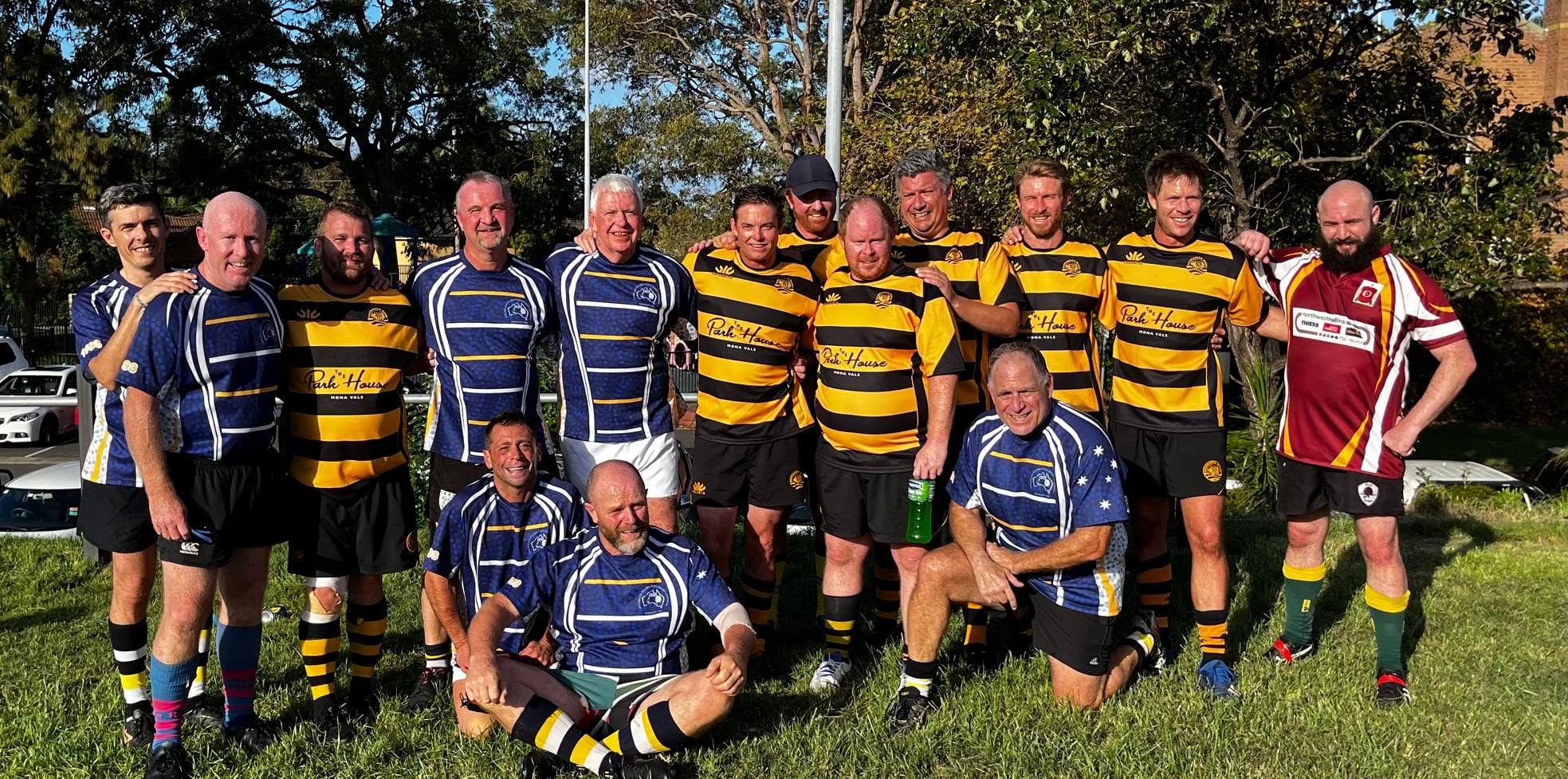 Lakeside Park 'Proposed' carpark changes
See below - no details or plans of boat trailer parking bay numbers or where these will be provided - just this sign on the site itself.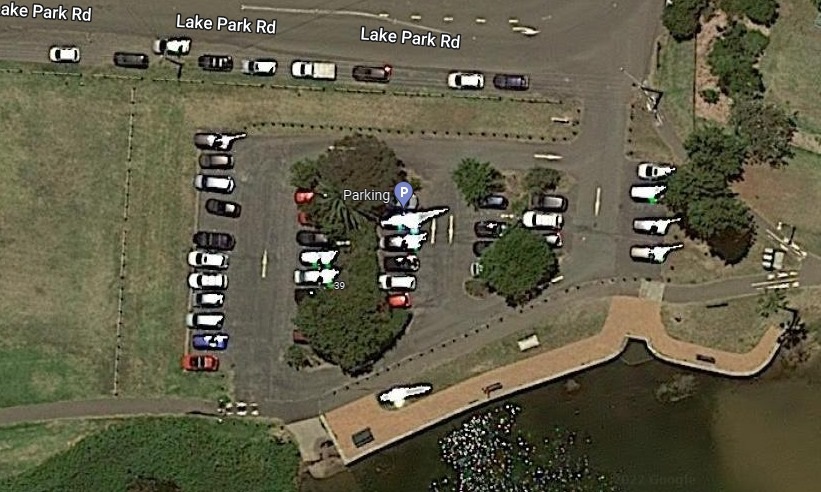 overhead shot of current site - per Google maps.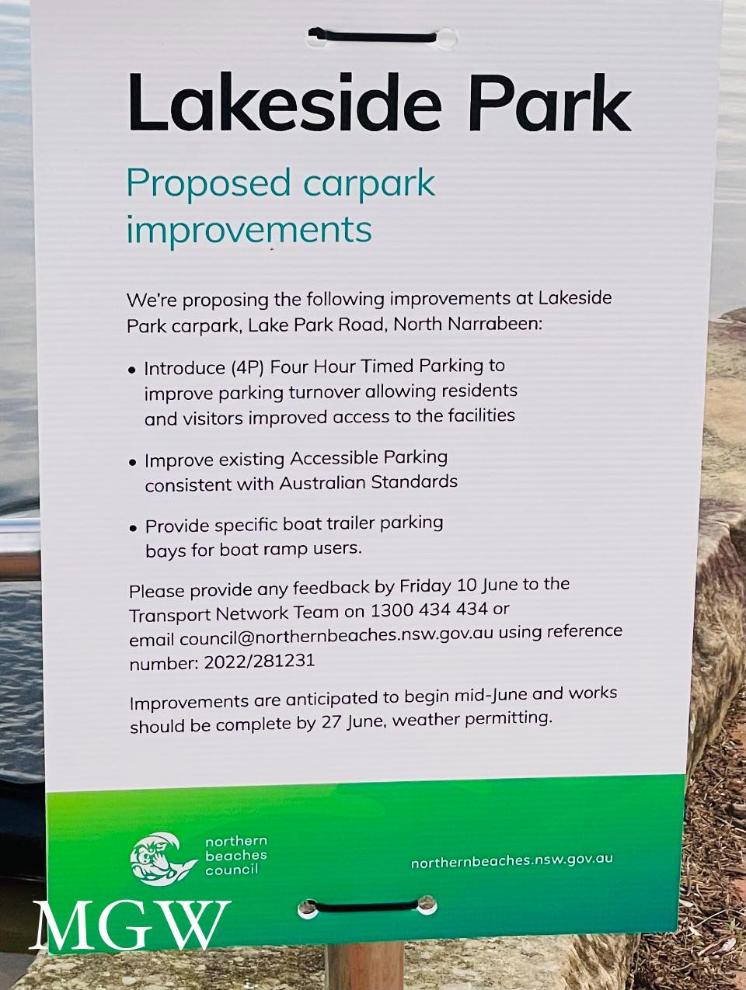 Pittwater Ward Community Meeting
Thursday, 26 May 2022 - 7:00pm to 8:30pm

Within Pittwater there are ideas, issues, concerns, and opinions – and your Pittwater Ward Councillors want to hear directly from you.
Come and meet face to face 7pm, where everyone has the opportunity to:
- obtain, share and discuss local issues to Pittwater
- promote a close association between the Pittwater Ward Councillors and the community
- actively participate in planning and decision making relevant to their area
- inform the Councillors, and provide input into areas of concern
- assist the Councillors canvas residents' and other local views on issues and to maintain open and accountable local government
- encourage positive and respectful interaction between all community members & groups.
Location May 26th Meeting
Terrey Hills Community Centre
Yulong Ave, Terrey Hills
The Pittwater Ward community meetings will be held on the fourth Thursday of each month at 7pm.
Each month the meetings will move to a different venue in Pittwater – giving everyone an opportunity to attend closer-to-home meetings.
Midget Farrelly Tribute statue for Palm Beach
A while ago, Bruce Raymond and Gordon Lang set up a community group to recognise Midget Farrelly as our own male first world surfing champion (and local hero) by commencing a fundraising campaign to design and install a life-sized statue of Midget at his spiritual home, Palm Beach.
They have obtained approval from Northern Beaches Council, who are actively supporting the project, along with Beverlie Farrelly, who is our patron. Details below and more soon!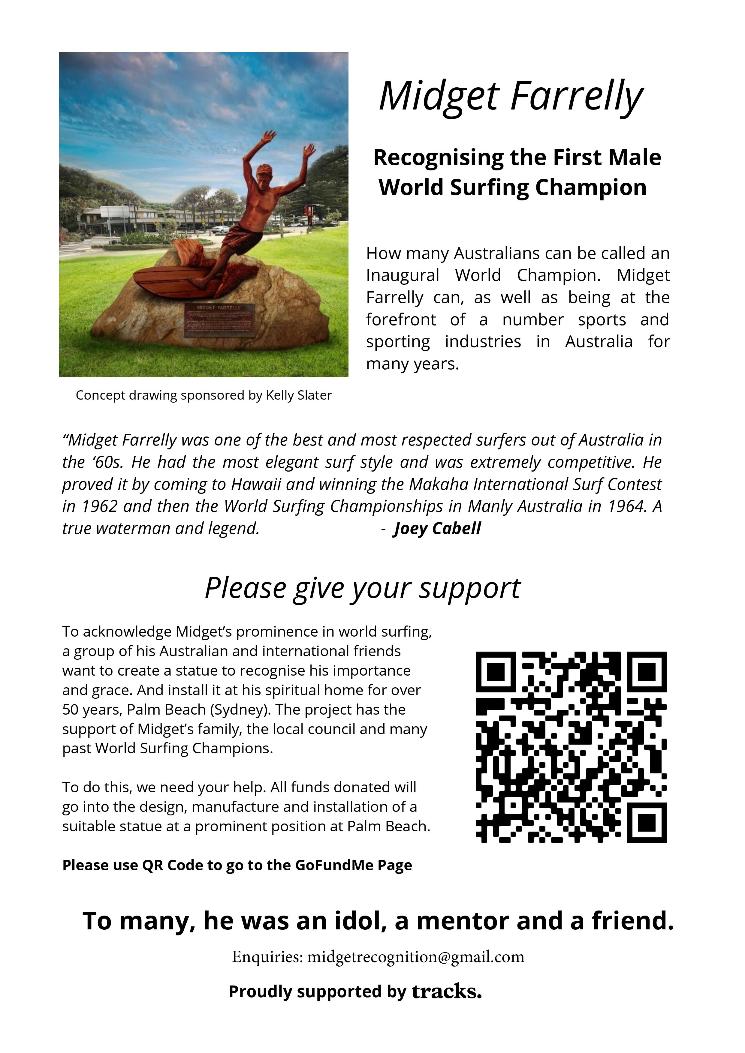 NB Youth for Peace Open Mic Night
Bilgola Beach: Sunday May 29
Join this group of altruistic young people hosted by Bilgola SLSC wanting to do their bit for Ukraine with an Open Mic Night fundraiser.
All funds raised on the night will go to charities doing humanitarian work in the Ukraine.
Bring cash and/talent!
Sunday, May 29th 2-5pm at Bilgola Surf Club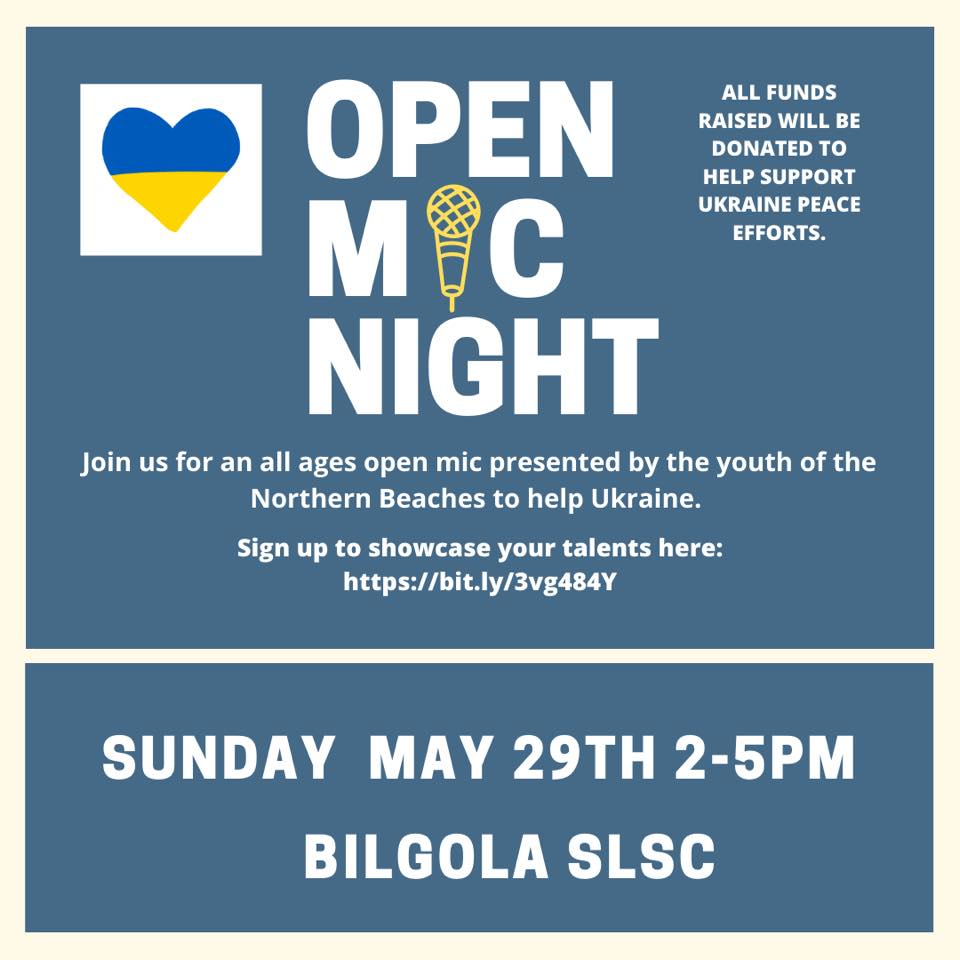 Palm Beach RSL Veterans Ocean Therapy
Palm Beach RSL Sub-Branch has approved the formation of Veterans Ocean Therapy in order to improve Physical and Mental Health of Veterans.
Storage will soon arrive at 29 Iluka Rd that will house kayaks and paddle boards with direct access to Pittwater.
A regular paddle club will shortly afterwards commence for veterans including BBQ breakfast at the club.
Veterans Ocean Therapy will be looking for assistance or donations of watercraft and gear.
Any veterans interested in joining please stay tuned for more updates. Or contact Dave Good at dave@good.id.au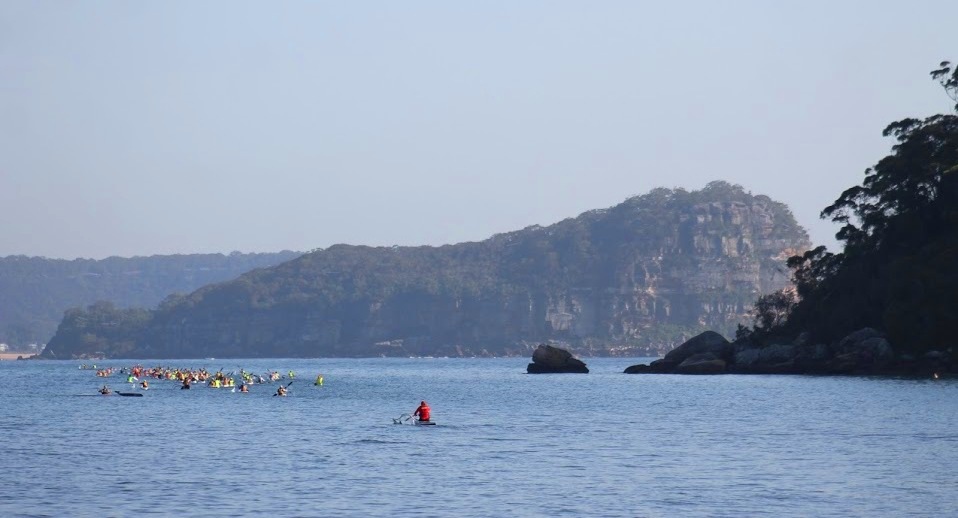 Mona Vale Hospital Auxiliary Stalls Return
The Mona Vale Hospital Auxiliary members are having a stall at Pittwater Place on the first Saturday of every month from 9am to 3pm selling knitting for babies and children, beanies, bedsocks and scarves for oldies, sewing items, craft and jams, raising funds for the rehabilitation and palliative care units.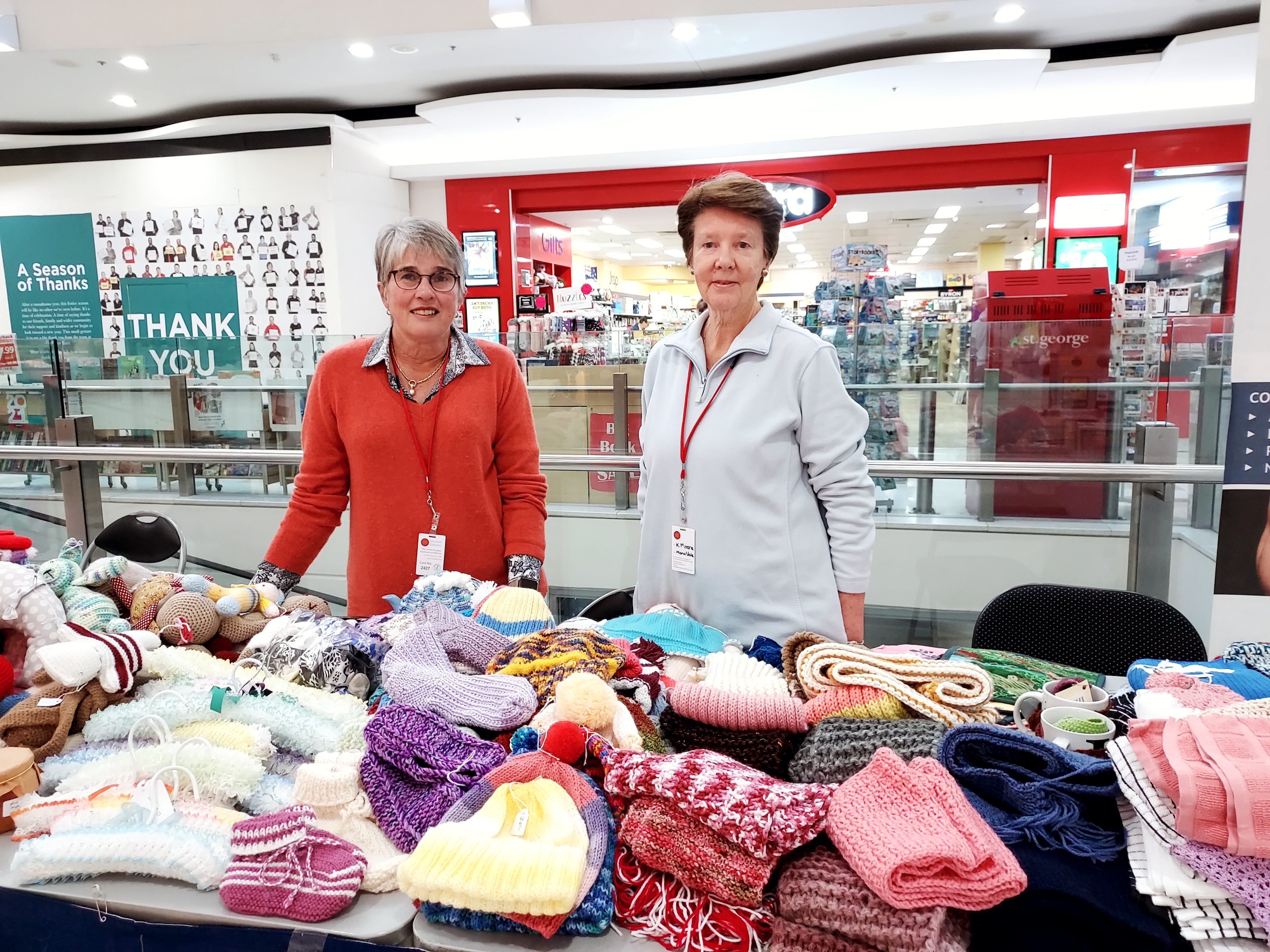 Monika's Doggie Rescue: Pets of the Week
Alice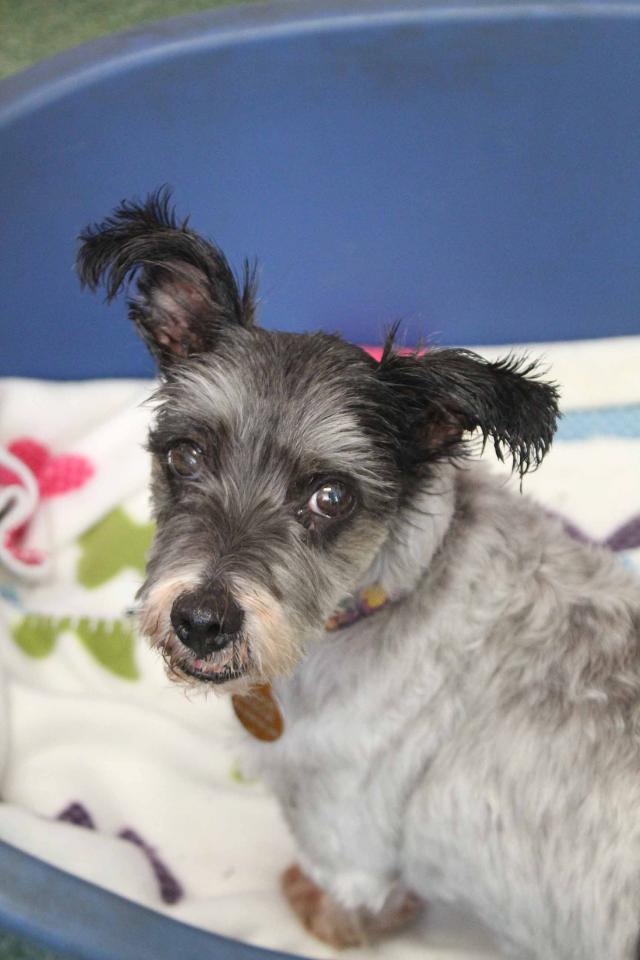 Maltese X Shih Tzu
Age: About 12 years old
Alice an affectionate girl once she trusts you. She is not a fan of being picked up but happy to be led. She is a sweet cuddly girl who loves belly rubs. She is best as the only dog in the household. Alice came with a tumour on her mouth and 2 teeth embedded in her lower jaw which have all been removed. Our specialist said it was a very low grade slow growing tumour which should not present her with major issues should it re-occur. She is prone to ear infections in hot months and she needs to be muzzled for ear drops cleaning and also for clipping. She would suit a person with vet nursing experience. She has a low shedding coat and weighs 6.2kg.
All our dogs come desexed, C5 vaccinated, heartworm free and microchipped. Also included for the love and health of our dogs is a free Health and Wellness Voucher with our DoggieRescue Vet.
For further details on this dog, or on our health and vaccination policies email monika@doggierescue.com
Cream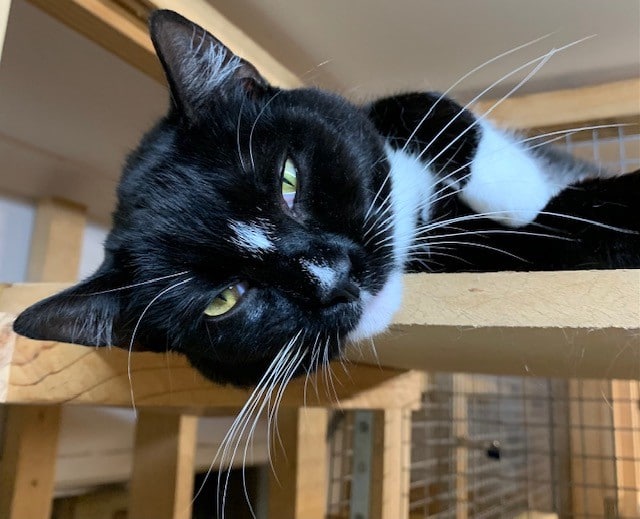 Domestic Short Hair
Age: About 1 years old
Cream is a gentle curious girl who was adopted from us as a kitten and returned at 12months. She seems social with other cats and is comfortable with experienced cat people handling her. She has a short coat and weighs 4.2kg.
All our cats come desexed, wormed, F3 vaccinated, FIV/FeLV tested if over 6 months old and microchipped.
For further details on this cat, or on our health and vaccination policies email monika@doggierescue.com
If you are interested in fostering or adopting this dog, please firstly make sure you have read the "5 steps to Adopt" information, and then complete the adoption questionnaire (click on "Apply to Adopt Now" or
visit this page
).
RON R251000024
Funding open now for crown reserves
Crown land across NSW is set to be improved, after the NSW Government reserved $17 million to upgrade and maintain facilities across the state.
Minister for Lands and Water Kevin Anderson said Crown land plays a significant role within NSW communities and the Government is committed to providing the best facilities possible.
"The Crown Reserves Improvement Fund will support upgrades to facilities used by organisations that are at the heart of our communities, like surf lifesaving clubs, showgrounds, scouts and girl guide groups, pony clubs and PCYC," Mr Anderson said.
"These grants will help communities as they get back on their feet, by funding improvements to community, recreational and tourism facilities on Crown reserves, while also supporting local businesses and economies within our great regions.
"Grant applications are open to Crown land reserve managers including local councils, community groups who use Crown land and all showgrounds, so I strongly encourage eligible local organisations to apply."
Last year's Crown Reserves Improvement Fund provided $15.233 million in grants for 257 projects across NSW that benefited local communities.
Eligible applicants include community groups who use Crown land, and all showgrounds including those on freehold land, for projects that can deliver social, cultural, environmental or economic benefits.
Applications for this year's NSW Government's Crown Reserves Improvement Fund are open from now until 3 June 2022.
Fairy Penguins coming ashore
The Australian Seabird & Turtle Rescue Central Coast advises that during the last few weeks they have seen an increase in little penguins being found along our coastline.
Little penguins on the Central Coast, off Barrenjoey and in the Hunter region live and breed on offshore islands.
If one is found along our coastline, the penguin may be suffering from exhaustion, is unwell, injured or is currently moulting. Please report any penguins that are found onshore and please don't place them back into the ocean.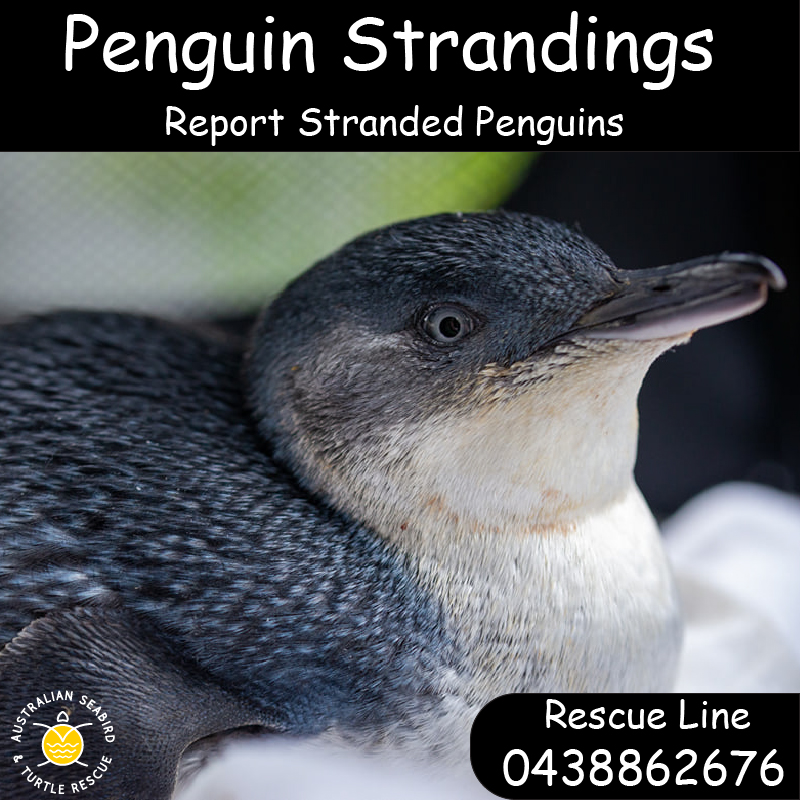 Seals Coming Ashore: Please keep 40 metres distance
ORRCA would like to remind residents it is that time of year when we get the odd special visitor to our beaches and bays looking for a spot to rest and relax in the summer sun.
If you are out and about and come across a seal that is resting, please don't approach it! Keep well back (40 meters is required under NSW Laws) and enjoy the special visitor from a distance.
It is also important to report your sighting into the ORRCA Rescue Hotline on 02 9415 3333 so they can track and, if needed, assess the seal.
ORRCA often track seals moving up and down our coastline over days, weeks and months so your report could add to the seal travel journey.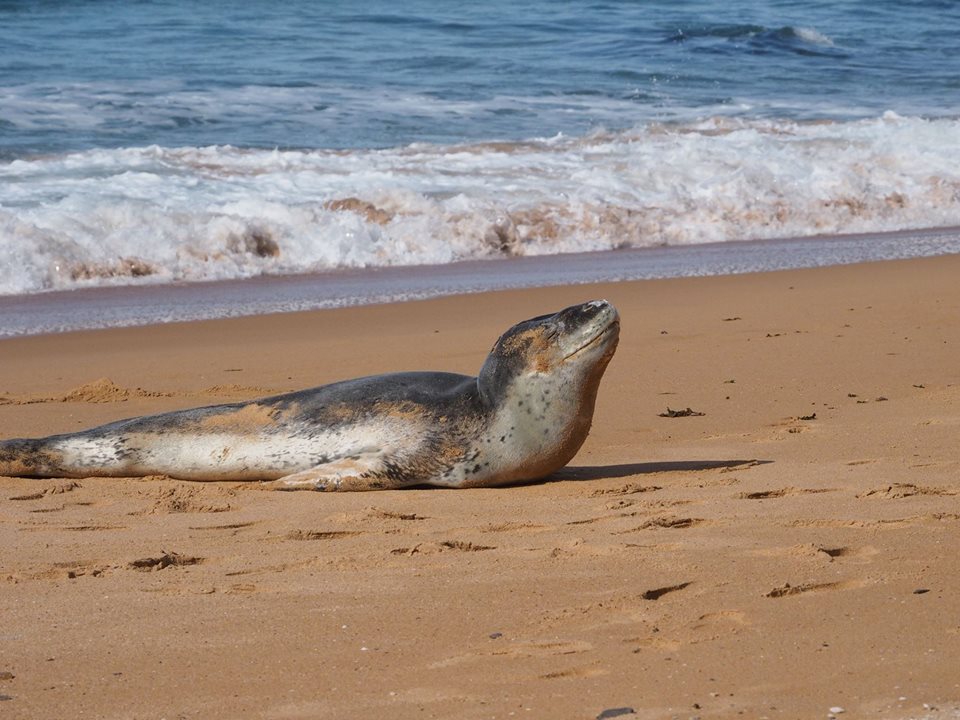 Leopard Seal at Bungan Beach. Photo: Jools Farrell
Speed humps on McCarrs Creek Rd: please share Wildlife Data
Local wildlife rescuers are asking all members of the public to report any roadkill
on McCarrs Ck Rd or any other road in the NB (Wakehurst Parkway or Mona Vale Road for instance) on www.wildlifemapping.org
It records the GPS position, date, sex, species. Photos can be added as they help in identification
The data is then forwarded to OEH and Transport NSW as it can help establish the best places to place mitigation.
Thanking
you all in advance for your help with
this
.
We need your help. Thank you for reporting wildlife road fatalities. There is so much wildlife on the move in our area at present due to various pressures. Although we have had pictures
sent to us
, many of these have no date or location.
There is a database that volunteers maintain but this needs three pieces of information:
The position via GPS or road and suburb
The date
The animal
Please Slow Down: Wildlife Crossing
Phoebe the Swamp Wallaby weighed less than a kilogram when she was orphaned on the roadside after her mother was hit and killed by a vehicle. Fortunately, Phoebe was uninjured, taken to a local vet and raised and then released by Sydney Wildlife volunteer Jane.
While Phoebe was fortunate, other native birds and animals are not so lucky.
So, if you're returning home after your summer holiday (or just out and about on Australia Day), please slow down - particularly at dawn and dusk and in areas identified with wildlife crossing signs, for your safety and the welfare of our wildlife.
Please contact Sydney Wildlife Rescue on (02) 9413 4300 for advice if you hit a native animal or come across an injured one while driving. It is helpful if you can provide an accurate location or landmark to assist our rescuers who will pouch check marsupials for joeys, so little lives like Phoebe can be saved.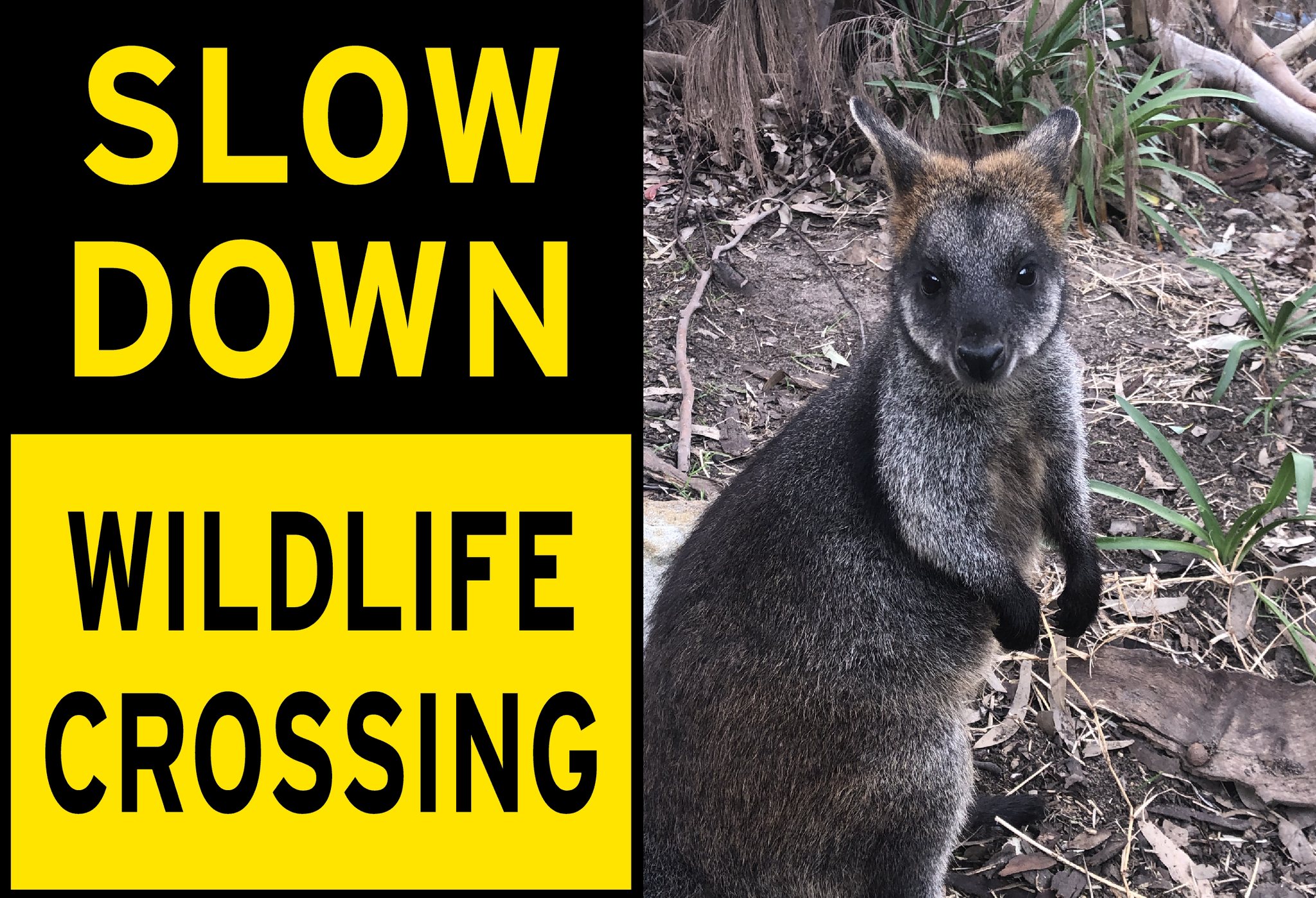 Photo: Phoebe the Swamp Wallaby by Jane
Notice by Sydney Wildlife Rescue
JP Public Register
You can find a Justice of the Peace (JP) using the online Public Register. You can search by postcode, name of a JP, day of availability, language spoken and JP registration number.
The register lists a JP's location, availability and telephone number. Please note that JPs are volunteers and may not be available at all times.
​
Click here to access the JP Public Register
NB: There are 3 J.P's working in Pittwater RSL Sub-Branch office, we work every Monday (10:30am to 15:30)except on public holidays:
Terry Jones J.P.
Robert (Bob) Wood J.P.
Deborah Hendy(Carter) J.P