February 22 - 28, 2015: Issue 203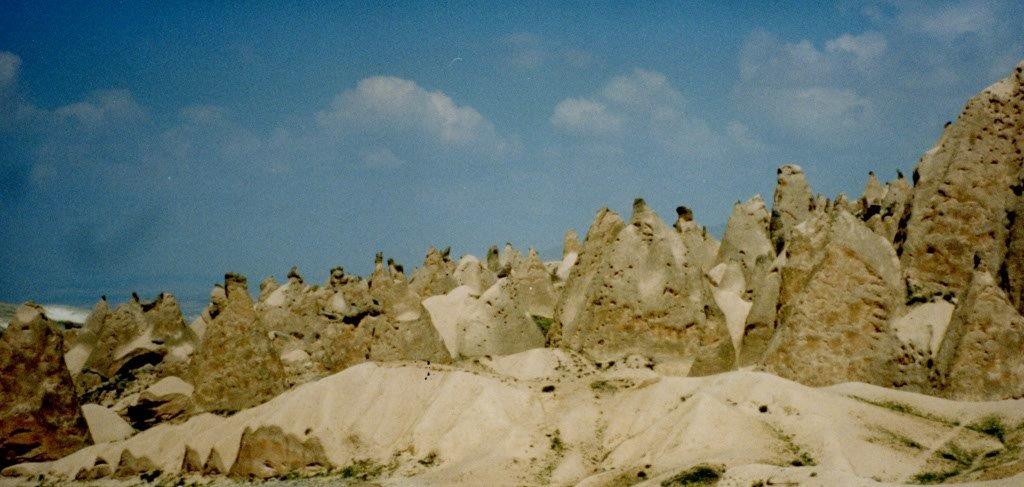 Panoramic view of rock formations.
CAPPADOCIA
by George Repin
Cappadocia, a region of great historical and cultural interest in Eastern Anatolia, lies in the centre of present day Turkey. It is notable for its fantastic topography of honeycombed hills and towering boulders set in the stark Anatolian plain.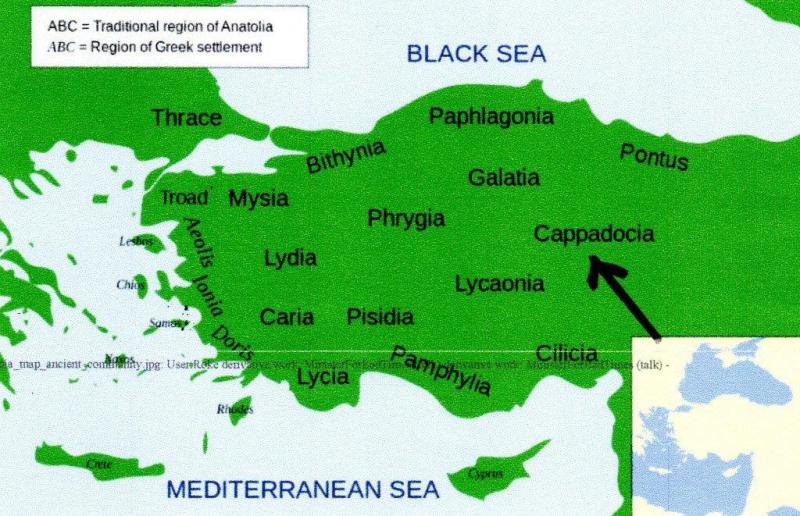 Turkey showing location of Cappadocia area – from Wikipedia.
The earliest record of Cappadocia dates from the late 6th Century BCE when it appears, in trilingual inscriptions, as one of the countries of the Persian Empire. It has a long recorded history. In the late Bronze Age (around 1,600 BCE) it was the homeland of the Hittite power centred at Hattusa. In later periods the Persians and the Romans held sway.
The unique topography had its origin in the Cenozoic era when the area was the scene of intense volcanic activity with three major volcanoes tossing out lava, ash and basalt boulders, resulting in the gradual buildup of a plateau. Over time volcanic ash was transformed into tufa cemented by chalk carried by rivers and deposited into lakes. In places the tufa was almost 150m thick. While the inside of the tufa was relatively soft the surface was hardened by contact with air. Subsequent erosion by rain, wind and earthquakes produced the strange landscape. The softer tufa eroded while the hard basalt and andesite rocks remained. In the area near Gӧreme the rocks eroded into hundreds of spectacular pillars and minaret forms and where they sat on the tops of columns they produced the so-called fairy chimneys.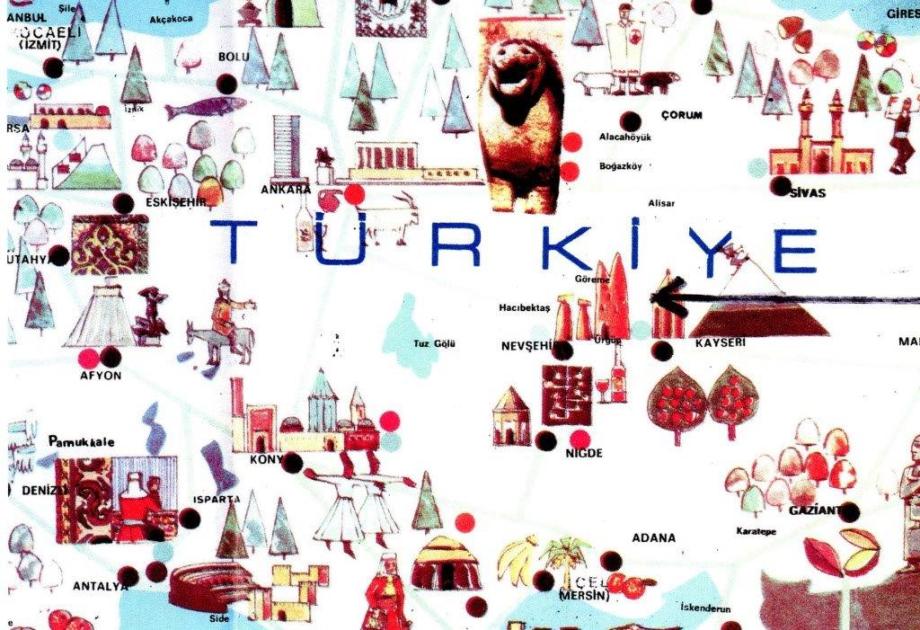 Turkey showing area of the rock formations - SE of Ankara - from "Cappadocia" by Mehmet Ali Birant, 1997 - ISBN 975-439-010-X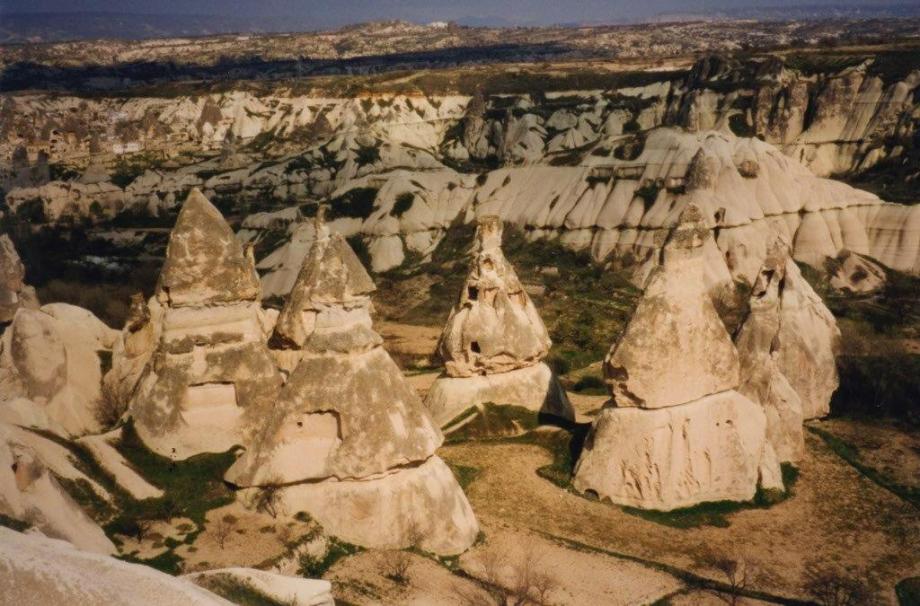 Rock formations.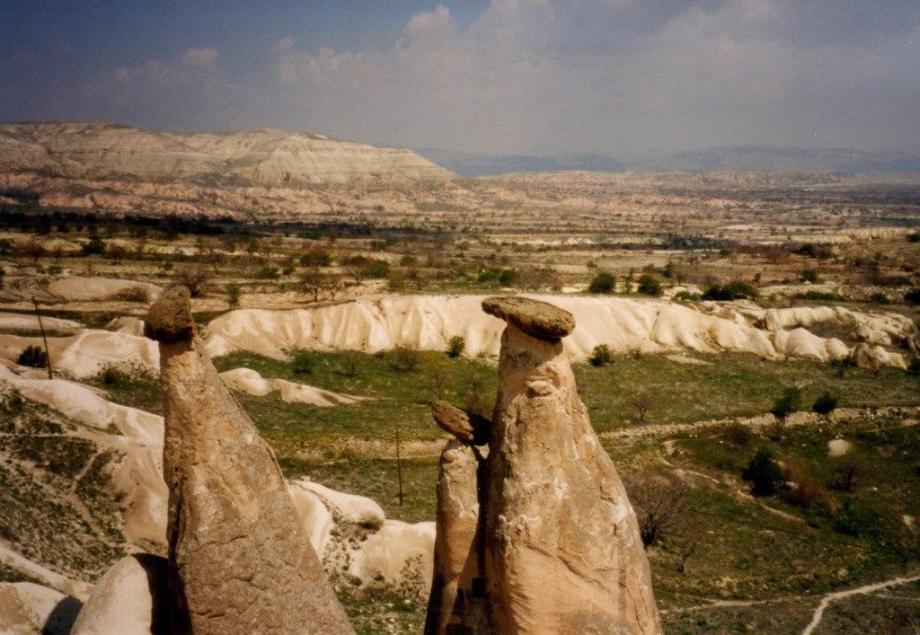 A fairy-tower with valley in the distance.
The character of tufa provided a relatively easy way to excavate not only subterranean habitations but also galleries in the towers and pinnacles so that, as the persecution of Christians in Palestine forced them to seek safe havens elsewhere, the natural structure of Cappadocia offered ready refuge and an adoptive country.
They carved out churches, chapels, monasteries and nunneries in the soft tufa and, to protect themselves from marauders they developed defensive devices so they could live in relative safety. From the end of the 8th Century they began to decorate their rock-cut churches and chapels with colourful icons and frescos. Because tufa does not absorb paint it proved an excellent base for murals. Many of the decorated churches and chapels can still be seen and are in reasonably good condition although some were severely damaged during the period of iconoclasm (726 – 843 CE) and, unfortunately, in more recent times by tourists.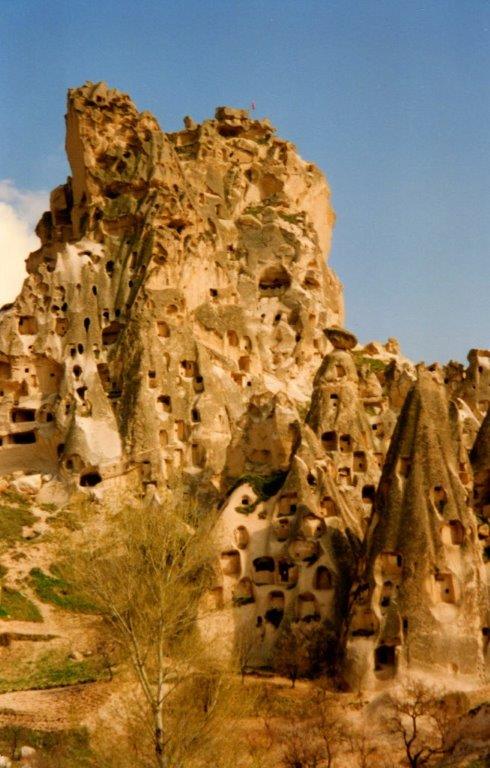 Large rock with extensive fenestration.
Exploring various areas in Cappadocia, such as Ürgüp, Nevşehir, El Nazar, Helvedere and Ilhara discloses dazzling sights but Gӧreme is outstanding because it is surrounded by fairy chimneys and by hollowed-out rock-formations in which people lived.
Gӧreme was a monastic centre in 300 - 1,200 CE.
Photographs by George Repin in 1997.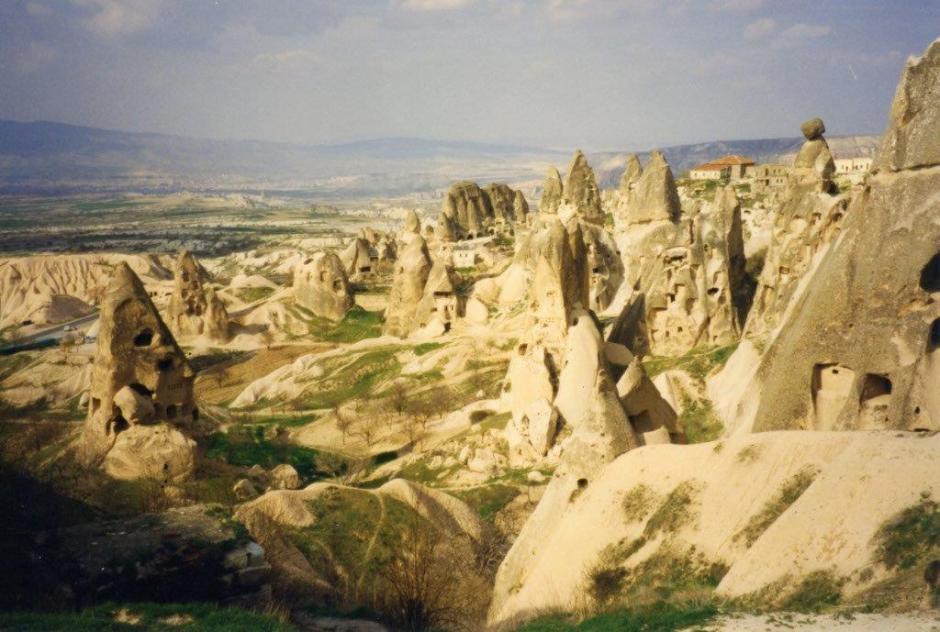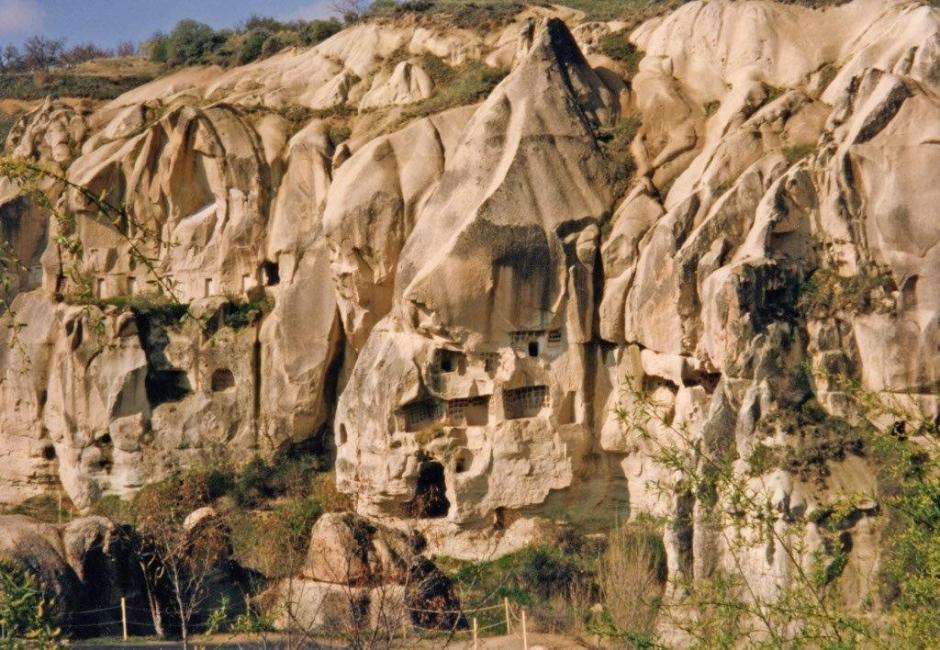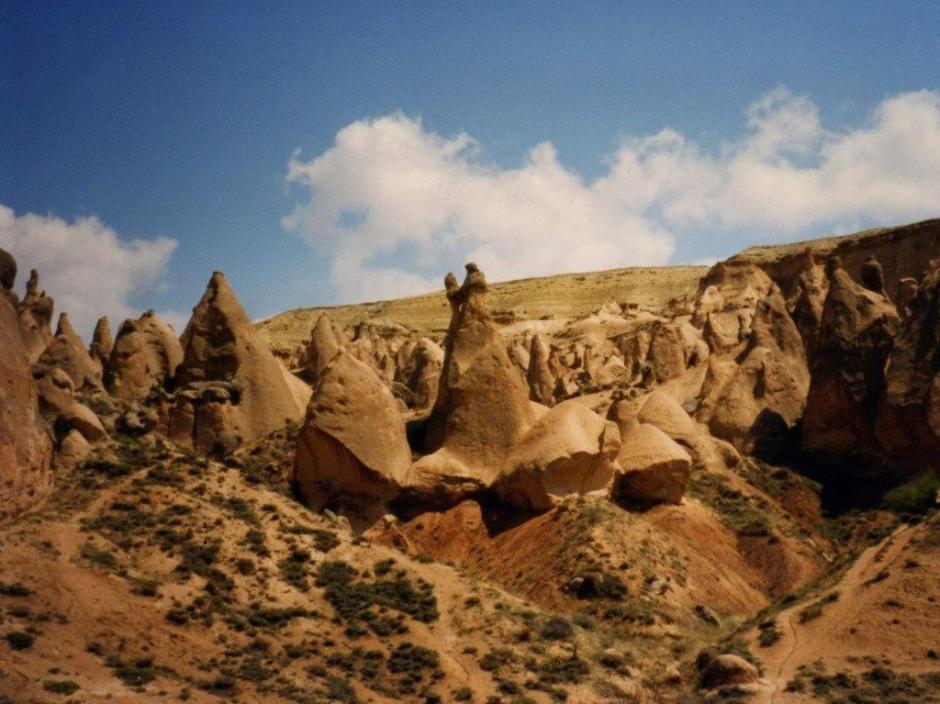 Another view of rock formations.
Previous Reflections by George Repin
Copyright George Repin 2015. All Rights Reserved.