January 28 - February 3, 2018: Issue 345

THE FORBIDDEN CITY – BEIJING, CHINA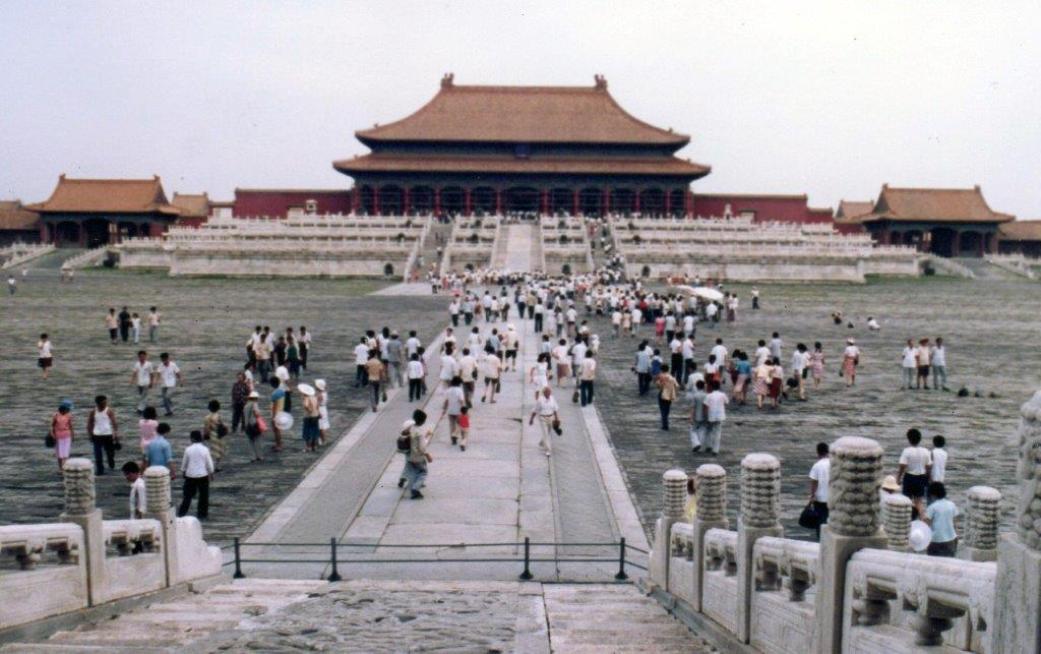 Hall of Preserved Harmony.
THE FORBIDDEN CITY – BEIJING, CHINA
The Forbidden City is a Palace complex in Central Beijing. Once the home of the emperors and their households, as well as the ceremonial and political centre of Chinese Government for nearly 500 years, it was out of bounds to all but the highest officials for centuries. It is now open to the public.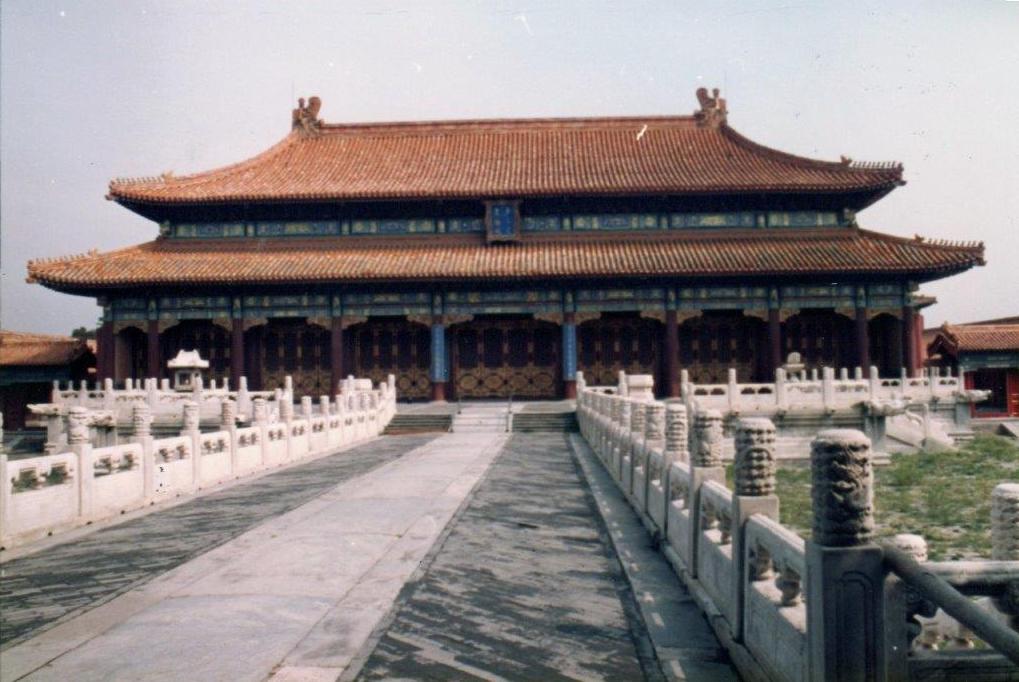 Gate of Supreme Harmony.

The palace is an example of traditional Chinese palatial architecture and is listed by UNESCO as the largest collection of preserved ancient wooden structures in the world. In 1987 it was declared a World Heritage Site.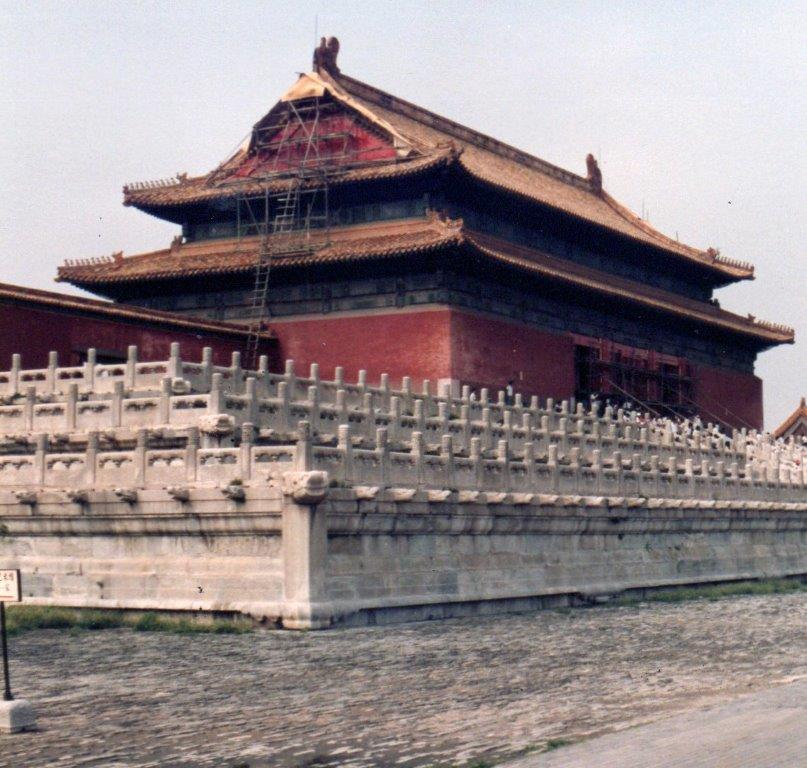 Hall of Supreme Harmony.

Covering an area of 250 acres the Imperial palace is surrounded by a wide moat and is protected by a wall 35 feet high.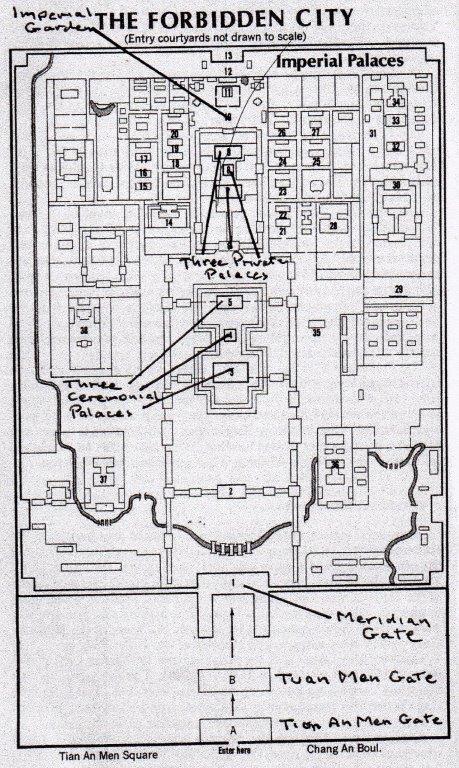 Ground Plan of The Forbidden City.

The grounds are divided into two sections. The first section is made up of the three Ceremonial Palaces which are large halls from which the emperors conducted important state ceremonies. It is approached after entering through the Tian An Men Gate and the Tuan Men Gate to reach the largest gate in the complex – the Meridian Gate – which gives entry to the grounds of the Inner Palace, The rear part of the complex is composed of three main palaces, a few smaller "east" and "west" palaces and the Imperial Gardens. In this setting the emperors divided their time between affairs of state and their families. The palace was a complex of 980 buildings with 9,000 rooms which housed the emperor, his consort, other wives, concubines, eunuchs, ministers, favoured court officials and thousands of artisans and servants.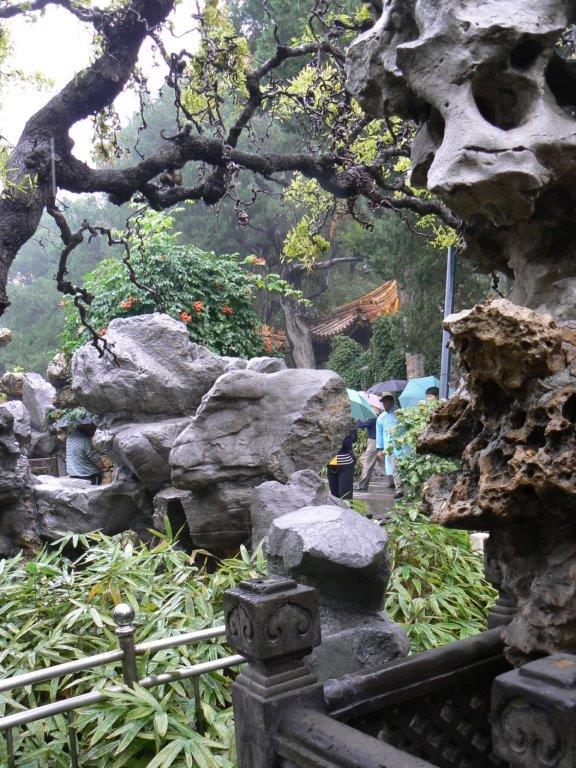 In the Imperial Garden.

The complex is now a museum with over a million rare and valuable works of art in the permanent collection. However, this is not the totality of the items which were in the Forbidden City at the time of the emperors. When it was apparent during the Chinese Civil War that a Communist victory was imminent the Nationalist Government of Chiang Kai-shek shipped 13,491 boxes of the pick of the artefacts to Taiwan. 2,972 boxes are still housed in the National Palace Museum in Taipei where they are on a rotating display in a purpose built gallery.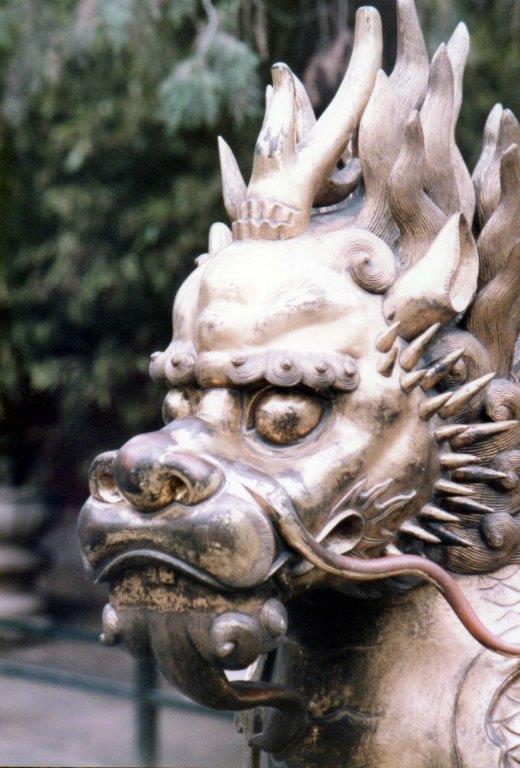 Bronze head of Dragon.

Dragon statue.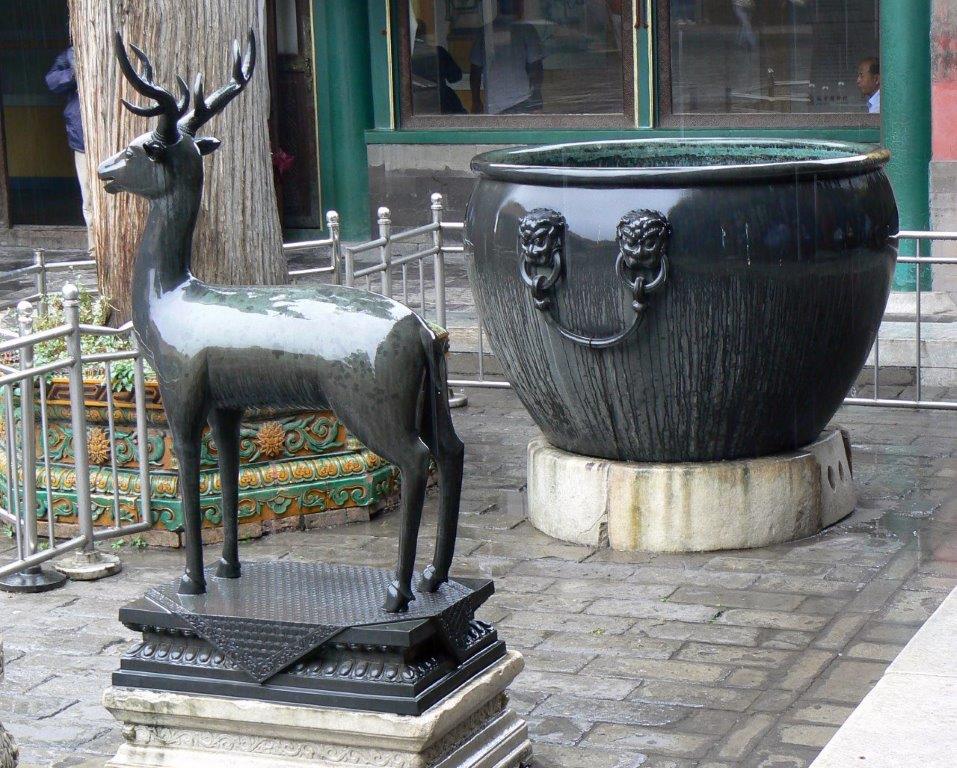 Bronze deer and bronze urn.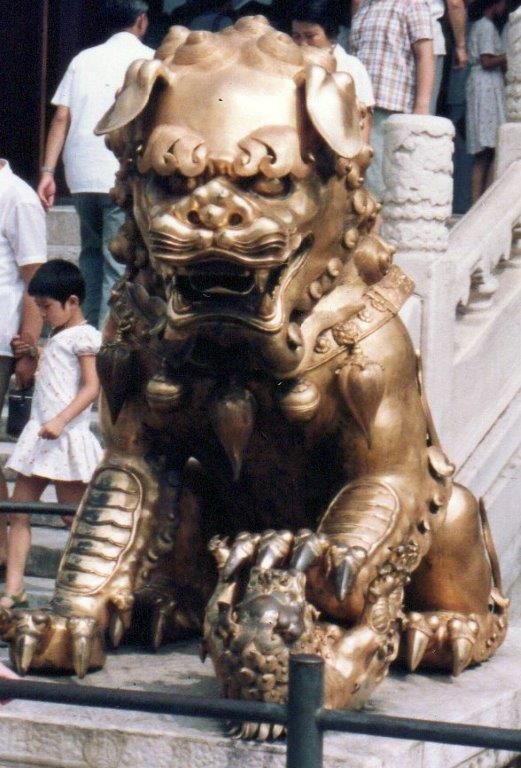 Guardian golden lion.

Days could be spent in exploring the Forbidden City marveling at the beauty of the buildings, the lavishness of their decoration, the artefacts spread throughout the precinct and the displays in the museum. The accompanying photographs cannot do justice to the magnificence of the Forbidden City.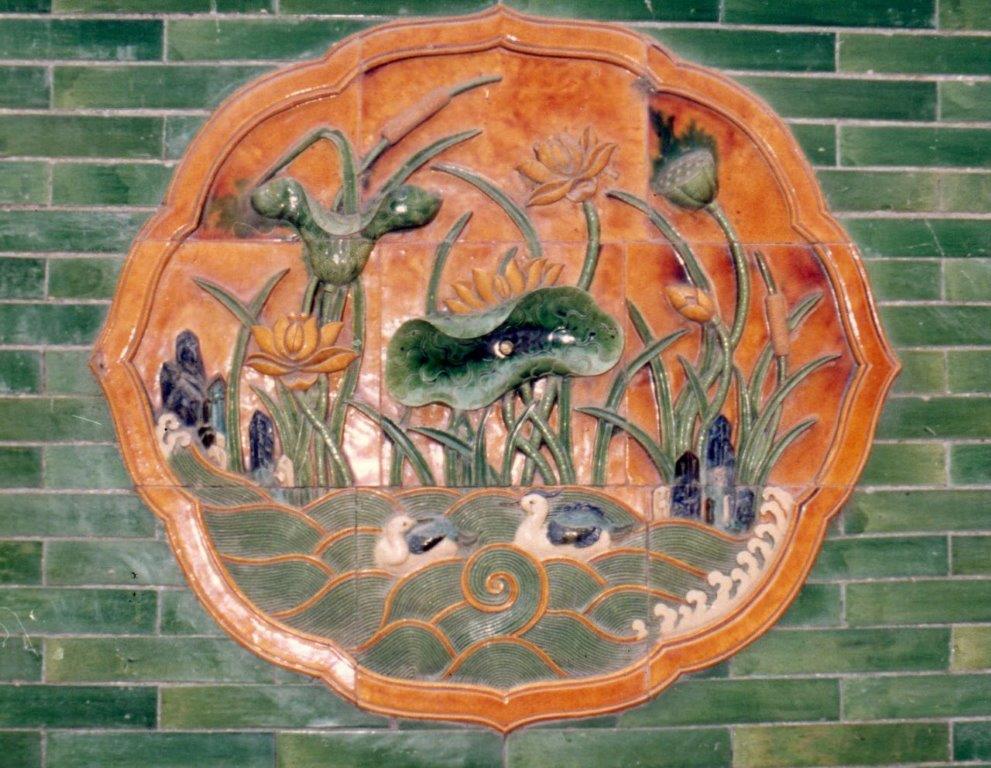 Decorative glazed wall plaque.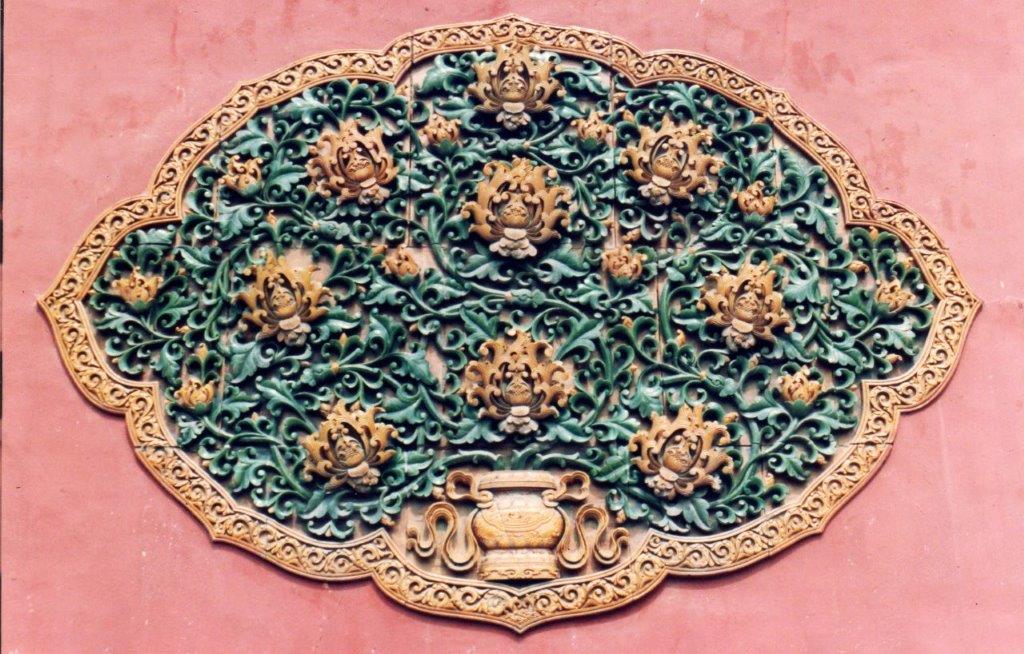 Decorative glazed wall plaque.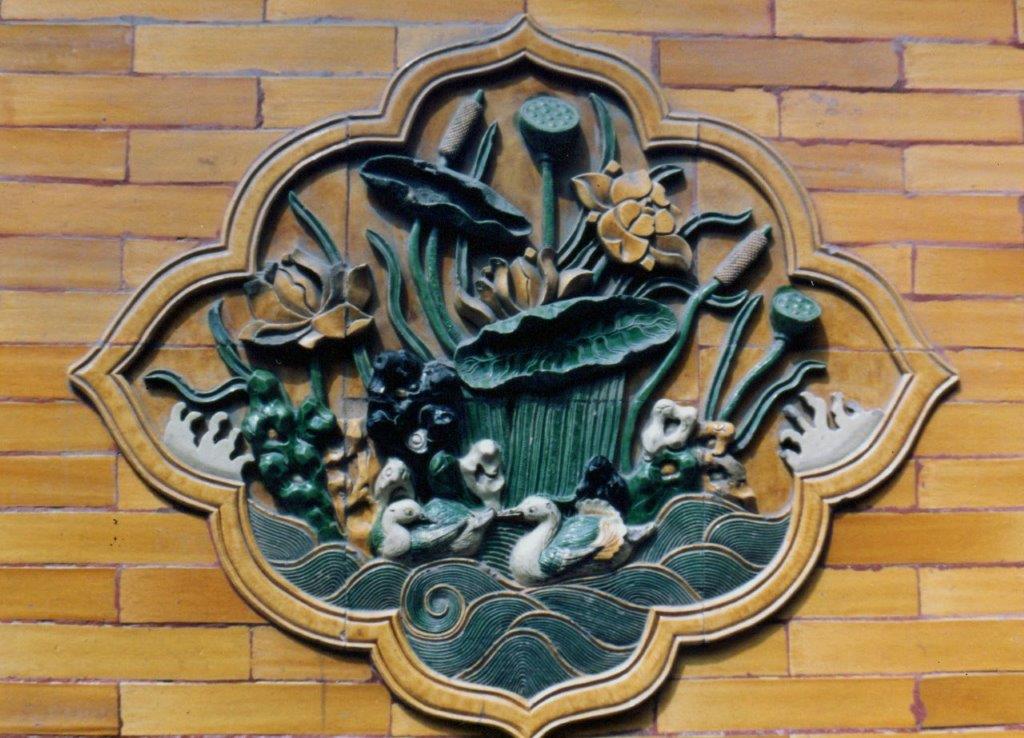 Decorative glazed wall plaque.

(Photographs by George Repin in 1984 and 2007)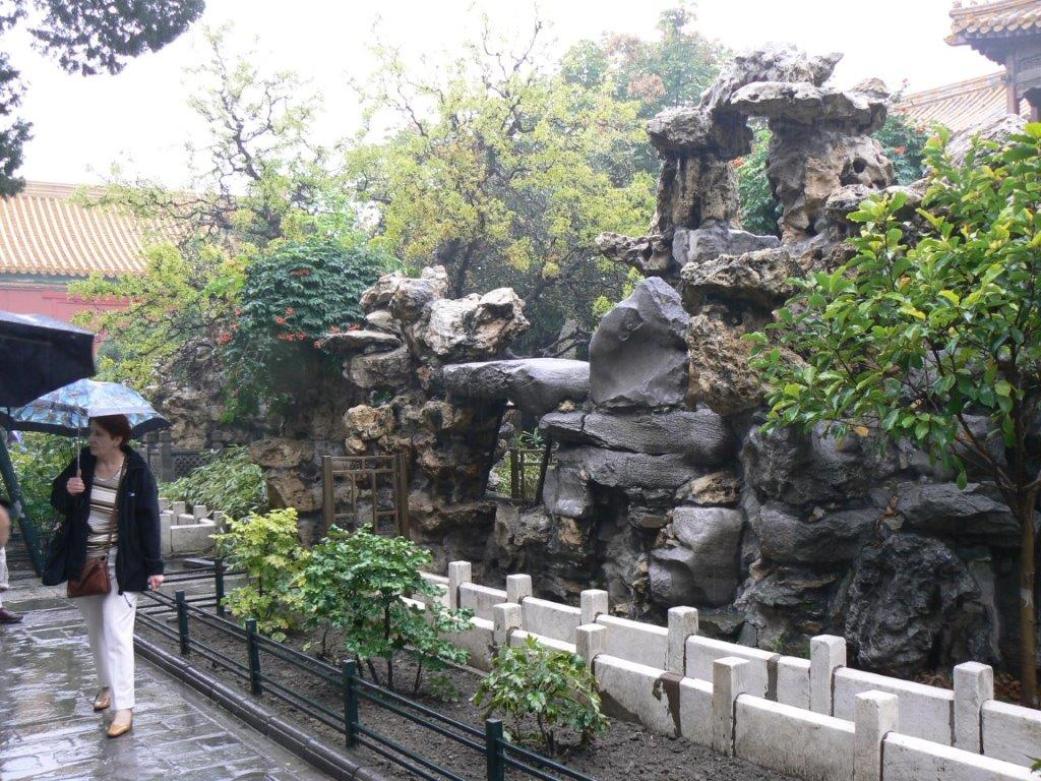 Previous Reflections by George Repin
Copyright George Repin 2018. All Rights Reserved.