September 15 - 21, 2013: Issue 128
"CLIFTON" AT KIRRIBILLI
By George Repin
Clifton, a beautiful old stone home, described in January, 1936 by Country Life the Stock and Station Journal, as being surrounded by gardens with shady walks and curving paths, bordered with ferns and flowers and sheltered by overhanging trees, had been built in Kirribilli by convict labour over 100 years previously. It's pine trees were planted at the same time as the well-known pines at Manly and large magnolias with creamy blooms bordered the two tennis courts. Shuttered windows and doors opened on to stone-flagged verandahs, while metal rings could still be seen on the cellar walls where convicts had been shackled.
The owner, Mary McVicar, was born Mary Isabella McKinnon in Wellington, NSW in 1850. Her maternal grandfather, Lachlan McKay, who as a member of the 79th Cameron Highlanders had played the pipes at Nelson's funeral (1805) and fought at the Battle of Waterloo (1815), arrived in Australia on the Brilliant on 2 January, 1838. Her paternal grandfather came on the Boyne a year later. She lived in Bathurst in the days of the Gold Rush when the bushranger Ben Hall roamed and in Black Man's Swamp (now Orange) before her marriage in 1871 to Dugald McVicar. Dugald arrived in Australia, also on the Boyne, as a three year old, his father being one of four crofters brought to the Dubbo district by the squatter, Robert Dulhunty, to work on his "runs".
On her marriage she went to live at Naran a cattle station 40 miles from Dubbo on the road to what is now Dunedoo. When her husband was away in Queensland for six months at a time Mary managed the property which was a 16 mile block and ran about 32,000 cattle and horses. There were no fences so cattle sometimes strayed to the Castlereagh River and had to be brought back by the old time skilled stockmen.
The carefully carved headstone of her mother-in-law, Mary (nee Cameron), who died the year after Mary came to Naran, still stands in a paddock not far from all that remains of the original homestead, a stone chimney and fireplace. The grave is surrounded by Scotch thistles inside a picket fence – in stark contrast to the Saffron thistles in the surrounding paddocks.
Mary's concern for the education of her children, of whom she had ten, led her to be a signatory to a request to the Colonial Government in Sydney for a school which was eventually established at Elong Elong sixteen Kms. back on the road to Dubbo. In time the family moved to Oxlea a property 12 Kms. from Dubbo on the Narromine road where Dugald died. After his death, still concerned about the education of her children, Mary decided to move to Sydney and settled at Kirribilli. Following her death in 1940 Clifton was sold for 11,000 pounds and subsequently demolished. Two large blocks of residential units stand on the site – one called Clifton.
Mary McVicar was one of those pioneering women whose courage, determination, commitment to family and sheer hard work underpinned the rural prosperity of this country. Today, when there is so much more interest in preserving our heritage, Clifton might have been saved as part of our National Estate – instead it was wantonly destroyed.
In text image: "From COUNTRY LIFE The Stock and Station Journal - 16 January, 1936 Clockwise from the top: Verandah of Clifton overlooking the garden and tennis courts Path through the garden Mrs Mary McVicar"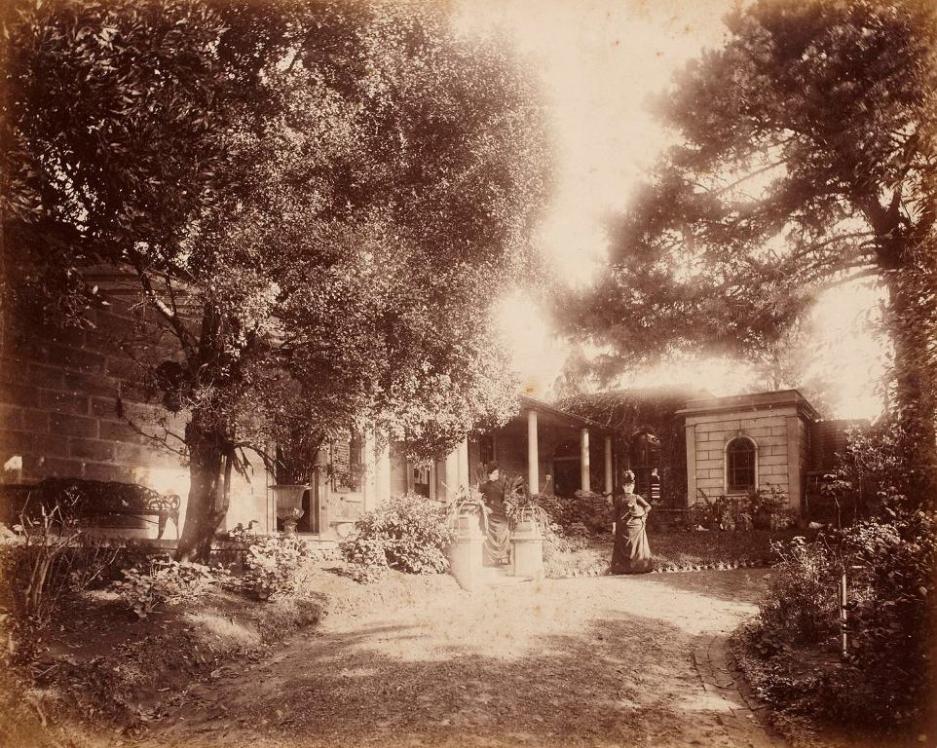 Clifton - Front Entrance by unknown photographer - 1888, courtesy Historic Houses Trust. see more 1888 images of Clifton at: HERE
Copyright George Repin 2013. All Rights Reserved.