May 12 - 18, 2013: Issue 110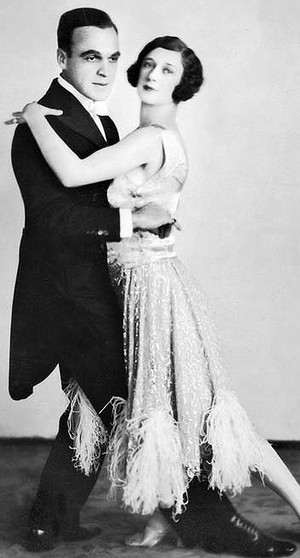 Jim Bendrodt with dancing partner and future wife "Peggy" Dawes", from Sydney Morning Herald article "Jim Bendroit brought class to Harbour City Age of Swing" published 20 January, 2013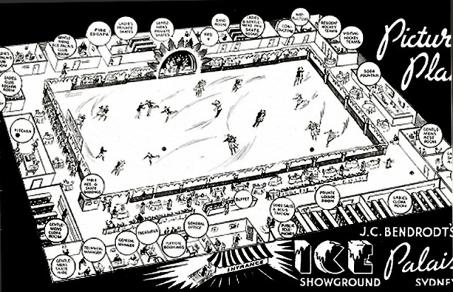 Bendrodt's Ice Palais as it opened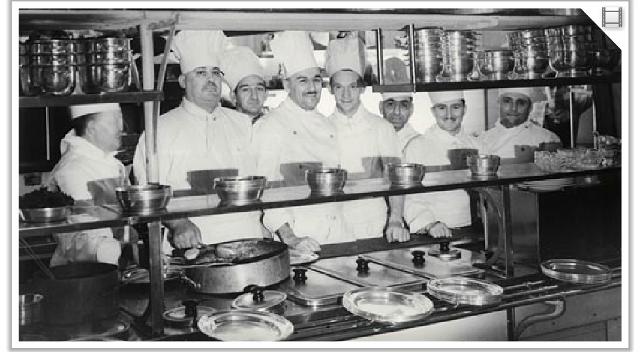 Chefs at Princes c.1938 by Max Dupain, Image ON 249/28/22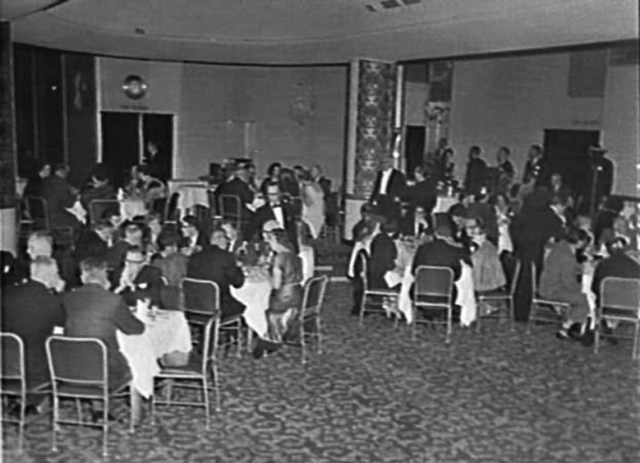 Dinner for the Country Press Association. Image gives an impression of interior of Prince. Image No.: d7-11411r, Courtesy State Library of NSW.
J C BENDRODT AND PRINCES RESTAURANT
by George Repin
In the immediate pre and post World War II years, when the population of Sydney was much smaller than it is today, there were only two really elegant restaurants in the city – Princes and Romano's. Each attracted the more affluent in the community on a regular basis but also were happily visited by others for celebrations such as anniversaries, birthdays and graduations. They were popular with fund raising organisations (particularly Princes) for functions and with businesses (particularly Romano's) for parties to entertain clients or promote new commercial relationships.
Associated with each of the restaurants was a name widely recognised in the community– James Charles Bendrodt (usually referred to as "J C Bendrodt") in the case of Princes and Azzalin Orlando Romano in the case of Romano's.
The men could not have been more different in their backgrounds, personalities, personal lives or relevant experience in preparation for the operation of an outstanding restaurant. However they shared a passion for horse racing.
J C Bendrodt and Princes Restaurant are the subjects of this article. The next will look at Azzalin Orlando Romano and Romano's Restaurant.
J C Bendrodt, born in British Columbia, worked his passage to Australia as a stoker, arriving in 1910. He claimed to have been a lumberjack and to hold Canadian roller-skating titles. He prospered as a trick-skater in Sydney and on country tours and later running a dance hall.
After war service from 1914 to 1918 with both the Australian Naval and Military Expeditionary Force and later the Canadian Expeditionary Force he returned to Sydney in 1919. He taught dancing and in 1923 opened the Palais Royal dance hall. The purchase of a mare in 1923 took him into racing and breeding. In 1931, with the economic depression severely impacting his business, he found that he had only enough money either to pay his staff or to meet his operating costs. He suggested to his staff that they gamble all their last wages, amounting to 1200 pounds on his horse, Firecracker, which was virtually unknown. With their agreement the money was split and sent off with a number of bouncers to place the bets simultaneously. They got good odds, the horse won by a length, the staff was paid and the business survived.
In time wealthy entrepreneurs (including Ezra Norton, the publisher of papers such as Truth and Sportsman) backed his enterprises and the Trocadero (Pittwater Online News Issue 49 March 11-17, 2012) was opened in 1936.
In 1937 he formed a company to transform the Palais Royal into an ice skating rink, the Ice Palais in the Hall of Industries at the Royal Agricultural Society Showground at Moore Park – the hall where sample bags were sold during the Royal Easter Show. Sydney had only one other skating rink – the Glaciarium at Railway Square. The Ice Palais was closed when the Hall of Industries was taken over by the Army in 1941.
Princes Restaurant under the MLC Building in Martin Place, opened in 1938, was partly financed by a big plunge on Gay Romance, one of his horses the previous year. In the restaurant's post-war heyday the Maitre D' was a short, stocky, elegant Frenchman, Pierre Henri. The chef, Jules Weinberg, later taught restaurant cooking in the Food School of the East Sydney Technical College. Employees remembered Bendrodt as a hard boss, willing to reward initiative and ready to bend the law. In 1951 he was fined for understating taxable income in the early 1940s and, at the Royal Commission into the liquor industry in 1952, he admitted that Princes regularly ignored State liquor regulations.
In 1939 Bendrodt married his dancing partner Florence Nellie ("Peggy") Dawes. They had no children but he had a heartfelt love of animals and campaigned against animal cruelty.
In 1956 he opened a lavish restaurant on the waters edge in Lyne Park, Rose Bay – Caprice – which quickly became popular with celebrities. The restaurant survives as the Catalina.
On retirement J C Bendrodt lived quietly at Darling Point, dying on 17 February, 1973.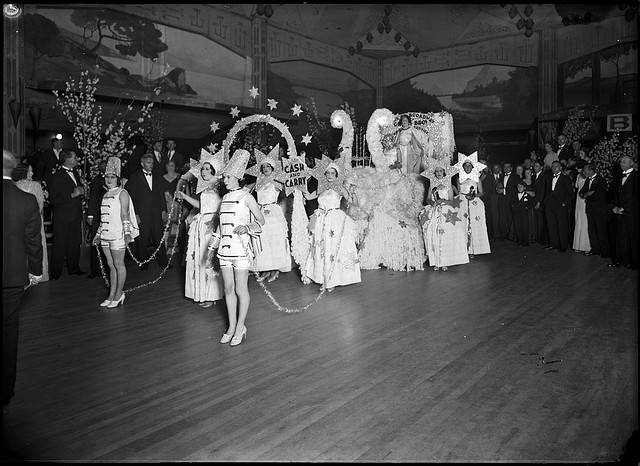 Grace Bros Ball at Palais Royal 1933 - Swan Maiden' float drawn by staff in swan costumes. Courtesy Powerhouse museum on Flickr set.
Copyright George Repin 2013. All Rights Reserved.