August 21 - 27, 2011: Issue 20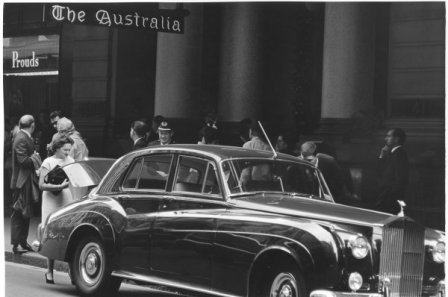 Above National Library of Australia nla.pic-vn3102463 Carter, Jeff, 1928-2010. The Hotel Australia, Sydney, 1961. Part of Jeff Carter collection of photographs, 1952-2002. Photo in text from Rowe Street Society Collection.
Powerhouse Museum Online Rowe Street Exhibit
Copyright George Repin, 2011. All Rights Reserved.
REMEMBERING ROWE STREET
By George Repin AM.
The Sydney Customs House, as part of a programme of exhibitions to showcase Sydney social history, in 2006 focused on Rowe Street, the narrow laneway of tiny shops and picturesque swinging signs which ran between Pitt and Castlereagh Streets and had the style and atmosphere of an old European Street.
Rowe Street is remembered with great fondness – and regret - by many of those who enjoyed its atmosphere and, particularly, its human scale because there was no other street like it. It was small, personable, and cosmopolitan, and offered a fascinating mix of fashion, homewares, art, music, and literature. It also accommodated small coffee shops including, for a time, the Lincoln Inn, frequented by the group of free-thinking "intellectuals" known as the Sydney Push and their "hangers-on".
There were garret studios of artists and writers, while the Notanda Gallery was popular with art students who could pore over books and postcards of well-known masterpieces and little known contemporary art. Artists who were yet to establish themselves in the market enjoyed their contact with Carl Plate, who ran the gallery, and was a prominent member of the contemporary art scene.
The Castlereagh Street end of the street was dominated by the Hotel Australia on the north side - with Richards menswear shop on the south corner. The Hotel had been built in 1891 and was the meeting place of fashionable Sydney. For many, afternoon tea listening to the Palm Court orchestra was a special occasion. Further down the gentle slope towards Pitt Street a multiplicity of attractive window displays, many beautifully decorated, captured the attention. Window shopping was one of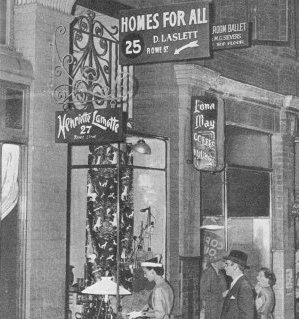 the great pleasures of Rowe Street. The shops of well-known highly talented interior designers such as Marion Hall Best and Margaret Jaye always could beguile with lovely imported decorative pieces always effectively displayed.
Because it was very narrow those coming into Rowe Street tended to treat it as a pedestrian mall, not keeping to the footpaths on each side but walking, and often standing and chatting, in the middle of the carriageway.
Rowe Street began its life as a gloomy lane called Brougham Place. In cold windy winters it was referred to as "Pleurisy Alley". When the Hotel Australia was built it was renamed in honour of Thomas Rowe an English-born architect, said to have been "a man for all seasons", with a multitude of civic interests. He was the first Mayor of Manly and was responsible for planting the Norfolk Island Pines for which Manly became famous.
The character of Rowe Street was lost when the Hotel Australia was sold and the MLC Building built. By 1973 the old Rowe Street was gone.
The Rowe Street Society, formed in 2003, collected memorabilia to keep alive the memory of the street's contribution to Sydney's cultural life and provided items for display in the exhibition which was officially opened on 16 February, 2006.