August 27 - September 2, 2023: Issue 596

DIY Father's Day 2023 Gift Ideas: Some For Little Hands + Those Now Grown + The Best Gifts For The Best Dads From JBH
DIY 'Will Do' Cards from Youngsters with no $: Rubbish duty, Car Cleaning, Weeding, Helping out in the Kitchen, A BIG Hug
Father's Day is next Sunday, September 3rd, and a day to give dad that extra hug and let him know how much you appreciate all he does for you.
Around here dad has one job each week - to put the rubbish out and then bring the bins back in and give them a good wash so they don't get smelly - perhaps you could make some nice little slips stating you will help take the bins out and bring them back in and give them a good wash out for the next four weeks - that would be a nice gift.
Another 'chore' the dad here does every so often is give the car a good wash, and this includes vacuuming all the carpets inside it to get up all the mud that's come off boots. This is a good fun chore you could do for dad or do with him.
Another chore you could do to give dad a gift is get in the garden and pull some weeds.
Or if dad likes cooking, give him a hand in the kitchen. Peeling spuds, washing up, or even just pulling the greens bits off strawberries - every little bit of help will be appreciated.
In fact doing any or all of these chores for dad for a few weeks will not only give him a break it will be letting him know you love him.
This Issue a few ideas on how to spoil dad rotten on Father's Day - some you can make yourself and some you can get from your local Johnson Brothers Mitre 10 store - there's gift ideas for every budget.
Printable Father's Day IOU coupons
Print and cut out the IOU coupons we've loaded into a PDF below for you, then tuck them into an envelope, or staple a set of 4 together to make a coupon booklet. Each sheet prints 4 different coupons.
TO PRINT IOU COUPONS: click on the PDF below and 'save as' on your own device or simply click on the 'print' icon in the upper right hand side. You can then print the sheet of Father's Day IOU coupons on your home printer or save the file on your computer's hard drive to print many times.
Of course, what he really really wants is a BIG HUG - so make sure you give him heaps of those too.
You can also personalise these gifts a little by making something dad may like - is he a big BBQ fan?
Make a Dads' BBQ Tool Box:
A few years ago an idea to make an easy little carry-all for your tools received positive feedback as it was something dad and youngsters could do together easily and then it could be used to carry all those matchbox cars or anything else really. How about that anything else is a range of personalised spatulas and tongs dad uses for the barbecue outdoors? It will be warmer soon and this will get some use and if you paint the spatula with 'dads' or some other design of your choice, dad will be pretty happy with your gift. You can read how to make that tool box here, and then pop into your closest Johnson Brothers Mitre 10 store and have a look at the range of barbecue tools to choose something that can be painted by you on the handle with ''World's Greatest Dad'' - because he is you know! You can also put in some of his favourite sauces from the supermarket, maybe a nice big dad-sized handkerchief or an oven mitt and he will be amazed at your great work and thoughtful 'tools' in his BBQ Tool Box.
Sort out the toolshed
Does your dad need help organising his toolshed? Although this is one of those 'sacred spaces' you could stick your hand up to help get it spick and span for Spring. The July 2021 DIY page on this suggests:
Hang a Pegboard for Tool Storage

A pegboard is a common yet underutilised storage shed organisation idea. Not only does a pegboard allow each item to be easily found and accessed, but it frees up the floor. Use a wall of your shed to place this at eye level and get rid of that 'where is my....?'.
Install a Magnetic Bar for Tools
To organise any type of shed, install a magnetic bar for your metal tools. This shed organization idea has long been used to store standard tools, and can be used for storing gardening tools too. Just make sure to choose a magnetic bar that is strong enough to hold the tools you're looking to organize.
Add Open Shelving
If you have limited space in a tool shed making use of every bit is important. By installing shelves on your walls and using containers on these to store items, you won't be tripping over them on the floor and will have everything within reach. To build sturdy shelves, cut plywood to fit the surface area or buy a shelving unit you simply need to put together. To store more items, make the shelves deeper or construct shelves from floor to ceiling.
Use Hanging Jar Organisers
Nails, screws, tacks, and bolts are necessary items every tool shed needs, but those tiny pieces of hardware often end up on the floor, where you step on them. To keep them in place and out of the way, install a hanging jar system. Any jar with a screw top lid will work for this one. Simply fill each jar with your small pieces and attach the lid to the bottom of a shelf via a strong adhesive. To access the nails and screws, unscrew the jar and lower it carefully. The beauty of this idea is you can see through the glass which is which.
Make a Gardening Tools Rack
Garden tools such as rakes, shovels and hoes will last longer if they're properly stored. Start by carving divots into pieces of wood planks that each tool fits into. This step will prevent your gardening tools from falling as you store them against the wall. Then screw the wood right onto your wall.
Hang Garden Tools on the Exterior
If you are pressed for space inside the shed, why not use a side portion of it? Hang hooks on the doors to organize your most commonly used smaller tools. This way, all you need to do is open the door to get to what you need most. To store larger gardening tools like shovels and rakes, mount a hanging storage on an exterior wall. This idea works best if the wall is slightly protected from the elements with a roof overhang.
Contain Chemicals with Storage Boxes
It's common to have chemicals such as weed killer, pesticide spray, diesel and paints inside storage sheds. However, these are extremely toxic, and some are even flammable in confined spaces. By placing all of your potentially hazardous chemicals in a storage container, you can ensure they're in one place and also kept safe from outside exposure. Heavy-duty plastic bins that are easy to slide in and out are great options for storing these. Here are some things to keep in mind when storing and organising chemicals in your shed:
Keep the chemicals in their original containers, stored in one place together.
Keep them out of sunlight and out of reach of pets and children.
If you're storing fertilizer and fuel in the same close space, be sure that it's ventilated and that the two aren't near one another.
Hose and Cord Organised
This one is so easy and simple. Using hooks, shelving units or even PVC pipe to organize your cords and hoses will help you to stay significantly more organized. The key here is making sure the hook you have is securely fastened to the wall of your shed or a piece of wood you will install. Hooks run as cheap as $5-10 from your local JBH store. No more tangled cords!
Build a Potting Bench or Workbench
For your garden shed to run efficiently, you need a place to work even if it's raining outside. Tool Sheds can be as much a workspace as they are a storage place. The simplest solution is to add a potting bench to your storage shed if it's large enough. This piece works much like a kitchen counter, providing a surface where you can stand and work. You can make the bench from reclaimed lumber, pallets, or a reused piece of antique furniture.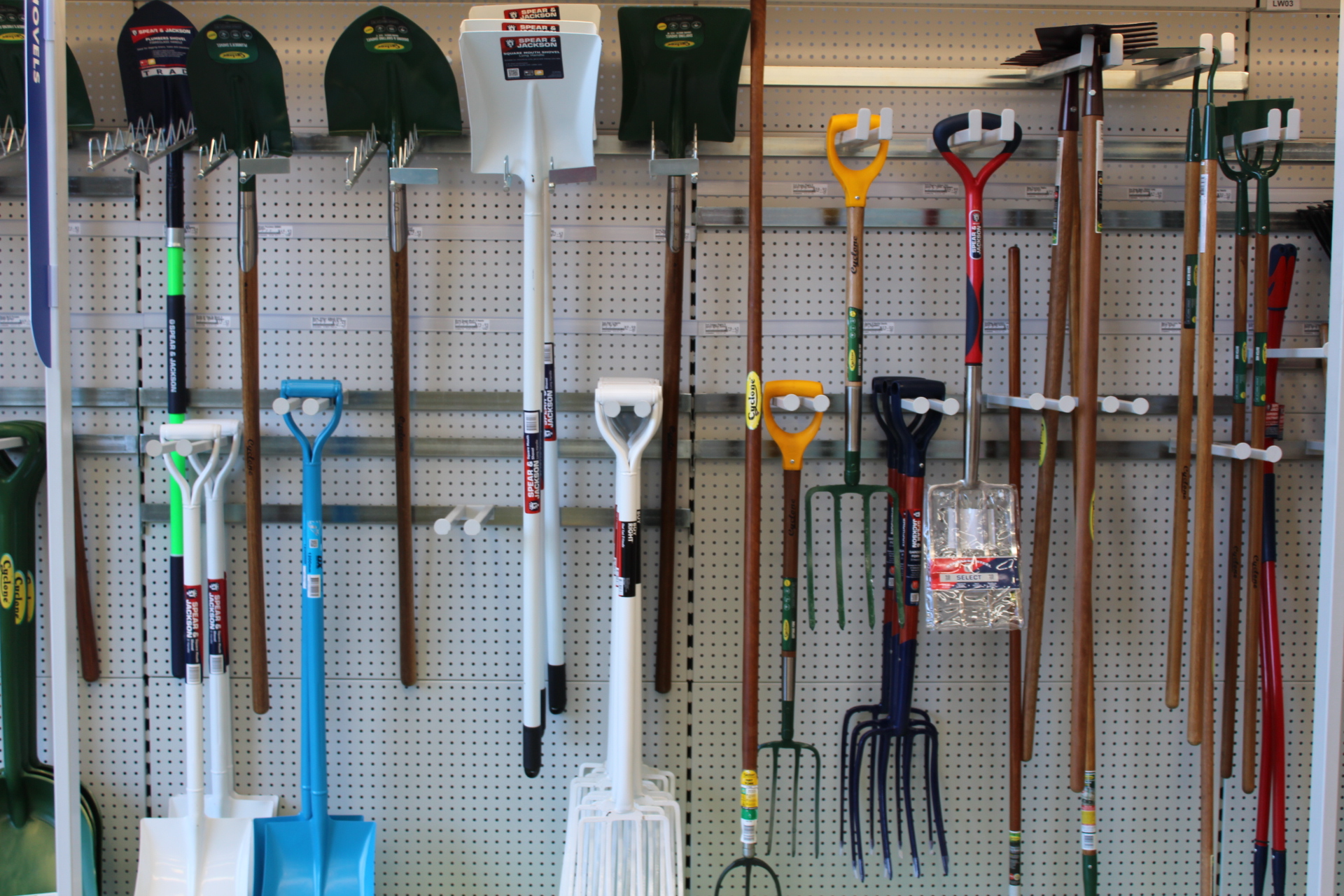 This is how garden tools are displayed in the Johnson Brothers Hardware Mona Vale Store - you can do this at home.
The dads here may have collected a few surfboards over the years for a few different waves or surfing preferences. In the Pittwater Online News yard there are some that date from the 1960's and 1970's for sentimental reasons, a bright green Nat Young one for instance, as well as a Malibu, a few longboards and a few different shortboards that have been more recently acquired. This 50+ years collection, all still used, needs to be stored safely so the boards don't get damaged, and so they can be accessed for use when there's a good wave running.
As some surfboard racks you can buy can cost several hundred dollars, money that could be spent on another board, wax or burgers after a good session, this Issue we offer a few easy to make surfboard racks that will costs one tenth of the average price for a commercially manufactured surfboard rack.
Vertical or Horizontal?
If you have a huge amount of surfboards, the best option is to install a vertical rack and take off the fins when storing so these don't get damaged. Vertical racks are great for outdoor areas or indoor areas where you have a lot of space. The boards are resting on the ground and so are easy to put in and take out of the rack. You would need to place some sort of soft matting or carpet at the base here to protect the tail.
If you have a half dozen, a horizontal version, that also looks nice as a display for an outdoors area, may be the way to go. This also negates the need for removing the fins or worrying about the tail getting damaged.
The best way to store your surfboard in either rack is in a padded surfboard bag.
Did you know, and according to the Encyclopaedia of Surfing, a 'quiver' of boards is the surfing equivalent to the golfer's bag of clubs?
A lot of surfer's personal collection of surfboards, usually numbering from three to six, can occasionally go up to 20 or more, with each board designed for a specific kind of wave from those that are small to those that are tall.
Vertical Surfboard Rack
Materials
Angle shelf brackets
Some wood strips cut to the width and length of the shelf brackets
Length of plywood
Rubber or foam mat for base
Screws for shelf brackets
Round Foam Pipe Insulation
Eye hooks
Hockey strap
Tools
Tape measure
Saw
Drill
Screwdriver
Level
The design of this surfboard rack comprises of a plywood back and shelf brackets that are mounted 15 centimetres apart from each other. Each shelf bracket has a strip of wood mounted atop that extends the length of the top of the bracket, this allows for any width board to be stored. The strip of wood and bracket are then wrapped with a piece of pipe insulation or foam. This ensures the surfboard has a cushioning to protect the sides of your boards. You can make this rack as long as you like, depending on the number of surfboards you want to display and store.
To Make
Cut the plywood to the length that suits your collection. Each bracket was spaced 15 centimetres apart and then screwed into place - it's usually best to measure this first and just mark each spot with a carpenters pencil. You also want to make sure these are aligned or level with each other so it looks the business use a level. The plywood assembly was put into position on the wall about 180 centimetres or 6 feet high and screwed into the wall studs. This height will allow your surfboard rack to accommodate your longer boards as well.
The wood strip lengths are placed on top of each bracket and secured in place with short wood screws. The foam was then placed over each bracket and wood. To make sure the boards don't slip and the bottom of the surfboards don't get damaged, a piece of rubber mat was placed on the floor under the rack.
An eye hook was screwed into the wall on opposite ends of the rack and a hockey strap used to secure the boards as a precaution to keep the boards from slipping should the boards get knocked or bumped.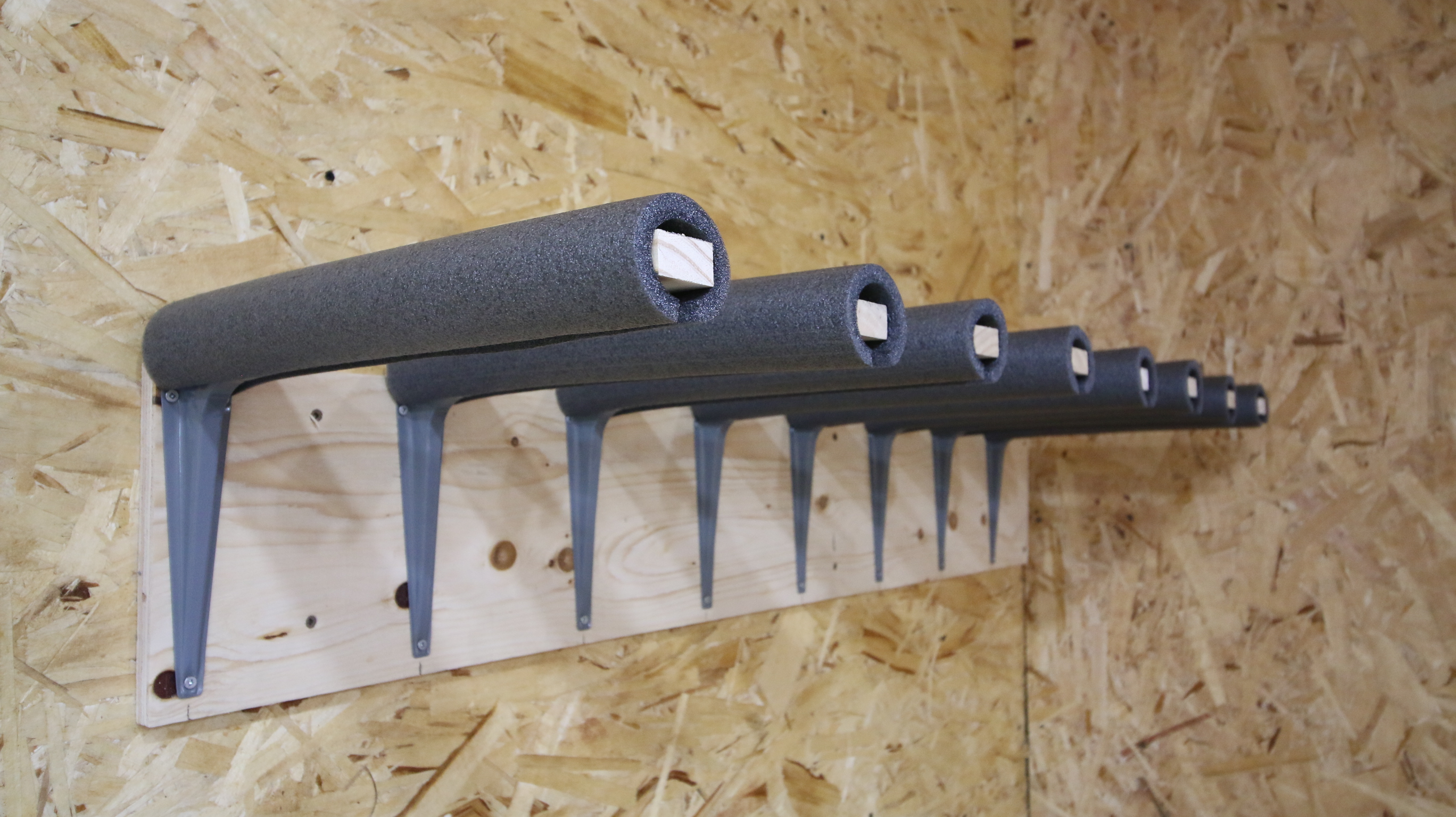 Photo: the finished surfboard rack. Image courtesy: AndrewW1977, per Instructables
Horizontal Surfboard Rack
Materials
Two lengths of wood
Lengths of dowel - at least 25mm to 32mm size
Screws
Wood glue
Hooks/screws for mounting - x 6; make sure they're a good size
Sandpaper
Wood stain
Carpenters pencil
Tools
Tape measure
Saw
Drill - with powder bits, drill bits
Hammer
Screwdriver
Level
Another easy one, this time using two lengths of wood and rounded dowel - you can apply the rounded foam covering for extra protection here as well if you want to. For this one, once again work out how many boards you want to store and set the space between dowels or shelves at between 15 to 30 centimetres to allow for the fin drop beneath the board. That will give you the length f your sides pieces of wood and how many dowels you will need to get.
Cut your two equal lengths of wood. Once you have it's worth giving them a light sand to ensure there are no sharp edges that may catch on board covers or fingers. Measure along this length and mark where you will drill out the holes for the dowels. Start from the top, or one end, and measure down 15-20 cm marking each place in the centre of your wood. Mark the other length of wood in the same manner.
NB: Make sure you leave enough space at the top and base of your lengths of wood to drill in holes for your hooks mountings. We'd also recommend placing one of these midway down the length of wood
Using your drill powder bit, drill out the hole to the same size as your dowel circumference. If you don't have a drill powder bit or a dowel jig, although you can get a powder bit for around $10.00 now, use a to make the appropriate size holes for your dowels. Repeat this process, marking the wood where you need and drilling holes over those markings. While this is a less than perfect method, it will get the job done.
Next you need to insert your dowels into the holes. Brush or place the wood glue on into the hole and tap the dowel into place - if you find the edges are too stiff, soften around the end of the edge of the dowel first be scraping away some of the wood. When tapping it into place use a small piece of wood atop the dowel and hammer in, that way you won't damage the other end of the dowel. Wipe away any excess glue squeezed out onto the length of wood. Do the same with your other length of wood.
Once you have your two lengths of wood with the dowels inserted, allow them to rest for an hour to allow the glue to set and then give them at least two coats with a good wood stain or a polyurethane based varnish or paint to give it some protection from the elements and the saltwater from your boards.
Now it is time to mount these on a wall or where you are going to place the rack. Mark where you are going to make the top and base holes, check it is straight with you level and also measure how far apart or wide you want the two racks to be and mark those holes too. Grab a mate to help you and place the first rack and second rack alongside each other - check your measurements and use your level to make sure they are matched. Then do the initial holes at base and top. Get your mate to hold the first rack in place and fix the top screw halfway in and do the same with the base screw. Once these are in place do your midway screw and then drill all three home. Do the same with the other side and rack piece.
And of course, you could use this horizontal surfboard rack to store other gear that's not too heavy - fishing poles, kayak paddles and garden tools. If you want to store heavier items the vertical rack may work better, just adapt the size between shelve racks to suit what you're storing and choose larger brackets and a hardier wood and ensure the wall you're drilling into can bear the weight.
Whatever you have in mind to do for your dad this coming Father's Day just remember that spending time with him is what counts most. You are most definitely his best dream come true so any other little chore of his that you do, or any helpful gift you give, will make extra time and energy to spend together - maybe even time enough to get the garden ready for some Spring veggies planting out.
Below run a few gift ideas to suit any budget, but to see the full range, pop into your local JBH store and have a good look around - you're sure to spot the perfect for your dad item. The Best Gifts for the Best Dads catalogue runs until September 3rd, available to read in full online HERE.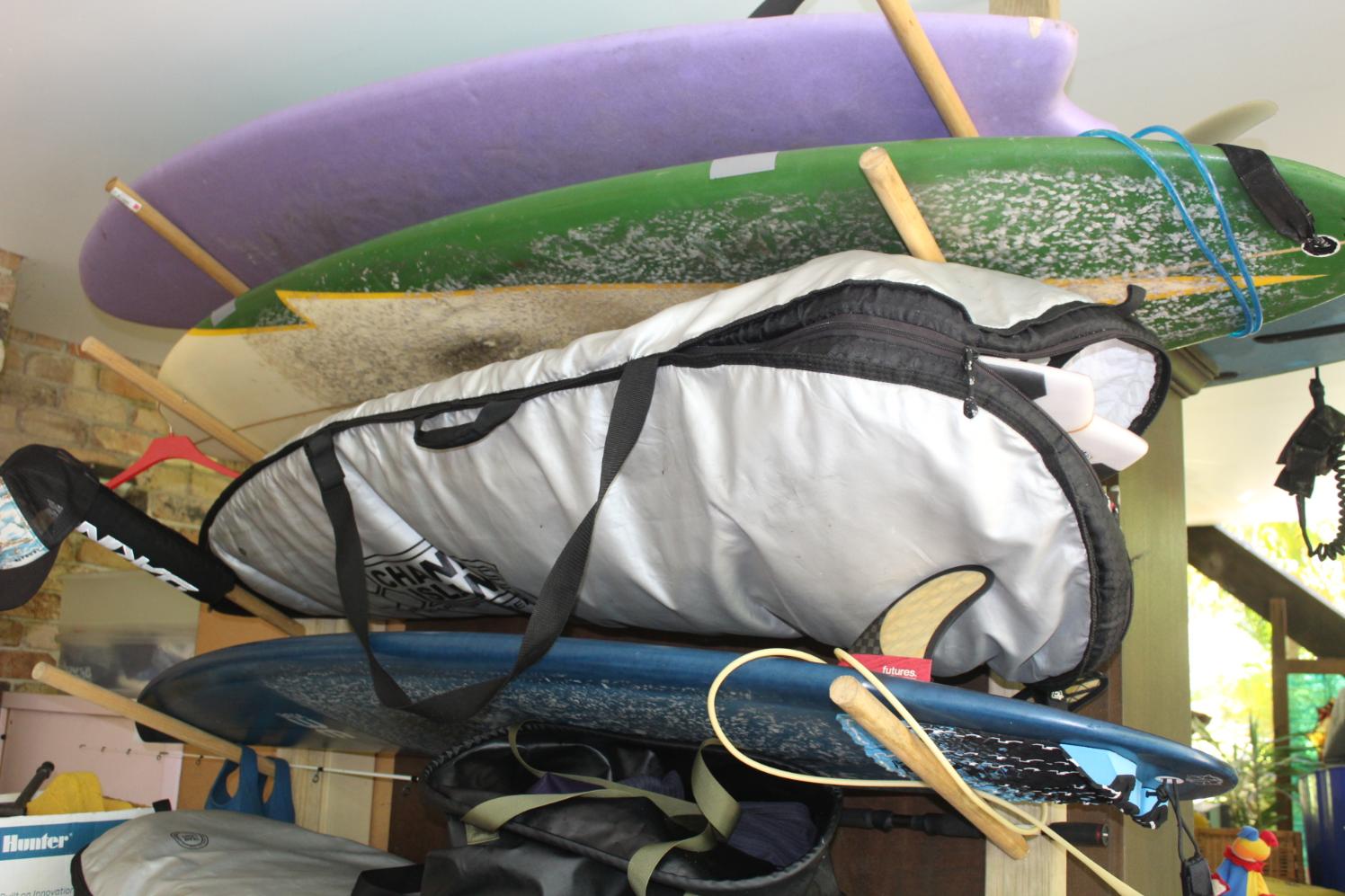 Father's Day 2023 Gift Ideas For Your Dad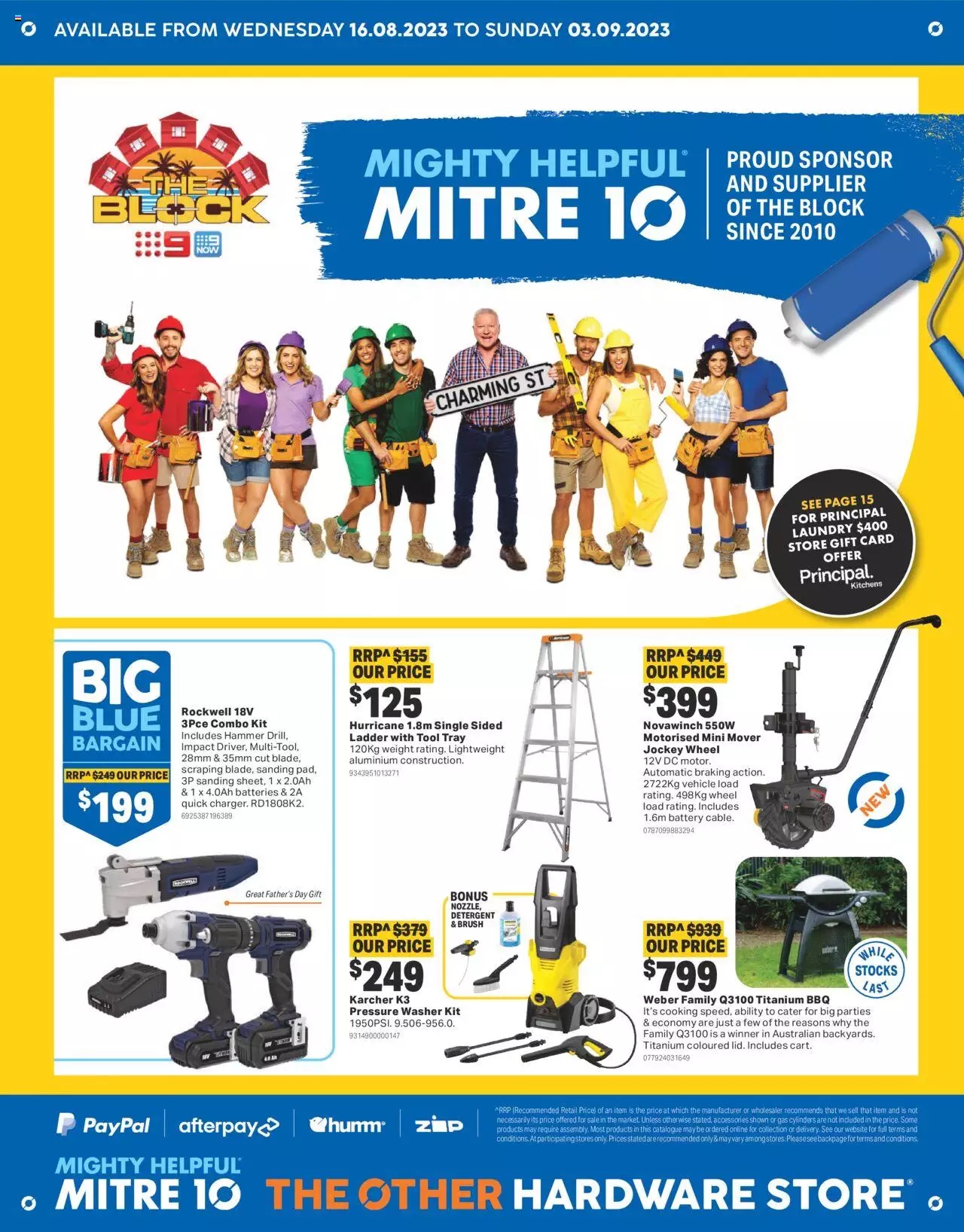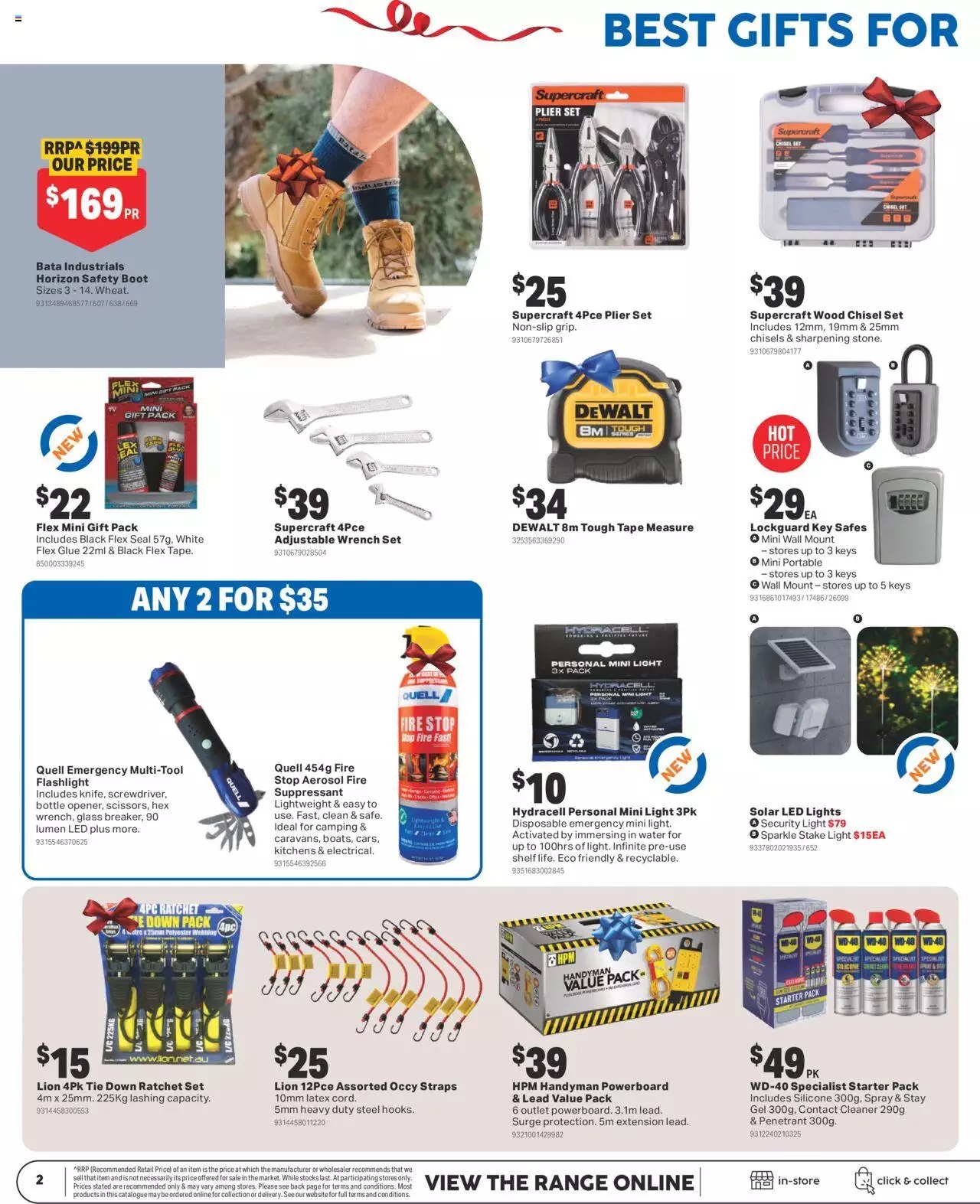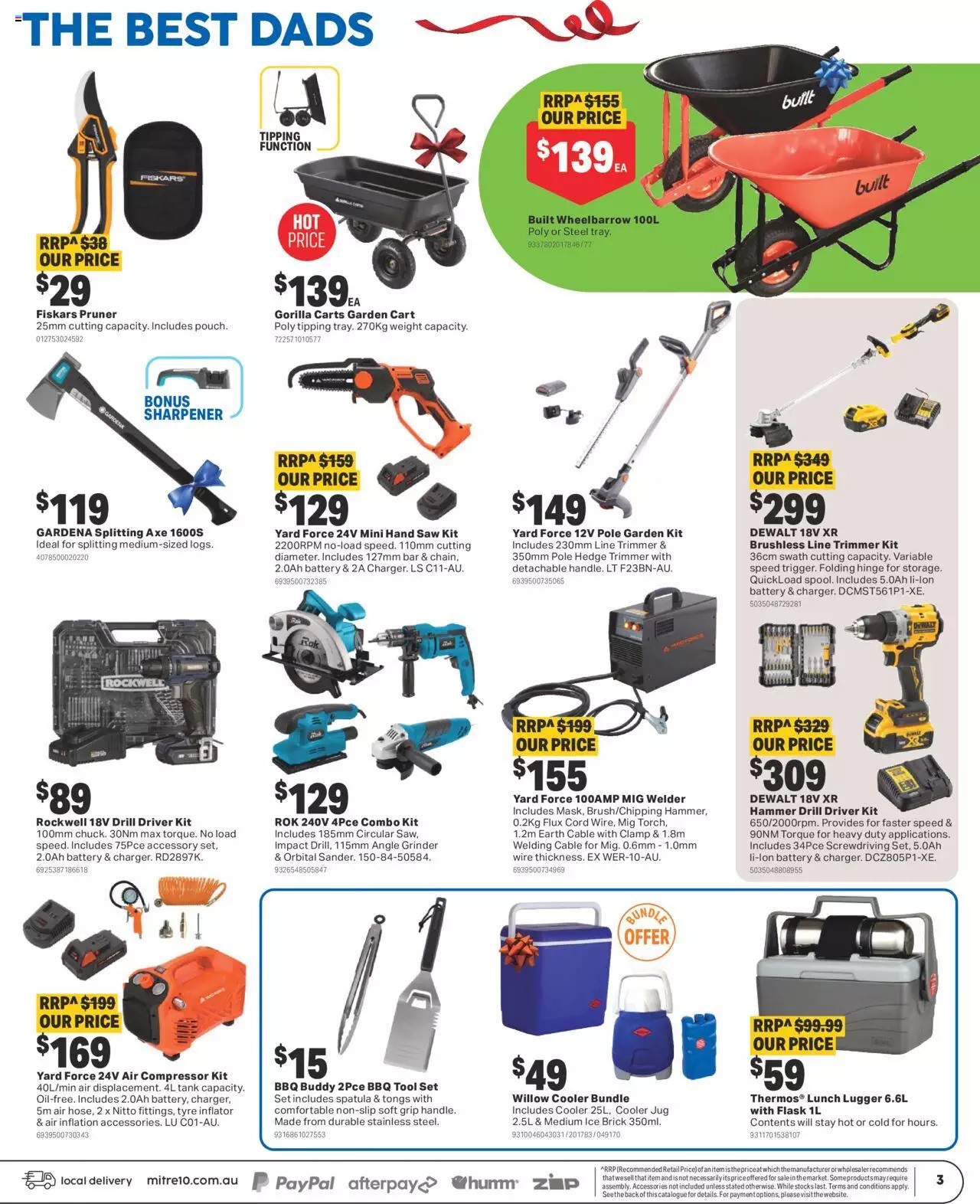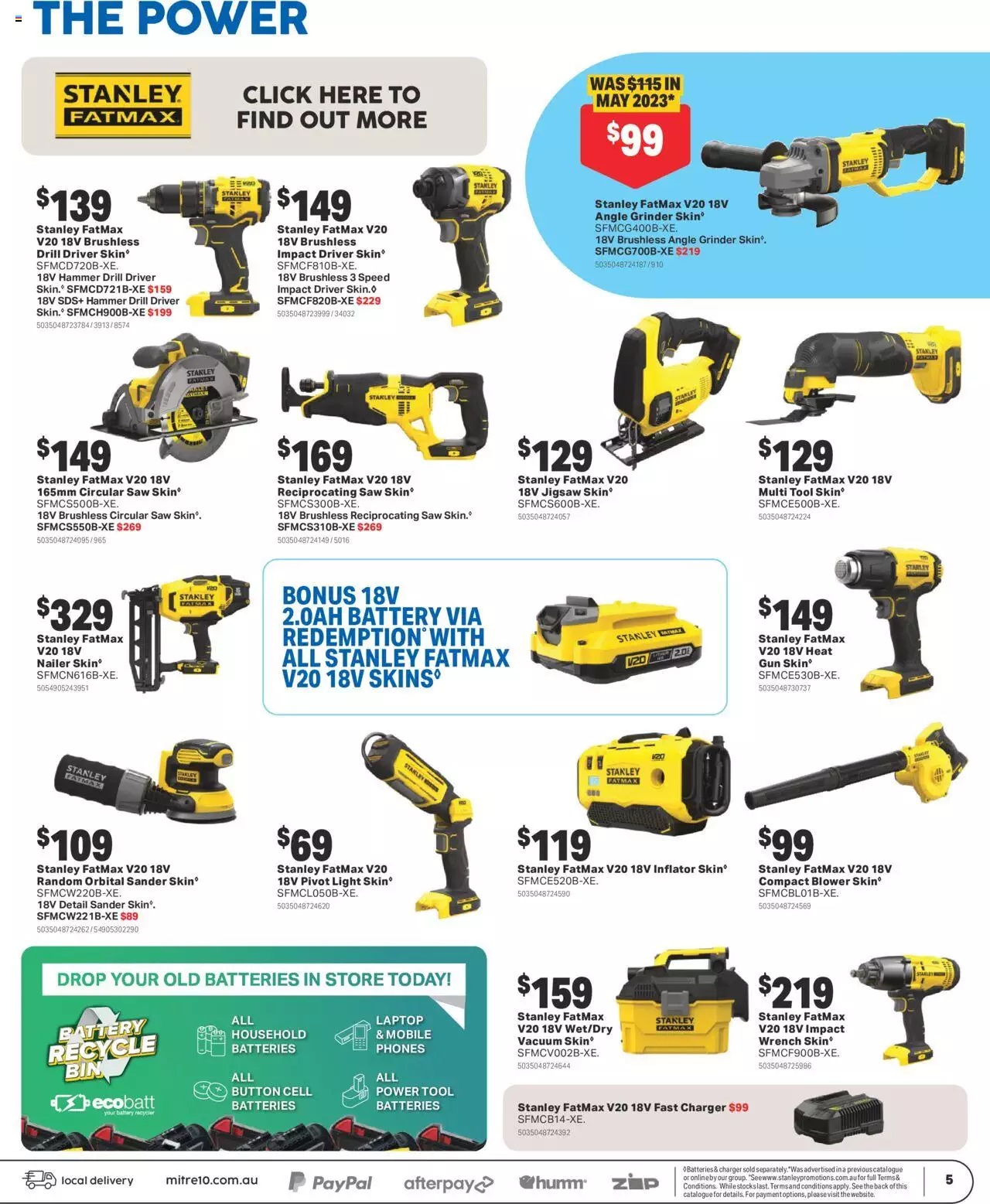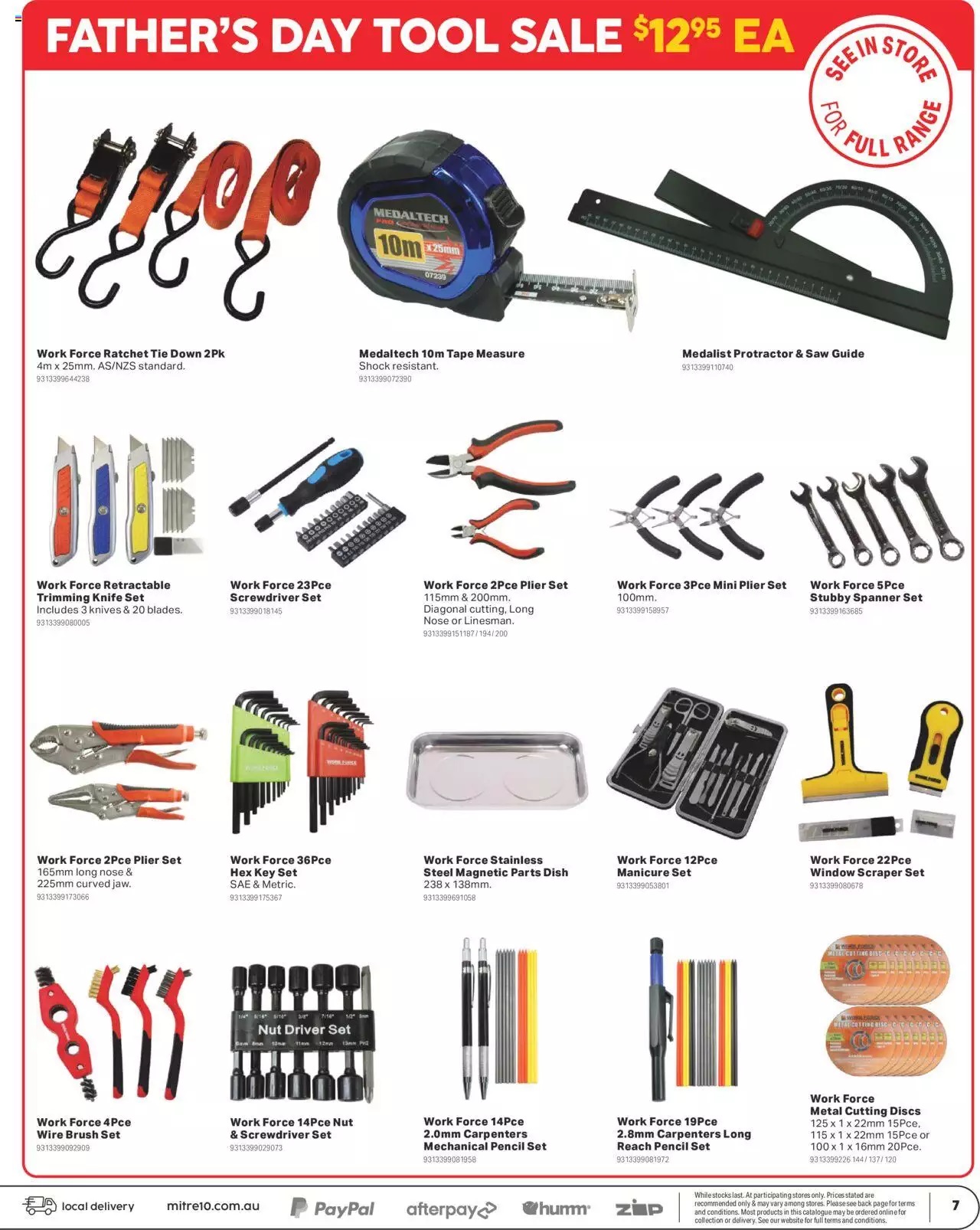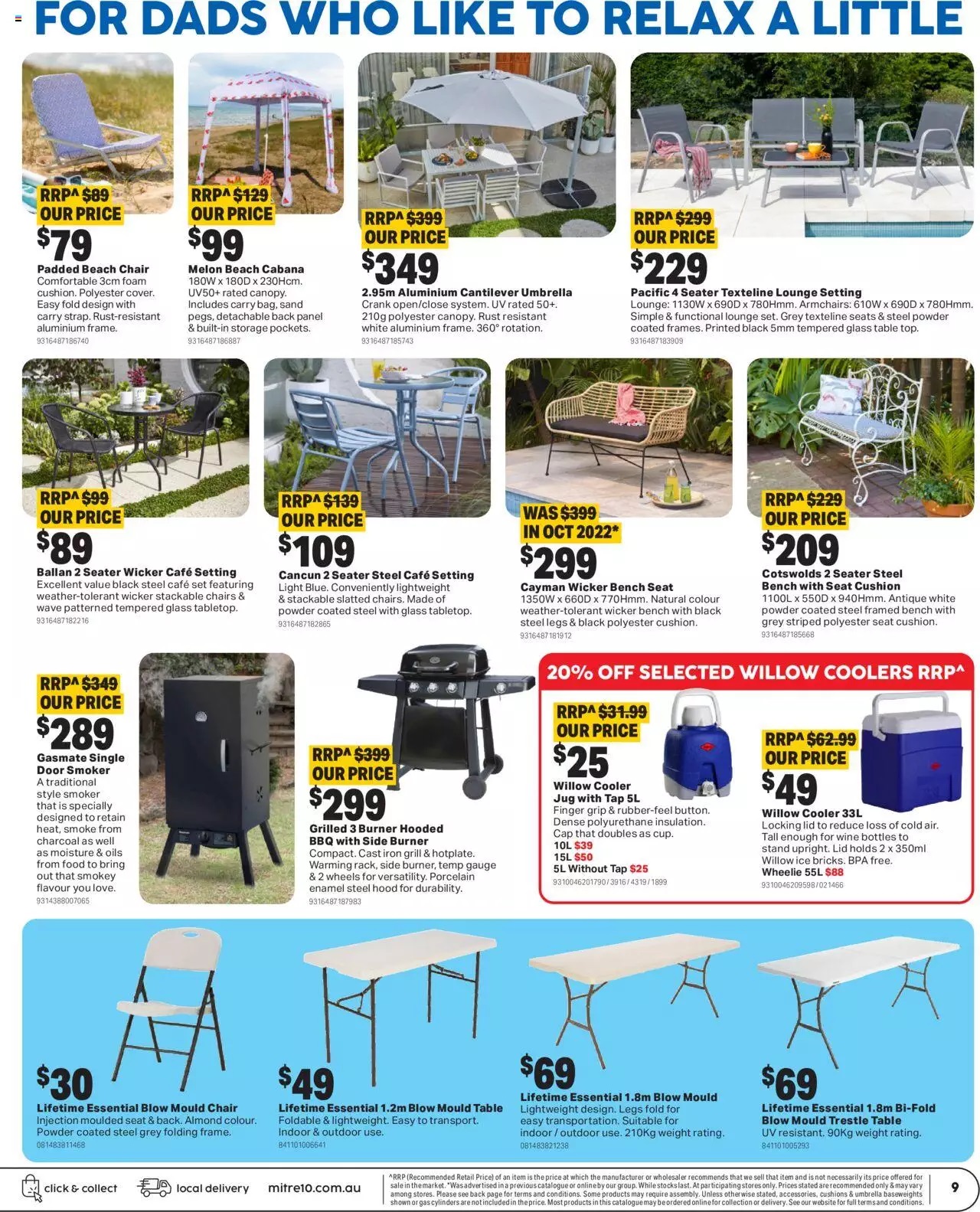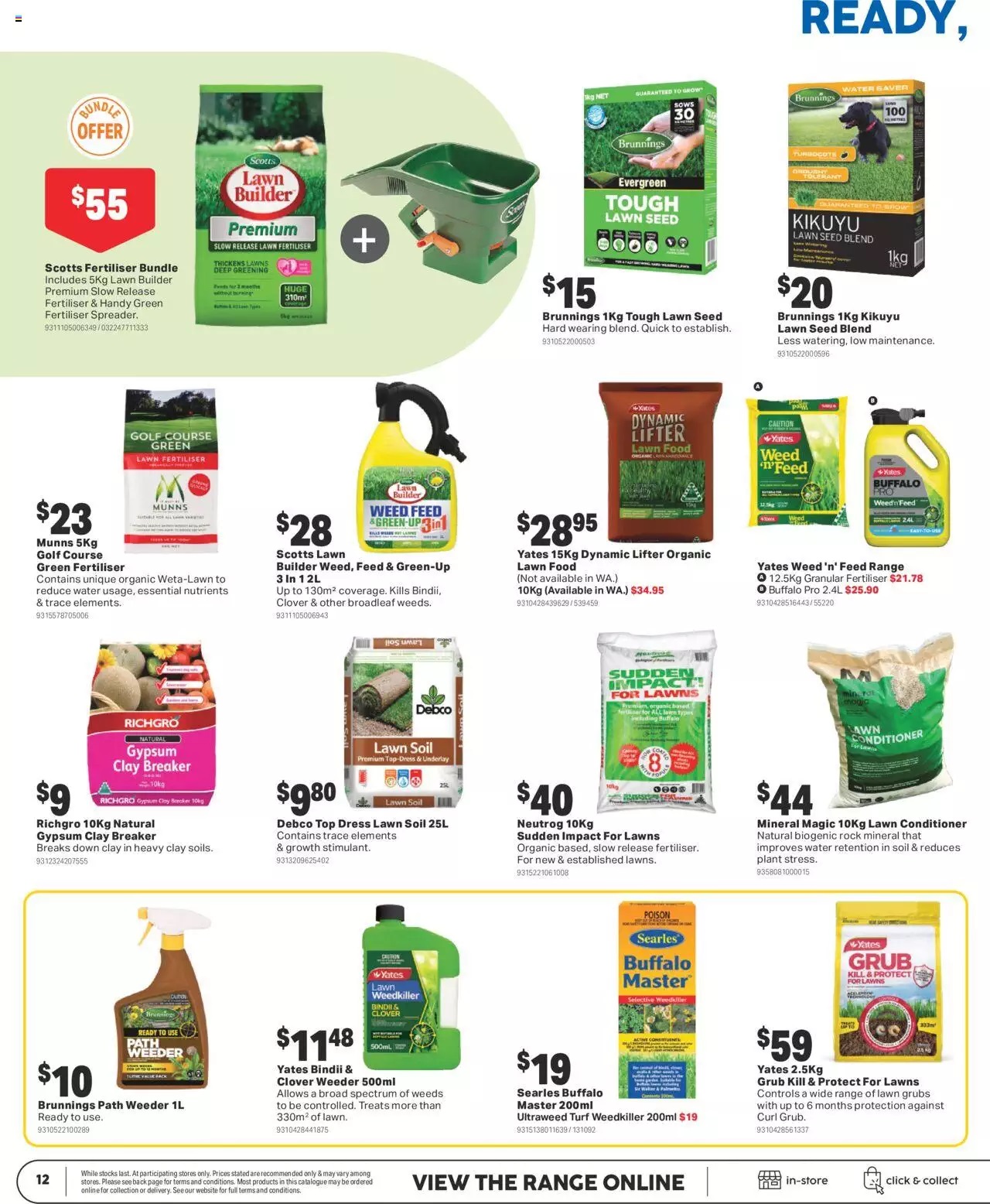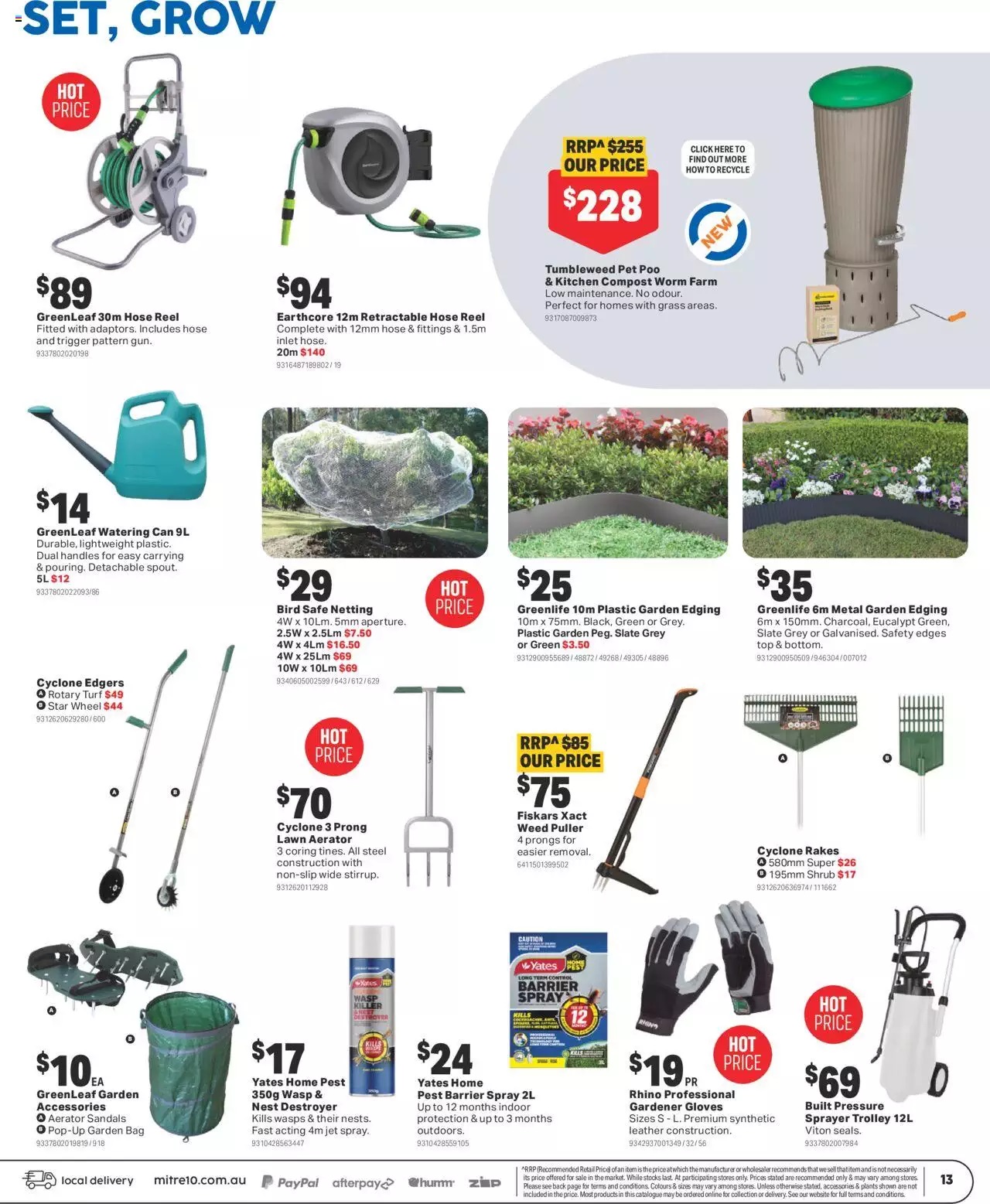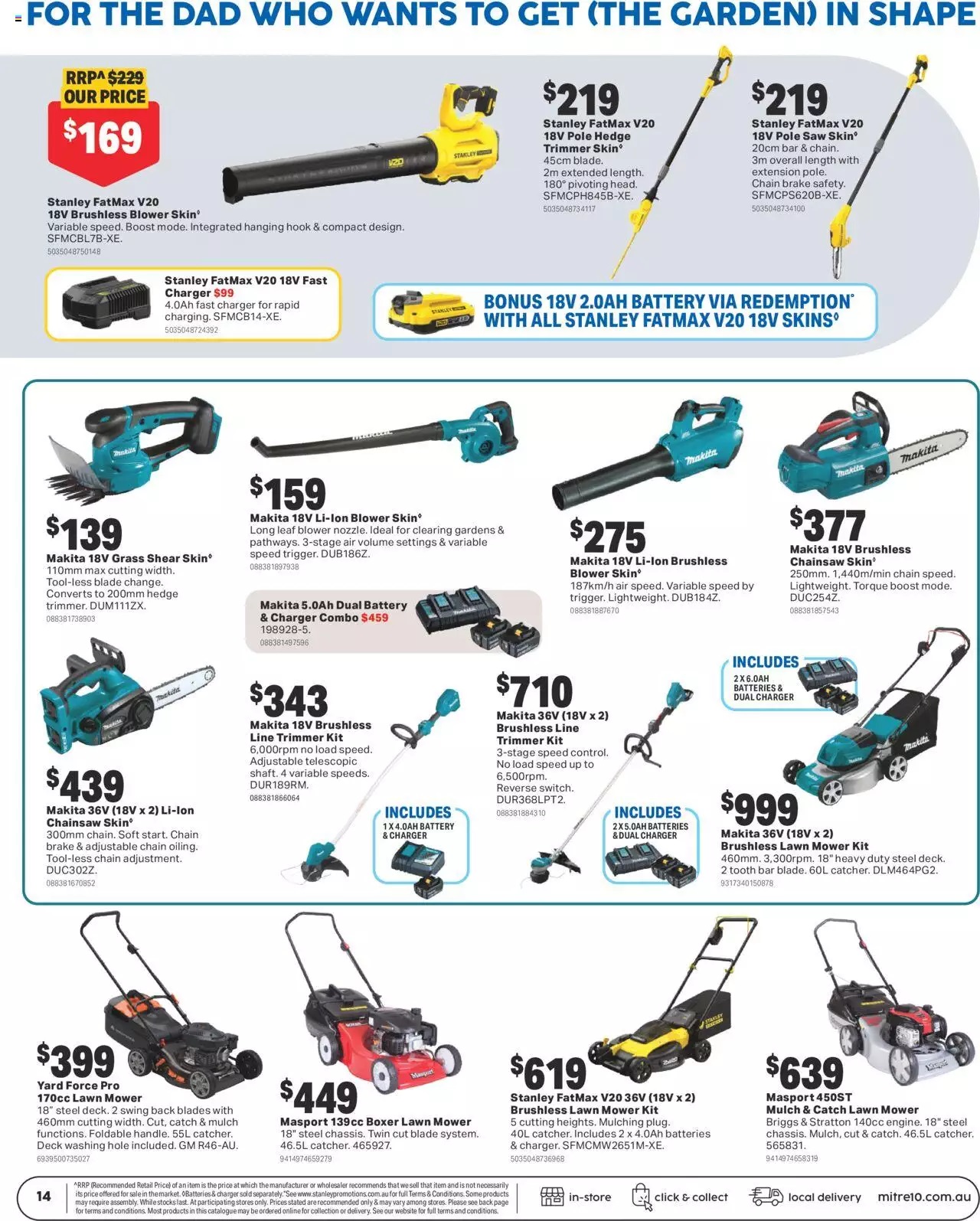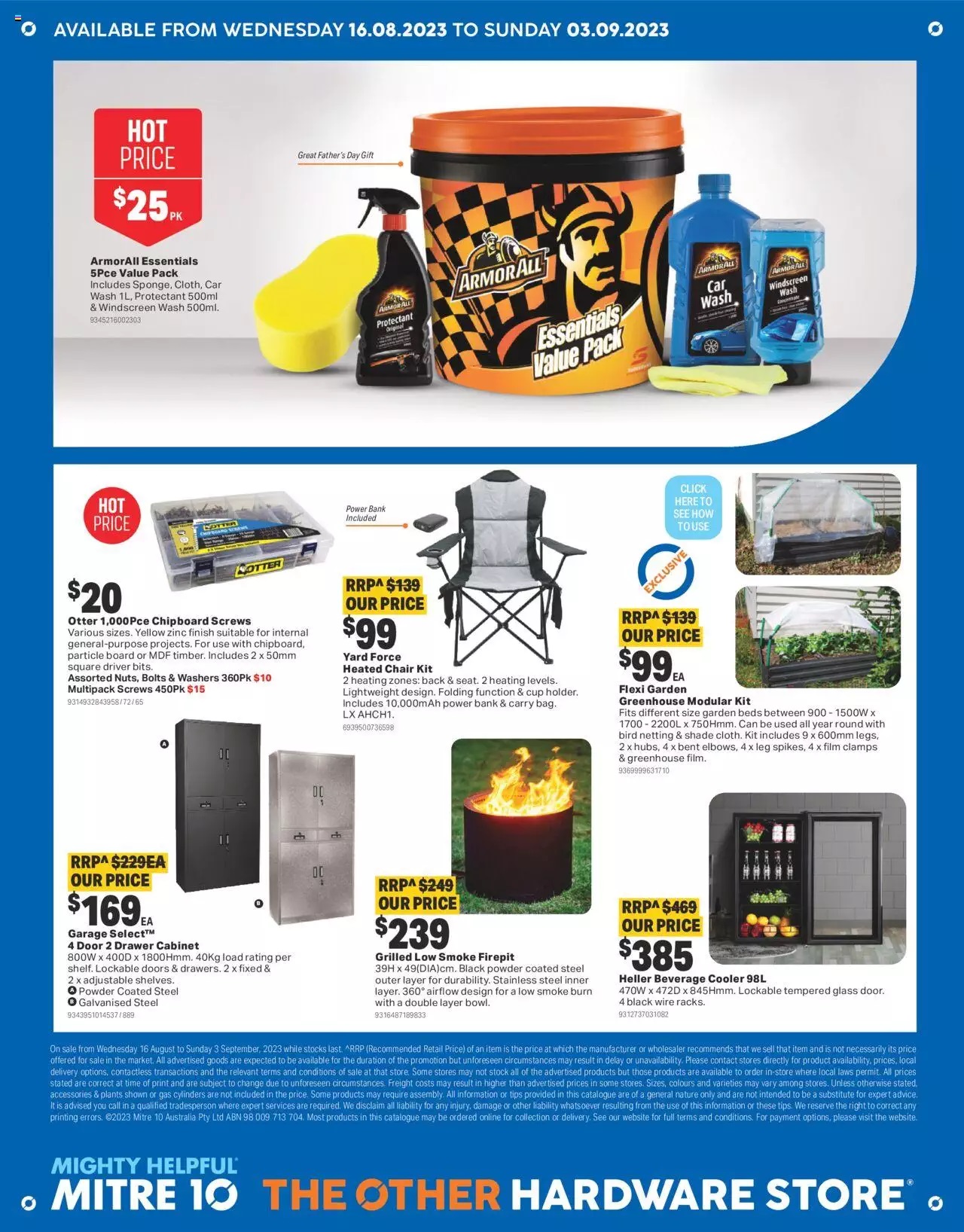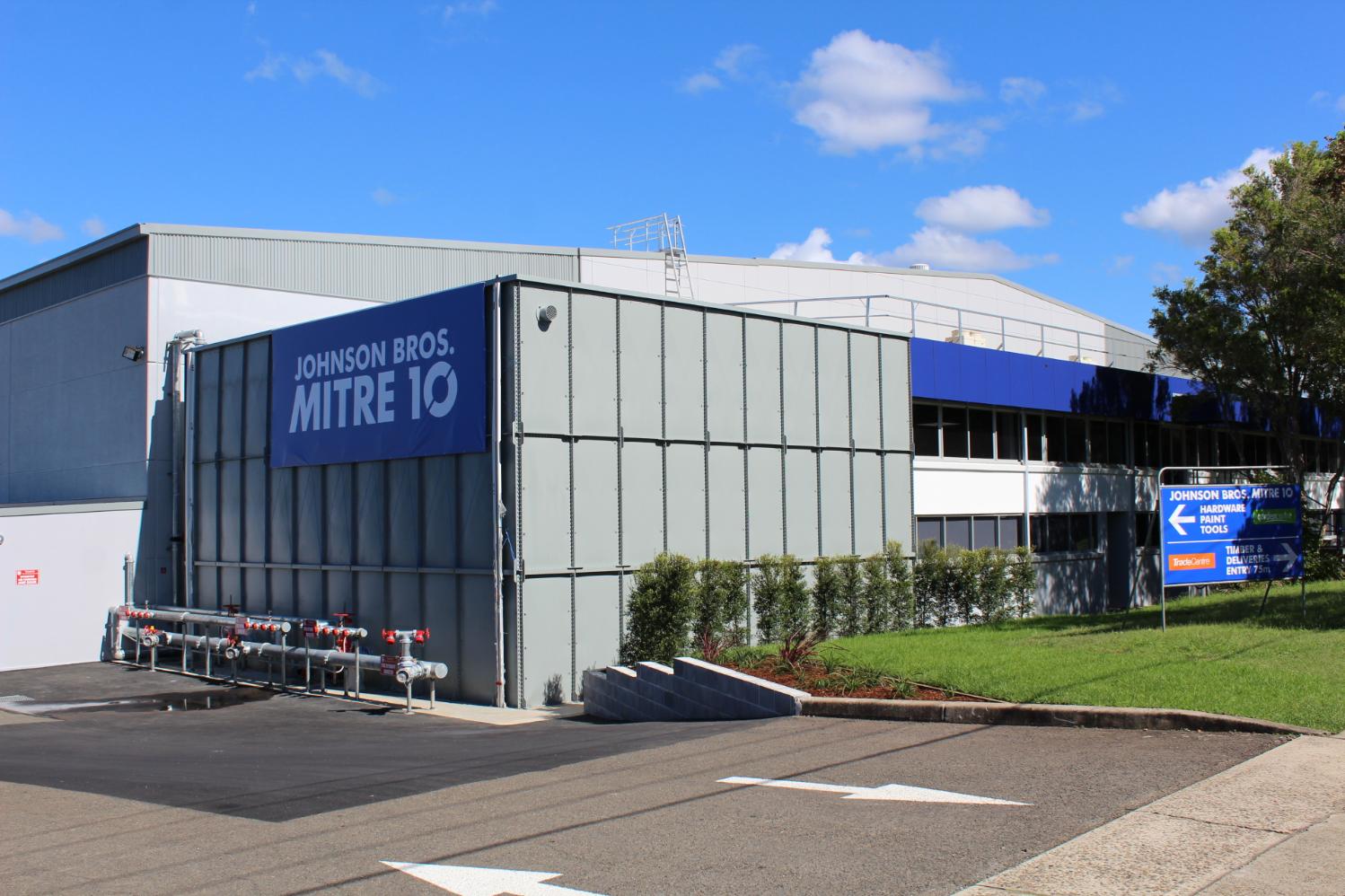 Johnson Brothers Mitre 10: Serving Our Community Since 1955
The Independent Hardware Group has awarded Johnson Bros Mona Vale the best in state at the IHG state awards and heads to the national finals on the Gold Coast in February 2022.
Congratulations to the store in Avalon Beach as well, which won best in village.
Johnson Brothers say; ''Thank you to all of our amazing staff and customers for being awesome!''
IHG is Australia's largest home improvement wholesaler supplying more than 1,500 stores nationwide. These stores cater to a broad range of Trade and DIY customers and range from large format warehouses to convenience operations and Trade centres, as well as frame and truss sites in two States.
Under the IHG network, there is a clear mandate to support the growth of Independents within the hardware sector in Australia by helping them to be 'The Best Store in Town'.
The culture of IHG is built on being a low cost and transparent business partner to members, with an unwavering commitment to protect and grow a sustainable independent hardware sector for the long term.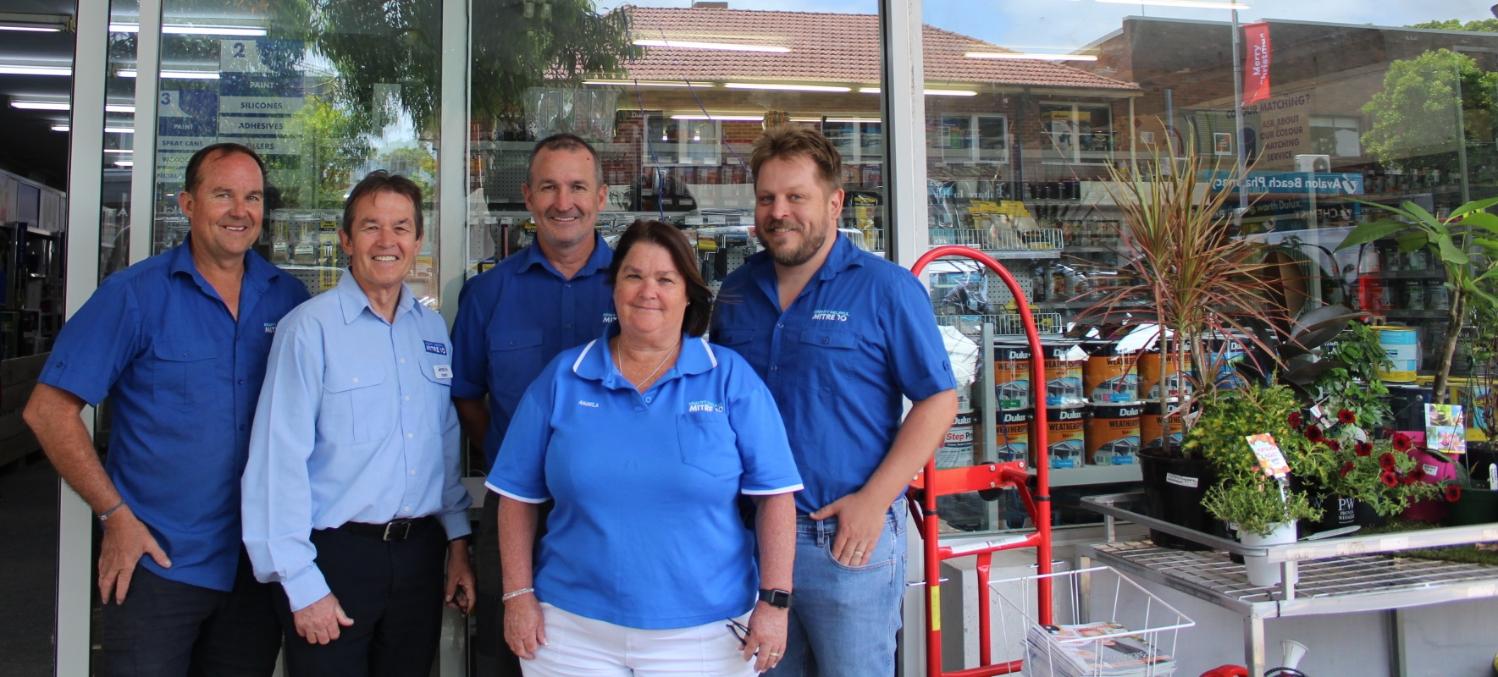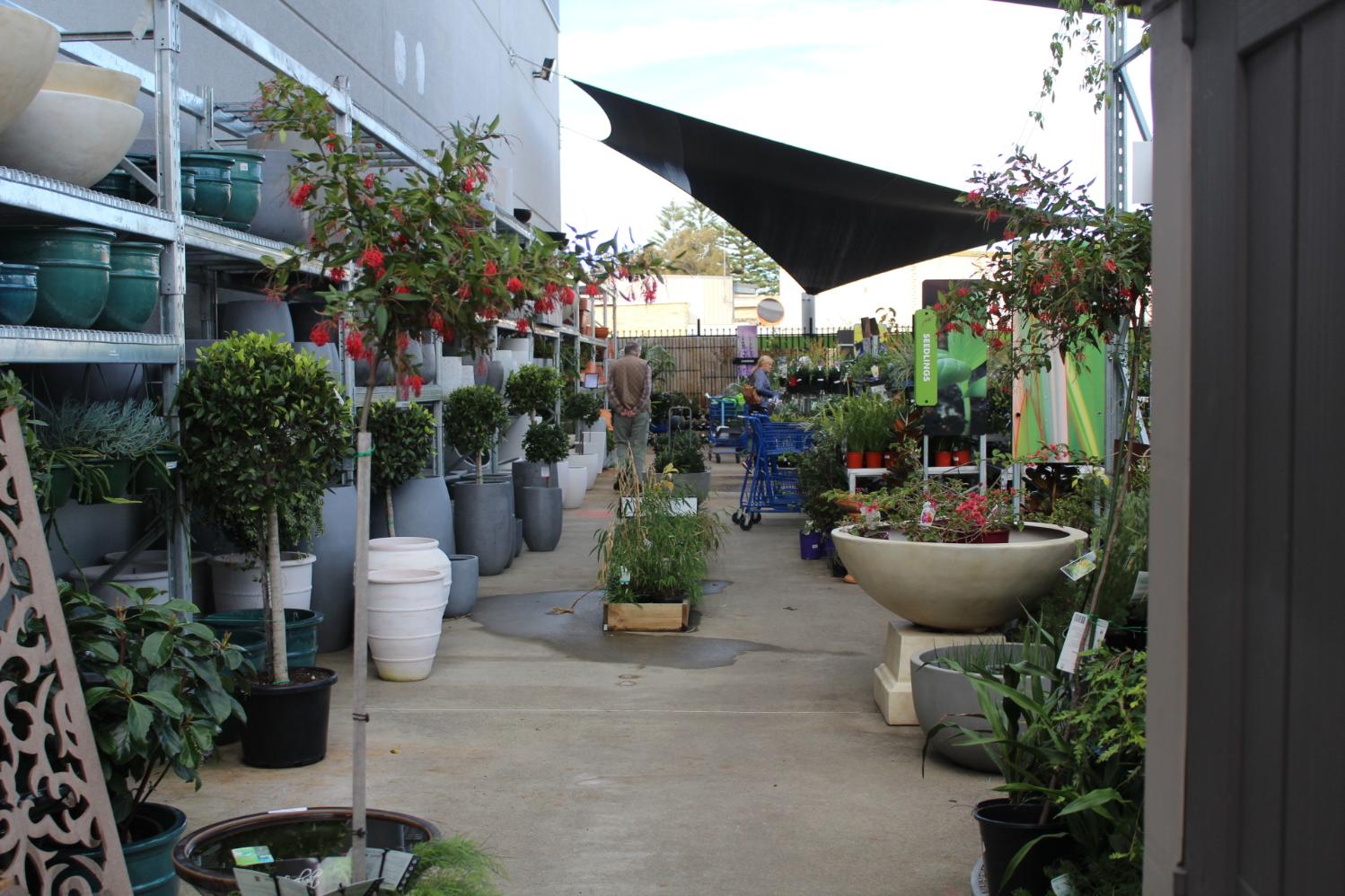 Greenlife garden centre at Johnson Brothers Mona Vale - for all your gardening needs.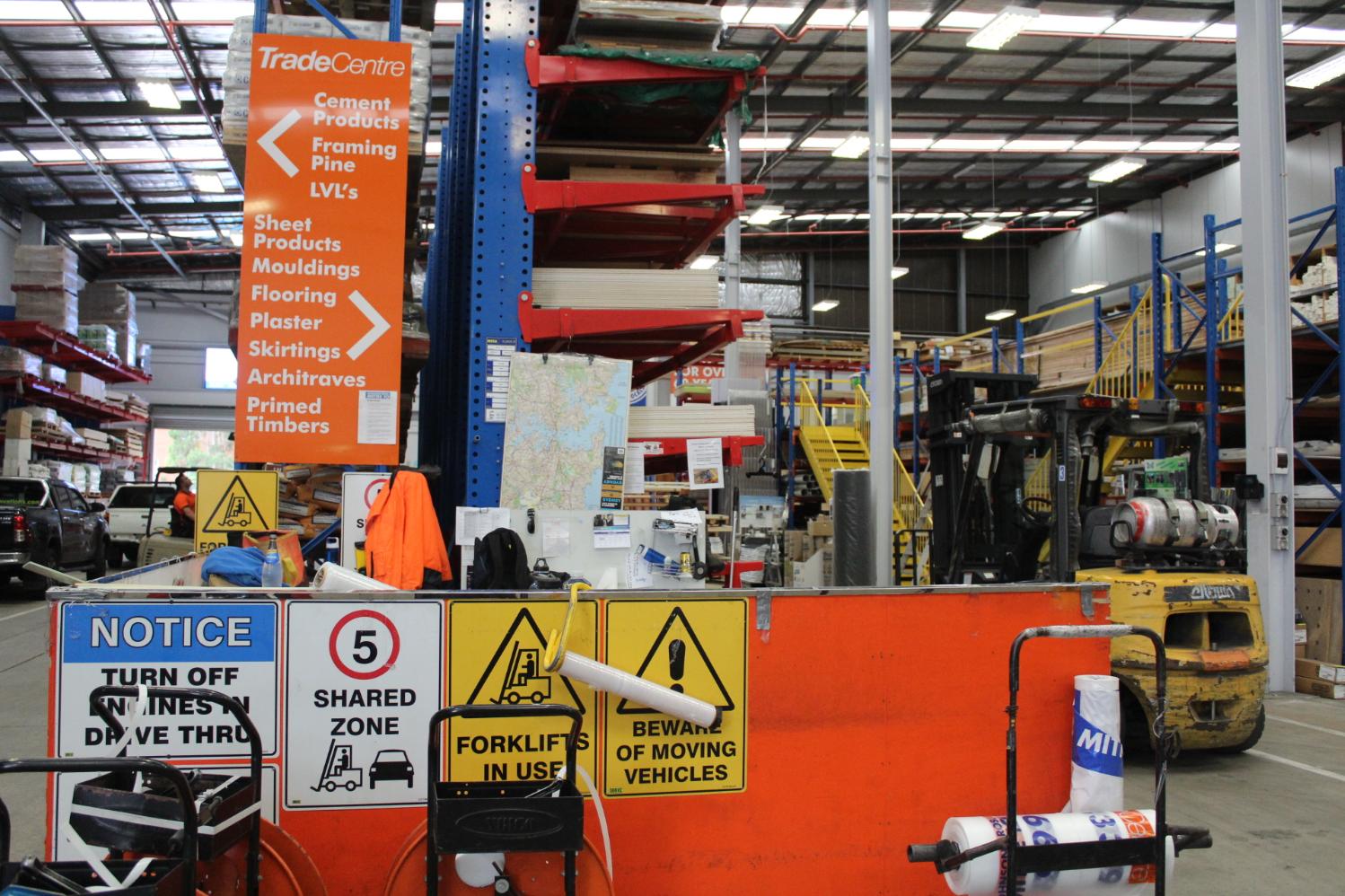 Johnson Brothers Mitre 10 Trade Centre at Mona Vale - everything you need under one roof.
JBH Design Centre
JBH Design Centre is a tool for builders and DIY'ers to assist in the fit out of houses. It has displays of kitchens, Bathrooms, Doors and Storage as well as knowledgeable staff to assist in making house fit out painless.
Visit: http://jbhdc.com.au/
On Facebook: https://www.facebook.com/design.centre.jbh/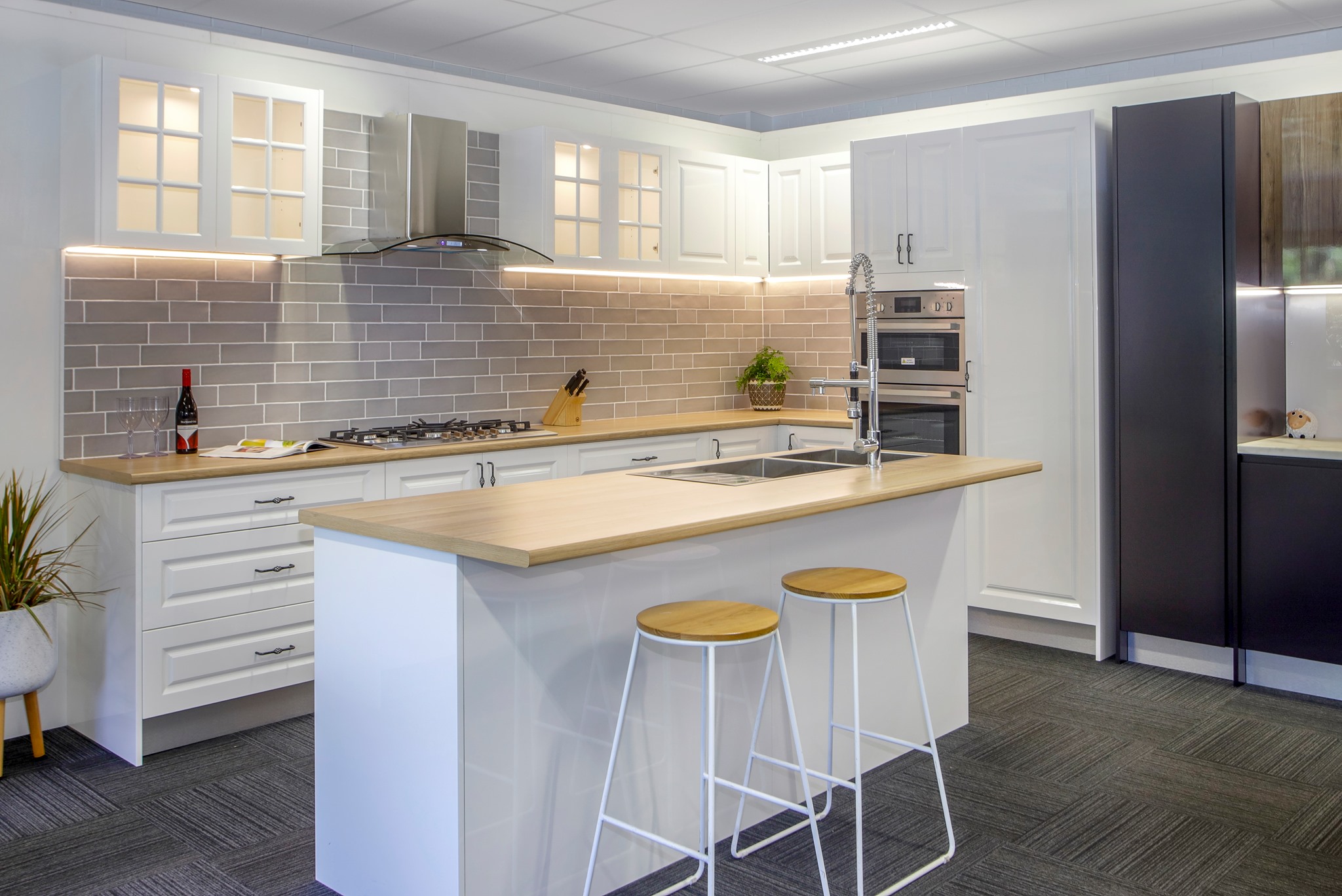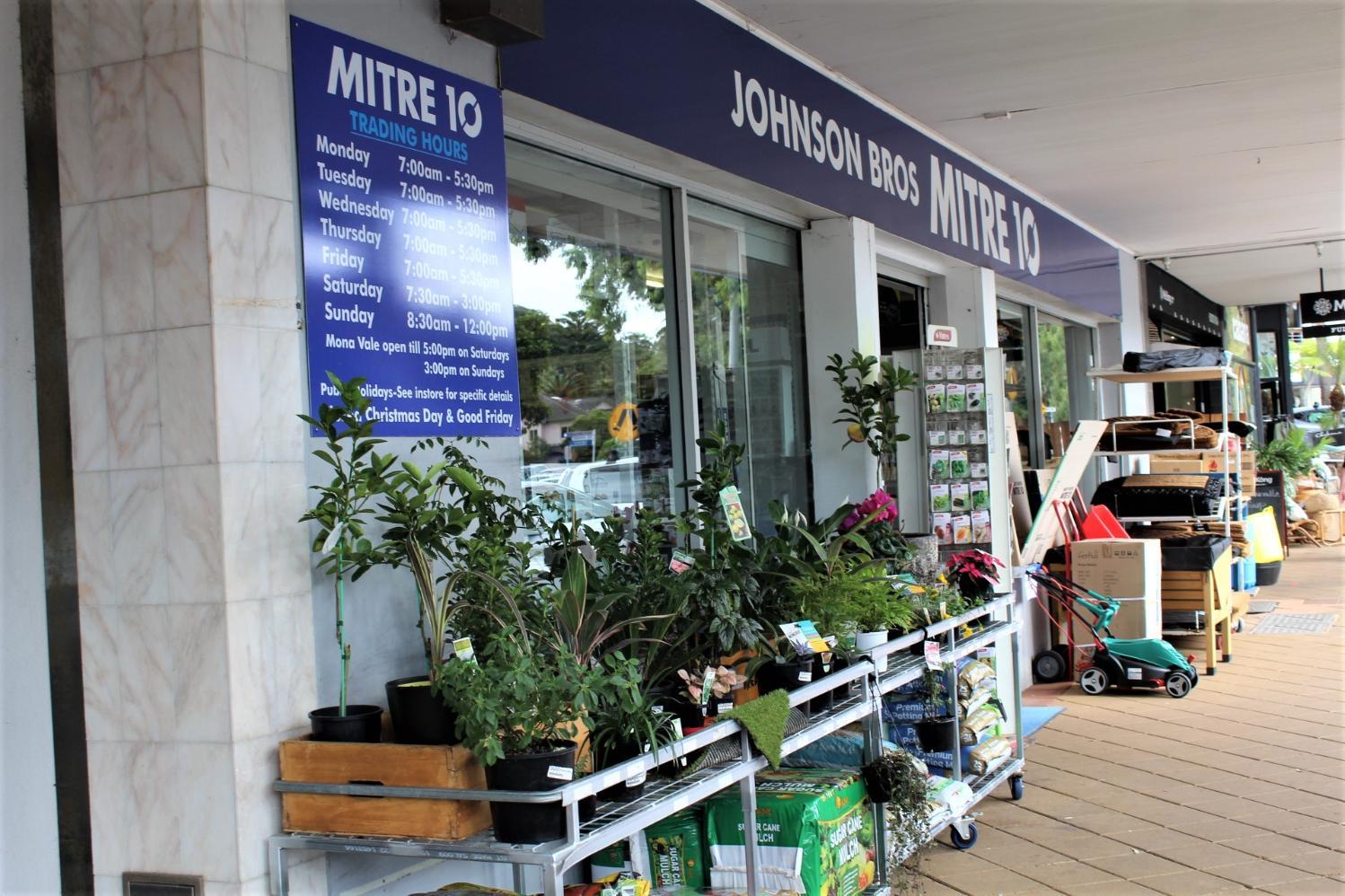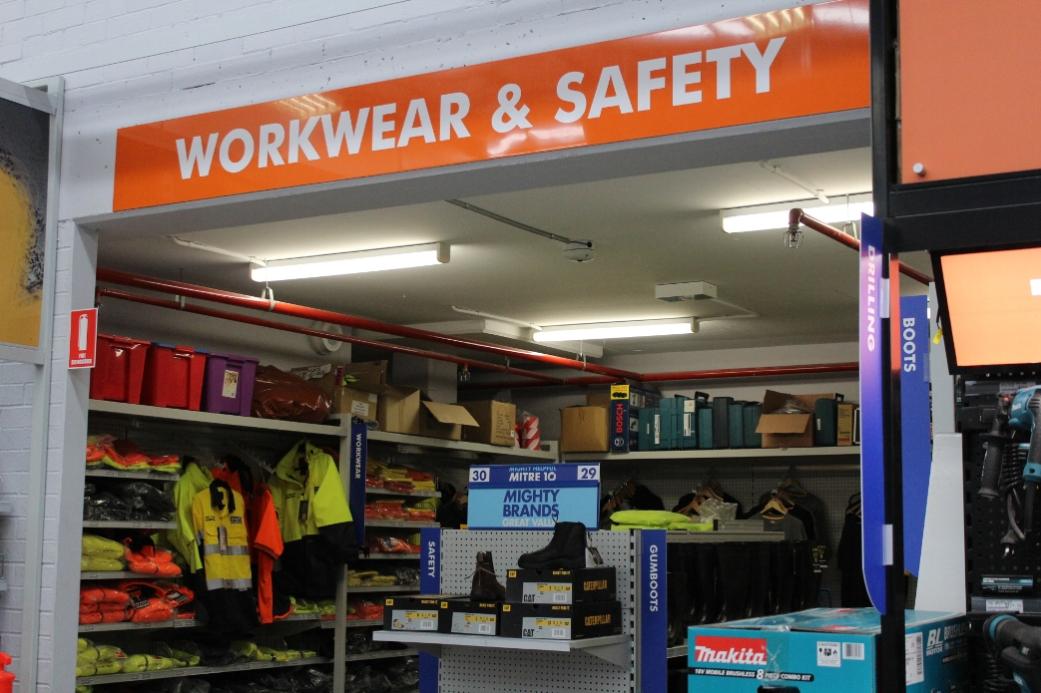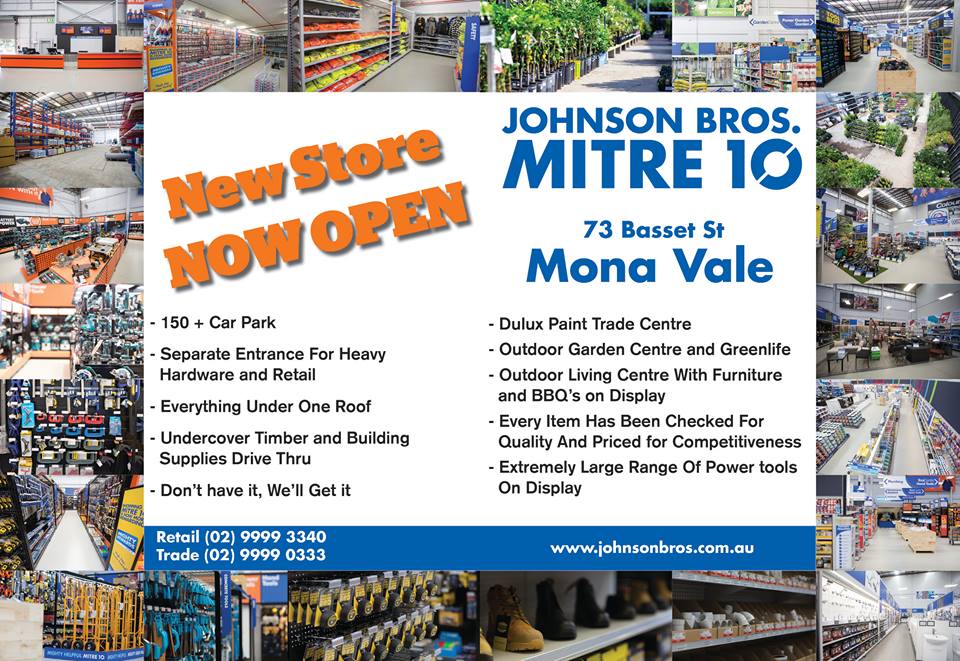 Johnson Brothers Mitre 10 New Store
73 Bassett Street
Mona Vale - Online Store: Jbhmv.Com.Au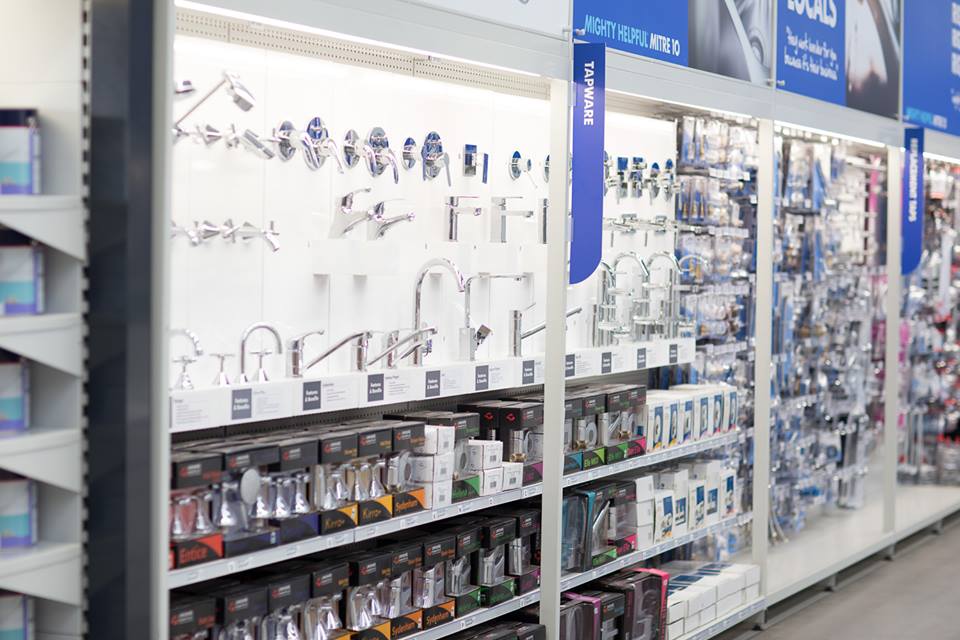 Products advice is available from the trained friendly staff at Narrabeen, Mona Vale and Avalon Johnson Brothers Mitre 10.
Click on logo to visit Johnson Brothers Mitre 10 website
Johnson Bros Mitre 10 - Avalon (02) 9918 3315
Johnson Bros Mitre 10 - Mona Vale (02) 9999 3340
JBH Timber & Building Supplies (02) 9999 0333
JBH Fencing & Landscape Supplies (02) 9970 6333
www.johnsonbros.com.au Online store: jbhmv.com.au

Bob, John and Robert Johnson, 2013 - photo by A J G.
All information and tips in this publication are of a general nature only and neither Johnson Brothers Mitre 10 or Pittwater Online News does not warrant the accuracy or completeness of the information and tips in this publication. This publication is not intended to be a substitute for expert advice.
Johnson Brothers Mitre 10
advises you to always consult an experienced and qualified person when undertaking jobs of this kind (including consulting a qualified tradesperson such as an electrician or plumber where relevant expert services are required).
You should also consider any safety precautions that may be necessary when undertaking the work described in this publication (including wearing any necessary safety equipment such as safety glasses, goggles or ear protectors or hard hats). The information and tips in this publication are provided on the basis that
Johnson Brothers Mitre 10
and
Pittwater Online News
excludes all liability for any loss or damage which is suffered or incurred (including, but not limited to, indirect and consequential loss or damage and whether or not such loss or damage could have been foreseen) for any personal injury or damage to property whatsoever resulting from the use of the information and tips in this publication.
Pittwater Online News and
Johnson Brothers Mitre 10
also advises there may be laws, regulations or by-laws with which you must comply when undertaking the work described in this publication. You should obtain all necessary permissions and permits from council and/or any other relevant statutory body or authority before carrying out any work. Major projects published in this publication always list these and/orlinks to where you may research what your own project requires to meet regulations.