September 19 - October 2, 2021: Issue 511

Spring School Holidays Projects For The Young And Even Younger:
A Swing Chair - With An A Frame For Garden Setting + DIY Dolls House Or Garage Or Boatshed
How To Build A Porch Swing With A-Frame For Garden Setting
Modified from version found on
Wikihow
The Porch Swing is a classic great outdoors seat that is still being made and used and when made well will last and make any nook or veranda into a special place. You can paint it or stain it, adjust the lengths and widths to suit yourself, and have something truly unique that just invites people to spend time enjoying the season outdoors.
You will also save yourself thousands of dollars in making this item and once you make one, you may dream up a few alternatives, such as pergola outdoor beds, or adjust lengths and widths and the A-framing to create little freestanding arbours. Although this version, when not part of a verandah, may be moved, this idea is for a permanent piece of garden furniture to highlight a corner of your garden, or turn that same corner into a private peaceful space.
If you are going to do the in-garden A-Frame version this project will take two weekends. It will be worth it though!
Warnings
Connections must be secure for safe use of the finished swing. If using the stand alone frame to place in your garden, we recommend cementing the base of poles into the earth to add safety and steadiness.

Never let small children play on this swing unattended; they may fall off, or it may swing into them. Use safety precautions when operating power tools and please use proper safety equipment to protect your ears, lungs and eyes when operating power tools or using paints and stains or sanding woods.
Materials List
24(twenty four) x: 25.4x102mm or 50x102mm (1x4in or 2x4) boards as long as the desired length of your swing (for seat slats)
One 51x152mm (2x6in) board, 2.44m (8ft) long
30 (approximately) 76 or 89mm (3 or 3 1/2in) 12 gauge galvanised screws
180 (approximately) 51mm (2in) 8gauge or 10gauge galvanised screws
4 x 9.5mm x 76mm (3/8in x 3in) galvanized eye bolts with nuts and washers
2 x 9.5mm x 51mm (3/8in x 2in) galvanized eye bolts
Length of chain (3/16in, 4.7mm) to hang swing or rope able to bear 500 pounds of weight if choosing to use rope
Outdoors Paint or Stain
For the A-Frame
A – 4 pieces of 4×4 timber – 2.70m long POSTS
B – 2 pieces of 4×4 timber – 83cm long, 2 pieces – 11 1/2″ long BRACES
C – 2 pieces of 4×4 timber – 77.70cm long SUPPORTS
D – 1 piece of 4×4 – 2.74m long TOP BEAM
6 x 6.5cm galvanised screws
6 x 9cm galvanised crews
Cement – if installing in garden
4 x posts for cement (optional)
Wood stain or paint
sandpaper
Tools List
Circular saw
Jigsaw
Compound saw
Sander
Hammer
Tape measure
Square
Level
Drill with bits
Carpenters pencil
Spade
Safety Equipment: eye goggles – ear muffs – mask to stop wood dust or timber stain fumes being inhaled
Preparation
1. Make sure your ceiling framing is strong enough to support your porch swing. A typical two-person swing can be supported by a single 2 x 8 joist, two 2 x 6 joists, or three 2 x 4 joists, provided all joists are adequately supported at both ends for load-bearing application.

Measure the space where you want to install your swing. This area will determine how long your porch swing will be. If the ceiling above your porch has joists, exposed beams, or any other structural elements with cracks running between them, you may want to make the bench a length that will allow you to centre the anchors for hanging the swing between the cracks. Also measure the distance behind the swing – allow room for it to swing if you wish to use for more than a gentle rocking motion. If you are installing on an A-Frame in an open garden space, allow 1.2 metre behind and before. For side clearance, allow at least 35 to 37 centimetres on either side of the swing.

Decide how deep the seat and how tall the back should be. Measure the seat and back of a similar chair that you feel comfortable in (e.g. a dining chair or a garden bench). The swing built over the course of these instructions is 508 mm (20 in.) deep in the seat and 457 mm (18 in.) tall in the backrest and 1 metre long. This sizing is ranged towards a tall individual and may need to be adjusted for people with shorter legs.
2. Choose the materials you will use for building your swing. There are now a great range of Australian treated timbers for outdoor use which will not destroy forests, will stop termites and product breakdown – discuss what will suit where you are best and how you want it to look when finished with the trained staff at Johnson Brothers Mitre 10. The sizing suggested here ensure the components are thick and strong enough to support the weight they may carry.
3. Decide how you want the bench to look – do you want just straight across slats or do you want to build in some horizontal slats to contrast with vertical slats.
Here's
a great idea for something just a little more fancy to look at but not much more difficult.
3. Gather all the tools, fasteners, and timber you need for the project.
Measuring and Cutting
1. Measure and cut the slats 50x100 mm (2x4 in.) boards the length you want the finished swing to be (1 metre in this case). Cut these boards to length, being careful to make all cuts square (90 degrees).

2. Cut the boards into slats for the seat and back. The seat slats need to be 19 mm (3/4 in.) wide, while the back slats (which support less weight) only need to be 12.7mm. (1/2 in) wide. For a seat 20 inches (508 mm) deep, you will only need about seat 17 slats (to allow for gaps between slats); for a back 18 inches (457mm) tall, you will only need 15 back slats. The version here uses 24 slats.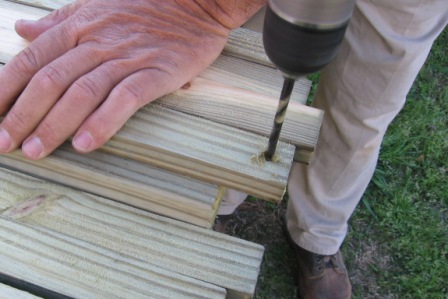 If your seat or back will be a different size than the one in this example and you aren't sure how many slats you'll need, make several slats fewer than the total measurement of the space in inches. Aim on the low side for now; you can always make more later.

4. Drill through each slat, 25.4mm from both ends, with a 4.76 mm (3/16 in.) drill bit. Later, when you attach the slats to the frame with wood screws, these pre-drilled holes will keep the slats from splitting.
We recommend also drilling a hole in the dead centre of each slat to attach to a centre support. If you're making a short bench and/or working with hardwood, a centre support may not be necessary. If in doubt, however, include one, this will ensure a stronger longer lasting piece of furniture.

5. Always sand these smooth when cut and even stain if you want a stained wood finish. This will ensure you apply enough wood-stain/paint prior to the slats being too close together to do this as effectively.

6. Cut 6x (six) 51x152mm (2x6 in.) back and bottom supports. If your bench only needs outer supports, cut two back and two bottom supports; if it also needs a centre support, cut three of each. The length of the back pieces should equal the desired height of the bench; the length of the bottom pieces should equal the desired depth of the seat.

7. Draw and cut curves into the back and bottom supports (optional). The bench in this example has gentle curves cut into the bench supports to make the bench more comfortable (and nicer to look at). The amount of curvature depends on your preference, but the seat and back can actually be straight if you prefer.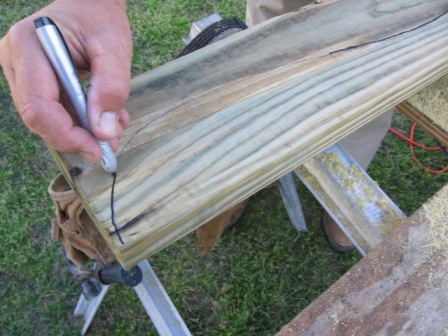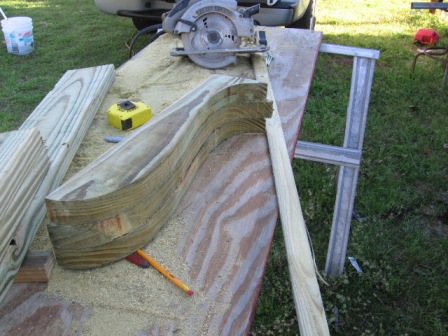 Create a Template to do the curved version; Choose one back support piece, draw the curve freehand with a pencil, then go over it with a marker. Unless the back and bottom supports will be the same length, you will need to do this again with a bottom support piece.
Cut the marked back support piece with a jigsaw. Leave the narrow end a bit long for trimming to fit the joints together. Next, either trace it onto the other back supports or use it as a jig. Repeat with the bottom support pieces.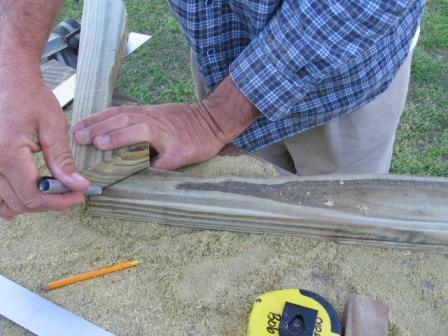 NB:
If this seems too fiddly stick to just making straight back and base supports and throw a few colourful cushions on your finished item for a touch of panache.

8. Cut a mitre at the ends of the back and the seat board. This is so the back and seat boards join at the correct angle for the amount of slant (recline) you want your seat to have. You can start by cutting a 45-degree angle into one of the two pieces, then laying it on top of the opposite piece and twisting it until you get the amount of angle you want.
When you're satisfied, mark the angle onto the uncut piece by tracing along the edge of the top piece you just cut, then cut along the traced line. Trace the cut edge of the back support piece into all the other back supports and cut them to match, then do the same with the bottom supports.
The two angles may not be the same. This shouldn't matter since they are on the bottom rear of the swing, out of sight.
Putting the Swing Together
1. Attach the back supports to the bottom supports. Drill pilot holes for the screws that will join each pair of supports together, then fasten them with 89 mm (31/2 in.), 12 gauge Galvanised wood screws. This is a critical connection: since the screws are the only support for this joint, they will have a good bit of pressure in them. Depending on the length of the joint, you might want to insert the two screws at opposing angles. If you wish to add extra bracing with a bracket, do so. This too will add strength and longevity to your piece.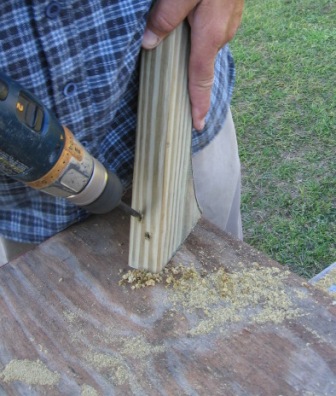 2. Set the completed support-piece pairs on a flat surface and lay the innermost slats across them. Check the supports are spaced evenly and all the back supports are in the same direction, then screw the central slat into place.

Unless you don't mind cutting into the overhang to accommodate the armrests, don't situate your slats so that they overhang both side supports. The armrests will later attach to the side supports, meaning the overhang will just get in the way.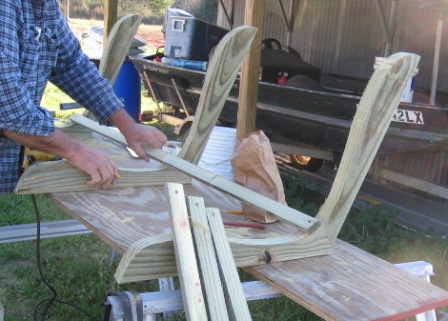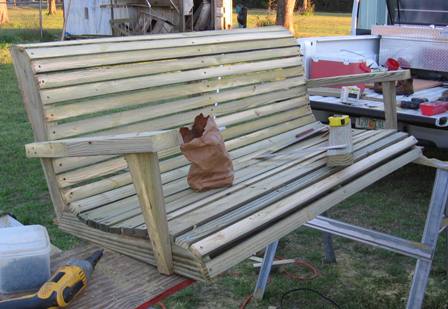 3. Use a framing square to make sure the support pieces are square with the preliminary slat, then screw on the other slats. Place the square along both the preliminary slat and one of the support pieces and measure whether or not they are square. Repeat with the other support pieces as necessary. If necessary, rack the supports (by shifting them sideways) to make a more perfect 90 degree angle.
Space additional slats across the seat, leaving a 6.35 - 9.5mm space between them.
It's a good idea to tack these on temporarily to get your spacing to worked out uniformly prior to attaching them permanently. Attaching the top-most back slat and front-most seat slat first before filling in the others might make it easier to keep your frame square. Take care to use the thicker strips for the seat, and the thinner slat strips for the back.
Armrests and Supports
To suit the swing chair sized here the armrest should be about 20cm (8 in) high and 50cm (18-20in) long.

1. Cut two wedge-shaped 50x100 mm (2x4 in.) boards about 33 cm (13 inches) long, tapered from 7mm (2 3/4 inches) on one end to 3/4 inch (19mm) on the other.

2. Cut two more boards 22in (56cm) long, tapered on one end from 1 1/2 inches (3.8cm) to full width in 10 inches (25.4cm) for each armrest itself.

3. Attach the armrests. Locate the height you want the armrest on the back frame, then locate the position you want the support on the seat portion of the frame. Attach these with 7.5cm (3in) 12 gauge wood screws. Fasten through the top of the armrest down into the support board with two more wood screws.
4. Drill a hole through the armrest support and the seat frame for the eyebolt. The eyebolt will attach your swing chain to the swing. Then, drill through the back frame for another eyebolt for the back chain. Screw in the eyebolts, place washers over the backs (to keep the nuts from drawing into the wood frame), and tighten the nuts over the ends with a wrench.
Safely installing the Chair Swing
Joist sizes
Porch and patio roof structures typically include horizontal joists that support the ceiling finish. Joists are often 2 x 6 or larger timber, but they can be as small as 2 x 4. If you have access to your porch structure through the attic, note the joist size and general placement. To hang a swing from a single joist or beam, it should be a 2 x 8 joist or 4 x 4 beam.
Finding the Joists
Locate the joists from the underside of the ceiling with a stud finder, then confirm each location by drilling small holes at each side of the joist. Make a mark at both side edges of the joist so you can find its center for installing the anchor.
Solving Joist Problems
Don't panic if your joists aren't big enough, or if they don't happen to fall where you need them— we've got you covered. You can:

1. Install short beams (4 x 4's work well) across the tops of multiple joists: Cut two 4 x 4 beams so they're long enough to span across three or more joists (running perpendicular to the joists).
Set each beam on top of the joists so it is centred over one of the swing anchor locations. Fasten the beams to each joist with 3-inch screws driven at an angle through each side of the beam and into the top edge of the joist.

2. Install timber blocking (4 x 4's, 2 x 6's or larger timber) between two adjacent joists, using joist hangers, so the blocking is flush with the bottoms of the joists.

3. Mark the locations for the swing anchors onto one joist, and use a framing square to transfer the marks to the neighbouring joist (blocking runs perpendicular to the joists). Install joist hangers on the inside faces of the joists (the hangers will face each other), as directed by the hanger manufacturer; most are nailed to the joists with special 1 ½-inch hanger nails or screws. Position the hangers so the blocking will be flush with the top of the ceiling finish and cantered over the swing anchor locations.
4. Cut two pieces of blocking to fit snugly between the joists, and fit them down into the hangers. Fasten the blocking to the hangers with hanger nails or screws.
Install Hangers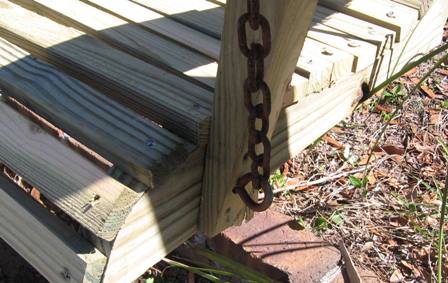 To Install a Screw Eye or Hook
1. Drill a pilot hole directly into the centre of the joist or beam. Thread in the screw by hand as far as possible, then use a large wrench or pliers to turn the screw until the threads are fully embedded in the timber. You can also insert a tool handle into the eye or hook and use it as a lever to twist the screw.
To Install a Hanger Kit with Lag Screws
1. Hanger kits with swivel mounts are designed to mount to a joist or beam running parallel to the length of the swing. Position each mount over the centre of the joist or beam, and mark through the predrilled holes for the lag screws. Remove the mount and drill a pilot hole for each screw, using a bit that's the same size as the screw's shank (not the threads). Install the mount with 3-inch lag screws, tightening the screws with a socket wrench or impact wrench.
Hang the Swing
These methods are among the simplest and will work for most swing designs.
To Hang a Swing with Chains
Hanging with chains requires two chains – one long and one short – for each end of the swing.
1. Secure one end of each long chain to the front mounting point of the swing, using an eye bolt.

2. Secure each short chain to the rear of the seat. Connect the short chain to the long chain on each side, about 2 or 3 feet above the seat (this is variable as desired), using small S-hooks or quick links.

3. With a helper or two, hook the long chains onto the hangers in the ceiling (or other support). The short chains pull backward on the long chains, causing the seat to tilt back for comfort.

4. Adjust the tilt and the seat height as desired by hooking onto different links.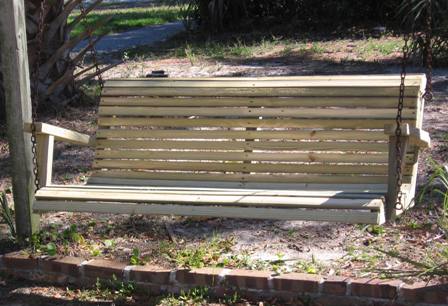 To Hang a Swing with Rope
Swings can hang from a single rope on each side.
1. Bend each rope in half and tie a simple overhand knot, using the doubled-up rope, 5 centimetres from the bend, to create a 5 cm-long loop. Hook each loop over the screw hook in the ceiling (or other support). If you have a screw eye or eye bolt, add an S-hook or quick link between the eye and the rope loop.

2. Prop up the swing on some boxes, check it's level and at the desired height.

3. Thread the front half of each rope through the front mounting point on the swing and secure it underneath with a basic overhand knot. Make sure the knot is big enough so that it won't slip through when there's weight on the swing.

4. Remove the boxes and tie off the rear halves of the rope to the rear mounts on the swing, tilting the swing back at the desired angle.

5. Test the swing and adjust the knots as needed, then trim the excess from the bottom ends of the ropes.
Building an A-Frame
Buy the best quality timber you could afford. Most important is that the timber is suitable for outside use and strong enough for the job, which basically means the stock should be reasonably straight-grained and contain very few knots - definitely no big knots.
Your local Johnson Brothers Mitre 10 will be able to advise you on the most suitable types of timber available and also what safety precautions might need to be taken while working with any particular type of timber.
This support frame is a solid structure purpose made to hold a bench swing but it can have multiple other uses such as supporting a kids' swing set. Building an A-frame garden swing is a simple woodworking project, so any person with basic woodworking skills can get the job done in just a few hours or one day. There are many designs and shapes you could choose from, so we recommend you to study the alternatives before starting the actual construction. Dig holes in the ground and set the posts into concrete, to build a sturdy swing.
Plumb the A-frames with a spirit level before fitting the top beam, otherwise the corners won't be right-angled.
The footprint (ground area) of this bench swing support frame is 2700mm (9ft) x 2100mm (7ft). The overall height is 2025mm (81").

Although this support frame is purpose-made for a particular bench swing, it can also be used to support numerous other utilities such as swings or maybe a glide-ride, and is even capable of accommodating certain types of gym equipment.

It is a very solid frame and basically consists of two end A-frames designed to minimize front and back movement, a beam which sits on top and two braces designed to minimize sideways movement.
The timber used in this project is 100 by100 (4x4) stock, which means that the timber is 100 millimetres (4") wide by 100 millimetres (4") thick. This is a very common stock size and should be readily obtainable from most timber or building supply yards. If you prefer to use smooth timber as opposed to rough, that generally means that the wood has been planed or dressed and therefore the size of the timber will be slightly smaller, but that does not matter.

1. The first step of the woodworking project is to build the posts for the A-frame. We recommend you to build the components from 4×4 timber. Cut the ends of the posts at 17º or to any other angle that fits your needs.

2. Make sure you cut a notch inside the top of the posts, otherwise you won't be able to install the top beam.

3. The next step of the project is to fit the 4×4 braces between the A-frames. Cut the braces at 17º and fit them between the components. Drill pilot holes trough the exterior of the posts and insert 5″ galvanized screws into the braces. Make sure there are no gaps between the joints and add waterproof glue, if you want to get a professional result.

4. Install the posts into the ground. After you assemble the A-frames, we recommend you to set the posts in concrete. In this manner, you will create a rigid structure for the garden swing. Ours were set in 45cm-60cm deep holes in the ground before fitting the A-frames into place. If you don't want to bury the legs into the ground, you should cut the legs at about 213cm long. However, you should keep in mind that the A-frame swing won't be as rigid. You can alternatively attach 2×6 beams to the bottom of the legs to create a swing stand.

Plumb the frames with a spirit level and secure the frames temporarily with several braces. Pour concrete in the holes, level it with a trowel and let it dry out for several hours.

5. After the concrete has dried out, we recommend you to fit the top beam into place. Make sure the corners are right-angled, before drilling pilot holes trough the top beam and inserting the 15cm wood screws. Drill pilot holes through the top of the legs and insert 6.5 cm (2 1/2in) screws into the top beam. Place a spirit level on top of the beam, to check it is perfectly horizontal.

6. The last step of this garden project is to fit the top braces, in order to add support to the wooden construction. Cut both ends of the 4×4 supports at 45º and align it at both ends. Afterwards, drill pilot holes and insert several 9cm galvanized screws. Add waterproof glue to the joints, in order to increase the rigidity of the structure.
The A-frame swing has a nice appearance and a rustic look. If you choose the right location, this swing will enhance the look of your property.
NSW Regulations regarding children's playground equipment (for Schools)
may have a few safety tips you could apply in the case of your Porch Chair Swing:
http://www.kidsafensw.org/imagesdb/wysiwyg/playingsafe1_1.pdf
DIY Dolls House Or Garage Or Boatshed
Spring School Holidays mean little hands will want to do something creative. As there is a few examples and insights into handmade toys on the Children's page from the National Museum of Australia's online exhibition
'Play'
this Issue, following that up with 'how to' for yourself these holidays may appeal. This idea can be adopted for both girls and boys, becoming a boatshed or a garage in the case for lads, probably just one storey needed there instead of the two storey versions girls may like.
We provide a few simple alternatives, two using wood and another using a bookshelf, which older brothers and sisters could also get involved with, especially if studying woodwork. As in the case of everything, using good solid woods and attention to detail will mean you're building something that will last and can be handed on to another generation of youngsters to enjoy.
Priming wood, adding a few coats of paint to keep the doll house/boatshed easy to clean and using quality fastenings will also add longevity.
Once the structure is built getting those you're building it for involved in decorating and painting the outside or inside with fancy designs puts their stamp on it !
jigsaw
drill
rasp
paint brushes
screwdriver
caulking compound gun / glue gun
chisel
mallet
sharp knife (Stanley knife) and extra blades
drill and drill bits
set square
wood clamps
Wood
Sandpaper
Wood glue
Hinges - L Brackets
Dowel
Paint
Using Traditional Materials
This is a traditional style dollhouse. The instructions can easily be shifted to accommodate any size of doll and house and only basic skills and tools are needed to make this house.
Cut two pieces of wood to be the same size. These will be the sides of your house.
Measure how big in width you want the bottom of the doll house to be. Put the two already cut sides aside until you've got the size you want.
Put the major sides together. Put the bottom and top on the two sides together by nailing one piece into the other. Do this on both sides so that you have a box shape with no face or backing.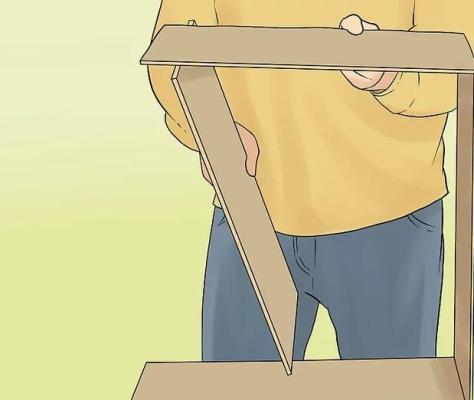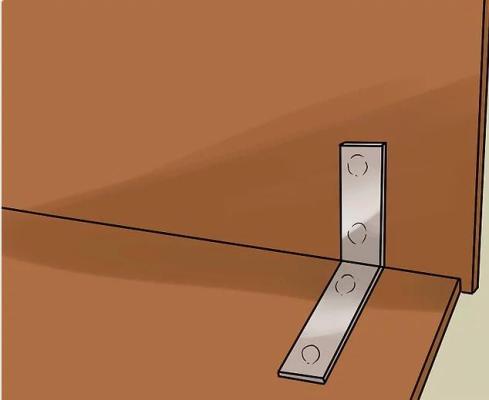 Cut your face out of the wood. Lay the box with the open face down on a piece of plywood. Trace and cut out the resulting shape and nail it into place as well. You can install L brackets at this point in order to make the house stronger.
Cut a shelf piece to the width of the interior. Put this in the middle of the box. Be sure that there is a little hole in this shelf where you can put a ladder so the dolls can get up and down the stairs. Brace up the shelf using a supporting wall below, support "beams" cut from other pieces of wood, or more L brackets.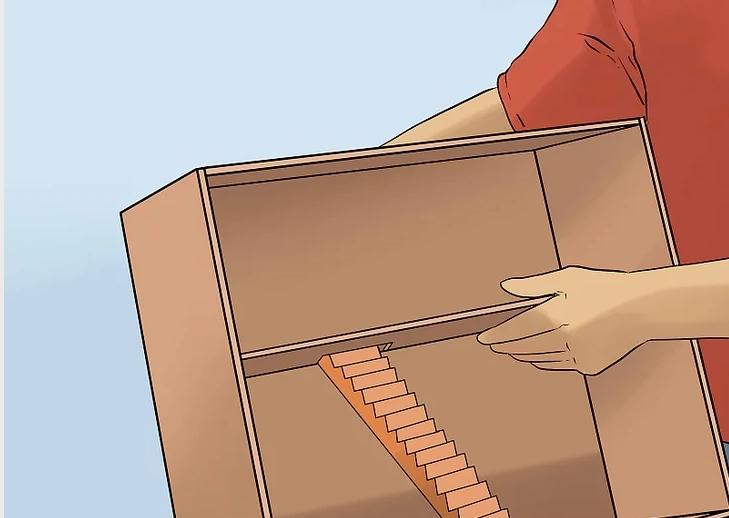 Decorate the walls. You may be able to use extra kitchen tiles for the floor if they are thin or create a mosaic from offcuts of tiles.
Paint -
Move the dolls and furniture in!
This style of dollhouse is great for dolls like Barbies or dolls of a similar or smaller size.
4 pieces of 19mm x 190mm lumber (at least 60cm long each
4 pieces of 30.48cm x 30.48 cm medium weight chipboard or similar material
A drill with a 2.54 bit
A hand, table, or jigsaw to make basic cuts in the wood
2.54 dowels (either a single stick or 8 single pieces)
Sandpaper
Wood glue
Paint and other materials to create the finished look
Cut your lumber. There are four starting pieces, though two will later be split and cut further. For now, cut all four to 61cm in length.
Drill the attachment points. Line up all four pieces and, using a measuring tape and pen, mark holes at 7.6cm and 15.24 cm from both ends along the narrow strip of the sides (only one side will need the holes). Be very sure that all the holes line up with each other. Each piece of wood should then have four marks. Drill a hole in the center of the side at each of the marks you made, using a 2.5 bit.
Trim the pieces. Leaving two of the pieces at 61cm take the remaining to boards, cut them in half, and then trim an extra 7.6 cm from the inside edges. You should now have two boards that are 61cm long and four boards that are 29.52 cm long.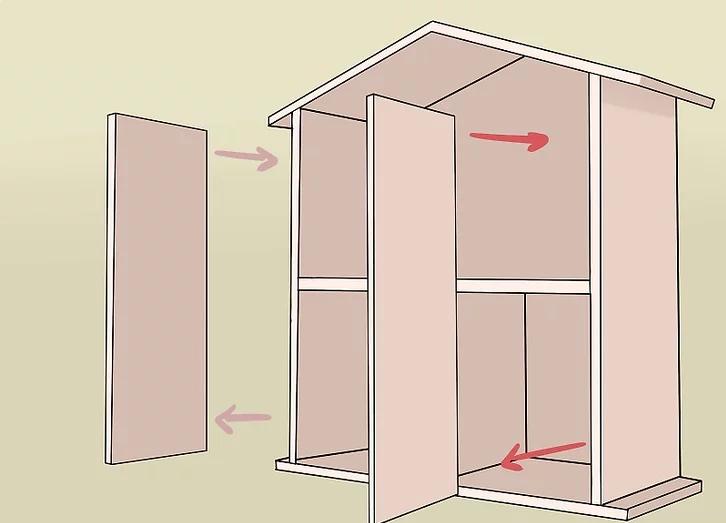 Join the boards. Put some wood glue and a dowel in each of the holes on the 61cm pieces, one hole at a time. Let the glue set and dry and then glue the holes on one of the shorter pieces at a time. Fit the shorter pieces onto the dowels of the larger pieces, so that the trimmed edge is at the centre of the larger piece. This should leave you with two final pieces of wood with a 7.6cm gap at the centre of one half of each board and a total width of 35.56cm. Sandpaper the edges smooth.
Fit the walls together. These two pieces of wood fit together at these centre gaps like a puzzle, the gap pointing up on one piece and down on the other. When together, they form the walls of four connected rooms. This means that you can take them apart whenever you need to and store the dollhouse away or take it with you when you travel.
Add finishing details. Paint or wallpaper the walls, cut doorways, or finish it in any other way you want to. Just remember to keep the directions of the wall straight and to not paint or glue anything in a way which permanently joins the two board together.
Connect your chipboard. The chipboard will make up the floor for the dollhouse, with each 30.48cm x 30.48 square being one of the four rooms. Paint or otherwise finish one side of each of the 4 pieces to match what you want the four rooms to be (bathroom, bedroom, kitchen, etc). When they are dry, arrange them into the order you want them (they must for a large square), then turn them over and tape them together on one side only - t
his will allow you to fold up and store the entire dollhouse out of the way.
Put the walls on the chip board floor and start filling the house with furniture.
This version is a great way to renew and revitalise that bookshelf or adapt one or build one! If you have little boys instead of little girls – how about making this a garage or a boatshed!
Build or buy a deep bookshelf. Find a wooden bookshelf with deep shelves. A shorter shelf, roughly 8.9 cm or 10cm bookshelf is preferable. A larger shelf will need to be secured against a wall so the 'house' is safe to play with.
Adjust the shelves. Adjust the shelves at the correct height to create "rooms" which are about 50cm tall. If you have a double-wide bookshelf at the suggested height, this should give your dollhouse 4 rooms.
If using a bookshelf already built and the shelves cannot be adjusted to the desired height, you can add extra peg holes for the correct height or brace the shelf at the desired height with L brackets.
Add windows if you want them. Use a jigsaw to cut windows from the back or sides of the bookshelf. Sand down any cut edges to avoid injuries for your child.
Consider adding a roof. You can fashion a roof to go on top of the bookshelf by using the Pythagorean theorem and cutting two wooden boards joined with a 45 degree mitered edge at the centre so that they form a peak.
Decorate the floors. Use extra floor tiles, carpeting squares, or any other material you want to make the floors of the rooms look how you want them to look.
Decorate the walls. Add wallpaper, paint, or tile to make the walls of each room match the floors and complete the look for that room.
Once everything is dry and ready to go, you can add in your furniture and enjoy your new dollhouse!
These are fairly basic versions - you can go bigger or smaller or more elaborate or simpler. Built sturdily these will provide hours and years of enjoyment and are the kinds of toys children never forget.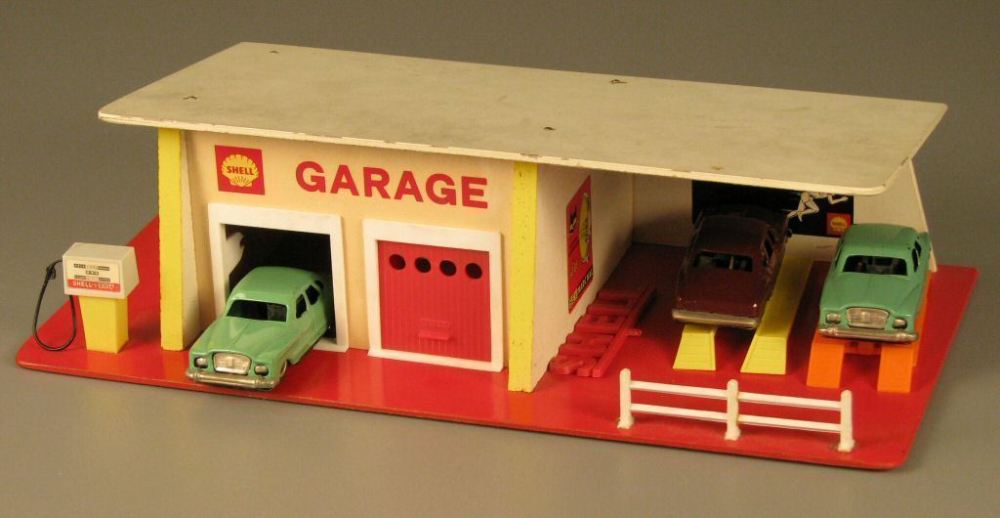 Antique Shell Garage - image courtesy the National Museum of Play

Queen Mary's Doll House
For youngsters looking at this page and dreaming up how they will decorate their doll's house, boatshed or garage - here's one quite famous doll's house while yours is being built.
A report in a journal from the year it was completed:
THIS wonderful palace, 5ft. high to the top of the parapet, 8ft. 6in. long, 5ft. deep, has been constructed as a monument to future years of what a great house of 1924 might be like. It will be on view at the Wembley Park Exhibition. We say "might be like," for no one would be able to have such a marvellous company of artists and craftsmen work for him in reality (says the "Illustrated London News"). The scale is one inch to a foot, and so perfectly is the scale maintained that from photographs it is impossible to realise that the rooms and their furniture are not-toll sized.
The outside walls of the palace are made to rise so that every room can be perfectly seen. The garden, with every sort of flower —even with a fairy-ring of toadstools one-eighth of an inch high, folds up like a writing-desk and slides into the basement, just as the garage (containing Rolls Royce, Daimler, Sunbeam, and Vauxhall cars) does at the other end. The centre of the main front is taken up with the great staircase hall, thirty-one inches broad; the paving is of marble lapis lazuli, and the walls are painted by William Nicholson, in blue and white, with "The Expulsion from Eden," a picture in which all the animals are seen present at the disgrace of Adam and Eve. A lift with external control is held by many to be the most marvellous contrivance in the palace.
The Queen's bedroom, with a black, red, and yellow ceiling by Glyn Philpot, A.R.A., is only twenty-two inches high, yet its grey silk hangings and bed, walnut furniture, carpet, and even the blue enamelled toilet-set and the photograph of the King, are all perfect. The King's bathroom is in white and dark-green marble, and has every toilet convenience. A different kind of perfection is seen in the dining room, the ceiling of which is by Professor Gerald Moira; there is a portrait group of Queen Victoria and the Prince Consort with their children, by M'Evoy; While Munnings' portrait of the Prince of Wales out hunting hangs above the chimney piece.
With a table just 10 inches long, and equipped to the smallest details, including saucepans and jars, rolling-pin, egg-cups, and egg whisk : The kitchen in the Queen's dolls' house.
Every detail, down to the saltcellars and rolls on the table, is complete.
The library, twenty-eight inches high, is wainscotted in walnut; the books are bound in red or grey leather, and many of them are written in manuscript by the authors themselves. There are books here by Rudyard Kipling, Robert Bridges, John Galsworthy, John Masefieid, Ian Hay, Hugh Walpole, W. W. Jacobs—in fact, it is a collection at the best modern authors. On one table are writing materials, including a fountain-pen half an inch long; on another are pipes and tobacco. On a third table lie the despatch cases of all the Ministers of State. The ceiling is by William Walcot.
The nursery, painted by Edmund Dulac with fairy stories, is eight inches high, and contains every toy a child could want, including lead soldiers the aim of mosquitoes, a toy train, a model theatre, and a scooter. The ordinary bedroom…. inches wide and eight inches high, each completely furnished down to tooth-thrushes threequarters of an inch for these.
There are four bathrooms, a box-room (eight by ten inches), a strong-room with the crowns and sceptres (set with tiny little jewels), and a housemaid's closet, with sinks and Dutch tiles, each one half an inch square. Underneath are store-rooms and wine-cellars, with cases of real Johnnie Walker, and dozens of real claret and champagne, bottled and binned; In the storerooms are chocolate-boxes, soap, and pots of genuine jam and marmalade.
Electric light is fitted to every room, and—what is more-it works!
Sir Edwin Lutyens, the architect of the Cenotaph, designed the House and all its rooms, and a multitude of famous firms have contributed to its furnishing and decoration.
Her Majesty the Queen, to whom the house will be presented, has supervised its furnishing, and has given many objects herself. The proceeds of the exhibition are to go to charity, and eventually, no doubt, this marvellous miniature building will be enshrined in a museum as a perfect house of 1924, the year of the Empire Exhibition.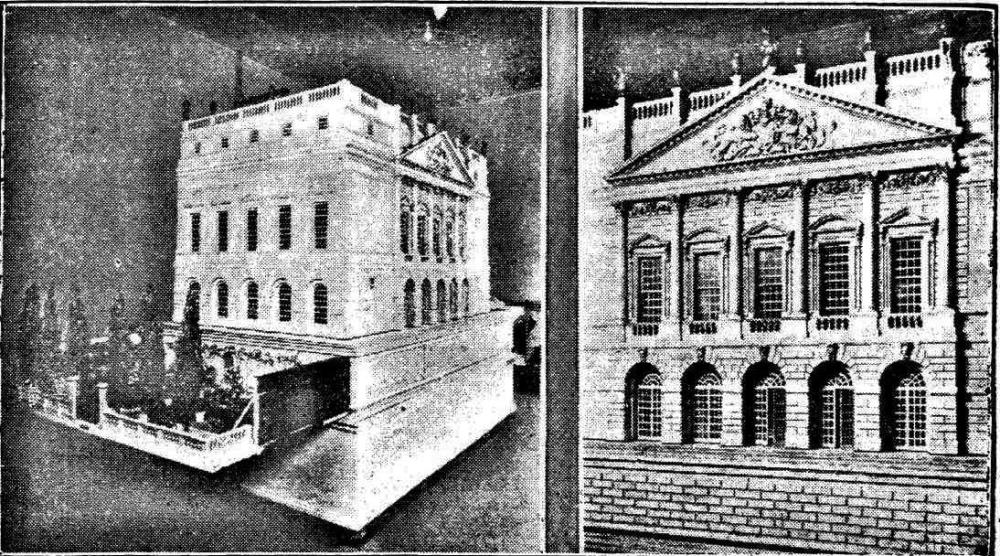 Showing how the garden can be folded over in front and pushed back into the basement: The Queen's dolls' house (8 ½ ft. long 5ft. high, and 5ft. deep).a general view of the building.
With a balcony like that of Buckingham Palace, the Royal Arms above and carved, heads over the windows. The main, THE QUEEN'S DOLLS' HOUSE. (

1924, March 29

). The World's News (Sydney, NSW : 1901 - 1955), p. 13. Retrieved from http://nla.gov.au/nla.news-article130611266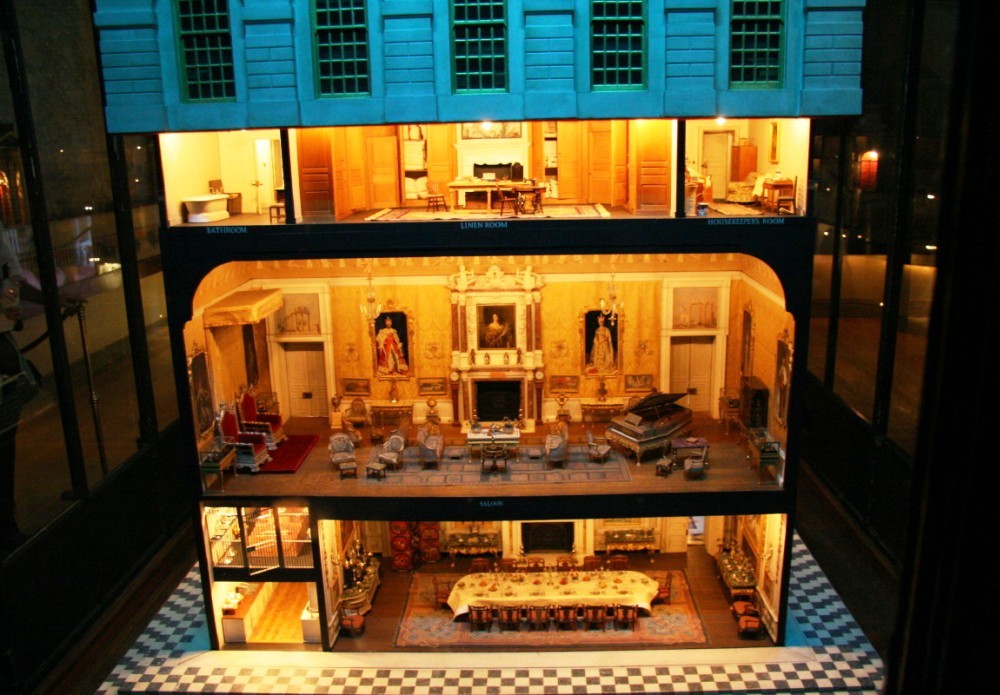 Queen Mary's Dolls' house – photo courtesy Rob Sangster - originally posted to Flickr as Queen Mary's doll house at Windsor Castle

Queen Mary's Dolls' House is a doll's house built in the early 1920s, completed in 1924, for Queen Mary, the wife of King George V. The idea for building it originally came from the Queen's cousin, Princess Marie Louise, who discussed her idea with one of the top architects of the time, Sir Edwin Lutyens, at the Royal Academy Summer Exhibition of 1921. Sir Edwin agreed to construct the dolls' house and began preparations. Princess Marie Louise had many connections in the arts and arranged for the top artists and craftsmen of the time to contribute their special abilities to the house. As a result, the dolls' house has an amazing collection of miniature items that actually work: "There are shotguns that 'break and load' (and may even fire), monogrammed linens, ... 'electricity and lifts, a garage of cars with engines that run.'" It even has running water through its tiny pipes. It was created as a gift to Queen Mary from the people, and to serve as an historical document on how a royal family might have lived during that period in England.
It showcased the very finest and most modern goods of the period. Later the dolls' house was put on display to raise funds for the Queen's charities. It was originally exhibited at the British Empire Exhibition, 1924–1925, where more than 1.6 million people came to view it, and is now on display in Windsor Castle, at Windsor, Berkshire, England, as a tourist attraction, especially to people with an interest in miniature houses, furniture, and carpets.
It was made to a scale of 1:12 (one inch to one foot), is over three feet tall, and contains models of products of well-known companies of the time. It is remarkable for its detail and the detail of the objects within it, many of which are 1/12 replicas of items in Windsor Castle. These were either made by the companies themselves, or by specialist modelmakers, such as Twining Models of Northampton, England. The carpets, curtains and furnishings are all copies of the real thing, and even the light fittings are working. The bathrooms are fully plumbed, with a flushable toilet and miniature lavatory paper.
In addition, well-known writers wrote special books for the house's library, which were bound in scale size by Sangorski & Sutcliffe. Sir Arthur Conan Doyle contributed the short story "How Watson Learned the Trick", and the ghost-story writer M. R. James wrote "The Haunted Dolls' House". A. A. Milne contributed "Vespers." Other authors included J. M. Barrie, Thomas Hardy, Rudyard Kipling and W. Somerset Maugham. Painters, including Eli Marsden Wilson, also provided miniature pictures. Even the bottles in the wine cellar were filled with the appropriate wines and spirits, and the wheels of motor vehicles were properly spoked. Queen Mary's purchases brought media attention to specialist furnishers such as Dorothy Rogers, who created needlework miniature carpets for the house. Even viewing a high quality photo of the interior will not reveal it is in fact a collection of miniatures.
There is a hidden garden revealed only when a vast drawer is pulled out from beneath the main building. This has replicas of greenery and garden implements and follows a traditional ornamental garden theme.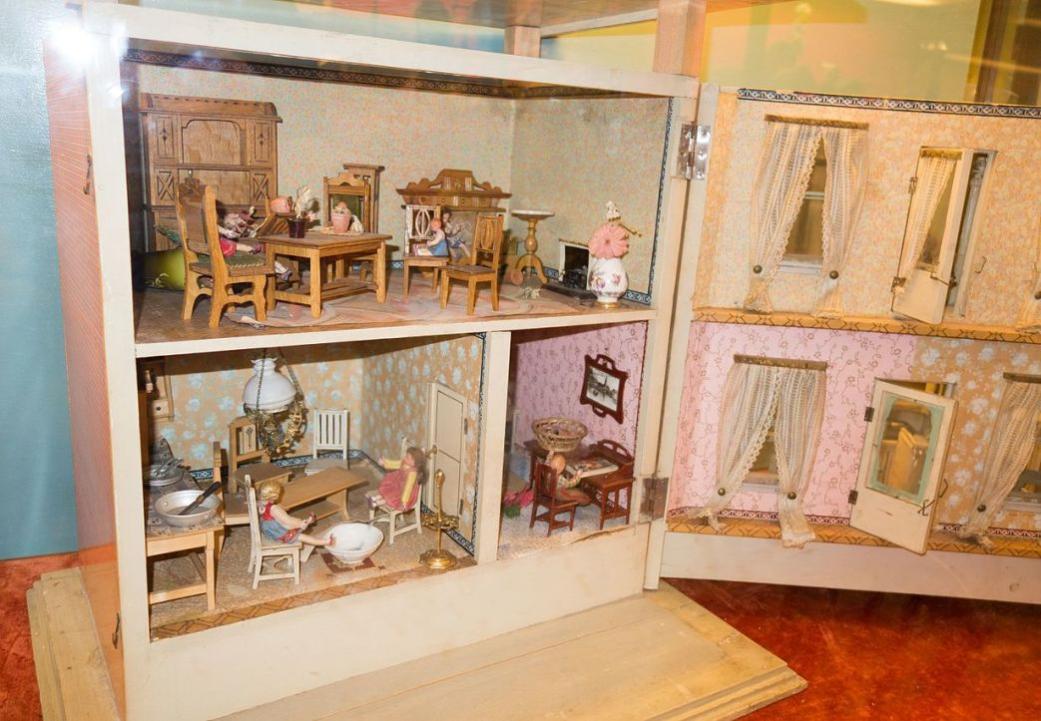 Antique swing-open dollhouse (Le Musée du Jouet de Bruxelles) - photo by Thomas Quine -

You can DIY That!
Products And Tools To Help You Get It Done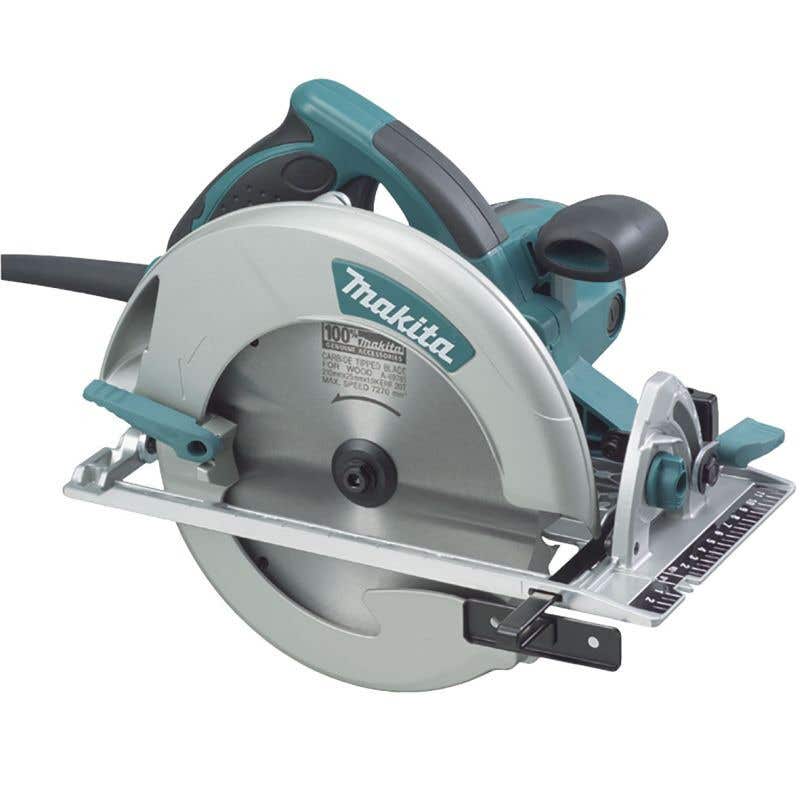 Makita 1800W Circular Saw 210mm: $389.00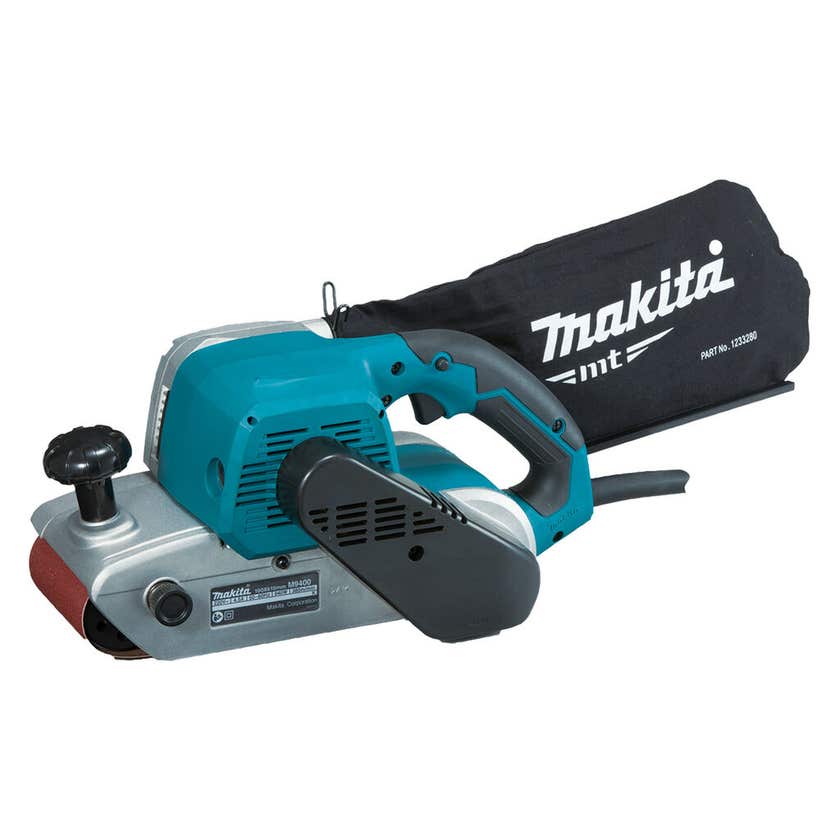 Makita Belt Sander 100mm: $189.00
100 (4") x 610mm belt size. Belt speeds of up to 380m/min. Dependable 940W* motor. Unique design for flush to wall sanding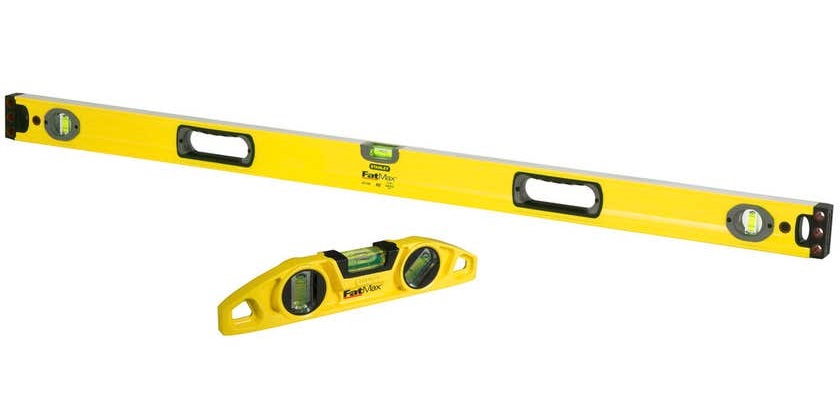 Stanley FatMax Level and Torpedo Combo 1200mm: $69.98
Aluminium. Waterproof. 3 Vials. Accuracy: 0.5mm/m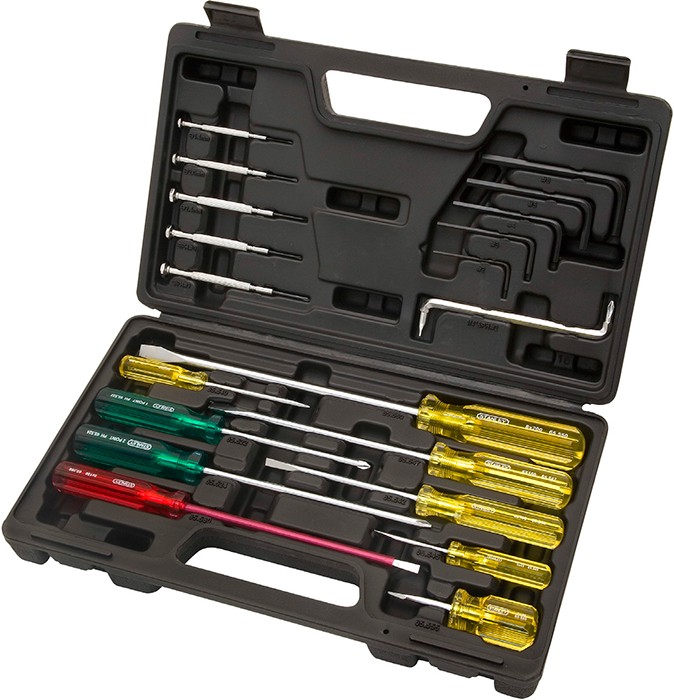 STANLEY Screwdriver & Hex Set: $44.00
20pce. Includes 9 screwdrivers, 5 hex keys, 5 precision screwdrivers and offset. Chrome vanadium steel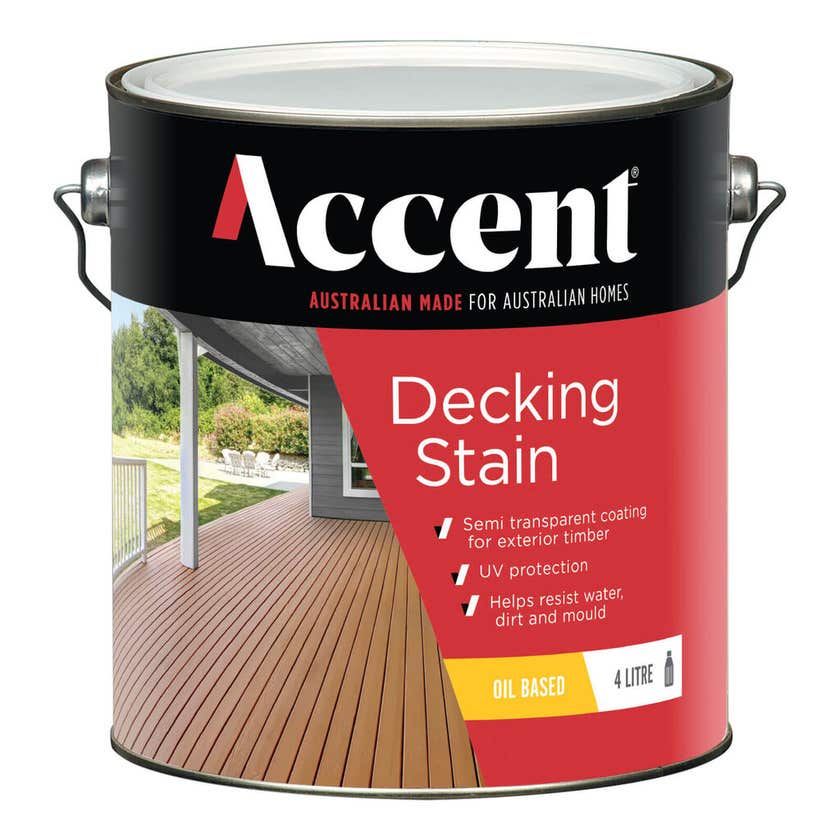 Accent Decking Stain Oil Based Merbau 4L: $79.00
Australian made for Australian homes. Semi transparent coating for exterior timber. UV protection. Helps resist water, dirt and mould.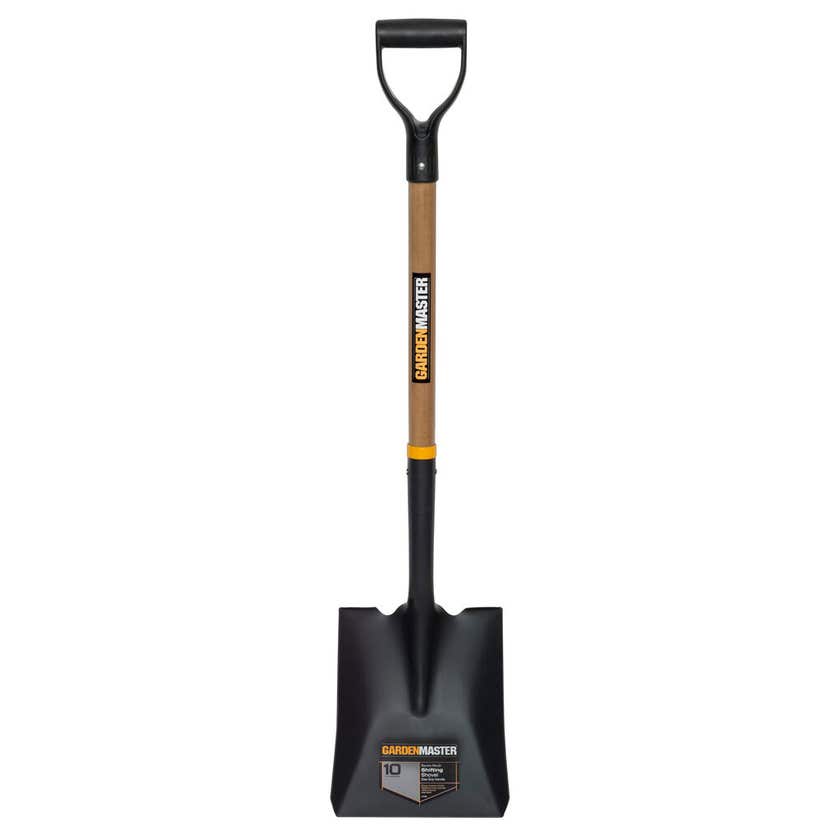 Gardenmaster Square Mouth Shifting Shovel 1020mm: $31.65
Ideal for shovelling heavy soils and sand. General purpose shovel for shifting, loading and spreading heavy to light materials. Long handle for extra leverage.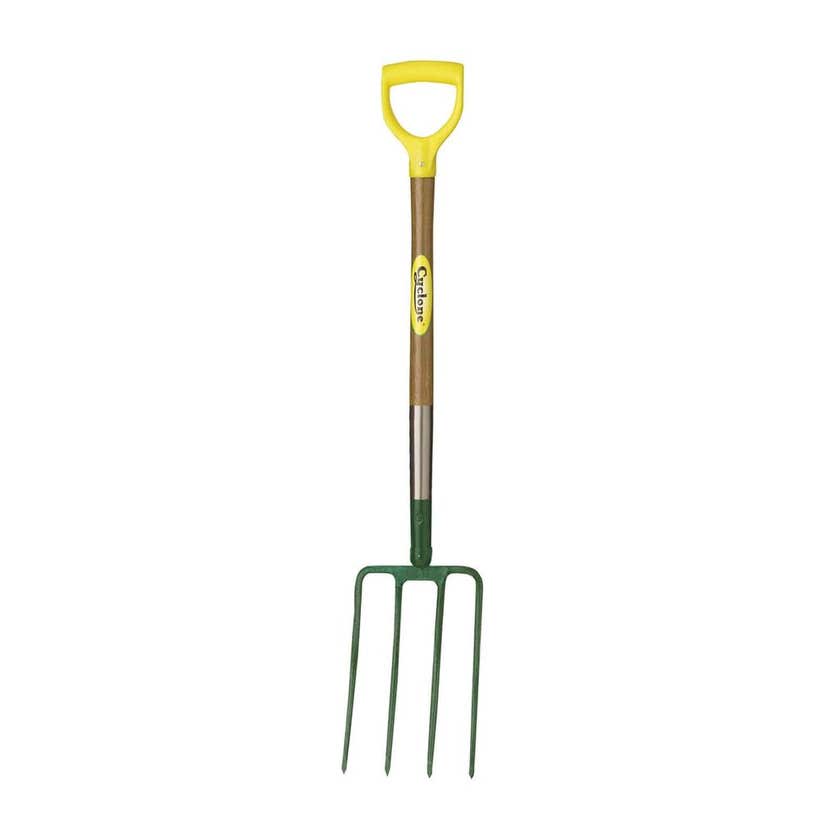 Cyclone Garden Fork: $65.70
Ideal for digging and cultivating most types of soil and great for aerating lawns.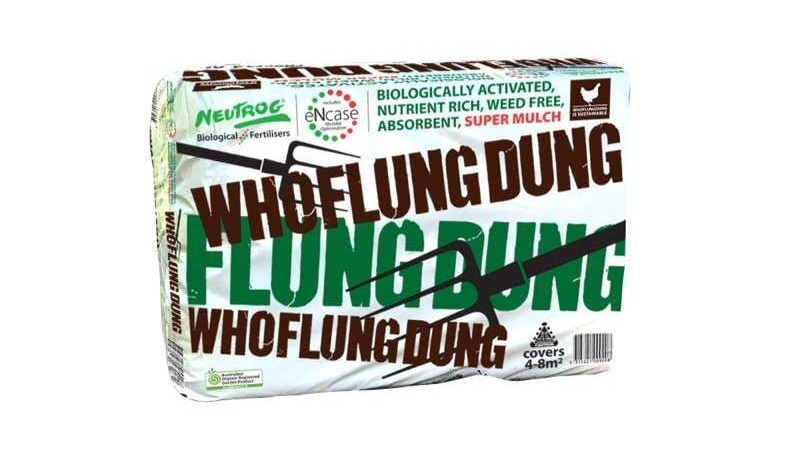 Neutrog Whoflungdung Mulch 20kg: $21.95
Biologically activated. Nutrient rich. Weed free & absorbent mulch.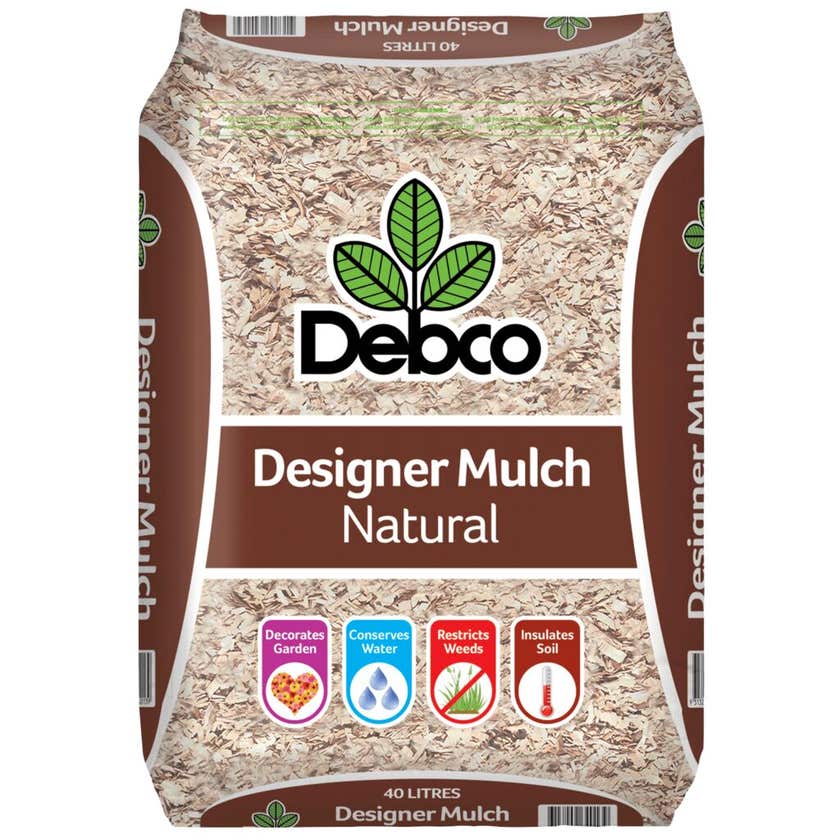 Debco Designer Natural Mulch 40L: $9.20
Decorates garden. Conserves water. Reduces weeds. Insulates soil.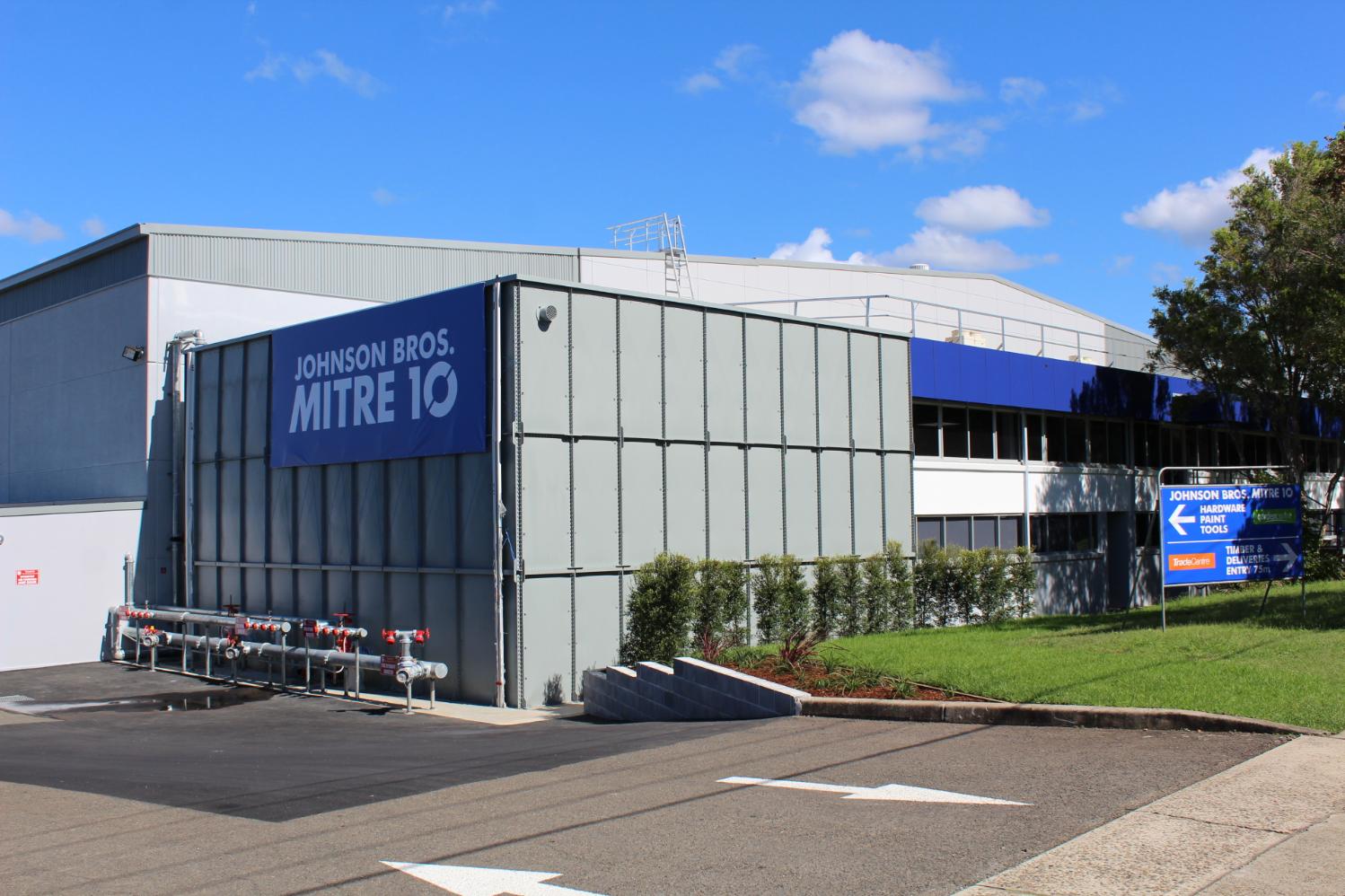 Johnson Bros Mitre 10 Is Open
We understand that this is a tough situation for everybody and implore the community to be supportive of each other.
Following the recent NSW Health advice, as a provider of hardware, garden supplies and building supplies, we're pleased to say that all Johnson Bros Mitre 10 stores, Harper Timber and Narrabeen Trade Centre are operating as per our usual hours.
We count ourselves fortunate to be considered essential and will work responsibly to serve the community to the best of our ability.
FREE Retail Deliveries.
Shop online 24/7 through mitre10.com.au and receive FREE delivery for all online retail orders over $100 and under $40kg or pick up in store with our Click 'n' Collect service.
We do remind customers that when instore to please adhere to the following: wear a mask, use the hand sanitiser provided, maintain social distancing, check in with the QR code.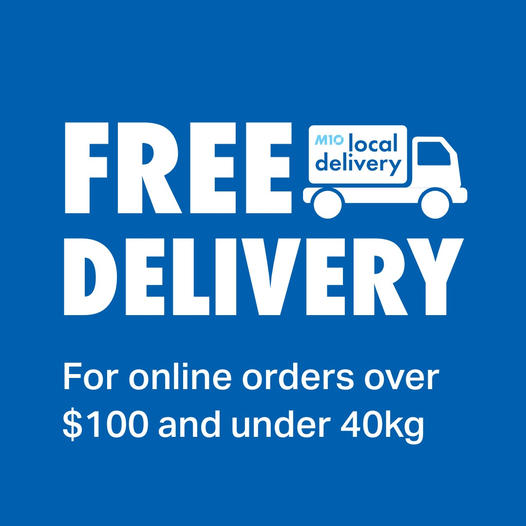 Johnson Brothers Mitre 10: Shop Online Options
Intending to keep our customers and staff safe, we present some additional ways for both our retail and trade customers to do business with us.
Trade and Retail Pick Up
Express Pick up Mona Vale
- Call Johnson Bros Mitre 10 Mona Vale, and we will pick & pack your order and have it ready for you to pick up in 2 hours. (Stocked Lines Only)
- Drive into our undercover Trade Drive-Thru area at 73 Bassett St Mona Vale, and your order will be ready for pick-up.
- Our team members will help you with your load and finalise payment/paperwork
Express Pick up Avalon
- Call Johnson Bros Mitre 10 Avalon, and we will pick & pack your order and have it ready for you to pick up in 2 hours. (Stocked Lines Only)
- Drive into our back lane off Bellevue Avenue, and your order will be ready for pick-up.
- Our team members will help you with your load and finalise payment/paperwork
Online Retail Stores Go Live
We've launched two eCommerce sites offering 2hr pick up in-store and flat rate delivery options on the northern beaches*.
Jbhmv.com.au (Mona Vale)
Jbhav.com.au (Avalon)
With the ability to leave the product on your doorstep, this provides an option of an entirely contactless transaction.
*Flat rate delivery is not available to trade sales, building supplies and trade quantities
** The stock availability is updated nightly, which may mean the stock is unavailable when the order is placed
Trade Delivery to Site
Maybe not new, but certainly worth a mention again!
We can get almost anything delivered quickly onto site!
As always ring the trade desk direct on 9999 0333 and let them know what you need!
Final Thought
Like everyone, we have found ourselves in a new and uncertain environment, but we're setting up (and digging in) for the long haul!
We want to acknowledge that the decision to retain over 120 staff and meet any future challenges head-on, could not have happened without the continued support you provide us as customers.
Thank you and stay safe,
The Johnson Family

JBH Design Centre
JBH Design Centre is a tool for builders and DIY'ers to assist in the fit out of houses. It has displays of kitchens, Bathrooms, Doors and Storage as well as knowledgeable staff to assist in making house fit out painless.
Visit: http://jbhdc.com.au/
On Facebook: https://www.facebook.com/design.centre.jbh/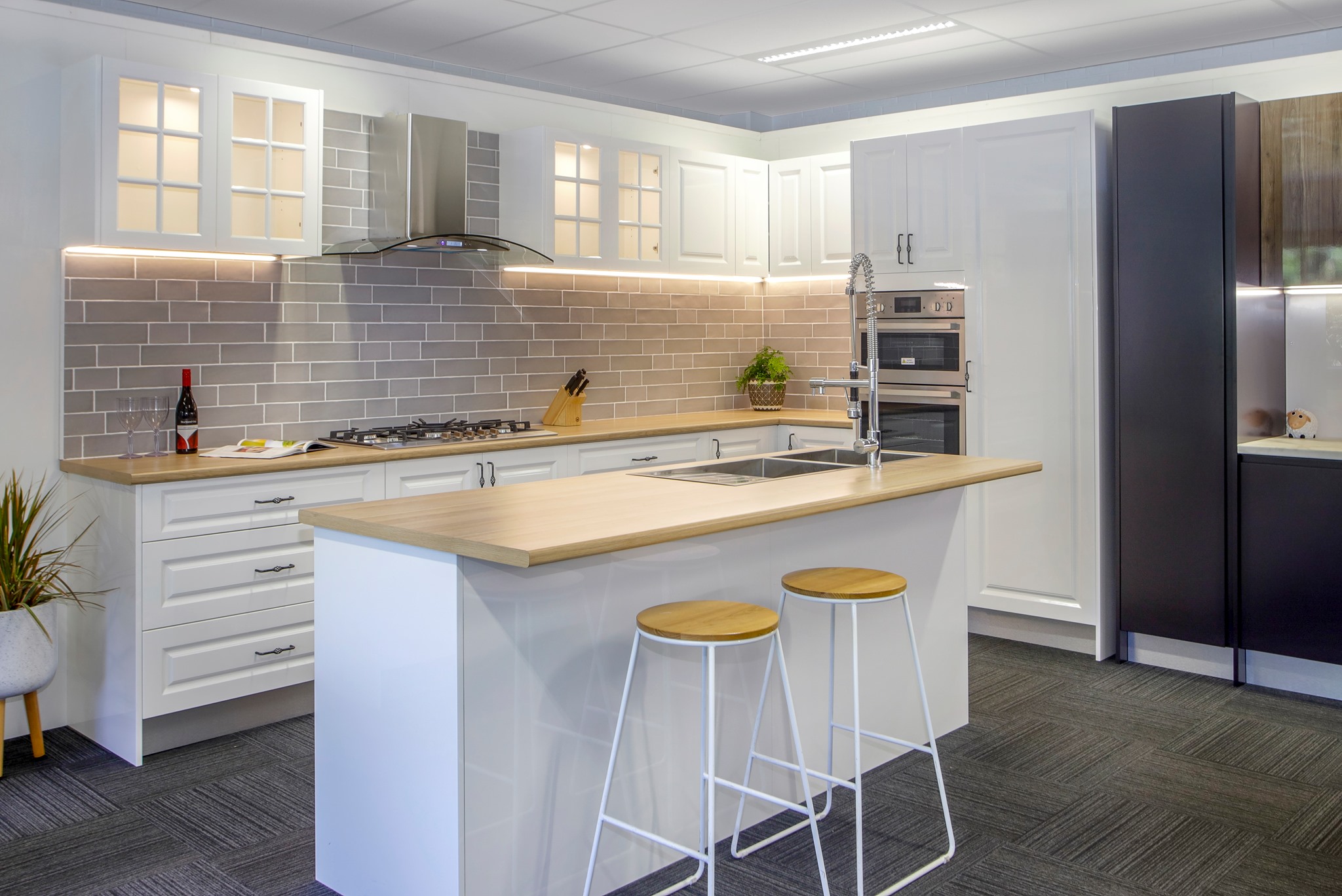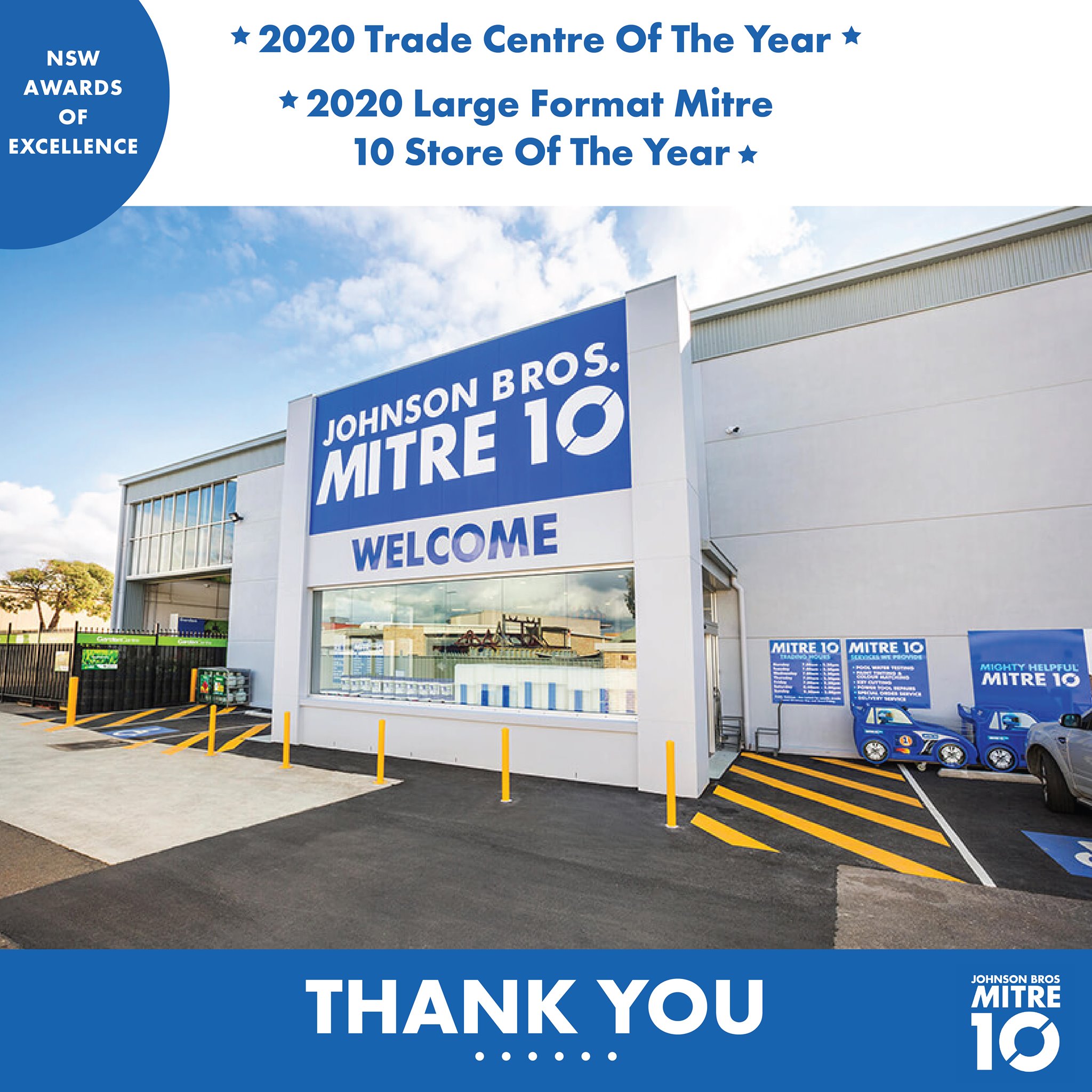 We want to thank all of you for supporting and trusting us through this 2020, without you we could not be receiving these two important awards.
Thank you for being our customer and thanks to all our great staff for making this possible especially though this full of surprises year.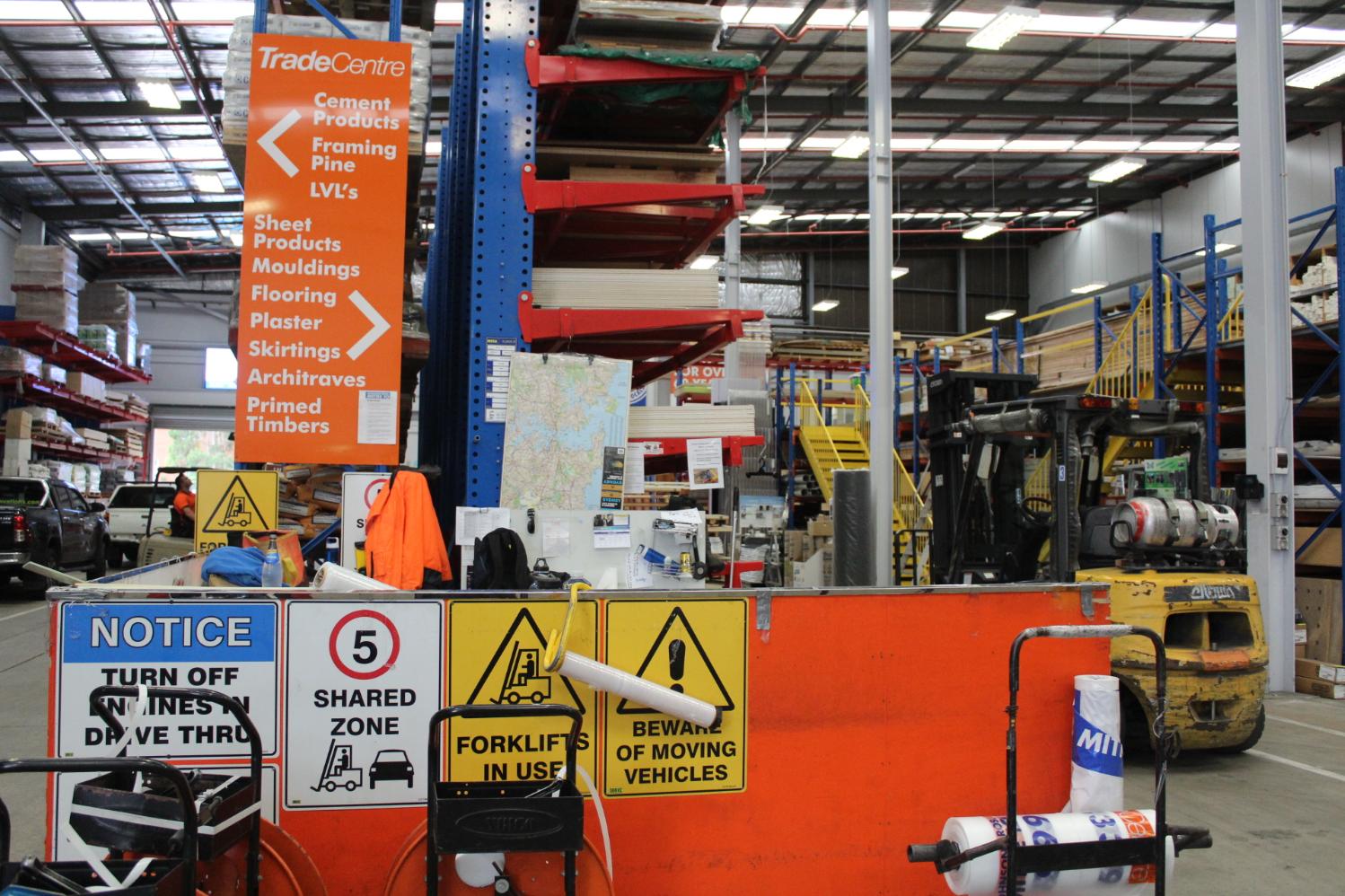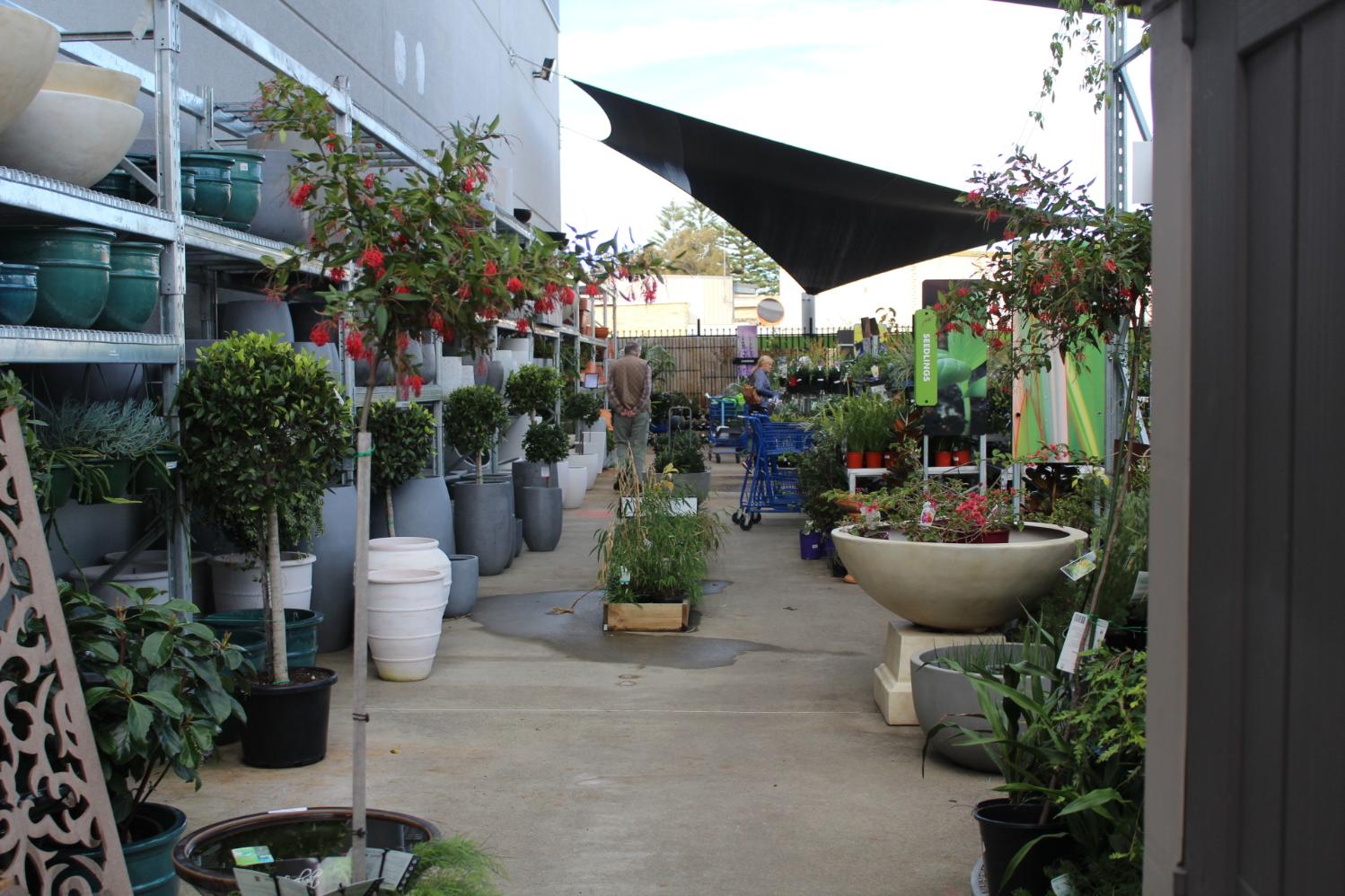 Green Life Garden Centre at Johnson Brothers Mona Vale has a great stock of seedlings, native and other plants and all you need to get gardening in brilliant Autumn weather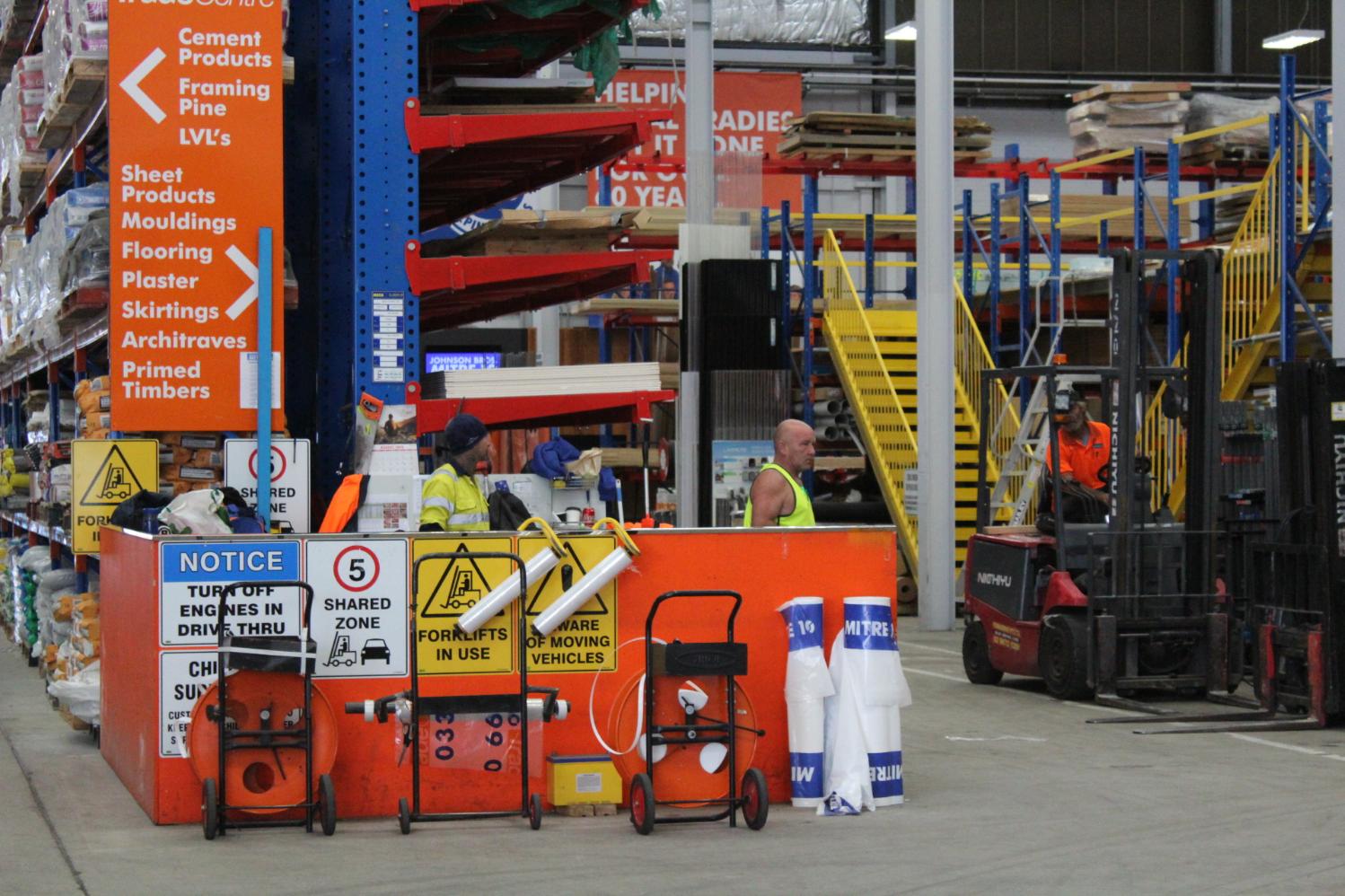 Johnson Brothers Mitre 10 Trade Centre at Mona Vale - everything you need under one roof.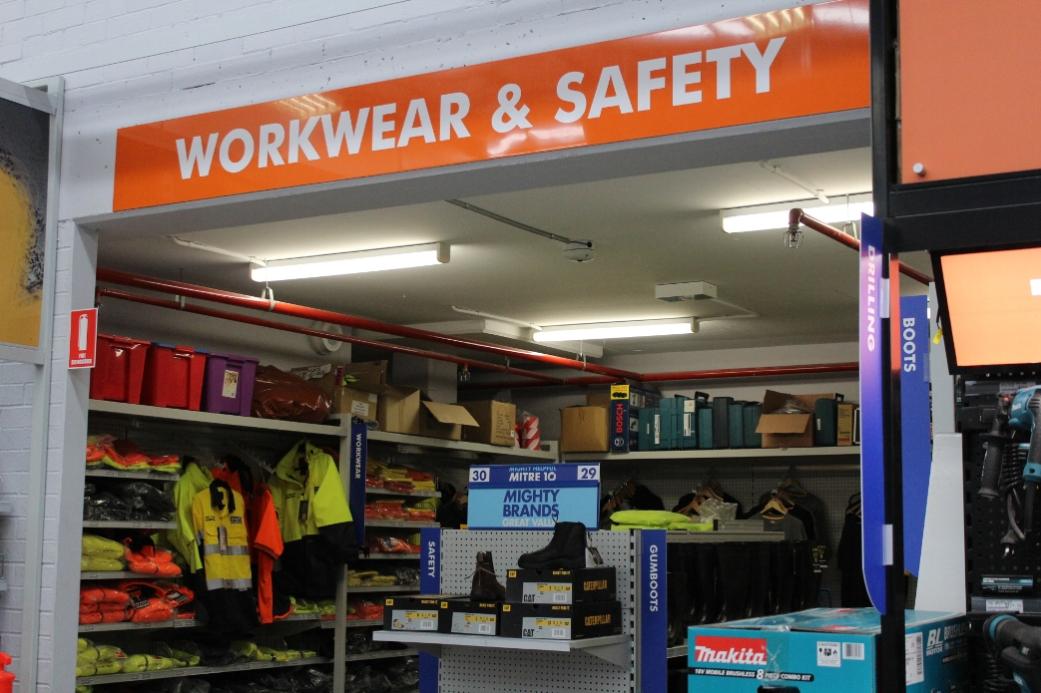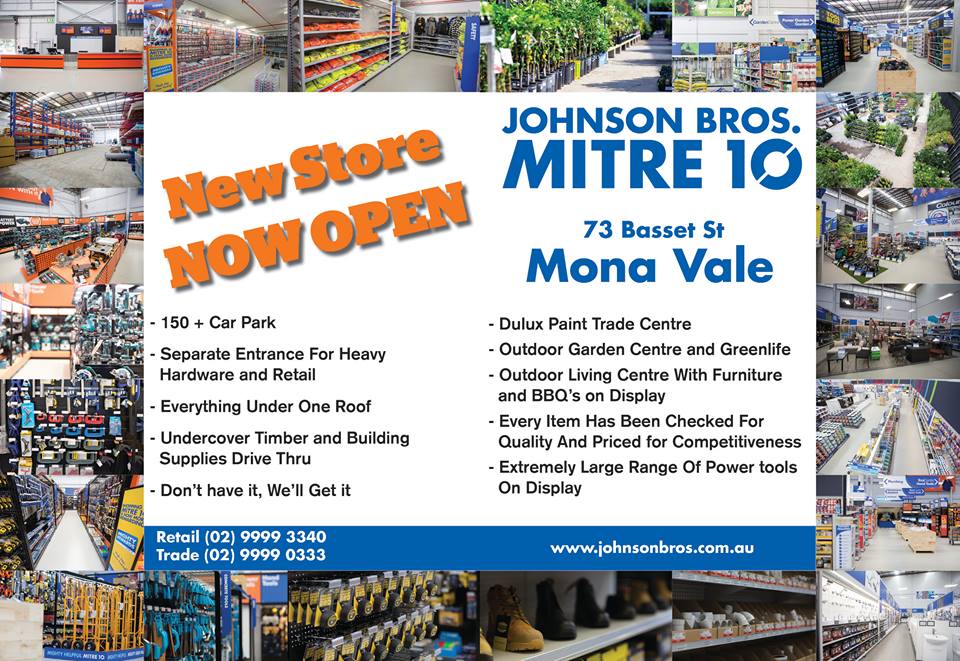 Johnson Brothers Mitre 10 New Store
73 Bassett Street
Mona Vale - Online Store: Jbhmv.Com.Au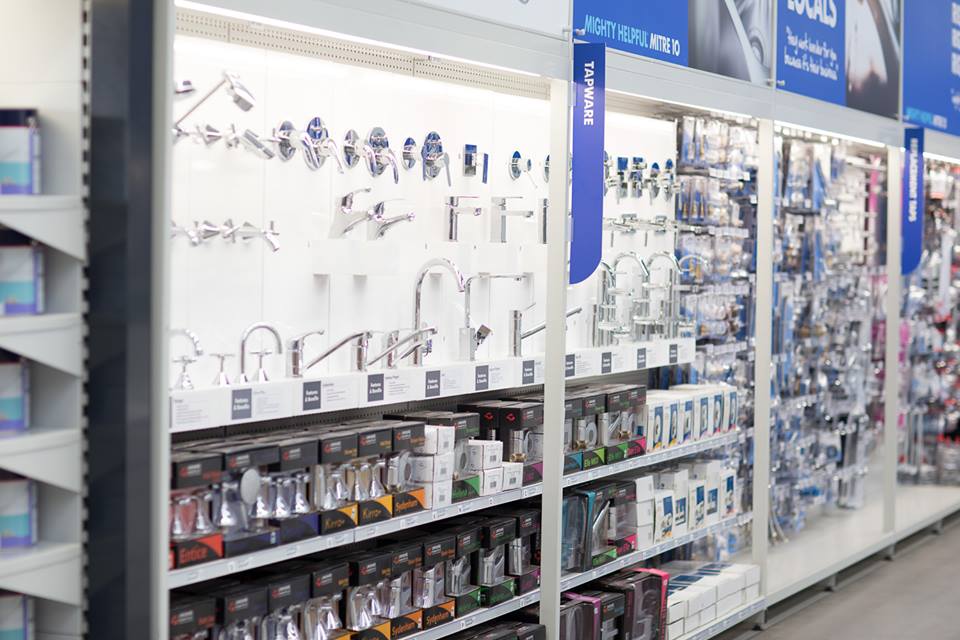 Products advice is available from the trained friendly staff at Narrabeen, Mona Vale and Avalon Johnson Brothers Mitre 10.
Click on logo to visit Johnson Brothers Mitre 10 website
Johnson Bros Mitre 10 - Avalon (02) 9918 3315
Johnson Bros Mitre 10 - Mona Vale (02) 9999 3340
JBH Timber & Building Supplies (02) 9999 0333
JBH Fencing & Landscape Supplies (02) 9970 6333
www.johnsonbros.com.au Online store: jbhmv.com.au

John, Bob and Robert Johnson, 2013 - photo by A J G.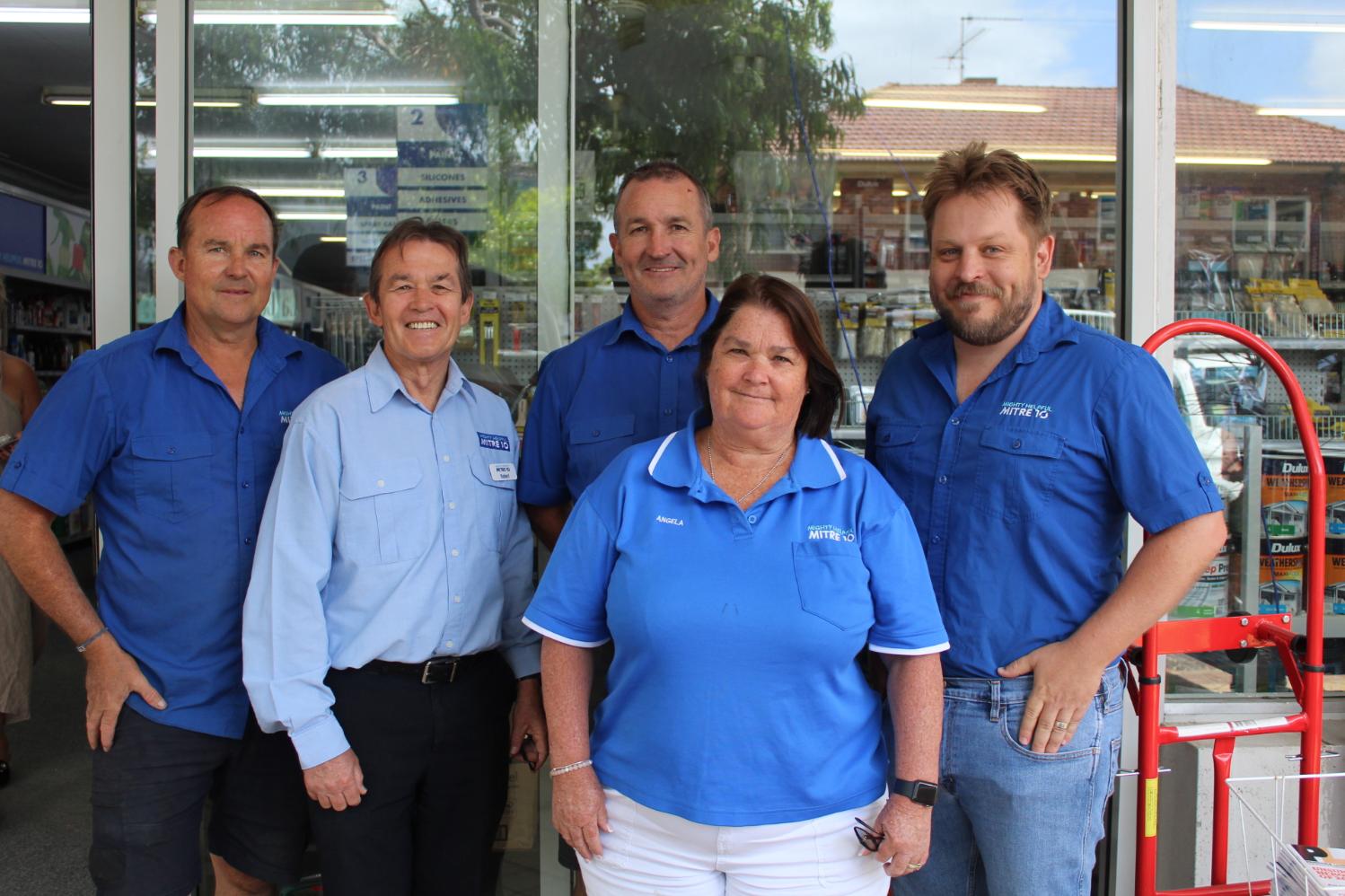 December 2020 - photo by A J G.
Important
All information and tips in this publication are of a general nature only and neither Johnson Brothers Mitre 10 or Pittwater Online News does not warrant the accuracy or completeness of the information and tips in this publication. This publication is not intended to be a substitute for expert advice.
Johnson Brothers Mitre 10
advises you to always consult an experienced and qualified person when undertaking jobs of this kind (including consulting a qualified tradesperson such as an electrician or plumber where relevant expert services are required).
You should also consider any safety precautions that may be necessary when undertaking the work described in this publication (including wearing any necessary safety equipment such as safety glasses, goggles or ear protectors or hard hats). The information and tips in this publication are provided on the basis that
Johnson Brothers Mitre 10
and
Pittwater Online News
excludes all liability for any loss or damage which is suffered or incurred (including, but not limited to, indirect and consequential loss or damage and whether or not such loss or damage could have been foreseen) for any personal injury or damage to property whatsoever resulting from the use of the information and tips in this publication.
Pittwater Online News and
Johnson Brothers Mitre 10
also advises there may be laws, regulations or by-laws with which you must comply when undertaking the work described in this publication. You should obtain all necessary permissions and permits from council and/or any other relevant statutory body or authority before carrying out any work. Major projects published in this publication always list these and/or links to where you may research what your own project requires to meet regulations.