April 19 - 25, 2015: Issue 210
Autumn DIY Jobs – Exterior Jobs to Keep Everything Dry and Cosy Inside the Home - Waterproof Checklist
As Autumn settles in and before it gets too cold and rains too much, it's a good idea to Winter-proof your indoor rooms. Ensuring gutters and roof valleys (gullies) are cleared of leaves and gutter guards are intact, that rooves are waterproof and windows don't have draughts or installing some new and thicker ceiling insulation are all ways we can ensure we're warmer in cold months, cooler in hot months, and are keeping our energy bills down to what they should be – more money for the children and grandchildren next school holidays!
This Issue we look at some of the checklists and tips for DIY jobs you can get done now.
Repointing Your Roof
Whether you have tiles or tin your roofing will wear out over the decades it is exposed to sun, rain, wind and damaging hail. Many a problem has been caused by not regularly maintaining or repairing cracked or slipped tiles or deteriorated tin sheets while the sun still shone. If you have cracked or slipped tiles, damaged or old flashing, roof valleys that are full of debris, these will funnel water into your roof, onto gyprock that will then break and pour a nice mess into the room beneath it. even though the cavity between tiles or tin and ceiling is 'sealed' dust and leaves can accumulate there too, blown through the smallest of slivers, and these too will come down if your roof is breached and causes the gyprock to break.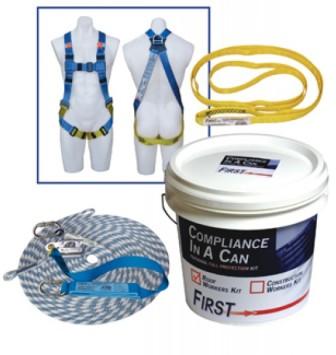 If you have terracotta tiles re-pointing involves ensuring the original cement mortar or 'bedding', which is what holds roof capping tiles in place, is maintained as it will break down. This will crack over time and Roof Pointing, or repointing is applying a second layer which goes over the top of the bedding, sealing these cracks, to help create a stronger hold for the tiles and re-seals the roof against dust and water. Cement mortar used to be used for roof pointing but has been replaced by flexible pointing compounds. These are fairly easy to apply and even come in a range of colours to match to your original mortar. A brickies trowel and a few hours should get the job done.
First you will need to prepare these areas for repointing; brush away any loose mortar and reapply where it has gone completely. Don't worry of this re-cracks – the repointing compound will seal it.
Before you climb on the roof you will need to ensure you have the right safety gear;
Right: First Roof Workers Kit $299.00: QUICK OVERVIEW • Ideal for workers required to work on roofs and building edges, the First Roof Workers Kit contains a rope lifeline of 15m with integral shock absorbing lanyard, 1. • 5m round strap and a fall arrest harness, all in a carry bucket for your convenience. See more at: mitre10.com.au/protection-kit-roof-workers
Check Exterior Walls
Pick a beautiful bright Autumn day to have a look at brickwork or weatherboards to make sure there are no cracks or flaking that need to be repaired. Water can find its way into the smallest defect and swell wood or make cement looser and cause problems beneath your floorboards – a pointing compound or putty and paint now will save you too much work when the rains come.
It is also a good idea to check there is no soil or other debris build up against any house walls which could cause a breach of your damp proof course. You will need to look under your house as well as all around it to check walls are free of any potential problems.
Check Air Vents and Air Bricks
Check that air bricks are clear of dirt and debris to ensure you get a proper flow of air under your suspended floor which helps prevent condensation and wet or dry rot.

Check Ventilation
One way to prevent under-house dampness is to install an Edmonds Ecofan ventilator. Jonson Brothers Mitre 10 ran a DIY page on this a few years ago HERE.
Fixed roof vents atop rooves should also be checked when you are cleaning out debris from gutters and roof valleys. Also ensure any Chinaman's Hat has not rusted and is still secured firmly to the roof vent - if the screws have rusted a strong wind could displace the hat protector and you will have rain pouring into your roof cavity.
For inside the house condensation make sure any installed extractor fans are clear and working.
Check Your Guttering and Downpipes
As with the rest of your roof, the guttering and downpipes will deteriorate over time. A small amount of rust will quickly become a hole beneath which any path or part of the garden this water build-up falls on becomes slippery in the case of a path and a channel for water close to your homes walls in the other. Downpipes similarly need to be checked – if the joining is leaking it needs to be resealed with a Silicone. The stormwater drain the downpipe channels rain into should also be checked now and cleared of debris to prevent flooding. If you are installing or have installed a Rain Water Tank, these pipes should be checked too to ensure all that water you're saving for a non-rainy day is available.
Right: Buy Right® Roof and Gutter Silicone: $5.25 300g. Grey.
Sections of guttering that have rusted through will need to be replaced. If it is only a minor problem, applying a seal or metal protectant and repainting will ensure the rian stays in the guttering, not pouring out of it.
Protect Timber decking and Exterior Window Frames
Any exterior decking is going to last a lot longer and look a great deal better if you look after it. If you avoided restaining or reoiling your deck last Summer, doing so now, and when it's a bit cooler, will ensure rain doesn't damage those wonderful outdoor verandahs and large deck areas. Clean these first with a preparatory that removes dirt and fungus build up and then apply the stain or oil that will best suit your wood.
Autumn is also a great season to check the sealing around glass windows and wooden frames - reputty if required. If you have wooden window frames these too may need a spruce up prior to damper months by sanding back, filling any cavities with a good putty, re-priming and repainting. If you have aluminium window frames these too should be checked - reseal any joint leaks and check for corrosion. If you have spots of rust, use wire wool to gently scrub away the rust being careful not to scrape areas adjacent then apply a water repellant.
Clean Paths and Driveways
Autumn is also a great time to ensure all the slime that may cause your family or visitors to slip on paths around your home or cause the car to skid is removed from cement and paved areas. A Pressure Washer allows you to avoid using chemical products that may run off into your garden, and then flow into the estuary or elsewhere. These are also good for cleaning exterior brickwork or weatherboards as well - we bought one several years ago from Johnson Brothers and it's still going and has been put to a variety of uses over the years.
The BOM's forecast for April to June this year is for wetter than normal conditions so while we still have warm days and balmy nights it is an opportune time to ensure your home and family is weatherproofed for whatever may come.
Everything you will need for these maintenance or repair works can be found at the Mona Vale and Avalon Johnson Brothers Mitre 10 stores – just pop in and speak to their friendly trained staff about what specific products will best suit your home.
Products advice is available from the trained friendly staff at Mona Vale and Avalon Johnson Brothers Mitre 10.
Click on logo to visit Johnson Brothers Mitre 10 website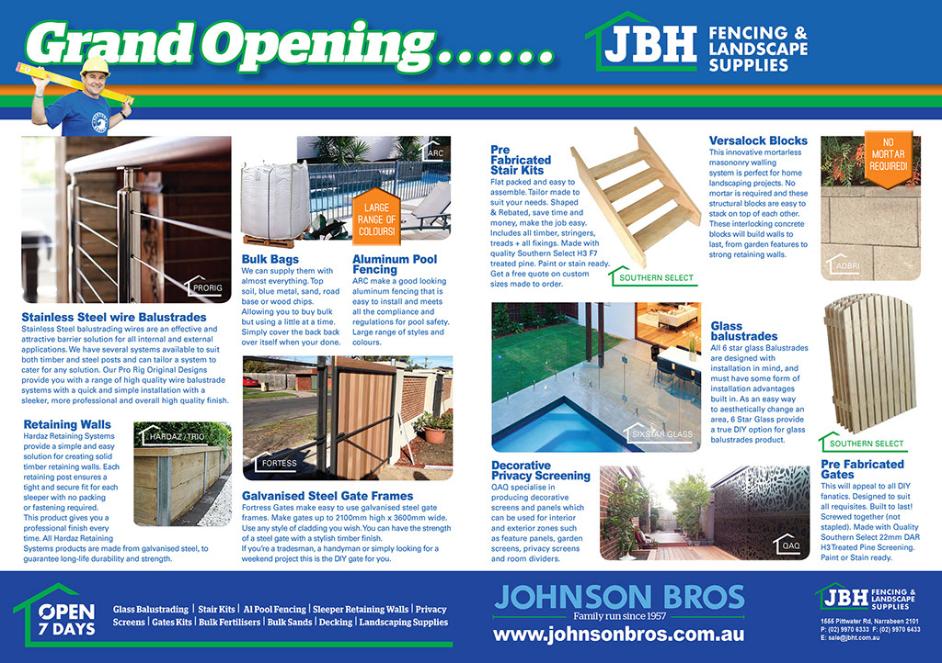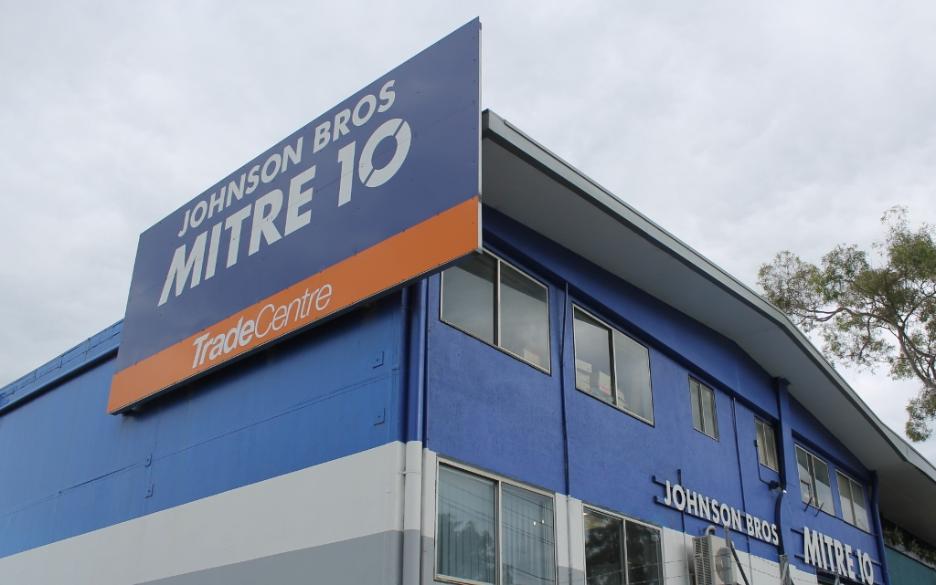 Copyright JBH Mitre 10, 2015. All Rights Reserved.