February 6 - 12, 2022: Issue 525
DIY Surfboard Rack: Vertical And Horizontal Options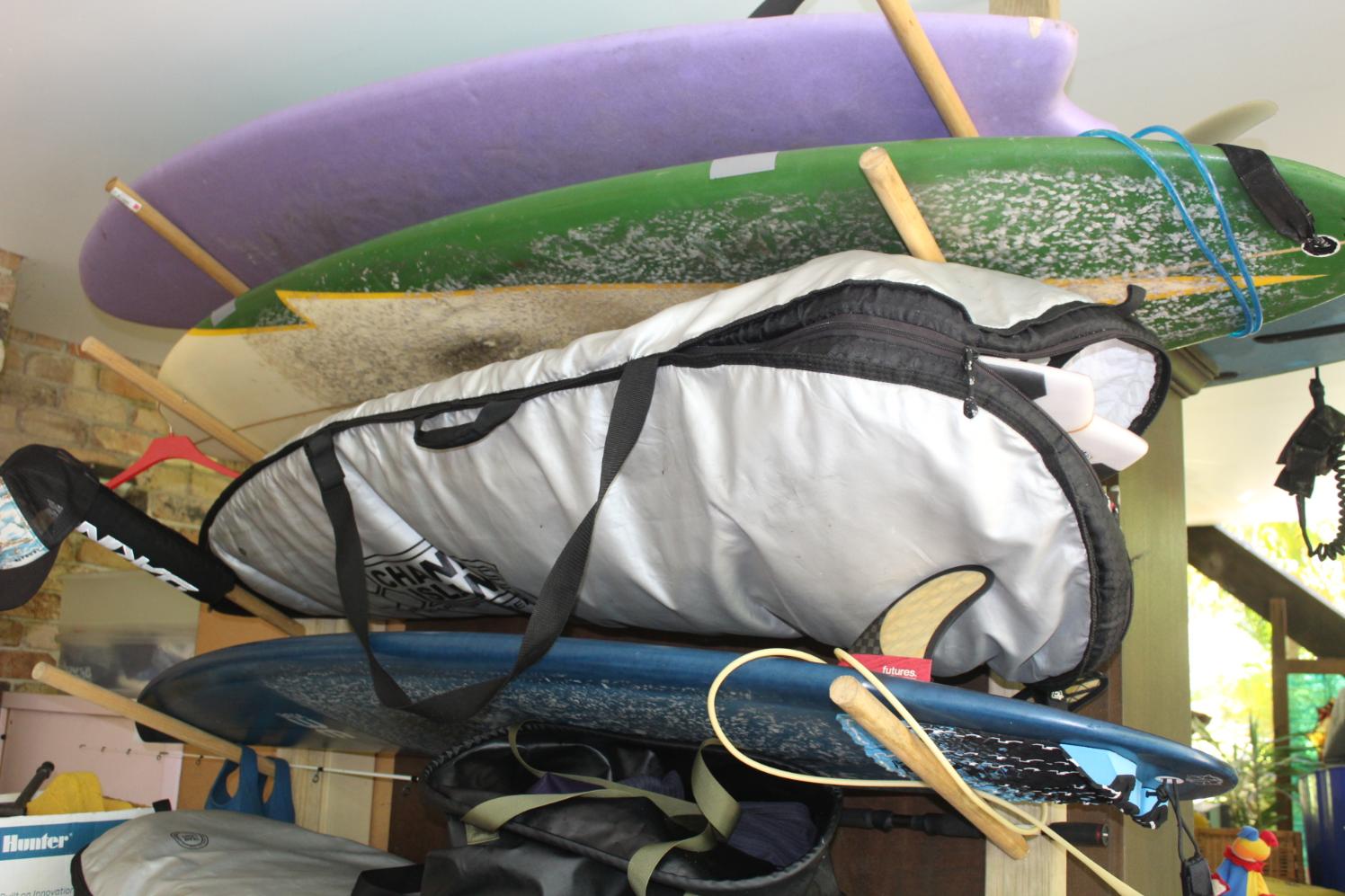 Residents here may have collected a few surfboards over the years for a few different waves or surfing preferences. In the
Pittwater Online New
s yard there are some that date from the 1960's and 1970's for sentimental reasons, a bright green Nat Young one for instance, as well as a Malibu, a few longboards and a few different shortboards that have been more recently acquired. This 50+ years collection, all still used, needs to be stored safely so the boards don't get damaged, and so they can be accessed for use when there's a good wave running.
As some surfboard racks you can buy can cost several hundred dollars, money that could be spent on another board, wax or burgers after a good session, this Issue we offer a few easy to make surfboard racks that will costs one tenth of the average price for a commercially manufactured surfboard rack.
Vertical or Horizontal?
If you have a huge amount of surfboards, the best option is to install a vertical rack and take off the fins when storing so these don't get damaged. Vertical racks are great for outdoor areas or indoor areas where you have a lot of space. The boards are resting on the ground and so are easy to put in and take out of the rack. You would need to place some sort of soft matting or carpet at the base here to protect the tail.
If you have a half dozen, a horizontal version, that also looks nice as a display for an outdoors area, may be the way to go. This also negates the need for removing the fins or worrying about the tail getting damaged.
The best way to store your surfboard in either rack is in a padded surfboard bag.
Did you know, and according to the Encyclopaedia of Surfing, a 'quiver' of boards is the surfing equivalent to the golfer's bag of clubs?
A lot of surfer's personal collection of surfboards, usually numbering from three to six, can occasionally go up to 20 or more, with each board designed for a specific kind of wave from those that are small to those that are tall.
Vertical Surfboard Rack
Materials
Angle shelf brackets
Some wood strips cut to the width and length of the shelf brackets
Length of plywood
Rubber or foam mat for base
Screws for shelf brackets
Round Foam Pipe Insulation
Eye hooks
Hockey strap
Tools
Tape measure
Saw
Drill
Screwdriver
Level
The design of this surfboard rack comprises of a plywood back and shelf brackets that are mounted 15 centimetres apart from each other. Each shelf bracket has a strip of wood mounted atop that extends the length of the top of the bracket, this allows for any width board to be stored. The strip of wood and bracket are then wrapped with a piece of pipe insulation or foam. This ensures the surfboard has a cushioning to protect the sides of your boards. You can make this rack as long as you like, depending on the number of surfboards you want to display and store.
To Make
Cut the plywood to the length that suits your collection. Each bracket was spaced 15 centimetres apart and then screwed into place - it's usually best to measure this first and just mark each spot with a carpenters pencil. You also want to make sure these are aligned or level with each other so it looks the business use a level. The plywood assembly was put into position on the wall about 180 centimetres or 6 feet high and screwed into the wall studs. This height will allow your surfboard rack to accommodate your longer boards as well.
The wood strip lengths are placed on top of each bracket and secured in place with short wood screws. The foam was then placed over each bracket and wood. To make sure the boards don't slip and the bottom of the surfboards don't get damaged, a piece of rubber mat was placed on the floor under the rack.
An eye hook was screwed into the wall on opposite ends of the rack and a hockey strap used to secure the boards as a precaution to keep the boards from slipping should the boards get knocked or bumped.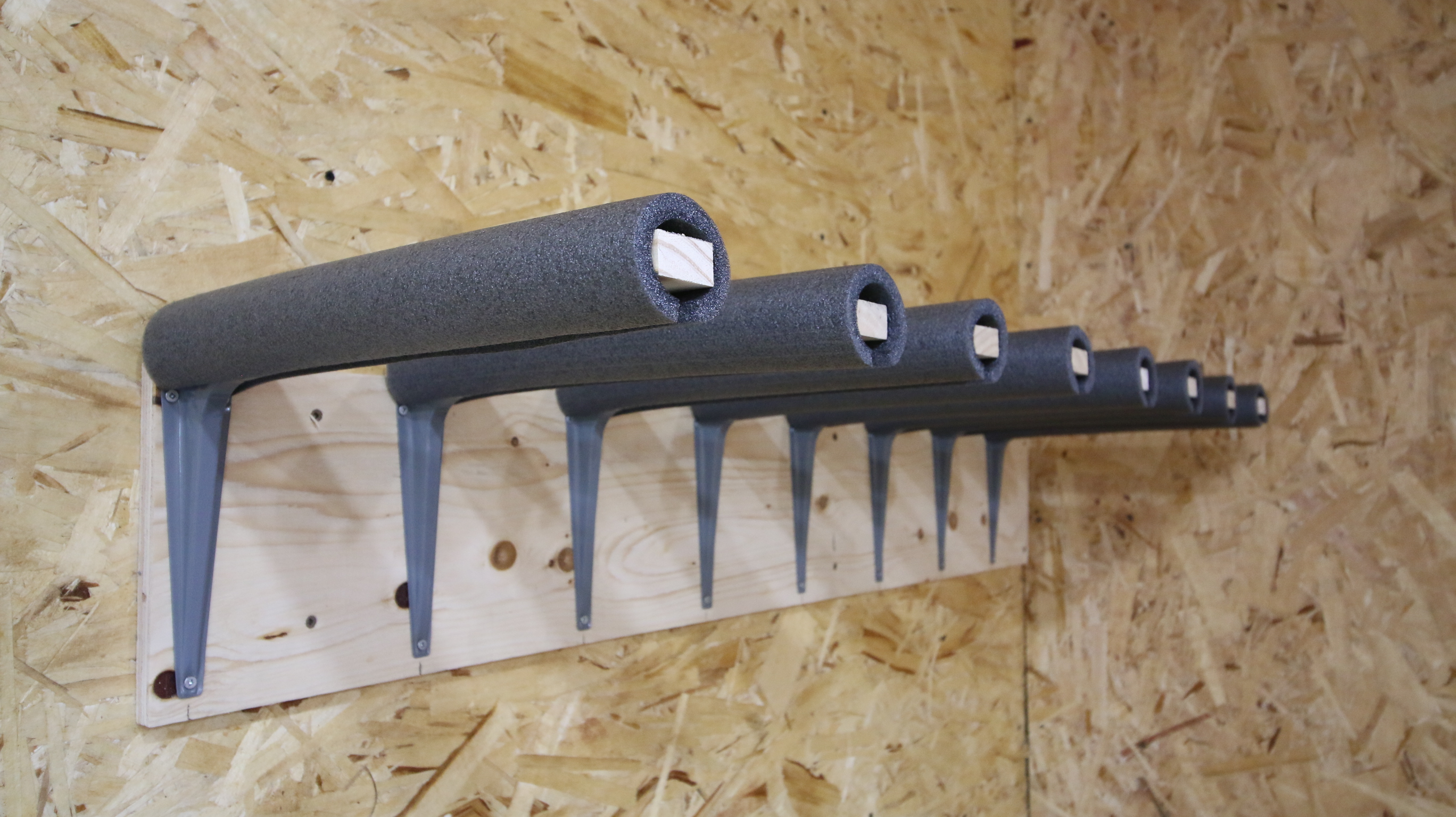 Photo: the finished surfboard rack. Image courtesy: AndrewW1977, per Instructables
Horizontal Surfboard Rack
Materials
Two lengths of wood
Lengths of dowel - at least 25mm to 32mm size
Screws
Wood glue
Hooks/screws for mounting - x 6; make sure they're a good size
Sandpaper
Wood stain
Carpenters pencil
Tools
Tape measure
Saw
Drill - with powder bits, drill bits
Hammer
Screwdriver
Level
Another easy one, this time using two lengths of wood and rounded dowel - you can apply the rounded foam covering for extra protection here as well if you want to. For this one, once again work out how many boards you want to store and set the space between dowels or shelves at between 15 to 30 centimetres to allow for the fin drop beneath the board. That will give you the length f your sides pieces of wood and how many dowels you will need to get.
Cut your two equal lengths of wood. Once you have it's worth giving them a light sand to ensure there are no sharp edges that may catch on board covers or fingers. Measure along this length and mark where you will drill out the holes for the dowels. Start from the top, or one end, and measure down 15-20 cm marking each place in the centre of your wood. Mark the other length of wood in the same manner.
NB: Make sure you leave enough space at the top and base of your lengths of wood to drill in holes for your hooks mountings. We'd also recommend placing one of these midway down the length of wood
Using your drill powder bit, drill out the hole to the same size as your dowel circumference. If you don't have a drill powder bit or a dowel jig, although you can get a powder bit for around $10.00 now, use a to make the appropriate size holes for your dowels. Repeat this process, marking the wood where you need and drilling holes over those markings. While this is a less than perfect method, it will get the job done.
Next you need to insert your dowels into the holes. Brush or place the wood glue on into the hole and tap the dowel into place - if you find the edges are too stiff, soften around the end of the edge of the dowel first be scraping away some of the wood. When tapping it into place use a small piece of wood atop the dowel and hammer in, that way you won't damage the other end of the dowel. Wipe away any excess glue squeezed out onto the length of wood. Do the same with your other length of wood.
Once you have your two lengths of wood with the dowels inserted, allow them to rest for an hour to allow the glue to set and then give them at least two coats with a good wood stain or a polyurethane based varnish or paint to give it some protection from the elements and the saltwater from your boards.
Now it is time to mount these on a wall or where you are going to place the rack. Mark where you are going to make the top and base holes, check it is straight with you level and also measure how far apart or wide you want the two racks to be and mark those holes too. Grab a mate to help you and place the first rack and second rack alongside each other - check your measurements and use your level to make sure they are matched. Then do the initial holes at base and top. Get your mate to hold the first rack in place and fix the top screw halfway in and do the same with the base screw. Once these are in place do your midway screw and then drill all three home. Do the same with the other side and rack piece.
And of course, you could use this horizontal surfboard rack to store other gear that's not too heavy - fishing poles, kayak paddles and garden tools. If you want to store heavier items the vertical rack may work better, just adapt the size between shelve racks to suit what you're storing and choose larger brackets and a hardier wood and ensure the wall you're drilling into can bear the weight.
For tips and advice oon how to get this project done, pop into your local Johnson Brothers Mitre 10 store and talk to their Trained friendly staff on what will work best for your surfboard rack.
Tools And Products From Johnson Brothers Mitre 10 To Help You Get The Job Done: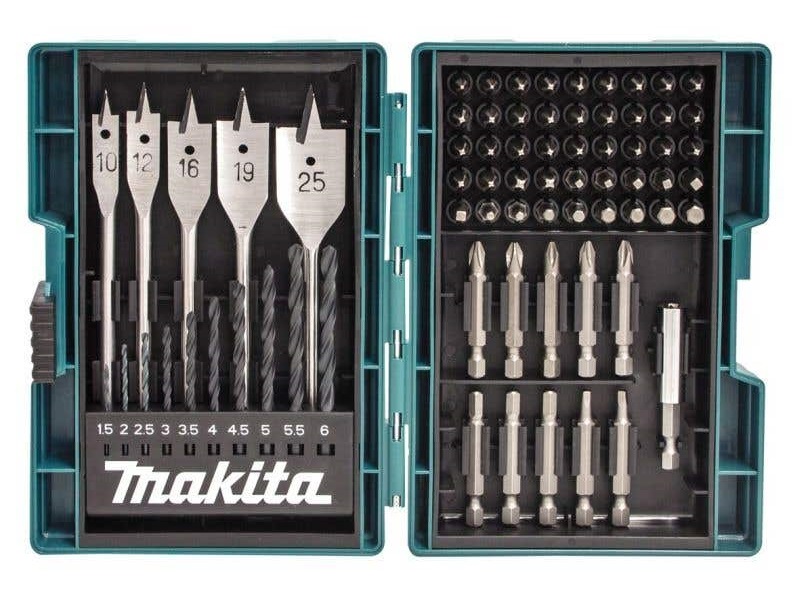 Makita Drill and Screwdriver Bit Set - 71 Piece: $67.90
Has 1.5-6mm metal drill bits, 10-25mm wood spade bits, Phillips Head/Square Head/Hex Head Driver Bits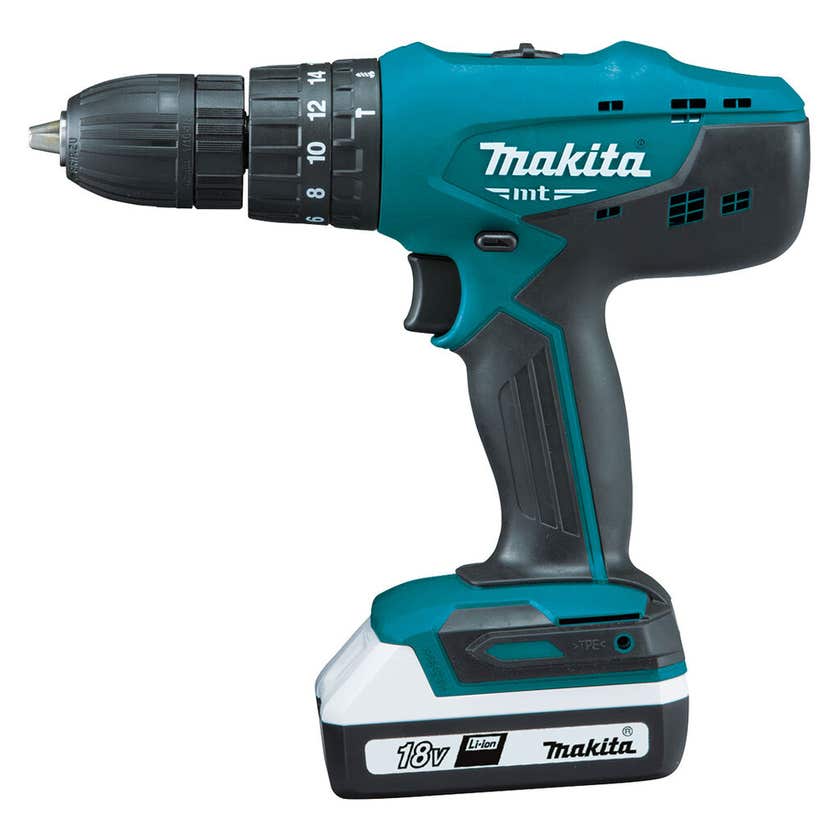 Makita 18V Hammer Driver Drill Kit: $199.00
Mechanical 2 speed gearing, 42Nm of max fastening torque. Kit includes: 18V Hammer Driver Drill, 2 x 1.5Ah batteries & charger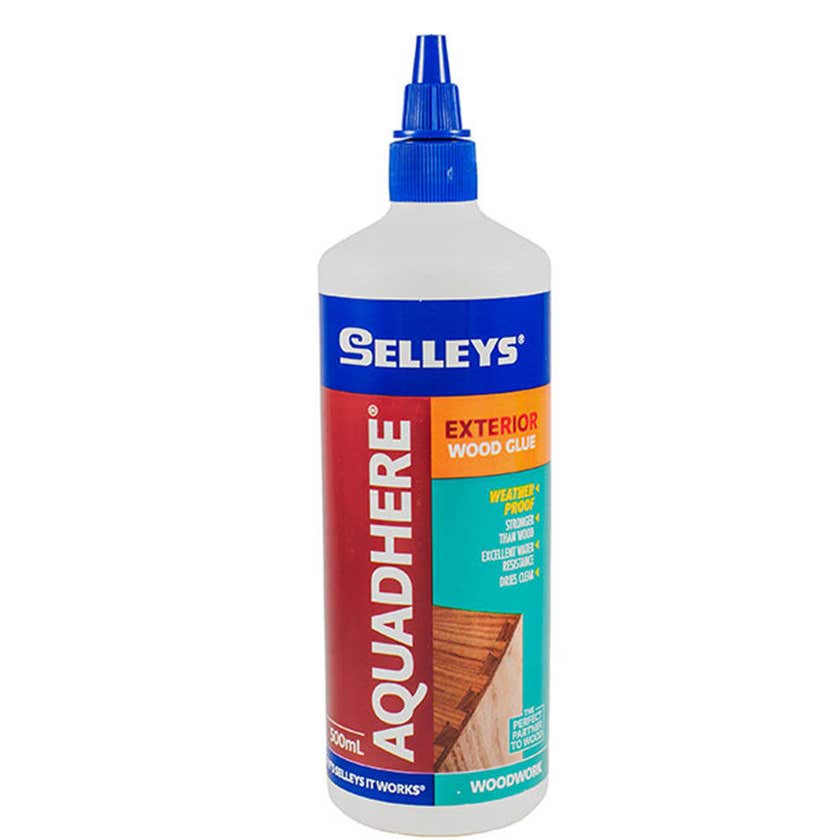 Selleys Aquadhere Exterior Wood Glue 500ml: $22.00

Excellent performance properties for repairs or building projects. Suitable for exterior use in non-structural applications. Can be chiselled, routed or turned. Suitable for end grain gluing - won't stain timber, cream in colour, but dries clear with a slight yellow tint.

Stanley Classic Box Level 600mm: $28.50
Block magnified centre vial makes it easier to read. Easy to clean after use. Large tubular side vials. Soft end caps makes it more durable in case of shocks.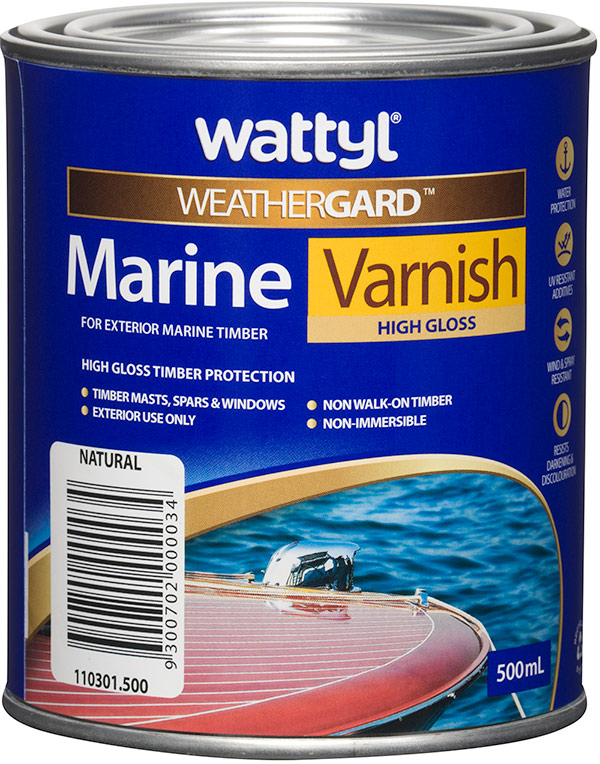 Wattyl Weathergard Marine Varnish 500Ml: $32.90
A clear varnish developed to protect exterior marine timber from harsh elements.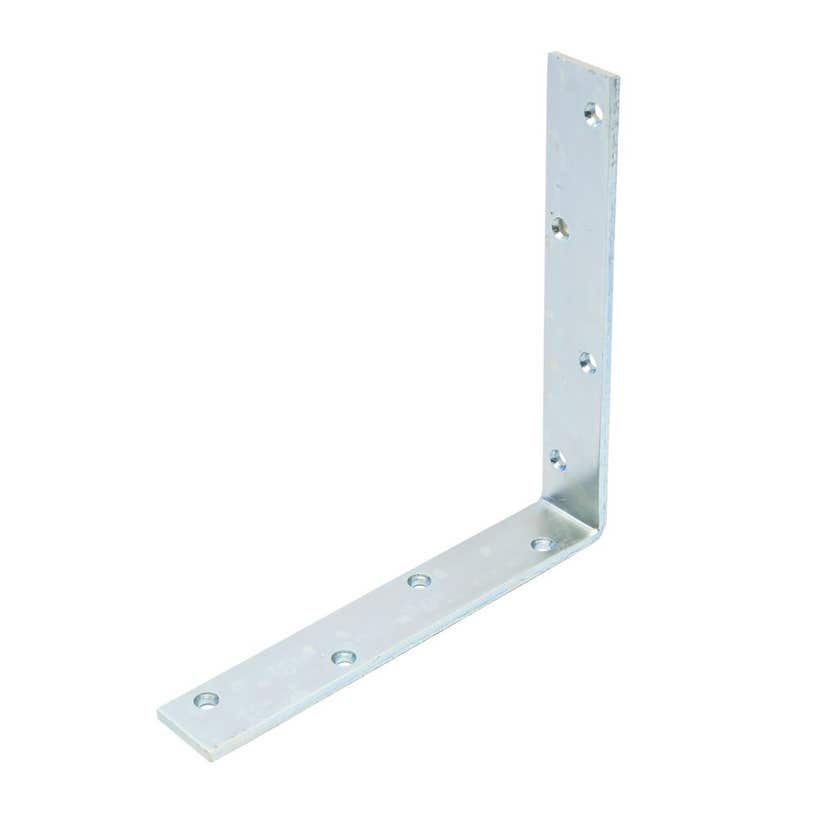 Zenith Heavy Duty Angle Bracket Zinc Plated 250mm: $11.90
The Zenith Heavy-Duty Reinforcement Bracket provides strength and stability where it's needed. Heavy-duty steel construction; 250 x 250 x 40mm.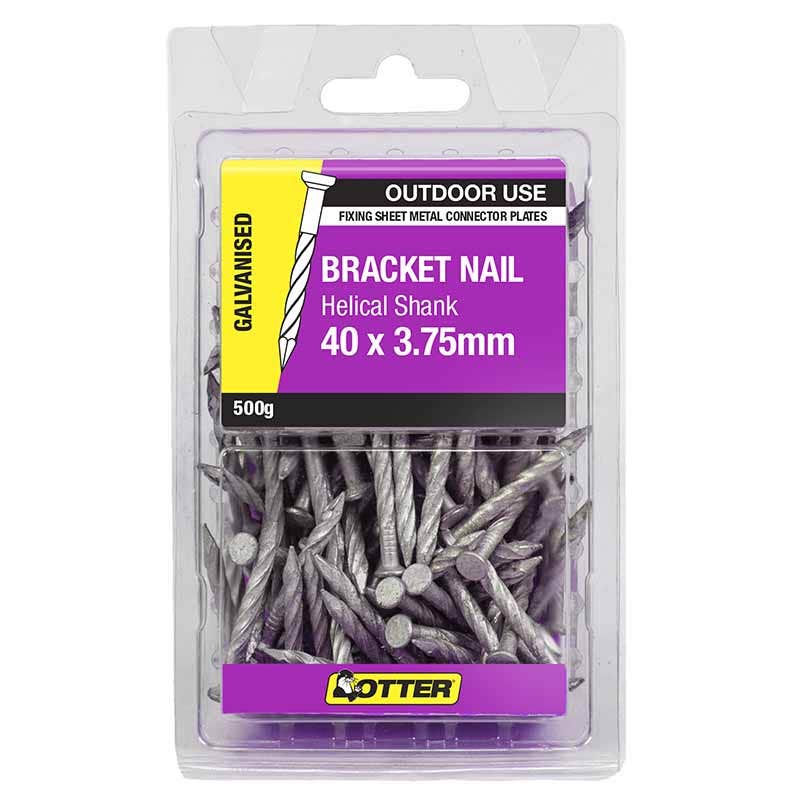 Otter Nail Bracket Galvanised 40x3.75mm (500G): $12.00
Used for fixing structural brackets, connectors, strapping and bracing to timber. External use.
Johnson Brothers Mitre 10: Serving Our Community Since 1955
The Independent Hardware Group has awarded Johnson Bros Mona Vale the best in state at the IHG state awards and heads to the national finals on the Gold Coast in February 2022.
Congratulations to the store in Avalon Beach as well, which won best in village.
Johnson Brothers say; ''Thank you to all of our amazing staff and customers for being awesome!''
IHG is Australia's largest home improvement wholesaler supplying more than 1,500 stores nationwide. These stores cater to a broad range of Trade and DIY customers and range from large format warehouses to convenience operations and Trade centres, as well as frame and truss sites in two States.
Under the IHG network, there is a clear mandate to support the growth of Independents within the hardware sector in Australia by helping them to be 'The Best Store in Town'.
The culture of IHG is built on being a low cost and transparent business partner to members, with an unwavering commitment to protect and grow a sustainable independent hardware sector for the long term.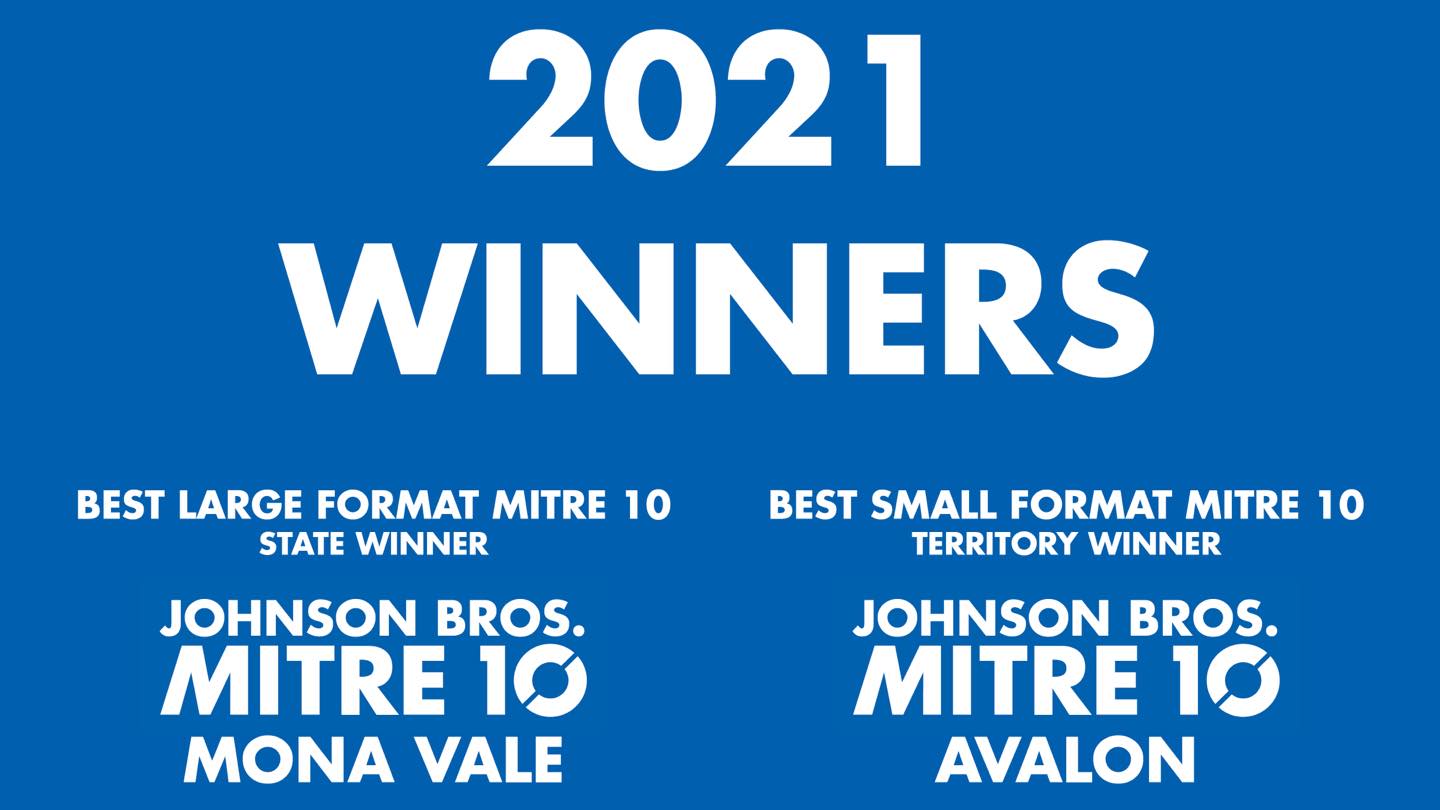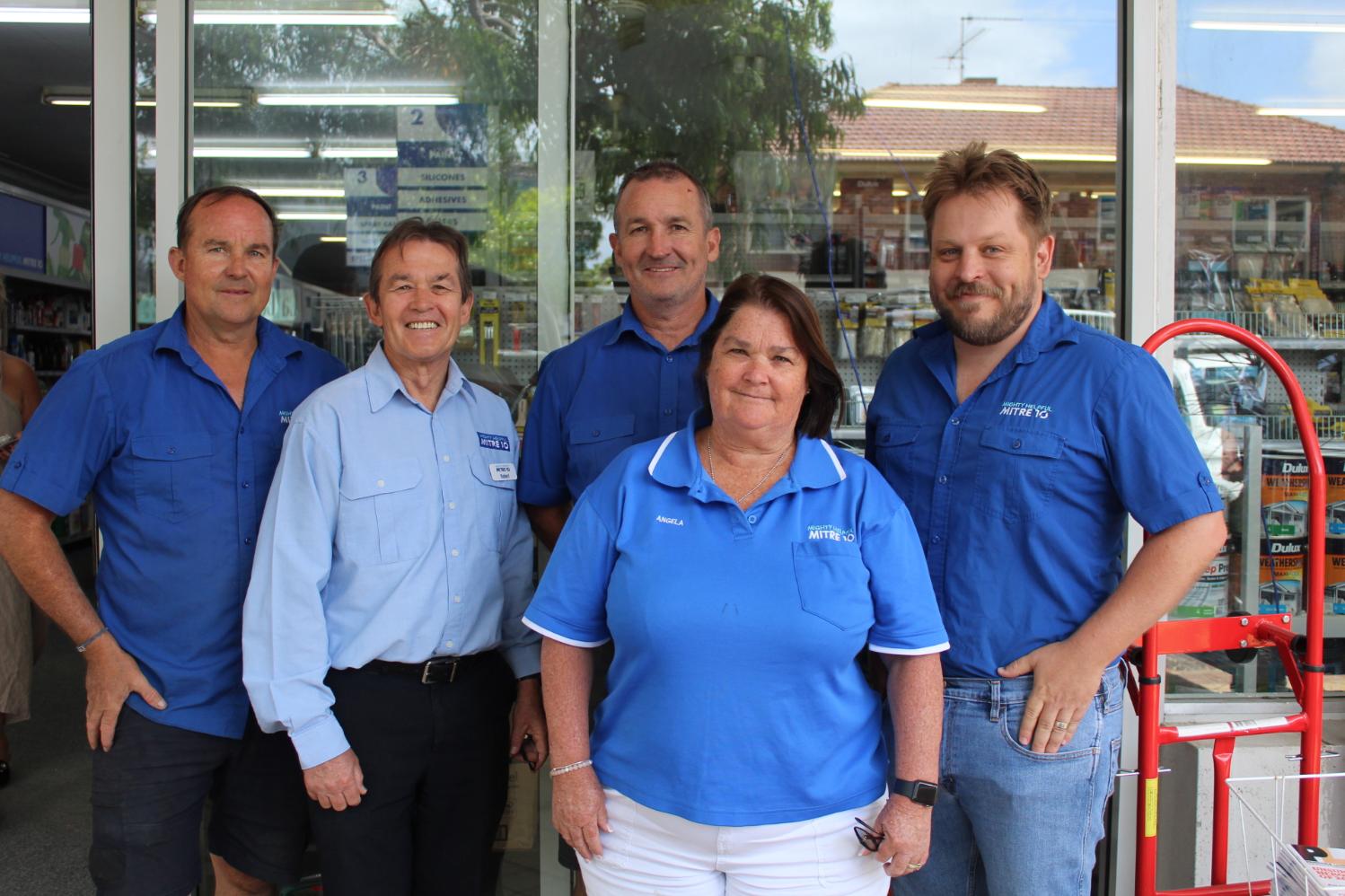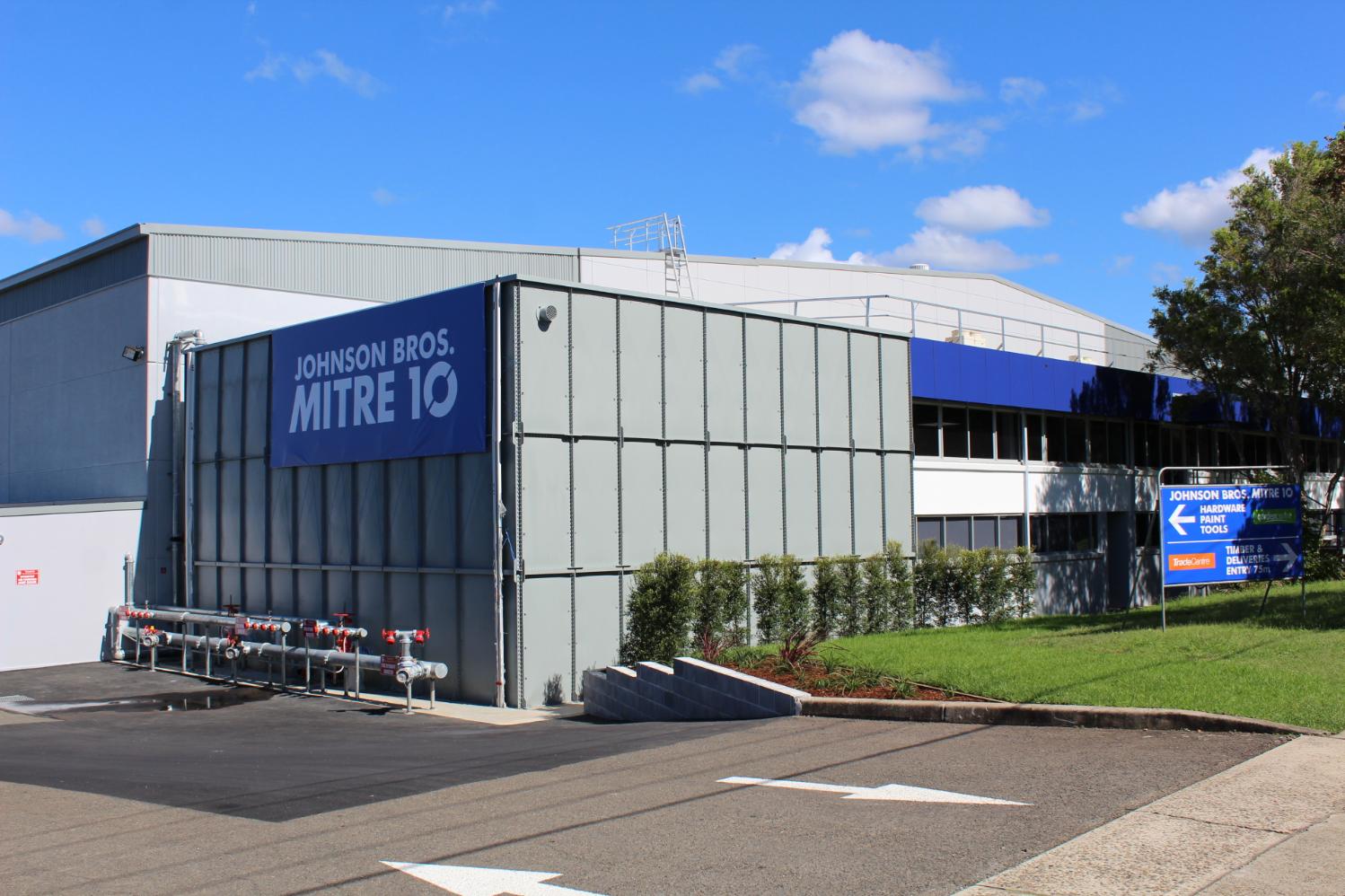 Johnson Bros Mitre 10 Is Open
We understand that this is a tough situation for everybody and implore the community to be supportive of each other.
Following the recent NSW Health advice, as a provider of hardware, garden supplies and building supplies, we're pleased to say that all Johnson Bros Mitre 10 stores, Harper Timber and Narrabeen Trade Centre are operating as per our usual hours.
We count ourselves fortunate to be considered essential and will work responsibly to serve the community to the best of our ability.
FREE Retail Deliveries.
Shop online 24/7 through mitre10.com.au and receive FREE delivery for all online retail orders over $100 and under $40kg or pick up in store with our Click 'n' Collect service.
We do remind customers that when instore to please adhere to the following: wear a mask, use the hand sanitiser provided, maintain social distancing, check in with the QR code.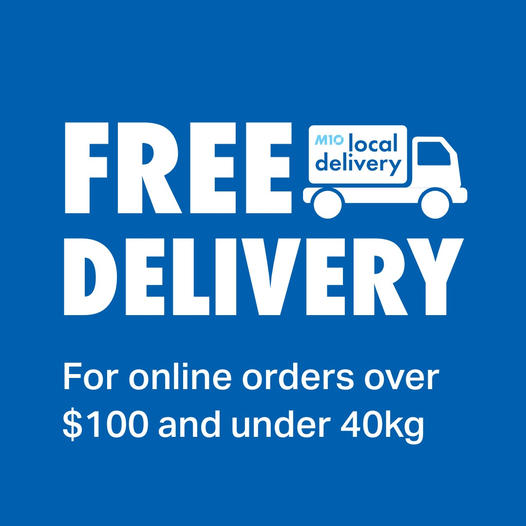 Johnson Brothers Mitre 10: Shop Online Options
Intending to keep our customers and staff safe, we present some additional ways for both our retail and trade customers to do business with us.
Trade and Retail Pick Up
Express Pick up Mona Vale
- Call Johnson Bros Mitre 10 Mona Vale, and we will pick & pack your order and have it ready for you to pick up in 2 hours. (Stocked Lines Only)
- Drive into our undercover Trade Drive-Thru area at 73 Bassett St Mona Vale, and your order will be ready for pick-up.
- Our team members will help you with your load and finalise payment/paperwork
Express Pick up Avalon
- Call Johnson Bros Mitre 10 Avalon, and we will pick & pack your order and have it ready for you to pick up in 2 hours. (Stocked Lines Only)
- Drive into our back lane off Bellevue Avenue, and your order will be ready for pick-up.
- Our team members will help you with your load and finalise payment/paperwork
Online Retail Stores Go Live
We've launched two eCommerce sites offering 2hr pick up in-store and flat rate delivery options on the northern beaches*.
Jbhmv.com.au (Mona Vale)
Jbhav.com.au (Avalon)
With the ability to leave the product on your doorstep, this provides an option of an entirely contactless transaction.
*Flat rate delivery is not available to trade sales, building supplies and trade quantities
** The stock availability is updated nightly, which may mean the stock is unavailable when the order is placed
Trade Delivery to Site
Maybe not new, but certainly worth a mention again!
We can get almost anything delivered quickly onto site!
As always ring the trade desk direct on 9999 0333 and let them know what you need!
Final Thought
Like everyone, we have found ourselves in a new and uncertain environment, but we're setting up (and digging in) for the long haul!
We want to acknowledge that the decision to retain over 120 staff and meet any future challenges head-on, could not have happened without the continued support you provide us as customers.
Thank you and stay safe,
The Johnson Family

JBH Design Centre
JBH Design Centre is a tool for builders and DIY'ers to assist in the fit out of houses. It has displays of kitchens, Bathrooms, Doors and Storage as well as knowledgeable staff to assist in making house fit out painless.
Visit: http://jbhdc.com.au/
On Facebook: https://www.facebook.com/design.centre.jbh/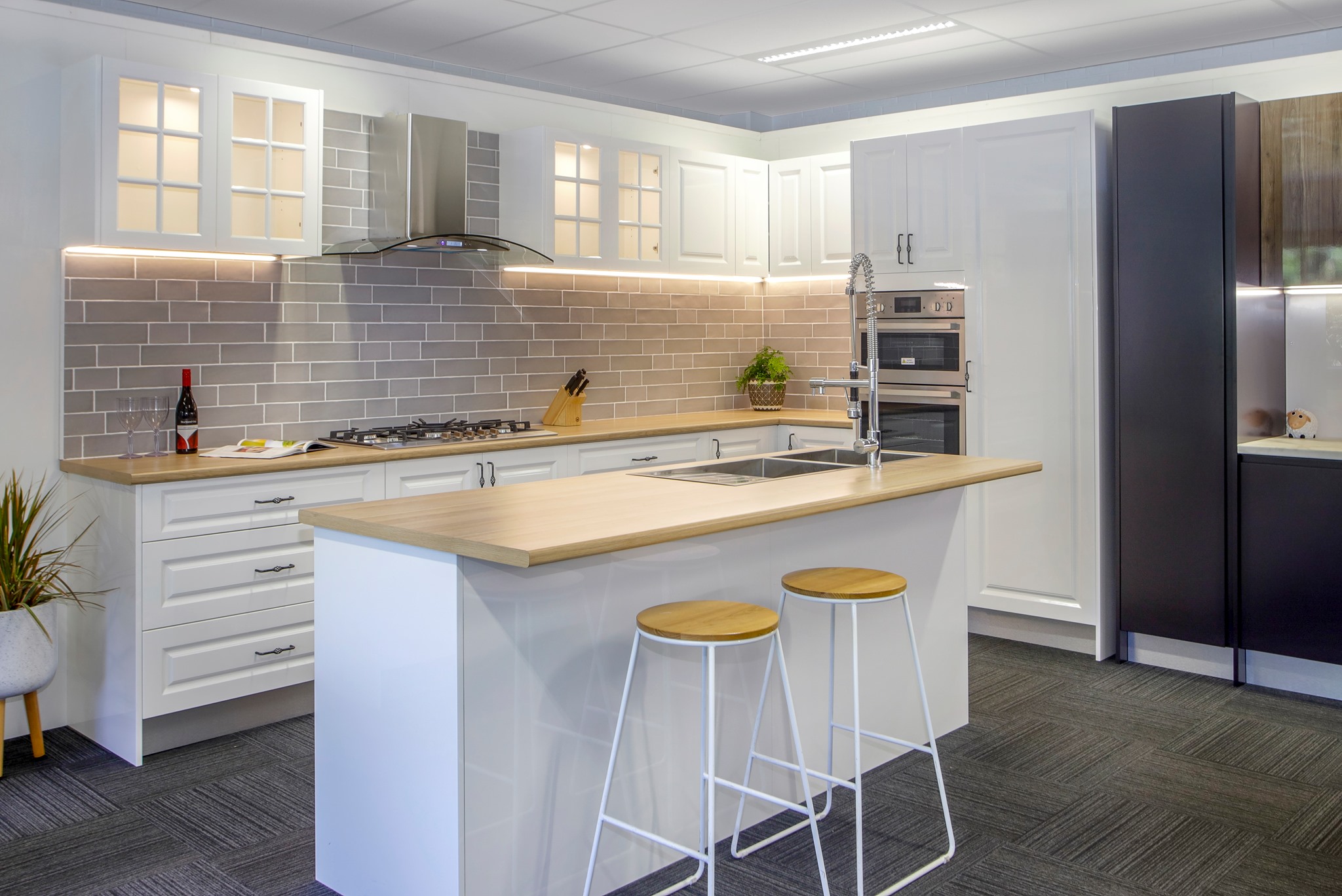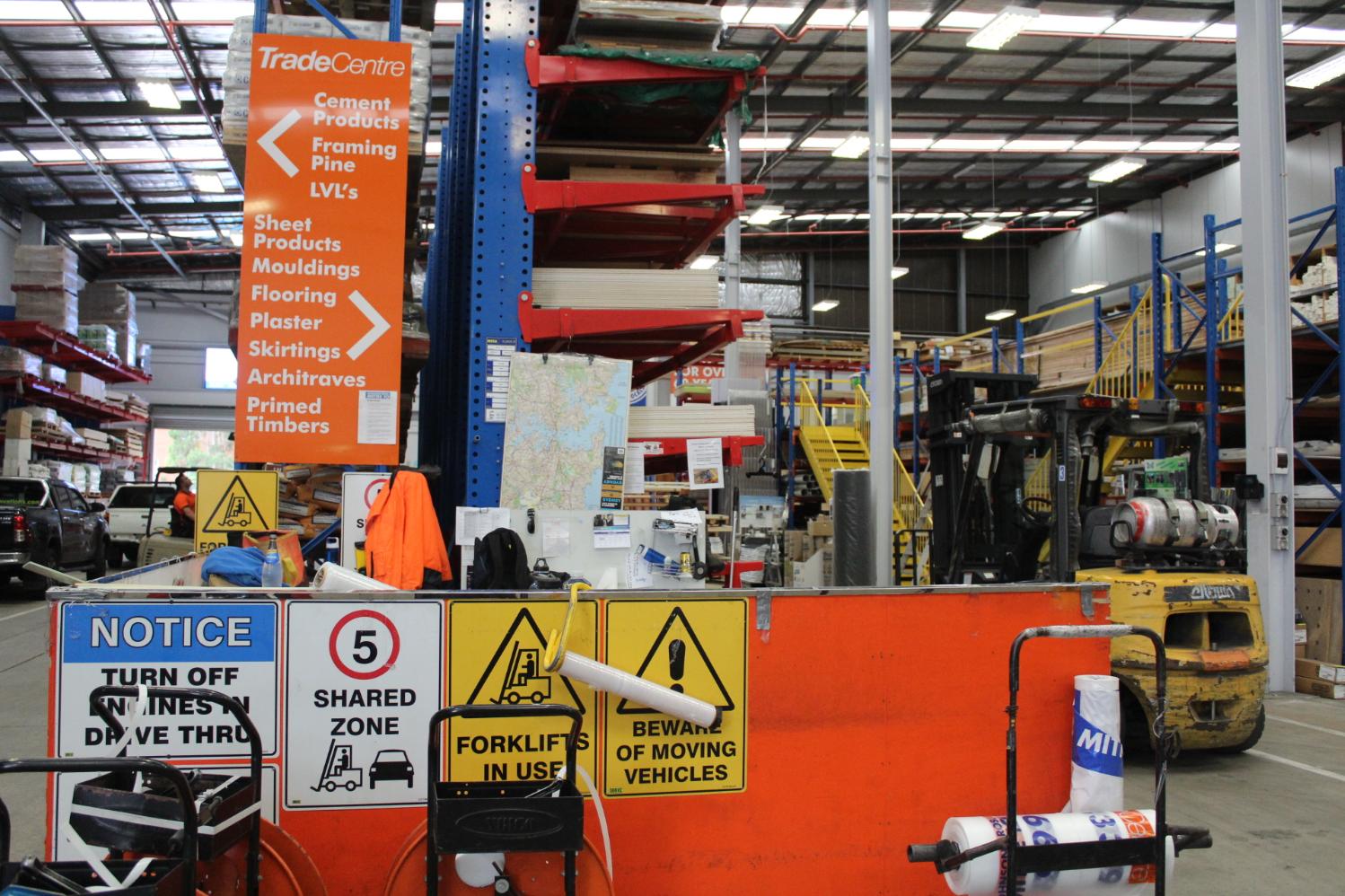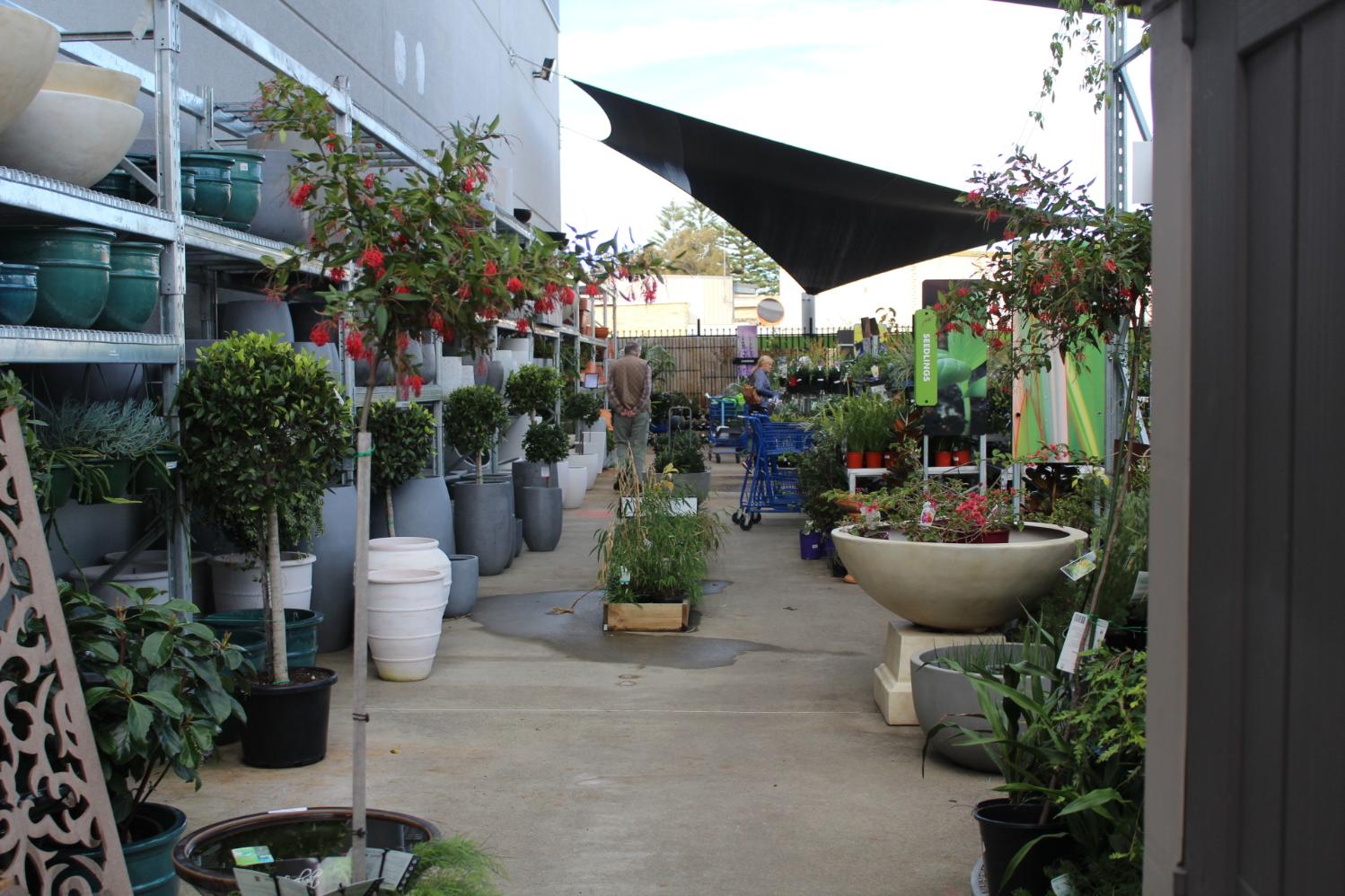 Green Life Garden Centre at Johnson Brothers Mona Vale has a great stock of seedlings, native and other plants and all you need to get gardening in brilliant Autumn weather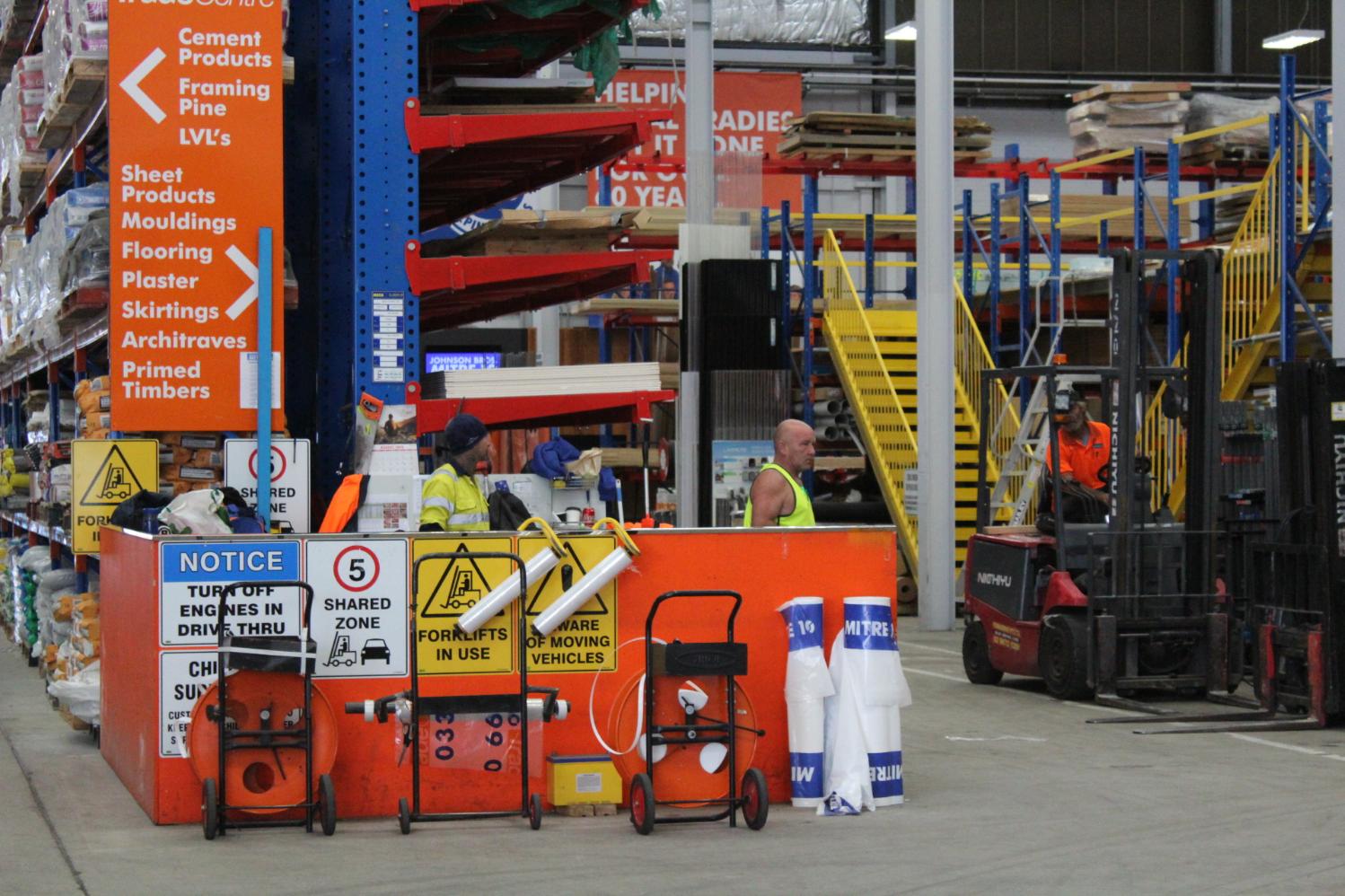 Johnson Brothers Mitre 10 Trade Centre at Mona Vale - everything you need under one roof.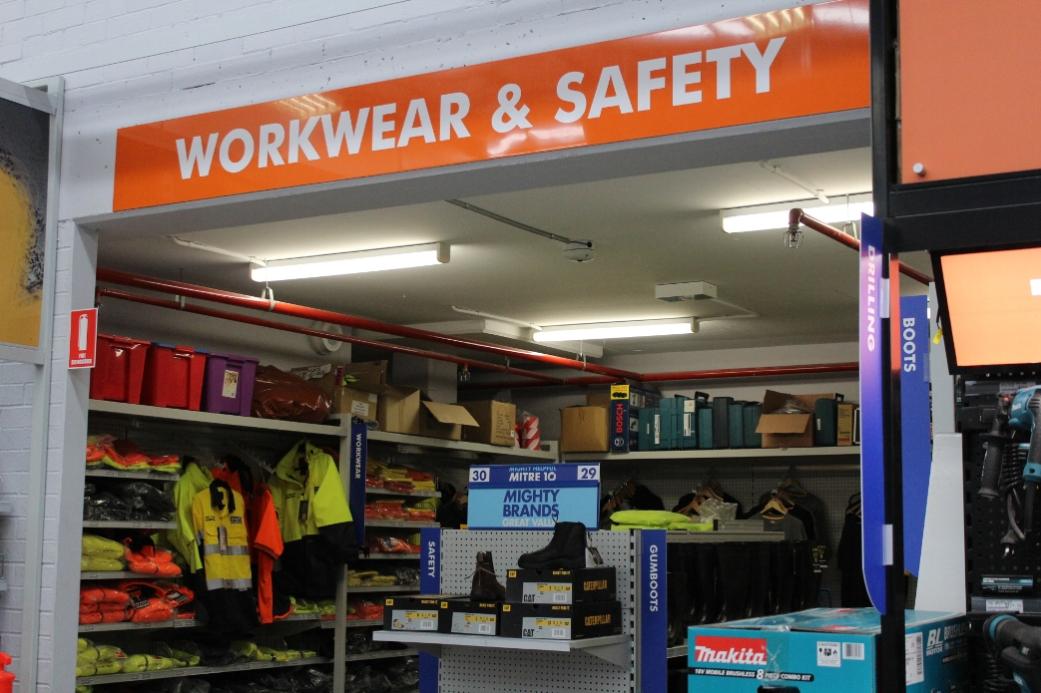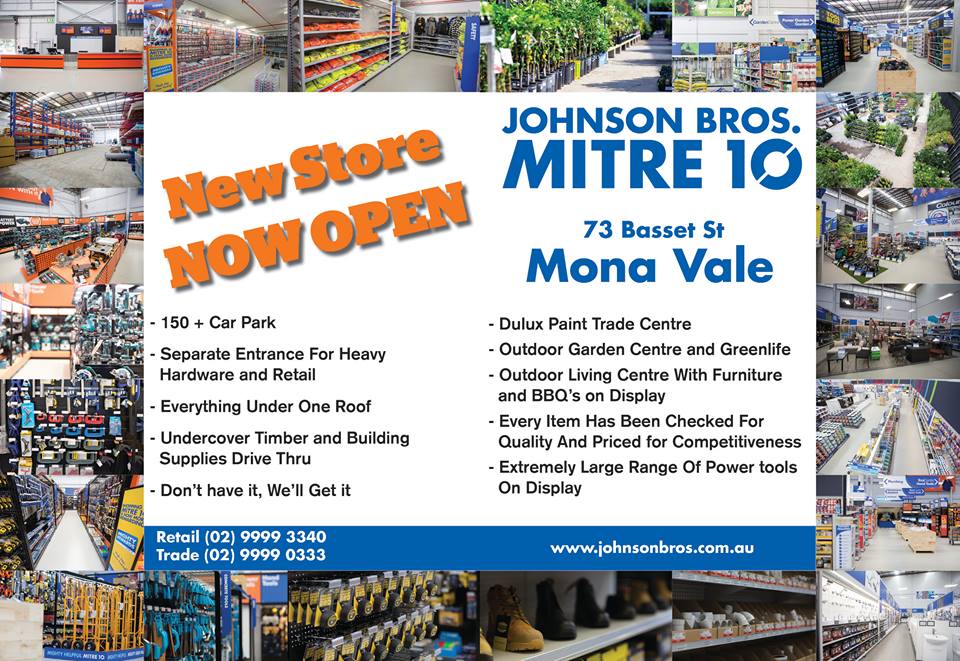 Johnson Brothers Mitre 10 New Store
73 Bassett Street
Mona Vale - Online Store: Jbhmv.Com.Au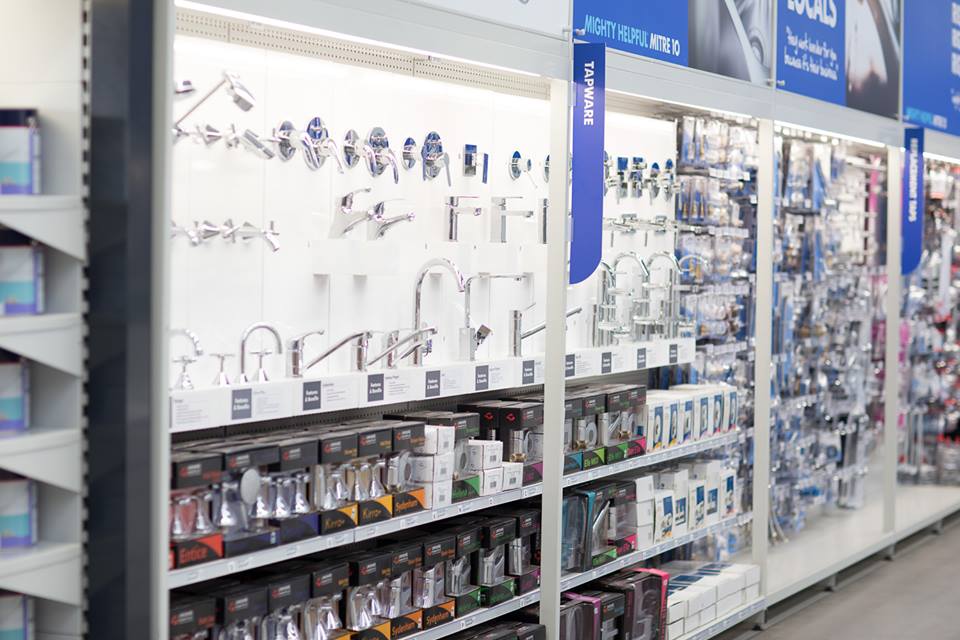 Products advice is available from the trained friendly staff at Narrabeen, Mona Vale and Avalon Johnson Brothers Mitre 10.
Click on logo to visit Johnson Brothers Mitre 10 website
Johnson Bros Mitre 10 - Avalon (02) 9918 3315
Johnson Bros Mitre 10 - Mona Vale (02) 9999 3340
JBH Timber & Building Supplies (02) 9999 0333
JBH Fencing & Landscape Supplies (02) 9970 6333
www.johnsonbros.com.au Online store: jbhmv.com.au

John, Bob and Robert Johnson, 2013 - photo by A J G.
Important
All information and tips in this publication are of a general nature only and neither Johnson Brothers Mitre 10 or Pittwater Online News does not warrant the accuracy or completeness of the information and tips in this publication. This publication is not intended to be a substitute for expert advice.
Johnson Brothers Mitre 10
advises you to always consult an experienced and qualified person when undertaking jobs of this kind (including consulting a qualified tradesperson such as an electrician or plumber where relevant expert services are required).
You should also consider any safety precautions that may be necessary when undertaking the work described in this publication (including wearing any necessary safety equipment such as safety glasses, goggles or ear protectors or hard hats). The information and tips in this publication are provided on the basis that
Johnson Brothers Mitre 10
and
Pittwater Online News
excludes all liability for any loss or damage which is suffered or incurred (including, but not limited to, indirect and consequential loss or damage and whether or not such loss or damage could have been foreseen) for any personal injury or damage to property whatsoever resulting from the use of the information and tips in this publication.
Pittwater Online News and
Johnson Brothers Mitre 10
also advises there may be laws, regulations or by-laws with which you must comply when undertaking the work described in this publication. You should obtain all necessary permissions and permits from council and/or any other relevant statutory body or authority before carrying out any work. Major projects published in this publication always list these and/orlinks to where you may research what your own project requires to meet regulations.