March 12 - 18, 2017: Issue 304
One To Two Day DIY Weekend Spruce Ups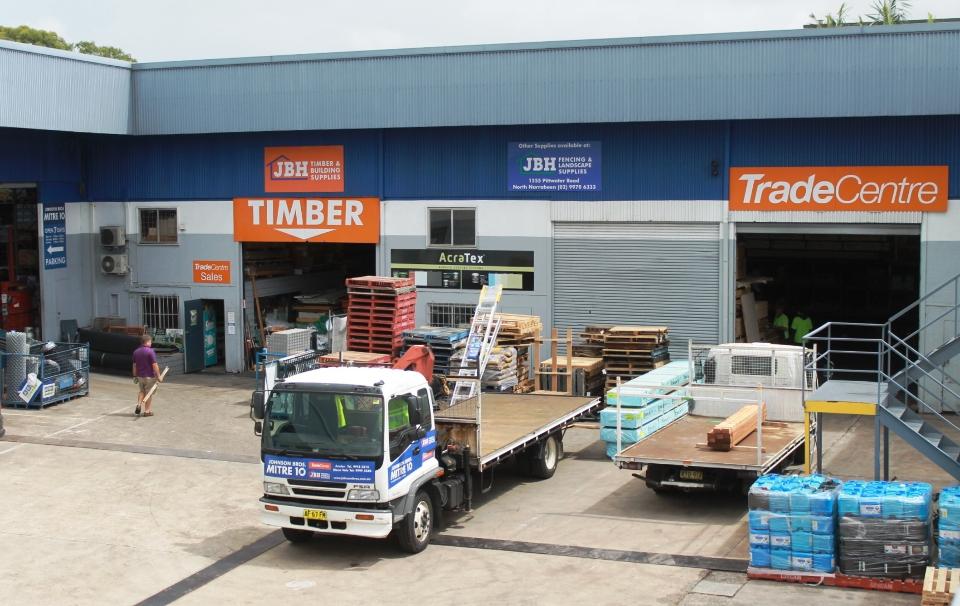 As the days get shorter and cooler we still want to spend as much time possible outside in the sunshine but also have a bit of time off during the weekend. If you like doing mini-spruce-ups around the home a few ideas to make your house more inviting, as well as doing a bit of maintennace before the too cold and too wet weather sets in may be just what you're after.
A few ideas that won't take all weekend unless you want to:
Make your front door more inviting
Depending on the type of door you have, repainting or staining and refinishing it is a simple upgrade that can really make a huge difference — and you'll only spend $20 to $50 in the process.
If you really want to go all out, you can install a brass knocker plate and new latch hardware ($120 to $150) — and still stay within a reasonable budget.
Total DIY time: Up to 3.5 hours, with one hour of prep, one hour for priming and painting, a half hour to install the knocker, and one hour to install the latch hardware.
Wash your home's exterior
If your house weathered a lot of storms this Summer, a simple scrub-down can provide an instant refresh and rid of all that built up grime.
If you're trying to reach high places and don't have a ladder, attach your brush to a telescopic pole. In fact all outside surfaces — from driveways to sidewalks to front steps — can be cleaned of dirt, mildew, mold and algae stains now before Winter.
There are a range of non-toxic environmentally friendly products now available to help with your clean or a water pressure cleaner works excellently too.
Total DIY time: Three to five hours per side, depending on the size of your house.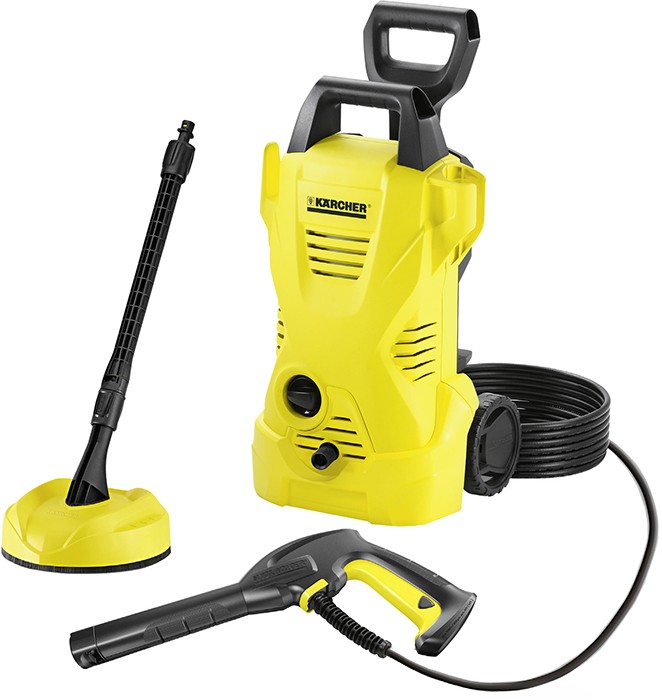 KARCHER K2 TELESCOPIC HOME PRESSURE CLEANER:

$199.00

Kit includes K2 gun, 6m hose, vario power nozzle, dirt blaster and T-Racer 150 patio cleaner.
Install solar-powered lamps
An upgrade that will give you more light without adding to your electric bill and one that will add more highlights to your yard is always a great idea.
Reliable solar lampposts are now readily available — no wiring required. The best place for solar lamps is in locations where they'll get six hours of sun each day, and where they'll illuminate the walk between the car and the front door, or a garden path and edges.
If you have a gate or piers at the foot of your driveway, solar-powered lamps can add a nice touch to those areas — warmly welcoming visitors to your home.
Total DIY time: Two to three hours.
Refinish your deck or fence
We've had some pretty hot weather this Summer, intense sunlight that can damage your outdoor verandahs and decks. If you avoided doing this in those steamy days, now is the time to stop the rot. A simple way to give your wooden fence, porch, or deck a face-lift is to clean and treat it with a stain. Start by applying deck cleaner to the wood, allowing it to sit for 10 minutes before working it in with a stiff, bristled brush. Rinse thoroughly, wait for it to dry and then apply the stain. Make sure to read all of the product directions for accurate drying times.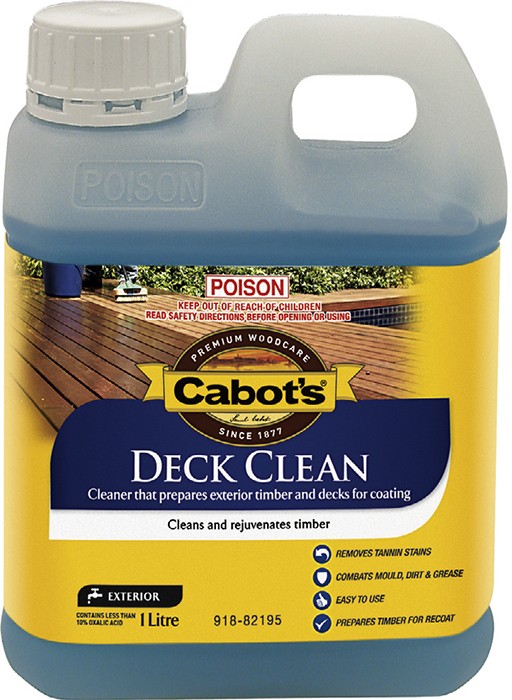 CABOT'S DECK CLEAN

1L. $13.50-

Combats mould and mildew.

Removes dirt and grime.

Also available - 4L:

$37.90
When picking a stain, the rule of thumb is that products with more pigment will last longer; a clear waterproofer might last only one or two years, while it's more like two to three years for a tinted version. A semi-transparent stain will last four to five years, and a solid stain should stay intact for over five years.
Total DIY time: Two days.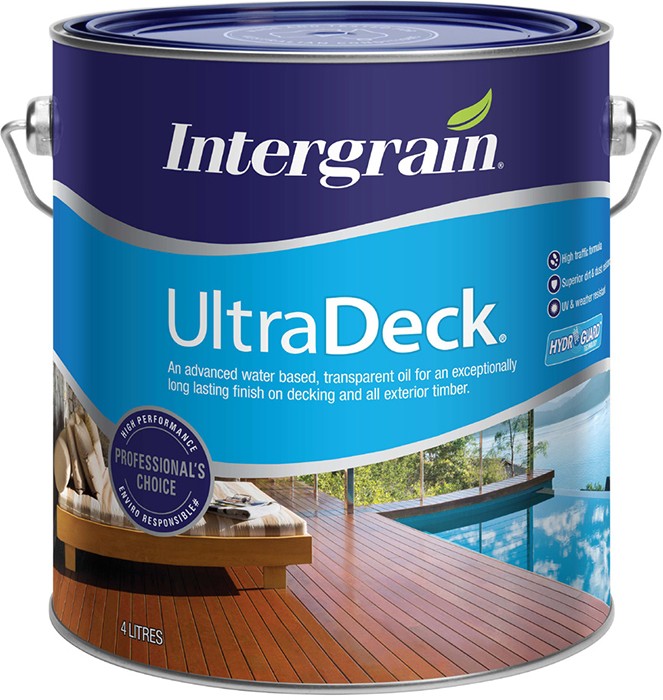 INTERGRAIN ULTRADECK:

4L. (Assorted colours available.)

$98.90

Also available - 10L

$207.00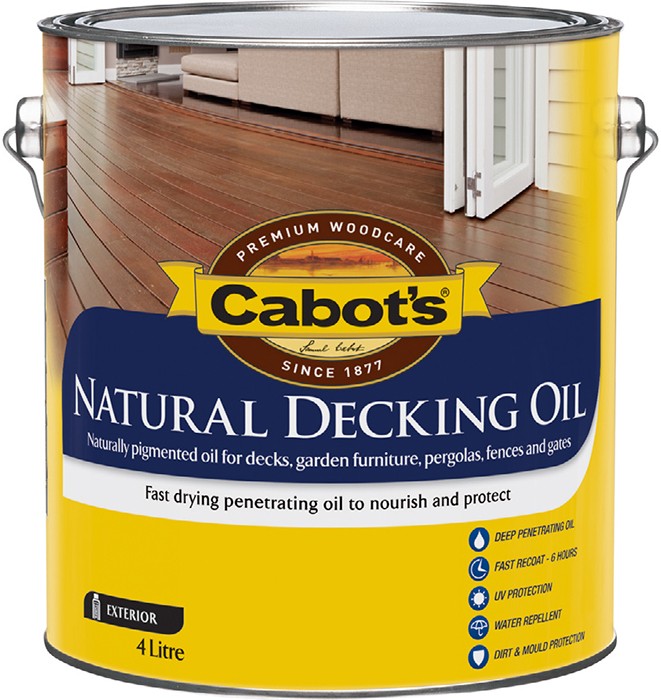 CABOT'S NATURAL DECKING OIL:
4L.
$58.90
Transparent oil. (Assorted colours available.)
Also available - 10L
$139.00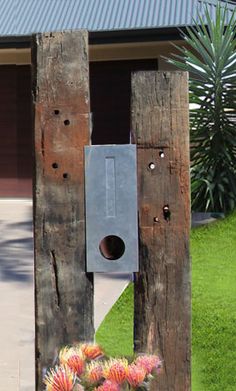 Replace your mailbox
Upgrading a box that has seen better days is one of the simplest ways to improve your home's first impression. Even if you have to reset the post, a new mailbox generally won't cost too much. Something classic and classy, and one that will last in saltwater air, will give your home a lift.
Total DIY time: One to three hours, depending on if you need a new post.
Right - letterbox made from sleepers.
Do some quick landscaping
Brighten up your front yard by simply planting a few colorful annuals or all those native plants that will soon be blooming - banksias, grevilleas, and then lay down a layer of mulch to keep weeds at bay and water in the soil. For added flair, you can also add decorative edging using bricks or stones.
If you're losing soil through rain runoff, now may be a great time to install a retaining wall and plant out with your favourites before the soil becomes too cold for them to take.
Don't have much of a yard to landscape or live in a unit? Place flowerpots next to your front door or refresh those that you may have growing on a balcony.
If you want to grow some herbs invest in a metal shelf unit and stack it with pots brimming with your favourites. There's nothing like being able to pick a few springs of parsley, basil or thyme to toss through a fresh Autumn salad.
Total DIY time: 1 day.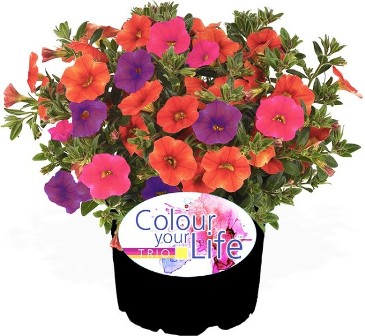 DAHLIA PLANT: $10 140mm pot. COLOUR YOUR LIFE TRIO: $16 175mm. A floral trio mix, great for instant garden appeal.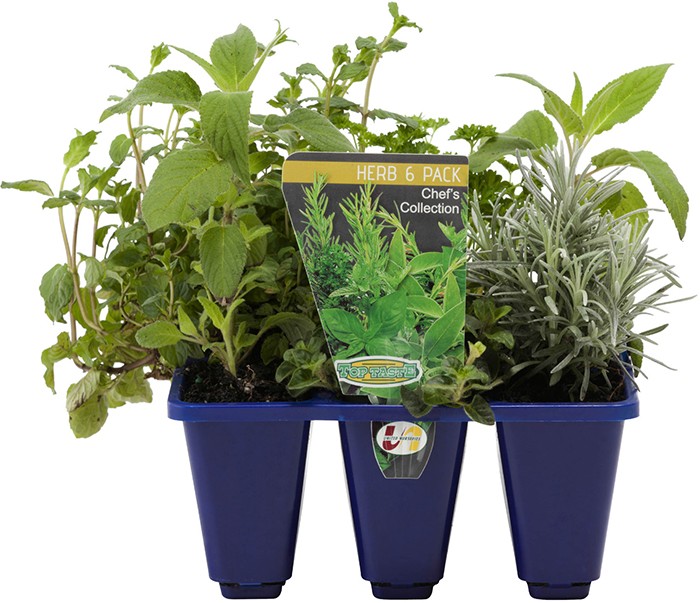 HERB SIX PACK SEEDLINGS: $8 Assorted pack with carry handle.

New, bigger H and C retaining wall beams for 100mm thick sleepers, available in lengths up to 12 metres.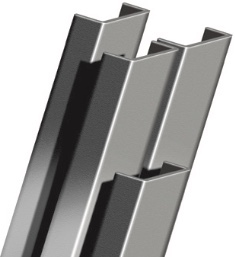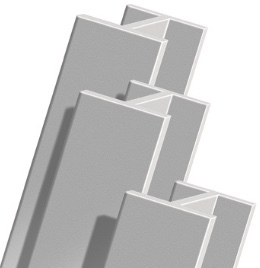 Special introductory offer - March only!
H beams $74.36/lm C beams $60.06/lm

Big savings March only on 75mm retaining wall beams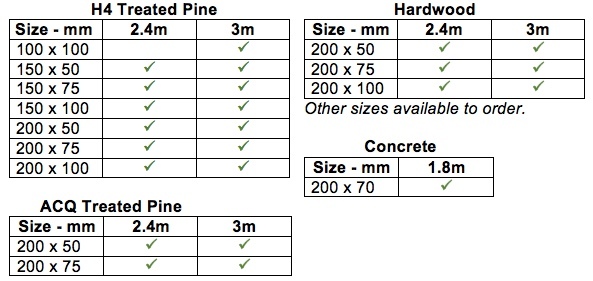 All products available at our Nth Narrabeen yard - 1555 Pittwater Road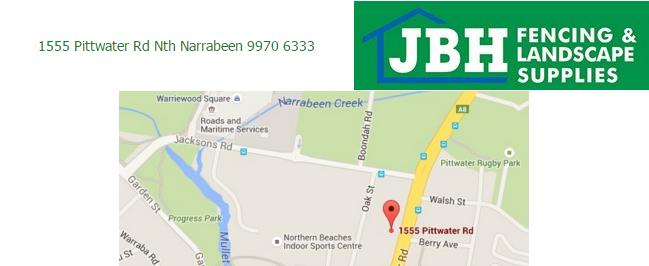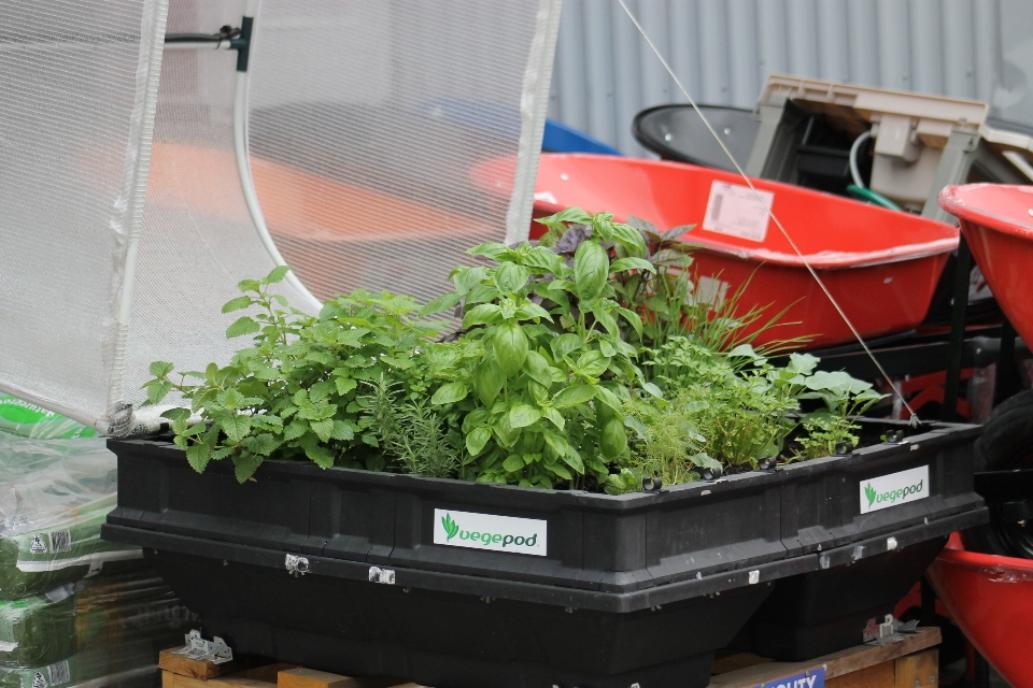 Vegepods are a great idea for the junior gardener or for those who like to pick fresh produce straight from their Unit balcony.
Products advice is available from the trained friendly staff at Narrabeen, Mona Vale and Avalon Johnson Brothers Mitre 10.
Click on logo to visit Johnson Brothers Mitre 10 website
Johnson Bros Mitre 10 - Avalon (02) 9918 3315
Johnson Bros Mitre 10 - Mona Vale (02) 9999 3340
JBH Timber & Building Supplies (02) 9999 0333
JBH Fencing & Landscape Supplies (02) 9970 6333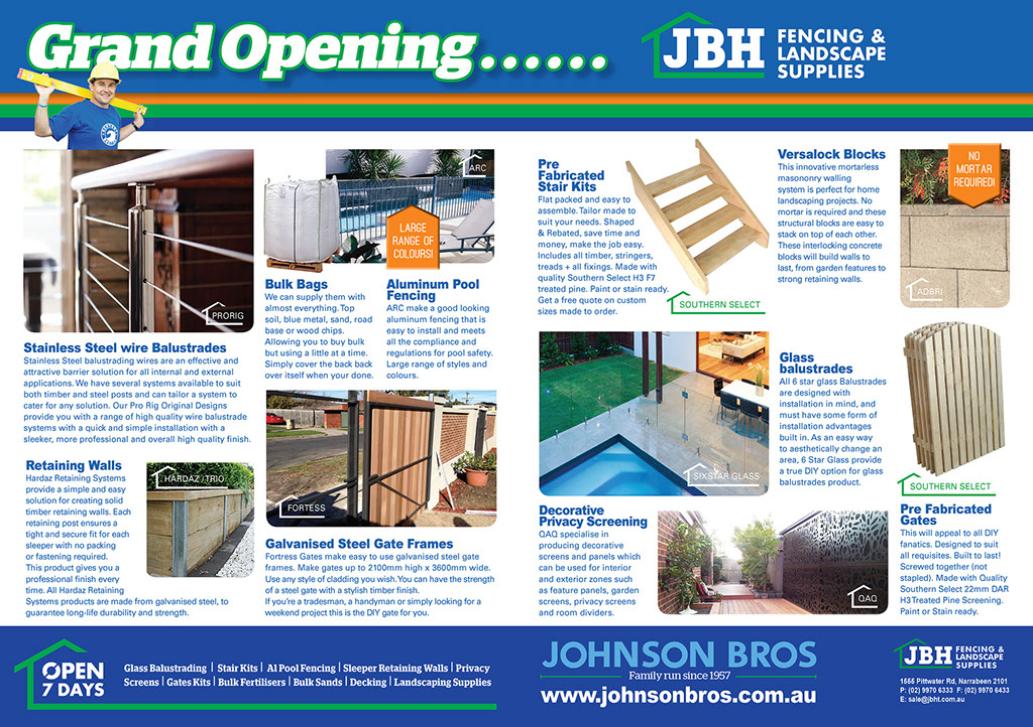 Important
All information and tips in this publication are of a general nature only and neither Johnson Brothers Mitre 10 or Pittwater Online News does not warrant the accuracy or completeness of the information and tips in this publication. This publication is not intended to be a substitute for expert advice.
Johnson Brothers Mitre 10
advises you to always consult an experienced and qualified person when undertaking jobs of this kind (including consulting a qualified tradesperson such as an electrician or plumber where relevant expert services are required).
You should also consider any safety precautions that may be necessary when undertaking the work described in this publication (including wearing any necessary safety equipment such as safety glasses, goggles or ear protectors or hard hats). The information and tips in this publication are provided on the basis that
Johnson Brothers Mitre 10
and
Pittwater Online News
excludes all liability for any loss or damage which is suffered or incurred (including, but not limited to, indirect and consequential loss or damage and whether or not such loss or damage could have been foreseen) for any personal injury or damage to property whatsoever resulting from the use of the information and tips in this publication.
Pittwater Online News and
Johnson Brothers Mitre 10
also advises there may be laws, regulations or by-laws with which you must comply when undertaking the work described in this publication. You should obtain all necessary permissions and permits from council and/or any other relevant statutory body or authority before carrying out any work. Major projects published in this publication always list these and/orlinks to where you may research what your own project requires to meet regulations.
Copyright JBH Mitre 10, 2017. All Rights Reserved .