June 11 - 17 2023: Issue 587

A Job For Life: Apprentice Carpenter + Commencement Tool List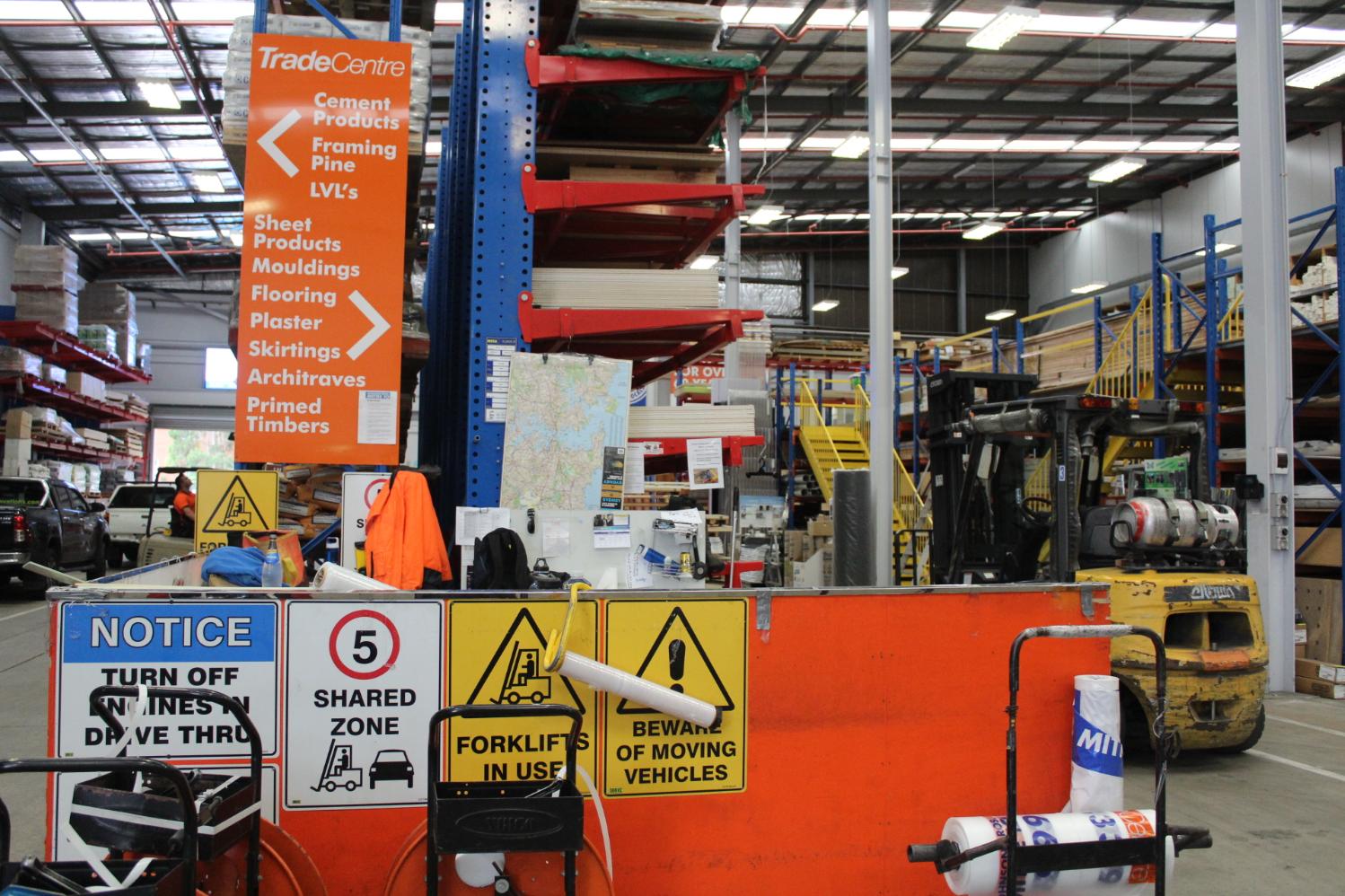 Johnson Brothers Mitre 10 Trade Centre in their Mona Vale store
Around now, with HSC Trial Exams set to commence after the Kings' Birthday Long weekend, some of our school leavers may be considering what options they wish to explore as not everyone wants to go to university. With this in mind we'll alternate DIY Projects in the DIY Idea pages with information on what's out there and what help you can get to set yourself up in a career that interests you. You won't have to get your haircut BUT you will secure a real job in an industry that interests you and on 'getting your ticket' will have autonomy for life. All you have to do is follow through and complete the study and work entailed.
Worth noting is the NSW Government is investing an additional $285 million over six years to fund the qualification fees for 100,000 new apprentices from July 1st 2018. This saves you from having to pay up to $2,000 for training costs per apprentice. (Please note this is for apprentices only, not trainees) Find out more about Fee Free Apprenticeships at: www.tafensw.edu.au/fee-free-apprenticeships
There are also a range of other help, support and incentives for those who want to do this through a traineeship for those over 21 with fee caps there too.
Additionally, as an Australian Apprentice, you may be eligible for financial and non-financial support from the Australian Government. To find out more visit: www.australianapprenticeships.gov.au/aus-apprenticeships-incentives
On June 1, 2023, The NSW Government announced that in a major boost for vocational education and training, more providers, more qualifications, and more regions will feature in the 2023-24 skills provider contracts. The $710 million investment will allow 556 approved providers to deliver subsidised training in priority qualifications that address the skills needs in NSW. The single biggest investment is being directed to TAFE NSW, receiving more than two thirds of the total funding under these skills provider contracts. This meets the entirety of the TAFE application for funding.
Capacity has been increased for qualifications in emerging industries as skills for the jobs of the future, including in wind power generation and automotive electric vehicle technology.
Providers are being funded to allow for the statewide coverage of Certificate III and IV School Based Education and Support, and Diploma of School Based Education and Care. This funding also means the Diploma of Applied Technologies, advanced engineering and advanced electrical qualifications will become more accessible.
One hundred and ninety eight providers have been offered contracts for the first time, including 5 interstate TAFEs that train NSW residents in areas where training is not available in border communities.
Minister for Skills, TAFE and Tertiary Education Tim Crakanthorp said,
"In a skills crisis, it is important that we create a workforce that meets the evolving needs of industries in NSW.
The Government is determined to restore TAFE by putting it at the heart of the vocational education system."
To start off with, one for those who like working with wood and want to get into the building industry.
Certificate III In Carpentry
National Course Code: CPC30211
Become a highly sought-after carpenter when you undertake the nationally accredited Certificate III in Carpentry. Study as an apprentice or get recognised for your industry experience in this practical, hands-on course. Carpenters and joiners are in high demand in a skills shortage industry.
Visit: www.tafensw.edu.au/course-areas/carpentry-joinery-and-furniture/courses/certificate-iii-in-carpentry--CPC30220-01
Entry Requirements

When you study with TAFE NSW, they want you to succeed. Entry requirements allow them to make sure that you have the right pre-existing knowledge and skills to achieve your chosen qualification. You will need to provide evidence that you meet the requirements listed in this section.
TRAINING PACKAGE REQUIREMENTS
If you are enrolling as an apprentice, you will need to provide evidence of the following:
Your employment as an apprentice carpenter
A completed training contract signed by your employer
Achievement of the general induction training program (commonly known as a White Card). The unit CPCCWHS1001 Prepare to work safely in the construction industry covers this requirement as specified by the National Code of Practice for Induction Training for Construction Work (ASCC 2007). You will need this before you can enter a construction worksite
TAFE NSW REQUIREMENTS
TAFE NSW offers the Certificate III in Carpentry as an apprenticeship course so you can nail the career you want. Depending on your unique circumstances - and the campus you choose to study at - you will need to provide evidence that you meet any relevant entry criteria.
Apprenticeship
To be eligible for this course, you must:
Be employed as an apprentice carpenter
Submit your training plan proposal (TPP) with your application
Complete your formal training with TAFE NSW and your informal, on-the-job training with your employer
ADDITIONAL REQUIREMENTS
With 130 locations across the state, TAFE NSW tailors qualifications to meet the needs of the local community and specific student groups (like apprentices, fast-tracked and online students). To make sure this course is the right fit for you, we will need you to demonstrate that you can meet the additional requirements below.
LICENSING REQUIREMENTS
This is a licensed occupation. When you successfully complete the Certificate III in Carpentry you can apply for licensing with NSW Fair Trading. Fair Trading NSW is the licensing and regulatory authority for trades and contractor authorities in NSW. Further information can be found on their website.
BE PREPARED
To be prepared for this course, it is recommended that you have:
A strong work ethic
A good understanding of mathematics is preferable
An interest in working in a variety of environments, indoors and outdoors
An interest in working on building and construction projects
If you need support in preparation for study, contact TAFE about your options.
To be enrolled in this course, you need to be able to provide evidence that you are:
an apprentice (you will work in industry and study at the same time)
employed full time
signed up with an Apprentice Network Provider and have a Training Plan Proposal
seeking to gain skills and knowledge to become a qualified Carpenter after successful completion
Achievement of unit CPCCWHS1001 covers the requirement for the general induction training program specified by the National Code of Practice for Induction Training for Construction Work (ASCC 2007), commonly known as White Card.
To successfully complete this course, you will need:
Successfully complete all of the units of competency including providing evidence from your employer to support the achievement of competency against every unit.
Work evidence is required to be collected by the apprentice to support the teaching and assessment and determination of competency for each unit in this course.
First Qualification Fee
Applies to a student who does not already hold a post-school qualification from any tertiary sector (TAFE, private provider or University), and includes any vocational (certificates, Diplomas, Advanced Diplomas) and higher education (degree) qualifications achieved in Australia or overseas previously.
Subsequent Qualification Fee
Applies to a student who already holds one or more post-school qualifications from any tertiary sector (TAFE, private provider or University), and includes any vocational (certificates, Diplomas, Advanced Diplomas) and higher education (degree) qualifications achieved in Australia or overseas previously.
Apprenticeship Fee
Eligible apprentices are exempt from fees when undertaking an apprenticeship under the NSW Government's Fee Free Apprenticeship. For apprentices who are not eligible, apprenticeship qualification fees are capped at $2,000. For more information visit the TAFE Fee Free Apprenticeships page.
Traineeship Fee
Applies to a student undertaking a traineeship qualification under a traineeship pathway, with fees are capped at $1,000. For more information visit the Apprenticeships and Traineeships page.
Concession Fees
Applies to eligible disadvantaged students who receive a specified Commonwealth Government welfare benefit or allowance. Concession fees are discounted, with flat fees applied across a qualification level.
For more information on concessions and exemptions, visit the Smart and Skilled Fee Exemption and Concessions page on the Smart and Skilled website.
For more information on Smart and Skilled funding, visit the Smart and Skilled page.
Construction and Building Trades TAFE Courses:
Certificate III in Bricklaying/Blocklaying (CPC30111)
Certificate III in Carpentry (CPC30211)
Certificate III in Carpentry and Joinery (CPC32011)
Certificate III in Cabinet Making (Furniture) (MSF31113)
Certificate III in Cabinet Making (Kitchens and Bathrooms) (MSF31113)
Certificate III in Painting and Decorating (CPC30611)
Certificate III in Plumbing (CPC32413)
Certificate III in Roof Plumbing (CPC32612)
What Is An Apprenticeship?
Apprenticeships offer you the best of work and study. You train on the job, study and earn an income all while working towards becoming a qualified tradesperson.
What is a traineeship?
Traineeships are similar to apprenticeships but they concentrate on vocational or job areas such as office administration, information technology or hospitality.
How long does it take?
An apprenticeship normally takes three to four years in traditional trade areas like carpentry, electrical, hairdressing and plumbing. Three to four years may seem like a long time, but remember you're working towards become fully qualified and getting hands-on experience, and you get paid for it. How long does it take?
A traineeship lasts one to two years. You'll learn, work and earn and when you successfully complete you will receive (at a minimum) a Certificate II qualification.
Who can become an Apprentice?
Apprenticeships are open to anyone of working age i.e. 14 years and 9 months.
You don't need a school certificate or any other qualification.
Year 10, 11 and 12 students, school leavers, people re-entering the workforce or professionals.
Who can become a Trainee?
Traineeships are open to anyone of working age i.e. 14 years and 9 months.
You don't need a school certificate or any other qualification.
Year 10, 11 and 12 students, school leavers, people re-entering the workforce or professionals.
What's in it for you?
Paid employment under an appropriate industrial arrangement.
A training agreement between the employer and apprentice or trainee, which is registered with the NSW Department of industry.
Structured on-the-job training delivered by TAFE NSW.
A nationally recognised qualification.
Get a head start in your chosen career.
Study full-time or part-time or while still at school.
What is a School Based Apprenticeship or Traineeship?
School based apprenticeships and traineeships combine paid work, training and school. They are available to all Year 10, 11 and 12 high school students and you can work towards a nationally recognised qualification as part of your HSC and in some cases they could count towards your ATAR.
What's in it for you?
You'll get hands on industry experience, a qualification from TAFE NSW and your HSC.
You'll be paid while you learn.
Once you've completed a school based apprenticeship you can potentially commence in the second year of an apprenticeship when you leave school.
Pre-Apprenticeship courses
TAFE NSW offers a range of pre-apprenticeship courses in skills shortage areas, such as carpentry and automotive trades. These courses help you get into an apprenticeship faster and when you complete you'll be able to finish your Certificate III apprenticeship qualification in less time.
TAFE can also teach you basic skills to help you get a traineeship. For example, they offer a range of computer courses to help equip you with the basic computer skills that employers expect.
How To Invest In An Apprentice Or Trainee If You Are An Employer
You can find an Australian Apprentice through:
Apprenticeship Network Provider
Jobactive
TAFE Enterprise, who will assist and guide you throughout the apprenticeship or traineeship
Recruiting someone you know
Important Resources
Australian Apprenticeships - information regarding Australian Apprenticeships including programs, employer incentives, support for apprentices, advice for people looking to start an apprenticeship.
The Australian Apprenticeship Support Network – provides help with recruitment, training and retaining Apprentices.
TAFE Enterprise – for customised training that meets the challenges of the future, think TAFE Enterprise
How To Become A Carpenter
For many who work in Building and Construction, the goal is to become fully qualified carpenters.
Enrol and complete a Certificate III in Carpentry
Find an employer to complete your apprenticeship with
Complete a Certificate IV or Diploma in Building and Construction
Apply for your Builders Registration/Licence through your state regulation body
Put simply, a carpentry apprenticeship combines on-the-job training with a skilled professional, alongside structured learning with a registered provider – such as TAFE NSW. To become an apprentice carpenter, you'll need to undertake a course such as the CPC30211 Certificate III in Carpentry. This certificate will lay the foundations for your career, giving you the knowledge, carpentry skills, and technical training needed to carry out everyday carpentry tasks and processes, while teaching you how to use a range of industry standard tools and equipment.
Careers In Construction
When you become an apprentice carpenter, you're setting yourself up for a solid career in the building and construction industry. The workforce is constantly evolving, with new opportunities opening up all the time across a range of areas.
In New South Wales alone, more than 40,000 homes are built each year - while overall throughout Australia around 500 thousand people move into a new home. This means the demand for qualified carpenters is strong and isn't going away. Looking ahead, you'll have plenty of opportunities to apply your carpentry skills and make a real impact on society.
In terms of your career progression, where you go is in your hands. You might continue working for your employer, tackling bigger and better projects. Or, you might decide to take a leap and start your own small business.
When it comes to furthering your education, carpenter apprentices should start looking into other building and construction courses. As a graduate of the CPC30211 Certificate III in Carpentry, you'll be eligible to enrol in the CPC40110 Certificate IV in Building and Construction (Building).
Armed with this qualification, you'll have the carpentry skills and knowledge needed to become a licensed builder, start your own business, or work towards employment in more supervisory roles.
From here, you can take it up a level and enrol in the CPC50210 Diploma of Building and Construction (Building). With a diploma under your belt, you could pursue a career as a project supervisor, building manager, job site supervisor, estimator, project manager or foreperson.
What Do Carpenter Apprentices Do?
The Carpenter Apprentice position is the most common and productive way for a person to become a carpenter. Carpenter Apprentices work very closely with carpenters to develop and master their craft until they can call themselves a carpenter as opposed to apprentice.
The specifications for a Carpenter Apprentice varies. When and where they work depends on whom they are working with and learning from. A major industry in which they are employed is construction. However, there are other industries in which carpentry plays a role. An apprentice may work and learn from one sole individual, or they may do it in a corporate environment. He or she spend a lot of time in shops, but they may also spend a lot of time outside doing things such as construction. Some Carpenter Apprentices learn to build buildings, others learn to build things such as furniture. The apprentice's work hours vary, but it tends to range between times that it is light out.
Carpenter Apprentice Tasks
Assist with and observe carpenters to learn how to start, check, and finish carpentry projects.
Frame and set up for large-scale projects, including scaffolding and mixing and pouring cement.
Read blueprints and determine materials needs, checking inventory for supplies.
Measure, cut, sand, paint, and finish wood.
The more you learn the more you earn in this industry. Skills in Tools, Problem Solving and Residential are correlated to pay that is above average. Visit: https://www.payscale.com/research/AU/Job=Carpenter_Apprentice/Hourly_Rate
Tools For The Job
Starting out an apprenticeship means you will want to invest in some basic tools you will need. You don't need to buy them all at once and many of those you do need can be applied as Tax Concessions, along with items such as your required clothing (proper steel-capped boots for example) - even sunscreen can be claimed - so keep those receipts and look out for end of financial year sales such as the Tax Time EOFY Catalogue currently happening at Johnson Brothers Mitre 10 and buy those needs on sale! What's available until June 30 2023 runs below this Issue and you can read the full catalogue online here.
Here is the list for basics that will help you through the first year:
1: Tape Measure: The motto in carpentry is 'measure thrice, check twice and cut once' - so you will need one of these. Buy one somewhere in the range of 5 to 10 metres for the building industry.
2: Spirit Level: Levels must be perfect in the building trade, so an accurate spirit level is a must. Spend a little extra and purchase an extra rugged model to withstand life around the worksite- tools get dropped all the time so you need one that will go the distance.
3: Utility Knife and Blades: Cutting open packets and boxes, trimming soft materials, marking and scoring - you'll need this for everything.
4: Screwdriver Set: Invest in a good selection of Philips and flat head sizes, because there'll always be a screw that needs adjusting somewhere.
5: Marking Pencils and Chalk: Create marks that won't ruin the end project and are easy to remove if necessary. You'll also need to mark straight lines for all sorts of jobs, which leads to the next item.
6: Builders Square: This L shaped tool helps you get everything perfectly square, gives you a straight edge to mark with, and includes measurements along its length. Invest in a large and a small one to cover every task
7: Claw Hammer: Hammering on one side, and pulling nails on the other. The first hammer a carpenter should have, and very useful for any trade.
8: Linesman Pliers: A solid pair of linesman pliers is great for gripping, pulling, twisting, and cutting wire or small nails.
9: Power Drill: New battery powered drills will go all day. Make sure you purchase an extra battery and have one charged at all times - although many of these have packages where you will get those extra batteries. If it's likely you'll drill concrete or masonry; purchase a drill with a hammer action or attachment.
10: Tool Box or Bag: You need somewhere to store all of this. For this basic kit, a small toolbox or carry bag is ideal if you want all your tools handy by your side. Over time you will add plenty of tools to this list; but we guarantee you'll reach for these essential tools every day you're on the job.
Making Them Last: How To Look After Your Tools
Cleaning Your Tools
If you allow dust and other contaminants to build up in your tools then over time they may impact the moving parts and cause failure. Tools are expensive and you want them to last more than a few years. A bit of regular maintenance and proper storage will ensure yours 'go the distance'. It's also important to hold on to your sales dockets and warranties so that if it breaks you can get a replacement. But yourself a folder and keep all those slips of paper there.
To clean your tools:
Wipe off any oil or grease that gets onto your tools at the end of every job and before storage.
Periodically clean out any vents, exhausts or other little crevices with a cotton bud on power tools, when you start buying those.
Use a compressor and air gun, or a can of compressed air to blow out dirt and dust from inside your tools.
For tools with integrated filters, be sure to replace them as recommended in the owner's manual.
Check Your Tools For Damage And Wear
It pays to periodically check your tools for damage and wear to prevent injury or further damage.
Pay attention to the power cords, and if you see that they are cut, frayed or have exposed wires then do not use the tool until you have had the cord repaired.
Check the prongs on your plugs to ensure that they are straight, and free from corrosion.
Check that your tools don't emit any smoke or excess heat when using them
Be sure to stop using a tool if it starts to give off an odd smell.
Store Your Tools Properly
Keep your tools protected from dust, moisture and other adverse conditions by storing them properly after use.
Keep them in their original cases if possible, or tuck them away in storage drawers or tool chests, preferably in a garage or basement with a moderately controlled climate. This not only protects them, it also keeps them organised so you can easily find the tool you need when you need it.
Keep a moisture absorbing sachet in your toolbox with your power tools.
Remember to keep instruction manuals for all of your tools. They are provided to you by the manufacturer so that you can safely and competently operate your tools. They'll also have valuable information on how to care for the tool, find replacement parts and other important pieces of information. Store manuals either in a toolbox drawer or a cabinet in your workspace/storage area so that they are readily available.
We hope these lists of a few simple things you can do to ensure that your career in Carpentry tools last for many years to come.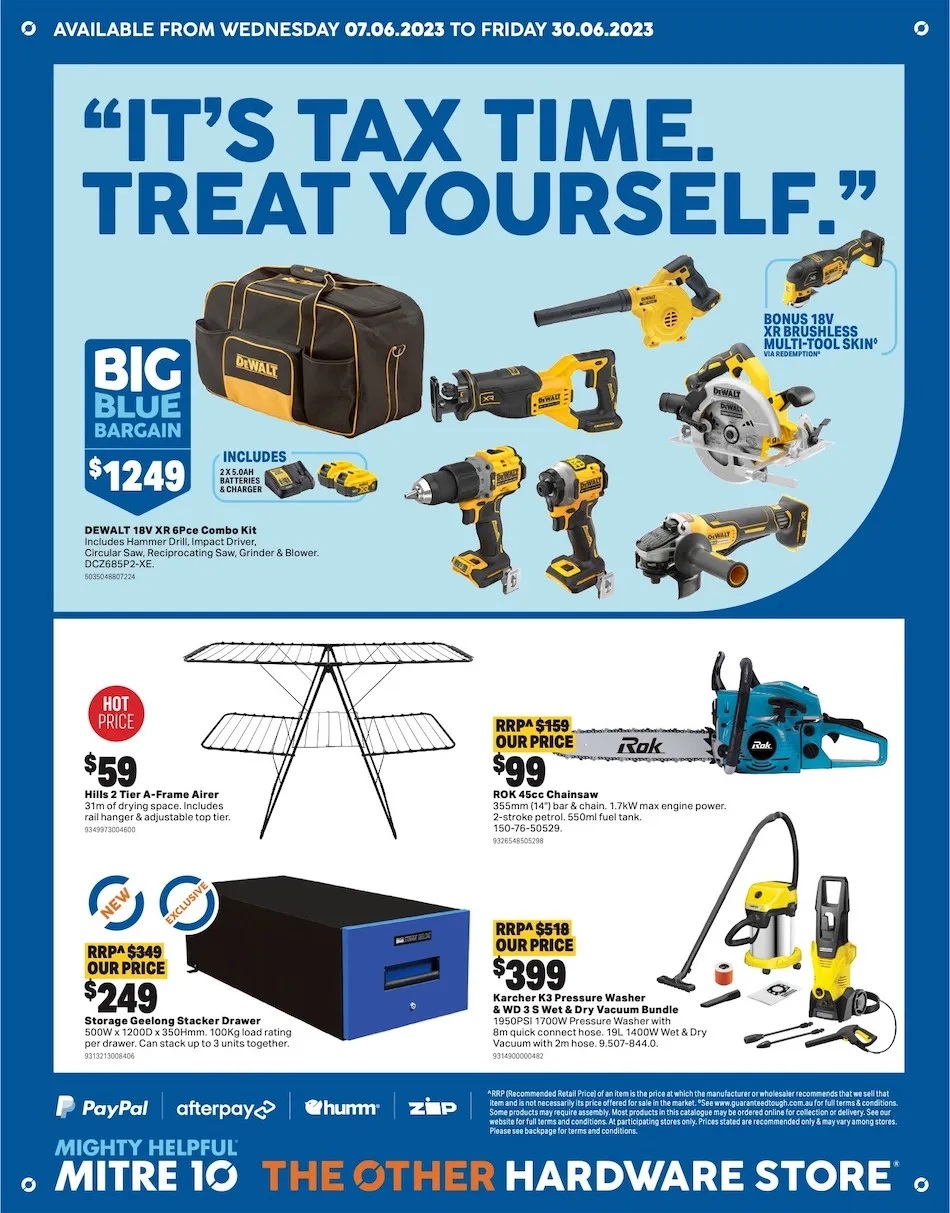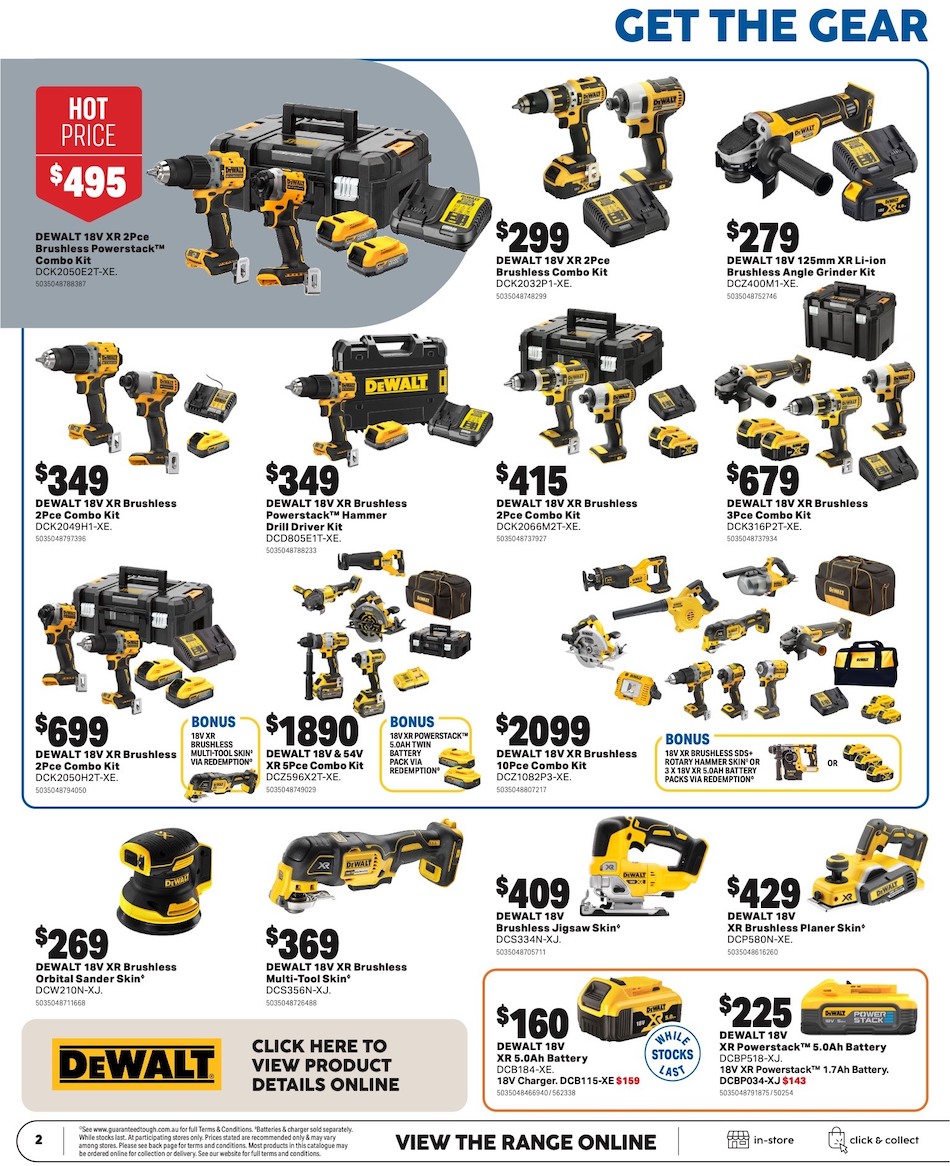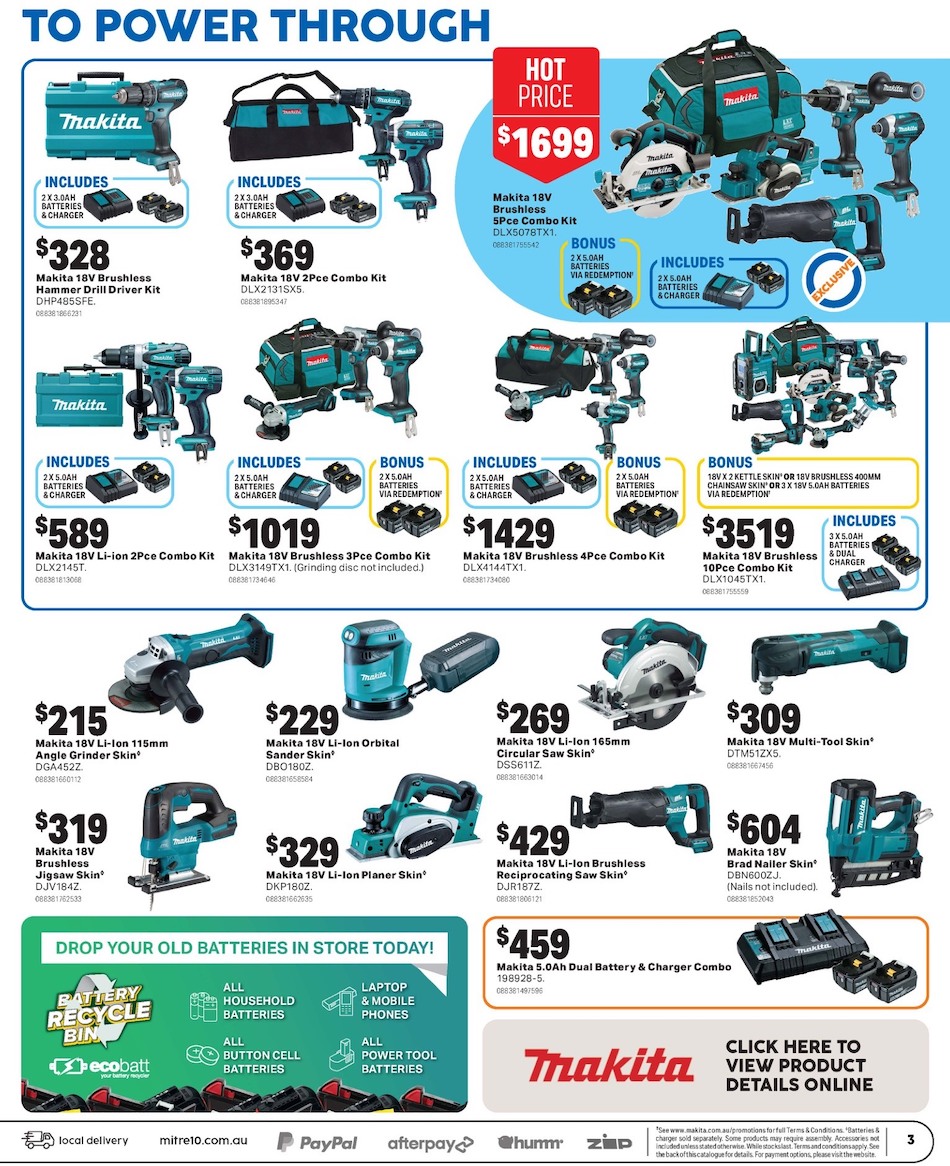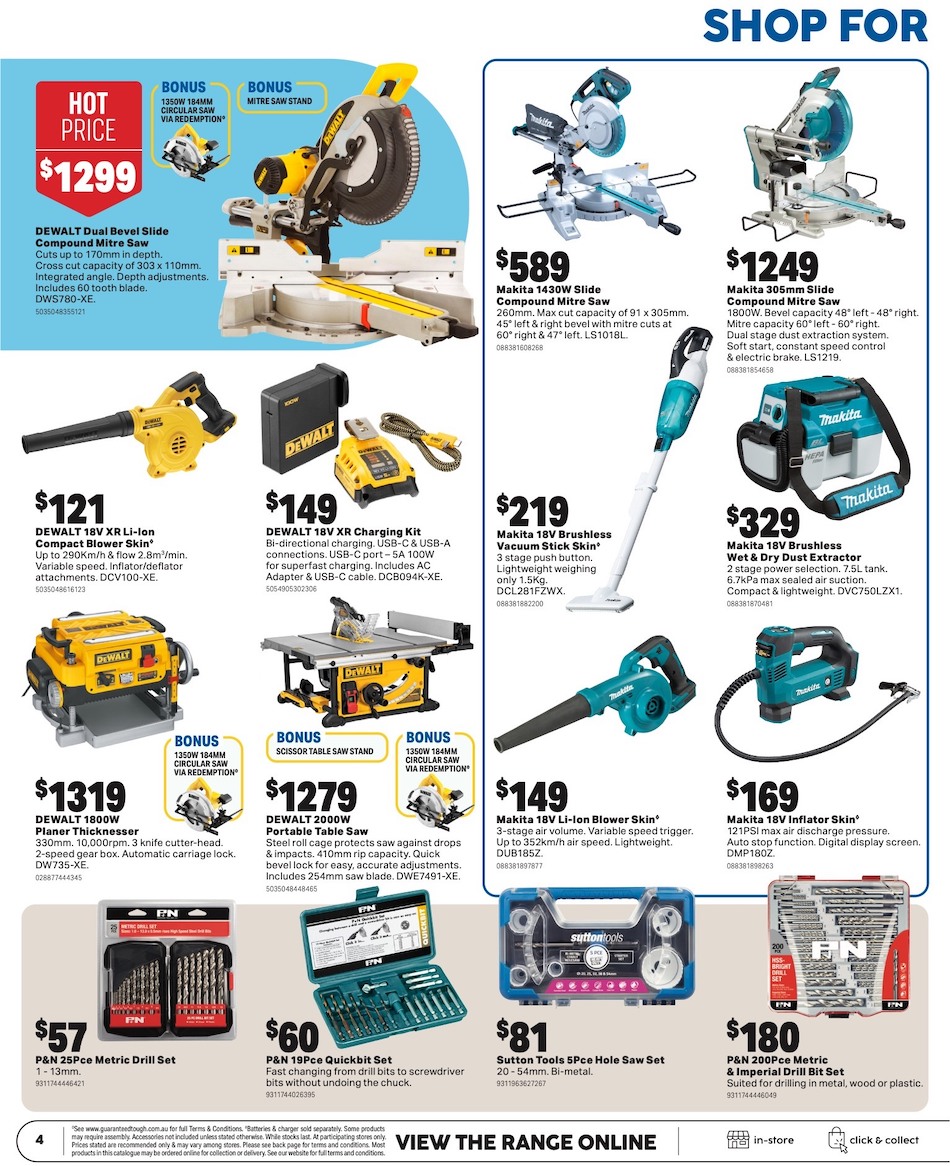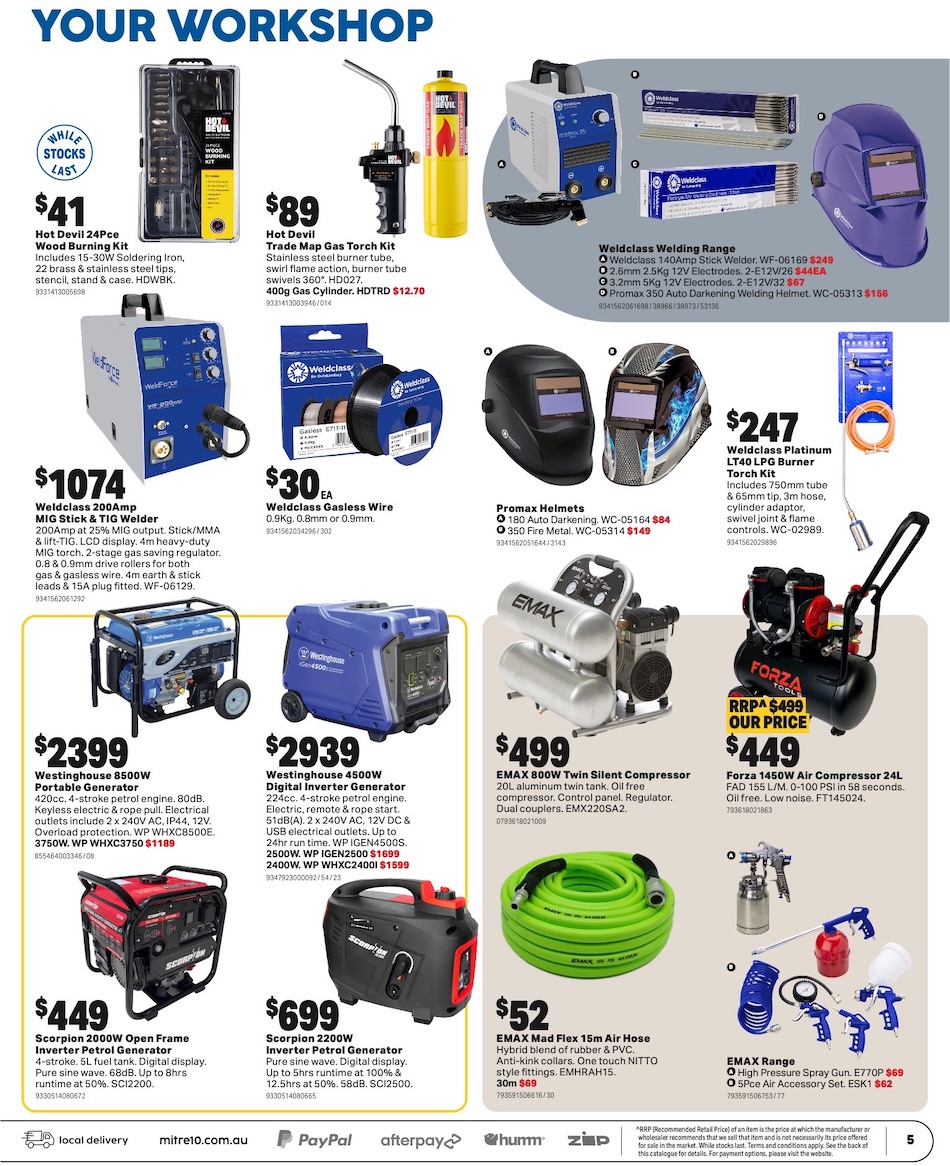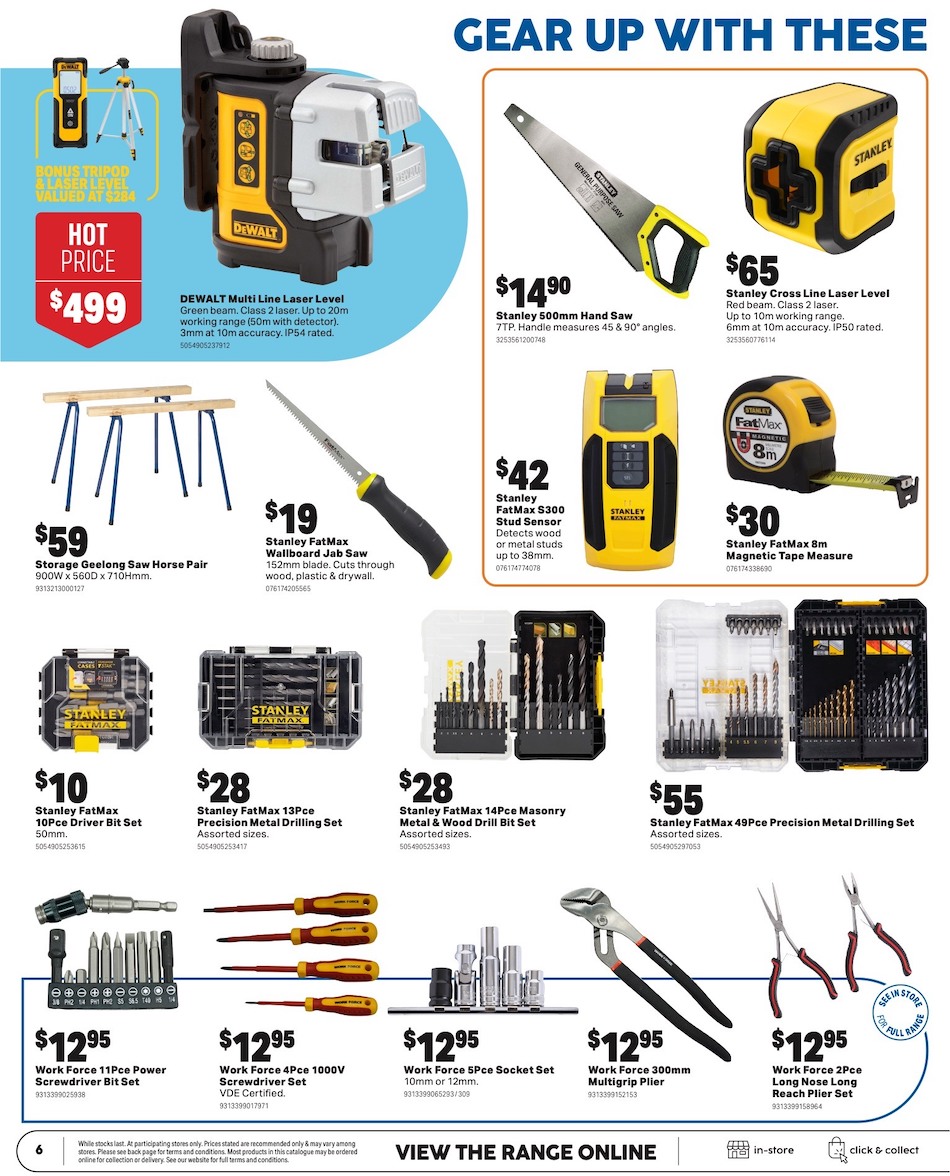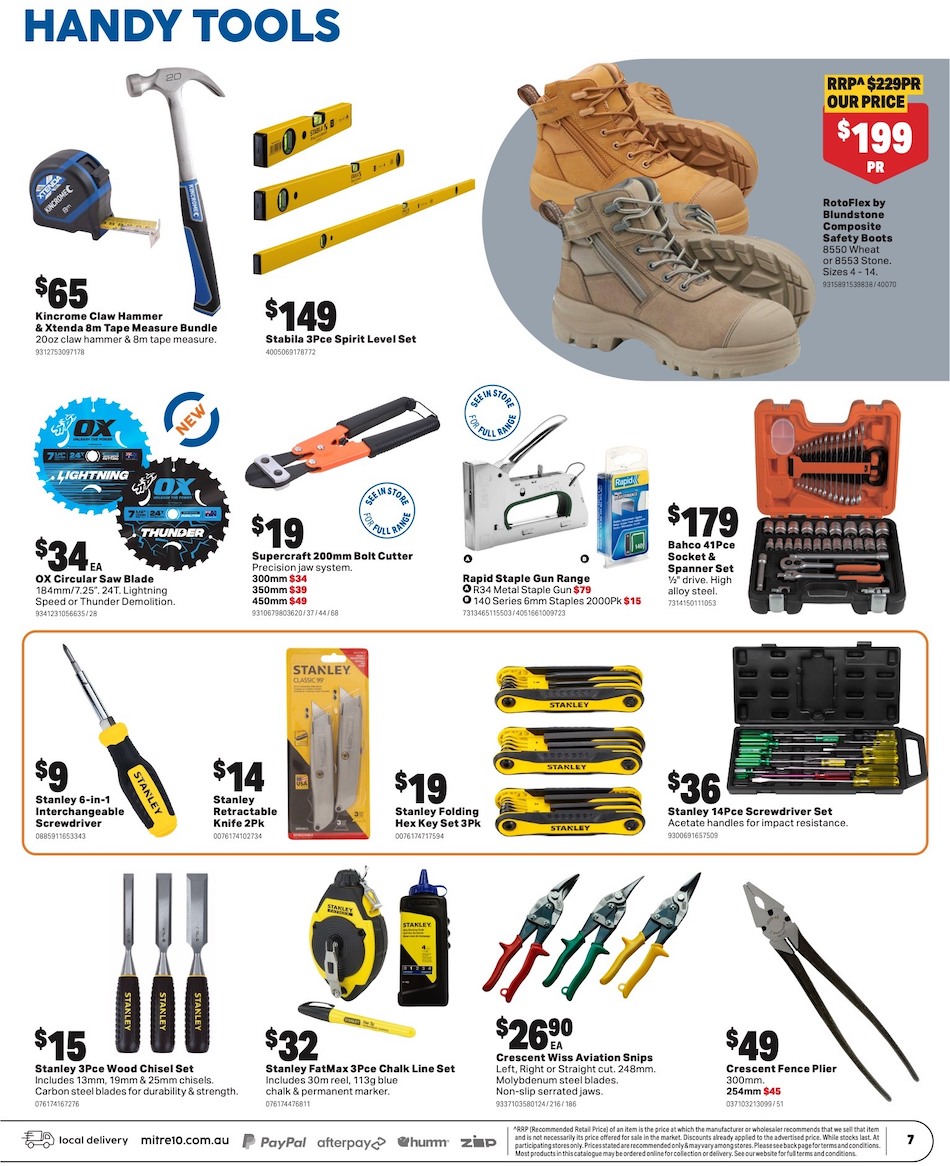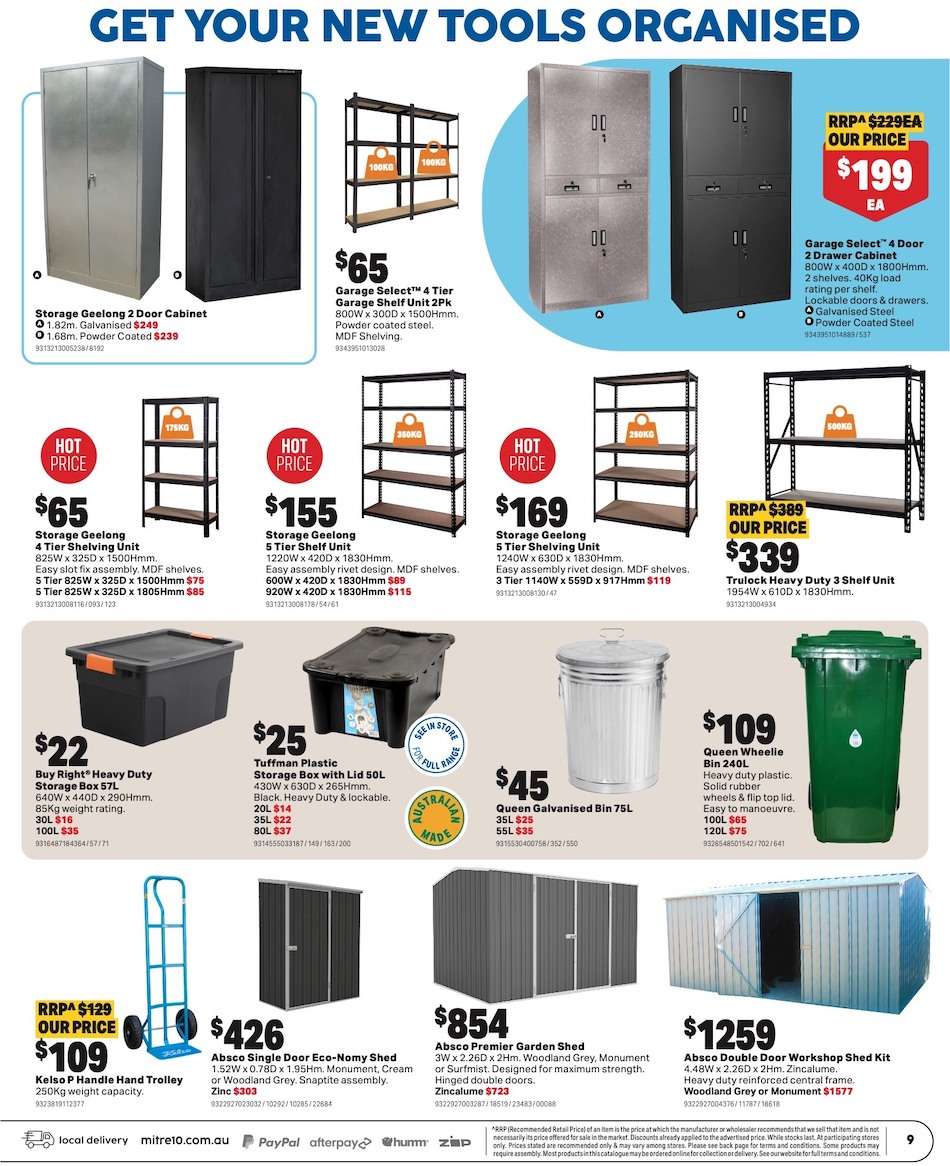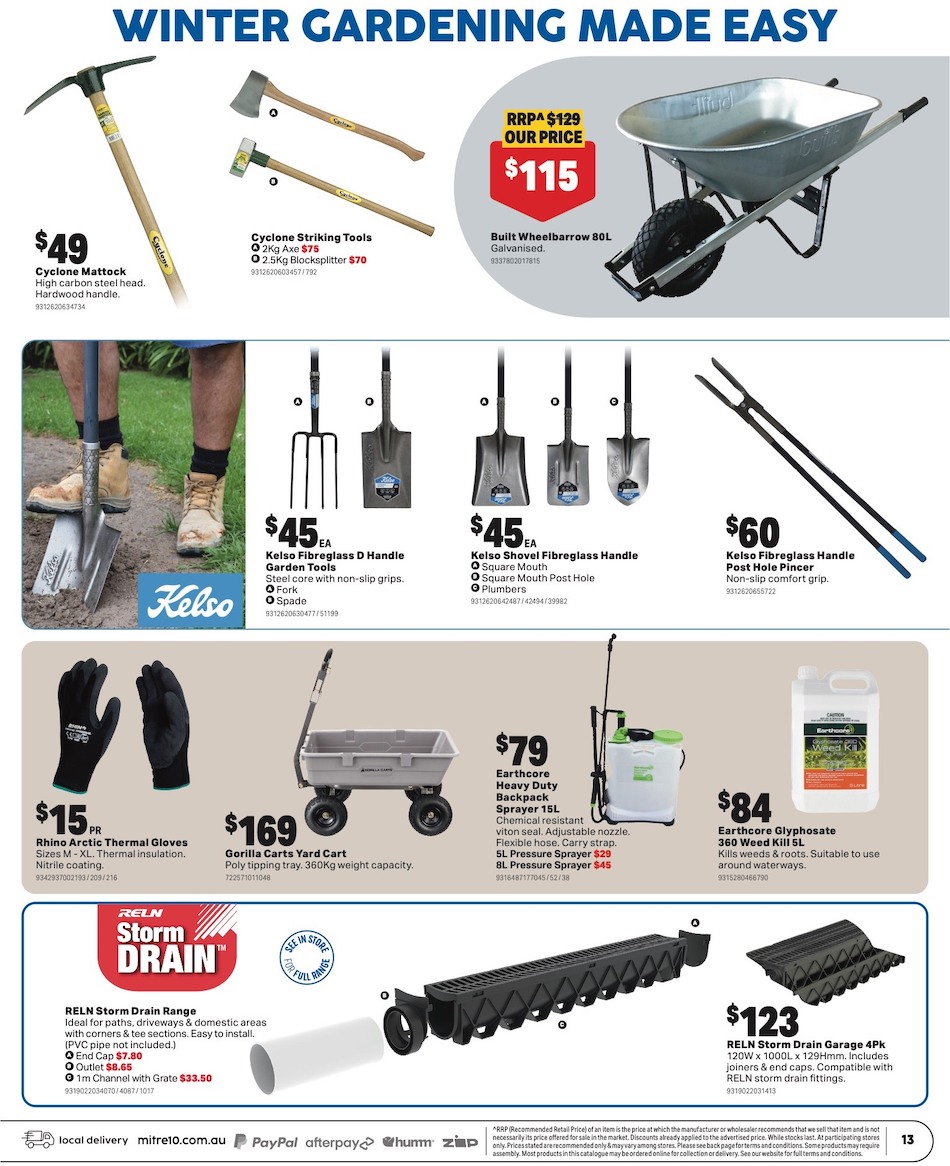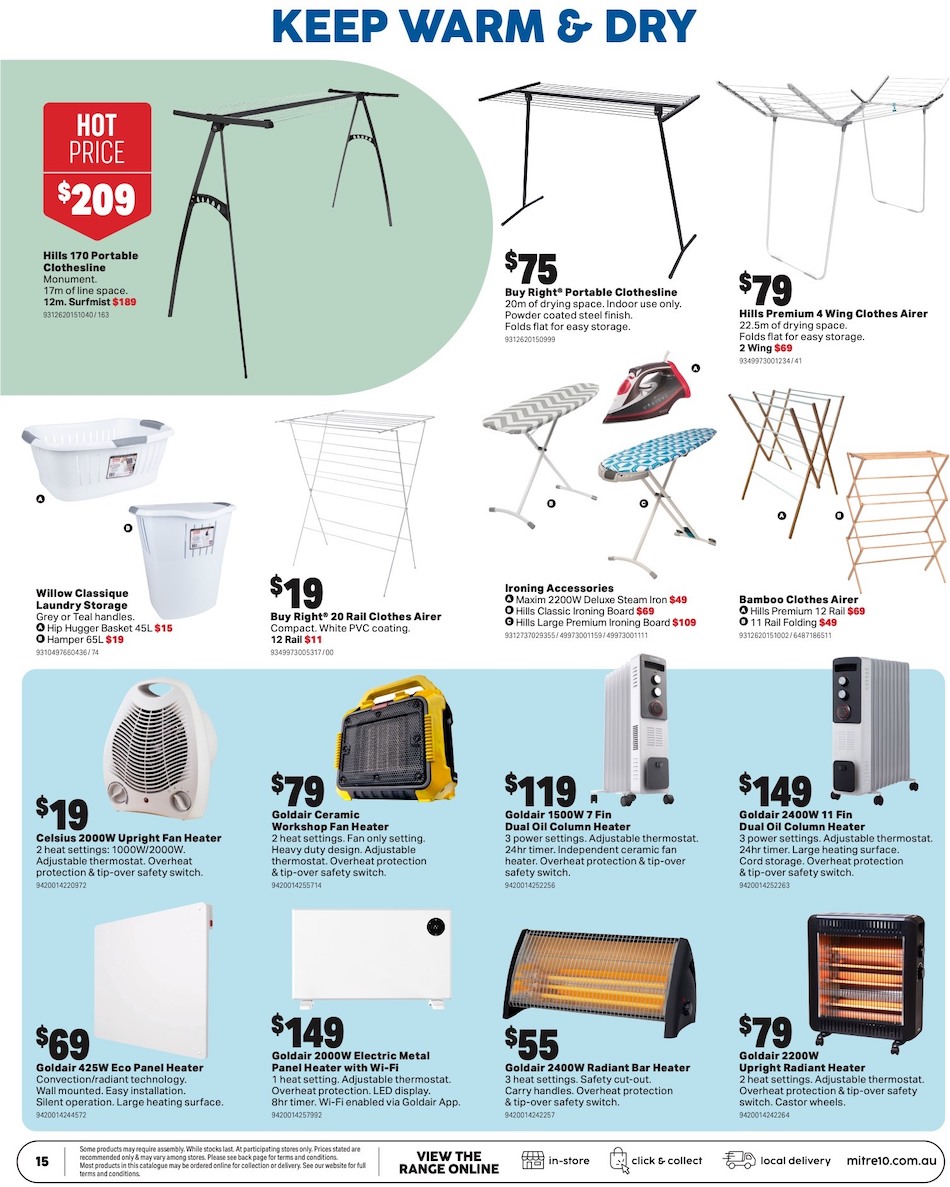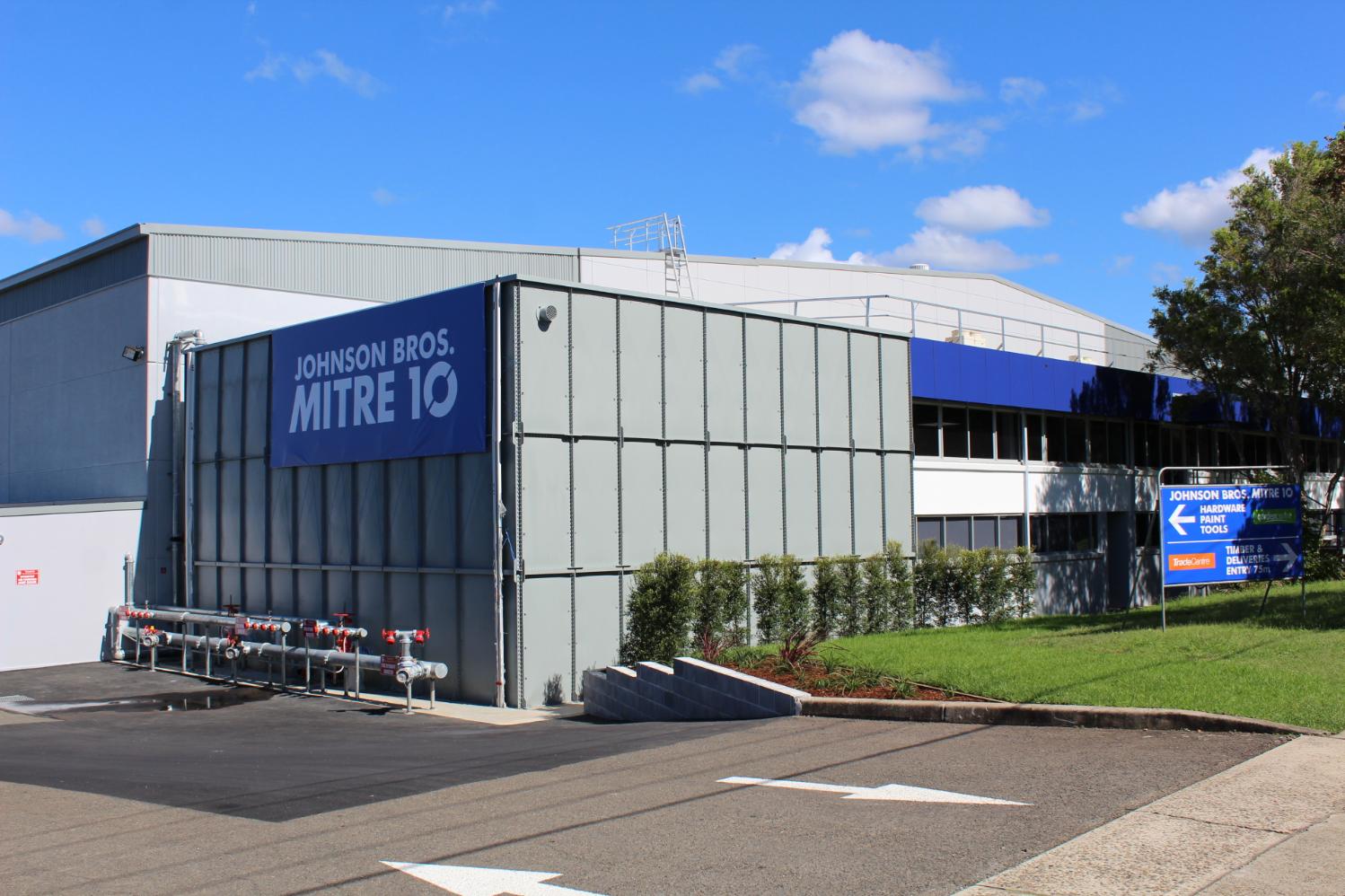 Johnson Brothers Mitre 10: Serving Our Community Since 1955
The Independent Hardware Group has awarded Johnson Bros Mona Vale the best in state at the IHG state awards and heads to the national finals on the Gold Coast in February 2022.
Congratulations to the store in Avalon Beach as well, which won best in village.
Johnson Brothers say; ''Thank you to all of our amazing staff and customers for being awesome!''
IHG is Australia's largest home improvement wholesaler supplying more than 1,500 stores nationwide. These stores cater to a broad range of Trade and DIY customers and range from large format warehouses to convenience operations and Trade centres, as well as frame and truss sites in two States.
Under the IHG network, there is a clear mandate to support the growth of Independents within the hardware sector in Australia by helping them to be 'The Best Store in Town'.
The culture of IHG is built on being a low cost and transparent business partner to members, with an unwavering commitment to protect and grow a sustainable independent hardware sector for the long term.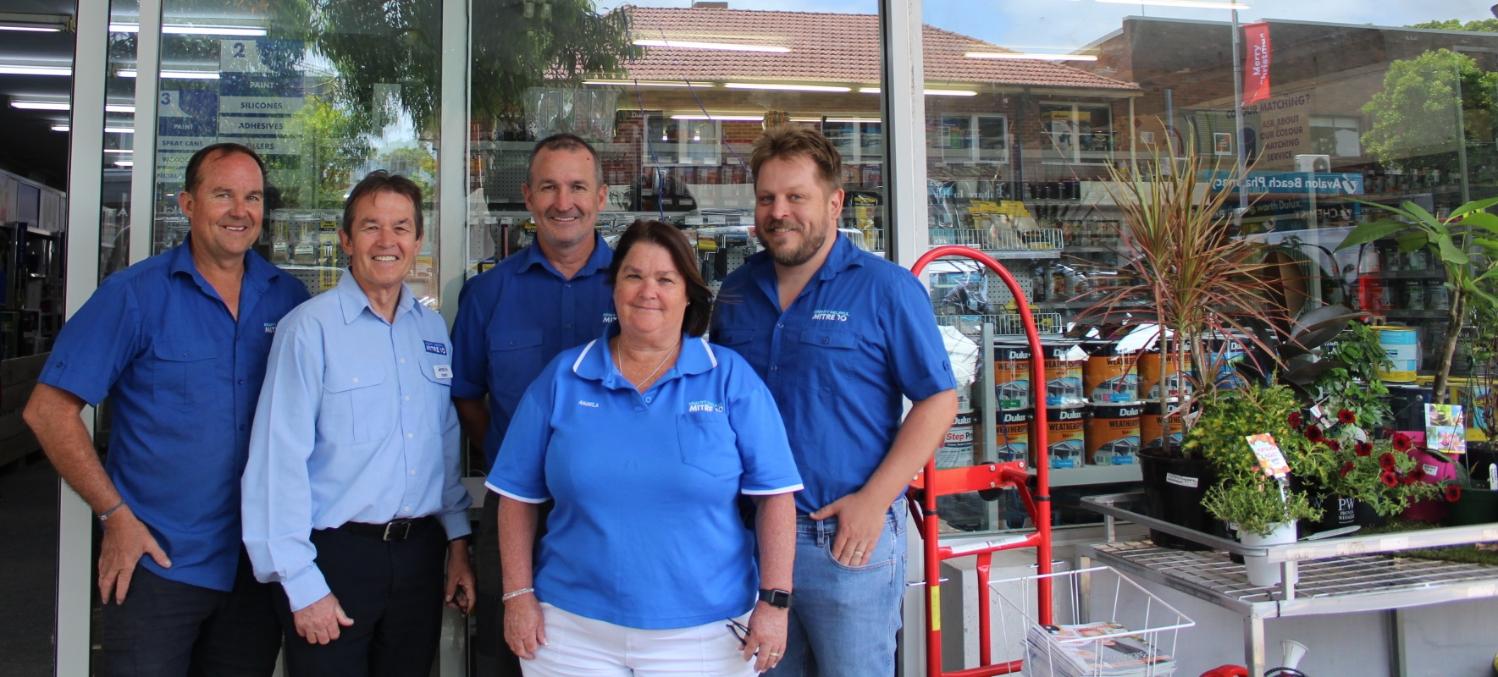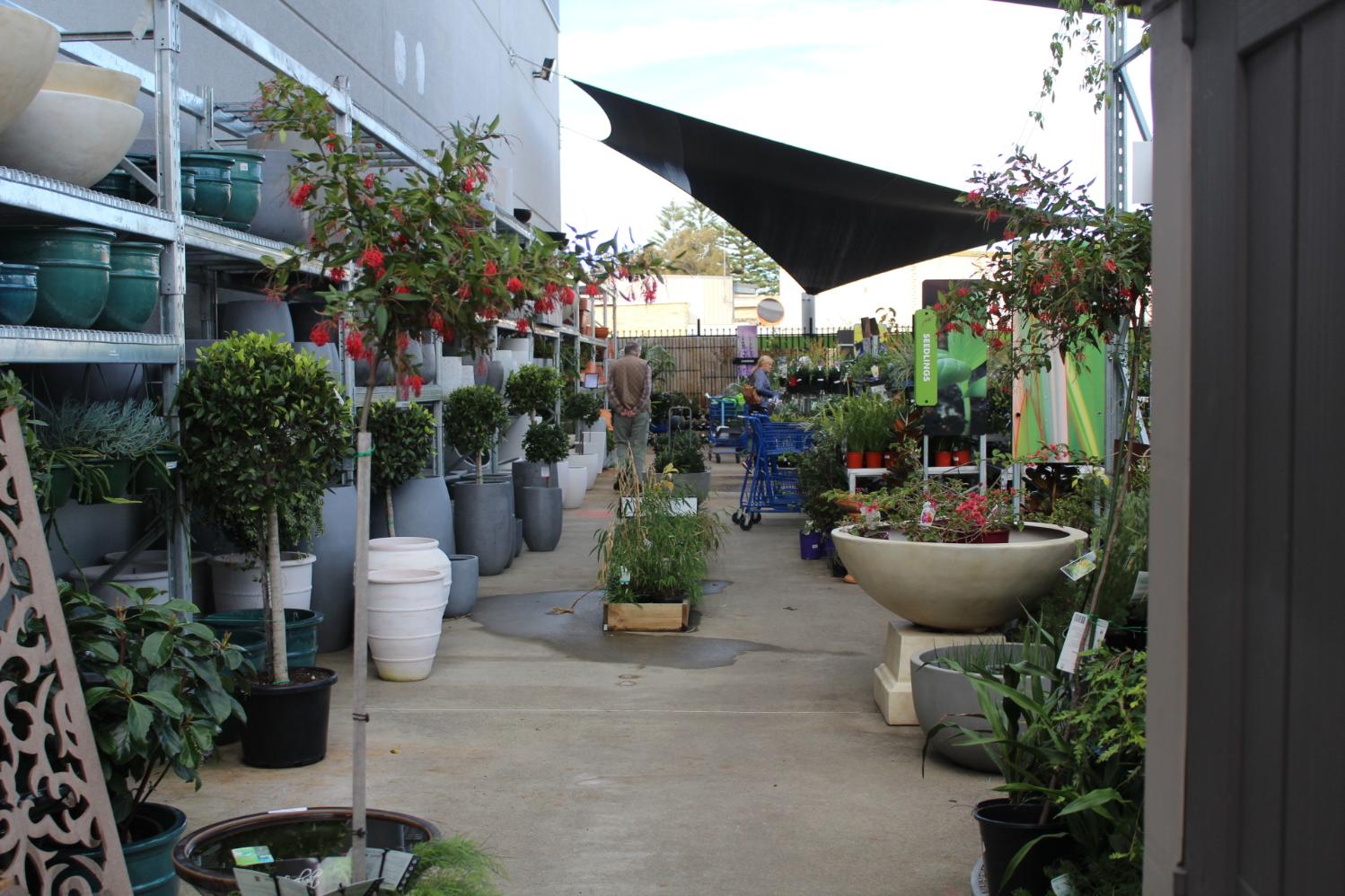 Greenlife garden centre at Johnson Brothers Mona Vale - for all your gardening needs.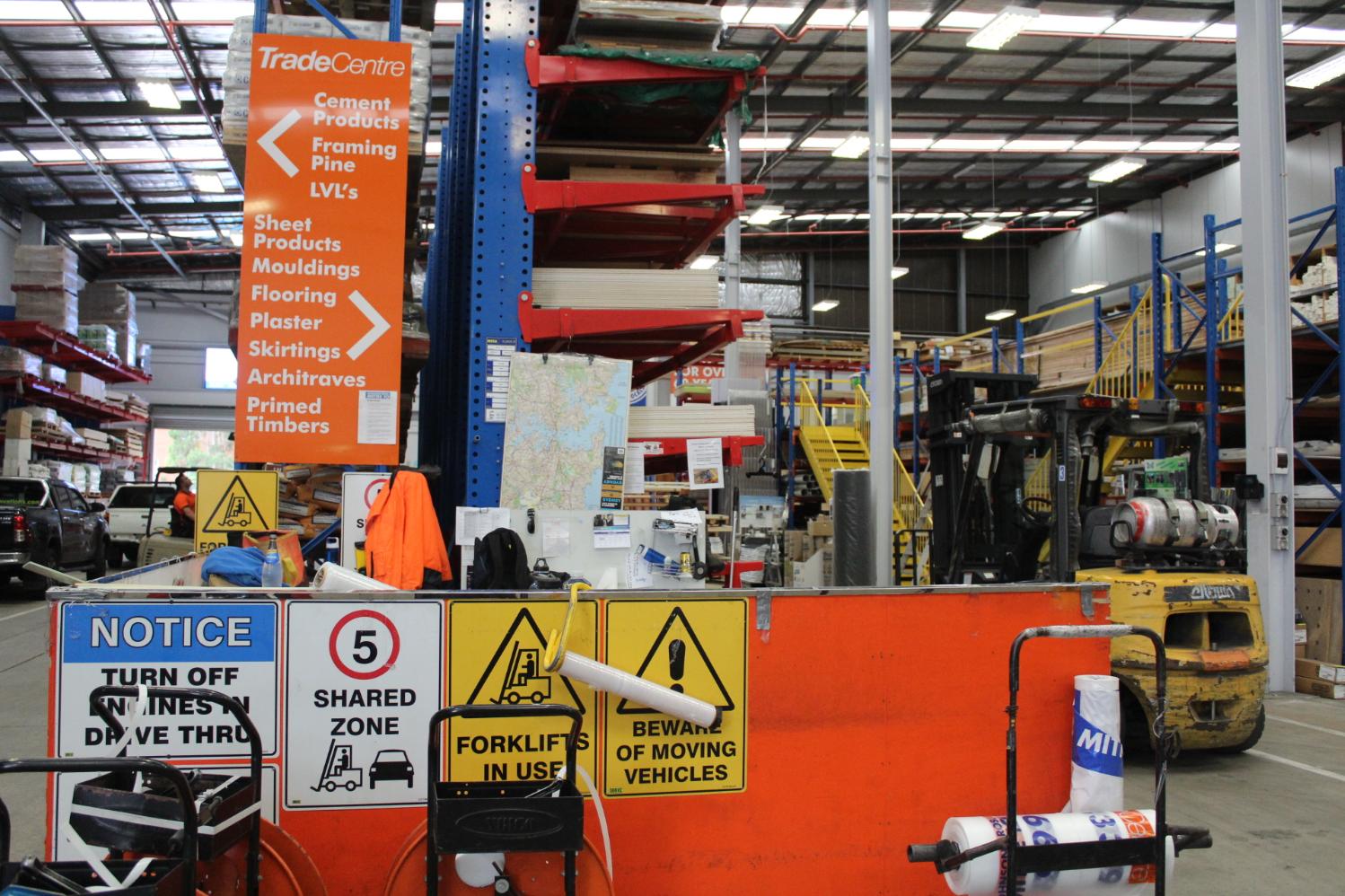 Johnson Brothers Mitre 10 Trade Centre at Mona Vale - everything you need under one roof.
JBH Design Centre
JBH Design Centre is a tool for builders and DIY'ers to assist in the fit out of houses. It has displays of kitchens, Bathrooms, Doors and Storage as well as knowledgeable staff to assist in making house fit out painless.
Visit: http://jbhdc.com.au/
On Facebook: https://www.facebook.com/design.centre.jbh/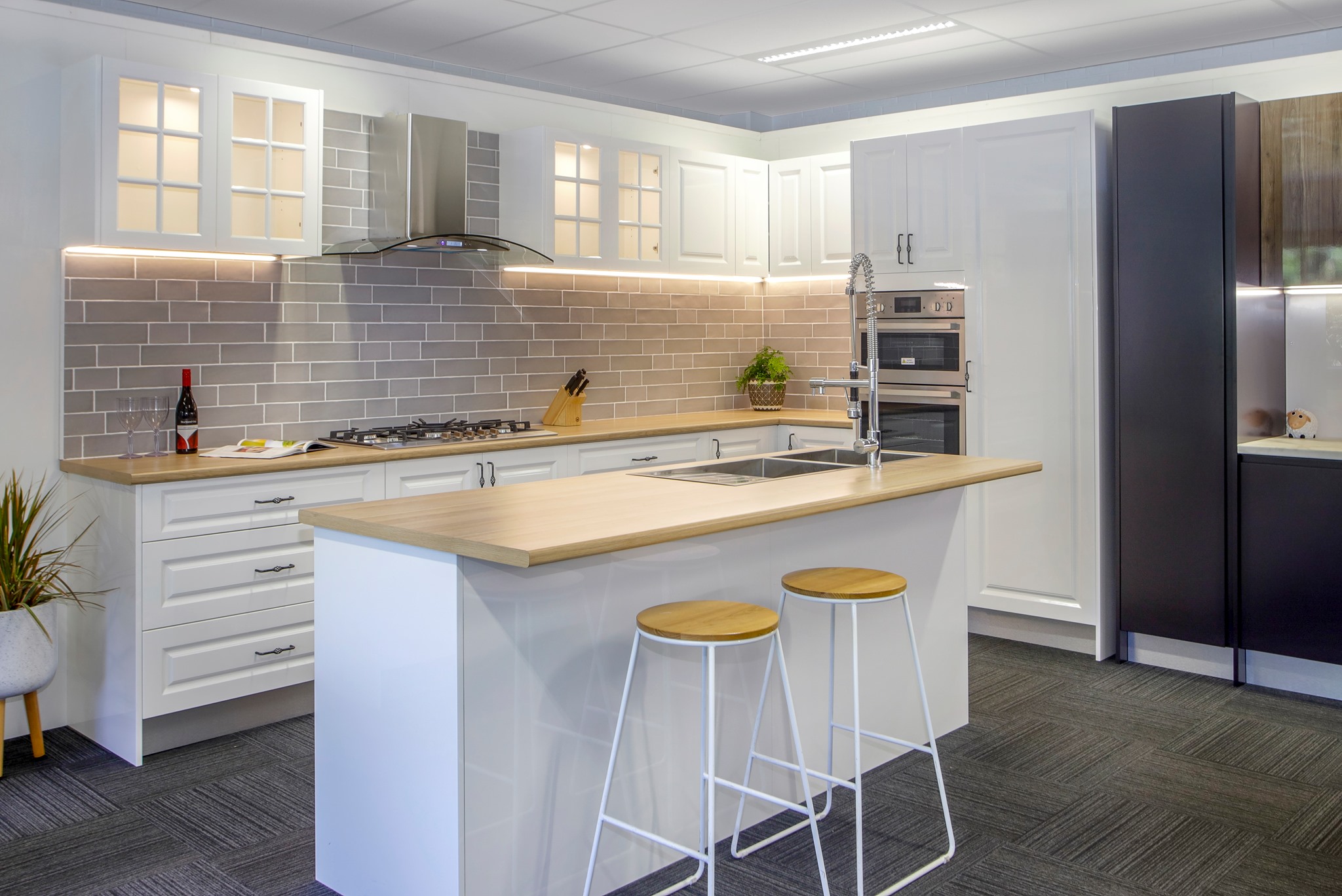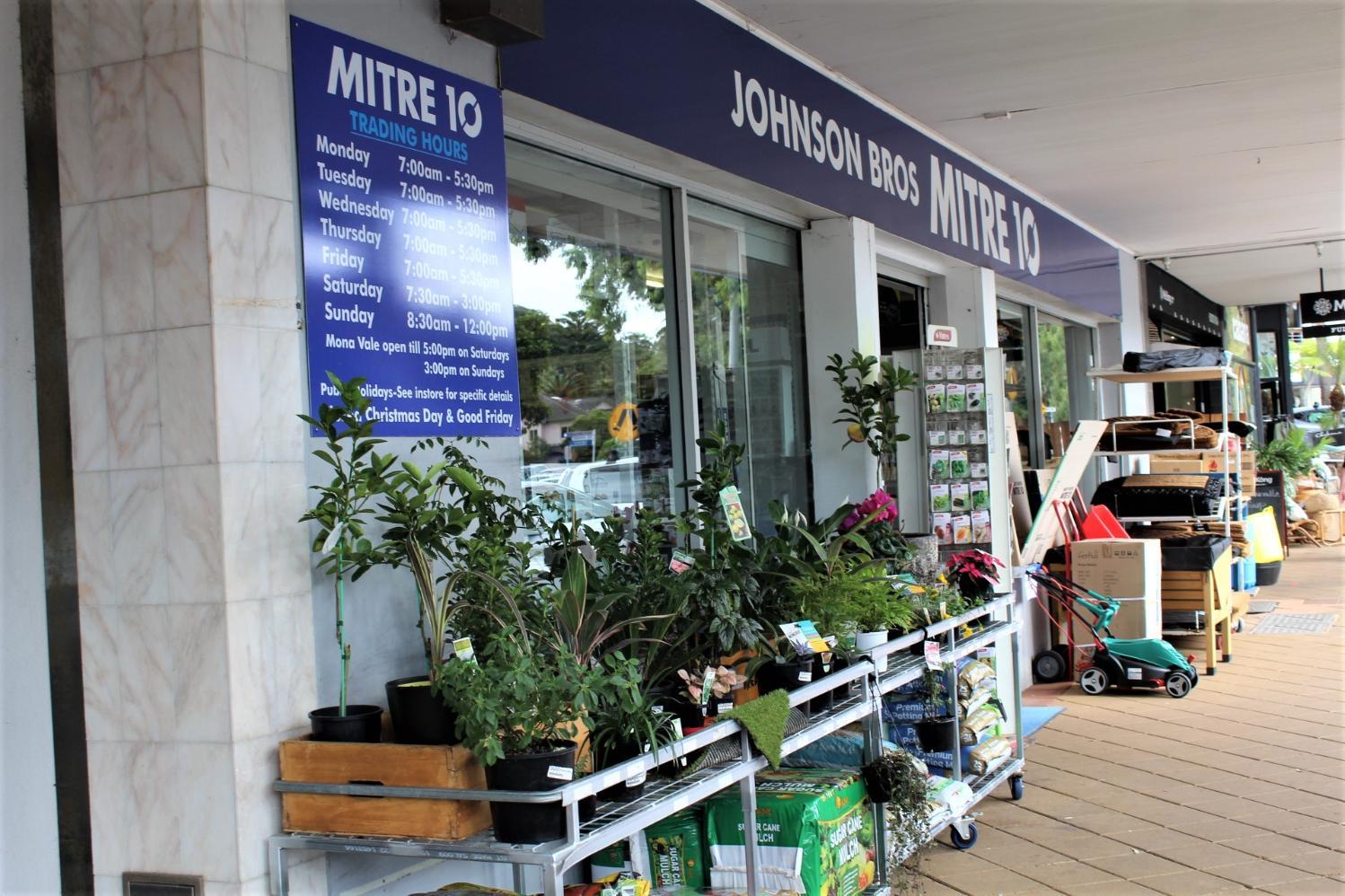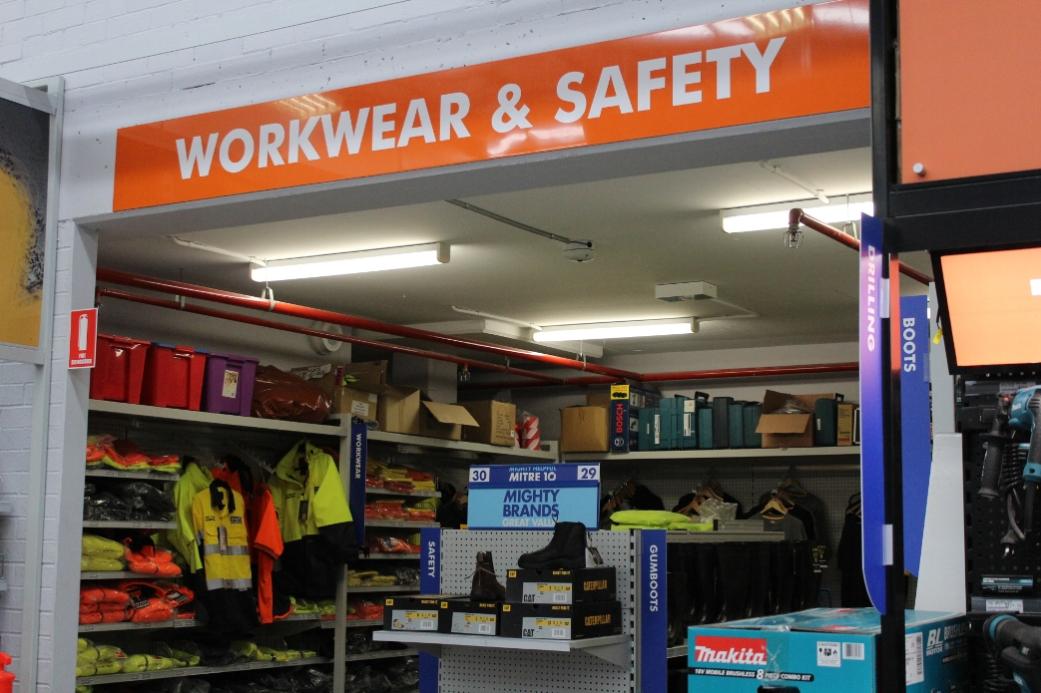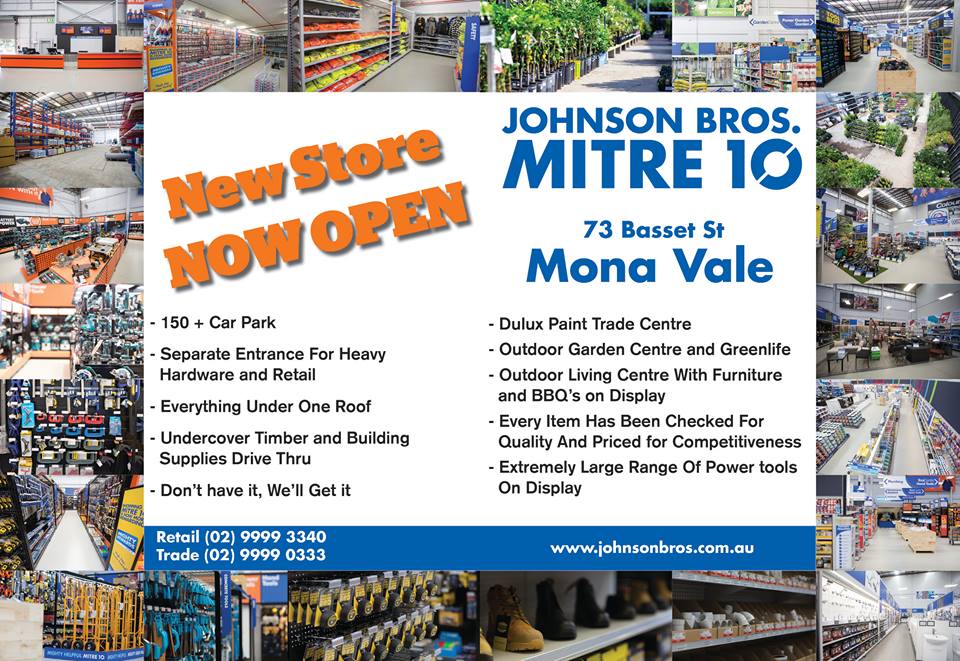 Johnson Brothers Mitre 10 New Store
73 Bassett Street
Mona Vale - Online Store: Jbhmv.Com.Au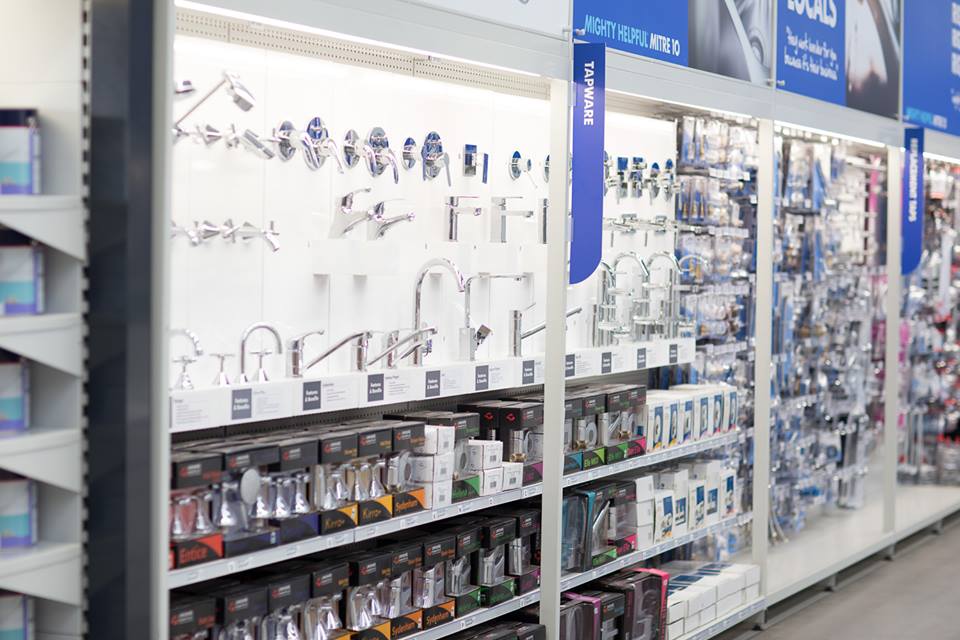 Products advice is available from the trained friendly staff at Narrabeen, Mona Vale and Avalon Johnson Brothers Mitre 10.
Click on logo to visit Johnson Brothers Mitre 10 website
Johnson Bros Mitre 10 - Avalon (02) 9918 3315
Johnson Bros Mitre 10 - Mona Vale (02) 9999 3340
JBH Timber & Building Supplies (02) 9999 0333
JBH Fencing & Landscape Supplies (02) 9970 6333
www.johnsonbros.com.au Online store: jbhmv.com.au

Bob, John and Robert Johnson, 2013 - photo by A J G.
All information and tips in this publication are of a general nature only and neither Johnson Brothers Mitre 10 or Pittwater Online News does not warrant the accuracy or completeness of the information and tips in this publication. This publication is not intended to be a substitute for expert advice.
Johnson Brothers Mitre 10
advises you to always consult an experienced and qualified person when undertaking jobs of this kind (including consulting a qualified tradesperson such as an electrician or plumber where relevant expert services are required).
You should also consider any safety precautions that may be necessary when undertaking the work described in this publication (including wearing any necessary safety equipment such as safety glasses, goggles or ear protectors or hard hats). The information and tips in this publication are provided on the basis that
Johnson Brothers Mitre 10
and
Pittwater Online News
excludes all liability for any loss or damage which is suffered or incurred (including, but not limited to, indirect and consequential loss or damage and whether or not such loss or damage could have been foreseen) for any personal injury or damage to property whatsoever resulting from the use of the information and tips in this publication.
Pittwater Online News and
Johnson Brothers Mitre 10
also advises there may be laws, regulations or by-laws with which you must comply when undertaking the work described in this publication. You should obtain all necessary permissions and permits from council and/or any other relevant statutory body or authority before carrying out any work. Major projects published in this publication always list these and/orlinks to where you may research what your own project requires to meet regulations.