March 11 - 17, 2018: Issue 351
Autumn Plantings for Winter Harvests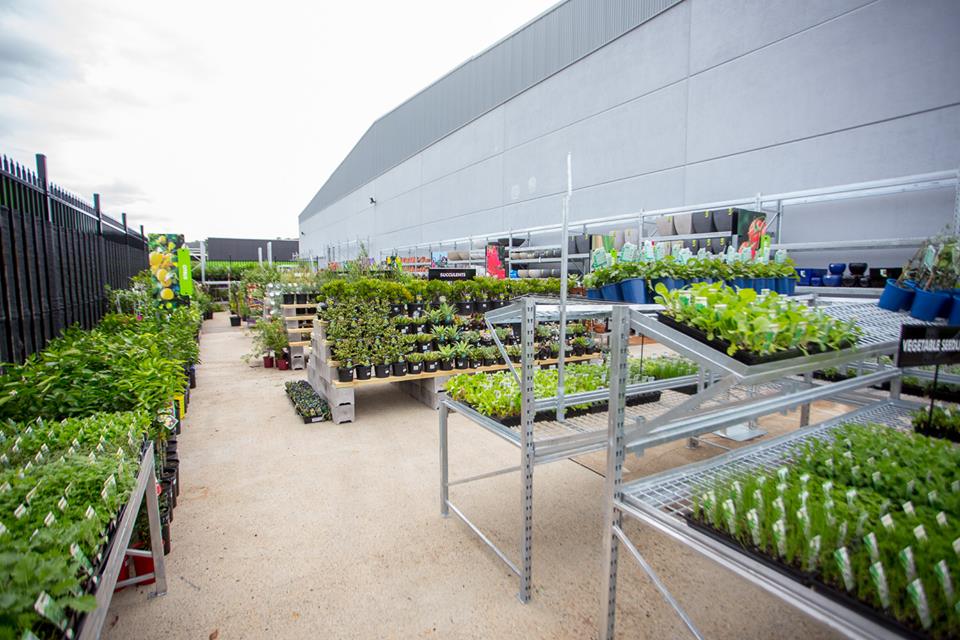 John Brothers Mitre 10 are hosting a Mighty Helpful Information Night in a few weeks, for Tradies, on Wednesday April 4th at Newport Community centre, details below. Their Trade Centre at Mona vale is easily the best stocked all you need one stop outlet for Tradies - and with trained staff on hand to help with all your needs, or get it in pronto should you require an item not available, stop in at their Mona Vale store and save yourself time, energy and money.
The Mighty Helpful Information Night is just one in an annual series of events Johnson Brothers Mitre 10 hosts each year focused on Tradies. Keep up to date by subscribing to their email information on events and specials coming up this year:
jbhmv.com.au
(Subscribe is at base of this landing page)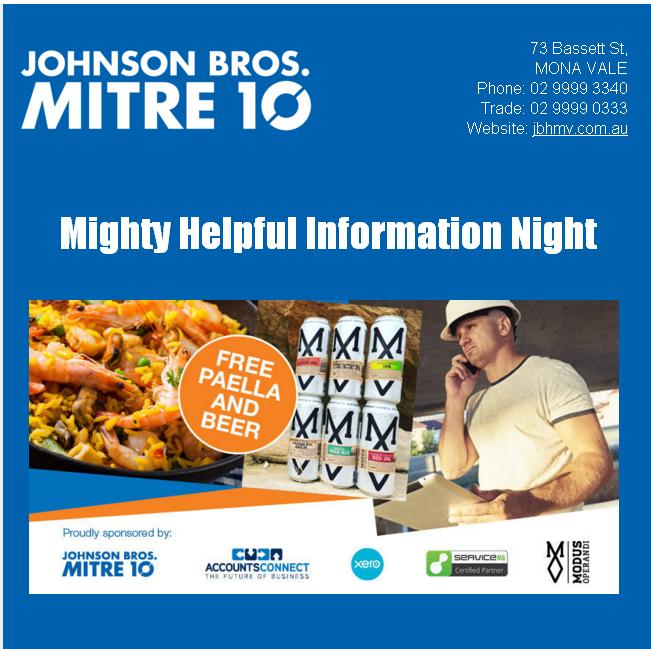 Mighty Helpful Information Night
ARE YOU LOOKING FOR:
- Better way to run your business;
- Easier way to invoice and quote;
- Quicker way to schedule staff & jobs;
- Ways to improve your cashflow;
- More time!
Join us to hear from a panel of experts who can help you automate and streamline your Trade business.
Date:
Wednesday 4th April 2018
Venue: Newport Community Centre
Time: 6:30pm | Partners Welcome!
Limited Seats Available! Sign up to the event today.
or Call 1800 698 723 (MY TRADIE)
RSVP by Friday 16th of March 2018
Autumn Planting For Winter Harvests
Cooling weather tempts you into the garden to enjoy balmy mornings with refreshing breezes.
Autumn is an ideal time to plant broccoli, cauliflower, cabbage, beetroot, spinach and Chinese cabbages.
Plant lettuce early autumn and you can get a good harvest from most lettuce varieties. Sow seeds for your winter crops like carrots, swedes, turnips and radish.
There are a few reasons why radish is a great choice for growing this Autumn. Radishes prefer cooler weather, will grow easily in small spaces, are ready to harvest particularly quickly (no one likes delayed gratification!), and require very little maintenance. Not only this but due to their short growing period weeding is rarely an issue, and few diseases take hold. Remember
the whole radish plant can be used: both the peppery roots and the full flavoured tops - they can both go in your salad.
Chard - Perpetual Spinach
An heirloom variety of chard that goes by the name Perpetual Spinach or Leaf Beet is a great boon for your garden now. These large leaves are a more flavourful option and as you can harvest the outer leaves a constant supply will be yours; a good source of vitamin rich spinach throughout Winter without the supermarket price tag - brilliant.
For those who like something classic, try English spinach - this will grow throughout winter too and will freeze if you find you have a real suburban harvest appearing.
Spinach loves a sweet soil, so the addition of dolomite lime sprinkled on top of the soil will prepare it for planting the seed.

Beetroots freshly pulled from the garden are a great complement to a salad, but they can be put to equally good use in comforting baked dishes. An added benefit of planting beets is that you can harvest some of the leaves for an added source of greens. Use them in the way you might use silverbeet - lightly stir fried or in a risotto.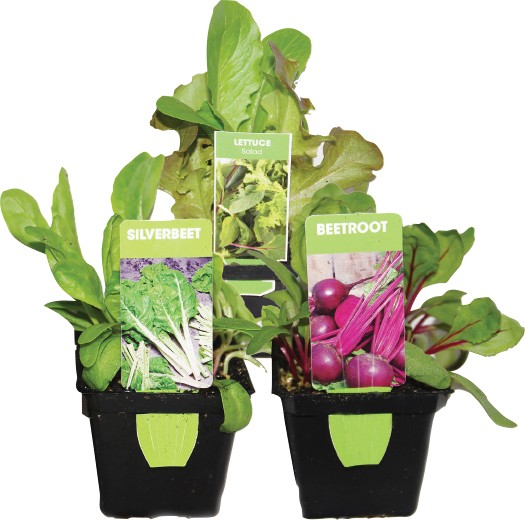 VEGETABLE PLANT RANGE: $2.75 each - 75mm pot.
Parsley
is a good choices for those with only a little space. Little pots of parsley where possums can't get them are a great source of sprigs of freshness year round. They can also, for those who like garlic, take away that garlic breath - just chew a raw sprig.
If this plant is well looked after it can weather the Winter and can provide harvests for a few seasons - for a few years even. If yours starts to look bedraggled, let it go to seed and then start again!
You can also plant,
right
now,
coriander, garlic bulbs, marjoram, oregano, parsley, thyme and winter tarragon. Yum - your rissoles, spag bolg. and stews are going to be spectacular!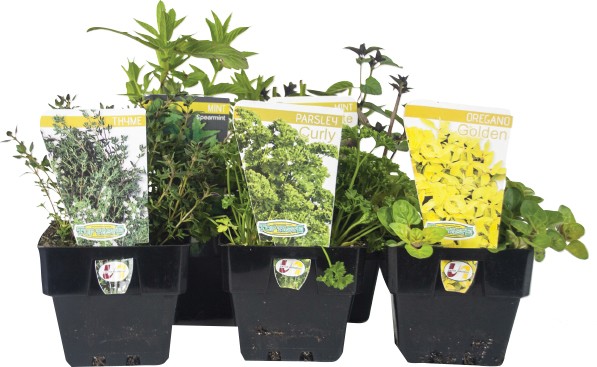 TOP TASTE HERB PLANTS: $4.00 - 100mm pot.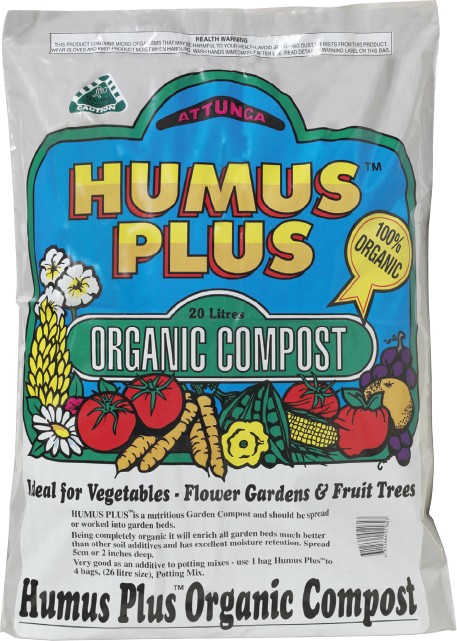 ATTUNGA HUMUS PLUS ORGANIC COMPOST 20L: $6.60
Ideal for vegetables, flower gardens & fruit trees.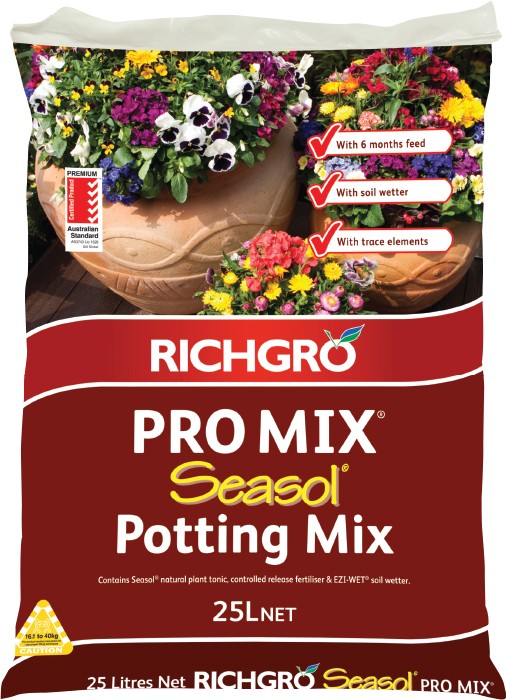 RICHGRO PRO MIX POTTING MIX WITH SEASOL 25L: $10.00
Includes Seasol, controlled release fertiliser & a soil wetter.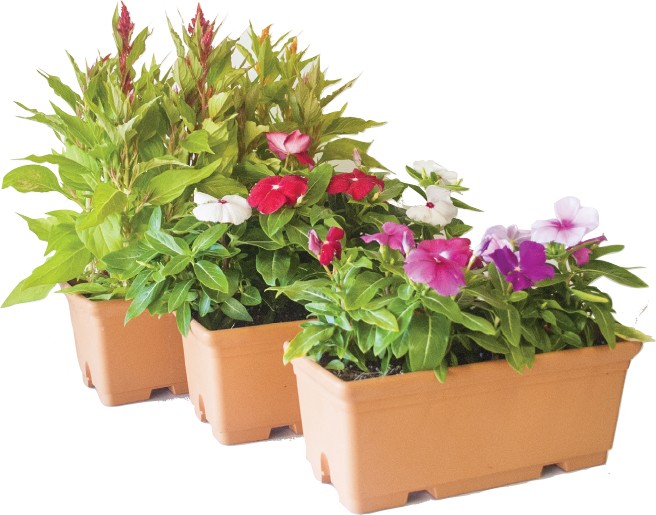 MIXED FLORAL WINDOW BOX: $10.00
24 x 11 x 13cm. Terracotta.
Spring onions are one of the few vegetables that successfully be sown the year-round in Sydney. If you don't have the patience for watching them sprout from seed try holding on to those roots when you buy a bunch and plant those - yes' they will sprout again!
For glorious winter soups
Now is the time of year to grow cauliflower, broccoli and other cruciferous vegetables. Growing your regular garden-variety breeds is always a popular choice but there are other options. Heirloom varieties are all the rage, for some of us they never went out of fashion, although they are expensive to buy or hard to find in your local supermarket. Solution; grow your own and have a unique supply of vegetables straight from your garden!
Why sit in traffic or be witness to a supermarket carpark duel when you can be outside strolling in your own little plot of green dreaming up what you will make with these dew-wet never fresher vegetables.
Broad beans are one of the easiest veggie crops to grow.
Podding peas is great fun for kids.
Green beans are fast producers
Autumn is also a great time to give a little TLC to your lawn. Feeding with some fertiliser is recommended before the soil starts to cool off, sprinkling seed into lawn that's patchy, and aearting by using a fork or have a walk around with spiked sandals will get some growth happening in areas that have become compacted during summer.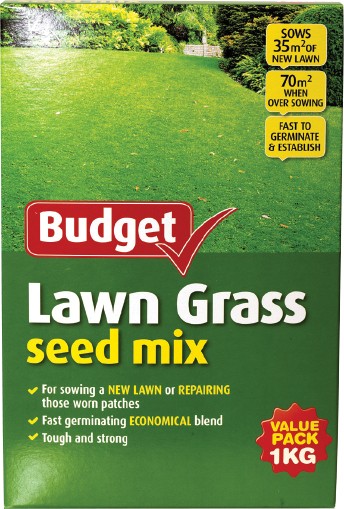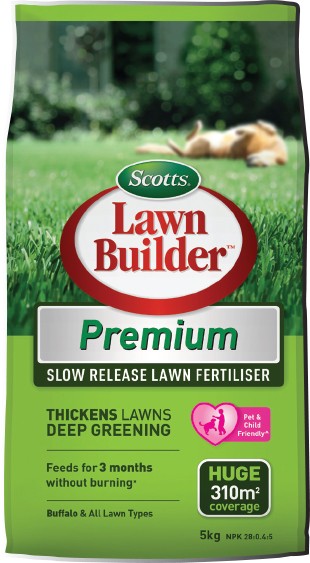 YATES 1KG BUDGET LAWN GRASS SEED MIX: $10.00 SCOTTS 5KG LAWN BUILDER PREMIUM SLOW RELEASE FERTILISER: $29.00
Fast germinating economical blend. No surge growth reduces mowing. Suitable for all lawns.
Sows 35m² of new lawn or over sows 70m².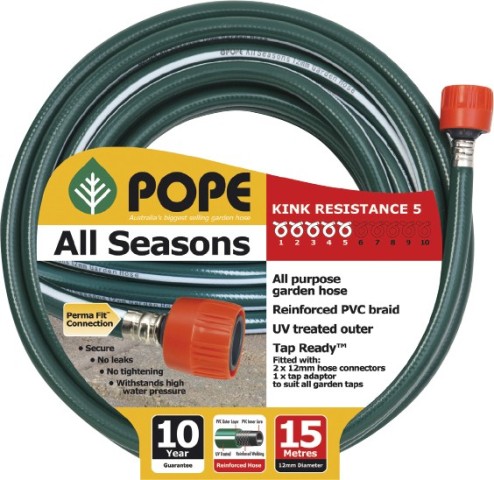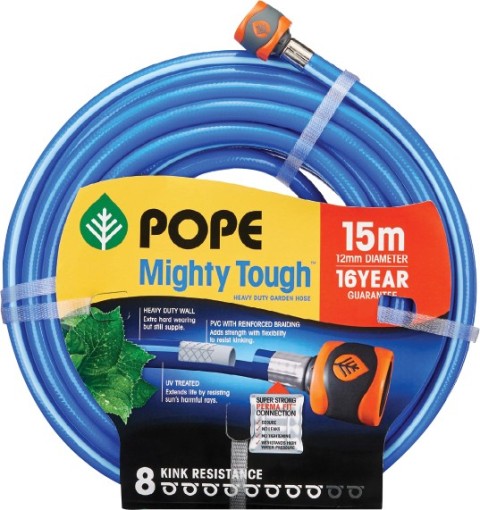 POPE 15M ALL SEASONS FITTED GARDEN HOSE:$29.00
POPE 15M MIGHTY TOUGH HOSE: $44.00
Also available - 30m: $49.00 Also available, 30m: $79.00
12mm x 15m. Perma fit connectors. High quality. 8 Kink resistance.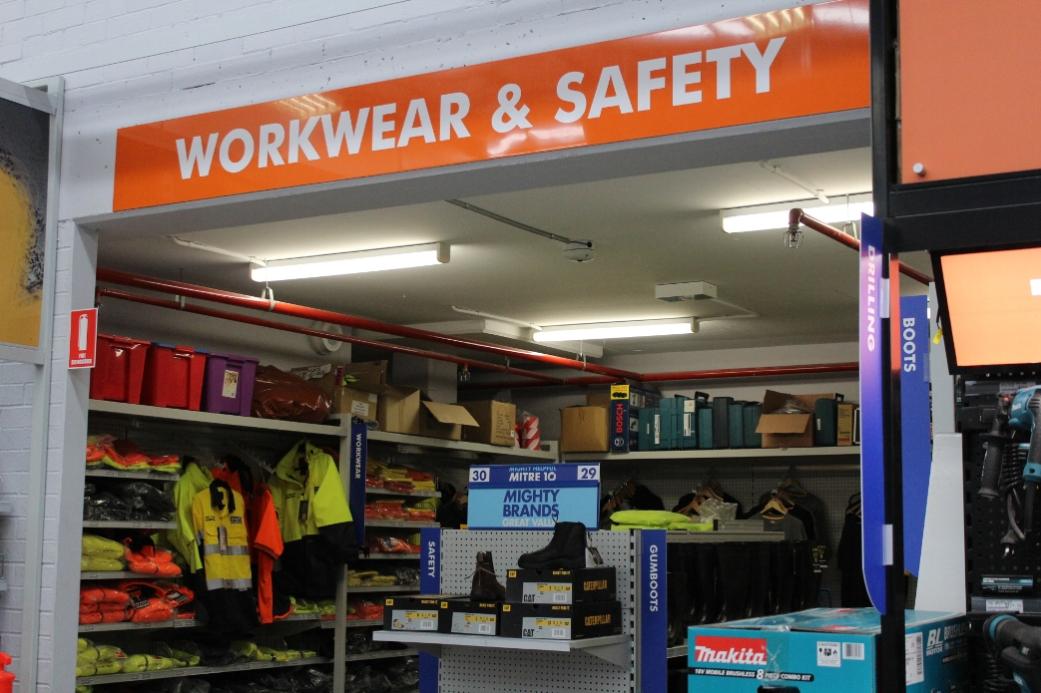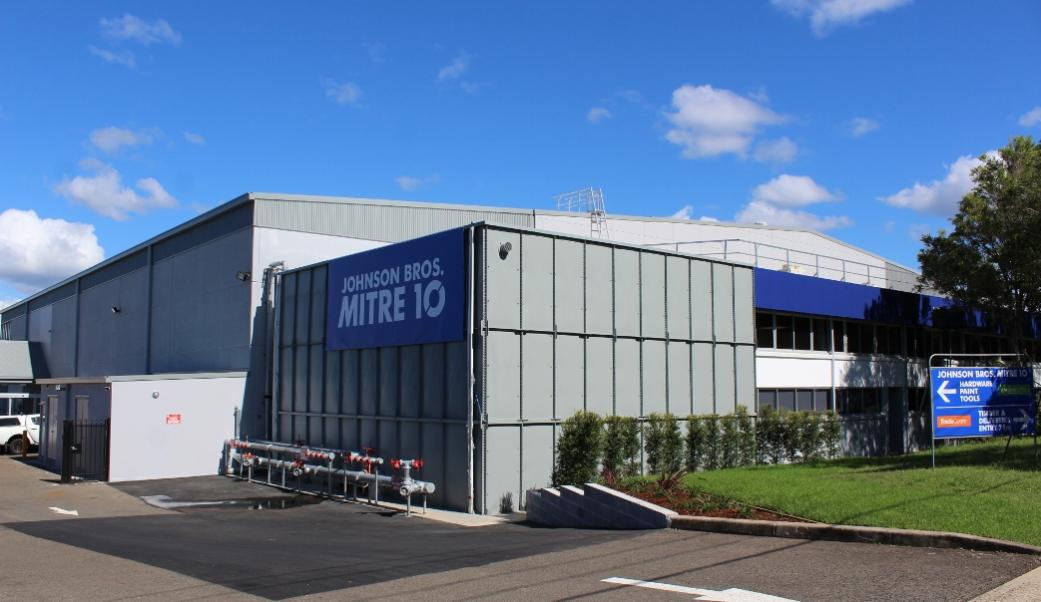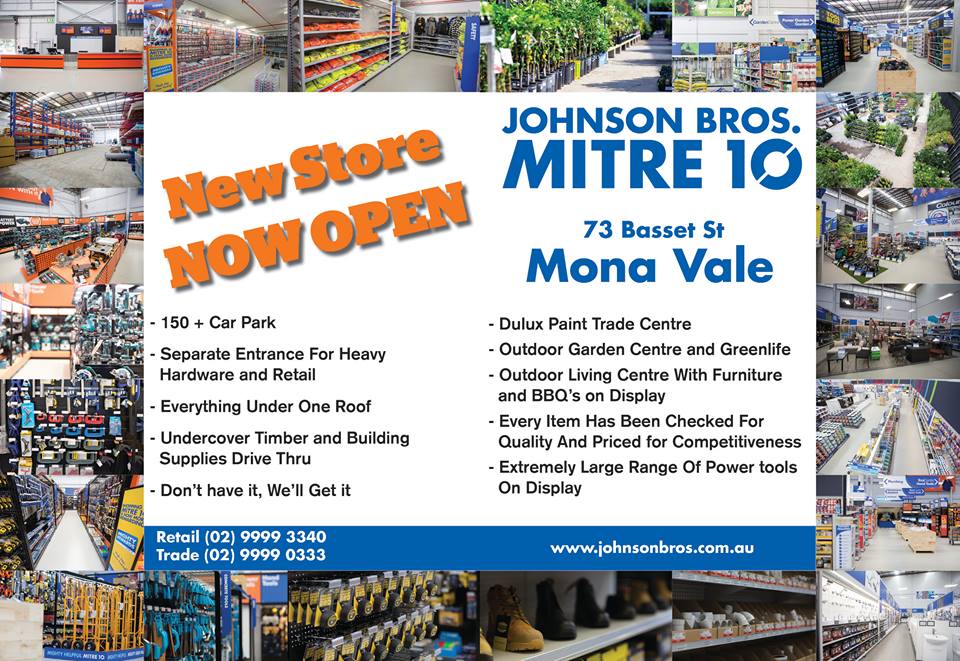 Johnson Brothers Mitre 10 New Store
73 Bassett Street
Mona Vale - Online Store: Jbhmv.Com.Au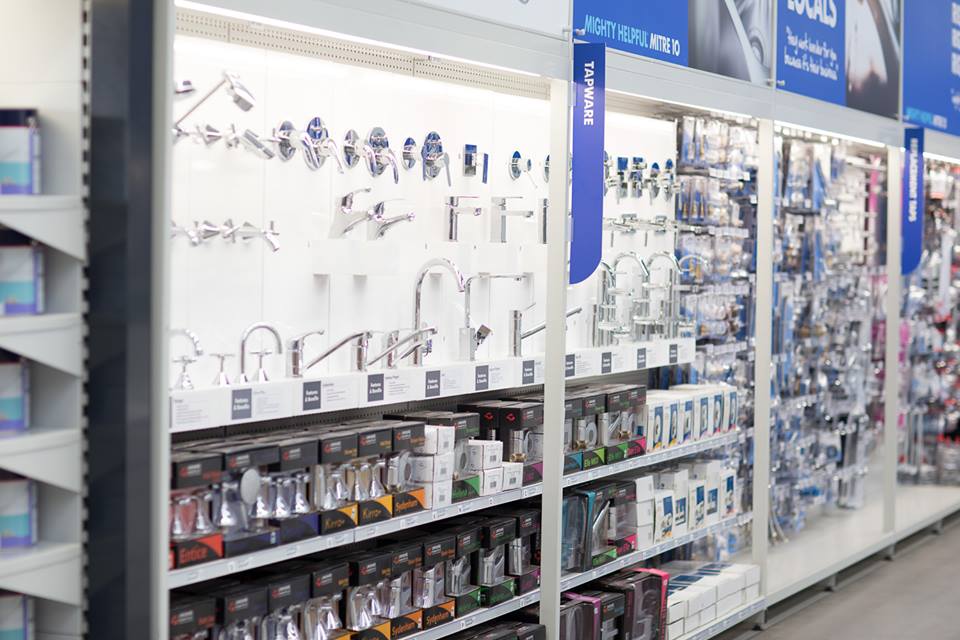 Products advice is available from the trained friendly staff at Narrabeen, Mona Vale and Avalon Johnson Brothers Mitre 10.
Click on logo to visit Johnson Brothers Mitre 10 website
Johnson Bros Mitre 10 - Avalon (02) 9918 3315
Johnson Bros Mitre 10 - Mona Vale (02) 9999 3340
JBH Timber & Building Supplies (02) 9999 0333
JBH Fencing & Landscape Supplies (02) 9970 6333
www.johnsonbros.com.au Online store: jbhmv.com.au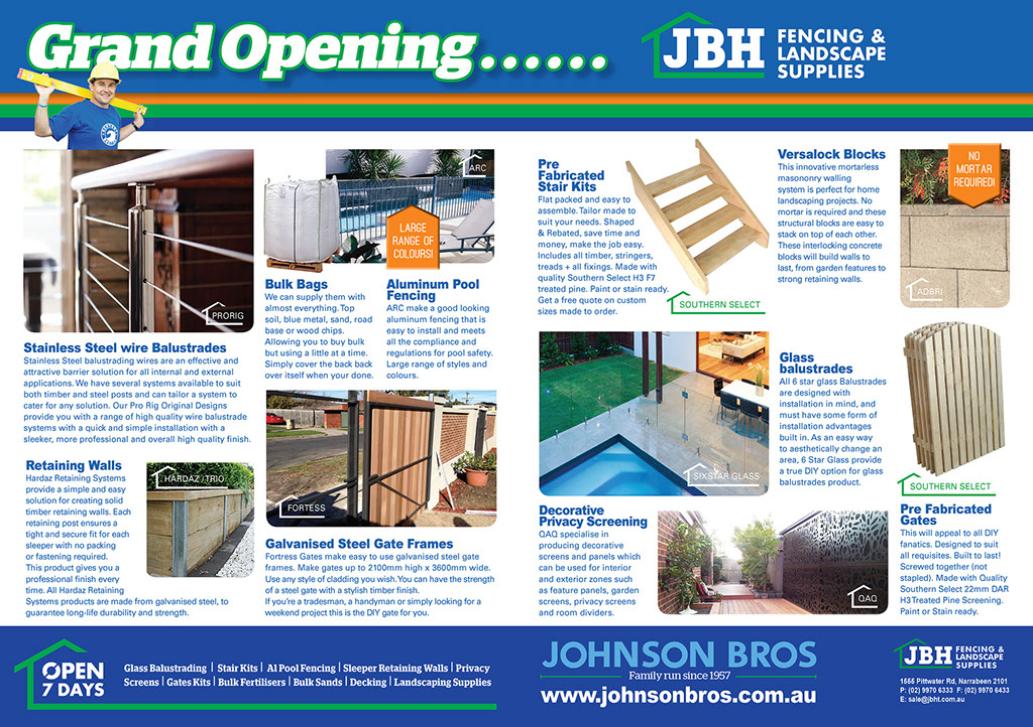 Important
All information and tips in this publication are of a general nature only and neither Johnson Brothers Mitre 10 or Pittwater Online News does not warrant the accuracy or completeness of the information and tips in this publication. This publication is not intended to be a substitute for expert advice.
Johnson Brothers Mitre 10
advises you to always consult an experienced and qualified person when undertaking jobs of this kind (including consulting a qualified tradesperson such as an electrician or plumber where relevant expert services are required).
You should also consider any safety precautions that may be necessary when undertaking the work described in this publication (including wearing any necessary safety equipment such as safety glasses, goggles or ear protectors or hard hats). The information and tips in this publication are provided on the basis that
Johnson Brothers Mitre 10
and
Pittwater Online News
excludes all liability for any loss or damage which is suffered or incurred (including, but not limited to, indirect and consequential loss or damage and whether or not such loss or damage could have been foreseen) for any personal injury or damage to property whatsoever resulting from the use of the information and tips in this publication.
Pittwater Online News and
Johnson Brothers Mitre 10
also advises there may be laws, regulations or by-laws with which you must comply when undertaking the work described in this publication. You should obtain all necessary permissions and permits from council and/or any other relevant statutory body or authority before carrying out any work. Major projects published in this publication always list these and/orlinks to where you may research what your own project requires to meet regulations.