September 5 - 11, 2021: Issue 509

Early Spring Chores For Great A Summer Outdoors: Soil Preparation For Vegetables + Salads + A Few Other Tips To Make Your Garden Ready To Plant Out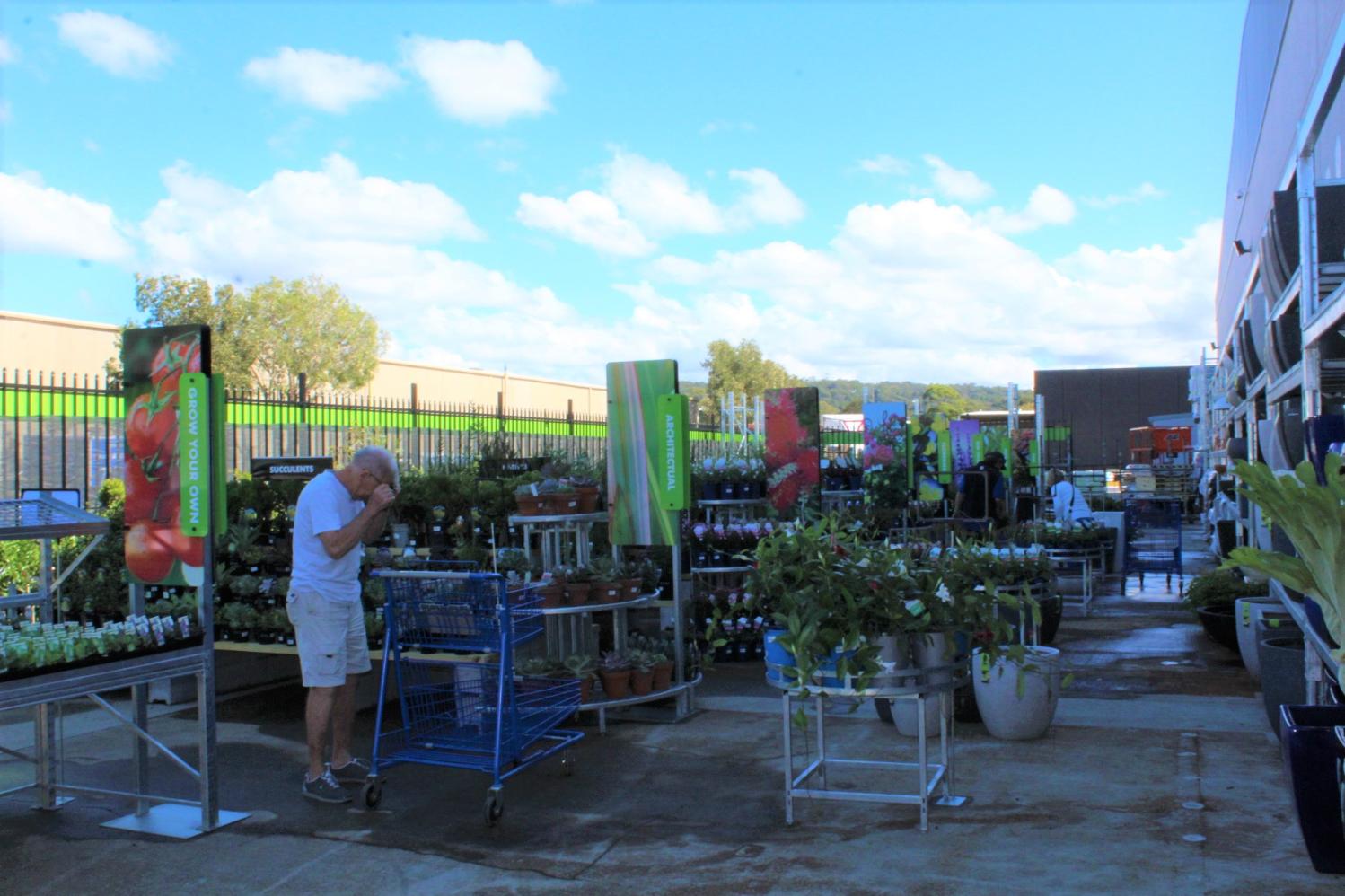 Now is a great time to get in the garden and do some soil preparation work so you can commence planting out what you want to grow for the table and vases over the next months as the soil begins to warm up. Taking time in Spring to build fertility and loosen soil will set you up for a more productive year.
First, a few weeks before you plan to plant, work in any cover crops and then blanket your garden bed with at least a 5 centimetre layer of good compost; a full 10 centimetres would be even better. The compost will provide the soil with a fresh infusion of nutrient-rich organic matter, and improve the soil's ability to handle water and nourish your crops. Top this up with a good layer of some form of mulch - this will help break down the compost and also work as a heat blanket to help the soil warm up.
Next, focus on cultivating your soil. Rain, gravity and other forces can cause soil to become compacted over time, so loosening it before planting should be part of your 'to do' list.
If you plan to plant in a young bed that you need to cultivate in order to remove rocks or roots, use a shovel or digging fork to turn the soil when it's dry and crumbly (never when it's wet and clumpy, or you'll be stuck with big, brick-like clods). In established beds, you can use a fork to break up the soil. This will prime your garden soil for planting by helping it dry out and warm up, and permit roots to penetrate the soil more easily.
It's also worth applying an organic fertiliser to the degree that matches the needs of the crops you plan to plant. Light feeders with shallow roots, such as lettuce, will be fine with a small amount of organic fertiliser raked into the top few inches of soil. For widely spaced plants that have big nutrient appetites, such as cabbage, broccoli, tomatoes and peppers, a good enriching of individual planting holes with a mixture of compost and organic fertiliser just before you set out seedlings will give them a boost and they will thrive. For very heavy feeders, such as sweet corn, use a hoe to make deep trenches in the beds, and place the fertiliser in the trenches so it will be directly below the germinating seeds.
Then just let it all 'sit' for a few weeks while the soil warms up - vegetables like zucchini can go in from mid-September.
Here are a few more tips for getting the best jump start on Spring gardening.

Seedlings time
Many will have already been keeping lemon seeds or others they've saved from last year in small pots in sunny spots over the last months of Winter. Now is the time to think about what else you want to grow this Spring and Summer and start planting those seeds so they can sprout. It's still quite cool outside at night so if you are going to leave them in a sunny corner during the day, remember to bring them in or cover them at night.
Have a look at seeds you've never planted before at hardware stores, or get cuttings from a friend. The possibilities are endless! Do your research though; some plants do not work well in the same space, and will take up an entire plot. Plan your garden plot on paper so you know exactly where everything will grow.
Give seedlings time to sprout
Don't rush your plants; give them time to sprout and show a few leaves before planting them out in your garden. By late September you can take your seedlings outside and continue to water them in their trays for a week or two. This will help them acclimatise to the outdoor environment after being kept warm and toasty and sheltered from cold winds.
Clear your garden of dead leaves and weeds
Once you have your seedlings underway, have a look at where you plan to place them. Flowers and other plants will do better if there isn't a heap of plants competing for the same soil and nutrients. If you have perennial plants, cut back the dead growth and put it in the compost bin. Now is also a great time to get rid of any other leaf litter or weeds - into the compost bin they go!
Plan ahead for Summer-flowering plants to help your veggies grow
If you are growing to grow vegetables and salad ingredients this Spring and Summer you need some flowers among the mix to draw in bees and other pollinators to help them along. To make sure you get beautiful, blooming plants and a colourful display in the Summertime, start planting them in early Spring. The key word here is 'beneficial plants' ands this can be almost anything from some lavender to keep ticks at bay to letting the clover run riot in your lawn. If you want to be able to pick some of these to brighten your table and rooms over the next few months, or perfume those sultry Summer nights in the garden, look into what will bloom when and where they need to be placed in the garden - full sun or ??? You can also choose flowers that may add colour and zing to your summer salads - nasturtiums for example.
Clean your gardening tools
Early Spring is a great time to make sure your gardening tools are as they should be. As they may also carry bugs or diseases, give them a good to ensure they don't have a chance to infect your plants. Those that have edges may also need sharpening so they cut instead of wounding plants.
Sort out your growing shed
If you grow your plants in a greenhouse, make sure to wash it down as Spring arrives. Sweep the floors and benches, and even consider using a mild disinfectant for the inside of the glass so as to get rid of any pests that could potentially harm your plants. As some of these can live in the tiniest of nooks and crannies, make sure this is a thorough clean. Make sure you ventilate your greenhouse for at least a few days before you plant your greens.
Remove any unwanted pests
Hibernating pests such as aphids and slugs begin appearing now and have the opportunity to get at your plants. Keep an eye out for them and treat those that are not beneficial insects - hold on to the others; they are what make your garden grow!
Below run some great products and tools to help you get it done that will also work for those looking for something great for dad for Father's Day 2021.
Products And Tools To Help You Get It Done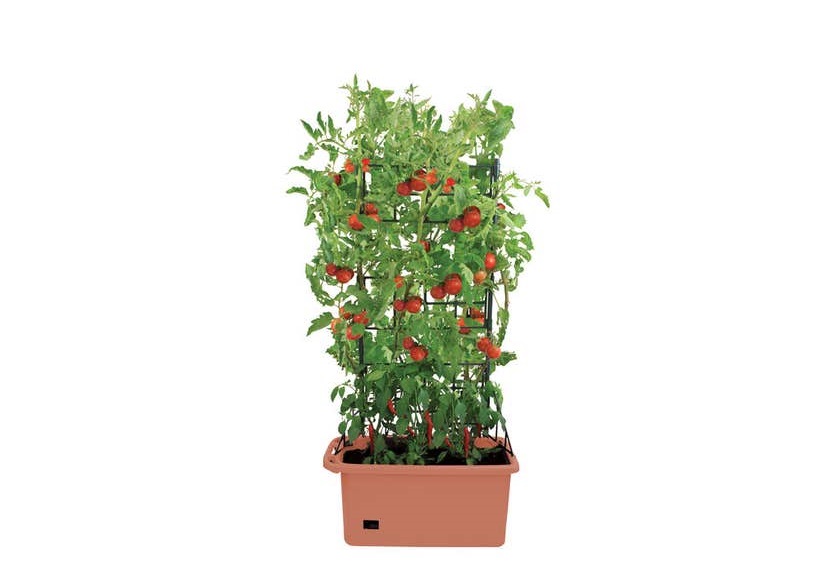 Mobile Vege Patch with Trellis Terracotta: $69.00
Easy to assemble. Includes trellis, handle & wheels. Self watering insert. Perfect for tomatoes or vine vegetables. H1350 x W750 x D350. Soil and plants not included.
Debco Seed & Cutting Premium Germinating Mix 25L: $12.95
Superior germinating mixture perfect for effective seed raising and propagation of seedlings and cuttings. 6 month controlled release fertiliser. Added wetting agent. Contains trace elements. Coir peat & horticultural sand.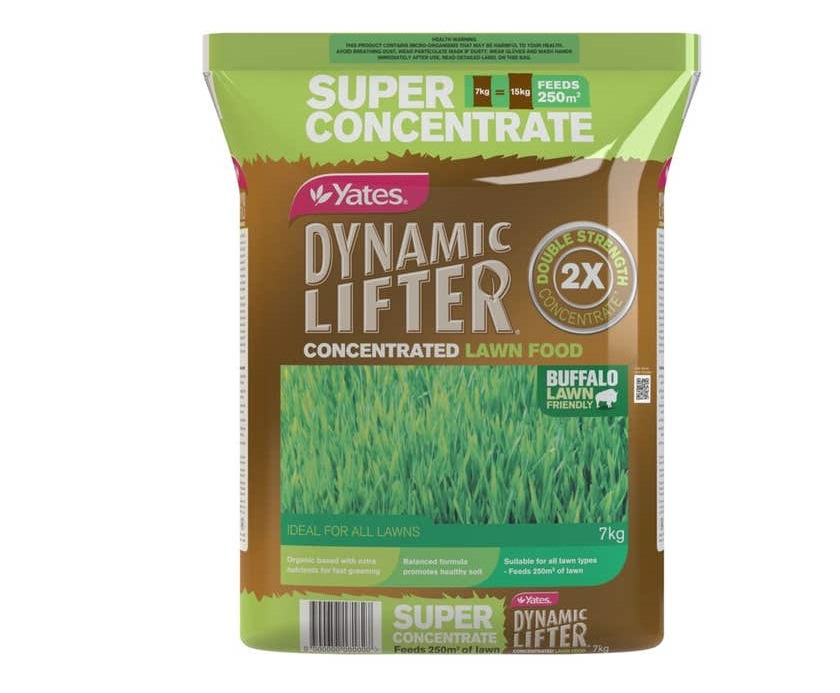 Yates Dynamic Lifter Concentrated Lawn Food 7kg: $19.99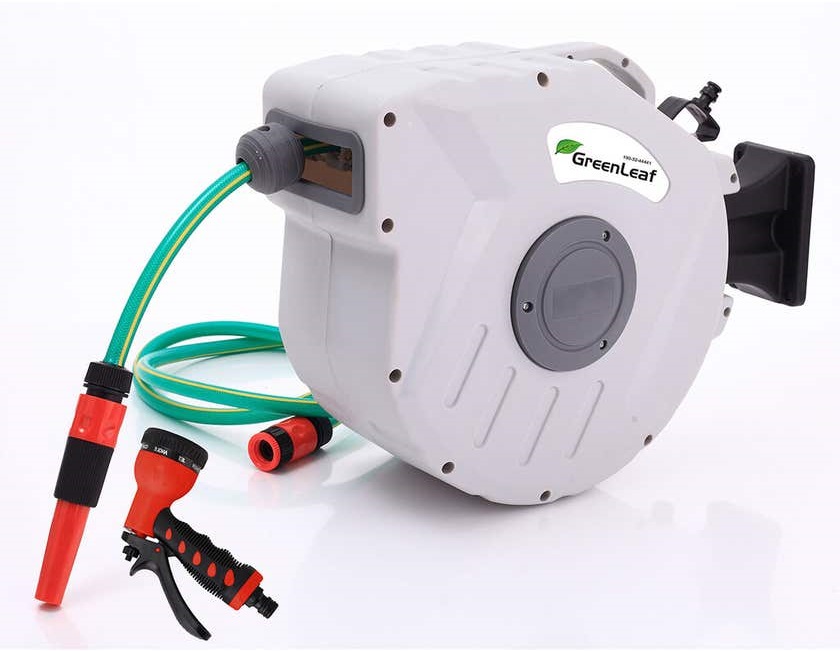 Greenleaf Retractable Hose Reel Grey 20m: $59.00
Hose Length: 20 + 2m. Includes 12mm garden hose fittings, mounting bracket & screws, plus bonus multi function trigger. Automatic hose retrieval system. Automatic hose layering guide system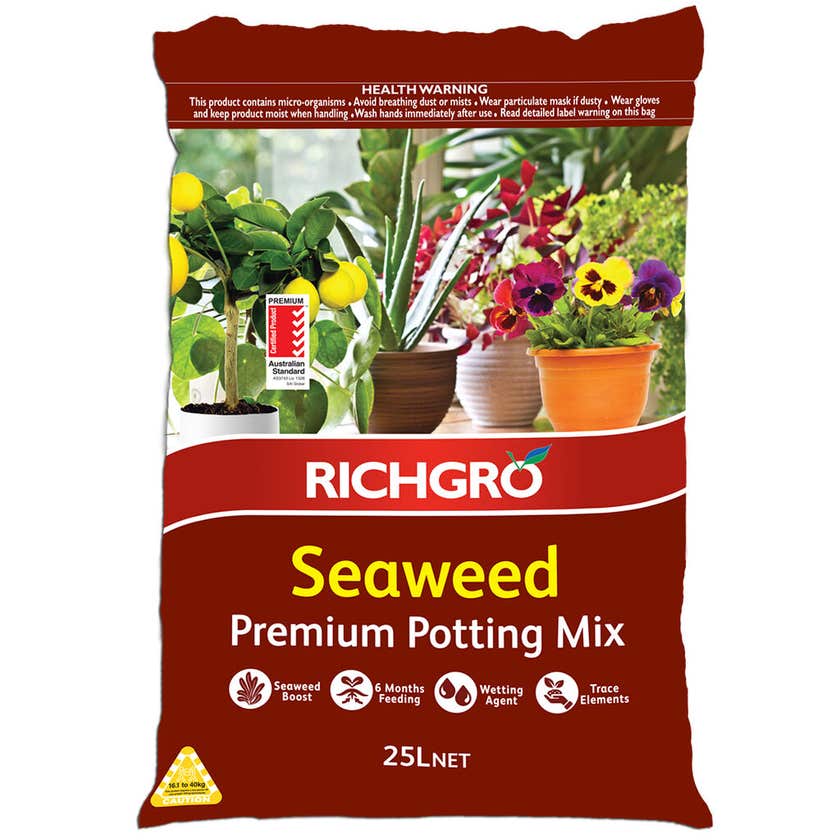 Richgro Premium Seaweed Potting Mix 25L: $10.90
Includes seaweed boost to improve plant growth. Improves the number and colour of blooms. Reduces the effects of insect and fungal disease. Assists plants to cope with adverse weather conditions such as drought and frost. Suited for both indoor garden and outdoor potted garden.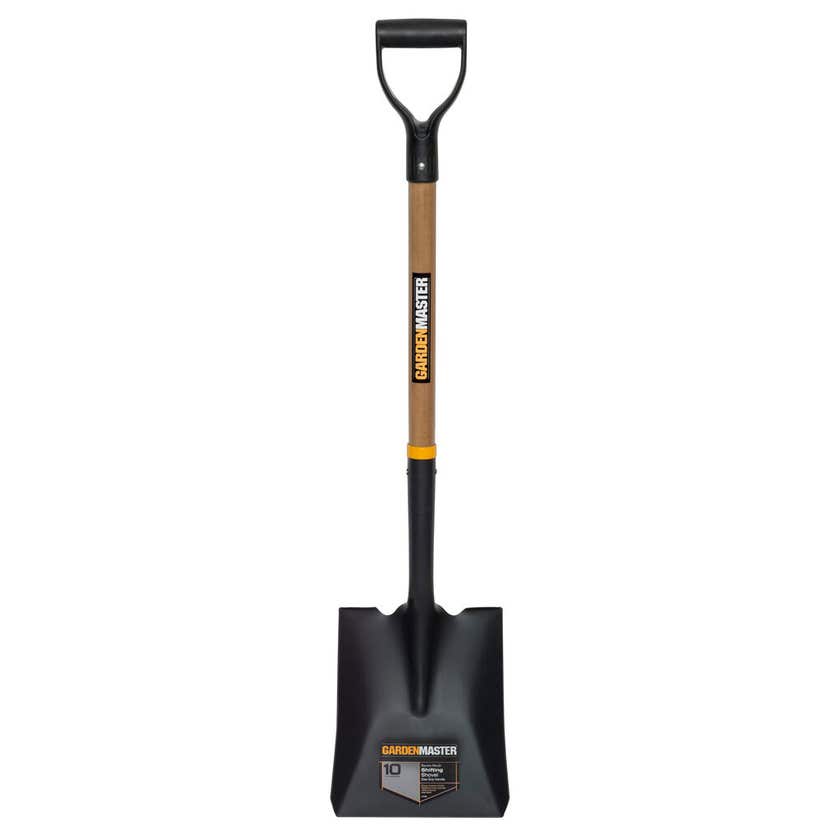 Gardenmaster Square Mouth Shifting Shovel 1020mm: $31.65
Ideal for shovelling heavy soils and sand. General purpose shovel for shifting, loading and spreading heavy to light materials. Long handle for extra leverage.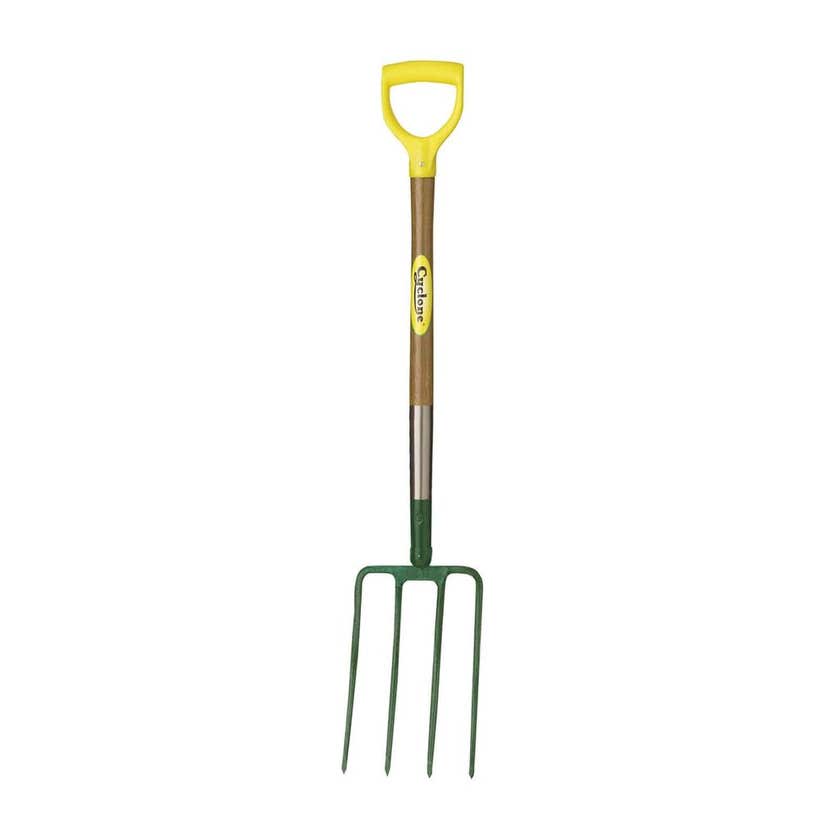 Cyclone Garden Fork: $65.70
Ideal for digging and cultivating most types of soil and great for aerating lawns.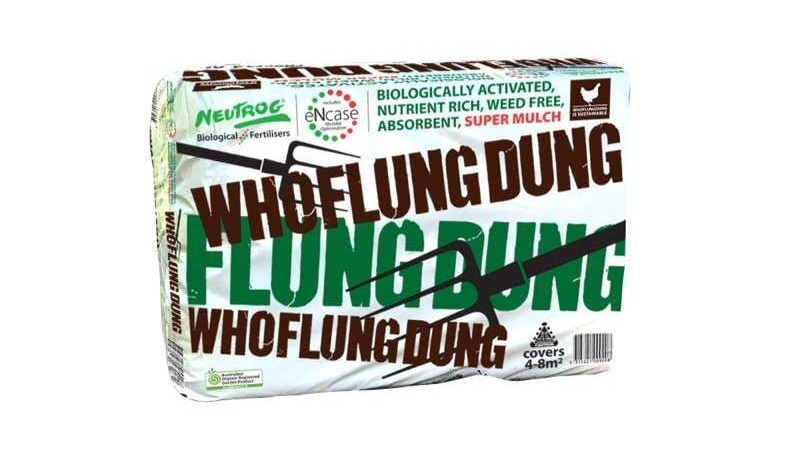 Neutrog Whoflungdung Mulch 20kg: $21.95
Biologically activated. Nutrient rich. Weed free & absorbent mulch.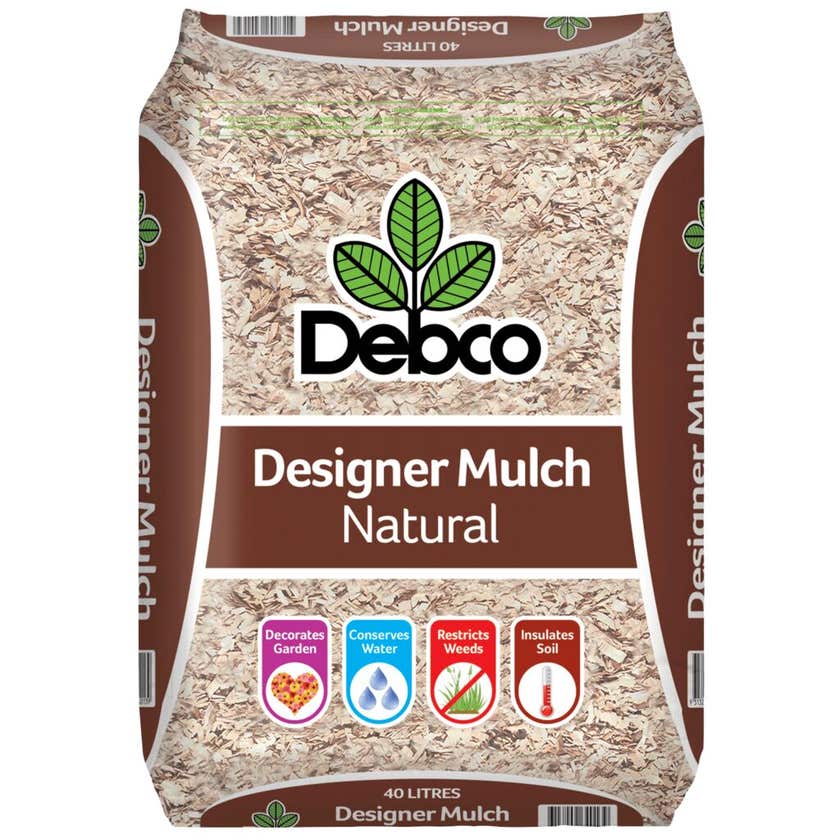 Debco Designer Natural Mulch 40L: $9.20
Decorates garden. Conserves water. Reduces weeds. Insulates soil.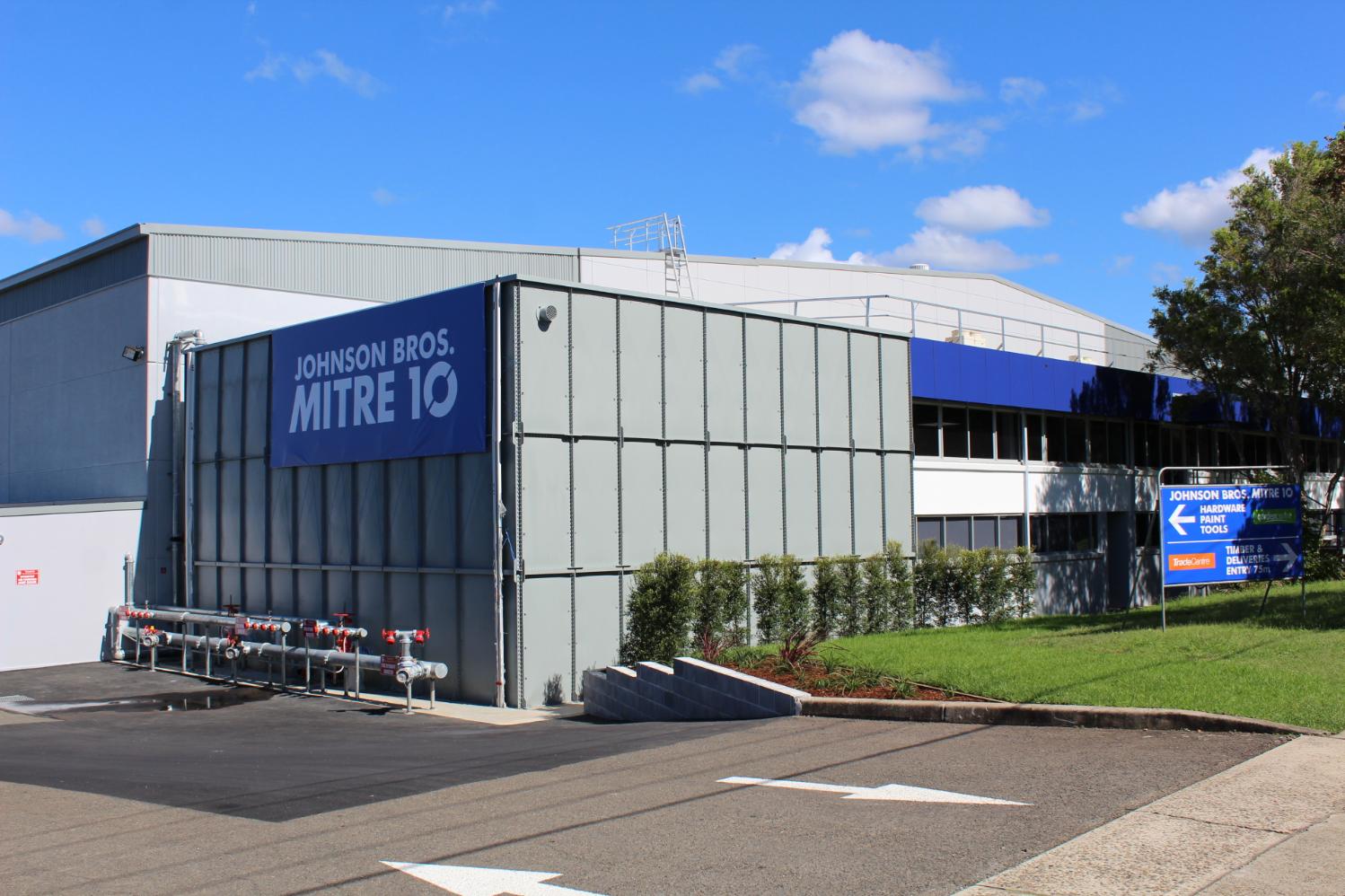 Johnson Bros Mitre 10 Is Open
We understand that this is a tough situation for everybody and implore the community to be supportive of each other.
Following the recent NSW Health advice, as a provider of hardware, garden supplies and building supplies, we're pleased to say that all Johnson Bros Mitre 10 stores, Harper Timber and Narrabeen Trade Centre are operating as per our usual hours.
We count ourselves fortunate to be considered essential and will work responsibly to serve the community to the best of our ability.
FREE Retail Deliveries.
Shop online 24/7 through mitre10.com.au and receive FREE delivery for all online retail orders over $100 and under $40kg or pick up in store with our Click 'n' Collect service.
We do remind customers that when instore to please adhere to the following: wear a mask, use the hand sanitiser provided, maintain social distancing, check in with the QR code.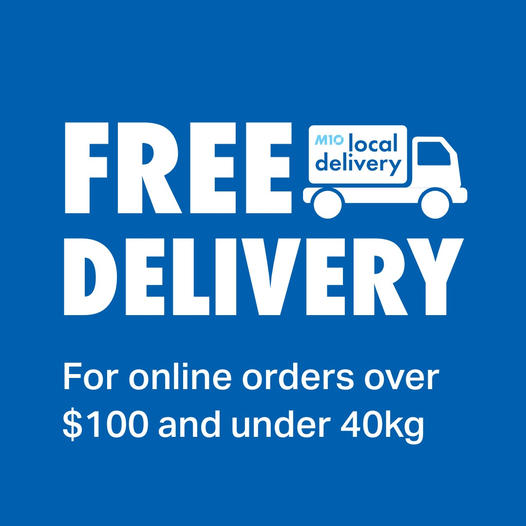 Johnson Brothers Mitre 10: Shop Online Options
Intending to keep our customers and staff safe, we present some additional ways for both our retail and trade customers to do business with us.
Trade and Retail Pick Up
Express Pick up Mona Vale
- Call Johnson Bros Mitre 10 Mona Vale, and we will pick & pack your order and have it ready for you to pick up in 2 hours. (Stocked Lines Only)
- Drive into our undercover Trade Drive-Thru area at 73 Bassett St Mona Vale, and your order will be ready for pick-up.
- Our team members will help you with your load and finalise payment/paperwork
Express Pick up Avalon
- Call Johnson Bros Mitre 10 Avalon, and we will pick & pack your order and have it ready for you to pick up in 2 hours. (Stocked Lines Only)
- Drive into our back lane off Bellevue Avenue, and your order will be ready for pick-up.
- Our team members will help you with your load and finalise payment/paperwork
Online Retail Stores Go Live
We've launched two eCommerce sites offering 2hr pick up in-store and flat rate delivery options on the northern beaches*.
Jbhmv.com.au (Mona Vale)
Jbhav.com.au (Avalon)
With the ability to leave the product on your doorstep, this provides an option of an entirely contactless transaction.
*Flat rate delivery is not available to trade sales, building supplies and trade quantities
** The stock availability is updated nightly, which may mean the stock is unavailable when the order is placed
Trade Delivery to Site
Maybe not new, but certainly worth a mention again!
We can get almost anything delivered quickly onto site!
As always ring the trade desk direct on 9999 0333 and let them know what you need!
Final Thought
Like everyone, we have found ourselves in a new and uncertain environment, but we're setting up (and digging in) for the long haul!
We want to acknowledge that the decision to retain over 120 staff and meet any future challenges head-on, could not have happened without the continued support you provide us as customers.
Thank you and stay safe,
The Johnson Family

JBH Design Centre
JBH Design Centre is a tool for builders and DIY'ers to assist in the fit out of houses. It has displays of kitchens, Bathrooms, Doors and Storage as well as knowledgeable staff to assist in making house fit out painless.
Visit: http://jbhdc.com.au/
On Facebook: https://www.facebook.com/design.centre.jbh/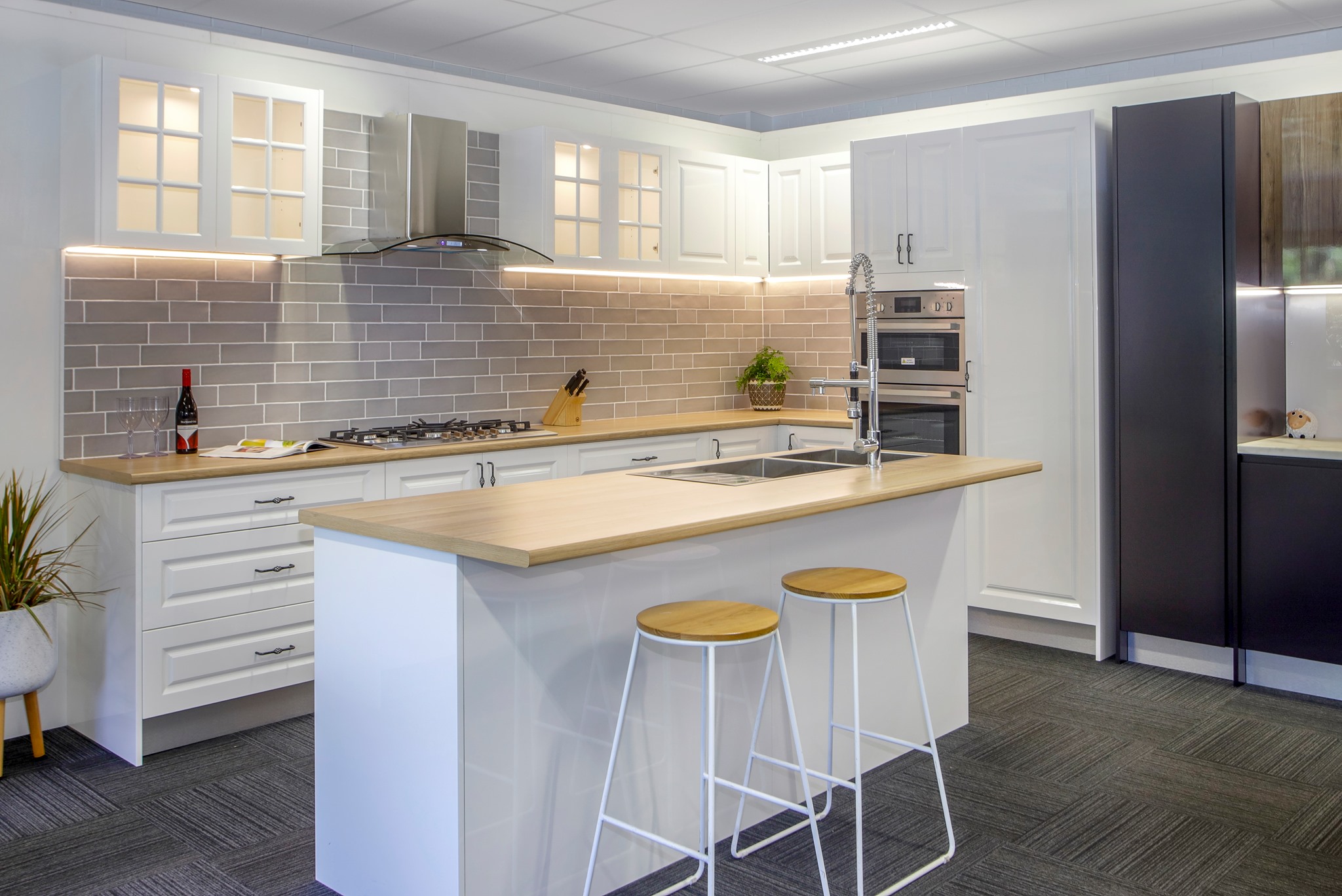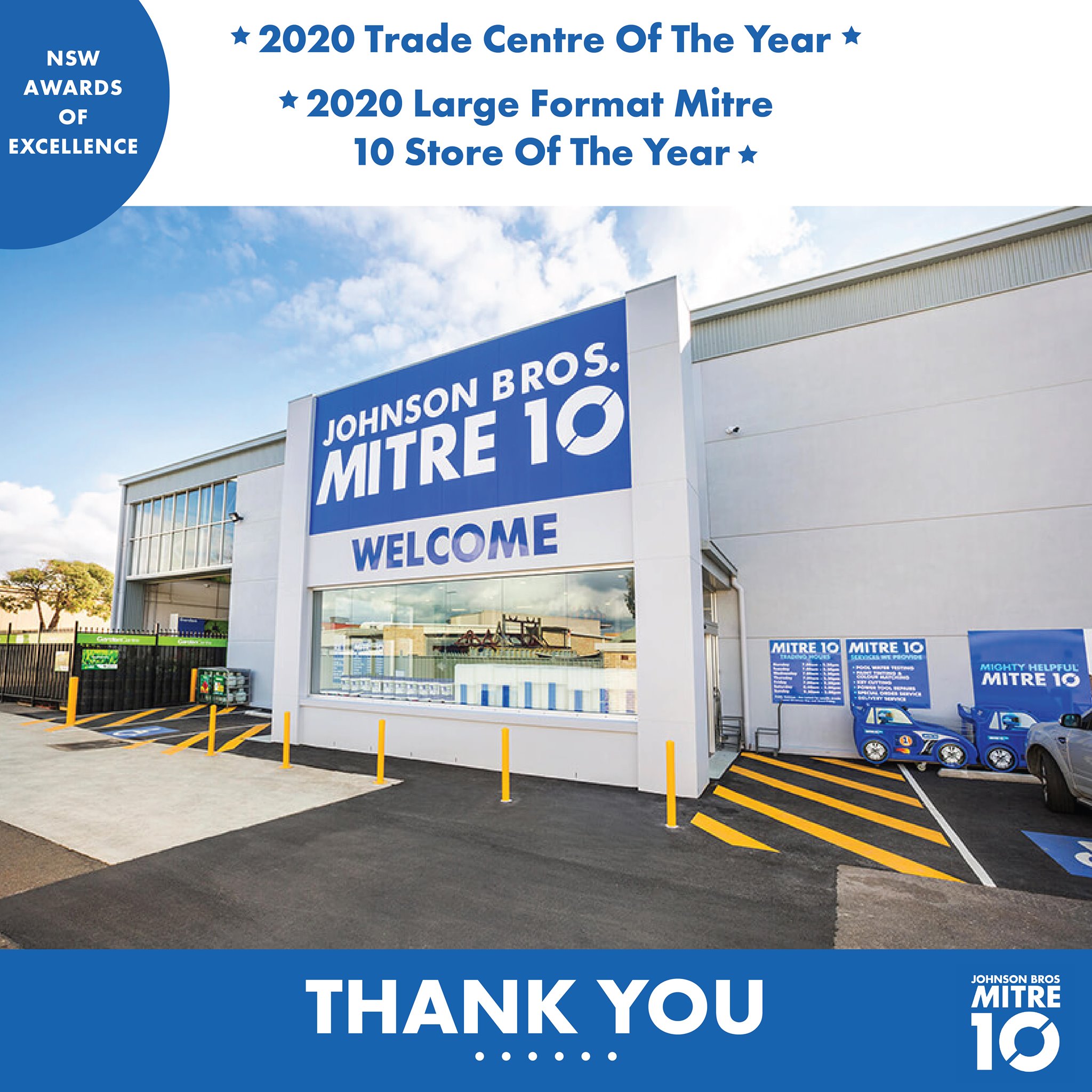 We want to thank all of you for supporting and trusting us through this 2020, without you we could not be receiving these two important awards.
Thank you for being our customer and thanks to all our great staff for making this possible especially though this full of surprises year.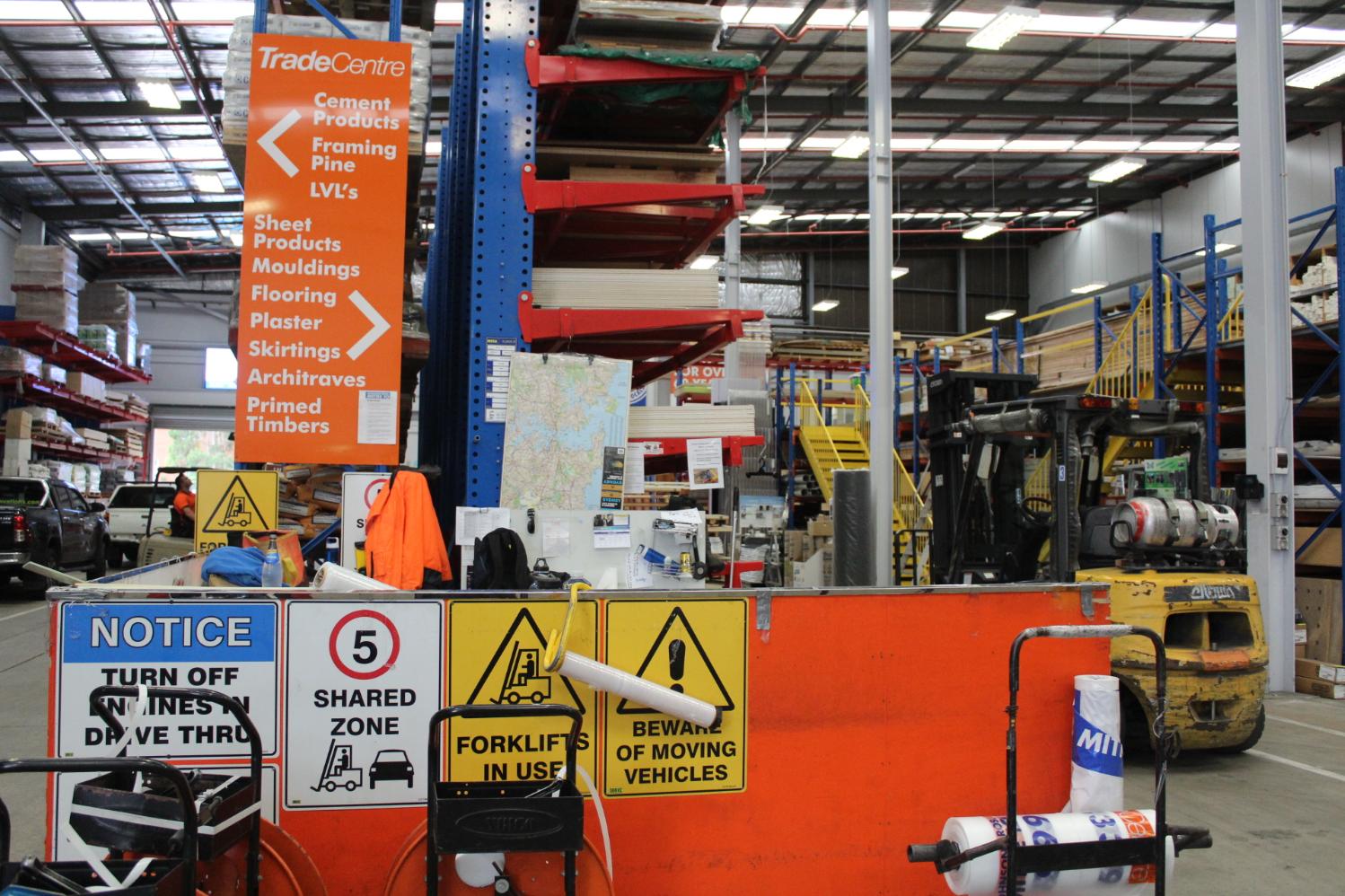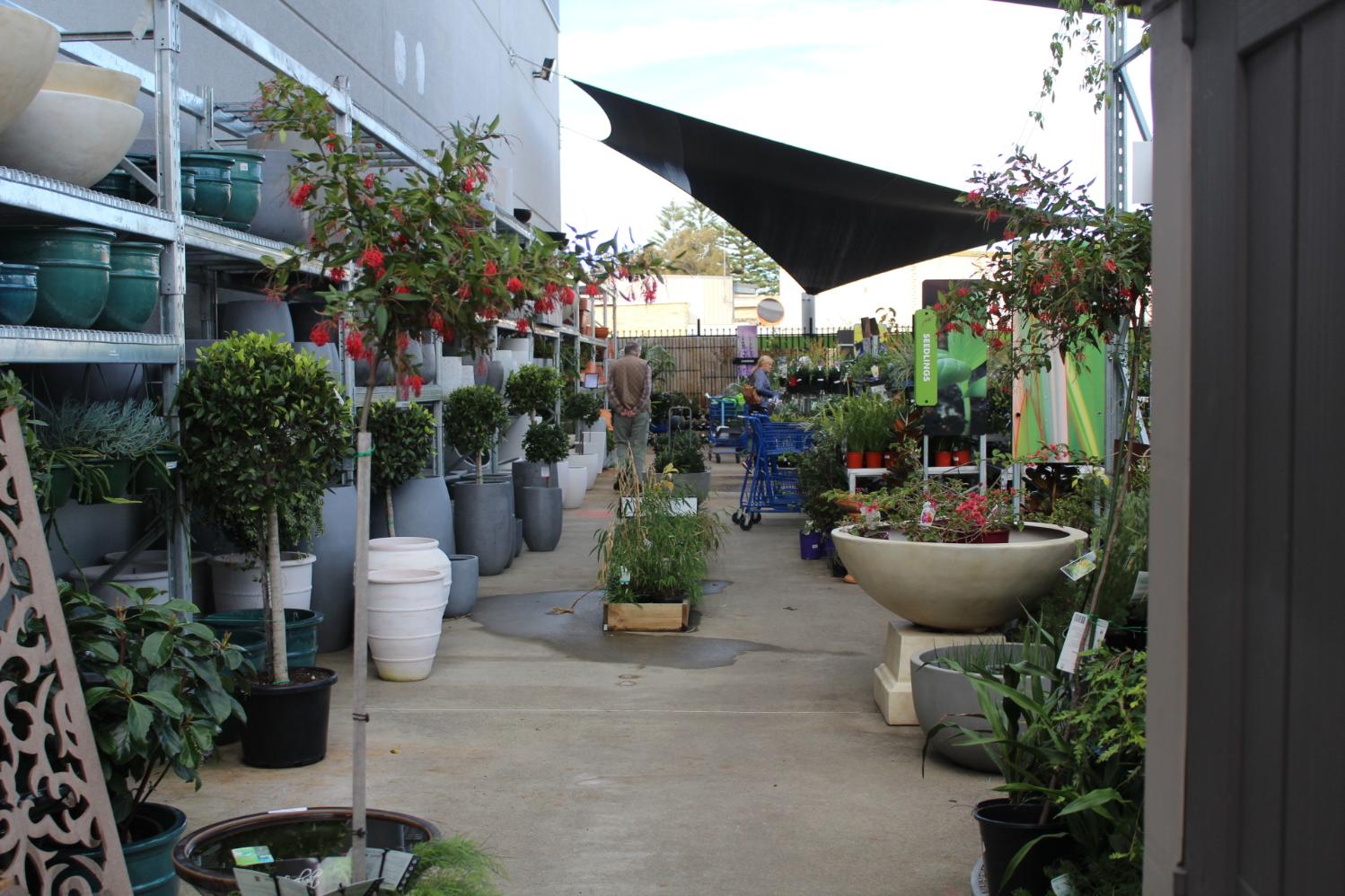 Green Life Garden Centre at Johnson Brothers Mona Vale has a great stock of seedlings, native and other plants and all you need to get gardening in brilliant Autumn weather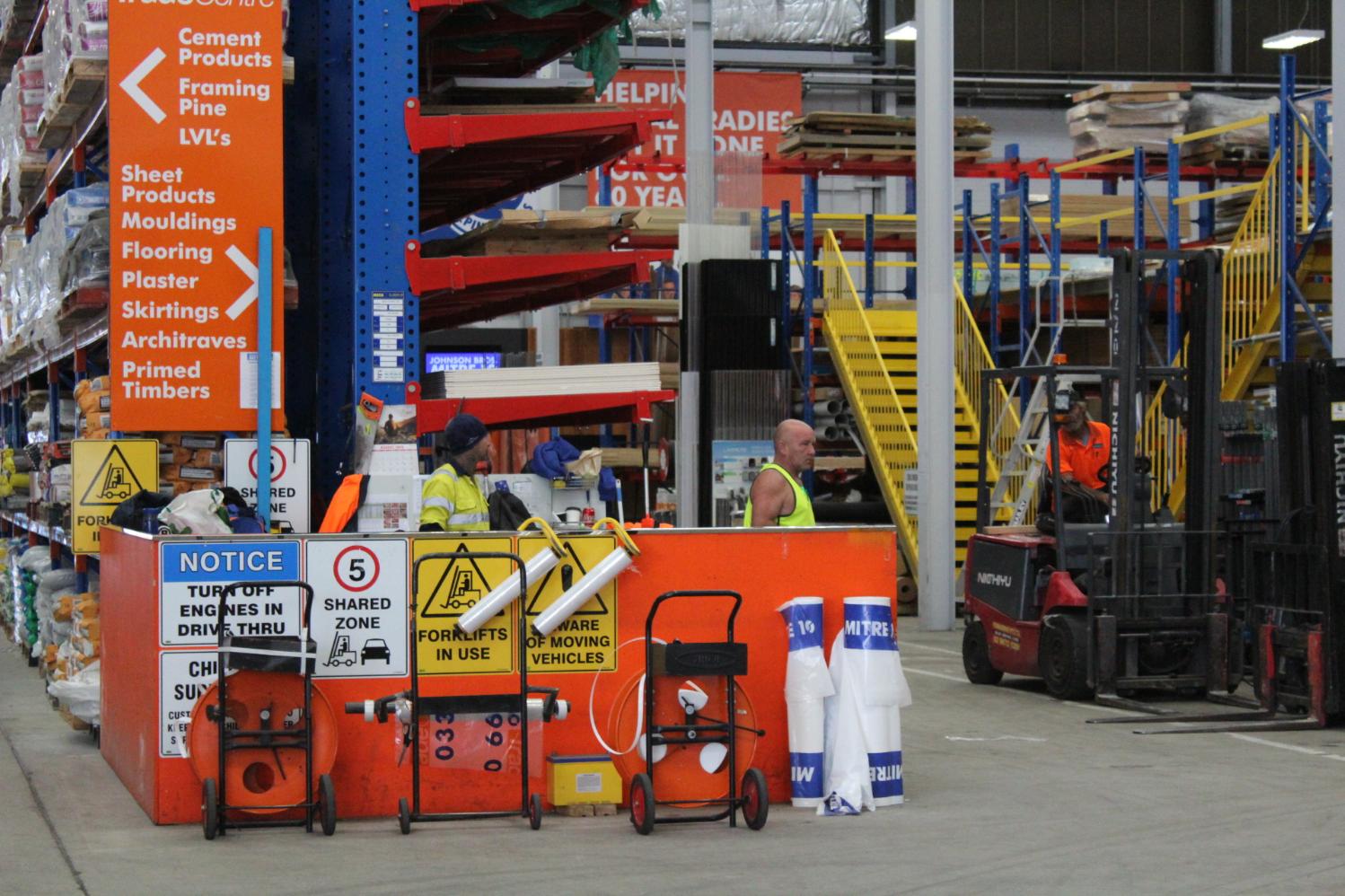 Johnson Brothers Mitre 10 Trade Centre at Mona Vale - everything you need under one roof.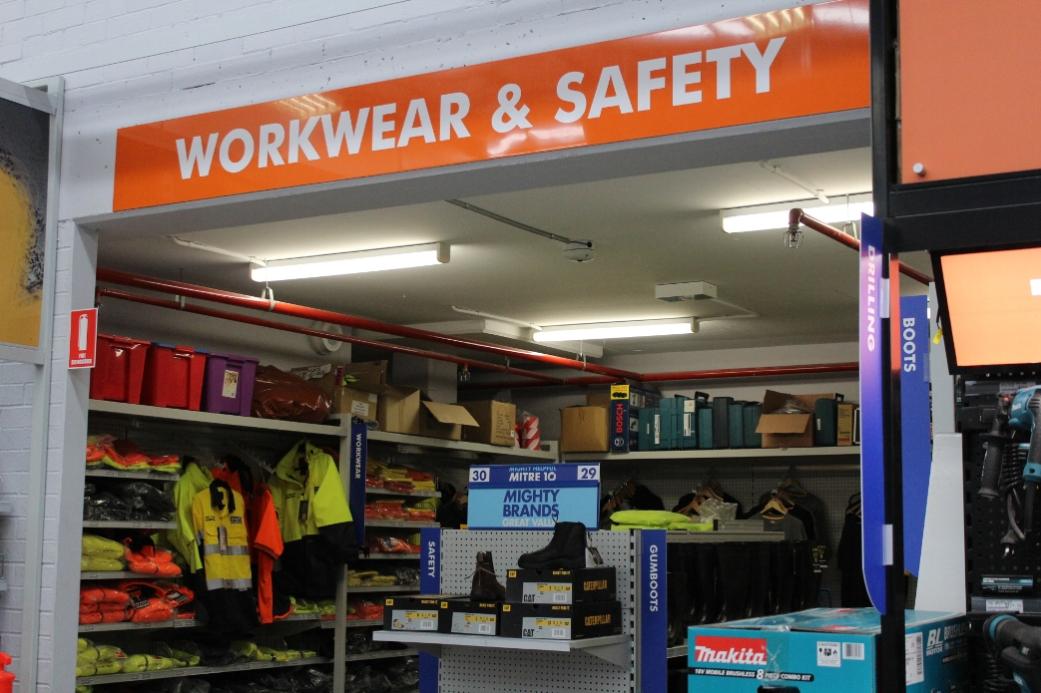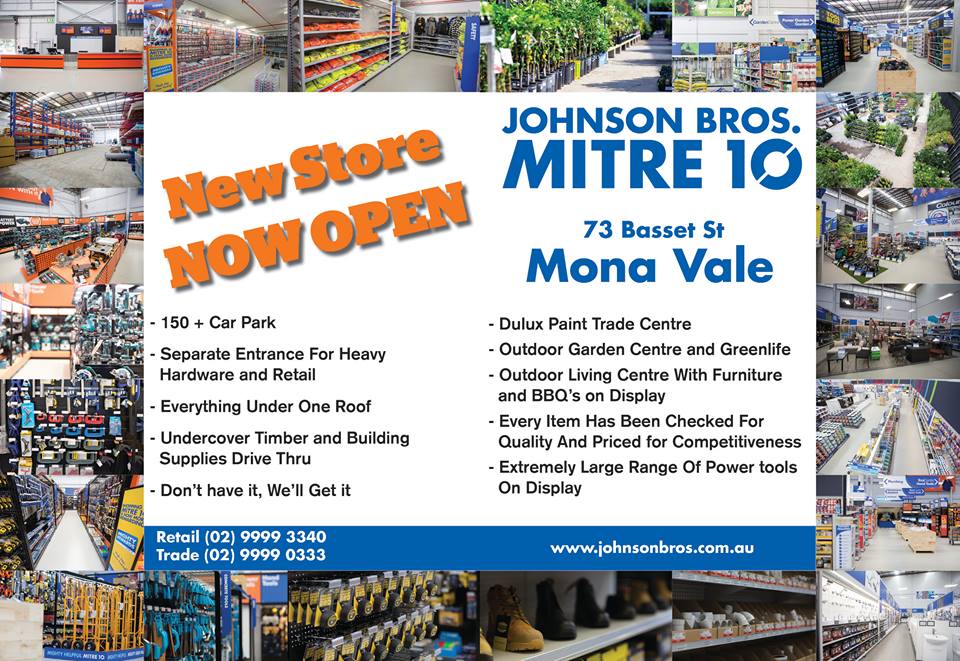 Johnson Brothers Mitre 10 New Store
73 Bassett Street
Mona Vale - Online Store: Jbhmv.Com.Au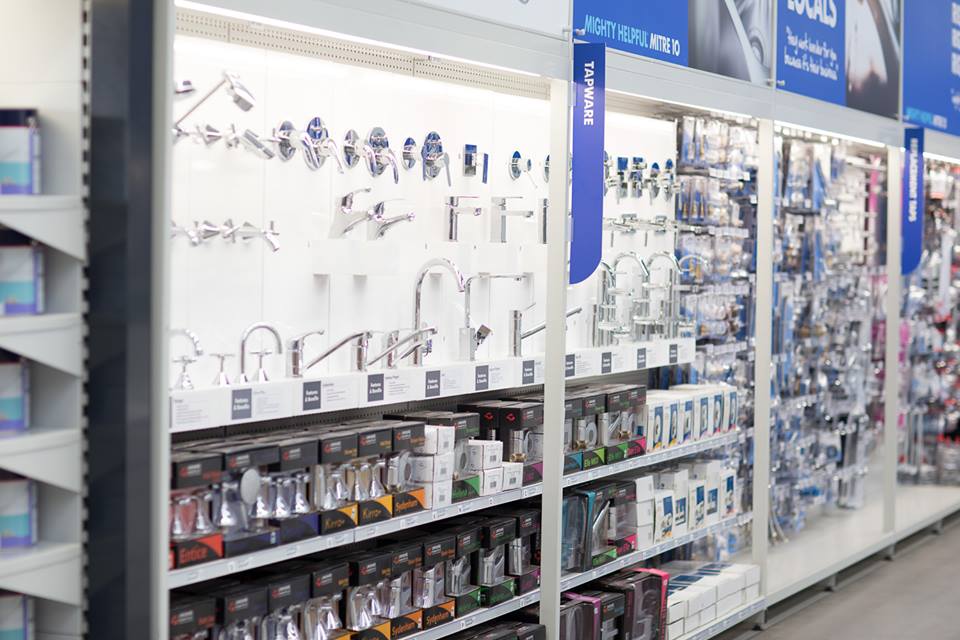 Products advice is available from the trained friendly staff at Narrabeen, Mona Vale and Avalon Johnson Brothers Mitre 10.
Click on logo to visit Johnson Brothers Mitre 10 website
Johnson Bros Mitre 10 - Avalon (02) 9918 3315
Johnson Bros Mitre 10 - Mona Vale (02) 9999 3340
JBH Timber & Building Supplies (02) 9999 0333
JBH Fencing & Landscape Supplies (02) 9970 6333
www.johnsonbros.com.au Online store: jbhmv.com.au

John, Bob and Robert Johnson, 2013 - photo by A J G.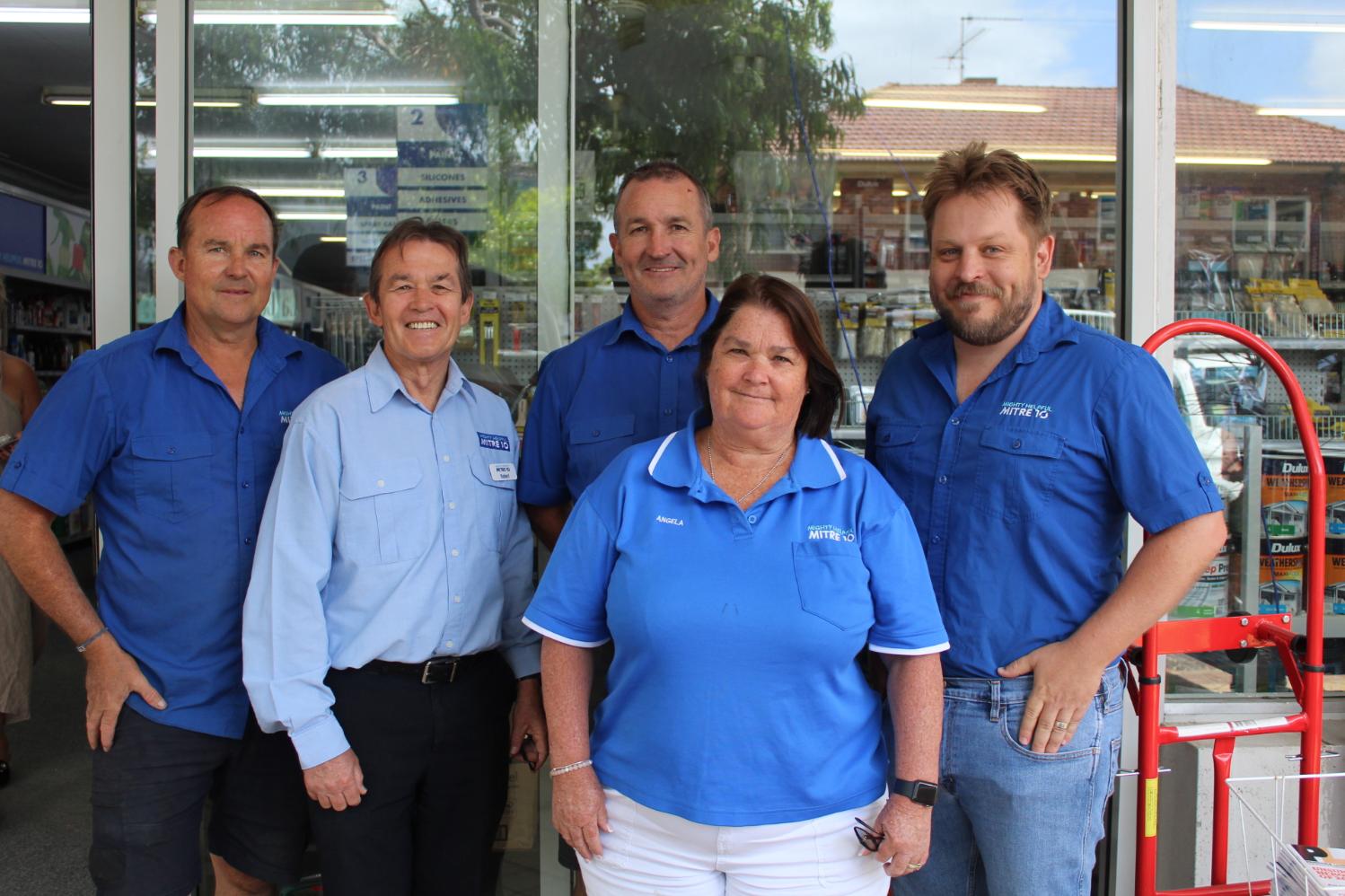 December 2020 - photo by A J G.
Important
All information and tips in this publication are of a general nature only and neither Johnson Brothers Mitre 10 or Pittwater Online News does not warrant the accuracy or completeness of the information and tips in this publication. This publication is not intended to be a substitute for expert advice.
Johnson Brothers Mitre 10
advises you to always consult an experienced and qualified person when undertaking jobs of this kind (including consulting a qualified tradesperson such as an electrician or plumber where relevant expert services are required).
You should also consider any safety precautions that may be necessary when undertaking the work described in this publication (including wearing any necessary safety equipment such as safety glasses, goggles or ear protectors or hard hats). The information and tips in this publication are provided on the basis that
Johnson Brothers Mitre 10
and
Pittwater Online News
excludes all liability for any loss or damage which is suffered or incurred (including, but not limited to, indirect and consequential loss or damage and whether or not such loss or damage could have been foreseen) for any personal injury or damage to property whatsoever resulting from the use of the information and tips in this publication.
Pittwater Online News and
Johnson Brothers Mitre 10
also advises there may be laws, regulations or by-laws with which you must comply when undertaking the work described in this publication. You should obtain all necessary permissions and permits from council and/or any other relevant statutory body or authority before carrying out any work. Major projects published in this publication always list these and/orlinks to where you may research what your own project requires to meet regulations.