Spring Garden – Shade Sails and Watering
Last time we had a look at how to make your garden look greener with a few Spring Lawn tips. This issue, with a few hot days already experienced and more to come, we find some timely tips for enjoying the shade and selecting what time to water your plants so they thrive.
Johnson Brothers offer more timely specials until October 14th to maximise what long range weather forecasters are predicting for the forthcoming Spring and Summer seasons; long hot days and mild warm nights. To protect the outside areas of family gatherings there are currently Coolaroo Handy Shade Sails on sale at $25.00. These have a 3.6m triangle which provides up to 90% UV block and are available in Grey or Beige. They are designed to let the cool breezes in and keep burning sun rays out and are knitted rather then woven so they won't tear or fray. Before you commence installation it is very important that you consider the most suitable location for your shade sail(s) taking into account the following:
Size of the shade sail(s); Strength of existing structures intended to be anchor points; Ability to insert fixing posts; Location of barbecues; and Sun direction. Prior to installation, check with local authorities for any relevant building regulations which may exist.
Selecting Fixing Accessories: There is an extensive range of fixing accessories available to help you secure your shade sail(s). These accessories are readily available from your hardware supplier. You may also need rope or chain - to extend your shade sail to a fixing point if required. Select the fixing accessories which best suit your own installation.
Attaching To Facia: If you intend to fix your shade sail to a fascia the use of a Facia Support is strongly recommended. The Facia support is used to connect the overhangs of rafters or trusses to fascias ledgers giving a strong connection between the two and improved strength.
Post Supports: If additional posts are required, the use of treated softwood (H5 level treatment) is recommended. Hardwood of durability Class 1 can also be used. John Brothers have timber at their Mona Vale store and can assist you in selection. Post lengths should be calculated taking into account the proposed height of your sail plus the depth of your footings.
Steel posts are also suitable and are available from either your hardware outlet/home centre or your local steel supplier. Steel posts can be cut to predetermined lengths and painted to a colour matching your shade sail and the environment.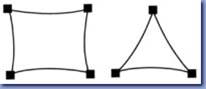 Footings: Measure out centres of footing positions and mark as illustrated. Dig holes 400 mm (16") sq. & 800mm (32") deep. Installation:
Connect fixing accessories to mounting points as required. Ensure all connections face towards the middle of the sail and are tightly secured. Check again to ensure all mounting points are solid. Lay your shade sail out and commence the installation.
Tensioning: Using the selected fixing accessories, commence connecting the corners of the shade sail to the fixing points. Connect all points, using a ratchet tensioning tool if necessary to gain increased leverage. Stop tensioning when the shade sail is rigid with little or no creases. The manufacturers caution you to not over tension. Re-tension periodically if required.
The product care instructions for Coolaroo Handy Shade Sails recommend cleaning your shade sail(s) using a solution of mild detergent and water. Apply the solution with a sponge or a very soft brush. Let the solution stand on the fabric for 10 minutes and rinse thoroughly with water from your garden hose. DO NOT put the fabric in your washing machine, clothes drier, or scrub it with a stiff brush, scouring pad, or an abrasive cleaner.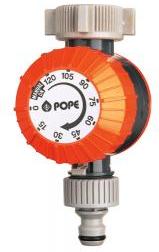 Watering in dry spells is vital for keeping every plant. The best time of day to water is early morning before the temperatures begin to rise. This gives the plants a good supply of water to face the heat of the day. Watering at night may not allow enough evaporation and can cause mildew and poor plant health. If you do not rise with the sun then there is a Pope Tap Timer currently on sale at Johnson Brothers Mitre 10 which will allow you to hear the sound of chiming water and know your garden's drier areas are getting a drink. This is Australia's best selling 2 hour tap Timer for good reason; it waters for up to 2 hours in 5 minute increments, fits ¾" and 1" taps. Simply connect to your sprinkler, choose where needs water most and get an extra half hour's snooze time or know that the garden is getting its drink while you're out sailing. Not only are Johnson Brothers offering these at a dollar less then elsewhere you'll also save in fuel costs getting there!
A worn out hose cracks, leaks water and wastes money. The Pope Titan fitted hose currently on sale for $25.00 is 15 metres long, tap ready has kink resistance and comes with a 15 year guarantee; less then $2.00 per year! To keep it out the way the GARD&GROW® hose reel is available.
For all your Spring Garden requirements visit your Johnson Brothers Mitre 10 store at either Mona Vale and Avalon and speak with the friendly trained staff about their wide range of products and services.