June 27 - July 10, 2021: Issue 500

Winter School Holidays 2021: Fun Projects You Can Do Around The Home - Something For The Young And Even Younger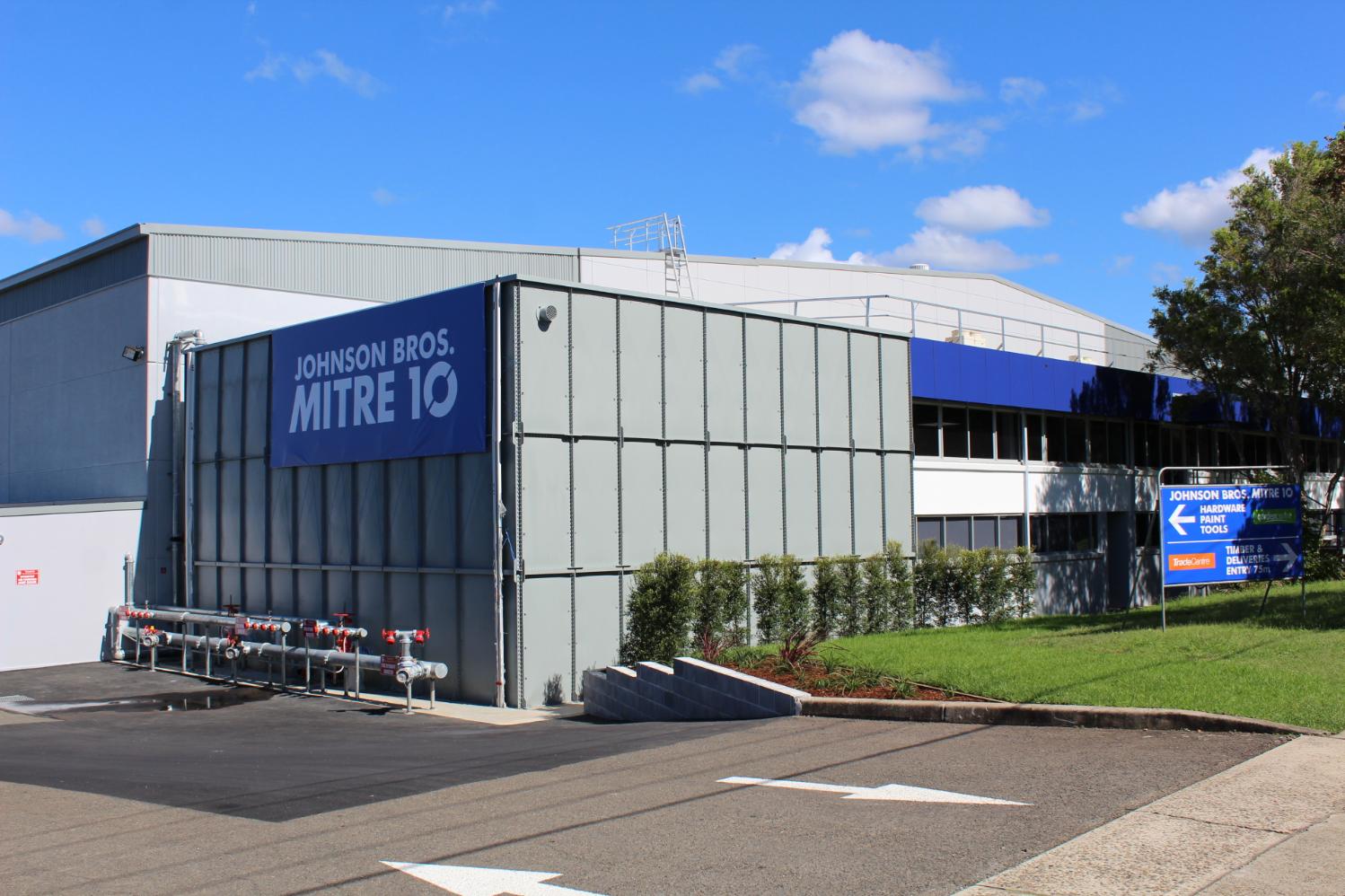 We would love to see our younger residents getting away from their screens and phones this Winter school holidays and delving into some projects they can do in the garden or garage or even in the home. This Issue we've compiled some ideas younger Readers have enjoyed completing in the past years.
Some of these are little projects, others will take a little longer, some are for younger readers with smaller hands, others for those who like making their own furniture.
Whatever your age, there's nothing like doing it and seeing it come together, and getting it done. And it's great fun.
You don't even have to make something from scratch. Sanding back and re-staining that great old chest of drawers or table you love makes you feel pretty good too - and you will be happy with the results - just please be sure to where the eye protection, ear protection and a proper dust mask when doing that sanding work. Thank you very much.
Ok kiddliewinks - for you:
Make Your Own Toy Box
There is no guarantee that this will stop toys appearing all over the floor but if those who it is made for are encouraged to do a little craft painting and add some designs to wood that can then be varnished and sealed, they may want to put all those toys away once they have finished playing with them.

You can also make this Toy Box a little longer, turning it into a chest, and with a padded cushion added to the top, it become a bench for a youngsters or teenagers room.




If you choose some nice grained wood and some brass handles this Toy Chest can become a Storage Box for beyond your child's growing years and something they will always treasure. You can adjust our measurements to any other kind of timber available and even the size of the box you create for smaller or larger versions – simply talk to the trained staff at Johnson Brothers Mitre 10 about what you want to build and what will work best for your project.

Materials:

For a 800mm x 400mm x 400mm box: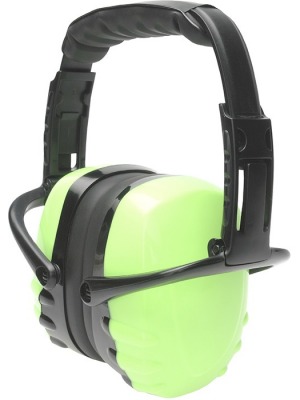 • 4x Long rectangle pieces of your choice of material (we used 18mm MDF 800mm length x 400mm height) + lengths of sides, base and top.
• 2x Square Pieces (18mm MDF 364mm length x 400mm height)= 2 x ends,
•
2 x Hinges – for back of Box
• 2x 95° Concealed Hinges with Stays (for Inside Box)
• 4x Heavy Duty Castors (for feet)
• 18x 4mm X 30mm Chipboard Screws
• 2 x Large Handles – for ends
•
1 x Large Handle for Lid
•
Sandpaper: 220 and 320 grit for sanding between coats of polyurethane
•
Clear polyurethane: Timber finish
•
Wood Glue
•
Paints for decorating if doing so – for those creatives!
Unisafe Hi-Vis Earmuffs: $21.95
- 27dB protection.
Folds to compact size.
Hi-Vis green.
Single injection moulded headband.
Simple size adjustment.
Tools:
• Tape Measure
• Pencil
• Screw driver (to match screws head)
• Drill
• 2.5mm drill piece
• 5mm drill piece
• 35mm hinge hole cutter drill piece
•
Level measurer
• Safety Glasses (when using drill)
• Hearing Protection (when using drill)
Building the box
1. Cut your wood to the size that you require using a hand saw or circular saw. Lay out all the pieces in front of you to start.
2. Attach the three long rectangular pieces that will make up the bottom and the 2 sides by placing one of the long rectangular pieces flat on the as this will be the base of the box. Then place another piece on top of the base facing the same way, and put it right up to the edge fitting flush to the end.
3.You now make some pilot holes for the screws: measure in from one end on the side piece where you would like your pilot holes to be and mark with a pencil. For this size box, and for it to last, use 5 screws, if your length is 800mm, place one at 200mm, 400mm, and 600mm to fix the middle, and then 2 further fixing screws at 25mm in from each end – as both the sides and bottom are the same length you can measure the pilot holes the same for all 3 pieces.

4. Next measure the same distances on the bottom piece and mark pilot holes. Drill your pilot holes on the bottom piece all the way through and only drill a small entry pilot hole on the side piece.

5. Add your wood glue along the inside of one side piece. Get an extra pair of hands to help when you carefully push the side up against the bottom. Wipe away any excess glue.

6. Whilst holding the glued pieces in place, use the pilot holes pre-drilled for the screws.

7. Now repeat this process on the other side of your toy box you have the 2 largest sides and the bottom piece all in place and secure.

8. Time to add the Ends (remember these fit inside and on top of the base): measure where you want the pilot holes for the end pieces and also the bottom piece – measure 100mm, 200mm and 300mm on the sides of the side pieces and 2 fixing holes of 25mm from both ends. Do the same for the end side pieces that they are going to attach to. For these pilot holes, you want to go all the way through on the side pieces, but only start a small hole for the end pieces.

9. Before pushing it into place, add a thin layer of wood glue to the side that will attach to the bottom and gently push it into place – wipe any excess glue away, and again ask for some assistance to hold it in place whilst you use the screws to secure it all into place – remember to attach the bottom and each side!

10. Add your Lid: The hinges that we recommend for this type of lid are 95° Concealed Hinges, and more specifically the 'Screw On, Full Overlay' variety. This means they will open the lid 95° to get into the toy box, whilst also fitting the lid flush when closed as the hinge is hidden inside the unit. To back these up, and to make your box more decorative, adding two exterior hinges at the back of the box is also recommended. If little fingers are likely to get caught in these, placing them inside the box may be preferred.

To fit the exterior hinges, measure in 100mm and once again, mark your drill holes prior to drilling. To fit the interior hinges you need to bore a hole using a hinge hole cutter drill piece, a 35mm version is the standard for this. These enables the top of the hinge fit into the lid and then close flush when it's flat.

Once again position the hinges 100mm from each end to allow room for the lid stays. Measure in from each end and mark the position. From here measure 21.5mm from the edge to mark where the centre of the hole is going to be. Once you have the centre, take the drill piece and drill a shallow hole, deep enough to fit the circular head of the hinge into so it is flush with the lid.
Now make a couple of pilot holes for the hinge unit to attach to the toy box side, place the hinge top in the hole just drilled, line up the side to the top and measure 37mm from the edge, and mark one of the holes from the mounting plate. To achieve the correct closure speed you can turn the screw head on the side of the stay so it is safe.
12. Adding your Lid and End Handles: this is a fairly easy step but once again, measure to ensure you get a centre for the ends and the centre for the larger handle you are going to install on the lid. This will keep your Toy Treasure Box looking nice and make pulling it or moving it easier. Once you have marked the centres, set the handle where you want it to be and using your drill, drill the holes through.

13. Attach castors to the base of the toy box using your drill and screws.

14. If the special person this Toy Box/Storage Chest has been designed for wishes to add some colourful decoration, this is the best time to do it. if you are going to stain or seal the wood, give it a good sanding to bring out the grain and smooth the surface so the stain or varnish takes.
DEWALT 18V LI-ION DRILL AND IMPACT DRIVER COMBO: $399.00
Compact, lightweight design to fit tight areas.
Includes 2 x 2.0Ah batteries, charger and carry case.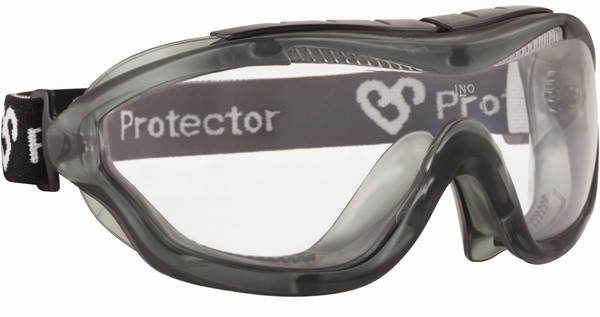 PROTECTOR LOW PROFILE GOGGLES: $13.95
Medium impact.
Anti-fog.
Hard coated.
Certified to AS/NZS 1337.1:2010.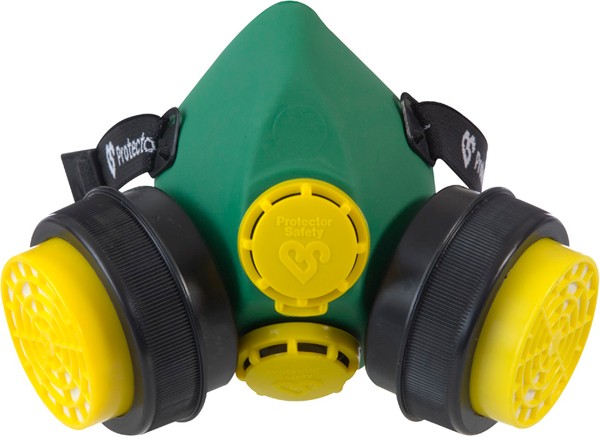 PROTECTOR RESPIRATOR KIT: $45.90
Superior fit and comfort.
Includes filters.
Provides protection against dust, mists, fumes and sprays.

IRWIN JACK PANEL SAW: $9.98
• 500mm. • 8pt.
DIY Coffee Table With Inbuilt Chessboard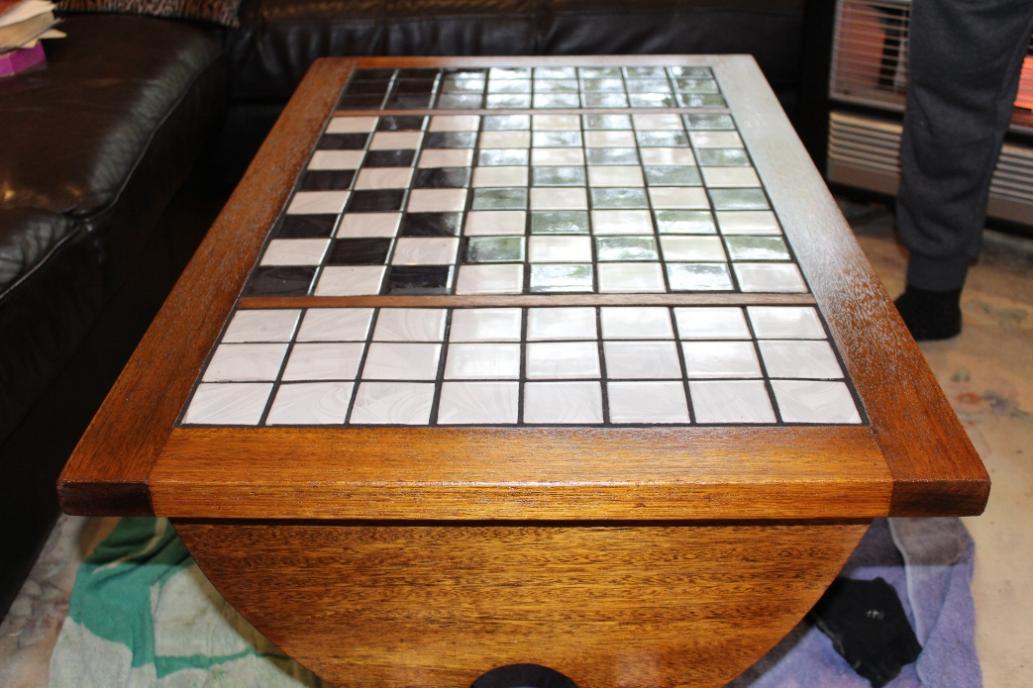 A few years ago I found a discarded coffee table on the side of the road that was falling to bits and thought, ' I can fix that'. I dragged the solid thing home and the passionate DIYer decided he wanted to try out not only refurbishing this article of furniture but also installing it with a built-in chess set, making it a 'chequered' coffee table. With similar items then costing between $1000.00 and $1800.00, for those who like chess or checkers and who don't like waste, this may be a good little project.
If you have a coffee table you want to use for this project, it may need shallow sides installed to allow for the installation of a built-in chess set it's a matter of measuring your width and length and adding the lengths of wood required to create an area below the whole surface.
The one shown here has a width of 50cm and a length of 75cm.
If you don't have a coffee table alike this you can easily construct one or find one second-hand to 'renovate' yourself.
We also installed two inner strips of wood to make a uniform size for the chessboard square. The extra materials set us back just over $100.00 – a lot less than a neat one thousand for starters and now we have something that has lasted for years and has hosted a few championships.
A chess board is divided into sixty-four alternating dark and light squares (conventionally called 'black' and 'white'). You can see we set the ends of the coffee table with additional white and black tiles, 24 of each colour in total.
As you cannot buy the size tile singly we ordered, from JBH:
Charcoal Tiles 58x58 0.2787 MTRS – 56 tiles will be needed in total
Chalk Tiles 58x58 0.2787 MTRS – 56 tiles
Grout for tile bed
Black Grout
French polish resin
Wood strips
Wood glue
Orbital Sander
Grout trowel
Level
Tiling Sponge or old cloth/rag for cleaning
The first job is to strip off any old tiles and the grout/cement they may have been laid in. Sanding back the old wood to remove scuffed edges or old resin/wood stain and preparing it for staining/polish – you can use a wood stain if you like, we had French polish resin left from restoring older furniture so this was used.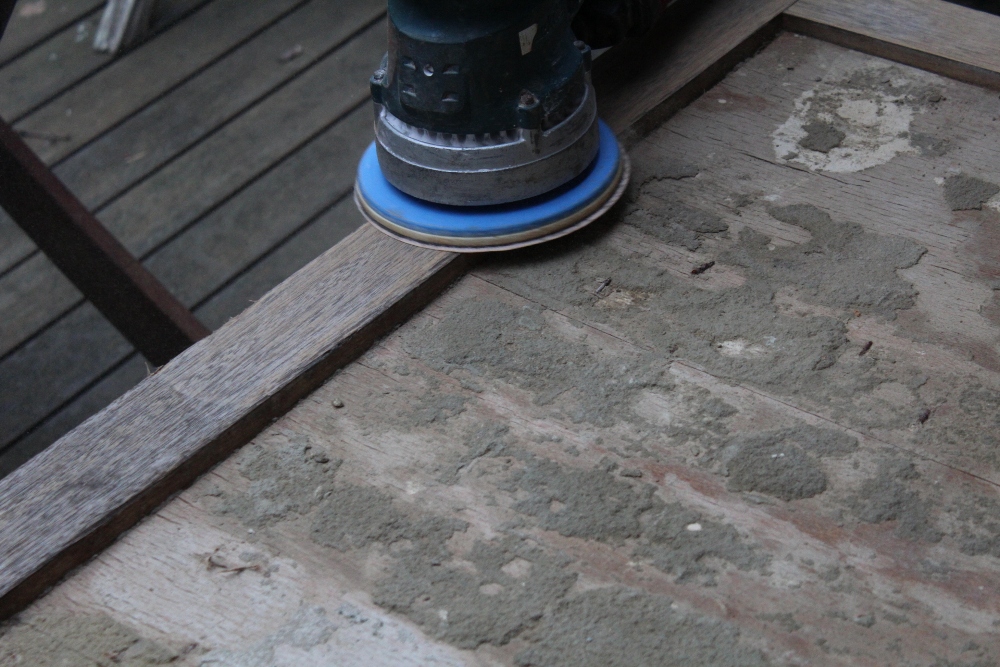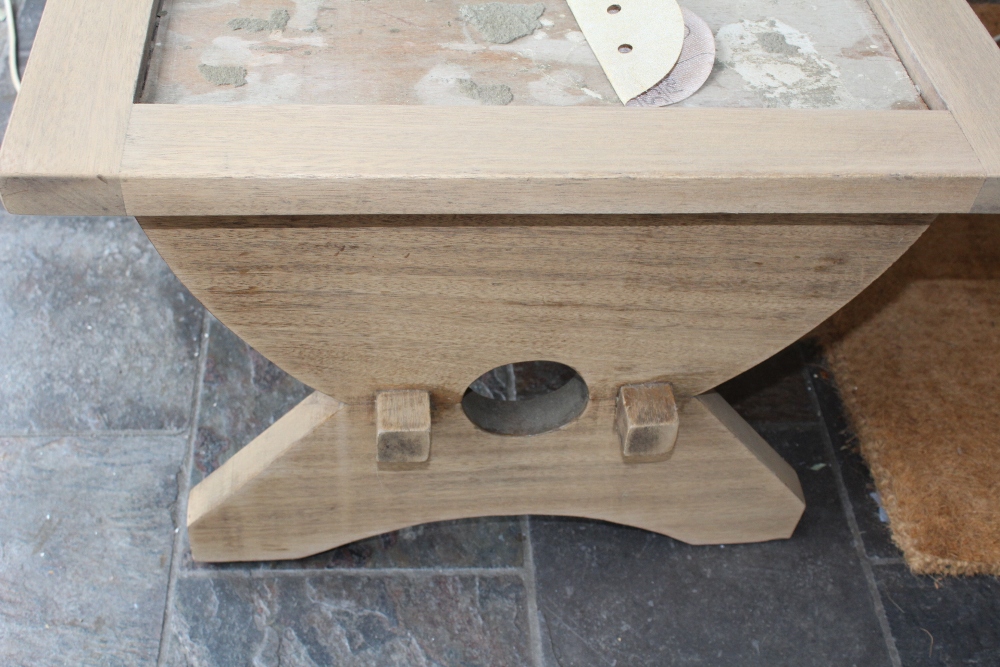 After you have done your initial two layers of staining insert the wood strips, staining these prior to installation, and glue so they are set. Check with your level they fit flush with the outer frame of the coffee table.
Lay bed of grout for tiles to be set into. Make sure you use a grout trowel to get a flat even surface.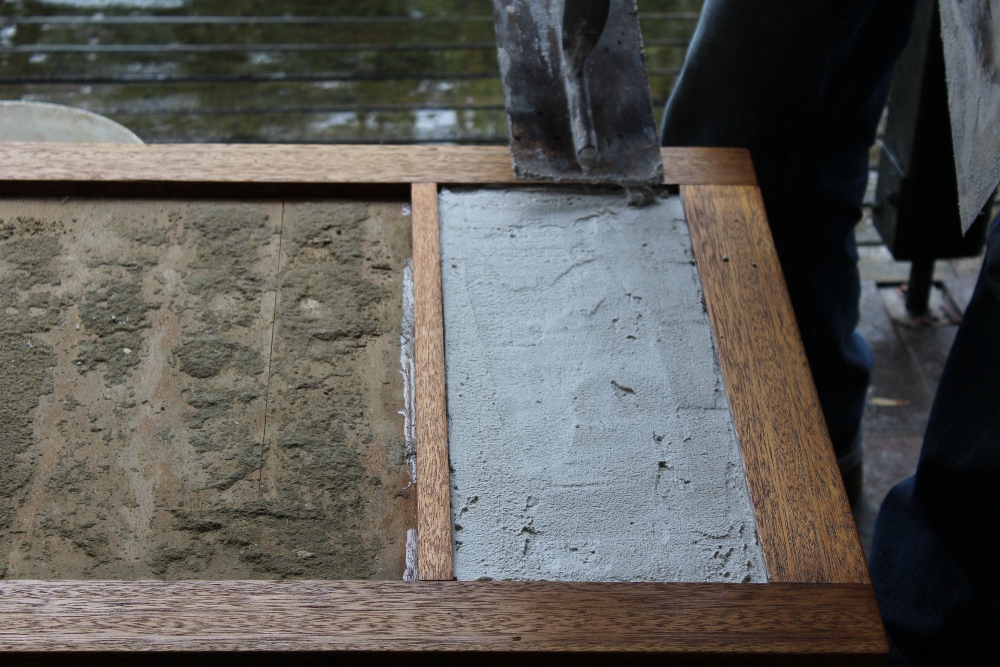 Working fairly quickly is required when using grout so do one section at a time.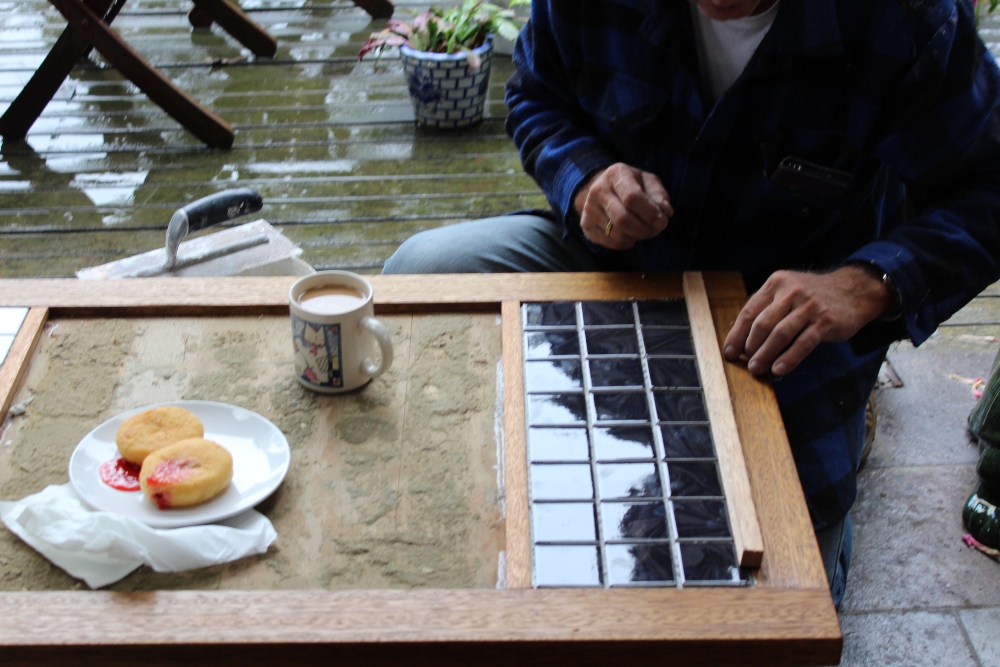 The tiles will come attached to a surface. To make your job easier when laying these ready to grout for the chessboard square, remove alternate ones from each sheet and place ready to lift onto the base layer. We kept one strip of wood handy just to ensure the tiles were flush with the edge of the table's frames.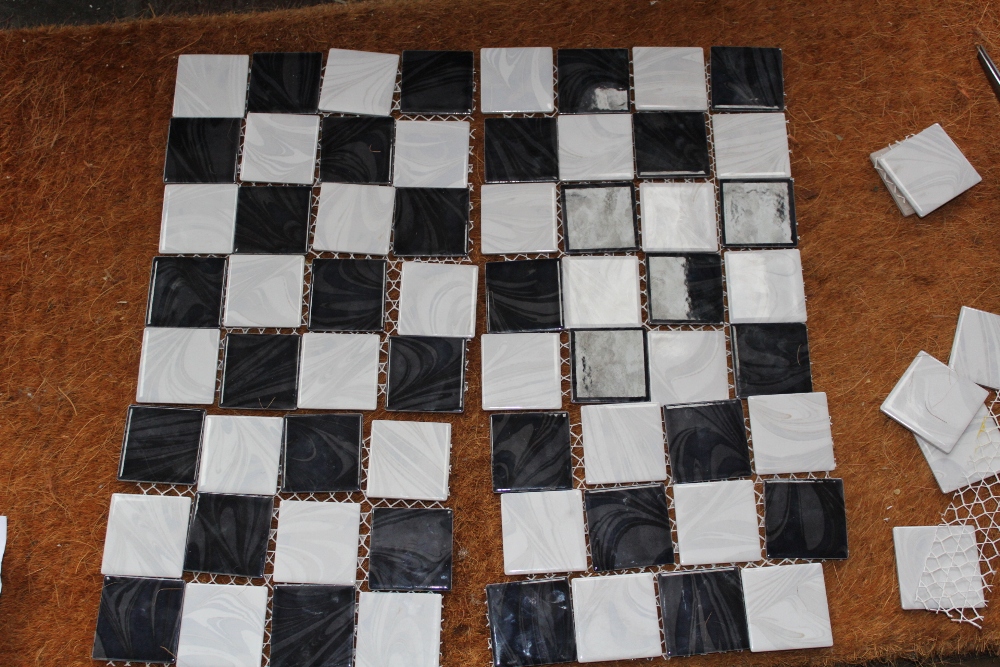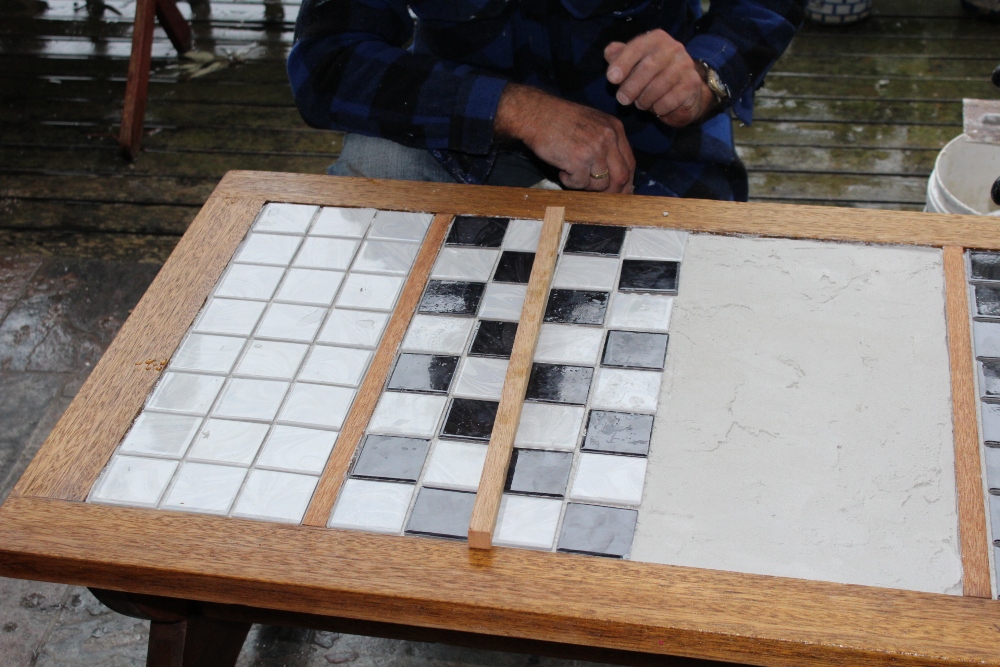 You can also use the grout trowel to ensure the tiles are straight once you have placed them.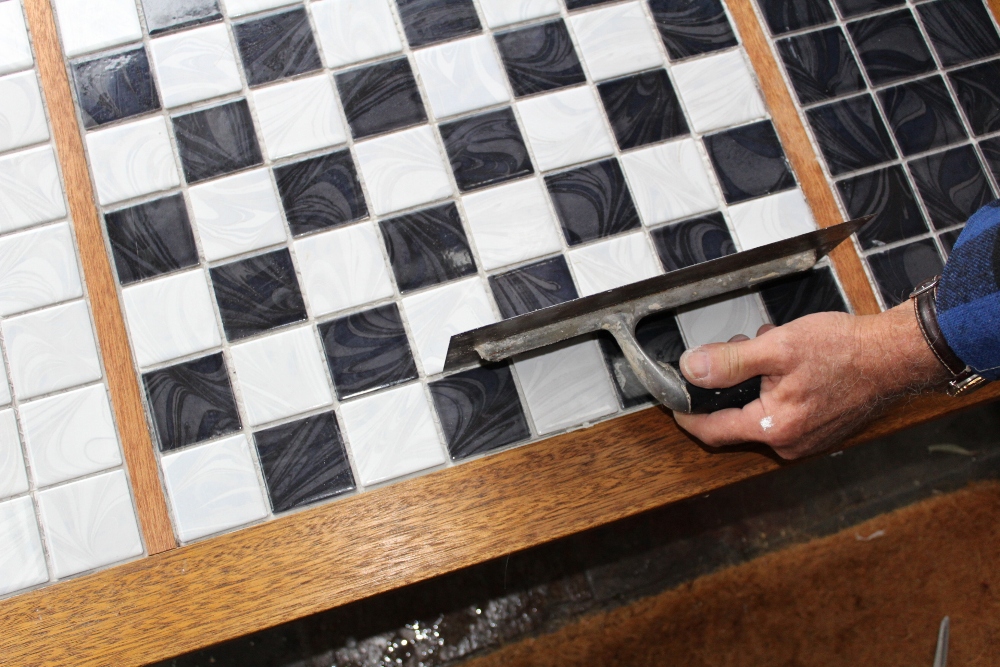 Once all the tiles have been placed and the grout has set you are ready to fill in the grout between each tile. We chose black in keeping with a traditional chess board colours and to place this throughout the end sections as well to keep the piece looking uniform.
While doing this do one section at a time, wiping away any excess that goes onto the tiles carefully.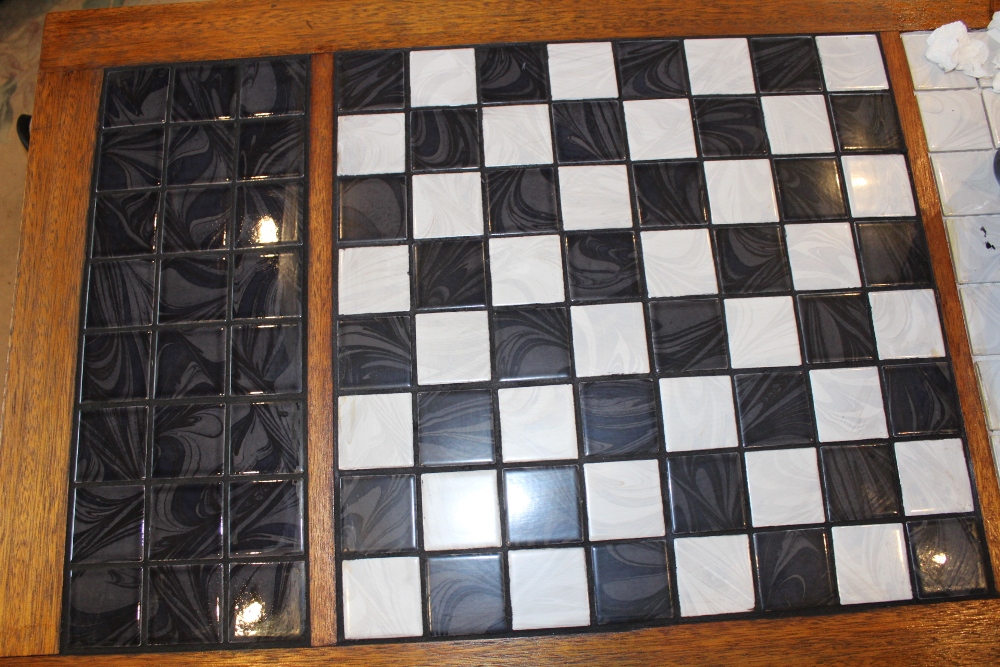 Once you have filled in the grout you can, as we did, do another two layers of the French resin to deepen the colour of the wood and protect it from liquids.
Now you have something sturdy, useful as well as something for playing games on and have given new life to an old piece.
All Materials and Tools used in this project were bought from Johnson Brothers Mitre 10.
Make Your Own Snowglobe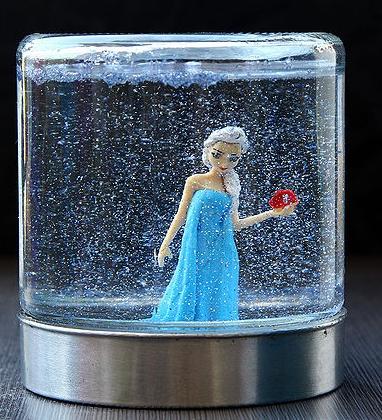 Materials:
Nice jars with lids; round shapes or straight sides
Waterproof glue
Strong epoxy
Glycerine
Glitter – silver or a mix of colours - around 2 x tablespoons per 600ml jar
Minature figures – make sure these are 'rust-proof'
Optional – food colouring for water

You could make bigger versions of these – there are many larger jars used in atrium that can now be bought with lids to match, although you don't want it so big that you cannot shake it up and make a snowstorm!

1. Decide on a theme – do you want a landscape, a zoo, a farm or an underwater version?

2. Once you have assembled all you will need to make your own snow globe decide how you will arrange you figure or figures on the lid. Glue in place in inside of lid and allow to dry (using a strong epoxy glue or a superglue is best for this).

3. Almost fill the jar with glycerine so your figures, or 'scene' are covered. Add your glitter and some food colouring if you like.

4. Screw in the lid and apply a rim of waterproof glue or a sealant around the join to seal. Make sure you leave this to dry well before giving it a shake to see your very own just created snow globe!

If you have coloured the water, place your snow globe on a windowsill to catch sunlight and add a nice glow to any room it's in.
Make A Rope And Wood Swing
How easy is this?! Children will get endless enjoyment out of an at-home tree swing. A tree swing is also a great way to encourage little ones to spend more time outside. The best part? It can be made in an afternoon. All you need is a solid piece of wood, some rope, some washers to prevent little fingers getting caught where the rope threads through the wood, some colourful paint or a sealant to protect your wooden seat from the weather.
You could also recycle an old skateboard deck or even an old tyre.
We don't recommend using chain instead of rope, little fingers can get caught in chain links!
Drill four holes in the board, one in each corner. This will be the seat. Then thread the rope through the holes, tie a knot on each side and then attach the swing to a sturdy tree. If you want to ensure extra strength and safety, attached a length of wood at either end of the seat area with screws and thread the rope further down before tying off: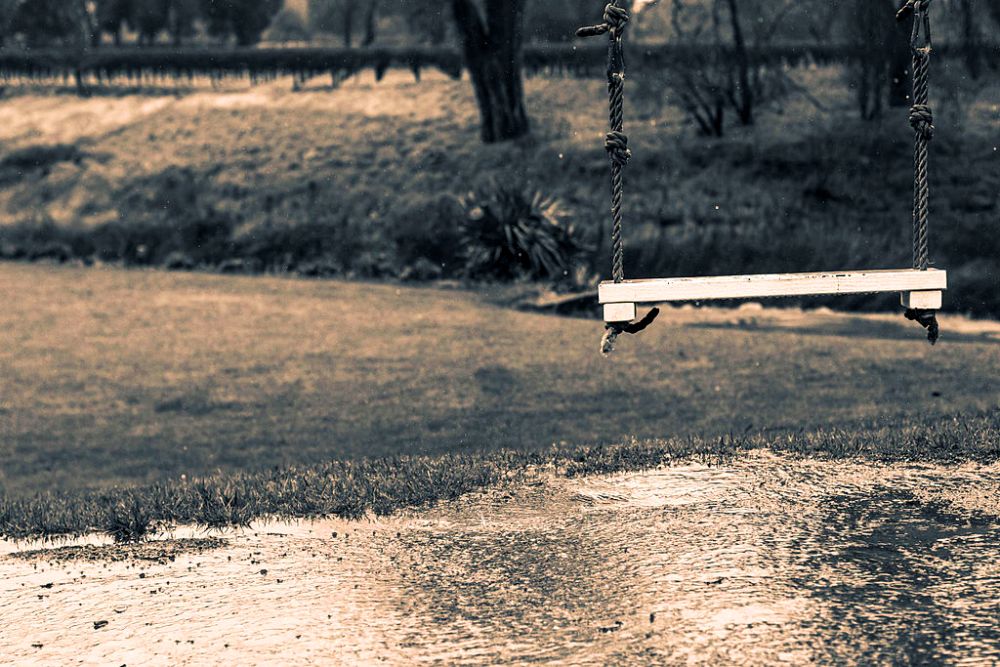 To protect the bough, and also ensure the swing won't break that branch, try employing one of these:
Lengths of rubber garden hose can be used to prevent rope from making direct contact with a tree. When placed between the rope and the tree, rubber hose reduces pressure on the bark and the risk of friction.
Arborist and recreational tree climbing equipment suppliers have specialized equipment for protecting trees from ropes. Some friction savers are flat straps up to 6 feet long; they can be attached to climbing rope to prevent tree damage and increase climbing safety. Leather cambium savers follow the same principle as a rubber hose: The cambium guards keep rope off the bark. These devices, also called tree savers, are straightforward to use. Just feed rope through a friction guard, and place the guard over a branch or around the trunk.
Hammock straps made from flat webbing are designed to prevent bark abrasion. Different brands of hammock straps are available, and the straps are adjustable to create a snug fit without harming a tree. Adjusting the straps as the tree grows prevents girdling, which will kill the tree; a tight rope prevents the tree from obtaining nutrients and water. Check sporting good suppliers for hammock hanging kits; a kit generally includes two straps for slinging a hammock between trees. These straps also work for suspending chairs and swings from trees.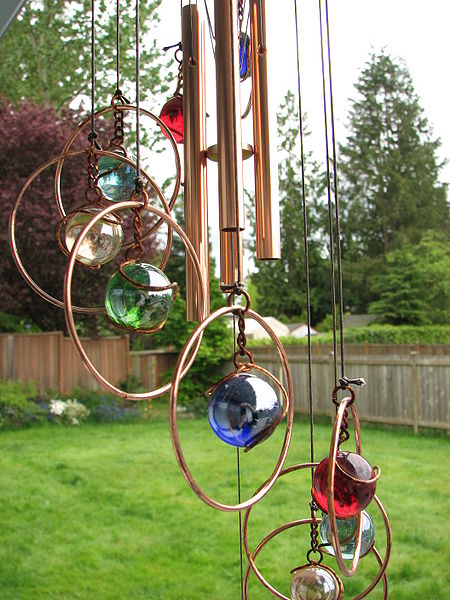 Making Your Own Windchimes
Market days are coming up in Pittwater, as is Christmas. Here's something you can make with the children to keep, for gifts to others, or something they can help make to sell to help their local surf club or organisations like the Pittwater Friends of Soibada or their school. This will be a unique gift to give or keep and every time it gives music out someone will remember where it came from.
Wind chimes are made from suspended tubes, rods, bells with attached lengths often made of wood or metal. They are hung outside our homes and make great ornaments for verandahs, terraces, balconies but also for gardens. Moved by the wind, they make pleasant sounds from little tinklings to rhythmic tones of wood. You don't have to limit yourself to the usual materials. You can think outside the box and come up with something wonderful, something found in your own garden - like dried seed pods or a variety of sound makers bought from our local Greenlife Garden Centre - small pebbles for what is suspended, or use flowerpots, brightly decorated, for the alternative 'bells'.

Just remember to apply a coat of sealant as these too can be the worse for wear in all weathers. (Right - multicoloured windchimes, photo courtesy Jina Lee)
Pipes and tubes
are the same in wind chimes. Rods are not hollow and sustain notes longer.
Hard metals such as steel and aluminium produce sharper tones. Soft metals such as copper produce softer tones.
Metal objects are good at producing vibrations, so non-metal chimes such as glass sound more hollow.
Test out the sounds of different metal pipes such as copper or aluminium, visit your local Johnson Brothers Mitre 10 store, the one at Mona Vale stocks everything, and rap on the pipes with something that creates vibration, such as a piece of wood. Or get some pretty shell or pebbles to string all in a row.
Suspension lines.
These lines, made of chain, synthetic cord, or another sturdy material, connect the base from which the chimes dangle to whatever holds the wind chime. Cords such as strong nylon are good for bearing the weight of the wind chime and can also be used when connecting the chimes and the striker.
The support line material has little impact on the sound. It's how you hang the chimes that will determine sound, so choose line materials that will last.
If you want to hang the chime from a hook or a tree, buy a metal ring

to tie to the lines at the top of the chime.
Make a striker.
Also called a clapper, the striker is the piece that fits between the chimes and bumps into them to create the vibrations that cause sound. Possible choices for strikers include a round of wood or metal. The wood version is where mums and dads may have to help out with shaping and sanding.
Strikers are circular so that they can hit all chimes equally, but they can also be star-shaped. These hit all chimes at the same time with less force.
The weight and material of the striker, in conjunction with the qualities of the chimes, will produce a unique sound.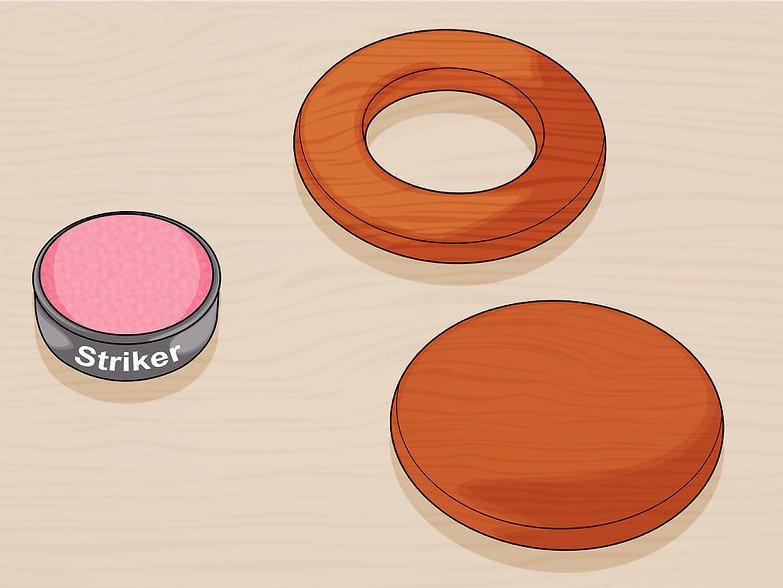 Make a suspension platform.
The platform holds the chimes, letting them hang around the object that will strike them. Make a piece big enough for your design. The piece should be bigger than the striker.
Suspension platforms are often made out of wood, metal, or plastic. Make one
that can hold five to eight chimes at equal lengths.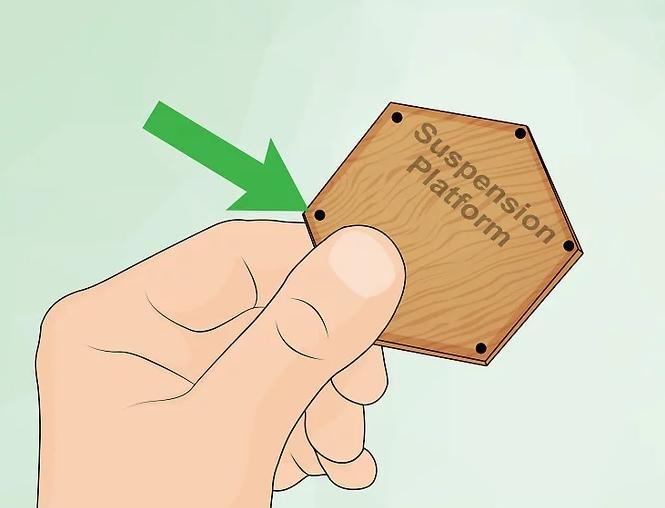 Make a sail.
The sail is the part that hangs from the striker. Extending lower than the chimes, it gets caught up in the wind, forcing the striker to move into the chimes. Sails are often rectangular or rounded and made of a substance that can be moved by a decent wind, such as a block of wood.
The sail can be carved from wood into many artistic forms, but you may find it easier to choose a simple block of wood that you can drill into and hang from the striker with a suspension line.
A small sail will be less durable, but a bigger sail will require more wind to move.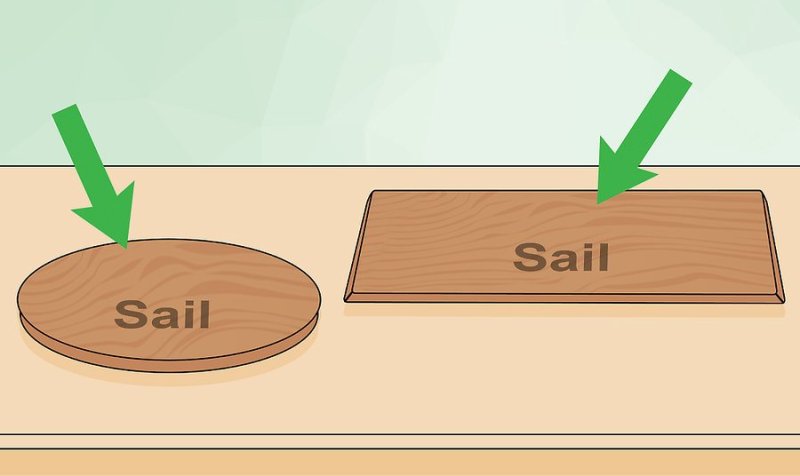 Secure the Suspension Platform:
Mark the base. Choose five to eight points where you will suspend your chimes. Indicate the points with a marker. This is where you'll drill holes, so the marks should indicate that the chimes are equidistant from the center with equal space between each chime. Don't forget to include a hole for where the striker will hang.
Mark the other side of the base, too, to indicate where you plan on drilling holes to make the base hang from the wind chime's point of suspension if needed.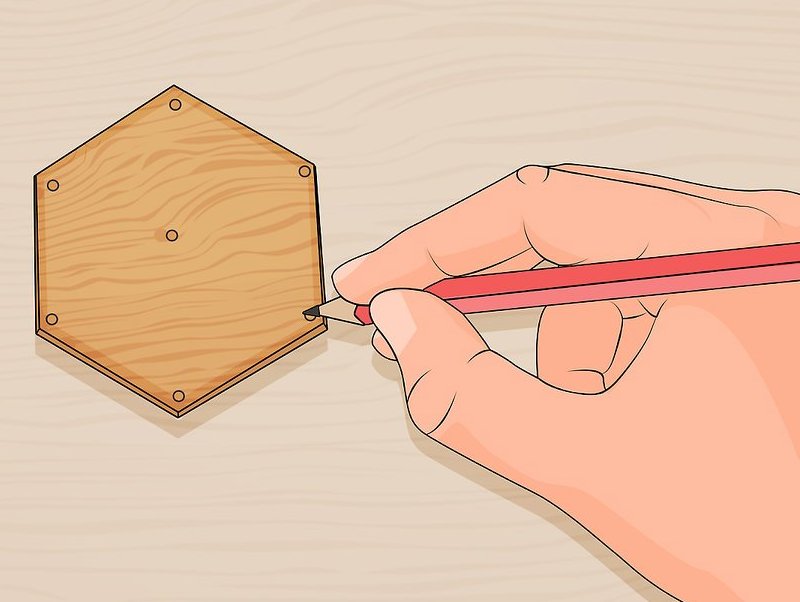 Drill the holes.
These should be tiny holes. Your goal is to be able to run the thread on the chimes through them. Drill a hole in the center of the platform between the holes for the chime threads, then drill a hole through the striker's centre and one corner of the sail.
Thread the sail and striker.
Cut an appropriate length of thread. This depends on how low you want these pieces to hang. For a five-foot thread, for example, fold the thread in half, then pull it through the sail and knot it. Make a second large knot where the striker will hang about 16 inches or less above, then thread it through the striker.
Try to keep the sail close to the bottom of the longest chime. The longer the sail's support line, the stronger the wind has to be to move the sail and its extra weight.
Remember that wind velocity is often stronger the higher you hang the wind chime, so a sail too close to the ground also won't cause the chimes to sound as much.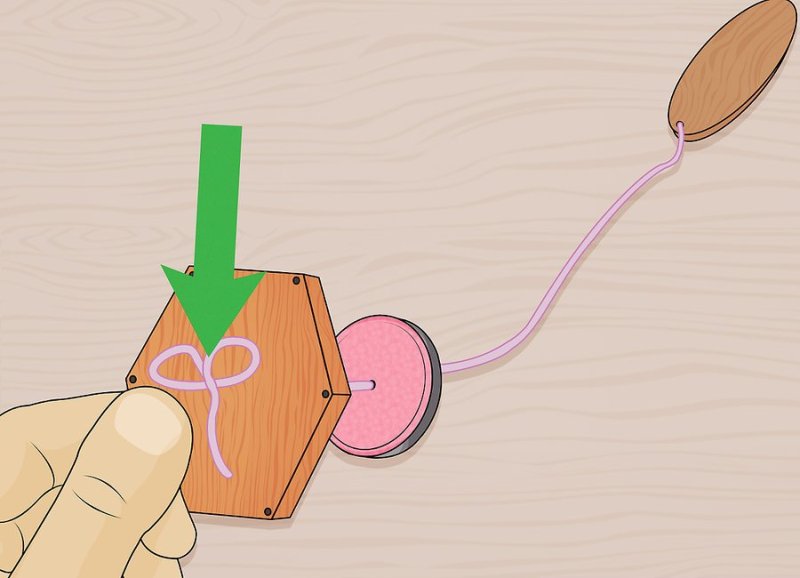 Secure the striker to the platform.
Take the thread coming out of the top of the striker and run it through the hole you made in the center of the platform. On the top side, knot the thread securely. This thread, if you chose to make it long enough, can be used to suspend the entire chime. You can also choose to add other hanging implements such as hooks.
Determine how to cut the metal. If you want a specific set of tones, now's the time to measure. Otherwise, you can plan on making the chimes as long as you wish,.
Keep in mind that shorter chimes produce higher-pitched tones
.
Most commercial chimes play a five-note pentatonic scale. The way you achieve the proper notes depends on the type of pipe you use.
Cut the chimes.
Measure out the desired length on the chime material, mark it, then start cutting it. To do this, you'll need to have a pipe cutter, a hacksaw, or a hand saw. For hand saws, be sure to choose a blade that is made for the kind of metal you are cutting.
Your local Johnson Brothers hardware store may be able to cut the pipes for you.
If you have a piano, tune the chimes by playing a note and matching the sound they make when you rap on them, then cut off more of the chime as needed.
Sand the edges.
Wrap the pipes in towels to protect them. Use a file or sander to wear down the sharp edges on points. If you didn't cut enough off the pipes, you can sand off the excess here. Unless you're removing significant portions of the material, which makes the pitch higher, the chime's sound won't change.
Drill holes into the pipes.
How you wish to make the holes depends on the material you have chosen and how you wish to hang the chimes. For copper pipes, for instance, you can drill holes into the sides in the area you wish to suspend by thread then run the thread through later. Please make sure you're wearing protector googles when working with metals if you have chosen to make this kind of chime.
Cut the thread.
Take the suspension lines you have chosen. Measure out your desired length. It's better to keep the chimes as close to the suspension platform as possible so that the chimes do not sway much, allowing the striker to do the work.
Bear in mind the striker's suspension line is measured to align with the chimes. The striker may have problems reaching some of the chimes if you hang them too long.
Chimes that hang too low are more vulnerable in wind and move more, making the wind chime out of tune because the striker doesn't hit them evenly.
Thread the chimes.
How you thread depends on what kind of hole you've made. For a chime with two holes, for instance, run the thread through the holes enough so you can tie a knot. You could also choose more complicated methods, such as filling the holes with a screw that you knot the thread around or drill into end caps that you make a knot inside before gluing the caps on the chimes.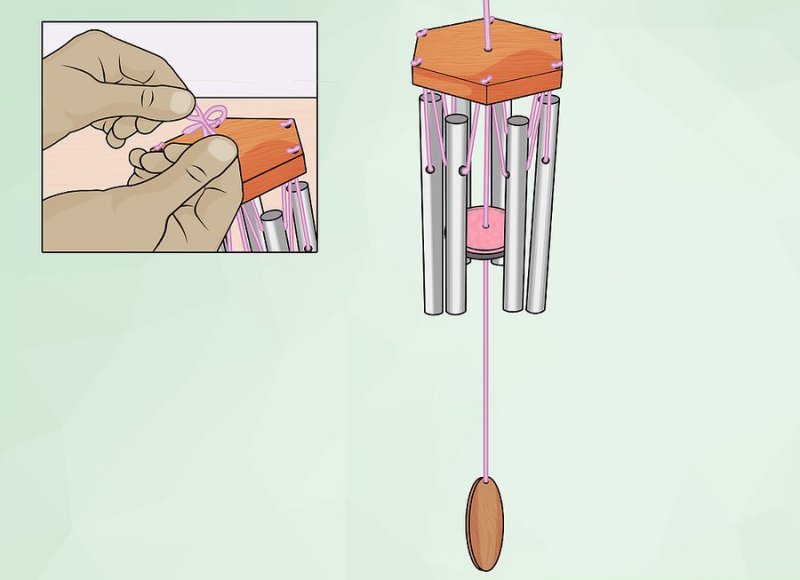 Hang the chimes from the suspension platform.
To do this, run the threads through the holes you made in the platform. Knot them on the other end. When you hold up the platform now, the chimes should hang with the striker between them and the sail below.
To achieve balance with the platform, try distributing the weight of the chimes as equally as possible. Hang long chimes on opposite sides.
Test the chime. Hold the wind chime up or find a makeshift way to hang it, such as temporarily knotting a string. Provide wind or strike the chimes to see if they provide the desired sound. Check to see if all the parts hang evenly and securely.
Change the strike zone.
Chances are your chimes currently are top-aligned. This means the top of all the chimes hangs from the platform and the striker hits a little below the midline of the longest chime. You can manipulate the chimes and their strings for different sounds.
In a bottom-alignment, the bottoms of the chimes are all level. The strings hanging them are different lengths and the striker hits a little below the center of the shortest chime.
In a center-alignment, the striker is even with the center of all the chimes. The string lengths are all different and the tops and bottoms of the chimes don't align.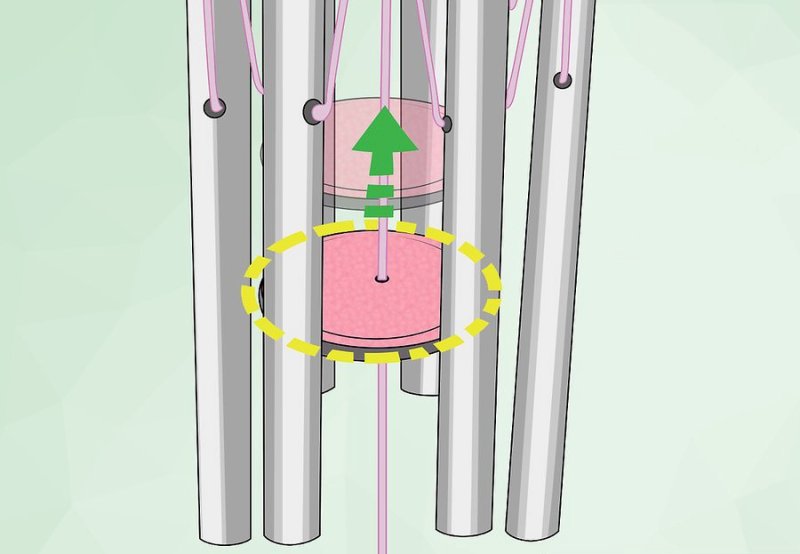 Install a metal hook.
If you haven't run a wire through the top of the suspension platform, you can push a hook into it instead. You may need to use pliers to bend the hook over so it can latch onto the metal chain you use to hang the wind chime.
Other options include running one or more of the chime and striker threads through the platform or installing a triangle of hooks to tie together for hanging the wind chime.
Find an area to hang the chime.
Suspend the chime on a tree branch, from a metal ring or hook, or wherever else it pleases you. Find a location that provides an adequate amount of wind and keep the chime off the ground to achieve the desired sound. (Creative Commons Licence - Info derived from
Wikihow
)
The world's largest windchime was made by Jim Bolin and is located at 109 East Main Street, Casey, Illinois. The windchime was entered into the Guinness World Records as the Largest Windchime on June 22, 2012. The windchime measures 12.80 m (42 ft) long and consists of five metal tubes which are suspended 14.94 m (49 ft) from the ground.The windchime weighs a total of 16,932.4 pounds.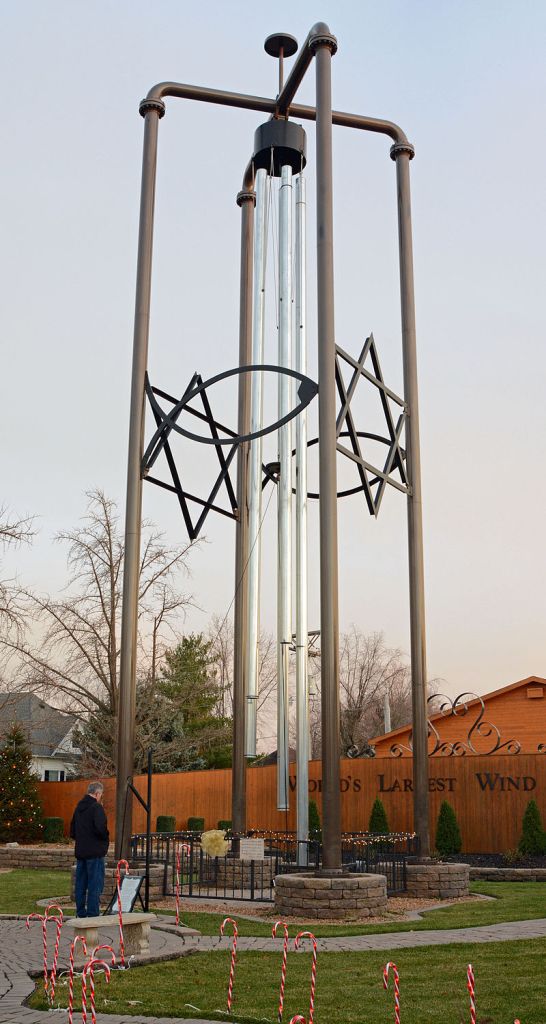 Photo courtesy Jud McCranie
Previously run hands-on fun for youngsters and older young adults who like bigger projects - there's also more ideas at the base of this page:
Johnson Brothers Mitre 10 Update: Shop Online Options
Intending to keep our customers and staff safe, we present some additional ways for both our retail and trade customers to do business with us.
Trade and Retail Pick Up
Express Pick up Mona Vale
- Call Johnson Bros Mitre 10 Mona Vale, and we will pick & pack your order and have it ready for you to pick up in 2 hours. (Stocked Lines Only)
- Drive into our undercover Trade Drive-Thru area at 73 Bassett St Mona Vale, and your order will be ready for pick-up.
- Our team members will help you with your load and finalise payment/paperwork
Express Pick up Avalon
- Call Johnson Bros Mitre 10 Avalon, and we will pick & pack your order and have it ready for you to pick up in 2 hours. (Stocked Lines Only)
- Drive into our back lane off Bellevue Avenue, and your order will be ready for pick-up.
- Our team members will help you with your load and finalise payment/paperwork
Online Retail Stores Go Live
We've launched two eCommerce sites offering 2hr pick up in-store and flat rate delivery options on the northern beaches*.
Jbhmv.com.au (Mona Vale)
Jbhav.com.au (Avalon)
With the ability to leave the product on your doorstep, this provides an option of an entirely contactless transaction.
*Flat rate delivery is not available to trade sales, building supplies and trade quantities
** The stock availability is updated nightly, which may mean the stock is unavailable when the order is placed
Trade Delivery to Site
Maybe not new, but certainly worth a mention again!
We can get almost anything delivered quickly onto site!
As always ring the trade desk direct on 9999 0333 and let them know what you need!
Final Thought
Like everyone, we have found ourselves in a new and uncertain environment, but we're setting up (and digging in) for the long haul!
We want to acknowledge that the decision to retain over 120 staff and meet any future challenges head-on, could not have happened without the continued support you provide us as customers.
Thank you and stay safe,
The Johnson Family

Johnson Brothers Mitre 10 Tax Time Tool Blitz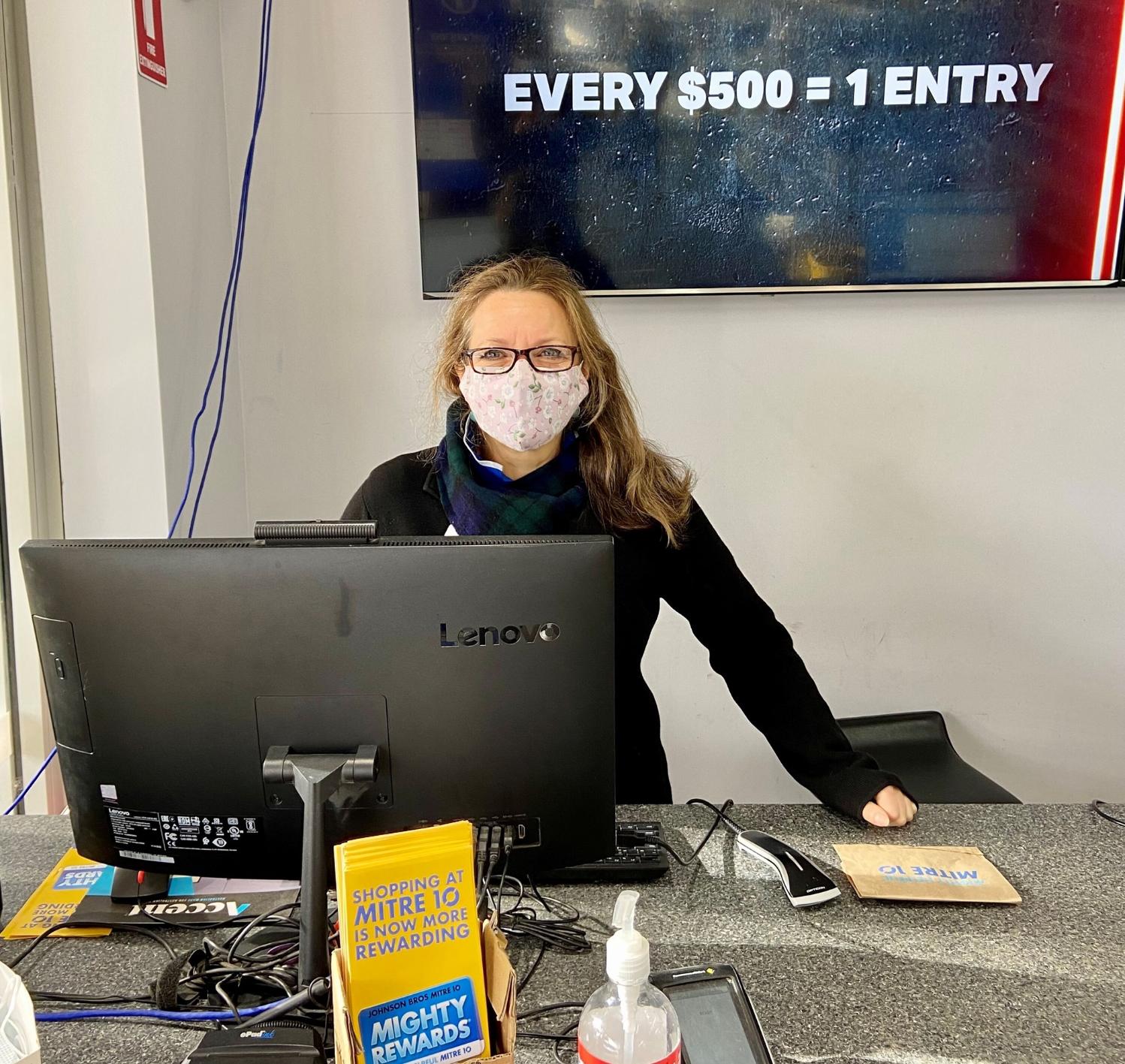 JBH Design Centre
JBH Design Centre is a tool for builders and DIY'ers to assist in the fit out of houses. It has displays of kitchens, Bathrooms, Doors and Storage as well as knowledgeable staff to assist in making house fit out painless.
Visit: http://jbhdc.com.au/
On Facebook: https://www.facebook.com/design.centre.jbh/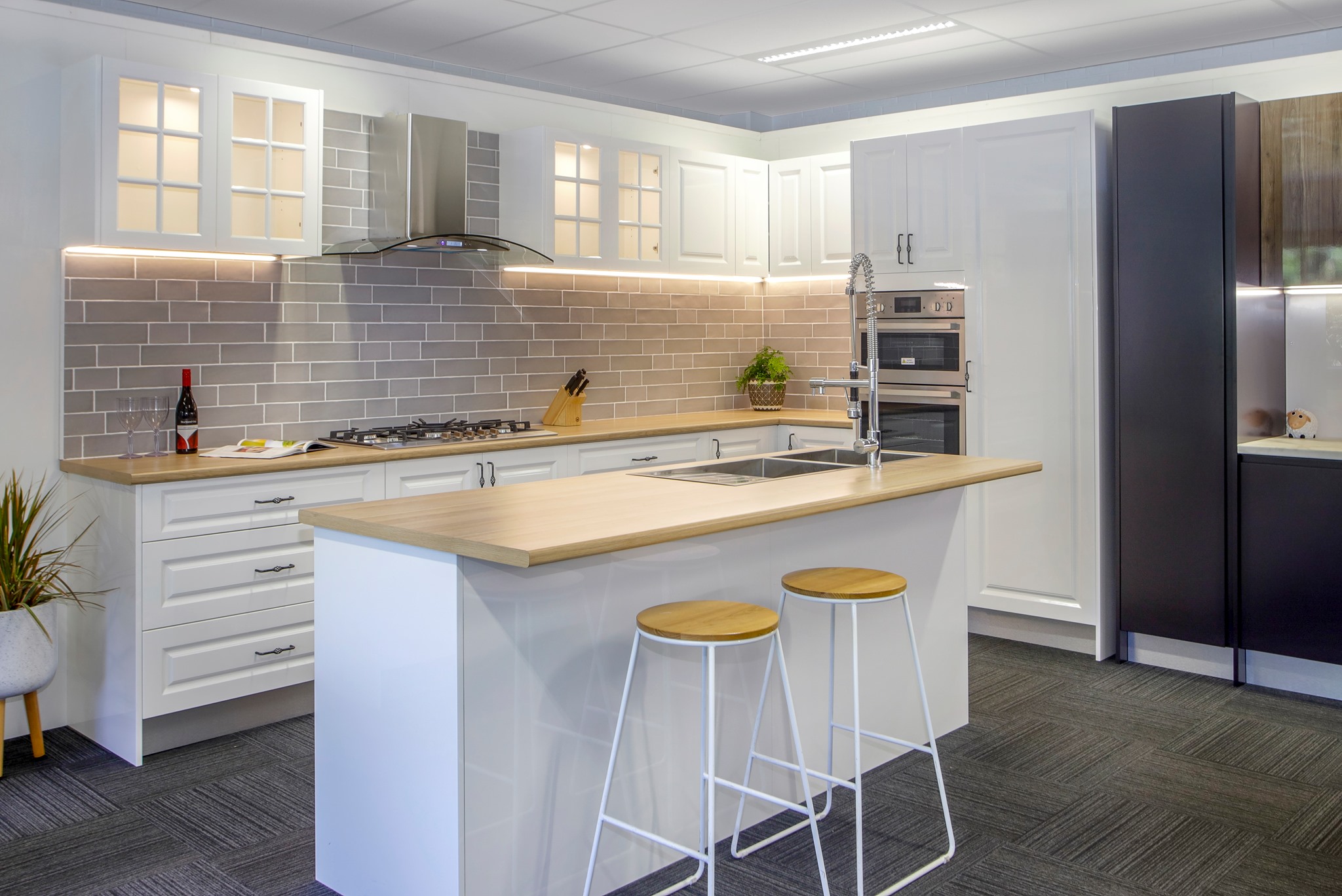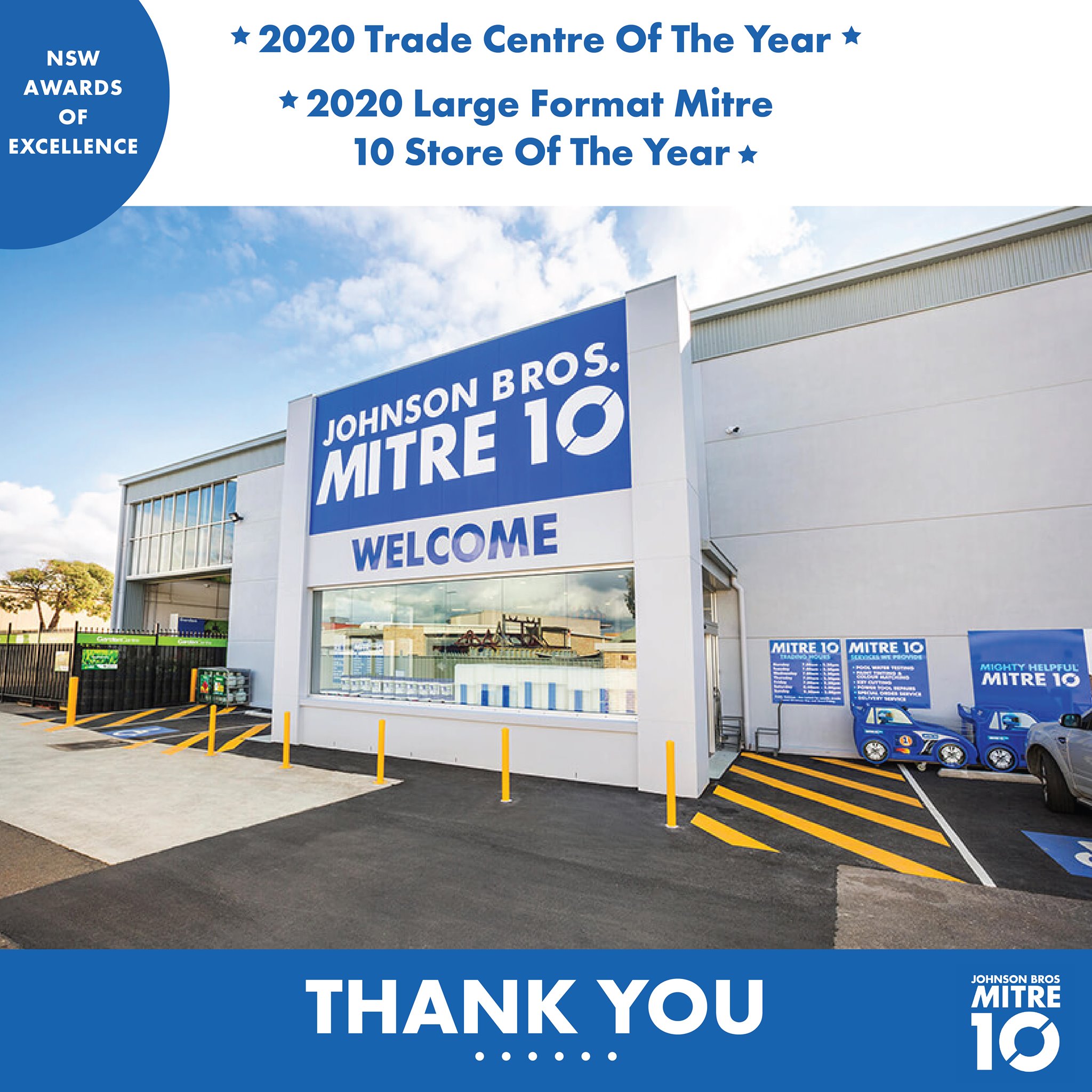 We want to thank all of you for supporting and trusting us through this 2020, without you we could not be receiving these two important awards.
Thank you for being our customer and thanks to all our great staff for making this possible especially though this full of surprises year.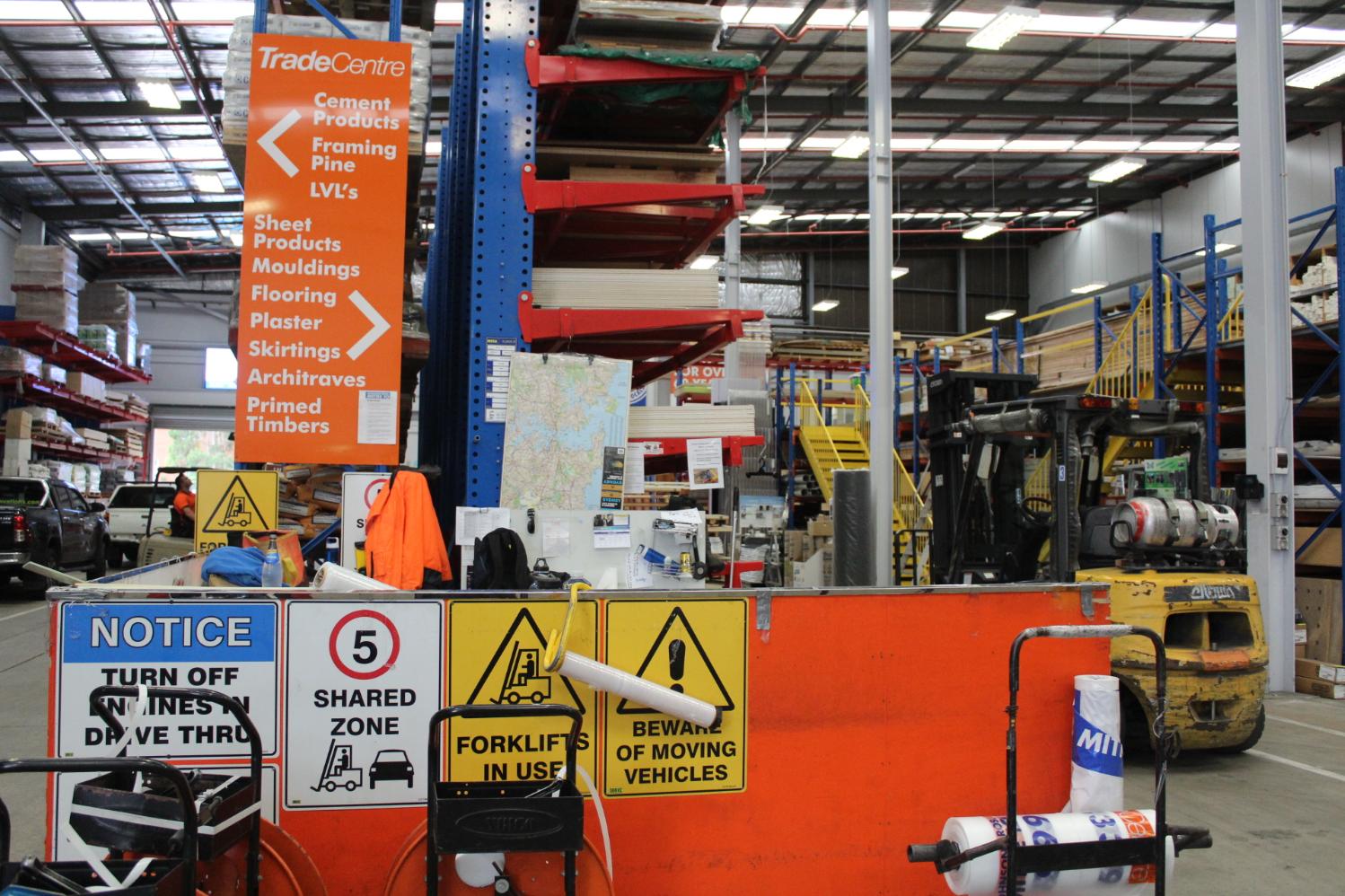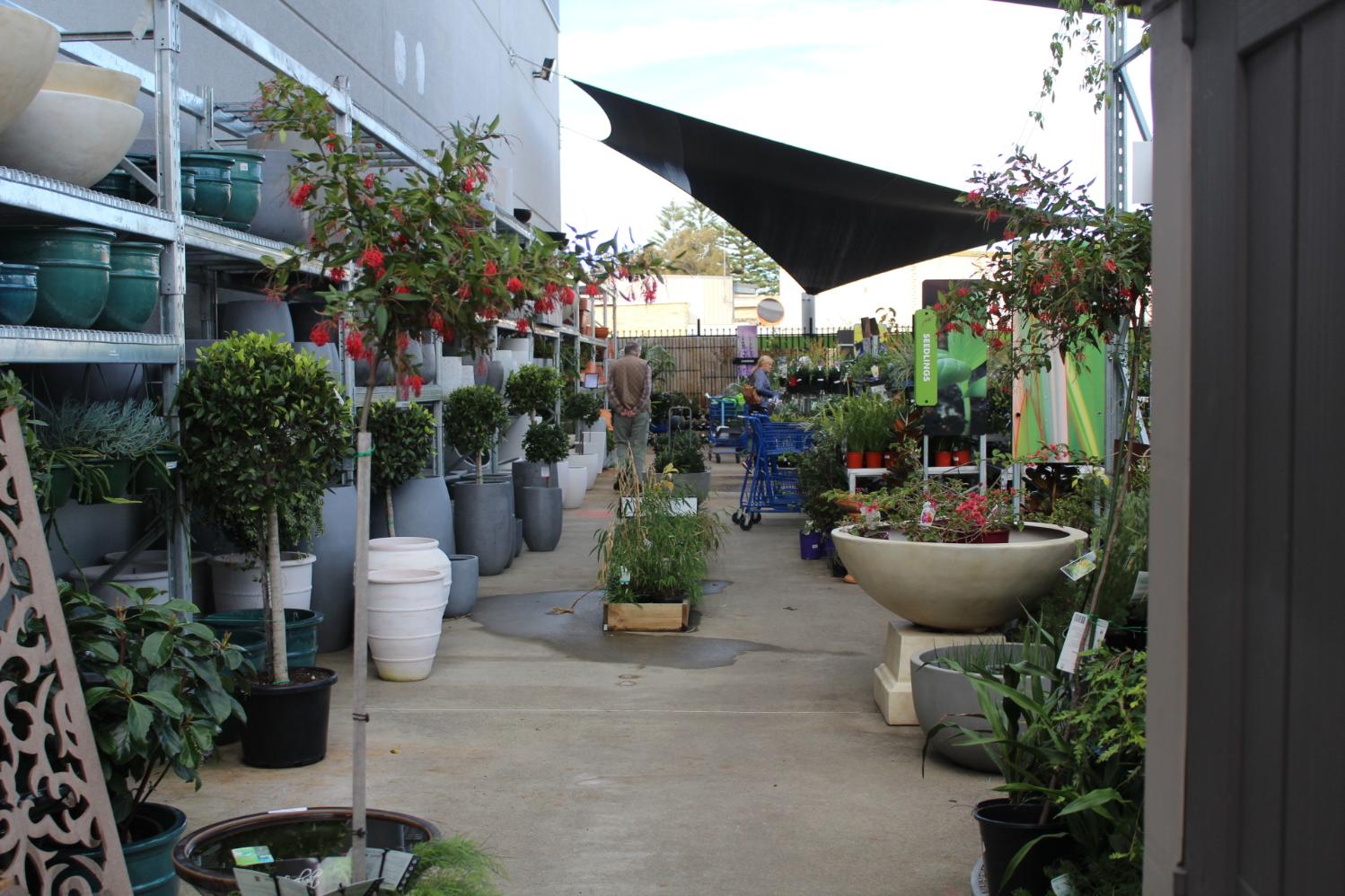 Green Life Garden Centre at Johnson Brothers Mona Vale has a great stock of seedlings, native and other plants and all you need to get gardening in brilliant Autumn weather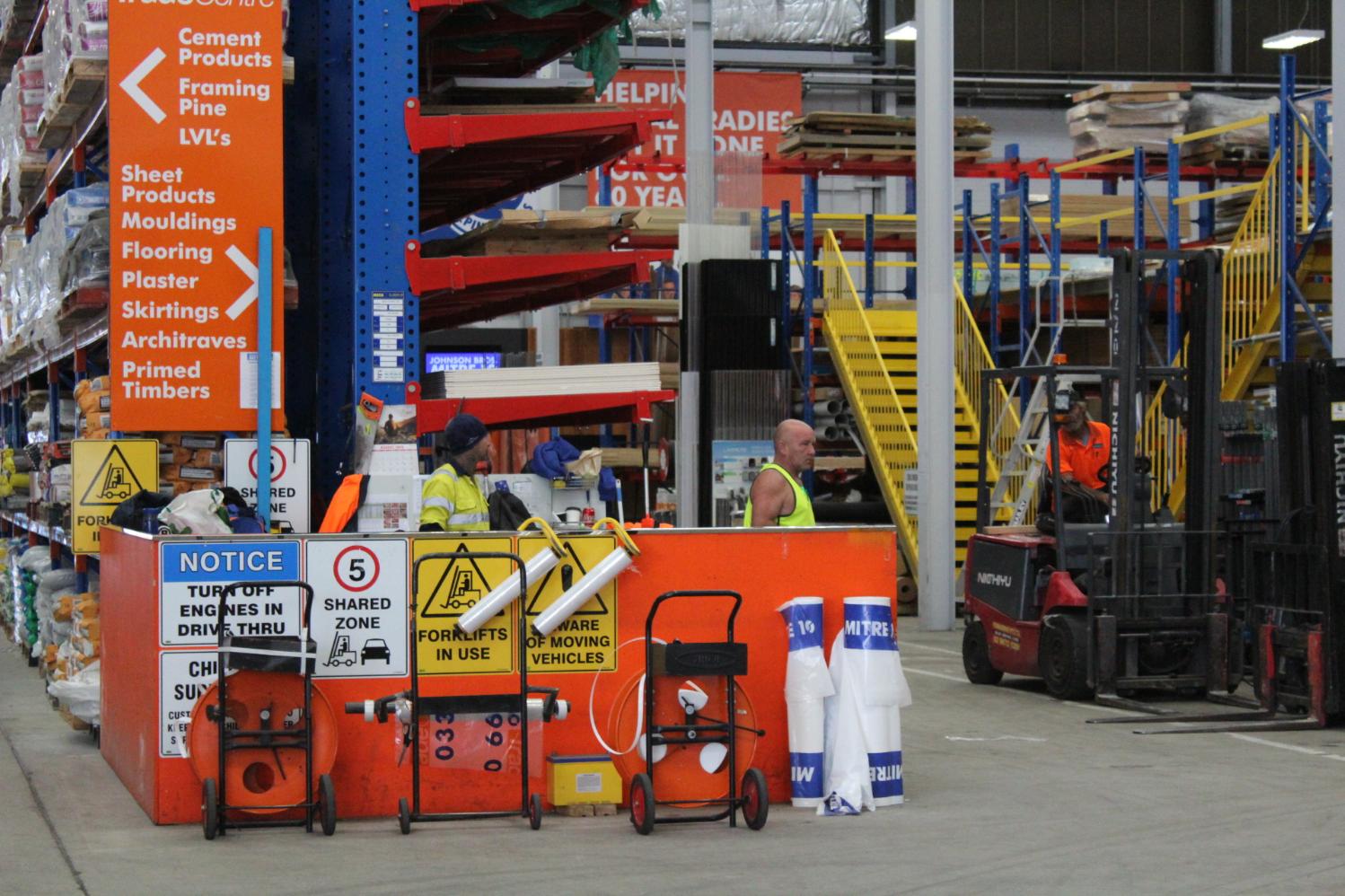 Johnson Brothers Mitre 10 Trade Centre at Mona Vale - everything you need under one roof.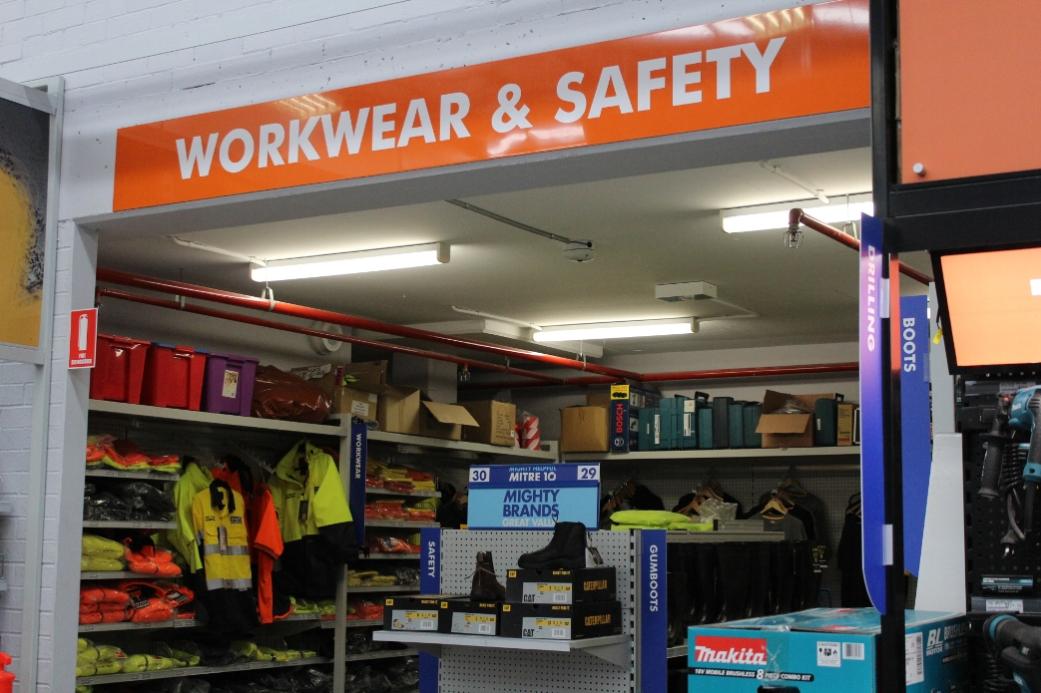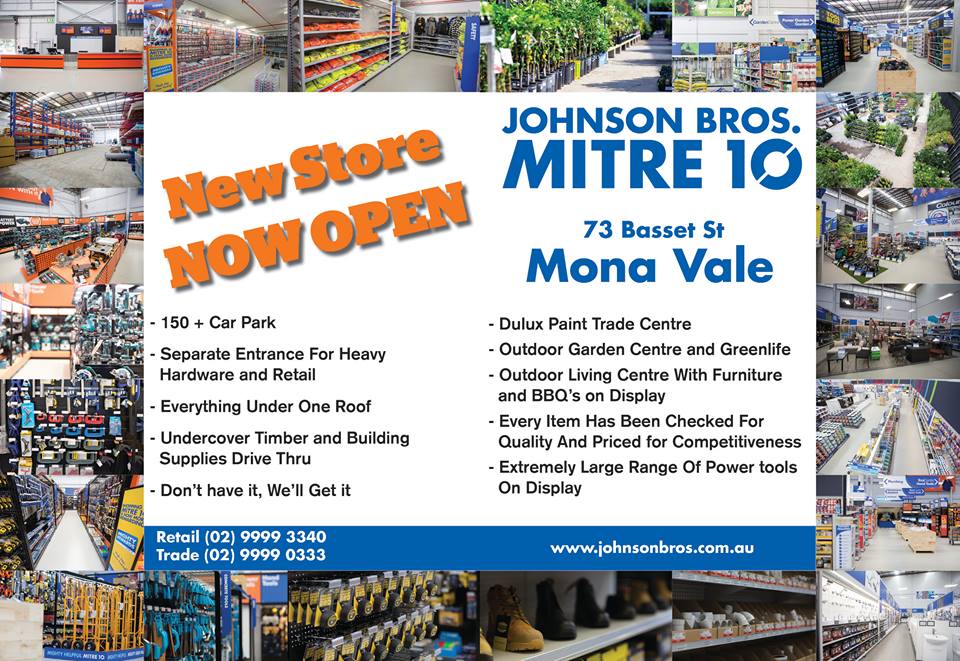 Johnson Brothers Mitre 10 New Store
73 Bassett Street
Mona Vale - Online Store: Jbhmv.Com.Au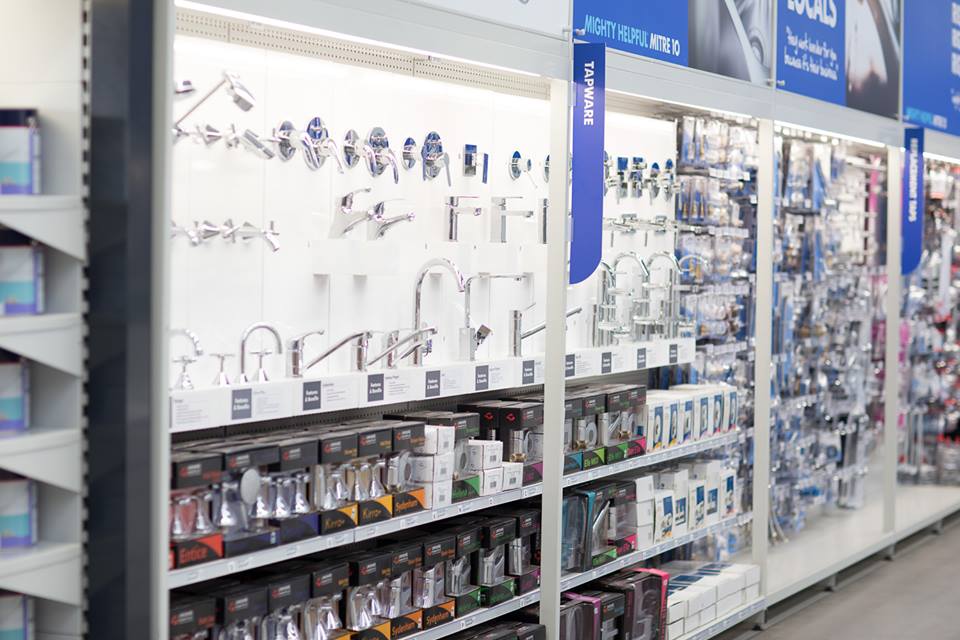 Products advice is available from the trained friendly staff at Narrabeen, Mona Vale and Avalon Johnson Brothers Mitre 10.
Click on logo to visit Johnson Brothers Mitre 10 website
Johnson Bros Mitre 10 - Avalon (02) 9918 3315
Johnson Bros Mitre 10 - Mona Vale (02) 9999 3340
JBH Timber & Building Supplies (02) 9999 0333
JBH Fencing & Landscape Supplies (02) 9970 6333
www.johnsonbros.com.au Online store: jbhmv.com.au

John, Bob and Robert Johnson, 2013 - photo by A J G.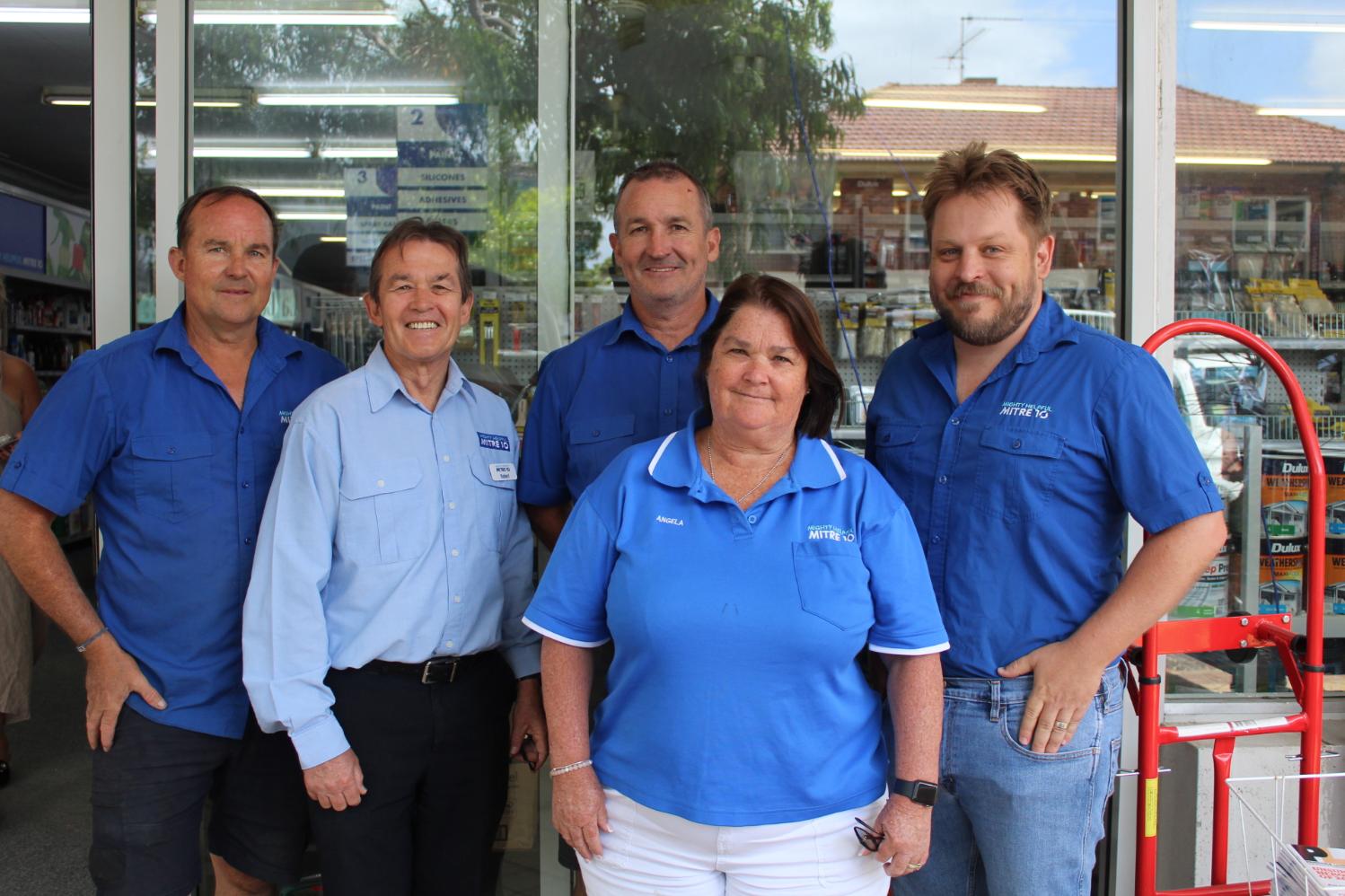 December 2020 - photo by A J G.
Important
All information and tips in this publication are of a general nature only and neither Johnson Brothers Mitre 10 or Pittwater Online News does not warrant the accuracy or completeness of the information and tips in this publication. This publication is not intended to be a substitute for expert advice.
Johnson Brothers Mitre 10
advises you to always consult an experienced and qualified person when undertaking jobs of this kind (including consulting a qualified tradesperson such as an electrician or plumber where relevant expert services are required).
You should also consider any safety precautions that may be necessary when undertaking the work described in this publication (including wearing any necessary safety equipment such as safety glasses, goggles or ear protectors or hard hats). The information and tips in this publication are provided on the basis that
Johnson Brothers Mitre 10
and
Pittwater Online News
excludes all liability for any loss or damage which is suffered or incurred (including, but not limited to, indirect and consequential loss or damage and whether or not such loss or damage could have been foreseen) for any personal injury or damage to property whatsoever resulting from the use of the information and tips in this publication.
Pittwater Online News and
Johnson Brothers Mitre 10
also advises there may be laws, regulations or by-laws with which you must comply when undertaking the work described in this publication. You should obtain all necessary permissions and permits from council and/or any other relevant statutory body or authority before carrying out any work. Major projects published in this publication always list these and/orlinks to where you may research what your own project requires to meet regulations.