June 13 - 19, 2021: Issue 498

The Johnson Brothers Trade Day Is Back: Thursday June 17th + How To Build A Nesting Box For Our Local Possums And Birds

The Johnson Bros Trade Day Is Back
The Johnson Bros Trade Day is back. The annual one day expo showcases best practice and innovation, and additionally provides the biggest sale event of the year. It provides a great resource for information and advice to anyone interested in learning about tools and materials within the hardware industry and an opportunity for anyone looking to pick up a bargain.
The day will feature product demos, giveaways, samples, coal grill and smoker taste testing, and a free BBQ lunch.
Plus a chance to win $2500 cash!
This event is open to public.
When: Thursday 17th June
Time: 7am – 5pm
Where: Johnson Bros Mitre 10 Mona Vale
Stay up-to-date by joining our Facebook event HERE
A big thank you to the following supporters of the event;
3m - Adbri Masonry - Allegion- Ames- Anchormark - Assa Abloy - Australian Wood Industries
Bondor- Bradford - Bremick - Britestar
Cabots - Camp Chef - Cowdroy
DeWalt - Dulux - Dulux Trade
Everdure
Hikkoki - HPM Legrand - Hume Doors - Hurford Hardwood
Imex - ITI - ITW & Lane
James Hardie - JBH Design Centre
Karcher - Keksia
Makita - Mayo - Meyer -Milwaukee
Ox Group
Paslode - Porta - Porters - Proppa
Selleys - Sheffield Blades - Sika - SNA E - Spantec - Stabilla & Bessy - Stanley Black & Decker - Stanley TruaCuT - Stormtech
Trio
Wilmaplex - Workwear Group
Yamaha Generators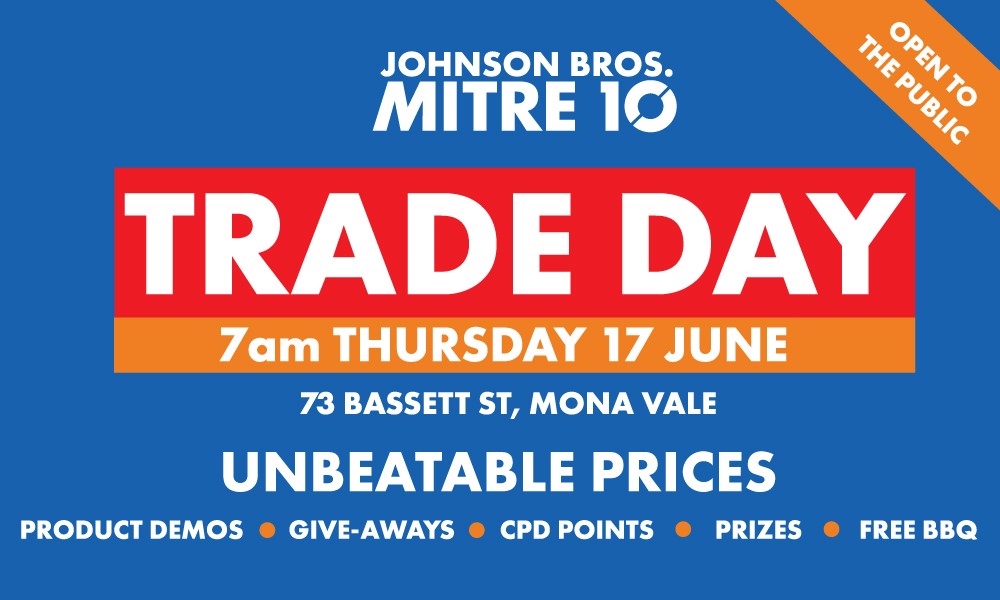 How To Build A Possum Nest Box; The Basics
Australia is currently experiencing a housing shortage, not just for people, but for our wildlife as well. Many of our birds and other animals rely on tree hollows to live and breed in, but trees with hollows are a dwindling resource. Hollows only form in very old trees —at least 100 years old — so with widespread clearing for farming, timber production or development, many old, hollow-bearing trees are simply not there any more. How can we help? By planting more trees for the future and stopping clearance of old trees, but in the meantime we can erect nest boxes to replace tree hollows.

Those below can and may also be used by birds. To ensure they aren't accessed by introduced species such as myna birds, take an extra few minutes to install the baffle. For dimenions for different birds and different boxes to suit them, please refer to BirdLife Australia's Nest Boxes – Technical Information
The following factors should be considered when constructing a nest box:
Size and depth.
Shape.
Insulation.
Entrance hole dimensions.
When deciding on the best location for your nest box, consider:
Orientation - nest boxes should be protected with the entrance facing away from prevailing weather.
Protection - many mammals prefer nest boxes to be placed among dense foliage for protection against predators.
Shading - nest boxes should be shaded from the midday sun.
What you need
It is important to use a building material that is hardy and provides some insulation and is reasonably cheap to make.
Timber

: The best timber to make a possum

nest box is hardwood or marine ply - don't use chipboard as it disintegrates rapidly

outdoors or treated pine, which is toxic if gnawed by wildlife

. Try to use 12mm plywood or untreated pine as these will provide a longer lasting home. These

are also reasonably hardy, and not too expensive (try asking for

cover sheets or seconds). The wood needs to be at least 10mm

to provide some insulation.

Fastenings

: Use screws and glue to hold the construction

together. They will last longer and hold greater weight than

nails.

Something to seal the top edge of the house: Sheet metal, piece of aluminium, a rubber flap or piece of old inner tube will work.
Drill
Saw
Wire or chain and a piece of old hose pipe to cover it
Heavy gauge flat head nails
Flexible metal strip
Optional extras
Small, sturdy branch x 2
Sealant and/or UV resistant paint: Choose a colour like dark brown or green that blends in with the surrounding bush.
Nesting materials: A few handfuls of dead leaves would provide comfort and insulation.
How to build your possum nest box
The Brushtail Possum Box
To stop rain getting in, eaves should overhang by 110mm to 120mm and the lid/roof slope backwards. The entry hole (which doesn't have to be round) should be located directly under the eaves and between 90mm and 100mm - anything larger may put the possum at risk of predation.
Cutting List:
Sides - 2 x 400mmback/400mm front x 150mm
Back - 1 x 400mm x 210mm
Front - 1 x 370mm x 210mm
Base - 1 x 250mm x 210mm
Roof - 1 x 320mm x 280mm
Ringtail Possum Box
Is basically the same design as the brushtail box. It is slightly narrower and the entrance hole is 70mm to 80mm wide.
Sugar Glider - Pygmy Possum Box ands smaller birds
Although the sugar glider is one of the smaller possums, its nest box is quite large. However the entry hole (which would probably be a little higher up than this diagram illustrates) is only 40 mm wide.
Cutting List:
Sides - 2 x 200mm back/180mm front x 150mm
Back - 1 x 200mm x 120mm
Front - 1 x 180mm x 120mm
Base - 1 x 120mm x 120mm
Roof - 1 x 190mm x 190mm
Box top
While it is not essential, it is best if you can arrange the top so it can be opened for inspection, but latched closed for protection. Fasten the back of the lid with an old inner tube, which provides 'a hinge' and a weatherproof seal.
To stop rain getting in, eaves should overhang by 110mm to 120mm. The entry hole (which doesn't have to be round) should be located directly under the eaves and be between 110mm to 120mm wide.
Box bottom
The bottom of the box should fit inside the four sides and be screwed in from the side. This gives greater strength than if flush with the walls and screwed in from the bottom. Drill at least four x 5-7mm holes near the corners for drainage.
Baffle
The baffle is a screen that hides the entrance hole from view, which stops direct sunlight entering the box and reduces the effect of wind and rain. The baffle also stops Mynas and Starlings from occupying the box, as they will only choose hollows where they can fly directly into the hole.
The baffle is simply a piece of wood, the same width as the front of the possum nest box, with 'arms' to fix it to the box or lid. The baffle can be made of any thickness, as its main purpose is to provide screening and it should be large enough to cover at least 90% of the entrance hole. There are various ways baffles can be attached. As possums may decide to hang on to these and have to brush past them every time they enter and exit, make sure they are securely fastened.
The distance of the baffle from the front of the box (a to b in the diagram above) should be at least equal to the diameter of the entry hole. As the possum needs to climb under the baffle, the clearance has to be big enough to let him through.
Finish
The wood does not have to be smooth as possums are used to roughing it. However, a good coat of sealant on the exterior will help the box last years longer. Be sure to seal the edges, as that is where the water gets in and damages the box.
Stairs
A small branch fastened firmly inside and outside under the entrance hole will give the possum something to grab onto while entering and exiting his home as well as help juveniles climb in and out.
Placement and installation
Ideally, the box should be at least 4 meters from the ground, to provide protection from pests and a bit of privacy. The box should face away from prevailing winds and should not face towards the afternoon sun. If it is not possible to avoid both the winds and direct sunshine, having a baffle attached will help.
Hang your nest box using sturdy wire or chain secured to the back of the box. Sheath the wire in old hose pipe to prevent damage to the tree.
Attach the bottom using a flexible metal strip approximately 30 mm from the bottom of the box, and nailed to the tree with a couple of heavy gauge flat head nails. Don't drive these nails in all the way, allow for the growth of the tree and the possibility of relocating the possum box in the future.
Don't place the possum box until the sealant smell has disappeared.
Information courtesy Wildlife Rescue South Coast Inc., BirdLife Australia and Nest Box Tales.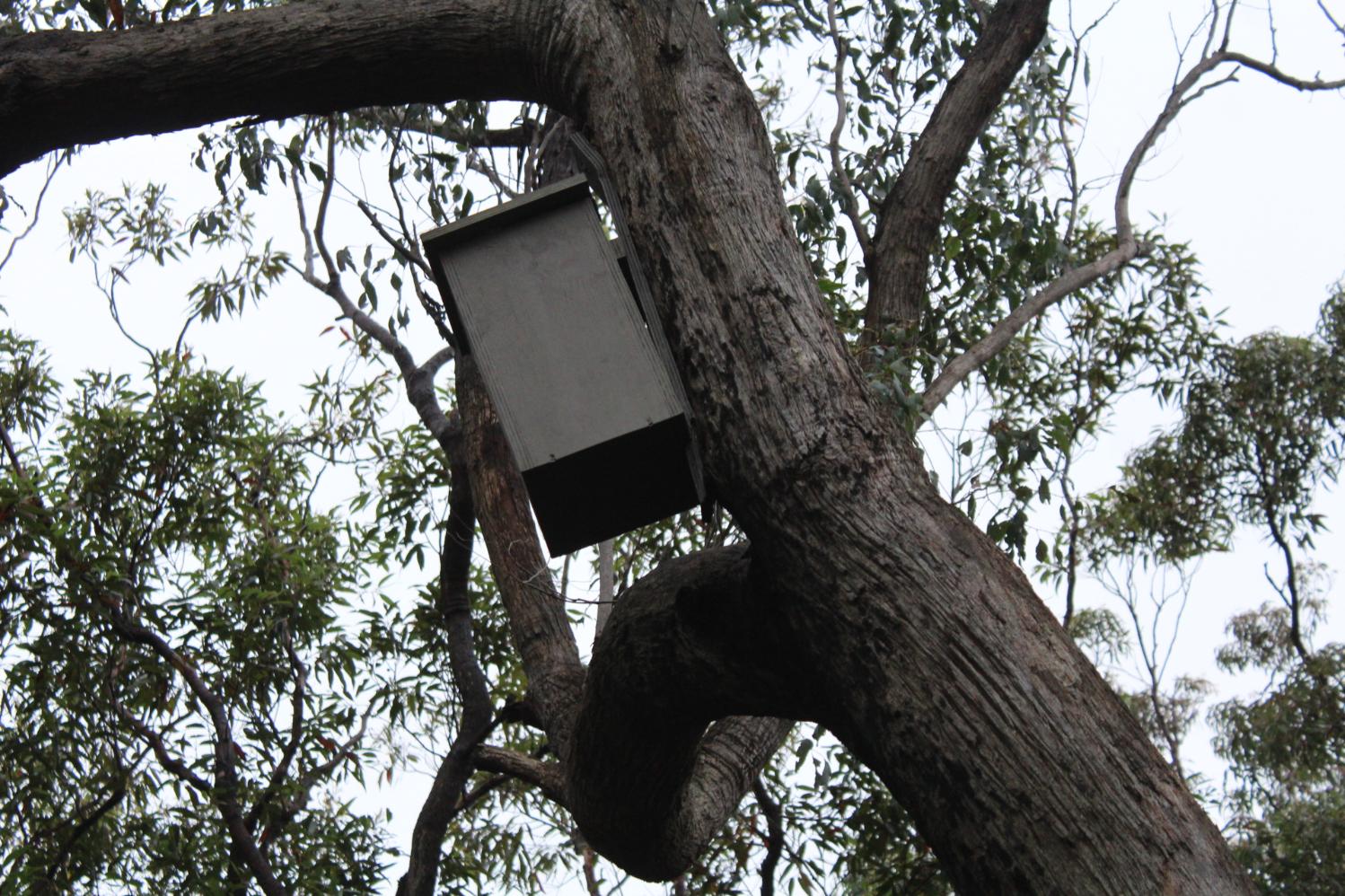 Johnson Brothers Mitre 10 Tax Time Tool Blitz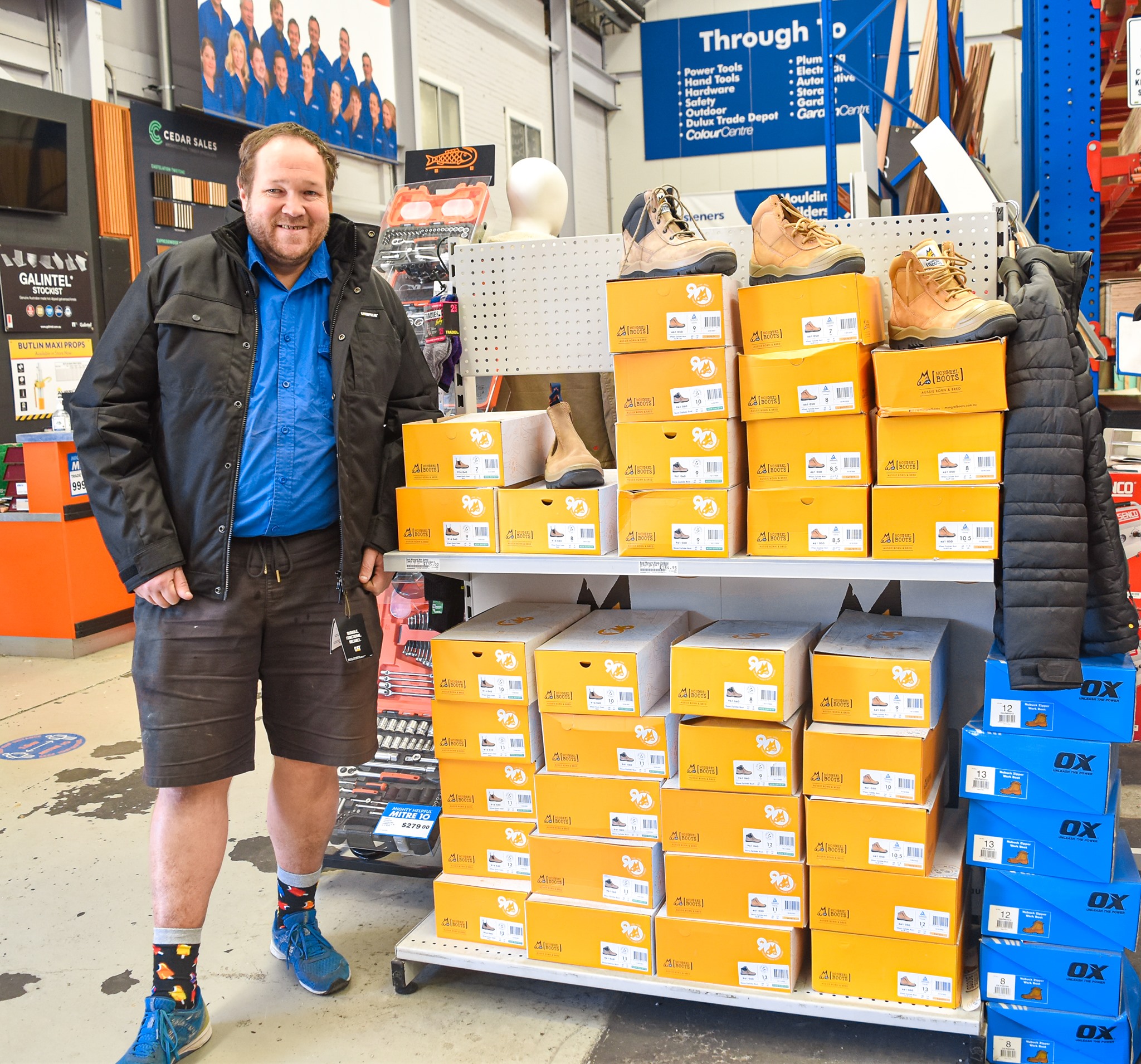 At Johnson Bros Mitre 10 - Mona Vale: a warm jacket and waterproof boots can make the difference through winter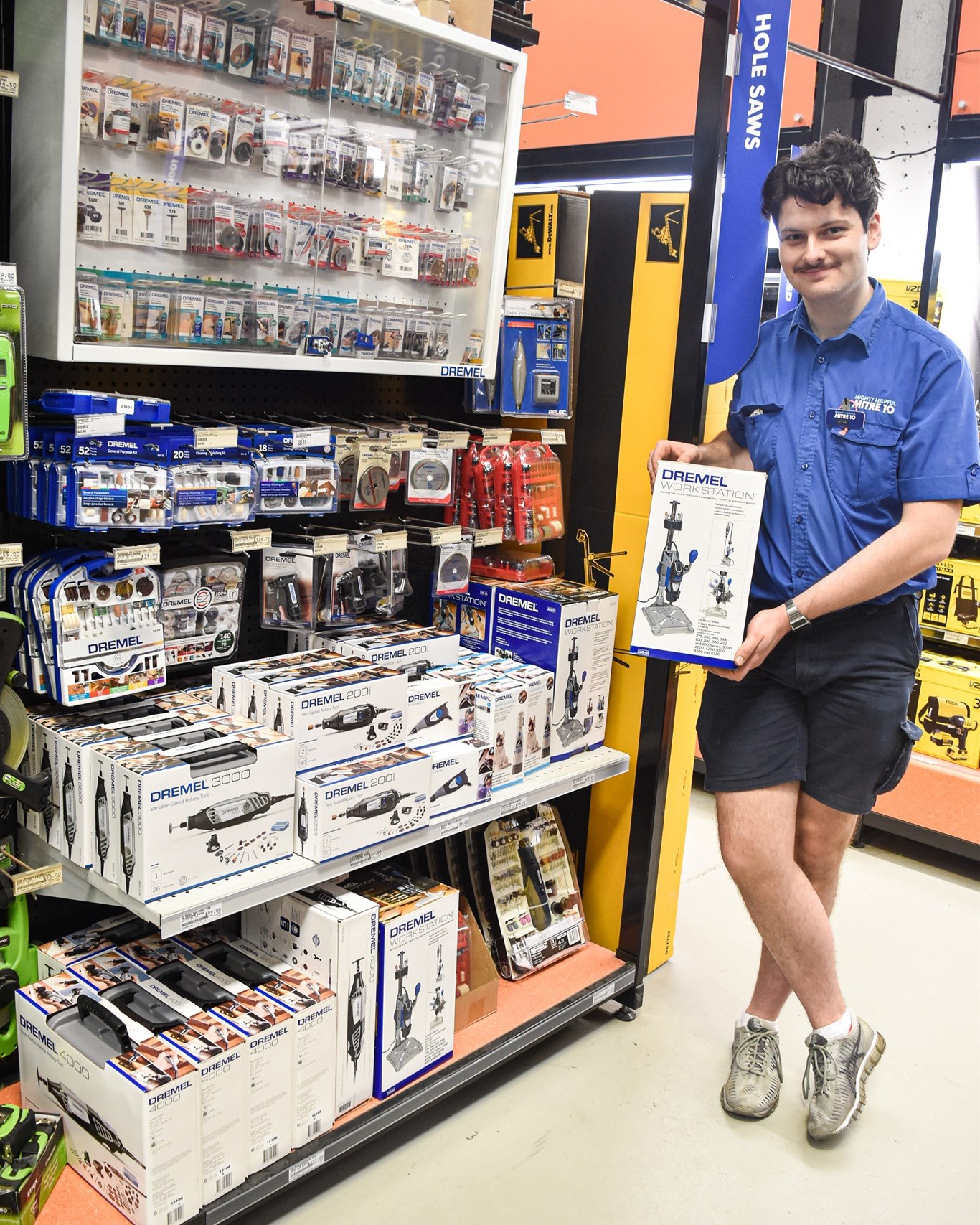 At Johnson Bros Mitre 10 - Mona Vale - Dremel Power Tools are used by Hobbyist's and Craft's People for projects ranging from model construction, polishing, sanding, grinding and wood carving or engraving.

At Johnson Bros Mitre 10 - Mona Vale - get your house ready for winter.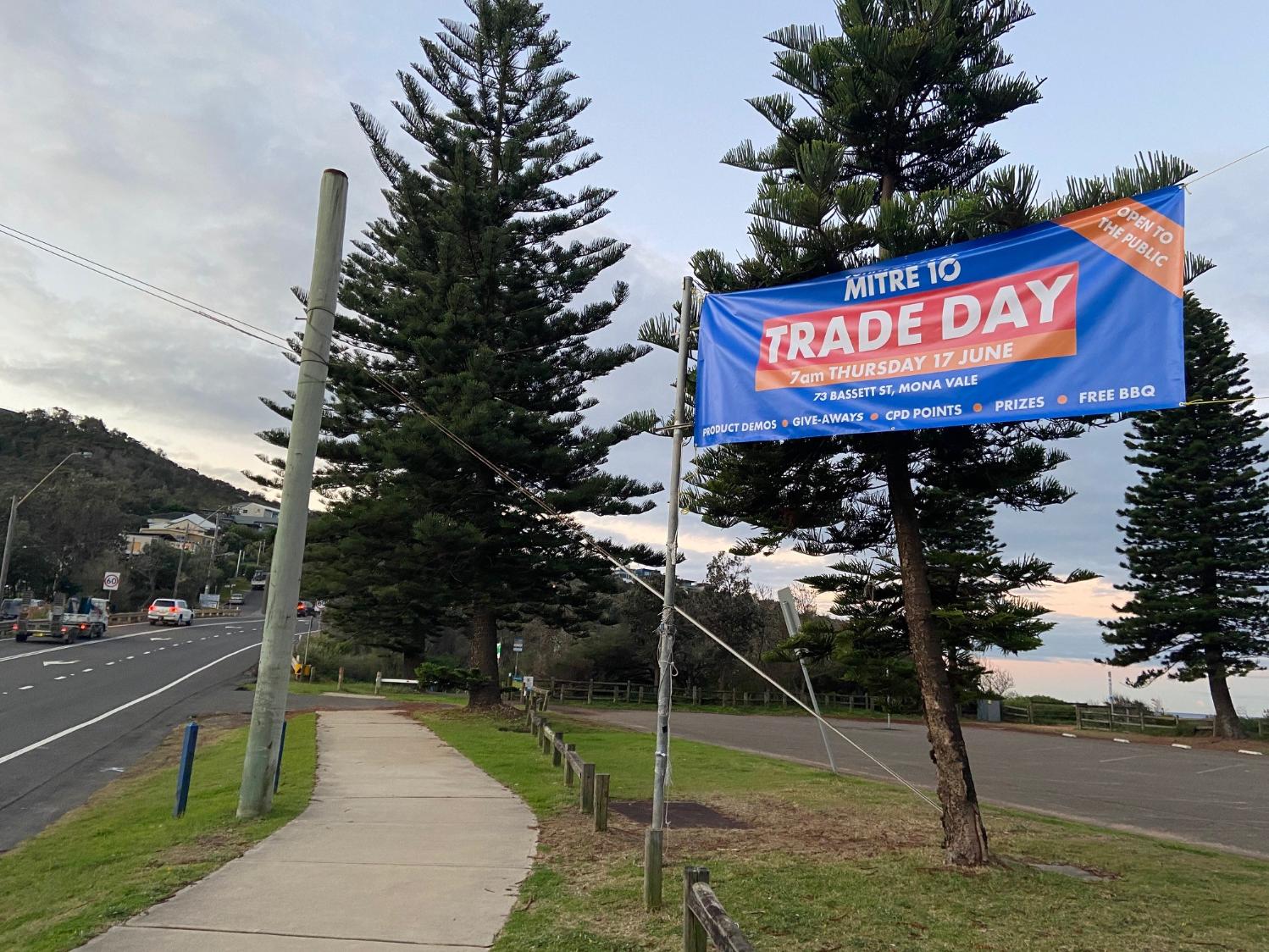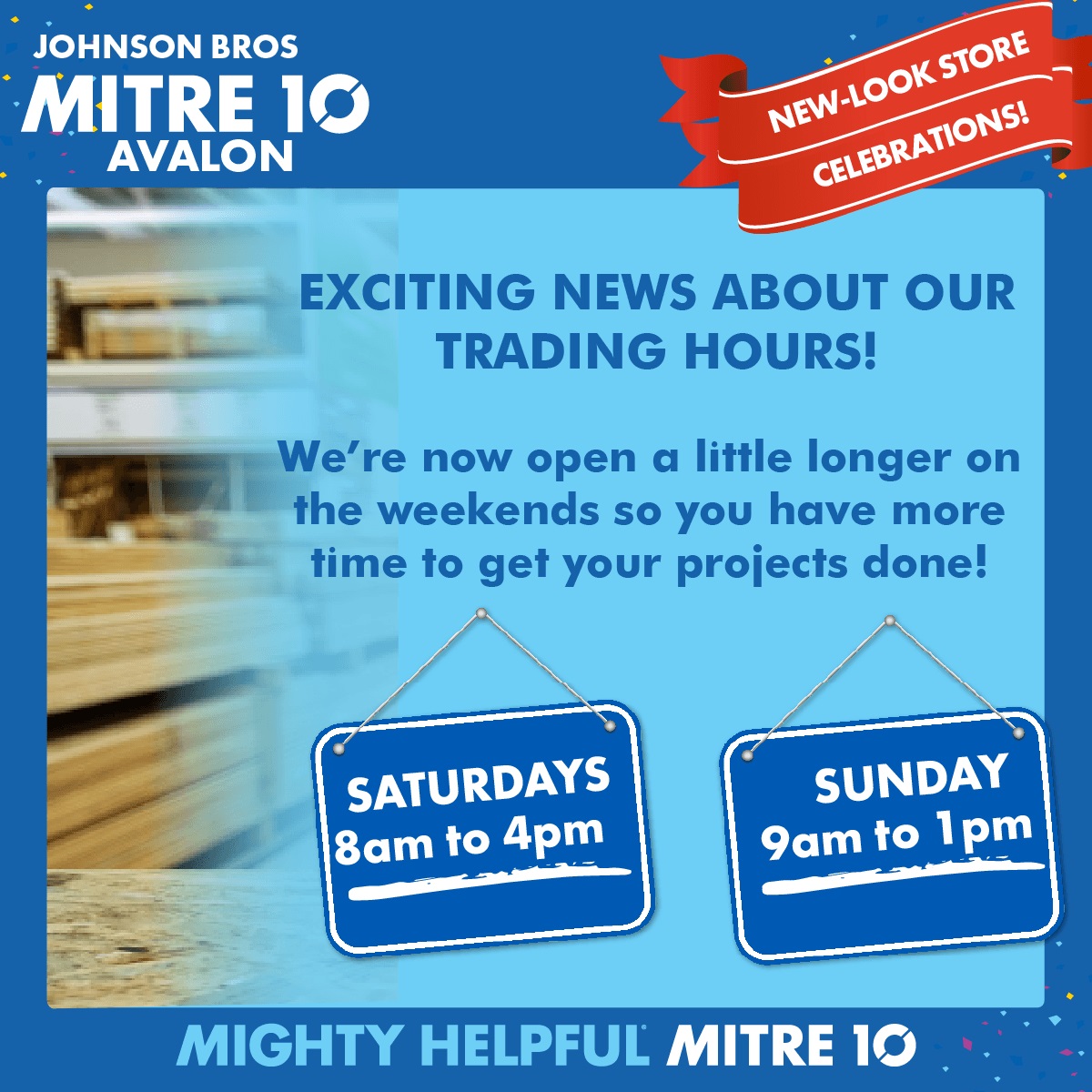 JBH Design Centre
JBH Design Centre is a tool for builders and DIY'ers to assist in the fit out of houses. It has displays of kitchens, Bathrooms, Doors and Storage as well as knowledgeable staff to assist in making house fit out painless.
Visit: http://jbhdc.com.au/
On Facebook: https://www.facebook.com/design.centre.jbh/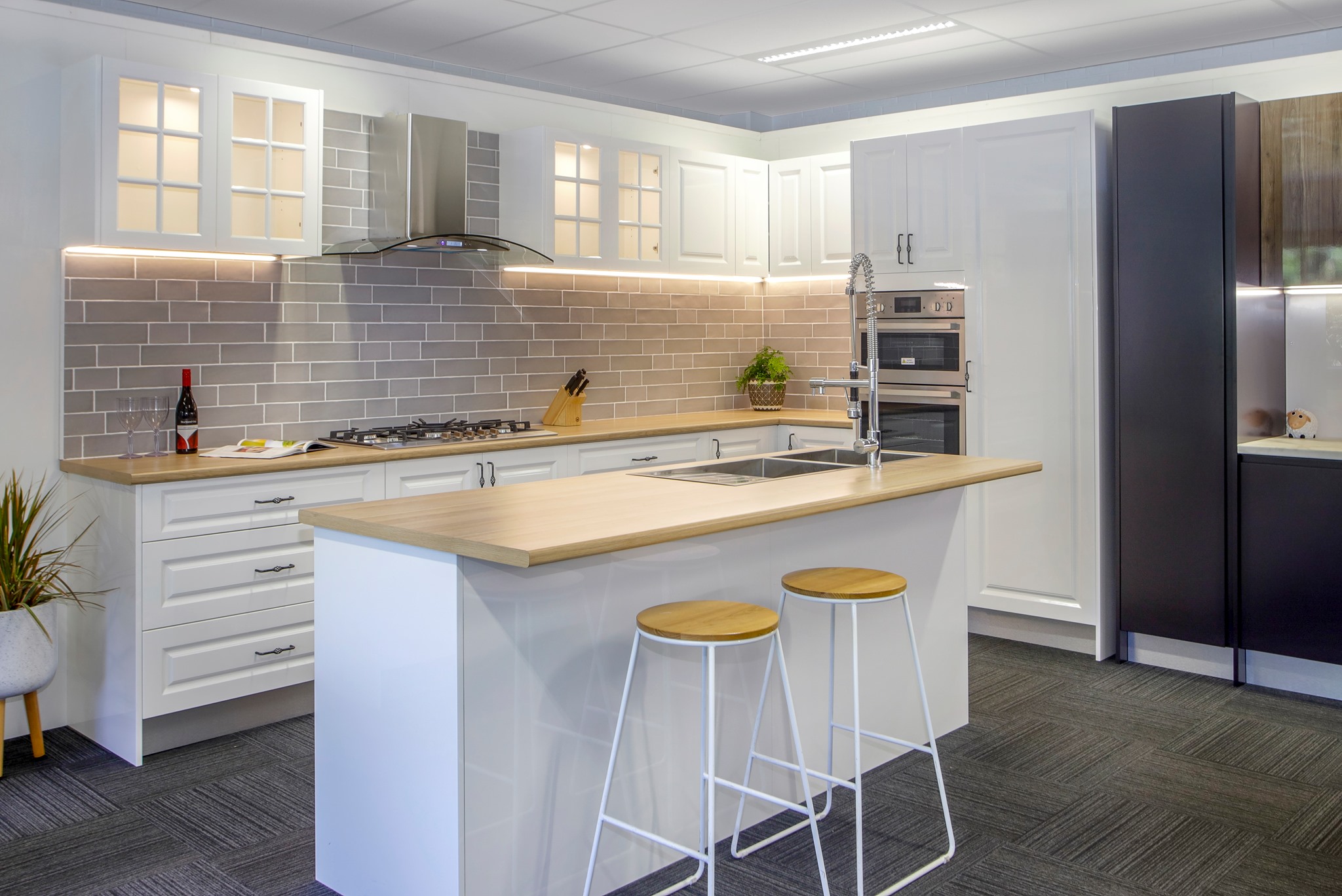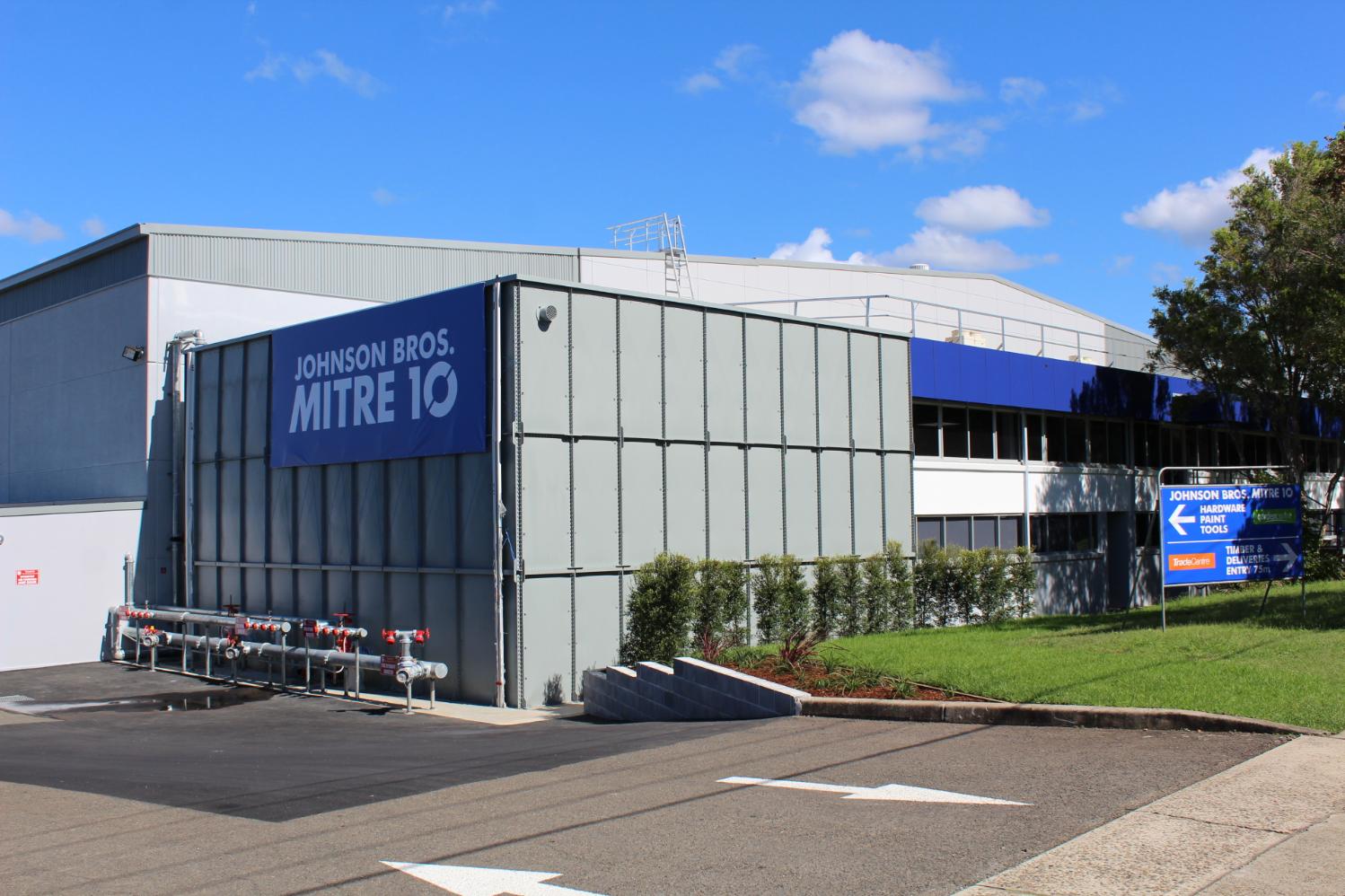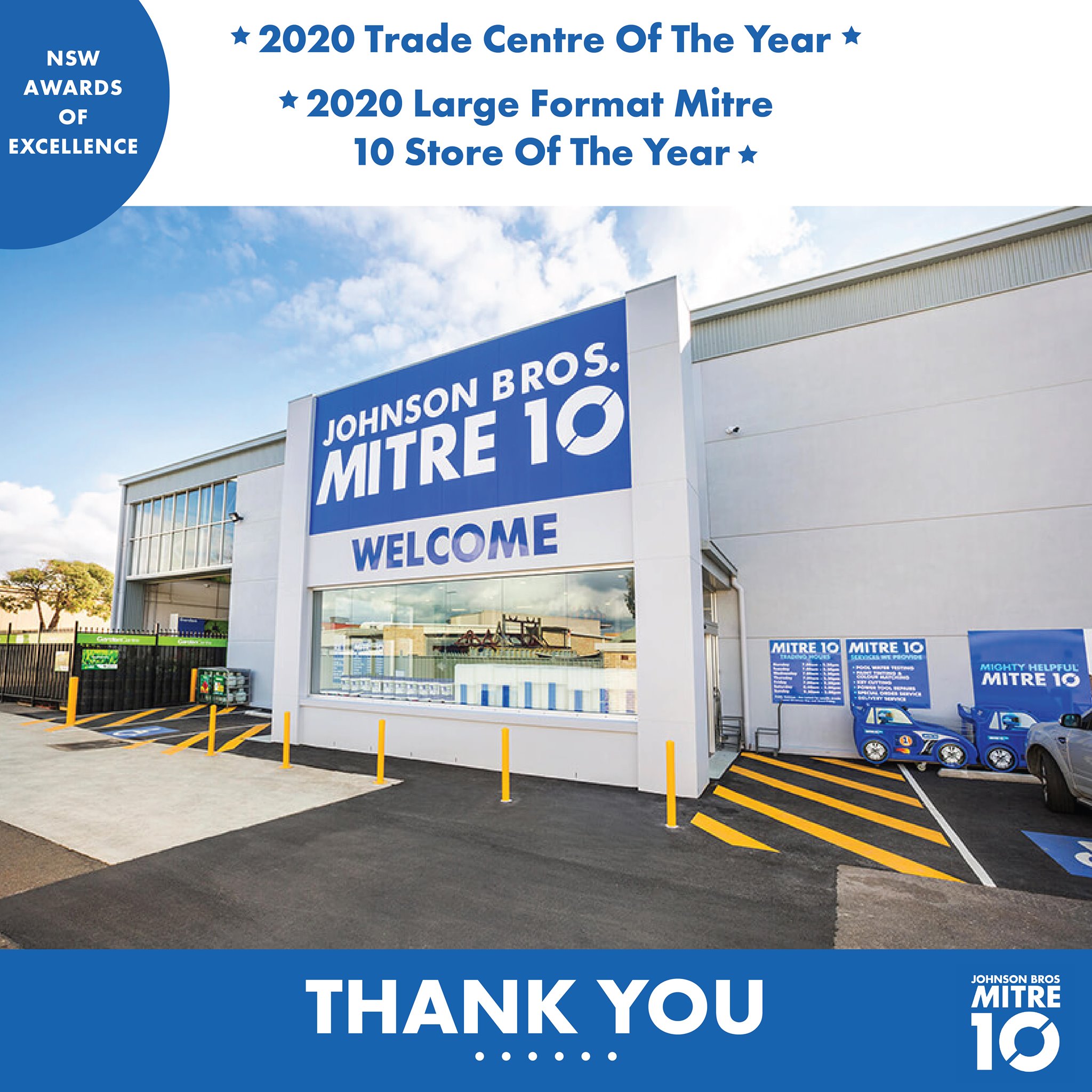 We want to thank all of you for supporting and trusting us through this 2020, without you we could not be receiving these two important awards.
Thank you for being our customer and thanks to all our great staff for making this possible especially though this full of surprises year.
Johnson Brothers Mitre 10 Update: Shop Online Options
Intending to keep our customers and staff safe, we present some additional ways for both our retail and trade customers to do business with us.
Trade and Retail Pick Up
Express Pick up Mona Vale
- Call Johnson Bros Mitre 10 Mona Vale, and we will pick & pack your order and have it ready for you to pick up in 2 hours. (Stocked Lines Only)
- Drive into our undercover Trade Drive-Thru area at 73 Bassett St Mona Vale, and your order will be ready for pick-up.
- Our team members will help you with your load and finalise payment/paperwork
Express Pick up Avalon
- Call Johnson Bros Mitre 10 Avalon, and we will pick & pack your order and have it ready for you to pick up in 2 hours. (Stocked Lines Only)
- Drive into our back lane off Bellevue Avenue, and your order will be ready for pick-up.
- Our team members will help you with your load and finalise payment/paperwork
Online Retail Stores Go Live
We've launched two eCommerce sites offering 2hr pick up in-store and flat rate delivery options on the northern beaches*.
Jbhmv.com.au (Mona Vale)
Jbhav.com.au (Avalon)
With the ability to leave the product on your doorstep, this provides an option of an entirely contactless transaction.
*Flat rate delivery is not available to trade sales, building supplies and trade quantities
** The stock availability is updated nightly, which may mean the stock is unavailable when the order is placed
Trade Delivery to Site
Maybe not new, but certainly worth a mention again!
We can get almost anything delivered quickly onto site!
As always ring the trade desk direct on 9999 0333 and let them know what you need!
Final Thought
Like everyone, we have found ourselves in a new and uncertain environment, but we're setting up (and digging in) for the long haul!
We want to acknowledge that the decision to retain over 120 staff and meet any future challenges head-on, could not have happened without the continued support you provide us as customers.
Thank you and stay safe,
The Johnson Family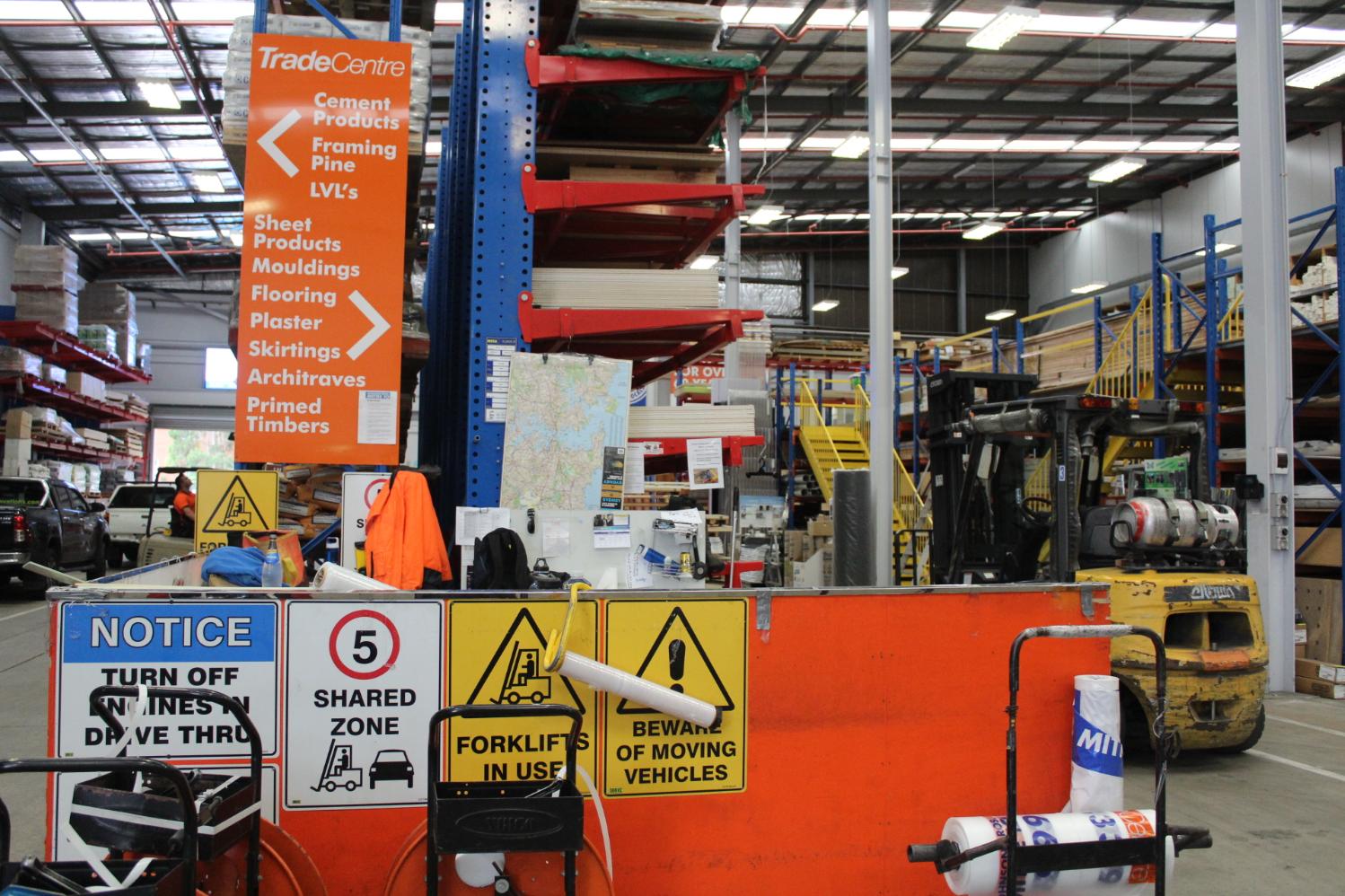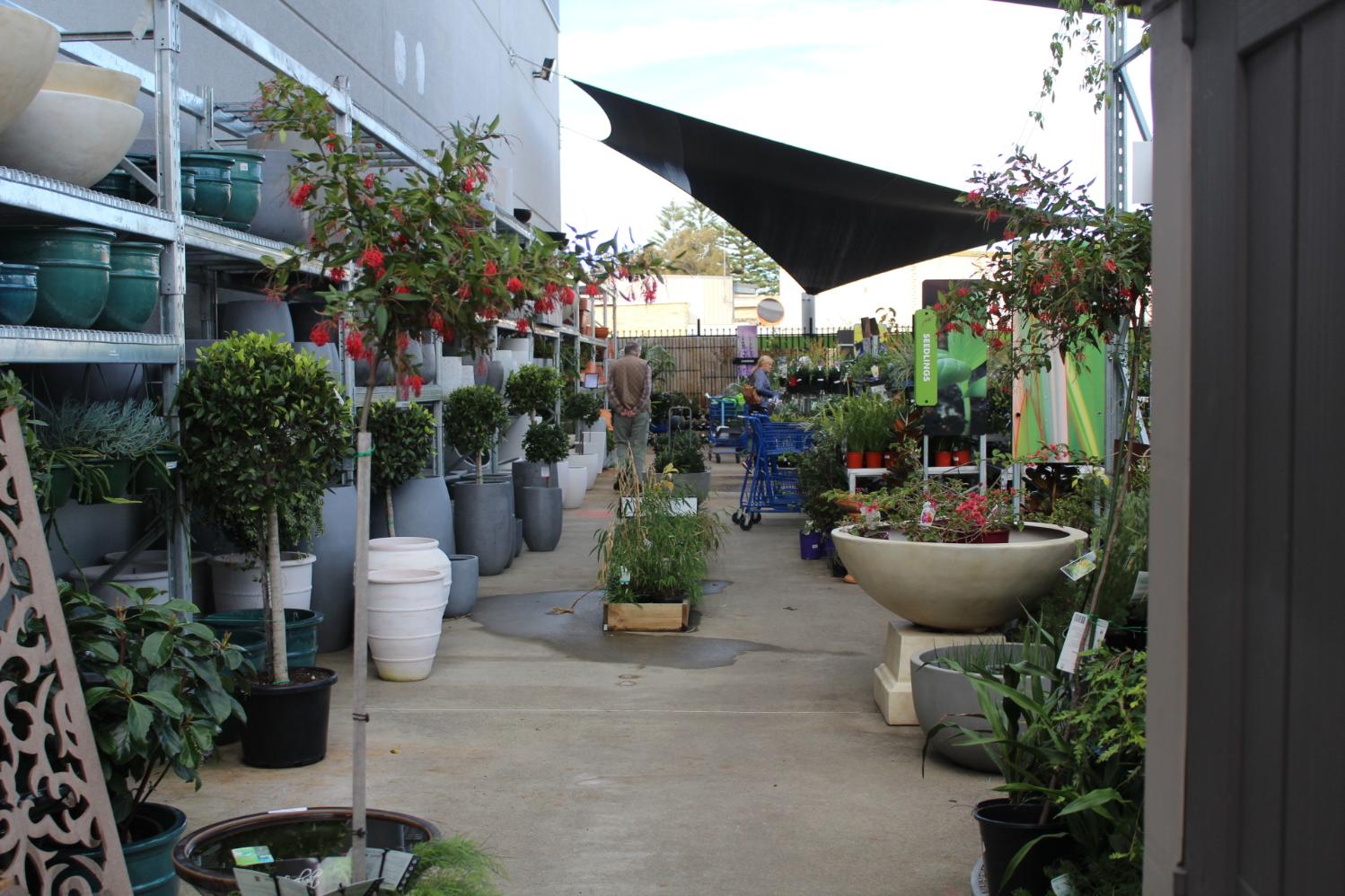 Green Life Garden Centre at Johnson Brothers Mona Vale has a great stock of seedlings, native and other plants and all you need to get gardening in brilliant Autumn weather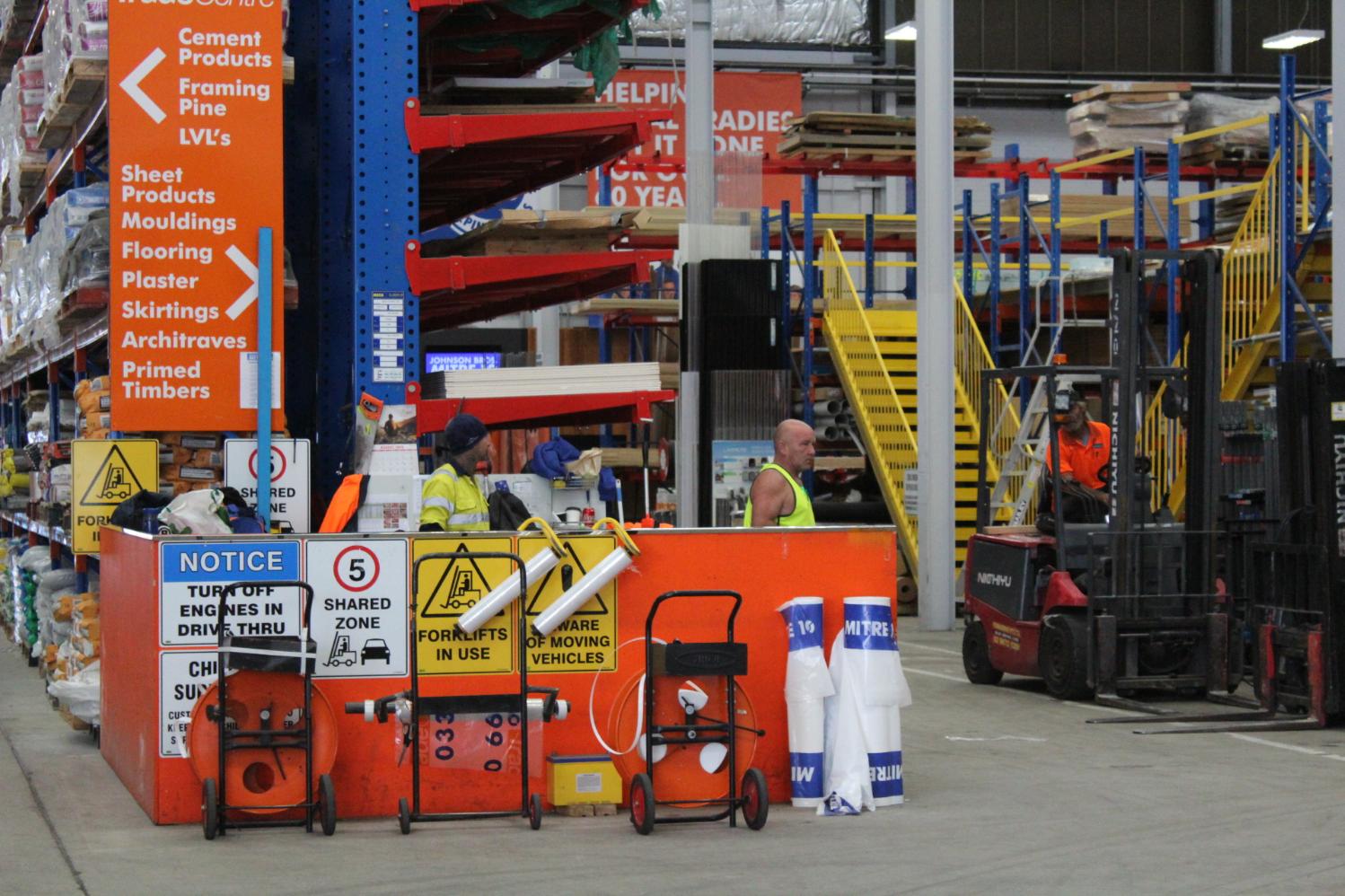 Johnson Brothers Mitre 10 Trade Centre at Mona Vale - everything you need under one roof.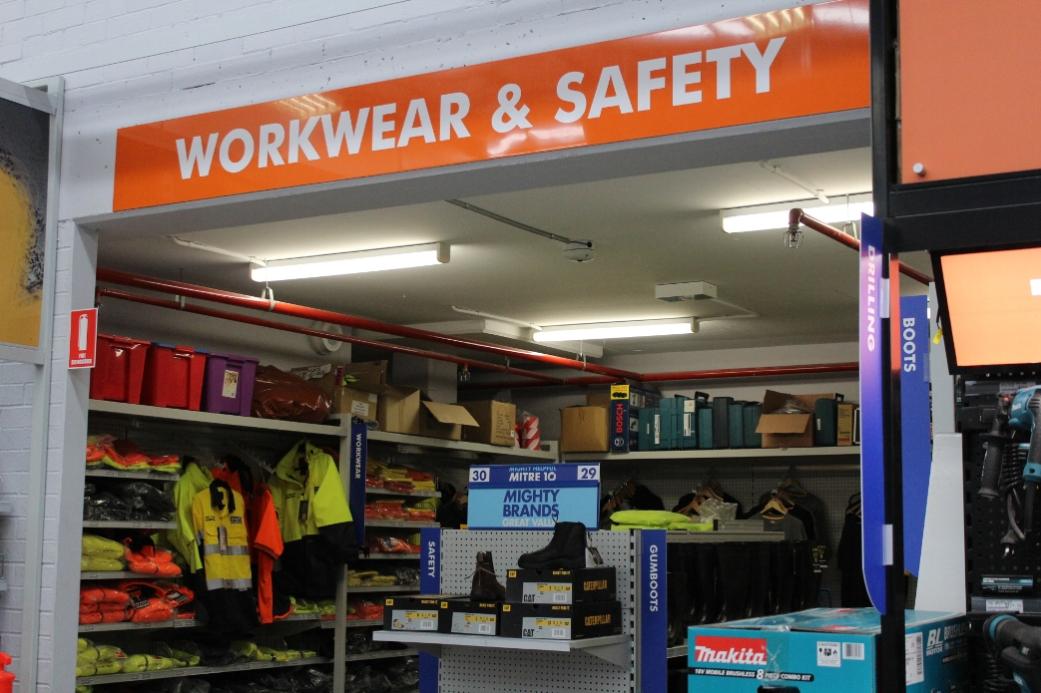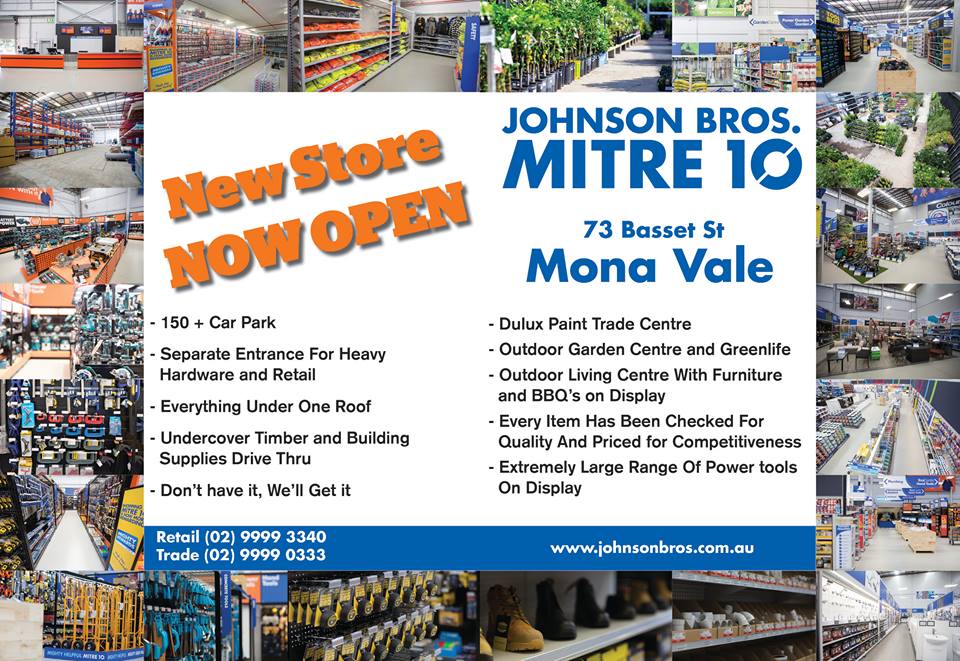 Johnson Brothers Mitre 10 New Store
73 Bassett Street
Mona Vale - Online Store: Jbhmv.Com.Au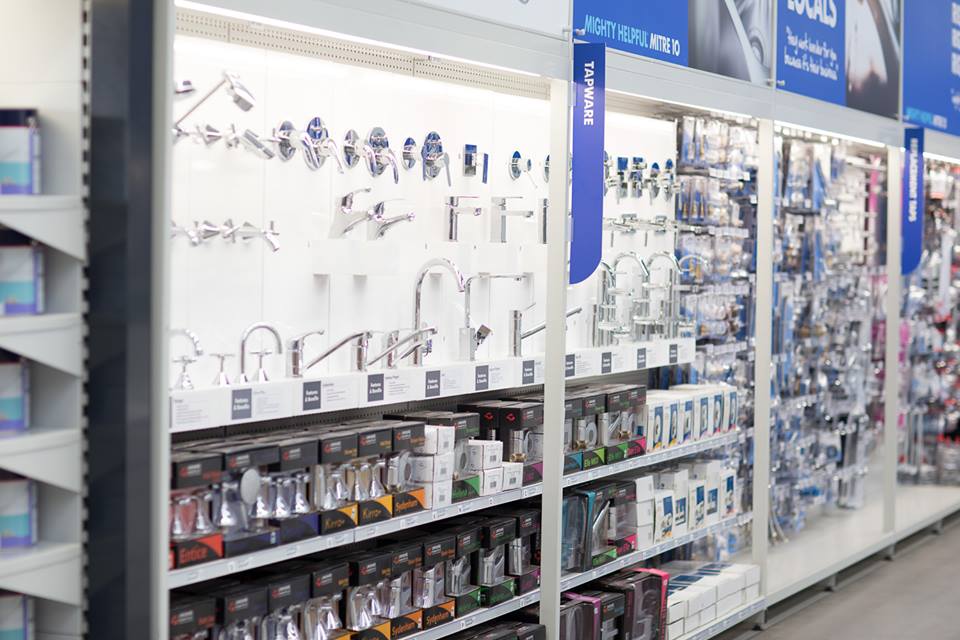 Products advice is available from the trained friendly staff at Narrabeen, Mona Vale and Avalon Johnson Brothers Mitre 10.
Click on logo to visit Johnson Brothers Mitre 10 website
Johnson Bros Mitre 10 - Avalon (02) 9918 3315
Johnson Bros Mitre 10 - Mona Vale (02) 9999 3340
JBH Timber & Building Supplies (02) 9999 0333
JBH Fencing & Landscape Supplies (02) 9970 6333
www.johnsonbros.com.au Online store: jbhmv.com.au

John, Bob and Robert Johnson, 2013 - photo by A J Guesdon.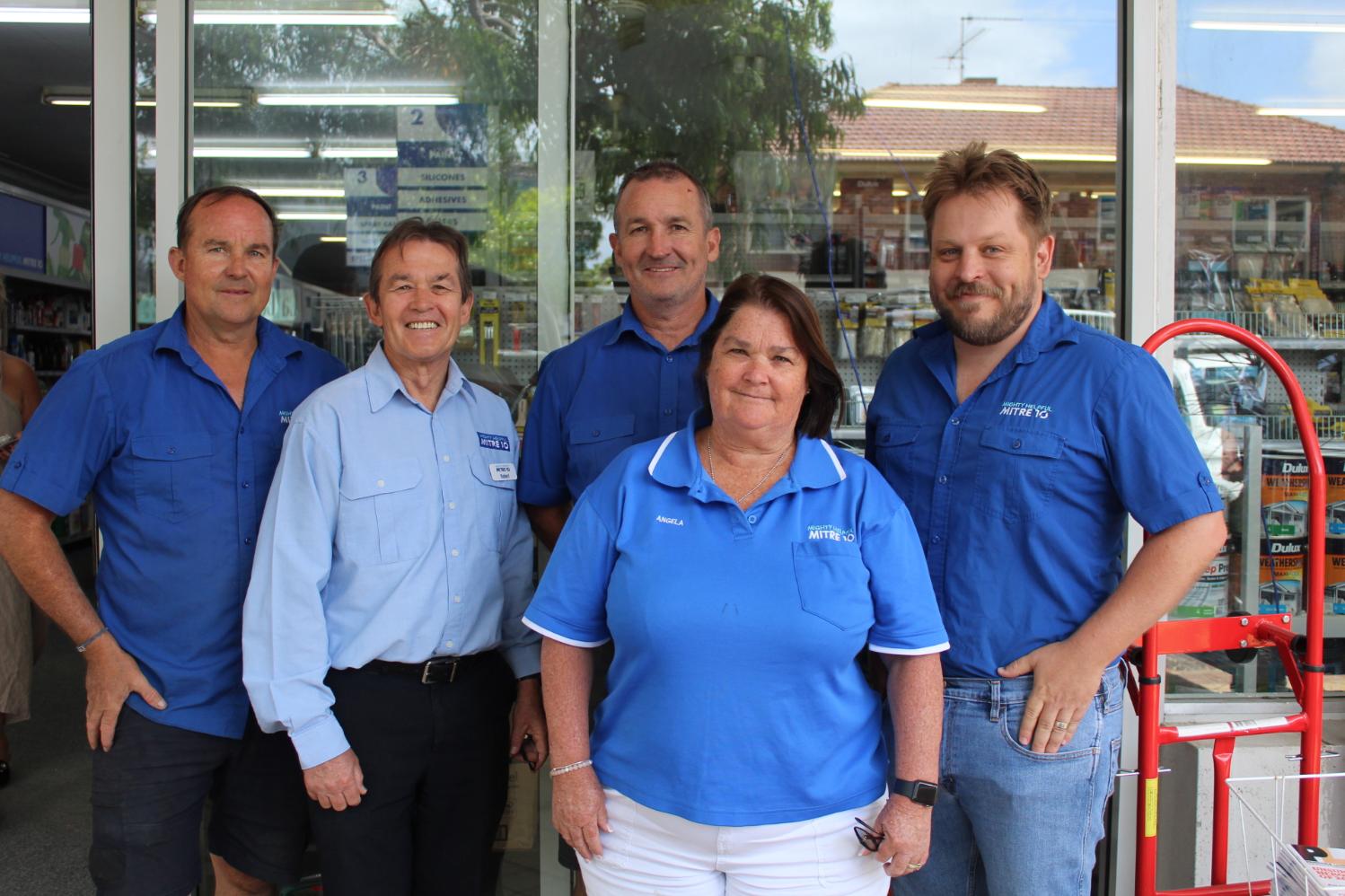 Important
All information and tips in this publication are of a general nature only and neither Johnson Brothers Mitre 10 or Pittwater Online News does not warrant the accuracy or completeness of the information and tips in this publication. This publication is not intended to be a substitute for expert advice.
Johnson Brothers Mitre 10
advises you to always consult an experienced and qualified person when undertaking jobs of this kind (including consulting a qualified tradesperson such as an electrician or plumber where relevant expert services are required).
You should also consider any safety precautions that may be necessary when undertaking the work described in this publication (including wearing any necessary safety equipment such as safety glasses, goggles or ear protectors or hard hats). The information and tips in this publication are provided on the basis that
Johnson Brothers Mitre 10
and
Pittwater Online News
excludes all liability for any loss or damage which is suffered or incurred (including, but not limited to, indirect and consequential loss or damage and whether or not such loss or damage could have been foreseen) for any personal injury or damage to property whatsoever resulting from the use of the information and tips in this publication.
Pittwater Online News and
Johnson Brothers Mitre 10
also advises there may be laws, regulations or by-laws with which you must comply when undertaking the work described in this publication. You should obtain all necessary permissions and permits from council and/or any other relevant statutory body or authority before carrying out any work. Major projects published in this publication always list these and/orlinks to where you may research what your own project requires to meet regulations.