March 25 - 31, 2018: Issue 353
Reducing Ticks in Your Garden: Garden care, Plants that Repel, What to Wear Outdoors
Lavender fields of Bridestowe Estate, located 50km from Launceston in the north east of Tasmania. Photo by and courtesy Rowan.M.McDonald
It's that time of year when warm conditions combined with wet weather can cause a mini tick population explosion alike that experienced in Spring and Summer.
The largest numbers of juvenile ticks are around in Autumn, with the middle phase, called "nymphs", peaking in winter and the adult numbers appearing through Spring and Summer. The life cycle of a tick averages 12 to 14 months and their eggs can take up to 6 months to hatch depending on conditions.
There are some things you can do to lessen the incidence of being bitten by ticks in your own garden and some plants that have been shown to repel them from the out door areas your family uses.
You could also add a couple of family pets in the form of chickens, known to eat ticks, and in doing so guarantee yourself a sup-ply of really free range organic eggs! You will need to build a hen coop for them though as some other pets; dogs, can decide to do a nighttime hunt if not owned by responsible carers, and you will lose your chickens.
Although
American studies have shown the Opossum is a great tick eater
, and our own brush-tailed possum is known to eat insects, no similar recent study has been conducted in Australia with only the echidna being noted as a voracious eater of ants and lizards, in arid zones, also liking these and termites, being likened to possibly also liking other insects, such as the tick. For this reason health authorities advise ensuring your home is also well sealed so possums may not take up residence in your roof, via gutters etc., and thereby introduce ticks into the immediate area around or in your home.
Small bird insectivores, species like Silvereyes, Treecreepers, Gerygones and Thornbills, which normally feed on the ticks, are fast being replaced by larger species such as Currawongs and Ravens which thrive in urban areas where they have access to human-food or petfood and are predators of these smaller birds, as well as being chased out of urban backyards by Noisy Miners. A DIY page on how to attract these small birds back into your home yard will run shortly.

To begin reducing the amount of ticks in your home yards the first action we can take is to reduce the tick-attractive habitat features.
Elements ticks love are dense, moist woodlands edged in tall grass and brush and humidity; so Pittwater, with its focus on keeping everything lush and green remains a tick paradise.
Some simple landscaping techniques that can help reduce tick populations:
Remove leaf litter.

Clear tall grasses and brush around homes and at the edge of lawns.

Keep lawns short: mow the lawn frequently

Place a 3-ft wide barrier of gravel between lawns and wooded areas to restrict tick migration into recreational areas.

Keep playground equipment, decks, and patios away from yard edges and trees.

Discourage unwelcome animals from entering your yard by constructing fences.

Prune low vegetation

If you have wood stored in your yard, stack this away from areas that are in use by children, visitors.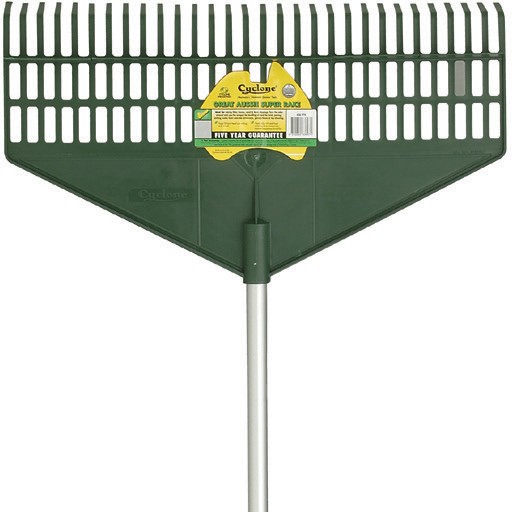 CYCLONE GREAT AUSSIE SUPER RAKE: $22.95
Landscapers Rake
Also available: 14 Tine: $35.00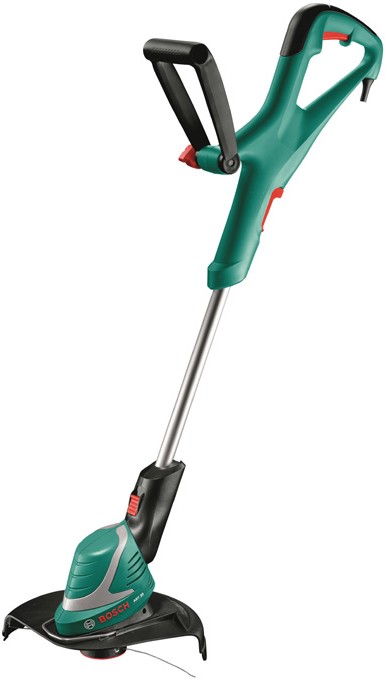 BOSCH 550W ELECTRIC LINE TRIMMER: $139.00
Fully adjustable. Lightweight & soft grip handling. Precise trimming.
There are also some plants you can introduce to your garden that have been shown to deter ticks as repellents. Although you probably don't want to turn your backyard or front yard into a lavender farm, a border of these and other suggested plants between you and where you have noticed ticks in the past will help reduce the incidence of tick-related encounters.
Planting these fragrant anti-tick plants, will also help keep other pests at bay. Garlic in your garden helps keep many pests away, including ticks and fleas. If you end up with a crop of it you will have the base for pesto!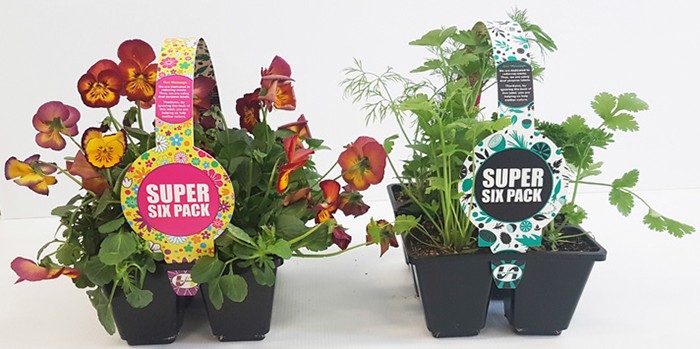 ADVANCED SEEDLING SIX PACK: $7.00
Larger edible & floral seedlings for quick flowering.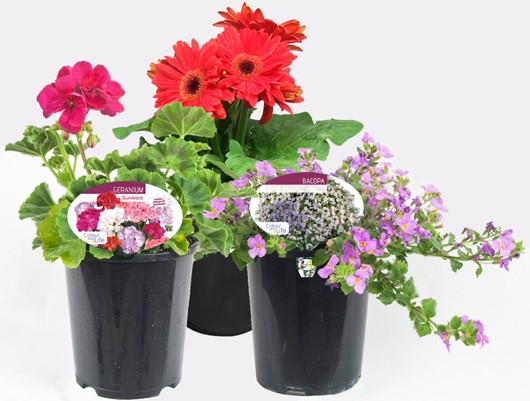 ASSORTED COLOUR: $9.00 each
140mm pot. Varieties include Gerberas, Geraniums, Bacopas, Carnations & other assorted.
Plants that help deter ticks:
Lavender.

Garlic.

Pennyroyal.

Pyrethrum (type of chrysanthemum)

Sage.

Eucalyptus, particularly (

Corymbia citriodora)

.

Mint.

Rosemary.




Fleabane Daisy.



Bill Conroy, once a long term Avalon resident, in
Ticks in residential areas and institutional gardens in the Pittwater Shire and adjacent areas
, stated that '
among trees shrubs the smooth-barked species with large shiny well spaced leaves are less likely to harbour ticks
than those with rough or papery barks and dense tightly packed or furry foliage. Among
native trees and shrubs, Eucalyptus, Angophoras, Tristanias, Brachychitons, Clerodendrum and Acronychia are less likely to be harbouring ticks
than species of Grevillea, Hakea, Leptospermum, Melaleuca, Casuarina and Kunzea. The latter group group tend to have tightly packed fine leaves or leaflets towards the end of their branches giving the sort of moist sheltered conditions where ticks can await opportunity to brush off on a passing human or animal.'
Garden Pesticides
Whilst a yard may be sprayed with malathion or pyrethrin products the effect is usually short lived and many normal and desirable insects and arachnids will be destroyed [some of which may actually be predators of tick stages]. A "natural" alternative to chemical sprays is a mixture of chilli (cayenne powder), garlic and vinegar. After being left to brew for a few days, the mixture, sprayed around the garden, will discourage most pests. Just keep your pets clear of those areas after spraying so they don't get a taste of something they may have a reaction to.
Keeping the Ticks off You
Preventing Tick Bites
Wear long-sleeved shirts and long pants when walking or working in areas where ticks occur

Tuck pants into long socks

Wear a wide-brimmed hat

Wear light-coloured clothing, which makes it easier to see ticks

After being outdoors, remove clothing and place clothes in a hot dryer for 20 minutes to kill ticks that may be on clothing

Undress and check for ticks daily, checking carefully on the neck and scalp

Use insect repellent, particularly ones containing DEET (such as Tropical RID®, Tropical Aerogard®, Bushmans®) or Picaridin (OFF!®)

Use permethrin-treated clothing when exposed to ticks e.g. when gardening. NB: Cats have a bad reaction to

permethrin, so don't use if you have a furry purrer.

Treat your pets to keep ticks off them.
Kill the tick where it is
using an ether-containing spray. (Ask your pharmacist for suitable products.) Then, either wait for it to drop off or seek medical attention for it to be removed taking care to
not squeeze the tick because this would cause tick saliva to enter your body, increasing the risk of tick induced allergies.
If you have been outdoors, don't scratch anything that itches until you have a look at it.

Don't try "picking" a tick out of your skin with tweezers or other tick-removal gadgets.



Apply permethrin cream to kill these ticks
NB: There are limited data regarding permethrin use in pregnancy and it is not known whether it can be present
For additional information
Please visit these useful websites:
Johnson Brothers Mitre 10 hardware currently have some great items available in the
'Get Crackin' this Easter'
catalogue (on sale March 22nd to April 2nd, 20018) to help make all those home and garden ideas you want to get done over Easter 2018 within reach without a long drive through traffic - some of these will prove useful if you are determined to reduce ticks in your yards during the break.
YARD FORCE 125CC 16" LAWNMOWER: $269.00
Briggs & Stratton 300 engine, 45L catcher & 7 height positions.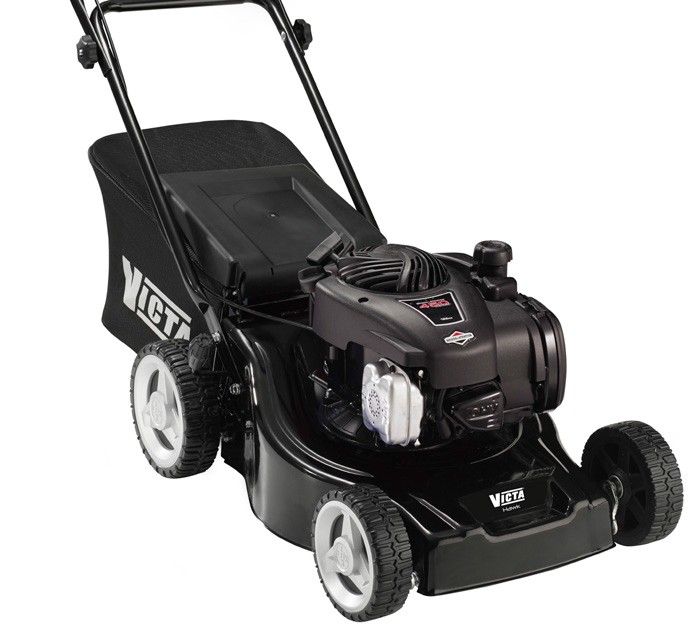 VICTA HAWK 125CC 16" LAWNMOWER: $359.00
Briggs & Stratton 4 stroke engine. Wide tread 6" & 7" wheels.
VICTA HAWK CUT & CATCH MOWER: $419.00
Briggs & Stratton 450E series engine. Rapid start. Classic dual blade cutting system.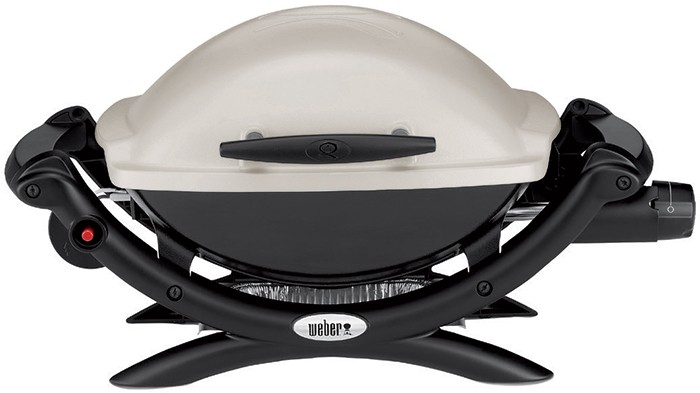 WEBER BABY Q1000: $299.00
69W x 52D x 60Hcm with lid open. Titanium coloured lid. Cast iron split grill, cast aluminium roasting lid & body.
Also available: Black Coloured Lid: $309.00
Gas Cylinders are not included with BBQ's. Accessories not included. All BBQ's require assembly.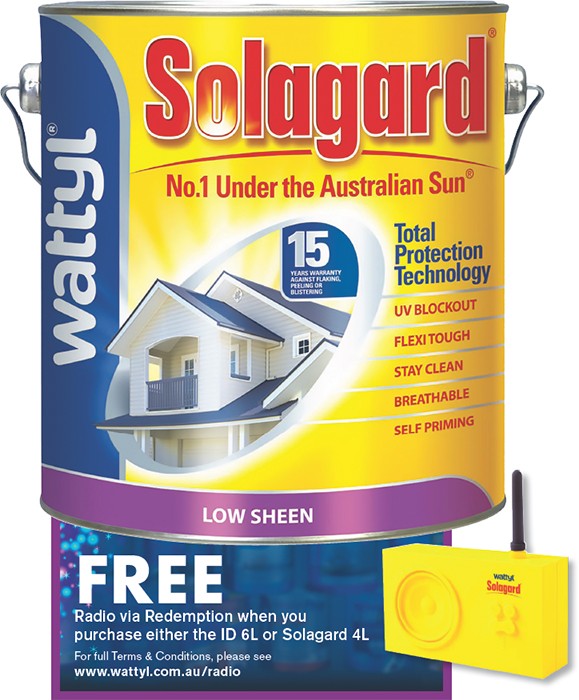 WATTYL SOLAGARD 4L: $59.00
FREE Radio via Redemption when you purchase either the ID 6L or Solagard 4L*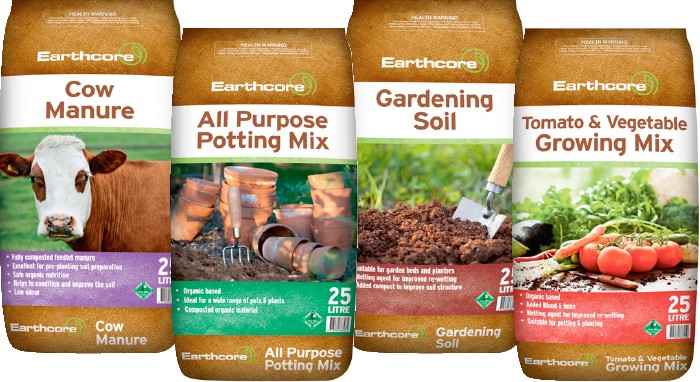 EARTHCORE GARDEN RANGE 25L: Any 4 for

$20.00
7 varieties available.
Paintback Collection Event: Johnson Bros Mitre 10 Mona Vale
Saturday, April 7 at 8 AM - 4 PM
The problem of unwanted paint & packaging has been solved.
Trade painters and householders are invited to dispose of unwanted paint and packaging responsibly at the following collection event.
Mona Vale Collection Event
Date: April 7, 2018
Time: 8am to 4pm
Location: Johnson Bros Mitre 10, 73 Bassett Street Mona Vale, NSW 2103
Drop off is FREE
Paintback accepts up to 100 litres per visit, secured in containers of 20 litres or less.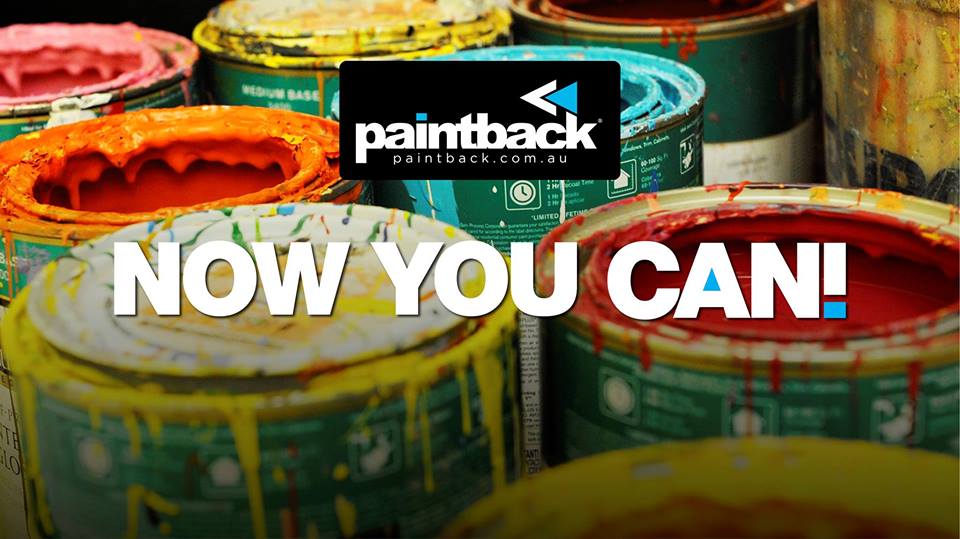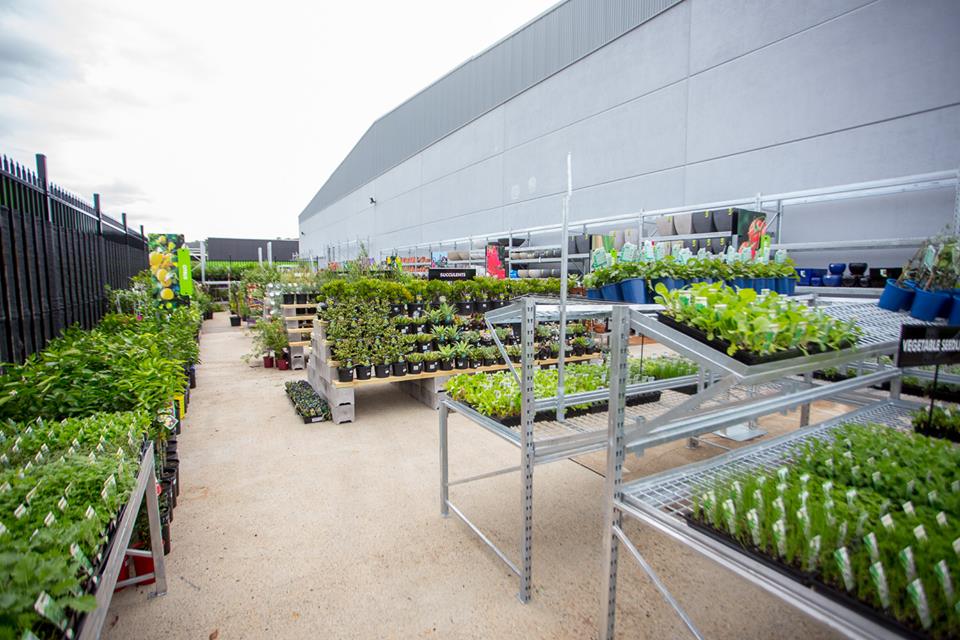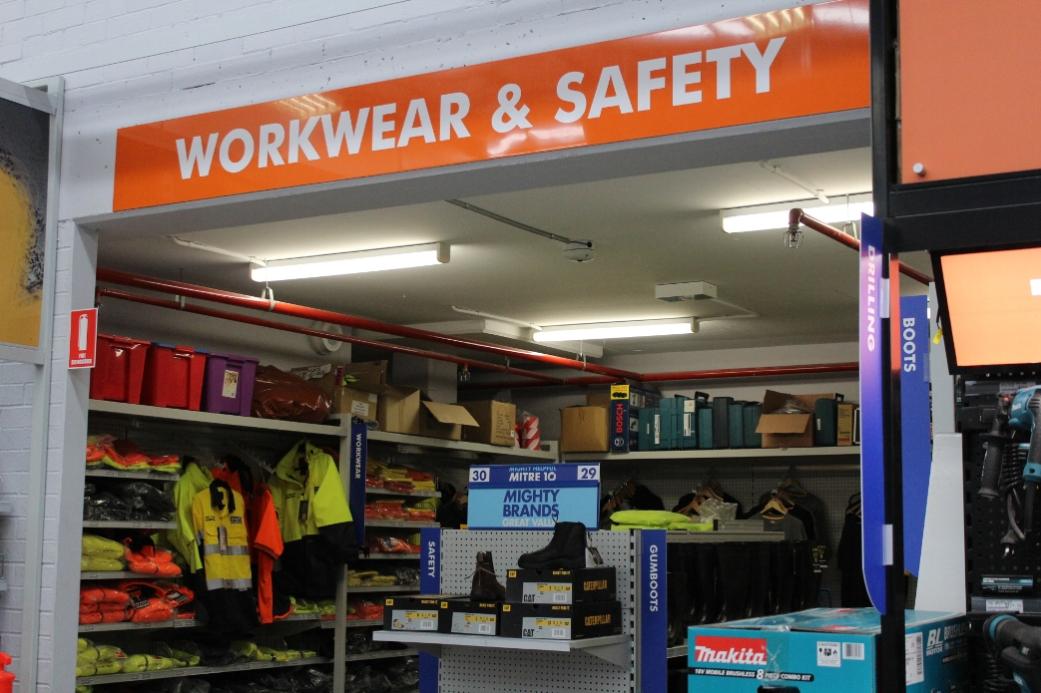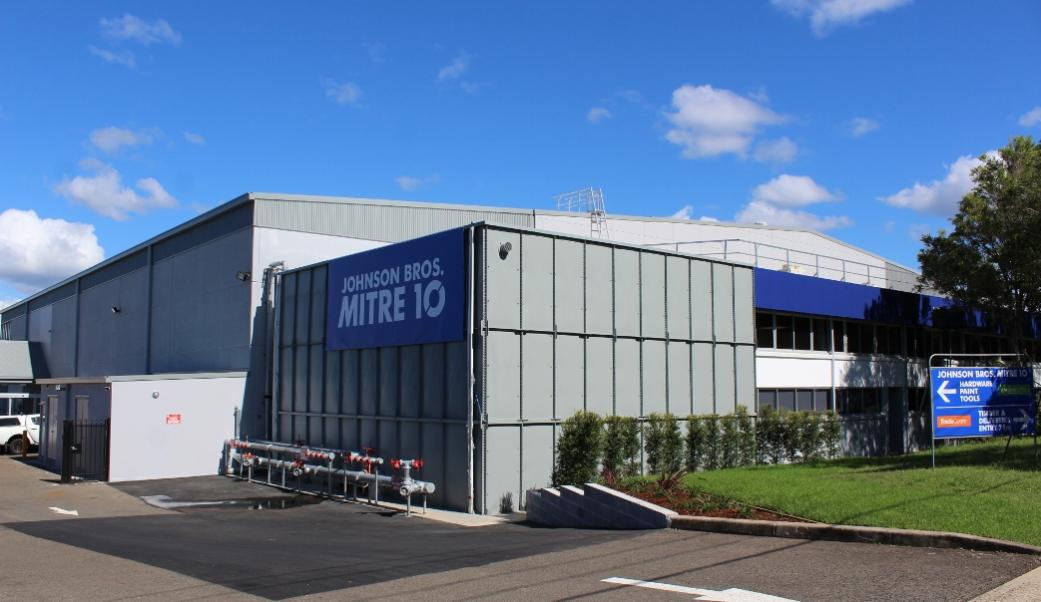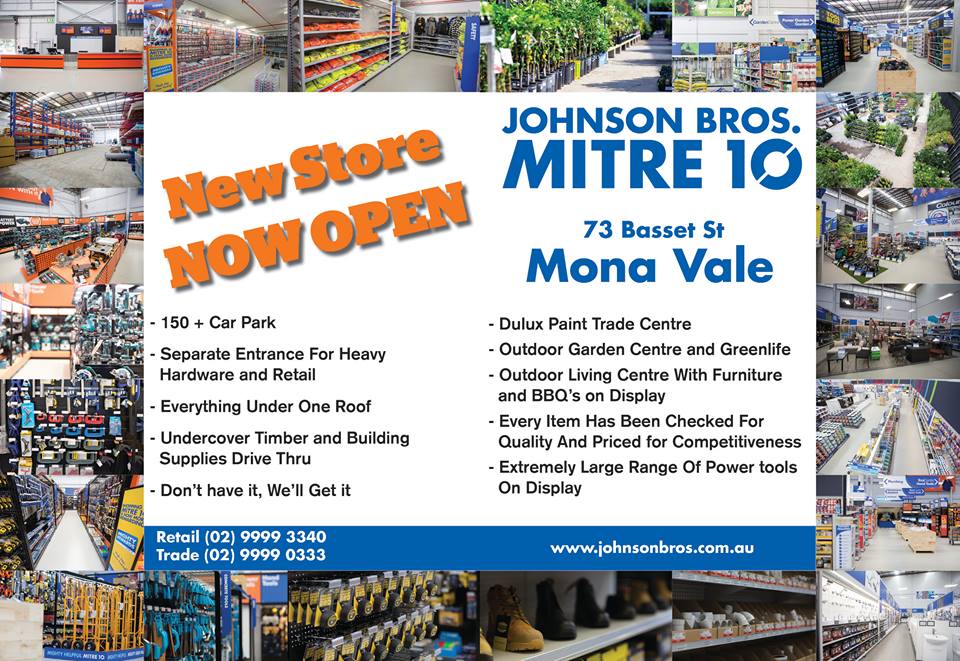 Johnson Brothers Mitre 10 New Store
73 Bassett Street
Mona Vale - Online Store: Jbhmv.Com.Au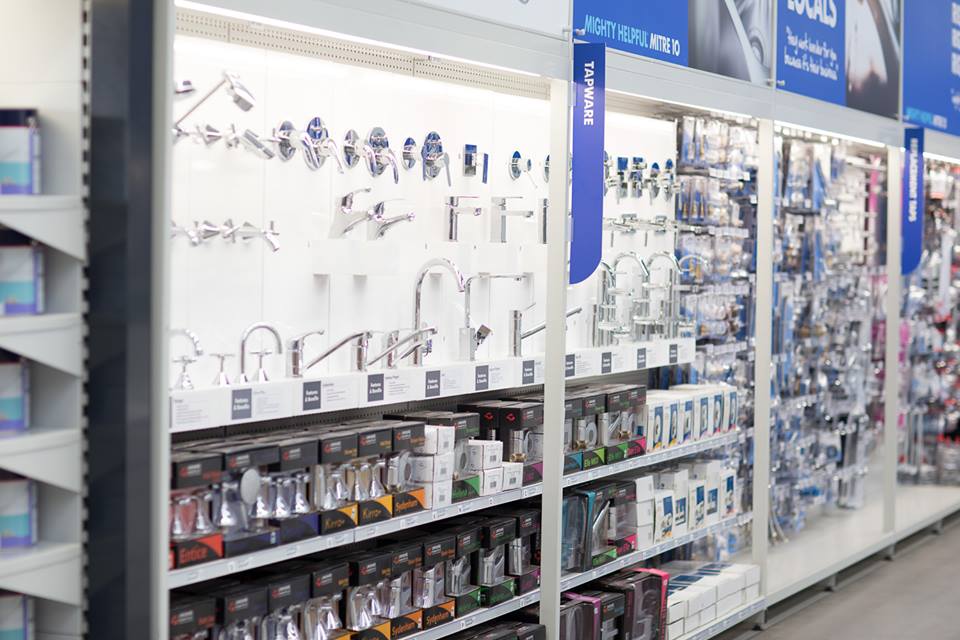 Products advice is available from the trained friendly staff at Narrabeen, Mona Vale and Avalon Johnson Brothers Mitre 10.
Click on logo to visit Johnson Brothers Mitre 10 website
Johnson Bros Mitre 10 - Avalon (02) 9918 3315
Johnson Bros Mitre 10 - Mona Vale (02) 9999 3340
JBH Timber & Building Supplies (02) 9999 0333
JBH Fencing & Landscape Supplies (02) 9970 6333
www.johnsonbros.com.au Online store: jbhmv.com.au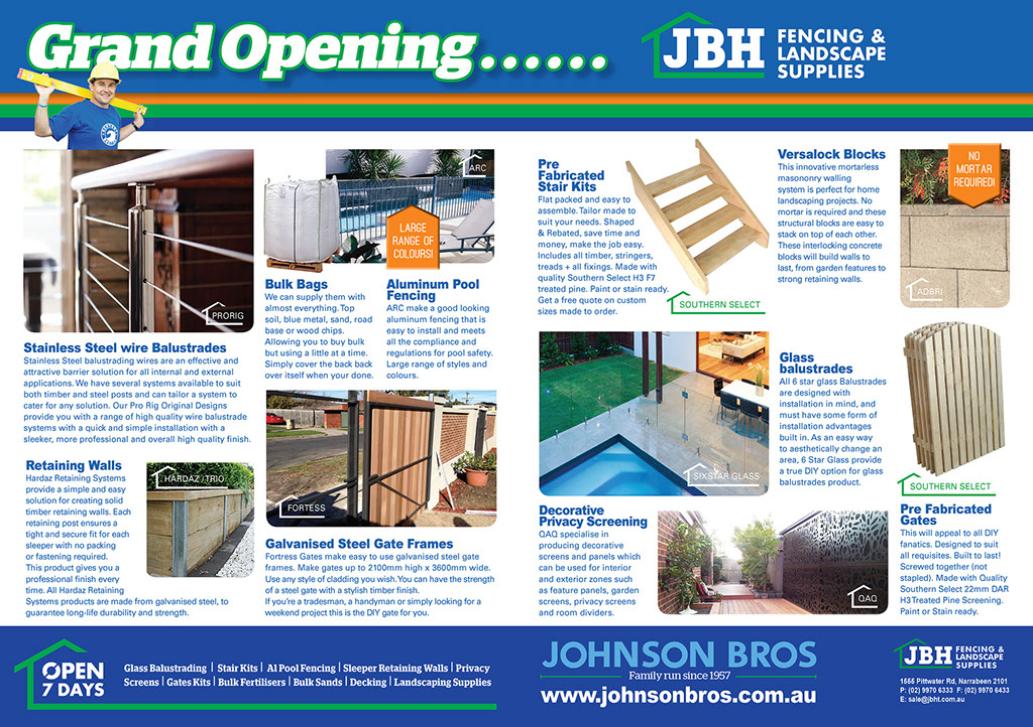 Important
All information and tips in this publication are of a general nature only and neither Johnson Brothers Mitre 10 or Pittwater Online News does not warrant the accuracy or completeness of the information and tips in this publication. This publication is not intended to be a substitute for expert advice.
Johnson Brothers Mitre 10
advises you to always consult an experienced and qualified person when undertaking jobs of this kind (including consulting a qualified tradesperson such as an electrician or plumber where relevant expert services are required).
You should also consider any safety precautions that may be necessary when undertaking the work described in this publication (including wearing any necessary safety equipment such as safety glasses, goggles or ear protectors or hard hats). The information and tips in this publication are provided on the basis that
Johnson Brothers Mitre 10
and
Pittwater Online News
excludes all liability for any loss or damage which is suffered or incurred (including, but not limited to, indirect and consequential loss or damage and whether or not such loss or damage could have been foreseen) for any personal injury or damage to property whatsoever resulting from the use of the information and tips in this publication.
Pittwater Online News and
Johnson Brothers Mitre 10
also advises there may be laws, regulations or by-laws with which you must comply when undertaking the work described in this publication. You should obtain all necessary permissions and permits from council and/or any other relevant statutory body or authority before carrying out any work. Major projects published in this publication always list these and/orlinks to where you may research what your own project requires to meet regulations.