October 24 - 30, 2021: Issue 515

November Garden Jobs: Let's Get Busy Planting Out Now + Mow For Your Bros. This Movember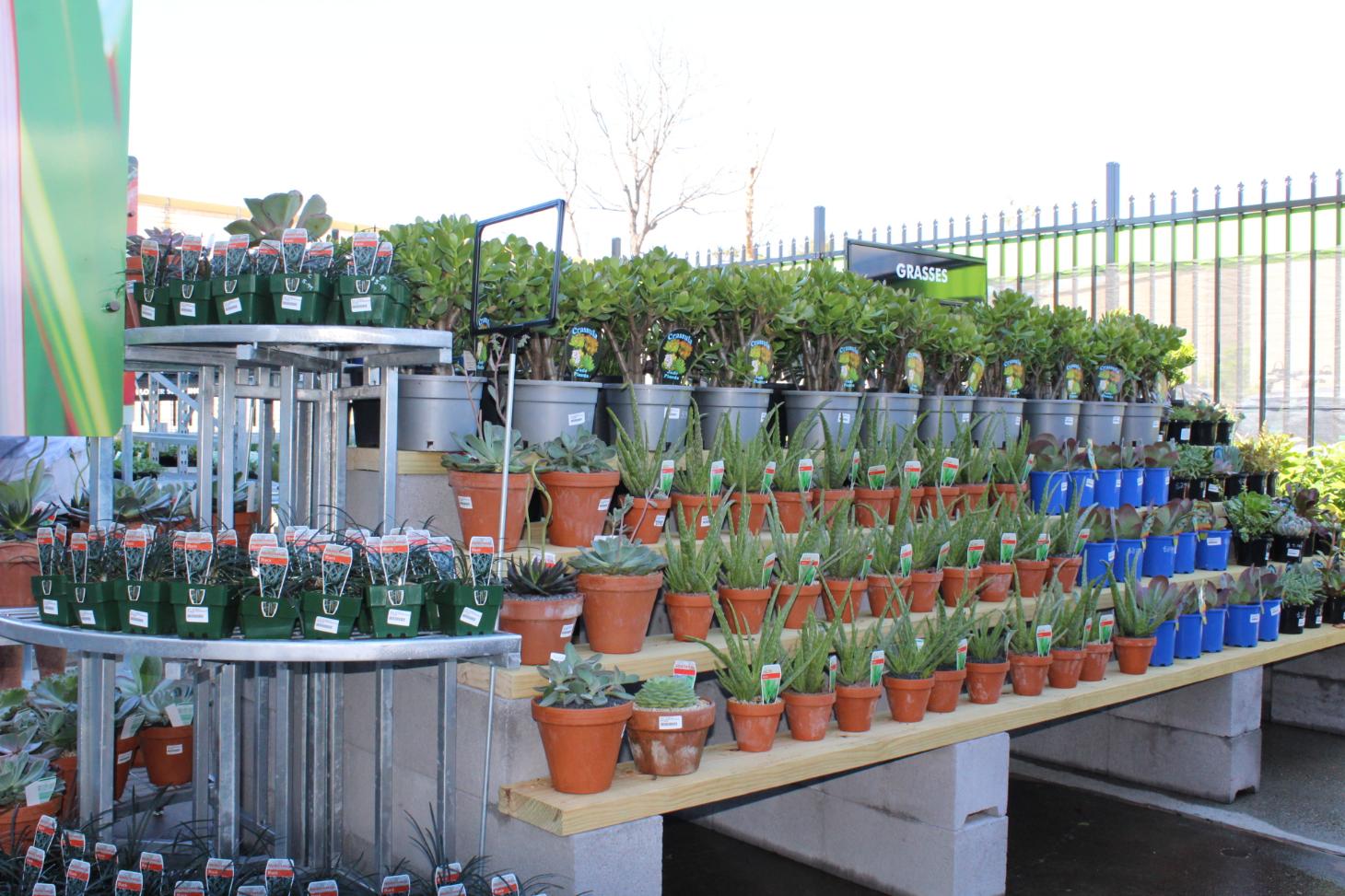 By now the seeds you planted a few weeks back will be seedlings and its time to plant them out into the garden beds so they can grow and grow.
What should you be planting in late October and November? Everything you want to eat over Summer!
For Sydney, a temperate zone, there are still a few cool nights and mornings, but checking what needs full sun and what needs cool shade will help you decide what to place where. At this time of the year planting capsicums, chilli, cucumbers, squash, tomatoes, sweet corn, eggplant, lettuce, zucchini and rocket is great.
While you're at it - all those great herbs that turn the fundamental into the fantastic can go in now too; basil (plant sweet and purple), mint for refreshing mint juleps and new potatoes, parsley for piles of scrumptious tabbouleh, sage to go with that just caught fish, pyrethrum to keep the mozzies at bay, lemongrass for teas, fantastic Asian dishes and even steep some in your bath when muscles are sore, as well as oregano, rue and marjoram will round out your kitchen garden. Some of these can get a bit unruly, so put them in good sized pots, so they don't take over the garden beds, and place these in plenty of sun.
Make sure you give them all a good feed, a good soak to destress them after planting, and then pile around some good mulch to keep the moisture in the soil and give some protection to those baby plants during the cool dewy mornings we'll still get for a couple of more weeks.
November is also a great month to do some lawn care before it gets too hot and the soil dries out. If you have compacted soil get your garden fork out and just gently push the prongs into these areas. This will loosen up the roots and allow water to get into the dirt. Raking is also good as it removes dead blades of grass, leaves and creates aeration and loosens up matted patches. If your lawn's soil is very hard it is suggested you use a steel rake to create points into the lawn to add extra air flow and water and loosen compaction. This will also encourage new growth.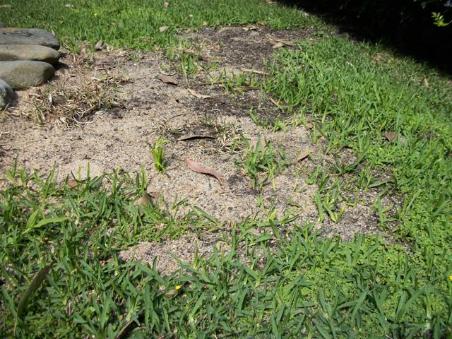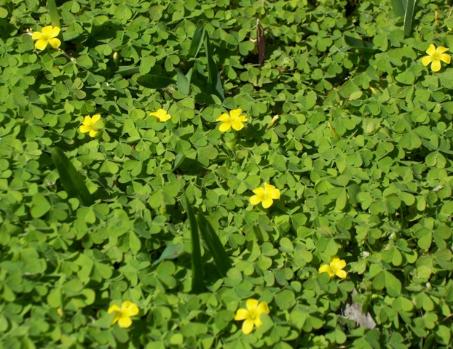 Bare patches appear in lawns during Winter - sow new seed. Spring lawn weeds; up they come and into the compost bin.

The other base for a good lawn is having a close look at its condition each Spring to determine whether it's in good health. If you have a lot of moss plants amongst the lawn this is a sign of soil acidity. Lawns thrive on a neutral soil PH and applying lime will correct this.
If you have bare patches due to kids romps and dog frolics, heavy traffic or water run-off and pooling, you will need to re-seed these areas. Applying a slow-release nitrogen fertiliser as you do will benefit the new seedlings. Once the seed has germinated and you have given it the first cut, lawn experts recommend a quick release nitrogen fertiliser to boost its health. Sowing on a still day, due to this seed's weight, is always a good choice. You don't want the seed being blown away before it can grow. And please wear a mask when applying any kind of fertiliser.
If you fertilised your lawn in Autumn your lawn will generally be still using that in Spring. A lighter feeding is recommended for Spring.
Now is also the time to top up your mulch on all your garden beds. Choose sustainable, low environmental impact mulch, that'll enrich your soil as it breaks down and pile it on all those other garden beds.

Plan for the heat now too by making a couple of shade cloth tents. They don't have to elaborate, just a simple, moveable structure that you can put over the top of some of the sun sensitive Summer crop. T
If you have grafted fruit trees October-November is the time to check for shoots growing up from below the graft and cut them off. This rootstock will take over your trees if you let them go. October-November is also a great time to give your citrus a good feed and also give them a good checking over for any bugs. The Bronze Orange Bug (Musgraveia sulciventris) is a native insect that may occur on citrus trees in home gardens at this time of year. Once limited to coastal SE Queensland and northern NSW, it has now spread to the far south coast of NSW near Bega, as well as some inland citrus growing areas of Queensland and NSW, so check your lemons, limes, oranges and mandarins for this little one.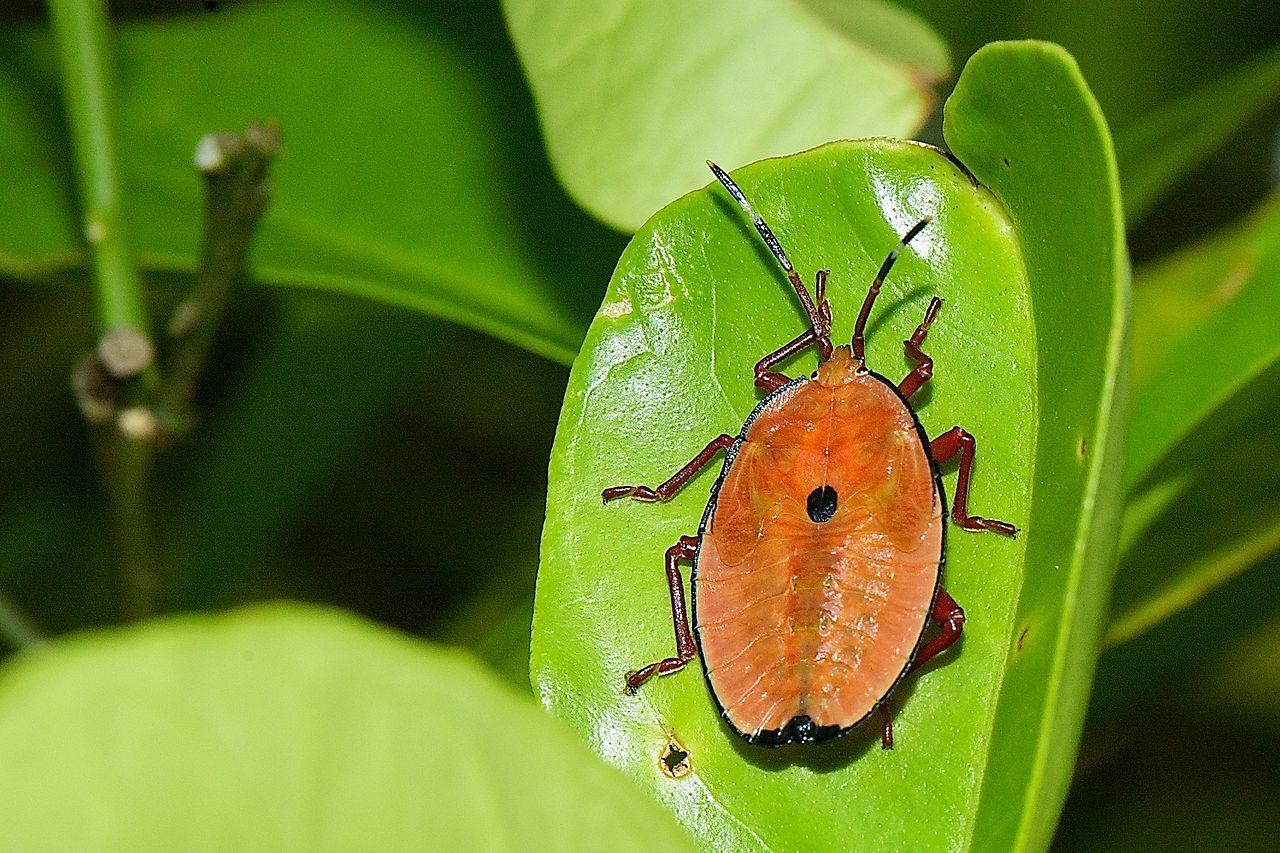 Bronze Orange Bug (Musgraveia sulciventris). Image: Andy

Pulling out weeds is not only good for your muscles, it helps relieve stress. They will be a touch of Mother Bountiful at present, so while your soil is soft and damp, give them a tug. Get the fork onto the tougher ones and toss them into your compost bin.
As we head into Movember Johnson Brothers Mitre 10 are part of the Mow for your Bros!
Movember, the month formerly known as November, is a moustache growing charity event held during November each year that raises funds and awareness for men's health. Mitre 10 in partnership with their key suppliers is proudly supporting Movember. You can too.
When you buy a Makita, Masport or Yard Force mower this Movember, JBH Mitre 10 will donate $20 on your behalf to support men's health.

The Movember crew's work in mental health and suicide prevention, prostate cancer and testicular cancer has never been more important – and they've never needed you more. So, get the fork out, get the weeds out, get yourself a mower and Mow for you Bros this Movember.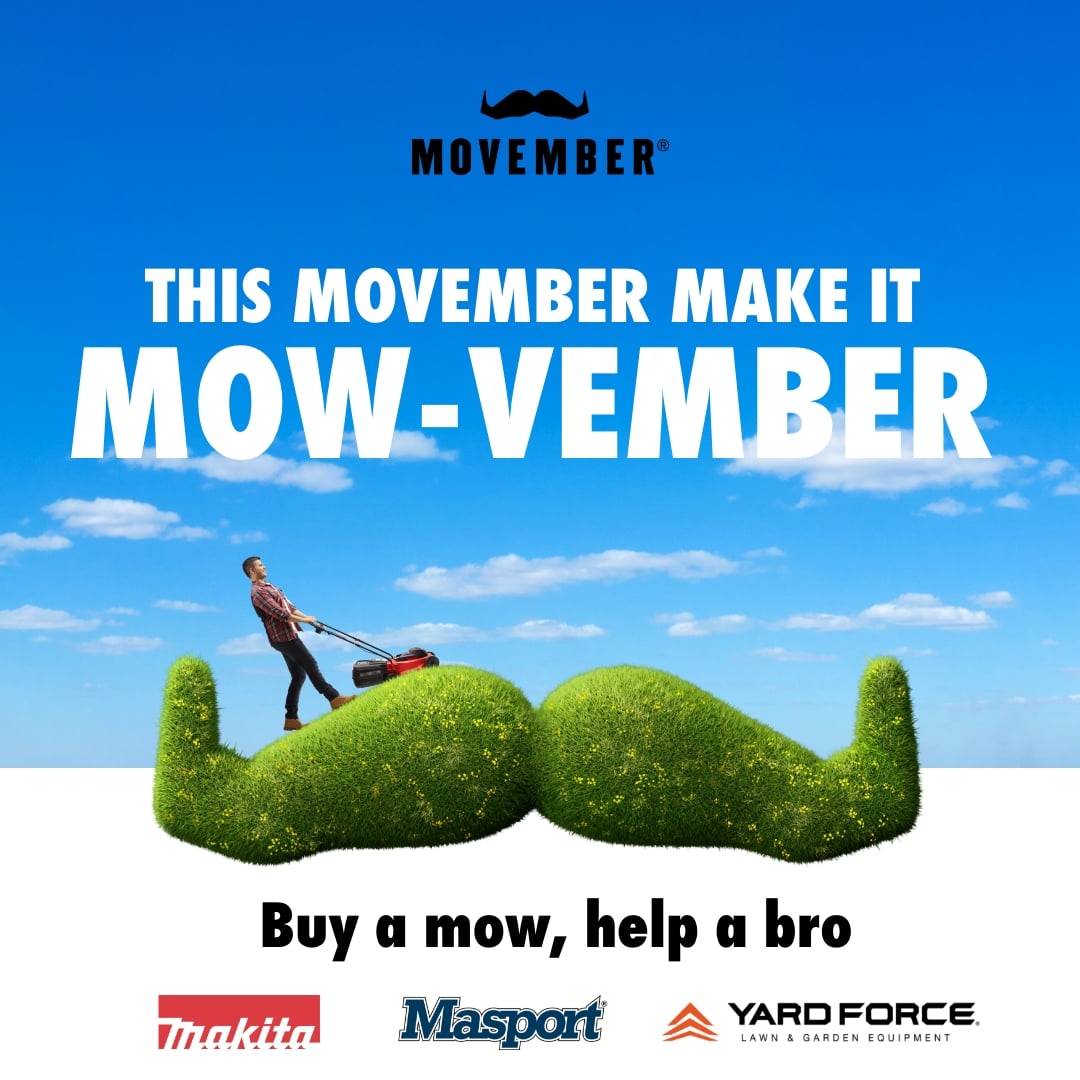 Products And Tools To Help You Get It Done From The Get Busy This Spring Johnson Brothers Mitre 10 Catalogue - Available Until November 2nd 2021
Read new catalogue online here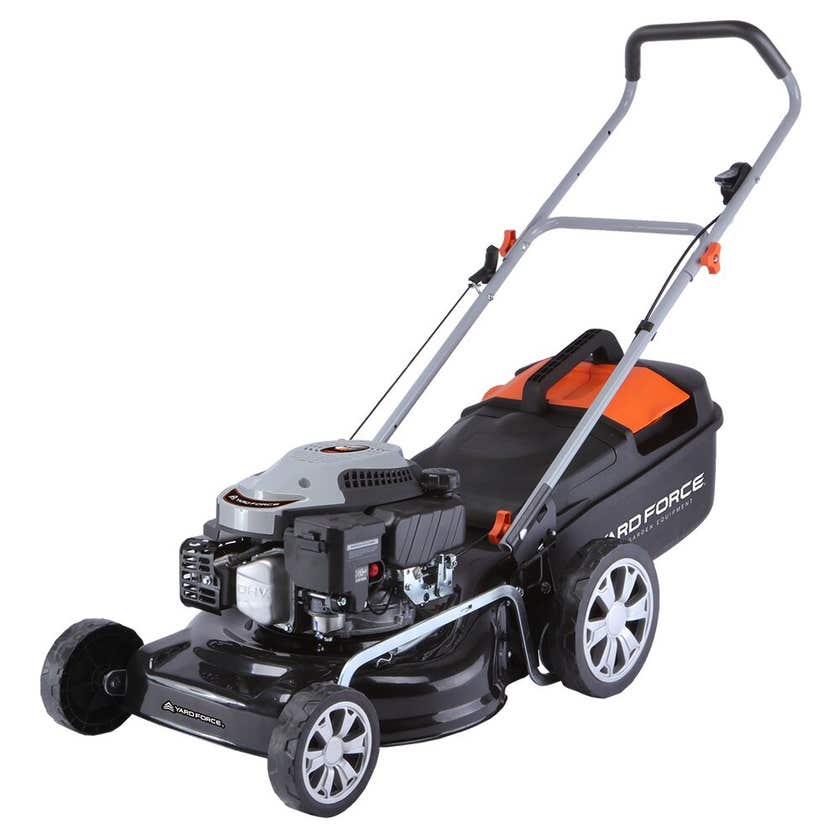 Yard Force 144cc Lawn Mower 18": $299
144cc Engine, 18 inch deck, 460mm blade cutting width, 55L Hard catcher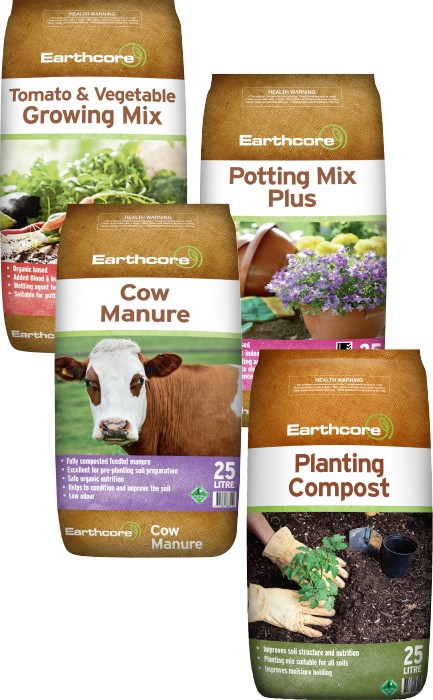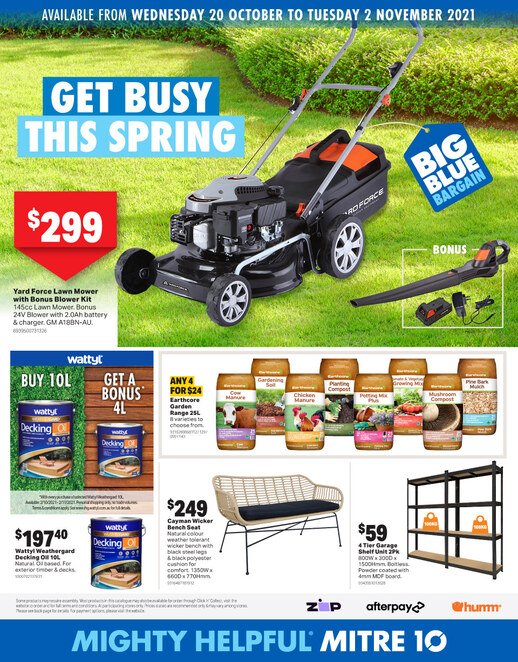 Earthcore Garden Range 25L: Any 4 for $24.00 - 8 varieties to choose from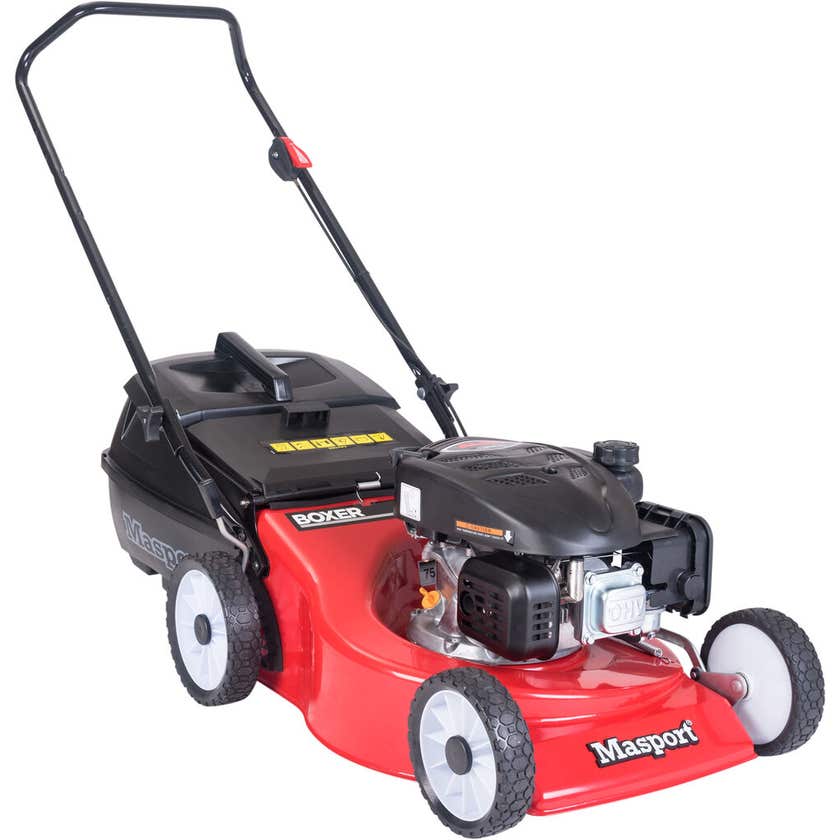 Masport 139cc 4 Stroke Boxer Lawn Mower: $419.00
Quality cut and catch mower. Steel chassis powered by a 139cc AL-KO OHV engine*. Auto Choke. 460mm (18") steel chassis. Masport Quickcut® Blade System. Front 175mm (7") and Rear 200mm (8") mono bearing wheels.*AL-KO specified engine as used on AL-KO mowers in Europe.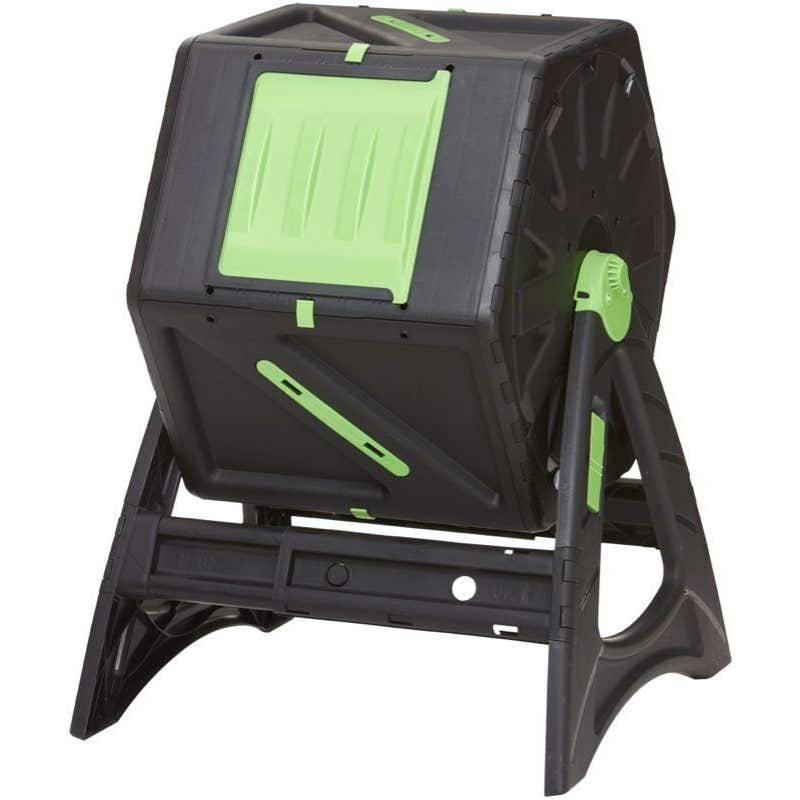 Composter 105L Black: $79.00
Weatherproof UV-resistant plastic feet. Internal ventilation speeds up the process. Heavy-duty construction for year-round composting. Easy to open doors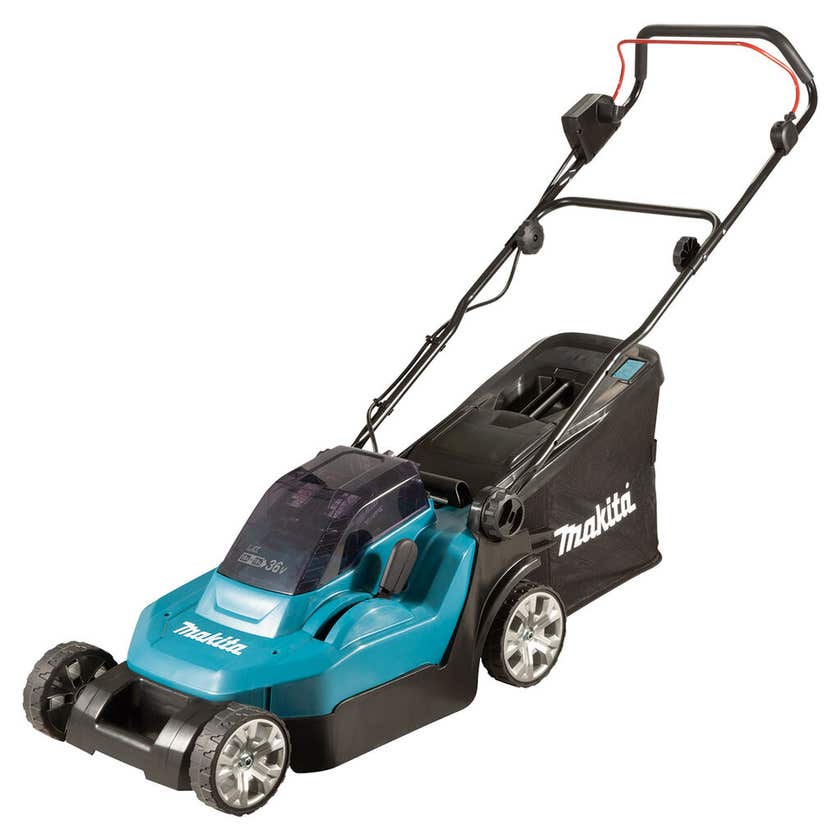 Makita Lawn Mower 36V 380mm Skin: $375.00
Ideal for small to medium sized yards. 13 stage height adjustment. 40L catcher with grass level indicator. Skin only - battery and charger sold separately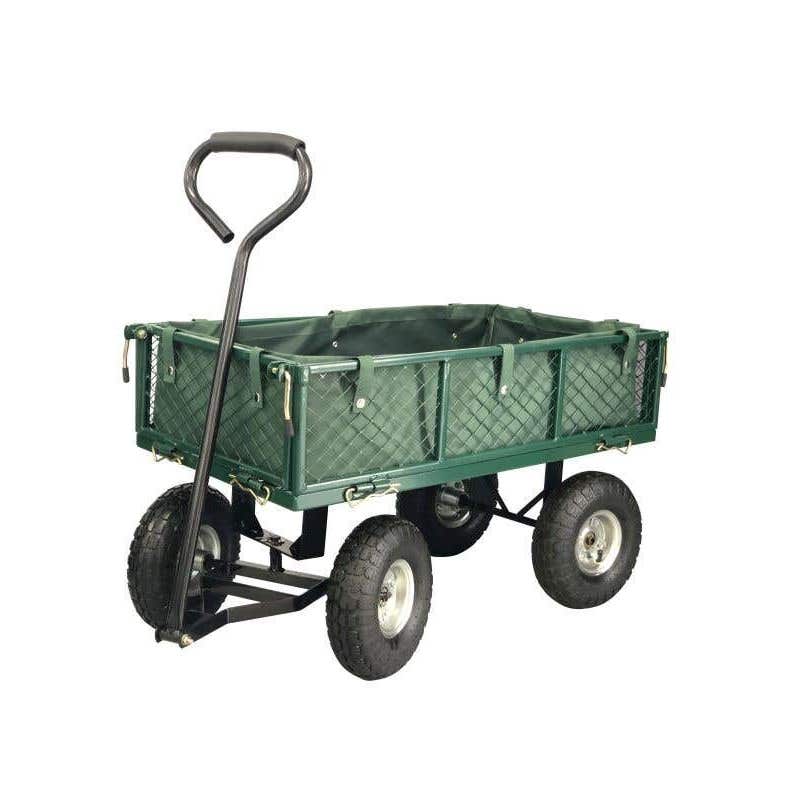 Kaart Steel Mesh Garden Cart: $99.00
10" Pneumatic tyres with poly rims. 250kg loading capacity. Durable poly lining. Removable sides. 1000L x 485W x 830Hmm.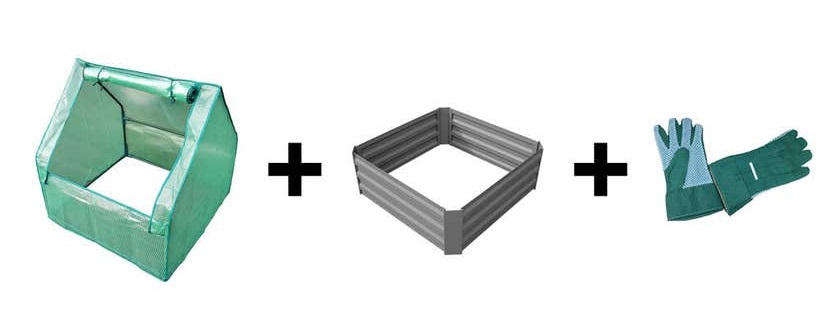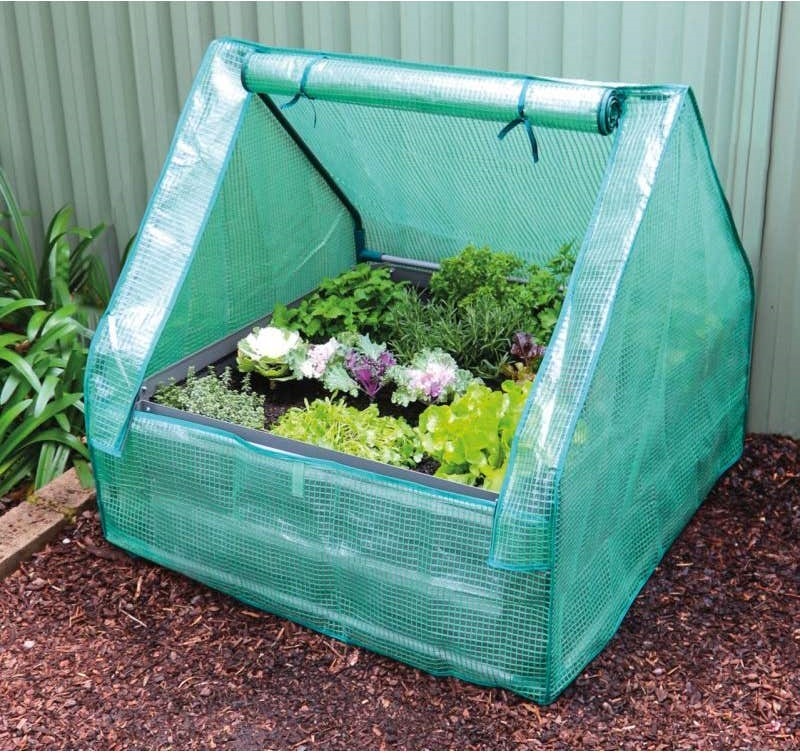 Garden Bed 3 in 1 Bonus Pack: $89.00
Garden bed L850 x W850 x H300mm. Drop over greenhouse L900 x W900 x H920mm. Gardening gloves and storage bag. Plants sold separately.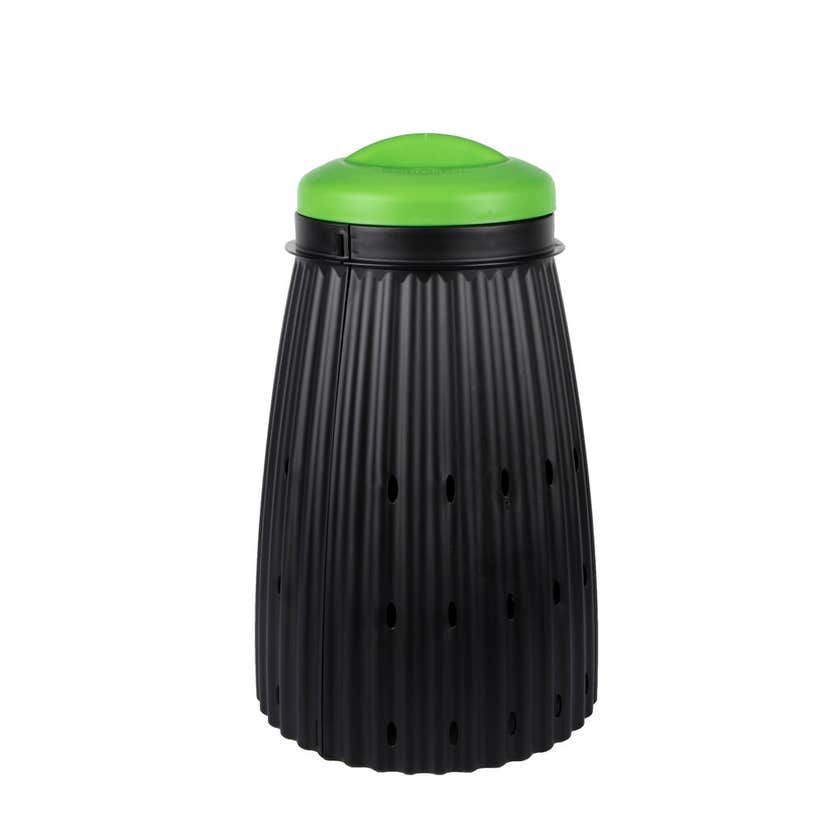 Tumbleweed Worm Buffet Inground Worm Farm: $39.00
Made from 100% recycled UV Stabilised Plastic. Flat pack in ground solution. Locking lid restricts pests from entering. Includes easy-fit blanket for optimum worm growth.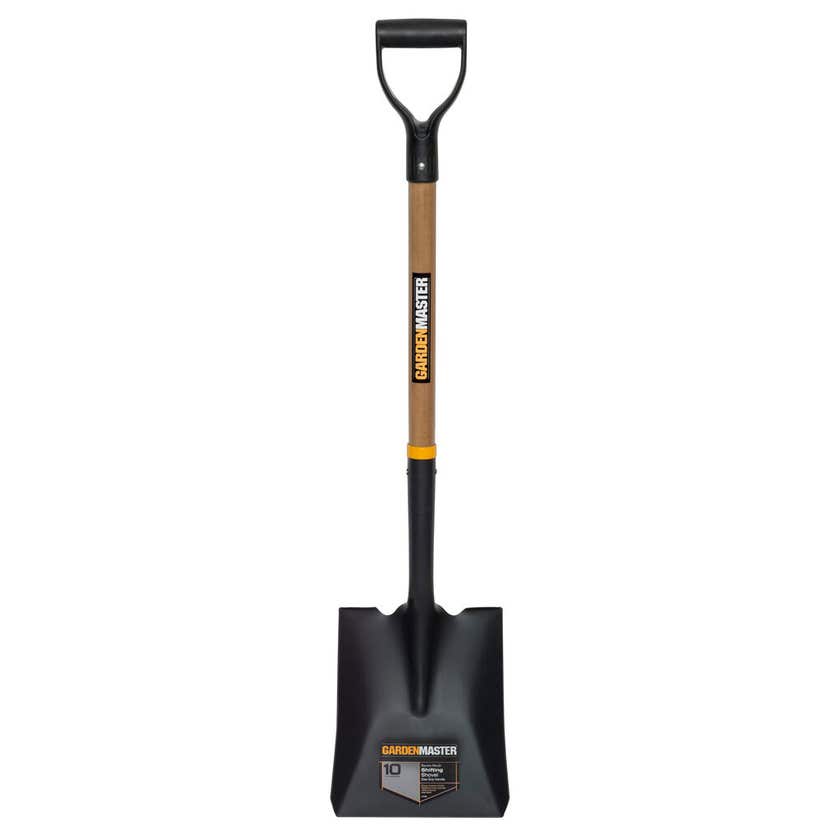 Gardenmaster Square Mouth Shifting Shovel 1020mm: $31.65
Ideal for shovelling heavy soils and sand. General purpose shovel for shifting, loading and spreading heavy to light materials. Long handle for extra leverage.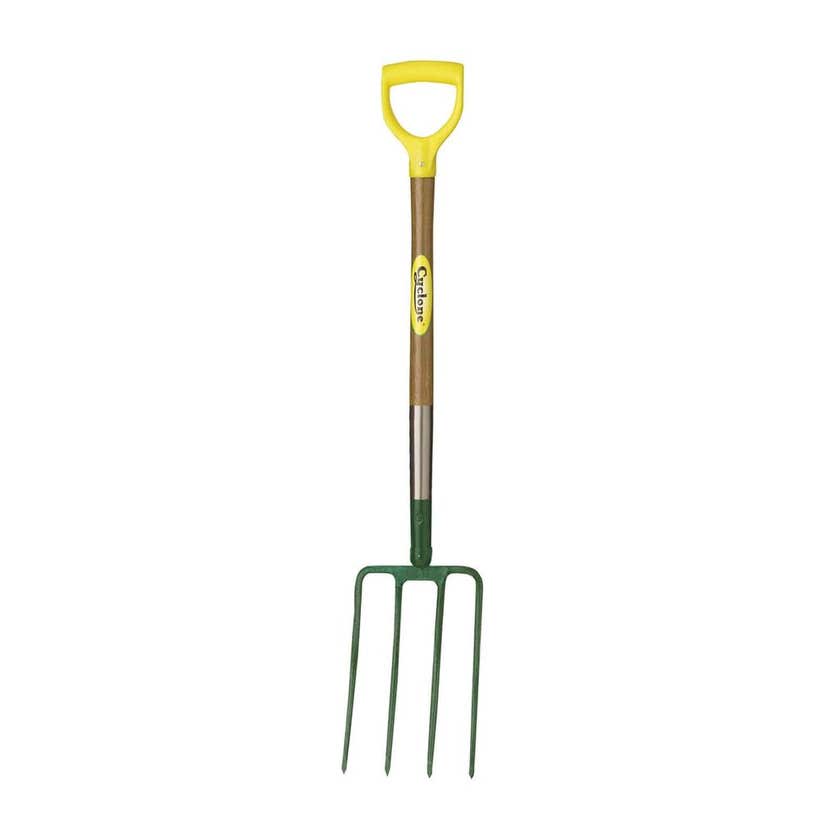 Cyclone Garden Fork: $65.70
Ideal for digging and cultivating most types of soil and great for aerating lawns.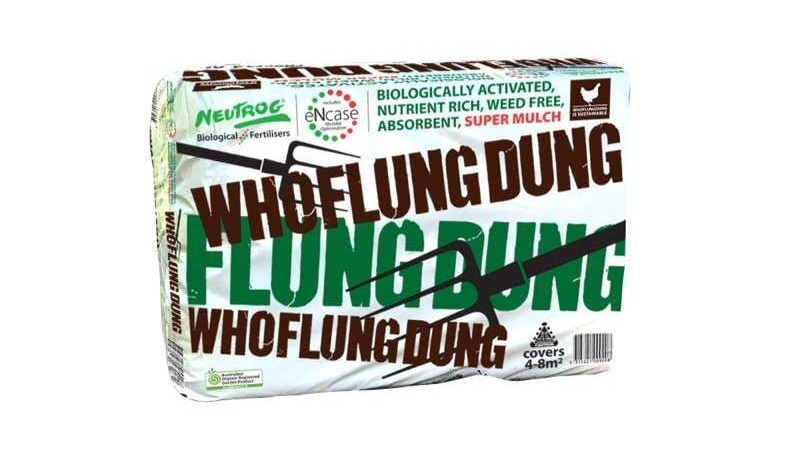 Neutrog Whoflungdung Mulch 20kg: $21.95
Biologically activated. Nutrient rich. Weed free & absorbent mulch.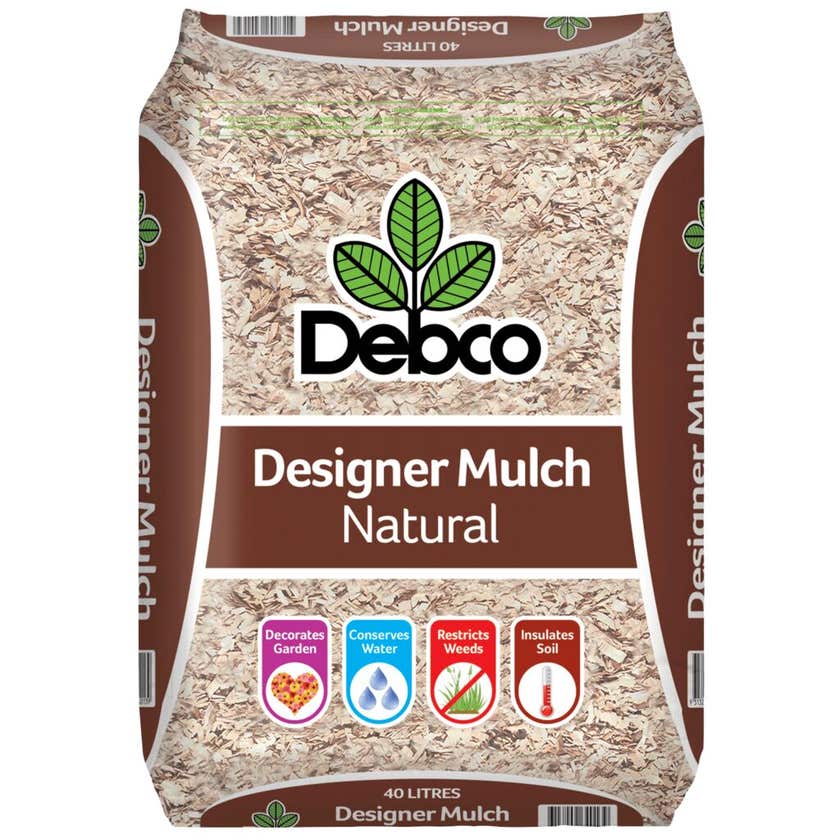 Debco Designer Natural Mulch 40L: $9.20
Decorates garden. Conserves water. Reduces weeds. Insulates soil.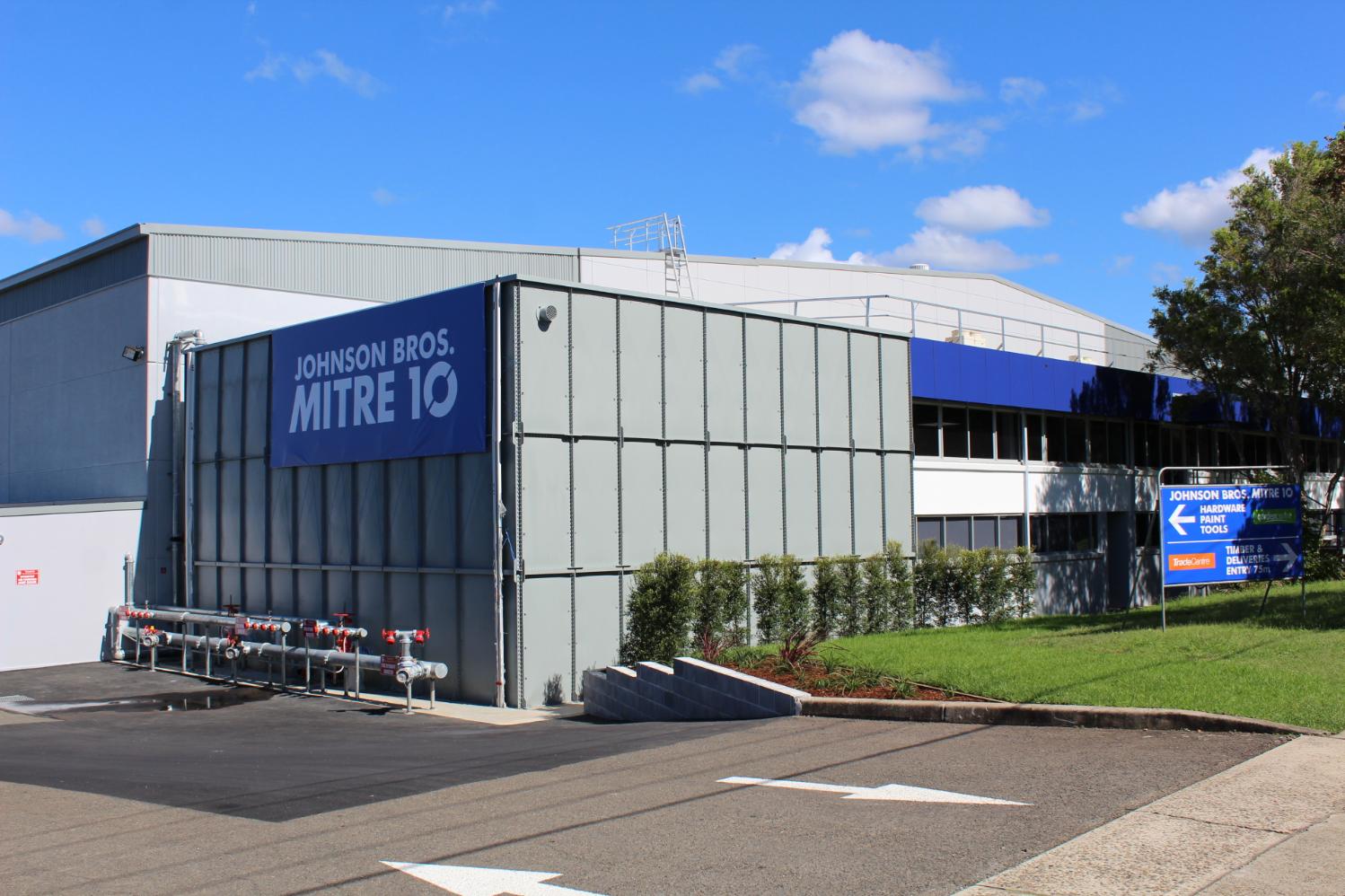 Johnson Bros Mitre 10 Is Open
We understand that this is a tough situation for everybody and implore the community to be supportive of each other.
Following the recent NSW Health advice, as a provider of hardware, garden supplies and building supplies, we're pleased to say that all Johnson Bros Mitre 10 stores, Harper Timber and Narrabeen Trade Centre are operating as per our usual hours.
We count ourselves fortunate to be considered essential and will work responsibly to serve the community to the best of our ability.
FREE Retail Deliveries.
Shop online 24/7 through mitre10.com.au and receive FREE delivery for all online retail orders over $100 and under $40kg or pick up in store with our Click 'n' Collect service.
We do remind customers that when instore to please adhere to the following: wear a mask, use the hand sanitiser provided, maintain social distancing, check in with the QR code.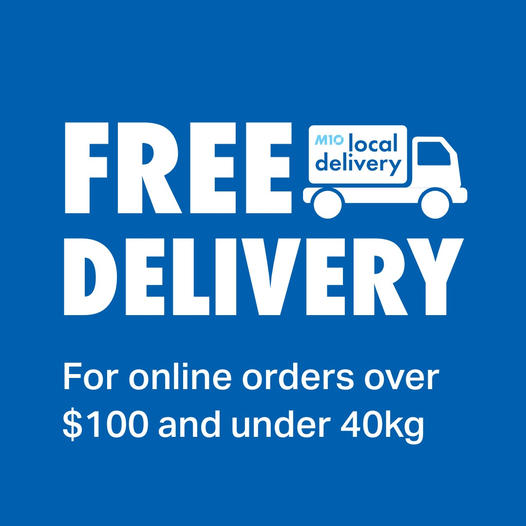 Johnson Brothers Mitre 10: Shop Online Options
Intending to keep our customers and staff safe, we present some additional ways for both our retail and trade customers to do business with us.
Trade and Retail Pick Up
Express Pick up Mona Vale
- Call Johnson Bros Mitre 10 Mona Vale, and we will pick & pack your order and have it ready for you to pick up in 2 hours. (Stocked Lines Only)
- Drive into our undercover Trade Drive-Thru area at 73 Bassett St Mona Vale, and your order will be ready for pick-up.
- Our team members will help you with your load and finalise payment/paperwork
Express Pick up Avalon
- Call Johnson Bros Mitre 10 Avalon, and we will pick & pack your order and have it ready for you to pick up in 2 hours. (Stocked Lines Only)
- Drive into our back lane off Bellevue Avenue, and your order will be ready for pick-up.
- Our team members will help you with your load and finalise payment/paperwork
Online Retail Stores Go Live
We've launched two eCommerce sites offering 2hr pick up in-store and flat rate delivery options on the northern beaches*.
Jbhmv.com.au (Mona Vale)
Jbhav.com.au (Avalon)
With the ability to leave the product on your doorstep, this provides an option of an entirely contactless transaction.
*Flat rate delivery is not available to trade sales, building supplies and trade quantities
** The stock availability is updated nightly, which may mean the stock is unavailable when the order is placed
Trade Delivery to Site
Maybe not new, but certainly worth a mention again!
We can get almost anything delivered quickly onto site!
As always ring the trade desk direct on 9999 0333 and let them know what you need!
Final Thought
Like everyone, we have found ourselves in a new and uncertain environment, but we're setting up (and digging in) for the long haul!
We want to acknowledge that the decision to retain over 120 staff and meet any future challenges head-on, could not have happened without the continued support you provide us as customers.
Thank you and stay safe,
The Johnson Family

JBH Design Centre
JBH Design Centre is a tool for builders and DIY'ers to assist in the fit out of houses. It has displays of kitchens, Bathrooms, Doors and Storage as well as knowledgeable staff to assist in making house fit out painless.
Visit: http://jbhdc.com.au/
On Facebook: https://www.facebook.com/design.centre.jbh/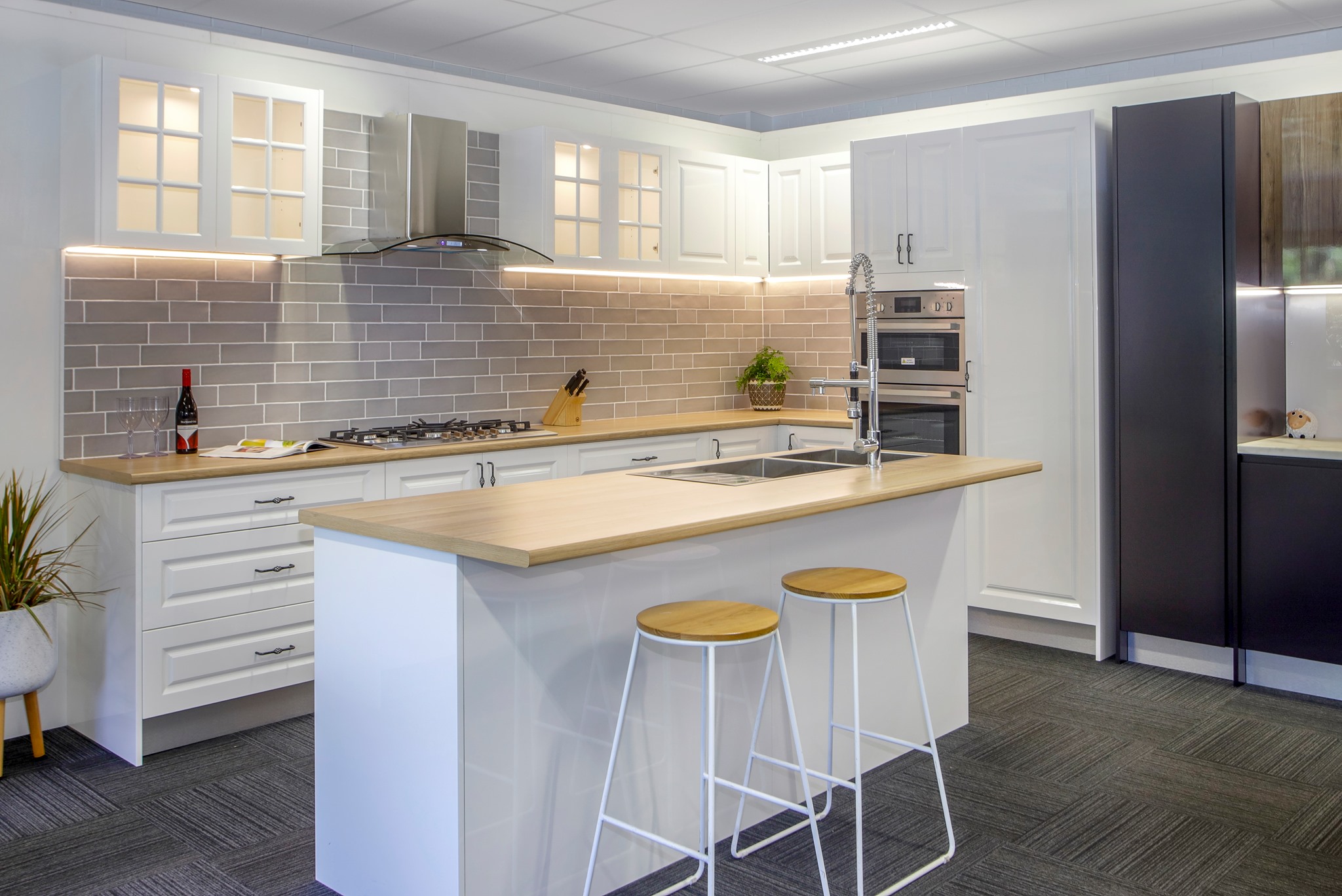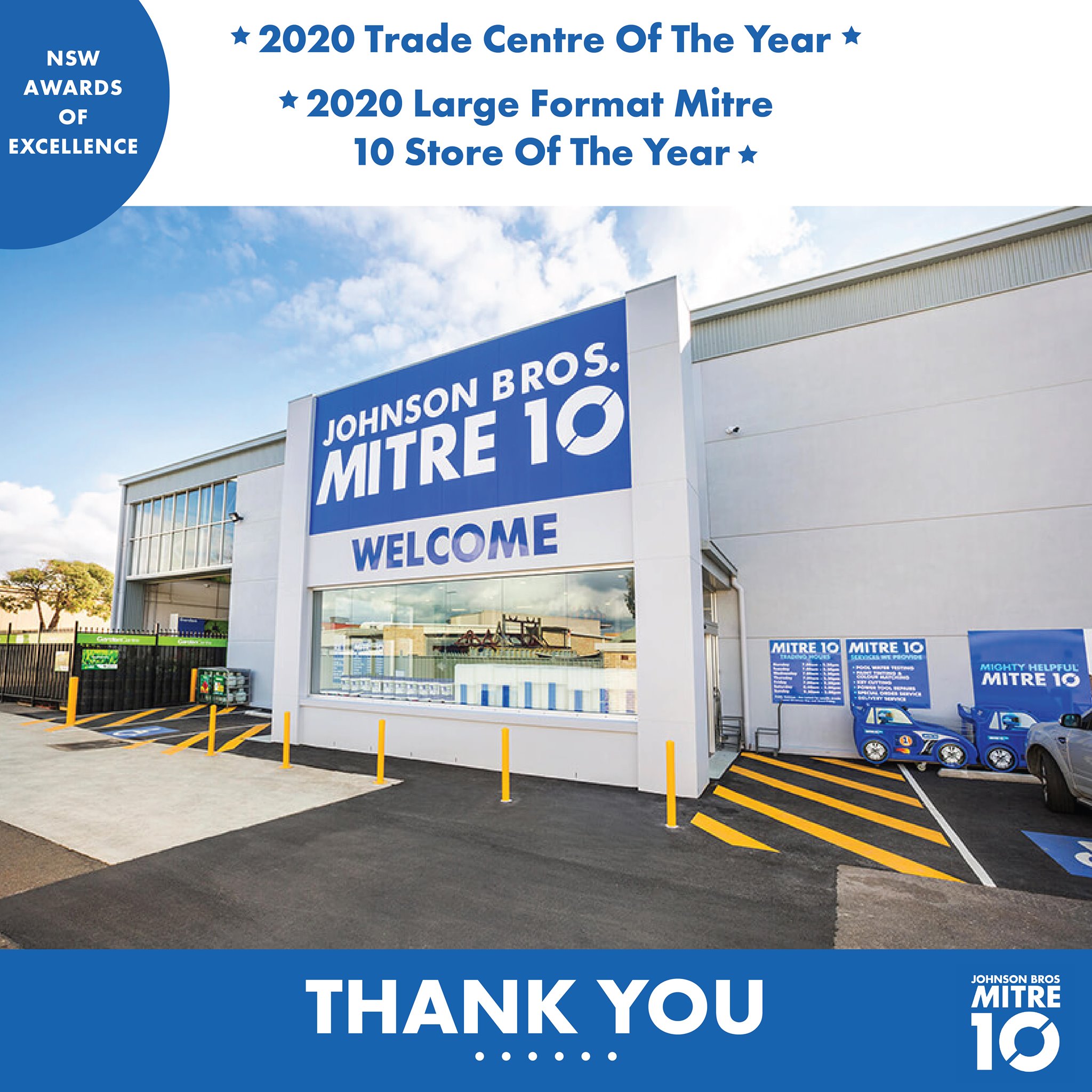 We want to thank all of you for supporting and trusting us through this 2020, without you we could not be receiving these two important awards.
Thank you for being our customer and thanks to all our great staff for making this possible especially though this full of surprises year.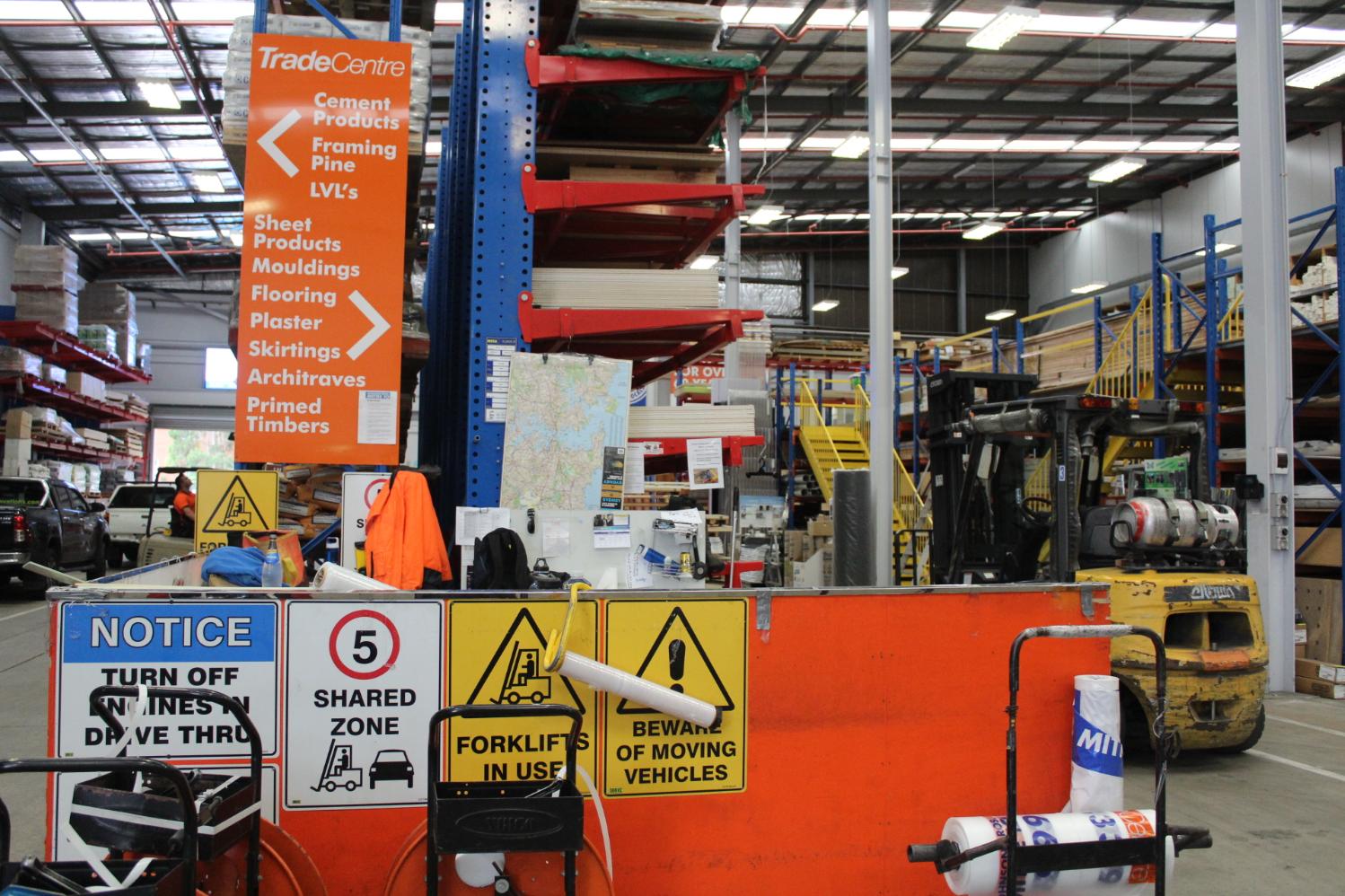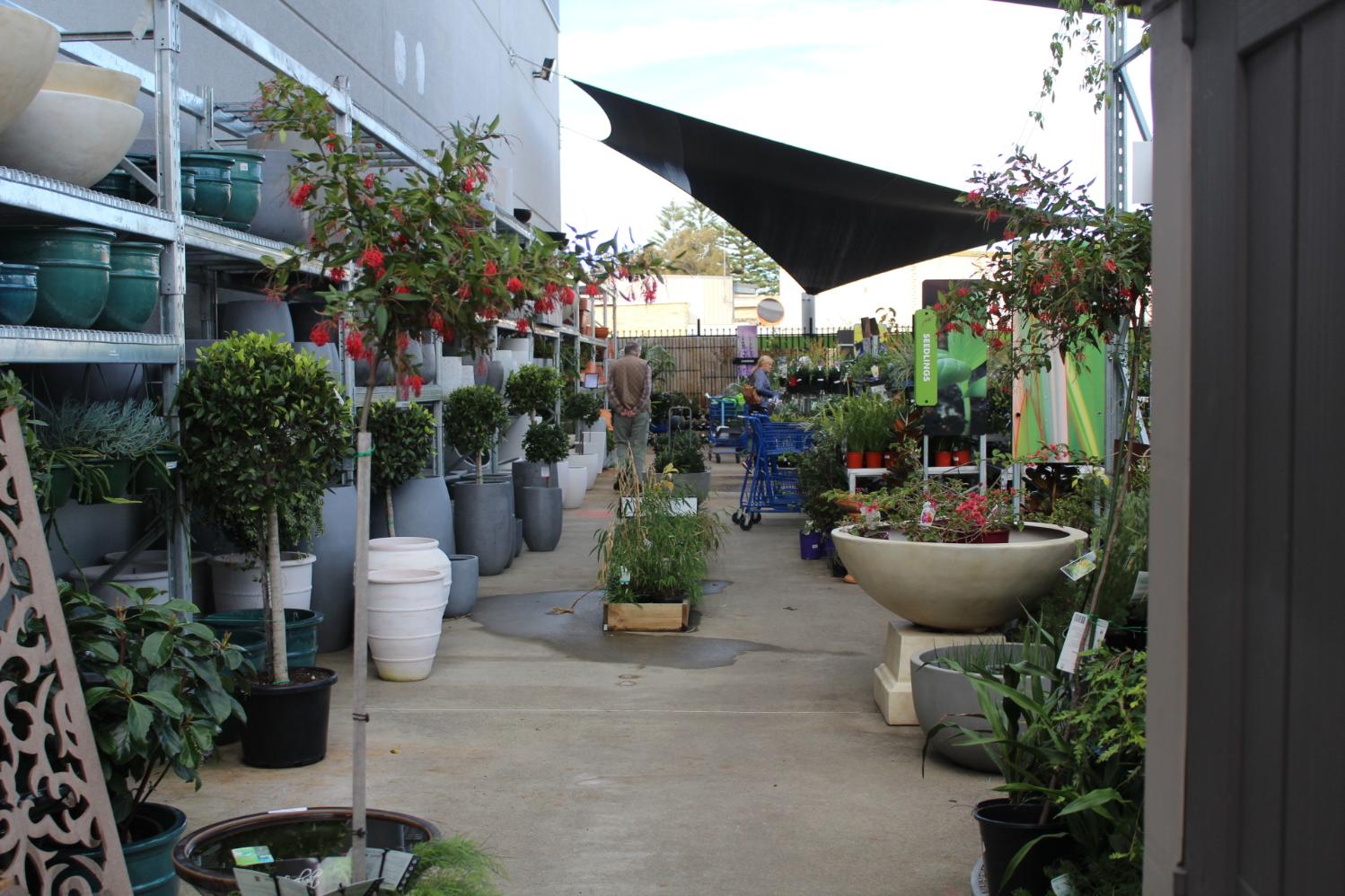 Green Life Garden Centre at Johnson Brothers Mona Vale has a great stock of seedlings, native and other plants and all you need to get gardening in brilliant Autumn weather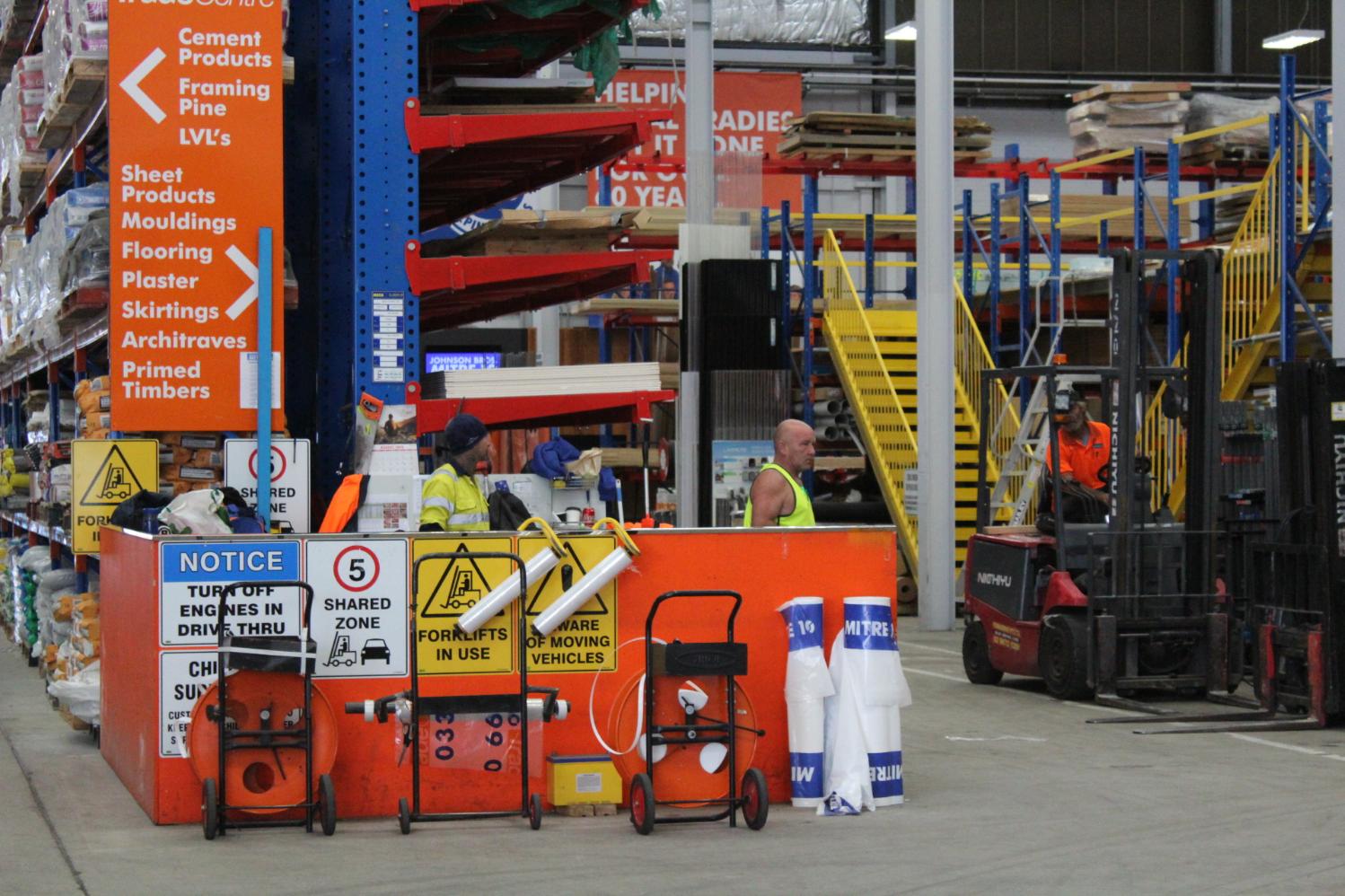 Johnson Brothers Mitre 10 Trade Centre at Mona Vale - everything you need under one roof.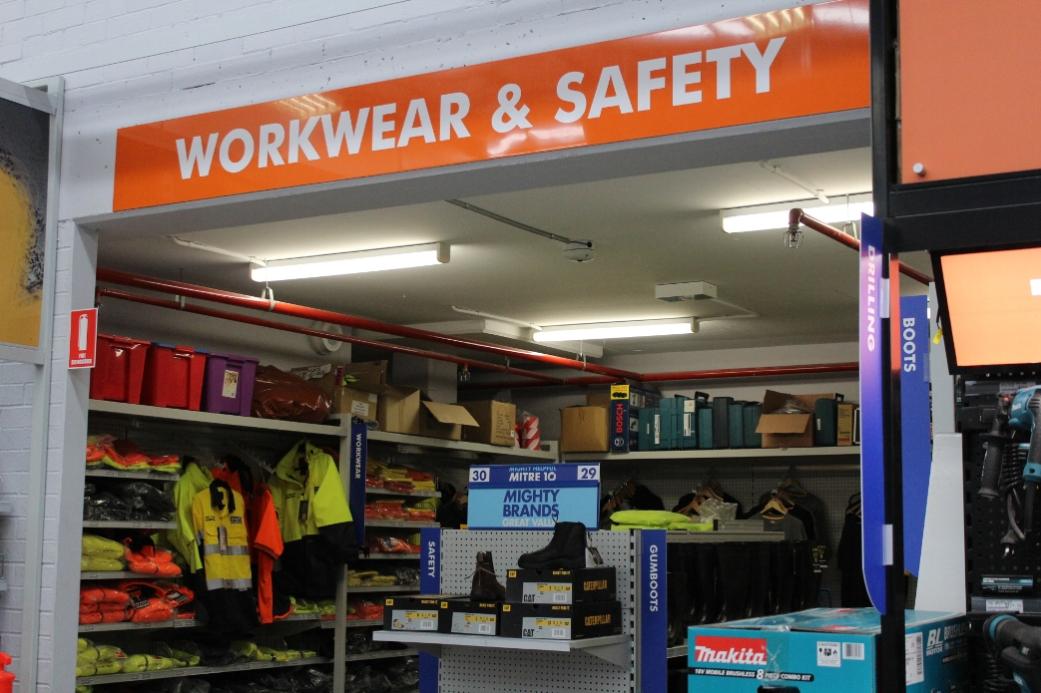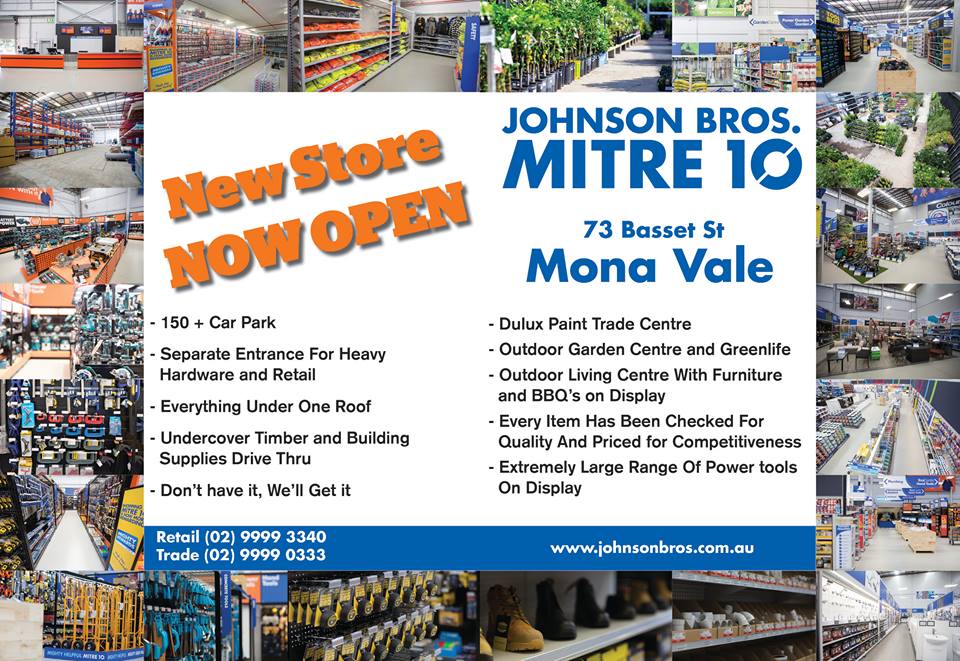 Johnson Brothers Mitre 10 New Store
73 Bassett Street
Mona Vale - Online Store: Jbhmv.Com.Au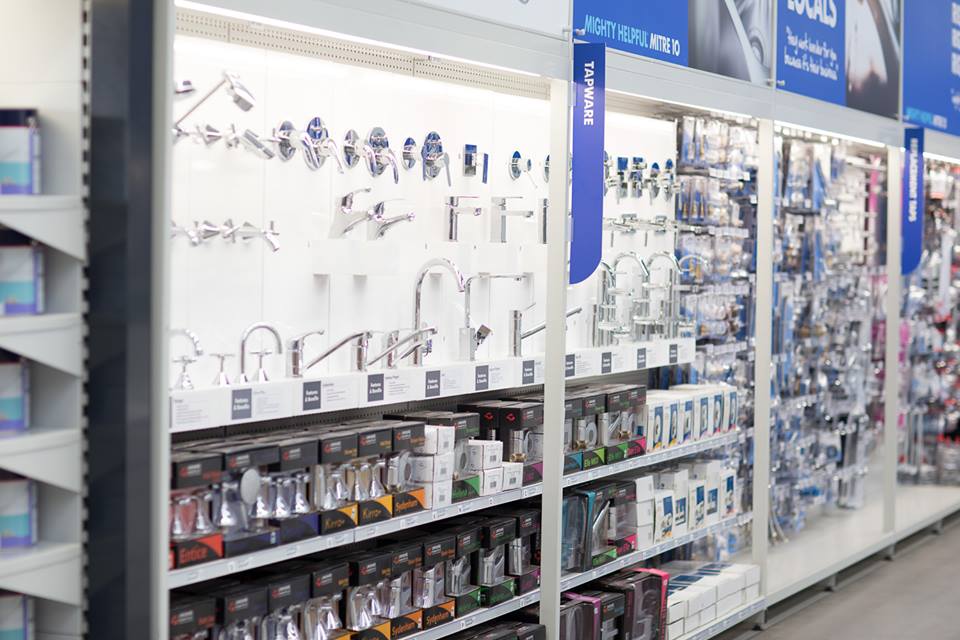 Products advice is available from the trained friendly staff at Narrabeen, Mona Vale and Avalon Johnson Brothers Mitre 10.
Click on logo to visit Johnson Brothers Mitre 10 website
Johnson Bros Mitre 10 - Avalon (02) 9918 3315
Johnson Bros Mitre 10 - Mona Vale (02) 9999 3340
JBH Timber & Building Supplies (02) 9999 0333
JBH Fencing & Landscape Supplies (02) 9970 6333
www.johnsonbros.com.au Online store: jbhmv.com.au

John, Bob and Robert Johnson, 2013 - photo by A J G.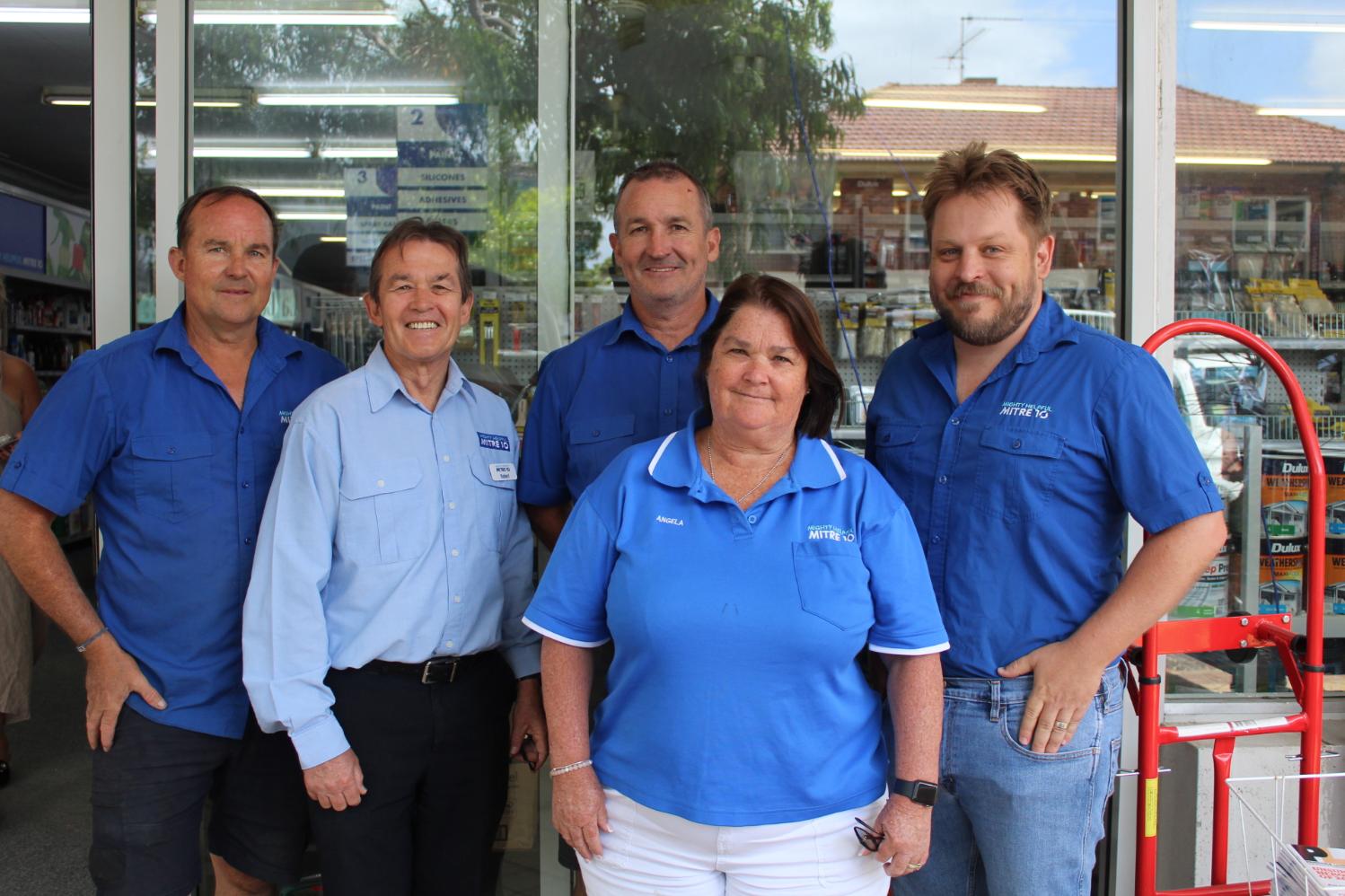 December 2020 - photo by A J G.
Important
All information and tips in this publication are of a general nature only and neither Johnson Brothers Mitre 10 or Pittwater Online News does not warrant the accuracy or completeness of the information and tips in this publication. This publication is not intended to be a substitute for expert advice.
Johnson Brothers Mitre 10
advises you to always consult an experienced and qualified person when undertaking jobs of this kind (including consulting a qualified tradesperson such as an electrician or plumber where relevant expert services are required).
You should also consider any safety precautions that may be necessary when undertaking the work described in this publication (including wearing any necessary safety equipment such as safety glasses, goggles or ear protectors or hard hats). The information and tips in this publication are provided on the basis that
Johnson Brothers Mitre 10
and
Pittwater Online News
excludes all liability for any loss or damage which is suffered or incurred (including, but not limited to, indirect and consequential loss or damage and whether or not such loss or damage could have been foreseen) for any personal injury or damage to property whatsoever resulting from the use of the information and tips in this publication.
Pittwater Online News and
Johnson Brothers Mitre 10
also advises there may be laws, regulations or by-laws with which you must comply when undertaking the work described in this publication. You should obtain all necessary permissions and permits from council and/or any other relevant statutory body or authority before carrying out any work. Major projects published in this publication always list these and/orlinks to where you may research what your own project requires to meet regulations.