January 29 - February 4, 2012: Issue 43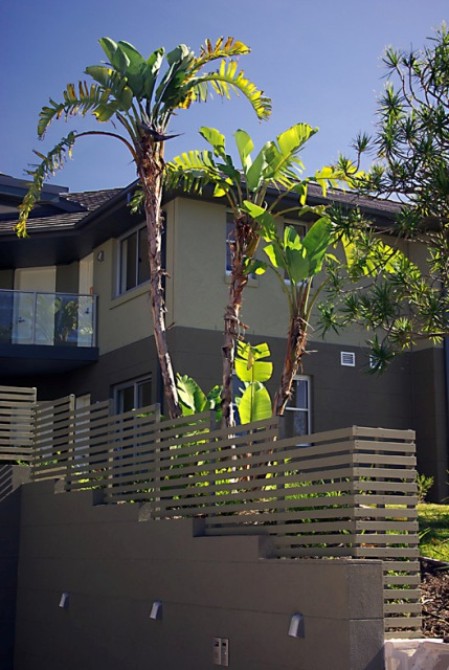 Copyright Bruce Crutcher and Johnson Bros Mitre 10, 2012. All Rights Reserved.
Privacy Screens I
By Bruce Crutcher
Happy New year to all! I trust everyone has had (or is still having) a fun and safe holiday. In this issue, I will be discussing privacy screens. Privacy screens are, as the name suggests, great for creating private areas whilst still allowing light and air through.
The first step in erecting privacy screens is to make sure that it complies with council regulations. Privacy screens are generally permitted if they are not higher than 2.5m above existing ground level, no longer than 5m, are located in the rear yard and more than 900mm from lot boundaries. There are other restrictions, especially relating to balconies and decks. Please call your local council to ensure compliance.
Once you have worked out the scope of your screen, you will need to determine the material it is to be constructed with. Posts are usually either galvanized metal, treated pine or hardwood. Treated pine is the most common material used as it is easy to work with and durable. If the post is going to be placed in the ground, ensure the pine is treated to hazard level 4 (H4). To increase the life of your posts, consider using post shoes which keep the end of the post out of the ground. These post shoes are usually either bolted to concrete footings or the concrete footings are formed around the post shoes. If the posts are being sunk into the ground, allow at least 600mm below the ground.
Whichever method you use, ensure the posts are vertical in all directions using a spirit level. Use temporary bracing to ensure the posts stay straight whilst any concrete used is allowed to set. There is no hard and fast rule for spacing between posts, however, consideration must be given to the type of material used for screening, the length of the screen and the aspect of the screen. Being a natural product, timber will be affected by the environment more and will need more support. The closer together the posts are, the more stable the screen will be and will look better longer. The distance between posts should be from 1.2m to 2.4m.
Our next article will look at the various products available for screening. For the right advice regarding posts and post shoes, come into Johnson Bros Mitre 10 and ask our helpful staff.
Click on logo to visit their website