December 8 - 14, 2013: Issue 140
Christmas Lights Display Around the House and Garden
Anyone who visits Elaine Avenue in Avalon during Christmas week knows how lovely this street looks with all its lights. The neighbours create visual splendour for little people that adults also drive down or stroll by, simply to enjoy. More consumers are switching to LED lights for decorating outdoors as energy-efficient LED lights use less power and require far fewer repair. Over time, they can be a better investment.
To avoid the week before Christmas frantic rush we usually put up the tree and lights the first week of December, it's a tradition for us – the kids love it, even though now all grown tall, and we too sit smiling with the indoors and garden lit up with a rainbow of tiny lights. The Getting Ready for Christmas specials displayed below is from Johnson Brothers Mitre 10's 'Get Ready for Summer' Catalogue out 1/12/2013 at:http://www.johnsonbros.com.au/specials.html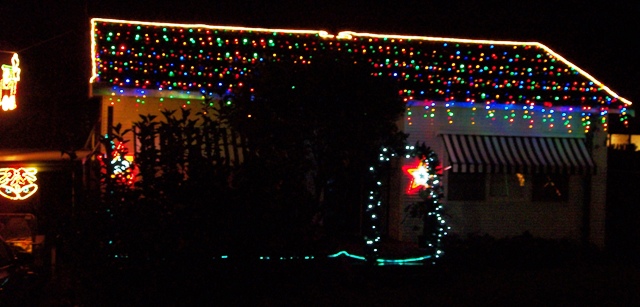 Christmas Lights - Dos
• Use more light if your house sits farther back from the street to enhance its curb appeal.
• Leave at least a foot between the edge of the driveway and staked lights when lining your driveway. If a driver backs out too close to the edge, they won't take out a row of lights.
• Create a flow of light that moves the eye from one area to the next. Avoid "hot spots" of lights bunched in one area.
• Illuminate more than just the facade of your home to create depth.
• Use special lighting effects sparingly, such as a red or green gel pack that can filter the color of a white light.
• Incorporate seasonal lighting with your outdoor landscape lighting. Consider how the pre-existing lights can be used to enhance or complement the Christmas lighting.
• Carry the design style from within your house to the outside.
• Add pre-lighted wreathes and garlands to doors and columns. Pre-lighted candles in windows are a classic look.
• Highlight architectural features such as roof lines, chimneys, peaks, windows and ridges.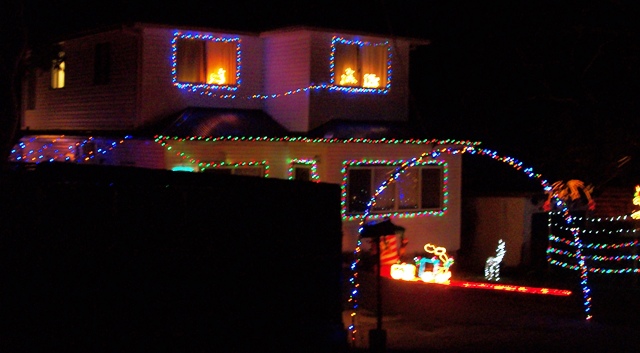 Safety First
Look for the safety approval mark - Decorative lights for sale in Australia must comply with relevant safety standards. It is illegal to offer decorative lights for sale or hire in Australia without the necessary safety approval. When buying decorative lights, you must ensure that it has been tested for safety and approved for use in Australia by an Australian state regulator. Safety approval details will be marked on the decorative lighting.
Indoor or outdoor use - If you are going to use the decorative lighting outside make sure it is suitable for outdoor use. Never use indoor lighting outside because the insulation on the wires is not suitable for wet or windy weather and may result in fires, electric shocks and/or injuries to people. It is safe to use outdoor lights inside as they usually have a transformer to convert household electricity (230V) to a safer extra low voltage.
Checking your lights before use
Lights that have been used before
If you are re-using lights from a previous occasion, when you first take them out of storage you need to ensure that they are free of defects such as damaged wires, burnt-out bulbs or loose connections.
New lights
Lay the lights along the floor and check that no bulbs are loose or missing. Plug in the light set temporarily to check if all the bulbs are working. You must unplug the light set from the power source before replacing the bulbs. Use new bulbs of the same type and wattage to avoid the lighting set overheating which could cause a fire.
When preparing your lights:
never turn on the light set while it is in the box
always unplug the light set before replacing the bulbs
do not modify or cut a set of lights including the plug and fuse elements
Regularly monitor your lighting for faulty and burnt-out bulbs and replace them immediately.
Putting up your lights
When mounting your lights:
keep them away from paper, cardboard, curtains, material and other flammable material to minimise the risk of accidental fire especially if you want to leave your lights turned on overnight.
do not place the lights near metal foils – eg foils from Christmas tree or other decoration
always use plastic clips or hooks to mount the lights – never use metal pins, nails or staples to mount your lights
do not connect one set of lights to another unless it is designed for that purpose – connecting light sets can overload the transformer.
Using outdoor decorative lighting
When using outdoor lighting that is powered by your mains electricity you must:
plug the light set into an earthed power point that is protected by a safety switch – if you do not have safety switches in your home, use a portable safety switch
place transformers and light changing controllers indoors unless they are designed for outdoors use
not overload power points – the normal capacity for a power point is up to 2,300 watts; this means that the total wattage of lights connected to the power point should not exceed its capacity.
Courtesy South Australian Government Safety Tips website. Elaine Avaenue Christmas Lights Display pictures by A J Guesdon 2011-2012.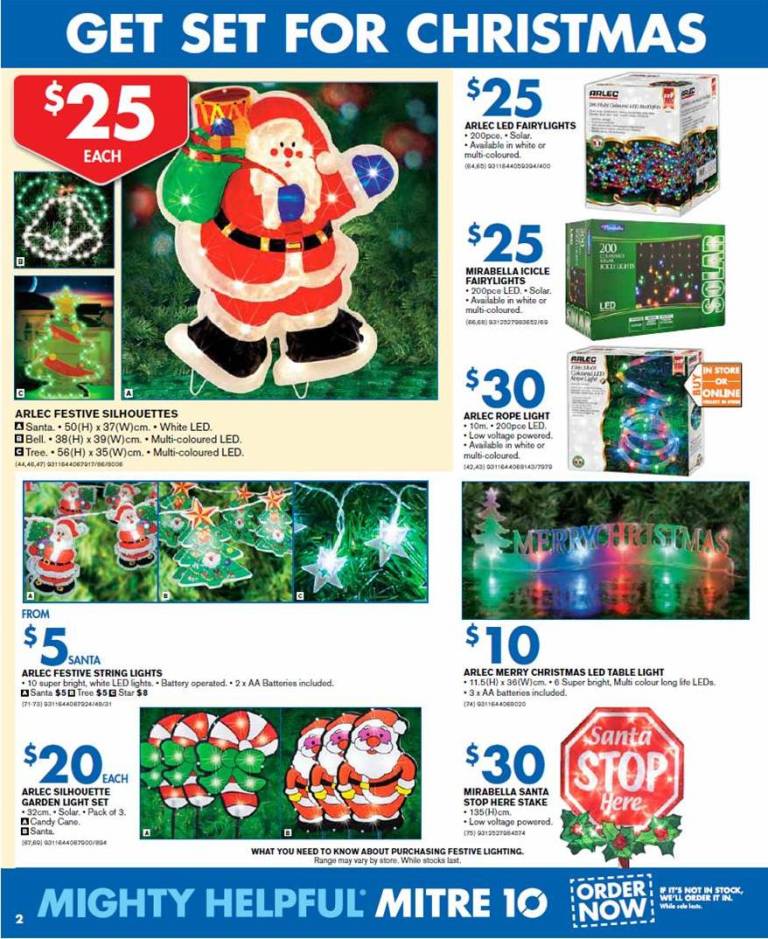 Products and further friendly advice available at Mona Vale and Avalon Johnson Brothers Mitre 10.
Copyright JBH Mitre 10, 2013. All Rights Reserved .