February 9 - 15, 2014: Issue 149
Summer Mildew – Time to Refresh and Renew
We have had a look at the weather predictions from the Bureau of Metrology for February to April and there is a 60% chance of rainfall exceeding the median over much of Australia. Apart from thinking about installing a rainwater tank for drier spells expected later this year, this may also be a great time to get on top of Summer mildew inside your home. Airborne spores in mildew, and those that can creep out from unaired corners, are not only unattractive they are also not good for your health.
Air absorbs water and hotter more humid conditions that prevail during the warmer seasons will cause warm, moist air within a house to be attracted to all cold surfaces, including windows edges, exterior and interior corners of a room and inside closets. The buildup of condensation creates the perfect environment for mould spores to thrive. As mildew flourishes in high humidity, we offer a few easy-to-follow preventative tips will keep surfaces, furniture, clothing and other possessions from being damaged:
Keep doors and windows shut during periods of high humidity. Open them at night, when the temperature outdoors is the coolest, and then close the house up in the daytime.

Circulate air as much as possible with portable fans.

Buy a dehumidifier for the house

Make sure the outside landscaping is designed so rainwater will drain away from the house. Poor drainage and poor air circulation around shrubs next to the house will encourage mould and mildew growth. Winds can bring mould spores right in through an open window.
Unfortunately, mould and mildew are not just Summer problems. Winter mildew can be a prevalent in newer, energy-efficient homes. Often built with heavy insulation and plastic moisture barriers, newer homes can retain enough moisture to begin condensation - again creating a perfect environment for mold.
Mould can also stain your paint work where it has built up and although a bleach or similar product will remedy this. Late Summer is also a great time to renew these newly cleaned areas with a coat of paint.
Reducing Mildew
Painting over the mildew that grows on may hide the fungus temporarily, but it will quickly reappear. The trick to getting rid of mildew permanently is to kill the mould first, then prep and paint carefully to keep it from returning. Here's how:
Never paint over existing mildew. Scrub it off with a mixture of one part bleach and three parts water.

Always prime bare wood, which mould needs for nutrients. Paint experts we spoke to recommend a high-quality acrylic-latex primer.

Apply two substantial topcoats of satin-finish paint to seal.

Exterior Painting: Avoid painting when it's breezy. Airborne mildew spores can get into the fresh paint. And, because brush marks can trap nutrients that mildew feeds on, smooth paint out.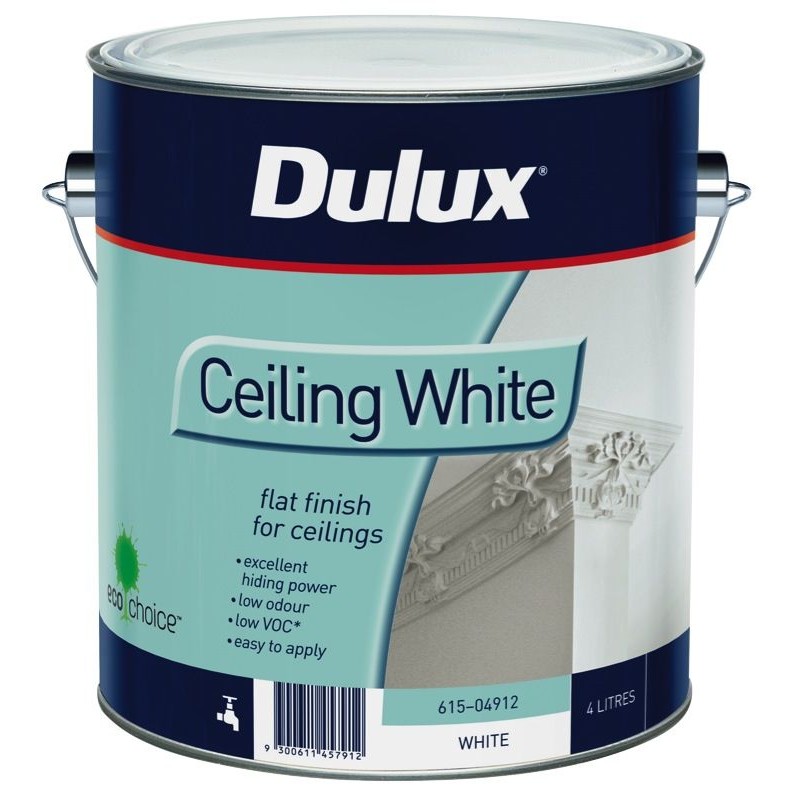 Dulux Ceiling White 4L $40.00. Flat finish.; Outstanding opacity. Water clean-up. (White base.)- currently on sale see: JBH website
Before You Paint
Choose water-based over oil-based paint whenever possible.
Select the least toxic, lowest VOC paints available, especially for indoor paint jobs.
Ask the trained staff at your Johnson Brothers Mitre 10 for help in selecting what will work best in the areas you wish to renew.

Read all the directions on the label and follow them carefully.

Do not use exterior paint indoors.

Test for lead on any surfaces that were painted more than 20 years ago. Use lead-safe preparation methods.
Interior: While You Paint
Keep windows open and use an exhaust fan placed in the window to pull the inside air out of the room.

Use the protective gear specified for such jobs such as gloves, goggles, and a respirator with the proper filter. Dust masks do not protect against solvent vapours or crystalline silica.

Take frequent fresh air breaks.

eep pregnant women and young children away from freshly painted rooms.

Keep paint cans tightly closed when not in use.

Keep paints and other hazardous supplies out of children's reach.
The other place mildew and mould can grow is in halls away from the main flow of air and sunshine. These high traffic areas in the home are also susceptible to smudges from little fingers, so if you're renewing the ceiling from Summer mildew build up it may be worthwhile bringing the other walls up to scratch too.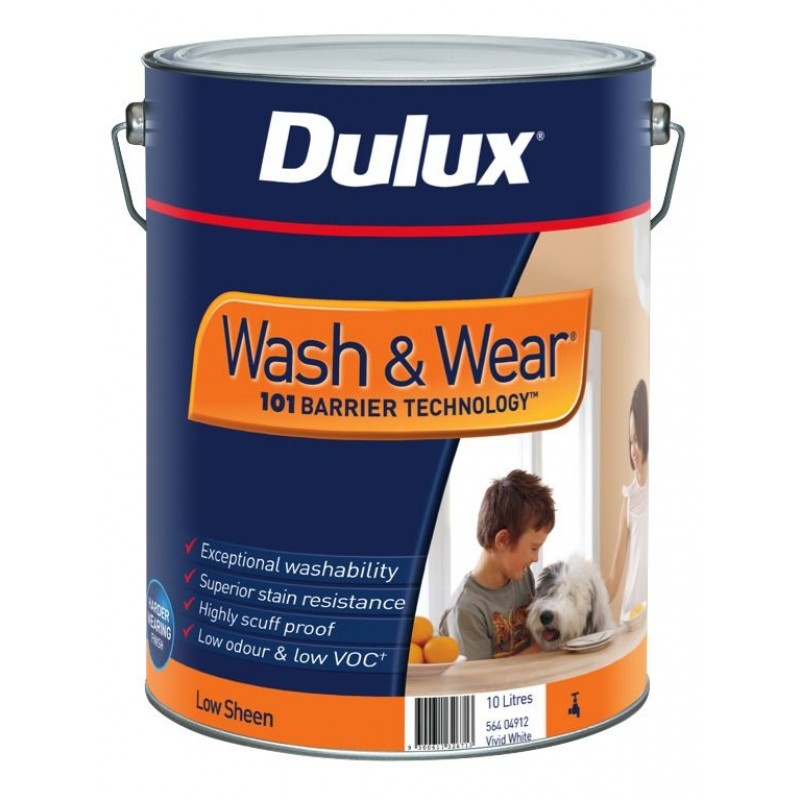 Dulux Wash & Wear 101 10L Low-sheen is available for $155.00 for 10L, which represents outstanding value compared to current prices elsewhere. Low-sheen.
Excellent stain resistance. Water clean-up. (White base.) Dulux state about this product "Dulux Wash & Wear® Low Sheen comes with hard wearing, stain and mark resistant Barrier Technology™. It has exceptional washability and provides a super tough, acrylic finish. Most common marks, stains and scuffs can be easily wiped away with a wet cloth and it's specially formulated to not leave shiny marks after wiping, so your walls will always look their best. As a low VOC paint, it emits almost no paint smells and less air pollution compared to paints with higher VOCs so it's kinder to the environment and your family."
Features: Water based, Superior stain resistance, High practical opacity. Benefits: Easy application, quick drying, Most stains and marks can be removed with a soft wet cloth, Even finish, two coat hiding power
Johnson Brothers Mitre 10 have introduced a 'Locked Down Price' policy which you may have seen advertised. The two Dulux products featured here are part of the Locked Down Painting Prices range which includes products you will need for preparation prior to painting and products to renew your exterior deck areas after strong Summer sun too. See all available in this range at:shop.mitre10.com.au/current-specials/locked-down-painting-prices.
After You Paint
Ventilate freshly painted areas for 48-72 hours (2-3 days).

Children, individuals with breathing problems, and pregnant women should avoid freshly painted areas for 2-3 days. Even after paint looks dry and doesn't smell, it still emits vapours for several days.

H

ave small amounts of leftover paint for touch-ups. Also good for reference years later if you choose to repaint/renew with the same product and colour.

What is also NEW at Johnson Brothers Mitre 10 is the Mitre 10 Virtual Wall Painter App By Mitre 10 Australia Pty Ltd which helps you visualise a room before you begin painting. See more on this here
The Johnson Brothers Mitre 10 Block Busters Sale will commence 12-23rd of February 2014 with more great products on offer for all who like to Do It Yourself. Visit their website for more information on all products and services at:www.johnsonbros.com.au/
Products and further friendly advice available at Mona Vale and Avalon Johnson Brothers Mitre 10.